Sign up for our newsletters and digests to get news, expert articles, and tips on SEO
Thank you for subscribing!
All content creators will do whatever it takes to write articles that attract people and captivate their undivided attention. I'm talking about posts with hundreds of likes, comments, shares… Actually, scratch that, I mean with thousands and thousands of them. That's what viral content looks like.
If you think that you have to be Will Smith or Kylie Jenner to create viral content or to teach your cat to make pancakes – I'd actually pay good money to see that – let me stop you there. There are other way more simple hacks that I want to share with you in this article.
So, get ready to find out what kind of people are hitting that share button, what content they choose to share and why they actually do this. Spoiler alert: the article's length or number of images isn't as important as the emotions people feel when reading it.
Who shares content
The answer's pretty obvious: people, who else 🙂
According to a 2019 study from Emarsys, 42% of the global population use social media. An NYT study went a step further to research and analyze the profiles of content sharers. Here's what they found out.
If we could divide all people who share content into groups, there'd be 6 of them – altruists, careerists, hipsters, boomerangs, connectors and selectives. Each profile persona has different reasons for sharing content, and different channels to do it.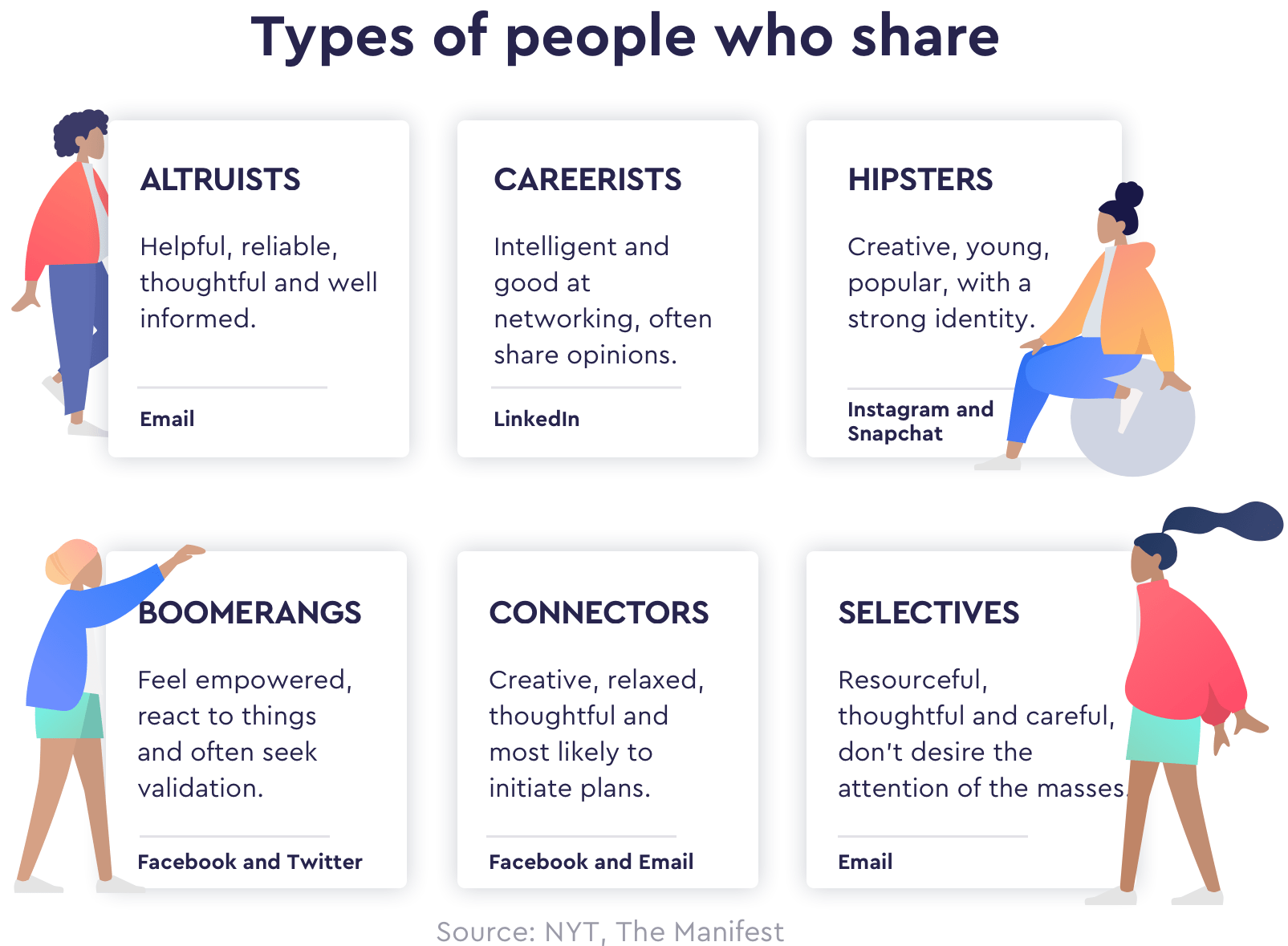 Obviously, some of these people represent your target audience. Have you ever thought about who they are? What do they like to read? Do they prefer football or tennis? Do they use public transportation, etc?
Only when you know as much as possible about your aimed readers, you can add insights to your content. An insight is the hidden truth about a group of people that is revealed in a piece of content. Insights make people love your content and share it across the channels they prefer.
You may know those popular 'awkward moment' memes, like "That awkward moment when you're looking at yourself in a window of a car only to realize there's someone inside" or "That awkward moment when someone waves and you wave back but they're actually waving to the person behind you".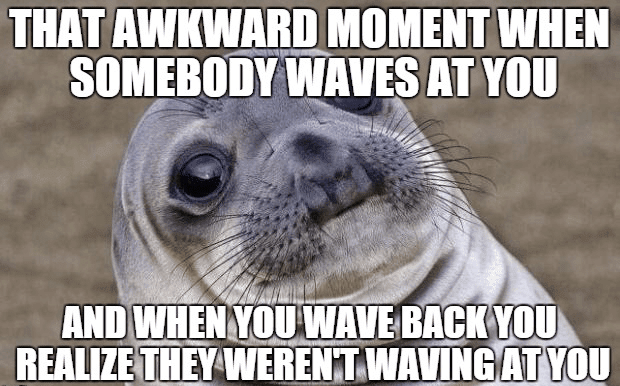 People love and share these memes because they recognize themselves in them – moreover, they feel a connection with the message and want to share it because it says exactly what they've experienced. That is why we can laugh our heads off when an insight is humorously revealed, or get goosebumps if it inspires us to our core. Find real insights for your content and you will see how your readers will become an army of distributors ready to spread the word to the entire world.
How to find insights for your content
Watch, listen, investigate and try to put yourself in your readers' shoes. That way, you'll definitely notice some nuances and patterns in people's behavior. They may be awkward, strange and sometimes even crazy, but they will help you establish an emotional connection with your audience.
Here is a small clue how you can get to know your audience better and find content ideas that will be relevant in your specific niche. Find answers to these questions and I bet you will get dozens of ideas at the very least. So here are the questions:
Who are your readers? What do you know about them?
What are these people talking about in your niche? What are they interested in?
Can you bring something fresh to the conversation? If so, what?
Can you add value to your readers? How exactly?
How can you inspire and challenge your readers?
What problems does your audience have? How can you help solve them?
So now you know how to find insights that will be relevant for your target audience. But not every article – not even the ones with insights – gets thousands of shares. Have you ever thought about why people have a need to share content?
Why we share
All of us share something on social media, whether it's a comprehensive infographic, funny meme, inspiring story or unbelievable news… But why do we have an urge to do it daily? What drives us to share content with others?
As human beings, we all have evolved from social animals, and with that evolution came the need to communicate. We share content because it's our way of expressing ourselves, it's our communication with today's world.
A study by the New York Times researched what exactly people wanted to express by sharing information online. Here are the five primary reasons:
1. To delight others with valuable & entertaining content. One of many examples – a post about your town being recognized as the happiest one in the world, or a video with funny babies that will definitely make you laugh 🙂
2. To identify and present ourselves to others. All of us might have shared something similar – posts about the '90s, introverts or extroverts, Disney or WoT lovers. Here we also have the popular and sometimes even odd quiz result shares – "Which 'Game of Thrones' Character Are You?" or "We'll Guess Your Secret Talent Based On Your Ice Cream Preferences". This is a way of showing the world who we are and what we like.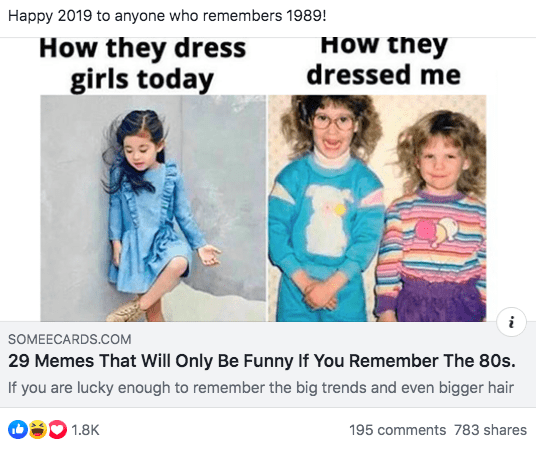 3. To foster relationships. People aim to connect with those who share their interests or might have been in a similar life situation. For instance, it could be a post about somebody's very first job at MacDonald's, or a decision to downshift to Bali. It's about building a community of people who have the same thoughts and views.
4. For self-fulfillment. Sharing content makes us feel like we're a part of a bigger world, become involved and valuable, and help others with something they may need. It's always about doing good – signing a petition to protect circus animals, or teaching others to use less plastic to save the planet.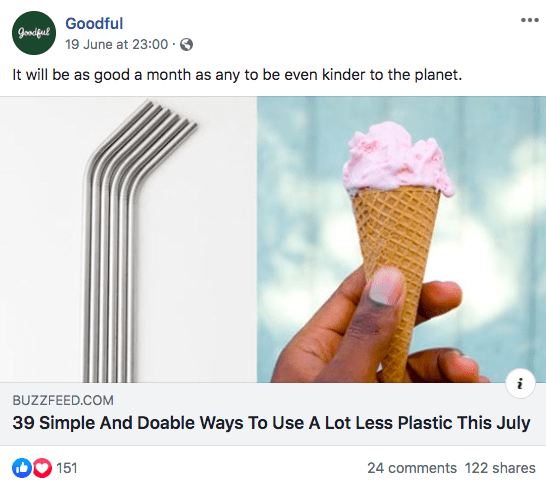 5. To spread the word about issues, products & brands. People share stories when they want others to support them and the issues they care about. And no matter whether it's an article about a royal baby or your fav brand releasing the coolest pair of sneakers ever.
All of these reasons for sharing are echoed in studies on viral content from Fractl and BuzzSumo. Your content has to be surprising, emotionally complex, or extremely positive in order to become widely-shared online.
BuzzFeed analyzed their most shareable content to find out what made people hit the share button. Actually, it turned out that people share content because it helps them to do a real job in their lives.
So, having categorized content, they came up with 5 main groups: content that makes us laugh; helps us express our identity to the world; describes our bond with others; makes us feel a wide range of emotions from joy to sadness; helps us do something.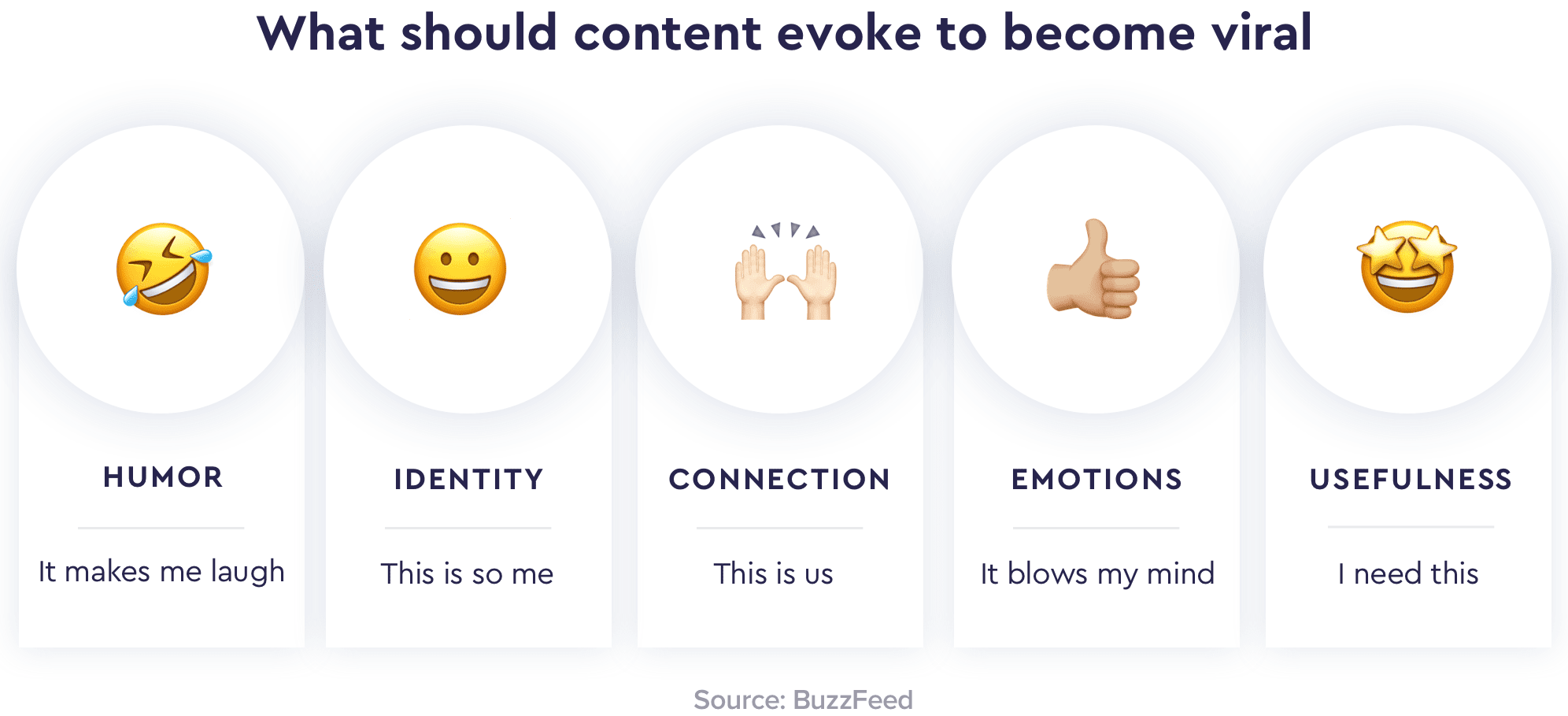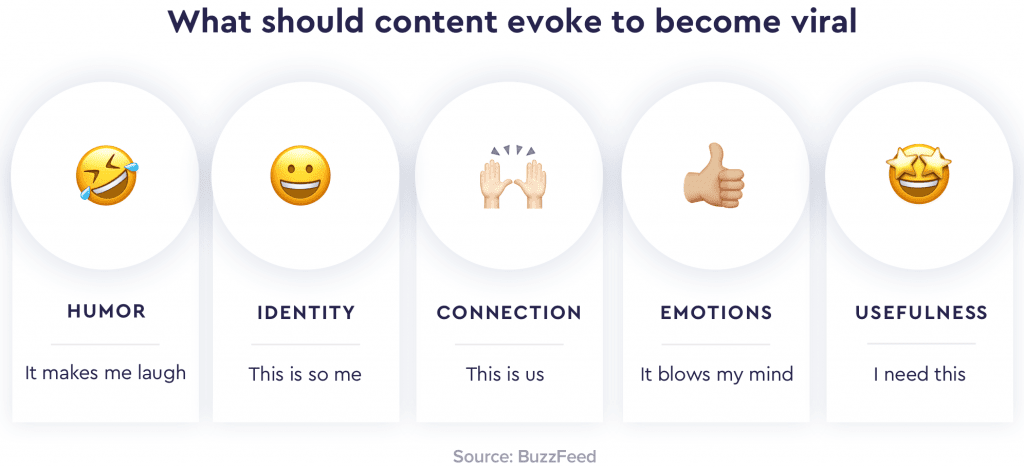 Let's take an example to see how it works.
The "Pick An Outfit And We'll Guess Your Exact Age And Height" quiz received around 2M social media shares.


If we dig deeper to analyze it, we will definitely find an insight behind this incredible amount of shares. The post shown above was shared mainly by women over 50 and the quiz results showed that these women were way younger than they really are. Therefore, sharing this post was simple humblebragging. Women were really happy to find out they looked younger than their actual age. That's why they shared it with great pleasure and utmost delight.
So, now you know how insights work in content, how to find it and make readers share your story. Moreover, you understand why people share content and what they feel in that moment. But what about the content itself? Does its structure, type and topic make a difference?
What type of content goes (and stays) viral
Viral content is material that rapidly spreads across the internet and gets tons of shares through social media and website links. But have you ever thought what types of content gets the most shares? A word of warning though: your guess is probably wrong.


What people are keen on sharing the most are pictures that explain complicated things (Infographics) and content with a very clear structure and a certain number of points (Lists). Followed by that are articles that explain stuff and usually start with the why in the title (Why), news and general information (What), posts that explain how to do something (How To), and videos.
Let's analyze a few examples of such viral blog posts to see why they got so many shares.
The "how-to" article about headaches got 1,7M social shares.


This post explains how to get rid of a headache in 5 minutes and thus covers a very notoriously popular, hot-button issue. It has a short explanation and a list of 6 acupuncture points with very clear illustrations. That's it! As a result, readers spend 5 minutes looking at the illustrations trying to find them on their own bodies. After that, they know what to massage and how. Moreover, they don't need any pills to get rid of headaches – only proper motivation and 5 minutes. People will share it to help others. Brilliant!
The infographic on the Business News Daily site got almost 700K shares on Pinterest.


Here we can see an infographic that contains everything you need to know about creating an awesome and effective resume. A simple picture can lead you to the job of your dreams, and you don't need to read 10 pages of text for that. The infographic contains various phrases to use, action words, words to avoid and even the best fonts to choose from for resumes. Everything is dead simple and ready to be used. We've all sat down and created a resume at some point, right? If you don't need it now, you may need it in the future. For this reason, people save such pictures on their Pinterest desks or share it with others.
Now you see that going viral is not a matter of luck but the right combination of catchy message, emotional triggers and a proper type of content. But if you analyze viral content around, you may notice that in many cases, it loses buzz just as quickly as it gets it. 
Why viral content is short-lived and what can you do about it
The main reason why content dies out quickly is that modern internet users are fickle and have short attention spans. One of the ways to make your content get consistently shared and linked to over time is to make it evergreen. Such content is always of interest to readers – regardless of the weather, current President or Facebook status, it stays relevant to readers all year round.
Use the following points to boost your content's chances of becoming evergreen:
Answer questions that are interesting for your target audience: How to Get an Airport Tax Refund, How to Write a Good Resume in 7 Easy Steps, etc.
Provide some tips and advice: Top 10 Tips About Your New Puppy, My 25 Best Travel Tips After 10 Years of Traveling the World.
Explain complicated stuff in a simple way: What is WiFi and How Does it Work, Everything You Ever Wanted to Know About Black Holes.
Regularly update content: How to Build Backlinks: The Definitive Guide [2019 Update], How to Make Quick Money in ONE day [2019 Update].
We've covered insights, reader sentiments and the nature of virality. Let's move on to the flip side and find out what your content actually needs to have in order to get thousands of shares.
Must-have components of viral content
You've heard this a million times: Even the brightest ideas fail because of poor realization. The same goes for your content. An awesome topic, a cool insight and compelling copy are not always enough to cause a viral effect.
Use this list to make sure your blog post is primed for getting likes and shares.
1. Catchy and relevant title – it should be clear, spark reader interest and definitely represent the content. Needless to say, readers shouldn't have any doubts about where the page title is – it should be big and bold.
Writing headlines is a special skill that's like a form of art. Just imagine, large companies even have employees solely for that. But you may benefit from CoSchedule formulas: These guys analyzed 4,302,684 blog titles in their database to define the most successful ones, as in those with the most social shares. Here they are:
– How To [Do Something] That Will [Help You Experience Desired Results]
– [#] Ways To [Do Something] To [Produce Desired Results]
– What Is The Best [Topic] That Will [Do Something Desirable]?
2. Simple language without any grammar or spelling mistakes that sounds human and engages readers.
Proofread your content before publishing it on your blog. Make sure to check for misspelled words, awkward sentences, grammar errors and wrong punctuations within the content body. Use Grammarly, Hemingway app, ask your editor or friends for feedback. 
3. Clear visual appeal should help readers easily scan your content.
Readers automatically go for the shorter reading path with the help of headlines and structural blocks. Use short paragraphs, bullet points, lists, and appealing subheadings to keep it light for your readers. And always choose a font that's easy to read. The more easily your content is scanned, the more chances it has of getting shared.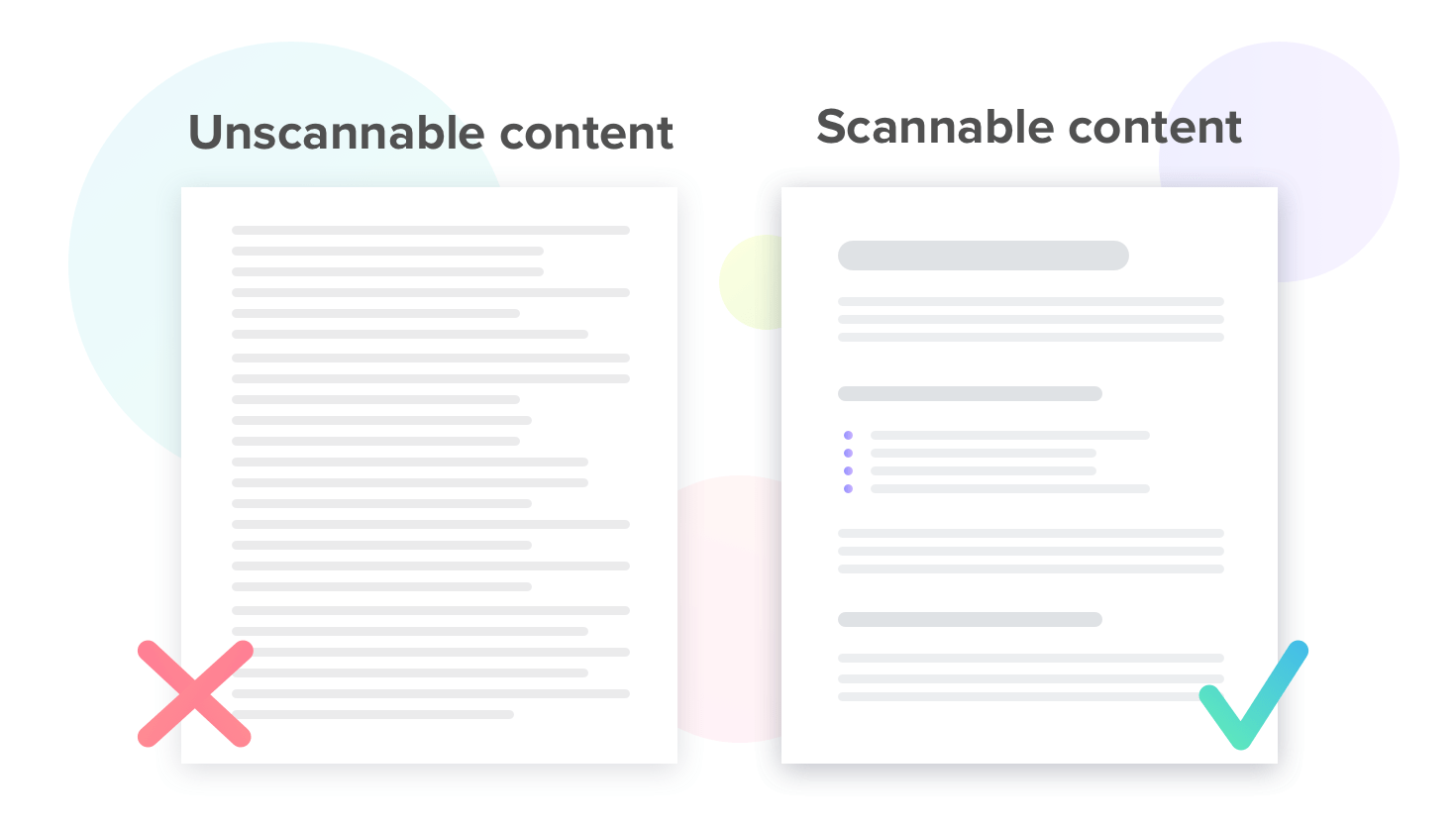 4. Pictures, screenshots, infographics, video – all the visuals that help people understand your content better. Also, use numbers, data, statistics and quotes from other people to make your content more trustworthy.
Use templates to create professional visuals and designs for different types of content – such platforms as Canva and Crello have both free and paid options for that.
5. Sharing buttons that will encourage people to repost your content in all major social networks.
Place icons that your readers can click to share the content on their favorite social media platforms – Twitter, Facebook, Linkedin, Pinterest, etc. Use social networks features or plugins for your CMS – for instance, social share plugins for WordPress.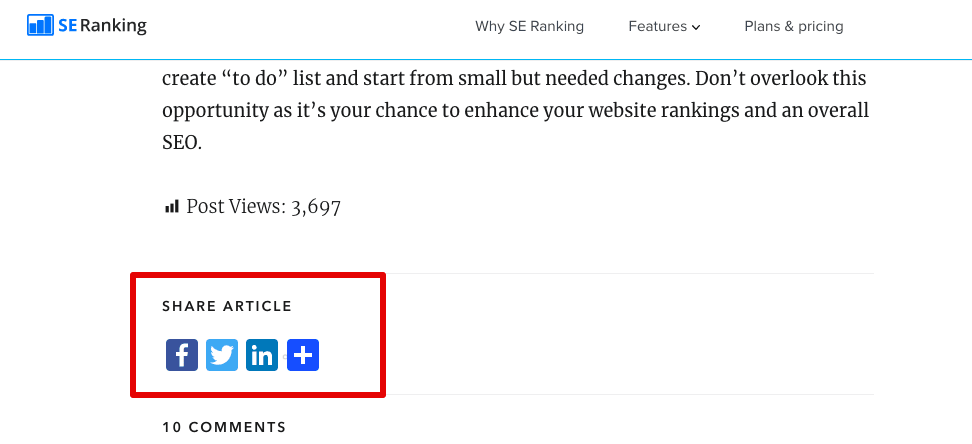 6. Comments allow your readers to tell what they think about your blog post. That way, you'll get feedback and create a discussion panel that has every chance of getting spread online. Also, if your article is lucky enough to get comments from celebs, their popularity will help share your content. Another case, say your article is humorous but the comments below it are even funnier than the content itself. Then, you should thank user-generated content for all of your post's shares.
There are many WordPress plugins that you can use for that. It's best to enable commenting with authorization to avoid spam. Plus, make sure you answer every comment and nurture the discussion.
7. Open Graph – using this protocol will make your blog post look more attractive and "clickable" on social media.
To turn your web pages into graphic objects, you need to add basic metadata to the <head> of your web page. The four required properties for every page are:
– og:title (the title of your blog post),
– og:type (depends on the type of your content),
– og:image (the image that readers will see as the cover of your blog post),
– og:url (the canonical link of your blog post).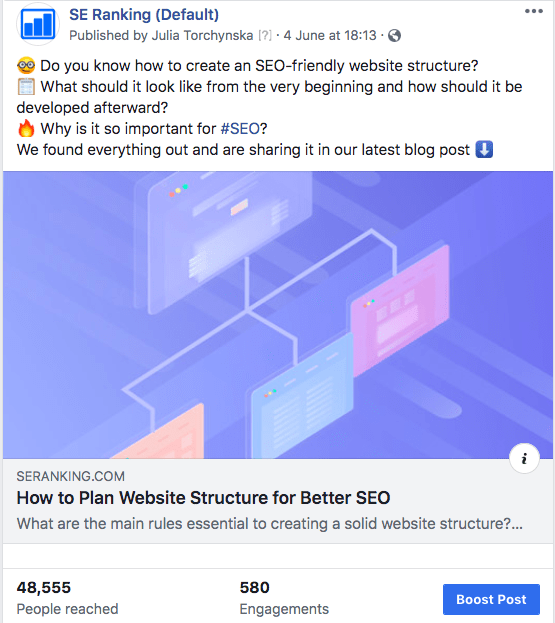 8. SEO approach – never forget that your content should be highly valued not only by readers but the search engines as well. And by SEO I definitely don't mean keyword stuffing.
Here you can find a complete guide on how to enhance your blog's SEO as well as many technical tips. But remember: SEO is not a holy grail that can do magic to any article. The main point is that your content should be authentic, engaging and of high-quality. On top of that, it should answer a specific question or solve a problem that the target reader has.
Now it's your turn
Think about it: If you naturally come across your blog post, will you share it immediately? Will you click the post title if you see it in an email? What will you feel after reading it?
If you want others to share your article, be ready to share it yourself first. A viral blog post is not about creating 1500-word posts, 10 images in each section, "How to" in the heading, and it's definitely not a matter of luck.
Viral content is about finding the right insight and creating a powerful emotional experience based on it.
Here's my recipe for going viral:
Find out who your audience is and research their interests.

After that, identify an insight and use it to create content that evokes emotion. Be creative.

In the process, check whether you didn't forget about the other side of a coin – title, structure, language, visuals, sharing buttons, open graph and, its majesty, SEO.

Only then hit "Publish".
Give this recipe a go! I would love to hear your thoughts as well as see what viral content impressed you recently. Share your examples and let's analyze why it happened.
And please share this article if you've found it helpful 😉