Backlink Tracking Tool
Backlink monitoring software that keeps an eye on your precious backlinks
Backlink target ratio
801 Backlinks to homepage
317 Backlinks to other pages
How does backlink monitoring work
1
Add backlinks to the tool
You can input them manually, import from Google Search Console or SE Ranking's
Backlink Checker
2
Our crawlers run regular check-ups
Once you've added your valuable backlinks, the system will run parameter checks on a regular basis.
3
Get notified of any changes
If any of the backlinks you've added experience changes, our monitor tool will notify you via email.
Don't let a single backlink vanish without a trace
Receive alerts about any changes made to your most important backlinks
Found / Not found
The tool automatically checks if your link is still where it should be
Indexed / Not indexed
Find out if a page with your backlink drops out of the Google index
First seen / Last seen
You will always see when your backlink was first spotted and last checked
Measure the value of every backlink
Not all backlinks are made equal.
Analyze referring domains, linking pages and backlink parameters to see how valuable every backlink is for your website.
Keep track of all key backlink metrics

Text / Image
Learn whether your backlink is placed in text or comes from an image.

Anchor text
See which clickable text is used to link out to your website. Check if it semantically fits the target URL.

Target URL
Find out which of your website pages benefit from the backlink.

Dofollow / Nofollow
Track changes in attributes that tell search engines whether or not to crawl your link.

UGC / Sponsored
Check backlink parameters that have been recently introduced by Google.
Check if the backlinks come from an authoritative domain

Domain Trust
An aggregate domain quality score developed by SE Ranking. It is calculated based on multiple factors including the number and the quality of a website's referring domains and backlinks.

Alexa Rank
Defines general website popularity compared to other websites across the web. Alexa Rank is calculated based on the site's estimated traffic and visitor engagement over the past three months.

Country
Based on the referring domain IP address, you can see where the website that links out to you is located geographically. See if the IP address points to the country you target.
Check page-specific metrics to assess linking page popularity

Page Trust
An aggregate score developed by SE Ranking. Similar to DT, it measures page quality based on multiple factors including the number and the quality of its referring domains and backlinks.

External links
Find out how many other websites benefited from getting a backlink from the same page. If the page links out to hundreds of sites, the value of each backlink is diminished.

Social shares
Learn how many Facebook shares the page that linked out to you received. Plenty of social shares are a positive ranking signal, and they also slightly increase your chances of getting referral traffic.
Learn more about the linking page's backlink profile
Referring Domain Trust
Backlink Page Trust
Number of backlinks pointing to the linking page
Number of referring domains pointing to the linking page
EDU/GOV domains
Dofollow/Nofollow ratio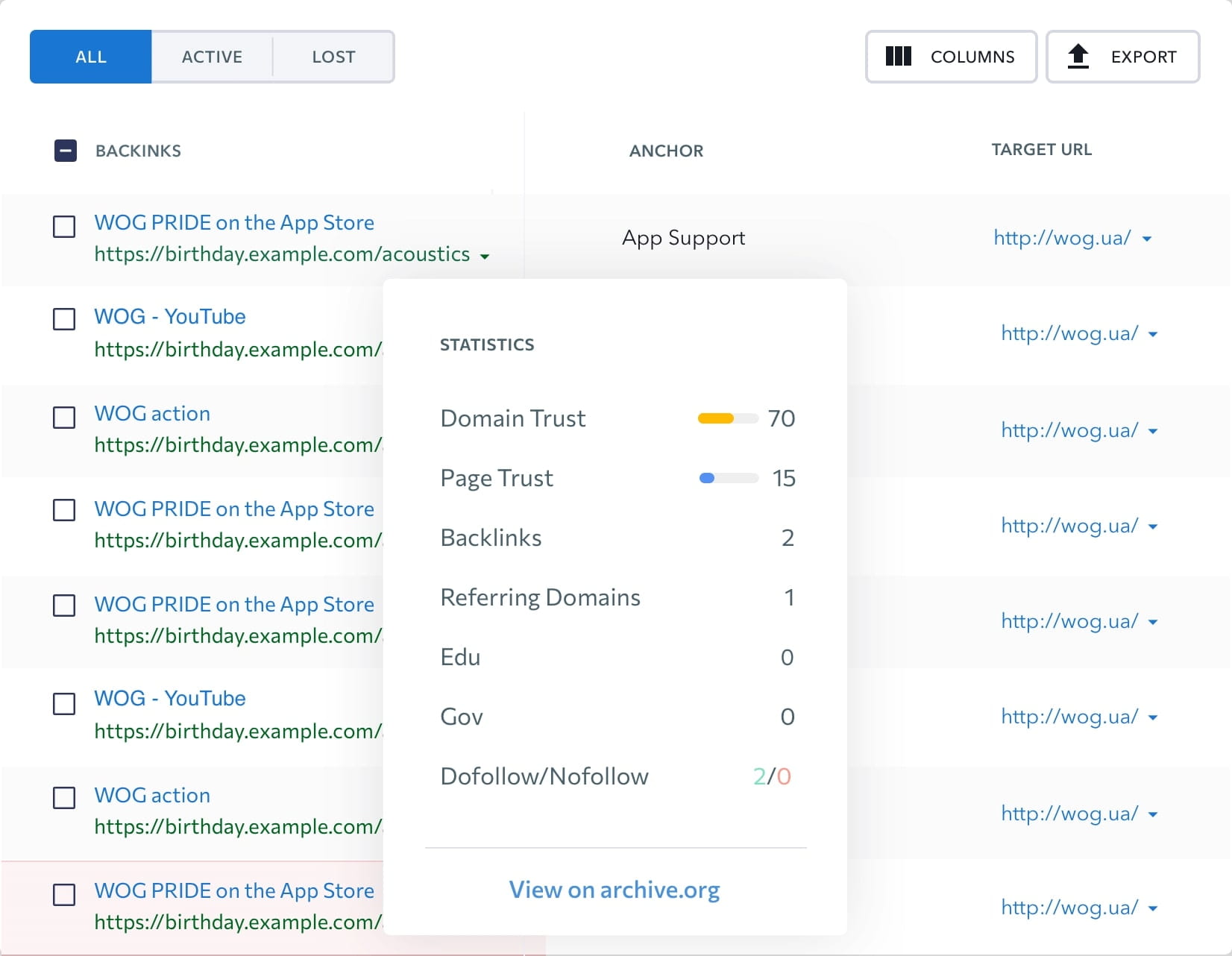 Get a bird's-eye view of your backlink profile
See where your off-page SEO efforts are headed with the help of handy charts that demonstrate aggregate backlink data. Clicking the chart will filter out respective data in the backlink table.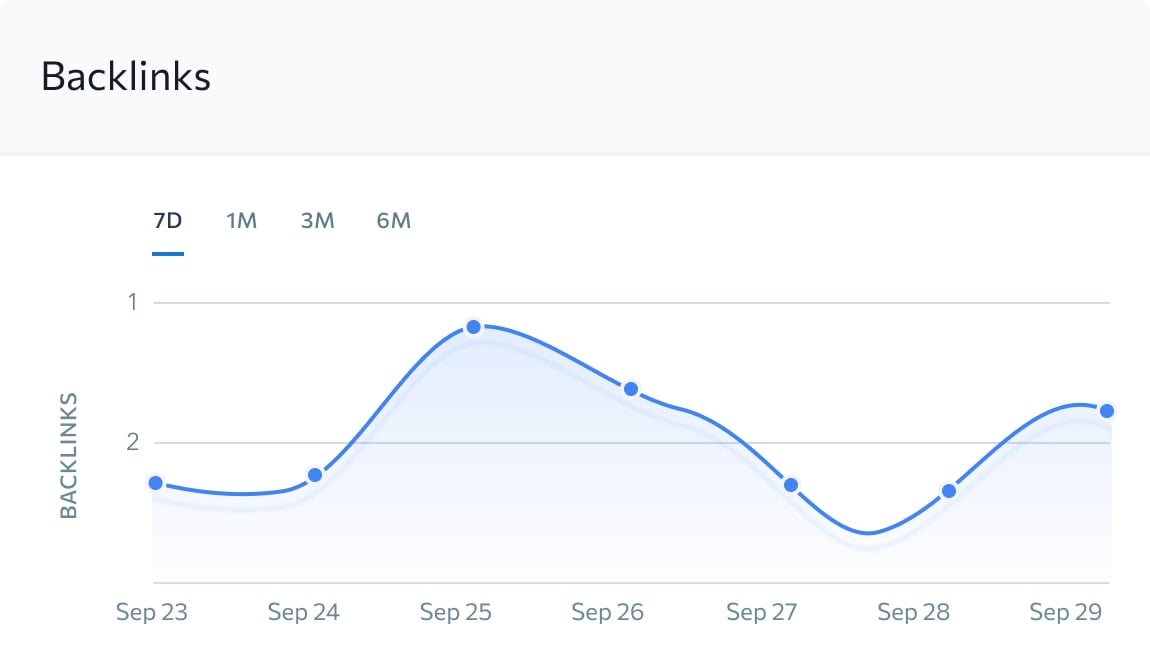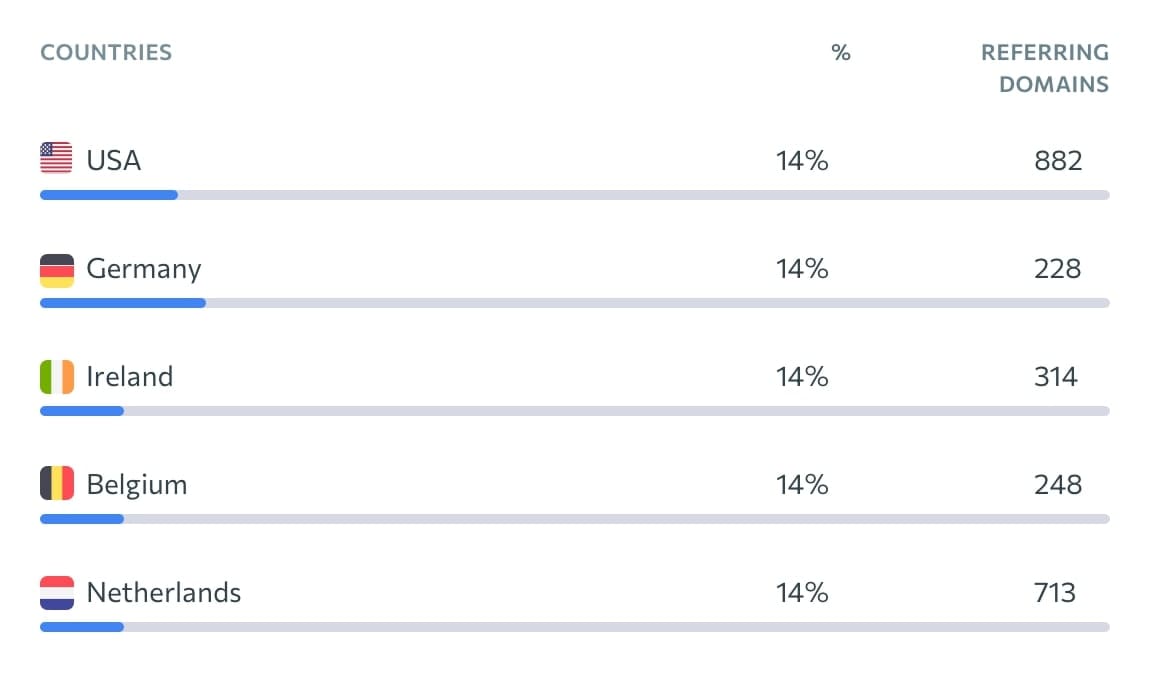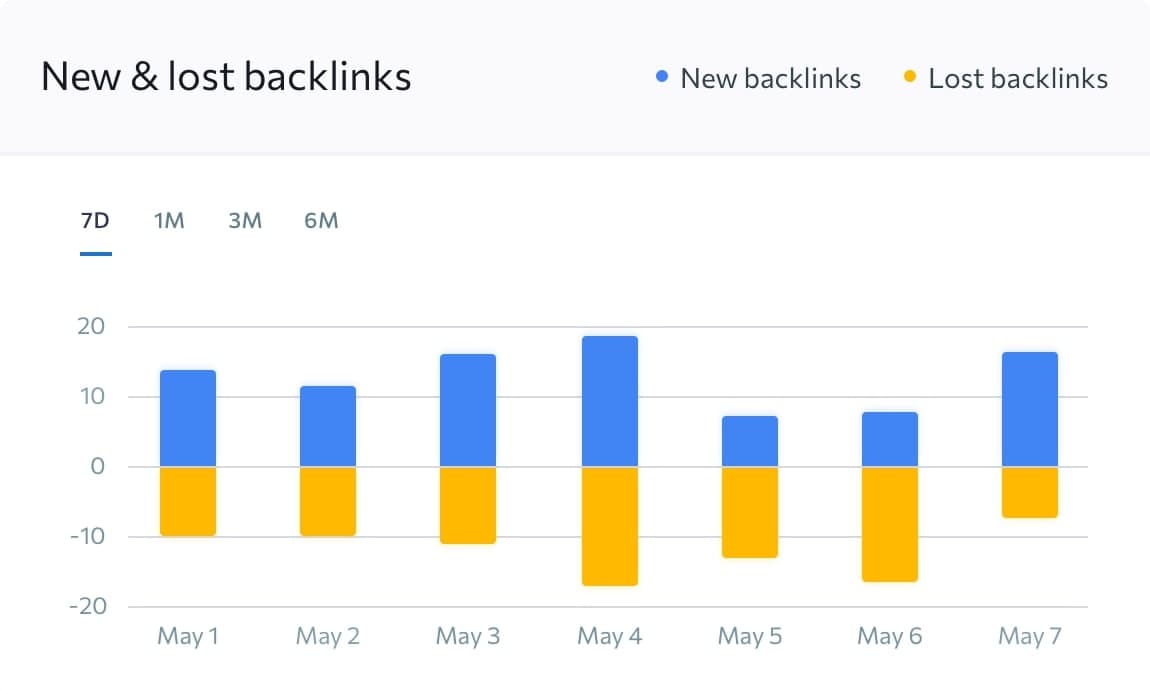 Manage your budget and link building process
Define each backlink's value and responsible manager. Say, you work for an agency and need to track who is in charge of every backlink. Or perhaps you need to understand whether your expenses on writing quality guest posts are paying off.
In any case, we've got you covered.
Disavow bad backlinks
Gain full control over spam backlinks that may be coming your way
No need to copy and paste links that you want to disavow.
Checkmark the ones you want Google to disregard, and we will generate a ready-to-go disavow file.

Sounds great! I'm ready to go.
Flexible pricing to fit any budget and for any SEO project
Pick the Pricing Plan that suits your needs, or contact us to request a custom quote
Essential
17,500 BACKLINKS
Up to 10 projects
750 keywords for Rank Tracker
100,000 pages for Website Audit
Competitive & Keyword Research
See pricing plans
Pro
Most popular
from 30,000 BACKLINKS
All Essential features with extended limits
from 2000 keywords for Rank Tracker
from 250,000 pages for Website Audit
User seats
See pricing plans
Business
from 90,000 BACKLINKS
All Pro features with extended limits
from 5000 keywords for Rank Tracker
from 700,000 pages for Website Audit
API access
See pricing plans
See all pricing plans




Comprehensive SEO Tool with great Keywords- and Backlinks-Monitoring
This SEO tool meets all requirements of a professional SEO or Digital Marketing Manager. SERanking is a great help for my daily work indeed! The very friendly and responsive customer service is a big plus as well. I can recommend SERanking. This tool fulfills the industry standard for sure
My absolute favorite tool for rank tracking, backlinks monitoring and website audit
I know how it's important to сreate websites in a way that they are loved both by Google and people. That's why SEO is an essential part of our company. SE Ranking helps us to track rankings and control on-page and off-page optimization.
Best Seo tool a company could use!!!
SE Ranking is the best seo platform our company has used so far. The interface of the platform is great & user-friendly. The available options are many. From tracking rankings, monitoring backlinks, keyword research to competitor analysis and website audit, everything we need to optimize our sites is just one click away. Also, for any questions or anything else we needed, the live support team replied & helped me with straight away.
SE Ranking is AWESOME
Love the keyword tracking and the backlink monitoring. Makes life very easy. Those are just the items I like but overall I like all the features that SE Ranking has to offer. Any new addons will just be a bonus to what they are already giving to the end users.
Great software to a very great price
I really like the competitor research tool and here SE Ranking is one of the best I have tried that covers the Scandinavian market. The backlink tool are one of the tools that I can recommend to others. The option to choose how often you want to refresh keyword rankings is great.
SE Ranking is easy to use for several websites and countries
We use the part for backlinks monitoring a lot. This way we don't have to check the placed backlinks manually. When a backlink changes into 404 error or is completely gone, we receive a message. Instead of losing valuable links, we can contact the website and let them know that their webpage isn't working anymore.
Great suite of tools for business and agencies
What I like best is the good range of tools that I am able to use to support my small business clients to improve their SEO.
The keyword ranking tools are good and there is a solid backlink monitor and website audit tools.
The support is friendly and helpful and there are some useful articles to help.
Load more reviews
Join over 800,000+ users
You are in good company
Start two week free trial