Affiliate program – start earning money right now – it is easy!
Get 25% commission from each sale!
You don't need any special skills to be a successful SE Ranking affiliate – in fact, you don't even need to own a website to become one! You can use your blog, your Facebook account, Yahoo answers, Adwords articles, forums, etc. to place links to our website, provide consultations concerning our services, or simply recommend them to others.
SE Ranking is a unique system of website position analysis, which is necessary for any web resource owner and thus is much in demand in every segment of the online market. The service is available for sale via Avangate Affiliate Network program.
The advantages of the affiliate program:
When a visitor clicks on an add on your website, Avangate remembers the visitor as referred by your link for 120 calendar days. This means every purchase or any billing plan prolongation made by this visitor within the following 4 months will bring you 25 % of the price paid.
There is no need to keep any files on your server.
You do not need to worry about accepting payments, installation, and maintenance.
There is absolutely no possibility of "shaves"! Avangate is fully responsible for sales transparency and statistics of visitors who followed your advertising links.
Avangate provides convenient reports on your work.
The commission payments are 100% guaranteed.
How does the SE Ranking affiliate program work?
ADVERTISE SE RANKING PRODUCTS
ADVERTISE SE RANKING PRODUCTS
Become an Affiliate
Affiliate program instructions
Step 1. Create and account
Create an affiliate account. To do so, fill in the registration page in the affiliate system. We advise that you fill it in with your real data, otherwise there is a chance that Avangate will refuse to create an account for you. If you are having any problems with registration, please contact SE Ranking support by email: affiliate@seranking.com

https://www.avangate.com/affiliates/sign-up.php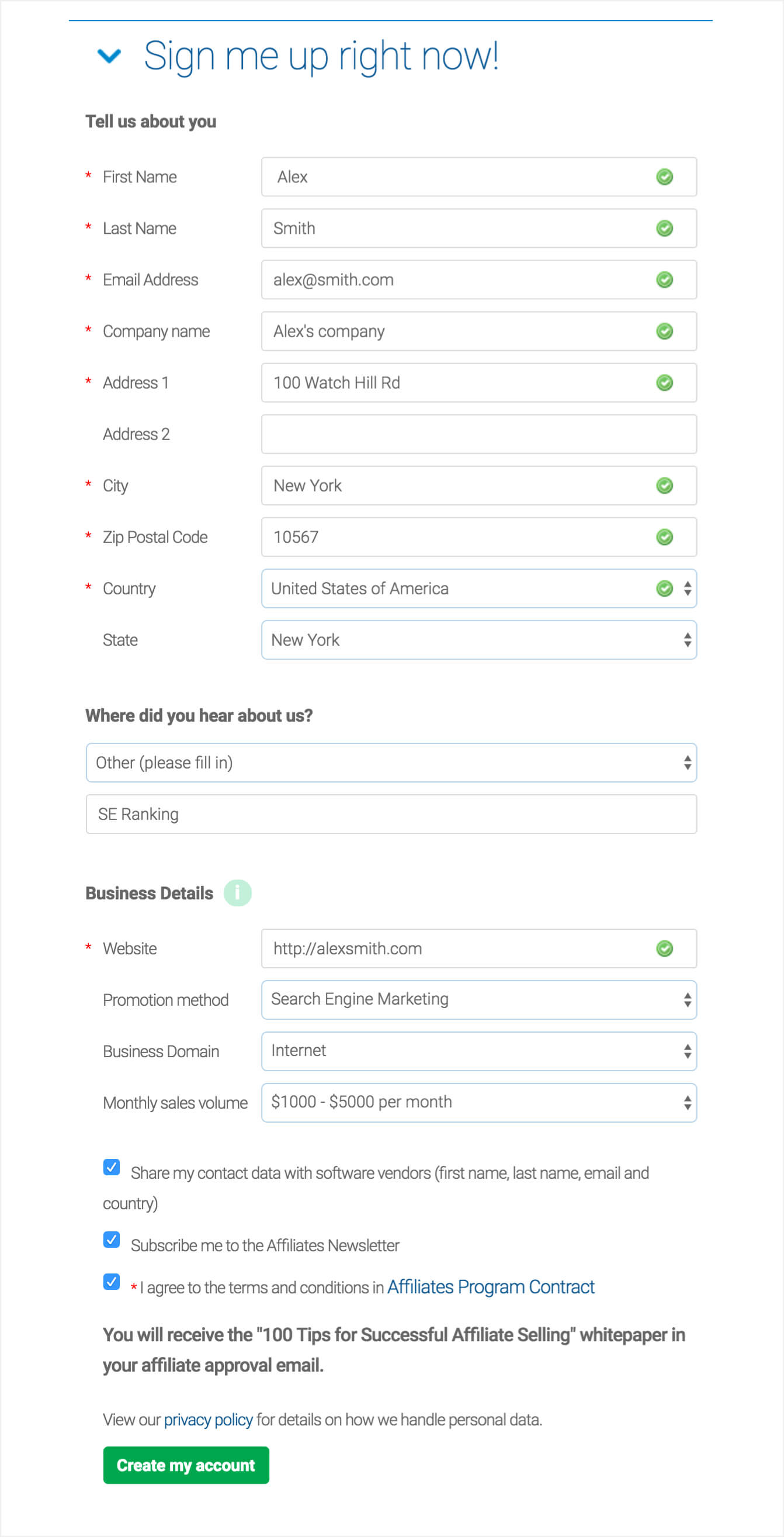 If you already are an Avangate affiliate, you can log in to your existing account with your usual username and password.
Step 2. Getting the links
Log in to your Avangate account and go to: Dashboard > Affiliate programs > Find Partners / Products

In the partner search line please specify "SE Ranking".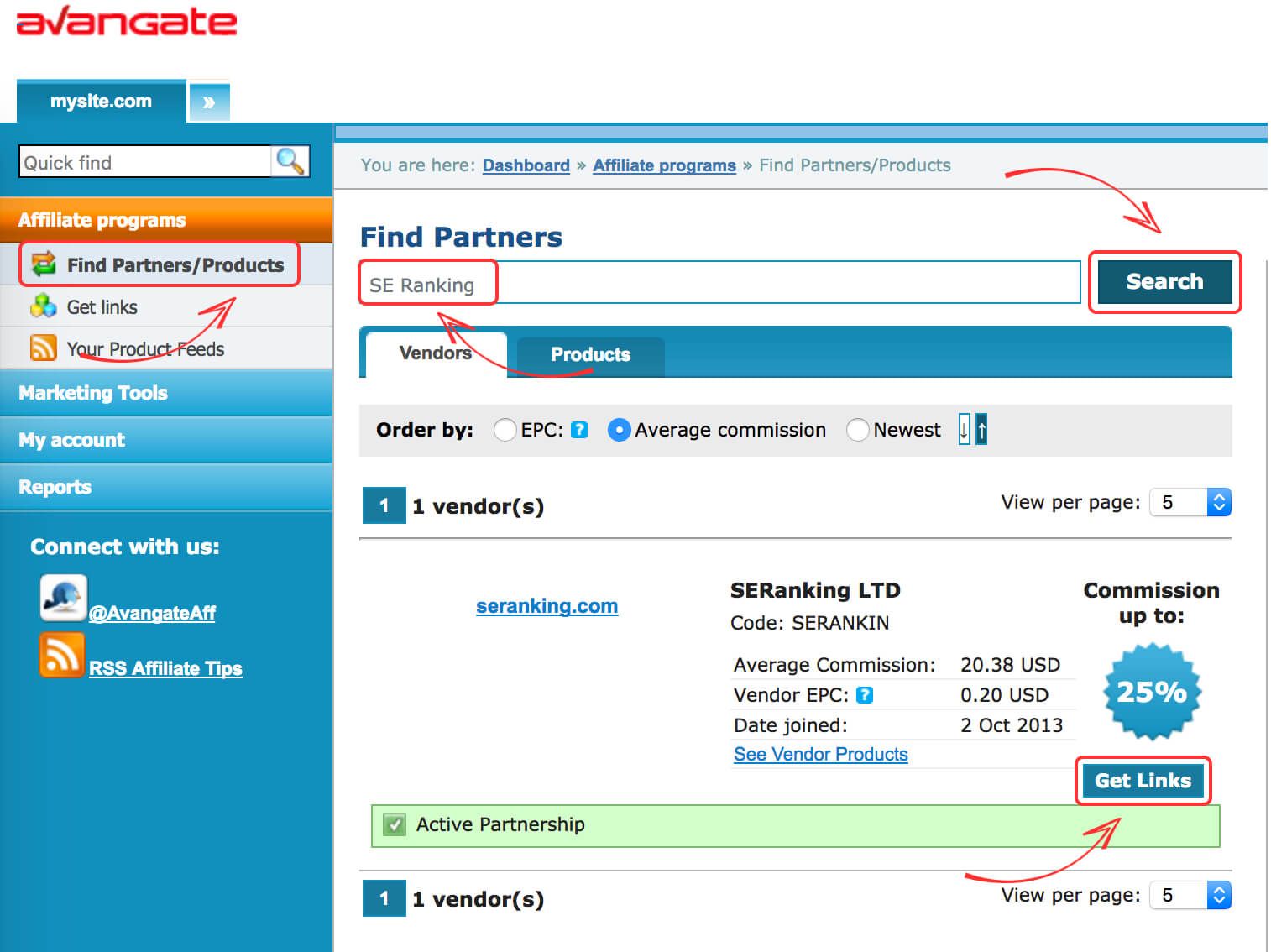 Press the Get Links button and choose the type of links that suits you best. You can create several types of links: to the payment page of the product chosen, or to the SE Ranking main page, or any other page you choose. The links to the main page are the most effective. It is not obligatory to choose products when generating links to the site's subpages – your cookie will be set anyways, which means you will get a 25 % commission from the first sale, as well as from the following rebills of any SE Ranking billing plan.

In order to get a link to the SE Ranking mainpage, choose the link type – Custom URL, paste our site's mainpage URL http://seranking.com and press the Generate Link button. If necessary, you can generate a link to any subpage you need.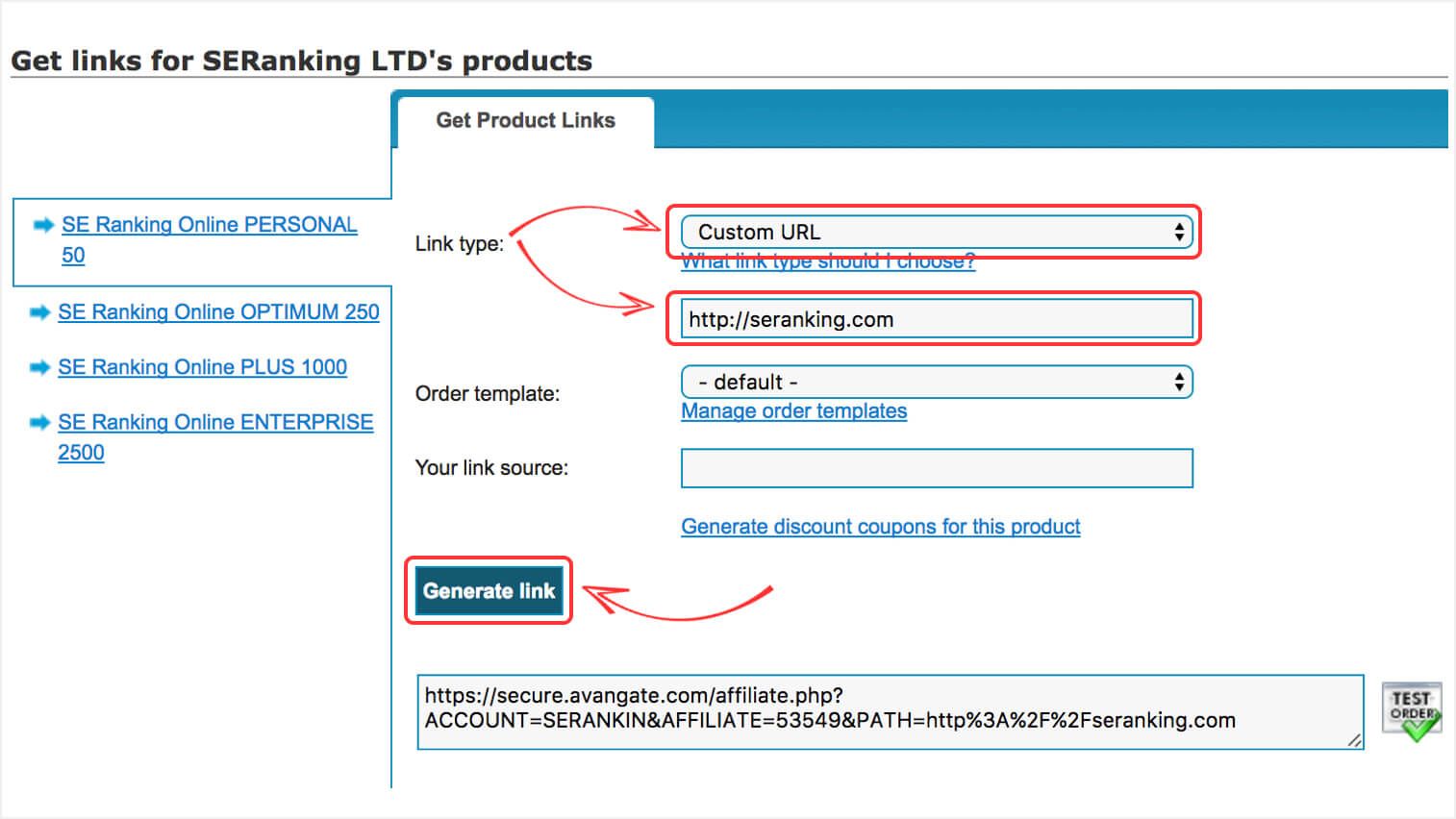 The link is ready! Before placing it in any advertising network, make sure you test its operability; to do so, press the "Test Order" button on the right.
Step 3. Setting the payment option
Go to: Dashboard > My Account > Payment Options

Choose your preferred payment option. The payments are effected once a month; the following payment methods are available:
Wire transfer
Cheque
PayPal
Avangate Prepaid Debit Master Card
Step 4. Add the link to your website/blog
In order to start getting profits, just place the link obtained on Step 2 on any website or blog of yours, or start promoting SE Ranking among your friends and acquaintances.
We reserve the rights to modify any terms and conditions at any time with no further notice. These modifications may include, but are not limited to, adjustments to the referral fees and Affiliate Program rules.
Affiliate URL – you must obtain a special URL from Avangate – SE Ranking' official partner in this program. The link will be unique to you and you only, and serve you as a certificate to be paid for affiliate referrals.
Branding – Affiliates may not use SE Ranking brand in any ppc or AdWords activities and in any variations in their URL.
Commissions – a non-coupon aggregating Affiliate will receive 25% commissions from orders placed through properly issued Affiliate links. The owners of the coupon-distributing sites are entitled to 1% commission reward only.
Qualifications – SE Ranking reserves the rights to refuse the participation in our Affiliate Program if the site deems to violate our qualifying standards. Certain coupon aggregators might fall into this category. You will be terminated from the Program if you list coupon codes or discounts that were not generated through Avangate or if you promote the coupon you found someplace online. Self-generated coupons or coupons generated though channels other than Avangate are strictly prohibited. Affiliates also may not host or promote "coupon stacking" sites where users can combine coupons to receive additional discounts.
Termination – The Agreement comes to its effect when you accept these terms and conditions and will end when terminated by either party.
---
Have a question, comment or feedback?
Get in touch. Drop us a line