Top 7 Surfer SEO Alternatives
Content tools play a vital role in researching topics, auditing your content, and finding effective keywords for creating or optimizing content. If you want to rank high in search engines and get real people reading and interacting with your site, look no further than top-notch SEO tools. One such tool is Surfer SEO. It analyzes the top-ranking content on SERPs for your desired keyword and provides insights on how to create content that is as good as, if not better than, the content on those pages. The tool gamifies SEO by scoring your content out of 100 relative to your competitors.
Surfer SEO doesn't have a free plan. Its basic plan costs $29 a month. With this plan, you can write and optimize only three articles per month, audit 240 pages per year, and perform advanced keyword research. More robust plans come in at $89, $179 and $299. If you want to perform other tasks, such as generating content with the help of AI, auditing your site, and performing on-page optimization, you'll need to pay extra for each tool. 
Reviews are consistently positive (461 total with an overall rating of 4.8 out of 5 stars) — but of course, there's always room for improvement.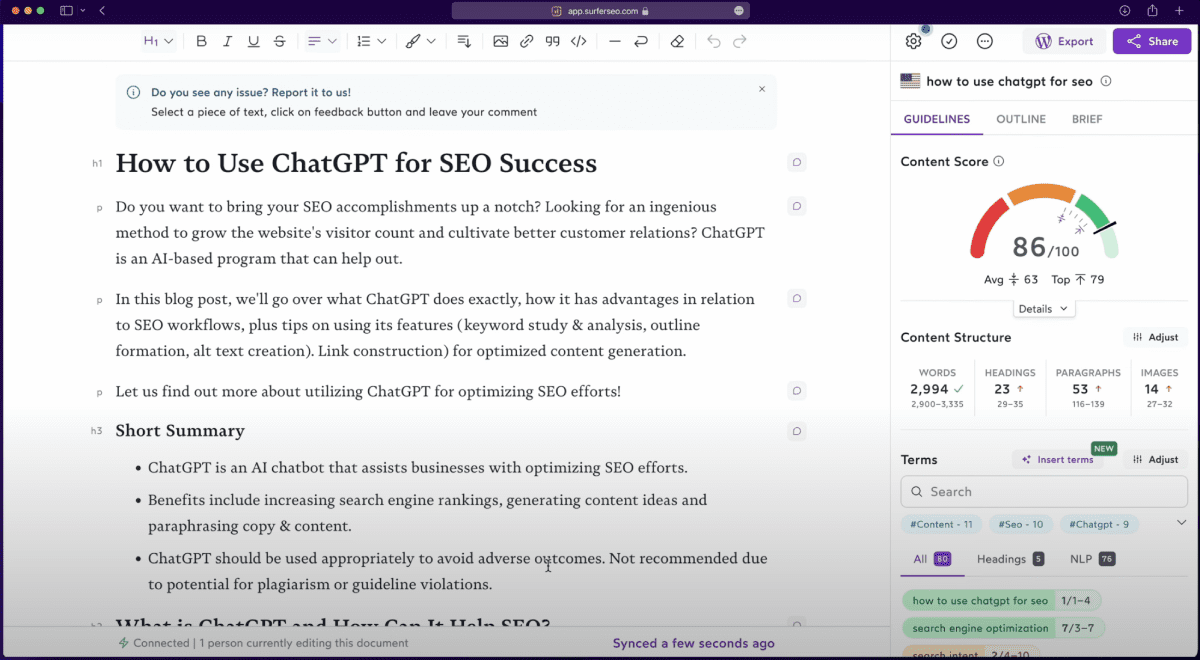 7 of the best Surfer SEO alternatives we chose
We carefully reviewed numerous powerful SEO tools and handpicked the ones we believe are the top contenders. Here's a list of highly valuable alternatives to Surfer:
SE Ranking
Clearscope
Frase
MarketMuse
Content Harmony
Semrush Writing Assistant
Copywritely
Why would people look for Surfer alternatives?
While Surfer is a solid content tool, many users are unimpressed by its pricing policy, steep learning curve, lack of advanced features and inappropriate keyword suggestions.
Value for money. Some users find Surfer SEO's pricing less feasible, especially if they don't fully utilize their credits. The inability to pause an account or add credits when needed adds frustration. With its new pricing plans offering fewer features and credits at higher prices, the number of complaints will likely increase.
Dubious recommendations and lack of transparency. While the tool does much of the heavy lifting for you, it doesn't always provide clear explanations of its conclusions. Some users have noted that Surfer's topic clusters may not work effectively for SEO, and keyword suggestions can be off-topic, potentially leading to unreadable text if all keywords, headings and other recommendations are followed.
Steep learning curve. Surfer is quite user-friendly, but it still can be overwhelming for novice users. On top of that, the tool doesn't offer decent training materials, making it even more challenging for clients to grasp the basics and use the tools effectively.
Lack of advanced SEO features. While Surfer is a powerful content editor, it still lacks other SEO and content features despite its higher price point. Some users commented that Surfer's Website Audit and Grow Flow tools are of little help for SEO, and with the new pricing plans, both features will cost you extra.
How we selected the best Surfer SEO alternatives
Before investing in any tool or software, it pays (sometimes literally) to compare your options. In this article, we will be reviewing the top alternatives to Surfer SEO and how they stack up against it.
We took four key areas into account when assessing different options, including:
Functionality: What features does the tool offer? Does it cover the same core tasks as Surfer?
Interface: How easy is it to use?
User reviews: We referred to G2 for insights from users.
Price: Does the cost align with the features that the tool offers?
We also considered the target audience for these tools, whether it is freelancers, small agencies, or enterprise companies. From there, we examined the developmental trajectory of the products and looked for evidence of ongoing support and improvement.
With that said, let's go!
7 top Surfer SEO alternatives for dominating the SERPs
The content tools on this list are comparable to Surfer SEO in terms of functionality, as they are all full-cycle content marketing solutions. So, if you are seeking alternatives for writing, editing, and optimizing your content, here are our top recommendations.
1. SE Ranking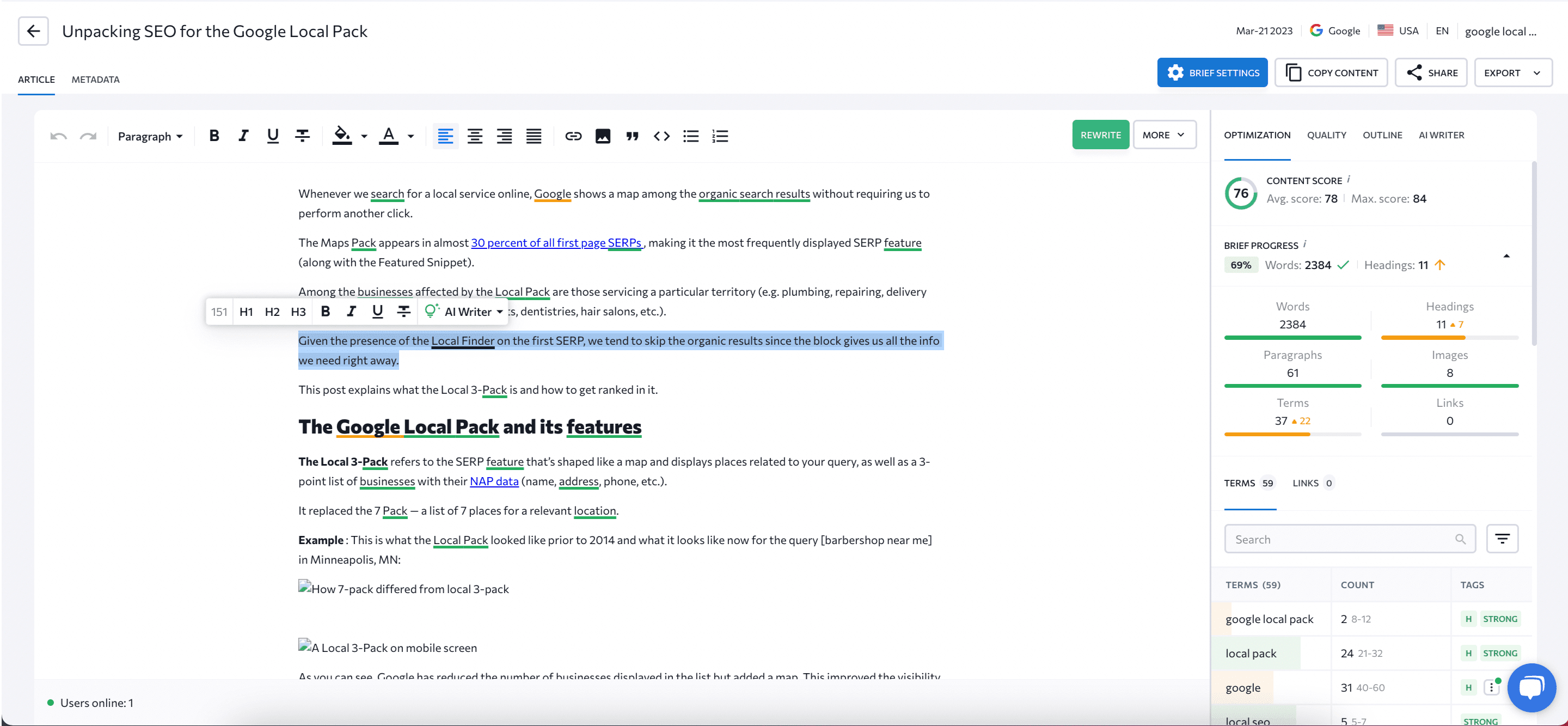 Functionality
This is one of the best Surfer SEO alternatives, providing a comprehensive approach to optimizing your website. With the Content Editor, you can construct an outline and create an intentional piece that meets the necessary standards to rank well. It does this by drawing insights from the main content parameters of top-ranking pages such as the number of words, images, headlines, page structure, and so on. It also provides recommendations on keyword usage, density, and distribution based on NLP algorithms. 
You have the flexibility to work on your content piece independently or share your brief with a freelance copywriter by providing a guest link to the tool or using the dedicated add-on for Google Docs.
Where SE Ranking content marketing suite excels beyond Surfer SEO is its inclusiveness. Included in this suite is an AI writer that takes into account your target keywords and tone of voice. The suite also features a plagiarism checker and a readability and grammar analyzer. 
SE Ranking also provides keyword and competitive research, backlink gap analysis, an on-page optimization tool, and a rank tracker, among many other essential SEO tools. This means you can easily create content, optimize it if needed, and track its performance in search engines all within a single platform.
Interface
Because SE Ranking's users span from freelancers and newbies to mid-sized agencies and businesses, ease of use is one of its strong points. The interface is intuitive, simple to navigate, and easy on the eyes. And SE Ranking's biggest strength is that it can be as simplistic or complex as you want it to be, all based on your needs and goals. Furthermore, transparency is a strong point. With this tool, you can gain a better understanding not only of what the tool is telling you but also of the methodology it used to determine that.
User reviews
With 1,171 reviews and 4.8 out of 5 stars overall, SE Ranking has a much more widespread user base than Surfer. And, in fact, many users state that they can't find anything they don't like about this alternative.
Price
Plans range from $55 per month for the Essential plan and go all the way up to $570 per month for the most ample Business plan, which includes all the SEO tools mentioned in this review on top of loads of other SEO features. You can also get a 20% discount if you purchase an annual subscription.
The Content Marketing tool is sold separately as an add-on and is available in three formats:
$29 for 15 articles: 25k AI-generated words and three plagiarism checks.
$49 for 30 articles: 50k AI words, and five plagiarism checks.
$99 for 120 articles: as many as 250k AI words and 10 plagiarism checks.
To purchase an add-on, a basic SE Ranking subscription is required, meaning your entry price would be $84. For 30 articles, you'll need to pay at least $104, and for 120 articles, it would be at least $154. This makes SE Ranking a more cost-efficient solution than Surfer, which would charge you $260 for 25 articles.
SE Ranking offers a 14-day free trial that includes all SEO features along with the Content Marketing module, giving you the opportunity to try everything before you buy it.
2. Clearscope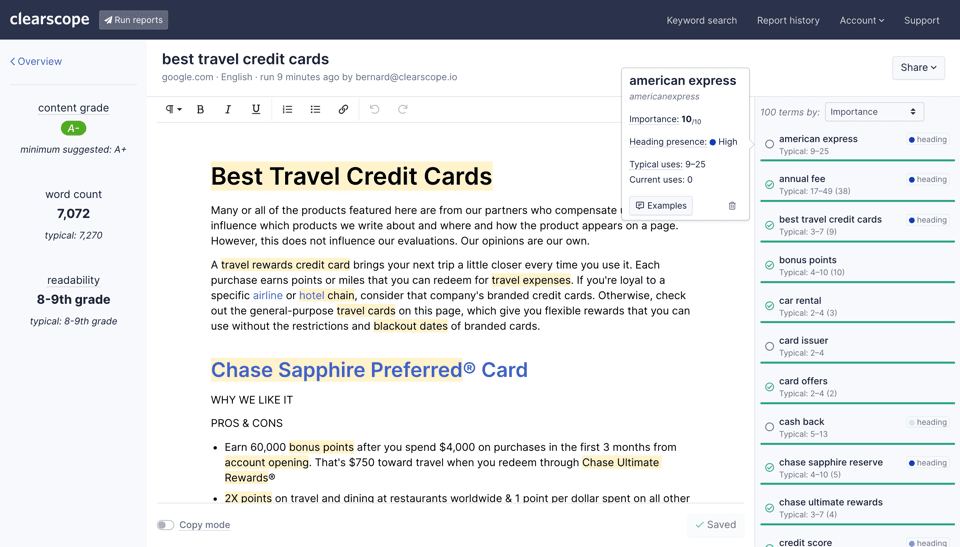 Functionality
Clearscope offers a range of core features. You can build content briefs and outlines, gain insight into what's helping other pages rank well, and then incorporate those elements into your own content. By entering the target keyword or search intent, selecting your domain, and choosing the language, you can create and organize reports. Clearscope uses natural language processing to help you create content that outranks your competitors.
While Clearscope is a popular choice for SMBs, it might actually provide far more to solopreneurs than they require.
Interface
It doesn't seem to have a ton of bells and whistles. This is about as simple and concise a user interface gets. Just enter a high-level topic into the Keyword Discovery tool to find new keywords based on the most common auto-completed queries in Google. Optimize your content in the text editor by adding suggested keywords at appropriate densities. You can also create and organize your reports within the interface.
User reviews
Clearscope has an overall rating of 4.9 out of 5 stars on G2, based on 85 reviews. Feedback often revolves around pricing, which is considered more appropriate for bigger companies rather than solopreneurs or small businesses. There are also questions about the keyword feature, such as how the keywords are picked and the ease of changing them. Some users have even noted that the niche keywords are not closely related to the main keywords.
The tool lacks a certain level of transparency, which makes it hard to obtain in-depth info. The website isn't very comprehensive and doesn't even talk about its tools in much detail. There are no explanations for its various features, and none of the pricing plans are thoroughly explained either. If you want more information, you'll have to email them and ask.
Price
Clearscope is one of the pricier on this list. Its most basic plan is $170 a month , which provides you with one user, 10 content reports, 20 content inventory pages, support for five languages, and integrations for both WordPress and Google Docs. Its more robust plans (Business and Enterprise) are available through custom pricing. 
All that being said, Clearscope doesn't appear to provide as much bang for your buck as some of the other competitors on this list.
3. Frase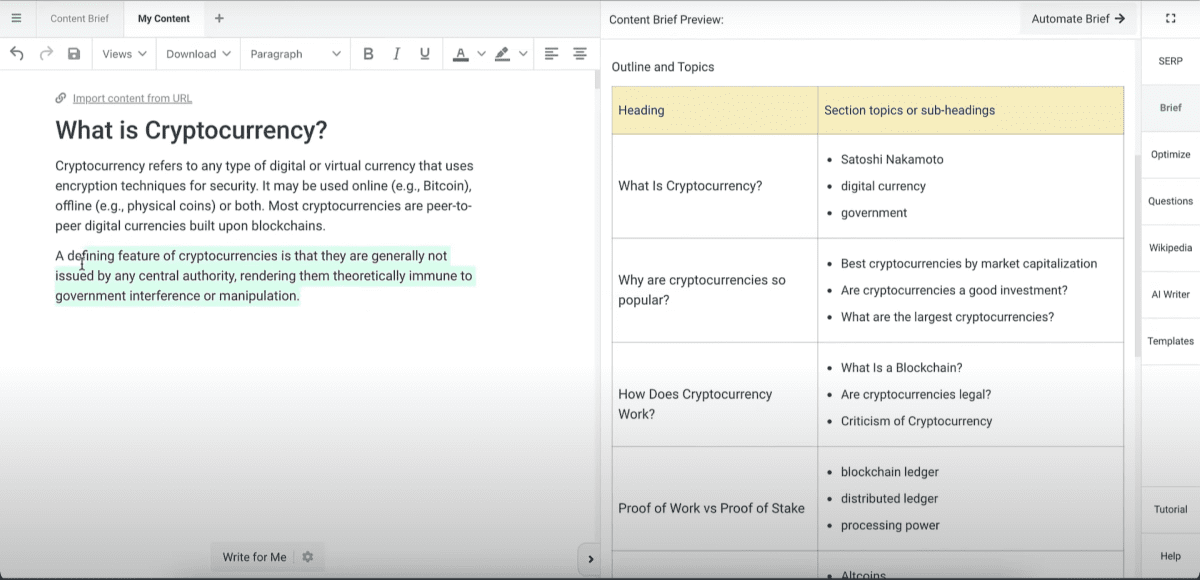 Functionality
Frase combines the beauty of SEO and AI to guide you in creating content that ranks well across all four stages of the process: researching, outlining, writing, and optimizing. It offers various features to analyze your competitors' content, providing insights into important SERP metrics from your competitors such as word count, domain rating, and heading count.
With Frase, you can generate a comprehensive content brief in a matter of seconds and identify the keywords that matter, as well as determine how many times you should be using them in your content. You can even organize your outlines with Frase's drag-and-drop feature, which allows you to quickly add headings that your competitors are using. Leveraging its AI features can be useful for fueling creativity and expanding on heading ideas.
Frase's AI Writer goes beyond Surfer SEO by incorporating background research from other sources. It analyzes your search competitors to help you effectively outline and optimize your content. Additionally, it allows for collaboration if you want to work alongside your freelancers or coworkers.
Interface
Frase prides itself on being intuitive. When starting a new document, you simply select the target keyword, country, and language. Frase will analyze the top 20 results with AI, summarize them, and then give you tons of insights on why those pages are ranking well and how you can compete. The document is dynamic, updating in real time as you make changes. Frase offers a puzzle-like experience, letting you pick and choose the parts of competitors that you like, and then gives you the opportunity to use them to build your own unique content.
User reviews
On G2, Frase has 285 reviews and an overal 4.9-star rating. Users praise it for its functionality, features, and content quality. However, some users mention that Frase's platform is not mobile-optimized, lacks easy integration with other tools, and that the keyword search functionality leaves much to be desired. Some users also note that there have been frequent changes to the UI.
Price
This platform is more affordable . Its Solo plan starts at $14.99 a month, providing one user seat and generating 4,000 AI words per month (48,000 words per year). However, this plan only lets you write and optimize up to four articles per month, or 48 articles a year. If four articles per month is not enough for you, you can upgrade to the next plan for $44.99 per month, which includes 30 articles but still only includes 4,000 AI words. 
To unlock unlimited AI writing capabilities and access basic keyword stats like search volume, domain authority, and backlink data, you can add the Pro add-on worth $35/month. Nonetheless, Frase has attractive pricing options no matter what size your business is.
4. MarketMuse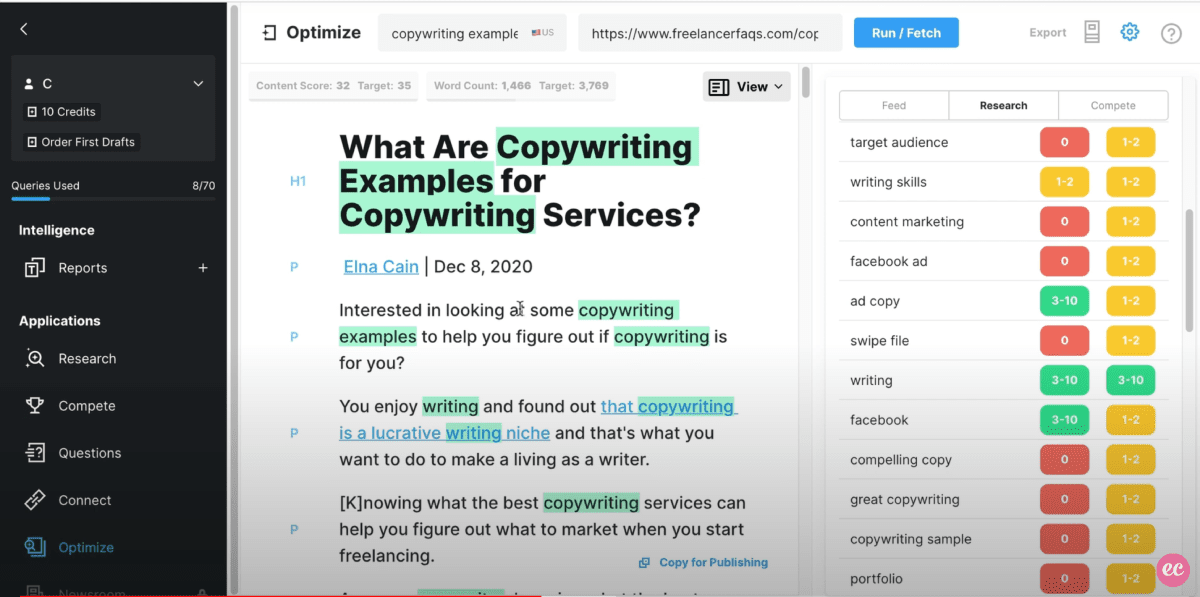 Functionality
MarketMuse offers a range of compelling features. With its Competitive Content Analysis tool, you can gain insights into your competitors' successful tactics and find ways to keep up with them. MarketMuse is also useful for discovering the optimal number of images to use, which H2s would work best in your favor, the hyperlinks you need, and which keywords are most important.
Use topic "clusters" to dominate the SERPs and gain valuable real estate within your niche. You can also research keywords by cluster and get a personalized score that demonstrates how difficult it would be to get your site to rank for that term. MarketMuse takes the guesswork out of content planning and helps you build a high-impact content strategy in minutes. It offers a good scope of features for solopreneurs, SMBs, and large organizations.
One notable feature of MarketMuse offers is its integration of ChatGPT. Most tools on this list have AI writing capabilities, and they all rely on the GPT model for natural language processing, but MarketMuse offers an actual integration with the chat. This can be more convenient for users who already use ChatGPT in their content workflow.
User interface
The user interface of this Surfer SEO alternative certainly appears to be less intuitive and user-friendly. It requires an investment of time and money — you likely won't pick it up overnight and need to be patient. It doesn't automatically save the work you do, so be prepared to have to re-enter certain information. The keyword tool also takes some trial and error to figure out.
Reviews
With 200 reviews, MarketMuse has an overall score of 4.6 out of 5 stars on G2. However, there seem to be a lot of complaints, first and foremost, about the price. Some users even say that you don't get as much bang for your back as you used to, and you have to pay for some features that used to be included free of charge. The keyword research tool is also unreliable, and many reviews state that the learning curve is quite steep.
Price
One unique aspect of MarketMuse is its free plan, which other popular Surfer SEO alternatives (and Surfer SEO itself) do not offer. However, your page-level insights will be limited and you only get 10 queries per month (or 120 per year). This is where things get shaky, as the first paid plan already jumps to $149 a month. For this price, you get full page-level insights, one user, and 100 queries per month (or 1,200 queries per year). MarketMuse recommends this subscription for individual users. If you're an agency, the company recommends its Team plan, which costs $399 per month.
MarketMuse's website doesn't offer much detail regarding what you get for these prices, but it seems to be more expensive than Surfer while having fewer bells and whistles.
5. Content Harmony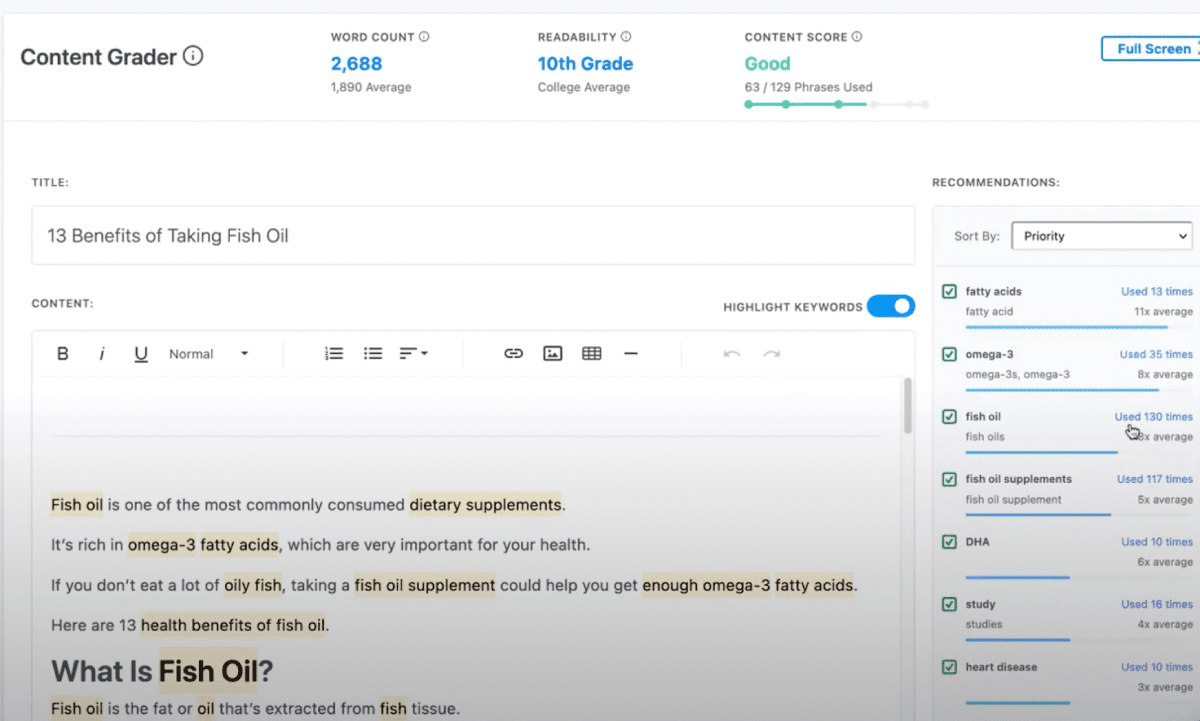 Functionality
Content Harmony claims that they can turn two hours of work into 20 minutes within one week. The tool, which is built by an entire content marketing agency, streamlines the entire research process, from keyword research to content brief creation and content grading. It all starts with your keyword report. Content Harmony will gather hundreds of data points to give you a robust SERP analysis of your competitors. From there, build your brief and share it with your teammates and clients to see how your content scores.
User interface
While the UI is generally user-friendly, some users find it to be clunky and slow, particularly when using the content editor to draft content. In fact, some user reviews say that they don't use this feature at all and instead paste in their completed draft for Content Harmony to grade. However, these nuisances appear to be small in the grand scheme of things.
Reviews
This Surfer SEO alternative doesn't seem to have as big of a following as its competitor. It only has 19 reviews on G2, but it does hold strong with 4.8 out of 5 stars. The reviews are so positive, in fact, that many of the "dislikes" people mention are more (in their own words) suggestions or recommendations.
Pricing
Content Harmony's pricing is on a sliding scale based on how much content you publish per month. For example, if you publish five pieces per month, they'll charge you $50. For 25 pieces, it's $199 per month. Notably, all plans offer unlimited users, unlimited projects, rollover credits valid for 90 days (a feature Surfer SEO doesn't have!), and free team training. 
You can start with a trial priced at $10, which gets you 10 credits. The trial has no time limit, and you won't be automatically billed until you choose to officially sign up.
6. Semrush Writing Assistant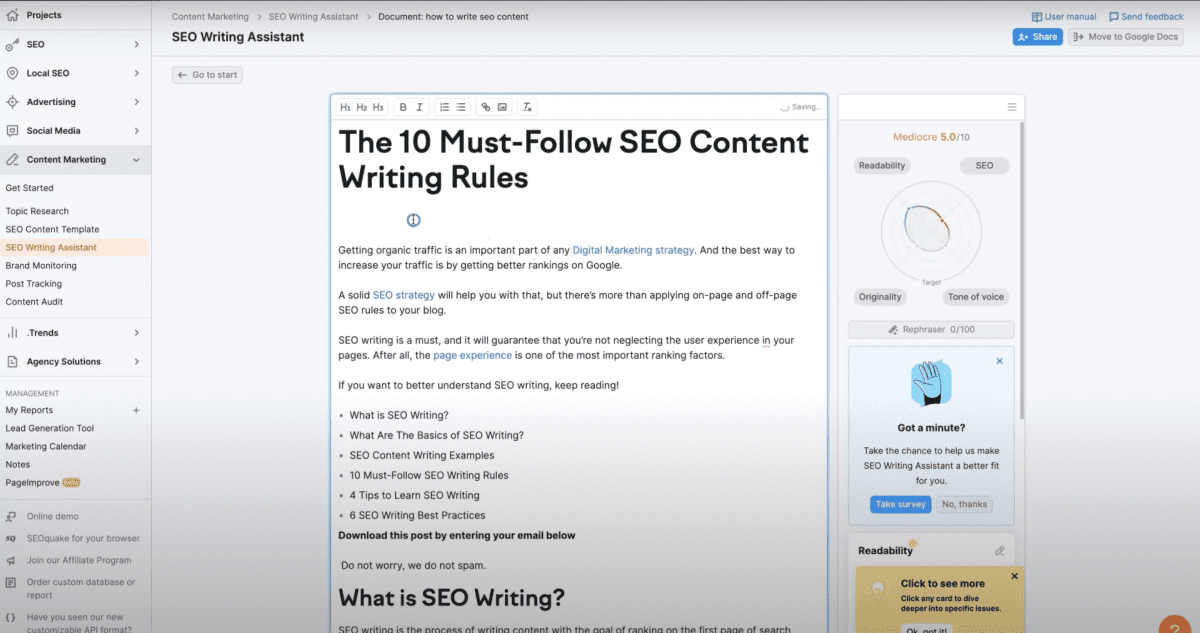 Functionality
The Semrush Writing Assistant is one of the components of the massive SEO suite of tools. It enables you to enhance your content by optimizing important keywords, improving readability and engagement, maintaining your tone of voice, and verifying originality to avoid plagiarism. The tool provides scores for readability, target word count, consistency, tone, and originality.
It also offers real-time data and insights on your biggest competitors for the keywords you care most about. It's even compatible with Google Docs, WordPress, and Microsoft Office 365.
User interface
While it takes time to learned how to navigate the entire Semrush platform takes, the Writing Assistant itself is fairly straightforward. You can enter in your target keyword and region, and the tool will evaluate your content and offer improvement suggestions. It also makes it easy to see how your pages stack up against competing pages.
Reviews
On G2, Semrush has 1,740 reviews and an overall 4.5 out of 5 stars. The biggest complaints by far include Semrush's price and steep learning curve. The tool is far more complex than some of its counterparts. Although this might not be a hurdle for enterprise companies, freelancers and SMBs might not have the budget and manpower to handle Semrush.
Pricing
You will need a Semrush account to use the Writing Assistant. With a free account, you can create a single template and link it to your Google Docs. If you want more access, the Guru subscription is necessary, priced at $249.95 a month. This subscription grants access to the entire Content Marketing toolkit, which also includes Topic Research and the SEO Content Template. So, you do get more, but for the budget-conscious, Surfer SEO will be much friendlier on your wallet.
7. Copywritely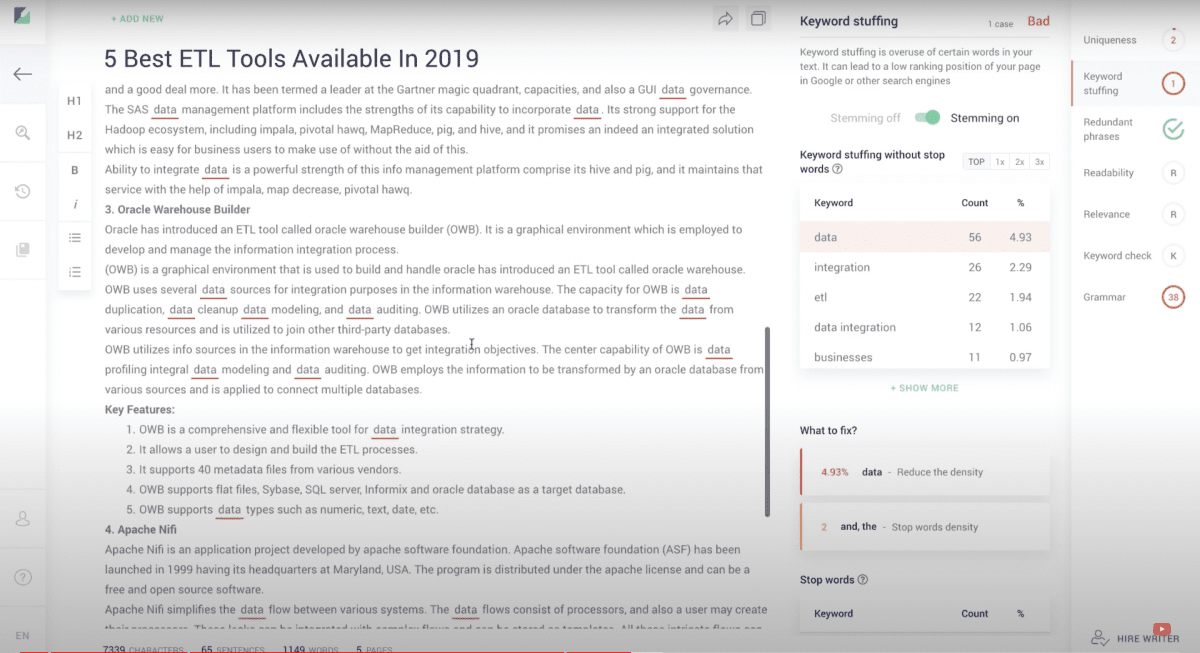 Functionality
Copywritely offers a range of features, such as a duplicate content checker, grammar checker, readability checker, word counter, article rewriter, alphabetizer, keyword SERP checker, keyword density checker, a words-to-minutes calculator, and a words-to-pages converter. These features are accessible for free, but with limits.
By opting for a paid version, you can get many different benefits, including support for nine languages, keyword research, competitor analysis, analysis of up to 10,000 words per check, task automation, custom task creation, and report generation.
User interface
Copywritely is easy enough to use, but its pages can be incredibly slow to load. In some cases, pages fail to load at all. In fact, these issues have been reported in several user reviews.
Reviews
Copywritely is one of the newer kids on the block. It only has 11 reviews on G2 and an overall score of 4.1 out of 5 stars. The most common feedback seems to be a lack of innovation. The tool isn't updated frequently enough, which is discouraging since some users say it's generic and has a clunky user interface.
Pricing
Similar to Content Harmony, Copywritely's pricing offers a sliding scale model based on the pages per month you plan to use it for. For example, 50 pages cost $29 per month, while 500 pages cost $150. Based on the reviews and personal experiences of Copywritely's users, Copywritely doesn't seem to be too reliable, especially for bigger companies.
Consider what your business needs are, what you can afford, and whether or not the tool you're considering can rise to the challenge!
Frequently asked questions
What is the best Surfer SEO alternative?
SE Ranking is the strongest competitor on this list. It's cost-effective, jam-packed with valuable features, and suits a wide range of professionals and businesses, ranging from bloggers to enterprise companies.
Is there a free version of Surfer SEO?
No, there is no free plan for Surfer SEO. A monthly subscription is required, starting at $29.
Is Surfer SEO worth it?
While Surfer SEO is a formidable tool for content marketing, it's not the most cost-effective or flexible option. Bigger companies with heftier budgets might find it suitable, but you should definitely explore alternative options as well.
Megan has been writing and editing professionally since 2011. Writing is, hands down, her favorite thing to do. Her chihuahua, Peanut, often steps in to help with edits.