9 Best Moz Alternatives and Their Pros and Cons
Moz is a widely recognized all-in-one SEO software catering to small businesses, agencies, and large enterprises. It provides comprehensive monitoring of site parameters and aims to enhance visibility in search results. Its core functionalities include keyword analysis and position tracking across multiple search engines, as well as site crawling and auditing capabilities to detect errors, optimize web pages, and improve link architecture.
Moz offers three options to suit different needs:
Moz Local – Designed for businesses with physical premises or service areas.
Moz Pro – Ideal for businesses with websites seeking high-quality traffic and quantifiable outcomes.
Stat – Geared towards businesses that require large-scale keyword tracking for their websites.
In this article, we will primarily focus on the most popular option, which is Moz Pro.
While Moz is a popular choice when it comes to SEO tools, it has several drawbacks that may prompt users to look for the best Moz alternatives out there. We'll review nine of them from different angles so that you can make an informed choice:
SE Ranking
Raven Tools
Mangools
Semrush
Spyfu
Ahrefs
SEO PowerSuite
Seobility
Ubersuggest
Criteria for choosing the best Moz alternatives
We took several criteria into consideration when examining alternatives to Moz:
Functionality: What range of features does the SEO tool offer? Are these features comprehensive enough to provide detailed insights? To what extent can users customize the tool and the data it provides?
User Interface: How many clicks does it take a user to reach their desired location? How long does it take? Is the user journey smooth and well-structured, or is it disorganized and confusing? Is it user-friendly enough for novice SEOs to navigate?
User reviews: What are users saying about the tool? Does it have a good reputation? Why are users leaving good or bad reviews about the tool?
Price: Does the SEO tool provide a variety of pricing plans that cater to different budgets without overly restricting access or functionality?
Now, before we assess its competition, let's review Moz using the criteria mentioned above.
Functionality
At first glance, the functionality of Moz Pro might seem impressive. The company proudly showcases its flagship features, including its keyword research, rank tracking, website audit, on-page optimization, link research, and custom reports tools. In actuality, these features come standard with most SEO platforms because they are the bare minimum for comprehensive SEO performance monitoring. Moz's tools don't stand out much and its capabilities are relatively basic compared to other tools on the market.
While this tool may be enough for basic users, it is considered somewhat lacking compared to other options on the current market. Many users have pointed out the absense of new features being added over an extended period, leading them to rely on other tools to satisfy all their SEO needs.
Some users have even added that the functions have inadequate descriptions, making it hard to understand how to use the tools with the information provided.
For a more advanced SEO solution, STAT Search Analytics by Moz is recommended. It offers an array of features including a flexible app & API and allows you to track unlimited sites, automate insights, and customize alerts on competitors. But it's important to note that this solution is for a narrow group of users and doesn't cover all fundamental SEO needs.
User Interface
As previously mentioned, Moz's user interface is one of its most commonly cited weaknesses. The tool's interface is outdated, unlike the more modern solutions available on the market. Moz Pro also does not provide enough information in a graphical style.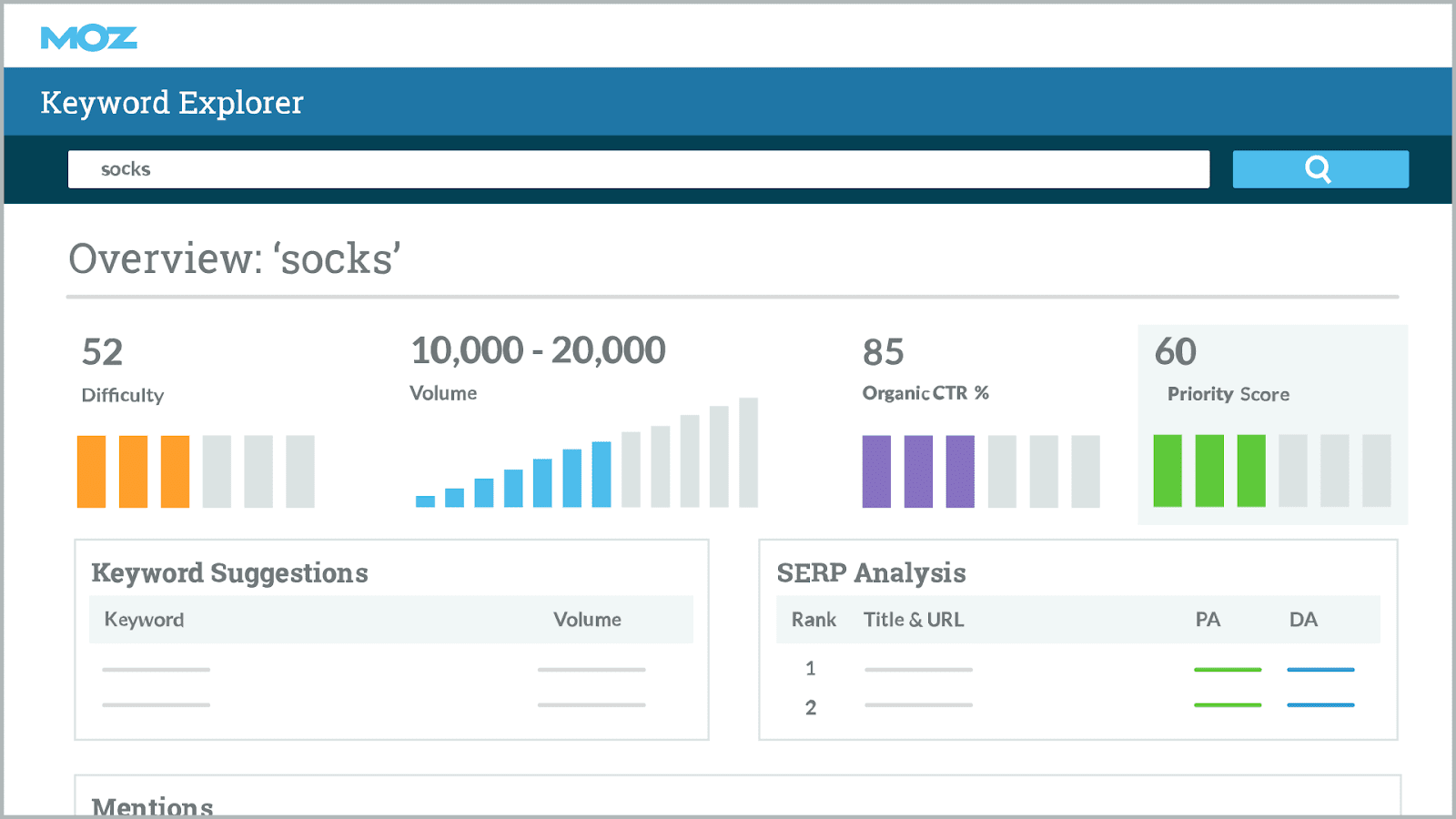 Many users suggest that the tool's navigation could be more user-friendly, and the on-screen data could be presented in a more easily interpretable way. Users also note that the aesthetics of the charts and graphs could be greatly improved.
User reviews
Moz Pro generally receives positive feedback from users. On G2, it has an overall rating of 4.4 out of 5 stars. Users on TrustRadius gave it a rating of 8.1 out of 10. Gartner has awarded it a score of 4.7 out of 5 stars. The most poorly rated aspect appears to be Service & Support. Many users comment on the outdated interface and the lack of new features.
Price
Moz Pro offers a diverse pricing structure that caters to different budget ranges. The "Standard" plan is the most affordable option at $99 per month. The "Medium" plan is priced at $179 per month. For those requiring more extensive features, the "Large" and "Premium" plans are available at $299 and $599 per month, respectively. These plans are billed monthly, but there is also a yearly payment option that includes a 20% discount compared to monthly payments.
Moz Pro also provides a free trial period of up to 30 days, allowing you to see whether the tool will suit your needs before buying. That's a much longer trial period compared to most other solutions.
9 of the best Moz alternatives and why they excel
We reviewed some popular Moz competitors and what they have to offer. All nine all-in-one SEO tools were hand picked based on their ability to meet our selection criteria. Let's take a look at each of them in greater detail.
1. SE Ranking
SE Ranking can be considered the closest Moz alternative because it also offers a comprehensive SEO platform with a complete set of SEO tools. However, the features in Moz that users have highlighted as needing improvement are real strengths with this platform. SE Ranking stands out as a modern tool with a much more straightforward user interface and features that satisfy even the most demanding of users.
Functionality
SE Ranking offers a robust set of features, including tools for:
Keyword ranking tracking
Website auditing
Backlink checking
Keyword suggestions
SEO/PPC competition research
SEO reporting
Unlike Moz, SE Ranking offers much more than the standard options.
For example, it has a page changes monitoring tool, which helps bigger teams collaborate better by keeping everyone informed about all experiments and updates—an area where Moz Pro falls short. SE Ranking provides the Keyword Grouper feature, which helps teams effectively manage large keyword databases.
But it doesn't stop there. SE Ranking embraces the latest trends by offering AI-based tools. With features like AI-backed SEO tips and AI writing help, you can create content briefs and write SEO-friendly texts. Through AI-powered SERP analysis, SE Ranking's On-Page SEO Checker, Content Editor, and SERP Analyzer tools provide practical tips on prioritizing page metrics to outrank competitors in your industry.
SE Ranking also has attractive solutions for marketing agencies, offering unlimited reporting, white labeling, and Looker Studio integration.
When comparing Moz with SE Ranking, users often mention the Keyword Research tool. Unlike Moz Pro, of which some users have criticized as being less useful for search terms with fewer searches, SE Ranking offers a more comprehensive keyword analysis tool. It includes keyword suggestions, search volume data using SE Ranking's advanced algorithms, and a competitive difficulty score for each keyword.
User interface
SE Ranking has a user-friendly, intuitive, and easily navigable interface. Unlike Moz Pro's outdated interface, SE Ranking has a modern look, with dashboards that provide a clear overview of SEO results. It also provides charts and graphs for data visualization, enabling you to easily discern trends.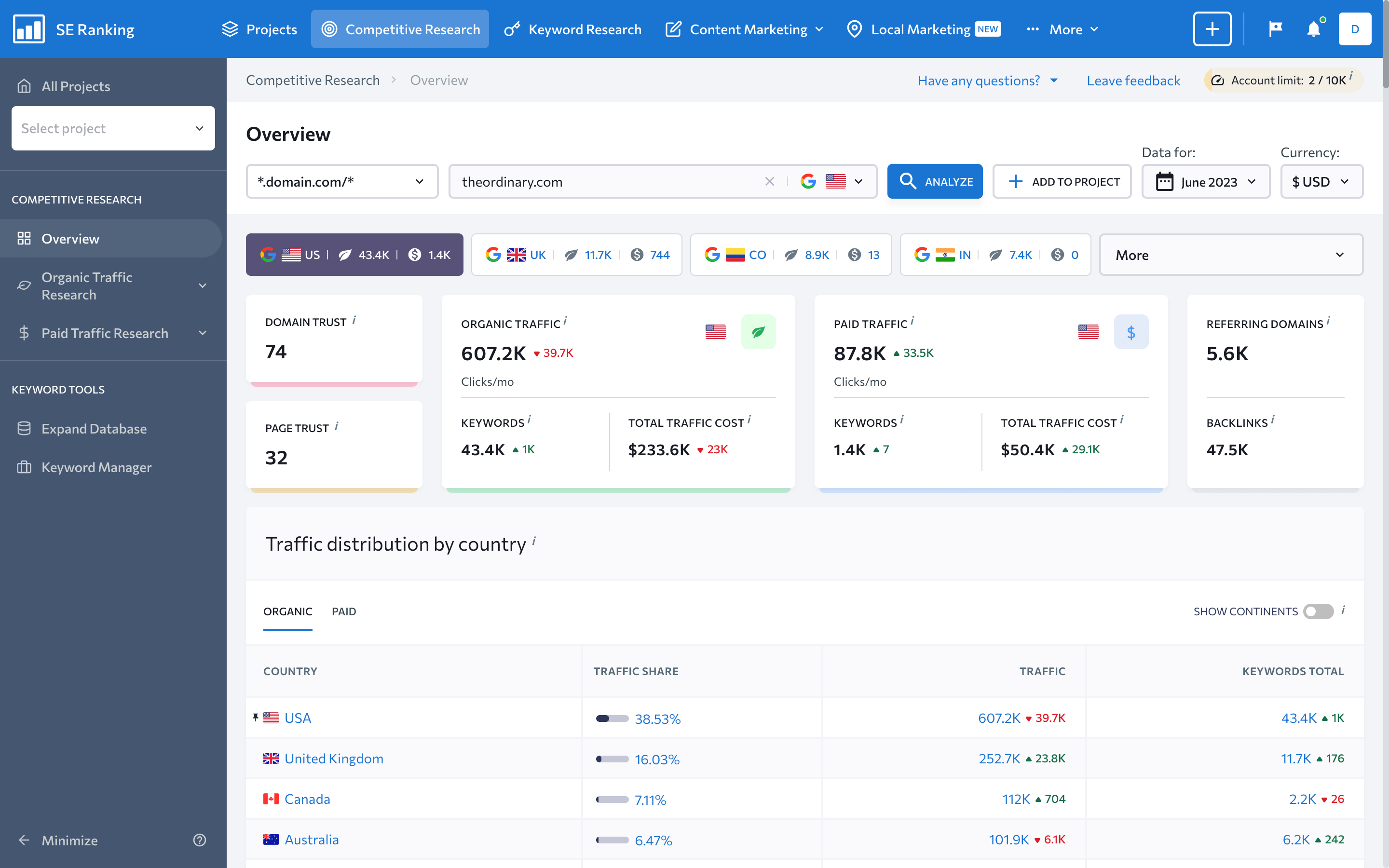 The tool also stands out with its customizable reports, allowing users to choose the data they want and customize its presentation. Its user-friendly interface is another distinguishing factor that sets it apart from its competitors.
User reviews
User reviews for SE Ranking are overwhelmingly positive. It holds the top spot on G2 with an impressive rating of 4.8 out of 5 stars based on more than 1,100 reviews, outperforming the other Moz alternatives to Moz on this list. It also has a favorable reception on Trustpilot, with a rating of 4.4 out of 5 stars. Its diverse functionalities and reasonable pricing have earned it even higher praise from its users. SE Ranking users extensively praise it for its varied features and cost-effective pricing. Interestingly, all users are satisfied with its functionality, and 95% declare they would repurchase the tool.
Price
SE Ranking presents a broad spectrum of plans tailored to different user types, from solo entrepreneurs to small and medium businesses and agencies. The pricing varies from $55 to $570 per month, providing cost savings for users in the lower price range compared to Moz Pro, whose cheapest plan starts at $99 monthly.
Similar to Moz Pro, SE Ranking offers a 20% annual payment discount.
If your tool is intended for numerous users, it's worth considering the cost-per-seat ratio. With Moz Pro, even the most expensive package at $599 is limited to five users. With SE Ranking, a $239 monthly plan provides the same number of user seats and all advanced features, including historical data and API. This is particularly beneficial for companies aiming to incorporate the tool into their existing systems or workflows.
When comparing the pricing structure of the two companies, this Moz alternative provides more generous limits for keyword research. With SE Ranking's most basic plan, you can generate up to 100 keyword reports per DAY, whereas Moz offers only 150 per MONTH.
Starting from the Pro package SE Ranking doesn't impose limits on the number of projects per account, which is extremely beneficial for agencies. Moreover, their dedicated Agency Pack, priced at only $50 per month, offers unlimited branded reporting, a lead generation tool, White Label capabilities, and 10 extra client seats. Finally, all SE Ranking plans include integrations with Google Analytics, Search Console, and Looker Studio.
2. Raven Tools
Raven Tools is a powerful Moz alternative that offers a wide range of valuable options for effective management and reporting on SEO, PPC, social media, and other campaigns.
Functionality
Raven Tools delivers a solid suite of SEO tools, including keyword research, competitive analysis, and backlink analysis and tracking.
It also has an interesting feature called Competitor Analysis, which offers a side-by-side SEO and social metric comparison dashboard. It features metrics such as the number of backlinks, Trust Flow and Citation Flow by Majestic, Domain Authority by Moz, site load time, and social media likes on platforms like Facebook, Twitter, Pinterest and LinkedIn. The tool also provides a 360 degree view of any competitor's domain, showcasing the keywords they rank for, website design speed metrics, and backlink profile.
Moreover, Raven Tools offer an array of integrations with Google Search Console, Google Analytics, and advertising channels such as Google, Bing, and Facebook. This puts it at a significant advantage over its competitor, Moz Pro.
However, despite offering more features than Moz, Raven Tools receives an almost equivalent user rating for functionality (4.3 out of 5 stars on Capterra). This may be because users find the abundance of data and functions overwhelming, making it challenging to understand and navigate the interaction of all components.
User interface
As for the interface, user reviews here are pretty inconsistent. Some users praise its ease of use, but most complain about frequent technical problems and performance issues.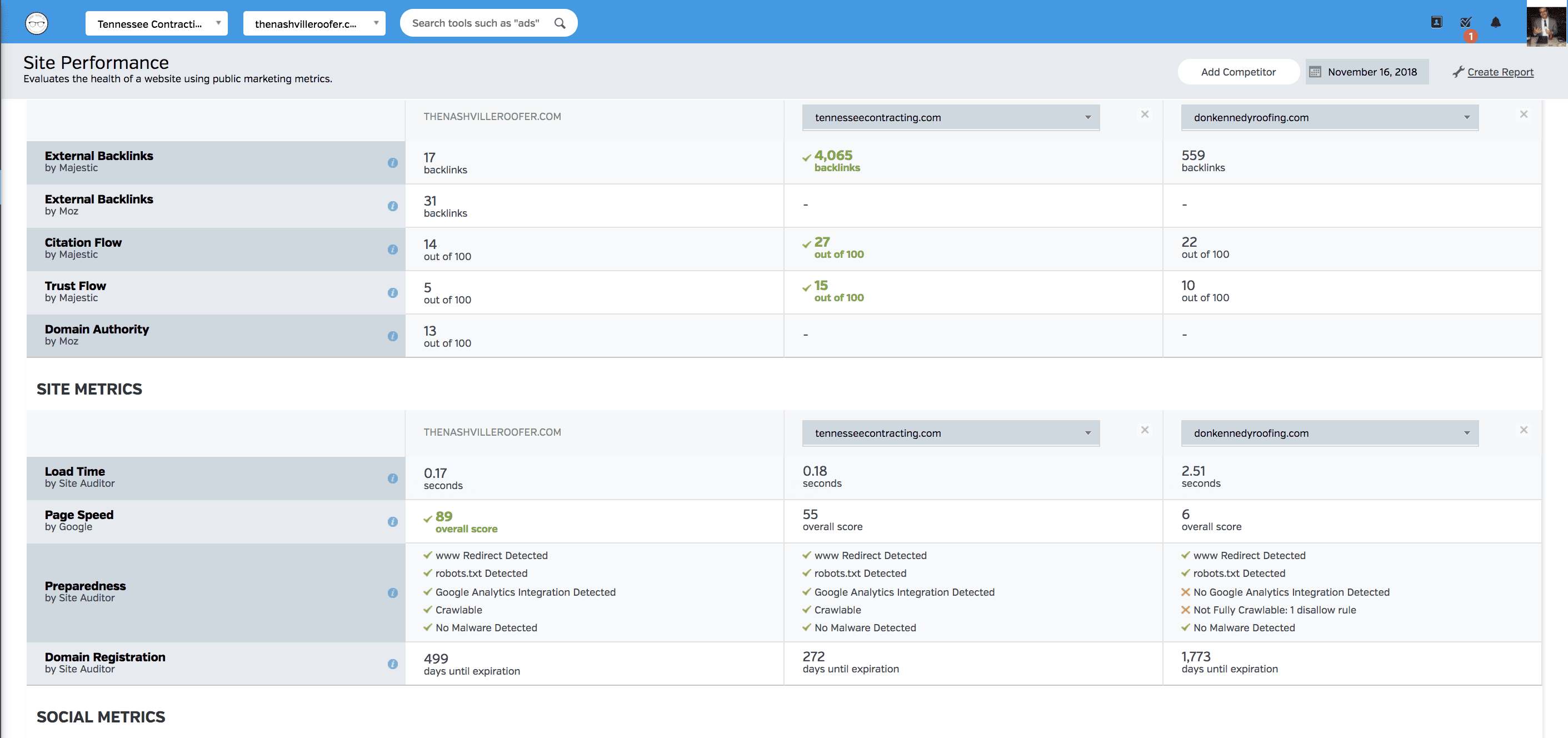 Users have expressed concerns about Raven Tools' complexity, stating that it can be overly intricate and time-consuming. Surprisingly, users have also mentioned its inability to provide some basic data, especially from Google Ads. If you prioritize a tool with a friendly interface, neither Moz nor Raven Tools may be the ideal choice.
User reviews
Raven Tools performs commendably in the competitive field, earning ratings of 4.4/5 on Capterra, 4.2/5 on G2, and 4.5/5 on Gartner. However, on TrustRadius, it lags slightly behind with a rating of 7.7/10. It scores the lowest in terms of value for money and ease of use, which should be carefully considered when deciding on this tool.
Price
Raven Tools offers five different packages to choose from with monthly subscriptions range from $39 to $479.
Opting for an annual payment entitles you to a 30% discount.
It's also worth noting that even the cheapest plan offers access to all features, albeit with certain limitations compared to the more expensive options.
Like other SEO solutions, Raven Tools also offers a free trial period, though only for seven days.
3. Mangools
If aesthetics, modernity, and a memorable design are high on your priority list, then Mangools, a vibrant SEO solution, might catch your eye. The fact that it primarily targets small businesses is reflective of its pricing structure.

Let's start by exploring its features and user reviews to see if they stir up as much excitement as its catchy name and attractive design.
Functionality
Similar to other tools like Moz, Mangools offers basic functionalities such as keyword research, competitor analysis, backlink analysis, rank tracking, and search engine results page (SERP) analysis.
Mangools stands out with its powerful keyword research tool, KWFinder. This tool assists users in discovering the best long-tail keywords to optimize website content for search engines. It provides essential data on keyword difficulty, search volume, and other important metrics, enabling users to optimize their sites and drive organic traffic.
However, some users feel Mangools falls short in offering comprehensive site analysis. It currently lacks tools for crawl analysis, site speed, or technical audits, which may be a disadvantage for specific users.
Interestingly, Mangools has a browser extension for Chrome and Firefox that leverages crucial data from its tools.
Despite not having as many features as some other Moz alternatives like SE Ranking, Mangools could be a good choice for small businesses and freelancers due to its attractive pricing and the features it does provide.
User interface
According to its users, one of Mangools' most significant strengths is its ease of use, receiving an impressive 9.8 out of 10 on G2, significantly higher than Moz Pro's rating of 8.7 for this functionality.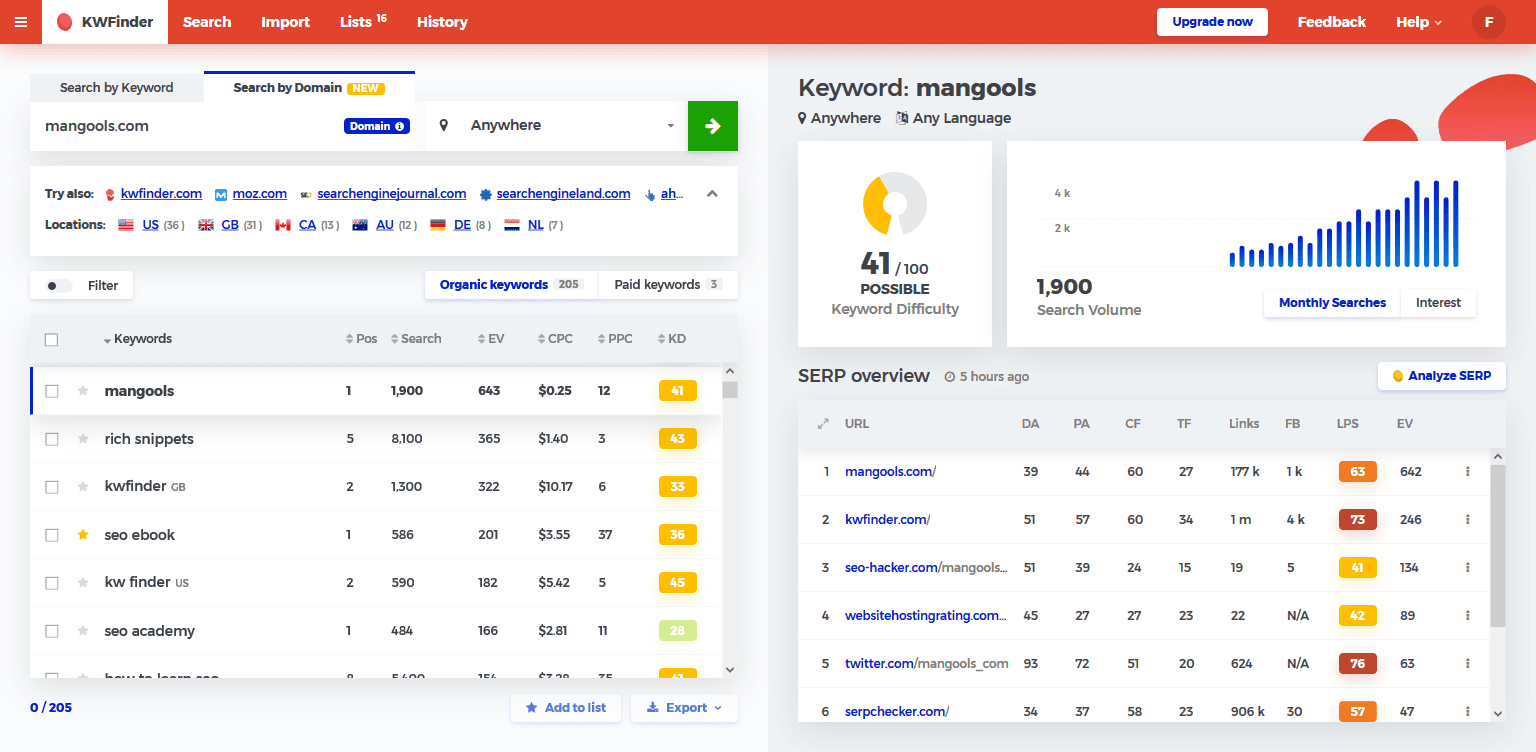 Users also commend its straightforward setup and administration, as well as the quality of technical support provided. Given its user-friendly interfact, Mangools is indeed a good option, especially for those new to the realm of SEO.
User reviews
It's important to note that Mangools is less known compared to other tools. For instance, it only has 45 reviews the G2 platform, while Moz Pro has 367 reviews. There also isn't much information about Mangools on other widely recognized rating platforms such as Gartner, Capterra, or TrustRadius.
Returning to the G2 ratings, Mangools scores 4.6/5 stars, which surpasses Moz Pro's rating. The user interface is particularly highly rated, but some users have expressed dissatisfaction with its daily limit of 100 search terms.
Another point of contention is the tool's unique approach to defining a 'day'. According to some users, a day doesn't begin at midnight but rather from the time of the first query. This means that if you don't initiate your questions exactly when the previous day ends, you'll lose that portion of the day. Consequently, you may not be able to utilize the available number of days in each month fully.
Price
Mangools offers three pricing tiers to cater to various user needs. The Basic plan is priced at €49 per month, the Premium plan at €69 per month, and the Agency plan at €129 per month. Additionally, Mangools provides a significant discount of 35% for users who make an annual purchase. This makes the lowest tier, the Basic plan, a highly affordable option at just €29.90 per month when billed annually.
If you want to try it before purchasing, you can take advantage of its 10-day trial period.
4. Semrush
Now, let's shift our focus to Semrush, one of the most recognized and sophisticated tools in the SEO marketplace. Despite its popularity, how does it fare in terms of user reviews and price comparisons?
Let's take a closer look.
Functionality
Semrush stands out with its extensive range of tools, offering a comprehensive solution for keyword research, website auditing, on-page SEO, local SEO, competitor analysis, content marketing, rank tracking, link building, social media management, paid advertising, and more. This is a notable advantage compared to Moz Pro, which provides a solid set of SEO tools but doesn't offer the same breadth of features as Semrush.
Semrush offers some unique insights, such as its proprietary Share of Voice metric, the collection of Product Listing Ads data for optimizing Google Shopping campaigns, and a site audit capable of rendering JavaScript. However, these advanced features are only available with more expensive pricing plans, along with API access and Looker Studio integration. Some users have even mentioned that the extensive range of features in Semrush can make navigation and tool discovery challenging.
User interface
Semrush requires a significant learning curve, and some users find its interface overwhelming and clunky.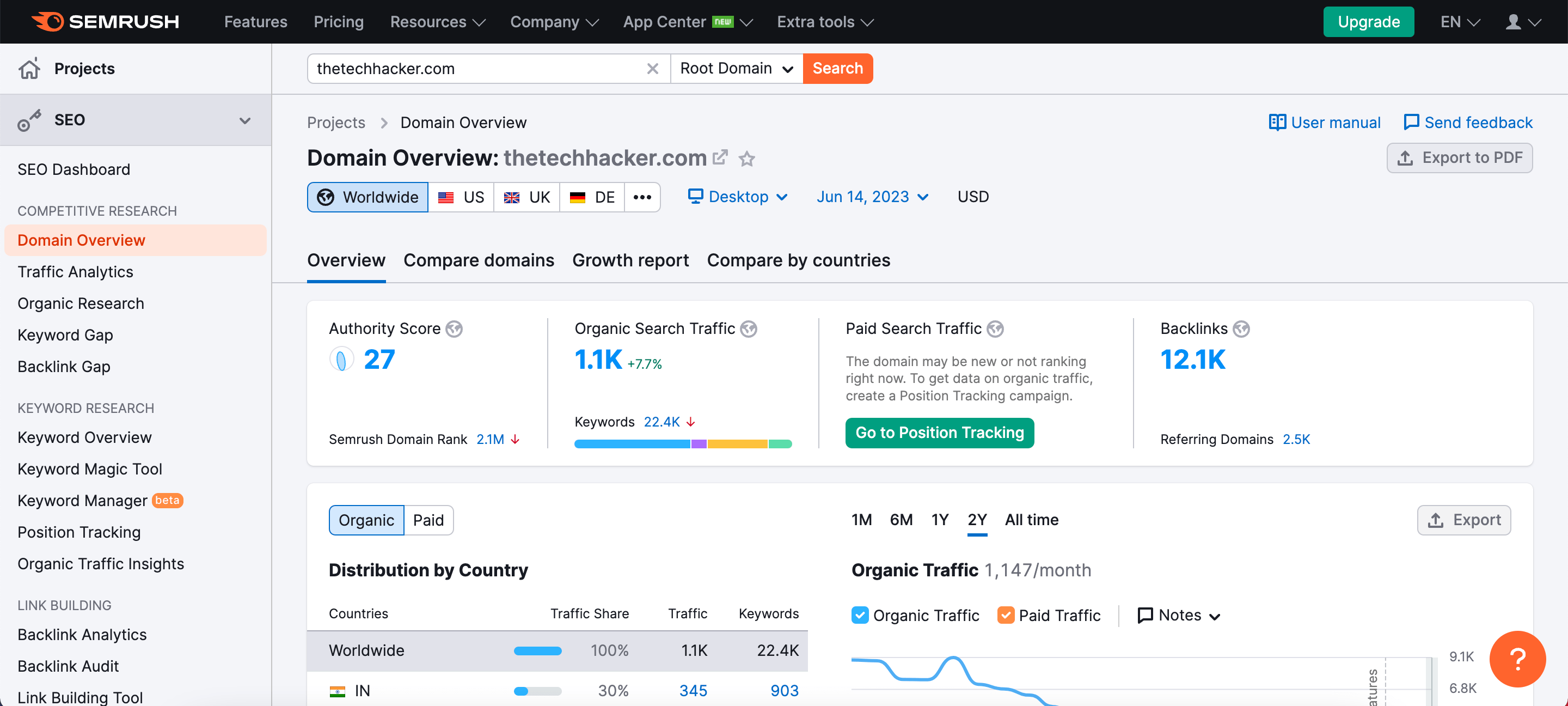 Comparatively, Moz Pro's interface is more straightforward but not without its own issues. Both platforms require some learning time, but Semrush's complexity could prove more challenging for beginners.
User reviews
Semrush has earned a reasonably good reputation among users, rating 4.5 out of 5 stars on G2, 4.4 out of 5 stars on Gartner, and 8.8 out of 10 stars on TrustRadius. The most common complaint for both tools is their navigability, indicating room for improvement in their user interfaces.
Price
Semrush can be demanding on your budget. Its most affordable plan, Semrush Pro, starts at $129.95 per month. The higher-tier plans cost $249.95 (Semrush Guru) and $499.95 (Semrush Business) monthly. If you choose an annual payment, you will receive a discount of 17%, which is the smallest value among the tools discussed.
It's important to note that each plan permits only one user to be logged in concurrently, requiring the purchase of extra seats for multiple users. This high price tag alone has led many users to search for Semrush alternatives.
Also, Semrush offers a free trial and a free version with limited functionality.
5. Spyfu
SpyFu is a tool designed for competitive analysis in SEO and PPC. It specializes in scrutinizing competitors' behavior, particularly in keywords, content, and backlinks. The tool aims to refine your strategy by using its analysis of successful methods used by your competitors, ultimately enhancing rankings and decreasing costs to boost marketing effectiveness.
Now, let's examine user feedback.
Functionality
SpyFu's key features include keyword research, domain analysis, and competitive research. As a comprehensive SEO and PPC package, SpyFu strongly focuses on competitive analysis. The Ad History feature provides extensive data on competitors' PPC ads, including ad text, landing pages, and estimated ad expenditure. Users find this feature valuable as it reveals the evolution of competitors' ad texts over time, effectively transforming them into top advisors.
Interestingly, marketing agencies frequently use SpyFu to find clients. They can identify companies already investing in paid traffic, pinpoint areas for improvement, and tailor their marketing offers accordingly.
If your primary concern is monitoring competition, SpyFu is an intriguing choice. However, like Moz Pro, it has a limited range of tools and offers no website auditing features, let alone tools for content creation and local marketing. If you're seeking an SEO solution with more comprehensive features, you might want to consider Semrush or a more cost-effective option like SE Ranking.
User interface
SpyFu offers an intuitive and visually appealing user interface that is easy to navigate. The dashboard has an aesthetic design that significantly enhances the user experience.
The dashboard gives users swift and seamless access to all necessary data, including SEO Research, PPC Research, Keyword Research, Backlinks, List Builder, Tracking, and Reports.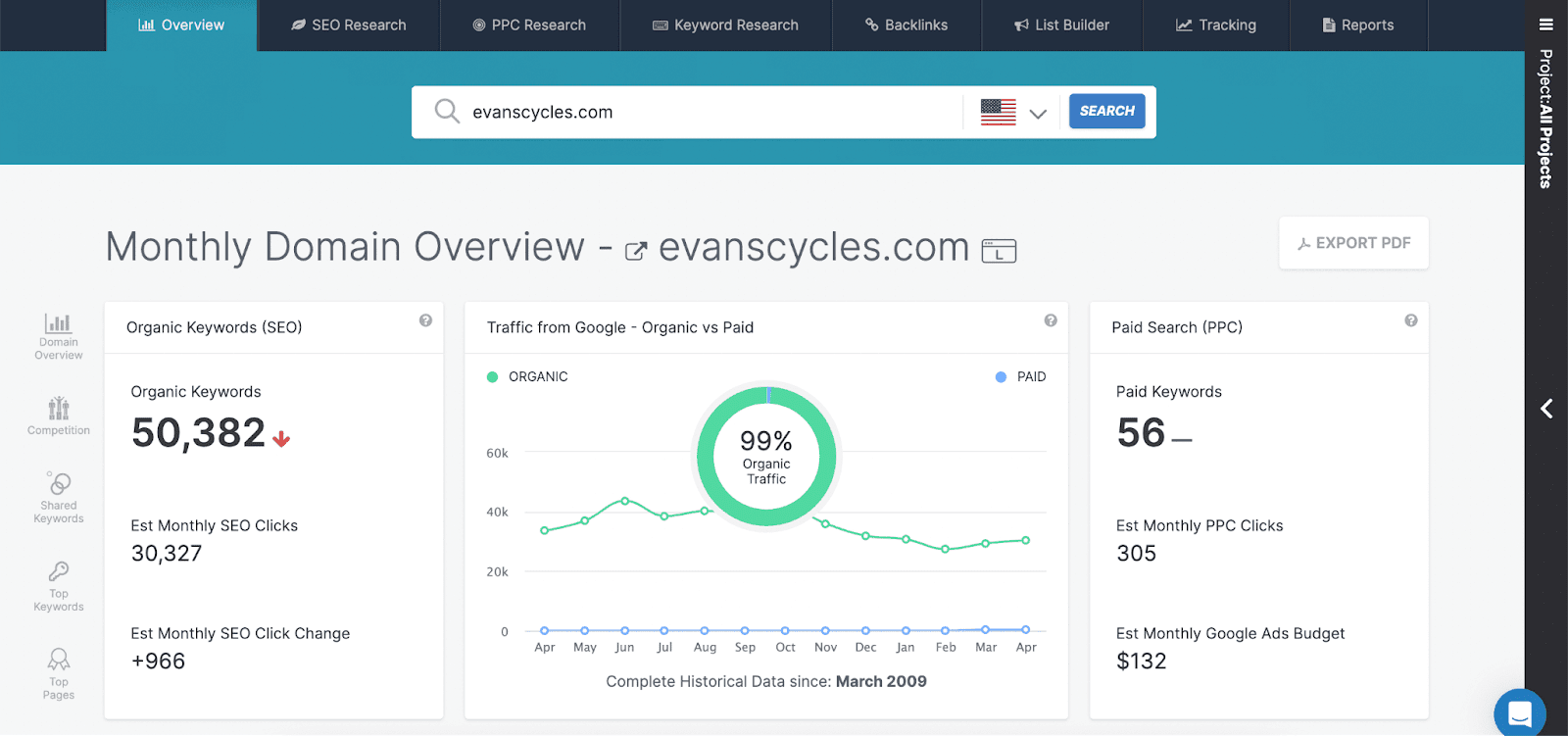 Users have highly appreciated this design, rating it much higher in this category than Moz Pro.
User reviews
In terms of ratings, SpyFu is similarly rated to its competitors. Currently, it holds a rating of 4.6 out of 5 stars on G2, based on 497 reviews, while on Capterra, it has 4.5 out of 5 stars from 140 reviews. On TrustRadius, it has been rated 8.2 out of 10 stars from 130 reviews.
Price
SpyFu offers subscription plans that are considerably more budget-friendly compared to Moz Pro. SpyFu's Basic plan starts at a modest $39/month. The Professional plan climbs to $79/month, and the Team plan is set at $299.
By opting for an annual plan, you can get the lowest package for as little as $16 per month, making SpyFu one of the cheapest available options on the market.
While the tool does not provide a free trial, it does come with a 30-Day Money Back Guarantee. The vendors emphasize that all it takes to receive a full refund is a message via any platform or a phone call. Importantly, you're not required to provide a specific reason for the refund request, ensuring a hassle-free refund process.
6. Ahrefs
Ahrefs is another powerful and well known SEO tool that can be compared to Semrush. What makes it stand out is that it offers top tier functionality at a lower price tag than both Semrush and Moz Pro.
Let's take a look at its performance in other major criteria.
Functionality
Ahrefs provides a wide range of functionalities, including competitive analysis, backlink opportunity tracking, keyword suggestions, broken link identification, SEO site audits, and online brand mention monitoring. It also enables content research for trending topics and rank tracking for comparative search ranking analysis against competitors.
Ahrefs prides itself on having an immense database with over 12.8 billion keywords, 13.4 billion indexed pages for content research, and 212.3 million domains in the backlink index. Some users, however, have pointed out potential inaccuracies in estimates and some difficulty in comprehending the data. Similar to Moz Pro, Ahrefs does not include features specifically tailored for local SEO, so you would need a separate tool for that if you're running a local business.
User interface
Ahrefs receives higher user ratings for its interface compared to Moz Pro and its closest competitor, Semrush. While its design may not seem as modern as tools like SE Ranking or Mangools, it is relatively easy to navigate and use.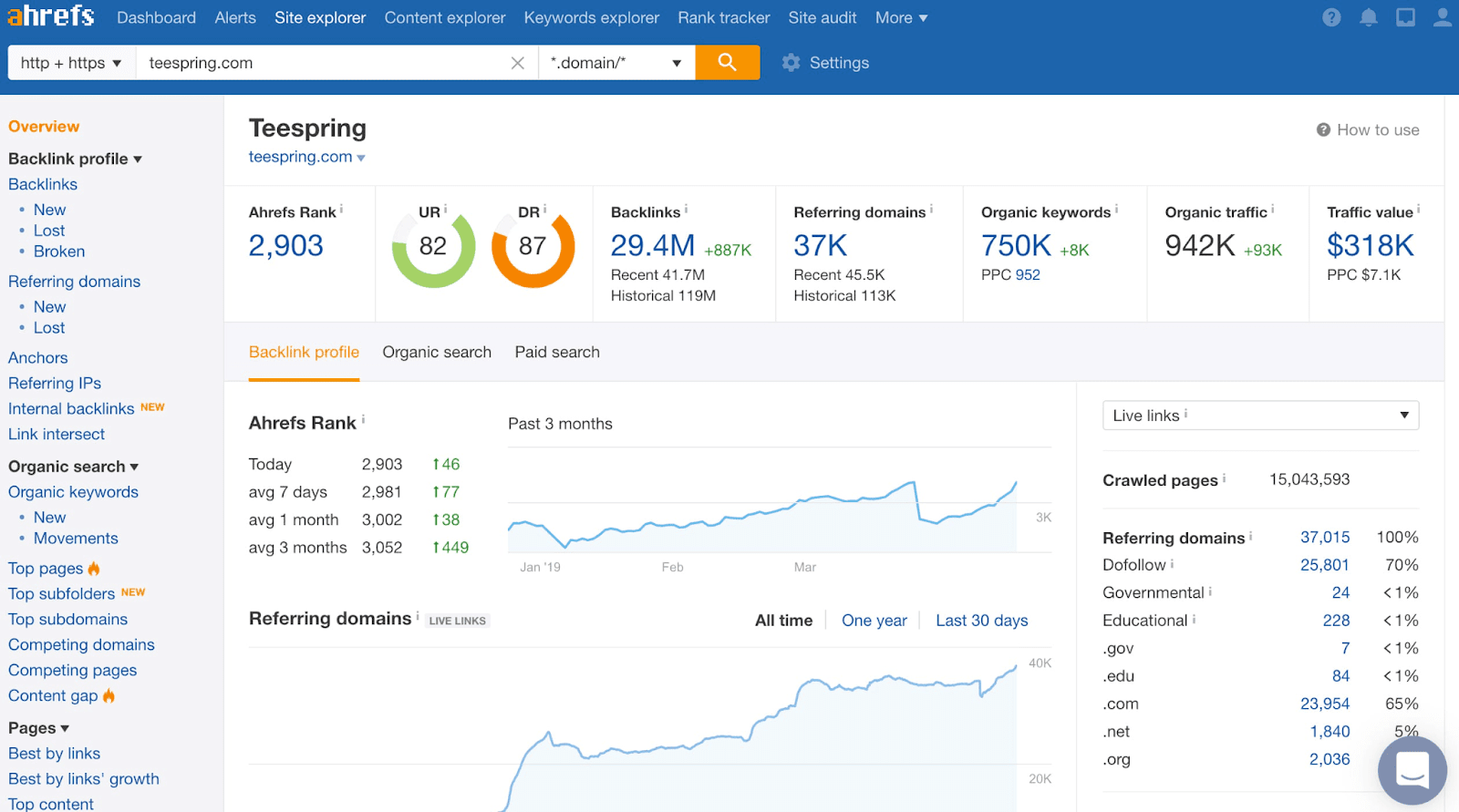 User reviews
Ahrefs is highly regarded in the SEO tools market, with impressive ratings. It holds a solid 4.5-star rating on Gartner and a noteworthy 4.6 stars on G2. TrustRadius also gives a commendable score of 8.7 out of 10 stars. A recent reviewer lauded it as "The Most Powerful SEO Tool for Detailed Investigation."
Price
While Ahrefs may not be the most affordable SEO tool on the market, its higher-tier plans make it a more cost-effective Moz alternative.
Ahrefs' entry-level "Lite" plan, perfect for individuals, small businesses, and SEO experts, is $99 monthly. This plan offers several benefits, including tracking up to 75 keywords weekly, a maximum of 2,500 rows per report, and 100,000 monthly crawl credits for site audits.
Ahrefs' plans range from $199 to $999 monthly for those who require access to more features and higher usage limits. Extra charges apply for additional users and daily ranking data updates.
If you choose an annual payment plan, you will receive two months free, regardless of the package you select.
Importantly, Ahrefs provides a reasonably comprehensive free version that allows you to monitor your site's performance and identify areas for improvement.
7. SEO PowerSuite
Another Moz alternative is SEO PowerSuite. This tool has been a veteran in the industry for 17 years, boasting impressive statistics that justify its position among the top SEO software on G2:
3.6 trillion external backlinks
264 million indexed domains
A daily crawl rate of 7.1 billion pages
More than 2 million software installations globally
Keep in mind that SEO PowerSuite is the only tool on this list that isn't cloud-based. It is one of the earliest pioneers in this industry and has always operated this way. Instead, you need to install four separate products by SEO PowerSuite on your computer.
Functionality
SEO PowerSuite provides many features, including a rank tracker, website auditor, SpyGlass (for backlink analysis), and LinkAssistant (for link building and management). It also aids in optimizing content for search engines. Additionally, it offers custom white labeling and integrates with Google Analytics, allowing users to automate, customize, and brand SEO reports.
Compared to Moz Pro, SEO PowerSuite offers users a broader set of features, and it is more comparable to such Moz alternatives as Semrush and Ahrefs. If you're considering these options, it's worthwhile to delve into their different functionalities in greater detail.
User interface
Based on user feedback, maneuvering through SEO PowerSuite can be slightly challenging. Despite its comprehensive and powerful nature, the layout may have a steep learning curve, especially for those unfamiliar with it. However, it's still easier to use and navigate than Moz Pro.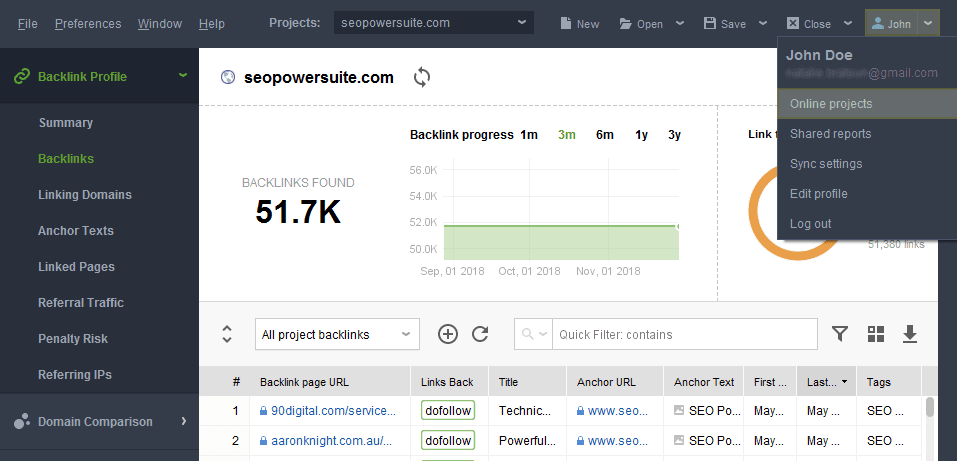 User reviews
SEO PowerSuite scores pretty high in user reviews, achieving 4.3 stars on Capterra, 8.8 out of 10 on TrustRadius, and 4.5 out of 5 on G2. A recent comment from a user describes the tool as a "Truly great SEO tool at a reasonable cost."
Price
SEO PowerSuite provides three different plans. Although this tool can't be called a 100% free Moz alternative, it offers a free initial plan that allows you to track a complete set of keywords, index and audit up to 500 URLs, and monitor and audit up to 1,100 links.
However, if you require more advanced features such as scheduled reports, data export, and project saving, you can opt for either the 'Professional' plan for in-house usage, which is priced at $596 annually, or the 'Enterprise' plan, which is designed for client work and costs $1396 per year.
It's worth noting that these subscriptions are only available annually, with no monthly payment options. Additionally, each subscription license key is intended for a single user, meaning you'll have to purchase separate subscriptions for each team member.
8. Seobility
Seobility is a basic SEO toolkit like Moz that can help you improve a site's rankings. While it lacks many of the advanced features valued by experienced SEO professionals, it can be a user-friendly software for SEO beginners.
Functionality
Seobility offers a solid set of essential SEO features, including on-page SEO audit, backlink analysis, and rank tracking. It also provides additional tools like the TF*IDF tool to assist with content creation and optimization.
One of its most popular features is the Website Audit Tool, which efficiently crawls all site pages to identify errors or optimization issues. But some beginner users have mentioned that the report produced by the tool sometimes lacks comprehensive explanations, making it challenging to understand and rectify detected errors.
Seobility also provides daily updates of Google ranking data for desktop and mobile devices for your target keywords. It has advanced features like keyword tagging for category analysis, and monitoring competitors' rankings.
User interface
Opinions on Seobility's user interface are split. Some users appreciate its simplicity, while others find it somewhat outdated. Furthermore, users note that navigating through several pages to assemble a comprehensive to-do list can be time-consuming.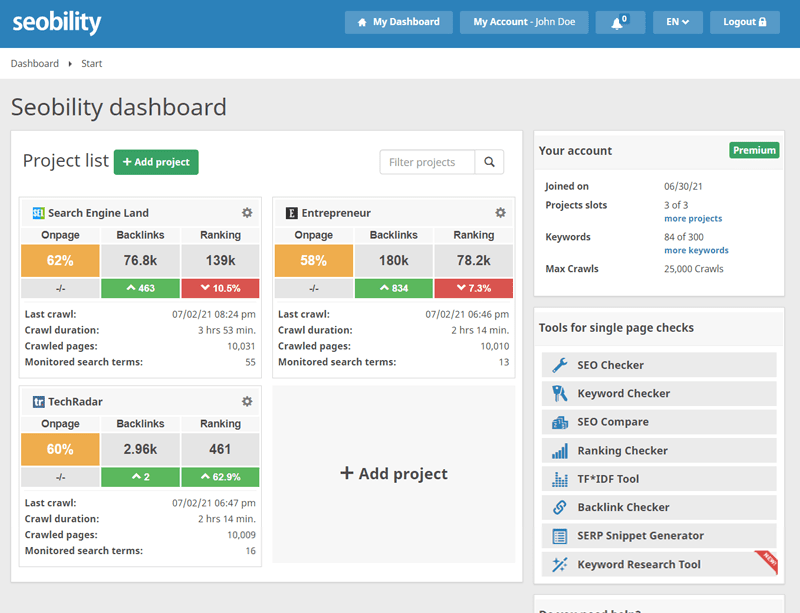 User reviews
Despite its relatively lower popularity and fewer ratings, Seobility has received positive reviews from users. It has an impressive average rating of 4.6 out of 5 stars from 165 reviews on G2 and an even higher rating of 4.7 out of 5 stars from 61 reviews on Capterra. One user describes it as the "Best Audit tool for startup and mid-level companies," highlighting its value and efficacy within these business sectors.
Price
Seobility is available in three plans. The first plan is free and allows the analysis of 1000 web pages per crawl, 10 keyword analyses, and checking 100 external links. Users can also make five tool requests per day, including the SEO Checker, TF*IDF Tool, Keyword Research Tool, and more.
For the paid options, users can choose between two plans. The Agency plan costs $200 and is tailored for large websites, large companies, and agencies. The Premium plan, suitable for small to mid-sized businesses, is available for $50 per month and comes with a free trial. Seobility also offers a 20% discount for annual payments, providing further savings for committed users.
9. Ubersuggest
Including Ubersuggest in our list of the best Moz replacement options might surprise those who are unaware of its latest update. Initially a simple keyword research tool developed by the well-known SEO expert Neil Patel, it has evolved into a comprehensive platform, making it especially suitable for beginners.
Although Ubersuggest is a relatively new tool and not the most well-known Moz alternative on this list, it is rapidly evolving and becoming a more worthy contender among other SEO solutions with each update.
Functionality
In addition to its keyword research function, Ubersuggest offers comprehensive features for SEO auditing & monitoring, rank tracking, link building, competitor analysis, custom report creation, and more.
One of Ubersuggest's standout features is its keyword research tools, which are perfect for generating content ideas and brainstorming. It provides content suggestions based on your target keywords, helping you discover popular topics and questions within your niche that can drive more traffic to your site.
Ubersuggest also provides an extensive SEO training & support package, which includes step-by-step SEO training, templates, worksheets, and more, making it an appealing option for beginners.
While it may not be as exhaustive as Semrush or Ahrefs, Ubersuggest provides solutions that many may consider better than Moz Pro offerings.
User interface
Ubersuggest is an intuitive platform that's made specifically for SEO newcomers and those seeking to enhance their website's performance without needing extensive expertise. Ubersuggest is more user-friendly than the other tools on this list because it simplifies and condenses potentially overwhelming information.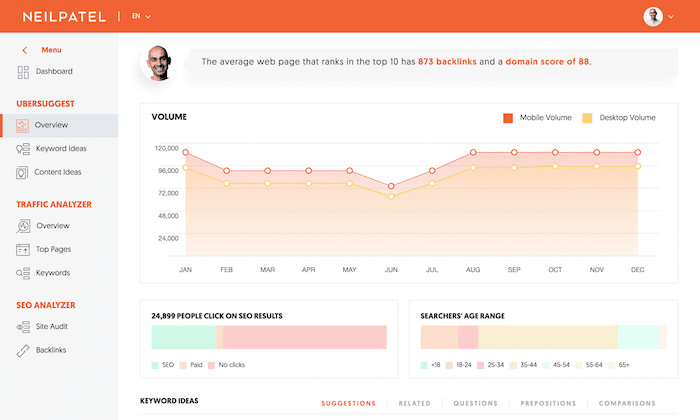 User reviews
Ubersuggest receives lower ratings compared to other tools on our best Moz alternatives list. It has received a rating of 4.2 out of 5 stars from users on G2, while on Trustpilot, it has a score of 3.8 out of 5 stars. But on TrustRadius, it currently holds an impressive 8.2 out of 10 stars.
The lower ratings seem to be less related to functionality and user interface issues and more from problems with the billing process. One user reported choosing a monthly plan but was erroneously billed for a lifetime plan in a different currency.
Price
Neil Patel is upfront about Ubersuggest being a more affordable option compared to competitors like Moz Pro. You can save a ton with Ubersuggest's one-time payment plan compared to Moz Pro's monthly subscriptions. Ubersuggest's monthly subscription options range from $29 to $99. The Individual plan, which is the cheapest offering, includes features like 150 daily reports, one project, and weekly site audits, among others.
Interestingly, Ubersuggest offers the choice between a monthly or a lifetime plan, reminiscent of the old times when you could you purchase the tool and forget the hassle of a recurring subscription.
For the monthly option, Ubersuggest provides a 7-day free trial, and for those opting for the lifetime plan, a 30-day money-back guarantee is available.
What makes people look for Moz alternatives?
Below, we've noted the most commonly reported issues among users of Moz. These can be considered the most common reasons why users may choose some of the Moz alternatives we've described in this article.
User Interface Issues: Users often find Moz's interface to be less intuitive and user-friendly than that of other tools. The absence of graphical representations, such as charts for data visualization, coupled with a challenging customization process, can deter users who value ease of use.
Integration Problems: Another issue highlighted by users is Moz's limited integration between some tools. This can lead to workflow inefficiencies, especially for those who rely on multiple SEO tools for their strategies.
Feature Limitations: Some users claim that certain features, such as site audits and link analysis, are not as advanced as those offered by competitors.
Considering these shortcomings and the price of the tool, users may find it worthwhile to explore other options.
Summary
As you can see, the Moz alternatives that we described in this article have similar essential functions but differ in their specific features and user experience. If you need powerful tools with numerous familiar features, Semrush or Ahrefs are powerful options. If you are a beginner and prioritize learning and and ease-of-use, Ubersuggest or Mangools may be more suitable. If you're seeking a balance between power, modernity, affordability, and usability, check out SE Ranking.
FAQ
What is the best alternative to Moz?
The best Moz alternative for you will greatly depend on your specific needs. Some popular options include Semrush, Ahrefs and SE Ranking, each offering different features and tools that can provide value based on your SEO strategy and goals.
Is there a free version of Moz?
Moz does offer a limited free version of popular features like Keyword Explorer, Competitive Research, Link Explorer, or Free Domain Analysis. However, these free versions are significantly more restricted than Moz Pro's full, paid version.
What is a good alternative to Moz Keyword Explorer?
There are several alternatives to Moz Keyword Explorer, such as Google Keyword Planner, SEMrush's Keyword Magic Tool, Ahrefs' Keywords Explorer, SE Ranking's Keyword Suggestion Tool, and Ubersuggest's Keyword Analyzer.
Is Moz worth it?
The value of Moz depends on your specific SEO needs and budget. Moz offers robust SEO tools that many businesses find valuable for their SEO strategies, but the cost may be prohibitive for smaller companies or individuals. It's recomended to take advantage of the free trial or the free limited version to determine if Moz fits your needs before committing to a subscription.