When we talk about SEO and search engines, we usually mean Google. We have come to call web searching "googling" — not binging, or yahooing, or, God forbid, altavisting. Seems like Google is the only search engine people use, but this is not really true.
Over 30 percent of desktop searches in the US are driven by Microsoft. In many big markets, such as Canada, UK, Germany, France, the second-most-popular search engine is Microsoft's Bing. For this reason, we can miss out on quite a lot of traffic if we don't optimize for this search engine.
This post outlines everything essential about Bing. We'll discuss how popular this search engine is, figure out its specifics, and advise you on how to optimize a website for Bing.
"The Bing Bang Theory" or what we know about Bing's audience
Microsoft launched its search engine back in 1998. Since then, it has gone through several rebirths: MSN Search, Windows Live Search, Live Search — until they settled on Bing. Microsoft was about to name the engine Bang but, sadly, they gave up on the idea.
In 2009, Yahoo! made a deal with Microsoft and has been fully powered by Bing ever since. Basically, by optimizing for Bing we are optimizing for Yahoo! as well.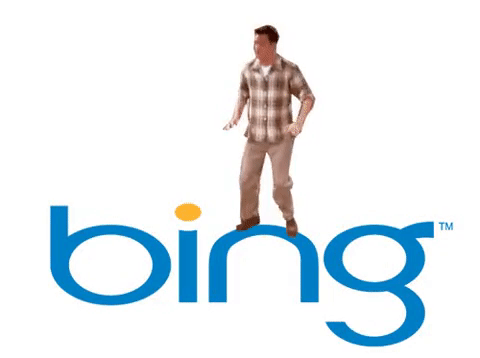 According to Statista, the total number of explicit core search queries powered by Bing and Yahoo! in the US is over ⅓ of the entire search market. Moreover, Bing and Yahoo! see about 8 percent of all global desktop searches.
In the context of these stats, comScore, Statista, and Bing itself – all talk about the Bing Network. But what does it mean? The Bing Network is the group of search engines and search services powered by Bing that includes Microsoft sites, Yahoo!, and AOL Inc. In other words, these are all the searches that are based on Bing search. For this reason, they are presented within a single data set in the stats.


Bing's main market is the US, plus it is quite popular in other English-speaking countries. However, it is hardly used in Eastern Europe or Asia, for example.
But… who in the world uses it then?
Bing services 60 million searchers who are not reached by Google. The amount of people in the US reached by the Bing Network alone varies by industry: from 51 million people searching for retail services to 11 million people "binging" the telecom industry.
Typical Bing users from the US are educated people (equally likely to be male or female) between 35-54 years old, with a household income of over $75.000.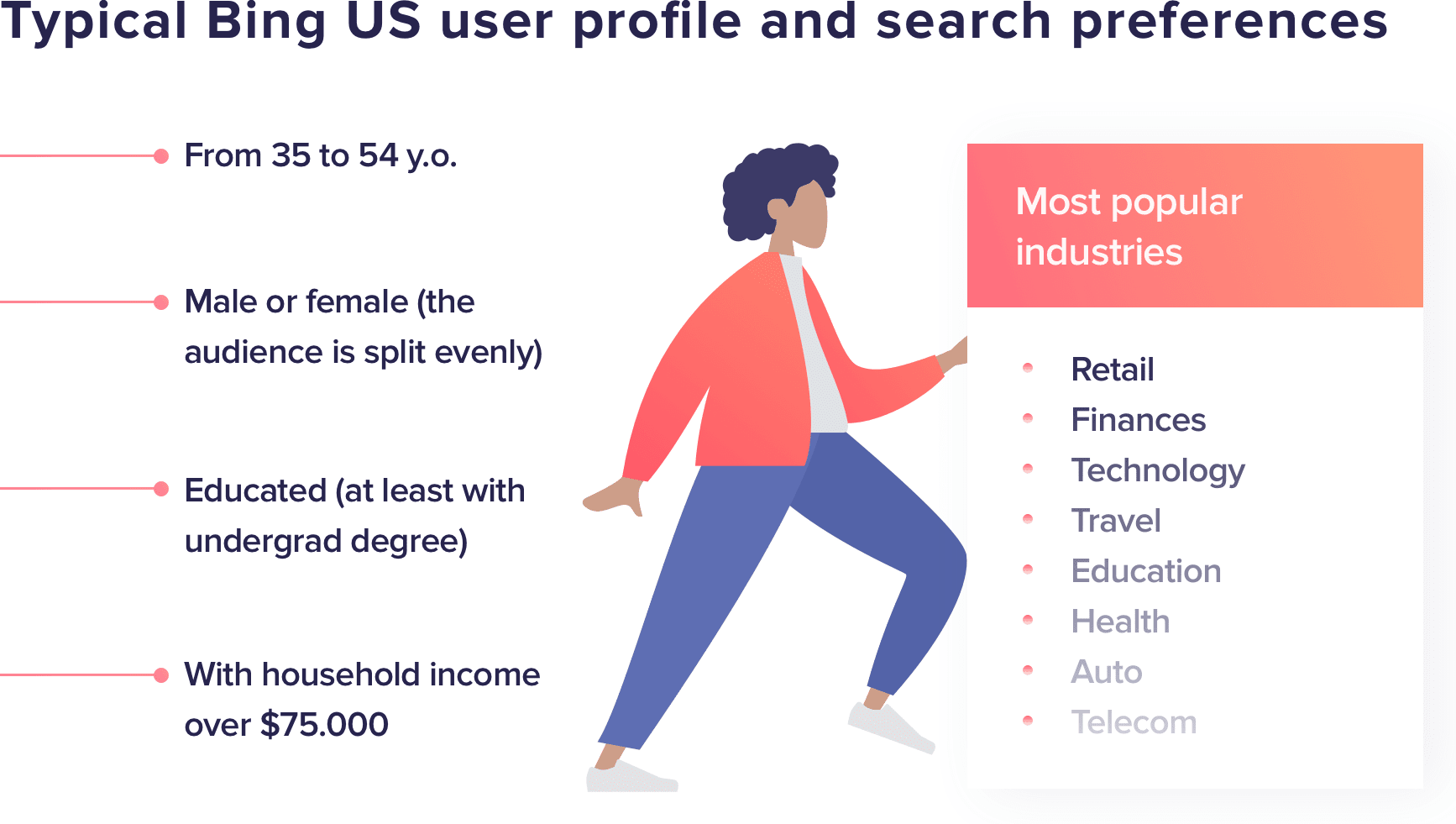 Bing's traffic is believed to be more valuable than Google's since people coming from Bing show a lower bounce rate, visit more pages, spend more time on a site, and click more affiliate links. And even if you are not going to optimize particularly for Bing, checking rankings in it will help you keep an eye on additional traffic sources.
On top of that, Apple's Siri and Microsoft's Cortana, both use Bing for voice search. To get ahead in the voice search game, you have to take Bing seriously.
Summing up, Bing is surprisingly popular, especially in the US. SEO for Bing includes most of the same things that are important for Google, so its audience can also be reached with just a bit of effort.
What's special about Bing's search engine
Despite being considered an off-brand version of Google, Bing does several things better.
Video Search
Bing Video is a full-fledged video service that aggregates videos from different hostings, making its search more comprehensive than that of YouTube or Vimeo.
While Google search makes everyone's eyes bleed, Bing's video search looks great. Here we have icons with smart previews instead of those tiny Google thumbnails. Videos are tagged as trailers, music, etc.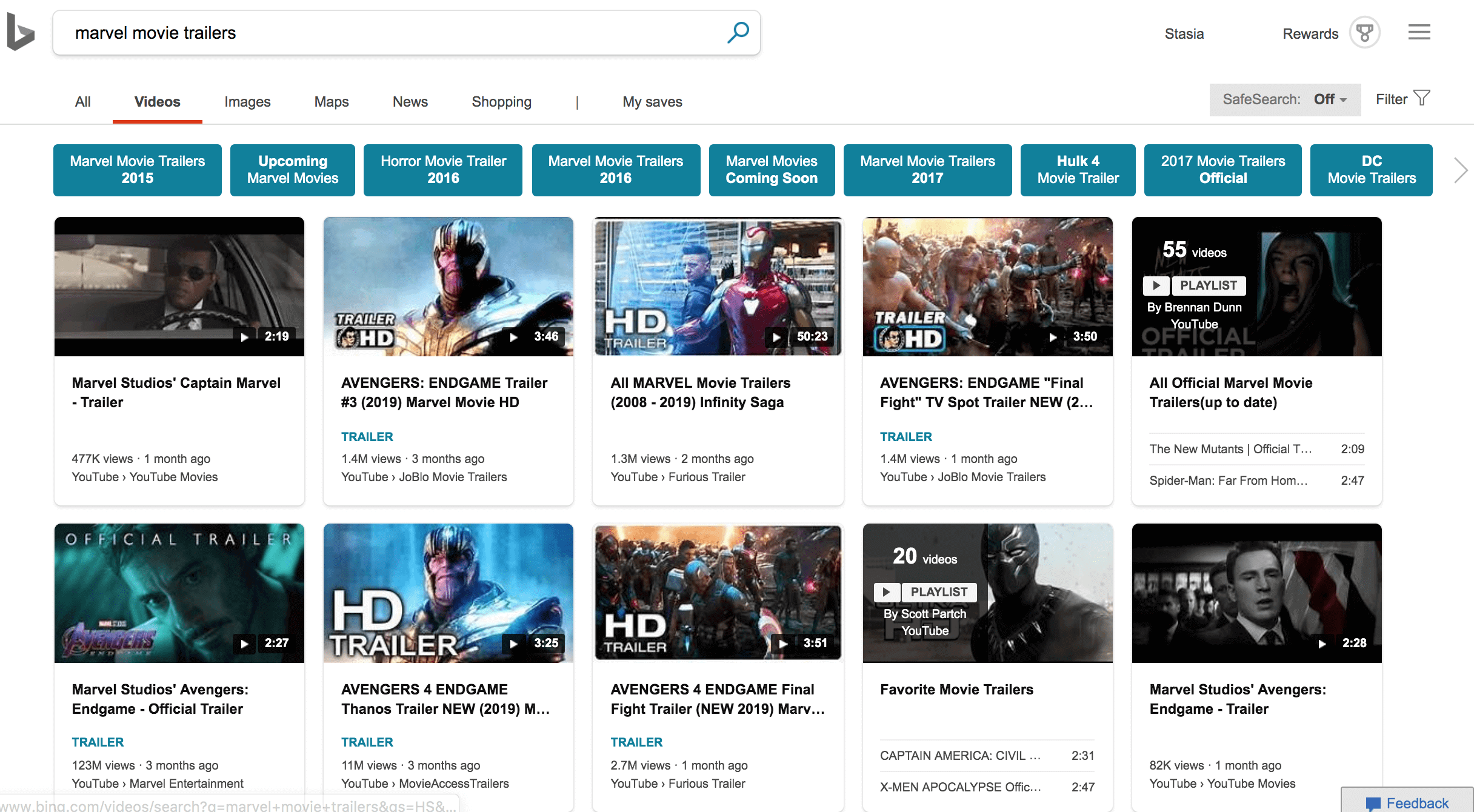 Not only does Bing make video search suggestions, it also keeps track of all your search preferences.
Besides, if you are in the mood to just watch random videos, you can find what's trending at the moment, and even add your favorite videos to your collection.
Image Search
Image search is also a big deal and includes two separate kinds of search: query-to-image and visual search.
In the first case, it's the classic image search by queries — you type a keyword and get images. However there are some extra features. For example, when sorting images by similarities, not only does Bing find similar pictures, but it also provides a list of pages that contain the given image.
Also, the possibility to filter images by style and content — something most of us know from Google — actually first appeared in Bing. On a more general note, its image search has long been considered to be the most comprehensive one.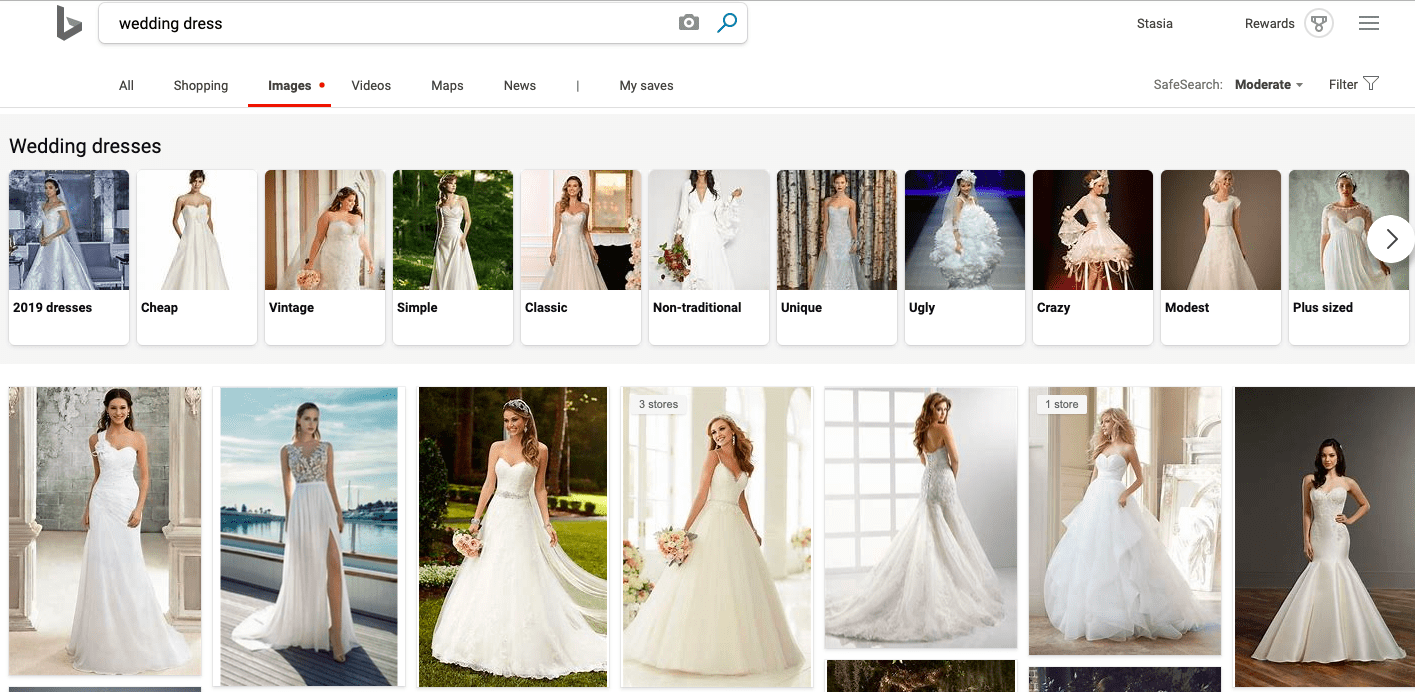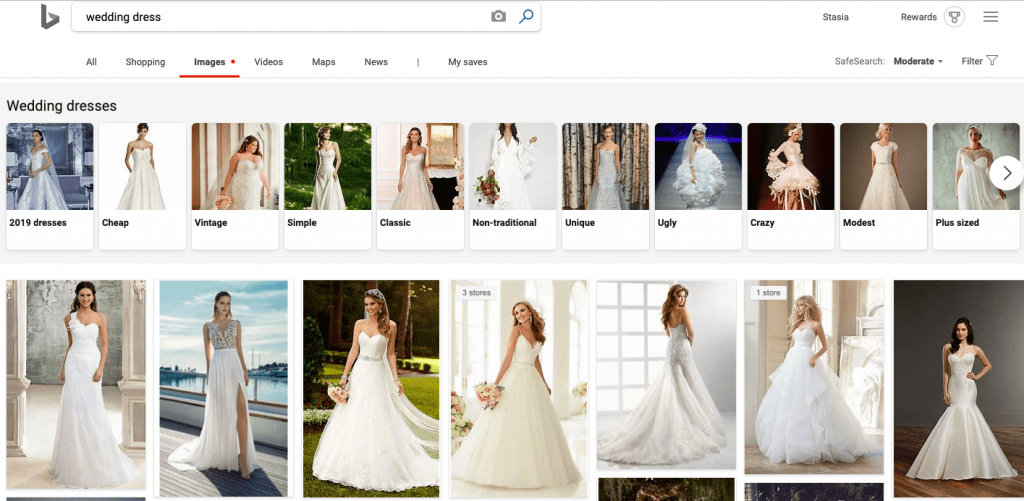 As for visual search, Bing even gives its users the opportunity to crop images and separately look at them in detail. For example, suppose you're looking for design ideas for your dining room, and you found a lamp or a table that you really like in one of the images.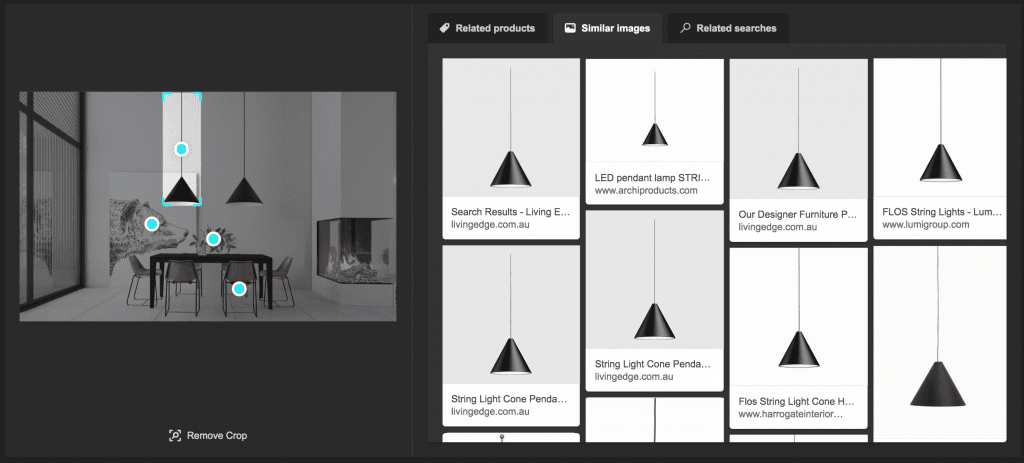 What does all this mean for SEO? For Bing optimization, paying attention to the media content on websites is a must.
By adjusting image titles, alt texts, and texts surrounding images you can bring your website to the top of the video and image search.
Bing's intelligent search (SERP features)
Just like Google, Bing organic search adds some special elements to the SERP. Let's take a look at some of the ones we don't get from Google.
Facts from multiple sources
You can't surprise anyone with instant answers in the SERPs anymore, but what about several answers from different sources? As a matter of fact, it is possible in Bing organic results. If you use voice search, Bing will read the answer from the following box:
The search engine solved the problem of one-sided answers to voice queries by giving more websites a chance to appear in the instant results block.
Multi-Perspective Answers
A feature that's somewhat similar to the aforementioned one is multi-perspective answers. When we're looking for a "good or bad" answer (is gambling good or bad?) we get an instant answer with opposing points of view: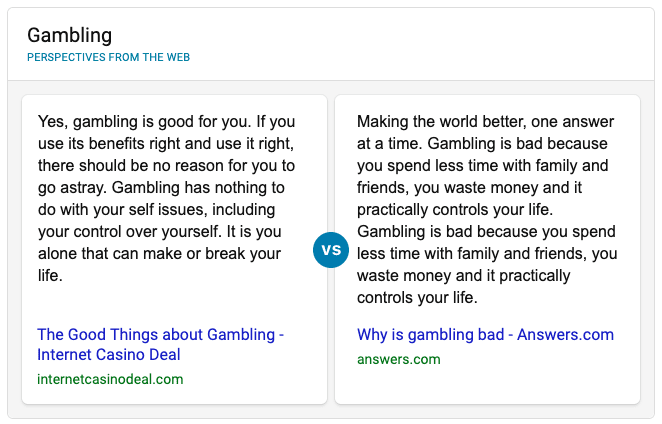 Popup definitions of uncommon words
In some of the instant answers, complicated technical terms get highlighted. And when hovering over a word, we can see its brief definition, usually taken from Wikipedia.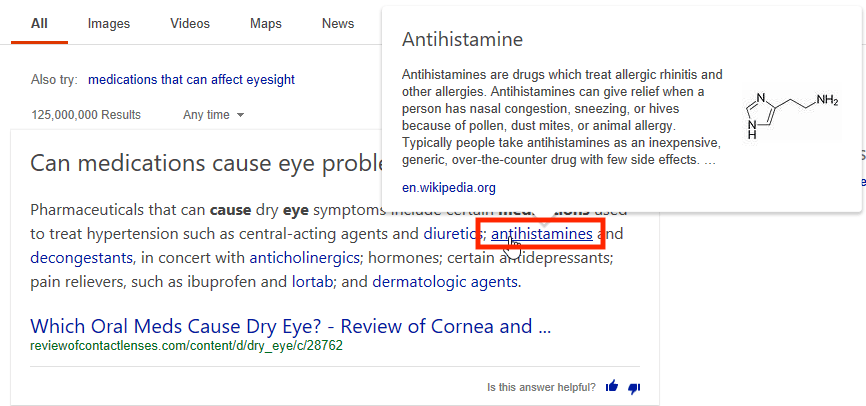 Structured snippet
In Bing's SERP, we can see snippets that correspond with the structure of the page it's describing. By clicking on the sections, we can get necessary information without leaving the results' page.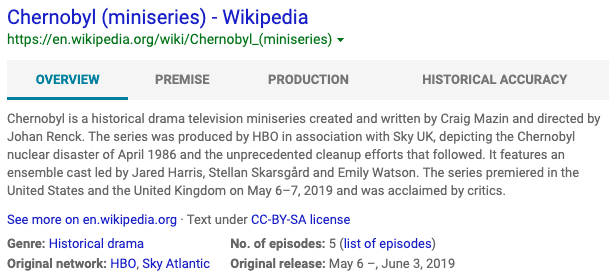 In addition, Bing shows rather impressive intelligent search results. It aggregates and sorts information from multiple sources, structuring it in a comprehensible way within a single rich snippet.
Your website can also appear as one of the sources for Bing's answers. How?
Marked-up content is more likely to be chosen as the most proper answer for intelligent search features. You can try to get into featured blocks using Schema.org markup (more about this in the following paragraphs). But first, you need to structure the content itself.
Structure your page content and create short h-tags to outline its sections. Headlines should unfold the idea of the text step-by-step. For example, recipes can be divided into the following sections:
Keep your content optimized for instant answers. Make the definitions on the page concise, simple, and use questions in h-tags.
Make straightforward statements, like "Coffee is bad for sleeping", or "Dogs are good for your mental health" and support them with a short one-paragraph explanation. Provide a detailed argumentation in the following paragraphs. This will give you a chance to appear in Multi-Perspective Answers.
Remember that content quality is the paramount value. That is why it's important not to over-optimize it and make sure the information you provide is reliable.
SEO optimization for Bing
The first thing to know about SEO for Bing is that, unlike Google, Microsoft's engine is open about its algorithms and requirements. Here you'll find the first-hand guidelines on what's important.
To break it down, we'll outline the main aspects of optimizing for Bing: working with Bing Webmaster Tools, on-page SEO details, link requirements, local and mobile optimization, and the value of social signals.
Let's get to it!
Getting started with Bing Webmaster Tools
Bing has a great webmaster area that also serves as a control center for Yahoo! — Bing Webmaster Tools. It allows to track your website's overall search performance: the amount of clicks from search, the number of pages crawled and indexed, your top keywords from organic search, etc. Besides, Bing Webmaster Tools include a tech diagnostic panel, a keyword research tool, outbound links controller with the disavow option, a reporting tool, and many other things useful for Bing SEO management.
To start working with it, you need to create a Microsoft account, then add your website and verify it. There are three ways of verifying your site:
Place a BingSiteAuth.xml file in the root directory of your XML sitemap.
Add a piece of code with meta tags to your homepage.
And the hardest one, DNS verification, when you need to edit the CNAME record in your hosting account.
Once the website is verified, the dashboard gets populated with information.

You can click on any piece of data you see to get more detailed information.
There are also some tricks to know about Bing's crawler.
In the "Crawl control" tab of the "Configure My Site" section, you can set the frequency of Bingbot's requests to your websites. In other words, you choose how fast Bingbot crawls your site and, therefore, you control the server load Bingbot causes. You can also schedule when you want the crawler to go through your website in order to avoid overlapping with your busiest hours of operation.
Another thing to know is that Bing only indexes pages that it deems "worthy". Here are some of the reasons why your pages may not get indexed:
The site is new and Bing hasn't found or crawled it yet. To speed up the process and help the bot find your website, you can manually submit a sitemap or particular URLs directly to Bing via your Webmaster account. But the search bots will still need to crawl your site before indexing something, so it still may take a while.
You've blocked your pages from indexing via robots.txt file by including the <meta name="robots" content="NOINDEX"> tag on your pages, or by using the Block URLs tool. Make sure not to screw up in any of these cases, because even one error can prevent Bingbot from crawling and indexing your pages.
Your website pages are not good enough. If you have duplicate content, don't provide much value to users, redirect people all the time, have trashy inbound links — Bing won't index your pages.
To check if your page is indexed, use the URL operator command along with the page's exact URL: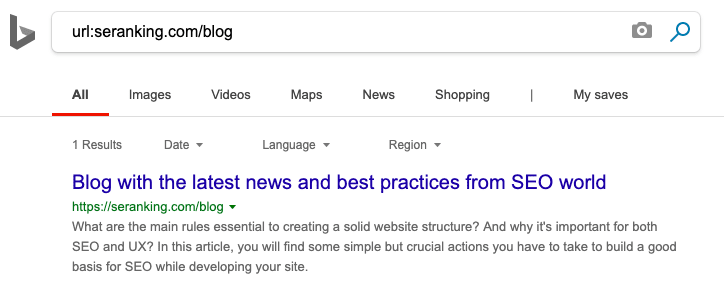 Since the search engine pays a lot of attention to the quality of the pages before indexing them, it also takes the ratio of indexed pages to the total number of pages on your website into account. Watch out for extra pages that don't have functional purposes and that are not in the index.
Let's move on to the nuances of Bing's on-page optimization.
On-page SEO
According to Neil Patel, Bing appreciates exact keyword matching as it can associate the page with the query. But what matters for Bing specifically?
Keywords in title and meta description are appreciated
One of the main rules of Bing keyword targeting is including keywords in the title and description is important for most search engines, including Google. Bing guidelines directly say:
The main area of focus when optimizing a website should include:
<title> tags – keep these clear and relevant
<meta description> tags – keep these clear and relevant, though use the added space to expand on the <title> tag in a meaningful way</p>
"Keeping it clear" means making them as relevant to the content as possible, unique and keyword-rich. Also, Bing optimization includes writing titles that are around 65 characters long, and descriptions that are up to 160 characters in length.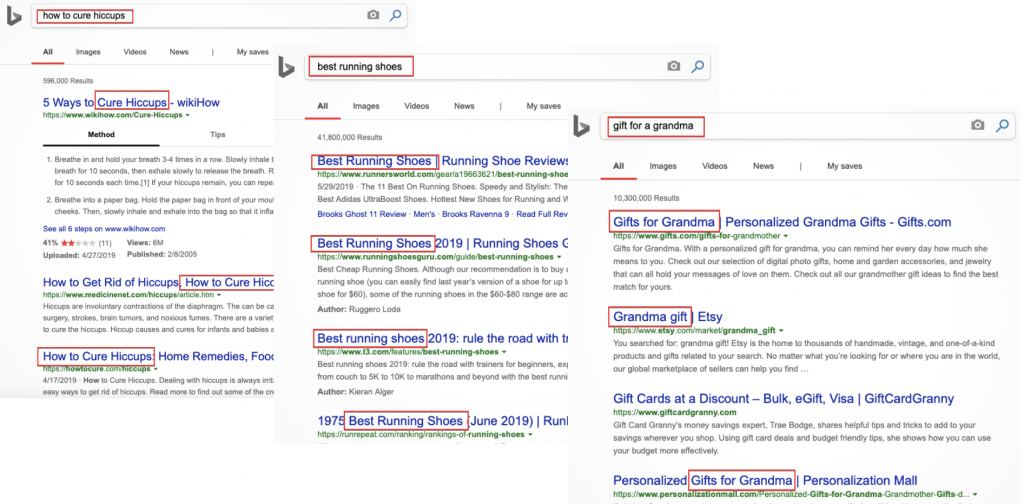 Bing pushes up domains with exact keyword matching
On the first result page, you can see a lot of domains that include the entered query. Furthermore, you can often even see URLs with exact keyword matching.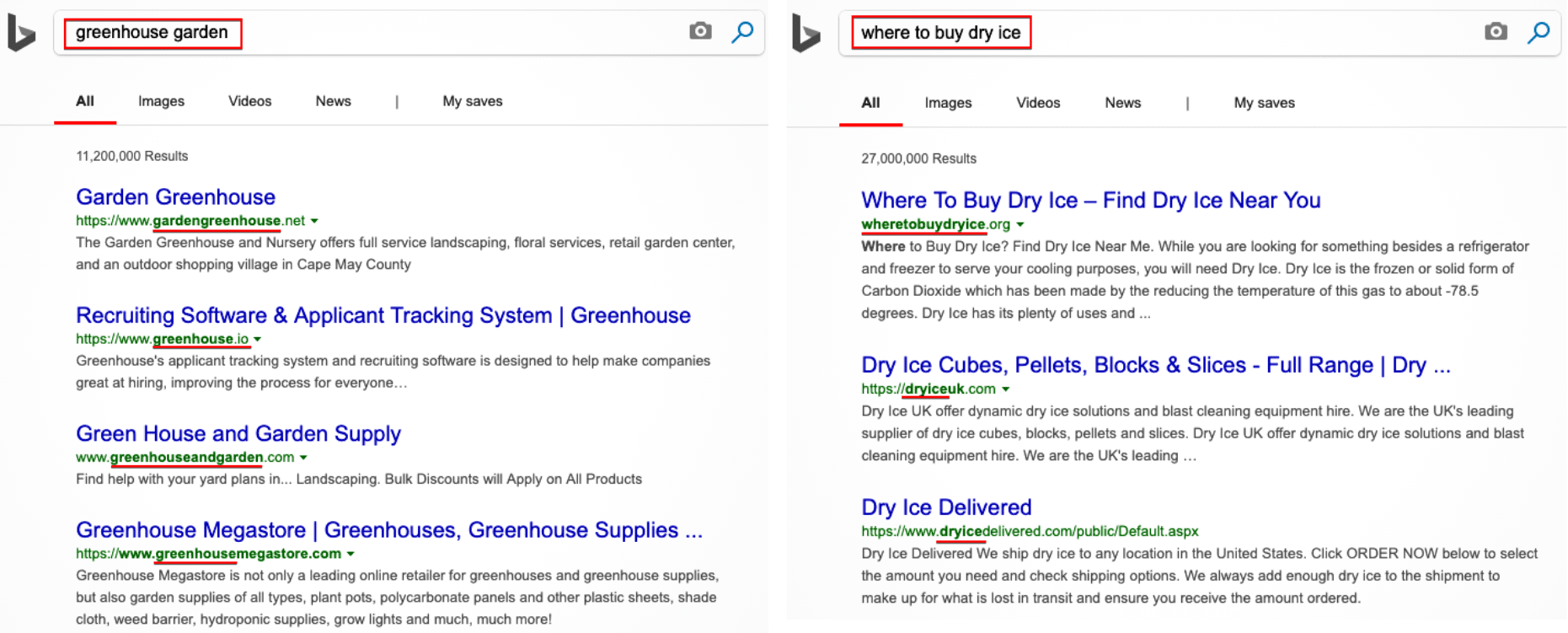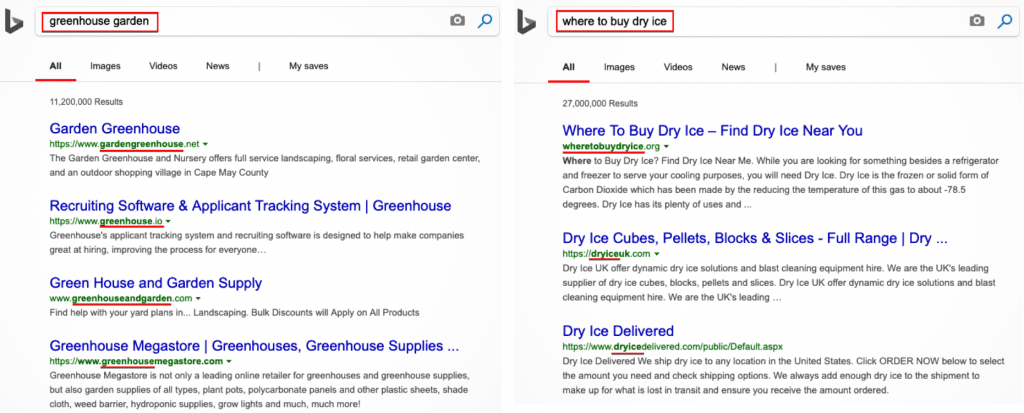 This is just how this search engine works, and you should keep this in mind. However, there is no point in adjusting the domain name to the keyword if you are already running a website.
the domain name to the keyword if you are already running a website.
What we can actually work on is writing URLs that resonate with the content's topic. So, don't forget to insert keywords into URLs.
Content quality is the primary ranking factor
Bing cares about the quality of the content as much as Google. There is no pressure as to how many words should be on a page, but since content must be comprehensive, Bing suggests making it longer just to be on the safe side.
There are three main factors regarding content quality:
Authority (is the content trustworthy?). This factor refers to the overall authority of the domain, the quality of the links that lead to this content, as well as its social signals.
Utility (is the content comprehensive and does it provide value?). This factor looks at how useful and applicable the information on the page is. Instructional videos, explanatory graphs and images are very welcome.
Presentation (is it easy to read and navigate?). This factor is related to the ads placed on the page and whether they make the content of the page more difficult to read.
For example, your page shouldn't look like this: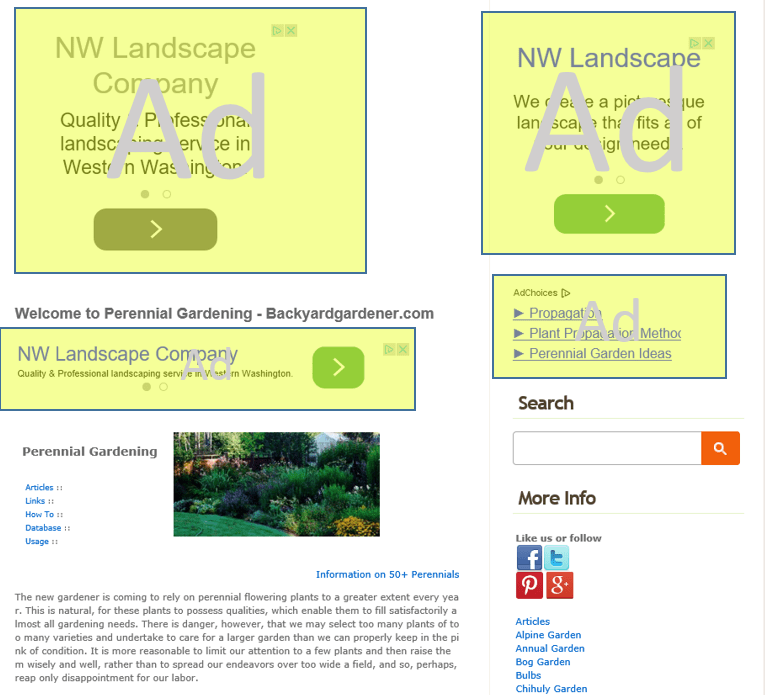 Marking up content to help Bing understand it
Given the diversity of Bing's SERP features, you should try taking advantage of them. To do so, you can mark your content with various specifications. Among others, Bing supports HTML, Microdata, Schema.org, and Open Graph.
You can use Microdata and Schema.org as its extension to point out information about breadcrumbs on your website and content type: business information, announcements, products and offers, etc.
Pages and images with the Open Graph protocol help Bing display them properly under Bing News.
In the Diagnostics and Tools section of the Bing Webmaster Tools, you can find the Markup Validator that can help you see whether you are using the markup language correctly.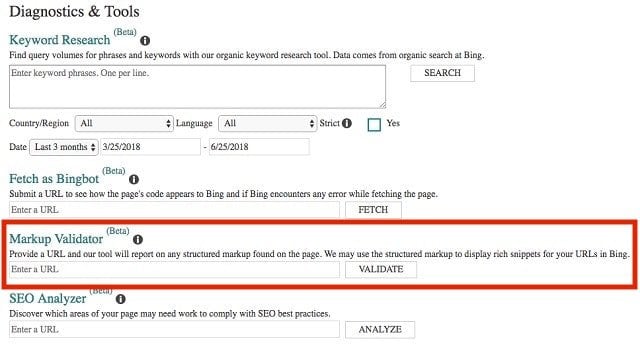 You can also check your page's overall on-page compliance with the search engine's standards using Bing SEO Analyzer (you can find it under the same section — Diagnostics and Tools). It will check the page's speed, tags, meta tags, and other SEO parameters that may influence rankings.
Link importance
Even though on-page SEO and content quality are the most significant ranking factors, the search engine also cares about your link profile. The same rule applies here as it did with content — when thinking about how to rank higher on Bing, remember that quality matters the most. Your site can lose its Bing rankings if it has links that are paid, come from spammy websites, or were obtained via reciprocal linking.
What Bing welcomes in linking
Anchor text with keywords. Bing suggests managing link anchor texts and "using targeted keywords wherever possible".
Social media link promotion. Social signals are really important for Bing, and driving traffic to your pages from social channels isn't viewed as a problem.
Publishing links on old websites. The domain's age builds trust and is one of the main factors of domain authority.
Links from .org, .gov, .edu domains since they are considered to be organic and capable of driving real users to your content.
In brief, a few quality dofollow links from authoritative websites are far more effective for ranking than tons of paid links from trashy link farms.
Well, on-page SEO combined with mindful link-building is the perfect recipe for successfully improving rankings in most search engines. However, there is something else that must be taken into account. Rankings in Bing also depend on the audience's location, and, of course, mobile optimization.
Local and mobile optimization
The perennial purpose of search engines is to make search easier and more precise. By localizing the results, search engines avoid asking people to enter the search region. We simply type in "order pizza" and expect to get results for our location. The same is true with regard to mobile-friendliness — we don't want to see weird pages with tiny buttons and huge ad banners among the results. That is why mobile-friendly pages have higher rank on Bing.
Adjusting to Bing local SEO
There are several ways of letting Bing know that you are a local business.
First of all, you should specify your targeted location by using location markers in your content and markup settings.
But Bing also has special geo-targeting tools that you can find under the "Configure My Site" section in the Bing Webmaster Tools: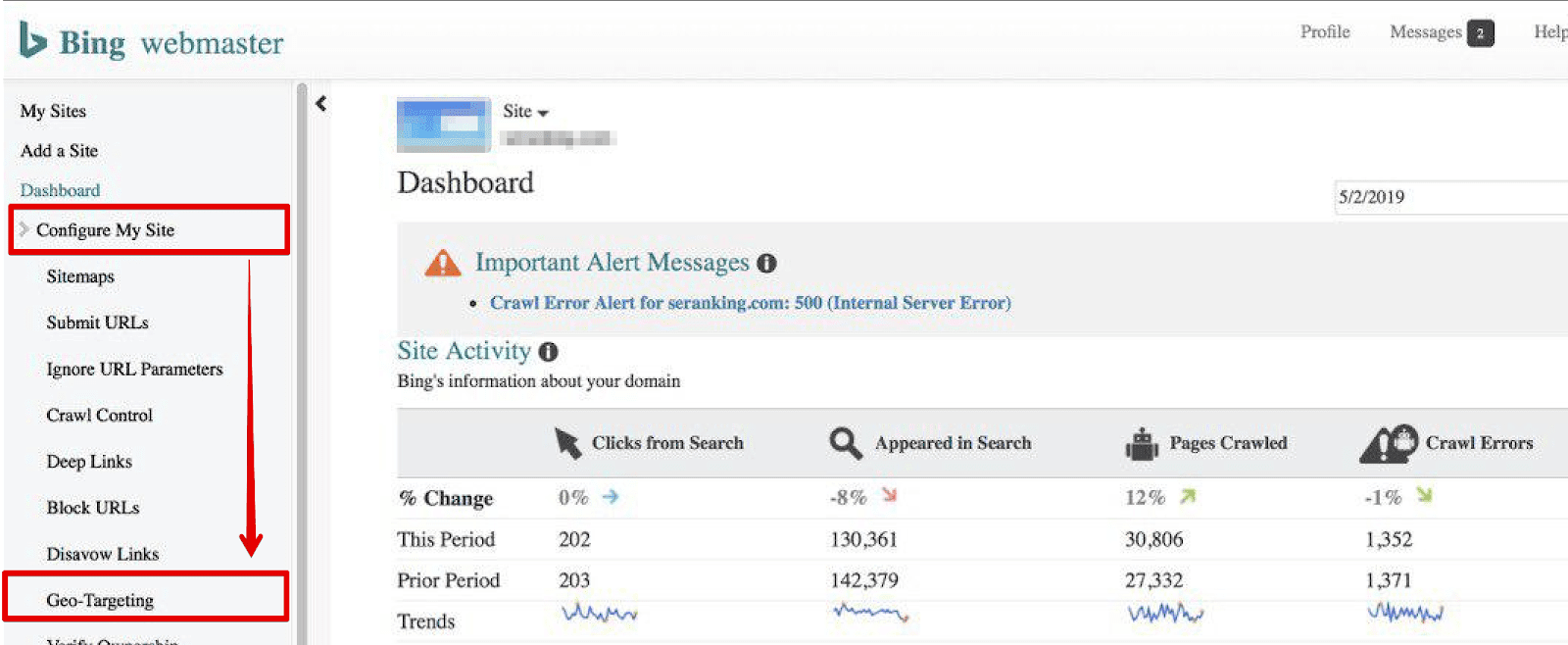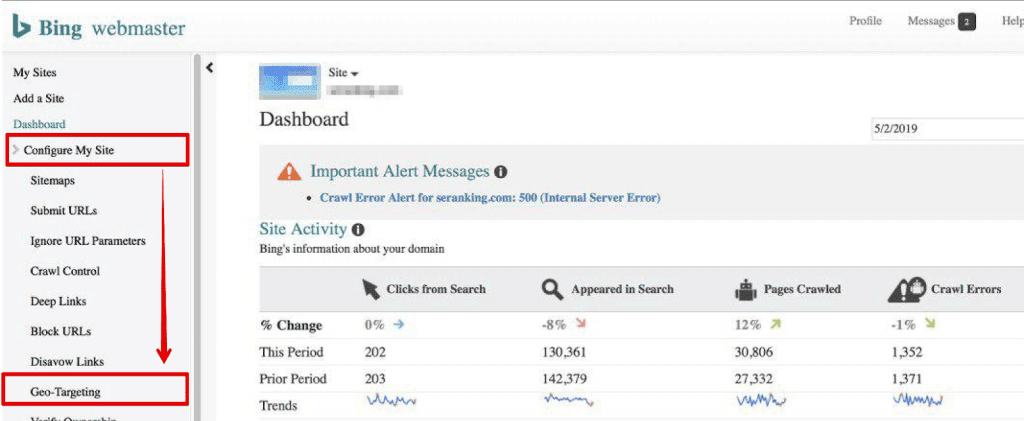 Geo-targeting allows you to ask Bing to show your website (or a part of it) to people in a particular country. Most webmaster panels enable geo-targeting only at the domain level, but Bing's feature works on multiple levels: domain, subdomain, directory, and page level.
You can geographically target audiences at every website structure level. But remember that this doesn't work for country-based top-level domains (like www.mysite.es or www.mysites.it) but only for those that use the international TLD (e.g, .com, .org, etc).
Another way to hint Bing about your audience's location is to use its business listing service — Bing Places. It's totally free to join, super easy to use, and brings a lot of value. It helps you become more visible in Bing search, get displayed on Bing Maps and in local search results. Together with business info, Bing can show Yelp reviews, office hours, contact details, etc.
To add your business to Bing Places, just follow the instructions for filling up the listing. If you have a Google My Business account, you can connect it to Bing and gather all the necessary data.
Bing on mobile-friendliness
Bing is not as relentless about mobile-friendliness as Google, but still, it ranks pages suitable for mobile browsing higher.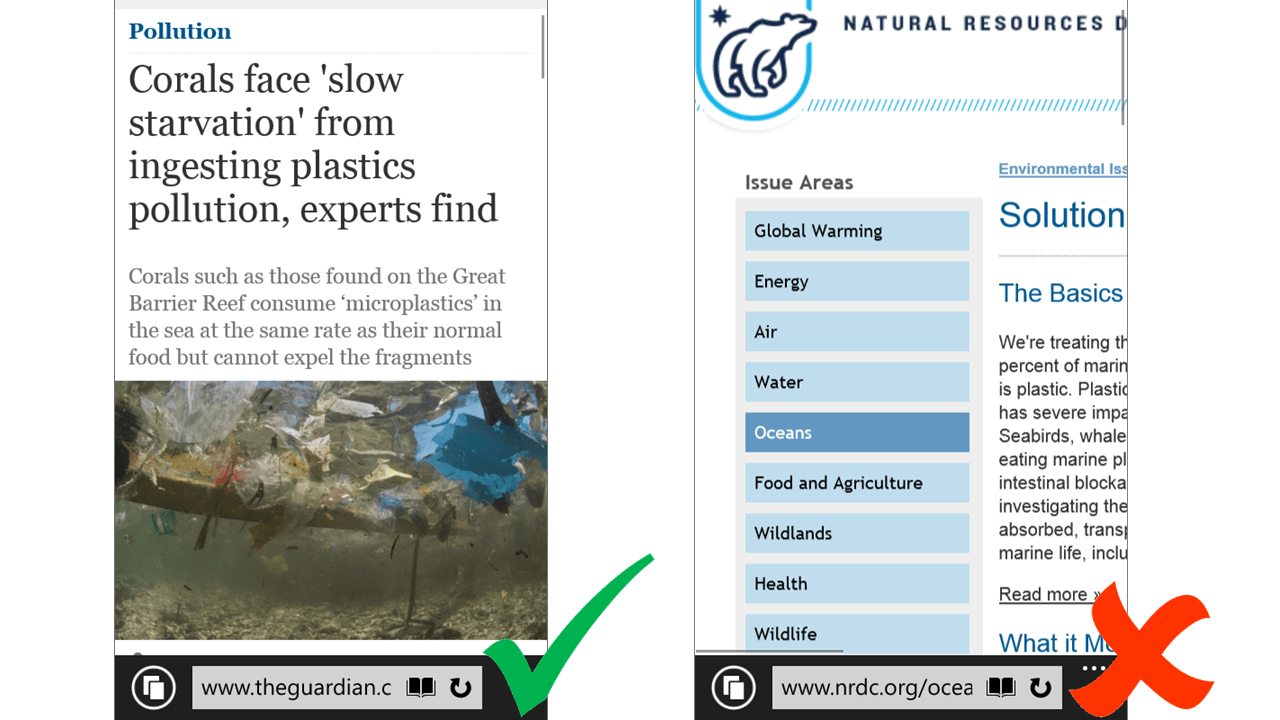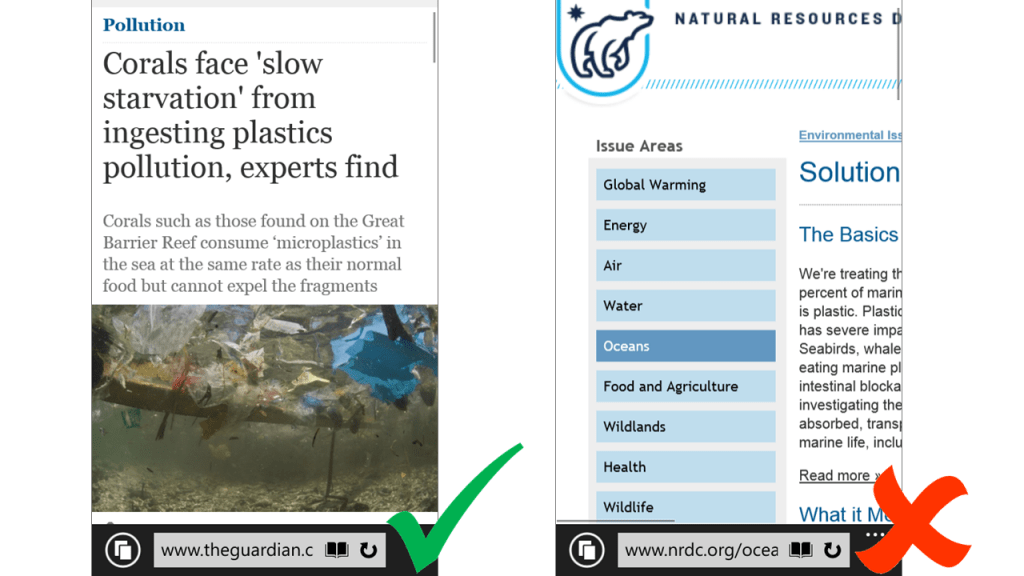 Their guidelines mention several mobile-friendliness factors that can impact rankings. You can assess your site using the Mobile Friendliness Test Tool (you can find it under the Diagnostics & Tools section of the Bing Webmaster Tools). In a nutshell, it assesses pages against five parameters:
Viewport configuration: checks the page's adaptability to different screen sizes.
Zoom configuration: Are there any zooming problems with the page's content?
Content Width: Does the content of the page fit the width of the device?
Readability of text: Is the text on the page of readable size?
Spacing of links and other content: Are link tags properly spaced? Is it easy to click-touch them?
Basically, very similar to what you'd do for Google. Also, the Webmaster Tools allow you to control most of the main settings for on- and off-page SEO, together with local and mobile optimization.
There is one more super important Bing ranking factor that is gaining more and more momentum and weight over time — social signals.
Social media signals matter a lot
Bing has always been taking the social signals of pages into account. Bing's staff stated directly that they consider how often a link has been tweeted or retweeted. Moreover, authoritative Twitter users increase the Bing position of a tweeted page.
Bing also correlated search and social media. Body Clark tweeted that Bing pulls data for its knowledge graph from Facebook. For example, the "portion perfection" query shows a knowledge panel with the Facebook group dedicated to this question: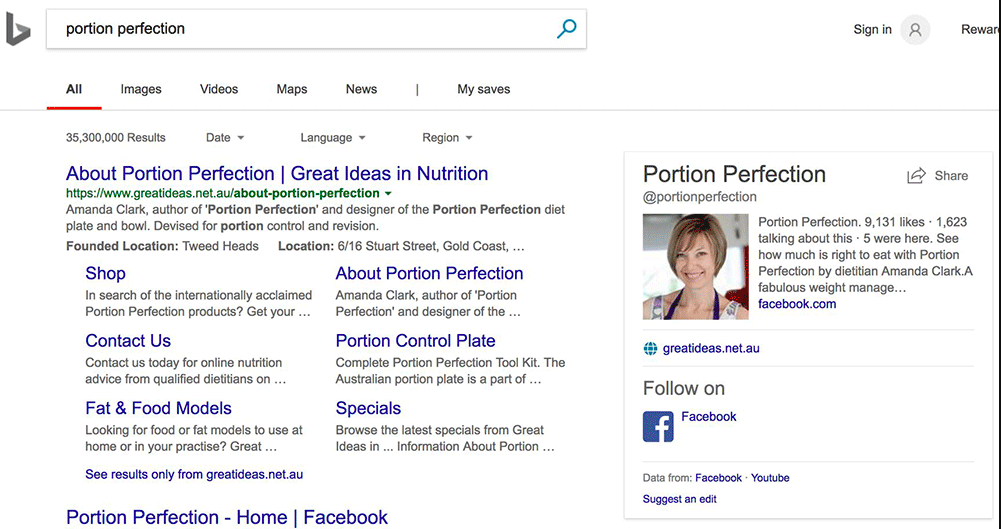 Bing has openly confirmed the correlation between social media popularity and rankings (in the long run), advising its users to add social buttons to pages.
The search engine also welcomes links from social media to your website that can drive valuable traffic.
We've actually discussed pretty much all of the essential of Bing as a search engine and it's SEO preferences. The last important stage is to set yourself up for success with Bing SEO tools for tracking rankings.
The final push — tracking your rank on Bing
Why does tracking rankings matter here?
First of all, it helps to track the progress of your efforts.
Second, even if you don't optimize specifically for Bing, you can spot an extra traffic source worthy of your attention by tracking your ranking positions.
Third, even though Bing powers Yahoo! search, rankings can differ in both engines, and tracking them is a great way of being aware of any troubles.
Fourth, optimizing for Bing can totally mess up your Google rankings which is why it's crucial to track Bing rankings as well as other search engines side by side.
You can check your rankings in Bing's search with the help of SE Ranking's Keyword Rank Tracker. Depending on the target market, you can choose the country where you want to track rankings. As a result, you'll see the website's day-to-day Bing position in a particular region.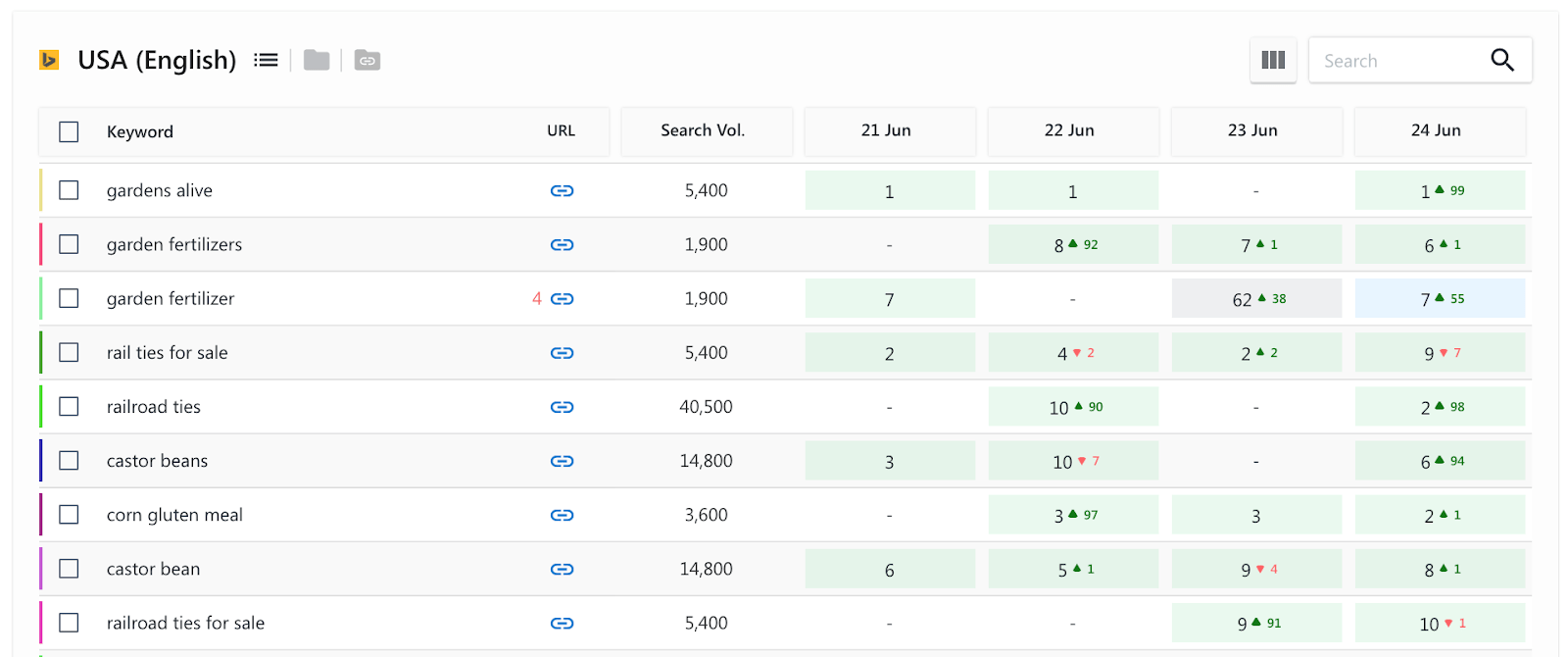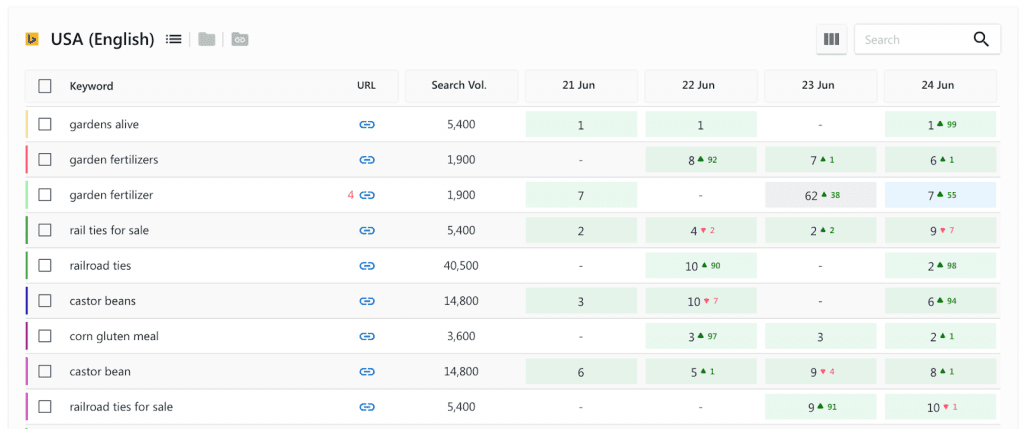 Besides monitoring rankings across time, you can simultaneously check rankings for different search engines: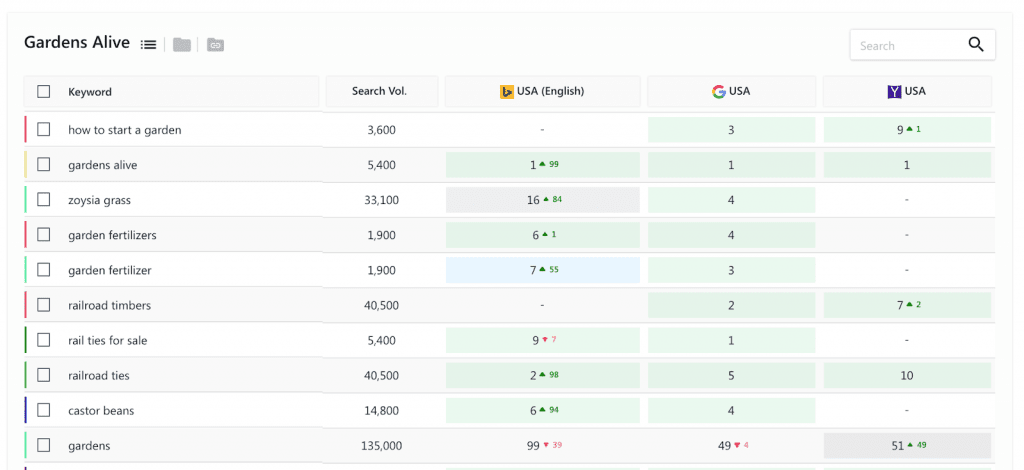 As you can see, Bing and Yahoo! results can be poles apart. One of the reasons behind this is the time needed to synchronize databases. What this means is that Yahoo! results can sometimes get updated later than Bing SERPs.
Obviously, Google's results are not the same because its algorithm differs from that of Bing. Tracking them together will help you play both sides, without ruining your rankings on any one of them.
For a deeper understanding of the Bing SERP logic and patterns, you can use the SERP Tracking Tool. It provides data on the top 100 search results of any search engines for every one of your queries. You can compare the bulk results of Bing and Google search to get insights about how the search engines understand user intents for every query. Go check out our article to learn how to use SE Ranking's SERP Analyzer.
Conclusion
Bing is surprisingly popular and has an exclusive audience that doesn't use Google, especially in the retail, finance, and technology industries.
For Bing, the most important part of optimization is on-page SEO. Keywords in titles, descriptions, and h-tags are a definite must. Regarding links, it's always best to focus on quality — spamming or bulking techniques are very much frowned upon. Besides, the search engine loves media content and appreciates when it's well-optimized with proper titles, alt texts, and markup specifications. Also, it pays a lot of attention to social signals, so all the public popularity expressed in likes, shares, and comments will be taken into account.
A big helper in SEO for Bing is its webmaster panel that allows you to perform various SEO tasks: diagnose your website, analyze its search performance and generate reports.
As a rule of thumb, you should track your rankings, even if you're not optimizing a website particularly for it. Keep in mind that it can be a significant source of traffic and should be kept under control.
That's it. You are ready. Bing it on!