Bing Rank Checker
The basic settings are as easy as
Add
Keywords
Select
Bing
Check
Rankings
All your historical Bing rankings are now safely stored with SE Ranking!
Bing SERP rankings can be checked on a daily, semi-weekly or weekly basis. Download and install the SE Ranking Pro iOS application to access rankings data.
Add keywords each on its own line or import a file with a list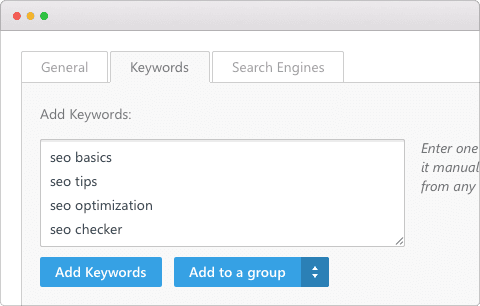 Select another search engine to track on top of Bing if you need to. Remember to select a country if you're only interested in local rankings.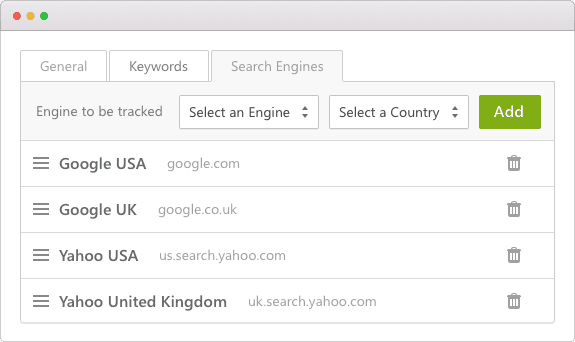 You can re-check rankings manually any moment. Key relevant data is gathered and becomes available soon after the keywords are added. Compare Bing rankings for two selected dates or choose other display options.
No credit card required. Fully functional trial version.
SE Ranking initially focused on delivering accurate Bing keyword ranking data as well as ranking info for other search engines. The importance of gathering ranking data should not be under-estimated as it allows webmasters and marketing department managers to match current SEO/SMM work with its influence on the visibility in Bing and other search engines.
Expert Settings
Check local Bing rankings for your keywords.
SE Ranking bot will discover and automatically take into account your website's subdomains.
Keywords parameters are gathered and displayed automatically including such key information as Search Volume, Ads suggestion bid and Competition.
Easily create Guest links or add sub-users to your account. No limitations.
Advanced reporting facilities. Use your company logo and name, choose what to include in the report among 18 modules (Website Audit, Keyword Ranking, SMM and more). Generate and send out reports manually or automatically. Add comments to reports. Toggle the Traffic info column on or off. Downloadable .PDF, XLS, or .HTML formats are available.
Manually add or automatically discover up to 5 competitors and track their Bing visibility as well at no extra cost.
Check our competitive plans and prices now
SE Ranking is not only tracking your rankings across major search engines, including Bing, but also gathers as much data that influences your rankings as possible. Today, users can access the advanced Website Audit tool, enjoy SMM functionality with autoposting, work with hundreds of backlinks and easily generate disavow link lists. Our commitment is not only to make an SEO/SMM platform for analysis and reporting but for practical use as well.
Extra Opportunities
White Label Facilities

We offer White Label for SE Ranking's Plus and Enterprise subscription plans. Users can use their own domain to access the service: just log in using any given address, for example, rankings.company.com. The entire interface of the service can be personalized, meaning that you can upload your company's logo and brand name instead of using SE Ranking's default logo.

Marketing Plan

We have put together all SEO best practises and guidelines to give users the opportunity to perform SEO tasks independently, plus to give them a better understanding of SEO process.
SE Rankings is comprehensive and easy to use SEO platform
The main usage of the service for me is the keyword rank tracking of my website and analyzing the rankings of the competitors for the same search queries. The settings are very flexible, I do not even know how to enrich them. And again, many thanks to designers and developers for the outlook of displaying both tabular data and graphs. I am not an SE Ranking newbie, but still can't cease to admire
SE Ranking for SEO
I like the SE Ranking because for Google SERP tracking I can choose any region. This is very important for projects for which I do Local SEO. I really like the fact that I can configure access to projects. When working with clients it is very important. I also like the fact that the SE Ranking analyzes the entire Google SERP, not just the organic results. Using SE Ranking I also track Google AdWords and Featured Snippets results.
Best rank tracker for keyword groups
Google has shifted into topics rather than keywords, SE Ranking allows me to track the keywords by groups so I can see how topics are performing rather than specific keywords. You can also connect it to analytics and webmaster tools, it's not just a rank tracker, its an overview of your rankings and traffic. Great support also.
Making your (and your competitors) positions painfully clear
I think it's awesome you can see not only your own organic positions, but also the positions of your main competitors. This keeps you on your tows, and makes it clear which keywords require additional work. Also, the function to check the ads of competitors is very useful. Sometimes you get some inspiration of their (bad) adds.
One of the best SEO keyword ranking software I have used
The best feature of SE ranking software is the accuracy of the local SEO keyword rankings. I also like the powerful reporting feature and that I can recheck keywords live again. This is the best feature rich SEO software I have used so far to check keyword rankings. I have tried about 10 different types of paid and free SEO keyword ranking software like MOZ, SEO PowerSuite, Cuterank, AnalyticsSEO etc. and SE ranking is by far my favorite one. I would recommend SE ranking for local SEO keyword position in Google to anybody who wants a quality and accurate product.
SE Ranking is a must for SEO and digital marketing professionals
I've been an SEO specialist for over a decade now and SE Ranking has always been my go-to set of tools. The platform fits my business just right, giving me the tools I need to deliver great results for my clients and my own projects. The pricing is competitive and scalable; a must for SEO and digital marketing professionals