How to Use Affiliate Links
Affiliate marketing is an excellent way for brands and individual marketers to earn passive revenue. It also promotes the company being linked to, ultimately earning them additional sales. Check out our complete affiliate marketing guide to learn how to get started with affiliate marketing and gain all the benefits while avoiding the pitfalls.
Affiliate marketing hinges on the use of affiliate links. In this post, we'll discuss what affiliate links are, how they work, how you can create affiliate links, and how you should use affiliate links to your advantage.
What is an Affiliate Link?
An affiliate link is a unique link that contains the affiliate marketer's ID—unique information for tracking. It helps brands and affiliate programs keep track of how many clicks, leads, and sales each marketer is helping drive so that brands can transfer the corresponding commission later.
Using an <a> tag, affiliate links send users to the appropriate page. This is often the page of a specific product, service, or software. For instance, as part of SE Ranking's affiliate program, your unique link will take your visitors to a page where they can sign up for a subscription.
An affiliate link may contain UTM (Urchin Traffic Monitor) tags. UTM tags make it easy to monitor traffic coming to your page from a specific source. There are two parts of UTM tags: the tracking variable and the parameters. Parameter options include the source, medium, campaign, keyword, and content.
Here are a few examples of affiliate links with UTM tags:

To make clearer which additional information the links above provide, let's briefly discuss major UTM parameters:
utm_source allows you to identify the website the traffic comes from—it can be one of the websites you run, your Facebook page, a YouTube video, etc. Basically, it's a place where you add the link. The first link listed above was added to one of the reviews on adamenfroy.com blog, and the second one comes from YouTube.
utm_medium tag normally indicates the marketing channel used to bring the traffic—e.g. organic search, PPC, social media, emails, etc. Again, it's up to you to single out mediums relevant for your business. This is what we can observe in the examples above that list partner articles and cp content as mediums.
utm_ campaign is a straightforward one—it is used to single out the marketing campaign associated with the link. In the second example, we have a lengthy campaign name that was probably launched in February 2022 and offered some coupons.
utm_content is an optional tag. It is used when there are multiple links pointing to the same site from a common source and medium—for example, two links with different call to actions (CTAs) from added to the same landing page. The parameter will help you identify which of the two CTA worked best.
utm_term is used to track PPC keywords.
While UTM tags provide you with a heap of data, affiliate programs will often generate links like the ones listed below:

Here, id=530454 and ga=1658897 are affiliate marketers' unique IDs that will help businesses identify the source of traffic to their sites.
How Do Affiliate Links Work?
Whoever is working with the link—such as the affiliate marketer, digital marketer, SEO, or PPC manager—promotes the link across their online channels. For instance, they might share it on their website and social media platforms. Their audience can then learn about the product/brand to which the link directs them.
Whenever someone clicks on that link and makes a purchase, the link's owner (like the affiliate marketer) will earn a previously determined commission.
However, other conditions may define when someone gets paid. You can also be paid a commission for clicks, traffic, or registrations.
The Main Types of Affiliate Links
Affiliate links can be used in a few specific ways. Perhaps most commonly, you'll run into text links. However, images can also be utilized as affiliate links. Moreover, videos can promote affiliate links.
Text affiliate links
As the name suggests, text links are added to the textual content and look like regular links. An anchor text—a clickable word or word combination that describes the page that is linked out to—will usually be a brand name or a keyword describing a particular product or service.
Example of a text link with branded anchor text (here, both the button and the piece of text from the paragraph are linked to the affiliated brand):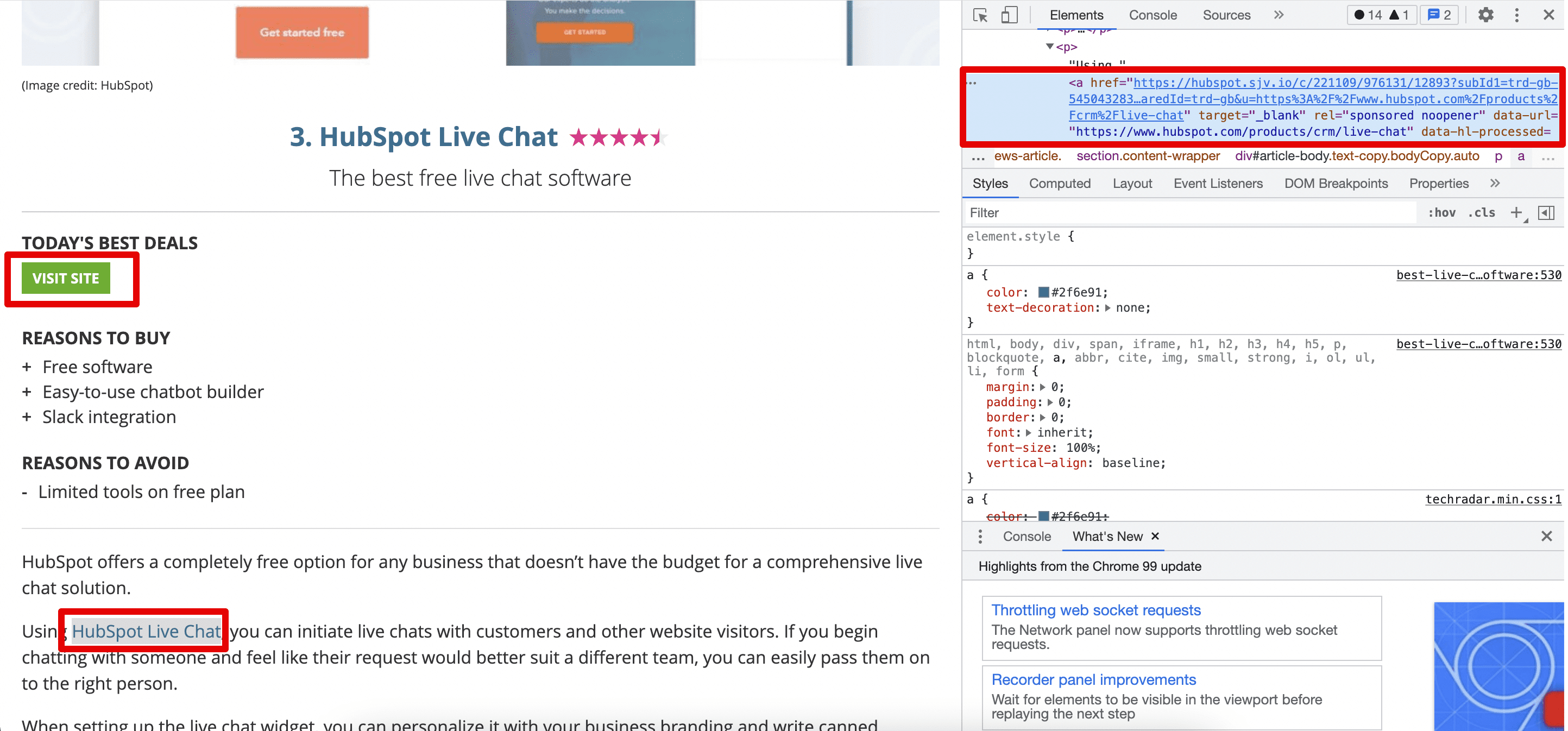 Image links
Affiliate links can also be added to images. Such images are clickable, and often contain elements that resemble buttons. This makes it clear to the users that the image is clickable. Also, images containing affiliate links will normally have a CTA that will encourage users to click. When put in the sidebar, clickable images are normally called banners.
Example of an image link added to the banner in the sidebar and of another image added to the text body :

Links in the video description
Finally, YouTube videos can also be used to promote affiliate products. Affiliate links are normally added to the description below the videos. It is also a good practice to highlight the product in the video content to further mention that the respective link can be found in the video description.

Example of an affiliate link in the video description: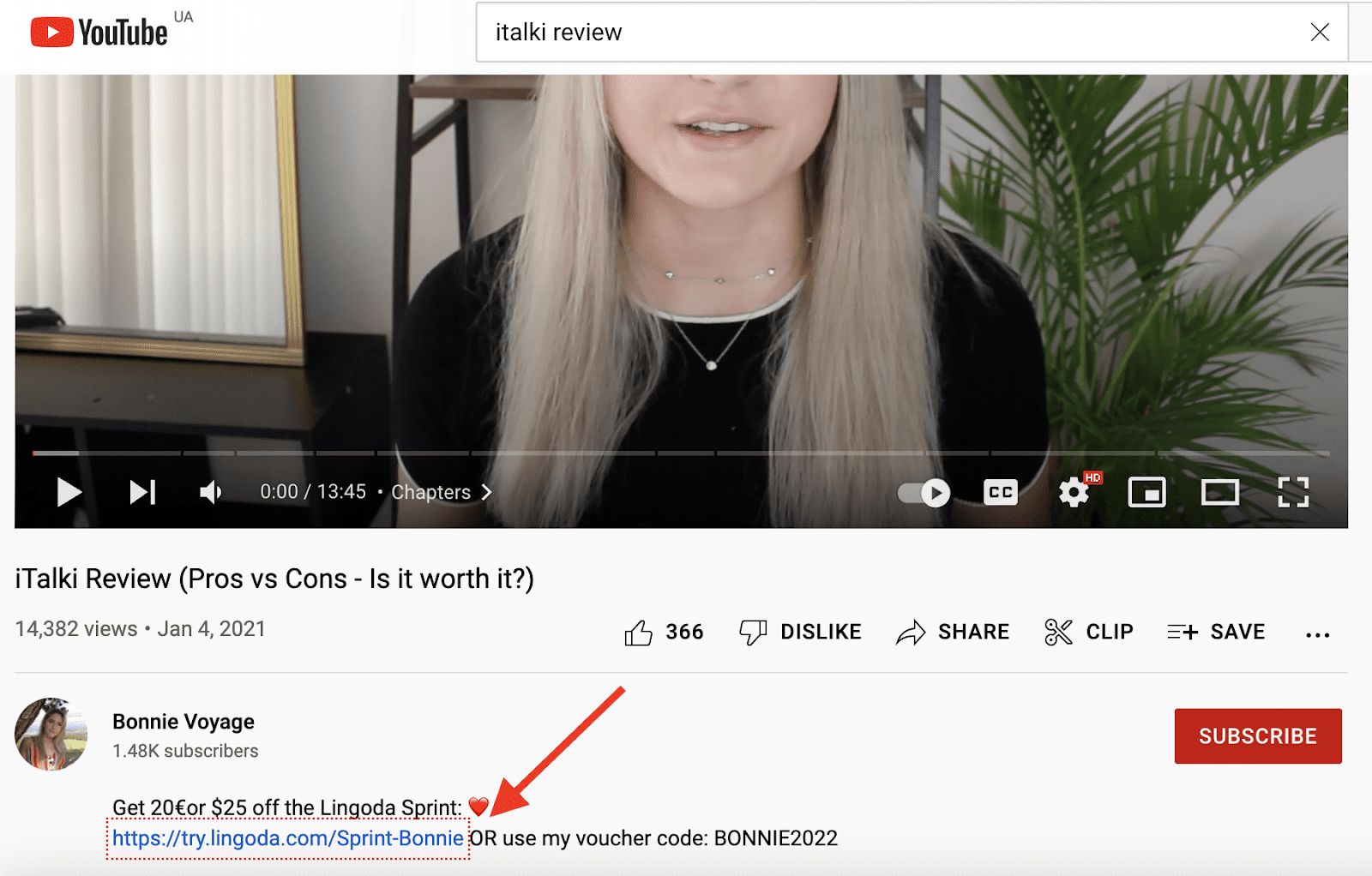 How to Create Affiliate Links
Now, how do you create affiliate links in the first place?
In some cases, when you join an affiliate program, each brand will provide you with your own unique affiliate link. If you're an SE Ranking affiliate, this is how it'll work.

You can even choose the type of link that suits you best by selecting prepared links or creating one of your own.
If this doesn't happen in your affiliate program, then you'll be responsible for creating your own.
What you want to do is take the website's URL and add on any additional parameters, which will allow you to use advanced tracking. Your affiliate program might offer a native tool that'll help you build the link. Otherwise, you'll have to use a third-party tool to create it.
Here's an example from Impact, a platform that allows you managing multiple partnerships from the same user cabinet. Among other things, it allows creating affiliate links. You choose the brand, enter the URL you want to add (for example, a pricing page), then copy the generated link.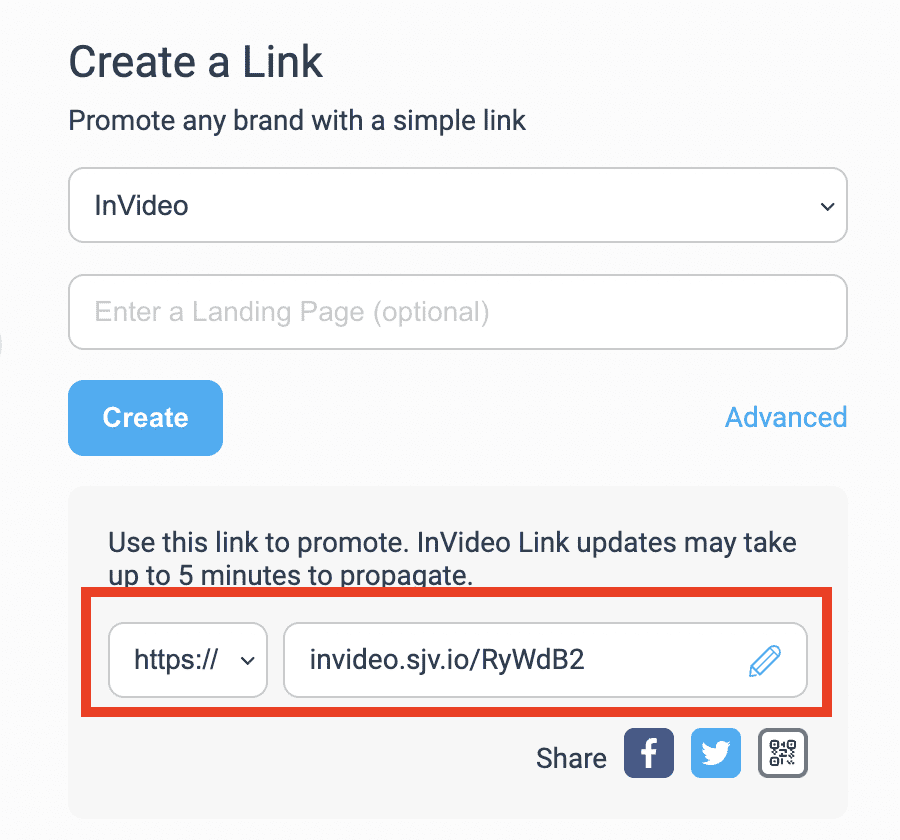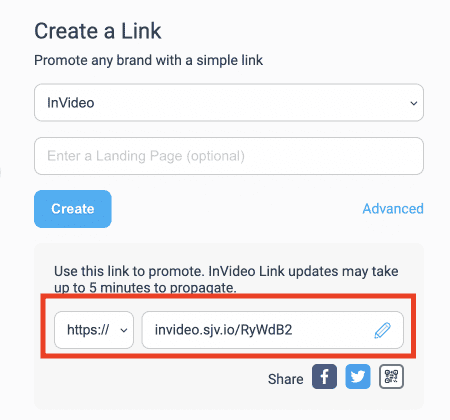 Once you have your affiliate link, this is what you'll use to promote that product/brand to your audience. Remember to copy/paste it exactly as it is. Otherwise, the tracking won't work. (The URL might not work, in general, and lead to a 404.)
How to Get Affiliate Links
What do you need to do to become an affiliate for a brand?
Here's one option. You'll need to find a company or product that you'd feel comfortable supporting. Remember, you're going to personally recommend this to your audience. Then, you need to determine if they offer an affiliate program, and if so, sign up for it.
If and when you're accepted, retrieve or create your unique affiliate link. You'll start incorporating that link into your website content, social media, lead magnets, and so on. And whenever someone clicks that link and takes the specified action, you earn a commission.
As a second approach, you could sign up for an affiliate network such as:
Impact
ShareASale
Awin
Rakuten
Affnetwork
ShareASale, Awin, Rakuten, and Affnetwork all have a category filter that helps you find brands relevant to your own business.
There are also niche-specific affiliate networks for industries, like esports, gambling/betting, and dating/relationships.
You want to find a brand in your niche, one you can confidently get behind. Apply for their affiliate program. Once accepted, get your unique affiliate link and promote it across your channels to earn your commission over time.
Can You Use Links from Multiple Affiliate Programs on One Site?
You sure can, and depending on your traffic, it can increase your income. This approach is common for listicle and round-up articles, such as "The Top 10 Tools for . . ."
However, here are a few words of caution. First, make sure the competing brand allows such practice.
Second, only promote things you yourself would use (or currently use). If you aren't a personal fan, you shouldn't be recommending it to others. They're trusting you, so being dishonest about how you really feel about a product could hurt your reputation and relationships.
In this case, you might consider creating a product review you don't necessarily like and describe the drawbacks. This is still valuable content that your readers and viewers will appreciate. Then, suggest an alternative that you can vouch for, and drop your affiliate link there.
While you can absolutely include multiple links, avoid over-linking in a single piece of content. This is a general rule of thumb when it comes to content creation. Over-linking hurts the user experience and can also look like spam to Google. Links should be thoughtful and intentional.
And lastly, aim to naturally work affiliate links into your content so that it feels more seamless and less salesy. As opposed to saying, "Buy this product!" talk about why you love it, how it's helped you, then gently direct people to the webpage where they can learn more.
Where to Put Your Affiliate Links
When it comes to where to include your affiliate links, think outside the box! If your focus is your website, you have lots of options. If social media is your jam, there are countless ways to get creative.
Here are a few suggestions:
Website content: blogs, reviews, tutorials, banners
Gated content: lead magnets, freebies
Social media posts on Instagram, Facebook, TikTok, Twitter, Pinterest, LinkedIn
YouTube videos: Mention in the video itself, include the link in the description
Digital products: online courses, eBooks, paid downloadable content, masterclasses
For example, let's say you're an SE Ranking affiliate. You could create a lead magnet that shares the top five metrics content creators should care about. Then, highlight how easy it is to monitor your metrics using SE Ranking and drop your affiliate link.
Or, you might do a series of LinkedIn posts, offering quick tips for improving your organic traffic, rankings, or bounce rate. Leave your affiliate link on your profile page for people who are interested in checking out SE Ranking.
Whichever method(s) you choose for affiliate link promotion, always provide value to your users first.
Always Include an Affiliate Link Disclosure
Make sure you always use an affiliate link disclosure. Legally, your followers have a right to know if you get a commission when they purchase something.
So, wherever you use an affiliate link, you must disclose that the link is present, and if people use it to purchase something, you earn a commission. Transparency is important! It helps to also point out that you will never promote something that you don't personally support.
Example:
"Disclaimer: This article contains affiliate links. If you purchase using these links, I earn a small commission. I only recommend tools I know and trust myself."
Affiliate Link Cloaking
You can always use your exact affiliate link as is when sharing it across your channels. However, some will utilize a method called affiliate link cloaking. This is when you take a longer link and shorten it to make it simpler and easier on the eyes.
Link cloaking is usually set as a 302 redirect, which will forward your traffic to the new URL. For example, the link on the page may look like this: https://www.adamenfroy.com/recommends/growthbar
And the actual link (where a redirect from the above one is sent) would be as follows: https://growthbarseo.com/?utm_source=adamenfroy&utm_medium=partnerarticles
Some brands use redirected links to disguise affiliate links—something you should be careful with, as you shouldn't deceive users. Trying to "trick" them into clicking on your affiliate link—perhaps by being misleading regarding where that link goes—isn't a wise idea.
Affiliate cloaking also hides the affiliate's identity from shoppers. This offers a layer of protection, too, because in hiding the affiliate's ID, another affiliate can't hijack it with their own ID and steal the commission.
Finally, link cloaking can help avoid any "dings" from Google, which doesn't usually like affiliate sites.
To cloak your affiliate links, you can use a plugin like ThirstyAffiliates, Pretty Link, or RH Link Pro.
To make sure affiliate link cloaking doesn't negatively affect your rankings, you'll need to check your site positions regularly. Automatic tools like SE Ranking's online keywords ranking checker can help you keep an eye on your positions with minimum effort.
What Google Says About Using Affiliate Links
Because Google cares about transparency, they recommend labeling affiliate links with rel= "sponsored." This will make it clear to the search engine that it's an affiliate link and something you're making money off. However, we recommend using rel= "nofollow." A nofollow link essentially tells a search engine not to pass link juice from your site to a website you link to while giving you a legit way to use an affiliate link.
Use SE Ranking's tool for backlink checking to analyze any backlink profile. 
This hopefully goes without saying, but continue to ensure that your content still provides value outside your affiliate links and always follow SEO best practices. You do this for both the search engine and the users. Everyone wins.
How to Track Affiliate Links
The only way to know how your affiliate links are performing is to keep a close eye on your numbers. The program you're a part of might offer a platform/dashboard where you can view your metrics. You'll want to keep an eye on things like:
Earnings per click (EPC), which is the average amount of money you earn when someone clicks on your affiliate link.
Clicks (the number of times your affiliate link was clicked) and actions (the number of sales/leads you've managed to drive from your affiliate link).
Conversion rate is the number of users who performed your desired actions, divided by the number of users who clicked. You want your conversion rate to be high. The average conversion rate varies across industries, but if it's less than 3-5%, check out our conversion rate optimization guide.
Revenue is the amount of money you've earned through the chosen affiliate program.
Another way to track your performance is by using tools like Clarity and Hotjar that generate heat maps and show you which part of your pages users are lingering on (and what they're flying past). This can help you better understand how people are interacting with your page, what they like, and what's failing to catch their attention. For instance, if your affiliate link only appears at the very bottom of the page, and users quickly read only until the middle of the page before leaving, consider moving the link up higher, perhaps above the fold.
Google Analytics can also help you keep your finger on the pulse. You can use the tool to check the traffic of your focus pages that contain affiliate links. While monitoring the traffic to these pages, keep an eye on a few key metrics:
Page views help you gauge if the traffic is where it should be (or too low).
The average time on page (combined with a heat map!) will reveal just how interested users are in your content.
Bounce rate indicates how many people are leaving your site after viewing only that page.
If you mostly rely on SEO to bring traffic to your website, you can use SE Ranking to immediately see the whole picture: how much traffic you get to pages on your website that contain affiliate links, how users behave on these pages, and which keywords drive the most traffic. To do so, connect Google Analytics and Google Search Console to SE Ranking—all of the major metrics will be displayed on one unified dashboard.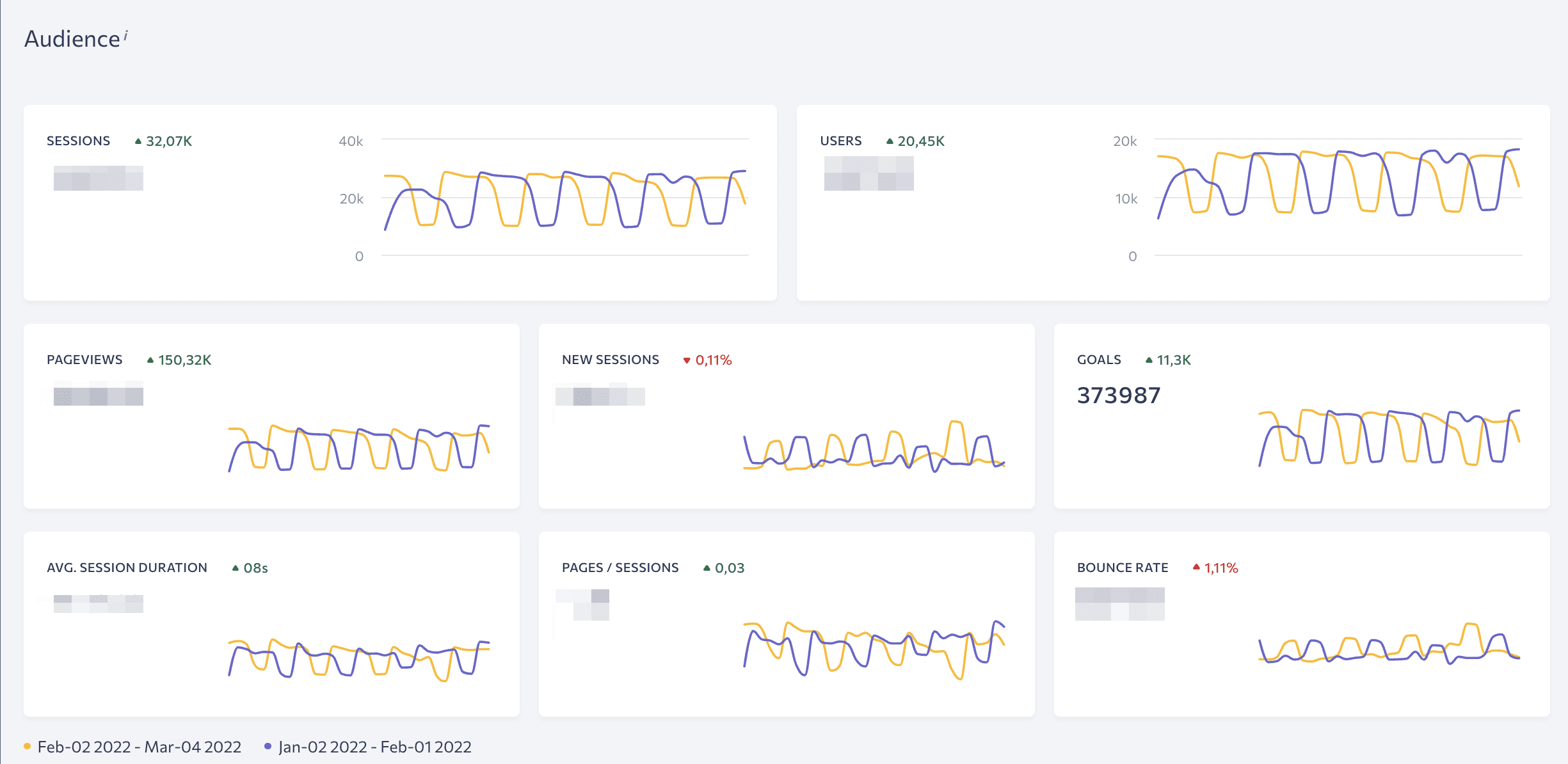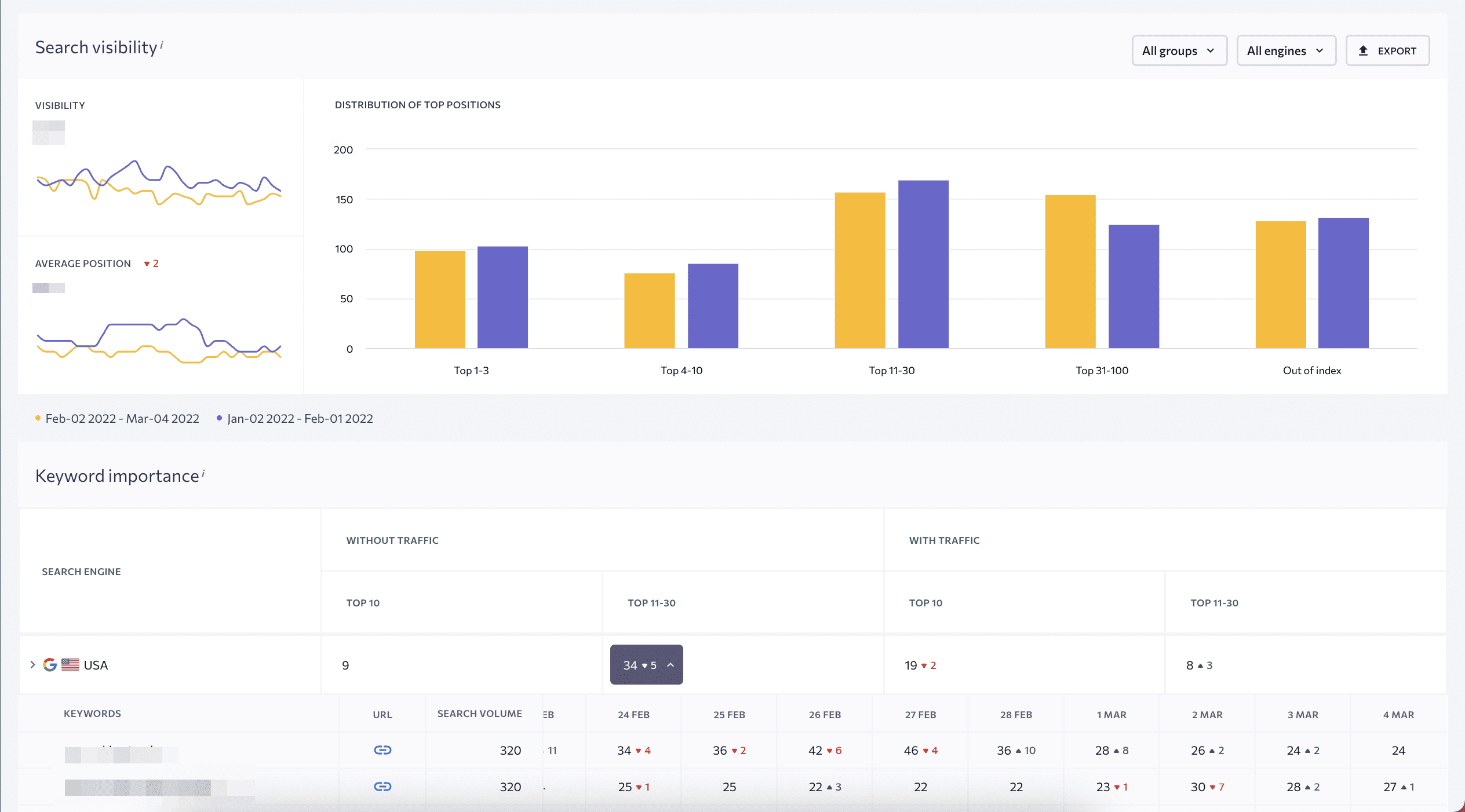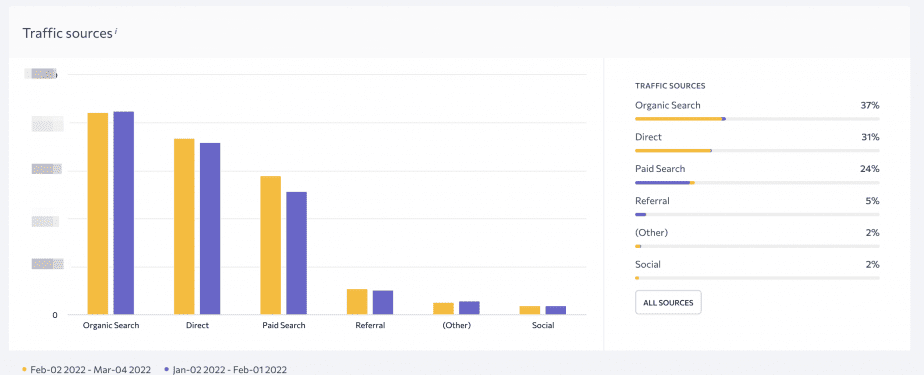 It streamlines your processes and aggregates all of the most important data under one roof.
This data can help you better understand what your users like and dislike. You can adjust your content accordingly to get more people on your content, encourage them to stay longer, and boost engagement with your affiliate links.
For instance, if a page's bounce rate is high, then you might improve the internal linking and use a stronger CTA. If people aren't spending much time on the page, try breaking up the text and adding more images, videos, or GIFs. Heat maps can tell you where people are lingering—and what they're scrolling right past.
Affiliate marketing is a marathon, not a sprint. Strategy matters, and if you play your cards right, it can be an excellent source of passive income. Follow these affiliate link best practices, always keep the end user in mind, and you'll reap the rewards.