Affiliate Marketing for Beginners
Affiliate marketing has become a common buzzword for those who want to leverage their own audience, support brands they use, and earn passive income.
In this blog, we'll cover:
Affiliate marketing and how it works
Popular niches of affiliate marketing
Benefits of affiliate marketing
Possible downsides of affiliate marketing
Earning potential in affiliate marketing
Let's dive in!
What is affiliate marketing, exactly?
An affiliate is a person who is attached to an organization and promotes the organization's products or services to their audience, usually for a commission.
In an affiliate marketing business, the affiliate earns their commission typically through a unique link. When someone — say a blog visitor — uses this unique link, the affiliate gets a cut of the sale.
Let's run through an example.
Imagine you have decided to leap into affiliate marketing, and you'd like to monetize your baking blog.
CookieCluster, your favorite baking brand, launched an electric mixer, and you simply can't bake without it. CookieCluster will send you a special link to include in relevant blogs, social posts, YouTube videos, etc.
If your friends and followers buy the new ElectroMix 4000 through this link, you'll earn a portion of the sale.
Although earning a portion of the sale is the most common among affiliate programs, other pay structures exist within the affiliate marketing world.
Pay-per-lead: getting paid for every potential customer sent to the organization you're promoting.
Pay-per-engagement: Like pay-per-lead, pay-per-engagement can be measured by clicks, views, or other engagement factors.
Flat or recurring payments: One-time payments, regular monthly payments, or even pre-determined weekly payments are other payment structures within affiliate marketing.
5 popular affiliate marketing niches
A whopping 81.4% of affiliate marketers work with programs in the B2C arena. While every industry/brand can find a way to run an affiliate program, affiliate marketing is common in a few niches in particular:
Computers and electronics (40%)
Clothing/apparel (41%)
Online services (30%)
Accessories (29%)
Beauty (28%)
Business is not far behind (25%), followed by marketing (20%).
Other noteworthy niches are supplements—unsurprising, considering that the supplement industry is currently worth about $35.7 billion. The software industry—projected to reach about $578 billion in revenue this year—is also booming. Online dating is another flourishing sector and is projected to reach $9.2 billion in revenue by 2025.
Top 5 benefits of affiliate marketing
Affiliate marketing spend increases by 10.1% every year. This growth rate means there's incredible potential in understanding the benefits, as well as the downsides of affiliate marketing.
You don't have to create your own product/service: Building something from scratch can be daunting.
However, affiliate marketing lets you skip the step of actually developing your own product/service, and lets you simply promote an existing product.
Low barrier to entry: You don't need to purchase any inventory, and affiliate programs don't typically charge a membership fee. Usually, the cost to start is minimal, if not zero.
Becoming an affiliate is pretty straightforward. Signing up usually requires your name and email address and a linked bank account for your commission earnings.
Low-risk: Since the investment is modest, you're not gambling. Unlike purchasing inventory or launching a product of your own, you don't have much to lose.
A fantastic source of passive income: Although affiliate marketers have to actively work at times (more on this in a minute), earning money as an affiliate marketer can be incredibly low-maintenance and highly rewarding.
Sell something you're passionate about: There's an affiliate program out there for everyone. If you find something you enjoy, getting sales isn't going to feel like work.
6 potential downsides of affiliate marketing
Every field has its pros and cons, even a high growth factor field, like affiliate marketing.
Your website needs a lot of traffic, or you might not be accepted as an affiliate: Many affiliate programs have a minimum requirement for website traffic. If your website/blog doesn't meet the minimum requirement, you may not be accepted into an affiliate program.
Building up substantial revenue can take time: Unless you already have a big audience, making real money as an affiliate marketer will not be an overnight success. In the marathon of affiliate marketing, you'll need to invest time in growing your website traffic before you're earning big paydays.
Companies can reduce commissions at any time: The brand ultimately controls what you earn—not you. So they can decide to reduce the percentage you make off your sales at any point unless negotiated otherwise.
Using paid ads can be tricky: When you run paid ads as an affiliate marketer, you can't use that company's branding in any of your keywords, a general rule of PPC (pay-per-click). That means you have to get creative to target your audience.
You have to include a disclaimer when using affiliate links: According to the FTC (Federal Trade Commission), you are required to disclose your affiliation with an organization when promoting a product to your audience.
If you don't disclose this information, not only will you be breaking the law, but the company may not have to pay you. In addition, the transparent relationship between you and your followers may be fractured.
Competition is a given: Many people are branching into affiliate marketing because getting started is affordable and simple.
Competition is expected, but does that mean you shouldn't do it? Absolutely not, but first understanding what you're up against is the best way to position yourself for success.
There are challenges when building a successful source of passive income through affiliate marketing. However, it's possible. Just keep in mind that the right strategy is vital.
How much money can you potentially earn as an affiliate marketer?
There are too many changing variables in place to give you an exact number. Here's what you need to consider:
Your niche
Your expertise
Your website traffic
Your general social media following
A good rule of thumb for beginners in affiliate marketing is earning anywhere between $100 to $1000 in your first year. Gradually, this number will increase as you become more experienced and garner more website traffic.
If you already have steady website traffic, you may be able to aim higher than the beginning approximation.
How much money do you need to invest?
The good news about affiliate marketing is that you're not going to need to invest in purchasing the product/service that you're trying to sell.
However, you will need to invest in whatever platform you'll selling through, which most likely is your website.
If you don't have a website, you can choose the economical option and build it yourself. If you don't yet have a website, you either need to build one yourself or outsource it to a web developer. That'll be an expense.
Once the website is built, there will be additional costs. For example, you'll need to cover the costs of extra things like:
Domain
Web hosting
Website theme
Since over 65% of affiliate marketers generate traffic through blogs, you're going to need to be creating content. If you plan to outsource, you'll need to cover the cost of hiring a writer.
Bear in mind; you do have options here.
Option 1: You can self-teach and develop your website while saving money and learning a new skill.
Option 2: You can build your website by paying well-versed professionals and outsourcing your project. It's the faster route, but it depends on your end goals.
Both of these approaches have proven successful in the past. The differentiation between what is best for you is based on your experience, goals, and budget.
What platforms can you use to sell?
One of beginner affiliate marketers' most frequently asked questions is, "Where do I get started?" If you don't have a large existing audience that you can utilize already, here are our suggestions.
Website
You should prioritize your website for one fundamental reason: you own it and control it.
Your website can't easily be taken away from you. On the flip side, social media accounts—while powerful (more on that in a moment)—can be shut down at any time, without explanation.
With relevant and engaging content that utilizes SEO (Search Engine Optimization) best practices, you can get your website ranking higher on Google. By doing so, the search engine will reward you with heavy traffic for years to come. Traffic that will engage with your content and use your affiliate links.
YouTube
Video is an incredible selling mechanism.
After your website, YouTube is the second most important platform to explore.
YouTube is the world's second-largest search engine, and it's owned by the world's largest search engine—Google.
YouTube is a versatile tool, which can help you both as an individual platform and as a supplemental tool for your website. For example, you can post affiliate links in the description of your YouTube videos, and you can use the platform to link traffic back to your website.
Social media
Lastly, we have social media. Popular social media platforms, like Instagram and TikTok, can be lucrative avenues for affiliate marketers. The social media channels help you establish your brand, authority, and experience.
Keep this in mind: You shouldn't rely on social media alone. Some platforms are challenging in adding links to your post or profile.
Also, social media and YouTube are not owned by you, whereas your website is.
3 types of affiliate marketing websites
There are various ways you can set up your website to sell as an affiliate marketer:
Product review site
Micro-website
Your own blog
Product review site
Think of this as an all-in-one site covering a broad category of products/services.
For example, if you love yoga, you may have a blog to publish reviews of mats, apparel, accessories, and other relevant items in the broad category of "yoga."
You would want to be an affiliate for at least one of the products on your site.
Micro-website
Micro-websites are niches within a category. Therefore, they are much more narrowed down than product review sites.
For example, in the case of the broad category "yoga," you may want to center your micro-website around a specific product, like yoga mats.
Your own blog
Lastly, we have the originator of affiliate marketing, a blog.
You can write for a category you're interested in a blog and create content that resonates with your audience.
Topic, keyword, and competitor research could help you determine the direction of your blog. Throughout the content, you can integrate relevant affiliate links within your blog.
How to start an affiliate marketing website in 10 steps
How can you get started with affiliate marketing? Now that you know some of the ins and outs of affiliate marketing, we can get to the nitty-gritty of developing a website that sells.
Step 1: Choose your niche
As they say, the riches are in the niches, and the first step in developing your affiliate marketing strategy is choosing your niche.
To find your affiliate marketing niche,
First, find an industry you love.
Second, identify a brand that aligns with your tastes or values.
Third, find out the ins and outs of the brand's affiliate program.
Does it have an affiliate program with lucrative commissions? If so, great job. You're on the right track.
Keep this in mind: It's important to double-check your work before you double down on the brand.
How much search traffic does your niche get in Google? If no one is searching for it, then your website doesn't stand to get many visitors, and it's going to be challenging to sell.
You can find answers to these questions by utilizing free tools like Google Keyword Planner or Bing Keyword Planner to evaluate the search volume of relevant keywords. Also, you can use Keyword Research by SE Ranking, which is a strong Keyword Planner alternative that offers more precise search volume data. Below, you can type in a keyword you're considering targeting and test the tool out.
In this case, let's analyze the keyword "electric mixer" to see if we should pursue a baking blog.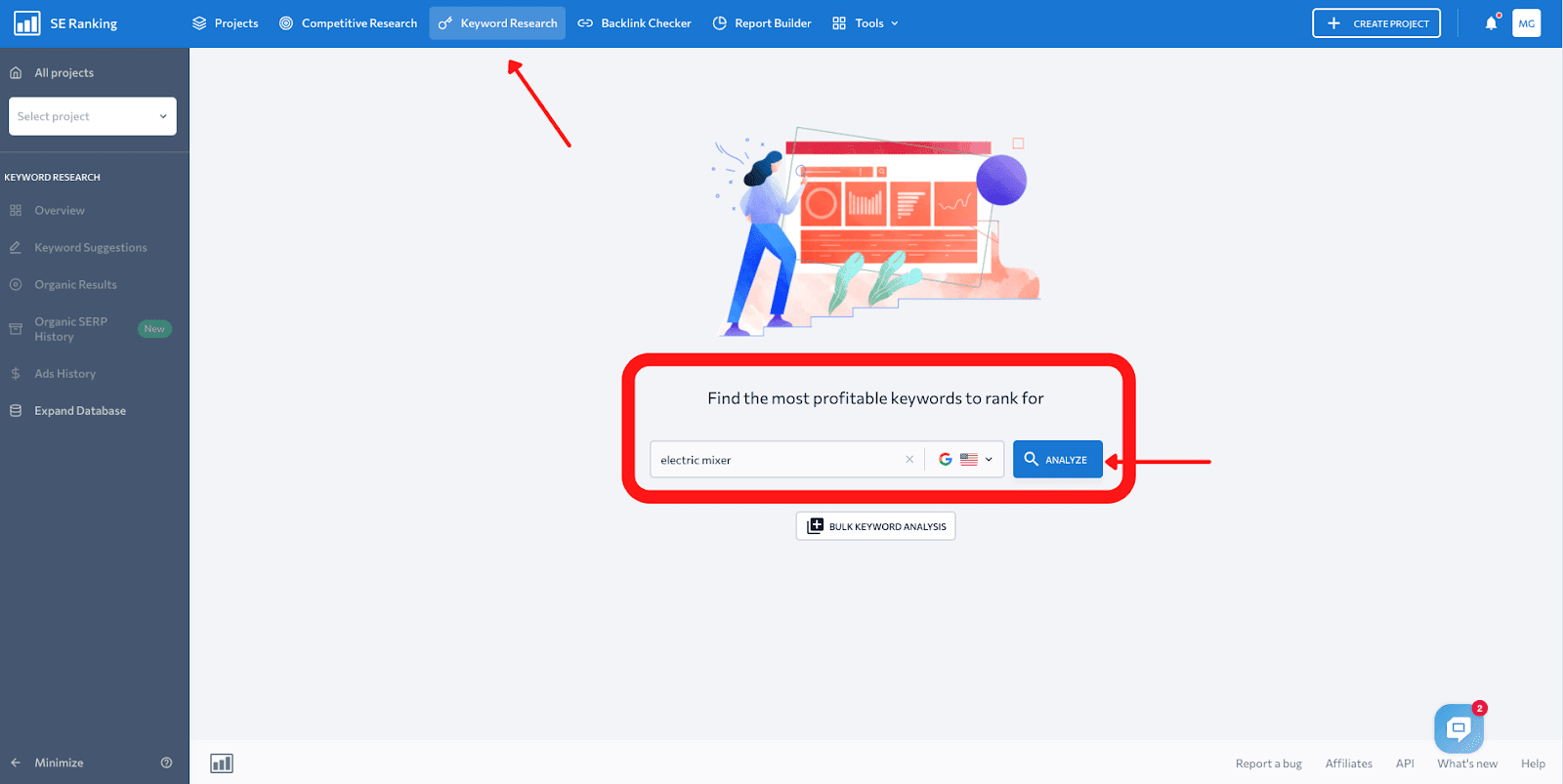 On the results page, we get some good news: "electric mixer" gets about 14.8K searches per month. However, it's also pretty difficult to rank for this particular keyword.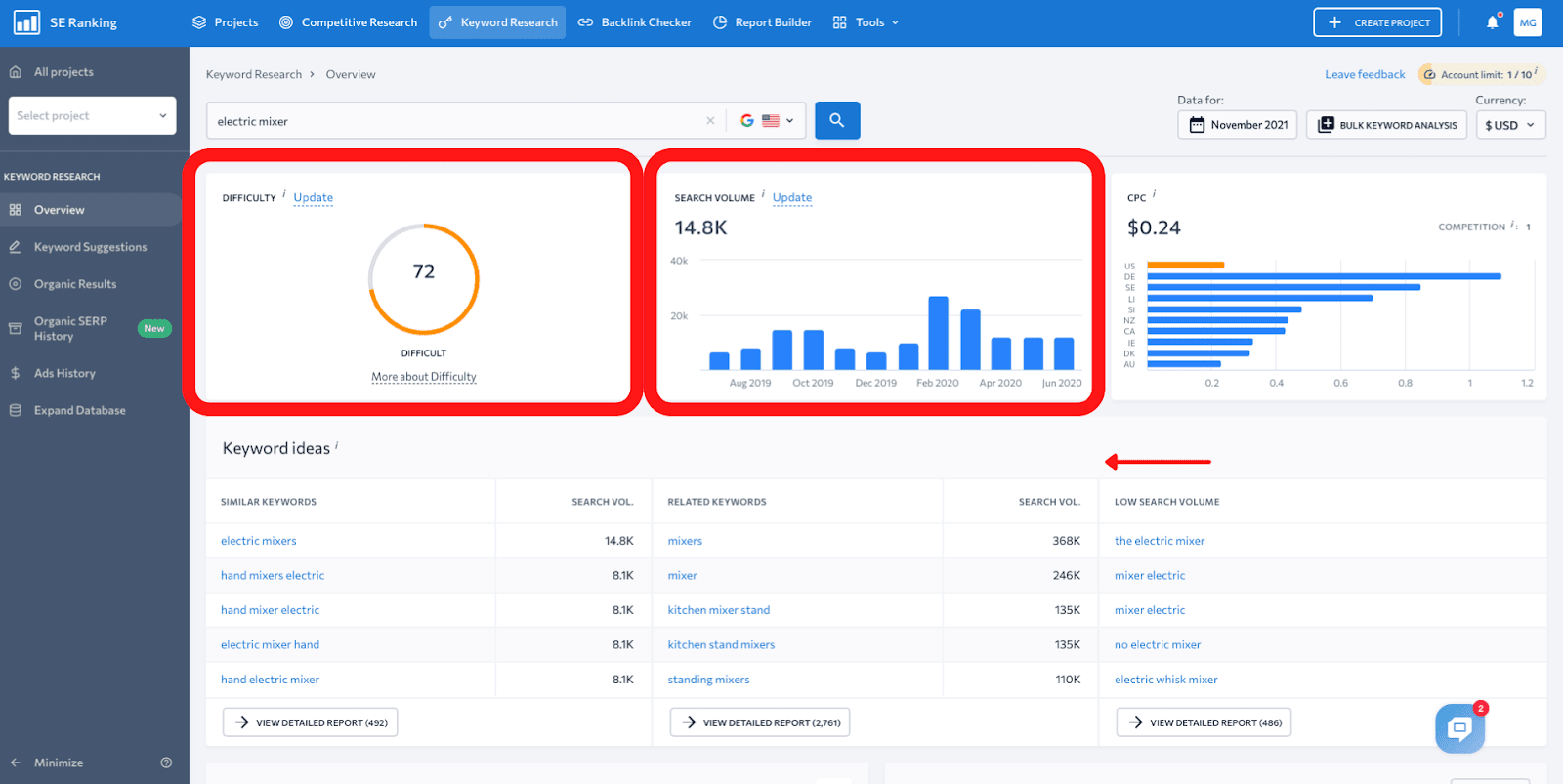 To investigate further, we can view the report under Similar Keywords.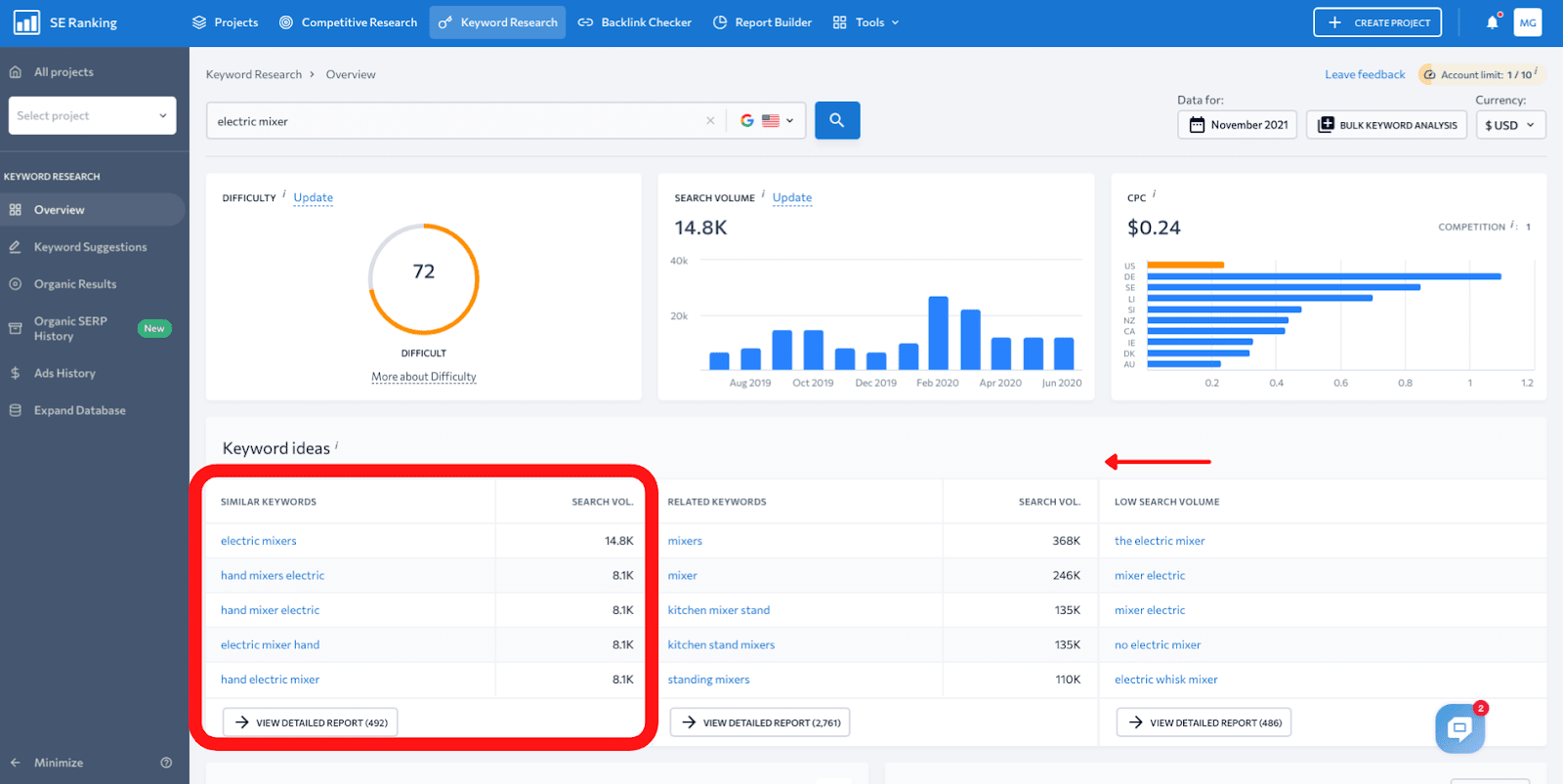 This brings us here.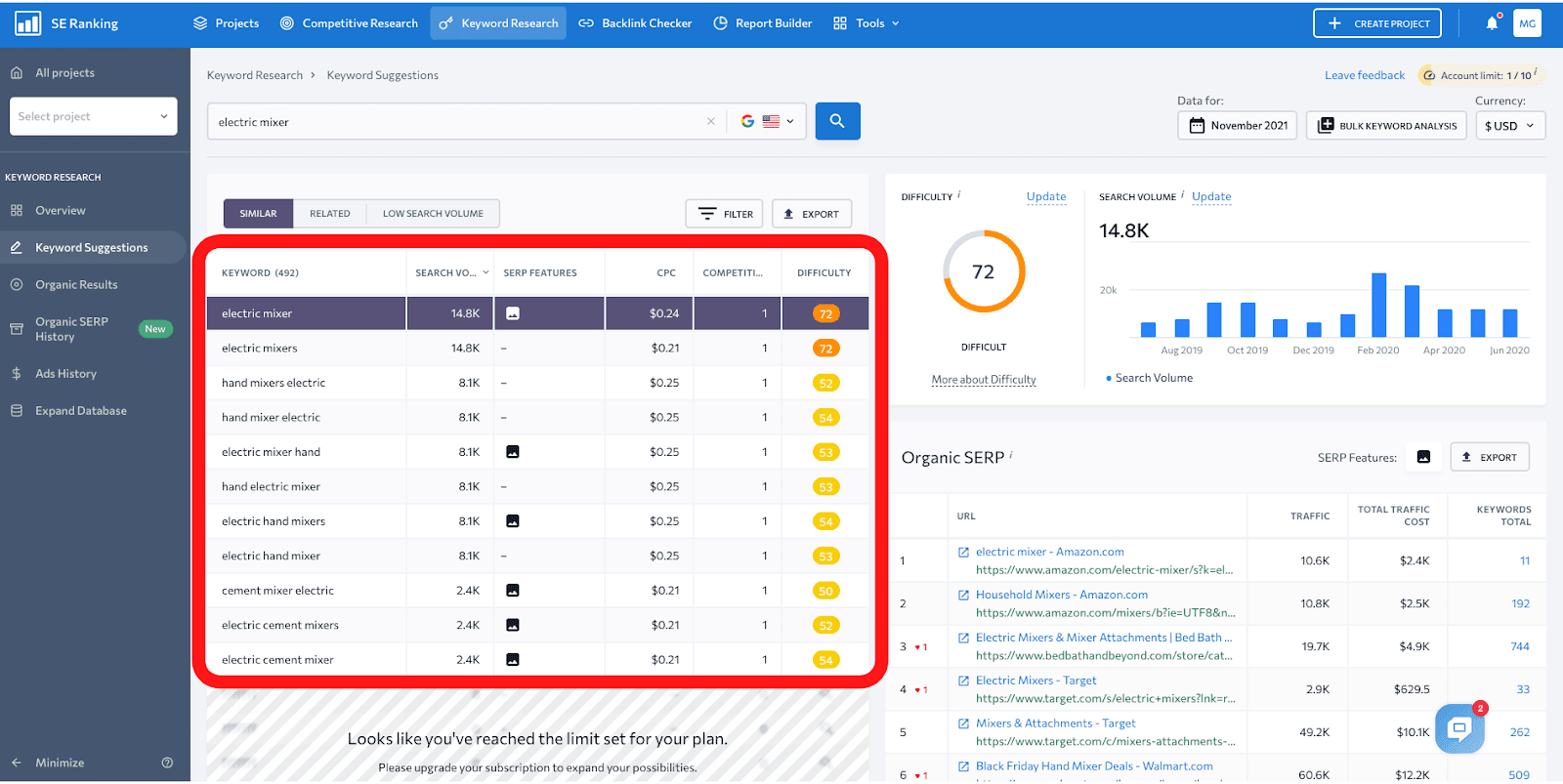 This tells us that we have many options for keywords, and while some of these phrases might have a lower volume, the competition is lower, too.
The key takeaway: We know that there is search demand for this product type in Google.
If you start to do keyword research and see that your niche looks promising, a logical next step is to collect all of the relevant keywords in one place, like a spreadsheet. These phrases will shape the type of content you create and your target keyword list.
Step 2: Analyze your competitors
Ranking high in Google means outranking a lot of other web pages. Competitor research is a critical aspect of discovering how you'll strategize to outrank your competitors. SE Ranking's Competitive Research tool can give you key insights.
In Competitive Research, you can enter the URL of sites you would ideally like to outrank for important search terms. The tool will give insights into important factors that will help you outrank your competition, such as:
Organic traffic and keywords for which the site ranks
Paid traffic
Referring domains
Backlinks
You can also look into historical data to gauge what your niche and competitors have looked like across time. To look at the stats of a particular competitor, all you need to do is adjust the time.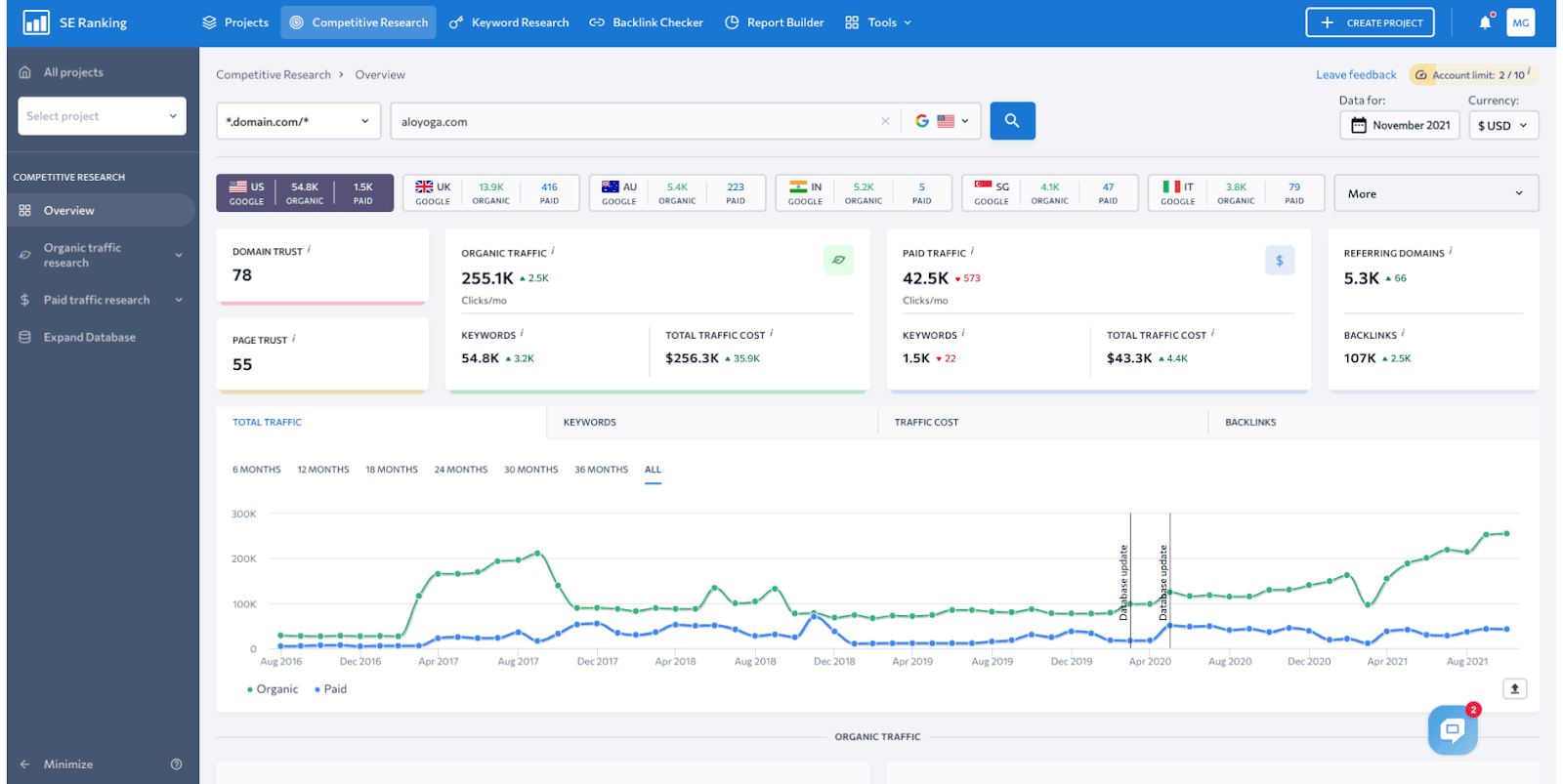 You'll be able to view any domain's keyword history, along with their organic and paid rankings, as far back as February of 2020.
Go to Keyword Research—Organic SERP History to get a holistic view of the niche you want to target. There, you can see which sites ranked in the top-100 for a particular keyword across a selected period of time.
You'll be able to spot all the rankings fluctuations, whose rankings improved over time, and which sites dropped in rankings. Also, you'll see which sites have been in the top-10 the longest and who just recently joined the competition.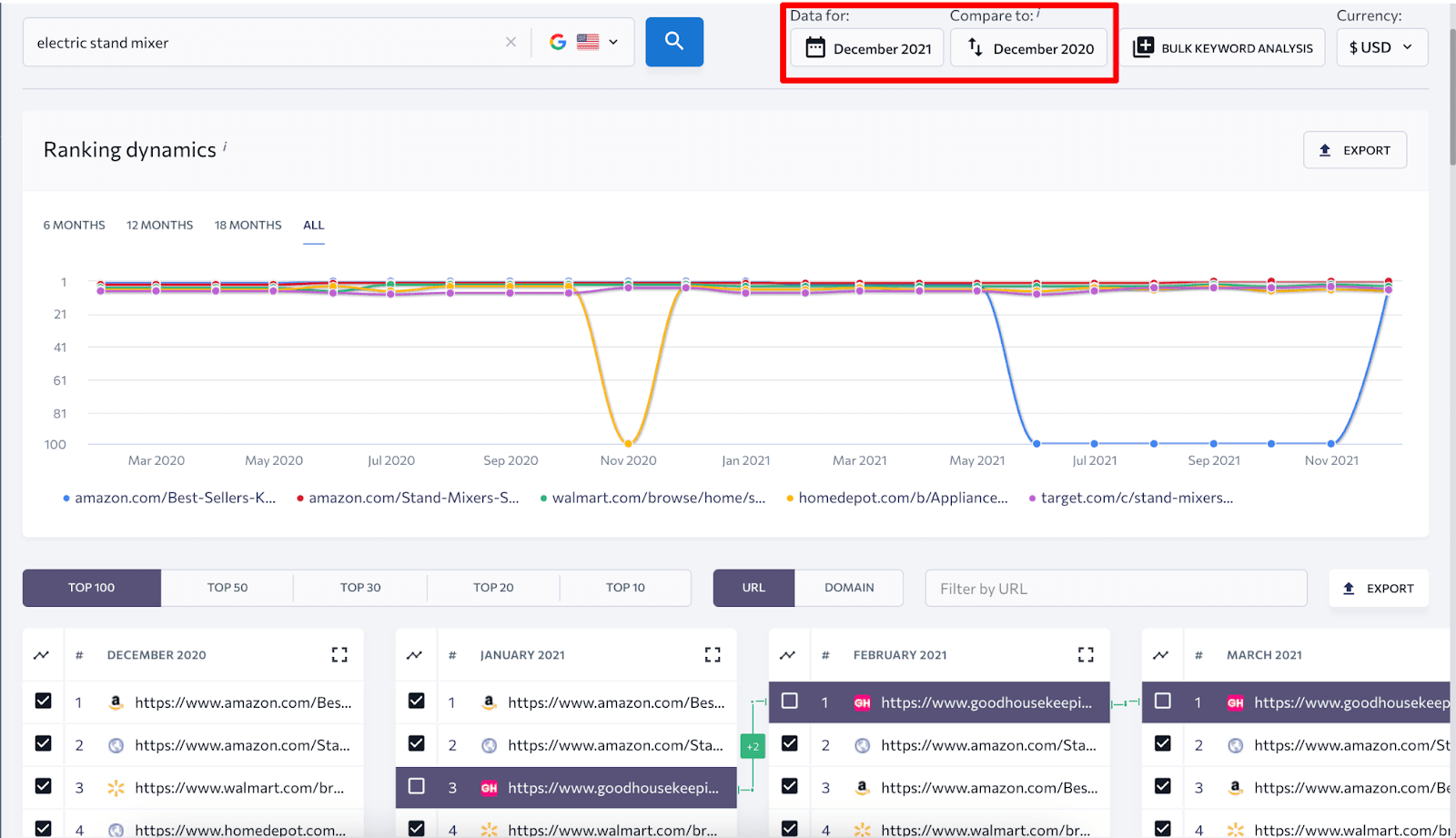 This information can give you insight into your competition and your niche's volatility. By doing so, you'll better understand how you can climb the Google rankings.
Step 3: Choose an affiliate network
In a nutshell, affiliate networks connect brands and retailers with marketers.
It's a win-win. The brand gets exposure, and the marketer gets paid. ShareASale is one such network. They help content creators, website owners, and influencers build partnerships with brands that align with their values. Impact and Rakuten are two more options if you're looking to jump into an affiliate network.
These networks take a lot of the grunt work out of finding brands to partner in affiliate marketing.
You can also explore aggregators like OfferVault. This platform helps affiliate marketers find offers, connect with networks, and verify their reputations.
At this point, you can study various affiliate programs and decide which brand you'd like to partner with once your site is up and running. In most cases, you won't qualify for admission into an affiliate program until you have a website that boasts a steady flow of traffic.
Step 4: Design your website structure
Before you start building anything (or paying someone else to do it), put pen to paper and map out:
(a) The look and feel of your website.
(b) How your website needs to function.
Is it going to be image-heavy or packed with videos? Is it primarily text-based? With what other tools does it need to integrate, possibly a CMS or CRM?
Additionally, what will your website structure look like—linear, network, or hierarchical? Having the proper structure helps with search visibility and optimization.
The best time to start mapping out the pages of your website is when you're designing your web structure. Web structure is important because you need to consider how you'll map out SEO early in the process.
SEO for a new website is vital because it can get you started on the right foot with Google.
Remember, in Step 1, you started collecting keywords that you need to optimize your pages around. While designing your web structure, it's important to put these keywords into clusters—meaning that you organize them into buckets based on their topics.
Organizing keywords into clusters makes finding relevant information easier for your users. It also helps Google understand and rank your content.
Step 5: Build your website
At this point, you know you have two options: learn to build your site yourself or hire someone to do it for you. Either way, you're going to want to utilize the research you've done thus far around your keywords, optimization, website structure, etc.
Step 6: Fill your site with content
You know what they say: Content is king!
Creating high-quality, SEO-optimized content that's relevant to your niche is important, but updating and regularly adding to the website is pivotal to your success as an affiliate marketer.
As you create content, you'll want to keep two main things in mind:
(1) The keywords you need to optimize your content around.
(2) The affiliate links you're going to insert once you join a program.
By keeping these factors top-of-mind, you can determine where you'll focus your blogging. Then, in utilizing an SEO tool, like SE Ranking, and finding high-traffic, low-competition keywords, you can create a keyword strategy to dominate the SERPs (Search Engine Results Page).
Staying consistent with competitive research is immensely important and will help you reach your affiliate marketing goals. You will be able to find what keywords bring your competitors the most traffic and use them for your content.
Step 7: Build your backlink profile and stay consistent with your SEO strategy
A backlink is a link from another site that points to your site. Backlinks are so important because Google takes them into special consideration when determining your website's authority and ranking.
A backlink is basically another site recommending your own. High-quality backlinks from authoritative sites can pass along some excellent "link juice" to your site. (Conversely, low-quality backlinks, or a lack of backlinks, could potentially hurt you.)
How can you get more backlinks?
To get more backlinks, use SE Ranking's Backlink Checker to audit your competitors and their backlinks.
You can reach out to the sites attached to your competitors and see if they're willing to collaborate with you. You can ask them for a link to your page, or you can utilize guest posting strategies to provide them with unique content that links back to your website.
In addition to content and backlinks—which are two essential pillars of a successful SEO strategy—you'll need to take care of several other things, such as improving a website's technical health, taking care of on-page tweaks, and aiming for a top-notch user experience.
With SE Ranking's all-in-one SEO platform, you get the right tools to deal with every single SEO task.
Try your 14-Day Free Trial.
TRY NOW
Step 8: Decide on which programs to join and add your affiliate links.
Once your SEO strategy proves fruitful, let your investment pay off by joining the programs you spotted earlier.
First, consider the logistics. Then, look for programs with fair commissions whose requirements you can meet.
Beyond that, you want to partner with brands you can get behind. Remember, you will be recommending their products to your audience, and they need to be brands you trust. If you recommend something that your users have a bad experience with, it will hurt your relationship with them.
The key takeaway: become an affiliate for brands that you shop with yourself.
Step 9: Split-test different elements of your content
Any good affiliate marketer understands the importance of testing. Comparing two or more versions of the same element is the only way to determine if you're on the right track.
You can split-test just about anything: H1s, meta-titles, meta-descriptions, CTAs, images, and so on. When you test, be sure you only change one variable at a time. Otherwise, you have no way of isolating any changes that occur—and knowing what triggered them.
Step 10: Convert!
You've set yourself up to become a successful affiliate marketer, and now comes the part for which you've been waiting.
As you bring more traffic to your site, you will gently guide these users to your product pages and eventually start making sales.
To always be able to calculate your conversion rate, don't forget to monitor your metrics along the way.
3 other places to post your affiliate links and how to utilize them
We strongly suggest that you focus on using your website as your central affiliate marketing business hub. However, there are other platforms on which you can build your online presence.
How to use affiliate links on a YouTube channel
As mentioned previously, a platform that stands to bring you a lot of traffic is YouTube.
Put your affiliate links in the description of your video (don't forget your disclaimer!), and be sure to mention them within the video.
Although this goes without saying, only put your affiliate links within content if they belong with the rest of your content.
How to use affiliate links on Instagram
While Instagram isn't too generous with clickable links, you can still use the platform for your affiliate marketing business.
You can choose one link and use it in your bio, or you can use a service like Linktree and insert your affiliate links there.
Although you can't include a clickable link in an Instagram post description, you can still mention your affiliate products and direct people to the link in your bio.
Just be sure to include a disclaimer.
How to use affiliate links in an email campaign
Email marketing delivers an incredible ROI, making it a great tool if you want to get into affiliate marketing.
When emailing your subscribers, be sure to deliver value before trying to sell anything. The email should be able to stand alone without any product mentions.
Then, include a strong CTA directing them to the product page. Be transparent about where the link will take them, and don't forget—you guessed it—your disclaimer.
SE Ranking has its own affiliate program that offers you
an easy and transparent way to earn 30% from each sale on a lifetime basis.
Join and become our affiliate!
TL;DR
Affiliate marketing is an enormous beast to tackle. In this blog, you learned what it is and about some of the most popular niches, including electronics and apparel.
You should now have a holistic view of the pros and cons, your earning potential, and what kind of investment it'll take from you.
Together, we broke down the 10 steps for building your website. Then, we covered three additional channels you can use to sell: YouTube, Instagram, and email marketing.
Follow these steps with patience and consistency, and eventually, you'll start seeing sales.