What is Link Building? The Complete for Beginners
Link building plays a vital role in SEO. It increases website authority, impacts rankings and helps you build an online reputation and brand awareness. Increased website rankings results in increased organic traffic. Meanwhile, you can also get more referral and direct traffic by increasing your brand awareness. That's why your SEO strategy can't do without link building.
We talked about backlinks in the previous article: what they are and why they are essential. In this guide, we'll dive deeper into the process of building a high-quality backlink profile and how to analyze the backlink profiles of your competitors.
Let's dive right in.
Link building fundamentals
Let's begin by figuring out what link building is.
Link building is the process of acquiring links (also known as backlinks) from other websites to your own in order to improve your online visibility.
The link building process is also called Off-Page SEO (which refers to actions taken outside of your website to impact its online visibility). Like On-Page SEO, link building directly impacts rankings and assists the website in becoming more significant to search engines. Simply put, by getting links back to your pages, you win votes that tell Google that your website deserves attention.
No matter how hard you try to perfect your content, fix technical issues, or improve Core Web Vitals, your website will usually not be able to reach the top of Google's SERP without a well-thought-out link building strategy—especially in highly-competitive niches.
Common link building strategies used by SEO specialists include guest blogging, PR campaigns, working on unlinked mentions, astroturf marketing (crowd marketing), creating linkable assets, self-submission, etc.
We'll discuss the various backlink building methods in the following sections. But first, let's go over the difference between these terms: link building and backlinks.
The difference between backlinks & link building
These two terms are closely related. In fact, link building is how you get backlinks (the main link building tools), as seen in the infographic below.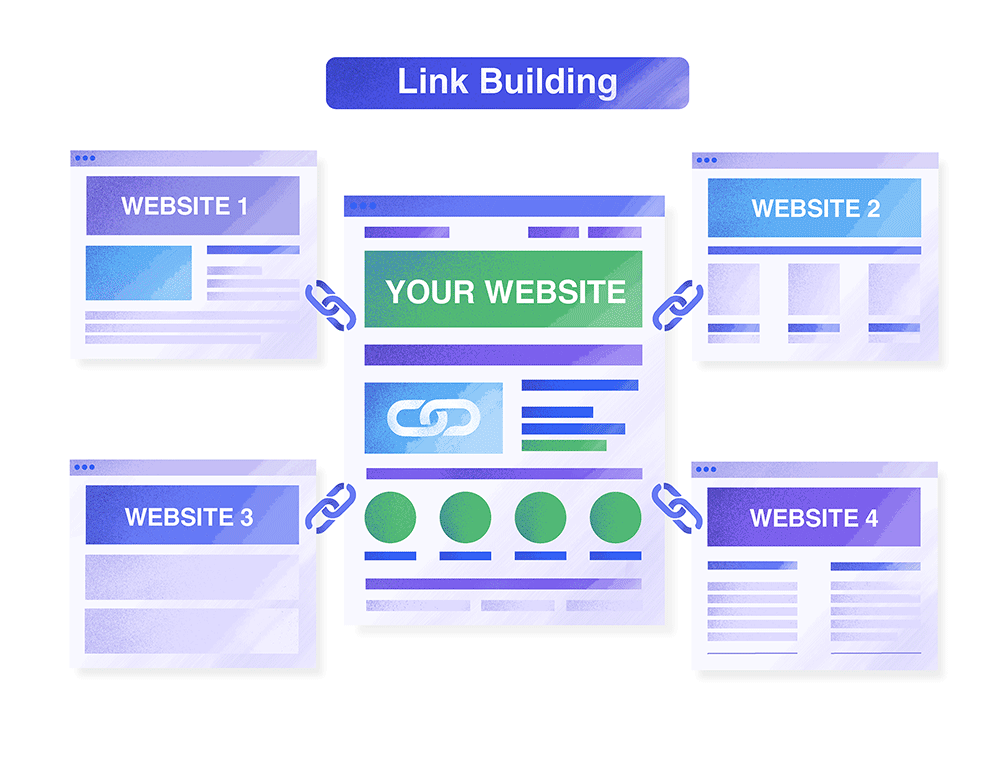 Why is link building important for your business?
You can't promote your business online without link building. Here's why 👇
The right link building process helps you get high-quality backlinks, which are one of the top Google ranking factors and foundational to Google's PageRank algorithm. As previously stated, getting backlinks:
Boosts the website's trust.
Improves rankings.
Brings in referral traffic.
Improves brand awareness.
Link building strategies
Now that we know what link building is and why it is critical to promoting your business, let's take a look at some popular link building strategies among SEOs.
Creating high-quality content to get organic backlinks
Organic mentions that refer to your site from relevant, high-quality content make for the ideal backlink. An organic backlink is an inbound link that's used naturally in an external website's content without your involvement.
To attract organic backlinks, you can create engaging, shareable content that has the potential to go viral. Here are a few tried-and-true ways:
Publish studies. Create content that other website authors want to link to. The main rule here is to be useful and valuable for website visitors and create content that others cannot find elsewhere. It also helps if your content trumps content that other websites produce in terms of quality. Authors also like using data from ready-made research, so consider performing your own research with stats and publishing unique data on your website. Conducting studies is time-consuming and, in many cases, expensive, but these kinds of publications guarantee you high-quality backlinks. Alternatively, you can conduct a basic poll on your website or social media. Visitors can select an answer from a list of available choices, and then you can convert the results into a study. For instance, if you have a payment service website, you can create an article on financial habits or on US-based credit card usage stats.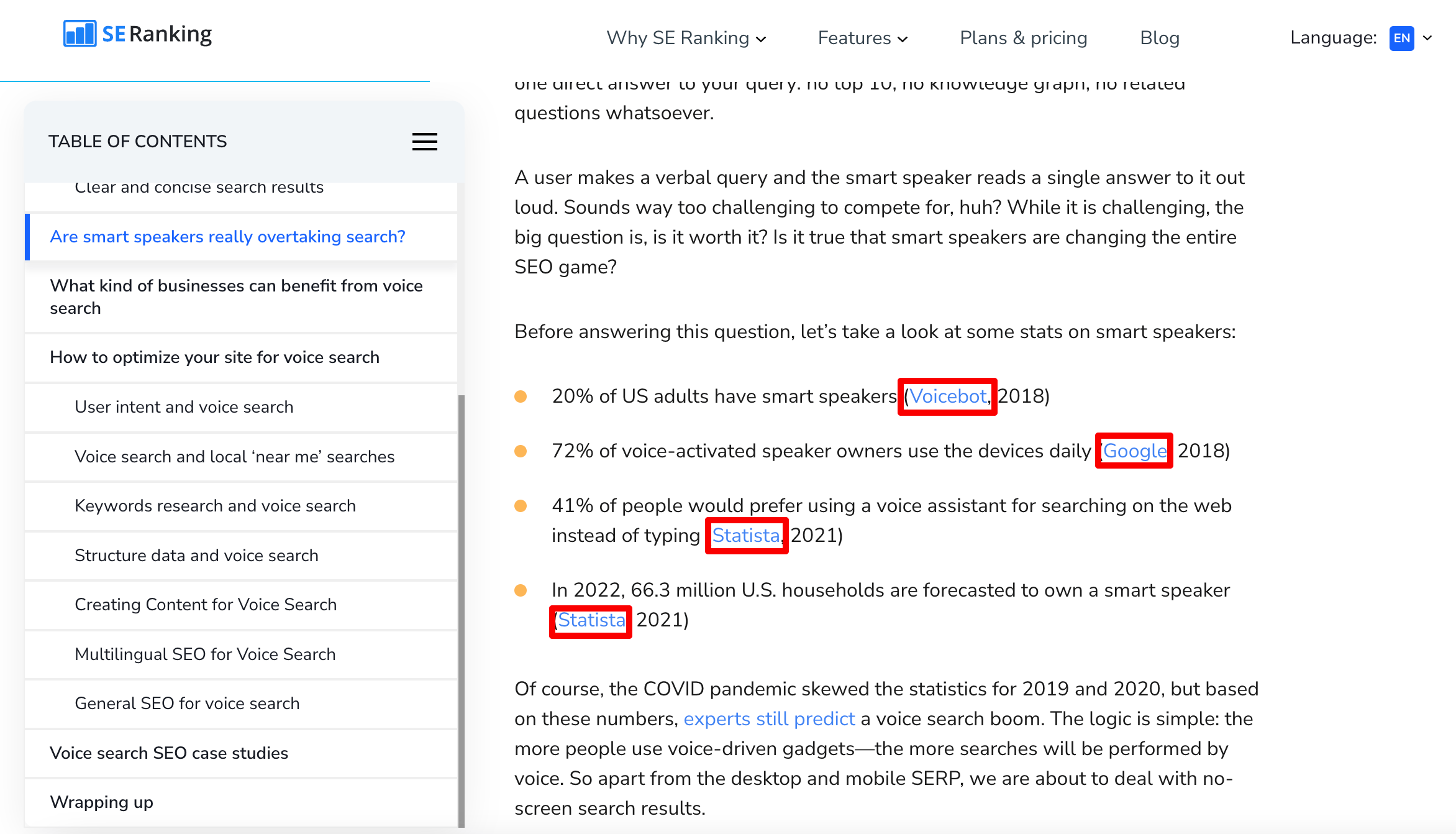 Publish infographics. In addition to studies, content creators usually link back to infographics (large images with multiple facts, figures, and statistics). They are typically well-received among users because, as we all know, users like visual content. Users often prefer to view an exciting infographic rather than read a long wall of text.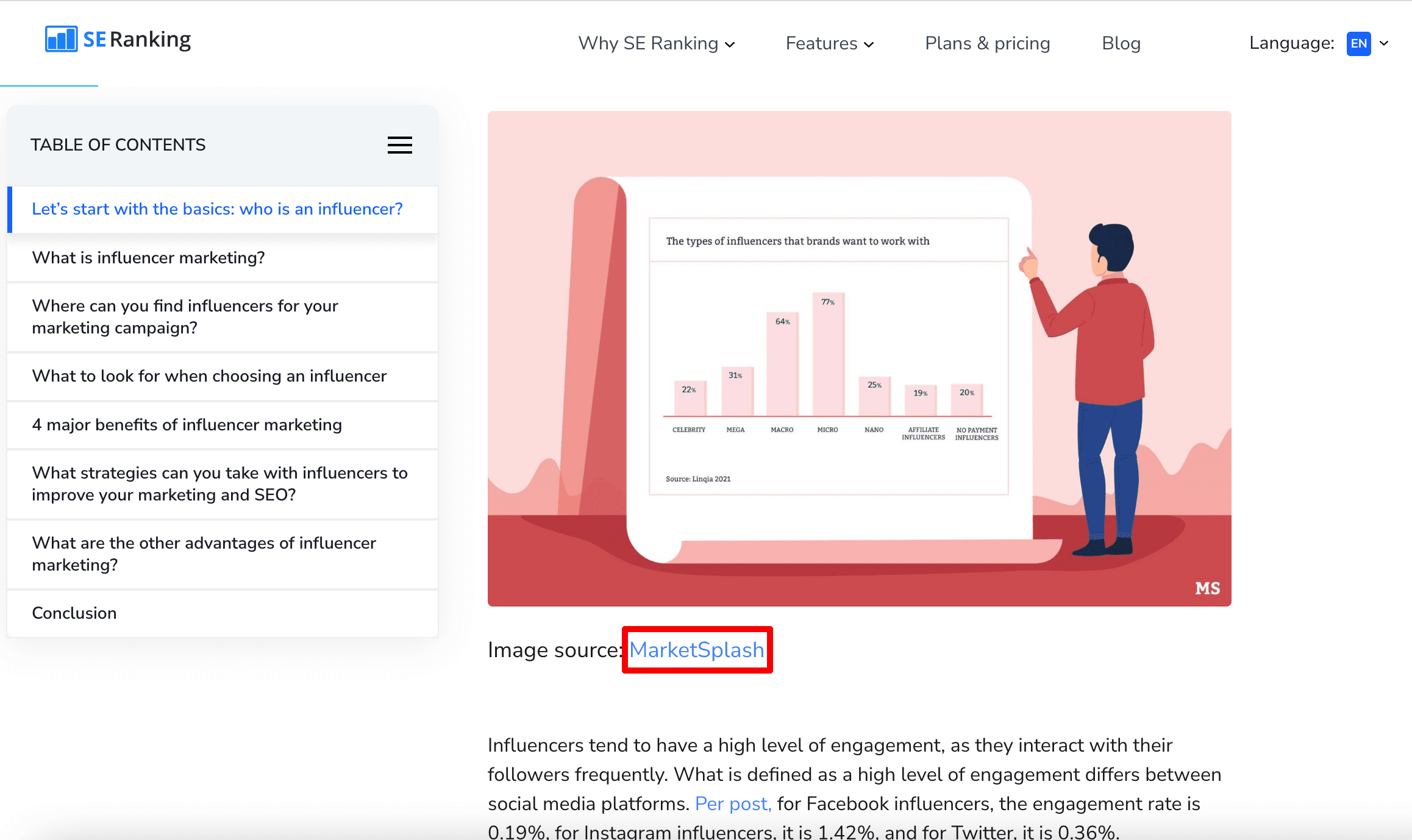 Share interviews. You can share interviews to attract more organic backlinks to your website. Content creators can take quotes from interviews with niche experts to back up their points. After each interview, you'll get valuable data from which to create content that has a high chance of being linked to.
Guest blogging
Guest posting is one of the most popular methods of getting high-quality backlinks. You can create a blog post for another website in which you include a backlink to your own. The article is then pitched to a relevant website. While you benefit from a backlink, another website benefits from high-quality and valuable content. It's a win-win situation.
Backlinks like these can be added throughout the post, including the body, bio, etc. Let's see how this plays out in the examples below.
The screenshot below shows a backlink in the main text of our guest post for Weglot. We shared our 5 link building tips for international SEO and got a high-quality backlink.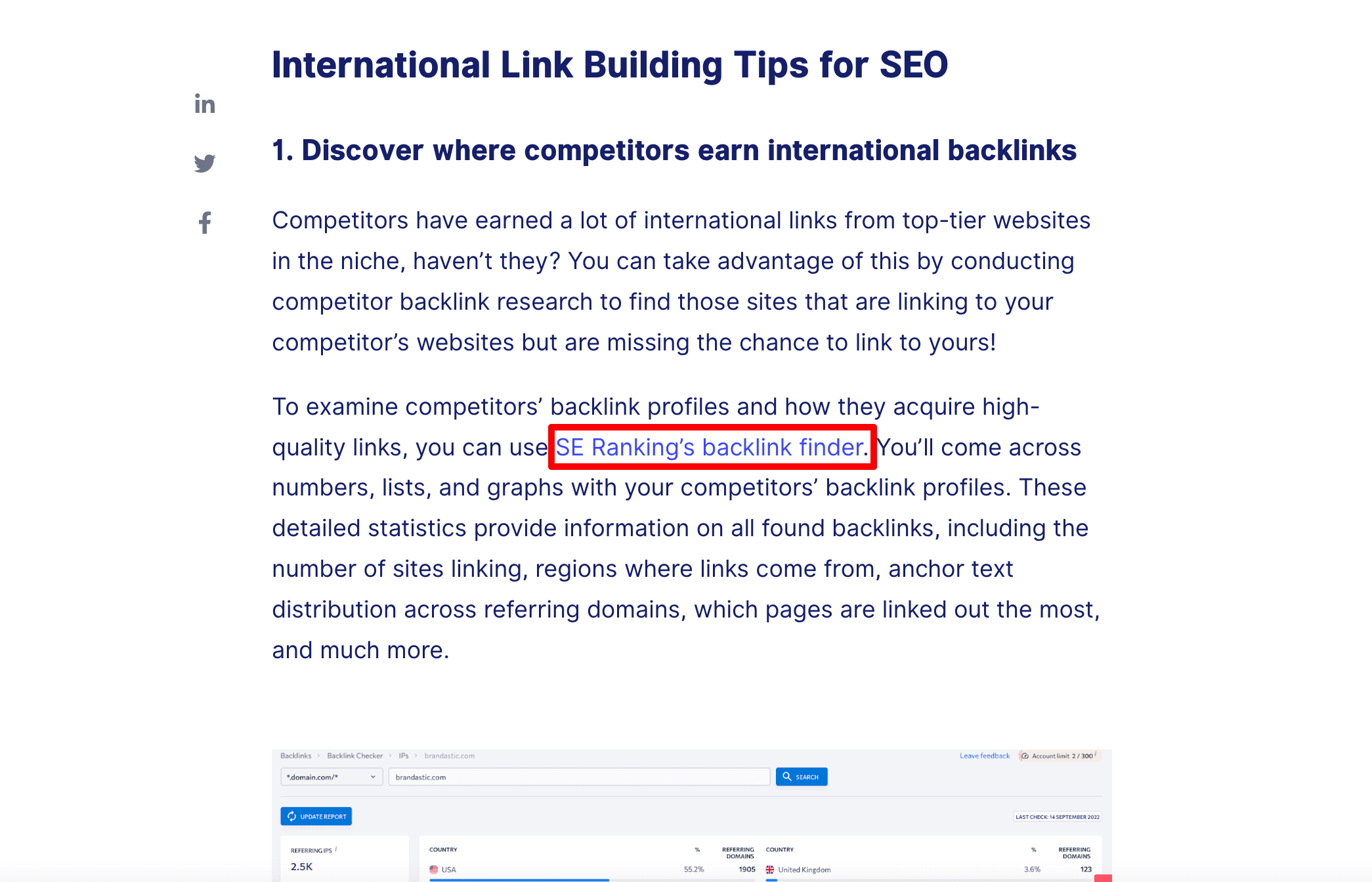 Here's another link building example. A guest blogger placed his backlink in the bio near the main text of the guest post for Hype Journal. If a site that accepts guest blogging doesn't allow backlinks within the content, it will often, alternatively, allow guest author's to include backlinks in their bio.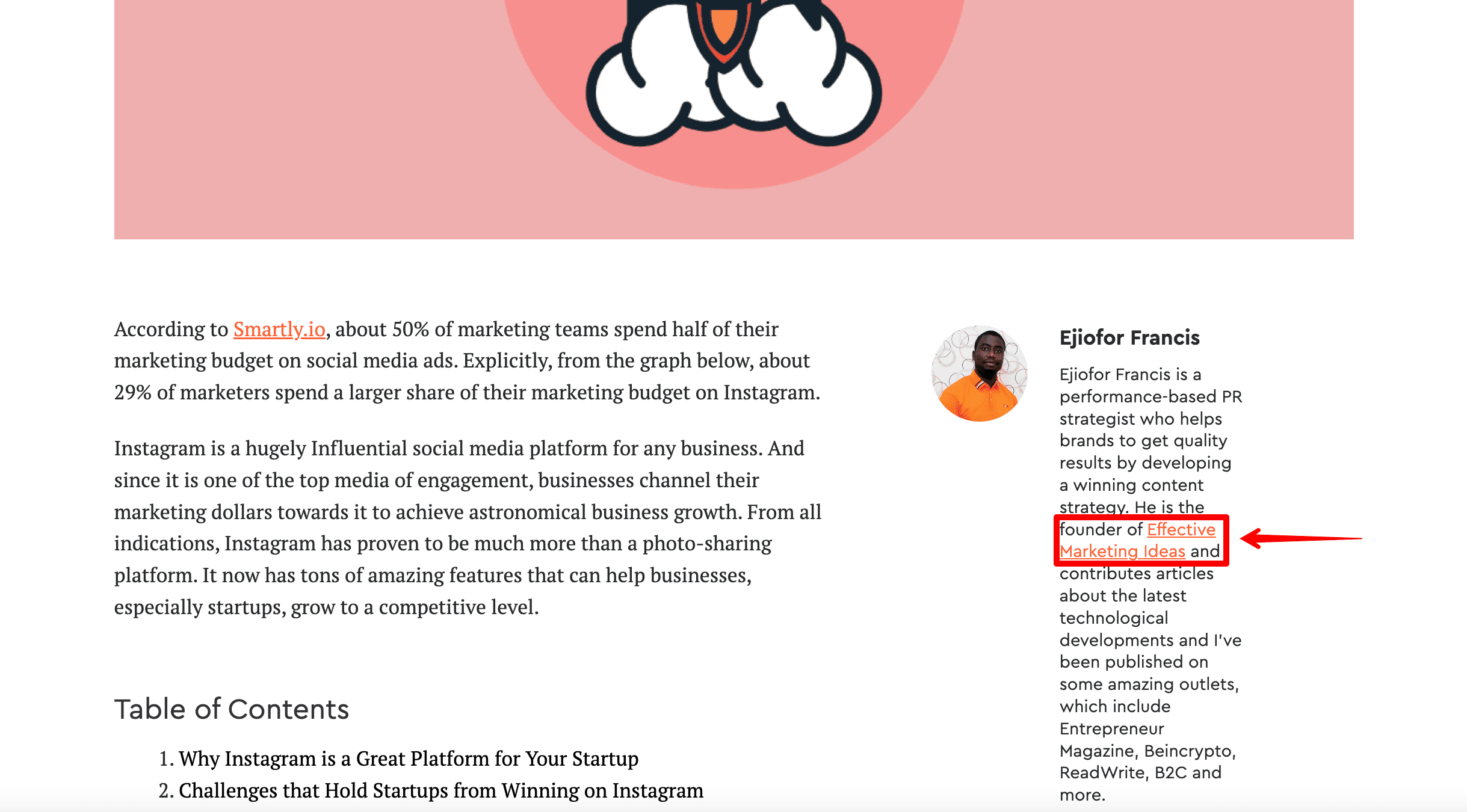 To get guest posting backlinks, you should:
1️⃣ Look for websites that accept guest posts. You can find guest blogging opportunities by using Google to search for Write for us pages, by checking competitors' backlinks, by joining guest blogging communities, by following your competitors' lead, by running a Twitter search, by finding top guest blogging platforms on BuzzSumo, by utilizing HARO to get media coverage, and so on.
2️⃣ Weed out your list. Make sure the websites on your list are worth the time you'll spend planning and writing a blog post. Consider content relevance, keywords in common, backlink profile quality, traffic volume, whether or not the website is spammed with external links, etc.
3️⃣ Create content ideas for your pitch. Discover the topics that the most popular website covers and figure out which topics it lacks. Include up to three topics in your email offer to give your potential partners a chance to choose something that fits their blog best. Also, make sure the topics you offer are relevant for your business.
4️⃣ Craft your pitch email. Start off your email by introducing yourself and mentioning some articles on their blog that you enjoyed and would like to expand upon. Offer topic ideas, and then share links to three of your most recent and successful guest posts so your new partners can see that you're a real pro on whom they can rely. Additionally, check their website's guest post pitch requirements (if there are any). Some editors appreciate receiving an outline or extended topic description, which increases your chances of getting a reply.
5️⃣ Write the article with your target audience in mind. You have to write valuable and relevant content that appeals to both your website's audience and the audience of the website your article will be published on. And finally, wait patiently for them to publish your content. You can also try our AI-powered Content Marketing platform, which provides valuable solutions for creating landing pages and blog posts to copywriters, SEO specialists, marketers, bloggers and website owners.
We've put together a guest posting guide for you. Read it to get the most out of every article and backlink.
Creating business profiles
When you create a profile for your company on business listing sites, catalogs, industry directories, and review sites, you may have the opportunity to post backlinks. This type of backlink works especially well for local businesses (restaurants, hotels, gyms, etc.) because your target audience can easily find you by location.
We'll go into where and how you can add your backlinks by citing a few examples of the most popular platforms.
Create a Google Business profile of your company. Add the company's name, photos, logo, and all other essential info. This includes your homepage URL, as well as links to your schedule and/or menu.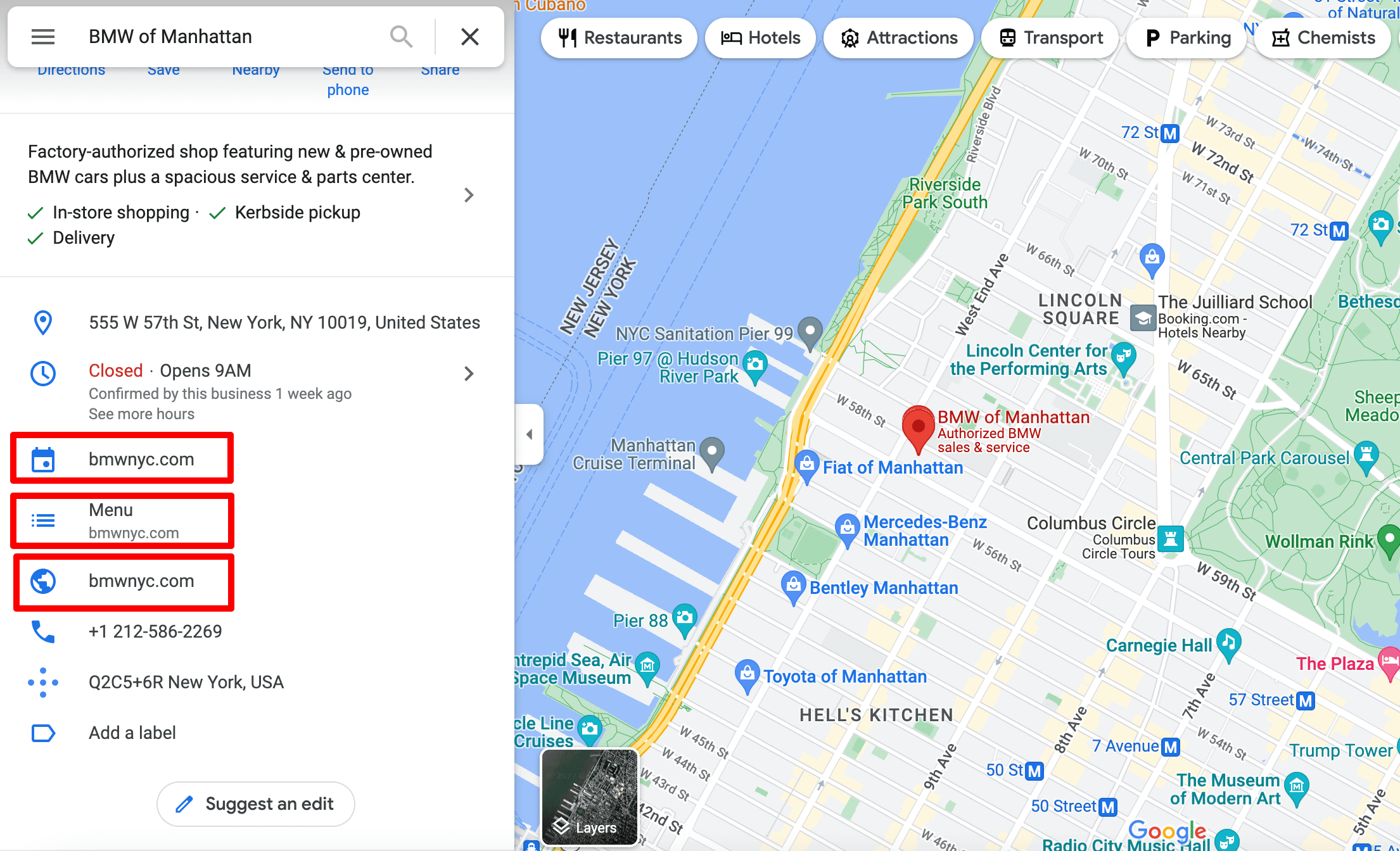 Get reviews on the most popular platforms, such as Yelp and TripAdvisor. The procedure for creating a profile on these platforms is similar to that of Google Business's. Add all the essential info, including your company's name, its opening time, telephone number, and address. Also, don't forget to include the link to your website.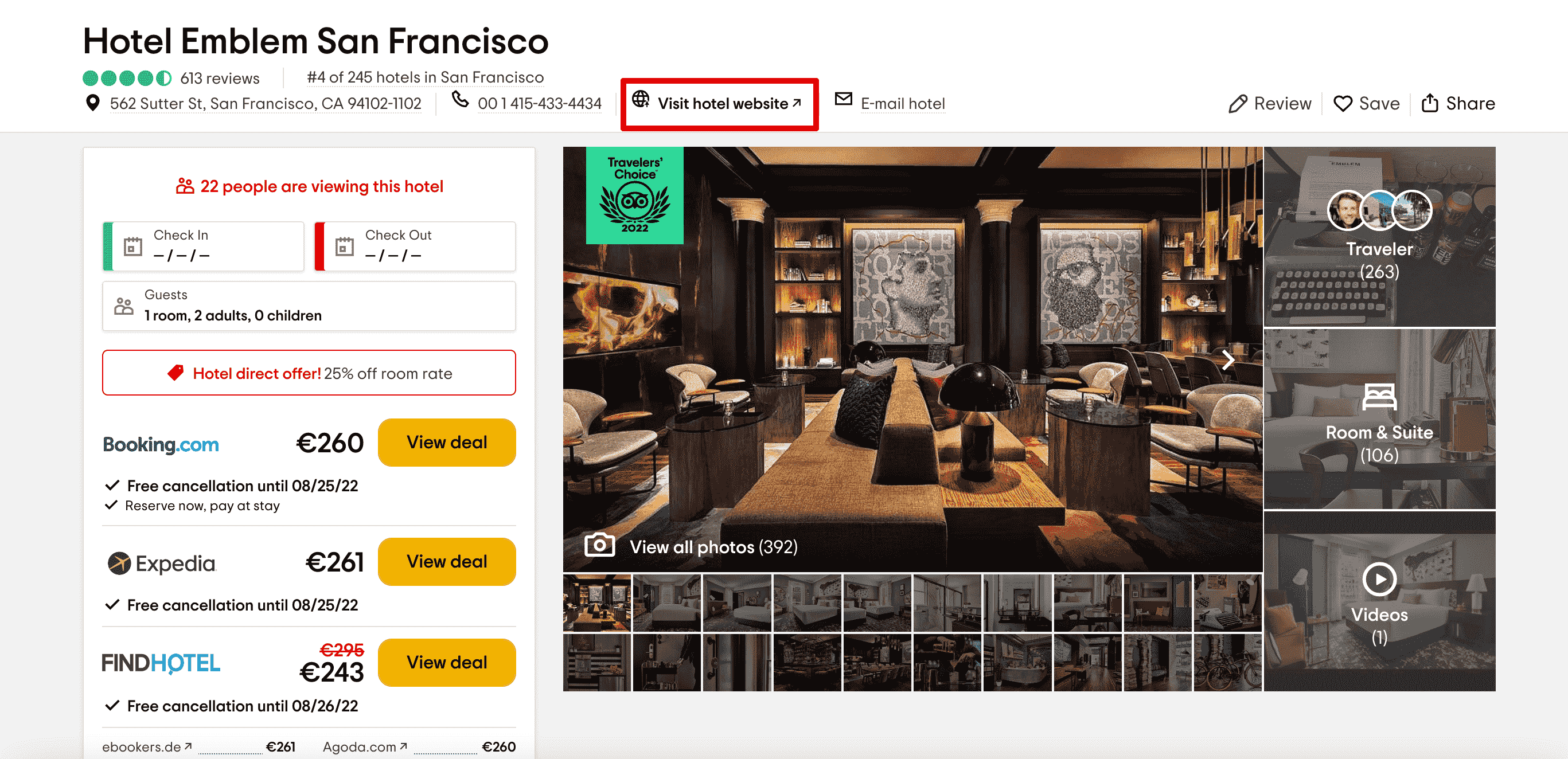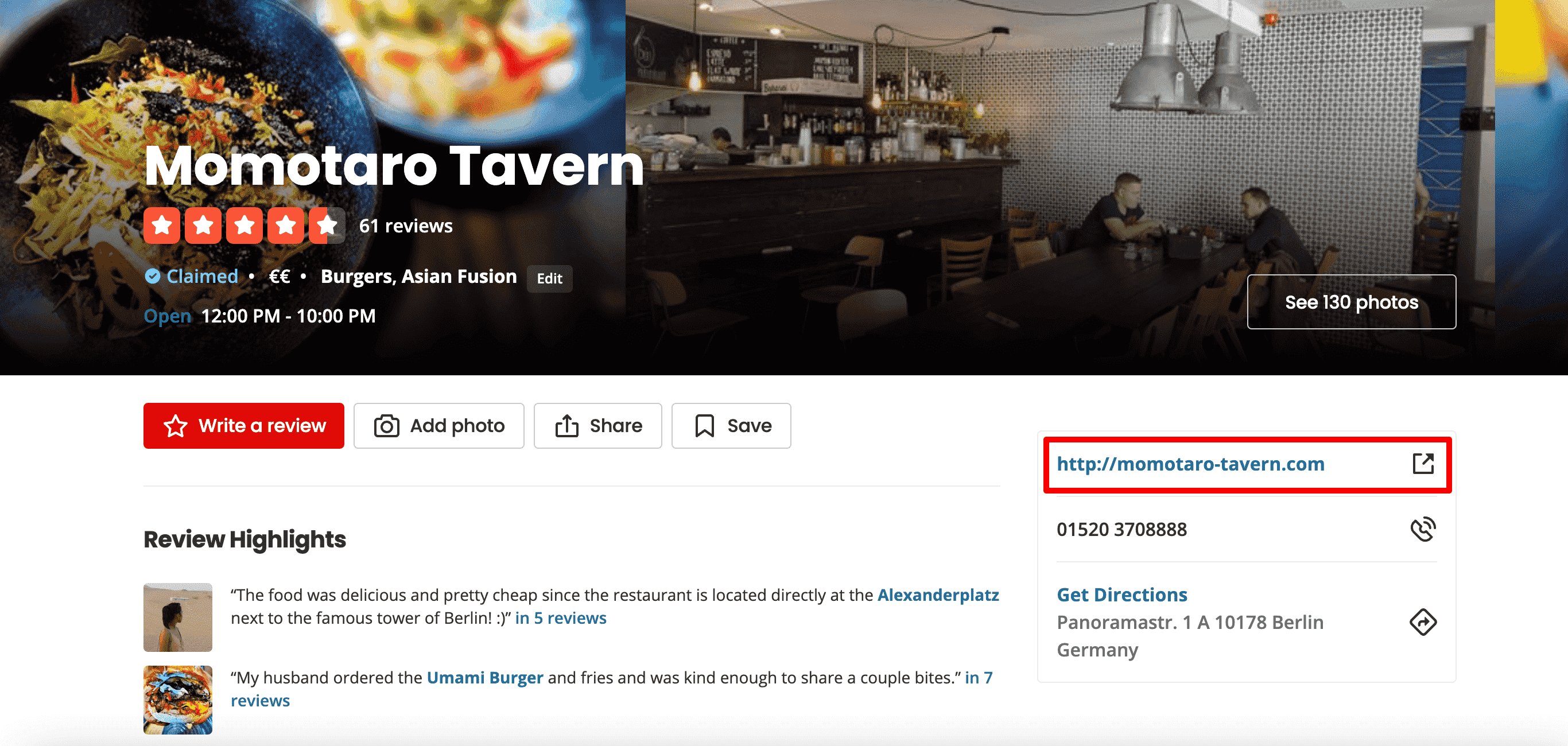 Try to find lesser-known opportunities. For example, you can leave your company's info on the Bizify business directory and the Callupcontact listing. Consider creating profiles on platforms that are appropriate to your website's niche.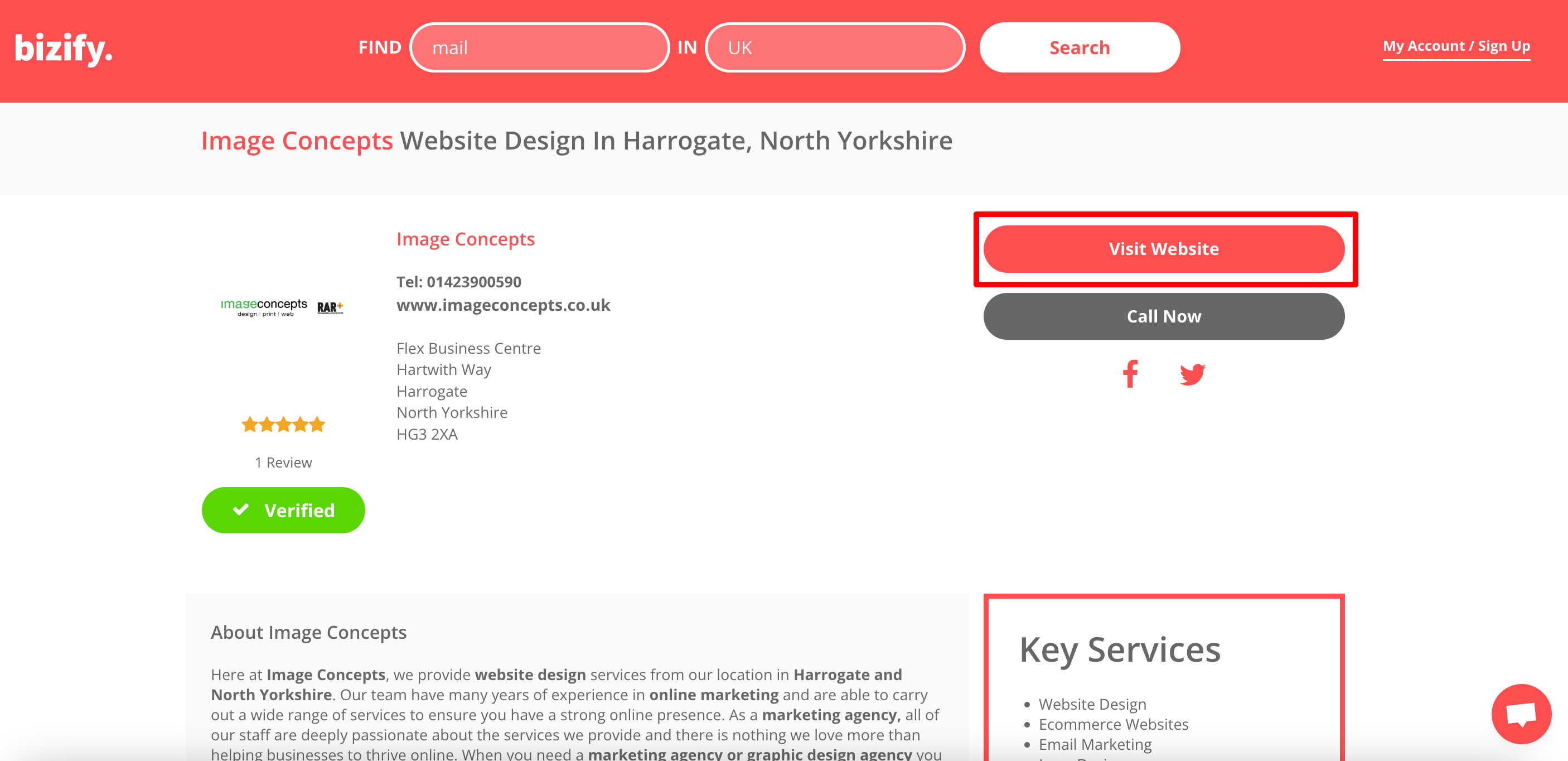 Keep in mind: the more directories and catalogs that you'll find, the more backlinks you'll get. But don't overlook the quality and authority of such websites. It's favorable to have backlinks from domains that are relevant to your business's location as well as those that Google trusts. After all, these kinds of business profiles often have indexing issues, so many of them won't even be visible on Google.
Giving testimonials
Leaving reviews on authoritative websites is a great way to build links! Just don't forget to add a backlink to your website in your review, as in the example below: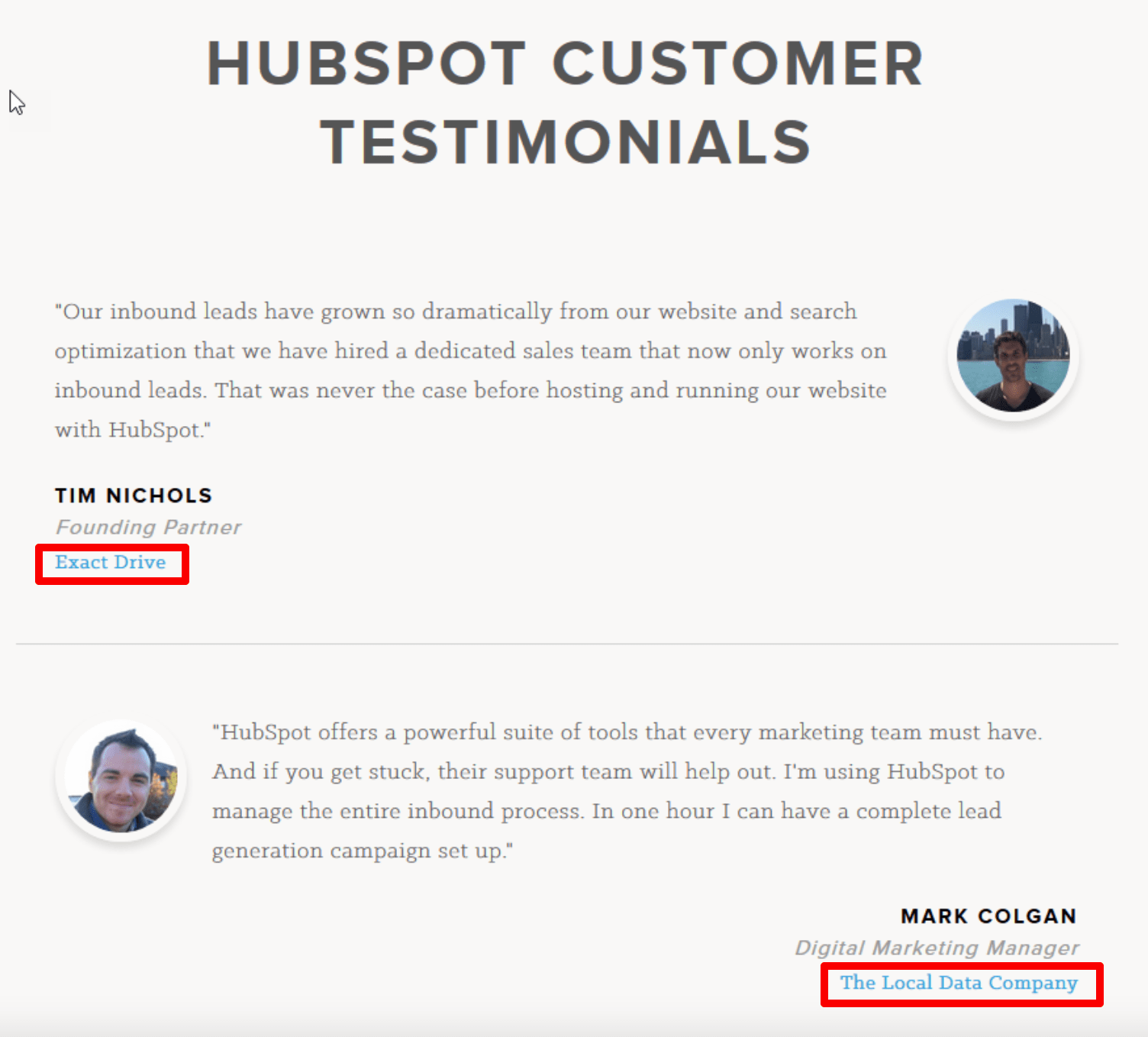 Here's how to get backlinks from testimonials in just four steps:
1. Make a list of products or services in your business that you use daily. Consider their relevancy to your niche or occupation. For example, if you use an SEO platform to promote your company's website, you can leave a review of an SEO tool with your backlink if the website allows it.
2. Check for opportunities. Not every company allows customers to submit reviews directly on their website. Check the company's contact information and write an email to them.
3. Write a unique review. Create a genuine and personable review. Don't forget to include your business's name and the URL to your website.
4. Build rapport, and don't limit yourself to just one relationship. Establishing trust and building relationships with multiple businesses provides further backlinking opportunities. You can share your review on your own social media channels and tag the company to show your gratitude.
Getting backlinks from forums, question-and-answer websites and from comments
You can also add links to your website's pages in forums, Q&A websites and comments that users write on your content. Quora and Reddit are among the most popular forum and Q&A websites. Here is how to place your backlinks on these sites: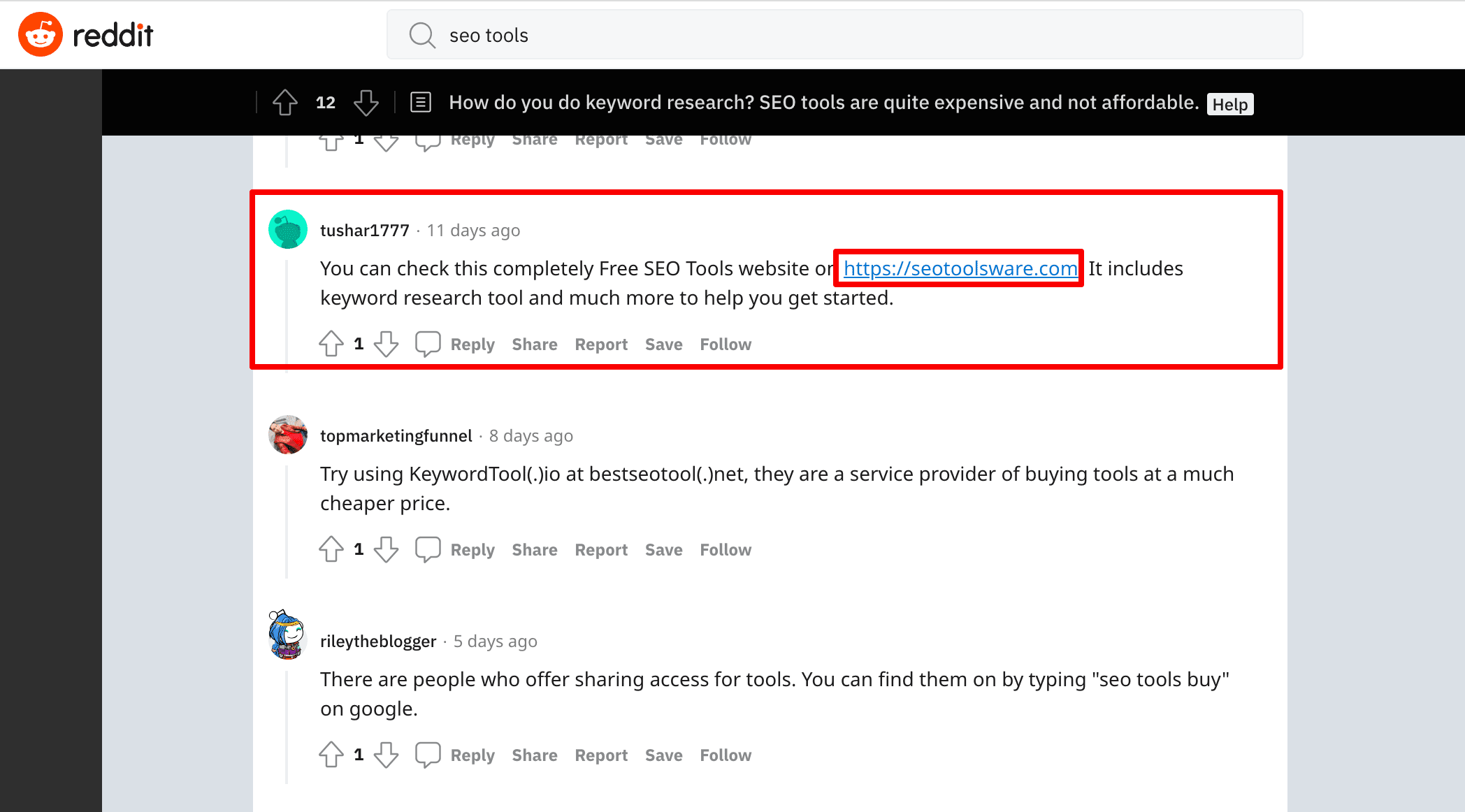 Find relevant topics to your niche and respond to questions by linking to the most relevant page on your site that answers the thread's topic, as shown in the examples above and below.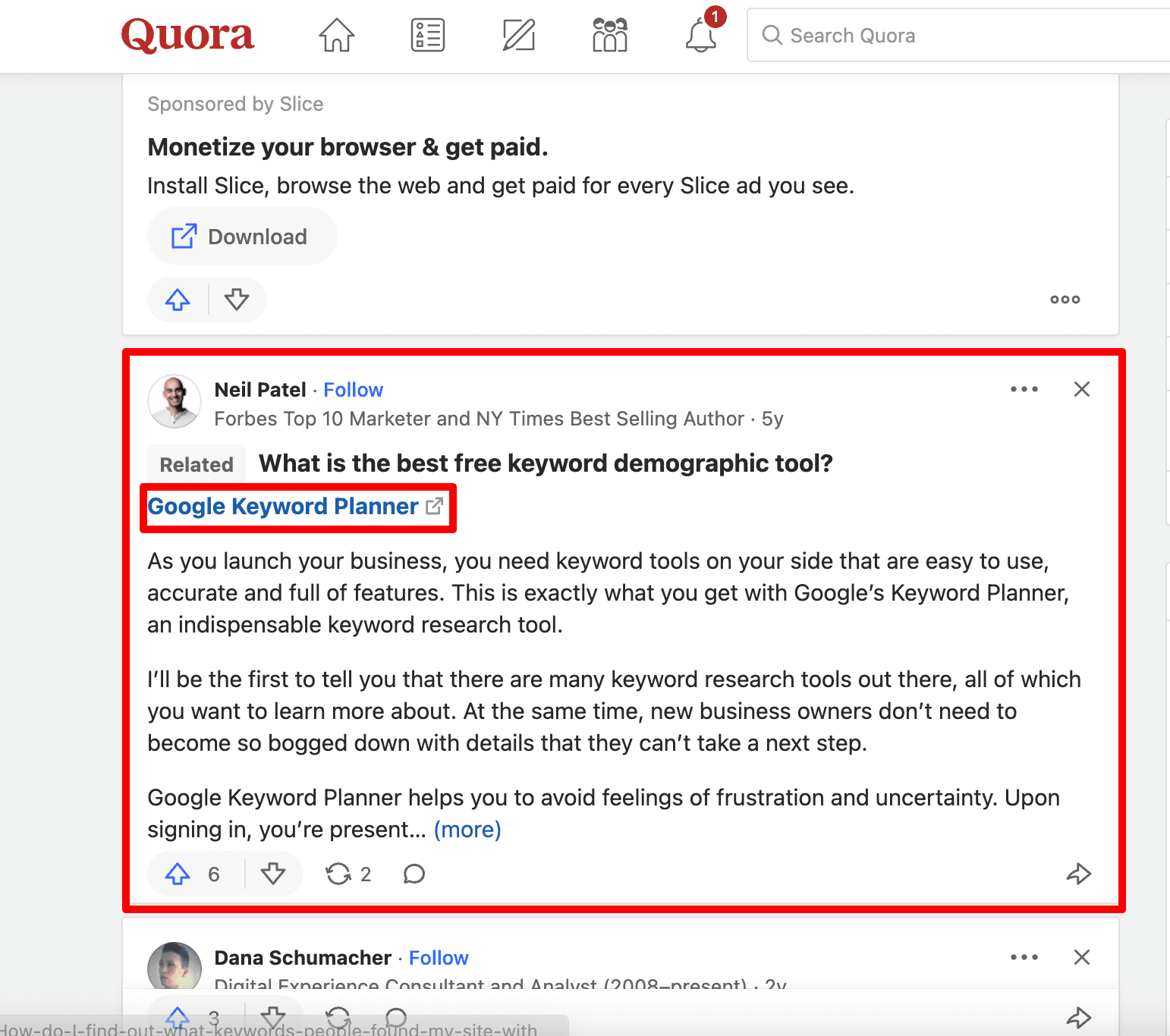 Give straightforward and detailed answers to these questions, but be useful and not spammy (both users and search engines will appreciate it).
This method is a part of astroturf marketing (crowd marketing), the primary goal of which is to boost your brand's image and reputation by increasing brand mentions and leaving links to your site in comments and forums.
Some SEOs may even add target keywords to their answer to create a relevant semantic environment for their backlink.
Keep in mind! If executed in a spammy manner, this technique can end up having a negative effect on your reputation with search engines. Be careful not to overdo it.
Adding backlinks in podcasts, videos, and webinars
Video content like webinars, interviews, and podcasts are valuable for link building campaigns, and there are a lot of tactics for getting backlinks from them.
You can add your link to the webinar landing page where you can present yourself as an expert in your niche.
The same holds true when it comes to mentioning your website on video-sharing platforms like YouTube. You can do an interview or take part in a workshop in exchange for a backlink in the video or stream description.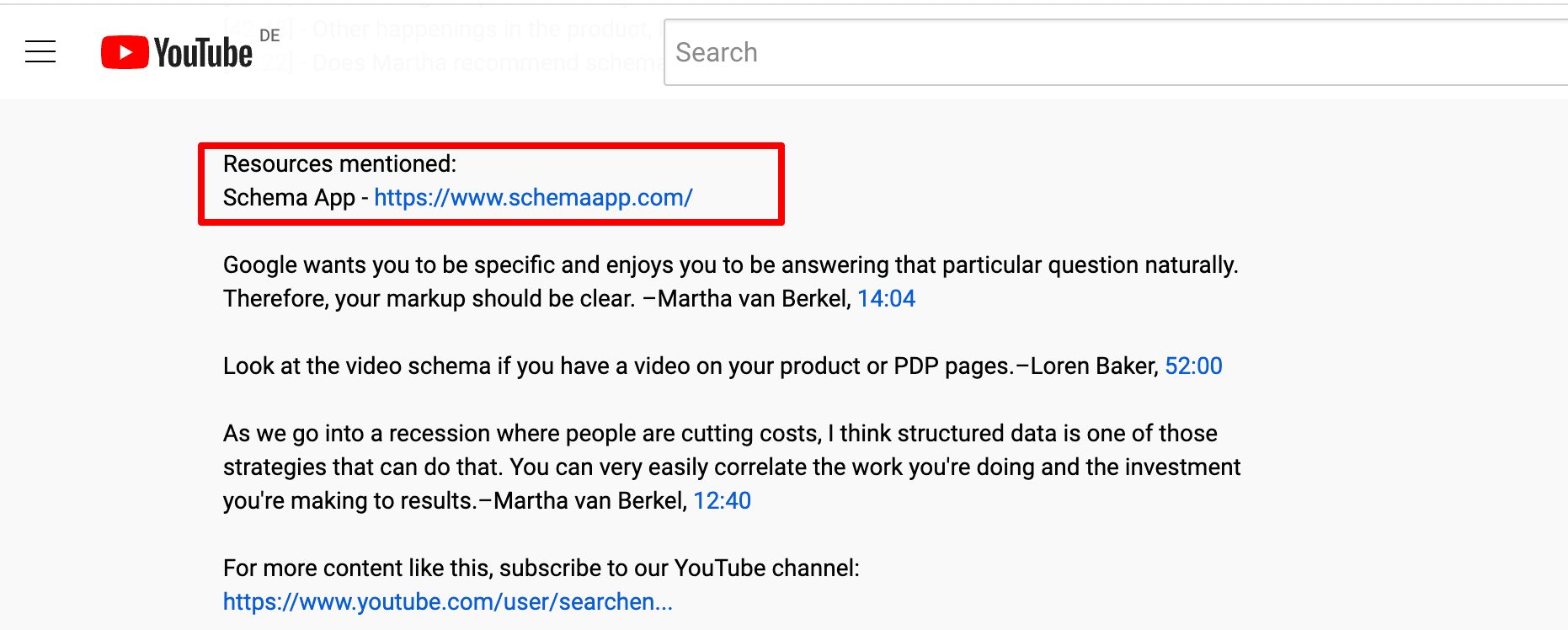 The reigning method for getting these kinds of backlinks is already well-known among SEOs—outreach. You can find (and try to partner with) relevant websites and YouTube channels that make videos, streams, and podcasts. To get more insights on this, read our guide on creating outreach emails to get that precious link and build rapport.
Don't forget that your expertise and brand awareness are important factors here. If you work on your PR strategy, getting backlinks this way won't be so tricky.
Getting clients' backlinks
Clients' links can be provided as part of an agreement—that is, in exchange for services (e.g., website development, web design, server hosting).
Think about the services you can offer the company/brand in exchange for a valuable backlink from them. For example, a web studio could make a website design at a discount.
These kinds of backlinks are usually added in the footer, as seen in the screenshot below.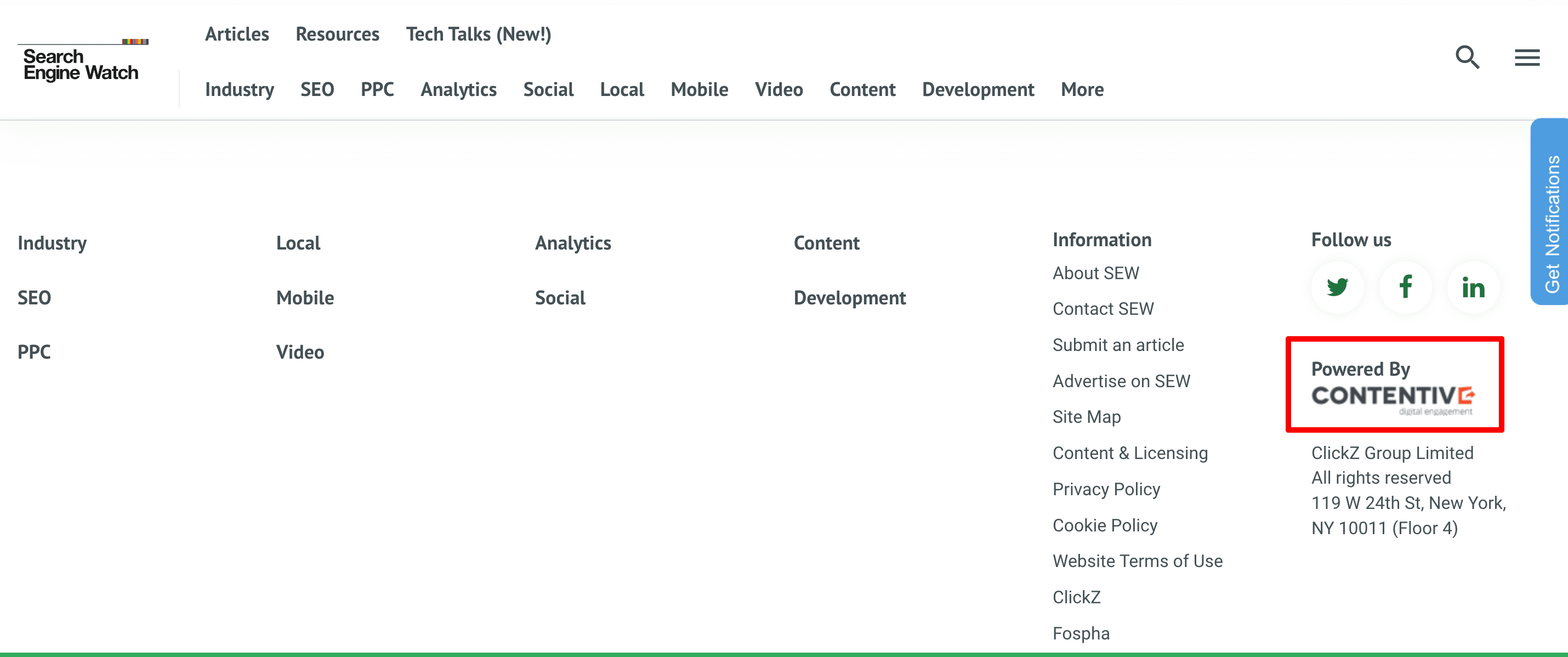 But you don't necessarily have to provide web design or development services to use this link building method. Ask your customers to add links to your product on their websites. For instance, you can provide discounts to your clients on their next subscription to encourage them to leave a backlink.
But keep in mind! According to Google, exchanging goods or services for links may be considered link spam.
Purchasing sponsored backlinks
Sponsored links are the same thing as paid links. In addition to free methods, you can also pay a third-party domain for backlinks. This includes paid guest posts, various press releases, news articles, banners on the sidebar or on the homepage, placing a link in the footer, etc. Here are a few examples:
A backlink in the main text of the blog post with a sponsored attribute

Links to partner websites in the footer
In the case above, you are contacting a high-quality website to see if it can add your sponsored link to their homepage, footer or sidebar, but for an additional fee. If necessary, prepare an attention-grabbing banner or valuable text.
However, you need to be careful with paid links. Google says buying or selling links to manipulate search results violates their Guidelines. Though this can negatively impact your site's placement in search rankings, there is an exception. Google recommends specifying that the links were purchased for advertising by adding rel="sponsored" attribute to the <a> tag or redirecting the links to an intermediate page that is blocked from search engines with a robots.txt file. This will help you avoid getting marked for a link scheme (aka link spam) action.
These kinds of sponsored links, therefore, are usually more useful for brand awareness and referral traffic than for actual link juice.
Collaborating with affiliate marketers
An affiliate link is a unique link that contains the affiliate marketer's ID—unique information for tracking. Affiliate backlinks promote the company being linked to, resulting in additional sales.
Whoever is in charge of the link promotes it across their online channels. For instance, they might share it on their blogs and social media platforms (e.g., Facebook, YouTube, Instagram).
Affiliate links can be used in text, images, and video descriptions. This can be a complete review of your product (screenshot 1), a one-time mention in a blog post, a detailed comparison of different companies (screenshot 2), etc.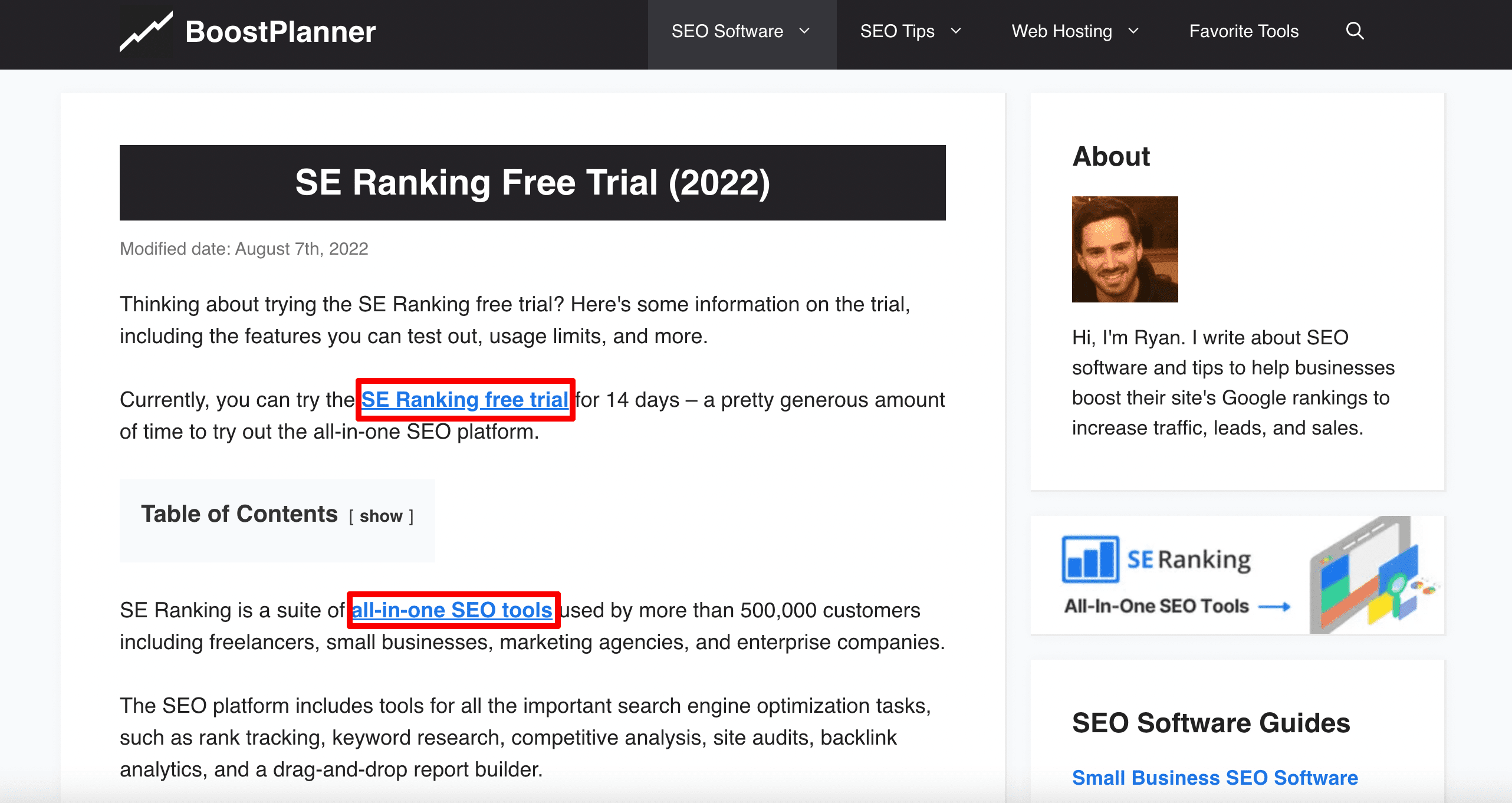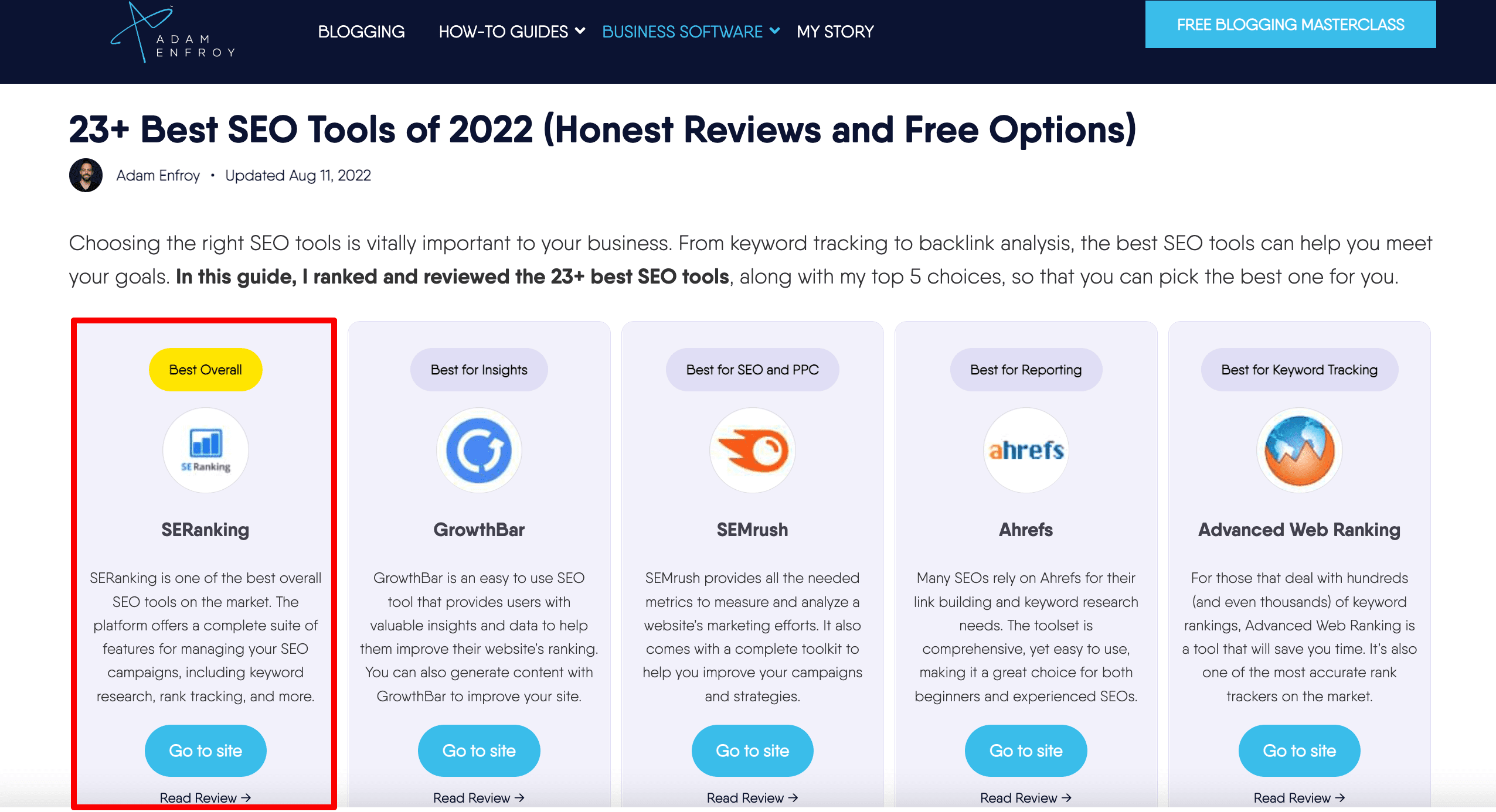 Consider starting your own affiliate program. Think about how much you will pay your affiliates (and what for), create a separate landing page and look for blogs that are willing to collaborate with you.
For instance, as part of SE Ranking's affiliate program, we have a unique link that will take visitors to a page where they can sign up for a subscription. Affiliate marketers can get a 30% lifetime commission from every subscription sale.
Keep in mind! Affiliate backlinks aren't considered 'organic' links. In most cases, you need to use the nofollow or sponsored attribute. Plus, the robots meta tag or non-canonical tag may redirect or close them. This means that affiliate links are unlikely to generate link juice or boost your SEO efforts. Their primary benefits include increased brand awareness, referral traffic, and conversions.
How backlink building works
The link building process (except for organic backlinks) involves three main stages:
1. Finding a website to get a link from
⬇️
2. Getting a link to your page
⬇️
3. Waiting for site growth after some time (if done correctly)
In this process, special attention should be paid to the following points:
Your focus page (also called acceptor, destination). This page gets link juice from the backlink.
A page with a backlink to your page (also called donor, placement). This third-party page passes value to your focus page.
Anchor text that describes your focus page in a few words. These seemingly unimportant words play a significant role in successful link building campaigns. Anchor text provides context to both users and search engines and is a mediator between the acceptor and donor, helping the crawler understand the link's relevance.
To get link building results, many factors should be considered, but we'll dive into these essential points in a later section. For now, let's look at white, gray and black link building tactics and why the latter two should (almost always) be avoided.
White vs. gray vs. black hat link building
Every link building strategy is unique. It can be based on white, black, or gray hat SEO, or a combination of all three. How do they differ, and what do they mean for your SEO approach?
Let's find out.
White hat link building
White hat SEO refers to any practice that improves search performance on the SERP without violating the search engine's policy. White hat SEO is synonymous with following the SEO rules.
White hat link building includes:
Developing linkable content like ultimate guides, infographics and unique research to get organic backlinks.
Writing guest posts for relevant sites without compensation or exchange as another form of payment.
Creating business profiles to facilitate brand awareness.
Purchasing backlinks tagged with rel=sponsored (aka clearly and honestly stating the promotional intent).
By applying all of these tactics, you can climb to the top of search results and raise brand awareness without the fear of your website being penalized by search engines. It can take a considerable amount of time, money and team resources, which is why some SEO specialists resort to less fair link building methods to get results faster and for less money.
Gray hat link building
Gray hat SEO is "ill-defined" by most major search engine guidelines. Google, for example, doesn't recommend this method because it involves manipulating the Page Rank score by purchasing backlinks, creating third-party donor websites, etc.
Purchasing links without labeling them
This is a gray hat SEO tactic, but only if you pay money to have your piece of content (with your link) placed on a third-party website without claiming it with a rel=sponsored. If Google doesn't know about this purchase (like in the sponsored tag case), it will think you got this backlink organically, which means you're tricking it into thinking your page is of high quality and relevant. This is a striking example of link building manipulation.
Link purchasing tactics can come in different forms:
Paid guest posts or news articles
Paid link placements or link insertions
Link exchanges or getting a link in exchange for a product discount
It's ideal to mark paid links with a nofollow or sponsored attribute so as not to violate Google's rules. However, some SEOs avoid this step because links manipulated in this way won't pass link juice.
Using a Private Blogging Network (PBN)
PBN backlinks are links built from a network of related websites that are commonly owned by a pillar website. You're essentially controlling a group of websites. The main goal of a PBN is to influence the website's authority, but it can also be used to get additional sources of organic traffic.
SEOs sometimes purchase one expired domain or a few at once and then fill it with content. After the content is indexed, they add backlinks to their websites. Some domains in these networks have the potential to perform better than others over time, and many SEO managers or business owners can make these websites their pillar projects instead of using them primarily as link building opportunities.
Link farming
Link farming is a tactic in which you place backlinks on a website solely to generate many links to other websites. Link farms do not exist to spread a message or provide valuable content to users. They deliberately attempt to cheat Google's algorithm to achieve artificial rankings for sites.
Here are the characteristics of a link farm:
A low Google PageRank score.
Low-quality content with zero value to users.
Lists of links without context.
Domain names that don't make sense or consist only of random letters/numbers.
These websites usually aren't moderated, and users can add links to their pages without restrictions. For example, here are over 1,500 unmoderated links in the comments: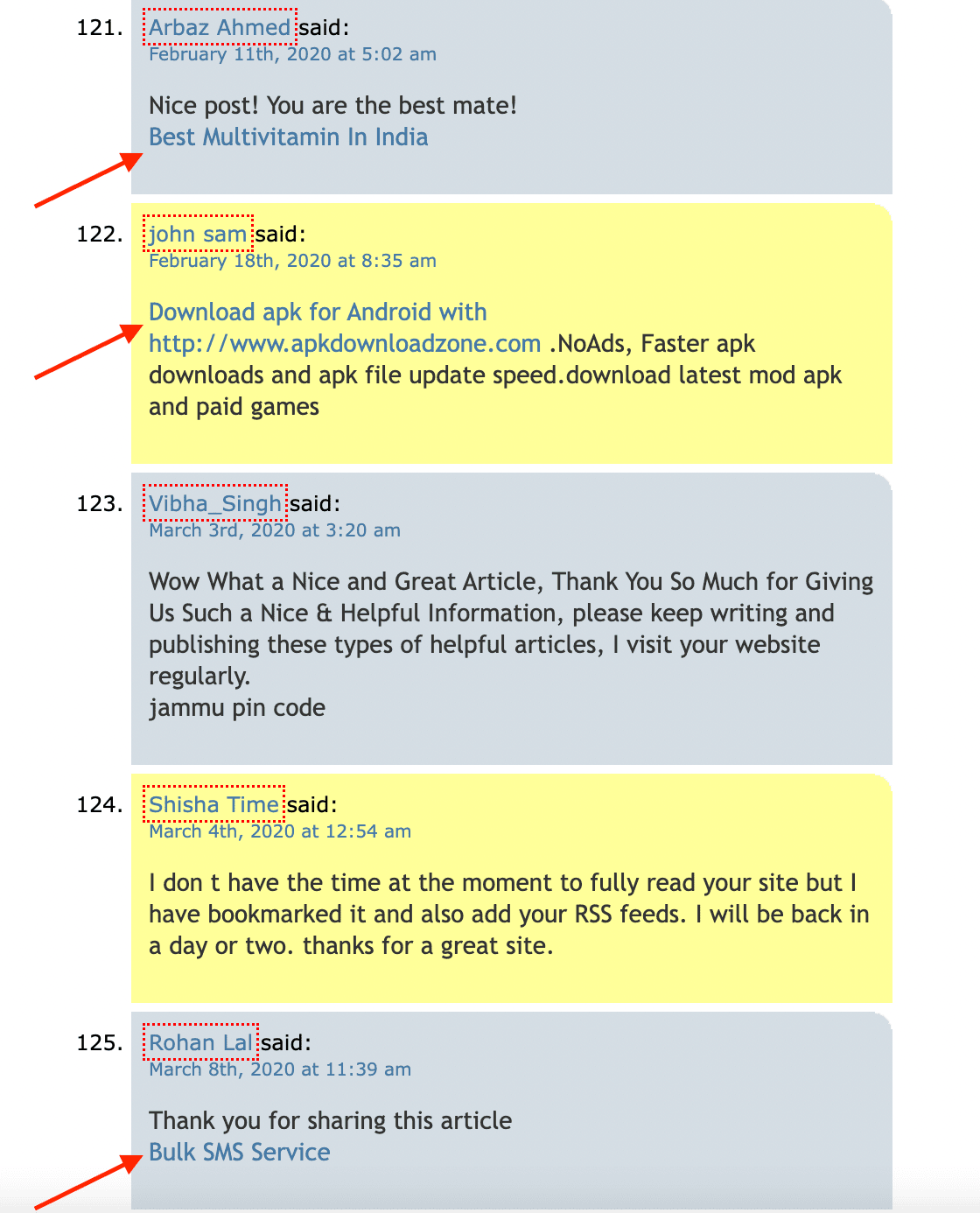 As you might expect, these sites are heavily spammed, so toxic neighbors will surround your link, putting your site at risk.
Black hat link building
Black hat link building is a set of risky tactics that not only violate search engine guidelines but are also illegal. This is a short-term strategy that can help you improve rankings briefly before almost completely and irreversibly pushing your website out of the SERPs. Let's take a closer look at some of the most infamous black hat link building techniques.
Hacking sites to place backlinks
Site hacking is probably the most common black hat SEO practice. This technique involves hacking an external website to insert your links into its pages. Hackers usually use automatic login and password matching. Businesses are sometimes unaware that their online security has been breached. Cybercriminals can continually use their website without the victim's website knowing.
Creating a CMS plugin or theme with secretly embedded links
This method is also considered to be another form of black hat SEO shenanigans because it is a form of cybercrime.
Some SEOs embed links into self-developed CMS themes or plugins to get one backlink per download. It means that when a website owner installs the theme, he adds your backlink to his pages without your permission, or awareness, for that matter.
Tier 1 vs Tier 2 link building
When discussing link building, it is necessary to mention tier 2 backlinks.
A tier 2 backlink is a link that is built to support the page that has your original backlink. Tier 2 links include posts with organic backlinks, purchased links, etc.
This strategy involves linking to a third-party website to increase the PageRank value of the donor website with your backlink. Equity is therefore transferred to your main website. Tier 2 backlinks pass ranking authority to your website by boosting existing links.
In a tiered backlink building strategy, there are three tiers in the link pyramid:
Tier 1 backlinks (point to the main website)
Tier 2 backlinks (point to the tier 1 links)
Tier 3 backlinks (point to the tier 2 links)
This is why there are some who refer to this strategy as a link pyramid.
Let's take a look at the infographic below. It will show you how to strengthen your main website with tier 1, 2, and 3 tactics.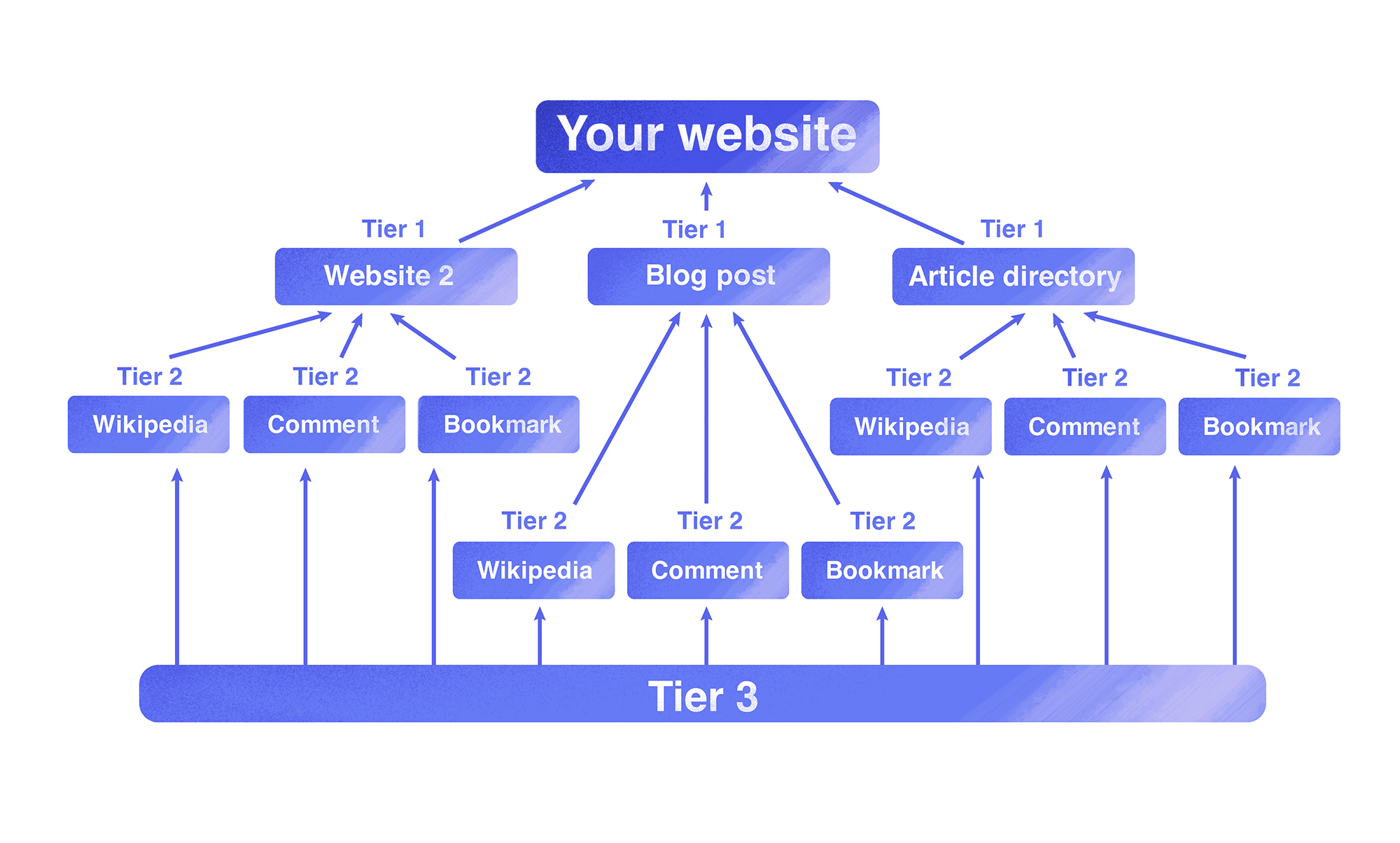 Alternatively, this strategy can be used to help with indexing pages if they can't get indexed after a set period of time, particularly of the pages you got your backlink from. Consider looking at it the following way. If the page doesn't get indexed after a long period of time, why would you need this backlink at all?
What makes link building campaigns successful?
The success of your link building strategy is crucial to your success in Google rankings. Moreover, because of the recent link spam update aimed at nullifying link manipulations (such as paid links), you must ensure your backlink profile is healthy. So, keep the eight key factors below in mind if you want to get the most out of your backlinks and prove to Google that you are worthy of getting top SERP positions.
The donor website should be high-quality and relevant.
To begin, the referring page with your link, as well as the whole website, should contain relevant content to your website's page. Links from sites with the same theme or pages that discuss issues related to your blog's overall approach are far more valid.
Second, the donor website should have an authoritative backlink profile because authoritative sources generate a lot of traffic, rank well on SERPs, and pass the most link juice. Pay attention to obviously paid posts, especially those that aren't relevant to the website and aren't labeled as sponsored—their percentage should be low. Additionally, pay attention to the websites that this domain links to. Ideally, this number should be lower than the number of its referring domains. You can get all the data on referring domains that you need by using SE Ranking's Backlink Checker.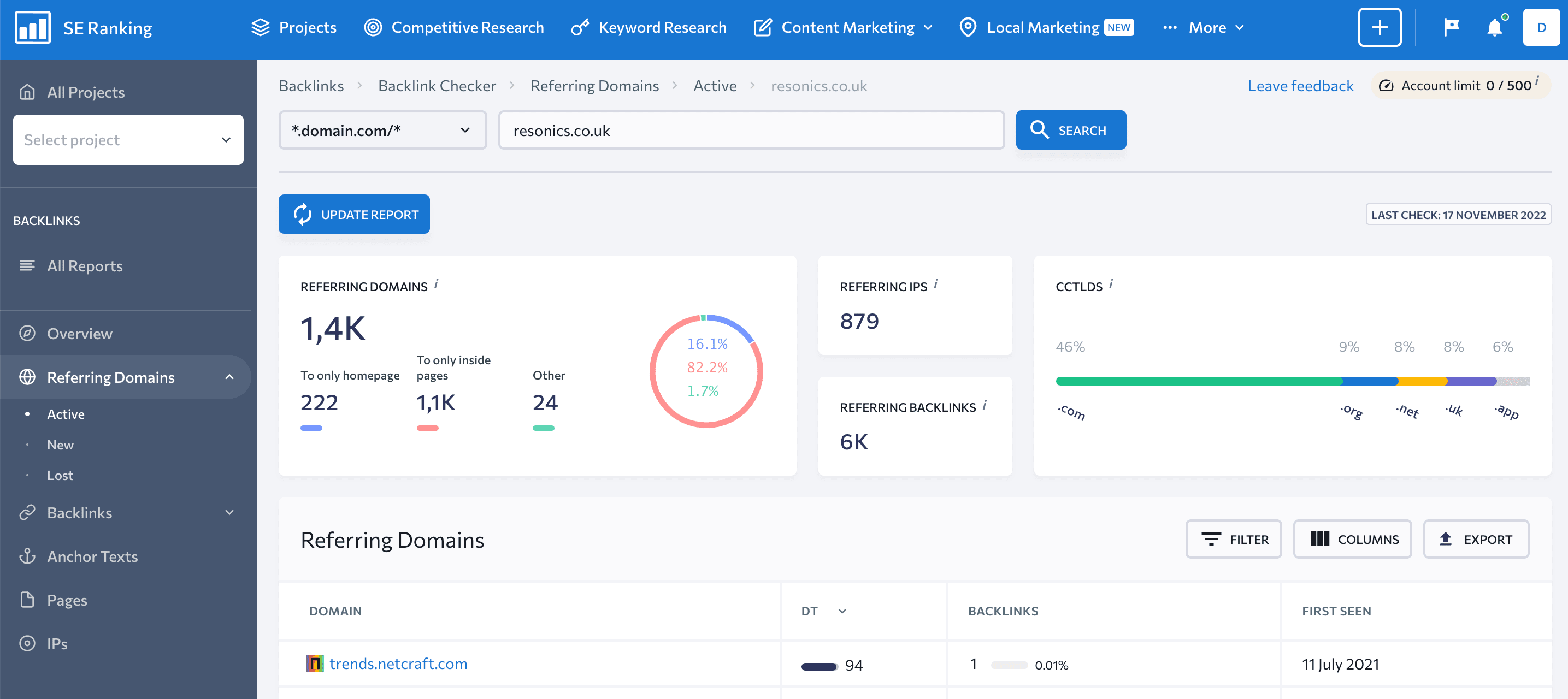 Unique referring domains decide everything.
The more quality unique referral domains a website has, the greater likelihood it has of climbing to the top of the SERP. When your site gets a backlink from a new domain, for example, the search engine appreciates it. When the same domain endorses you in the form of a backlink again, the value of that second mention is lower than that of a new domain.
This means that getting 10 backlinks from 10 different sources is more beneficial for your website than getting 10 backlinks from one donor. So, pay special attention to the referring domain metric, which can show you the value of your backlink profile.
Having a dofollow only backlink profile is a bad strategy.
Some SEOs think that their link building strategy must be full of dofollow links and devoid of nofollow links. The best practice, however, is having a balance between the two. Try to combine dofollow links (that have the intention of passing authority) and nofollow links (that do not intend to pass authority to the linked page). All of your paid, partner and irrelevant backlinks should be nofollowed because Google doesn't like websites that manipulate rankings.
The ratio can vary greatly depending on your industry. Normal practice can include 50/50 and 80/20 ratios. You can check this data with our SEO Backlink Checker by entering the domain name of any donor website and assessing the dofollow/nofollow ratio on the main dashboard.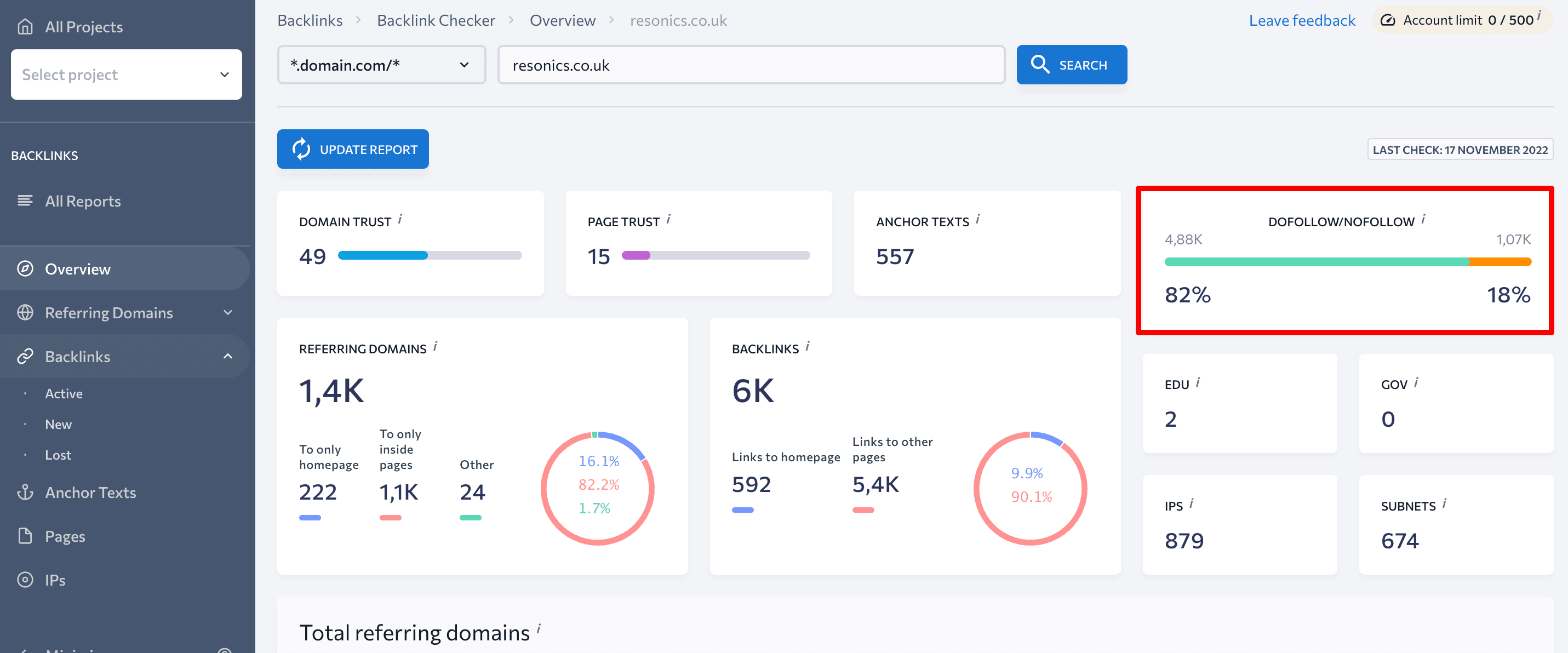 A well-chosen anchor-text-page combination is the golden rule for successful link building.
The donor page, referring website and anchor text must be relevant to your website's niche and to the page your backlink leads to. Search engines pay special attention to this. If Google, for instance, notices irrelevance, it may consider the link to be spam and your website can get penalized for it.
A balanced anchor list is a must.
Pay attention to your anchor text profile, which should not be spammy. Use different types of anchors:
Commercial (buy SEO tool)
Brand (SE Ranking)
Commercial & Brand (SE Ranking SEO software)
Generic (click here, learn more)
Naked (seranking.com, https://www.ikea.com)
With related keywords (the anchor text, try a tool for SEO marketing, redirects to a page titled Software for competitor research)
With the title of the linked page (the anchor text, Competitor Website Analysis Tool, redirects to a page titled Competitor Website Analysis Tool)
To keep your link building safe, commercial anchors, which have the most impact on search engine optimization, should make up no more than 20-30% of the total.
Avoid anchor over-optimization or domination of keyword-rich anchor texts (this is when too many of your inbound links closely match your preferred keywords). This manipulative backlink strategy violates Google's webmaster guidelines.
Having a balanced backlink profile doesn't just help you avoid link manipulation. It also helps you avoid the appearance of it, too. What a balanced anchor text list looks like depends on your niche.
To analyze all your anchors, go to the Anchor texts section in the Backlink Checker.
Diversity is the key to a successful link building campaign.
Above, we described different types of backlinks, including guest blogging and sponsored links, backlinks in forums, videos, testimonials, etc. To make all your links look organic for Google, try to get different types of backlinks. The more you research your direct and indirect competitors, the more link-building ideas you get.
Pages that you build links to should be well-optimized.
Getting a good backlink to a page is not enough. The page ought to be of high quality and well-optimized. Though the following point doesn't relate directly to off-page SEO, it's important to work on user intent, the page's content, page elements (like titles, descriptions, headings), usability, structured data and other parameters that affect On-Page SEO.
Keep in mind! Only when both users and search engines like the page can you expect a good return on your backlink investment. All of these go together, meaning that Off-Page SEO may not be successful without On-Page SEO.
Learn how search engines see your pages and which of your parameters need to be improved by using our On-Page SEO Checker.
Indexed pages are the basis for successful link building.
See if the pages where your backlinks are can be crawled and indexed. No matter how hard you try, unindexed pages will not bring you any benefits because Google won't even look at them. For example, if a page with your backlink can't be scanned by Google, the search engine won't follow the links on the page or even discover them in the first place.
When analyzing a new backlink, check the donor page for indexability. Discover whether there is a directive in a robots.txt file that prevents the page from being scanned or a noindex tag that blocks Google from indexing a page so that it won't appear in search results. Check to see if the page points to another canonical URL, indicating to Google that it contains duplicate content.
How to start backlink building
We've covered almost all aspects of link building, including why it is so important for SEO, what types of links there are, and what you need to consider in the link building process. All that remains is to figure out how to start this process.
Here, we'll walk you through the essential steps of link building.
1. Check the backlinks that you already have
To start, you need to select the best link building tool for your campaigns. Most of these tools provide insights into the value and potential of backlinks that you already have.
To illustrate the point, let's take a look at how to evaluate backlinks using SE Ranking & Google Search Console.
Use SE Ranking
You can get all the necessary data about your website's backlinks by using SE Ranking's Backlink Checker. Just go to the tool, enter any domain and click the Search button.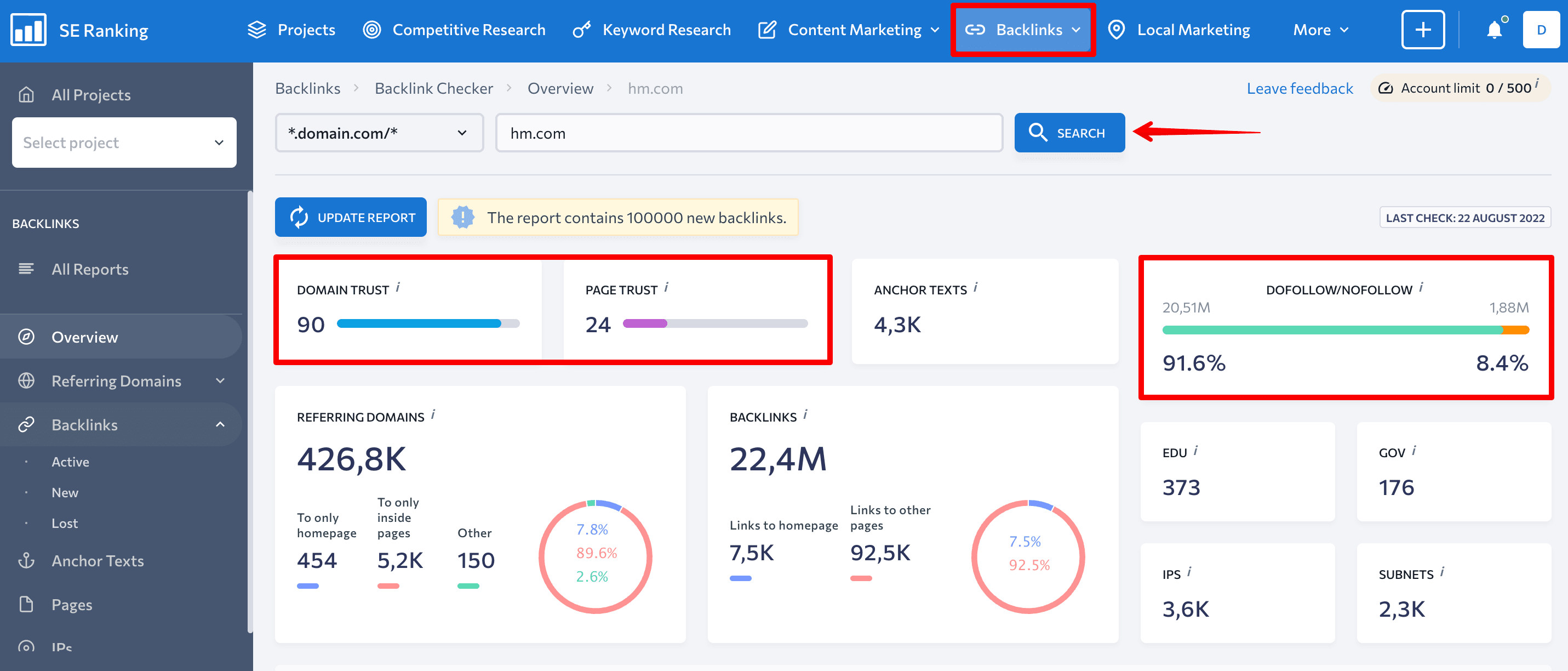 Take a look at the main dashboard, where you can assess your backlink profile. The tool provides data on significant metrics:
Domain & Page Trust scores show how authoritative your website/particular page is.
The ratio between dofollow and nofollow backlinks.
A complete list of your website's backlinks with major parameters, including the pages' Domain and Page Trust scores, their target URLs, anchor texts, and their type of backlinks.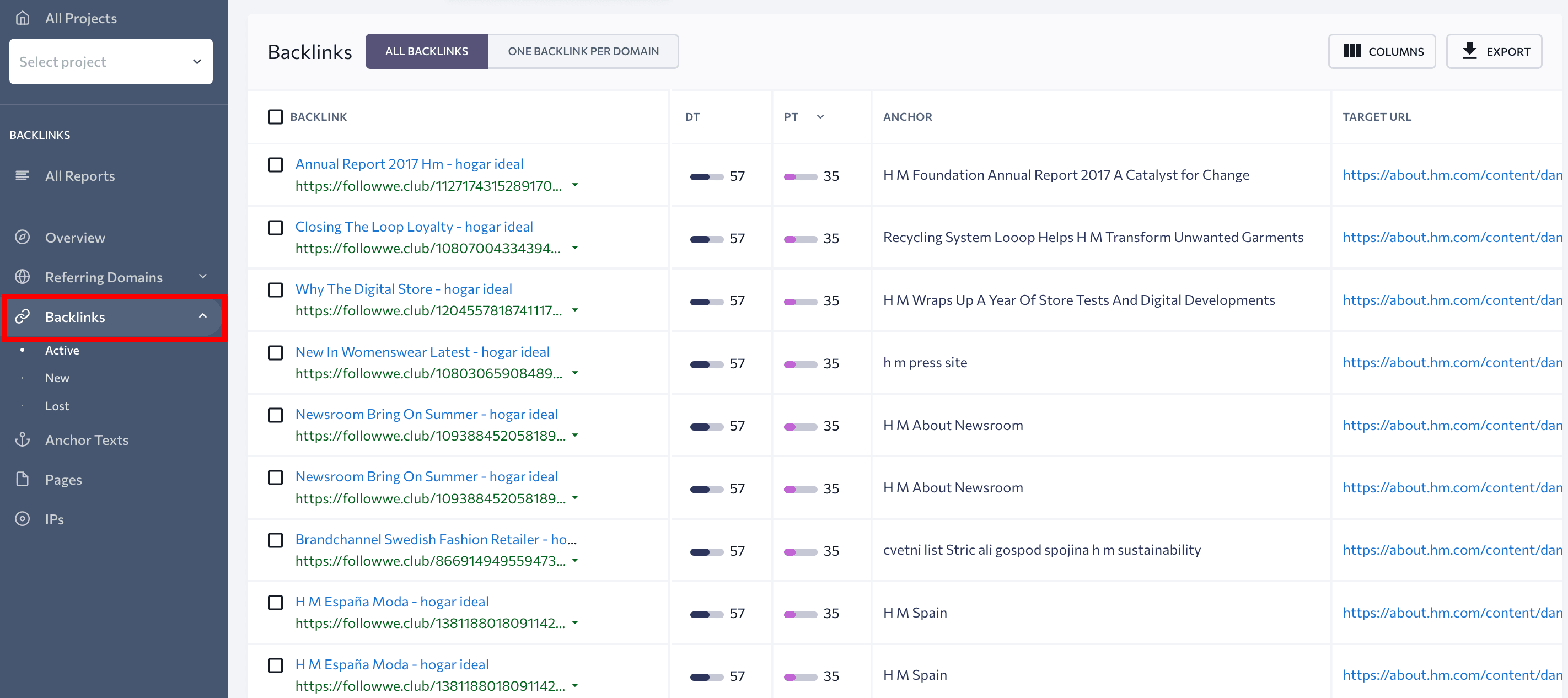 The total number of referring domains with a Domain Trust score and the number of backlinks you have from each website.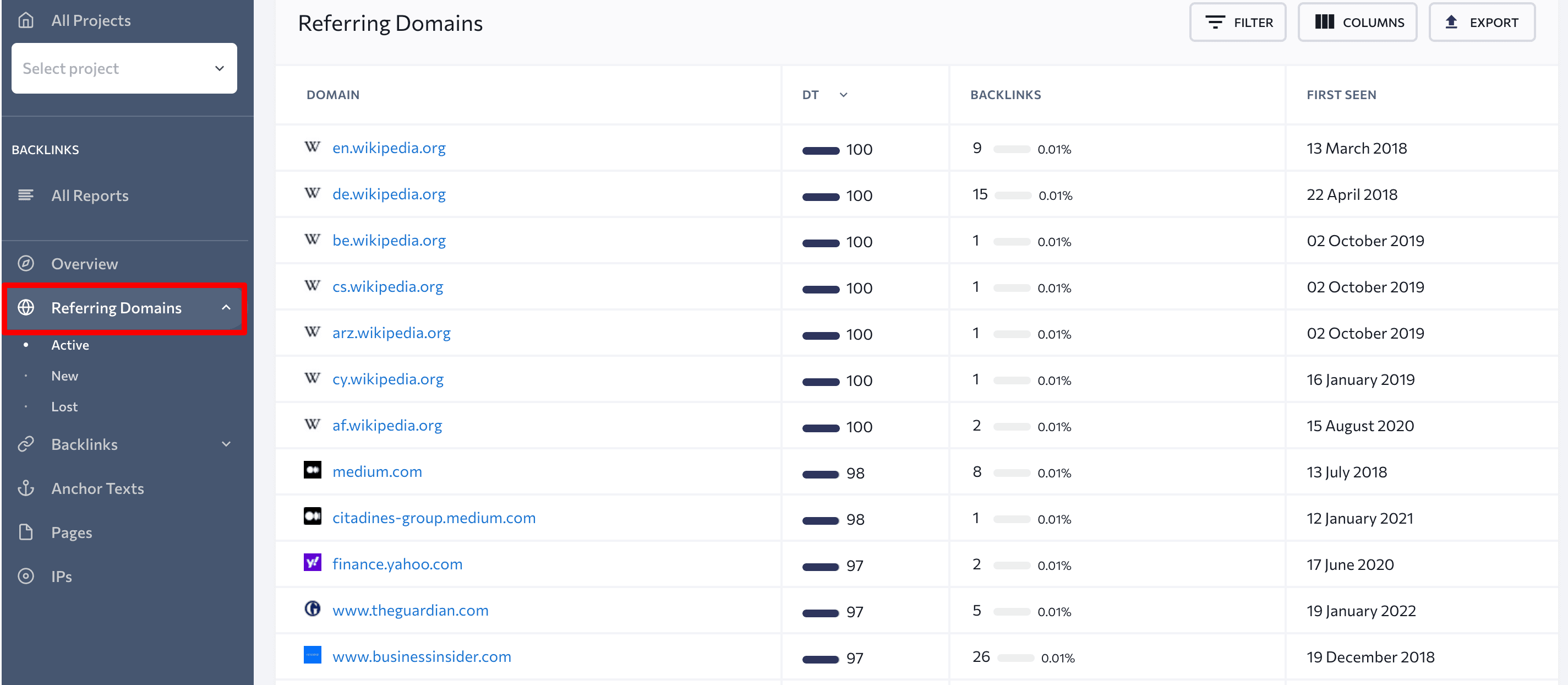 The list of the most common anchor texts used in the referring domains and backlinks.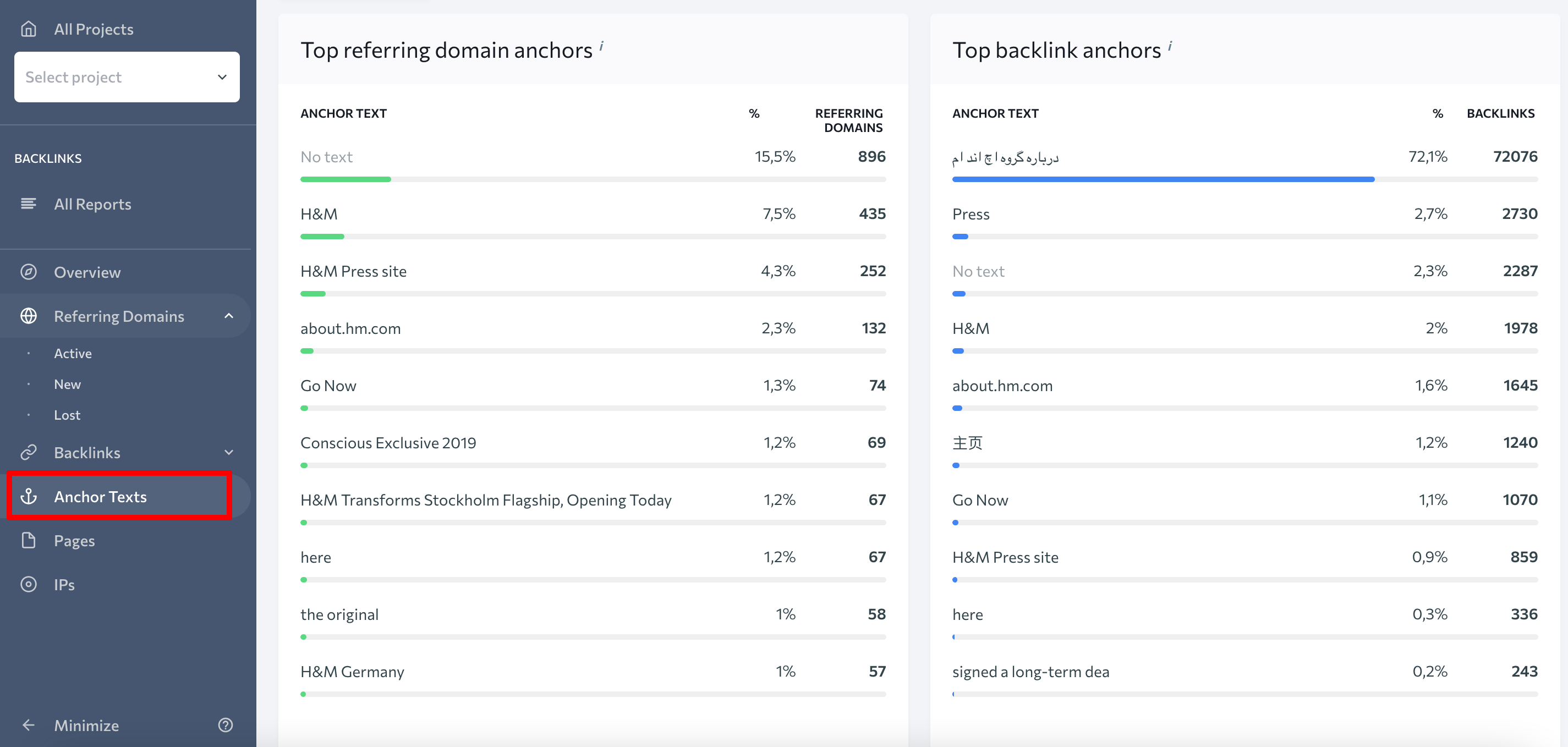 Pages on your website that get backlinks.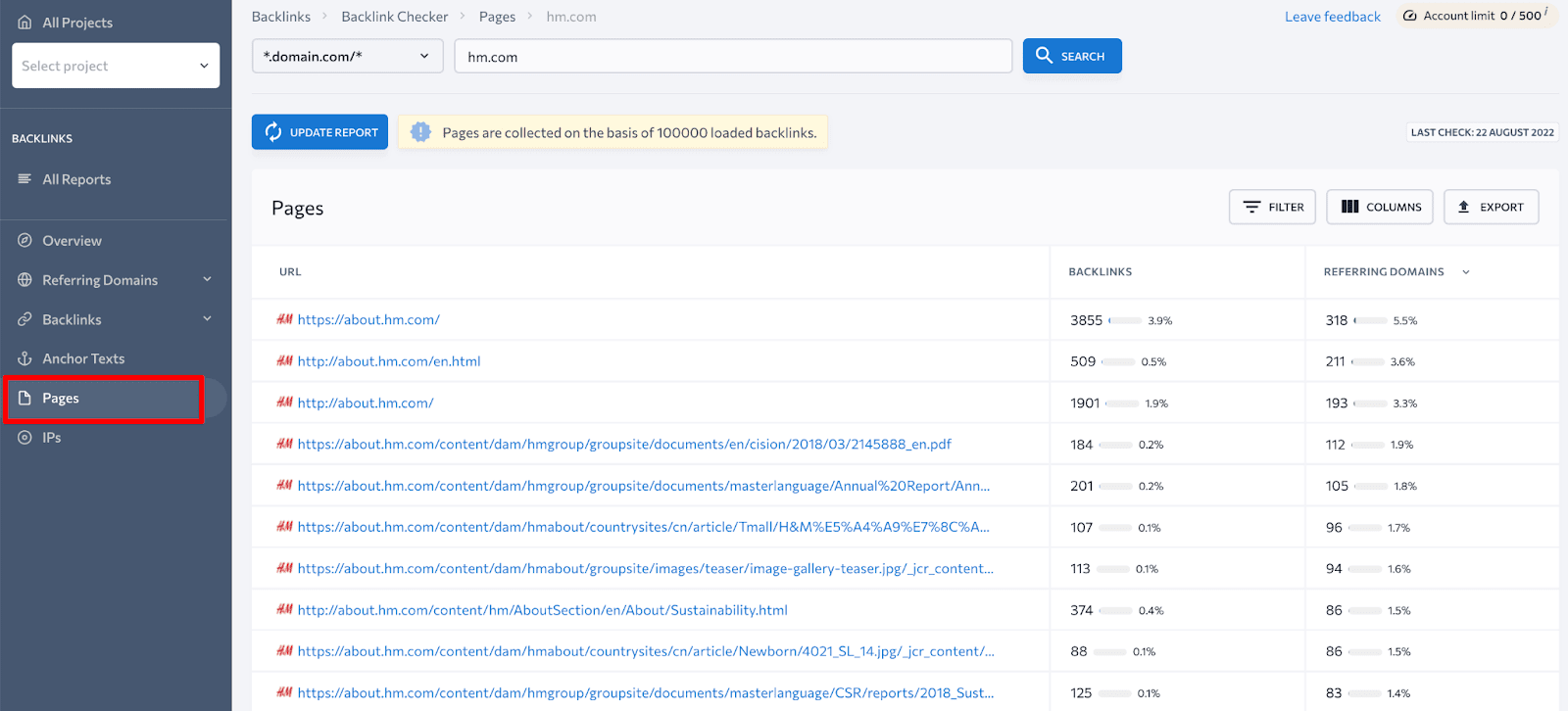 Map of your referring domains' distribution that shows country code top-level domains.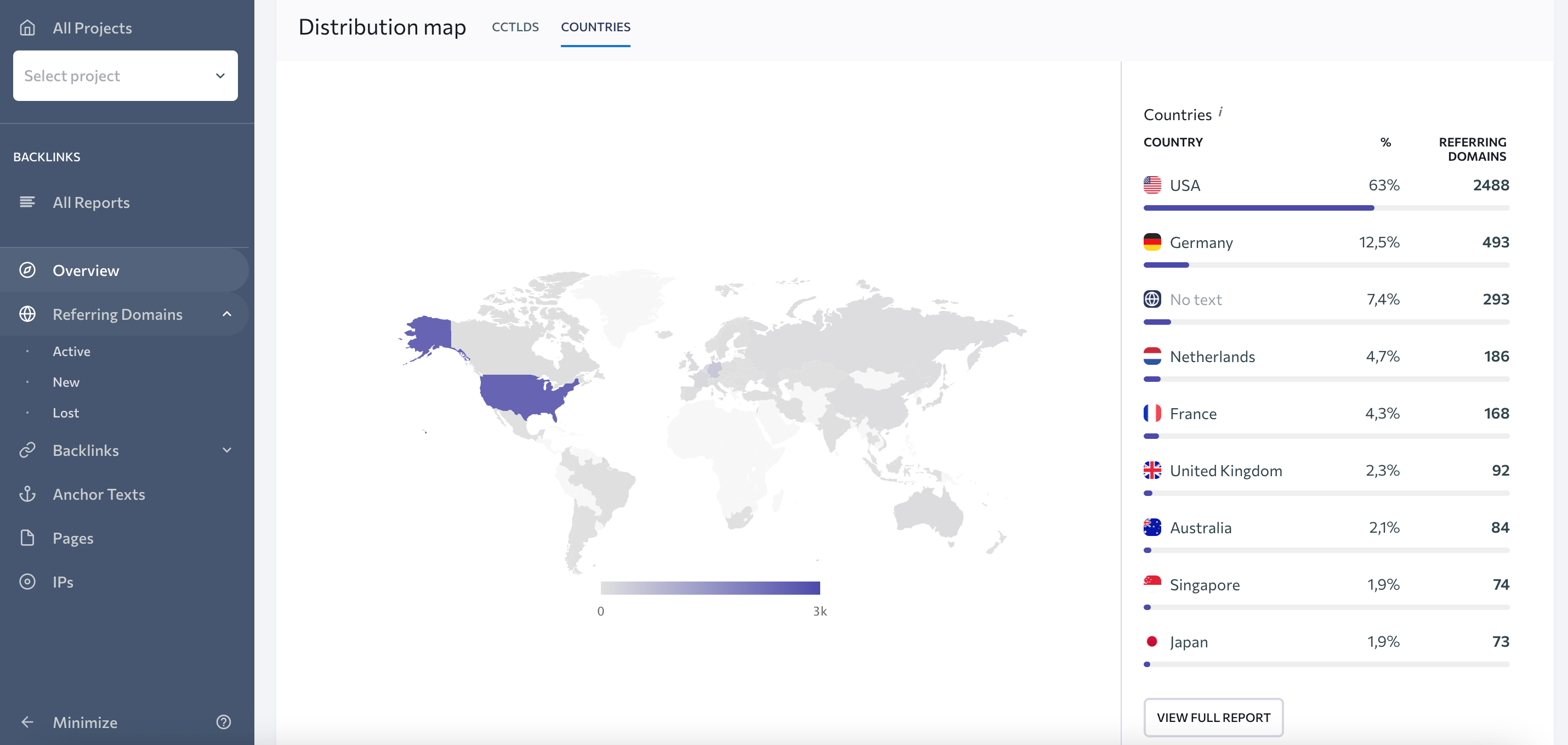 This information will assist you in thoroughly analyzing your own backlink profile as well as that of your competitors so you can build your backlink strategy.
Utilize GSC
You can also check your backlinks by using Google Search Console. Just go to the Links tab, where you'll see all the necessary data on backlinks. GSC offers detailed reports with the:
Total number of backlinks.
List of the website's top target pages & its most popular referring domains.
Number of links from one domain.
List of your top anchors.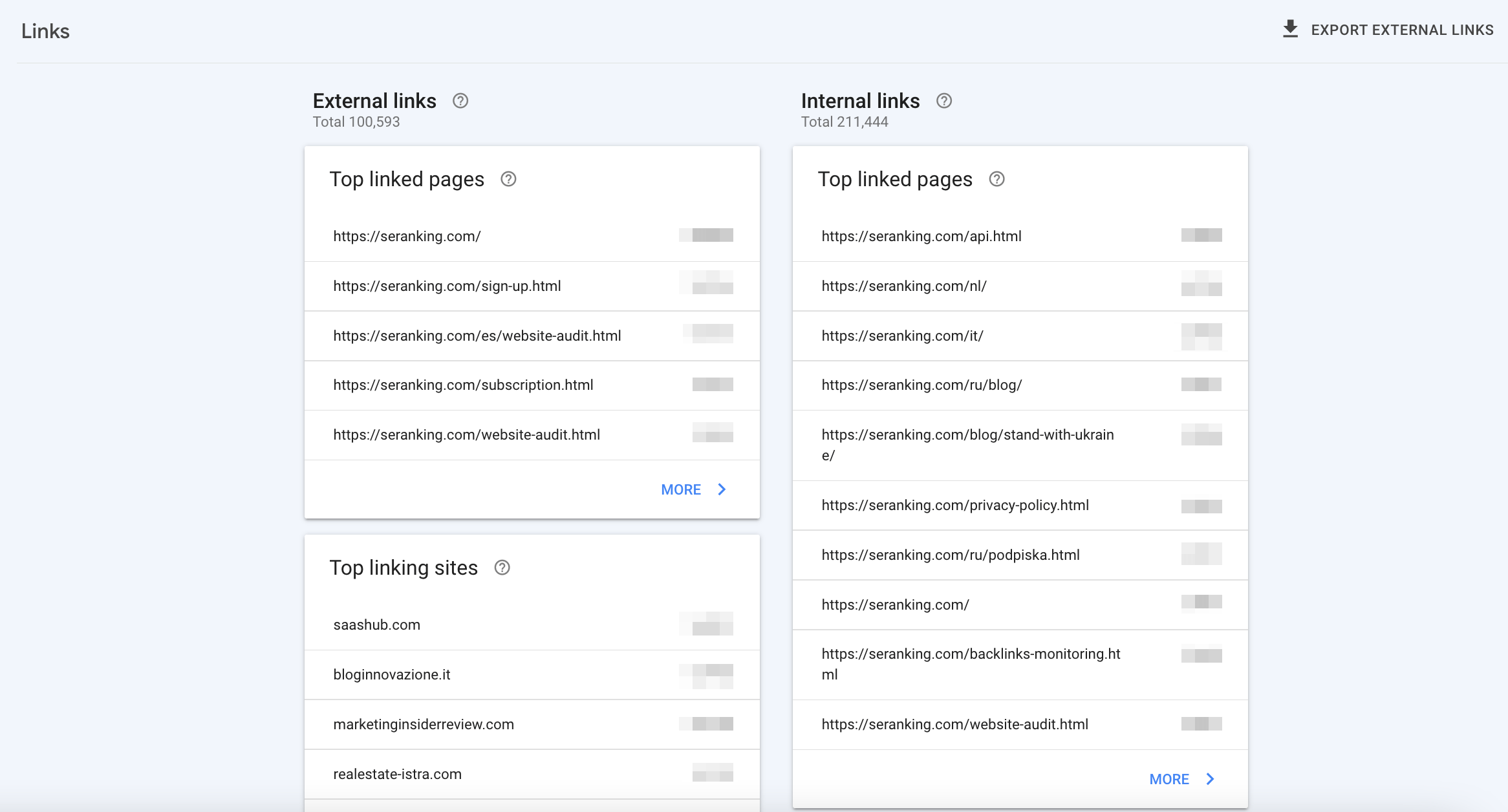 Unlike SE Ranking's Backlink Checker, GSC doesn't provide any additional metrics, making it harder to understand the quality of your backlink profile.
2. Decide on pages to build links to
You might be wondering which pages are ideal for backlinks. The pages you choose for your link building process will affect the outcome of your entire SEO strategy. If you build backlinks to the wrong pages, you'll spend tons of time and money without seeing any results. Build links to the right pages to gain target organic traffic and, as a bonus, referral visitors.
Homepages, for example, usually account for 40-60% of backlinks, whereas there's almost no reason to build backlinks to your contact or service pages. Building backlinks to product pages is a must. It's typically easier to get organic backlinks that lead to blog pages than links pointing to commercial pages. Consider, then, linking your blog pages to your focus product pages.
When choosing pages for link building campaigns, consider the following aspects:
Traffic potential. Pages with high potential to drive large amounts of organic target traffic are more valuable for SEO. Check the search volume of your target keywords to gauge a page's traffic potential. You can do this by using our Keyword Generator.
Profitable keywords. The pages you link to should target the most valuable keywords (e.g., high-converting keywords).
Value for business. Your backlinks will, ideally, be followed by your target audience, which consists of people who are interested in your product. So, first and foremost, you should include links to commercial pages that directly sell your products as well as content that showcases the benefits of your goods or services.
3. Create an anchor plan
An anchor text plan is an essential part of your link building strategy. For Google, anchor texts indicate how relevant a website is. As we mentioned above, anchor texts should be relevant, varied and not spammy. To simplify the follow-up work and organize all the important anchor texts, SEOs create anchor plans, which are needed to properly distribute the different types of anchors among focus pages.
If possible, incorporate variation by using all anchor text types. If you always use exact match anchor texts, Google's spam filter will go off because it knows you are trying to get quick and cheap results. While only using brand names is safe, it might not be helpful for your target keyword rankings.
For example, for the homepage, the ideal backlink ratio consists of 80%-95% brand, natural and naked anchor texts, and 10% of your links should fall under the exact match and partial anchor category. On your other pages, it is much more natural to target your key phrases—this is where you should focus the majority of your SEO efforts.
However, these recommendations vary based on your niche. When creating an anchor text plan, it is best to take a unique and varied approach based on SERP analyses.
4. Perform competitor research
To provide context to your link profile, compare it to your SERP competitors and find out how top players build their links.
There is a simple way to do this—by combining SE Ranking's SERP Analyzer and Backlink Checker.
To start, make a list of your main target keywords. Then, use SERP Analyzer for each keyword to round up your top organic competitors (usually among the top 5/10).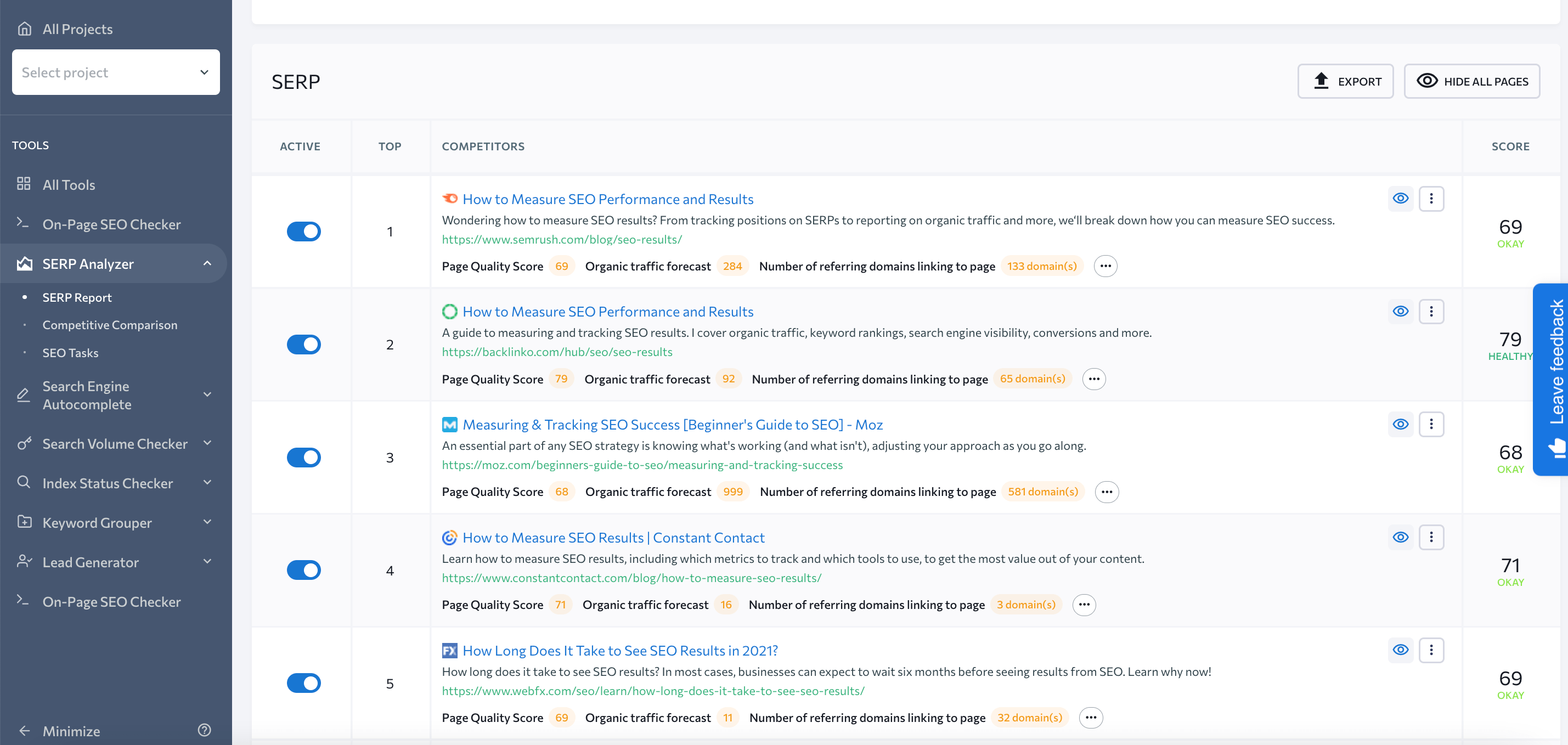 Then, go to the Backlink Checker to look at each competitor's website or use our Backlink Gap Analyzer to examine up to five domains.
Pay close attention to major metrics like:
Domain & Page Trust scores.
Ratio between dofollow and nofollow backlinks.
Complete list of the site's backlinks and the most common anchor texts.
Total number of referring domains.
List of the website's top target pages.
Compare your competitors' backlink profiles with your own. Alternatively, if you are just starting out with your backlink strategy, use your competitors' metrics as the basis of it.
Doing a competitor analysis can also help you create or improve your backlink profile. To get backlinks, look for quality and relevant websites that collaborate with your SERP competitors. Consider the DT indicator available in our Backlink Checker—you need quality backlinks that will pass link juice and will be valuable for Google.
Don't forget to check the donor website's indexing, which as described above, is important for successful link building. Consider the amount of paid content on the pages of their website as well. They shouldn't be spammy.
Go to the Referring Domains section and filter websites by the highest Domain Trust score. Here, you will immediately see the most authoritative domains that link to your competitors' pages.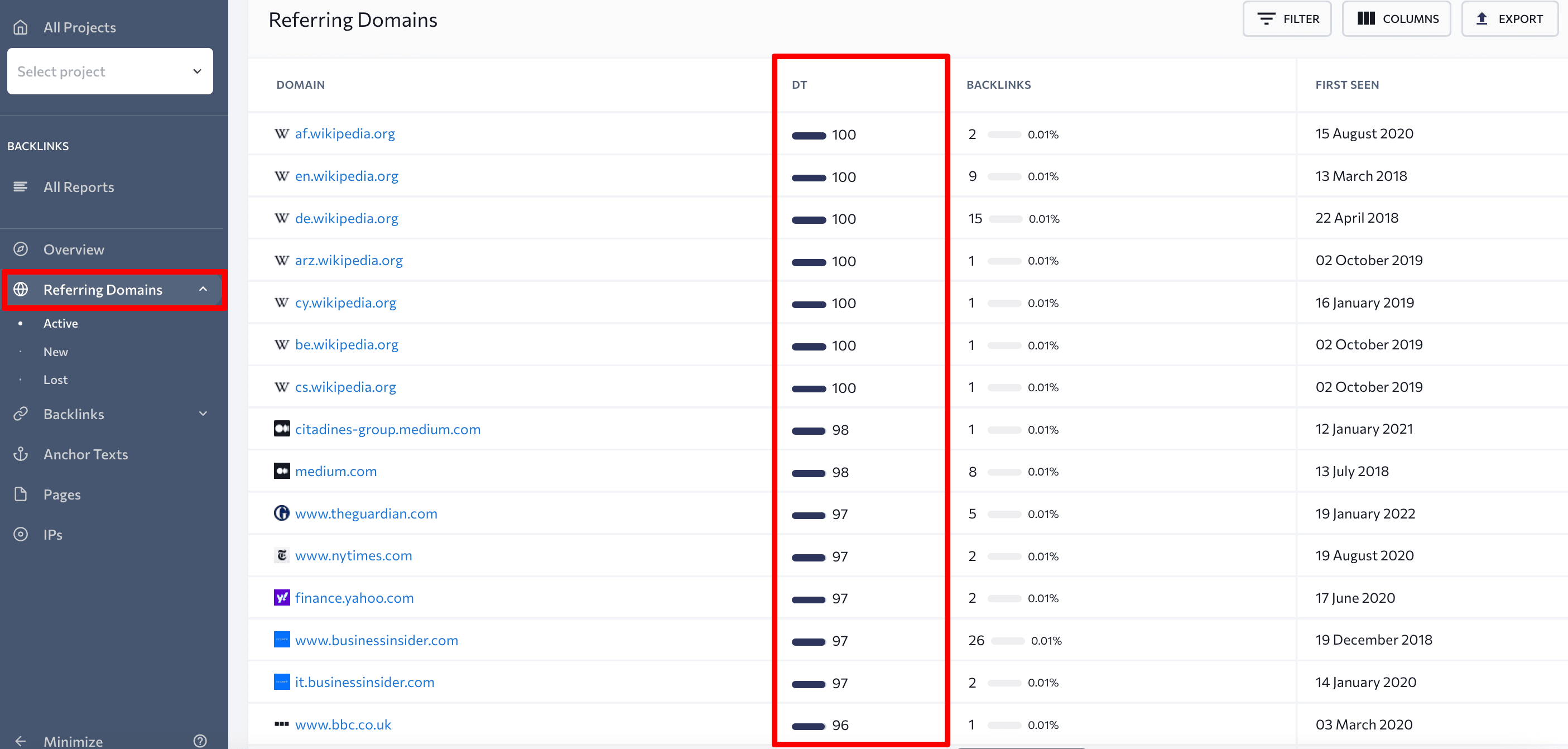 You can also take ideas from what your competitors publish on donor pages. Go to the Backlinks section to see what content was posted with your competitor's backlinks. Choose from a variety of valuable and exciting topics, formats, and techniques (don't forget about Domain & Page Trust scores).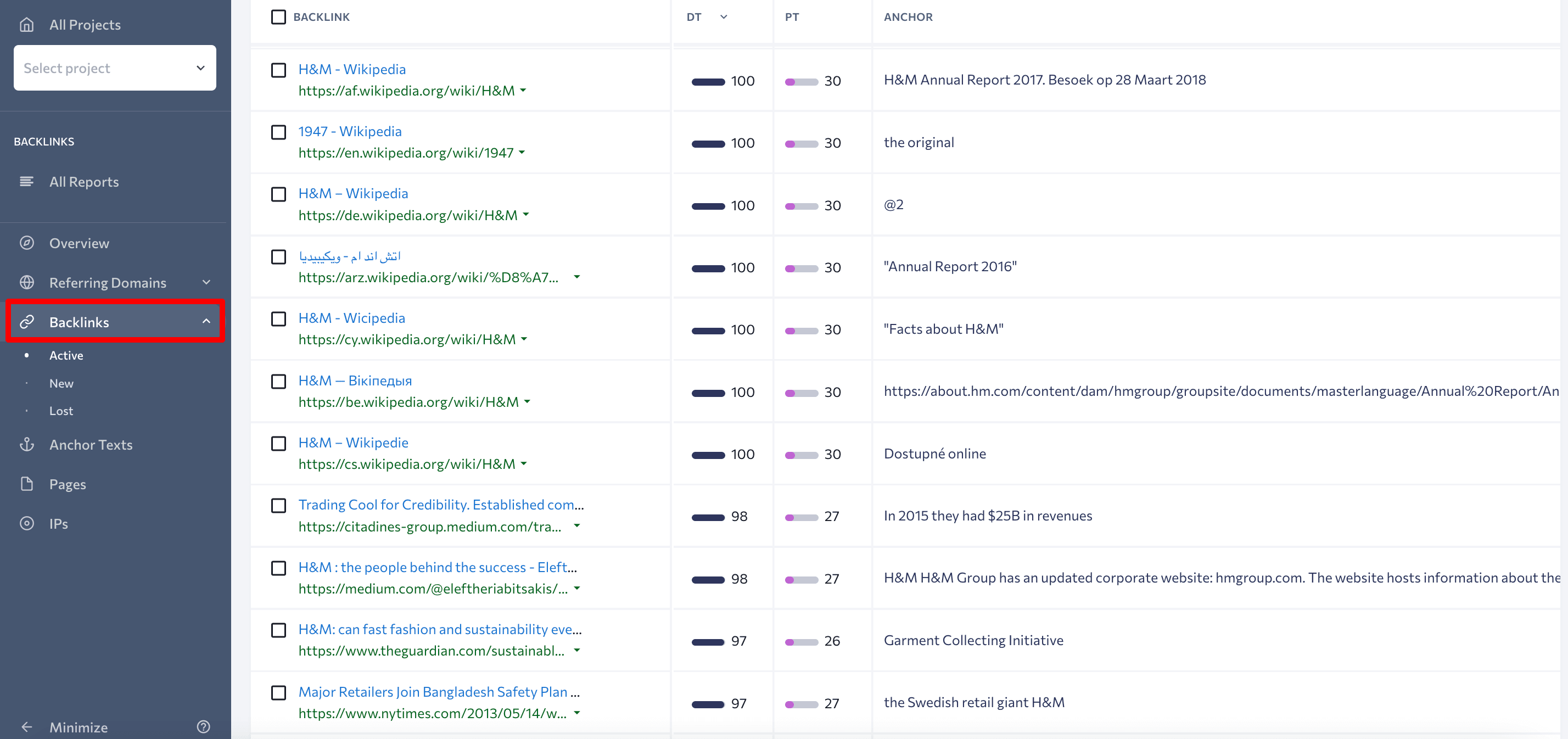 After doing a competitor analysis, you can create a strong list of websites to get links from.
5. Define your backlink building budget
Initial planning will help you estimate your budget and define your link building strategy. Consider planning all campaigns, discerning feasible tasks, and setting realistic goals.
The price of link building varies greatly between $100 to $20,000 per month, depending on quality and volume. Plus, it depends on the competitive landscape. Try to analyze competitor activity in terms of their link building process. With this data, you'll discover what you need to do (how much money you should spend) to catch up with rivals and overtake them.
The most expensive part of the link building process is content writing, and some sites even charge for text editing. Many SEOs spend money on outsourcing.
Here are some factors that impact link cost:
Content quality, relevance, and value. It is unlikely that an authoritative donor will allow low-quality material to be on their site, unless in exchange for a high price.
Your brand strength. If potential donor sites see that your organization is respected, they will naturally want to respond because they know you are trustworthy. This means the price per link may vary depending on how well-known your brand is.
Link quality. The more authoritative the donor website is, the more challenging it will be to get a backlink from its pages—this affects the link cost.
Industry. There are certain industries, like finance and casino, where donor websites will always demand an inflated fee for placing a link. There are also industries where the price of link building is lower, such as charities and education.
Try to get a good feel for prices in your niche so that you already know the approximate cost of links when planning your link building budget.
Some other useful link building tips for your business
Now that you know link building isn't as simple as it might seem at first glance, let's take a look at some universal link building tips to help you tie up any loose ends.
1. Create unique, shareable and valuable content. This is the best way to get high-quality and relevant links to your website.
This is a great way to attract organic backlinks that are used naturally in an authoritative website's content without having to make a request. As previously stated in this post, you should publish original research and studies, create infographics, share interviews with experts and wait for your website to gain high-quality backlinks.
2. Act depending on your niche.
Like many other things in life, the success of backlink building is relative. What may be considered a great result in one niche may be a failure in another, so closely observe the actions of the market's leading players to understand what is good and bad for your website promotion. Competitive research will definitely help here.
Here are a few nuances to consider depending on the niche.
For a highly competitive industry. This is where guest posting is key. Writing posts for authoritative websites should be prioritized in your link building strategy. It is critical to create a good anchor plan here with a list of pages to focus on. Also, don't forget to include other types of links to diversify your backlink profile (e.g., use relevant local directories, try crowd marketing, etc.). Keep in mind that a highly competitive niche necessitates a high budget and a lot of work to outrank your competitors.
For a middle/low competitive niche. In this case, link building can be done passively and by combining different types of backlinks (we described all of them above). In this case, a good On-Page SEO strategy might be able to help you more. Simply put, you'll need a lower budget in this kind of niche for successful promotion.
3. Always check your backlinks to know how to adjust your strategy.
Regularly monitoring your results is the key to success. It gives you a bird's eye view of the current situation with your Off-Page SEO. The more often you monitor your progress, the greater the likelihood that you will succeed.
Just getting a backlink, however, isn't enough. You also need to keep track of its results and analyze the effectiveness of each link. This will help you understand how successful your current link building strategy is and what you need to improve the next one.
Perhaps you will come to find out that some link types are more important to concentrate on (in your case) than others. Some link types may even refuse to cooperate with certain websites.
Only close monitoring and deep analysis can help with all of this.
SE Ranking created a Backlink Tracking tool to make link monitoring easier. You can import all your backlinks from Backlink Checker or GSC and see when your backlinks are lost as well as the information on each of them.

How to measure the impact of your link building strategy
The impact of link building is usually hard to measure. However, you can try using certain metrics to do it. These will help you in determining whether the link building strategy you are using is contributing to the growth of your website or not.
Domain authority growth. In the beginning of this post, we said that this was a great metric for determining the quality, not just of your backlink profile, but the whole website. If the metric (called Domain Trust on our platform) has improved, the link building strategy yielded good results. Use our Domain Trust Checker to understand your domain authority.
Organic traffic and keyword rankings growth. The success of your link building strategy has a direct impact on your rankings. Backlinks from authoritative sources pass link juice to your website → Google evaluates them and ranks your pages higher than others on the SERP → You drive more traffic to these pages due to them ranking higher for the keywords you target. To monitor keyword rankings on search engines, go to our Keyword Rank Checker.
Lead growth. This follows from the previous point. You should see an increase in lead volume after improving your SERP positions, but only if you don't have user experience issues or gaps in your sales funnel.
Referral traffic. This is the traffic you get from external websites when visitors click on links to your website. Almost any good backlink, even if it doesn't pass link juice, can bring you additional visitors and customers.
However, you should not rush into a final decision because some results can take at least two weeks, if not a month. SEO is a long-term commitment that requires patience and perseverance.
Final thoughts
Now that we've covered the most essential things about backlink building, let's go over a few of the main points:
Backlinks are still one of the top Google ranking factors because they boost a website's trust, help improve its rankings for target keywords, bring in referral traffic and improve brand awareness.
If you want to succeed with link building, use different types of backlinks in your strategy but focus most of your efforts on gaining organic backlinks.
Your link building strategy will produce good results if your donor websites are high-quality and relevant, you have a lot of unique referring domains, and your anchor list is balanced.
The pages you link to must be valuable and relevant to your business, targeted at high-converting keywords and have the potential to drive organic target traffic.
To measure the success of your link building efforts, check domain authority growth, monitor an increase in the website's positions and traffic, and track lead growth.
Thank you so much for reading! We hope that this link building guide will come in handy and help you achieve all the success in the SEO world.