7 of the Best Link Building Tools For Reinforcing Your Off-Page SEO Strategy
In today's digital world, a website's success depends on its visibility and authority in search engine rankings. Link building plays a key role in achieving this success, but it can be complex and time-consuming. To build a strong backlink profile, you must follow several steps, including checking your competitors' links, selecting reputable websites to get links from, generating guest blogging ideas, monitoring your link building progress, and adjusting your strategy as needed. Fortunately, there are several powerful link building tools available to help you streamline this process.
Let's explore the seven best SEO link building tools for creating a robust off-page SEO plan and enhancing your website's rankings. We will delve into each tool's unique features, functionalities, and benefits.
Which link building tools did we choose?
So, here are some link building tools for SEO that will be discussed in further detail.
SE Ranking: This is an all-in-one SEO platform with robust link building tools, including its Backlink Checker, Backlink Gap Analyzer, and Backlink Monitor, which provides comprehensive link analysis and tracking. All are accompanied by powerful reporting features.
Majestic SEO: This stand-out link building software has a massive and constantly updated link index, providing in-depth insights into backlink profiles, Trust flow, and Citation flow metrics for effective link analysis.
Ahrefs is a reputable SEO platform with one of the largest backlink databases. With its advanced feature, Site Explorer, Ahrefs enables users to improve their link building strategies.
SEMrush is a high profile SEO platform that many brands trust. Users leverage its extensive database and comprehensive tools to perform backlink analysis, uncover valuable link prospects, and monitor their link building efforts.
SEO PowerSuite is a powerful desktop link building software. It combines various functionalities, including backlink analysis, link prospecting, and outreach management.
Linkody is an excellent tool that specializes entirely in link building, offering features that help users monitor backlinks, track link metrics, and provide timely alerts.
Moz Pro is a highly regarded link building tool that offers features like Link Analysis and Link Intersect. It provides users with actionable insights to help with improving their link building efforts and boosting their website's authority.
By understanding the capabilities of what we consider the 7 best seo link building software on the market, you can make informed decisions about which ones match your specific link building goals and strategies.
How we ranked these link building tools for you
When searching for the best link building tools out there, we took several crucial factors into account. Any tool we found had to be effective, reliable, and valuable. Here's a breakdown of the criteria used:
Backlink analysis: We examined the tools' ability to conduct a comprehensive backlink analysis. This includes assessing their ability to analyze the quality and relevance of backlinks using multiple parameters like domain authority, anchor text, target URL, etc. It must also be able to identify potential issues such as broken links or spammy backlinks.
Competitor analysis: We looked for tools that allow you to gain insights into your competitors' backlink profiles, identify their link building strategies, and uncover new link opportunities.
Link opportunities: An effective link building tool should offer features that help you discover new link building opportunities. This includes finding relevant websites in your niche, assessing their authority and trustworthiness, and identifying potential outreach prospects.
Database size: The best link building tools should have regularly and thoroughly updated databases of websites and backlinks. This provides users with a wider range of opportunities and increases their chances of finding high-quality link prospects.
Availability of other services: We've determined that platform versatility should be a priority, as complex website promotion is only possible with keyword research, rank tracking, content creation, etc. Tools that provide a comprehensive suite of services were given preference because they offer a more holistic approach to your digital marketing needs.
Flexibility of pricing policy: Tools that offer flexible pricing options, including different subscription tiers or customizable plans, were also given priority because they allow users to select packages that align with their budgets and requirements.
Now, let's take a closer look at each of these tools and the benefits they have to offer.
1. SE Ranking
SE Ranking is an all-in-one SEO platform that offers a wide range of features and functionalities to enhance your link building efforts. With its comprehensive backlink analysis capabilities, you can thoroughly assess your backlinks' quality, relevance, and authority. SE Ranking also provides robust competitor research tools to help you analyze your competitors' backlink profiles and uncover new link building opportunities. You can also make use of SE Ranking's backlink monitoring feature to keep an eye on the success of your backlink strategy.
Now, let's examine each of the advantages and features of this tool in more detail.
SE Ranking's main link building features
The Backlink Checker offers a detailed report about the quality of any website's backlink profile. SE Ranking has a huge database with 3 trillion links from 262 million domains, so you can do a truly in-depth link analysis. By using Backlink Checker, you get a complete list of the website's backlinks and referring domains with, along with important info like Domain Trust score, dofollow/nofollow ratio, broken URLs, and stats on lost and new backlinks. You can also explore all the anchor texts of backlinks to decide on which keywords to target for link building. The tool also shows you which pages have the greatest share of backlinks and referring domains. This data helps you create or optimize pages on your site that could attract more backlinks.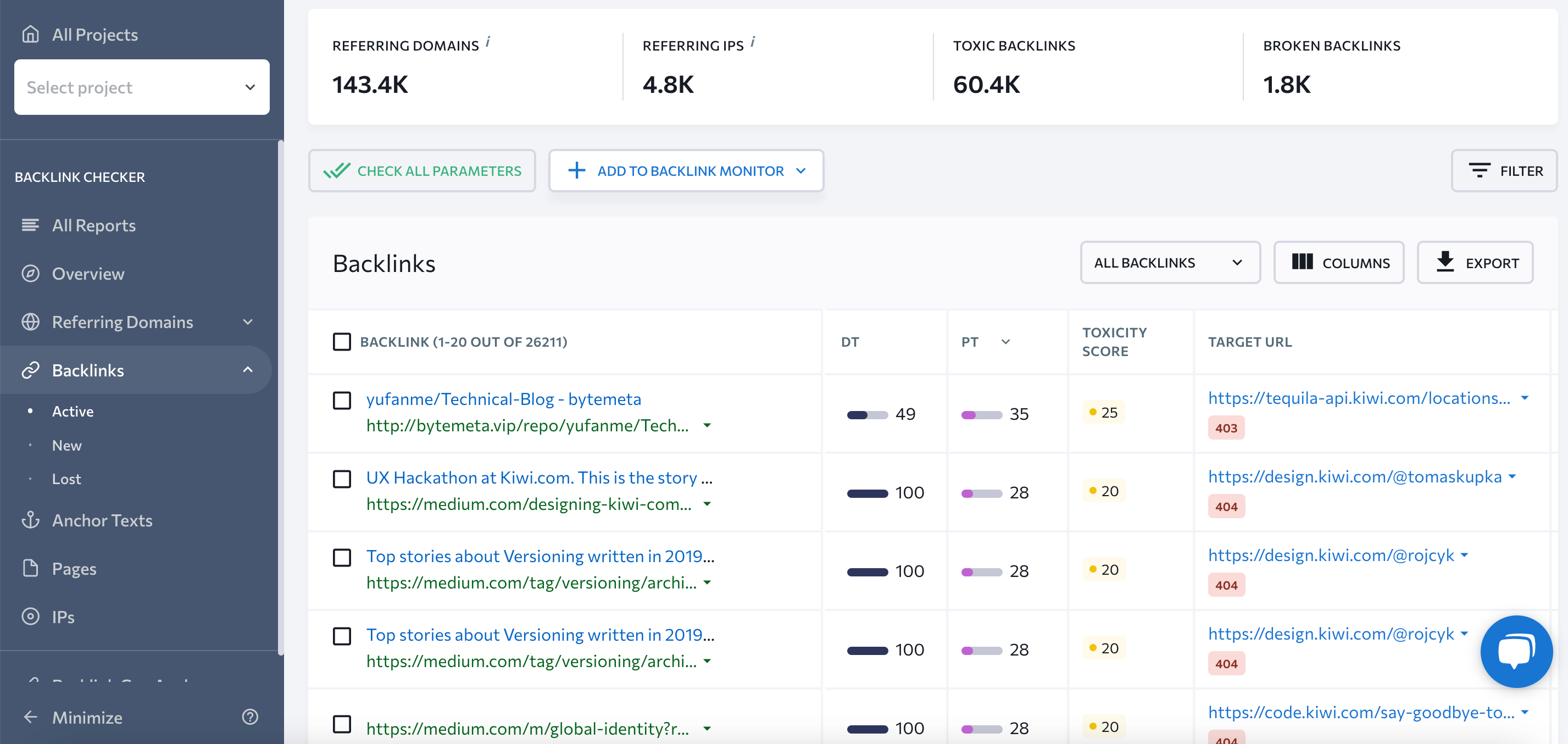 In the Backlinks section, you can find and study the guest posts written by your competitors to find ideas for your own guest blogging strategy.
You can look at the backlinks of multiple competitors at once by using SE Ranking's Backlink Gap Analyzer. This helps you find potential donor websites that are linking to your competitors but not to your website. This way, you can take advantage of valuable link-building opportunities that your competitors have already discovered.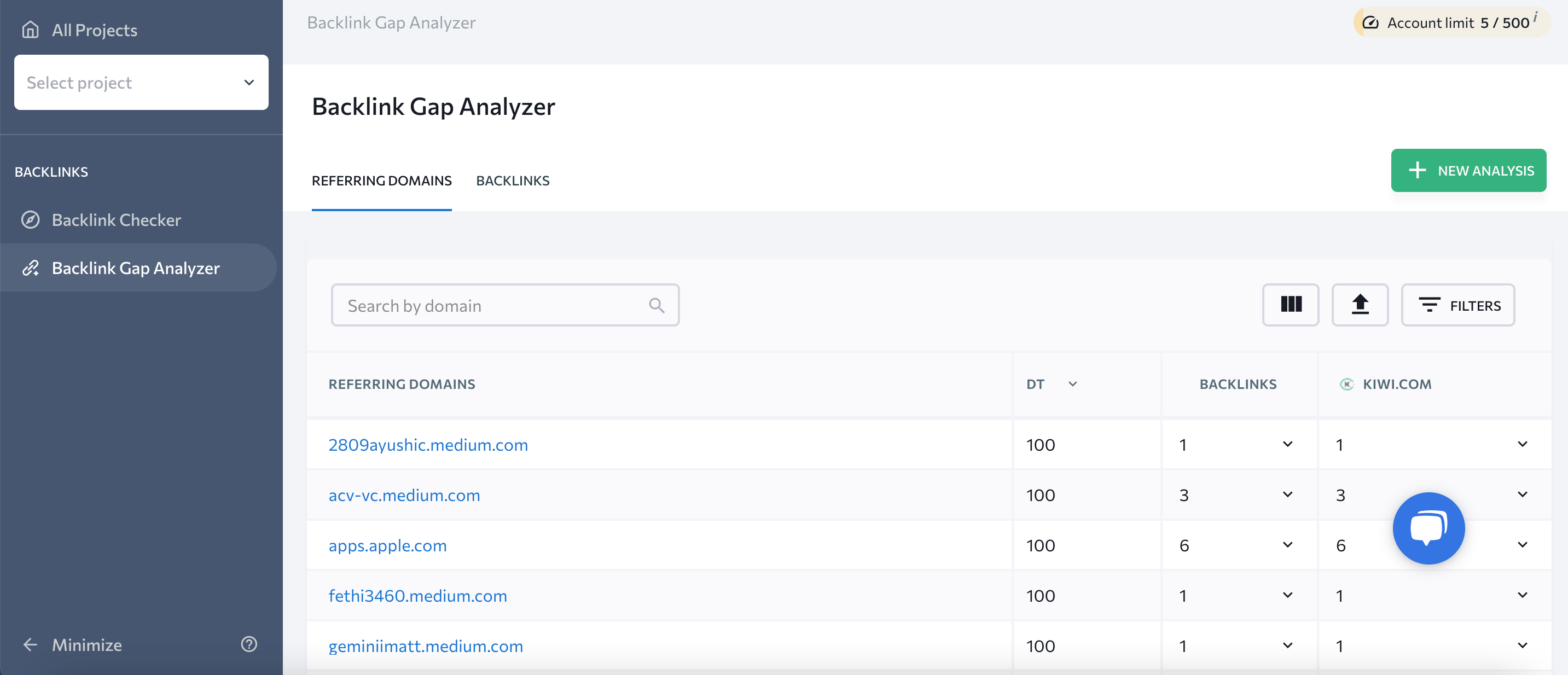 SE Ranking's Competitive Research tool can help you analyze the quality and relevance of donor websites. You can find out their domain authority, the amount of organic traffic they get, where their traffic is distributed from (by country or region), and their top-performing keywords and pages. Moreover, the tool provides data on valuable keyword suggestions to create a solid anchor plan for building links.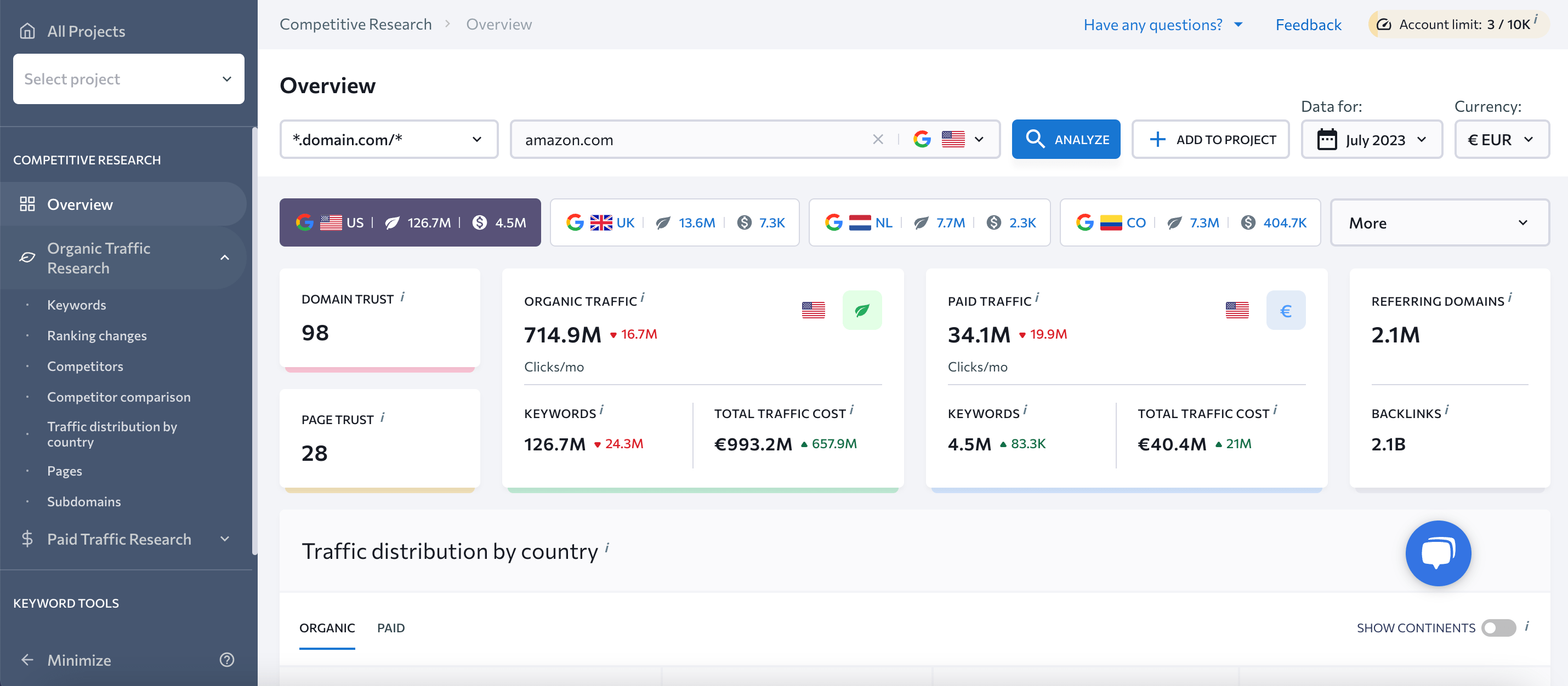 To track your backlinks' performance and identify any status changes, you can use SE Ranking's Link Monitoring feature. Links can either be imported manually from a CSV file, added from the Backlink Analyzer tool, or automatically imported from GSC. Once you've added your backlinks, the system will run parameter checks regularly and notify you of any changes via email. 
This tool also helps you:
Find out if a page with your backlink drops out of the Google index.
Define each backlink's value: its link attribute, Domain Trust, country, etc.
Checkmark backlinks for Google to disregard. It will create a ready-to-go disavow file.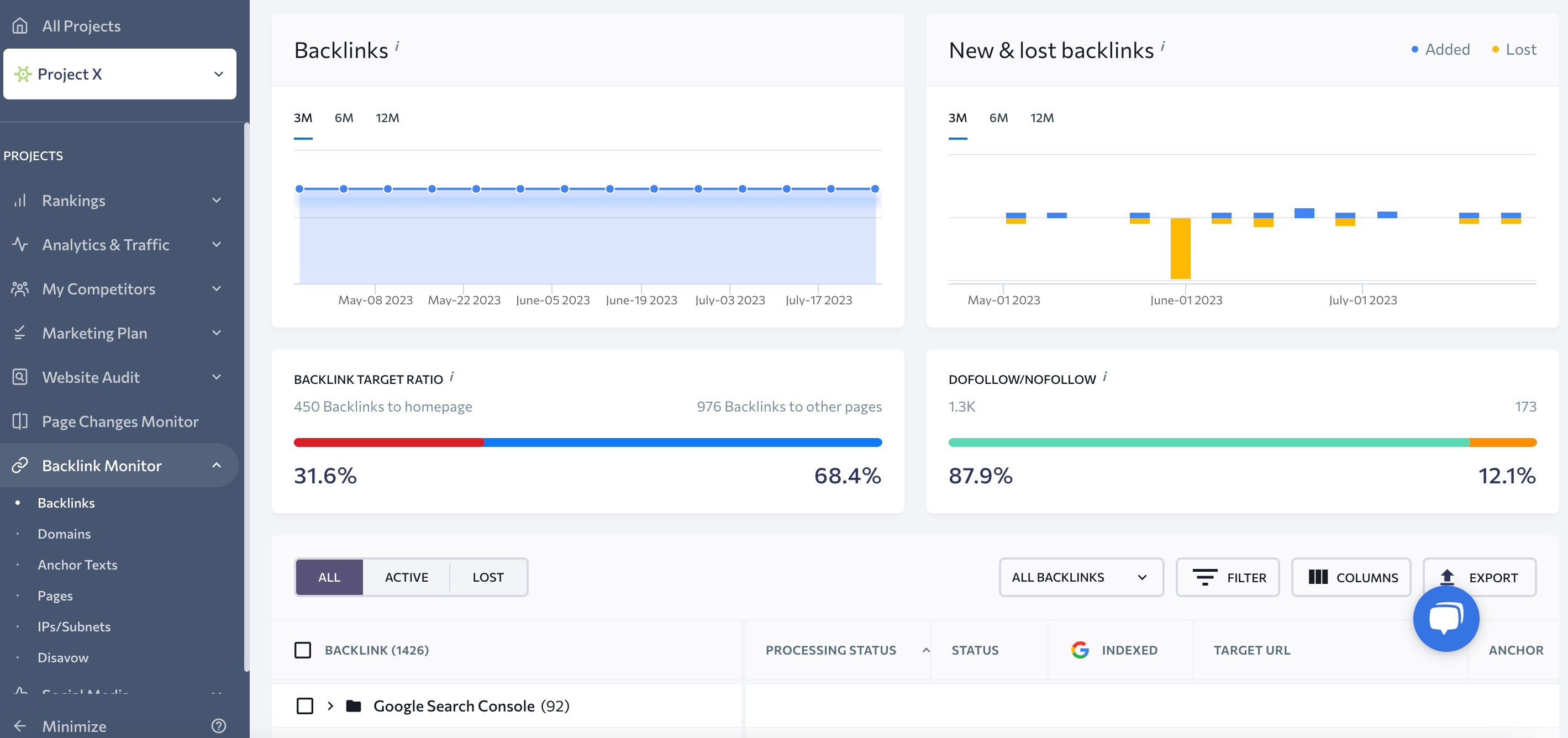 Other SEO features
In addition to SEO link building tools, SE Ranking provides a comprehensive suite of features that helps you improve your website's search engine visibility.

Here are some of SE Ranking's standout tools:
Keyword Rank Tracker: This tool helps you keep a close eye on your website's rankings for target keywords across multiple search engines, including Google, Bing, and Yahoo. You can also monitor your competitors' keyword rankings.
Keyword Research: This enables you to find and target the best keywords for your website. Use it to analyze each keyword's search volume, competition level, search intent, and trending patterns.
Website Audit: This tool helps you identify and fix technical issues that could be hindering your website's search engine visibility.
On-Page SEO Checker: This tool helps you evaluate a page and see its optimization level for a certain query. It also provides recommendations generated through AI-powered competitor analysis.
Local SEO: This tool helps local businesses reach customers in their geographic area by tracking the business's positions in local search, monitoring listings in different business directories, and checking reviews.
Content Marketing: This platform can help you create and optimize content to improve search engine visibility.
White Label: This set of features offers custom branding, meaning you can make the SE Ranking platform look like your own. The Report Builder tool allows you to create customized automated SEO reports, and its API functionality lets you integrate SE Ranking's features into your own applications.
Pricing
Every SE Ranking subscription plan grants you access to the Backlink Checker, Backlink Gap Analyzer, Backlink Monitor, Competitive Research, and tons of other advanced SEO tools. The Essential plan is intended for solo usage, but SE Ranking's Pro and Business subscriptions include 3 and 5 user seats respectively. This adds a lot of value for in-house SEO teams and agencies.
Essential ($55/month) — Analyze 50 domains per day and monitor 17,500 backlinks per account
Pro (from $109/month) — From 100 analyzable domains per day and 30,000 monitorable backlinks per account
Business (from $239/month) — From 300 analyzable domains per day and 90,000 monitorable backlinks per account
You can also get a 20% discount when you purchase any of SE Ranking's annual subscription plans.
Pros and cons
➕Powerful link building tools for SEO: These can assist you at every phase of building a backlink profile, whether its finding potential donor websites or monitoring changes in your backlinks.
➕ Comprehensive suite of SEO tools: These are all included in every pricing plan.
➕ Caters to users of all skill levels: The platform offers a user-friendly interface along with valuable tutorials and support materials.
➕ Addresses SEO agencies' needs: Its agency pack offering includes white-label, unlimited reporting, extra client seats, and a lead generation widget.
➕ Budget-friendly SEO solution: Its cost-effective pricing plans are designed to help businesses of all sizes grow and scale.
➖ Weaker crawler: SE Ranking doesn't have as powerful a crawler as some other SEO link building software.
➖ No information about external links: For example, SE Ranking doesn't show the number of external domains a site links to.
➖ Higher learning curve for some features: Some of SE Ranking's more advanced features may require learning and training to be fully utilized.
Verdict
Overall, SE Ranking provides a robust set of link building tools for SEO to help businesses improve their online visibility and attract more website traffic. SE Ranking offers detailed insights into your website's (and your competitors') backlink profiles. It also enables you to monitor any changes in your backlink profile. You can even gain access other SEO tools like Keyword Research, Rank Tracker, Content Editor, and dozens of others—all at an affordable price. These tools empower you to enhance not only Off-page but also On-Page SEO.
2. Majestic SEO
Majestic SEO is a widely known SEO tool that specializes in backlink analysis and website reputation management. Since its release in 2004, Majestic has been a go-to resource for digital marketers, SEO professionals, and website owners seeking comprehensive insights into their backlink profiles and link-building strategies.
Let's look at some of Majestic's standout features.
Majestic SEO's main link building features
Majestic's Site Explorer is a powerful tool. It helps users explore any website's backlink profile and provides detailed information about each backlink. This includes the linking domain's URLs, the anchor texts used, and the link's trustworthiness.
Majestic also lets you evaluate link building prospects. It has a unique set of features such as Trust Flow and Citation Flow scores. These two crucial metrics are used to evaluate backlink quality and quantity. Trust Flow measures the quality of a website's backlinks to determine its the trustworthiness and authority, while Citation Flow represents the number of backlinks. Both metrics help users assess the overall strength and credibility of a website's link profile.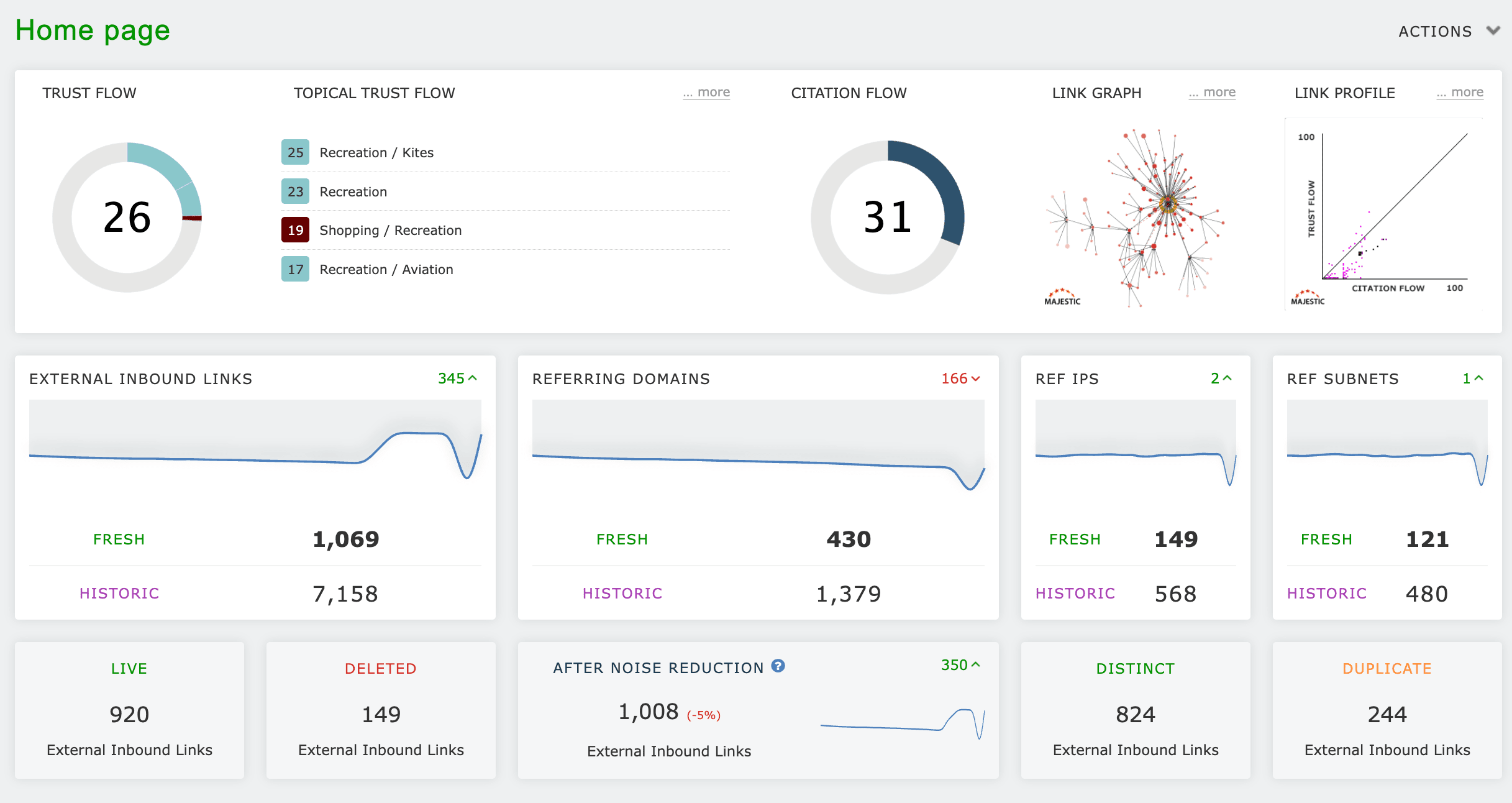 This tool breaks down the anchor texts used in backlinks and highlights the most important (aka trust flow) backlinks for a website.
Majestic's Site Explorer keeps historical backlink data so you can track the development of a website's link profile over time.
Site Explorer also lets users compare backlink profiles with their competitors,identify new link-building opportunities, and come up with strategies to outperform rivals.
The Bulk Backlink Checker lets you rapidly analyze tons of links. You can look at up to 400 URLs by pasting them or up to 1,000,000 URLs through a file upload. This tool is designed to help you check backlink and referring domain numbers quickly. It also shows the Citation and Trust flow, and the distribution of a site's topics for each URL.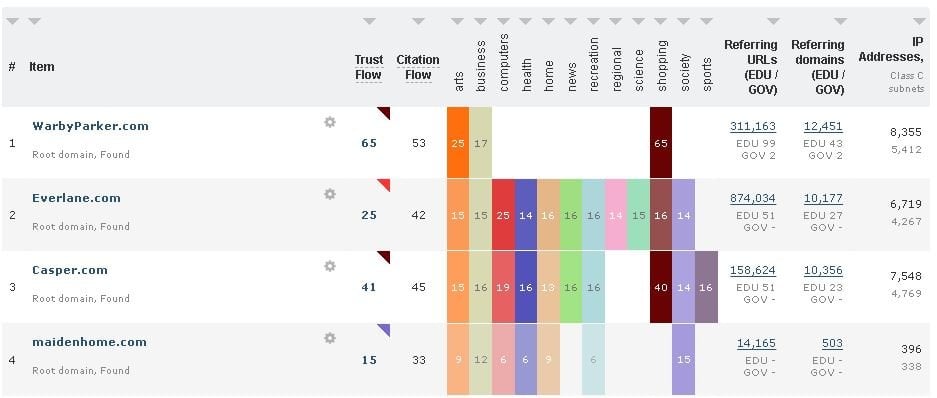 Another unique feature of this tool is Link Context. It was made to help users analyze the page and show the exact location of where the analyzed link was identified. You can easily find out if the link is closer to the top or bottom of the page. You'll also see the number of internal and external links on the page and get information like the language used, Trust and Citation Flow ratings. 
Other SEO features
Majestic has more than just link building tools. The platform also offers a Custom reports feature to present data to your clients, a Keyword Generator and Checker to generate content ideas, and many more tools.
Along with a powerful link building toolkit, Majestic has some other features to help you reach the top of the SERP.
Pricing
The standard pricing plans that Majestic SEO offers include:
Lite (from $49.99/month) — Analyze up to 1 million backlinks and get 5,000 Site Explorer data rows
Pro (from $99.99/month) — Analyze up to 20 million backlinks and get 15,000 Site Explorer data rows
API (from $399.99/month) — From 100 million analyzable backlinks and 20,000 Site Explorer data rows
Pros and cons
➕ Unique metrics like Trust and Citation Flow: These provide valuable link insights to help you assess backlink quality and quantity.
➕ Tons of useful and easy-to-read graphs: Visualize all necessary link data.
➕ In the market for nearly 20 years: Majestic has established itself as an authoritative tool. Many influential companies worldwide trust its data.
➕ The pricing plans have generous limits: This is beneficial for those who need to analyze and monitor large amounts of backlink data.
➖ Free plan offers very limited access: You must buy a subscription plan to leverage Majestic's features and data.
➖ Overwhelming for beginners: Majestic's extensive range of features and data can be difficult for those who are new to SEO.
➖ Pricing may be considered higher: Especially compared to similar SEO tools in the market.
➖ Lacks broader SEO features: Majestic is primarily focused on backlink analysis, which means it may lack some features often found in all-in-one SEO suites.
Verdict
Majestic has earned its reputation as a reliable and authoritative SEO tool, particularly for its comprehensive backlink analysis feature. Its extensive database, trust metrics, and historical data provide users with actionable insights to optimize their link-building strategies and improve their website's overall search engine visibility.
While Majestic offers valuable features, users should consider their specific needs and budget. This platform may be more suited for those focusing on in-depth backlink analysis and research.
3. Ahrefs
Ahrefs is one of the most popular tools for link building. It has a ton of link-building features to help users enhance their website's authority and organic search performance. These tools include Site Explorer, which has a Backlink Checker and Link Intersect feature.

Now, let's look at Ahrefs' key link building features in detail.
Ahrefs' main link building features
Ahrefs has an incredibly fast website crawler and a massive database with over 14 trillion links. This makes Site Explorer one of the best seo link building tools. With it, you can explore the backlink profile of any website.
In the Overview tab, you can see general data about a website. This includes domain authority, the numbers of backlinks and referring domains, and graphs showing how the site's backlinks have changed over time. 
Ahrefs' Site Explorer combines three powerful SEO tools into one interface, including the Backlink Checker. It provides real-time data on all backlinks and referring domains. You can see important metrics like domain rating, dofollow/nofollow attribute, traffic, etc. Plus, you can see all backlinks and domains that were gained or lost over time and see all the words used in anchor phrases pointing to target websites or URLs.
The Broken backlinks section helps users find referring pages that link to 404 pages on the target website. Fixing broken links is crucial for maintaining a positive user experience and enhancing search engine rankings.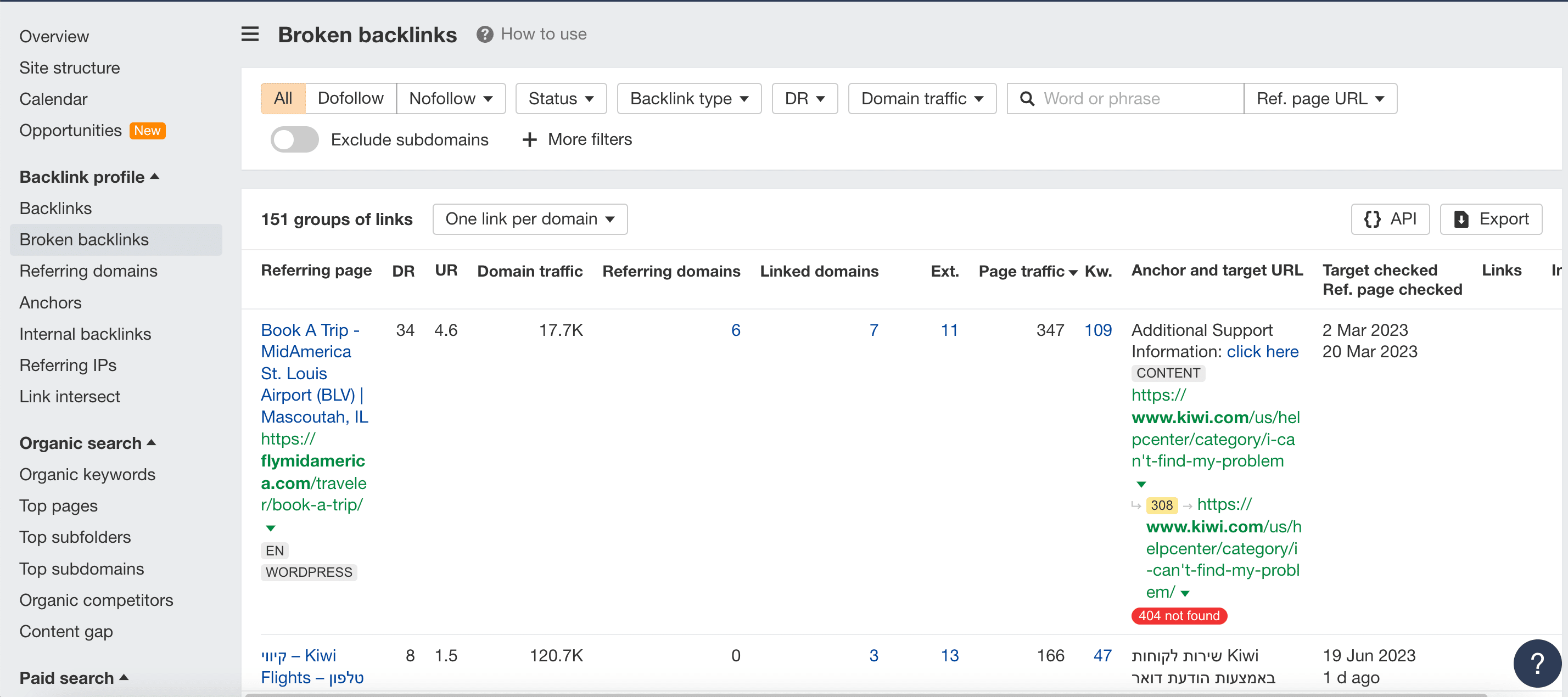 The Linked Domain section shows the different domains linked to by the website you're analyzing. This tool helps you spot irrelevant or unwanted domains and discover the outbound links your competitors have.
Finally, you can use the Link Intersect feature to see the sites linking to your competitors. This allows you to compare the backlink profiles of multiple websites and find new backlink opportunities for your off-page SEO strategy.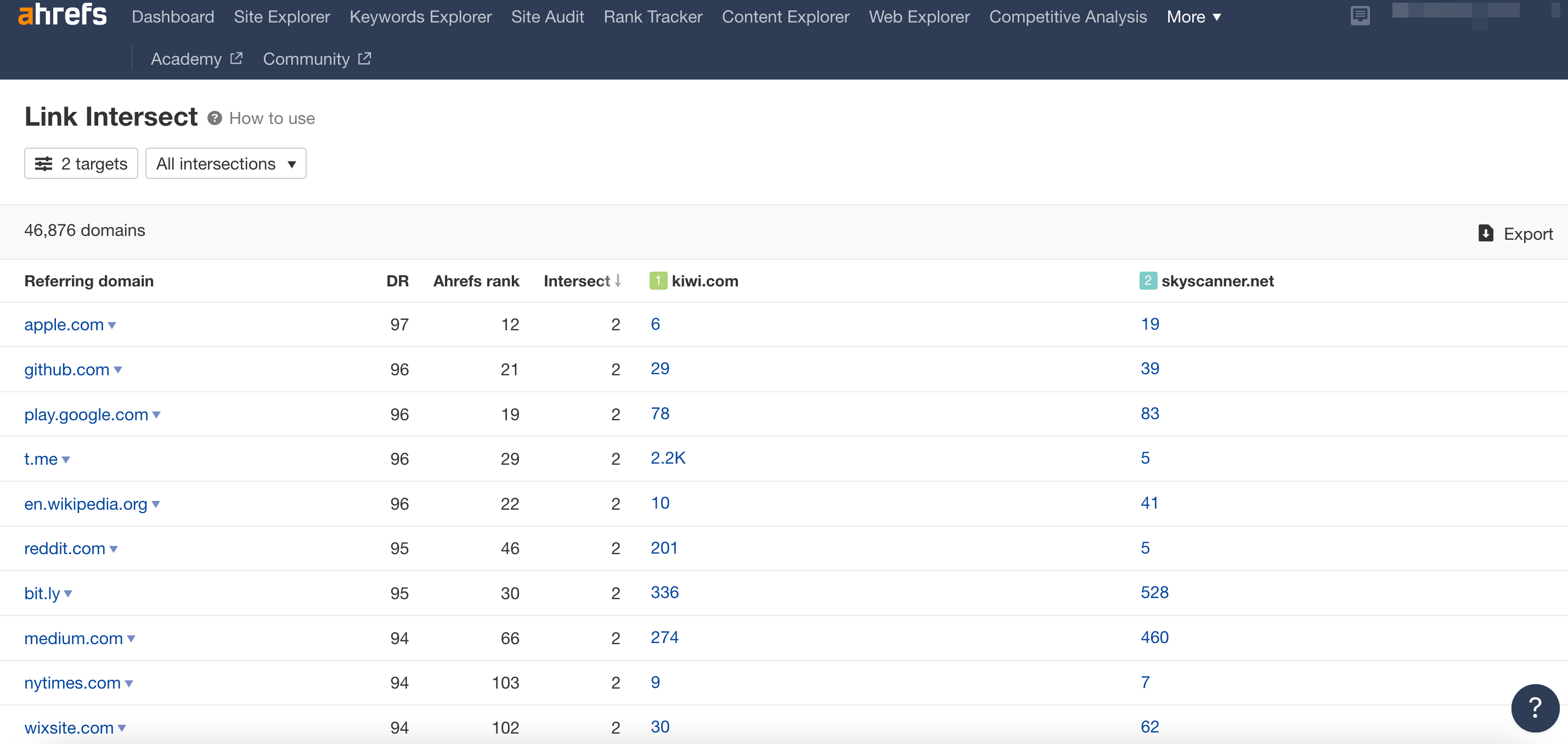 Other SEO features
In addition to Ahrefs' link building toolkit, it offers a range of other SEO features:
Keywords Explorer: Provides valuable insights into keyword search volume, difficulty, and click-through rates, and offers new keyword ideas.
Content Explorer: Identifies top-performing content in any niche based on social shares and backlinks.
Rank Tracker: Tracks your website's position in search results and analyzes keyword fluctuations to refine your SEO strategies.
Site Audit: Helps identify and fix technical SEO issues that can affect your website's search engine visibility.
Competitor Analysis: Offers insights into competitors' SEO strategies, including their top-performing content, backlink profiles, and organic keyword rankings.
Pricing
Ahrefs does not offer a free trial but offers several pricing plans: 
Lite (from $99/month)
Standard (from $199/month)
Advanced (from $399/month)
Enterprise (from $999/month)
Each pricing plan comes with one user seat and allows up to 500 monthly credits. You have to pay extra if you need more unique data requests, like backlink reports. 
Each additional user will cost you an extra $50 per month.
Pros and cons
➕ In-depth and accurate backlink analysis: This allows users to effectively understand their (and their competitors') link profiles.
➕ All-in-one SEO tool: Ahrefs can help you with every step of website optimization.
➕ Has one of the largest backlink databases: It is continuously updated with fresh data.
➕ User-friendly and intuitive interface: Despite its wealth of data and features, Ahrefs is accessible to users of all levels of expertise.
➖ Higher price tag: Ahrefs' comprehensive features are more expensive than some other SEO tools, which might be a drawback for users on a tight budget.
➖ Steeper learning curve: Due to its extensive range of features, Ahrefs may take more time to learn for beginners or those new to SEO tools.
➖ Free version provides limited access to its features: The platform also requires you to grant it full access to your website analytics. To analyze other websites and explore more comprehensive data, you need to subscribe to a paid plan.
➖ Limited number of features for the price: Agency clients especially may need to use alternative tools to cover their reporting needs.
Verdict
Ahrefs' link-building features provide comprehensive and actionable data to improve a website's link profile and search engine rankings. Whether you are an SEO professional, digital marketer, or website owner, Ahrefs provides the tools you need to build high-quality backlinks, enhance your website's authority, and drive organic traffic to your online presence. But many users say this platform is overpriced, with even the basic plan costing nearly $100/month and offering very limited features.
4. SEMrush
SEMrush is an all-in-one digital marketing platform offering a wide range of tools and features to boost online visibility, analyze competitors, and optimizer digital marketing strategies. Among its many SEO tools, SEMrush provides comprehensive backlink analysis, helping users identify high-quality linking domains and potential link-building opportunities.
SEMrush's key link building features
SEMrush's Competitor Research enables you to conduct a backlink analysis of donor websites. The tool provides necessary data on their backlink profiles, including website authority, the number of backlinks, and referring domains. While analyzing the potential referring domains, you can discover not only backlink metrics but also information on organic and paid search traffic, device and country distribution, etc. This data is presented in easy-to-read graphs and tables. This allows you to understand whether it's worth pursuing links from a specific domain.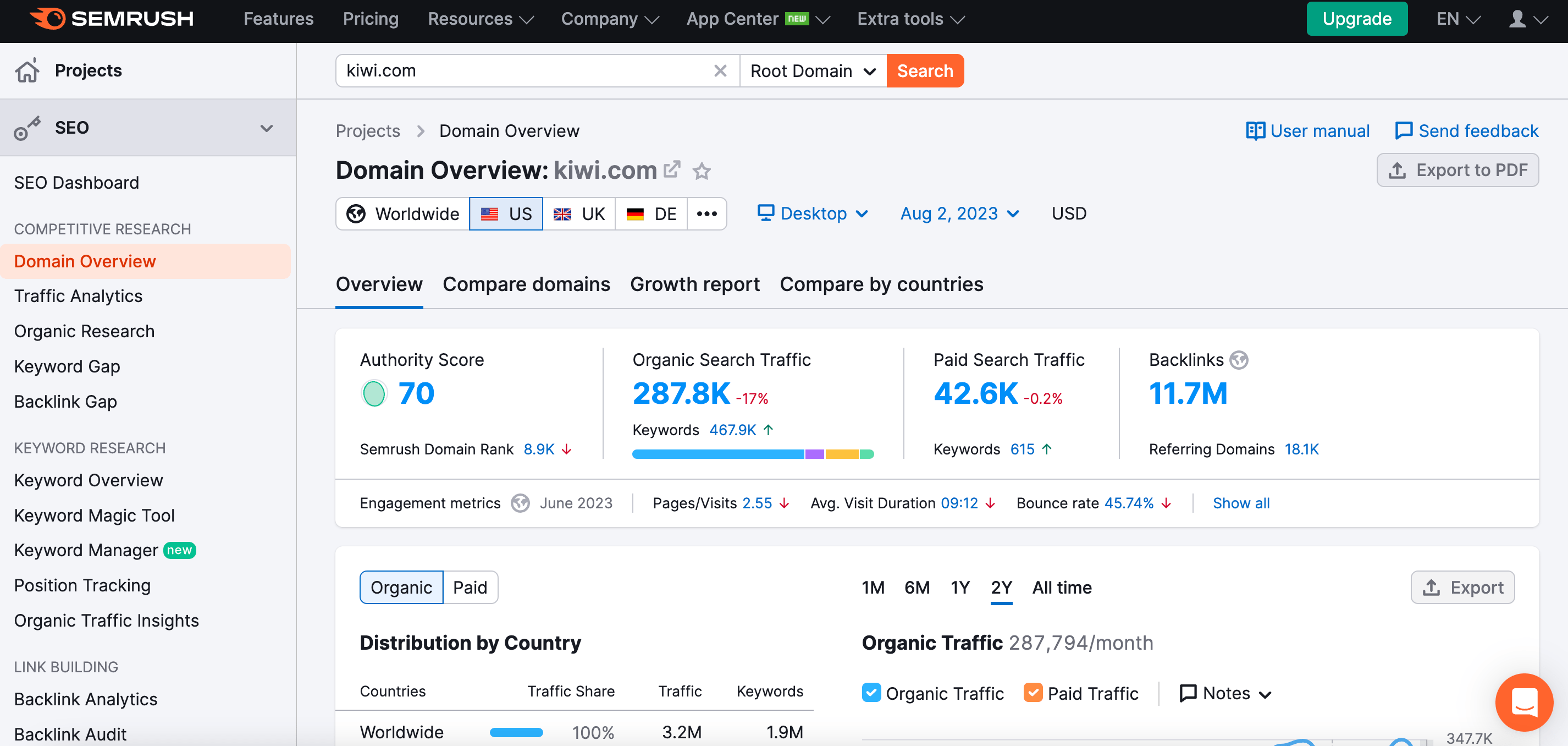 If you want to compare your link profile with your competitors, find prospects, and/or discover new domains to target, you can use the Backlink Gap feature in the Competitor Research section. SEMRush has a database of over 43 trillion backlinks, so you can identify hundreds or even thousands of link opportunities from relevant and authoritative sources.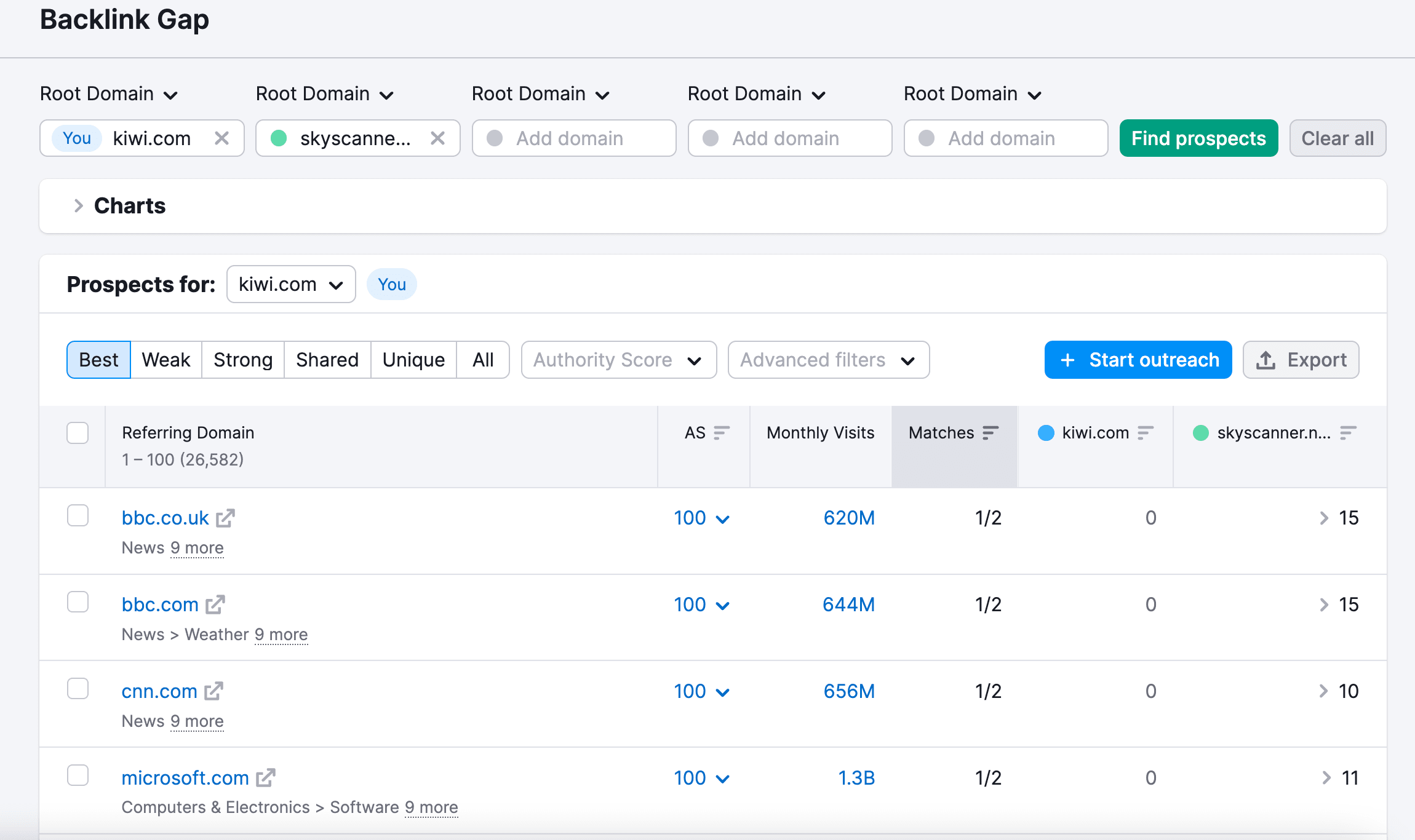 The platform's Link Building section also provides you with other essential off-page SEO tools.
SEMrush's Backlink Analytics tool provides a complete overview of a domain's backlink profile. You can explore the website's backlinks, examine the authority of its referring domains, analyze anchor text distribution, and track how the site's backlink profile evolves over time.
The Backlink Analytics tool offers essential metrics in the form of multiple graphs. Here you can see the authority score, track variations in the number of new and lost referring domains and backlinks, examine the distribution of referring domains across industries, explore different backlink types, assess link attributes, discover domains with a similar backlink profile, find the most popular website pages based on the number of referring domains, and much more.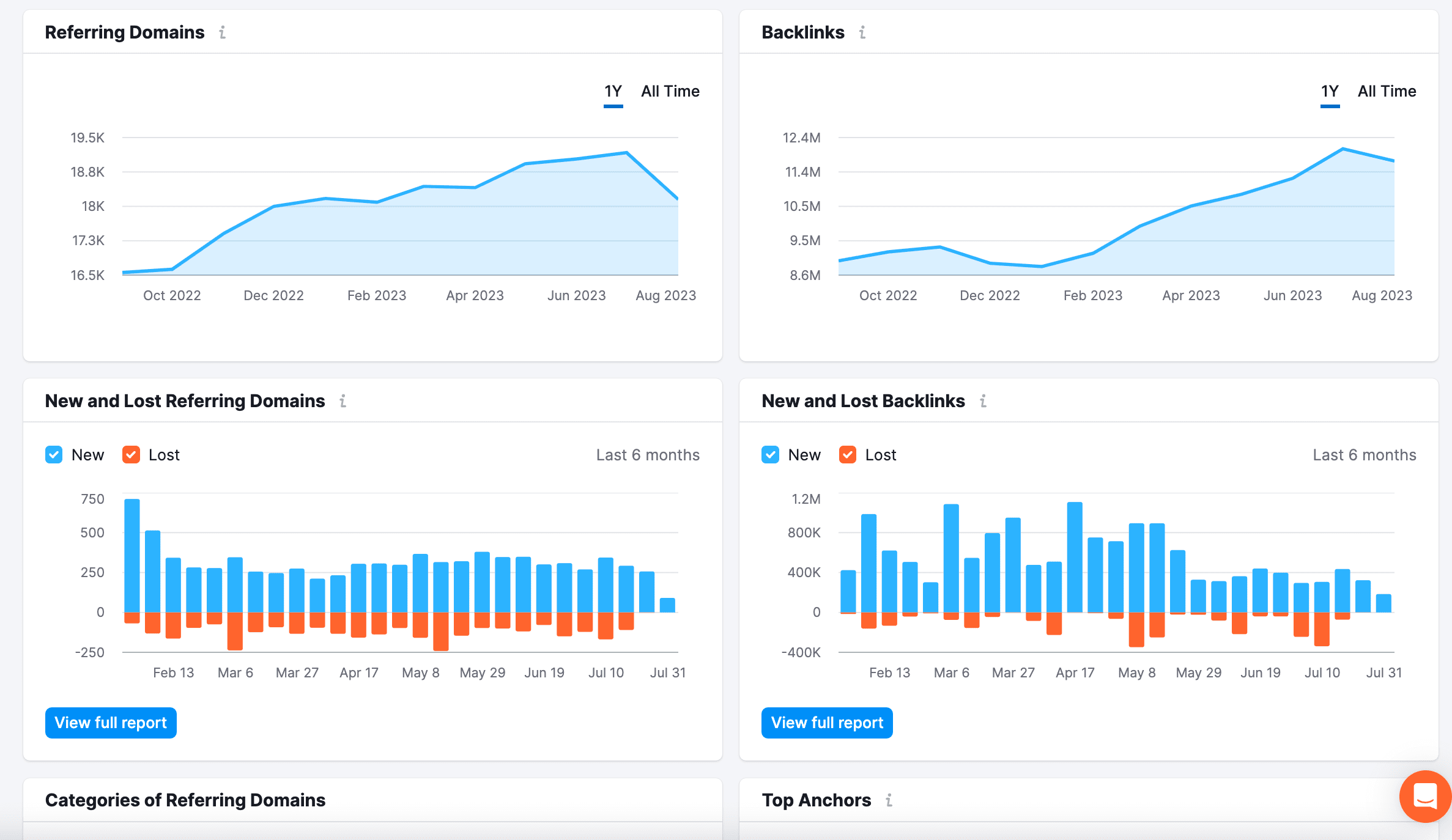 Like the previous tools in this list, SEMrush provides a complete list of backlinks, referring domains, and anchor texts. It also helps you find out which domains the analyzed website links to and which of your pages are broken.
The Backlink Audit tool is another one of SEMrush's standout link building features. It is designed to identify and manage potentially harmful or toxic backlinks. This tool scans a website's backlink profile and flags links that could have a negative impact on SEO rankings. You can review and analyze these flagged backlinks and decide whether to disavow them to maintain a healthy backlink profile. Regular backlink audits help ensure that your website's link profile remains free from harmful links that could affect your search engine rankings.

SEMrush's Link Building tool helps users discover new link prospects within their niche. It helps you find relevant websites that may be interested in linking to your content. You can quickly connect with these websites, access contact information, and social web details. And with the outreach module, you can easily send personalized messages. Once you get a backlink, you can track it using this tool.
Other SEO features
Apart from its link-building toolkit, SEMrush offers a comprehensive range of SEO features. Here are some essential SEMrush tools for various SEO tasks.
Keyword Research and Tracking: SEMrush's Keyword Magic Tool and Keyword Overview provide a wealth of keyword data, helping users discover new keyword opportunities, assess keyword difficulty, and optimize their content for better search engine rankings. You can also track your keyword rankings.
On-Page Optimization: Tools like Site Audit and On-Page SEO Checker assist in improving website and page performance by fixing page issues.
Content Tools: SEMrush provides valuable data on top-performing content, enabling users to create relevant, engaging content that resonates with their target audience.
Custom Reporting: SEMrush allows users to generate custom reports, which can be useful for presenting SEO data to clients or team members.
Pricing
SEMrush includes link building tools in all its subscription plans, along with other SEO tools. Here are the standard pricing plans:
Pro ($129.95/month) — Offers unlimited backlinks analysis and monitoring
Guru ($249.95/month) — Provides unlimited backlinks analysis and monitoring
Business ($499.95/month) — Includes unlimited backlinks analysis and monitoring
If you pay annually, you can save up to 17%.
Pros and cons
➕ Wide range of tools and features: SEMrush covers almost every aspect of SEO, including not only backlink analysis but also keyword research, competitor analysis, on-page optimization, and more.
➕ Accurate and real-time data: Particularly in areas like backlink analysis.
➕ Authoritative SEO platform: Many global brands trust and use SEMrush.
➖ Expensive pricing plans: SEMrush may cost too much for many small businesses or individuals with limited budgets.
➖ Steeper learning curve: Due to its extensive features, SEMrush may be more difficult to learn for beginners or those who are new to SEO tools.
➖ Free plan has limited access: The features and data available in SEMrush's free trial may not be sufficient for some users.
Verdict
Overall, SEMrush's comprehensive set of features and data make it one of the greater SEO tools for link building, especially for larger businesses. Its competitor analysis tools allow users to benchmark their link profiles against competitors and come up with strategies to outperform them. SEMrush also helps users in conducting backlink audits to maintain a healthy link profile by identifying and disavowing harmful links. Its Backlink Gap tool helps users discover link-building opportunities by comparing their backlink profiles to their competitors'. SEMrush's biggest setback is that it is expensive, with even the cheapest plan costing over $129 per month. This plan alone is definitely not affordable for individuals, start-ups, and small businesses.
5. SEO PowerSuite
SEO Power Suite is a powerful desktop-based Windows-only SEO link building software that offers an impressive arsenal of tools. The platform helps businesses and marketers improve their search engine rankings and optimize their online presence. It consists of four main tools: Rank Tracker, Website Auditor, SEO SpyGlass, and LinkAssistant.
Let's take a look at SEO PowerSuite's link building features.
SEO PowerSuite's main link building features
SEO SpyGlass is a powerful link-building tool with an up-to-date database containing 2.7 trillion of the newest backlinks. It also crawls 7.1 billion web pages daily. This backlink analysis tool provides an overview of your entire link profile. It provides essential metrics such as the number of backlinks, referring domains, anchor texts, and link quality indicators.
Detailed lists of all backlinks, referring domains, anchor texts and linked pages are also available within this tool. 
With this data, users can identify high-quality linking domains, understand the diversity of their backlink profiles, and analyze the overall health of their link profile.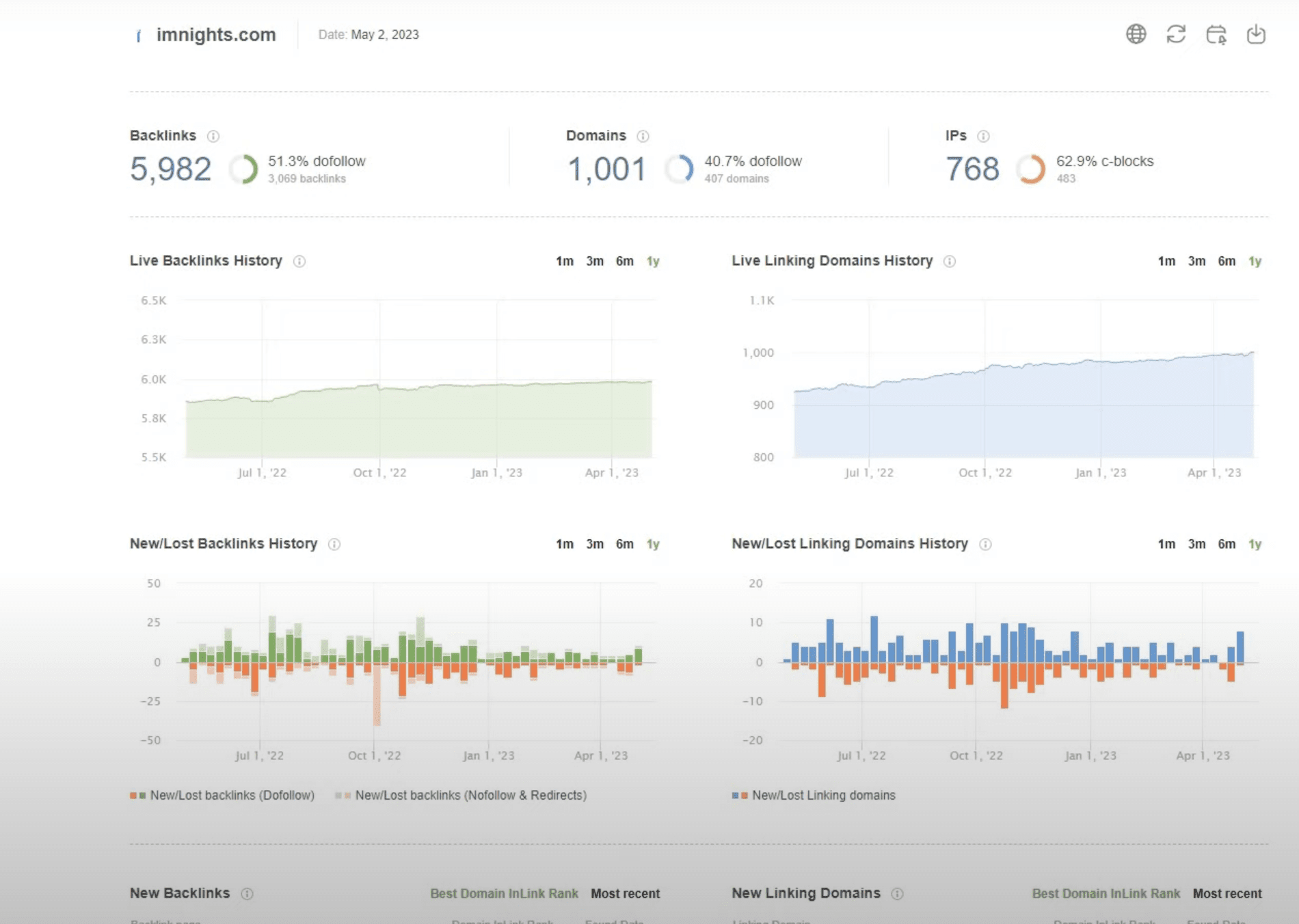 SEO SpyGlass also offers a historical view of a website's backlink profile. This feature enables users to track the growth of their link profile over time. It's useful for assessing the impact of link-building efforts, identifying sudden drops or spikes in backlinks and donor websites.
This link building software also helps users identify and remove toxic backlinks that could harm a website's search engine rankings. Users can spot low-quality or spammy backlinks and disavow them through a backlink audit, ensuring a clean and healthy link profile that adheres to search engine guidelines.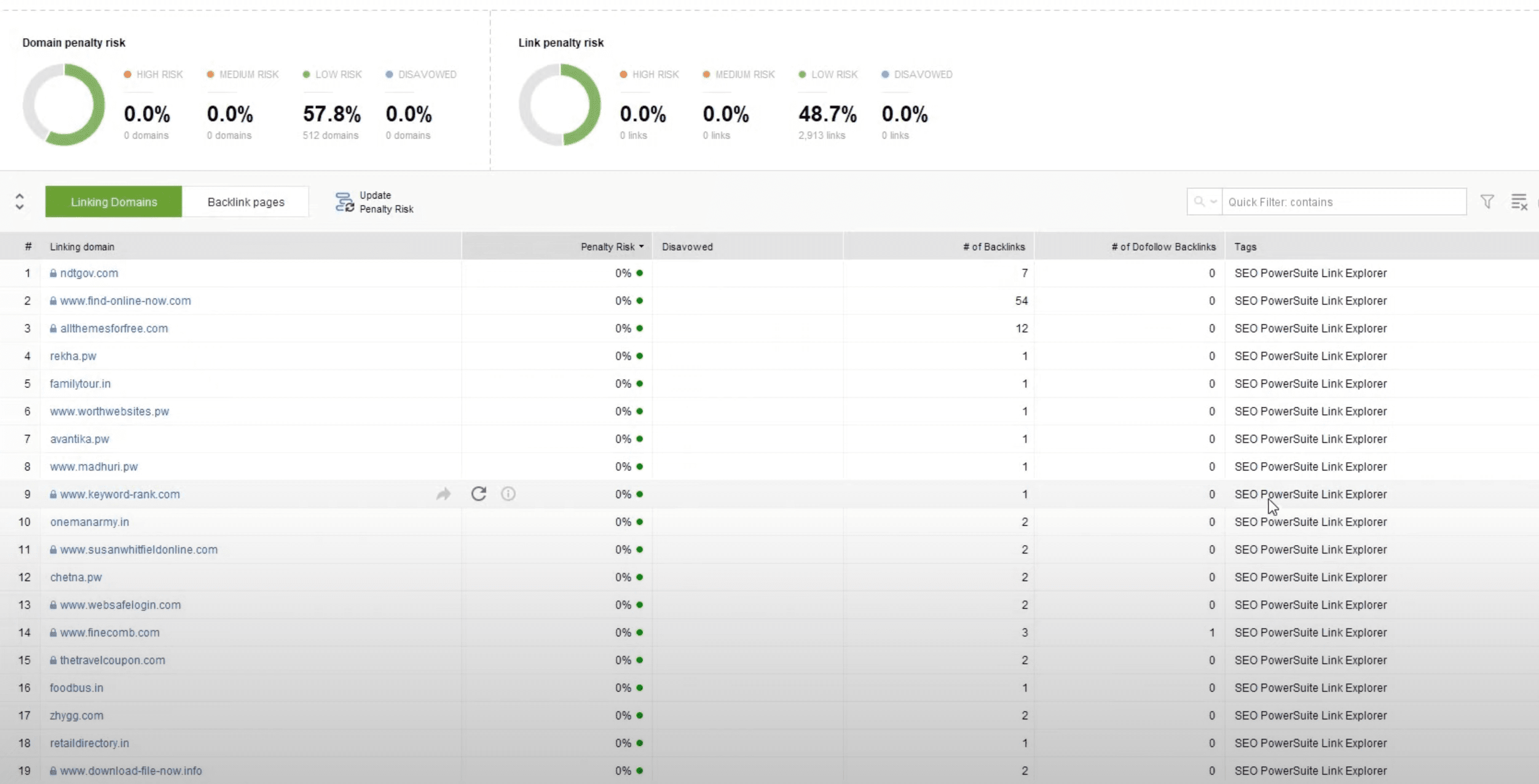 LinkAssistant, another component of SEO PowerSuite, is made for link prospecting. This tool assists users in finding potential websites and sources to acquire backlinks from. It offers multiple methods to find link-building opportunities. Users can search for these opportunities based on specific criteria, such as niche relevance, domain authority, and traffic metrics. The tool streamlines link-building campaigns, assists in finding email addresses and names for your pitch, and sends personalized email campaigns without the hassle.
Other SEO features
SEO PowerSuite offers a comprehensive suite of tools. The platform caters to various aspects of website optimization beyond just link building. Its array of features includes:
Rank Tracker: This tool enables users to track keyword rankings in search engines and monitor website performance in search results.
Website Auditor: This tool conducts thorough site audits and pinpoints technical SEO issues hindering website performance.
Keyword Research: SEO PowerSuite equips users with powerful keyword research capabilities to identify relevant and high-traffic keywords in their industry or niche.
Reports: The platform generates customizable, professional SEO reports that can be shared with clients. These reports showcase the website's performance, keyword rankings, backlink profile, and overall SEO progress.
Pricing
Unlike other SEO tools, SEO PowerSuite only offers annual plans: 
Free ($0) — Analyze up to 500 backlinks and find up to 100 backlink prospects per website
Lite ($99/year) — Analyze up to 1,100 backlinks and find up to 1,000 backlink prospects per website, designed to manage a single project.
Professional ($299/year) — Offers unlimited backlinks analysis and unlimited prospect discovery per website, allows you to manage up to 20 projects.
Enterprise ($499/year) — Offers unlimited backlinks analysis and unlimited prospect discovery per website, up to 400 projects and PDF reports.
Regardless of the number of projects, every subscription is designed for a single user. PowerSuite does not let you purchase additional user seats, meaning you will have to purchase a separate subscription for each team member. 
At the same time, SEO PowerSuite is the only link building software on our list with a lifetime free version.
But this version's greatest drawback is that reported data can't be saved or exported.
Pros and cons
➕ Can be used without an internet connection: SEO PowerSuite is desktop based, making it convenient for SEOs on the go.
➕ Free version: This plan is suitable for SEO beginners.
➕ Affordable pricing policy: SEO PowerSuite offers annual plans starting from $99, whereas some other SEO platforms may charge this exact amount for just one month of usage.
➖ Licenses are typically limited to a single device: This might be too limiting for users who work on multiple computers.
➖May not provide real-time data updates: This could be a disadvantage for users who require up-to-the-minute information.
➖ Thin link quality assessment: Some users have noted that SEO PowerSuite's link quality assessment is not as robust as other dedicated SEO link building tools.
Verdict
SEO PowerSuite's link building features comprise a robust set of tools for analyzing backlink profiles, monitoring link growth, removing harmful links, and discovering new link-building opportunities. These features, combined with the other tools offered by SEO PowerSuite, make this platform a valuable asset for any business or marketer. This tool is a great option if you're serious about enhancing your website's authority, search engine rankings, and online visibility. The big advantage of this tool is its price and free version.
6. Linkody
Linkody is a powerful, user-friendly SEO tool designed to help businesses and website owners improve the way they manage and track their backlinks. With its focus on link building and monitoring, Linkody provides valuable insights and data that help users improve their online presence.
Linkody's main link building features
Linkody's Backlink Tracker allows users to closely monitor their backlink profile. It continuously tracks backlinks and provides real-time data on every found and added link. Anchor texts, spam score, Google index status, domain authority, nofollow/dofollow attributes, IP of the referring domain, and other information can be found here. If any backlink updates affect your website's link profile, you'll receive an email notification within 24 hours.
You can also compare this data to data from your added competitors.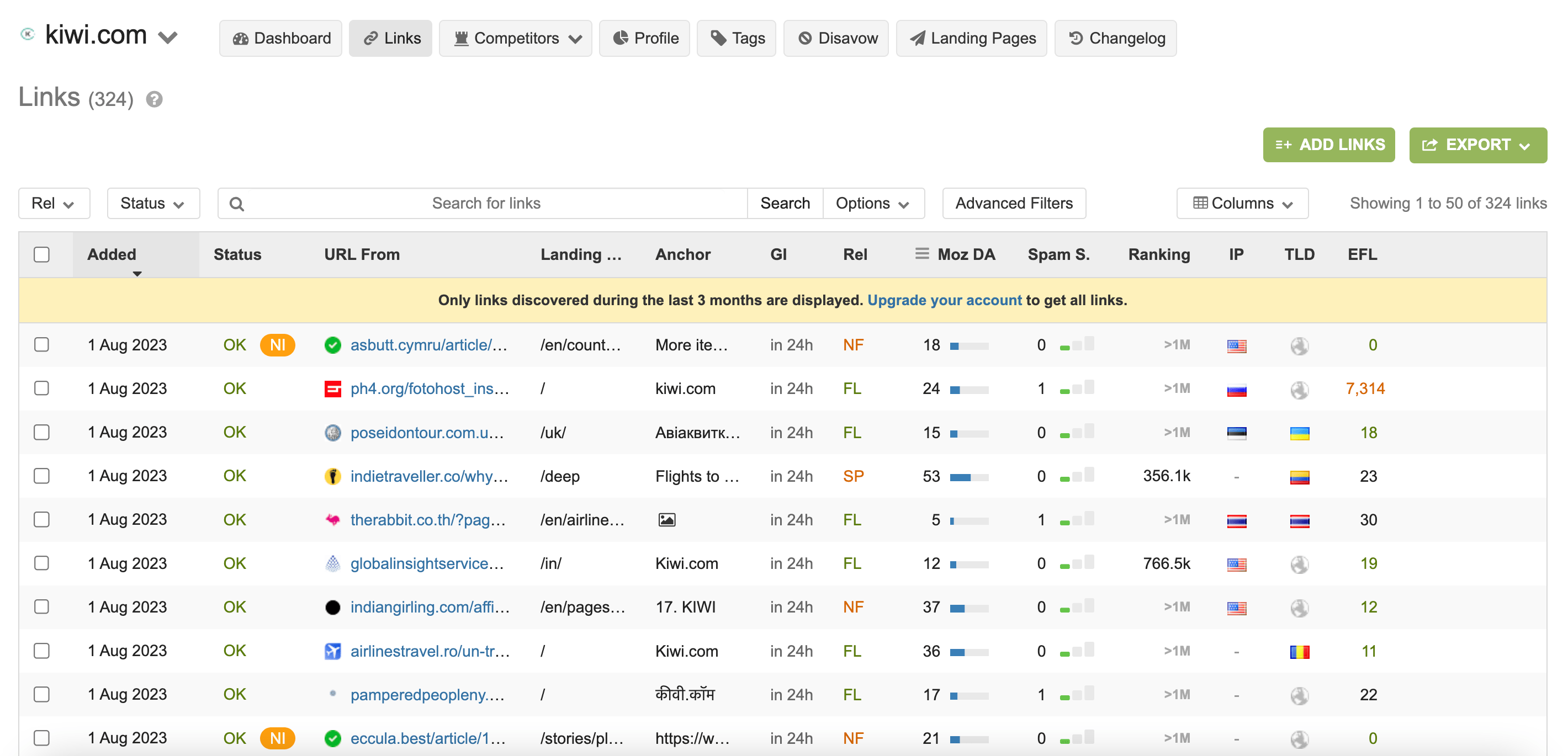 Linkody even has a disavow tool that allows users to identify and disavow unwanted backlinks, protecting their site's SEO integrity. You can also manage your disavow rules directly from Linkody.
Backlink Checker is another Linkody tool that enables you to analyze any domain's backlink profile right on the landing page. It's a free tool, and the maximum number of referring domains you can analyze per site is 100 (note that this is not enough to represent the whole backlink profile). The tool provides site metrics like domain authority score, the number of backlinks and referring domains, unique IPs, etc. The list below shows the backlinks of an analyzed domain next to its essential link data, including domain rating, referring page, anchor text, and dofollow/nofollow attributes.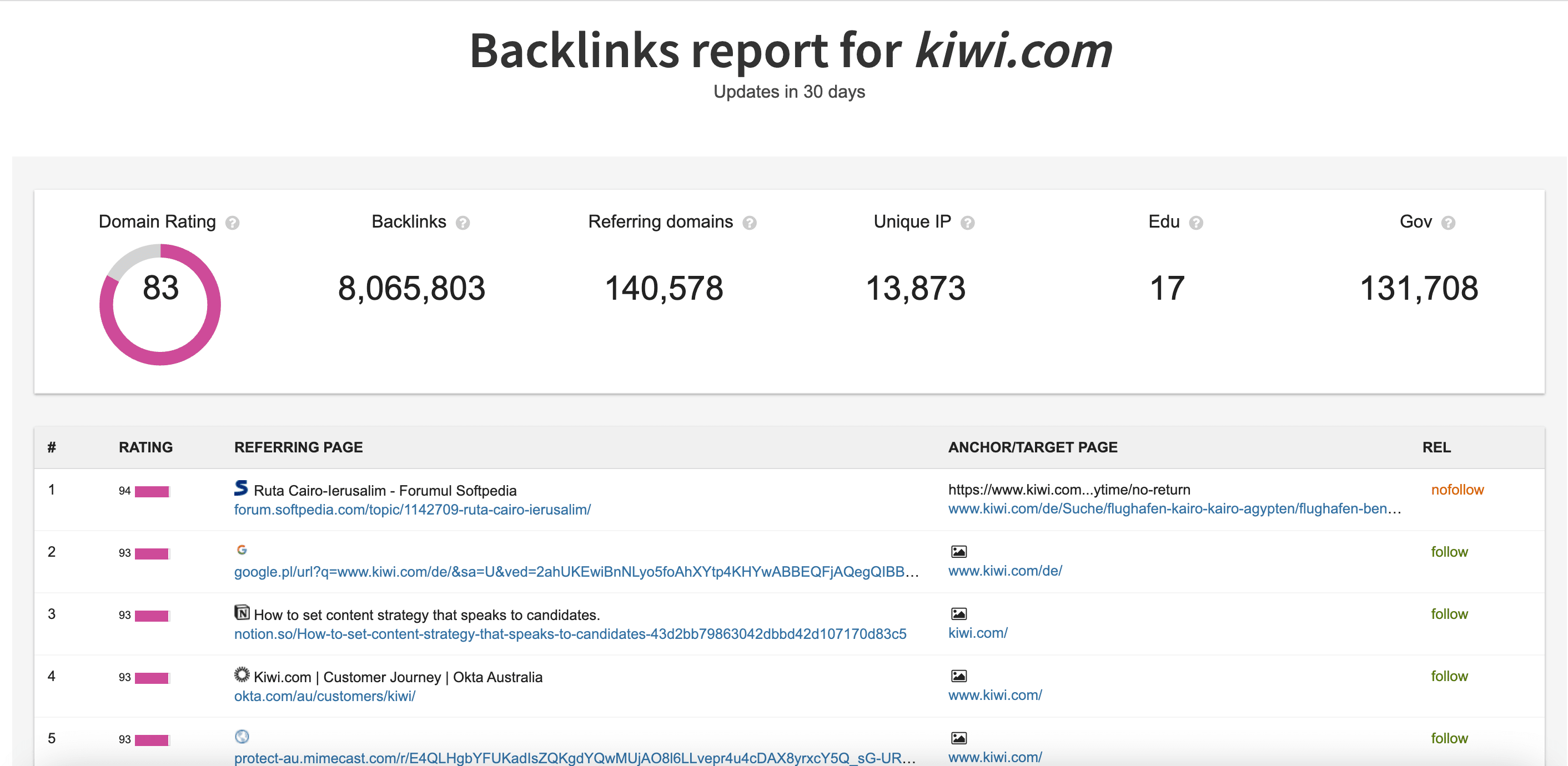 Linkody's free Website Authority Checker shows you how authoritative any website is based on Moz and Majestic scores:
Domain Authority by Moz calculates site authority based on the number of and quality of links.
Trust Flow by Majestic calculates site authority based on the quality of links.
Citation Flow by Majestic measures how many backlinks a website has.

These metrics help SEOs navigate the backlink landscape, and they depend on multiple factors. But on a fundamental level, the more authority a website has, the higher it will rank on search engines.
Linkody's Website Spam Score Checker helps you check your website's risk of being penalized by Google. The score shows if your website has potentially harmful backlinks.
The higher the spam score, the greater likelihood that your website will be penalized. If your website receives a penalty, it will lose most or all of its organic traffic. This is why it's crucial to maintain a low spam score to avoid receiving a penalty.

Pricing
With Linkody, you pay for a single Backlink Tracker tool. Their subscription plans are as follows:
Webmaster ($14.90/month) — Analyze 2 domains and monitor up to 500 backlinks per account
Advanced ($24.90/month) — Analyze 5 domains and monitor up to 2,000 backlinks per account
Pro ($49.90/month) — Analyze 20 domains and monitor up to 5,000 backlinks per account
Agency ($99.90/month) — Analyze 50 domains and monitor up to 20,000 backlinks per account
Agency XL ($153.90/month) — Analyze 100 domains and monitor up to 50,000 backlinks per account
Linkody's Webmaster and Advanced plans come with only 1 user. It's Pro plan can be used by 3 people, and its Agency plan supports 5 user accounts at once. The Agency XL plan is designed for larger teams with up to 10 users.
If you purchase Linkody's annual subscription plan, you'll get 3 months free.
Pros and cons
➕ Suite of powerful tools: For every stage of the creation of a robust backlink profile.
➕ Affordable tool: Its entry pricing plan starts at only $14.90 per month—lower than its competitors. Additionally, it offers a range of pricing plans tailored to users' different needs.
➕ 30-day free trial period: This allows users to experience the tool's functionalities before committing to a paid subscription.
➖ Limited feature set: While Linkody is a reliable tool for backlink checking and monitoring, it has fewer comprehensive features compared to some other all-in-one SEO suites available on the market.
➖ Interface could be more user-friendly: While Linkody is generally easy-to-use, some users may find the interface to be less intuitive compared to other SEO tools.
➖ Higher learning curve: For users who are new to backlink monitoring, it may require time and patience to fully understand all the features and maximize the tool's potential.
Verdict
Linkody is a valuable tool for backlink monitoring and management, especially for businesses and professionals focused on link building and SEO performance. If you're looking for an easy-to-use, inexpensive backlink checker and monitoring tool, Linkody is a worthy contender. It may not be the most powerful tool out there, but it is capable of presenting the most useful information in an understandable form.
7. Moz Pro
Moz Pro is a popular SEO tool that offers various features to support users in their link building efforts. It provides a range of functionalities, including Link Research to analyze backlink profiles, Link Intersect to find backlink gaps, and Link Tracking to monitor citations.
Here's how Moz Pro assists with link building:
Moz Pro's main link building features
The Link Research tool by Moz Pro allows users to explore their website's backlink profile inside and out. This versatile tool measures your backlinks, identifies your most valuable pages, highlights linking domains, and pinpoints anchor text data, all to help you build high-quality links so you can compete and thrive better online. Just like some of the other best link building software on this list, Moz Pro allows you to analyze lost and gained backlinks, look at their attributes, see domain authority scores, and track metrics like the number of inbound links and referring domains.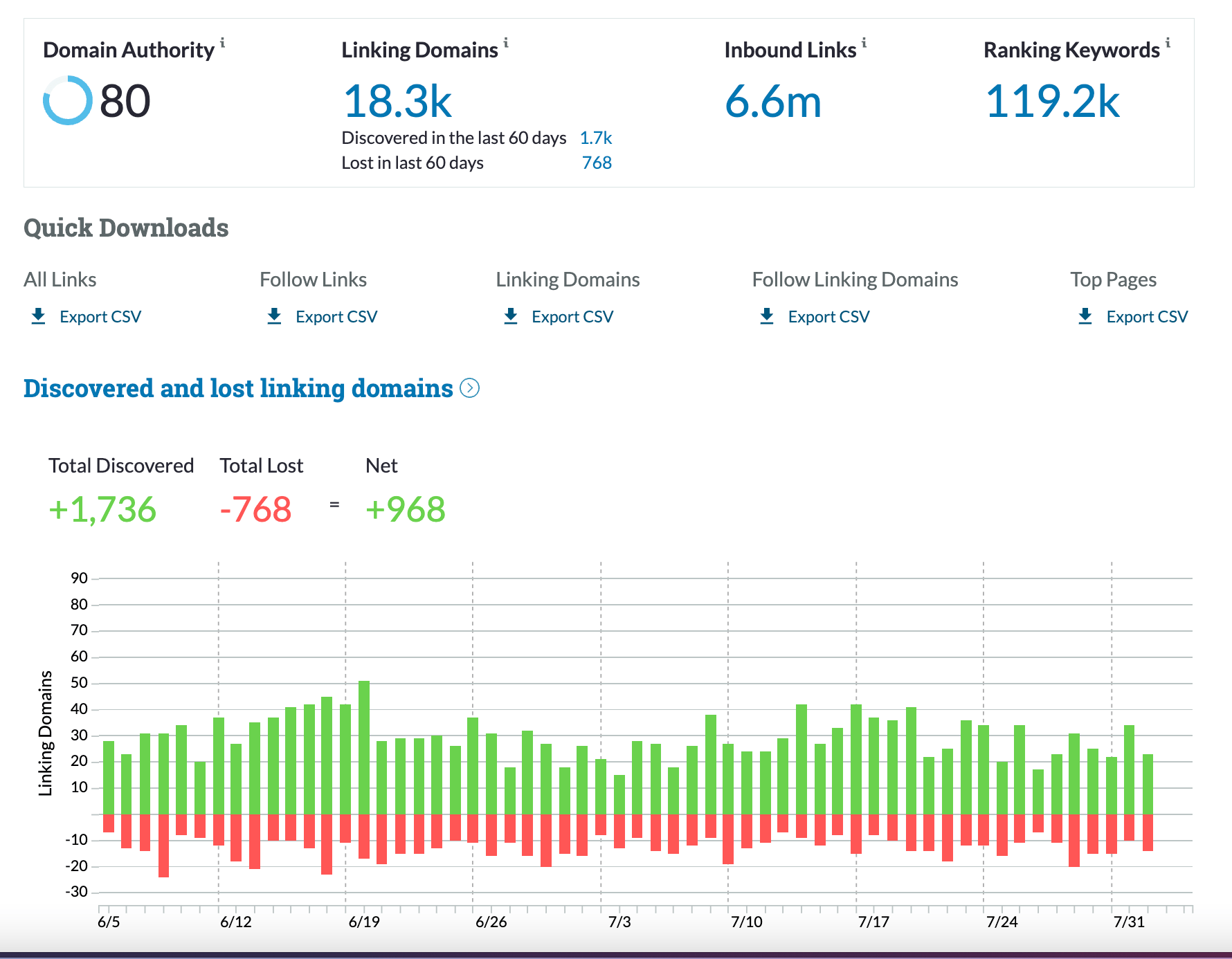 Here you can find a list of backlinks, top anchors, and linking domains, complete with all the essential metrics.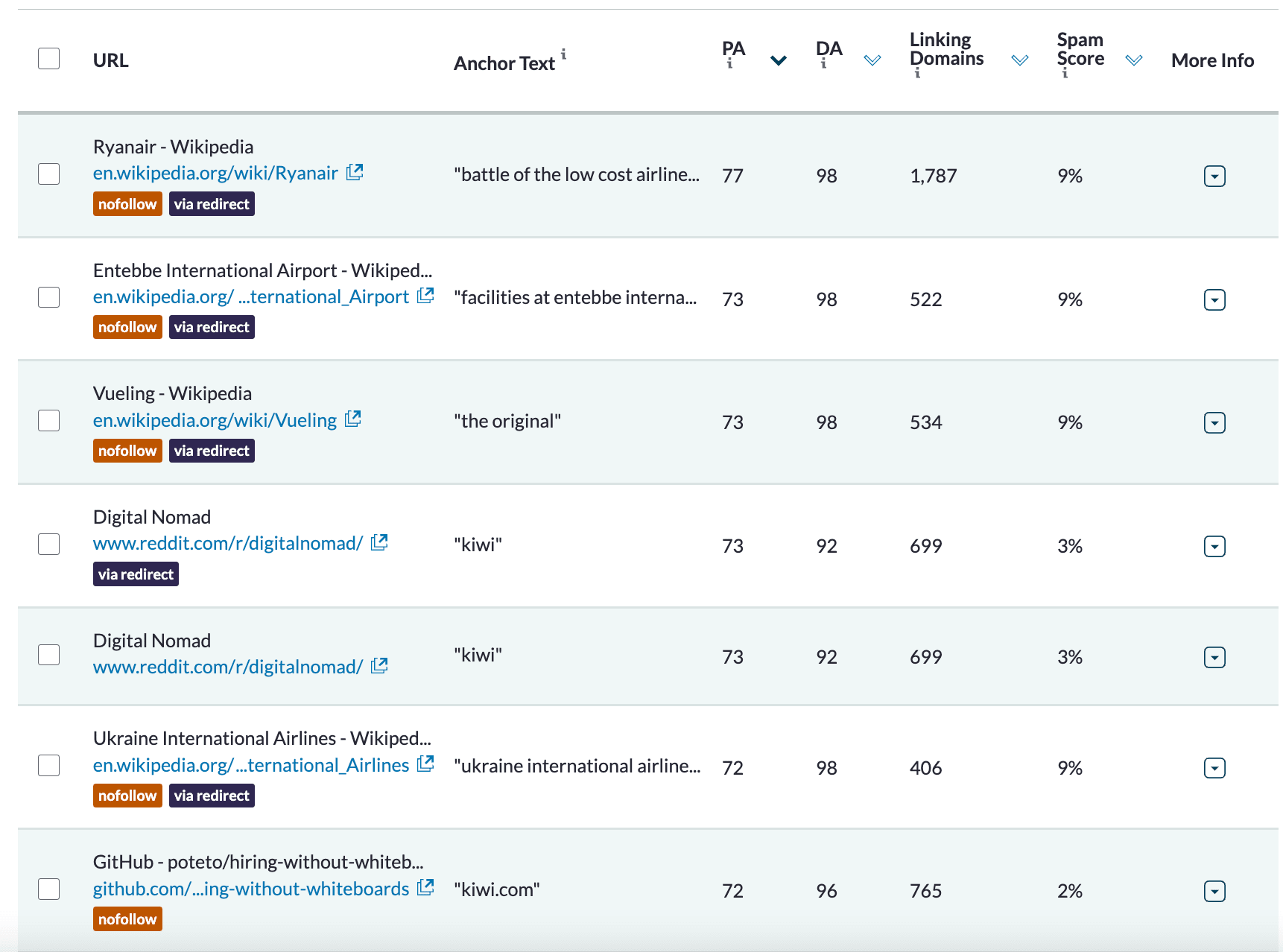 Moz Pro goes the extra mile by providing a Spam Score for each backlink. This score indicates the likelihood that the link could be considered spammy or low-quality. This helps you assess the potential risk associated with specific backlinks so you can make more informed decisions, including whether to disavow them to maintain a healthy link profile.
The Compare Link Profiles feature allows you to construct a more strategic approach to link building. With it, you can compare your link profile metrics to those of your top four competitors.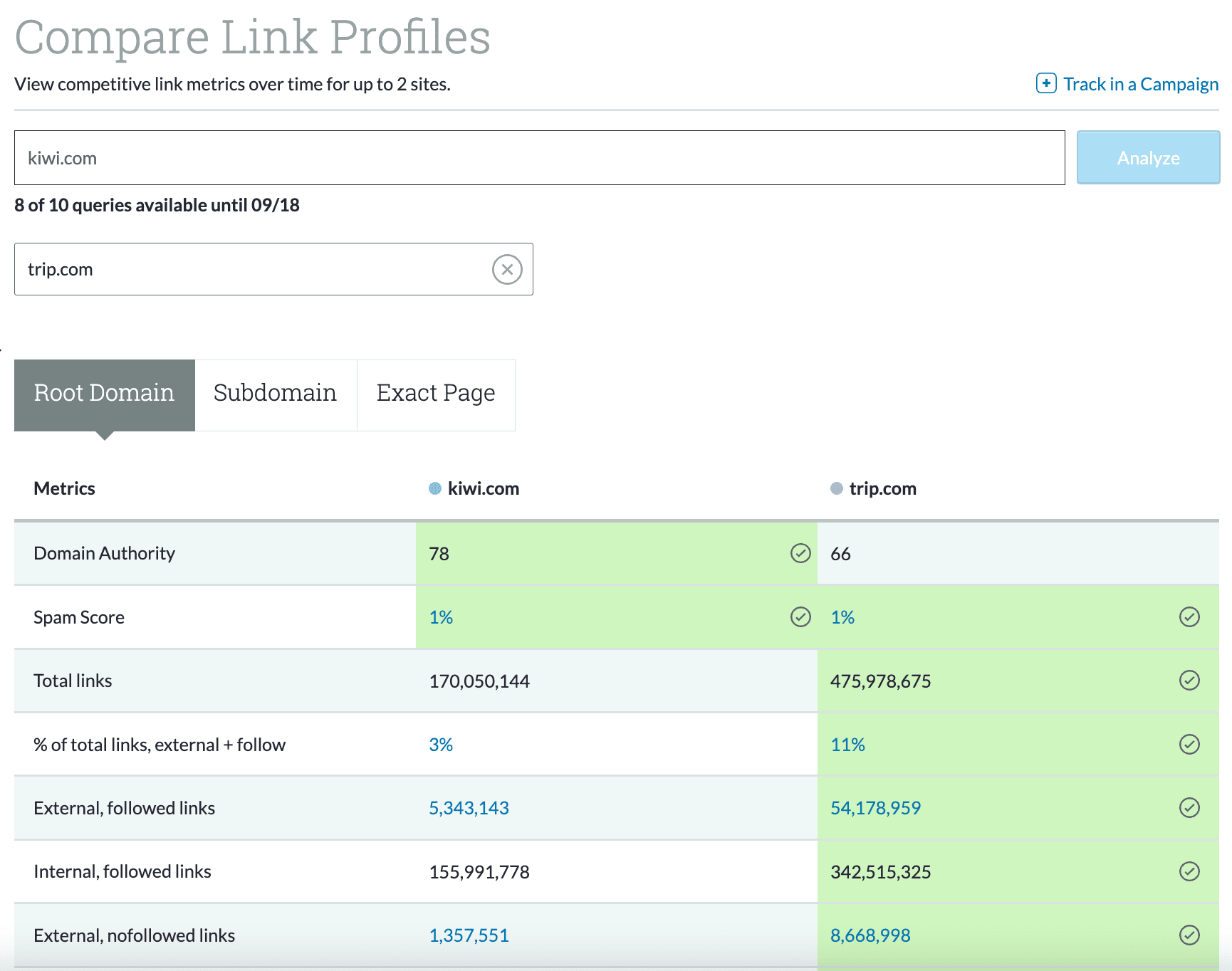 Moz Pro's Link Intersect feature enables you to compare your website's backlink profile with your competitors' link profiles. By identifying websites that link to competitors but not to your website, you can uncover valuable link-building opportunities and potential partnerships.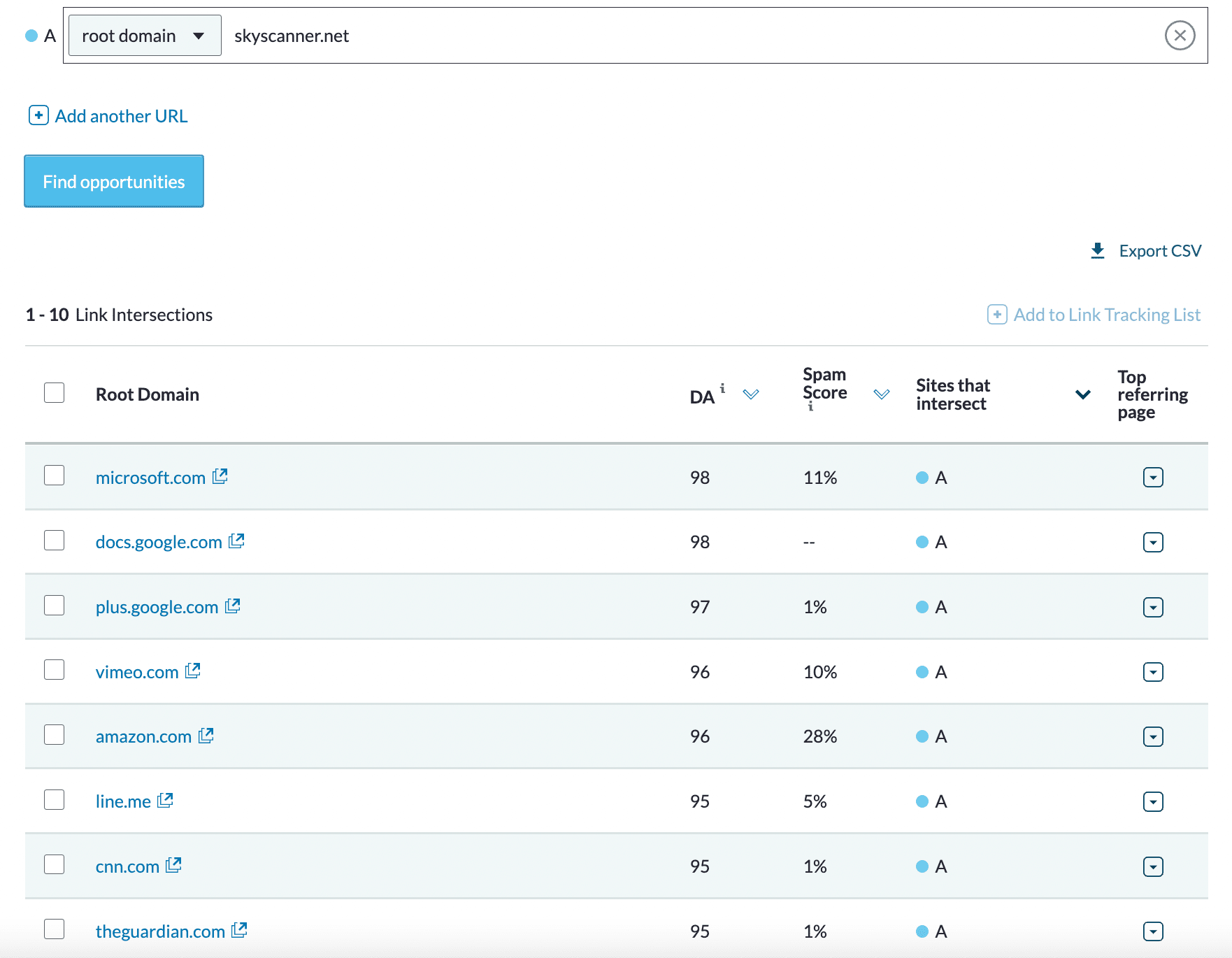 With the Link Tracking Lists, you can track link acquisition progress, identify gained or lost backlinks, and assess the impact of link-building efforts on a website's search engine rankings. Create multiple lists with the target URLs you plan to build links to, add link prospects, and then find out when and how they linked to your target URLs.
Other SEO features
Moz offers a comprehensive set of features that cater to various aspects of search engine optimization, including:
Keyword Research: Moz allows users to find relevant and high-performing keywords for their SEO and content marketing strategies.
SEO Audit: Moz assists in identifying a website's technical SEO issues, such as broken links, duplicate content, and crawlability problems.
Rank Tracking: Moz monitors keyword rankings in search engines over time, allowing users to track their website's performance in search results.
On-Page Optimization: Moz provides recommendations to help users optimize their website content and meta tags for better search engine visibility.
Pricing
The standard pricing plans that Moz Pro offers include:
Standard ($99/month) — Analyze up to 5,000 backlinks per month and track up to 100 backlinks
Medium ($179/month) — Analyze up to 20,000 backlinks per month and track up to 15,000 backlinks
Large ($299/month) — Analyze up to 70,000 backlinks per month and track up to 45,000 backlinks
Premium ($599/month) — Analyze up to 100,000 backlinks per month and track up to 100,000 backlinks
By opting for the annual payment plan, you can save 20%.
Pros and cons
➕Active community and extensive learning resources: This includes blog posts, webinars, and guides. Moz keeps users updated on the latest SEO trends and best practices.
➕ Reliable and up-to-date data: Moz is particularly praised for its accurate keyword ranking and backlink analysis data, both of which are crucial for making informed SEO decisions.
➕ Wide range of tools and features: Moz covers various SEO aspects, including keyword research, link analysis, site auditing, and rank tracking.
➖Outdated interface: Especially compared to other SEO platforms.
➖Expensive pricing plans: This isn't ideal for small businesses or individuals with limited budgets.
➖Limited access for users on lower-tier plans: Some of the more advanced features and data insights are available only on higher-tier plans.
➖Steeper learning curve: For beginners and those new to SEO, Moz's extensive range of tools and features may take some time to learn.
➖Underwhelming backlink index: While Moz's backlink analysis is valuable, its backlink index might be smaller than some other specialized backlink analysis tools.
Verdict
Moz Pro's link building features provide valuable insights and tools. Moz helps users develop a robust backlink profile, enhance website authority, and improve search engine rankings. These functionalities make Moz Pro a valuable asset for SEO professionals or businesses seeking to boost their online visibility through effective link building. On the other hand, its pricing plans are unsuitable for small businesses, freelancers and beginners.
Breaking it all down
Link building is a key part of effective search engine optimization for websites. The good news is that there are a plethora of SEO tools designed for this purpose. These tools make the process faster and more efficient. While some tools offer similar features, others come with unique modules. Their pricing policies also vary, with some software providers targeting bigger companies with high marketing budgets. Others offer more flexible subscription plans to suit small and medium-sized businesses. 
Before selecting the best link building tool for your campaigns, consider the following factors:
Database size
Unique modules
Pricing
User-friendliness of the interface
The right tool for you ultimately depends on your specific goals, budget, and level of expertise. SEO PowerSuite, for one, is an excellent link building platform for newbies and startups with a limited budget. Ahrefs and SEMrush are ideal for companies with larger budgets seeking a reliable all-in-one tool. Majestic is suitable for users with a larger volume of link-building data. SE Ranking is perfect for those who seek a balance between quality data, advanced tools, and budget-friendly pricing. SE Ranking also caters to both in-house SEOs and agencies. Linkody is tailored for those exclusively focused on link building activities. And finally, Moz Pro is a valuable choice for enhancing your link building strategy while learning the ins and outs of SEO.