Historical data: The long-awaited Competitive Research and Keyword Research tool update
A single update to the Competitive Research and Keyword Research tools opened up dozens of new opportunities for working with data in SE Ranking. We are referring to historical data. Now, all you need is a few clicks to pull valuable historical data on domains and keywords, and analyze it for previous months, going back to February 2020.
Historical data is an integral part of any niche analysis. It makes it possible to see what the playing field was like in the past, how it evolved and what could have affected it. But let's look at everything in order.
Note that historical data is available to Pro and Business subscribers only. Learn more about account limits.
How to access historical data
Historical data can be found in the Competitive Research and Keyword Research tools. Everything is pretty straightforward here: enter a domain or a keyword that you want to analyze and select the country. Note that historical data is not available for URLs, so make sure to select the Domain (with subdomains) option from the drop-down list. But don't worry, we plan on improving the feature in the near future.

Let's say you selected a domain for analysis. By default, you can see organic and paid domain traffic data here for the current month. But now—drumroll please—you can view any domain's keyword history, their organic and paid rankings for any previous month going back to February 2020.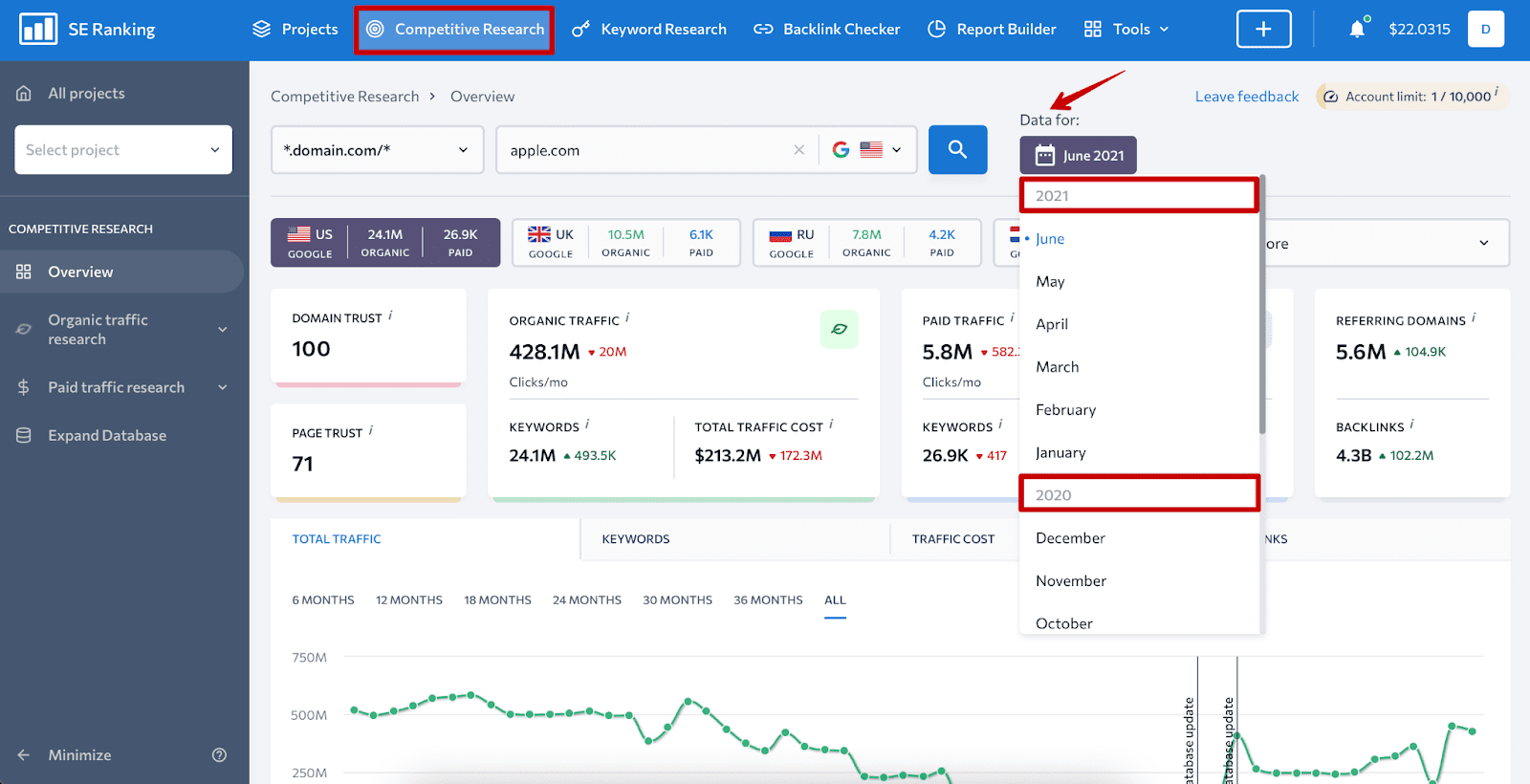 As soon as you select a month to view data for, all of the available information on the page will be updated to display traffic data for the selected time period. Please note that all data jumps and drops are shown in comparison to the previous month. So, if you select to view data for August 2020, it will be compared to July 2020.
How to make use of historical data
Let's consider several examples of situations where historical data can be very helpful for your projects.
Competitor and overall niche analysis
Say you want to analyze a competitor's search engine promotion strategy in detail to understand what specific steps they took to get to where they are today. Of course, analyzing data for the current month alone just won't do the trick.
So, enter that competitor's domain into the Competitive Research tool and go to the Organic traffic research section. There you will see that your competitor had a surge in traffic in June 2020.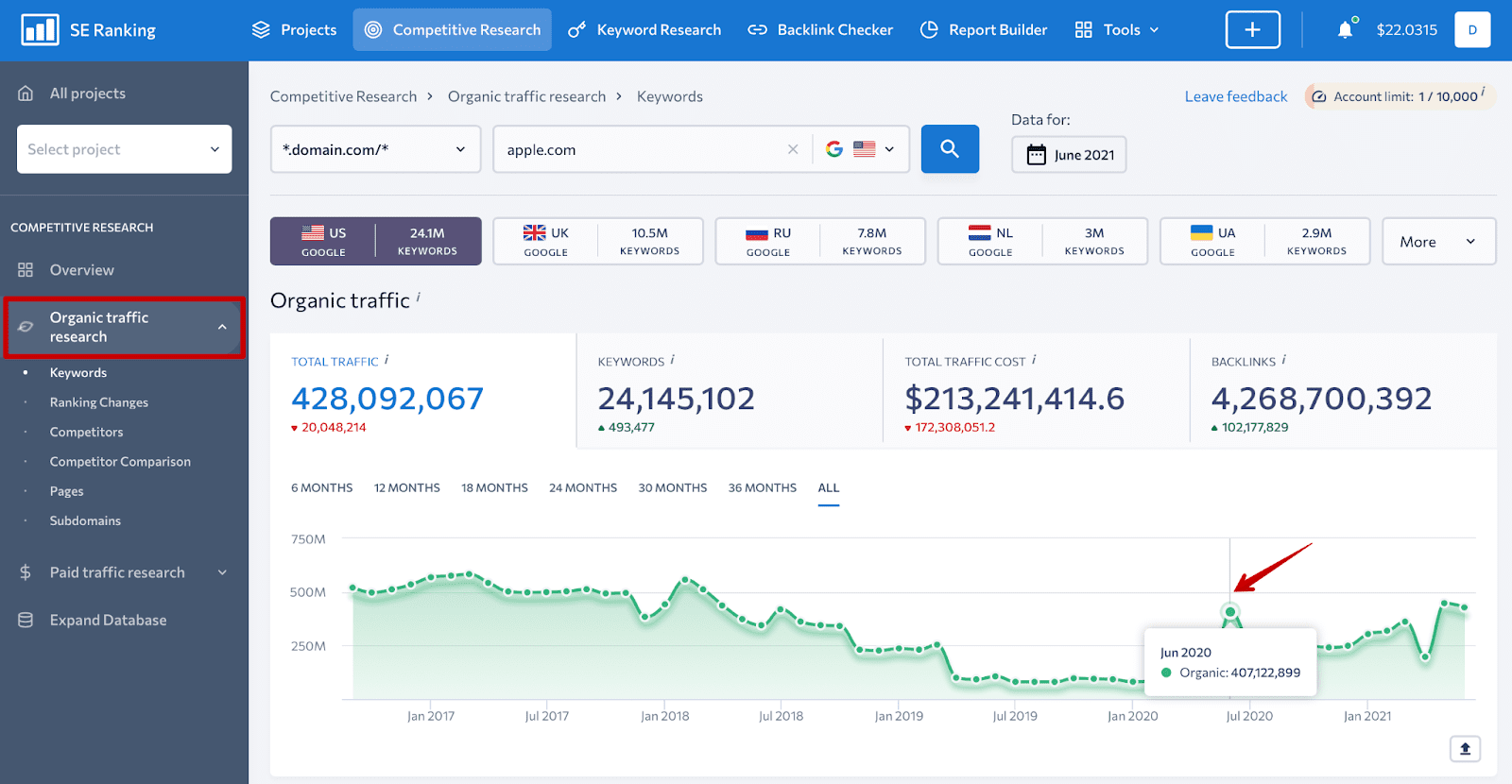 Next, select June 2020 from the drop-down calendar menu at the top of the screen, and the service will populate the page with domain traffic data for the selected time period.
This is where all the real fun starts as you begin the in-depth analysis. To do this, go to the Ranking Changes section and make use of quick filters to see only the necessary keywords, like all those who have increased their ranking position, for example. You are also welcome to sort table data by columns like difficulty, position, search volume, CPC, ads competition, traffic, and cost.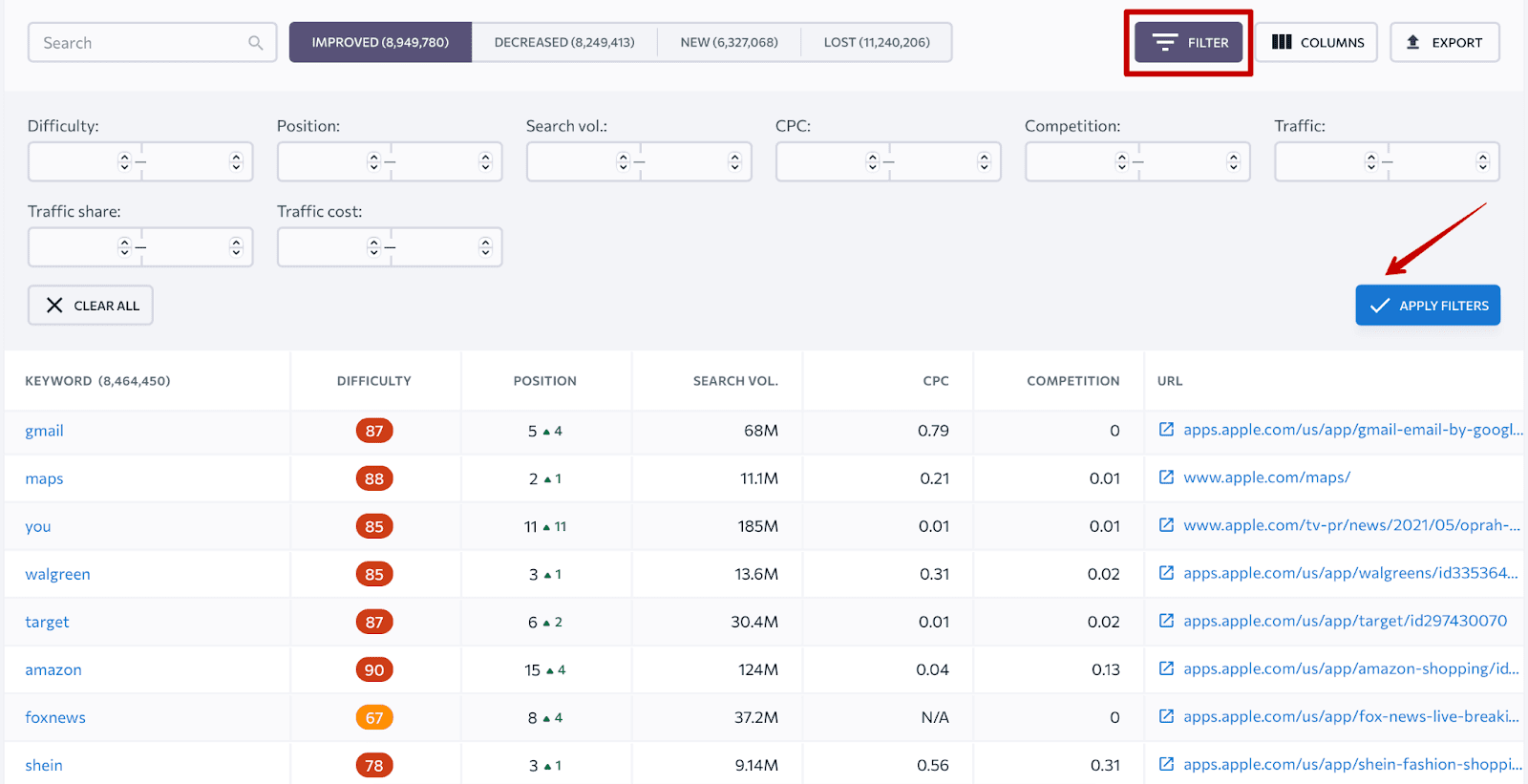 This will allow you to see keywords with the most significant impact on the site's traffic growth.
On top of that, you can also find out what page of the analyzed domain was ranking for a specific keyword during the selected time period. Let's say you want to get more data on the keyword "maps".

Click on this keyword in the table and you will be redirected to the Keyword Research tool. Under the Organic Results section here, you will see the top 100 websites that were ranking for the analyzed keyword in June 2020.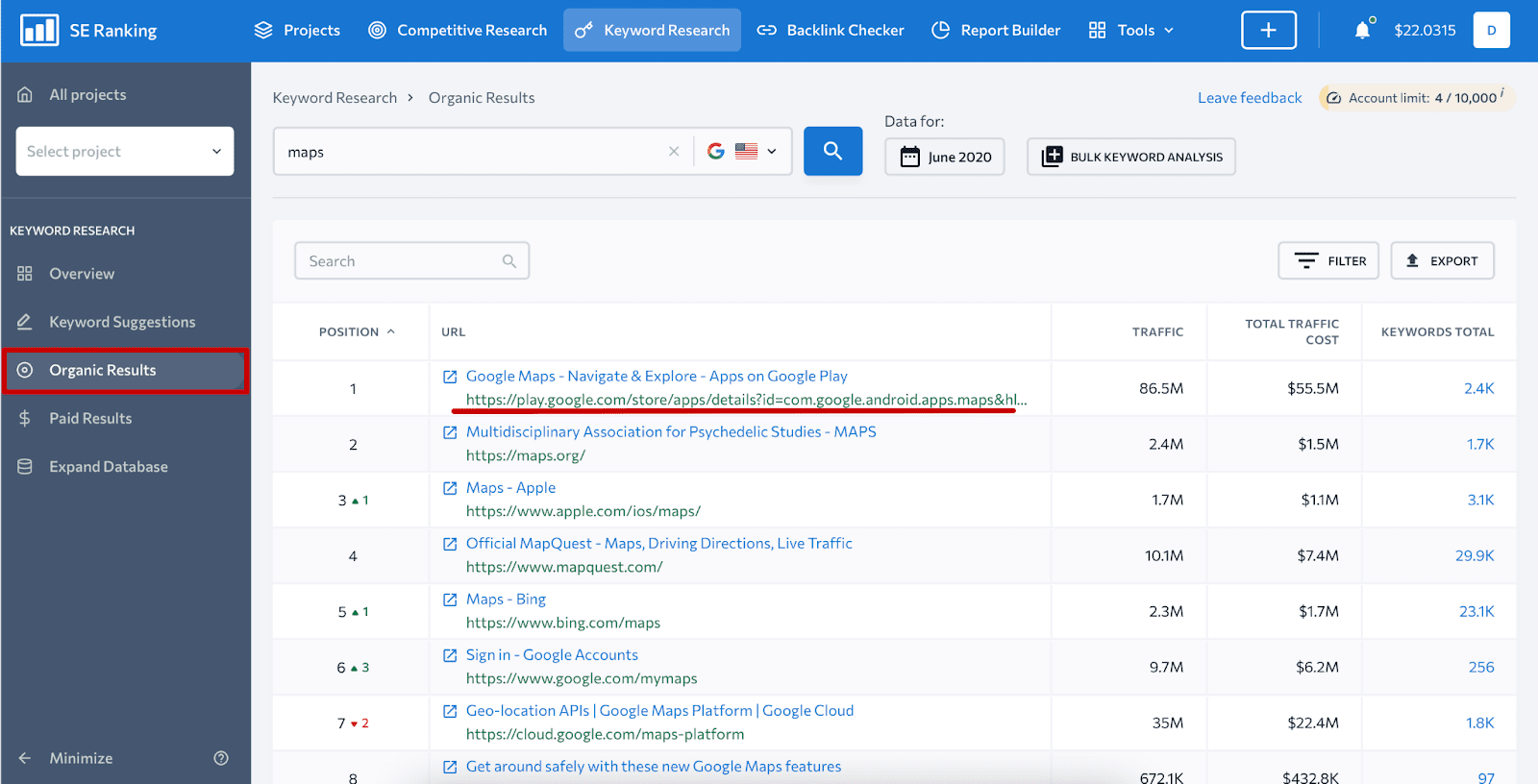 If you want to find out what was happening to other niche players, like when a specific site saw growth, go back to the Competitive Research tool and continue the analysis. Under Competitors, you can analyze any rival site's activities in closer detail.
At the moment, the Competitor Comparison section only shows data for the current month. But you can still view historical data separately for each competitor.
Under the Pages and Subdomains sections, you can see which pages or subdomains drove the most traffic to the site during the selected period.
With the help of the Paid traffic research section, you can get insights on your competitor's paid search activities. Analyzing Ads History allows you to get a good understanding of a rival's paid ad campaign strategy, and what copy was used in the ads to drive results.
If you want to compare data for a longer period of time, like a year, you can export data for each month and put it all together into a single Excel sheet. We are working hard on a new method that will make it easier for you to analyze a lot of data. In the meantime, we'd be happy to get your feedback on the historical data feature. Plus, we will also add an API in the future to allow you to automate the process of creating complex summary tables.
You can analyze any niche by following this logic. This will be especially useful for highly-volatile niches where data changes rather quickly and where it's important to understand the dynamics.
We have put together a how-to video to show you how to use historical data in the Competitive Research and Keyword Research tools.
We'd love to hear your suggestions on how else the historical data feature can benefit businesses. Be sure to share your thoughts in the comments and we'll update this list.
Getting started on a new project
Another example of how historical data can be used would be when you start working with a website that's new to you but has been up for a while. In such cases, you usually don't have the data to know what's been going on in the past, but our 'time machine' sheds light on what worked and what didn't, allowing you to zoom in on any previous month post February 2020.
This sort of thing can happen when a new SEO expert becomes responsible for a website or when digital agencies get new customers with existing sites. You won't be surprised to discover that you aren't usually able to get your hands on any data that will let you know exactly what went down. But by using historical domain data, you can go back in time month-by-month to see what promo strategy the analyzed website used: what worked and what didn't work in the past, how was content developed, what keyword groups had positive ranking dynamics, was there a drop in a single or multiple segments, did Google drop a new update or were there manual penalties. The list goes on and on, and everything really depends on the SEO expert's and the project's goals.
Analyzing ranking changes together with backlinks can produce very actionable insights, allowing you to paint an even clearer picture of the analyzed site. For such cases, our Backlink Checker tool is at your service.

Backlink Checker helps find all the backlinks of any domain and analyze each one against over 15 parameters. The tool works perfectly for auditing the backlinks of any domain, including that of your competitors.
For a comprehensive project analysis, it will be very useful to run an SEO tech audit of a domain using the Website Audit tool.
Discovering and fixing every technical issue will allow you to start working on promoting a new site.
Organic SERP History
A new section called Organic SERP History has been added to the Keyword Research tool.
Here you can conveniently perform a month-by-month analysis of the keyword ranking dynamics of the websites ranking among the top 100 search results, going back to February 2020.
To start working with the new section, you first need to enter a keyword you are interested in into the Keyword Research tool's search bar and then select a region. Next, use the left-hand sidebar to navigate to the Organic SERP History section where you will see a graph of the ranking dynamics of the websites that rank among the top 5 search results for the analyzed keyword.
By the way, you can manually add any website ranking among the top 100 search results to the graph by putting a checkmark next to it in the table below. Take a closer look at the new section in this short video.
So, what can the new Organic SERP History section help you do?
Study any keyword's SERP landscape, find out how stable it is in terms of players and track the ranking dynamics of competing sites for any period;


Analyze the SERP against previous periods and discover how it has changed across time: which sites were ranking at the top, which new ones made their way into the SERP, as well as which ones were unable to withstand the competition and dropped out of the SERP completely;


Identify the main competitors that have managed to hold onto their spots in the search results for a long time, and compare data for different months to find out how their traffic was distributed;


Track which sites had sharp jumps in rankings and when;


Select several websites and see how their rankings have changed for the analyzed keyword;


Discover pages that have helped competitors rank at the top of the SERP for a keyword that you are interested in.
We have gone through the main features of the Organic SERP History section, but I'm sure you will find other ways to make the most of it. Be sure to share your thoughts on how this update helps you manage your and your clients' projects.
Key benefits of SE Ranking's historical data
View historical data for domains or keywords, even if you have not previously created a project in SE Ranking;
Get historical data on organic and paid traffic;
Access historical data in a matter of seconds, but large domains may have to wait longer. We are working on optimizing the process.
Who can access historical data
Historical data is available under the new Pro and Business subscription plans. But note that everyone on the Pro plan can only access historical data for three previous months. Business plan subscribers have full access to the feature.
We hope you will find this new feature very useful and are looking forward to hearing your thoughts! Be sure to check out the historical data feature and let us know in the comments what we can do to make it even better.