Sign up for our newsletters and digests to get news, expert articles, and tips on SEO
Thank you for subscribing!
Running a website takes a lot of effort, much more effort than it seems from the outside. User-friendly design and quality content are just the tip of the iceberg: there are loads of processes running in the background. And while SEO specialists are not in charge of the coding stuff, they should keep an eye on all of the processes that add up to the website's SEO success. And this translates into running a website audit regularly.
A website audit allows you to discover issues that are preventing your website from getting higher rankings. At the same time, fixing every single detected error may be really time-consuming and not quite worth the effort. A more efficient strategy would be to first understand how your website can benefit from fixing every type of issue and prioritize the tasks accordingly.
Every error should be treated with two questions in mind:
Will fixing the error bring some immediate tangible results?
How much time will it take to find and fix the error?
Naturally, critical issues that can be solved quickly should be your first priority. If fixing one serious issue requires the same amount of time as fixing ten minor mistakes, consider resolving the minor issues first. Otherwise, they may end up stuck in the backlog for months.
In this guide, I'll cover the major factors that affect your SEO growth. I'll start with the most critical errors and will move down to less significant ones so that you could follow my lead when auditing your website. To optimize the website audit process, you'll have to use several audit tools. I'll show you how you can find all sorts of errors using SE Ranking's Website Audit along with Google Search Console.
Note: You can try out the Website Audit tool with the 14-day free trial.
Now, before we move on to step 1 of the website audit process, let me ask you to quickly do a little preparation work. Go to your Google Search Console and make sure you have no manual actions imposed on your website. The notifications, if any, should be under Search Traffic – Manual Actions. The thing is there's no point in running a website audit when you have manual actions to fix. If everything is fine, let's get started.
Find possible indexing issues
You created every page of your website for a reason, so you want Google to know about them and rank them high. But all your work will be in vain if for some reason search engine crawlers aren't able to reach and index your pages. That's why you want to learn about such issues and fix them ASAP.
The problem may occur on your side or due to the server's failure to respond. Let's start with issues your developers can fix.
Most websites have a robots.txt file – this is where you tell search engines that you don't want some pages to be crawled. For example, you don't want Google to crawl and index your "thank you" and login pages or PDF/image directories.
Your task is to make sure developers haven't accidentally disallowed some pages that you want to be indexed. To check this, go to the Page analysis section of SE Ranking's Website Audit tool. Hit the link icon to see the list of pages blocked by robots.txt and go through it to make sure it doesn't contain pages that shouldn't be there.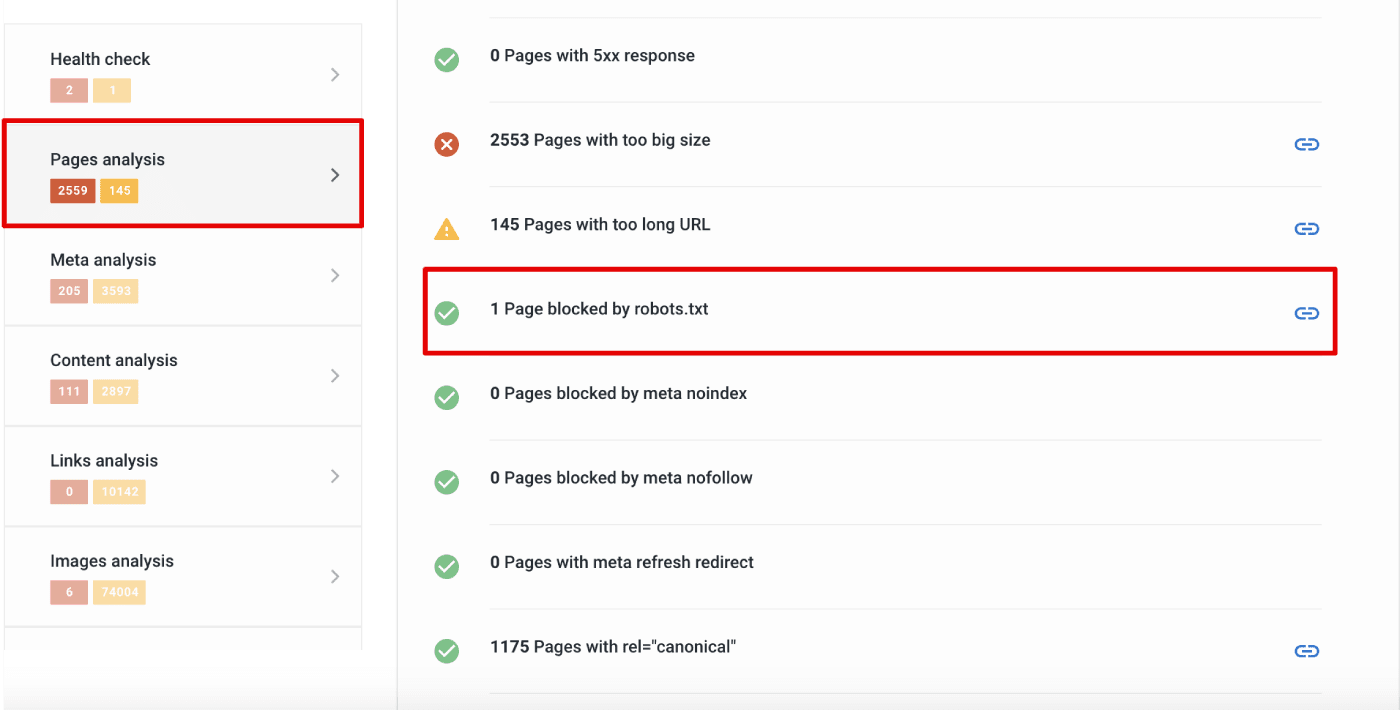 Another way to stop search engines from indexing your website is by adding a "noindex" tag to the <head> section of the page's HTML code. You'll find the number and the list of such pages in the same Page analysis section right below Pages blocked by robots.txt. Once again, go through the list to make sure all of the pages you see really shouldn't be indexed.
Finally, Google won't be able to find the page if there are no internal or external links pointing to it. Such pages are called orphan pages, and you can find them by following the instructions we've outlined in this post. To nip the problem in the bud, we recommend you to add every page you want to be indexed to the XML sitemap and update it regularly.
You can check if your website has an XML sitemap in the Health check section of the website audit report. No worries if you don't – SE Ranking can generate one for you.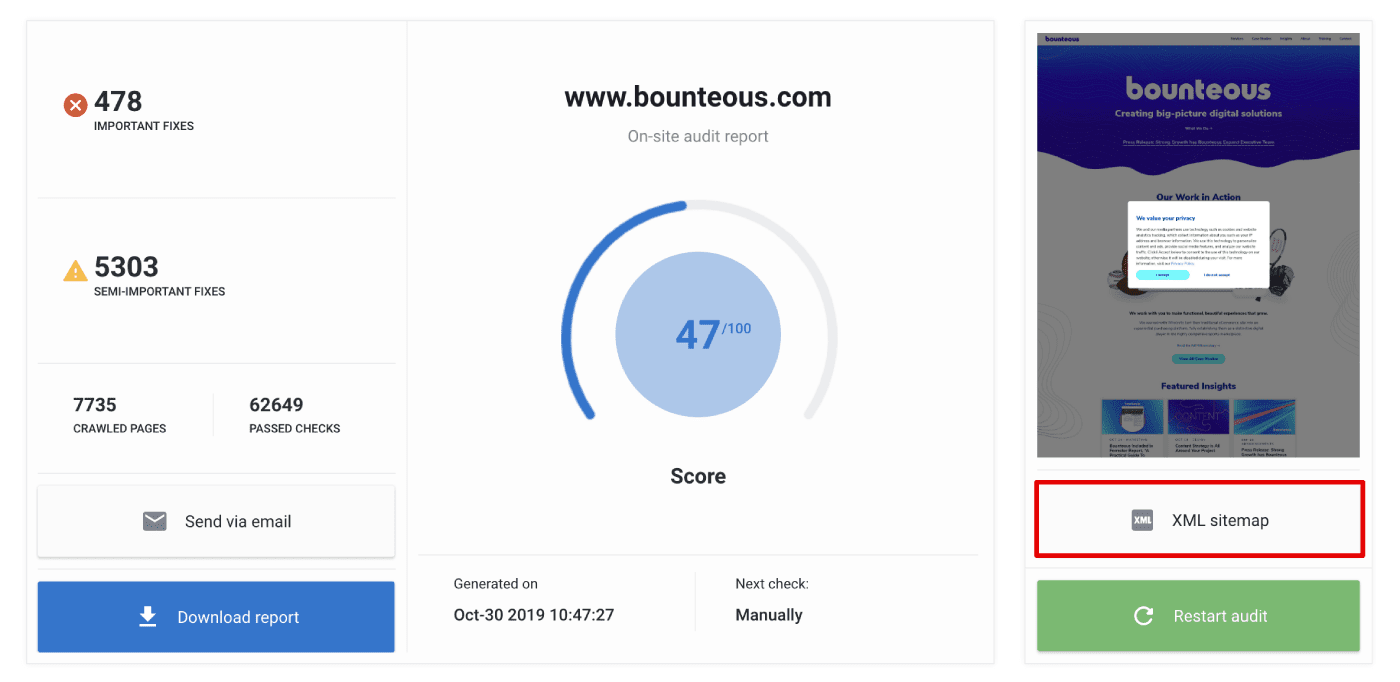 Now, let's continue to server errors. If the server is down and returns a 5xx error, search crawlers won't be able to reach and index your web pages. You can find all of the pages with the 5xx response code at the top of the Page analysis section of SE Ranking's Website Audit. Try to load them: if all works well, it means there were some issues with your website server, but they have now been resolved.
Make sure, though, that your hosting provider is a reliable one and server errors do not occur regularly. Otherwise, Google will think your website is badly maintained and your rankings will drop.
Use canonical and hreflang tags properly
After auditing your website for possible indexing issues, the next thing you want to check is the usage of canonical and hreflang tags. This is something that can be quickly fixed if necessary. Ignoring the problem, on the other hand, will have a negative impact on your rankings. Let me explain why.
Canonical tags help Google understand which of the duplicate or almost identical pages is the official one. Why would you have duplicate pages on your website in the first place? This can happen for a number of technical reasons. For example, a website may have https/non-https and www/non-www versions. URL variations also produce duplicate pages – this is when parameters are added to the URL. In the example below, parameters help the website identify where the user came from.

Running A/B tests also leads to the existence of practically identical pages.
Adding canonical tags will help as the tag will be pointing to the official page you want to be indexed and ranked. Otherwise, Google may rank the wrong URL.
You can find the list of pages that are not marked with the canonical tag in the Page analysis section of Website Audit. Having such pages on your website is fine – you don't really need your terms of use page to rank in SERP. Skim through the list to see which categories of pages ended up in the without rel="canonical" group, and make sure no important pages are there.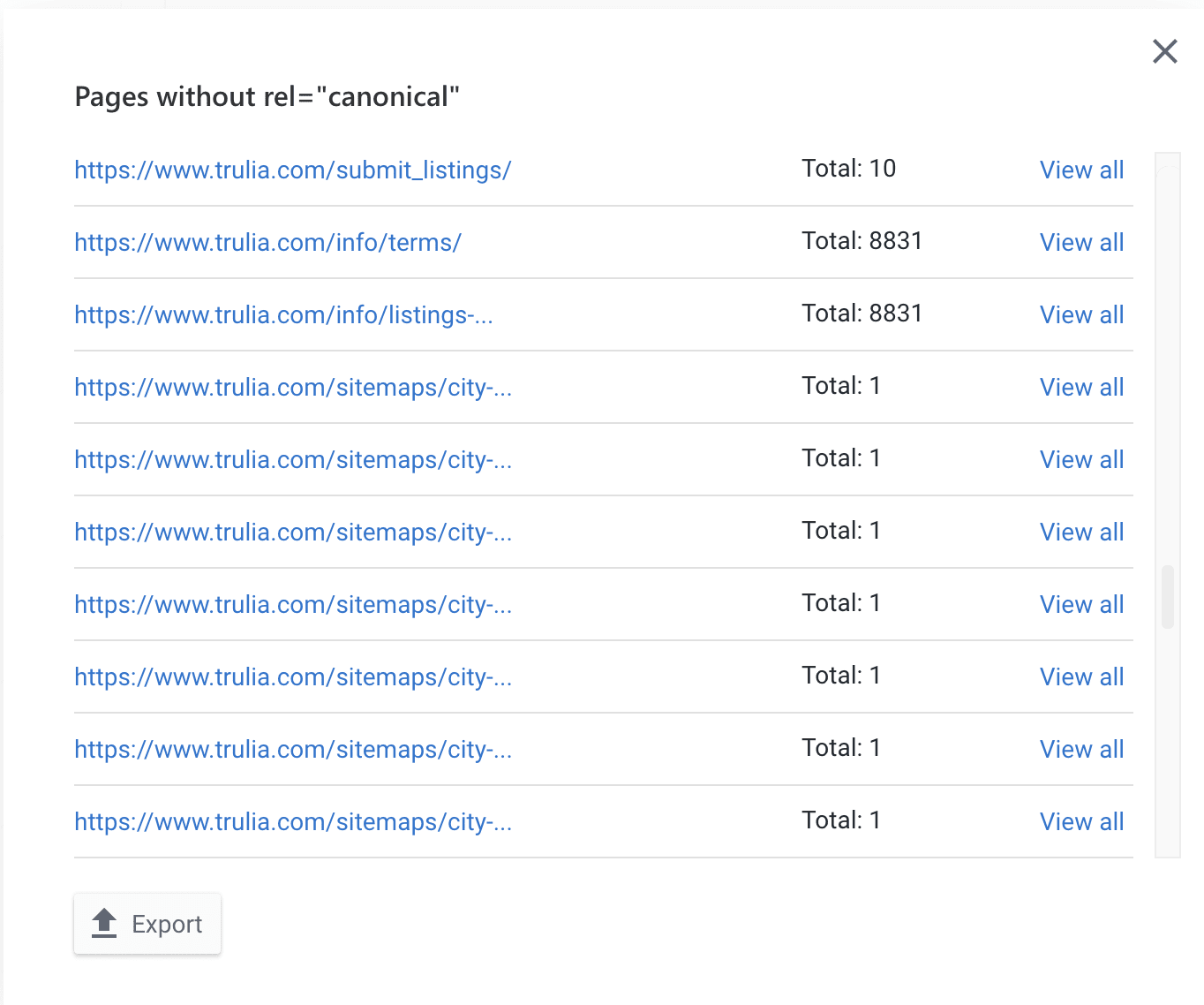 Multi-language websites need to use both canonical and hreflang tags. The latter tells Google that users from a certain region (say Japan) should be directed to the respective (Japanese) language version of the website. If you set things up wrong, your Japanese users may never find out you speak their language and will be directed to the English version of your website.
In the Page analysis section, you'll find both pages with and without hreflang tags. Go through both lists: website pages that have versions in other languages should have the attribute and those only available in one language shouldn't. If everything is set up correctly, you should have 0 pages with errors in the hreflang attribute. If the audit detected some, go through the list and fix all of the issues.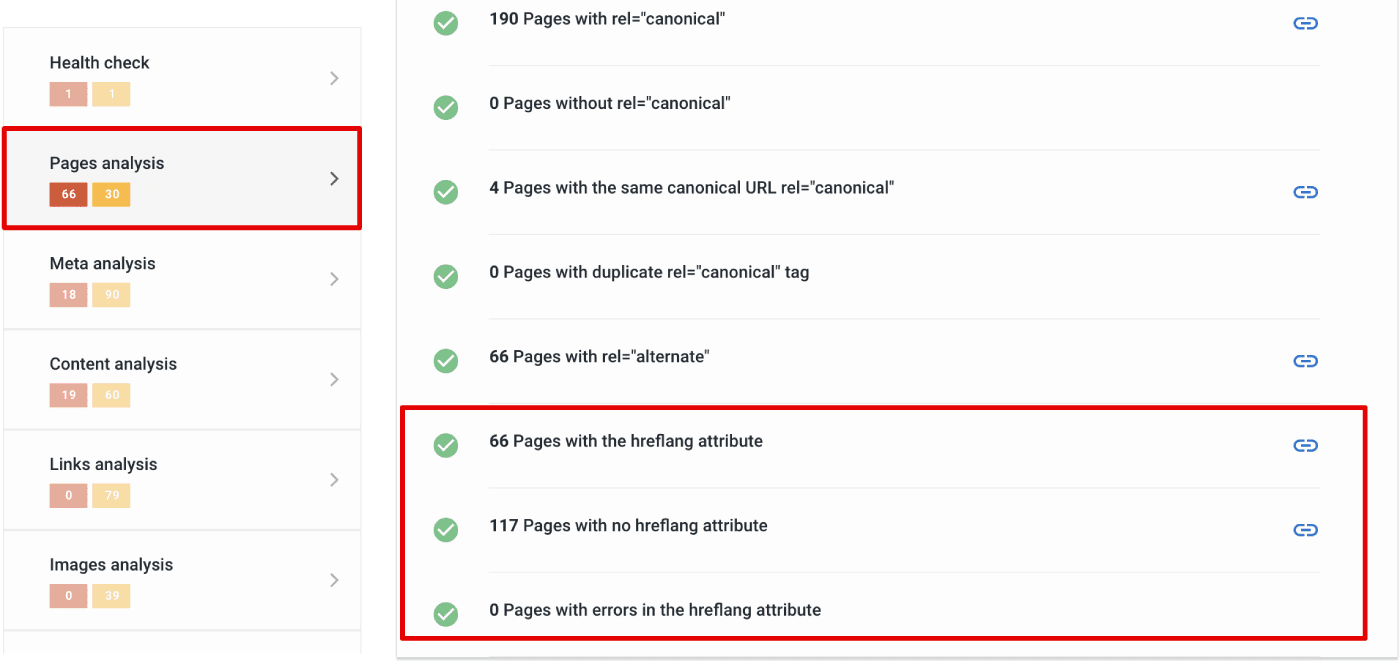 Make sure your website is secure, fast and mobile-friendly
Proper HTTPS encryption, loading speed, and mobile-friendliness are all ranking factors now.
The HTTPS protocol is more secure, as unlike its HTTP predecessor, it enables website encryption. Running your website on HTTPS is essential if you process payments or store sensitive data. Besides, Google has been encouraging websites to switch to HTTPS since 2014 and it is now the industry standard. You can check if your website is running on HTTPS in the Health check section of the Website Audit tool.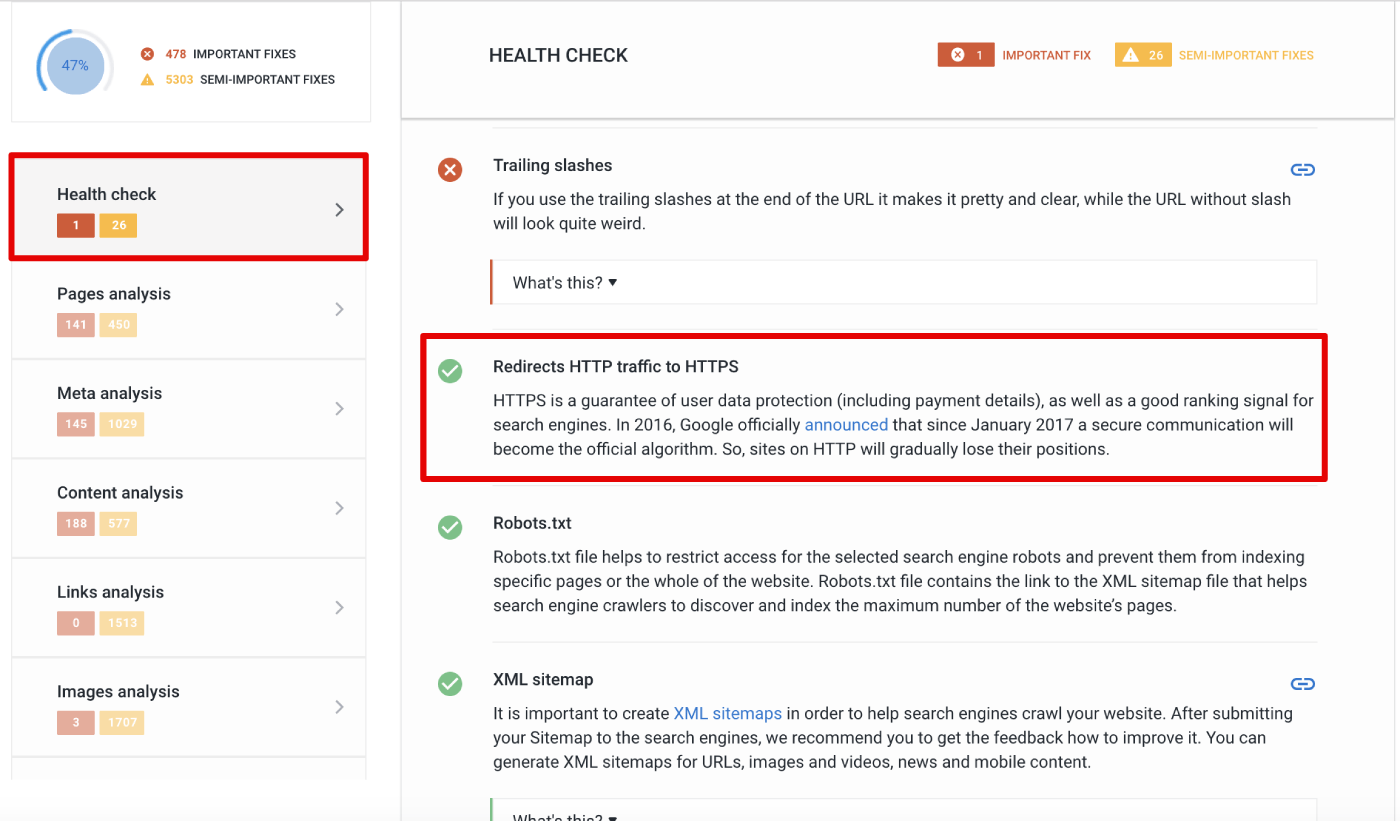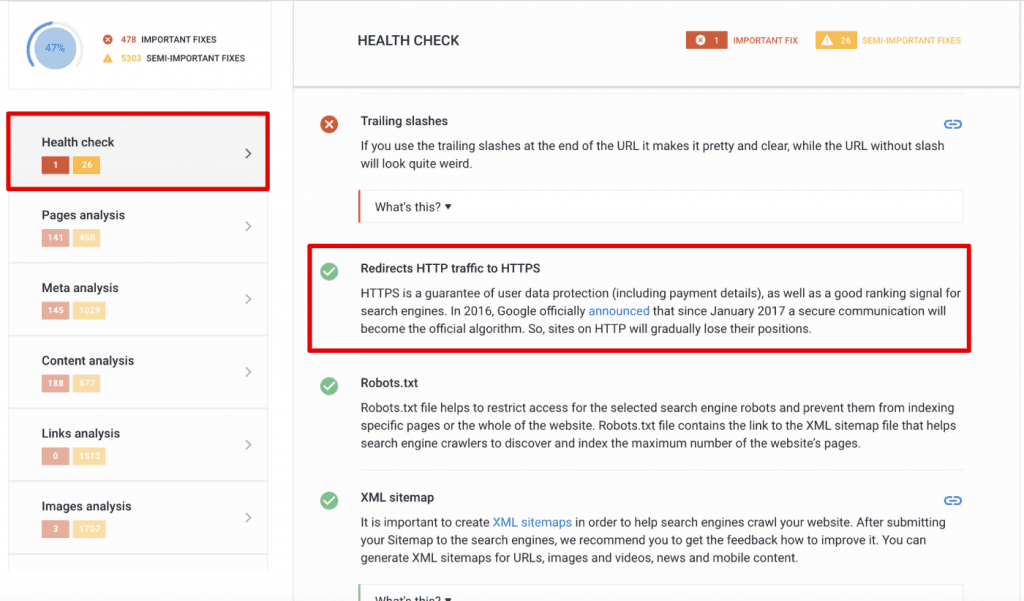 You also want your website to load fast, because both users and Google appreciate it. Go to the Usability and technologies section to check if your website loading speed is okay. You'll see the exact number, and if it's within acceptable limits, you'll see a green checkmark next to it.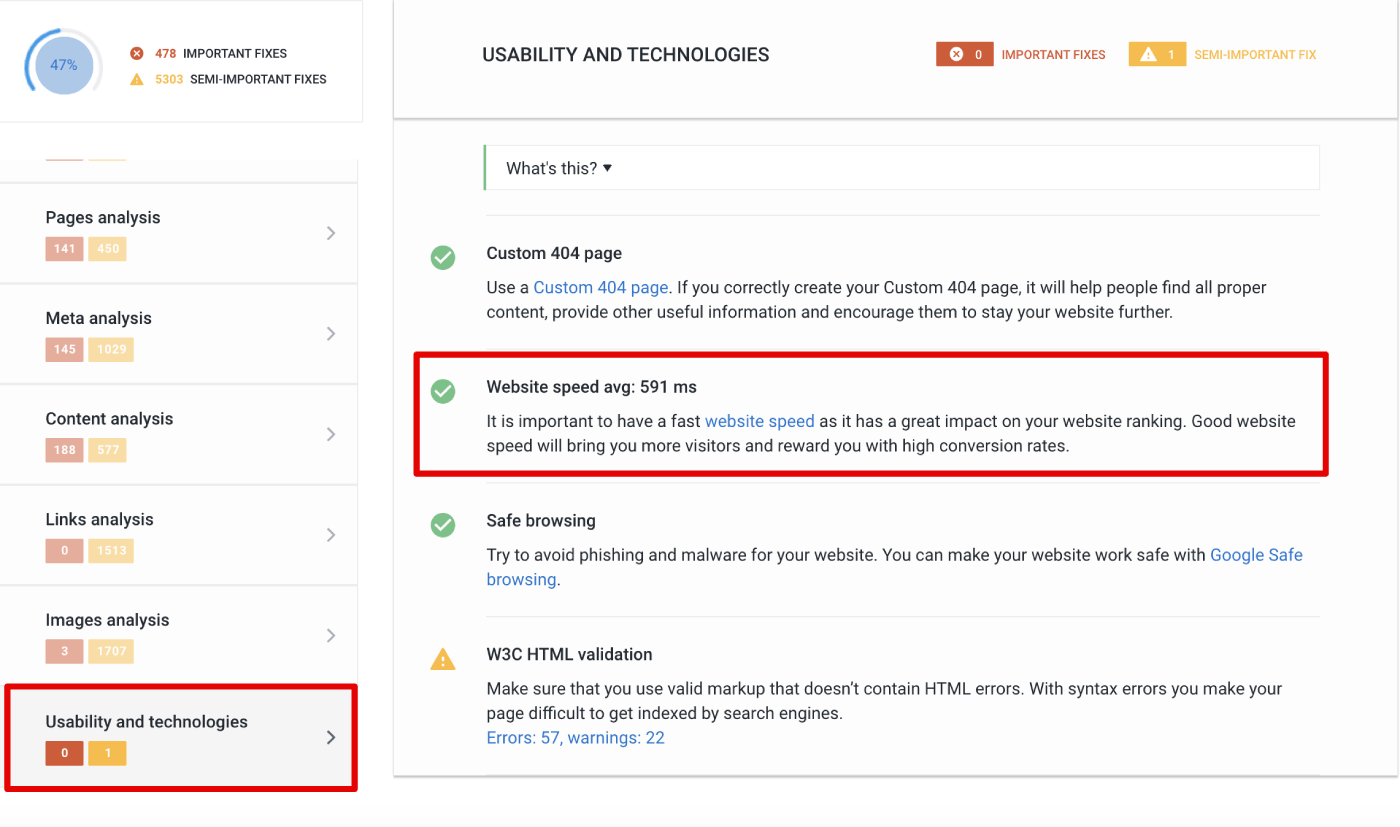 If you find that your website is too slow, go to your Google Search Console account and find the Speed report under the Enhancements section. It was rolled out recently, so it's still experimental, but here you can find some precious insights on your website's speed fluctuations.
When analyzing the chart, pay attention to the peaks and troughs – if at some point the website speed suddenly dropped, think of the changes you made around that time that could have impacted the loading speed. Meanwhile, the improvements you make should correlate with the chart's peaks.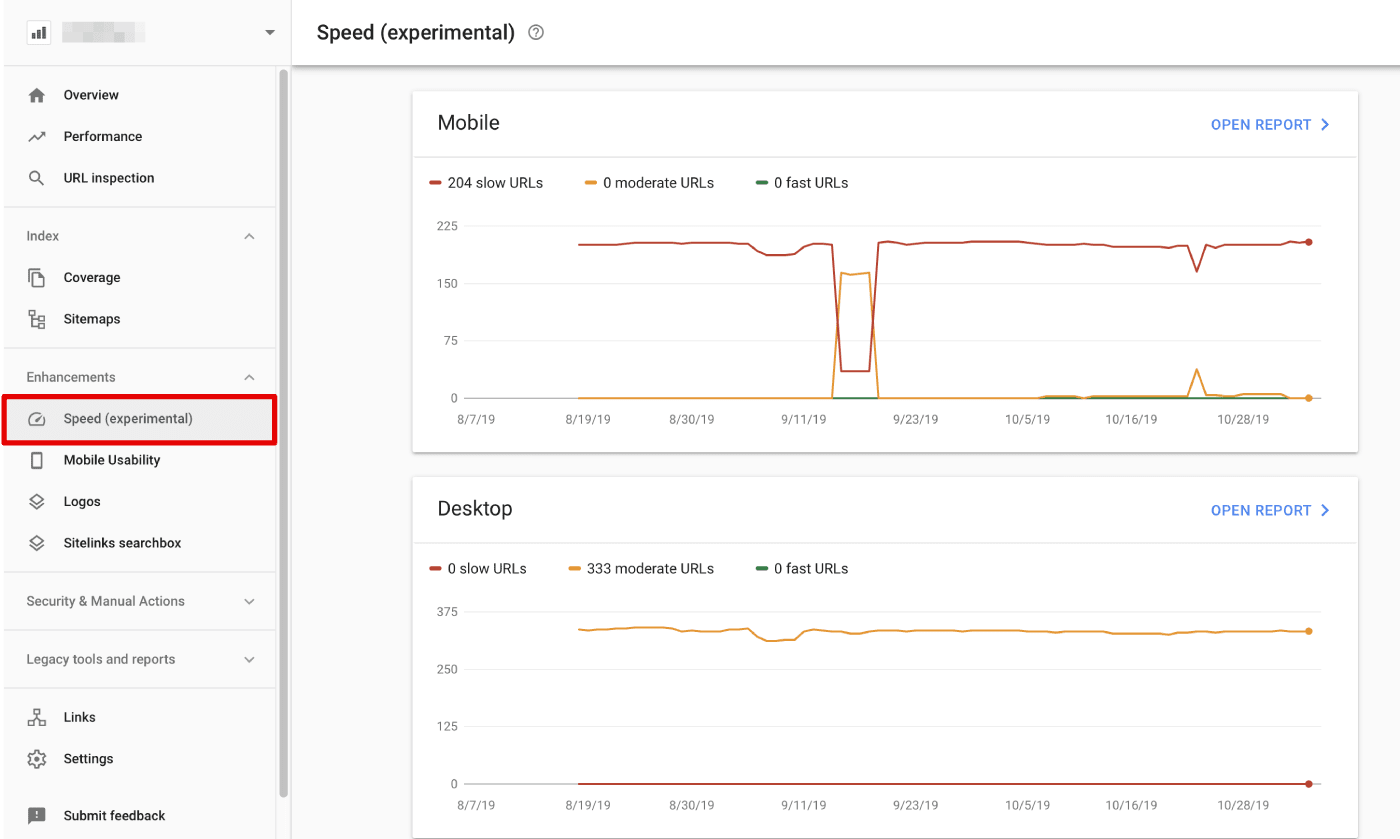 You can also see detailed reports for mobile and desktop with the lists of pages demonstrating fast, moderate and slow speed along with issues that slow your website down. To find recommendations on how to improve each page's performance, paste the URL you want to optimize into the Google Page Speed Insights tool.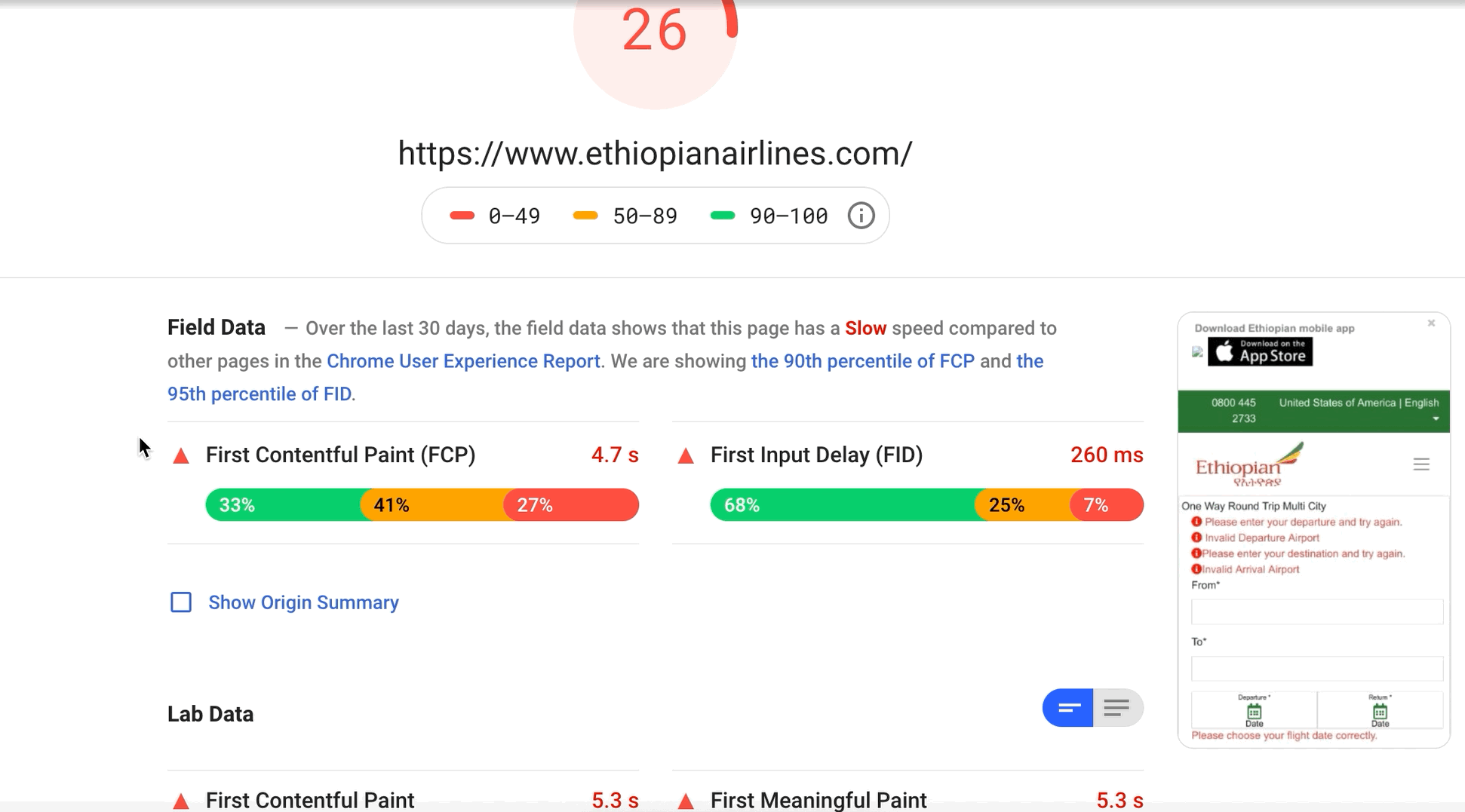 Last but not least, you want your website to be mobile-friendly, as about 49% of worldwide traffic now comes from mobile. Under the Optimization tab of the Website Audit, you'll find 15 parameters that impact your website's mobile-friendliness.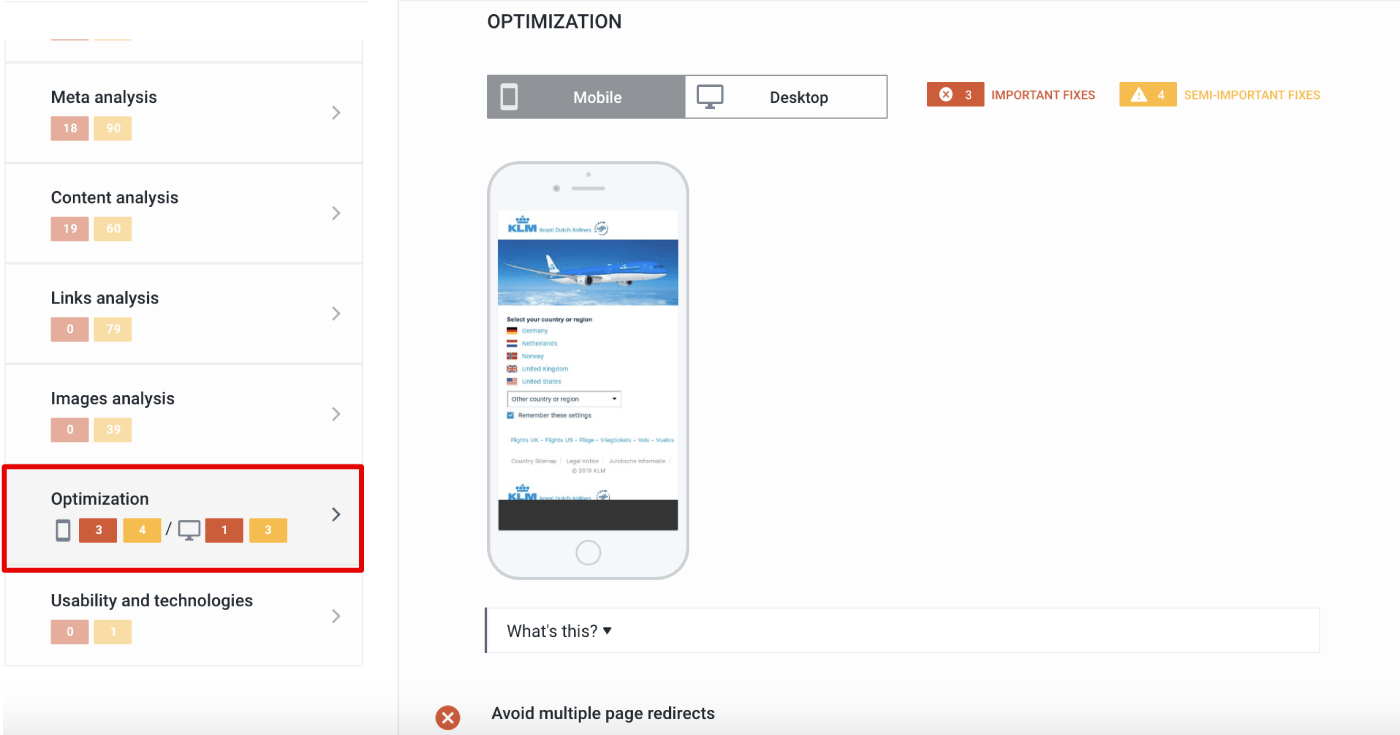 Follow the recommendations to optimize your website for mobile devices – all of the changes you make will impact your entire website. If you want to see which individual pages have mobile usability problems because of these errors, check out the Mobile Usability report in Google Search Console.
And this is where we'll stop going into all the technical stuff. While the above-mentioned issues do not form an exhaustive list (we're not even close), they are the most critical ones that can be quickly fixed. In the long run, I highly recommend you to fine-tune your website's technical aspects, so that it could run like clockwork. But for now, let's move on to on-page SEO.
Aim for perfectly optimized website pages
Once you've fixed all of the critical technical errors across the website, you can get down to optimizing the content of the pages you promote in search. Why does it have to be like this and not the other way around? Technical issues should always come first as they impact your whole website. So, tweaking a couple of HTML tags wouldn't outweigh the negative effects of critical technical issues.
But once all the major coding errors are fixed, some on-page optimization adjustments can make a big difference, especially for a big website with hundreds of pages. The thing is, it is rather hard to quality-control all the content that is published across a huge website. This is where a website audit comes in handy and helps you keep your finger on the pulse of your website content.
Revamp your meta tags for better CTR
Users who come to your website from SERP choose it over other results based on your page's title tag and meta description. If they are not compelling enough, users will skip the page and its CTR will keep dropping.
In the Meta analysis section of Website Audit, you can check if all of your website pages have title tags and meta descriptions, if they are unique and meet the length requirements.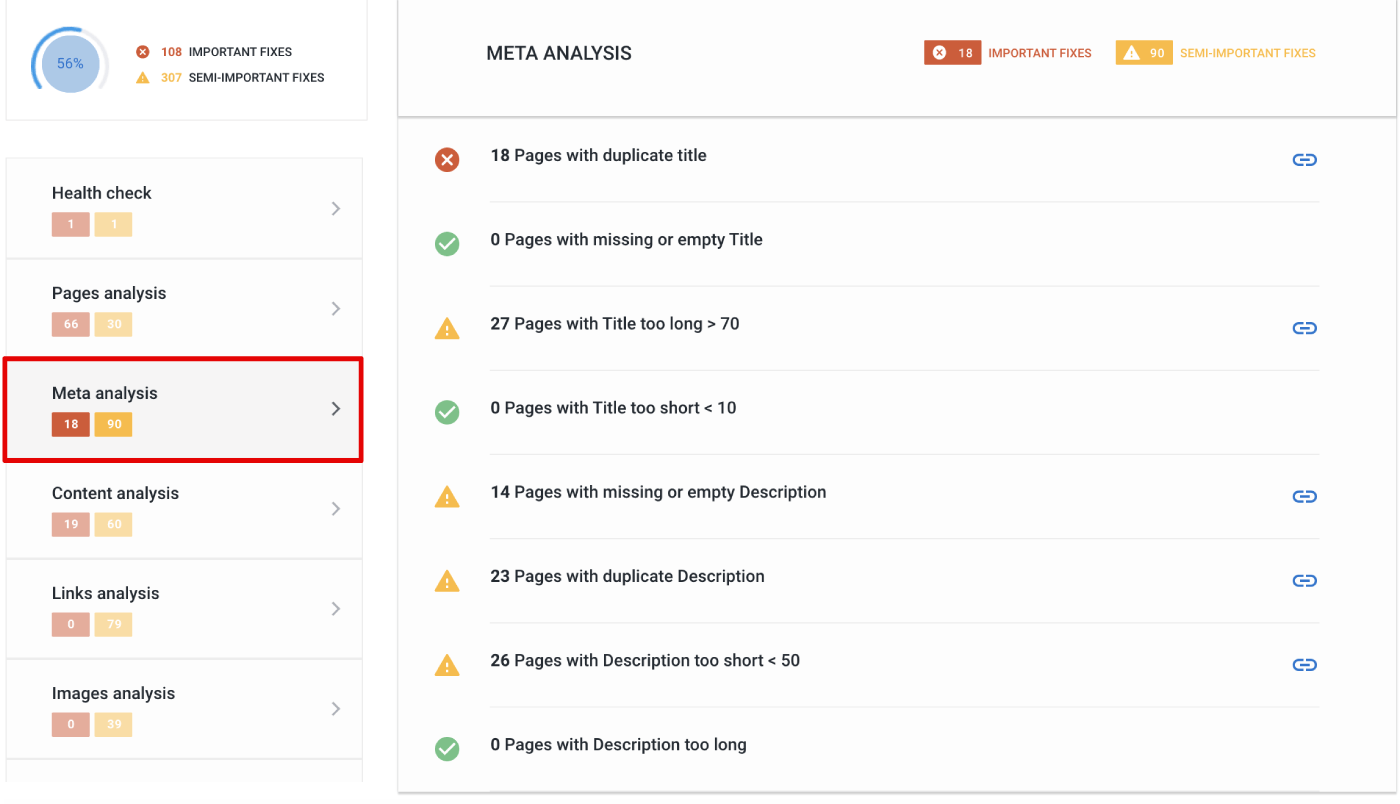 If the page has no title tag and meta description, Google will decide on its own which parts of your copy to pull and display in the SERPs. And you may not be happy with the result.
Duplicate titles and descriptions confuse both Google and users. The search engine may end up ranking both pages for the same keyword not letting the "right" page get the rankings it deserves. User experience also suffers when users see two identical results in the SERP. So make sure to correct such mistakes if you come across any.
Having too long or too short title tags and meta descriptions is not that critical, but still not desirable. Longer phrases just won't fit, and users will see an abrupt sentence with three dots at the end.

Fix evident content issues
The next thing you want to check is the actual content of the pages. I won't rattle on here about how important quality content is for your ability to rank high. Let me just remind you what to look for when auditing your website content.
SE Ranking will help you fix some measurable metrics like low word count, lack of H1/H2 tags, duplicate H1 tags or too long H1/H2 tags.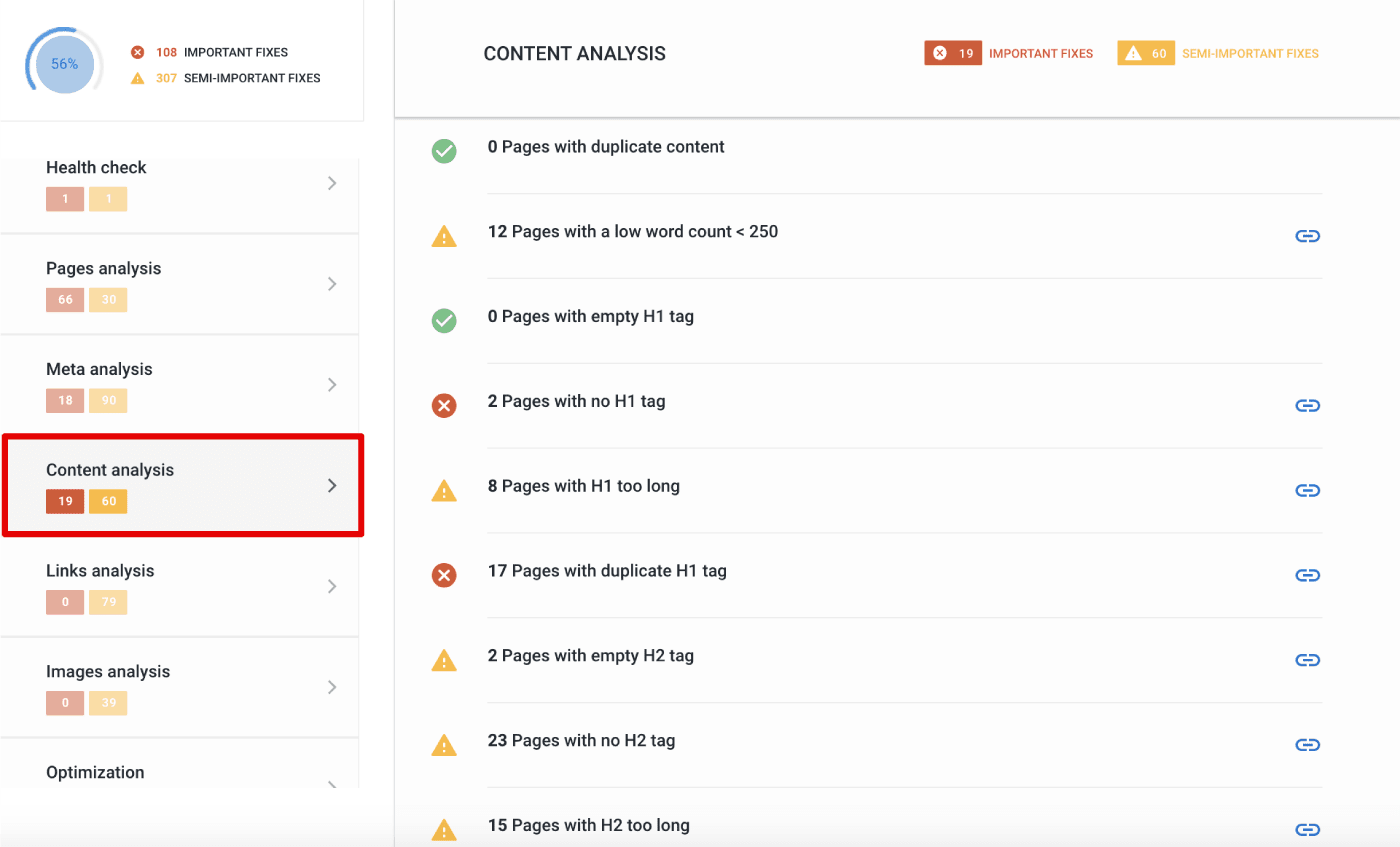 Another thing that can be fixed relatively quickly is adding alt texts to images if they are missing. Alt tags help Google and people who use screen readers understand what is shown in the picture. Also, make sure your images do not return any 4xx or 5xx errors.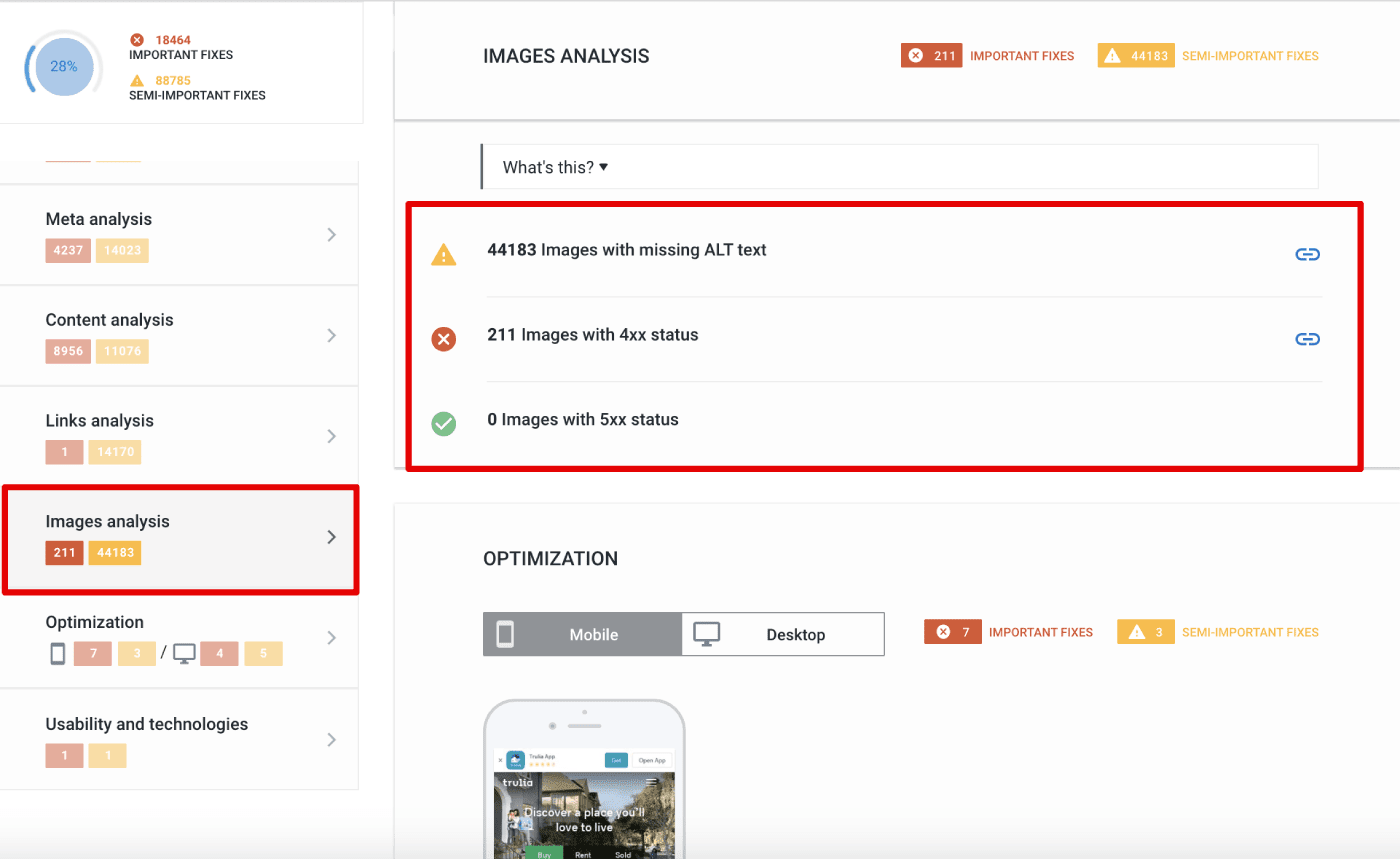 Take a closer look at pages that matter
Website Audit will help you fix the most critical on-page errors. To even better optimize your most precious pages, you can go the extra mile and analyze them using SE Ranking's On-Page SEO Checker.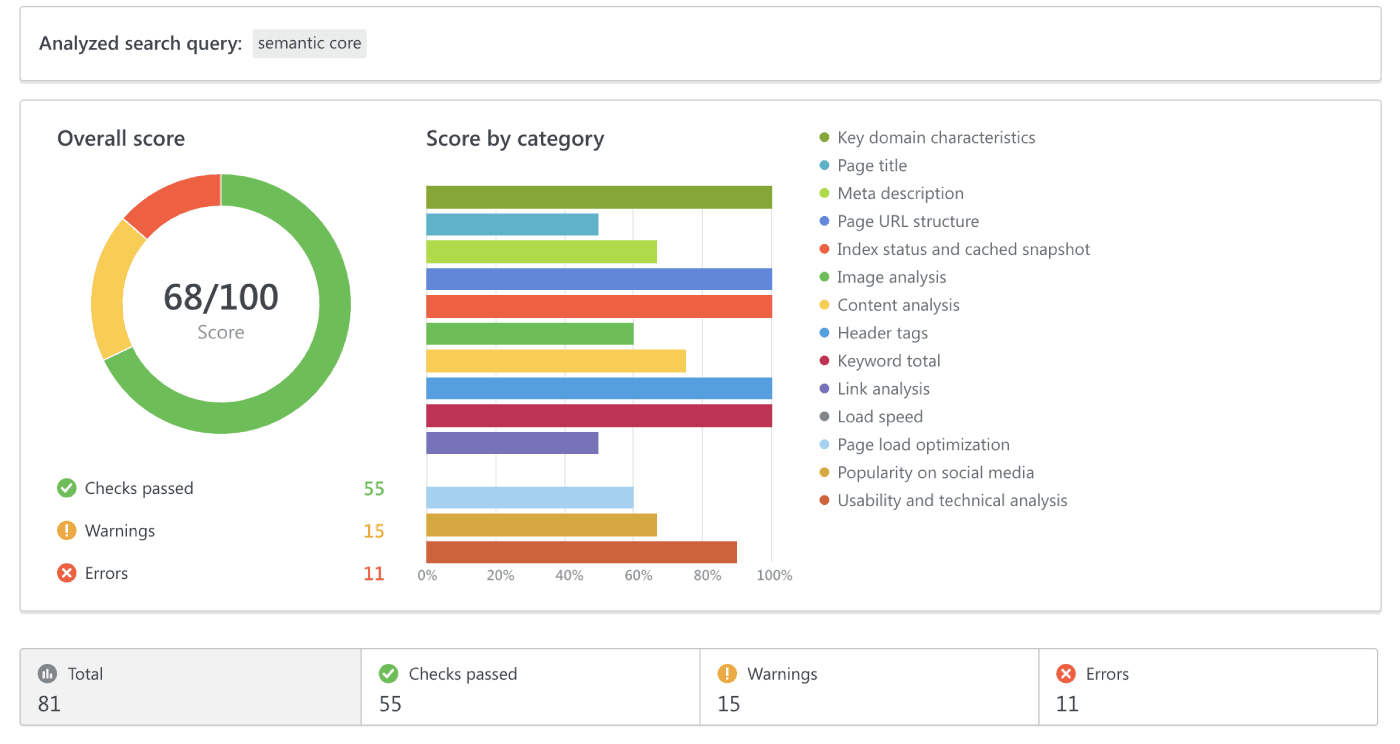 Here, you can check if your meta tags feature the target keyword, and not simply meet the length requirements. You will see the actual texts of the meta tags, but you'll have to go to your CMS to edit them.
You can also check if the URL length is acceptable and make sure the URL features the target keyword. For images, you'll see if they are unique and have proper file names. Also, the report will prompt you if you've over-optimized your text and its keyword density is above the recommended ratio.

You can also check how H-tags are used across the text and the number of social media shares the page got. Finally, you can get the list of the page's backlinks.
All these metrics will help you assess the page and learn whether or not it's properly optimized. But naturally, quality content goes beyond these measurable metrics. It should be grammatically correct, compelling and bring value to the readers. If you want to make sure this is the case, here comes the time-consuming part: You'll have to actually re-read your posts, landing pages or product descriptions to evaluate these parameters.
If your website is too big, at least check the most valuable pages. You may want to analyze the so-called low-hanging fruit – pages that almost rank high, but cannot make it from Google's page two to page one or from positions 9-4 to the top-3.
Make your links work for you
When your website is free from technical errors and all of the important pages are well-optimized—here comes the last bit—work on your internal linking. Your website as a whole has some weight that helps it rank in search engines. Internal links allow you to properly distribute this internal weight between pages of your website to highlight the ones that need to stand out. So, you want to have a strong internal linking structure free from broken links.
Go to the Link analysis section of the Website Audit tool to see if there are any errors for you to fix.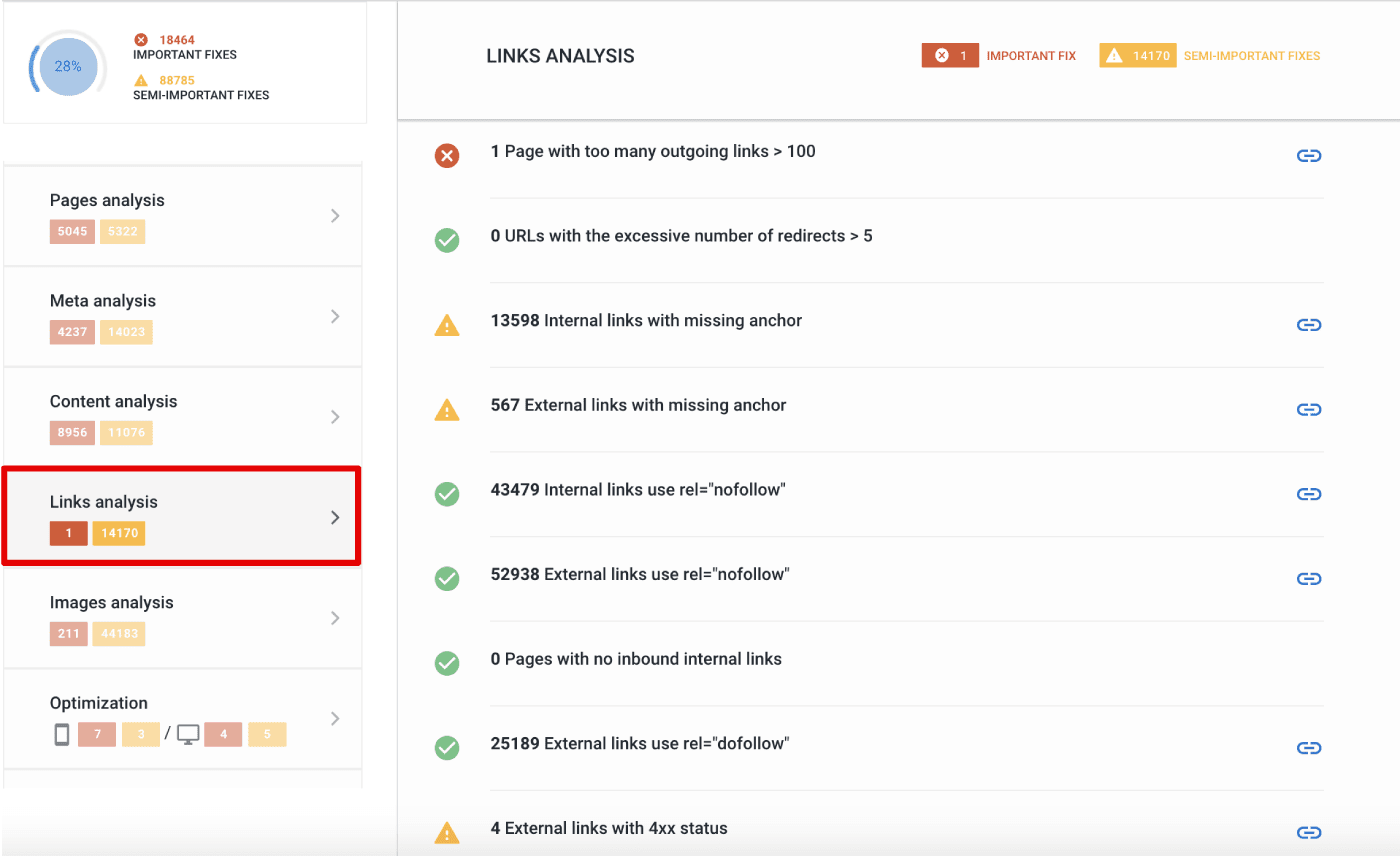 First of all, make sure to weed out all the pages that are overflowing with outgoing links – link value decreases as the number of outgoing links grows. When their number reaches the critical point, their value falls closely to zero. Also, make sure you don't have any pages without inbound links, as being excluded from the website's linking structure will dramatically decrease their chances of getting decent rankings.
Other common issues are broken external links and links with missing anchors. So, if external pages you link out to no longer exist, you'll have to find a replacement. Speaking of missing anchors, using some naked links is totally ok, but anchor text adds context to the link and increases its value.
Final thoughts
Whether you're just working your way up the ranking ladder or Google already loves your website, an audit can help your website reach its full potential. Start with errors that are dragging your website down: indexing issues, duplicates pages, and slow loading speed should be your top priority. Always assess how much time it will take to fix errors and prioritize tasks that can be quickly resolved. And remember that while all of the issues you have may seem minor, they can make a world of difference if they're fixed altogether.
Once you resolve all the problems, you shouldn't have that many issues to fix the next time you run an audit. I recommend performing such checkups regularly, at least once a week. You don't even have to put it on your calendar. The first audit will start automatically once you sign up for SE Ranking and create your first project. Then, go to the Website Audit settings, schedule the scanning frequency, and let SE Ranking take care of the rest. You'll be regularly receiving reports to your email – here you'll see if there are any issues you have to address.