Content and links are the two cornerstones of SEO. The royal status of content is not even a matter of debate. External links are also given a lot of value. At the same time, internal linking opportunities are often ignored, and there's a reason behind this. To set up proper internal linking, you need to invest a lot of time and effort while the resulting benefits are not that evident.
So, why should we link together a website's web pages? Let me use a metaphor to make this point. Remember Venice, the city of canals and bridges? Now imagine it has no bridges at all. You won't find it easy to move around a place like that. Similarly, web visitors also struggle to move around websites that don't have any internal links. And so do search engine crawlers.
If you strive for faster indexing and positive user behavior signals, start building bridges. With the right blueprints, you can give more value to important pages and make them stand out. You won't be able to get your high-volume keywords to the top this way, but you can significantly boost the rankings of low and mid-volume ones.
But first, let's take a look at the major types of internal links, and learn to use them properly.
Not all internal links made are equal
Every internal link belongs to one of the two big camps: navigational and contextual. Links within the header, footer, sidebar, and breadcrumbs are navigational. They help website visitors move around. Contextual links are placed within the body of a text. Such links redirect users to other related articles and help them better understand the topic.
Every type of internal link should be treated in a different way depending on its role.
Keep the header menu clean and clear
The header menu is the most important element of website navigation. This is where users normally go to find the pages they need.


Besides, header links are sitewide, so they get a lot of weight. A good strategy here would be to fit your key pages into the header.
At the same time, make sure to weed out all of the not-so-important pages like Terms of Use or Privacy Policy. This way, pages that matter will get more link value and users will have an easier time navigating your website.
Don't overthink your footer and sidebar
Footer links are also sitewide, but they are not given much weight. As the least visible navigation element, the footer does not get much love from users, and Google treats it accordingly. What the footer should include are the About us and Contact pages along with the Terms of Use and Privacy Policy. Adding more links is up to you: linking out once again to your most important pages won't hurt here, but mind that these links will only carry residual value.


Some websites also feature a sidebar. Sidebar layout may vary from page to page, which means the links you put in there are not always sitewide. Place a call-to-action widget here: for example, you can encourage your readers to subscribe to your newsletter.

It is also a good idea to link out to your latest posts or related articles – both users and the pages you link out to will benefit from it. Just don't stuff every possible widget into your sidebar because the fewer links you place there, the more value they'll get.
Consider using breadcrumbs
A breadcrumb trail is a must for large websites with complicated architecture and numerous categories.

Every element of the breadcrumb trail is an anchor link, but don't stuff breadcrumbs with keywords as it won't do your SEO any good. Put users first, let breadcrumbs help them find the right category, and watch your bounce rate improve.
Use contextual links with the reader in mind
Finally, let's talk about contextual links that are clickable pieces of text within the content of the page. Use contextual links if you have several related pages on your website. For example, in my post on Google Q&A, I've linked to our cornerstone article on Google's Local Pack.

Contextual links are the most efficient way of passing link juice. Thanks to the anchor text and the content around it, Google understands that the two linked pages share a common topic and, as a result, the link gets more value. If you can naturally insert a keyword into the text and use it as the anchor text of a link – go for it. Just don't try to stuff a keyword where it doesn't fit.
Linking from a random part of the sentence is absolutely fine as long as it relates to the destination article. The anchor text helps users understand what extra info they can get by clicking the link.
Moreover, there's even a theory that Google now gives more value to links that get the most amount of clicks. As the search engine uses behavioral signals to rank pages, it makes sense that links liked by users can get more weight. So, my advice is to stay user-focused and place contextual links that users will be eager to click on.
Spread the link equity across your website
Now that you know how to make use of different link types, let's talk about passing link juice to the right pages. And the first thing you should do is check up on your current internal linking.
SE Ranking's Website Audit module can help you analyze your internal linking in no time. Go to the Crawled Pages tab, and apply column filters to only display the Internal links and Referrer pages stats.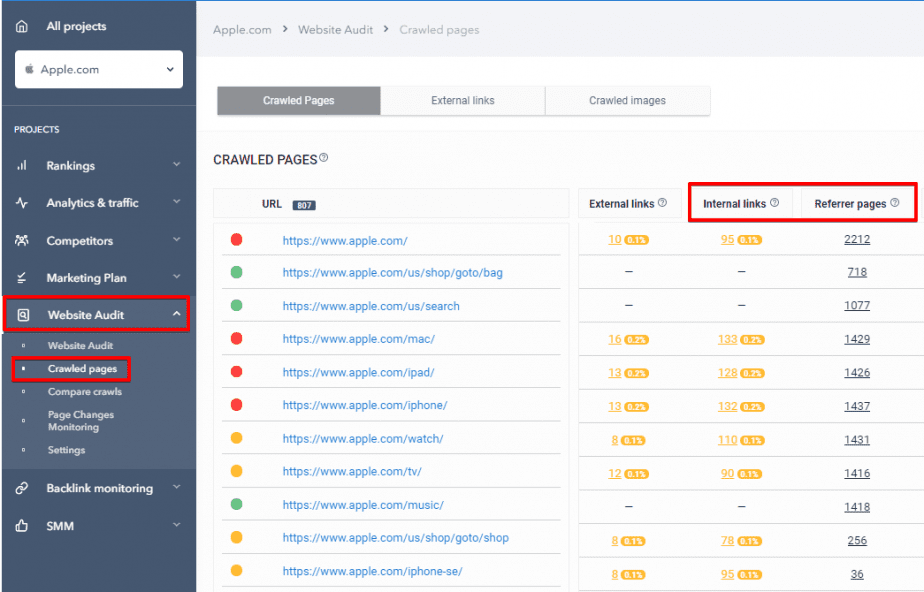 The Internal links column shows the number of links on a page pointing to other pages within the website. Under the Referrer pages column, you can see how many website pages link to a particular page. By the way, the stats are clickable: you can check which pages are linked out to as well as the link's anchor text, the status code, and the click depth.

This data will help you single out pages that are rarely linked to as well as pages that host too many links.
Once you get the full picture, make sure your internal linking structure is in line with the goals you pursue. Depending on the search volume of your target keywords, you should follow certain rules, and generally speaking, link either up or down.
Say you want your landing page to rank for a high-volume keyword. Then, most of your website's contextual links should point out to it. On the flipside, to help your bottom-level pages rank for low-volume keywords, you'll have to link down from the home page and mid-level pages. And also link your bottom-level pages between each other.
The more you link out to a certain page, the more link juice it will get. That way, you can move up your mid and low-volume keywords stuck on page 2. What matters here is the value of the page you link out from. Pages that carry more weight can significantly boost the pages they're linked to. We can use the internal page rank stat to identify such pages.
What is internal PageRank and where to find it
Speaking of PageRank, we usually mean one of Google's algorithms developed back in the 1990s. PageRank has gone through many transformations ever since and its value is no longer shown in the Toolbar, but Google still uses it.
PageRank score depends on the number and quality of the page's backlinks. Both internal and external links are taken into account here. If we leave external links out, we can apply the same algorithm to calculate the value of a single page within a website. Pages that got the lion's share of high-value internal links will have the highest internal PageRank score.
There are a number of tools that will check internal PageRank for you. They may use a different name for this metric, but the way it is calculated is always similar to the one described above. Siteliner tool, for example, uses the Page Power stat.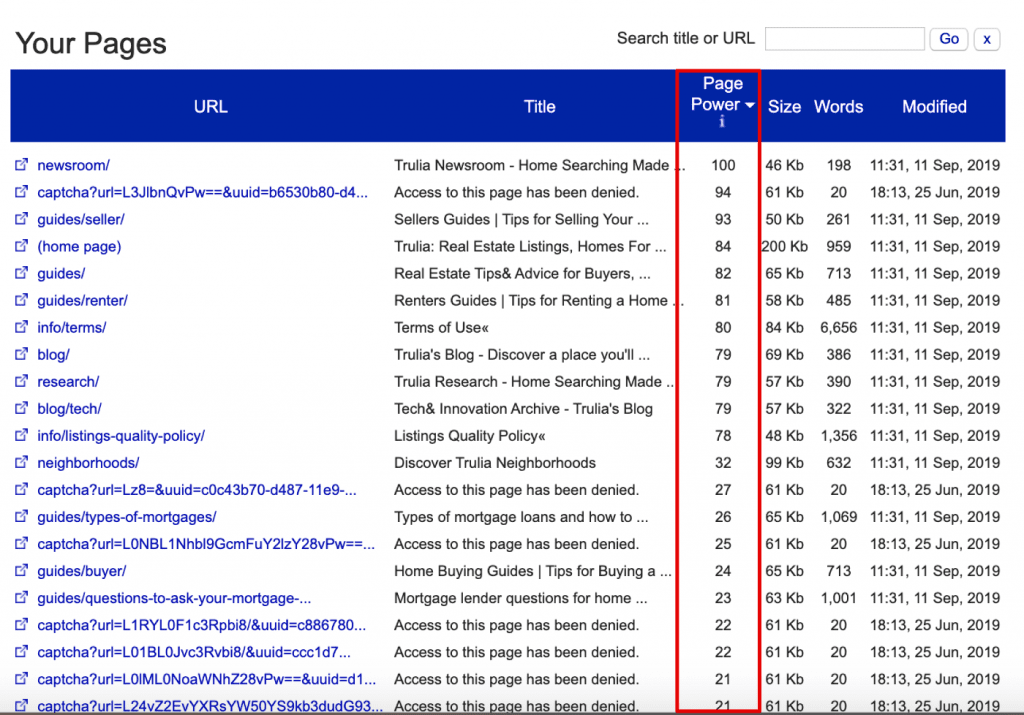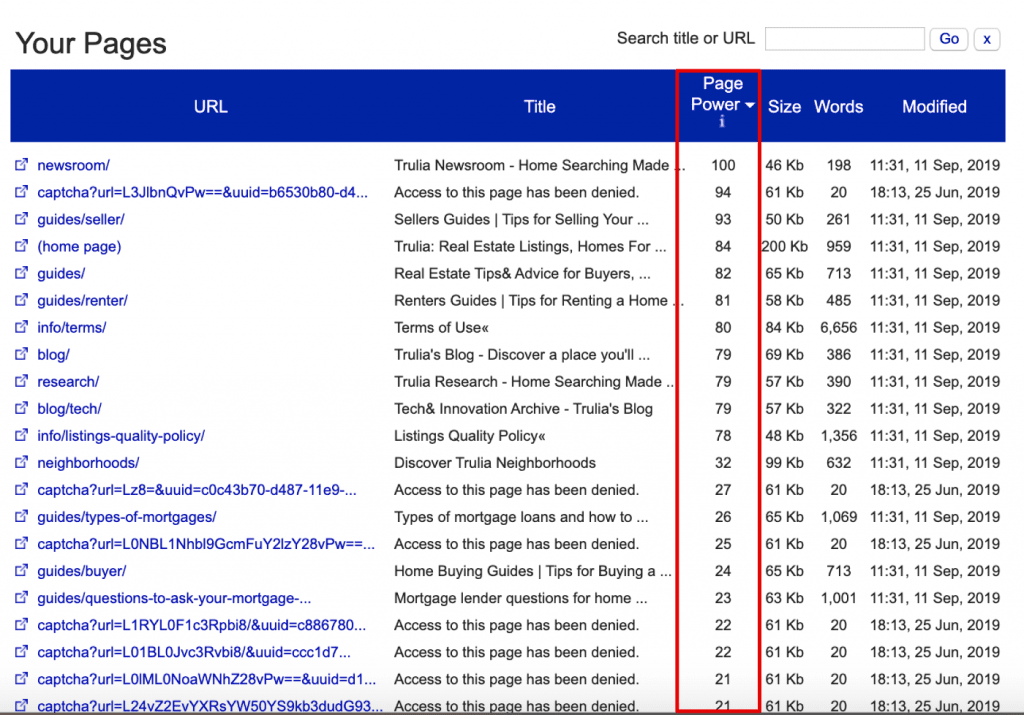 Once you single out the pages boasting the highest internal page rank, use them to pass the link juice to pages that need a boost to get ranked higher.
Lead users to converting pages
Proper internal linking may not only improve your rankings but also help you get more conversions. Most websites have high-traffic pages that just do not convert. Like your old blog post with a solid top-3 ranking. At the same time, high-converting pages may get little traffic.
Internal links can help you guide users from your traffic-winning posts to your conversion champions. The only condition here is that the pages should be related in some way. Otherwise, users just won't click the link.
You can easily find all of the pages you need with Google Analytics. For traffic pages, go to Behavior → Site Content → All Pages. Sort the list by Pageviews, and you'll see traffic leaders at the top of the list.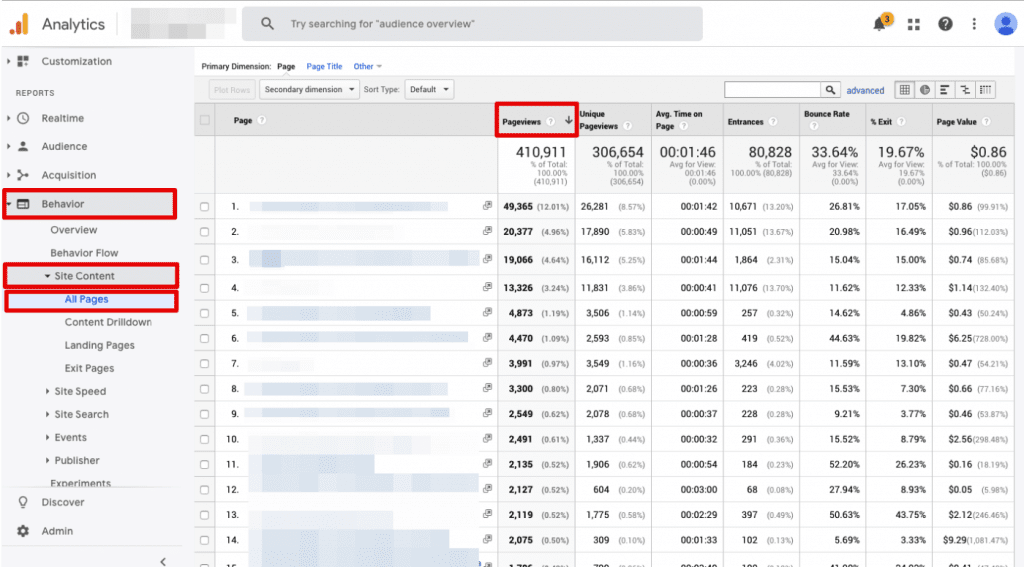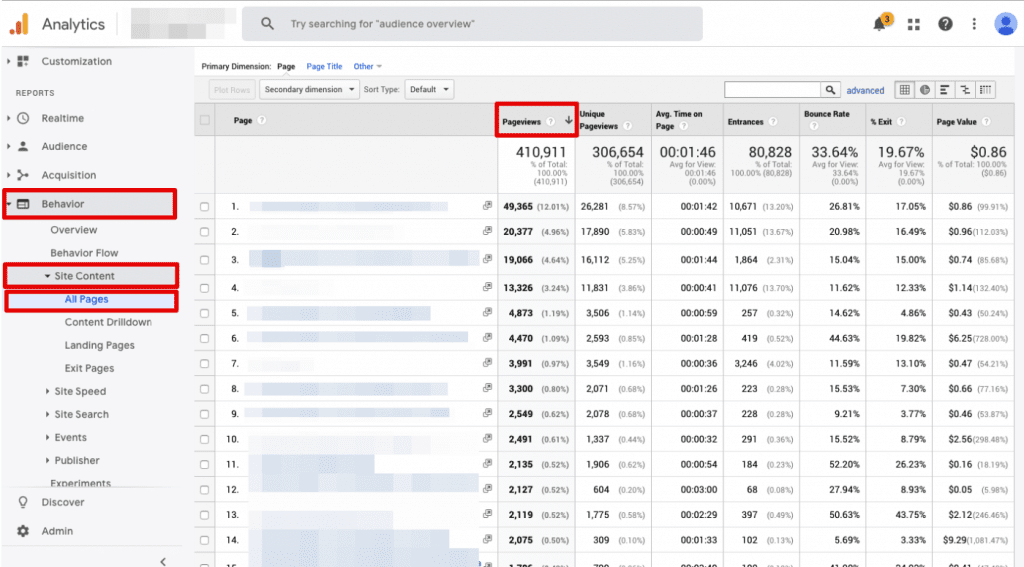 Converting pages can be collected under Behavior → Site Content → Landing Pages. Here you'll find the Conversion Rate column.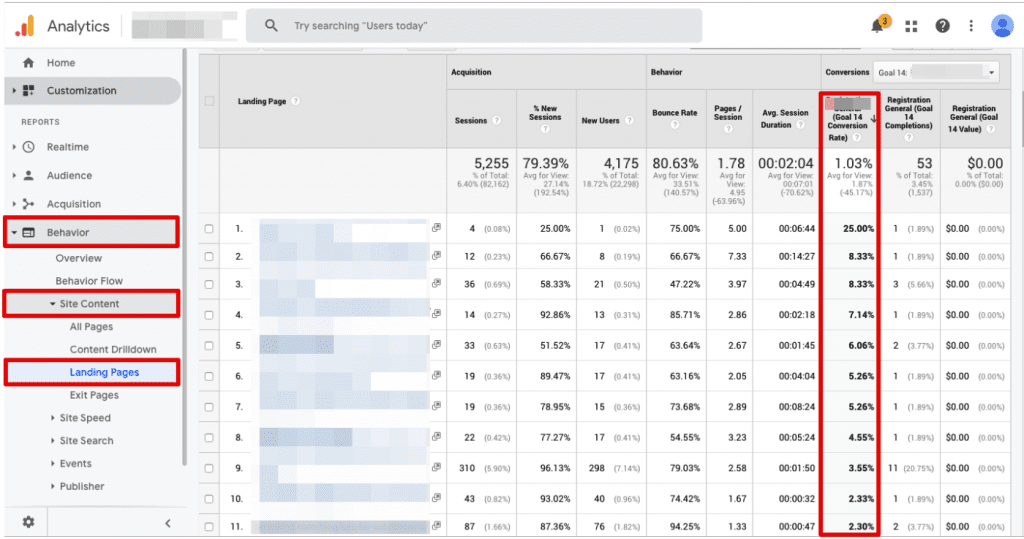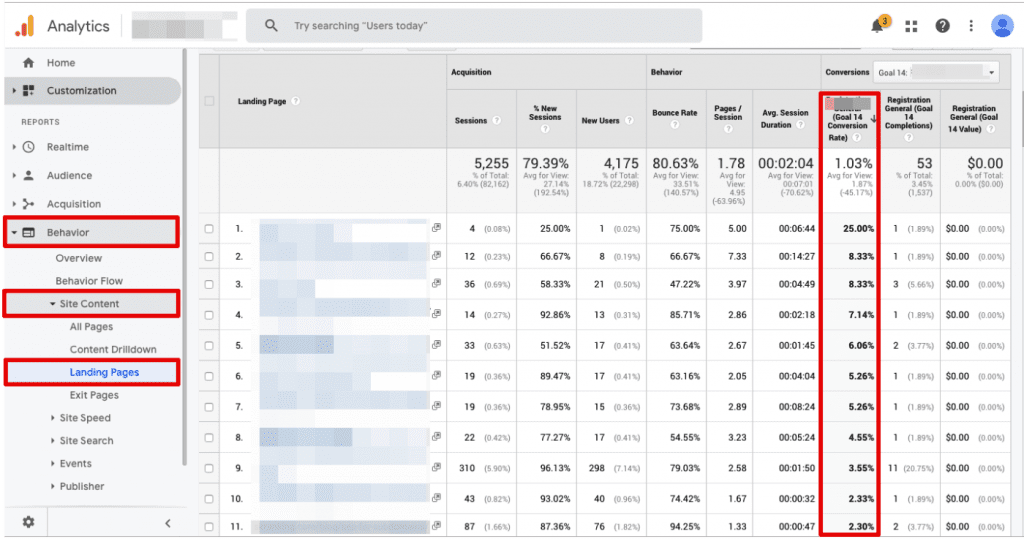 Now, with the lists of both high-traffic and well-converting pages on hands, think about which pages can be linked together.
Key takeaway
The power of internal linking is often underestimated. And still, a killer internal linking strategy may bring you closer to reaching your goals. With a proper internal link flow, your mid and low-value keywords will rank higher, and more high-ranking keywords translate into more traffic.
All you need to make this happen is some time on hands and the data to rely on. So, find some time, and SE Ranking's Website Audit together with GA will help you handle all your data.
And the last thing to remember: always put users first and use relevant links to add value. Search crawlers will also appreciate such a user-focused approach.