Understanding your audience is for sure on the list of the 10 commandments of marketing. To build meaningful communication with your customers, you need to discover where their interests lie, what problems they have and offer solutions. The same now applies to SEO: simply stuffing your content with the right keywords won't cut it anymore, your content piece has to meet users' intent to rank high.

Keywords should be treated as topics your customers care about, and your task is to properly interpret these keywords to best address your customers' needs. But this is stage two. Stage one is running keyword research or collecting all the keywords relevant to your business niche that people use when describing their questions or problems.
Traditionally, keyword research has been mostly restricted to finding the search terms people use in Google. However, it's not enough to fully grasp your customer's user intent. Users look for solutions to their problems all over the Internet, so if you want to see the bigger picture, you'll have to retrace their steps.
Join me on this keyword research journey to learn where to look for keyword ideas and how to further use them to win the uphill battle for customers.
Grab what Google has to offer
While you should not rob yourself by drawing keyword ideas solely from Google, it is definitely the right place to start. Google holds the lion's share of the search market, making it the first place your customers go to find answers.
Out of the 5-6 billion searches Google processes daily, a few hundred or even thousand are related to your business. Your task is to retrieve the keywords your customers use and properly interpret them.
To kick things off, think of the keywords you want to rank for in Google. Let's say you run a yoga studio in LA. You definitely want to rank for such commercial keywords as "yoga school" or "yoga studio LA", but you also want your blog to rank for all sorts of informational keywords like "downward-facing dog" or "meditation techniques". And here's how you can find all of the most popular queries.
The moment you start typing "yoga" in the Google search bar, you'll see a number of suggestions. They are all a mix of keywords that are trending on Google and the search terms Google believes you'll be interested in based on your search history.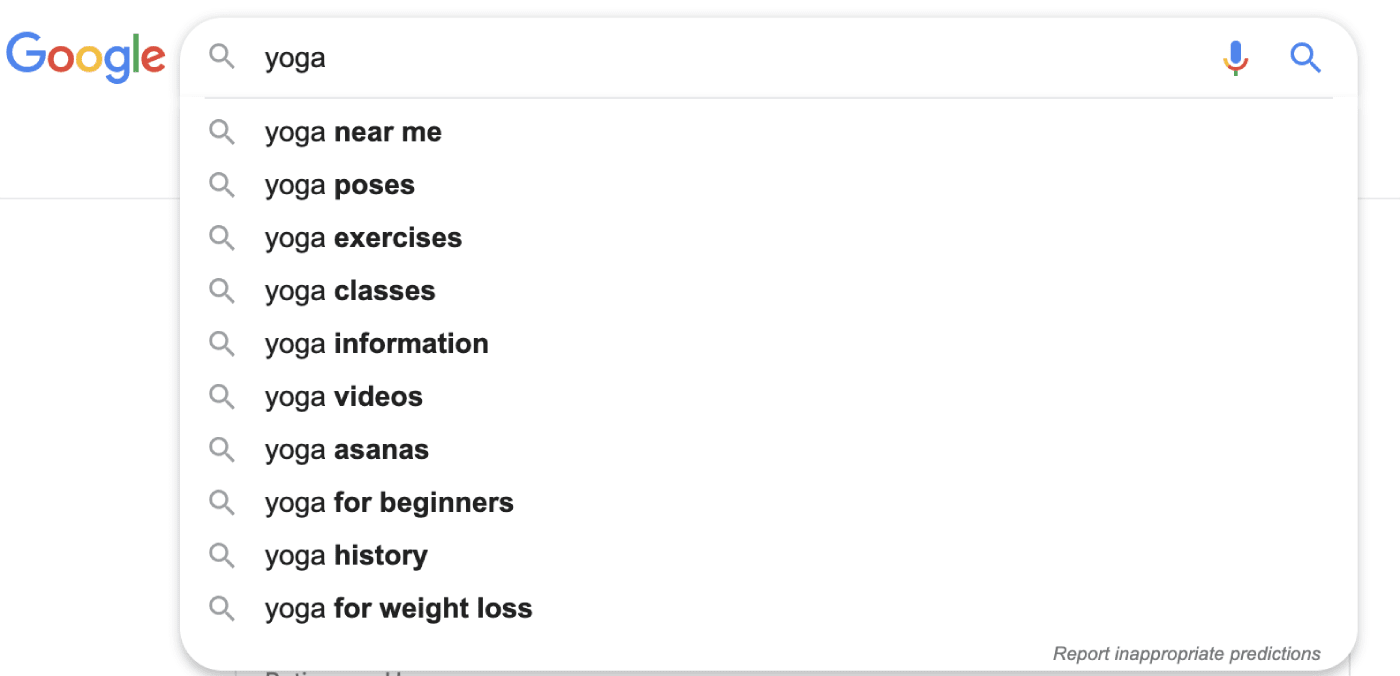 The problem with this kind of keywords is that they are often too broad and lack context. So, to understand what kind of post can rank well for the "yoga asana" keyword, you'll have to actually click on the keyword and scan through the SERP.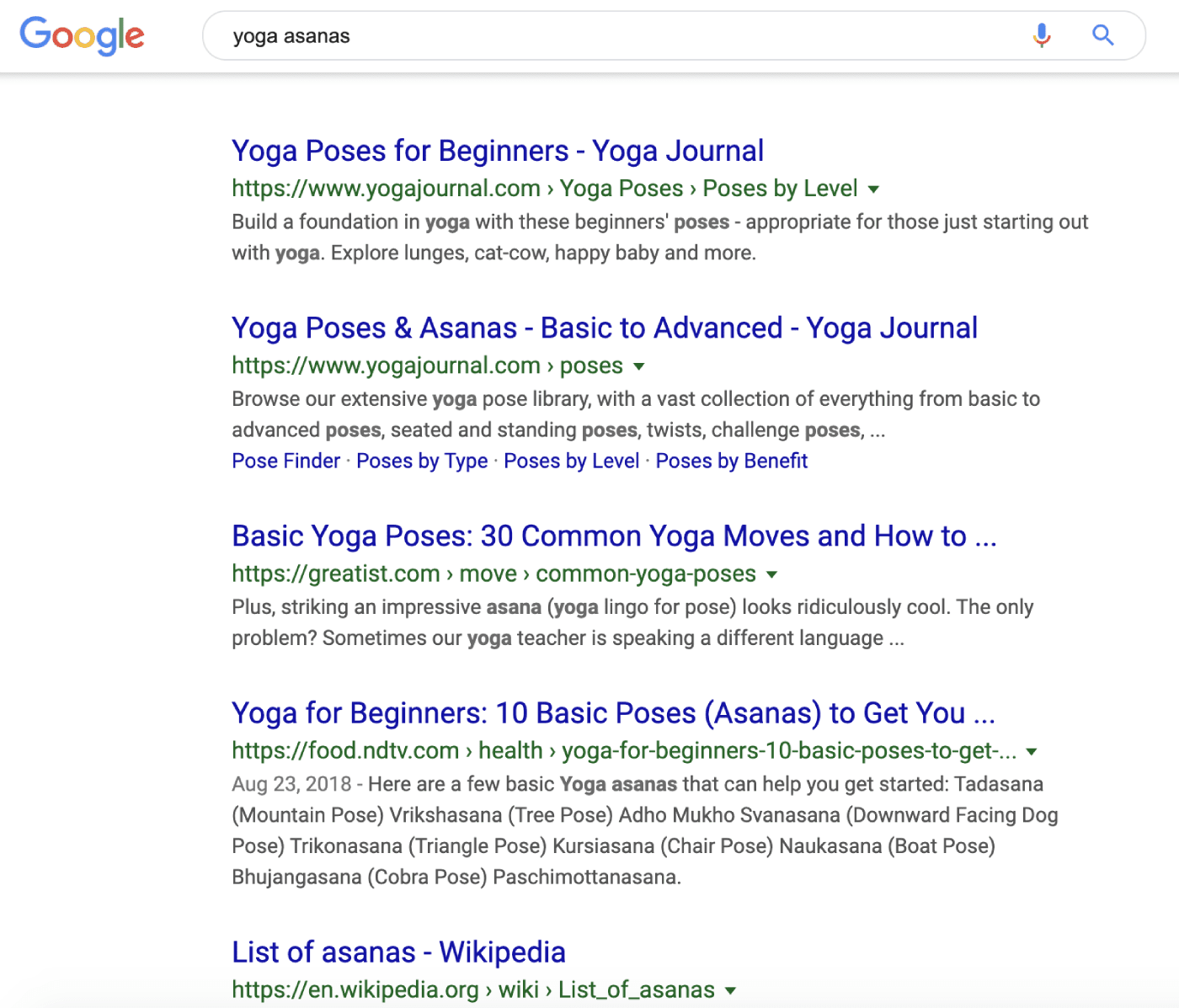 Search results for the keyword make it clear that your future post should be intended for beginners and cover common yoga poses. Checking every search result page will give you even more context.
Besides, the "People also ask" section may also give you some hints.

If you scroll down to the bottom of Google page one, you'll find a list of related search queries that should bring some more topic ideas to your mind.

You can further check related searches for every suggested keyword. For example, if you click on "advanced yoga poses", and once again scroll down to related searches section, you'll see people also look for "advanced yoga poses for two".
You can go on and on this way to gather all the queries Google has to offer. And maybe looking at these keywords will help you come up with some ideas of your own.
Do not neglect Bing and Yahoo!
Bing and Yahoo! collectively power about 4% of all organic searches worldwide and about 7% of searches in the US. It may seem like not much, but optimizing for Bing and Yahoo! will help you get some quality traffic to your website. The thing is that these search engines are mostly used by Generation X who are more brand-loyal and have the highest spending power.
Just as Google, Bing comes up with suggestions once you start typing a search query. Bing's suggestions list will naturally have a lot in common with Google's, but you'll still find some new ideas here.
Bing's related searches section also features some fresh keyword entries.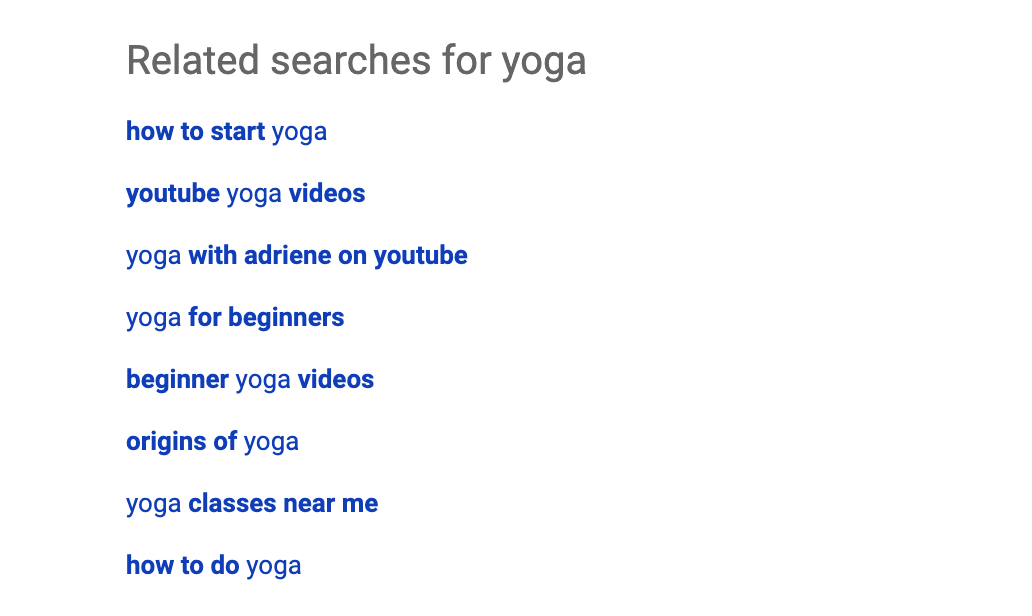 Finally, you can also draw some ideas from Yahoo! Even though it is now powered by Bing, it comes up with its own search suggestions and offers different queries in the Also Try section.
Meanwhile, if you don't feel like spending hours gathering data from search engines, you don't have to. SEO tools can take care of all the monkey work for you, and you'll just have to properly interpret the discovered keywords.
Pull all the data you need from SE Ranking
SE Ranking's Keyword Suggestion Tool boasts a huge database that goes beyond search engine suggestions. It hosts over 2 billion unique search queries, which means you can have thousands of keywords ideas generated in one click – the yoga topic, for example, is covered by over 29 thousand search queries.
For every keyword, you can see plenty of metrics including the keyword's Google search volume – the number of searches the keyword gets each month.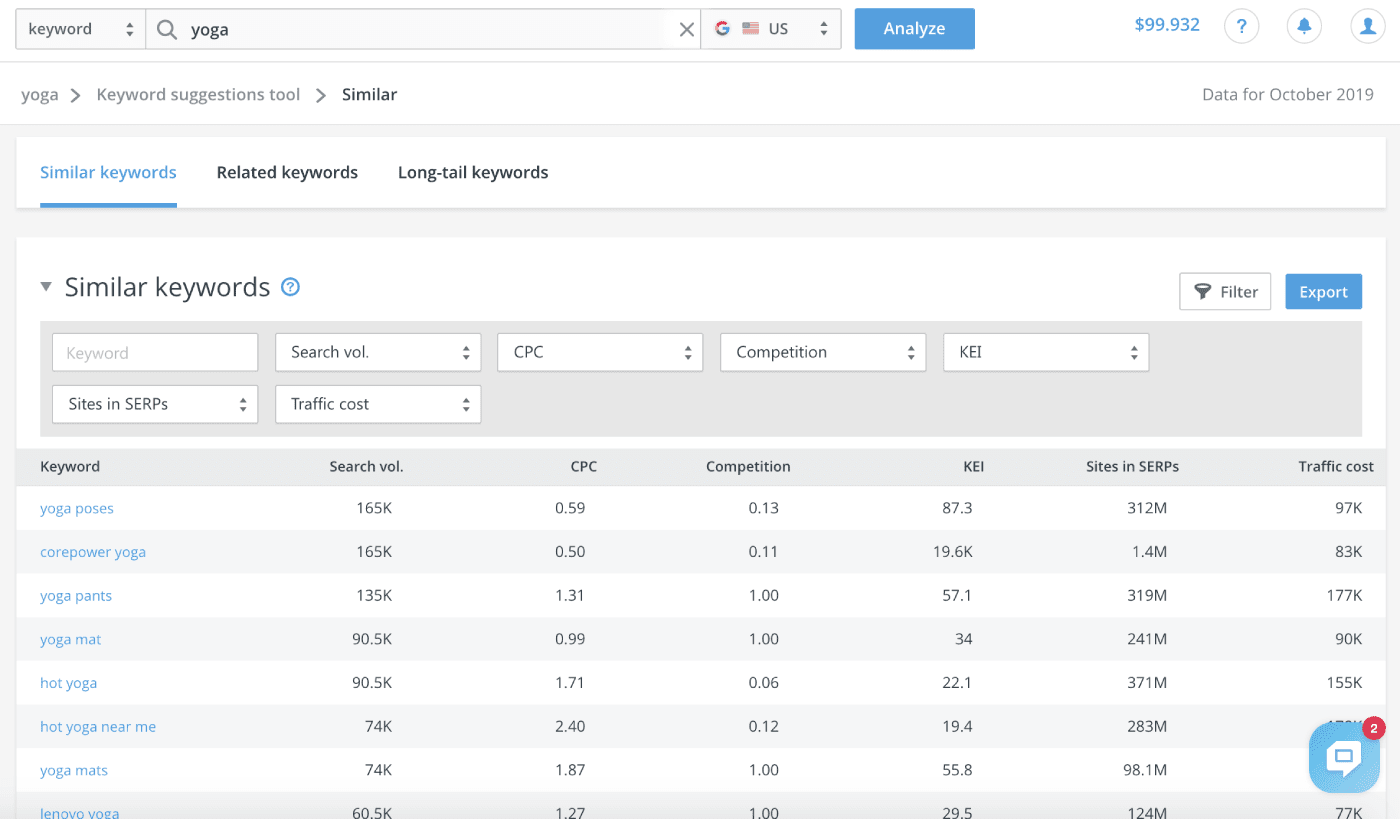 You can use filters to leave out keywords that you don't feel like taking on. For example, you can filter out keywords with a really high search volume, which as a rule are too vague and overly competitive.
Or, say you have an idea about writing a post on how yoga blocks can be helpful for beginners, but you're doubting if users look for any related information. You can use the Keyword filter to only see keywords containing the word "blocks". As you can see, there are several low-volume keywords your potential post can rank for.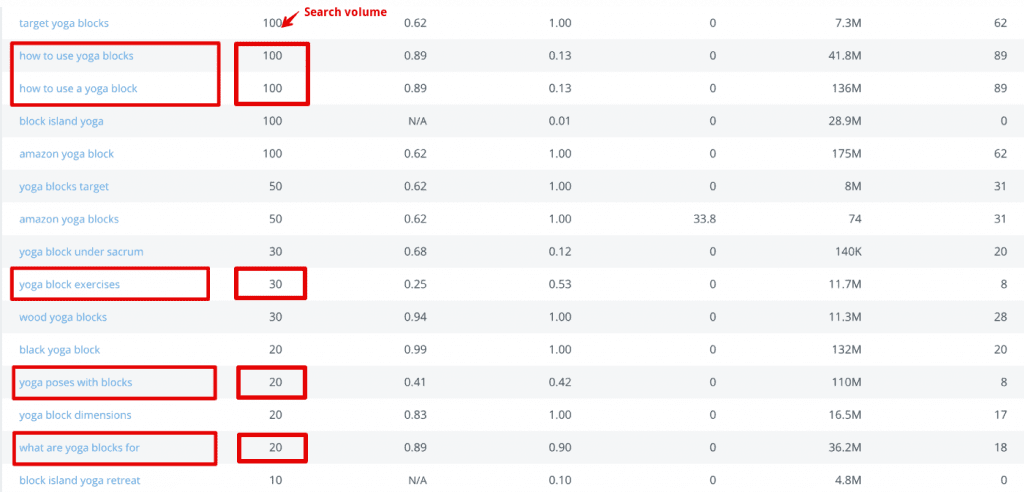 For even more ideas, check the Related and Long-tail keywords tabs. While the Similar keywords tab only features search terms that contain your seed keyword, under the Related keywords tab, you can find all kinds of semantically related queries.

For example, if you look up the "yoga poses" keyword, you'll find search terms like "yoga poses for beginners" or "yoga poses for 2" under the Similar keywords tab. Meanwhile, the Related keywords tab includes such terms as "yoga routines" and "basic yoga stretches". How they are related? Pages that rank for the "yoga poses" keyword also rank for "yoga routines" and "basic yoga stretches".
The Long-tail keywords tab features Google autocomplete suggestions that typically consist of 3 to 5 words. They often have a low search volume and level of competition, which makes them a great choice for new websites that lack authority.
Finally, SE Ranking allows you to easily draw keyword ideas from your competitors. You don't even need to choose which competitor to analyze – the SEO/PPC Competitor Research tool will identify your major SEO rivals and will come up with a list of keywords your competitors rank for while you don't. That way, you can discover some not-so-obvious topics related to your business niche.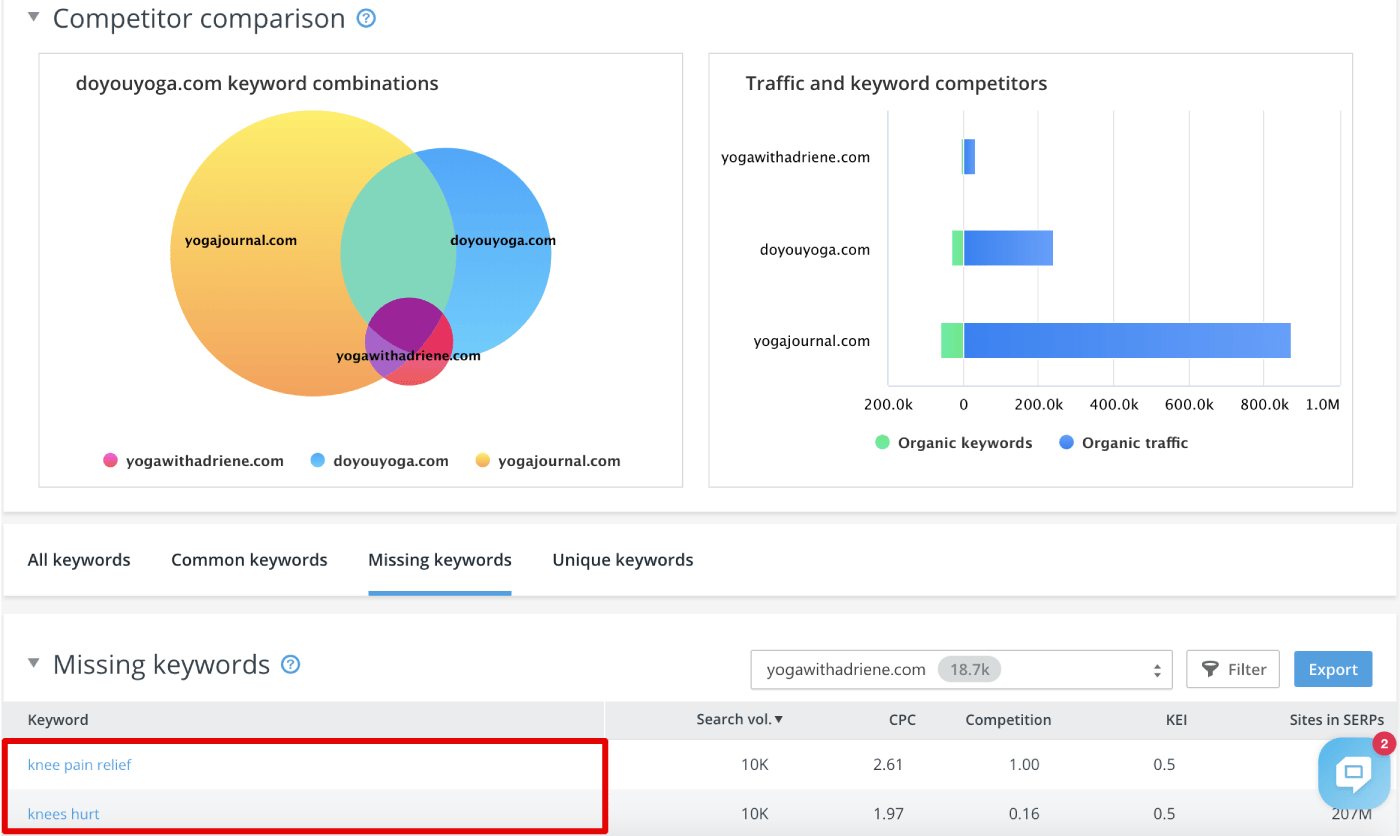 Well, that's about it for traditional keyword research. Pull ideas from Google, Bing, and Yahoo! or use SE Ranking to speed things up, add new topics to your content plan and create new blog posts and landing pages for your website. But don't stop there if you want to better understand your customers. And your next step is learning what the world's second most popular search engine has to offer.
I am talking about YouTube that processes more searches than Bing, Yahoo!, AOL and Ask.com combined, over 3 billion searches to be precise. Let's see how your business can benefit from leveraging video content.
Stay ahead of the game by mastering YouTube
How often do you read something longer than a tweet to the very last word? Will you click See more and spend two minutes reading a wordy post on Facebook? And what about a two-minute video on your newsfeed right below the lengthy post?
Users are now more eager to spend the same amount of time watching videos rather than reading. So, if video content is not yet a part of your SEO and marketing strategy, it's high time to start using it to keep your audience engaged and stay visible in search. And by staying visible in search I mean this.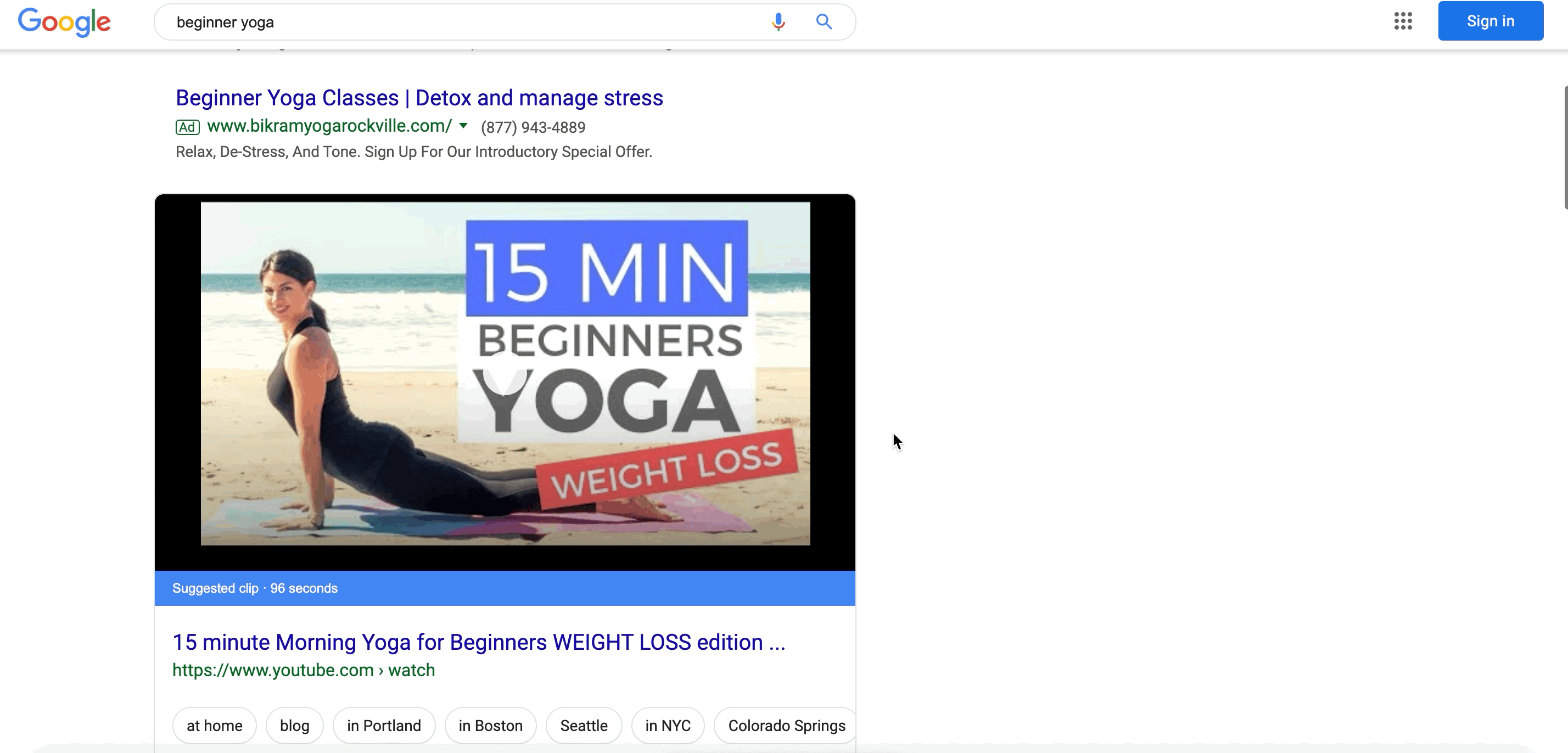 If you google "beginner yoga", you'll see lots of ads followed by a huge featured snippet of the most relevant YouTube video, the "People also ask" section and more YouTube videos. How many users do you think will make it all the way down to the top organic search result?
The thing is that Google has put all of those videos at the top of the SERP for a reason. It means people do not want to read lengthy introduction-to-yoga blog posts, they want to see what to expect with their own eyes and probably try things out. Moreover, some users will not even go to Google or Bing and Yahoo! (which are also full of videos) but will be searching on YouTube in the first place.
YouTube keyword research will help you understand what kind of videos your customers love, and adjust your content marketing strategy accordingly. Just like in Google, once you start typing a query into the search bar, YouTube will come up with some predictions based on YouTube trends and your search history. Depending on the topic, you may get plenty of predictions…

…or just a few.

Judging by the results in the screenshot above, it looks like users interested in yoga go straight to the most popular YouTube channels. So, if you're in the same niche, it makes sense for you to check up on their most viewed videos and create something similar for your own channel.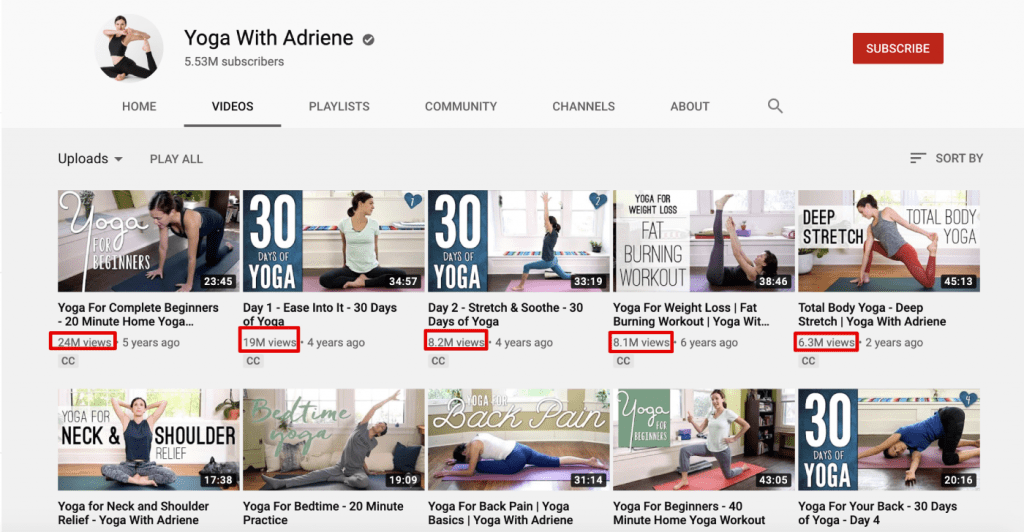 Another strategy for YouTube keyword research is to go through the list of keywords you've discovered earlier, hand-pick the ones you believe can make a good, trendy video and check what YouTube says about it.

Once you get some hints, check the number of views the most popular videos ranking for the keyword get to see if the topic is worth investing your time and efforts.
The yoga niche is a vivid example of a business where you cannot afford to ignore videos. But naturally, this is not the case for every business out there. If you, say, sell fishing gear, it doesn't really make sense for you to invest your time and money into a YouTube channel and compete with fishing bloggers. But you can still check what fishing enthusiasts watch on YouTube and draw some ideas for your blog.
It's up to you to decide whether you need to add videos to your toolkit or not, but here's a little piece of advice. Whenever you have a topic to cover, think of the type of content that will bring more value to your customers. How-to questions, for example, can be best answered with video content while text works better for what-is queries.
Dig dipper through forums
Your target audience is probably hanging out on forums. So, why not check out what they tend to discuss most? Use Google search operators like "keyword forum" or "keyword" + "forum(s)" to find popular hubs. Both specialized forums and larger forums with sections dedicated to your topic will do as long they have a large and active audience.
Digging through forums will let you better understand and alleviate your customers' worries and concerns.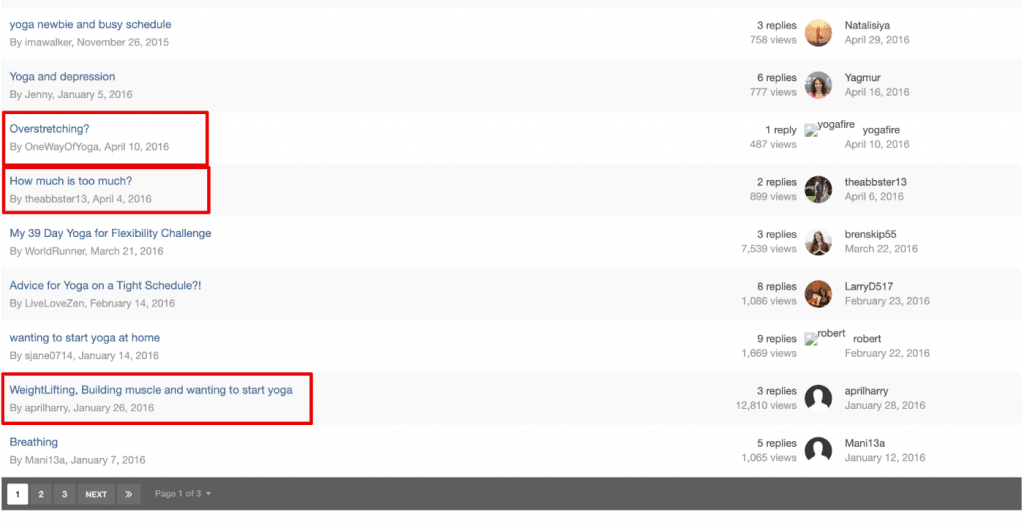 Here you can get more than just a plain list of keywords. Go through the discussion to check what kind of replies the user got and if they were well received – it will help you grasp which angle to take when covering the topic.
With dozens of specialized forums out there, you can draw loads of keyword ideas. So, the right strategy here is to be selective. Pay attention to the number of views each thread got. The more views a thread has, the better chances your blog readers will also love it.
Besides, try to find respective keywords in the list you've compiled earlier and prioritize the ones boasting higher search volumes. If it's not there, but the keyword looks promising, you can still give it a go. Highly-specific long-tail keywords are most widespread, with thousands of new keywords of the sort appearing daily. So, the topic may be trending online, but the tools will lack statistics on it for a while.
Finally, you can actually join the forum discussion and offer some help. The thing is forum users are your potential customers, and by becoming an active member of the community you should be able to bring some of the fellow forumers to your website. Add your website link to your profile, and once you gain some credibility as a forum member, you'll be able to also link to your website in your replies.
Follow your niche topic on Quora
In addition to the niche-specific forums, check out what's going on on Quora. It is a question and answers platform where users follow the topics they are interested in. The Quora community is huge, with popular topics being followed by thousands and even millions of users here. The yoga topic, for example, is being monitored by 712 thousand users, which is huge. You can easily find the topic of your interest via search.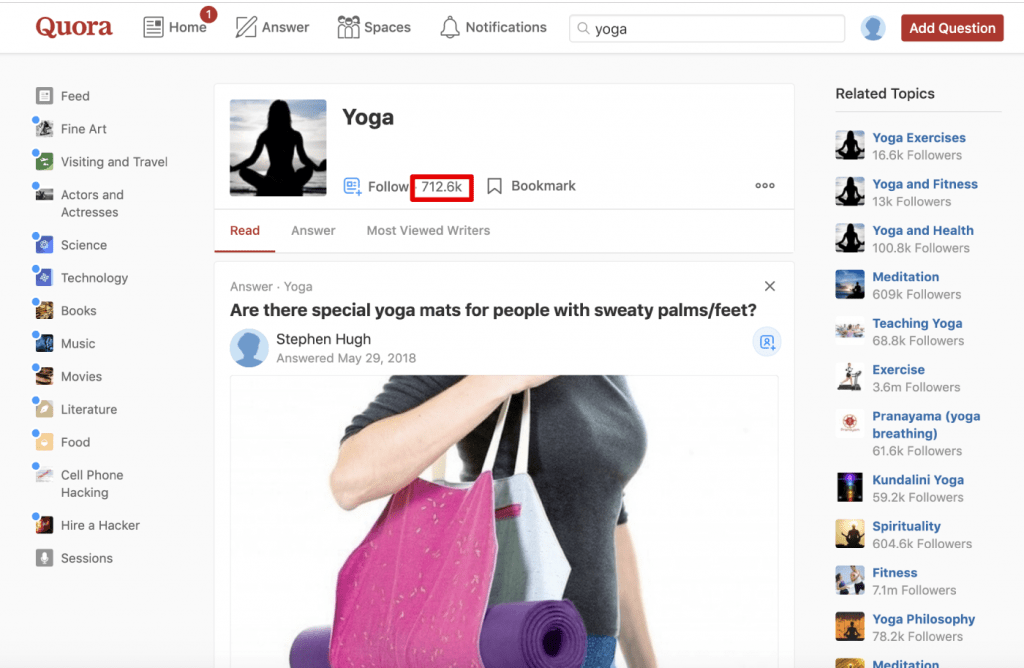 Quora is a great source of traffic and source of inspiration for your new content pieces. Your action plan with Quora is the same as with forums – scroll through the feed to find some interesting topics you haven't encountered earlier, pay attention to the number of upvotes, shares and comments the question received.
Next, check the answers, the number of upvotes they received, see if the question provoked a debate. You can give your own answer to any question, if you believe existing ones were not quite helpful or insightful, and try to get a backlink to your website.
Finally, you can check the Related Questions section. It may give you more keyword ideas or will just prove that the topic is trending on Quora.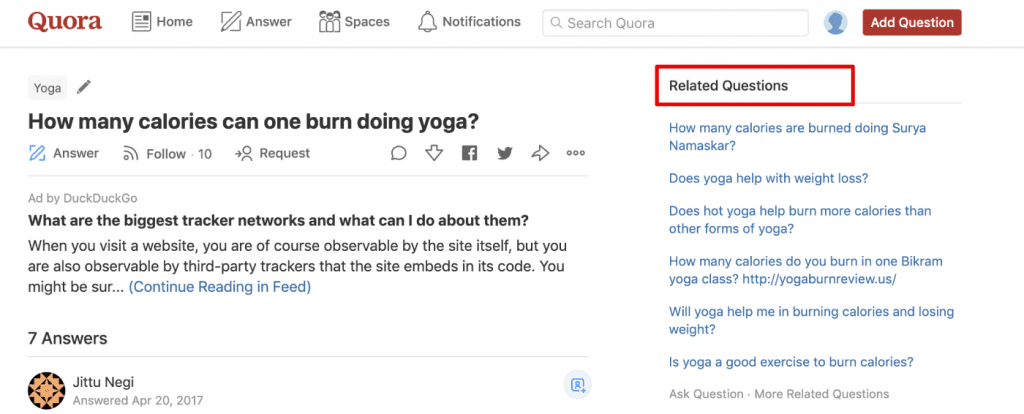 Get even more hints from Reddit
When it comes to forums, you cannot ignore Reddit. This huge network of forums is the sixth most popular website in the US according to Alexa, so you should be able to find a subreddit relevant for your business here.
The yoga community on Reddit has over 234 thousand members and thousands of posts dated back from 2008. But thanks to handy sorting parameters, you can choose to first see the top posts for last week, month or year.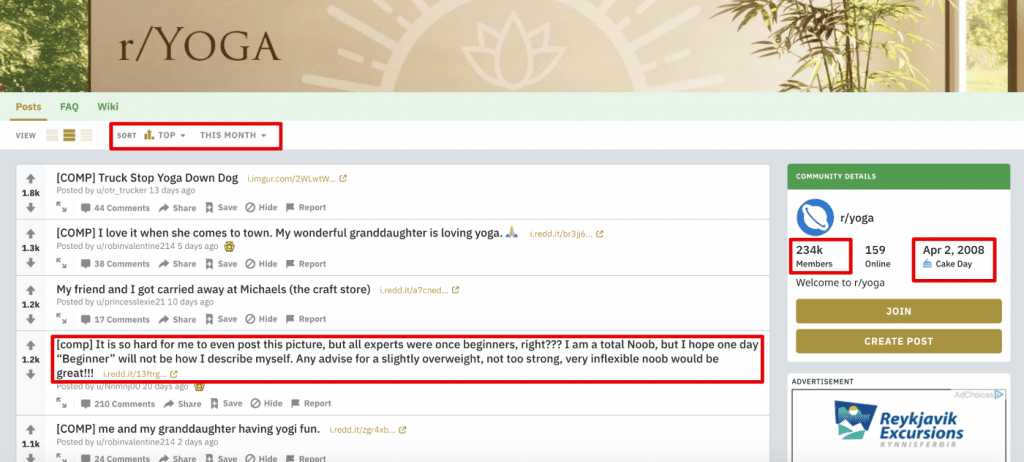 People would often post photos and share their personal achievements here, but advice-seeking threads are also not rare. Once you bump into something worthy, you know what to do. Share your knowledge, and if the thread has hundreds of upvotes and dozens of comments, add it to your blog topic ideas lists.
Alternatively, you can use the Keyworddit free tool that will extract keywords from the subreddit for you. You'll also be able to see every keyword's search volume straight away.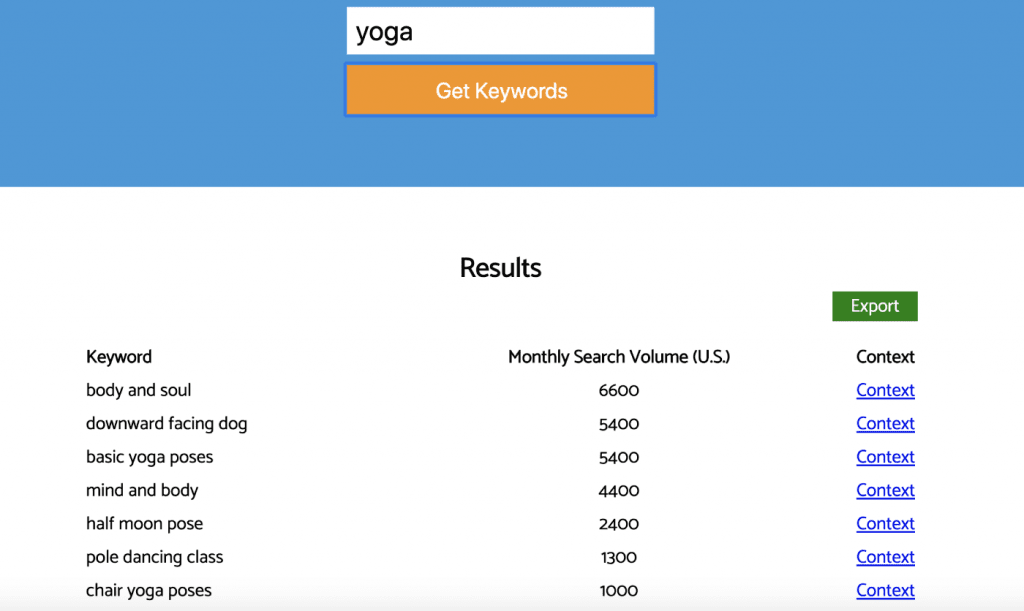 To get some context, click the respective link and you'll be forwarded to Google search featuring all the threads where the keyword appeared.
Final thoughts
The SEO landscape has gone through some drastic transformations over the last decade. In order to succeed in SEO today, you have to excel at content marketing and put user intent first. And thorough keyword research will help you learn which topics resonate with your target audience.
To gain a competitive edge, don't limit your keyword research efforts to collecting the most popular keywords offered by SEO tools and Google suggestions. Check out what other search engines, including YouTube, have to offer, and hunt for highly specific topic ideas on forums, Reddit and Quora. Read top-ranking posts, watch popular videos and study forum threads to learn what exactly your customers want to hear and give them answers in a way that fits best, be it a blog post, a video or a forum thread reply.
Looking for new keyword ideas all over the Internet surely takes a lot of time, but don't let this challenge put you off. Accept it, and you will be rewarded with thousands of potential customers you would have missed had you focused solely on Google.