We are pleased to inform you that we've added a new function "search visibility"! Website Visibility is an indicator of visibility that comes from a website's organic search channel. Check it out!
How to count search visibility in SE Ranking:
where S – search visibility;

F – search volume;

A – adjusting ranking factor.

The adjusting factor is chosen depending on what keyword position your website takes in search engine based on a certain search volume:

11 ranking and so on: A=0.
Why do you need to check search visibility?
In order to evaluate the real result of your keyword position. For instance, your website has 10 keywords that are ranked in Top of search engine by 15 points, 5 keywords that are dropped out by 2 points. It seems that results are good. But if the search volume of the first 10 search queries are less by many times than the search volume of the second batch of 5 keywords it means that search visibility will fall in search engines. Therefore, you will get a low amount of clicks and organic traffic.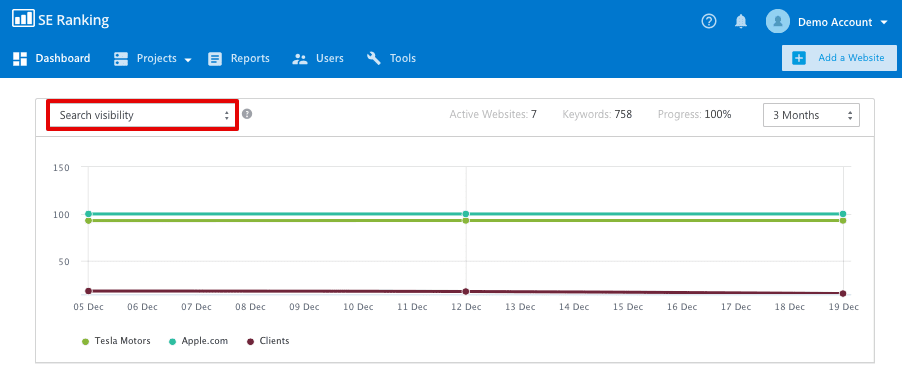 How to customize search visibility chart in SE Ranking:
On the home page of SE Ranking dashboard you will see one of four charts: Average position, Traffic forecast, Search visibility and % in TOP 10.
You can chose the chart by default in the settings.
Good luck with your projects! 🙂