The traffic forecast is the potential volume of traffic that keywords can attract to a website. By analyzing the correlation between keyword search volume and current SERP rankings, a rough estimate of the potential traffic volume can be made.
Obviously, none of the solutions on the market can predict website traffic with 100% accuracy, but SE Ranking's tools definitely come close.
How traffic forecasting can help your business
The traffic forecast is an indispensable tool when it comes to predicting the outcomes of your SEO strategy and optimizing spendings. You can use forecasting data to allocate resources to the most important areas and focus on SEO efforts that will work better than others.
Which insights you can get from traffic forecast data
Determine keyword ROI, identify gaps in strategy, as well as find the weaknesses of competitors.
Evaluate how much time and money you will need to invest to promote products or services, including when planning new product launches.
Provide clients with accurate sales projections. For example, this data will help you answer the question about how much traffic your client will get after 3 months of SEO.
Traffic forecast also helps answer the following questions:
– How much traffic will each keyword drive in a particular region and search engine?
– How much traffic will your main competitors get?
– What is the highest achievable ranking position for a particular keyword?
Who can use the traffic forecasting tool
Whether you are a business owner doing SEO for your website or an SEO specialist who is working with clients, a traffic forecast will help you see opportunities to get better results across different marketing channels.
Now that you know what to expect, what can you do with all this data?
You can build a more accurate SEO strategy and make data-driven decisions.
Identify which pages need your attention for further content optimization and link building.
Get hints on how to optimize your sales funnel.
Find keywords with the highest traffic potential and create new web pages.
Identify which geographical locations bring you the most traffic.
Effectively communicate your SEO strategy to clients and ​​be more persuasive.
Let's now take a look at how SE Ranking can be used to forecast website traffic.
How to see the traffic forecast in SE Ranking
To get a traffic forecast, you must first create a project, add all the necessary keywords as well as the search engines where you wish to track them. After that, you will have four ways of viewing traffic forecast in SE Ranking.
1. Traffic forecast for all sites added to your account
On the main Dashboard, you can see every active website that you have under your account. Keep in mind that the data displayed for each website on the Dashboard shows the traffic forecast for all tracked search engines.
For example, if you're tracking website rankings on Google and Bing, the system calculates the overall traffic forecast in both search engines without providing separate data on the Dashboard.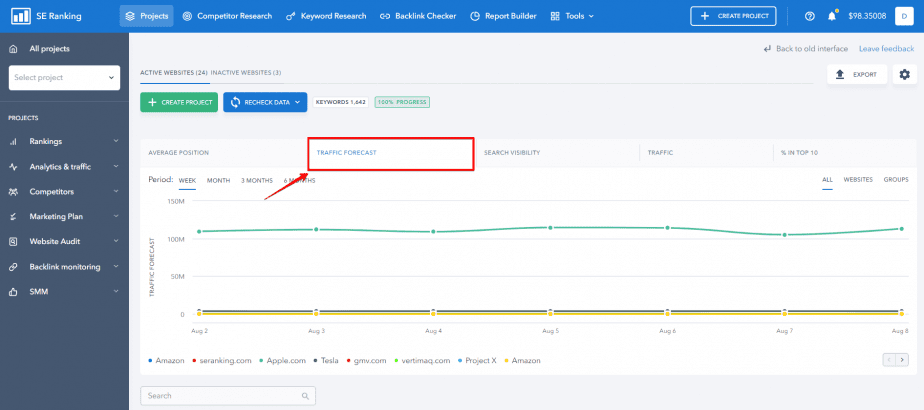 SETTING UP THE TRAFFIC FORECAST CHART
You can configure the chart you see at the top of the page on the Dashboard. It has five options (Average position, Traffic forecast, Search visibility, Traffic, and % in TOP 10).
To do this, go to the Dashboard settings in the top right-hand corner, as shown below, choose Default chart type and select "Traffic forecast" before hitting 'Apply'.
2. Traffic forecast by search engine and region
To get more accurate and valuable traffic forecast data, check it for each search engine separately. To do this, select a website, go to Rankings → Detailed, scroll down past the rankings data for each tracked search engine, and select "Traffic forecast".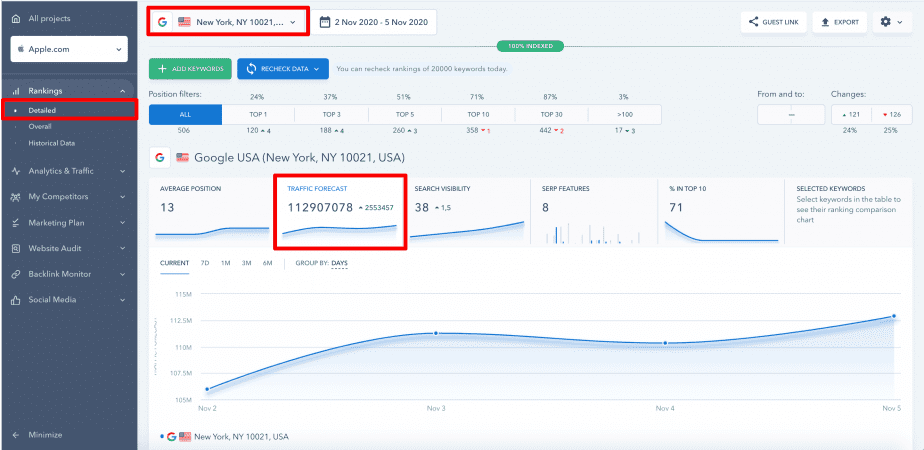 Additionally, you can see all of the search engines added to a project in a single chart by going to Rankings → Overall.

3. Traffic forecast for each added keyword
To see a traffic forecast for each keyword separately, go to Rankings → Detailed. If you don't see the "Traffic forecast" column on your Dashboard, add it by clicking on the column filter above the table.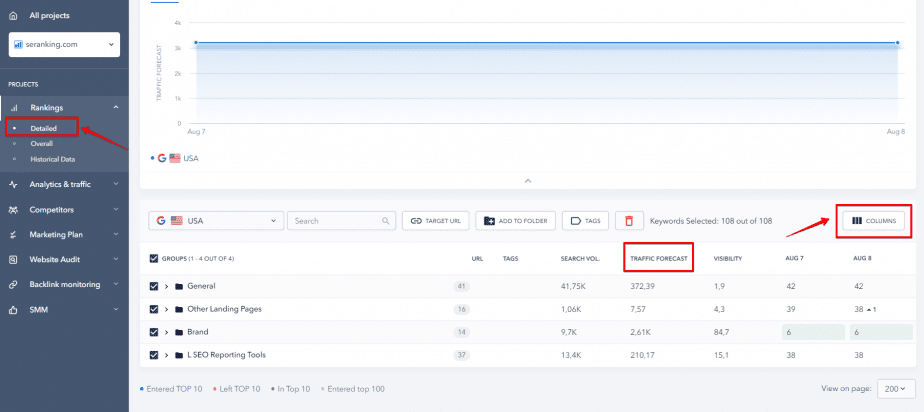 If you're having a hard time finding relevant keywords, use the Keyword Research tool before analyzing potential traffic. You'll get lots of suggestions and a whole range of other important data.
4. Competitor traffic forecast
You can view the traffic forecast of your direct rivals by selecting a project and going to Competitors → My competitors. When evaluating the traffic forecast for your site, you can also compare it with that of your competitors to get a more profound understanding of the overall traffic dynamics.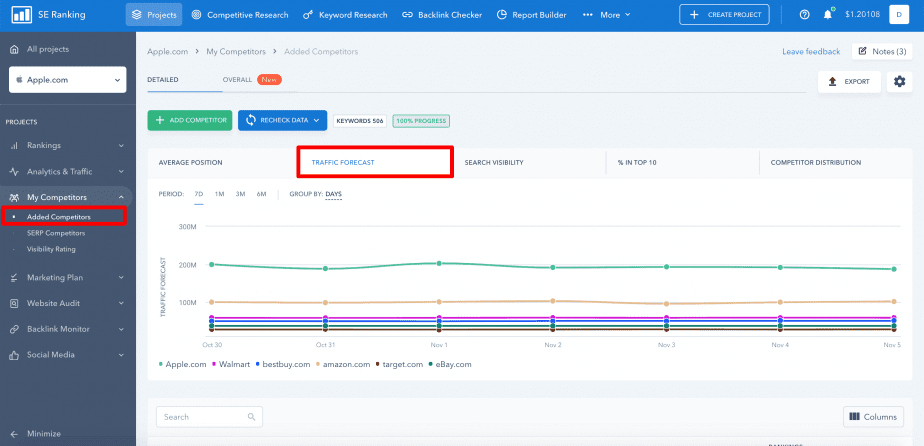 If you need to take a deeper look at your competitors or want to identify them, use Competitive Research. With this tool, you will learn all the secrets of your competitors in the searchю
The traffic forecast data on your site combined with that of your main competitors helps set clear priorities on your current SEO strategy, as well as adjust it according to future plans. All of this can be easily done with the help of SE Ranking's all-in-one SEO platform.
How the traffic forecast is calculated in SE Ranking
We use the following formula to define the traffic forecast (T) in SE Ranking:
T = F*R*I1*I2
where
F is the keyword search volume based on Google Keyword Planner data;
R is the current website ranking for the target keyword;
I1 is the adjusting index for search engines: Google I1=1; Yahoo I1=0.3; Bing I1=0.3 (Google gets around 3 times more traffic than Bing and Yahoo);
I2 is the index that shows the maximum amount of traffic you can get with a certain website SERP ranking position. According to the AdvancedWebRankings data, here's how potential traffic is distributed among the top search results:
Top 1 — 27.53%
Top 2 — 17.63%
Top 3 — 5.62%
Top 4 — 4.13%
Top 5 — 2.74%
Top 6 — 1.81%
Top 7 — 1.54%
Top 8 — 1.24%
Top 9 — 0.84%
Top 10 — 0.83%
Breaking down traffic forecasting: www.bikeperfect.com
Let's see how to forecast organic traffic by analyzing Bike Perfect—a blog for cyclists that provides bike buying advice and features product reviews.
First of all, let's create or choose the project and set up all the filters. In our case, I am going to track rankings on Google in the USA.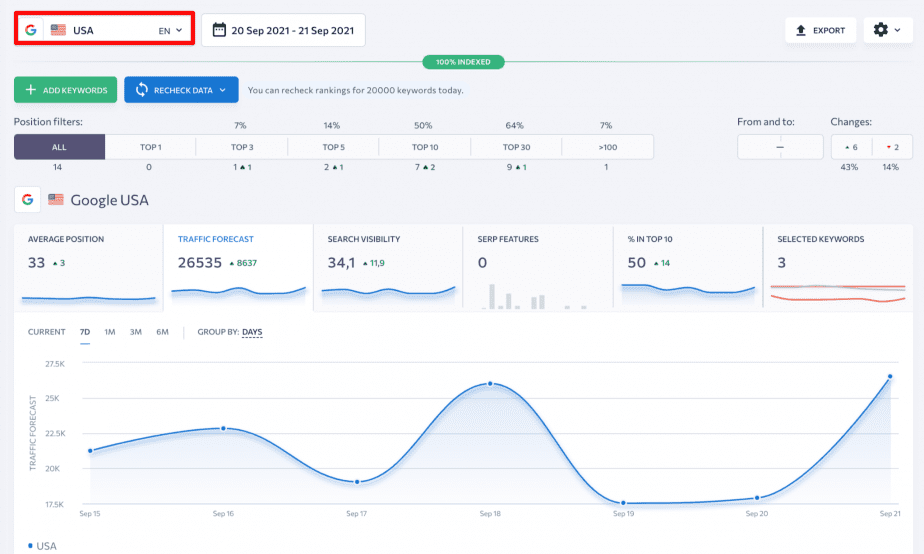 The next step is to see which keywords can bring us the most traffic. For example, the keyphrase "mountain bike on sale" will potentially drive 4.5K users, whereas "full-suspension mountain bike" has a traffic forecast of zero. The reason for this is that the position of the second keyword is too far away from the top 10 where all the traffic usually comes from.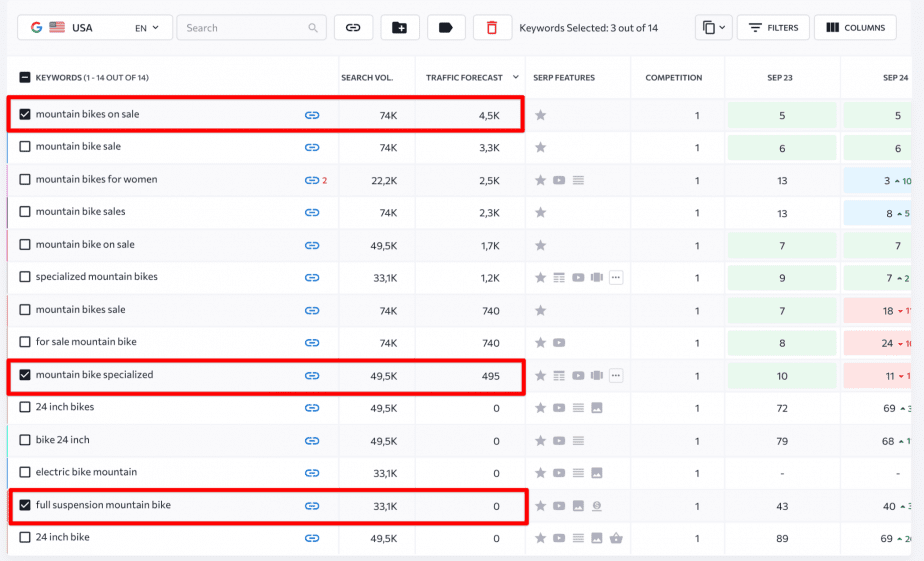 You can also see the highest-ranking URL for each tracked keyword in a particular country by hovering the mouse over the link icon. Here, the URL /best-mountain-bike-deals ranks for the keyphrase "mountain bike on sale" in the USA. This means that the forecasted volume of traffic—4.5K visitors per month—is expected to come to this particular page; and visitors from the US are finding this page by the keyword "mountain bike on sale".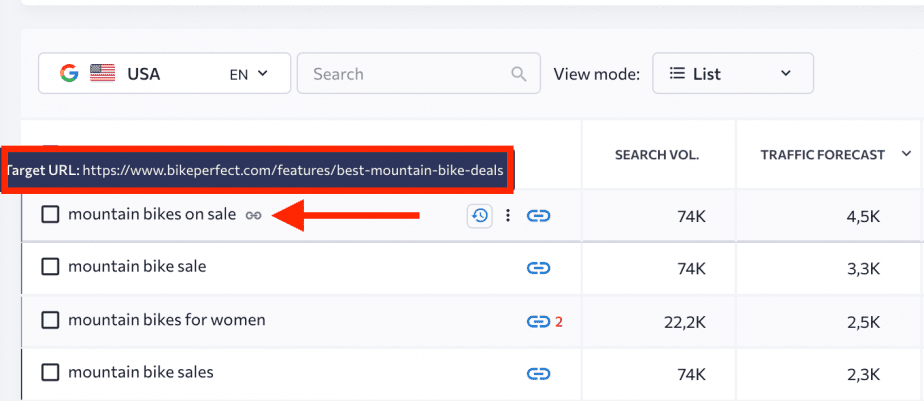 By selecting the target URL, you can specify a particular page that you want to rank for the selected keyphrase.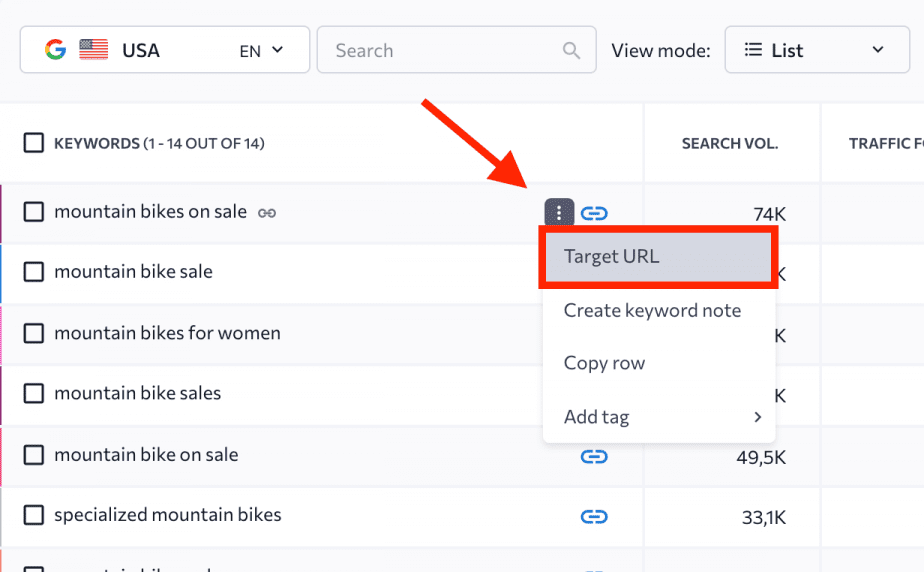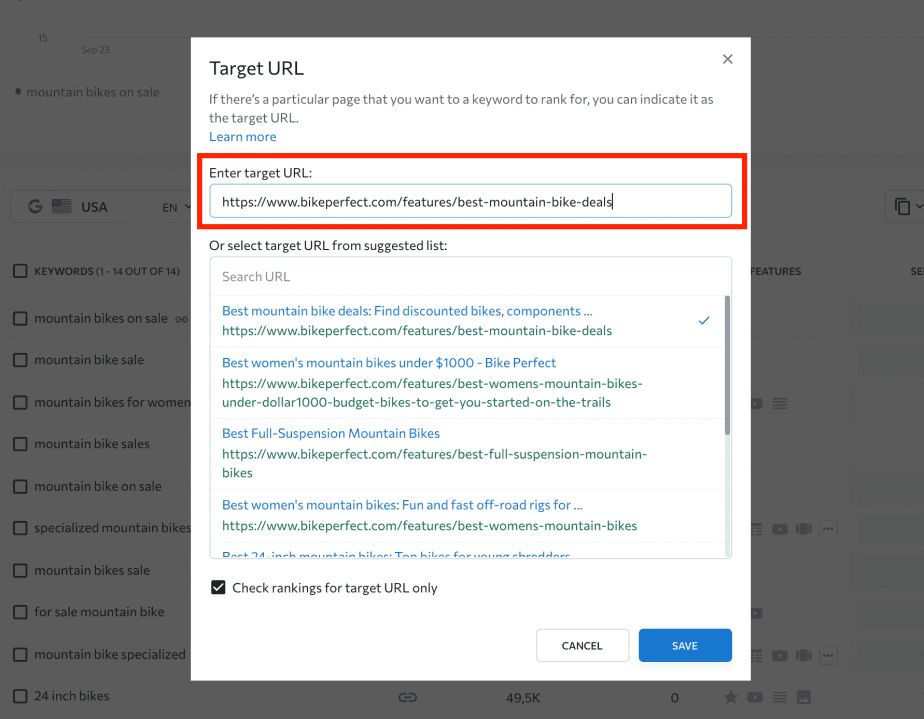 You can also filter the keywords and see which of them can bring the most visitors. In our case, "mountain bikes on sale" leads the list, whereas the keyphrase "mountain bikes for women" has jumped from the 13th to 3rd place in the SERP and is estimated to be among the top-traffic keywords. This data will help you see which keywords and corresponding URLs have the potential of driving the most traffic to your website.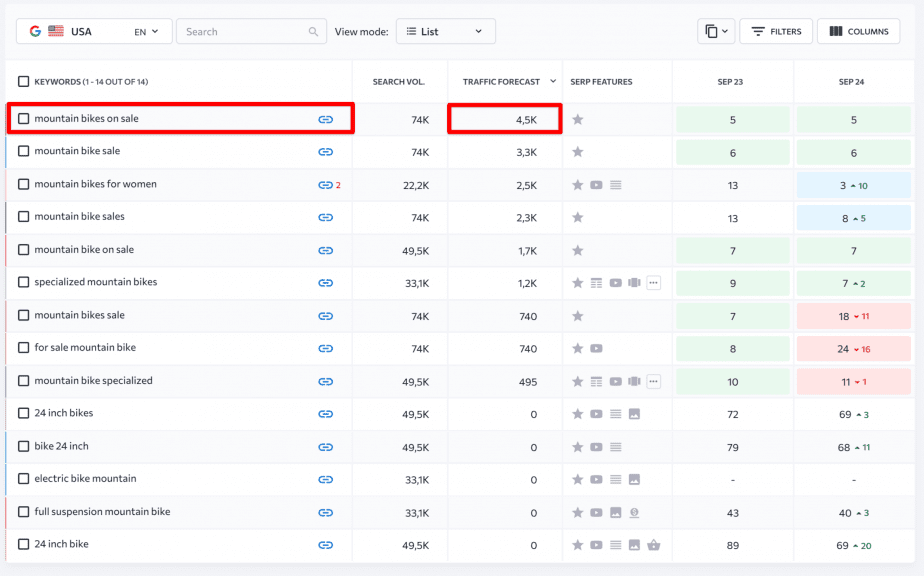 By clicking on Historical Data, you can see which of the tracked keywords improved their rankings and vice versa. For example, three months ago the keyword "for sale mountain bike" ranked for position number 51 and jumped to the 6th position on the 21st of September, which consequently led to the growth in traffic.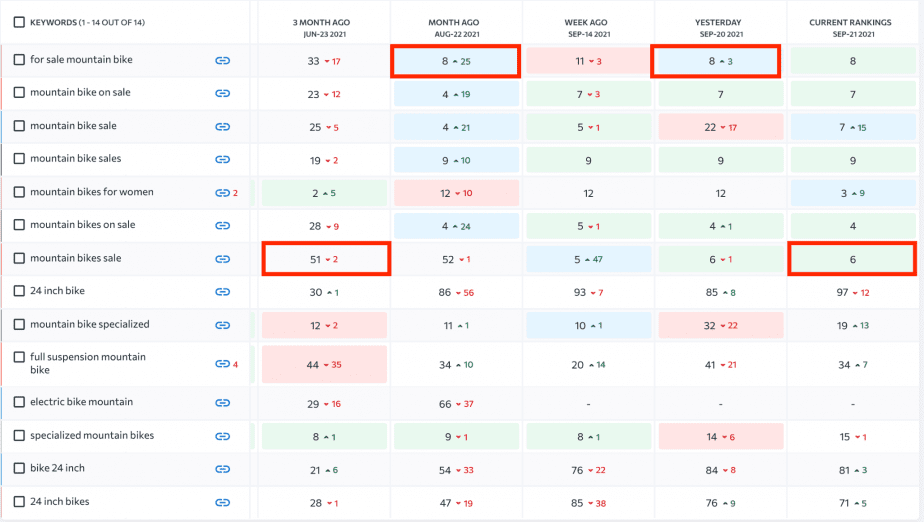 This means that you should analyze the top-performing pages and optimize the existing content of the pages that have great traffic predictions but can't get top position.
How to estimate website traffic
First of all, you'll have to export the following data to the spreadsheet: keywords, search volume, traffic forecast, and current position.

Then, calculate your potential traffic using the average CTR for position #1. In our example, the average CTR for the first position is 25%. You can select the average organic CTR based on various criteria, such as SERP features, geography, types of devices, category, and others. To determine potential monthly traffic, multiply 25% by the average search volume for each targeted keyword. You can also make your own adjustments and calculate data for keyword clusters and URLs.
Finally, subtract the Traffic forecast value from the current traffic and see how many potential visitors you are missing. Alternatively, you can pull the actual data from Google Analytics.

Next, let's compare traffic forecast data of the competitors: summitbicycles.com, bikesonline.com, and bikeexchange.com.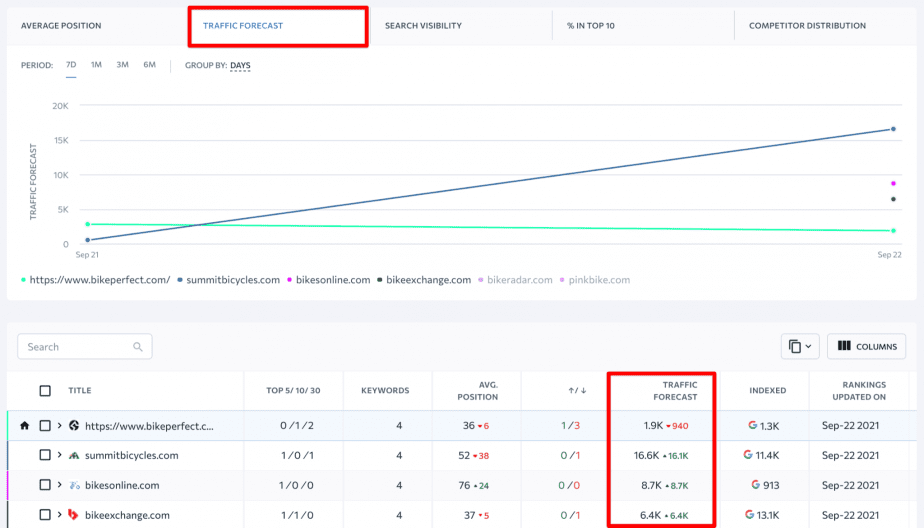 The chart shows that all three competitors have better traffic predictions. What does this mean for us?
Well, with the data of our competitors' websites, we can see where their efforts pay off: which keywords to focus on, what kind of content they have, how they approach on-page SEO, internal links and backlinks, or whether they do other activities that boost their domain authority and increase the ranking position.
Final remarks
Google's algorithms are quite complicated and wrapped up in a mystery, making it difficult to identify what exactly you need to do to rank at the top of the SERP for your focus keywords. However, forecasting organic traffic is a more clear process as it can be calculated.
With the help of SE Ranking, you can build surprisingly detailed estimates to finetune your marketing campaigns and SEO strategy. Whether you are an independent SEO expert or a part of a marketing team, this tool will give you fast and accurate results that show how much traffic and sales you can expect.
Meanwhile, we advise you to read our article on other digital marketing metrics and data used in SE Ranking tools. This can help you build a winning marketing strategy based on user data.
Was this guide helpful? Let us know in the comments below!