The Role of CTR in SEO: How to Increase the Number of Clicks From the SERPs
CTR (click-through rate) is the ratio of clicks on an ad or search snippet to the total number of views. Say, a web page has been shown 150 times to searchers but only 15 people clicked on the link. This page's CTR would be 10%.
So, the CTR calculation works as follows:
CTR = (number of clicks / number of views) х 100
What do CTR measurements mean in ad campaigns and SEO?
The click-through rate is important for both organic and paid campaigns because with both these traffic channels, you want to maximize the number of users who get hooked on your message and follow your link.
CTR in PPC ads
A good CTR measurement is one of the key aspects of an effective ad campaign. If the ratio is high, users are finding your ad attractive and helpful. The right targeting—when an ad is being shown to the audience that is likely to get interested—helps achieve a great CTR.
CTR estimations impact your Ad Rank which determines your ad position. Google sees ads with high CTRs as high-quality and relevant and shows them more often and on top of less clickable ads.
CTR in SEO
Website performance reports in Google Search Console and similar tools include average CTR data. The CTR in organic search means the percentage of searchers who visited a web page from the SERPs.
What users see in the search before clicking is a snippet which includes the following elements:
URL of a web page
the title tag (this is what users click on)
the description meta tag (a short description of web page's content)
Sometimes, a snippet includes additional elements: sitelinks (we'll cover them later), publication dates, rating bar, images, or else.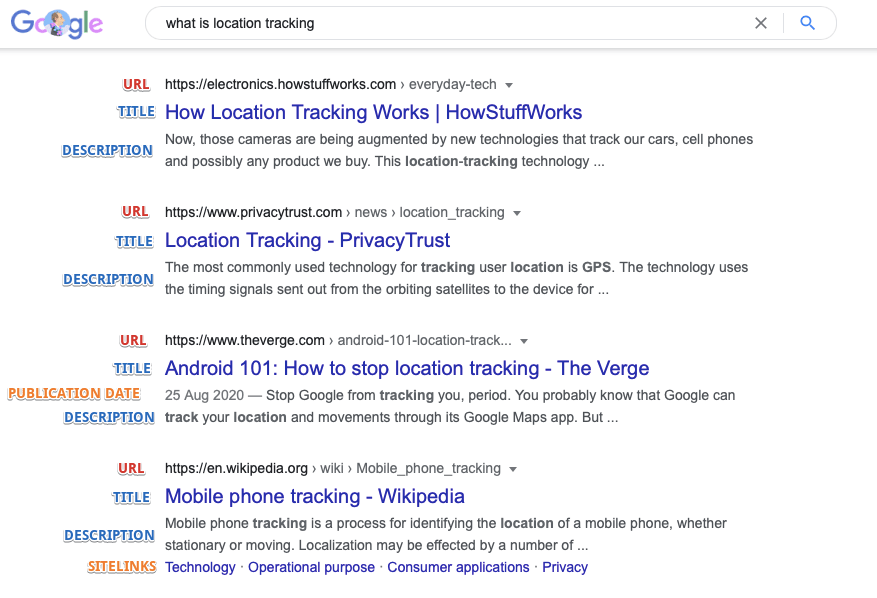 Users click on the title they find the most relevant to their query but the URL and description also influence the attractiveness of a web page in the search results. It's important to optimize all these elements to get the most organic traffic.
Why should you work on the CTR of your web pages?
The higher the website's CTR, the higher its traffic. It's important to monitor your pages' CTR and improve snippets if necessary. Working on increasing the number of clicks will bring you the following results:
Competitive edge in the SERPs
A web page can stand out in the search results and get more clicks thanks to an informative and well-structured snippet.
Higher rankings
The CTR is part of behavioral factors that assess user engagement and interest. While it's clear how click-through rates impact ad positions, search engines don't tell much about how click-through rates impact organic rankings. A lot of user-centric factors are ranking signals—for example, Google's page experience—but there's no information on how the CTR can be used by search engines. Given that the first five web pages in the search results get around 70% of all clicks, we can say that a good click-through rate is potentially a positive ranking signal.
What influences the CTR in organic search?
Several SEO aspects impact how many clicks a web page receives.
Page ranking
The higher a web page is ranked, the more searchers visit it. Statistics show that the first search result alone receives 28% of visits, while the second already receives significantly less, 15%.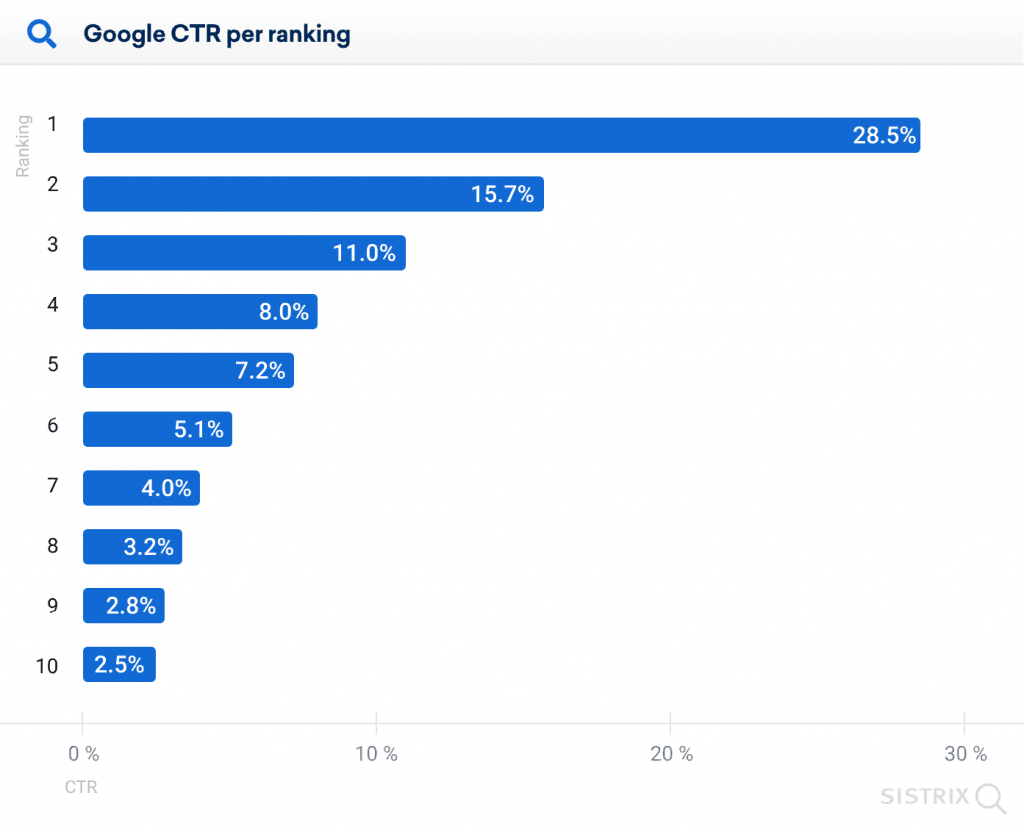 The highest CTR is characteristic of brand queries: when users are searching for a particular company, they are most likely to visit the company's website.
Snippet's relevance to the query
If title and description are clear in what the page is about and this information is relevant to the search query, users are more likely to click. Make sure to add the right keywords and make the snippet attractive to target users. Note that if you don't fill your title and description tags, search engines will automatically create a snippet by finding what they think are the most relevant phrases from a page.
Keywords a page is ranking for
The average CTR of a web page is calculated based on all the search queries that page ranks for. For instance, general words and phrases like "fish tank" or "buy a fish tank" have a higher search volume and are shown in the search more often than specific long-tail keywords like "buy fish tank with stand 55 gallon."
However, the latter are clicked more often. It has been discovered that ranking high for long-tail keywords brings a website a 3-6% higher CTR.

Websites that aren't ranked in the first results page have a rather low average click-through rate. And it gets lower as the search volume of target keywords increases.
Snippet's attractiveness
Besides being relevant to the query, a search snippet can attract users with catchy phrases, call-to-actions, special symbols, visuals, and other elements.
10 ways to increase the CTR
Let's discuss the measures you can take to increase the click-through rate and attract more visitors to your website.
1.Title and description optimization
Comprehensive title and description tags help shape how a web page looks like in the SERPs. Now search engines tend to form separate descriptions for each query and the description meta tag per se isn't a ranking factor—but you shouldn't ignore it.
Here's what you should keep in mind when writing title and description tags:
Length. What is shown as title and description varies depending on the screen size. To have all searchers see what you've put in the tags, keep the title up to 60 characters and the description up to 160-200 characters.
Keywords. It's a common practice to add relevant keywords to the search snippet, and it's best to place them closer to the beginning of the tags.
Uniqueness. Each web page should have unique titles and descriptions, and the title shouldn't be the same with the page's heading (H1).
2.Making the snippet more notable
To make the snippet more attractive to searchers, you should add valuable information to it and highlight the most important phrases. Here's what helps a web page stand out in the search results:
Magnet words and numbers. Users looking to buy something often get interested in words that promise additional profit ("sales", "gift", etc.). Users searching for some information often like lists and stats mentioned in the title ("the top 10 brands…", "the 10 best ways to…", and so on).

CTA. A call-to-action element is effective when it corresponds to the search intent: for example, when people are looking for downloadable content, it's a good idea to use "download" in title and description.

Structural elements. Adding vertical bars to divide sentences or square brackets to highlight something is a simple yet powerful way to structure the snippet. Vertical bars are often used to show the item category or brand name.

Additional symbols and emojis. Special characters and emojis can liven up the search snippet. They significantly boost engagement in social media and can be incorporated in title and description tags. Naturally, it only makes sense to use emojis or special characters if they are relevant to a page and brand image in general.

3. Highlighting freshness and topicality
You can often see publication dates in the search results. It's important to keep the content on web pages up to date and indicate it in titles and headings so that searchers know they will find the latest information. Search engines also favor the latest information and use freshness as a ranking factor.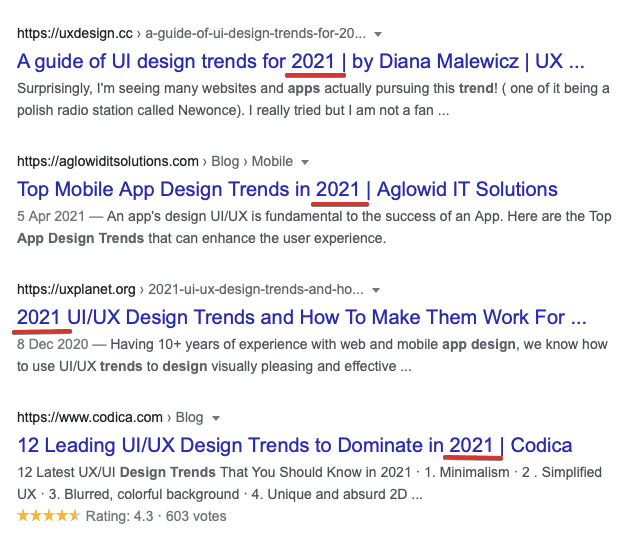 4. Using clean URLs
All your URLs should be SEO-friendly, meaning that they should be concise and comprehensible, while words in a URL should be divided by hyphen. It's a good idea to put a keyword in a URL—those pages get an up to 45% higher CTR.

5.Adding structured data
The semantic markup (schema.org) helps structure different types of content.
Thanks to it, search engines can better understand a web page and generate special elements in the SERPs: ratings, prices, FAQ, etc.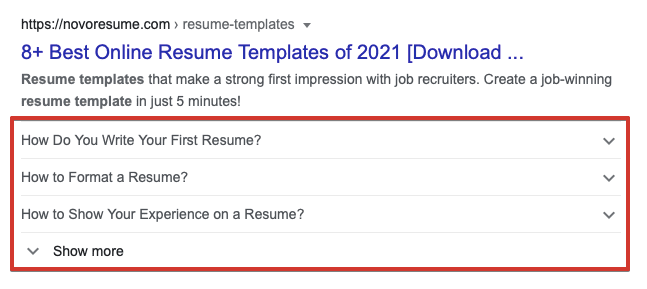 6.Setting sitelinks
Sitelinks are clickable elements in the snippet that allow users to jump to different sections of a page right from the search results. Sitelinks can be shown in a row or as columns below the description. With sitelinks, a web page is more noticeable in the results and therefore has a greater CTR and traffic potential.
Search engines automatically set sitelinks but there are ways to increase the chances of getting those: build a clear website structure, add internal links with relevant anchor texts, write image descriptions in the alt tag, and so on.

7. Adding business information on the maps
Search engines adjust the results based on user location (if they allow location sharing). When someone is searching for products or services that are available locally or for events or specific places, the SERPs may include the map with a list of relevant businesses.
If your company has a physical address, you should register it in Google My Business, Bing Places for Business, Yahoo Local, and other business listings. This way, the location, together with essential information, will be displayed on the map for relevant local queries.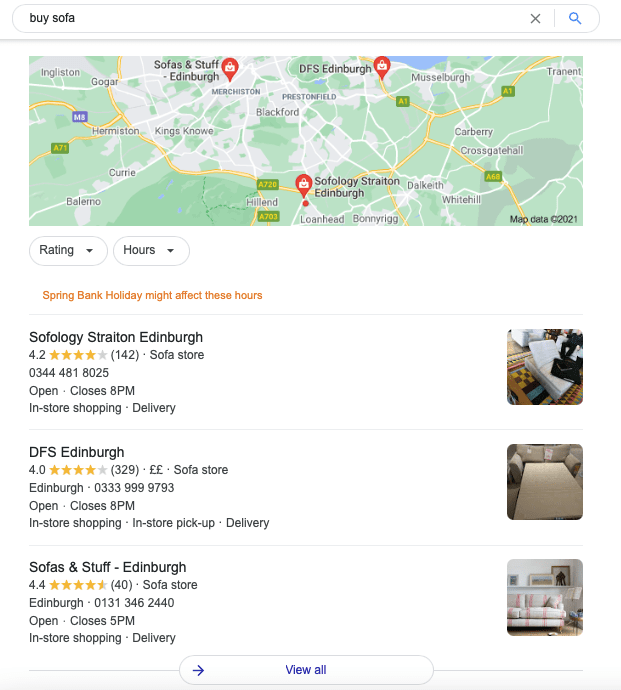 8. On-page optimization
Sometimes, the search results include a featured snippet—it's the first result displayed as a block with text and images or a list. It's noticeable among other results and can attract a lot of clicks (sometimes, though, users get the answer they were looking for from the featured snippet alone and don't click to visit the page).
To help search engines generate a featured snippet based on your page's content, make sure to structure the information: divide the page into logical sections, use bulleted or numbered lists, and incorporate visual aids like charts.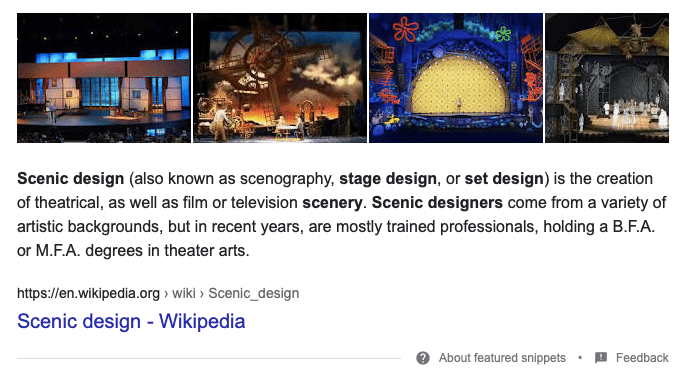 9. Targeting long-tail keywords
As we've mentioned, keywords with a more specific intent can provide pages with a higher CTR: they are searched less often but clicked more often. If you focus on optimizing pages for long-tail keywords, you are likely to increase the average click-through rate.
10. Analyzing competitors
It's important to monitor the SERPs for your target keywords and see what snippets competitive websites get. Try looking at the web pages from a regular searcher's point of view and notice what catches your attention and when you want to follow the link. It can help experimenting with your own web pages and improving their CTR.
Where to start when improving the CTR?
Before you start working on your web pages' potential to attract clicks from the SERPs, you should:
learn the current CTR
define what pages need snippet improvements
How to learn a web pages' CTR?
Search engines collect information on views and clicks and show it in webmaster services like Google Search Console. SEO platforms also can help learn your web pages' CTR. Let's see how it works.
Google Search Console
In the Performance report in GSC, you can see the number of views and clicks, the average CTR, and Google rankings in a given time period. The data is available for different types of search: web, images, videos, news. You can also filter the CTR data by page, query, and device.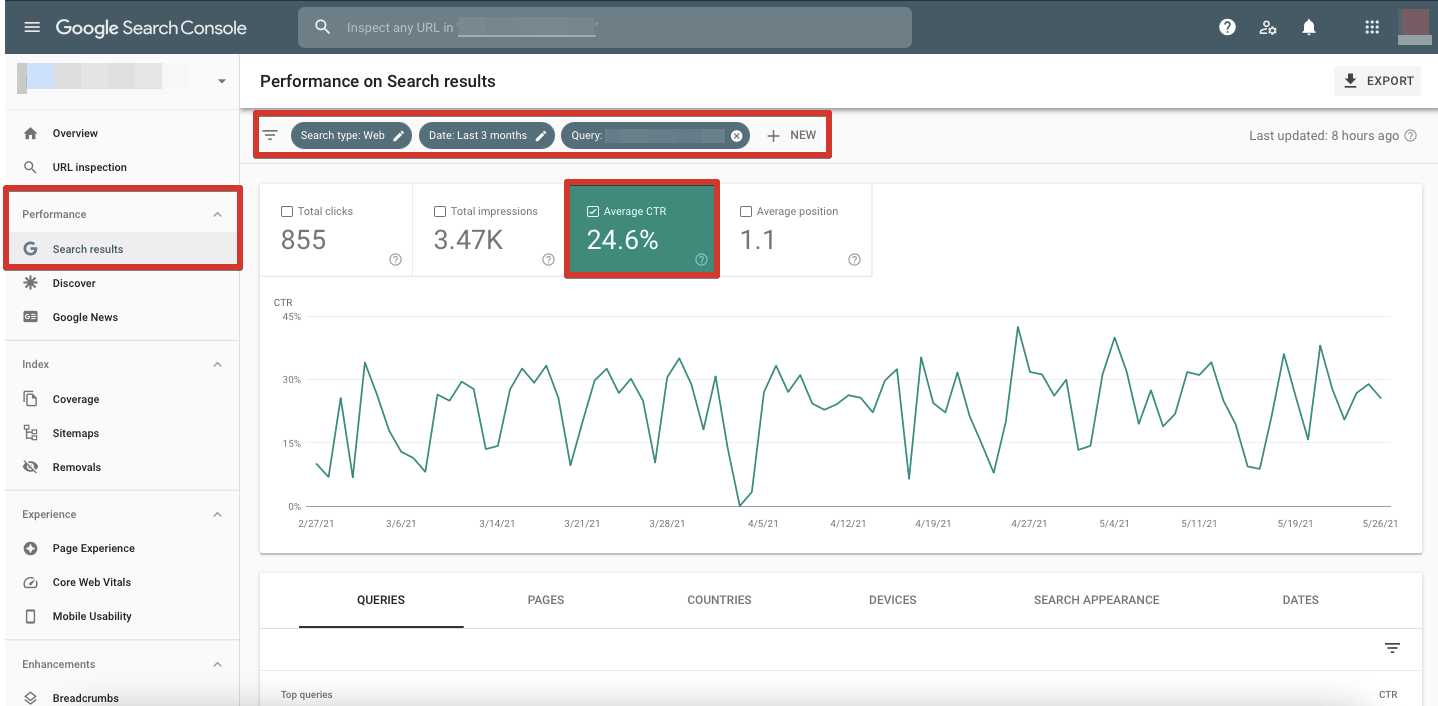 SEO platforms
Tools for SEO specialists combine different sources of analytics and offer detailed reports with a lot of valuable metrics. For example, you can synchronize your GSC and Google Analytics data with SE Ranking.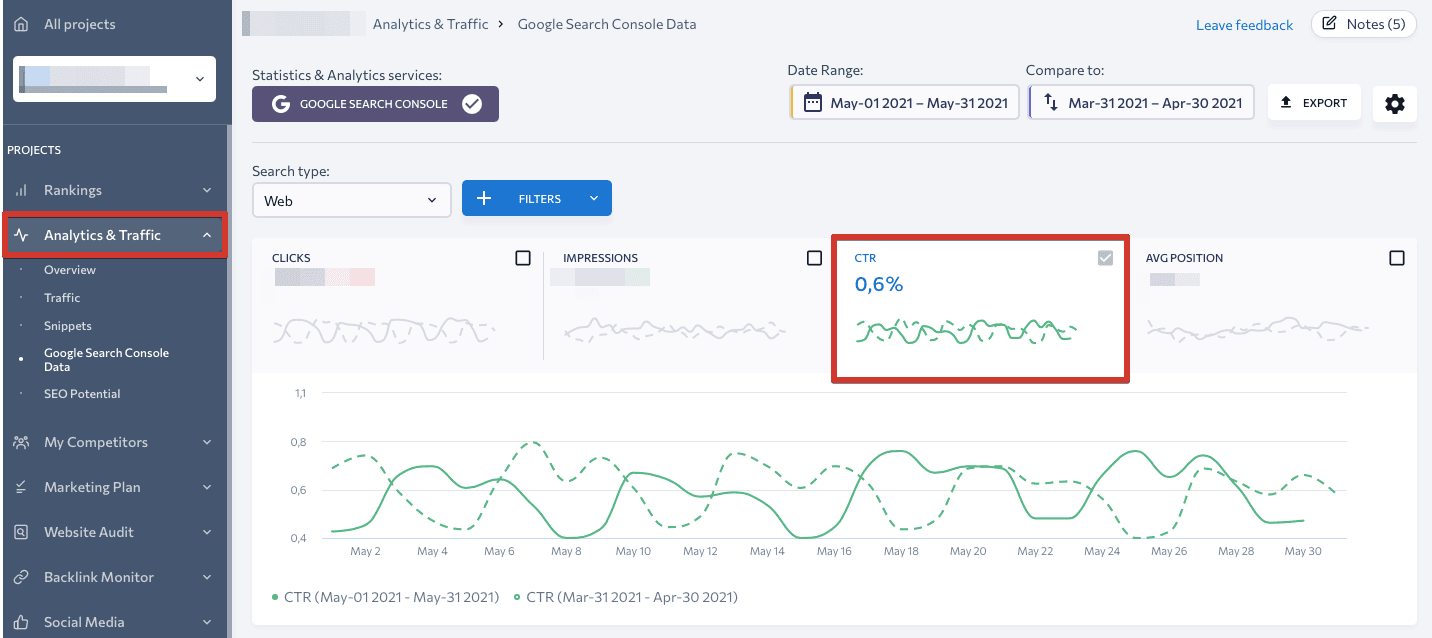 Reviewing the analytics report, you can filter data by page, keyword, location, device, date, and search appearance. You can also export data in .csv or .xls format.
SE Ranking also has the Snippets section under Analytics & Traffic where you can review how well snippets perform in the search for each target keyword:

How to define what pages need snippet improvement?
Pages that have the same number of views and average position can differ in the CTR. If a website has a few pages, it makes sense to work on each of them. When you're optimizing a large-scale site, start from the pages that have the biggest traffic potential—those that have a large number of views and a high average position.
In SE Ranking, you can easily find those most potentially profitable pages:
Add GSC data in Analytics & Traffic.
Choose a date range you're interested in and set the filter.
Choose pages with the 1-20 average position.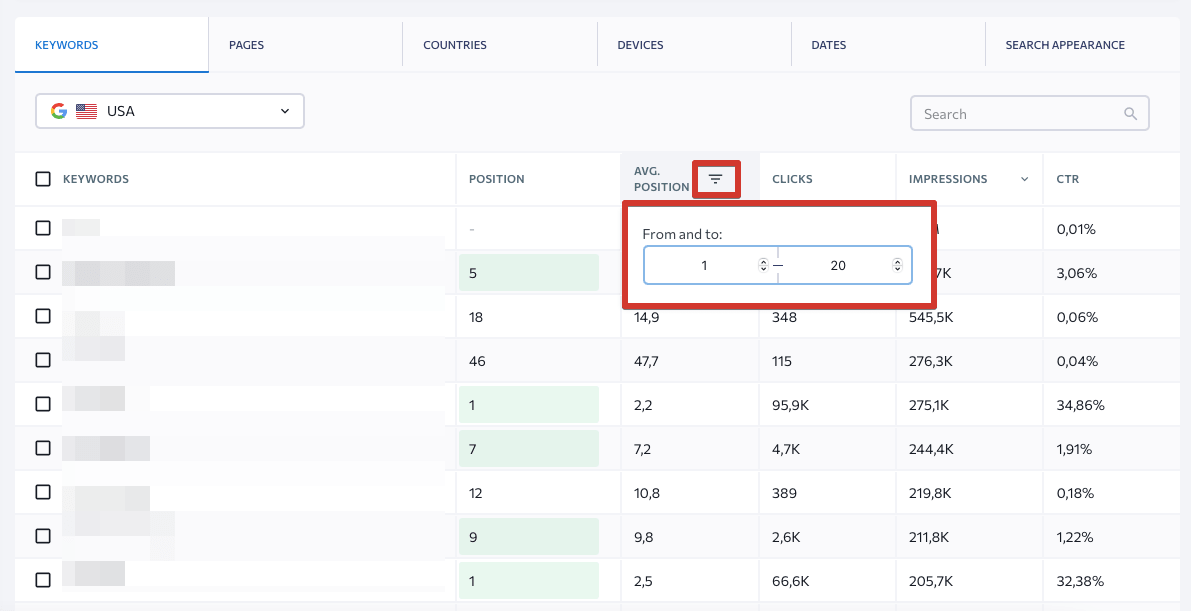 Export data and remove URLs with a low number of views or a high click-through rate.
Done! Now you have a list of pages to improve. By applying the aforementioned recommendations, you can test different elements of search snippets and make your web pages more noticeable in the search results.
Summary
It's crucial to monitor the click-through rate of web pages and improve it. The more attractive a search snippet, the more clicks it receives and therefore the more traffic goes to the website. A robust CTR improvement strategy includes analyzing this metric in specialized services, determining pages with the biggest traffic potential, working on title and description tags and other elements that impact the snippet, and testing different snippet variations to understand what performs best.