SEO Progress Tracking: A Comprehensive Guide
When it comes to SEO tracking, we have some good and not-so-good news to share with you.
The good news is that, unlike traditional offline marketing campaigns, you can measure almost every part of your SEO strategy. This makes it possible to easily identify all the things that do and don't work for your campaign, and then adjust accordingly.
Sounds pretty cool, right?
But the thing is, modern SEO is far more complicated and nuanced than it was even 10 years ago. If you're only keeping track of generic metrics like organic traffic and keyword rankings, then you're overlooking critical SEO aspects that could have a substantial impact on the effectiveness of your SEO work.
Alarm bells aside, don't worry. In this blog post, we'll look closely at the most important SEO metrics to track, review the best tools to get SEO data from, and provide insider tips on how to get the most out of SEO tracking.
TL;DR
SEO tracking means tracking measurable metrics to assess the effectiveness of your SEO efforts.
To track your SEO the right way, just follow these three steps: define the metrics that correspond with your business objectives, find and utilize the most suitable analytics tools, and set up a new tracking plan or optimize the one you currently have.
If you're not sure where to start, begin by tracking primary metrics like keyword rankings, organic traffic, and search visibility.
For good SEO tracking, you only need three tools: GA4, GSC, and automated SEO solutions like SE Ranking.
What is SEO Tracking?
SEO tracking is the process of evaluating the performance of online campaigns launched by your or your competitors. This involves conducting an in-depth analysis of SEO metrics. SEOs typically do this to figure out how effective a particular SEO strategy is and then make adjustments as needed based on what was found.
But gathering data on a bunch of random metrics will unlikely give you the answers you need. You'll just end up with tons of information that takes hours to process. To truly maximize the benefits of SEO tracking, start by picking the right metrics to track. This way, your performance reports will be easier to understand and more useful for you and your team or clients.
How to Track SEO Results
To ensure you don't miss out on anything important, we've outlined the three key steps of a typical SEO tracking process. These steps include defining the most suitable metrics, selecting the appropriate tools, and establishing a monitoring and reporting routine.
1. Define which metrics to track
As mentioned earlier, determining which metrics align with your business goals is the first crucial step in gaining meaningful insights into your website's performance.
Different goals require different analyses of different sets of metrics. Here are some examples of metrics that need to be monitored depending on your objectives:
Increase in Website Traffic:
Organic Traffic
Keyword Rankings
CTR
Off-page metrics:
New & Lost Backlinks
Broken Backlinks
The Quality of Websites Linking to Yours
Content Engagement:
Time Spent on Page
Scroll Depth
In the next section of this article, we'll provide more in-depth info about the different metrics to keep an eye on.
2. Choose and set up your tools
There is a wide variety of SEO tracking tools available, each with its own pros and cons. When selecting the perfect option for yourself, consider tools that cater to your specific needs and budget.
But keep in mind that no matter what your marketing objectives are, most essential SEO metrics can be tracked and measured using the "gold standard" of analytics: Google Analytics or Google Search Console.
With these tools, you can get valuable data on how your website is performing in Google and discover how visitors behave on your website.
While these tools offer many benefits, you should also be aware of their limitations. Most people who use them regularly mention the following:
Data delay
Limited historical data
Technical complexity
Lack of competitor data
Limited backlink data
For a more comprehensive view of your SEO performance, it's best to use these tools in conjunction with more advanced SEO solutions like SE Ranking. This approach gives you a comprehensive understanding of your website performance and optimization opportunities all in one place, without the need to switch between dozens of tabs.
3. Set up and optimize your monitoring and reporting routine
One thing is for sure—consistency is key when monitoring SEO results. Only by tracking your progress over time will you be able to identify trends that lead to your campaign's success or failure. Here are the core principles for an effective tracking and reporting routine:
Regular Checks: Keep a close eye on your chosen SEO metrics at regular intervals. This could be daily, weekly, or monthly, and depends on the following: your business goals, website size, campaign launches, and budget.
Detecting Changes: Be vigilant about sudden spikes or decreases in metrics. These can signal algorithm updates, technical issues, or shifts in user behavior.
Visual Reports: With the help of charts, graphs, and tables, you can visualize data and make it easy to understand. What's more, visuals can help you quickly spot trends and patterns.
Client/Management Reporting: If you are working on a client's project, provide regular reports that outline progress, achievements, and potential areas for improvement. To demonstrate the effectiveness of your SEO efforts and build trust with clients, you'll need the assistance of dedicated SEO report tools.
To effortlessly generate data-rich SEO reports for your clients, you can use SE Ranking's SEO Report Generator.
Essential Metrics to Track
Now, let's look at one of the most important and interesting aspects of tracking SEO progress: picking the metrics to monitor. During this step, think carefully about what you want to achieve with your business so you can focus on information that is genuinely useful and helps you make practical decisions.
Regardless of your business objectives, there are always core metrics that you will almost certainly need to track, along with additional SEO metrics. Let's take an in-depth look at both groups.
The main metrics
Keyword Rankings: One of the first SEO activities that experts typically perform is tracking search engine rankings. Analyze all keyword fluctuations over time and identify the reasons behind them (e.g., algorithm updates, keyword cannibalization, seasonal trends, penalties, etc).
Organic Traffic: This is another essential indicator of SEO performance. It helps you understand user behavior and preferences, optimize content strategy, and make informed decisions to enhance website performance.
Search Visibility: Search visibility provides an overall snapshot of how prominent your website is in search engines, based on the number of impressions it gets for various keywords. Compare search visibility data with other metrics. For instance, if your website has high search visibility but low CTR, this may indicate issues with your meta titles and descriptions, requiring optimization or content quality improvements.
Additional metrics
Conversion rate: The percentage of users who have completed a desired action out of the total number of website visitors.
Bounce rate: The percentage of users who leave your website after viewing only one page.
SEO Site Health: A score showing the overall optimization level of a website for SEO.
CWV and speed: Metrics outlining the speed, responsiveness, and interactivity of your website.
Backlinks and domain trust: Metrics outlining your site's authority based on the total number of links and linking root domains.
Tools for SEO Tracking
To be fair, monitoring SEO progress can be tricky, especially if you're an agency serving numerous clients at the same time. To optimize your resource use and get the most accurate data for each client, you'll need to make use of the most sophisticated SEO tools for agencies.
To simplify the selection process, we've compiled a list of some of the finest SEO tracking choices available today.
SE Ranking
This SEO tool is more than just a simple site traffic checker. SE Ranking offers tools for the entire cycle of SEO monitoring, including keyword rank tracking, competitor analysis, and reporting. With all these features, you can perform an in-depth analysis of any website's performance through this tool alone.
For now, let's focus on SE Ranking's tracking capabilities, which is what you'll need most during your SEO monitoring journey.
Rank Tracker
Keyword tracking is an effective way to monitor the overall progress of your SEO strategy. It helps you learn why some pages perform well and others don't.
With SE Ranking's SEO Position Tracker at your disposal, you can continuously track keyword rankings across major search engines like Google, Bing, Yahoo, and even YouTube. Then, you can present them in easy-to-understand reports.
For every analyzed keyword, you'll see dozens of essential SEO metrics like search volume, difficulty, traffic forecast, SERP features, content score, and more.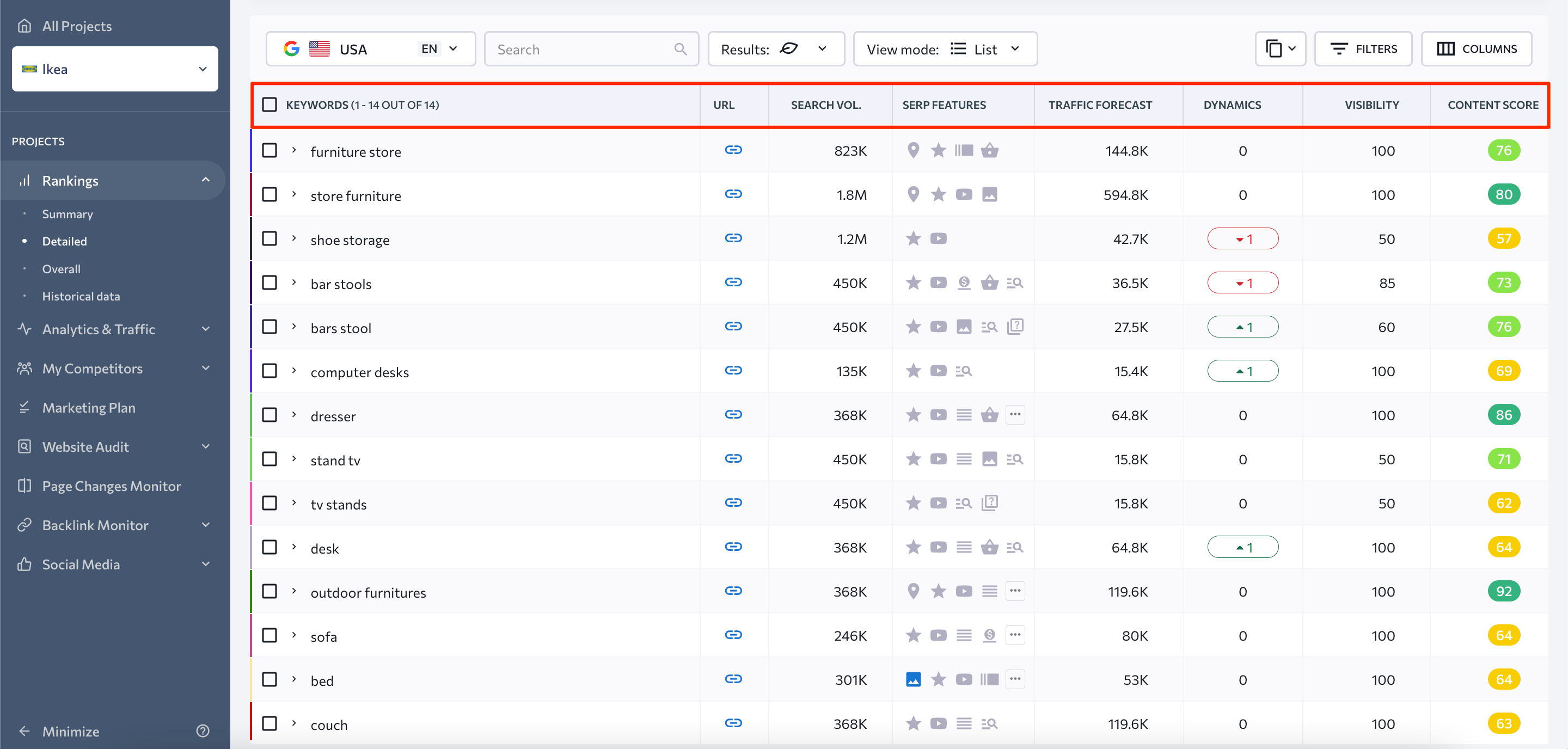 Plus, you can use this tool to get a complete list of sites that are targeting your keywords, and then compare your performance to your competition on SERPs.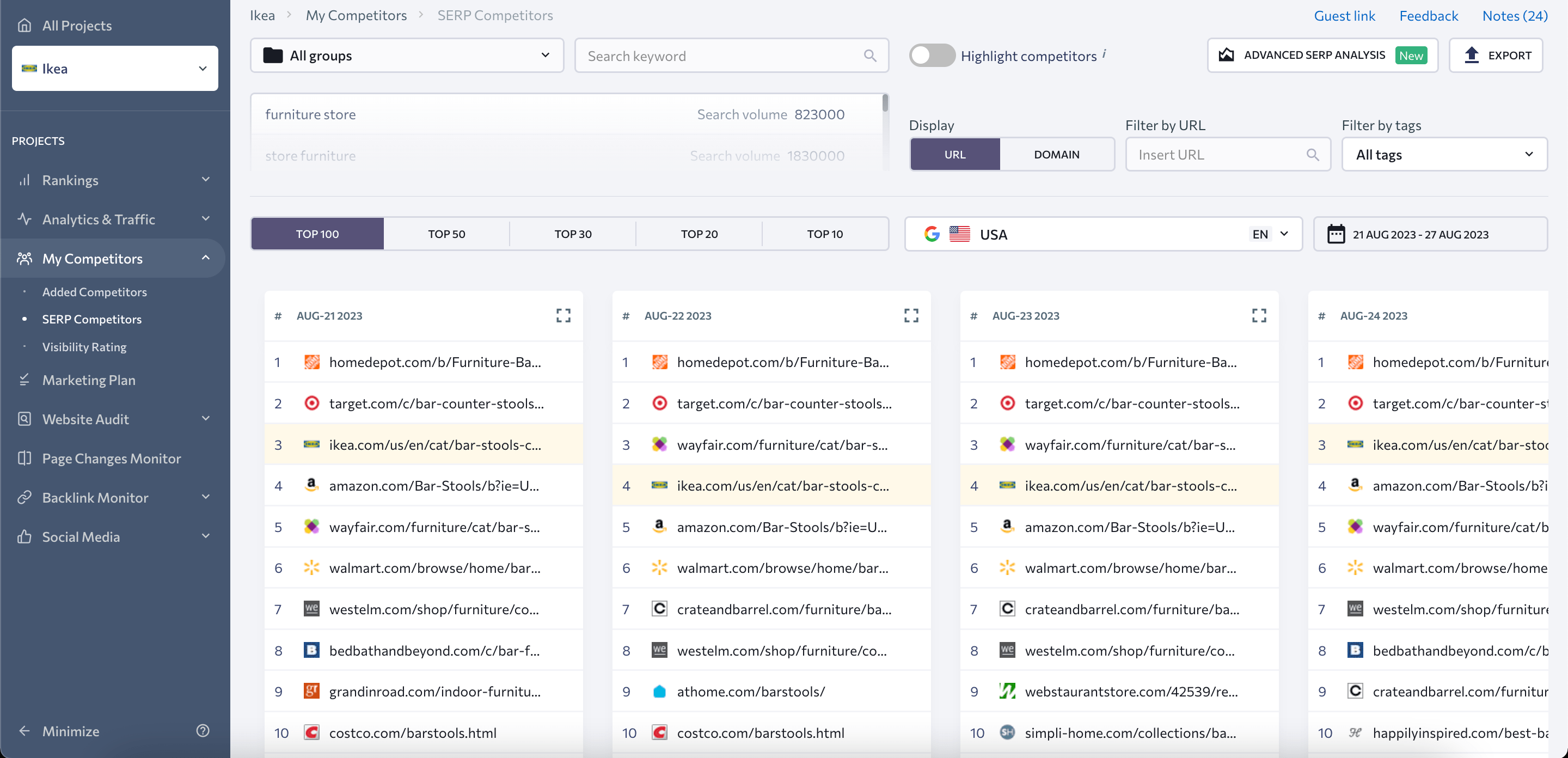 Website Audit
Your website's visibility on SERPs largely depends on its SEO-friendliness. To rank better, you need to perform a technical SEO analysis.
This is where automated solutions like SE Ranking's Site Health Audit Checker can be of great help. In fact, this tool provides a comprehensive overview of a website's health and quickly offers actionable tips on how to address any problems that it finds.
This tool is pretty straightforward process-wise. Just input your website's URL, and wait several minutes while the system gathers essential data on your site's online health.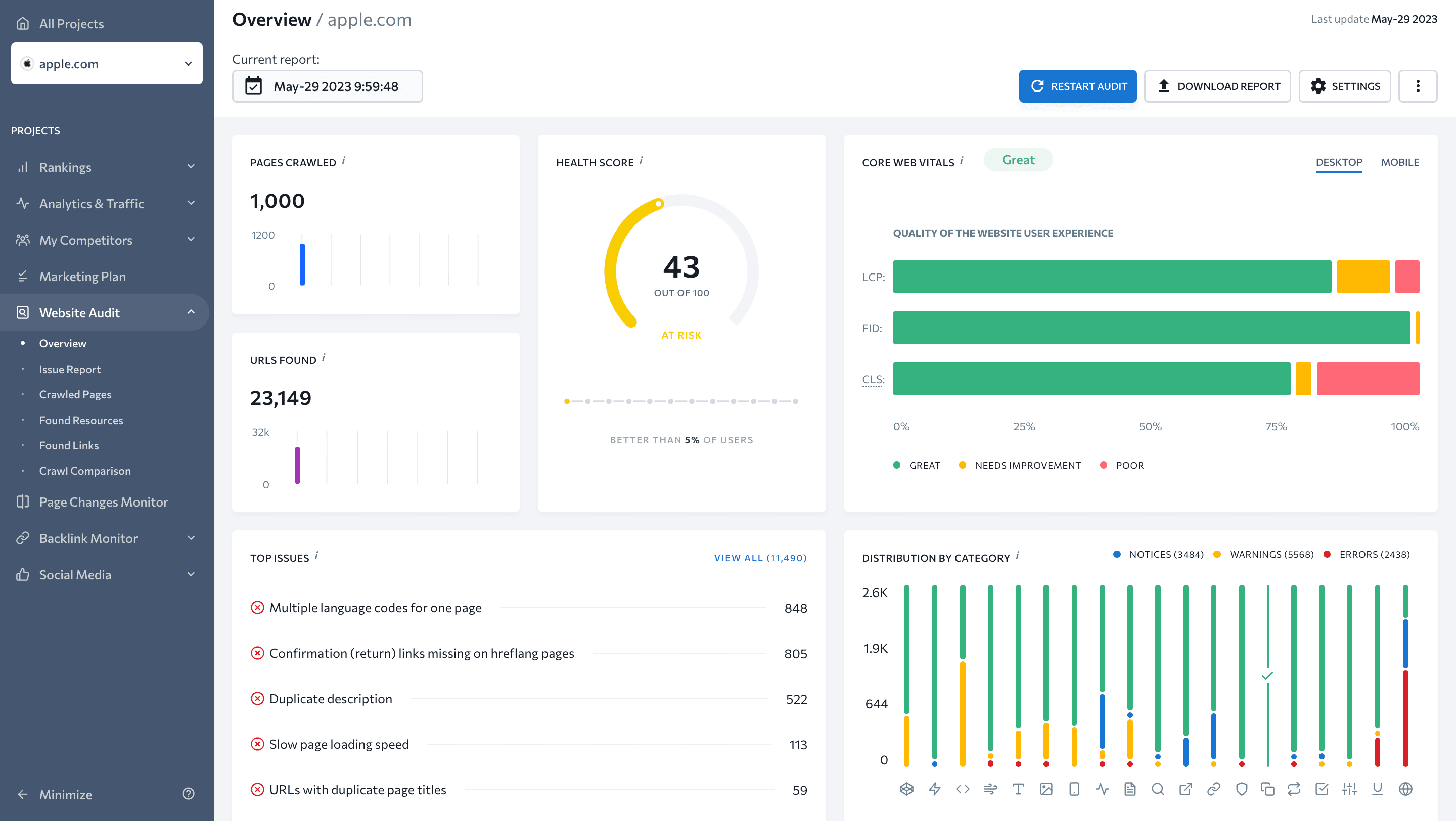 Upon completing the audit check, you'll get in-depth data on the following metrics: your website's overall health score, page-by-page analysis, reports on Core Web Vitals, technical SEO issues, website speed and security, domain metrics, page indexation status, HTTP status codes, link attributes, meta robots tags, and more.
You can also measure your progress over time by comparing website audit reports. This can help you understand how well your SEO efforts are paying off.
Visibility Rating
Search visibility is another important factor to consider when evaluating the competition for specific keywords.
When a user types a query into a search engine, they see a list of different organic results, paid ads, and SERP features like featured snippets, image packs, and knowledge panels. Analyzing search visibility helps you understand how often your domain appears to potential users.
Plus, this metric enables you to figure out who else is appearing to users in search results after they enter the search query you're targeting.
The higher a website's search visibility, the more likely it is to draw in targeted traffic. SE Ranking lets you access this data.
Just navigate to the My Competitors tab in the left-hand navigation menu. Here, you can view the proportion of views that your website and its competitors will receive based on your website's target keywords.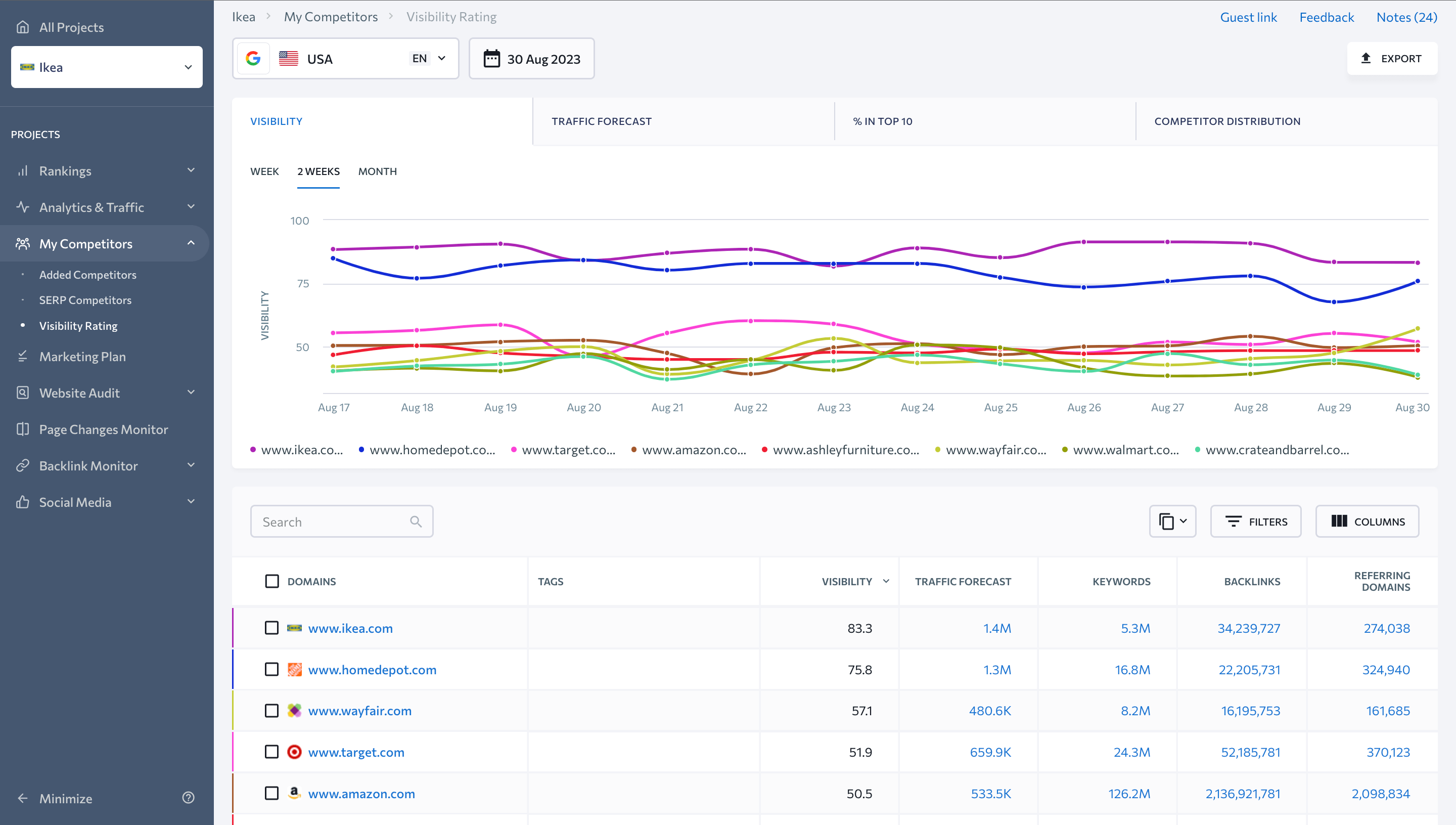 By default, this section displays the websites targeting the same keywords that you're monitoring on your SE Ranking project. By applying filters you can select a different set of keywords (e.g., the ones you target for your blog or landing pages). This allows you to accurately pinpoint your SERP competitors for those specific search queries.
Backlink Checker
Despite the numerous changes to search algorithms over the years, the significance of backlinks has remained the same since Google's initial algorithm, PageRank, was introduced. Today, it's no secret that backlinks serve as confirmation from other websites that your website is authoritative in a specific field. The more backlinks your website receives, the more likely you are to rank higher for relevant search terms.
To conduct a thorough analysis of your backlink profile and measure identified backlinks using a set of essential SEO parameters, SE Ranking's Domain Backlink Checker is a great choice.
Its overview report provides useful information about your backlink profile, including:
Anchor texts: The most commonly used anchor texts in your backlinks.
Dofollow/nofollow backlinks: The ratio between dofollow and nofollow backlinks.
Referring domains: Metric that counts the total number of referring domains, whether they link only to your homepage or to specific web pages on your site.
Total backlinks: The total number of backlinks to your site, including changes over a specific time frame (e.g., a week/month/3 months/6 months/1 year).
IP addresses and subnets: The total number of unique IPs and subnets linking out to your website.
New & lost referring domains: The history of acquired referring domains.
New & lost backlinks: The history of acquired backlinks.
Backlink profile distribution map: Metric showing particular domain zones and countries from which you receive backlinks.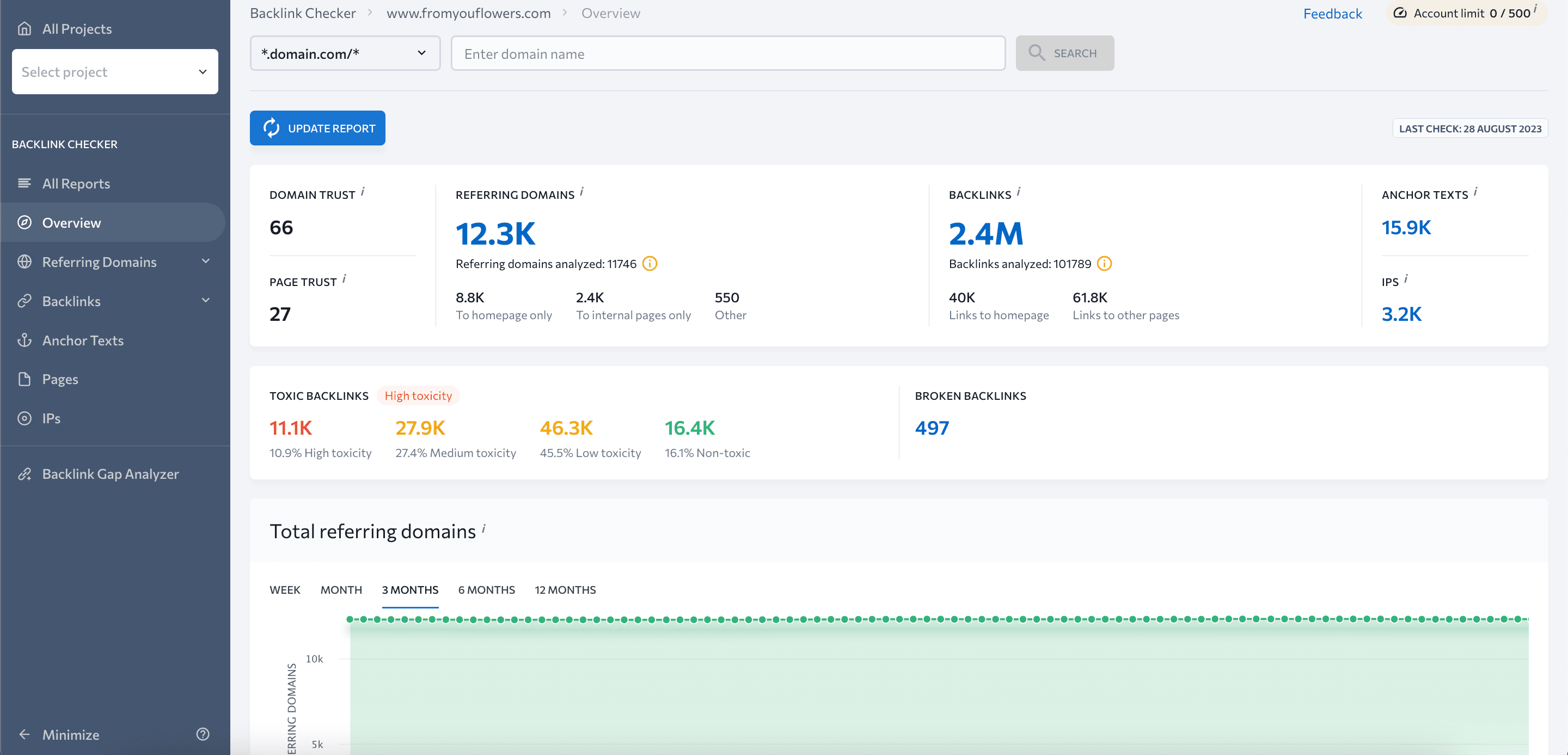 What's more, you can calculate the domain authority score with SE Ranking's Website Authority Checker, and then use this information to predict how likely a domain is to rank on SERPs.
With all your backlink data in one place, you can:
Discover the most successful pages in terms of high-quality backlinks.
Analyze your competitors' backlinks, which contribute to their high SERP rankings.
Analyze your backlink profile's health, address existing problems, and create a strategy to drive traffic.
Google Analytics
Google Analytics is a useful SEO tracking tool that provides valuable data on how people use your (or your client's) website. After setting up your GA account, you'll gain access to insights on:
Audience: Who your customers are.
Acquisition: How customers get to your website.
Behavior: What customers do on your website.
Conversions: Whether customers take your desired actions.
Check out this comprehensive guide on how to use GA4 for SEO purposes to learn about all the essential insights this tool can offer.
In this section, we'll focus on two key metrics that experienced marketers track first: organic traffic and conversion rate.
Organic traffic
To explore and analyze the traffic you get from organic searches, click on Acquisition and then Traffic Acquisition on the left side of the homepage.
Here, you can get a general idea of how many organic search visitors you have. Hover over the Organic Search field to see specific numbers instead of just a bar graph.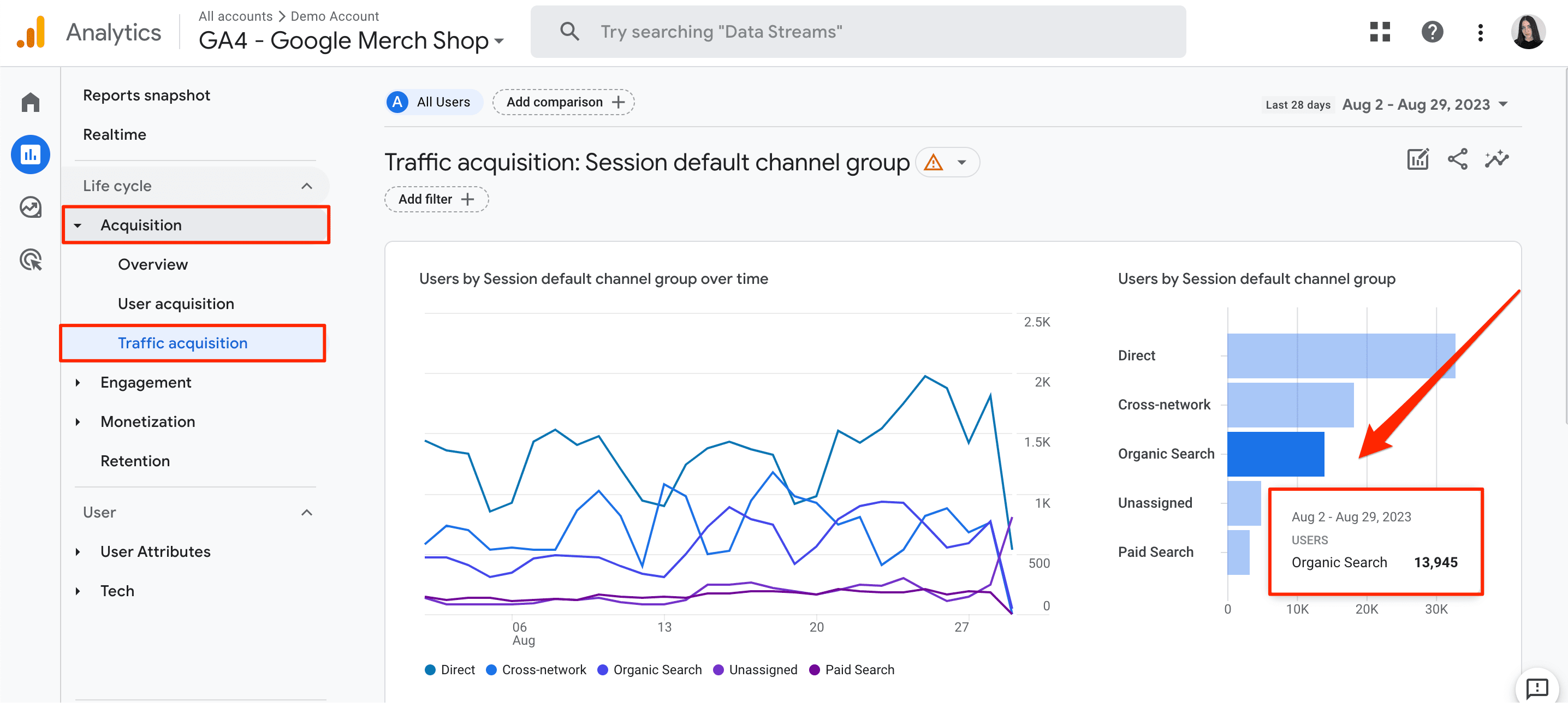 Don't worry too much about the exact numbers. Just focus on the overall trend over 6-12 months. Is your traffic going up or down? This will give you a broad understanding of your SEO performance.
If you want to compare your organic search traffic with other traffic channels, just scroll down the page and choose the Session default channel group as your main dimension in the table.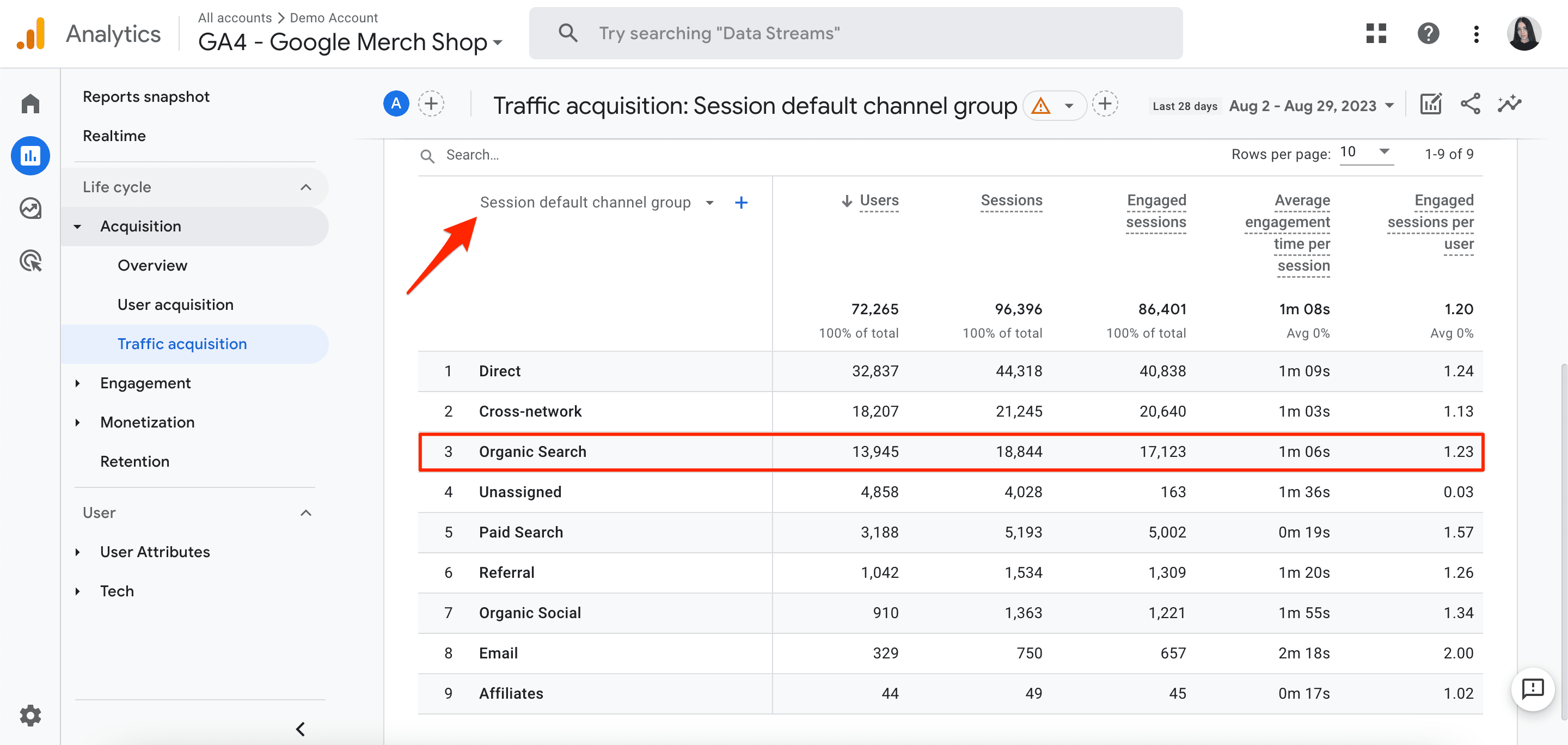 As shown in the screenshot above, organic search traffic is the third most important channel for traffic in our case.
Conversion rate
In GA4, all conversions are called events. By setting up events that correspond to your business goals, you can focus on the aspects that matter to you most. For example, you can track purchases, sign-ups, downloads, etc.
To track conversions for existing events, go to Engagement > Conversions. Here, you can see each tracked event alongside metrics like conversion, total users, and total revenue ( if you've received more than one event with that name).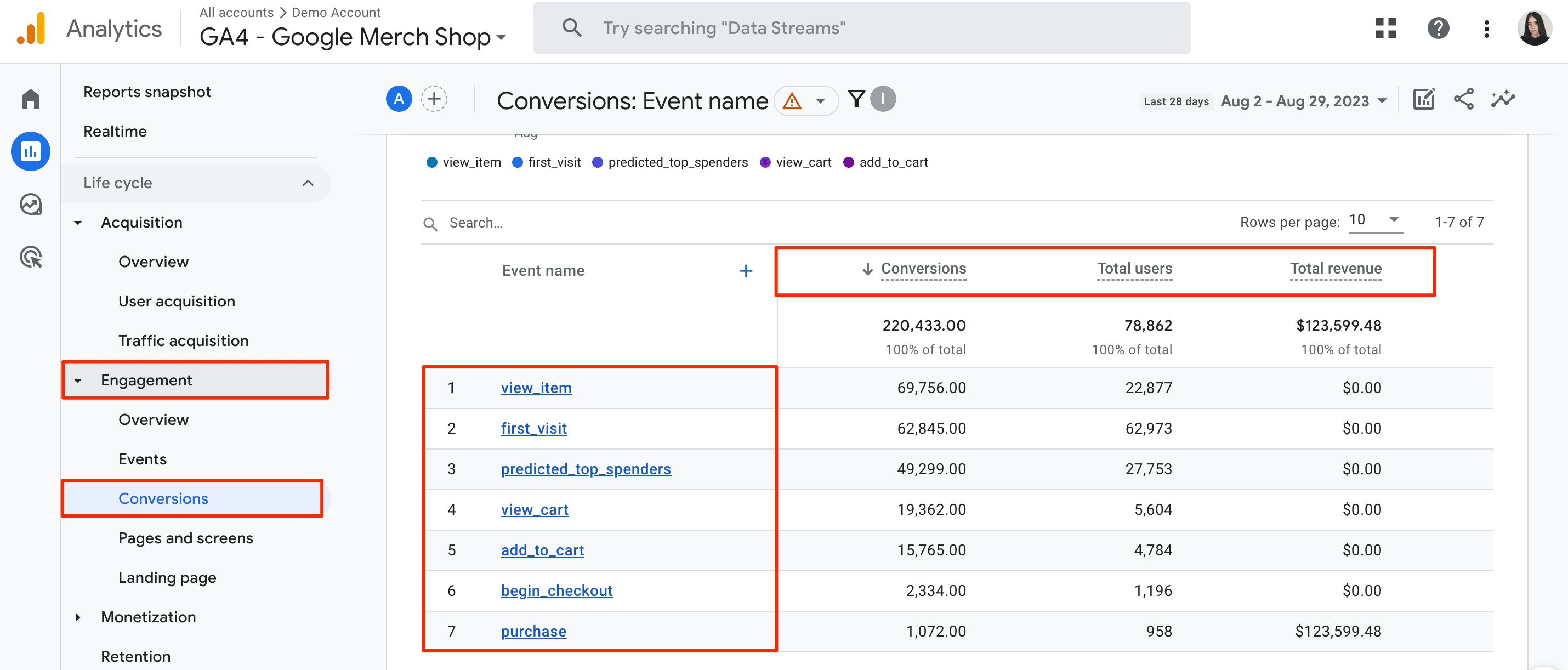 If you want to set up a new conversion event, go to Admin > Events > Create Event.
Enter a name for your custom event and configure your conditions. That's it! You can now track conversions for this specific event in the Conversions tab mentioned earlier.
Google Search Console
Google Search Console is another valuable tool for SEO experts to measure website traffic, track keyword performance, fix technical issues, and improve user engagement.
Once you set up your GSC account, navigating through its reports and metrics can be overwhelming.
To keep things simple, let's focus on the basic SEO metrics that the majority of marketers monitor with GSC: impressions, clicks, Core Web Vitals (CWV), and indexing.
Note: If you want to explore all the essential reports, from Performance to Mobile Usability, check out our complete guide on how to use GSC for SEO.
Impressions
GSC collects data on how often your website's link appears on Google's SERPs for a chosen keyword. Impressions are counted each time your website is shown on the current results page. This is true even if your website is placed, for example, in the 9th position and users haven't scrolled down to it).
You can explore this metric in the Performance report > Search results. Click on the Pages tab to see each URL, along with its clicks and impressions.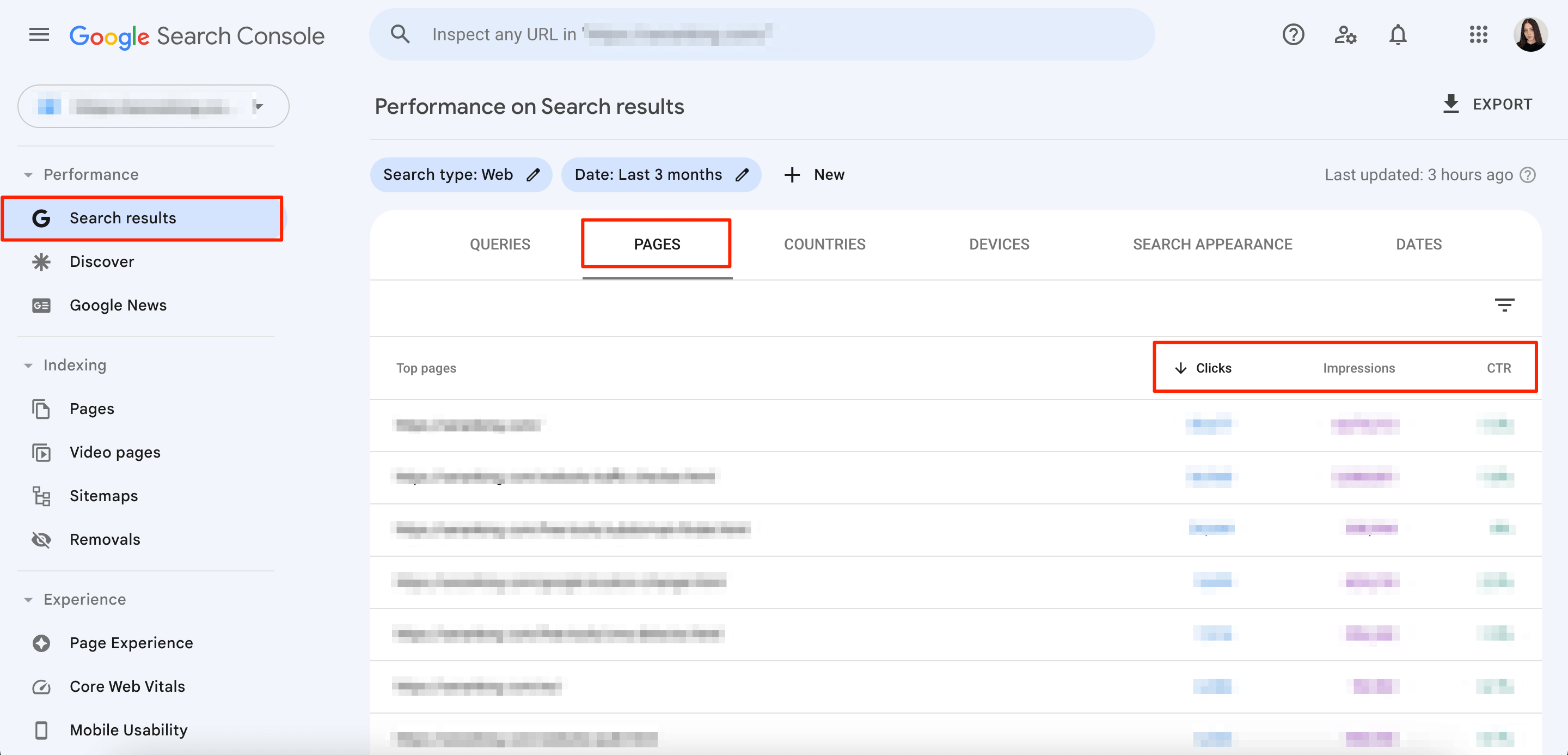 Clicks
Clicks are simply the number of times a user clicks on your webpage's URL from the SERP. To analyze data related to this metric, follow the same steps as above: Performance report > Search results > Pages.
CWV
The Core Web Vitals report ranks indexed URLs based on page loading speed and stability. This section offers separate reports for mobile and desktop, assigning each URL a particular status: good, needs improvement, or poor.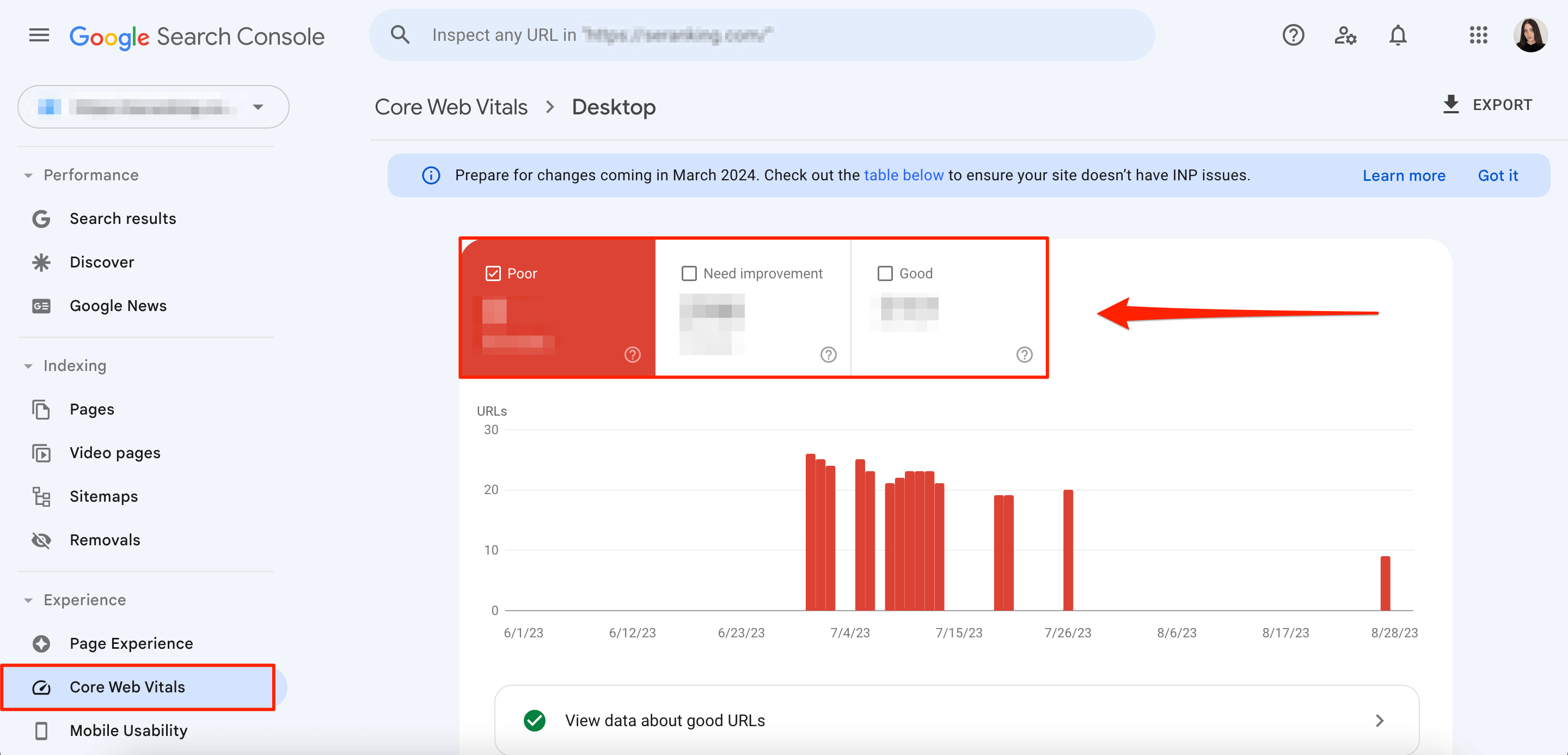 Core Web Vitals include three specific page speed and user interaction measurements: LCP (largest contentful paint), FID (first input delay), and CLS (cumulative layout shift).
LCP: The time required to load the largest element.
FID: The time interval between the user's first interaction with the page (link click or button tap) and the browser's response to that user's interaction.
CLS: The total number of all individual layout changes.
Google has also recently rolled out a new report in GSC that looks at your performance in terms of INP (Interaction to Next Paint). This metric measures the amount of time needed for a page to respond to all clicks, taps, and keyboard interactions during a visit.
INP is set to replace First Input Delay (FID) as a metric for Core Web Vitals in March 2024.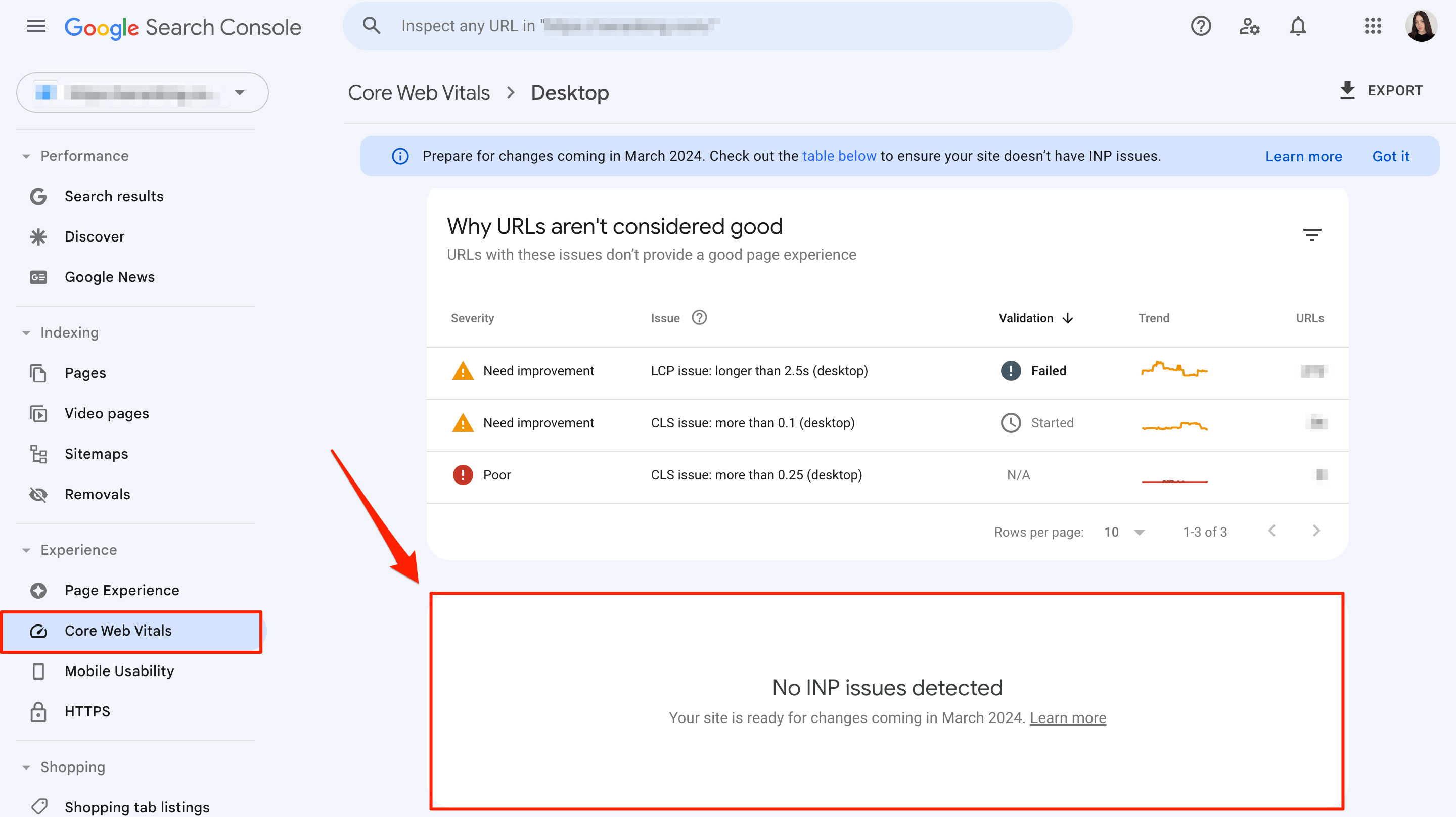 As of now, this report serves as preparation for the upcoming change, and its data doesn't affect CWV.
Indexing
Within the Indexing report offered by GSC, you can monitor the indexing status of your website and spot technical issues that might be preventing some pages from being crawled and indexed properly.
Start by going to the Pages from the Indexing block. Here, you'll see a list of all indexed and not indexed URLs on your website. By scrolling down the page, you can also find data on why certain pages were not indexed by Google.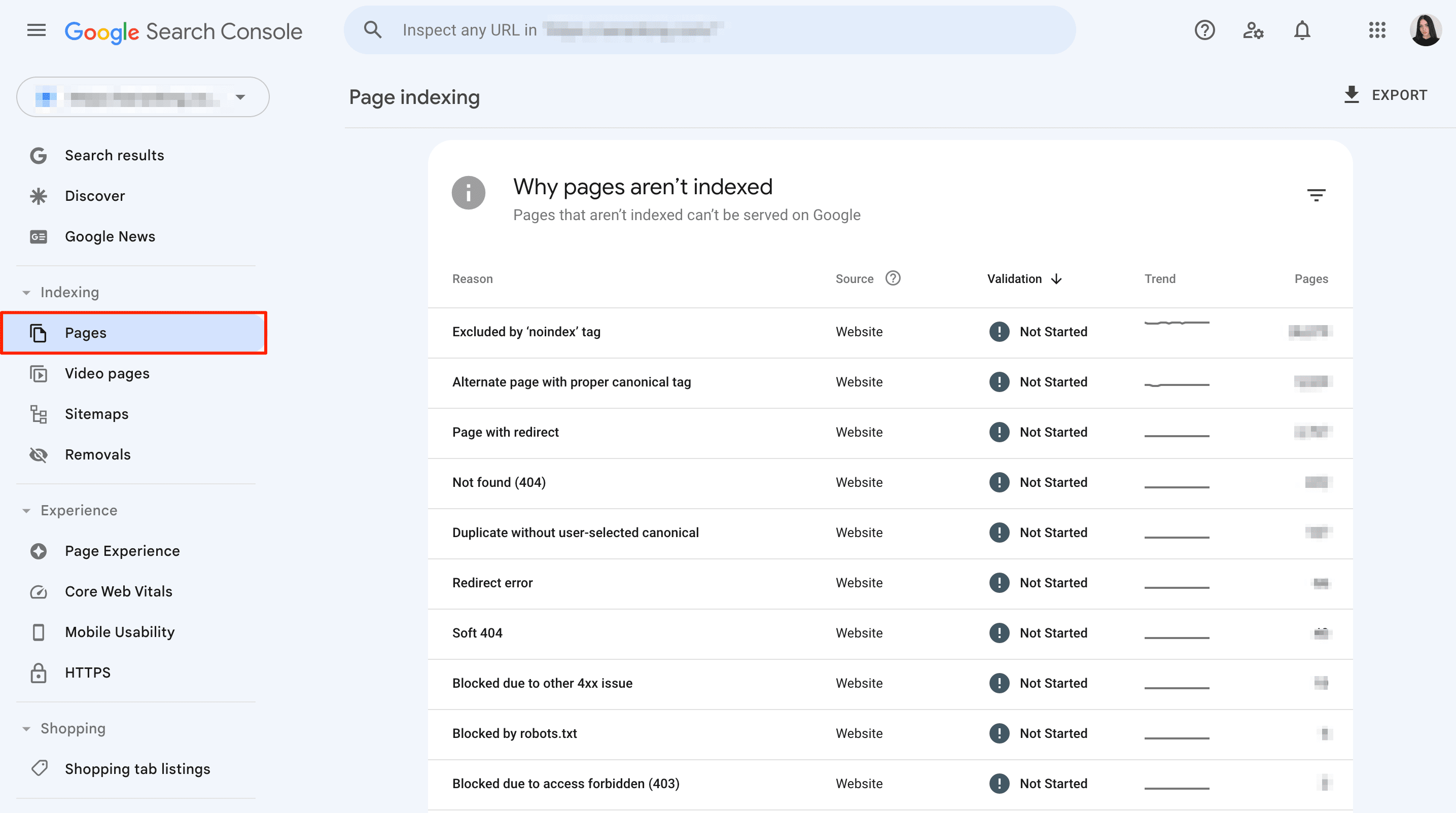 When clicking on each issue, you'll be redirected to a new page that lists which URLs are affected by that issue. You can also check when Google last looked at each URL, but keep in mind that this data may not always be accurate due to Google's reporting delays.
In most cases, it should be enough to check this report once a week and pay special attention to the Not Indexed section. However, if you make any major changes to your website, like re-arranging the layout or migrating your site, it's a good idea to analyze the indexing data more often to make sure the changes aren't causing any issues.
Pro Tip: By connecting your GSC, GA4, and Business profile to your SE Ranking account, you can study all essential SEO tracking data without having to switch interfaces.
SEO Tracking Tips
Now that we know which metrics and tools are important for measuring SEO performance, let's look at some practical SEO tracking tips to help you track, analyze, and adjust your SEO tactics.
Focus on Business Needs and Goals:
When choosing which metrics to monitor, make sure they align with your business objectives. For instance, if your goal is to increase your client base, it is important to monitor metrics such as organic traffic and keyword ranking. But don't just track any keywords. Instead, monitor those that have the potential to turn visitors into clients. Prioritize transactional and commercial keywords over informational ones.
Define Up to 3 Metrics to Track at a Time:
It might seem at first blush that the more metrics you track, the more valuable tracking data you'll get. Unfortunately, that is not always the case. By limiting your tracking to a maximum of three key metrics at a time, you can get a clear and actionable view of your SEO performance. This opens up space for you to focus on the most important data and make more informed decisions.
Identify Focus Keywords and Target Locations:
It's no secret that keyword tracking goes beyond numbers and words–it's about strategic interpretation. When tracking your SEO progress, pay special attention to your focus keywords and the locations you're targeting. By monitoring the rankings of these focus keywords in your target locations, you can learn more about the geographical reach of your organic traffic and adjust your strategies accordingly.
Simplify Tracking with Tools and Dashboards:
Tracking SEO performance can be straightforward, but interpreting the data can take hours, if not days, of your time. To streamline this process, set up the right tools, dashboards, and reports. For instance, use SE Ranking for position tracking, website audits, and backlink monitoring. GA4 can help with tracking user behavior, while GSC is a good assistant for discovering how Google sees your website in search.
Separate Tracking for Different Needs:
Remember that tracking for your own use as an SEO manager is different than tracking for your clients/management. If you're an SEO manager, you may need detailed data for monitoring effectiveness and making adjustments. On the other hand, clients or management often prefer easy-to-understand reports that highlight the overall impact of your SEO work. A quick and clear report will help them see the value without getting lost in all the technical stuff.
To Wrap Up
In the world of SEO, don't let the numbers overshadow the thrill of evaluating your SEO efforts. SEO isn't just about data; it's about knowing your audience, creating high-quality content, and building meaningful relationships, all of which lead to organic growth and can enhance the overall user experience.