There are two areas where you can't guarantee or predict anything with 100% accuracy: your life, and SEO. But in both of these areas, it's better to do the right thing.
Do you agree that measuring everything possible is not how it should be done properly?
When you measure all the metrics at your disposal, it means that you don't know what to measure – and whether you want it or not, your clients will see right through it.
Thus, it's much better to evaluate SEO performance by monitoring a customer-oriented set of metrics. Firstly, you'll be able to show the results of your work; and, secondly, you will know for yourself whether you're going in the right direction. Moreover, your clients will know what they're paying for and how your SEO KPIs are aligned with their business KPIs.
Therefore, we've come close to a stumbling point – how to measure SEO, what should we track and why?
KPIs and metrics: what's the difference?
Let's start from one very popular mistake that many people make: assume that KPIs and metrics are synonyms. As a matter of fact, they are not.
What is an SEO metric?
An SEO metric is a parameter or value that is used by marketing SEO teams to track, monitor and compare search engine optimization processes.
What is an SEO KPI?
An SEO KPI (Key Performance Indicator) is a measurable value that indicates SEO effectiveness as well as whether the set objective was achieved.
Let's get one thing straight: all KPIs are metrics, but not all metrics are KPIs. KPIs should have business goals and be time-framed. For example, say you are tracking an SEO metric – % of keywords in TOP-10. If you track SEO progress using this single metric alone, you won't know whether having many keywords in TOP-10 is good or not unless you look at the traffic they bring to your site.
Let's look at another example: your site gets a lot of untargeted traffic but you're not getting any leads from it. For this reason, it's wise not to track single metrics, but to track them in relation to each other in the context of your business objectives.
How to connect business goals and SEO?
In order to choose an SEO metric to track, you must start from the business goals. Spoiler alert: There is no one-size-fits-all universal KPI list that's relevant to every business. All SEO goals differ from each other depending on the website type, business goals and objectives, resources and opportunities.
Also, it must be mentioned that not every website needs to track all SEO metrics simultaneously and from the very beginning. We've demonstrated the evolution of SEO KPIs – starting from search engine indexing and ending with transaction metrics. By following this guide, you'll be able to track all the metrics one by one, adding more and more valuable indicators in the process.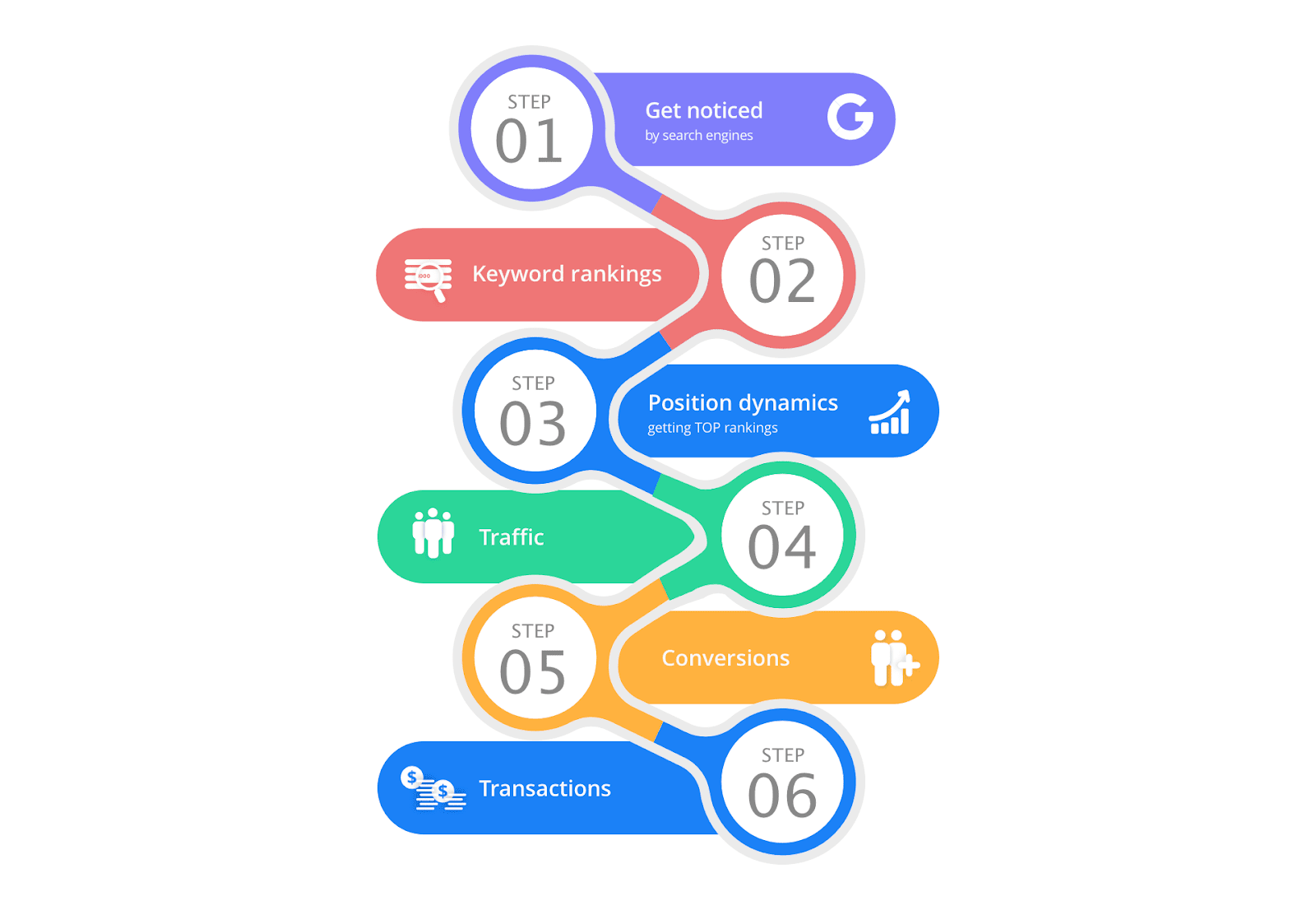 To show you an example of the goals different businesses set, we've taken 6 types of websites based on their functions and the problems they solve for users. In the table below, you can see several examples of business goals and SEO metrics that help evaluate SEO performance.
Website type
Business goal
SEO metrics

Ecommerce

Increase sales

Organic search traffic on target pages




Conversion rate




Number of leads




Transactions




Positions for product keywords

Business (corporate) website

Increase brand awareness

Traffic to the main page




Number of branded keywords (their search volume)




Direct traffic




Natural backlinks (mentions)




Referral traffic




Impressions in SERP

Business directory

Get registrations

Number of leads




Organic traffic to the landing pages




Bounce rate




Average session duration




Number of pages per session

Blog (personal website)

Get more subscribers

Keyword positions




Organic traffic




Quality backlinks




Referral traffic




CTR (click-through rate)




Bounce rate

Website review (affiliate)

Get more visits

Positions for high-volume keywords




Traffic




Number of pages per session




Number of pages that get organic traffic




Number of backlinks




Referral traffic

News websites

Get more readers

Organic traffic




Number of pages that get organic traffic




Bounce rate




Exit pages




New vs returning visitors




Average session duration




Number of pages per visit
20 most useful SEO metrics explained
Backlinks number and quality
Average time on site

New vs Returning visitors
Number of pages per session
CTR

Keyword positions
Monitoring keyword positions helps you see how your site is ranked for specific search queries. The rankings show your position in relation to your competitors. Actually, it's not merely about getting the coveted Google top spot, but about having a very clear vision of what position you want to take, knowing where your competitors are and the ranking dynamics.
What to track:
High-volume keywords

– these keywords have high potential as they may bring more traffic to your site, but usually are more competitive, and thus more difficult to rank for. You can bucket them into one group so that it will be easier not to overlook them in middle- and low-volume queries.

Product keywords

– monitoring their rankings helps you see how well your products are ranked, and thus how good your chances are of getting target traffic from search – users highly interested in your products.

Number of branded keywords (search volume)

– these metrics help us see whether the brand keywords (and thus brand) are popular in search. Usually, companies have the top ranking positions for their brand queries, but it's still worth monitoring them, focusing on the search volume (shows brand popularity) and the diversity of branded keywords.
Depending on your website type, you will focus on some of the aforementioned SEO performance metrics. Note that keywords monitoring is helpful as long as you track keywords that are relevant to your business.
What to use:
SE Ranking Keyword rank checker—allows monitoring both desktop and mobile search results in your target location with 100% accuracy.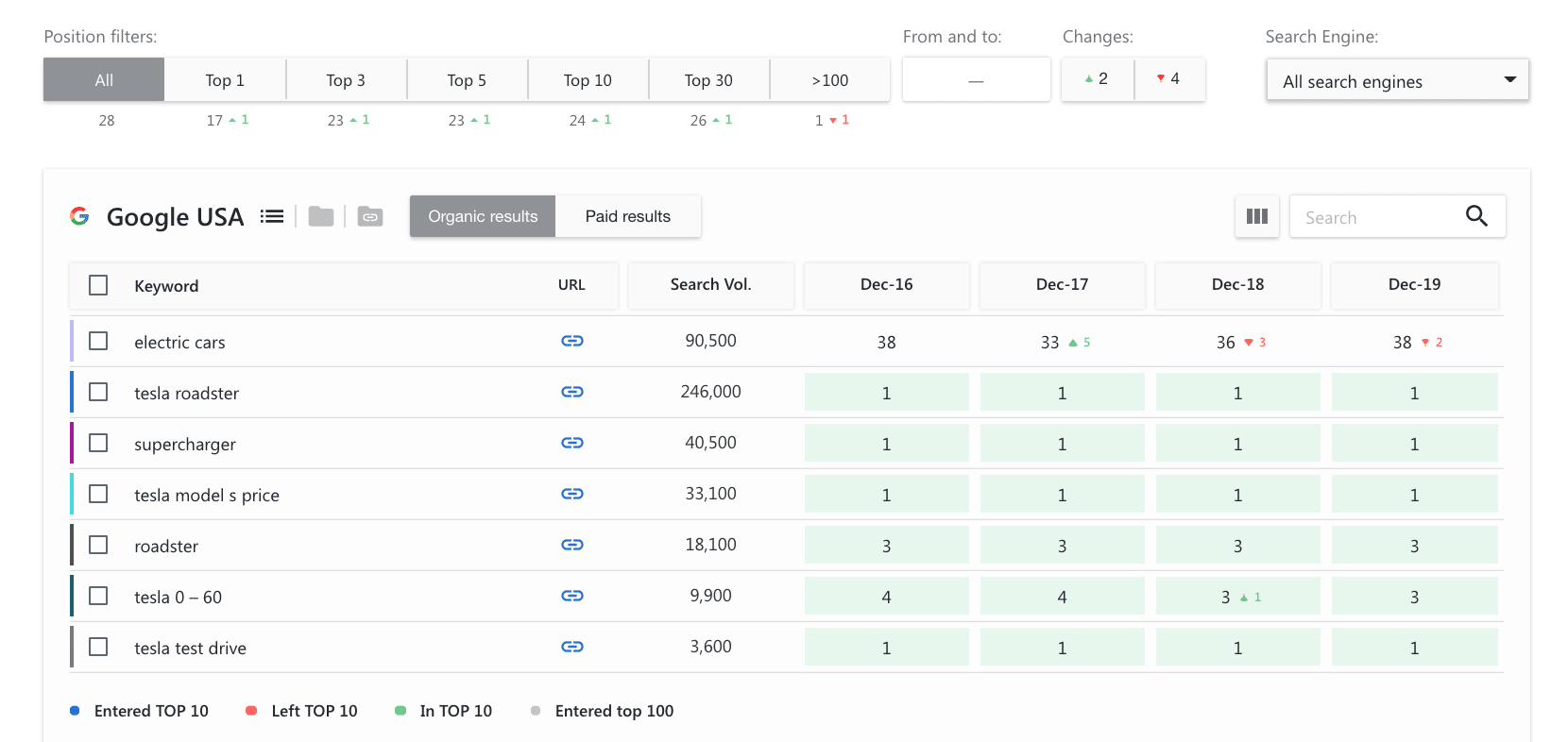 Bounce rate
This measure shows the percentage of users who viewed only a single website page and then left the site. SEO monitoring this metric for all top-level pages that are supposed to bring conversions can give you a clue as to how users interact with your site and whether your site's living up to their expectations. Isn't it just a bummer when you put in the effort to drive people to your pages, and they leave them right after visiting? This definitely means that you are doing something wrong.
Monitoring the homepage bounce rate is of no less importance. Well, this page most likely does not give a direct answer to the user's question, but should ultimately transfer him to the necessary site section and not to the search bar again.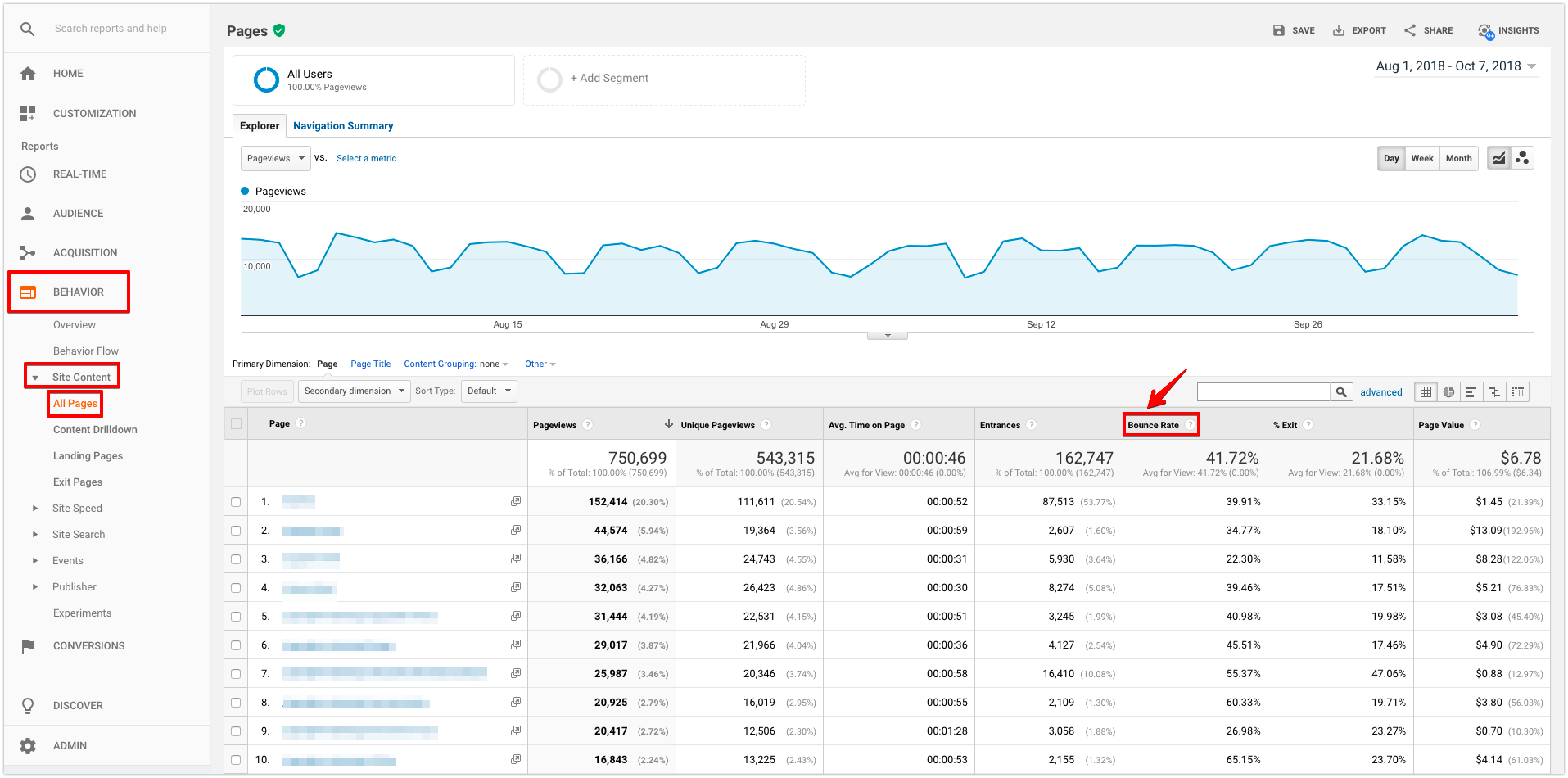 What to use:
Organic traffic
This metric shows organic search traffic, or, to be specific, users coming from different search engines (Google, Bing, Yahoo etc).
In most cases, exclusively tracking traffic won't get the job done. It's much more important to monitor the flow of traffic to certain pages, as well as its dynamics. Also, sometimes we need traffic from certain countries or traffic consisting of new users. When analyzing such traffic for reporting, it is important to consider the business objectives you want to achieve.
The analysis of traffic in relation to rankings allows you to understand which pages and keywords to focus on. For example, sometimes pages are not ranked at the Top for high-volume queries, but get a lot of traffic from low-volume keywords that can often be left unnoticed and even untracked.
What's also important is to see how well the traffic you get is converting. Traffic, alongside keyword rankings, is a good indicator of possible website issues. If the traffic rate drops, you can find the source of the problem and solve it in a timely manner.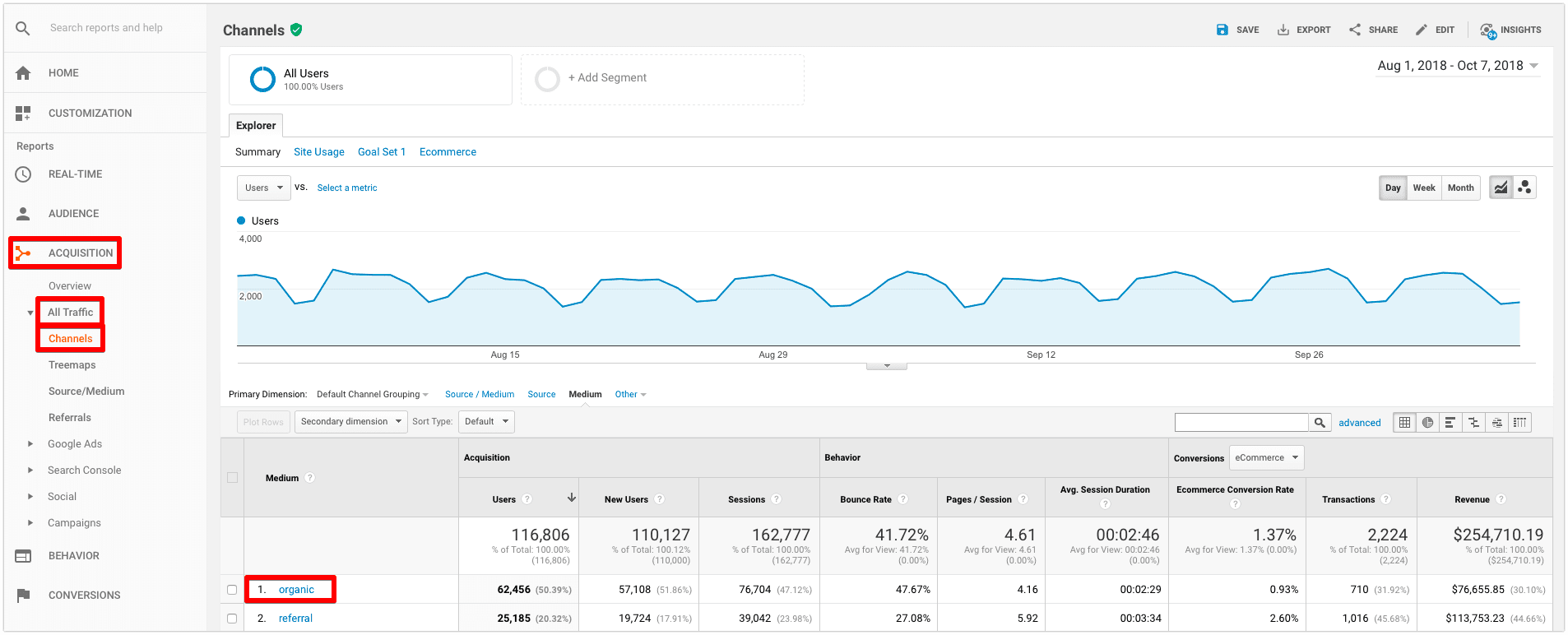 Organic traffic on target pages
This metric shows organic traffic from different search engines (Google, Bing, Yahoo etc) and its distribution across target pages.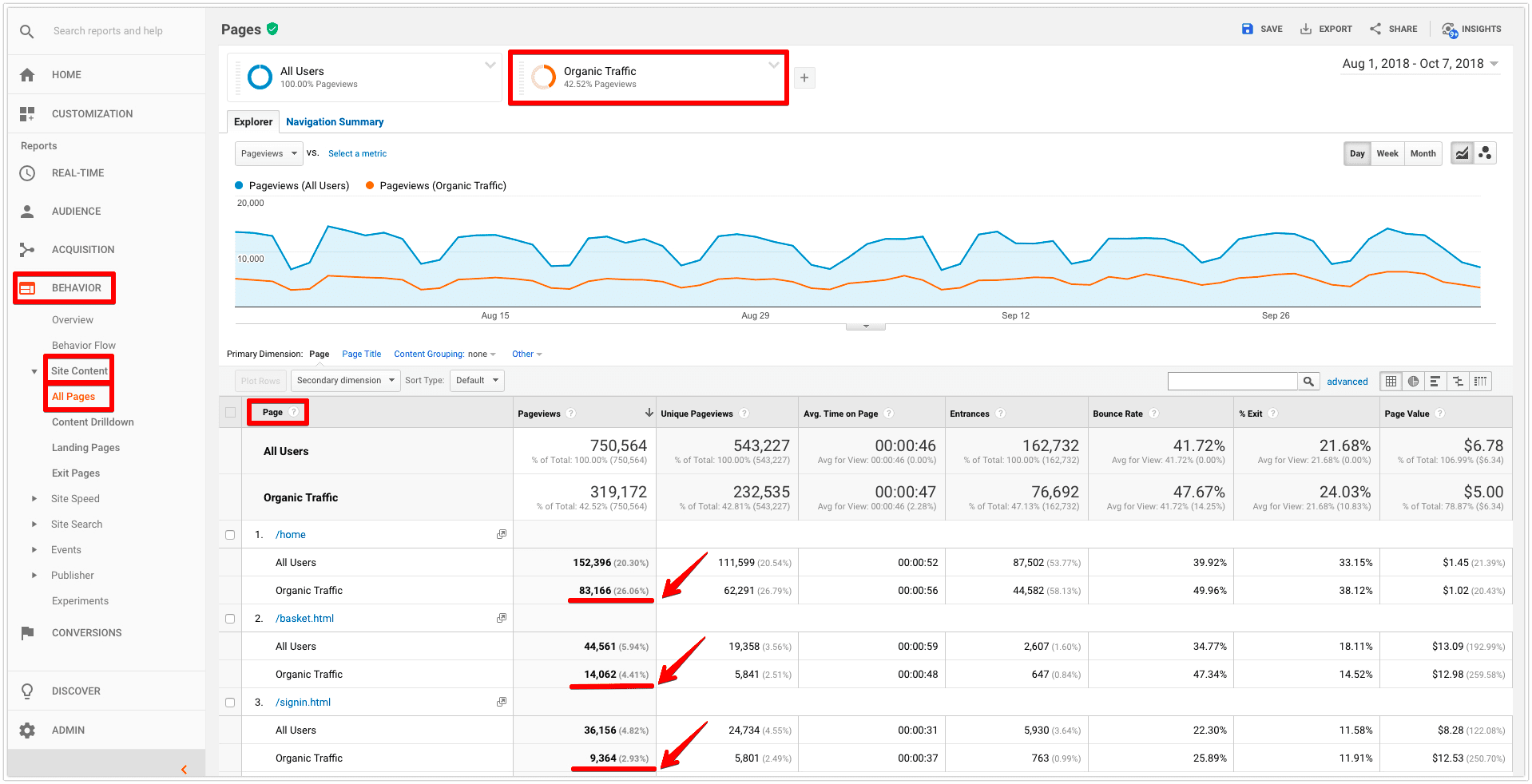 Number of pages that get organic traffic
To see which exact pages get organic traffic, you can use Google Analytics and Search Console.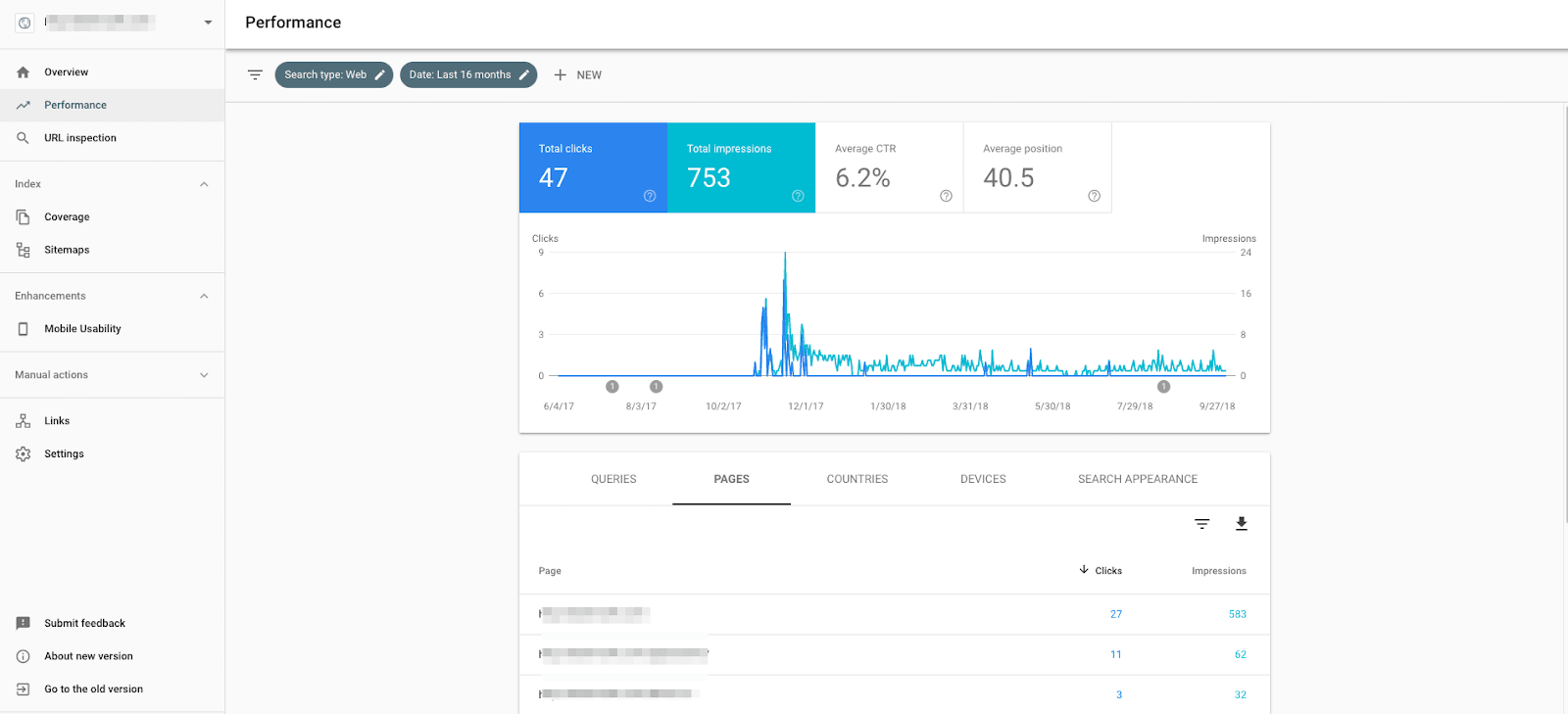 What to use:
Google Analytics, Google Search Console
Direct traffic
This metric shows visitors that came on your site by directly entering your site URL into the search field, or through another undefined source either by clicking a link in a PDF, mobile app, email etc.
Note that when Google Analytics is unable to define the traffic source, it falls under the direct traffic section. By clicking the Direct traffic button, you'll see the pages visitors landed on.
This data helps you see which pages are accessed directly more often than others. In addition, this metric shows your brand equity development: if you get a lot of direct traffic, congrats – the users know your brand.
What to use:
Referral traffic
This SEO metric shows visitors that come to your site by clicking another website's URL. For example, if a news platform posted an article containing your website link, all users that came via this link will be marked as referral traffic in Google Analytics.
Monitoring this metric helps you evaluate the successes and shortcomings of your content strategy. Moreover, the growth of referral traffic will definitely increase the flow of leads to your website.
What to use:
Number of leads
Before starting to track the number of leads that your website gets, define what's a lead in your case – registration, subscription, download, view or your own option. In other words, define the action that leads to a sale. And that will be your lead.
After that, you can simply track the number of leads by source to see which sources are sending the most qualified leads to your site.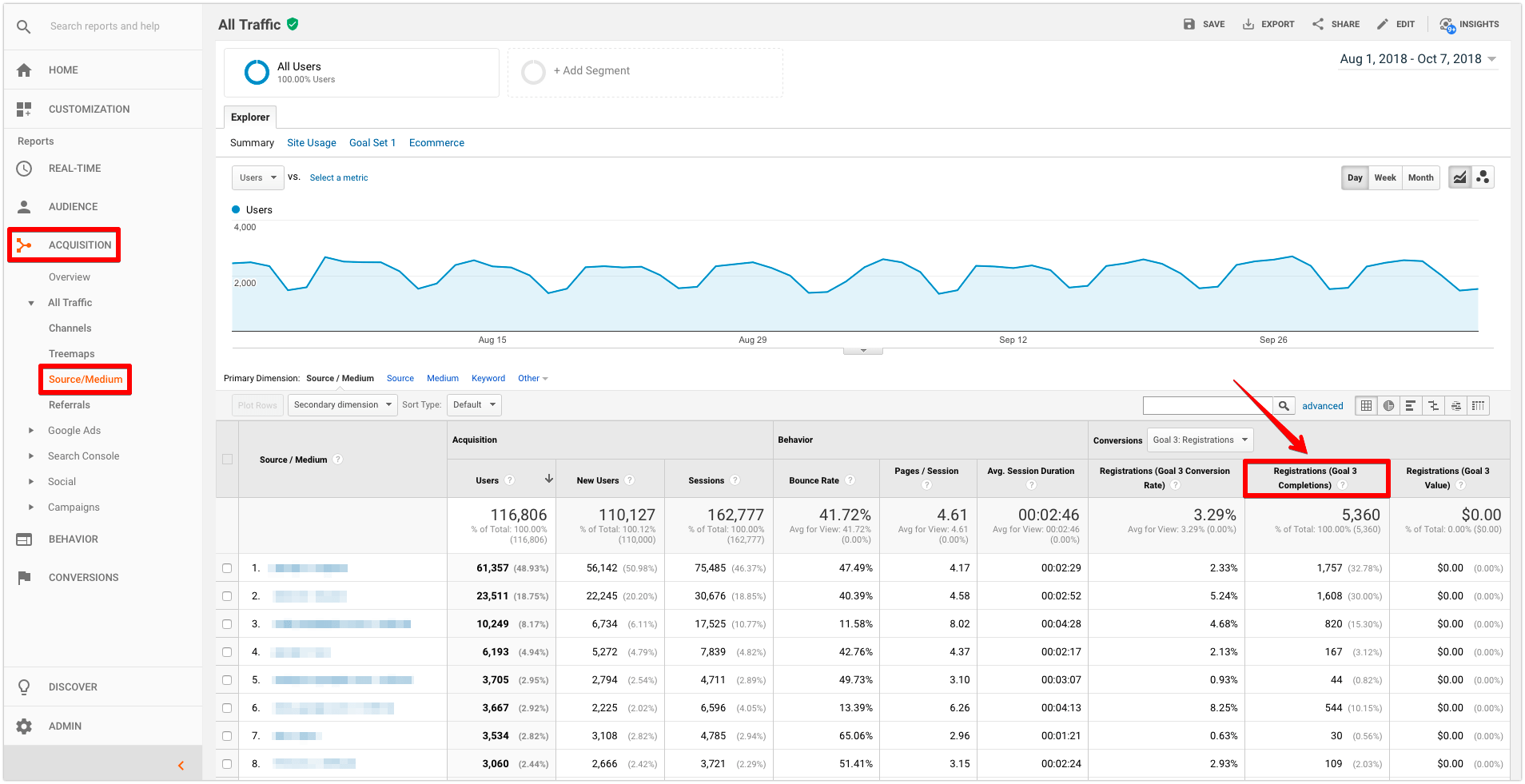 What to use:
Transactions
This metric is a must-have and must be tracked for all e-commerce websites. In order to evaluate the SEO and marketing performance, it may not be enough to monitor website traffic metrics and the number of leads. What about scenarios when one lead completes a transaction that amounts to 10 ordinary transactions? Or, for instance, a website can get a huge amount of leads, but, in fact, the company itself will get a small profit. That's why it's very important to track this metric. Always keep that in mind that business is not about the leads, but about the money.
To make your clients happy, show them how their SEO performance affects their revenue. The Conversions section and the E-commerce subsection in Google Analytics is the perfect place to set and monitor transaction amounts. This should definitely be one of your business KPIs.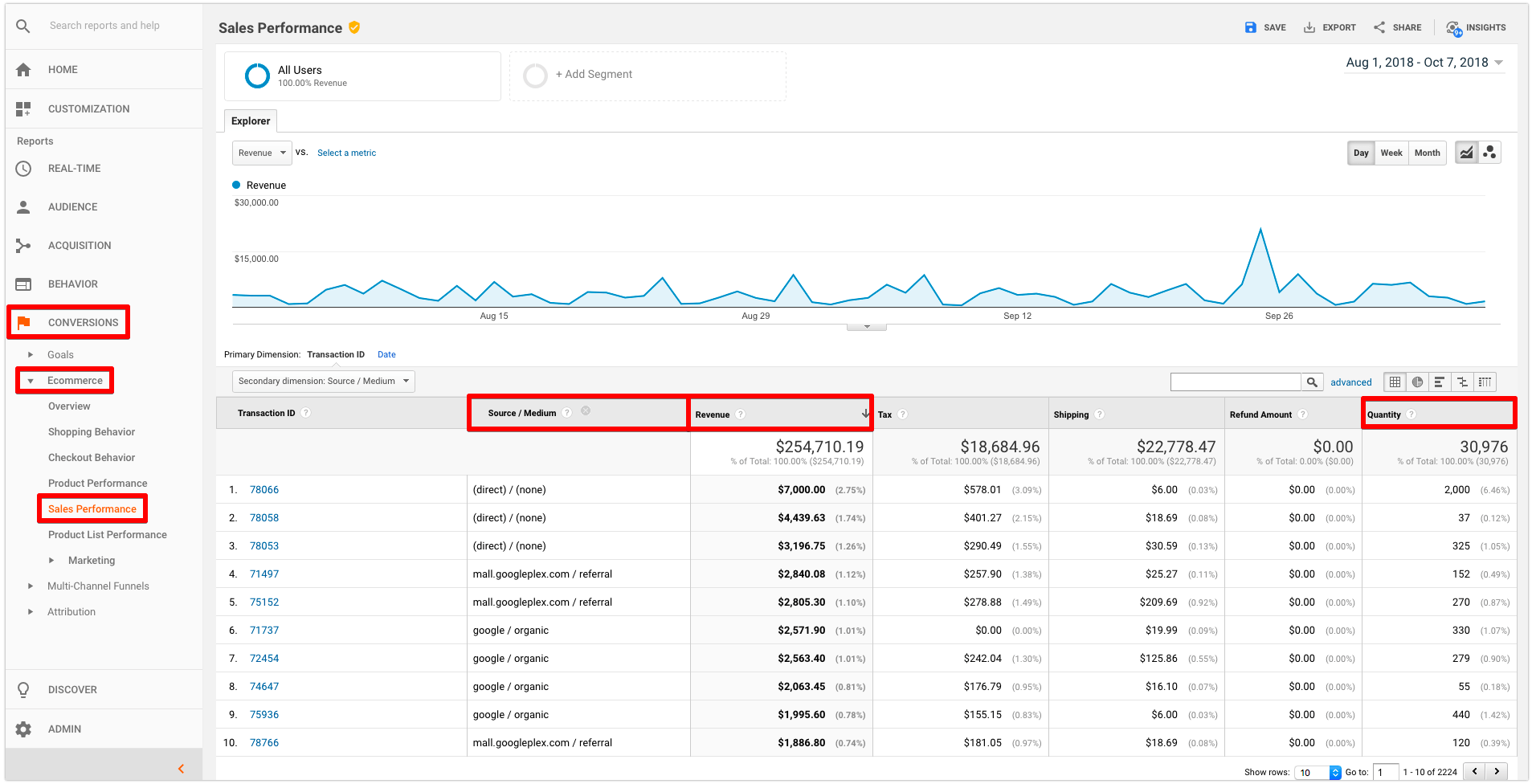 What to use:
Backlinks number and quality
This metric directly affects the possible rankings you can get. The more quality backlinks you have, the higher chances of boosting your rankings. To get a complete list of the backlinks of any domain, you need a Backlink Checker tool like the one offered by SE Ranking.
All you need to do is enter the domain and you'll get a list of backlinks analyzed against the major 15 SEO parameters (we'll talk about such parameters as Domain Trust Page Trust, Alexa rank in the next section). The broad-scale picture you get helps you see which backlinks are high-quality, and which ones need to be added to the Disavow list.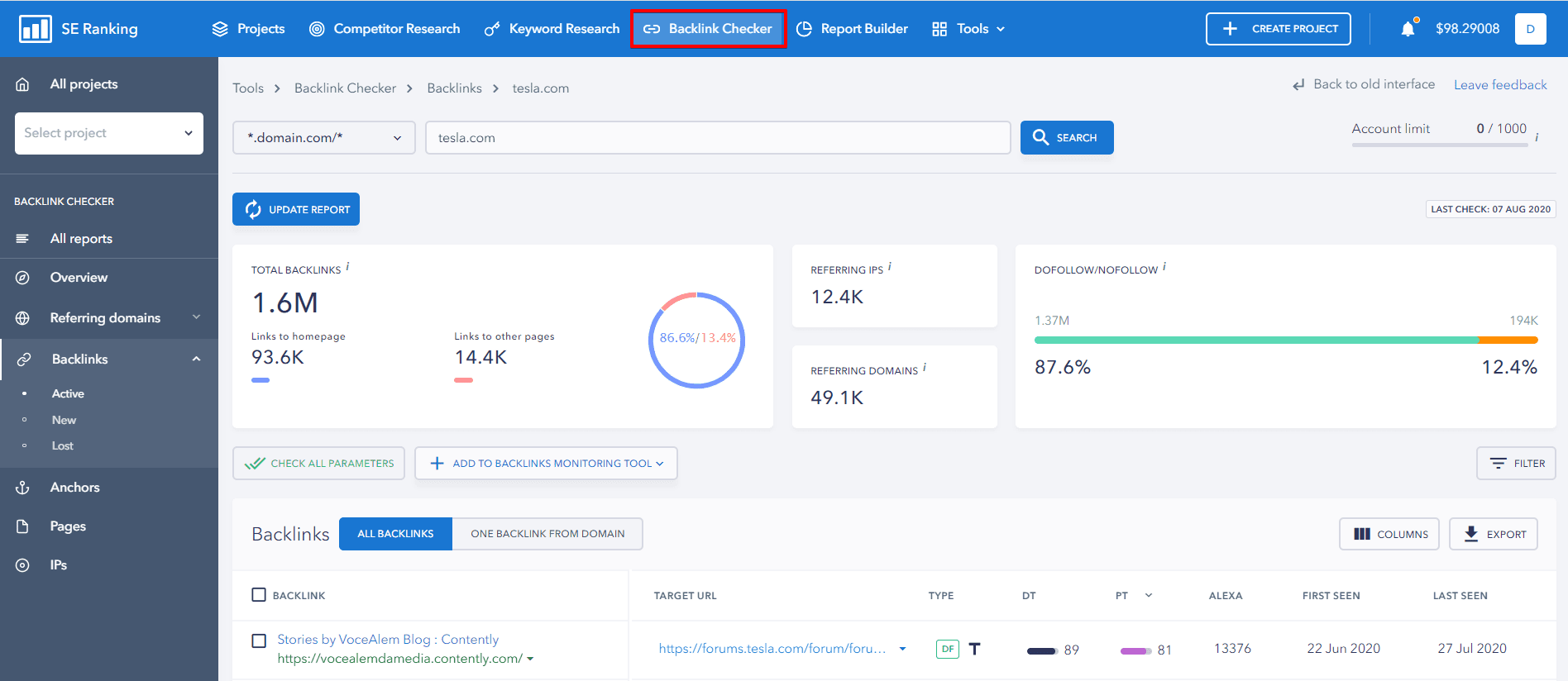 What to use:
SE Ranking Backlink Checker
Website quality metrics: DT, PT, TF, CF, and Alexa
Don't get the idea that you should track these metrics 24/7, and, more importantly, they shouldn't become your business goals. However, it is still important to continue tracking them, since they are closely related to building up your linking profile and website authority, which, in turn, affect your SEO performance.
Forget about chasing particular scores. Just keep tracking their dynamics, and, ideally, strive for more or less stable growth.
DT (Domain Trust) is an aggregate domain quality score developed by SE Ranking. It is calculated based on multiple factors including the number and the quality of a website's referring domains and backlinks.
PT (Page Authority) is a respective page quality score that measures the authority of a particular page.

Alexa Rank is a website traffic metric that is determined by the total number of unique visitors and pageviews. The lower your Alexa rank, the more popular your site.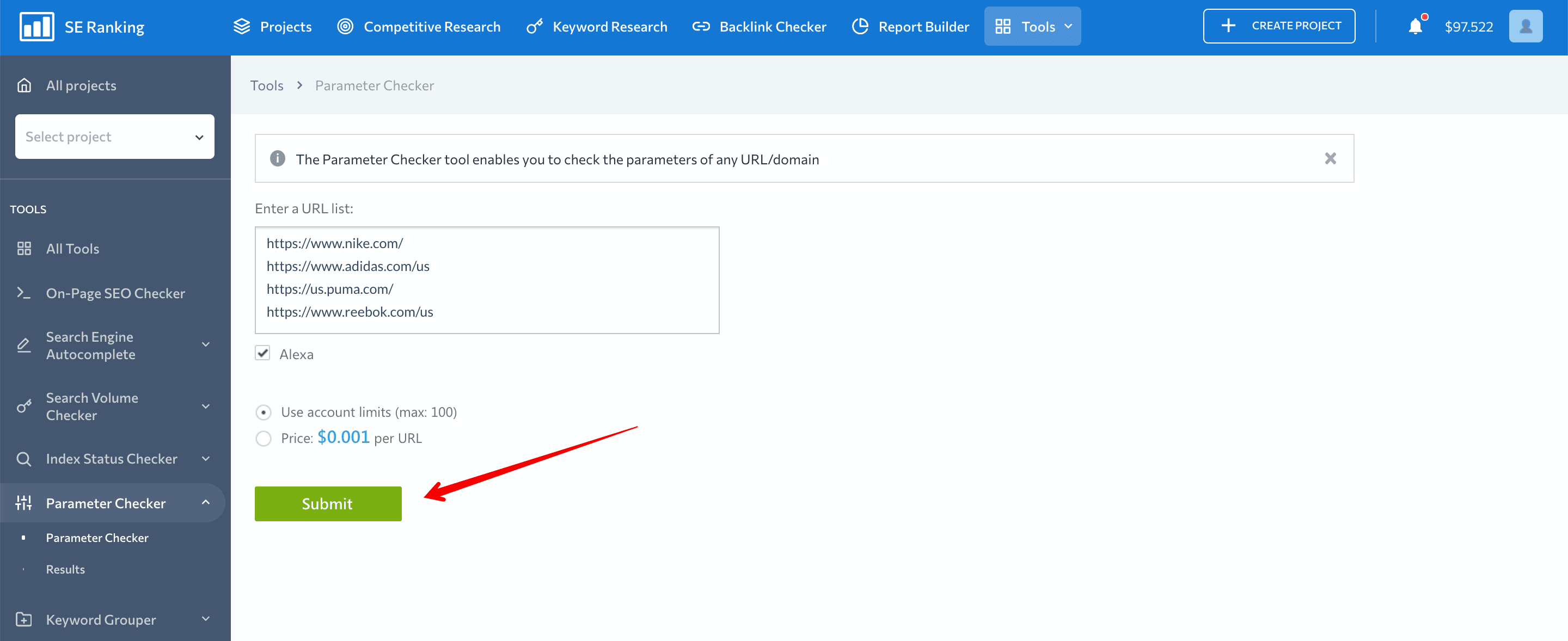 CF (Citation Flow) shows Majestic's score (between 0-100) that predicts the strength of a URL from a particular site. It's based on how many sites link to it. Citation Flow is used together with Trust Flow.
TF (Trust Flow) represents Majestic's trustworthiness score (between 0-100), which is determined by the quality of external links linking to the site.
What to use:
You can check any website's DA and PA metrics with the help of the SEO/PPC Competitor Research tool, and then if interested click on the number of backlinks and go to the Backlink Checker tool to study the detailed report.

Alexa Rank can be checked with the help of the SE Ranking Parameters Checker tool. For Majestic metrics, you can use the

Majestic SEO

Chrome plugin.
Average time on site (session duration)
This metric shows the time frame in which the user interacted with the website. If there isn't any activity within 30 min, the session ends automatically. The average session duration is calculated as follows: total time on site for multiple visitors divided by the total number of visitors.
It's important to monitor this metric as it enables you to see how engaging your content is and whether it's appealing to users and whether it drives them to explore more pages of your site.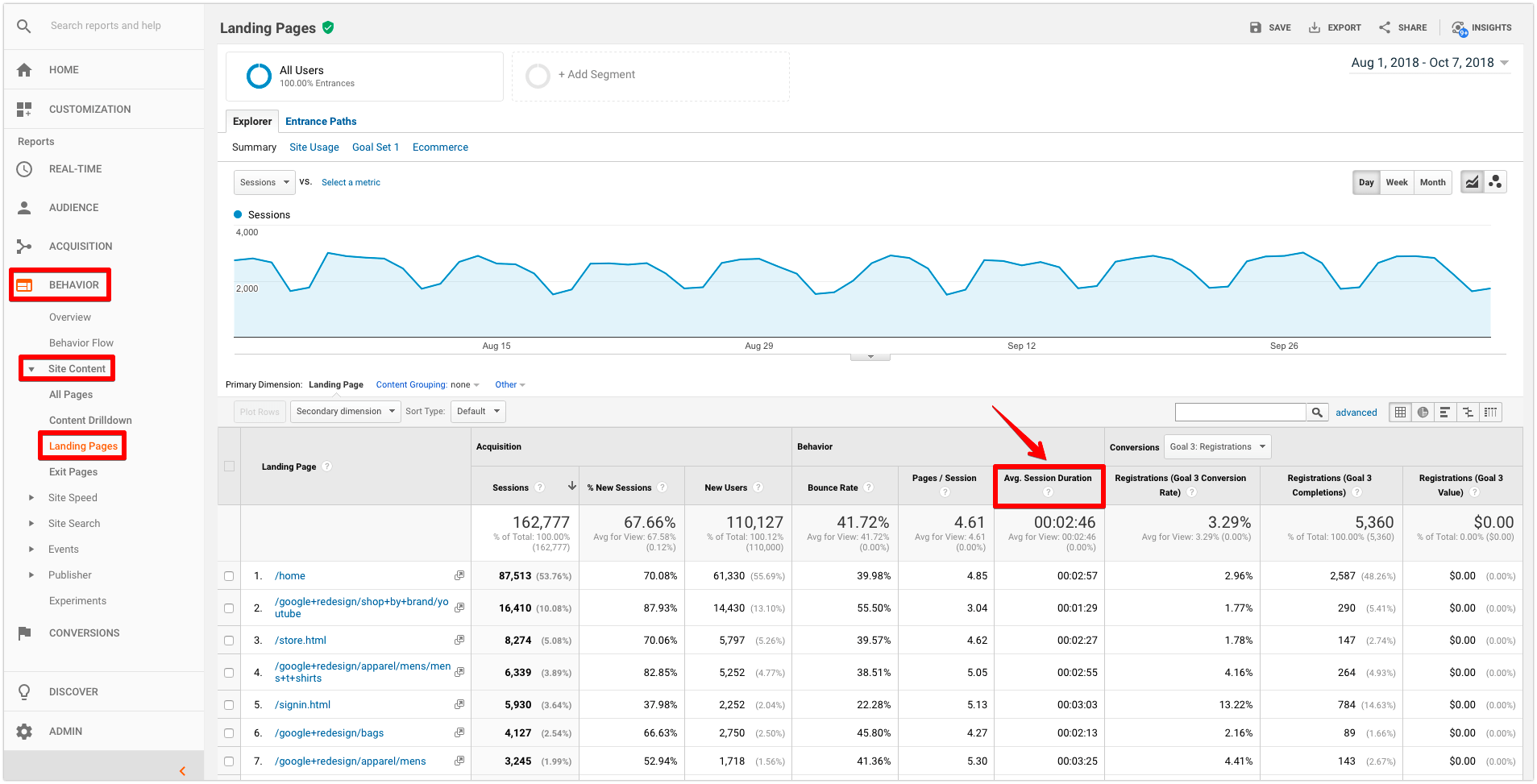 What to use:
Exit pages
This metric provides a list of pages from where users are leaving your website. In order to increase your website conversions and pin down user drop-off points, you have to find out where your potential leads are headed for the virtual door.
With this knowledge, you'll be able to optimize the user journey throughout your website and lead them toward conversion.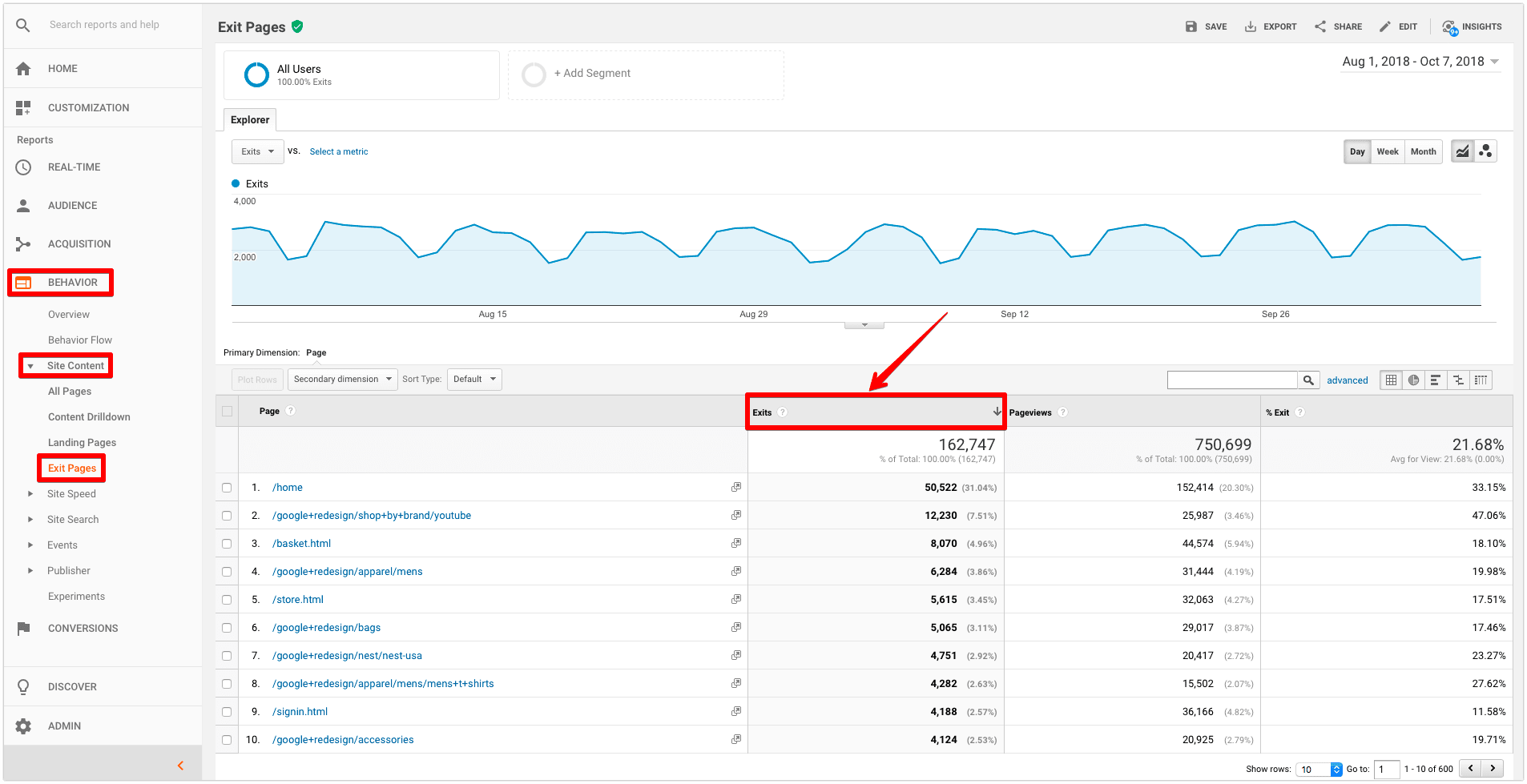 What to use:
New vs Returning visitors
This metric shows both new visitors (those who are visiting your site for the first time) and returning visitors (those who have visited your site at least once before in the past 2 years). By analyzing this data through segments (traffic channels), you'll see which channel is most loyal and which ones need a marketing boost. You can prioritize either new or returning visitors (or both), and direct all your efforts at the channel that gives you more of what you need.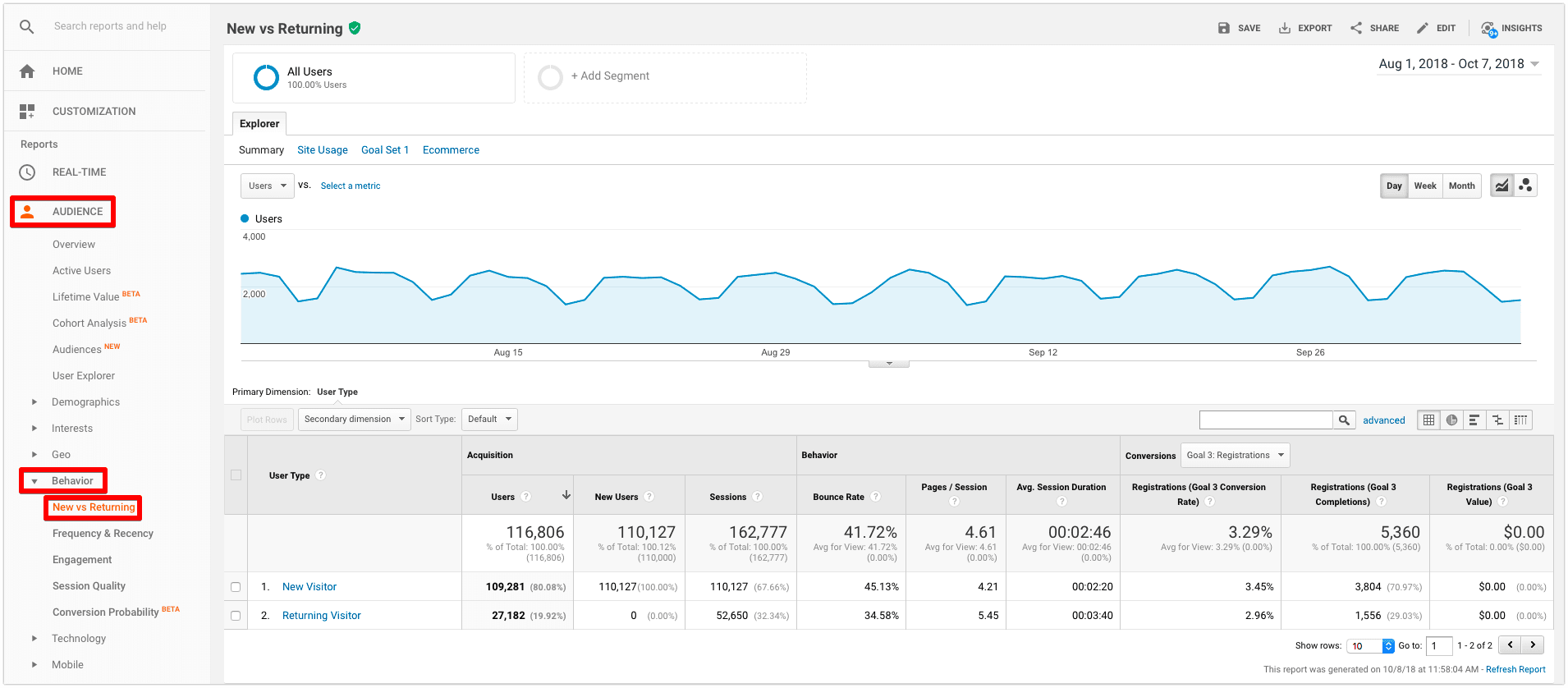 What to use:
Number of pages per session
This metric shows the number of pages a user visits per a single session. In some cases, users can find what they're looking for on the first page they visit, which it's totally fine! But in other cases, your website visitors may go to see as many pages as possible, making it useful to track this metric to learn if the users have made the most of it.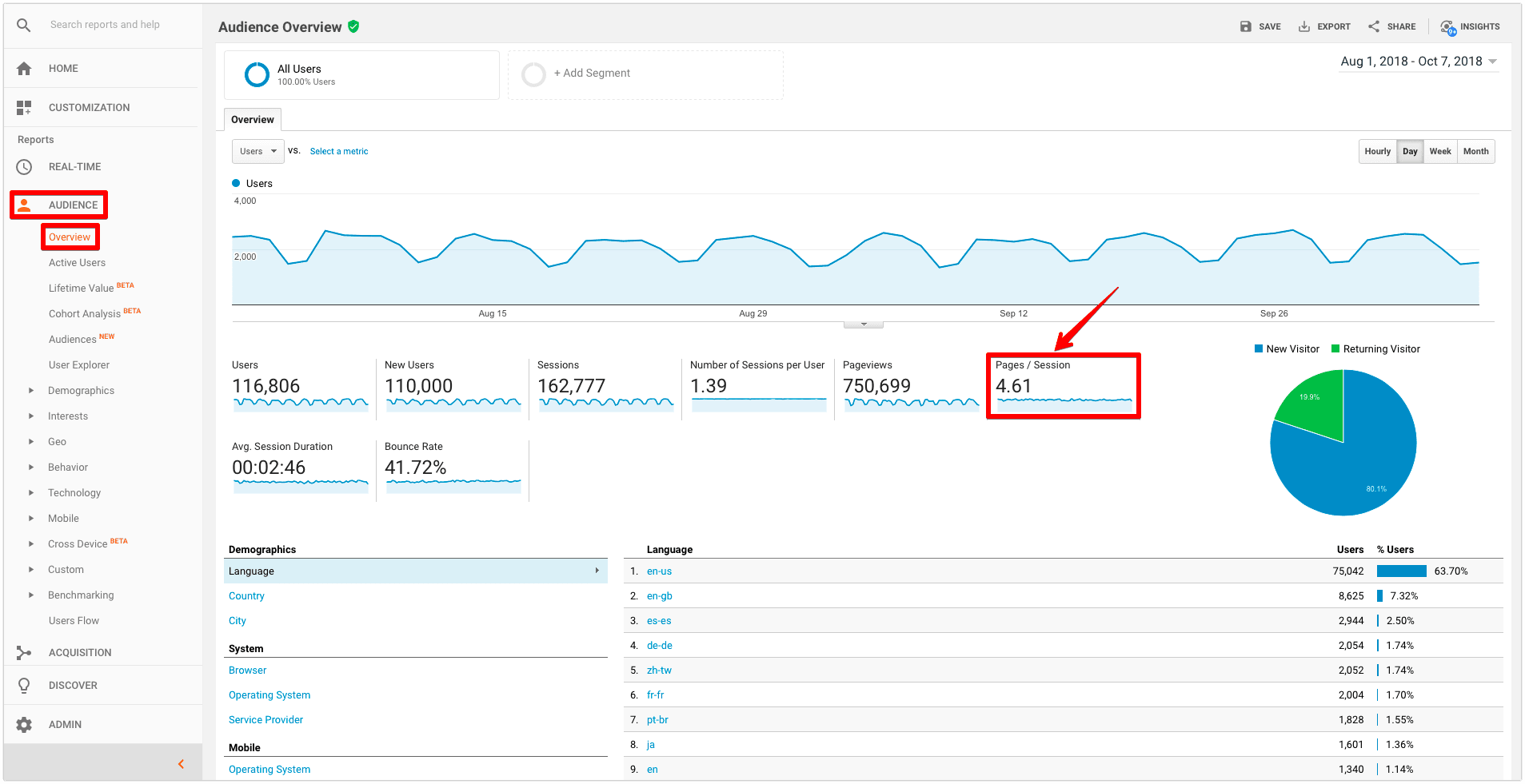 What to use:
CTR (Click-through rate)
This metric shows the click-through rate that is calculated as Clicks / Impressions * 100. It helps us see the percentage of impressions that converts into actions.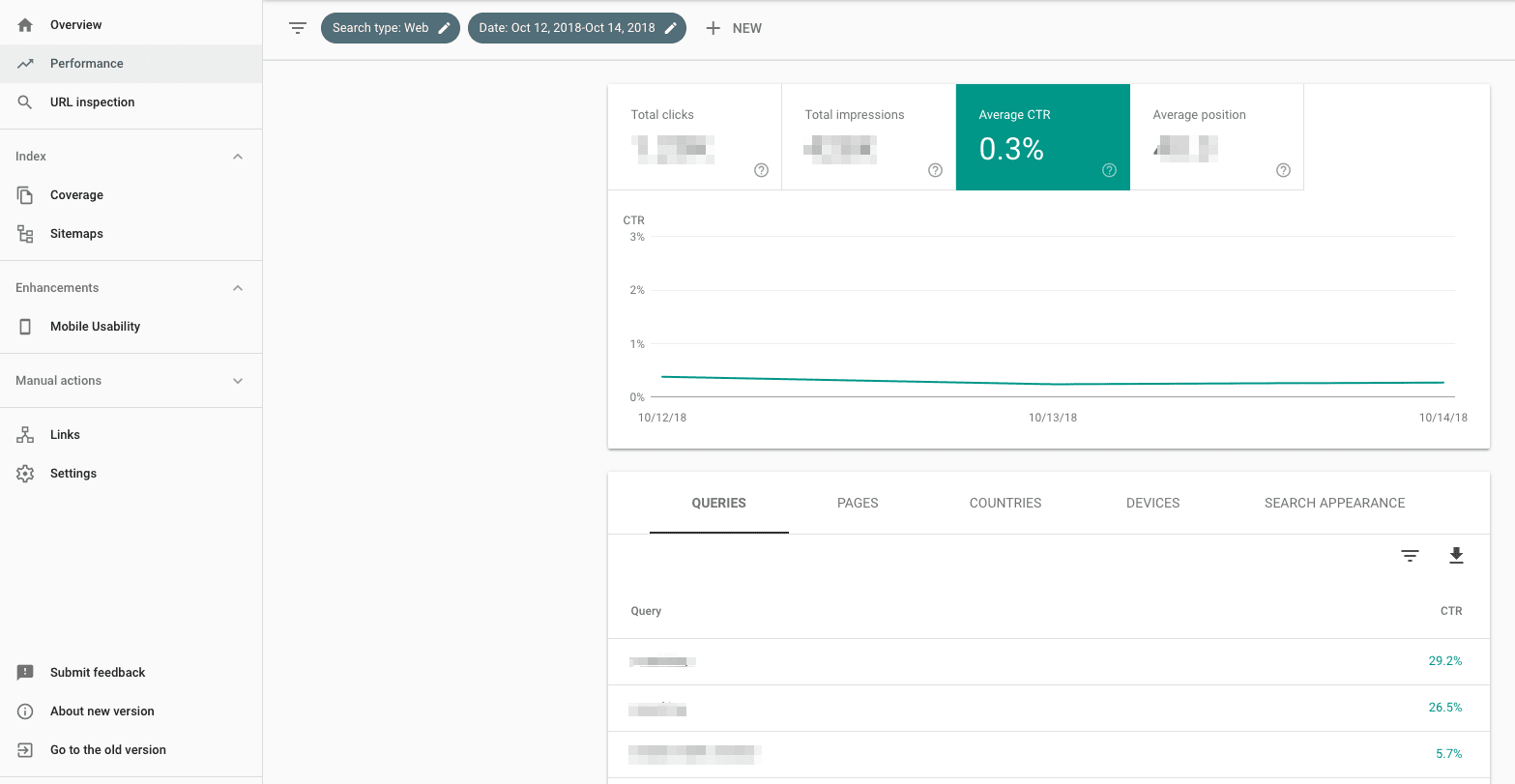 What to use:
Conversion rate
This metric shows the goal completion rate, which is why it's important to set the right goals – interactions that benefit your clients. This percentage is calculated by dividing the total number of visitors by the total number of conversions.
Monitoring this metric helps you see how well your incoming traffic is converting. Moreover, this data helps you assess the traffic quality and adjust the SEO strategy. For this reason, it's essential to not only set the right SEO objectives but the right conversion goals as well.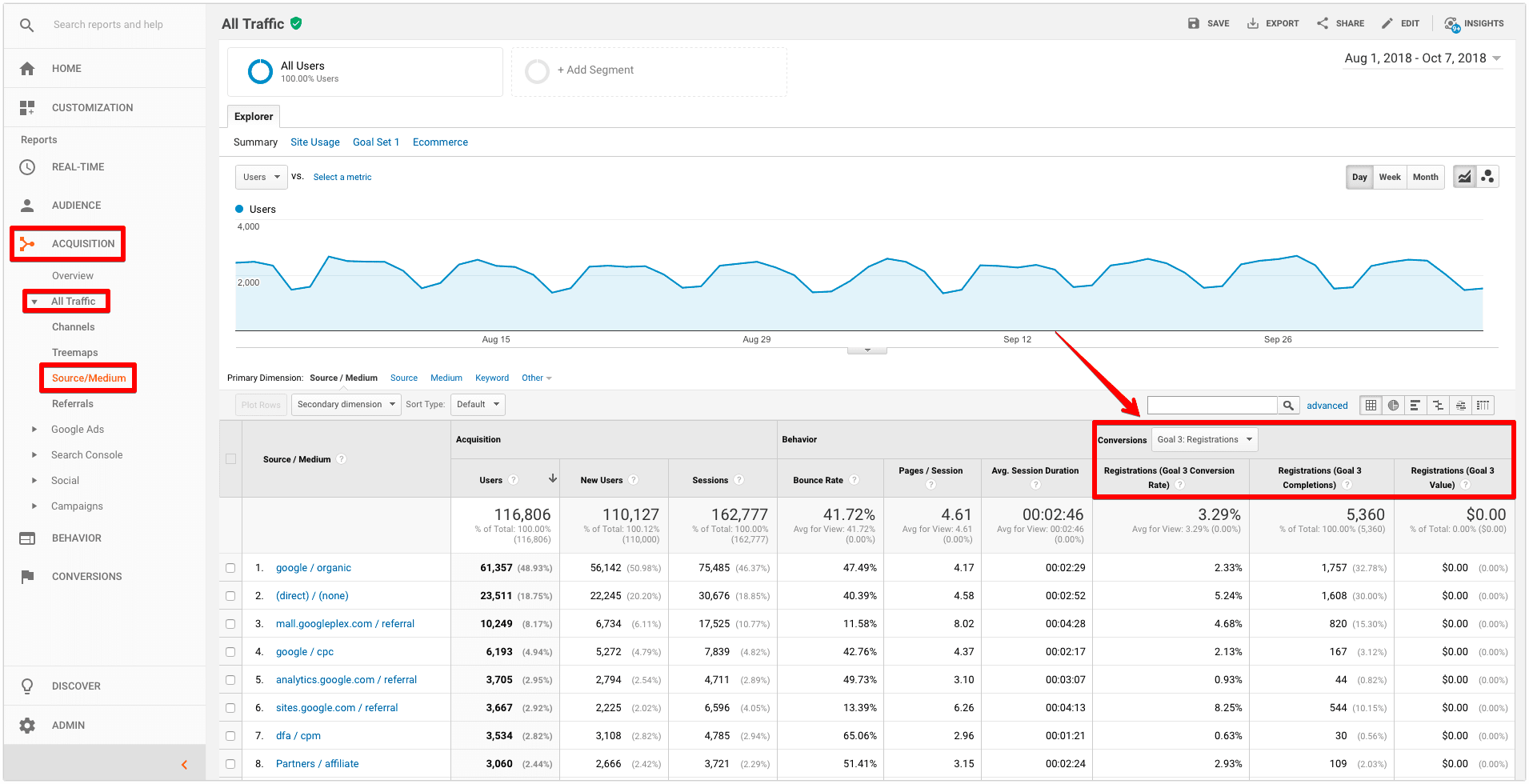 What to use:
How to track SEO metrics and report on KPIs
As was mentioned above, you need at least 3 SEO measurement tools to effectively monitor your SEO performance that includes all the important metrics we've covered, such as:
Reports (you either love them or you hate them) still remain the main communication tool between agencies (SEO specialists) and clients. That's why it's so important to properly present information in them. Moreover, not only do they help show the results of your work, but they help adjust the SEO strategy for the next month as well.
The good news is that nowadays there is no need to create these reports manually – platforms such as SE Ranking provide the SEO KPI reporting module together with other SEO tools. The possibility of periodically providing such reports is a must-have option so that you can easily schedule when to send files to the client's email. There is no need to make daily reports – make sure to report at least once a month so that your client can see the SEO dynamics.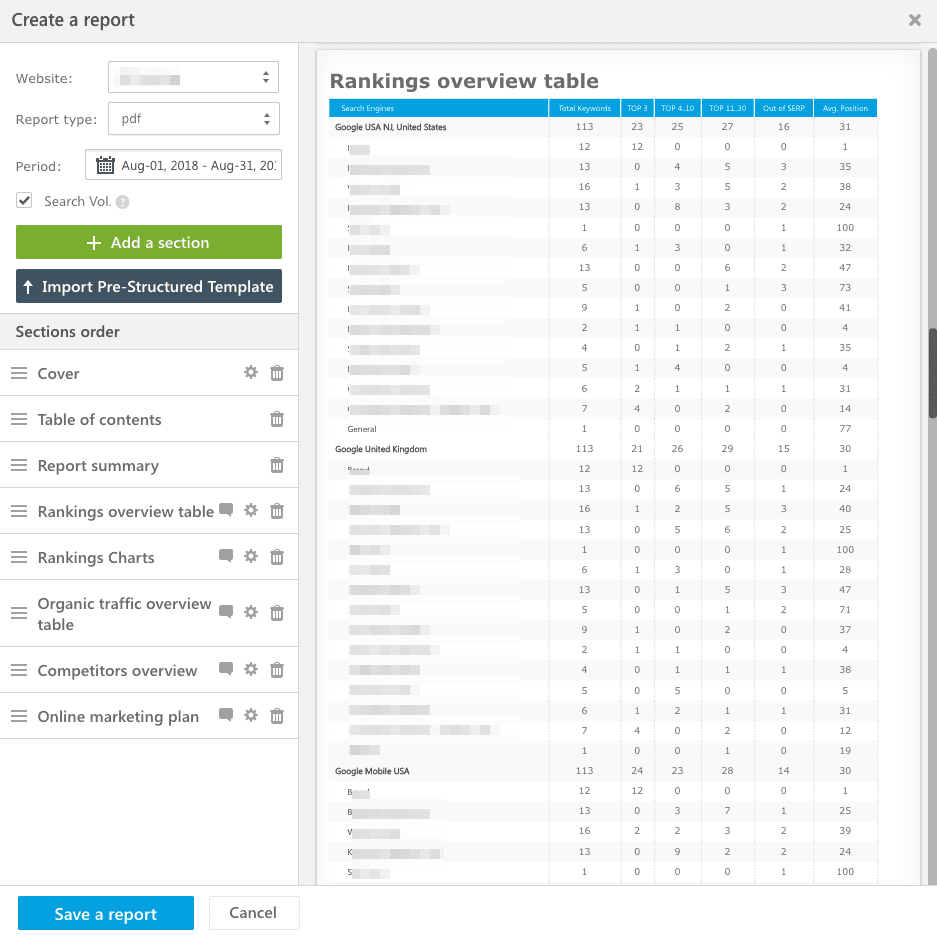 To sum up: 3 tips on choosing KPIs
Find the balance between measuring everything you can and tracking several single metrics. Keep in mind that if you choose an SEO KPI that won't be achieved, you will have wasted hours of valuable time for nothing.

Create time frames for KPIs as it's very important to have a starting point and a deadline to reach the set goals.

Find the direct connection between your business goal and SEO KPIs, but keep in mind that different niches and businesses require different KPIs – there is no universally applicable list. There are no bad and useless metrics – only inappropriate usage.
And remember – in order to avoid false KPI SEO tracking, don't get obsessed with SEO metrics, but analyze them in relation to the business impact they give.
I'd love to know your thoughts on SEO KPIs – which ones do you track and why?