Sign up for our newsletters and digests to get news, expert articles, and tips on SEO
Thank you for subscribing!
In spite of some controversy around the impact of backlinks in the post-Penguin world, most experts agree that quality backlinks do make a difference. If you believe in the power of backlinks, you should be spending plenty of time analyzing your own backlink profile and those of your competitors.
In this blog post, we'll take a look at referring domain metrics that can help you analyze backlink profiles in a more efficient way. But before we get to some practical tips, let's quickly define what a referring domain is and why this metric matters.
What is a referring domain
A referring domain—which is also sometimes called a linking domain—is a website that links out to another website whose backlink profile you analyze. Every referring domain can have one or multiple links to a website.
So, if every domain in your backlink profile links out to you just once, the number of your acquired referring domains and backlinks will be equal. However, those occasions are really rare as, normally, when you build a lasting partnership with a business, you'll get backlinks from their website on multiple occasions.
Most third-party tools that help SEO specialists analyze backlinks use the referring domains metric, and so does SE Ranking.
Our Backlink Checker pulls the data on both the referring domains and backlinks of a website, and in the Overview dashboard, you can find some handy charts and graphs for analyzing referring domains and backlinks side by side.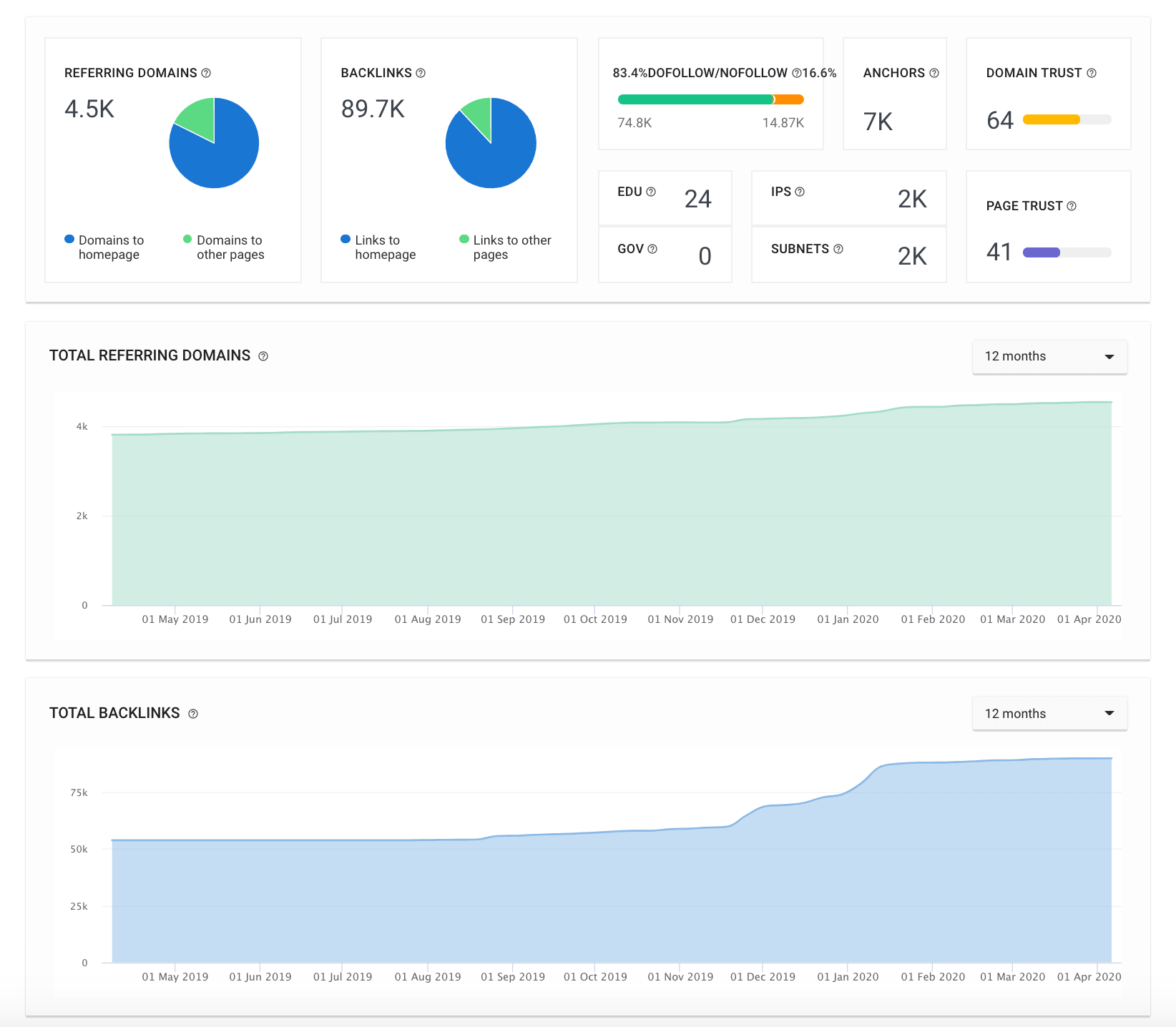 Here you can find:
the number of referring domains vs the number of backlinks;
the pace at which the website acquires new backlinks and referring domains;
the portion of links pointing to the home page vs other pages for each category;
anchor text distribution, again both for referring domains and backlinks.
But why would you spend time analyzing every aspect of a backlink profile separately for backlinks and referring domains?
To answer that question, we need to understand how links from separate domains are different from backlinks from the same domain.
Not all the backlinks are made equal
We all know that backlinks from trusted popular domains bring way more value than backlinks from low-ranking websites with minimum traffic.
But there's one more thing you need to consider when measuring the weight of a backlink—the number of backlinks a website already has from the same referring domain.
Let me use an analogy to explain.
Imagine that you are looking for a freelancer to help you with the translation of a text in a language you don't know. You need to be sure that the person will do the job well since you won't be able to verify the accuracy of the translation. So, you post an order and get two bids: one of the freelancers has three positive reviews, but they all come from the same source while the other bidder has four positive reviews from different people.
Which one would you choose? Most would probably go for the second one since multiple people endorsed the freelancer independently.
With Google, it works the same way.
Whenever your website gets an endorsement (in the form of a backlink) from a new domain, Google appreciates it. When the same domain endorses you again, Google still appreciates it, but the value of that second show of support pales in comparison to that of a new domain "recommending" your website. So, while getting the tenth link from the same website won't get you into hot water, there won't be as much benefit to your website either.
That's one of the reasons you need to pay attention to the referring domain metric—it shows the true value of a backlink profile.
Other reasons include convenience and ease in finding partnership opportunities. So let's discuss in more detail how the referring domains metric can help you better analyze backlink profiles.
Get to see the real picture
Taking into account just the number of backlinks is not enough. Two backlink profiles may both have four hundred links, but one could have two hundred referring domains while the other has just twenty.
The difference between the two would be colossal, as in the second case, with an average of twenty backlinks per referring domain, the value of the links would be really low.
Always pay attention to both the number of backlinks and referring domains.
With SE Ranking's Backlink Checker tool, you can find out both numbers in just a matter of seconds. Launch the tool, enter the name of a website you want to check, and press Search.
In the pop-up window, you'll find the number of backlinks and referring domains of the website even before you press Get full report.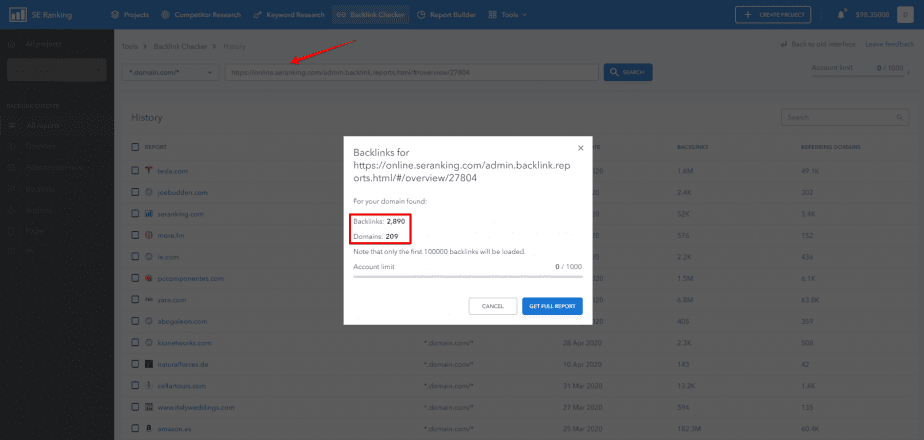 To dig deeper, you'll want to get the report. Then, you can go to the Referring domains tab and sort the list by Backlinks so that websites that generated most of the backlinks will be at the top of the list. If you see something like this, you can definitely disregard a few thousand backlinks from the profile under analysis.

When a website gets hundreds, or even thousands of backlinks from the same low-trust referring domains, Google simply devalues those links and you should do the same when analyzing a website backlink profile. Sitewide links don't help your competitors rank higher, and if they do rank high, it's in spite of the links and not because of them.
Also, pay attention to the referring domain metric when analyzing pages individually and not the linking profile as a whole. Backlink Checker has a special Pages tab for that purpose. So, keep in mind that a page may seem popular and have plenty of backlinks, but they can all come from few referring domains—and that would mean the page is not popular at all like a page with 667 sitewide backlinks from just two low-quality domains in the example below.

To see all the details like Domain Trust and the distribution of page backlinks across the referring domains, just click on the Referring domains cell of the page in question.
Analyze large amounts of data efficiently
Now, let's say you need to analyze the backlink profile of a website with hundreds of thousands of backlinks. Surely, it would take a lot of time for you to go through all of them. But, you don't really need to do that as many of the backlinks would come from the same domain. With Backlink Checker, in the Backlinks tab, you have the option to analyze only one backlink per domain. If you choose this setting, out of all the backlinks, the tool will show the one that comes from the page with the highest Page Trust.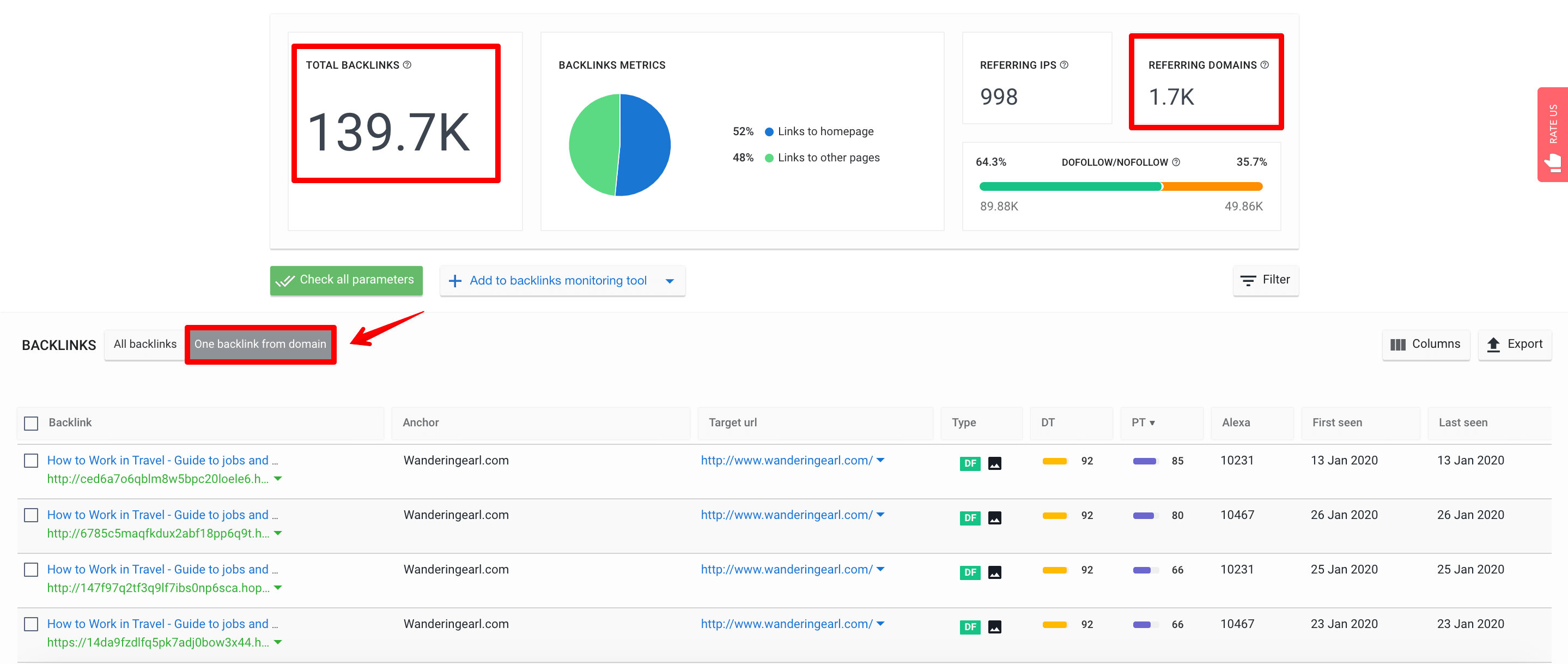 By picking that option in the example above, one would have to deal with 1,700 backlinks instead of 139,000, which would be a massive time-saver.
At the same time, when choosing to analyze one link per domain, don't completely disregard the rest of the backlinks. As you remember, hundreds of backlinks coming from a low-trust domain can be ignored. But, if a website has something like five links from a trustworthy domain, you need to take them into account. Make sure to also go to the Referring domains tab and filter out high-trust domains with multiple backlinks. Those would be the backlinks you shouldn't ignore.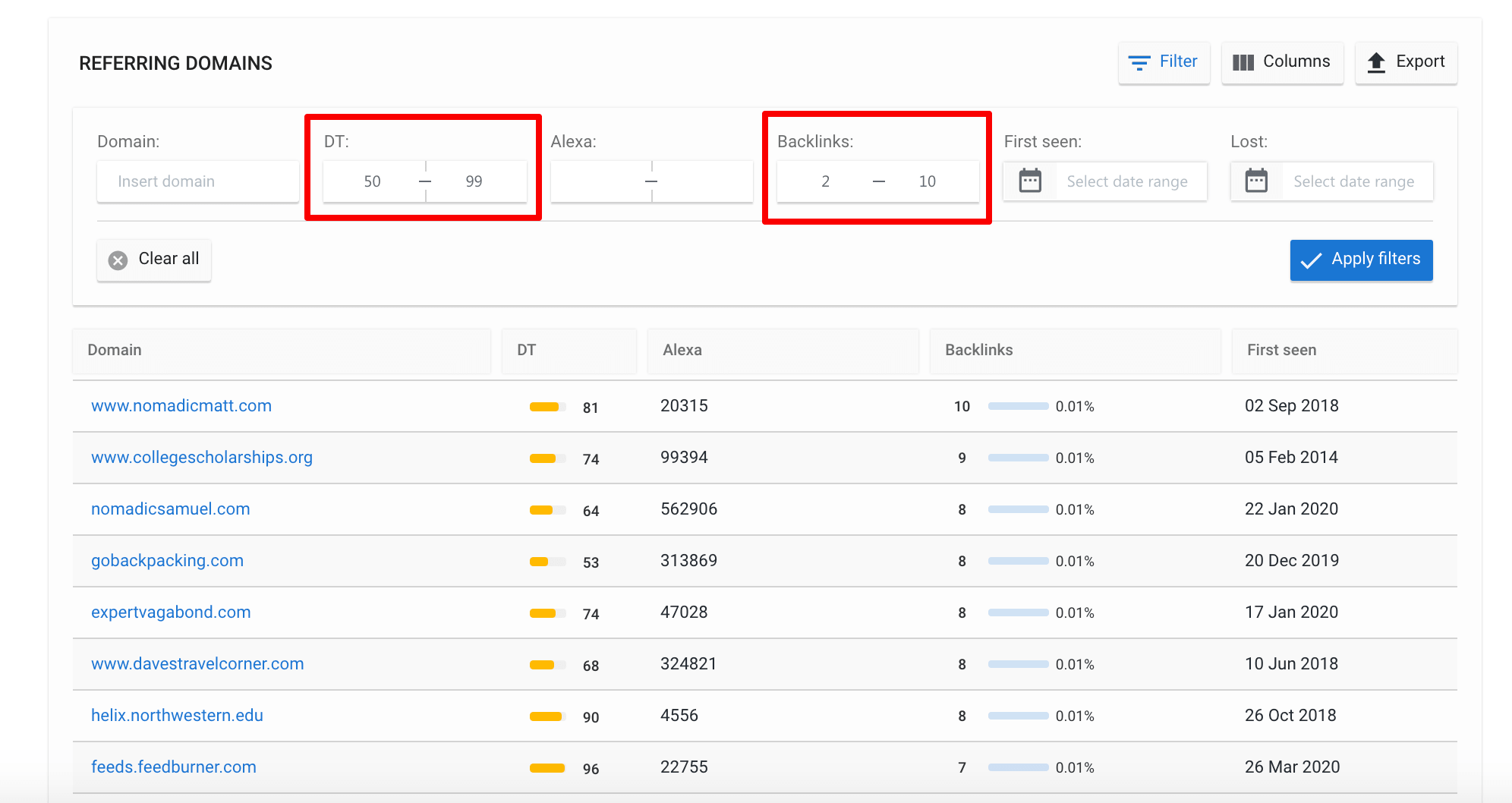 Find who you can partner with
You can also find websites to partner with when analyzing referring domains, both of your own websites and your competitors. If you need to quickly find a place to publish promotional materials about your newly-released mobile app, you have a better chance of setting up an agreement with a website you've already worked with in the past. So, go through your backlink profile, find some high-trust websites that linked out to you a couple of times, and get in touch with the websites' owners to discuss possible cooperation.
Similarly, you can go through the backlink profiles of your competitors to find websites they collaborate with on a regular basis. Check where those links come from, and if they are, say, blog posts links and you are into guest blogging, go ahead and reach out to the website owners to start building partnerships.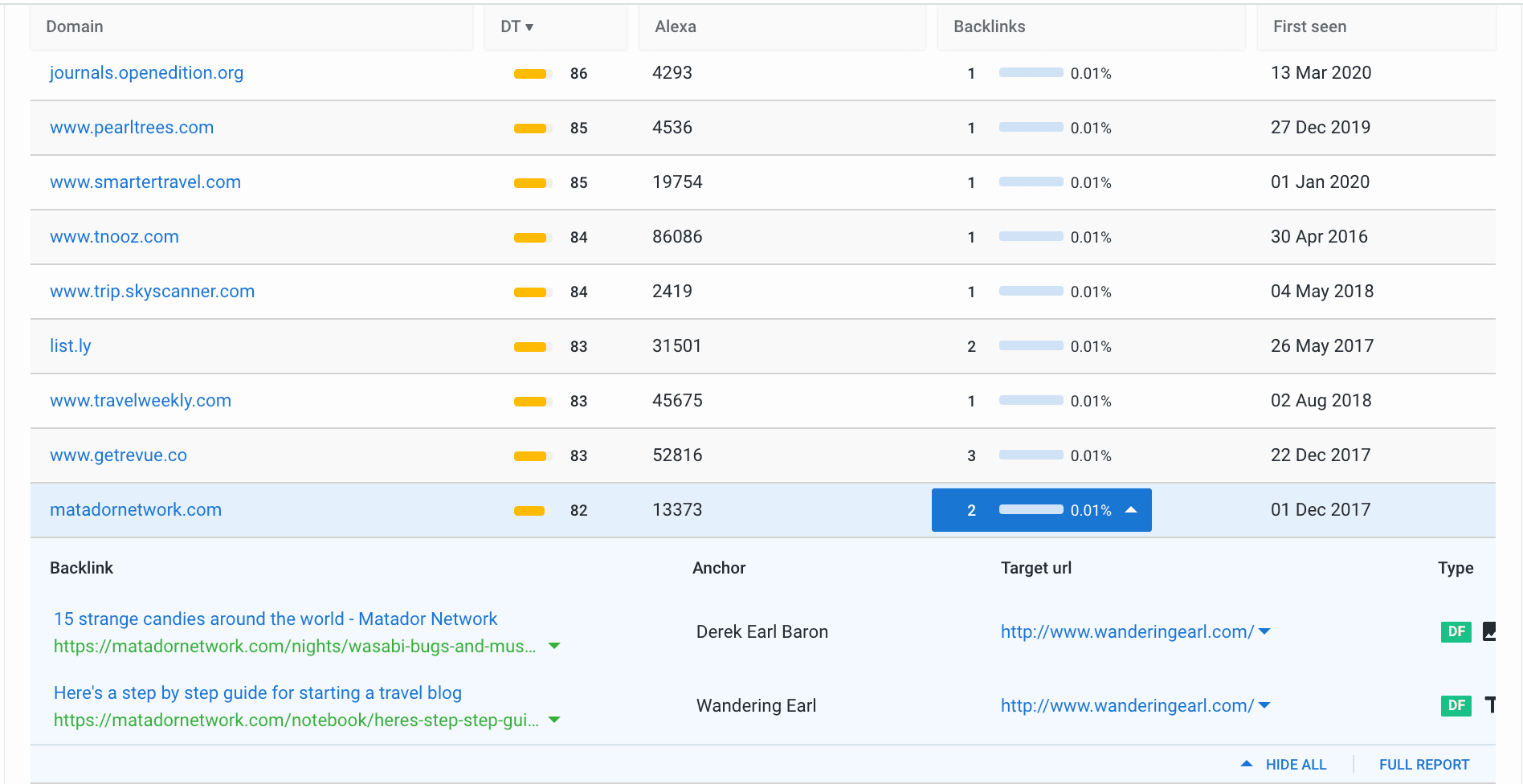 That's basically it for referring domains. Add this powerful metric to your link building toolkit and use it to better analyze your own backlink profile and those of your competitors. And once you adjust your link building strategy, make sure to keep an eye on your site rankings using dedicated tools such as Google rank position checker.