At some point, anyone working with a website is bound to ask one big question: What keywords do I rank for?
When working with a client website, one of the first things you do as an agency is find out where it currently stands in terms of search engine rankings so that you can identify its strengths and weaknesses to lay down a roadmap for optimization.
If you're dealing with your own site or that of the company you work for as an SEO, you definitely need to know keyword rankings to get a firm understanding of what searchers look for to land on the site.
With the right tools and knowledge, you don't have to do any guessing. In this blog post, we'll look at how you can find out what keywords your site ranks for and plan your next move with the help of Google Analytics, Google Search Console, and our very own SE Ranking. Plus, you'll also learn how to use our all-in-one SEO platform to find out what keywords your competitors are ranking for.
Why knowing what keywords you rank for is crucial
Before we dive into all of the details, let's look at several important reasons why knowing what keywords your rank for—and their rankings—is vitally important to any site's success.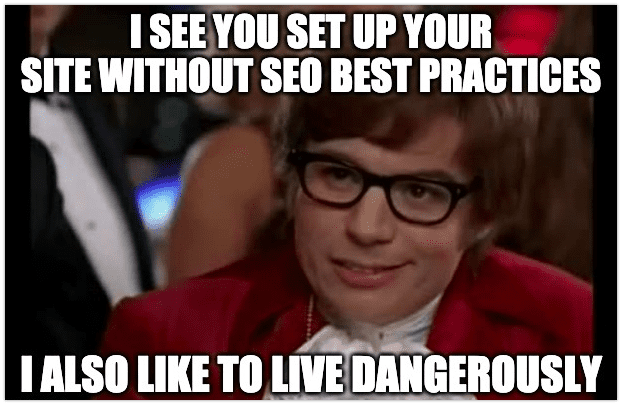 Understanding traffic drops. Your site's organic traffic volume can be affected by multiple factors, such as Google algorithm updates, experiments with SERP features, technical issues, Google penalties or manual actions, or something else completely. And the best way of understanding why is checking your keyword rankings. This will allow you to see which pages took a hit and even understand why.

Finding missed opportunities. With the search engine results pages changing so much over the years and Google's strive to continue improving the user experience, keeping track of every new thing in the SERP can be difficult. However, tracking keyword rankings in SERP features like the Answer Box, Knowledge Graph and Twitter Box can help you keep a finger on the pulse of your website and even reveal keywords that are not getting any clicks. On top of that, with every change made to the search results pages, you get a new opportunity to make a move and outrank the competition.

Keeping an eye on the competition. Besides monitoring keyword ranking data on your own website, you can also learn how your digital rivals are ranking for the same keywords you're targeting, and what keywords they're targeting and you're not. Doing so will allow you to not fall behind the race for top ranking positions and even steal traffic from your direct competitors.

Targeting relevant keywords. Knowing what keywords a specific web page ranks for allows you to remove irrelevant keywords that don't result in high rankings for that page. Instead, you can take such keywords to create new pieces of content that will be relevant to their search intent. This also helps avoid keyword cannibalization, when two or more web pages of the same site compete for rankings for the same keyword—something that confuses search engines a great deal.

Obtaining data to report on. Proving all the SEO work that's been done on a website is one of the most important and challenging tasks of any SEO expert. One way of doing this is finding out how many keywords have started to rank recently, their exact ranking positions, and traffic volumes. In a similar fashion, you can use this data to see how rankings change over time.

Identifying easy-target keywords. By analyzing rankings data, you can discover which high traffic pages need a little extra touch to get page 1 rankings with little optimization work like clearer metadata, more links, issues with user experience, and so on. This is the way to go if you need to produce good results quickly.

Developing a promotional strategy. Once you've identified all the keywords you're ranking for, you can start devising a plan to improve your entire site's SERP standings. Cut all the keywords that are not helping you, create content to meet user intent, take keyword ideas from your competitors, and do everything that is relevant to the goals of your website.
But I want to point out that doing anything from the list above requires you to understand and have access to accurate, up-to-date data on keywords and their rankings.
Let's take a look at how you can do that.
Getting keyword ranking data from Google
With Google being the number 1 place people go to get information on just about anything, you too can turn to its tools like Google Analytics and Google Search Console to learn more about your website. And specifically, what keywords your web pages rank for.
To do this, you first need to make sure both of these tools are set up:
Once you're good to go, start analyzing your keyword ranking data. But note that several weeks need to go by for you to have enough data to work with, so make sure to have it all in place ASAP.
Alright, now below you'll find an easy step-by-step guide to using Google's services to find all the keywords your website ranks for. Let's start off with Google Analytics.
Keyword data in Google Analytics
Go to Acquisition → Search Console → Queries.
Here, under the Search Query column, you'll find a list of all the search queries—aka keywords—that your website is ranking for on Google. Simple as that.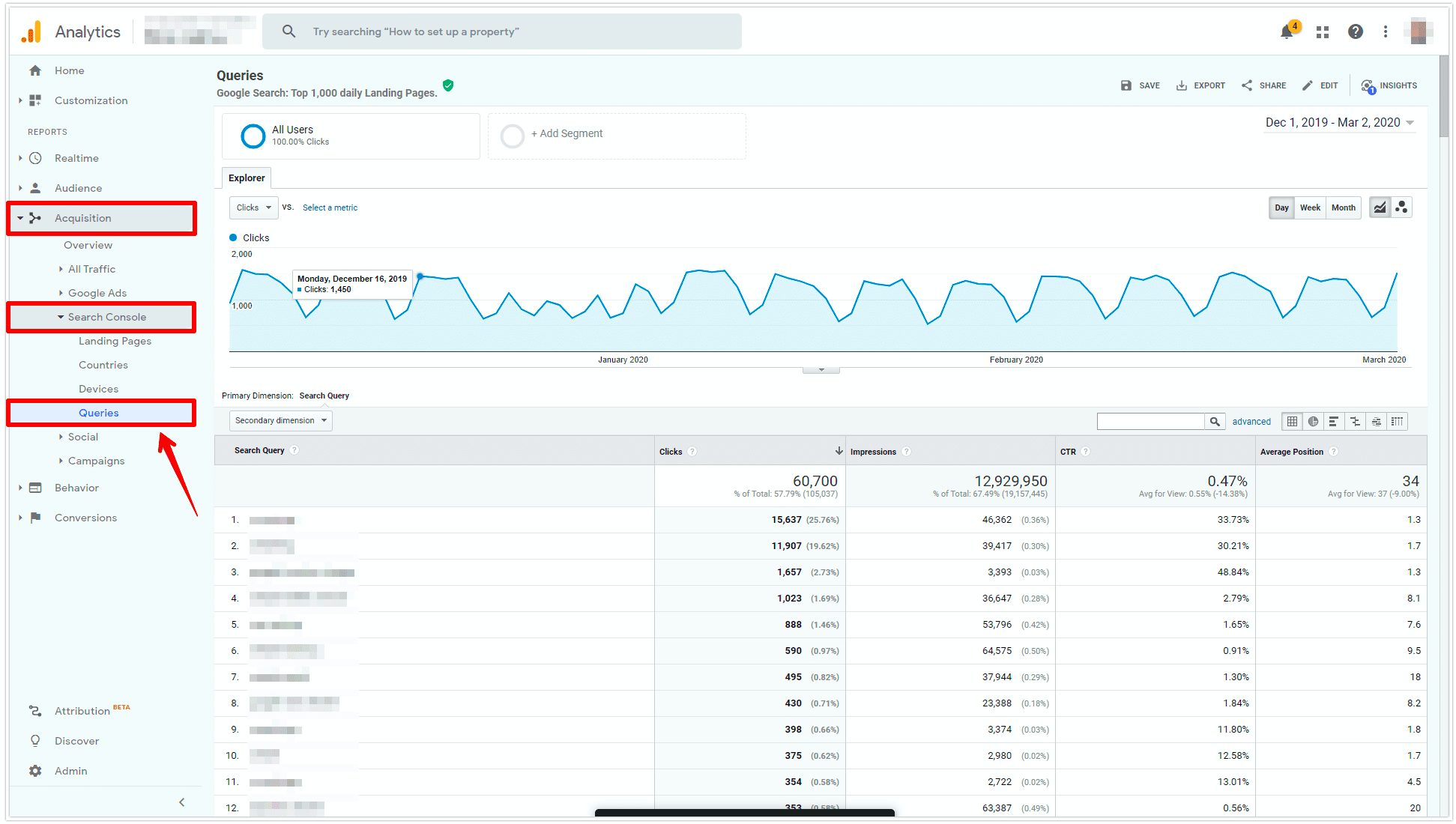 You can click on different columns to take a look at your list of keywords from various perspectives. Clicking on Clicks will let you know what keywords are working properly and bringing in traffic. The Average Position column will highlight your top pages that have the highest chances of attracting even more visitors to your website.
I encourage you to play around with the calendar and filters to get a better understanding of everything that's going on on your website in terms of keywords.
Keyword data in Google Search Console
Go to Performance → Queries.
Here you'll find the powerful "Performance" report that shows all the different keywords your site ranks for in Google, along with data on clicks, impressions, average CTR and position. By the way, clicking on Average CTR and Average Position at the top of the page will add respective data to the table below.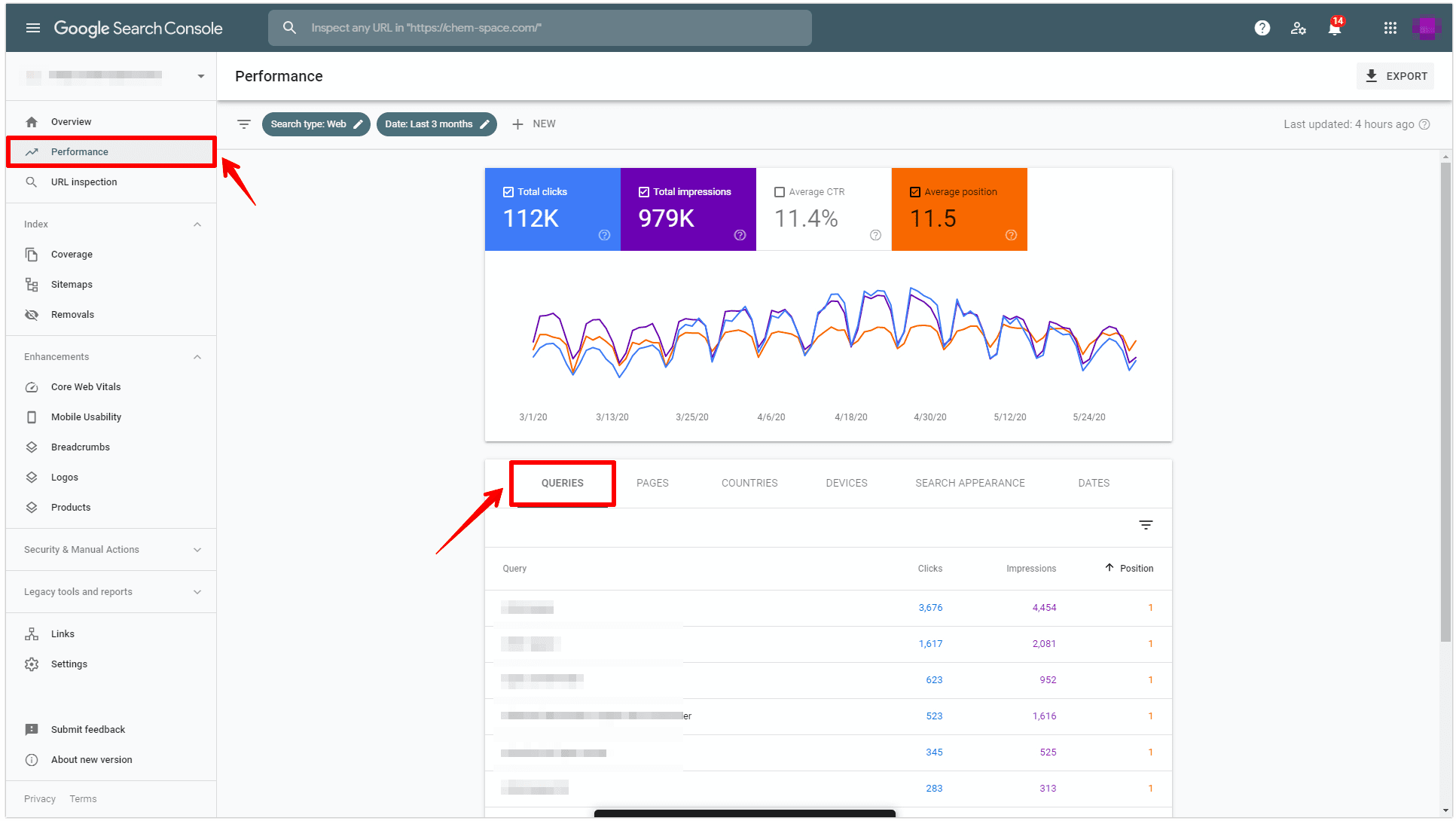 There are plenty of ways you can use this data. Maybe you want to see all of your keywords that are ranking on page 2 of Google and beyond, but are getting more than 30 clicks each month. Such keywords are working for you, but your competition is doing a much better job, and if you do some optimization work to web pages that target such keywords, you'll be able to get on Google page 1. As a result, this will skyrocket your traffic.
I want to point out that the data you'll find in Google Search Console and Google Analytics will most likely differ, so don't be surprised if it does.
Since Google Analytics is user-oriented, it provides data that's related to everyone who visits and interacts with your website. On the flip side, Google Search Console focuses on search engines, and as a result, it provides data that's aimed at helping website owners improve their overall search engine presence and visibility.
Once you've found all the keywords of your website that Google knows about, I recommend you find all of your site's web pages so that you can further develop your promotional strategy. But while you are doing this, I advise you to pay attention two things:
The regions where you promote your pages, and
The changes you decide to make as even a seemingly insignificant alteration can have a negative effect on your rankings.
By the way, you can connect and access your Google Analytics and Google Search Console data directly from SE Ranking without having to switch back and forth between tabs: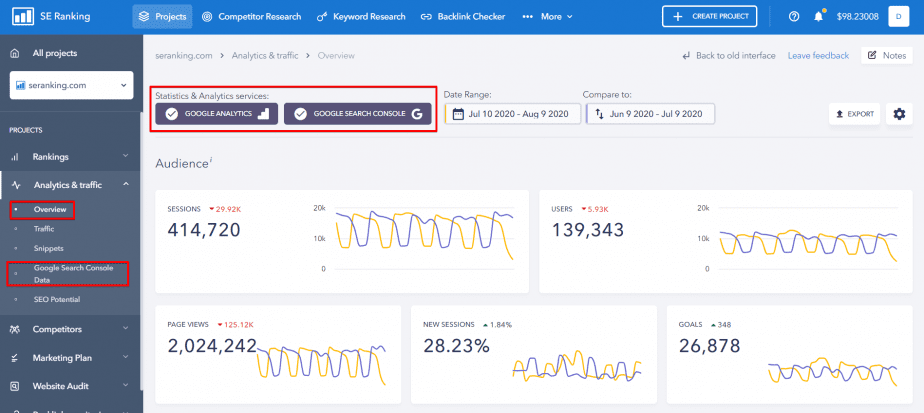 Alright, now let's dive into SE Ranking and find out what keyword data it has to offer.
Getting keyword ranking data from SE Ranking
Besides using Google to find out what keywords your website ranks for in search, our all-in-one SEO platform can also provide you with such data, but it doesn't stop there and offers a lot of additional competitive data that you can take advantage of.
Find out what keywords you and your competitors are targeting
In order to find out what search queries both you and your online rivals are targeting in search with the help of SE Ranking's SEO/PPC Competitor Research tool, follow the steps below.
The first thing you need to do in the Competitive Research tool is enter your website into the search box, select the search region you want to analyze, and hit 'Analyze':

Once the data loads up, you'll see a summary of the analyzed website's organic and paid campaign activities that—among other things—includes a complete list of organic and paid keywords and the amount of traffic they bring.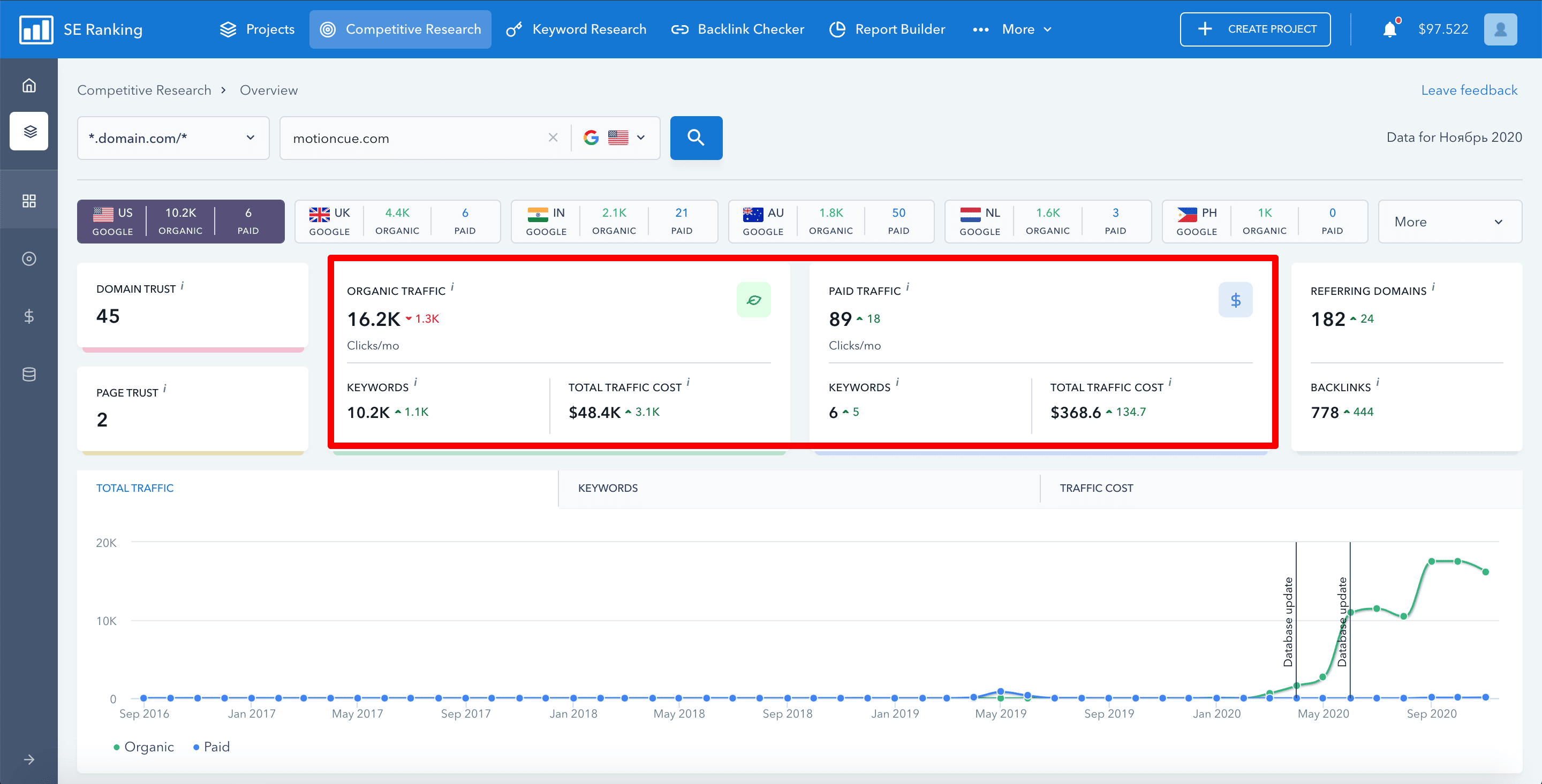 By clicking on the list of either organic or paid keywords that are highlighted in blue, you will be redirected to the detailed report on such keywords. 

As you can see below, the website is ranking for over 10 thousand keywords in Google in the United States. Moreover, besides seeing the list of keywords, you can also see each keyword's ranking position, search volume, cost of getting a click from Google Ads campaigns, and much more data that will help you understand how promising a keyword is in terms of driving traffic.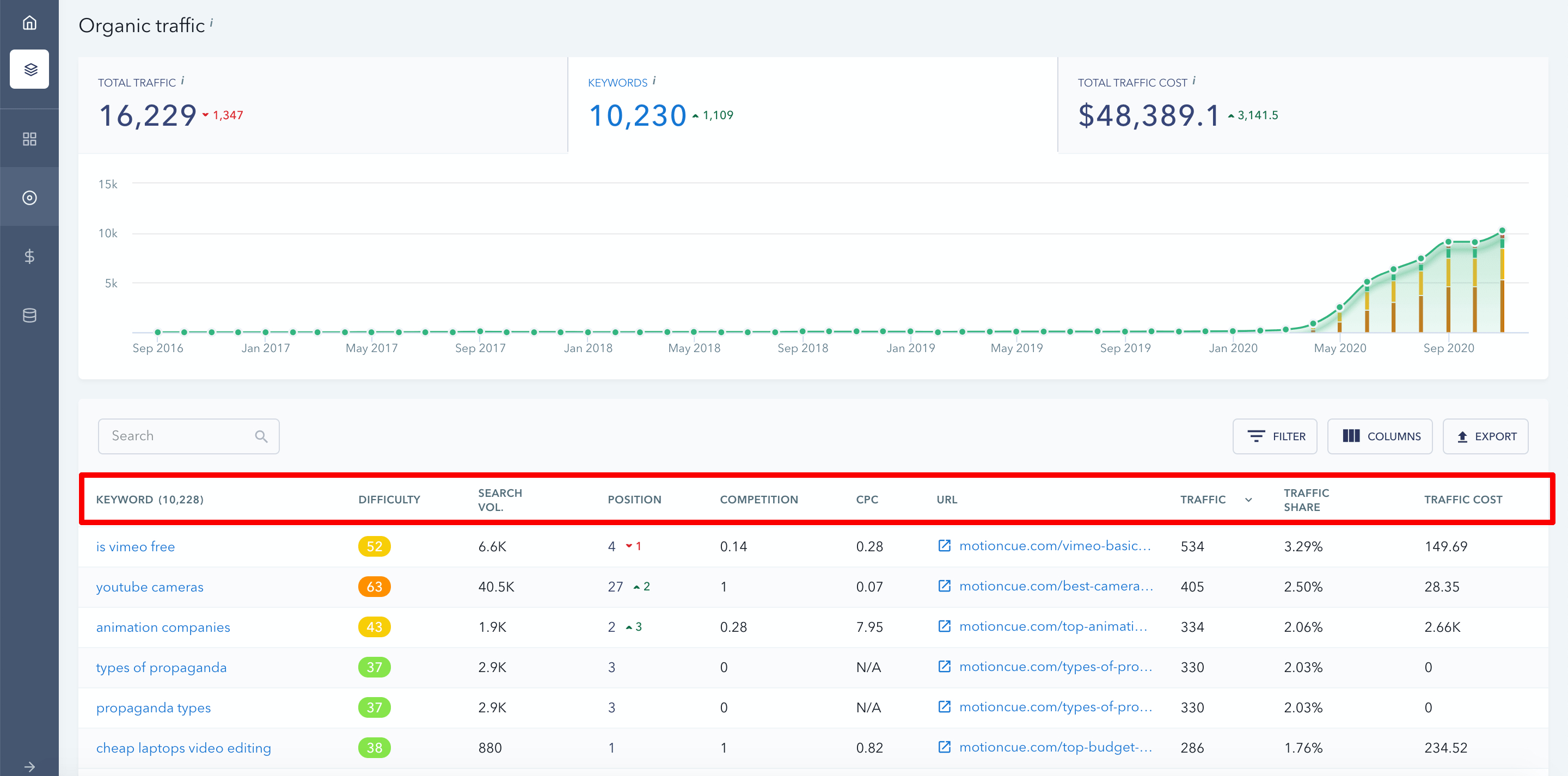 The Filter option allows you to only see the keywords you're interested in.

For example, you want to see keywords with a search volume of over 1,000, keywords ranking in the top 10 positions, or both filters applied at the same time.

You can dive very deep into all the data provided here and even expand your semantic core. 

Go to the Keyword Research tool and get data on the top ranking organic and paid web pages, and a list of Similar, Related, and Long-tail keyword suggestions. For every keyword, you'll see its difficulty score, search volume, and the list of websites ranking for the keyword in organic search.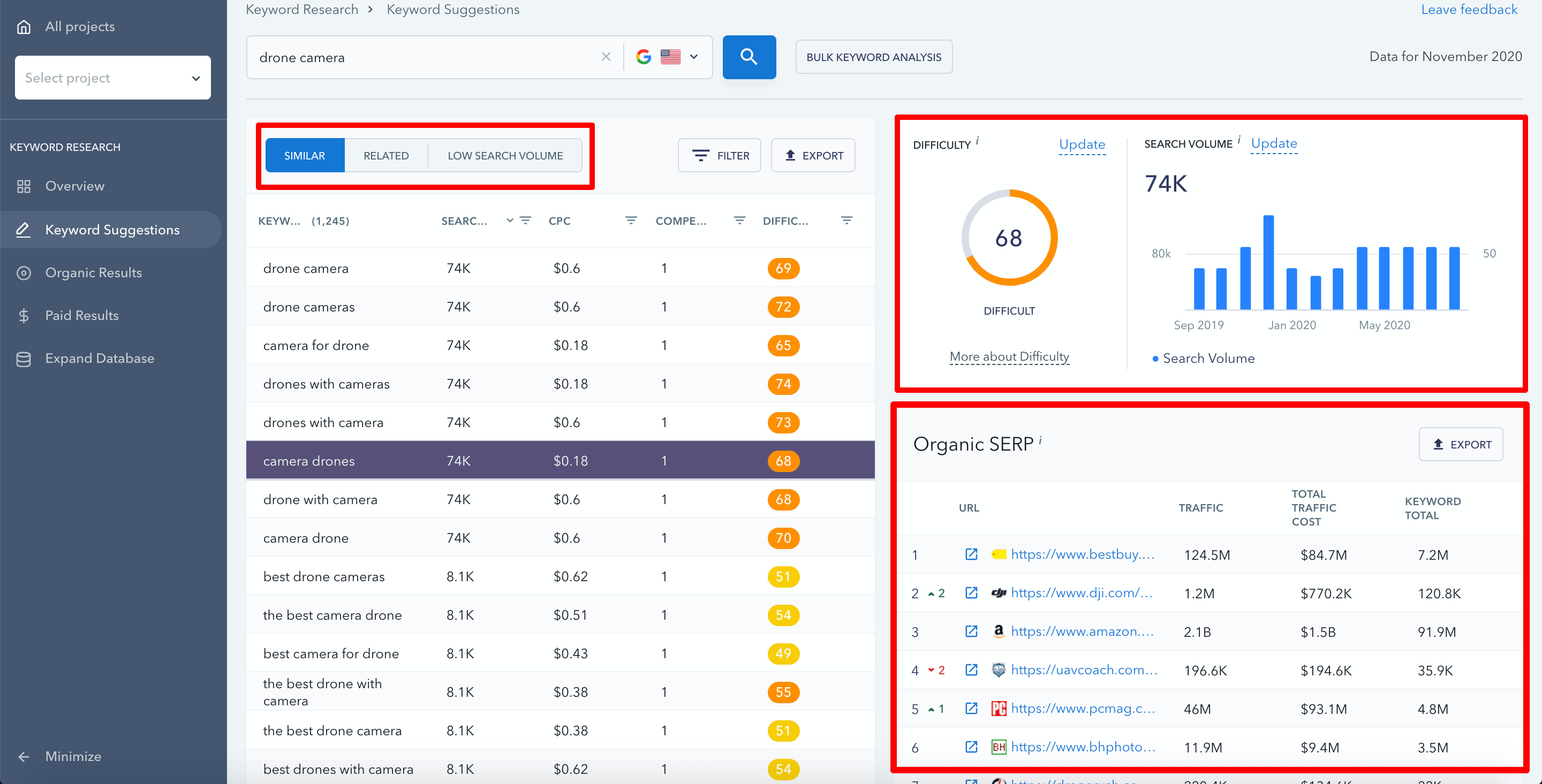 You can then repeat the process for your competitors and find out everything about their search engine activities in any region of the world in any major search engine including Google, Bing, Yandex, Yahoo! and YouTube.
Discover competitor keyword overlaps
You can enter two of your competitors along with your site and get a comparison of all the keywords they are targeting, you are not, common keywords, and so on.
Doing so will generate a handy Venn diagram that helps you visualize how many keywords you have in common with your rivals: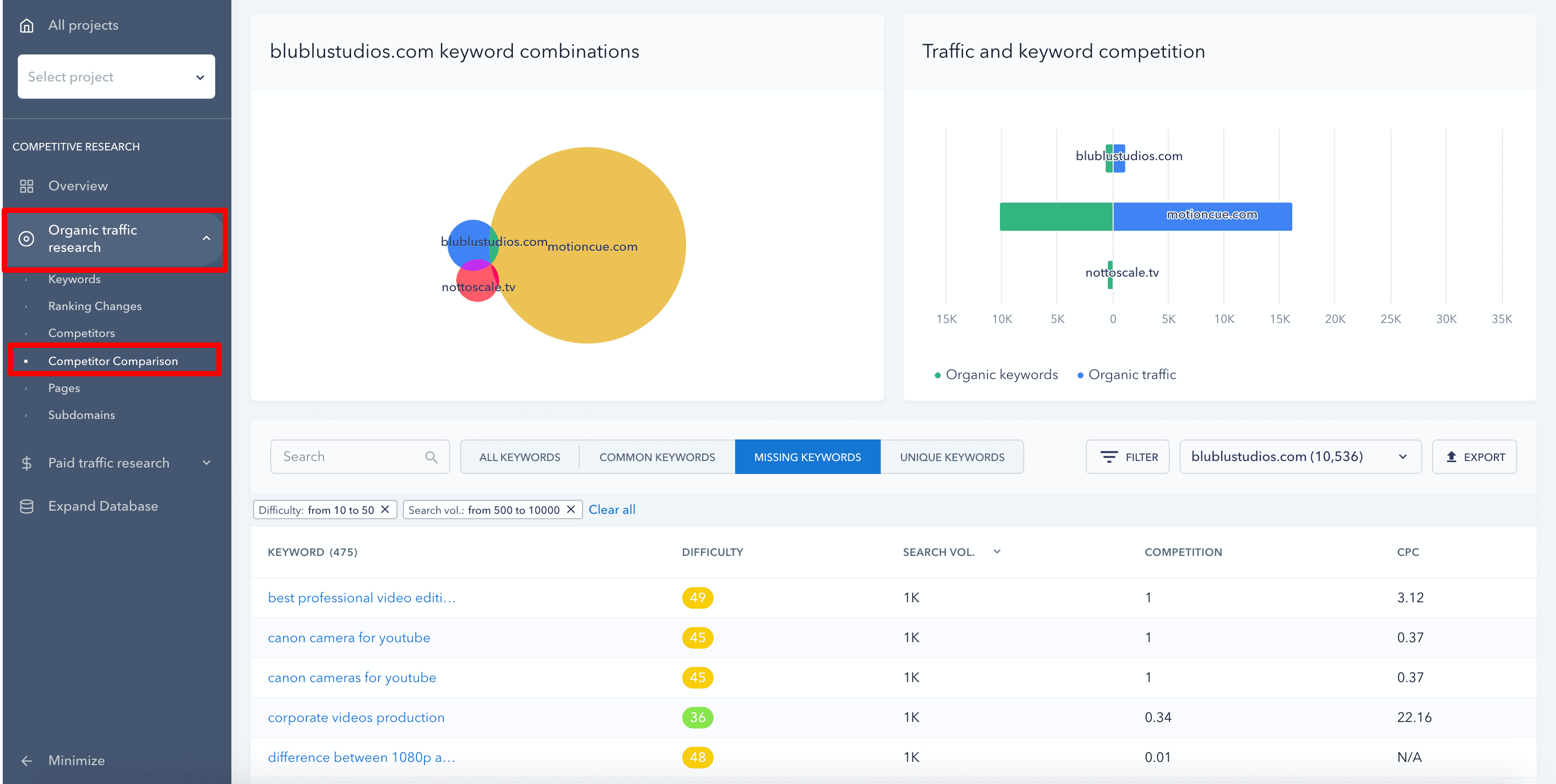 If you'd like to drill deeper into a set of overlapping keywords, you can click on All, Common, Missing and Unique keywords right below the Venn diagram. All of the data can be exported and then discussed with your teammates. Ultimately, this data gives you the opportunity to take your competitors' top keywords and use them in your own semantic core.
Track your own and competitor rankings
Once you've found all the keywords you're ranking for, analyzed the competition, and filtered out all of the keywords you want to target in a certain search engine and region, add them to your SE Ranking project to be able to keep track of their ranking positions in major search engines, in any location and on any device: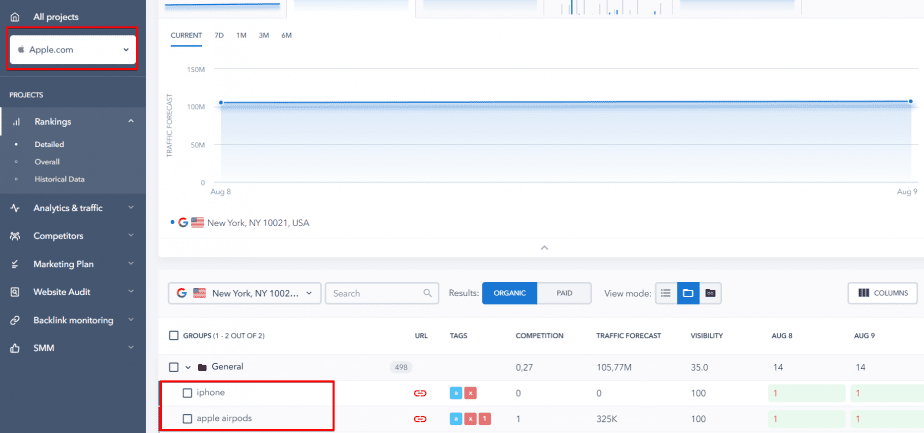 As you can see, besides seeing each keyword's ranking position, you can also keep tabs on each keyword's search volume, level of Google Ads competition and suggested bid, Keyword Efficiency Index, SERP features, and traffic forecast, to name a few. This will help you quickly understand if your high value keywords are doing their job.
Pro Tip: You can find out more about the Google metrics and other data we use in SE Ranking to learn how it's different from that of Google and what additional benefits it can give you.
Now, knowing what search queries your website ranks for is half the battle, you also need to know what keywords your search competitors are targeting, so that you can devise the perfect strategy to outrank them.
That's what's great about SE Ranking's Keyword Rank Tracker. Besides providing you with data on your own keyword's rankings, you can also keep track of up to 5 competitors to know how they rank for the same keywords you're targeting. That way, you can always be in the know and make timely adjustments to your search campaigns.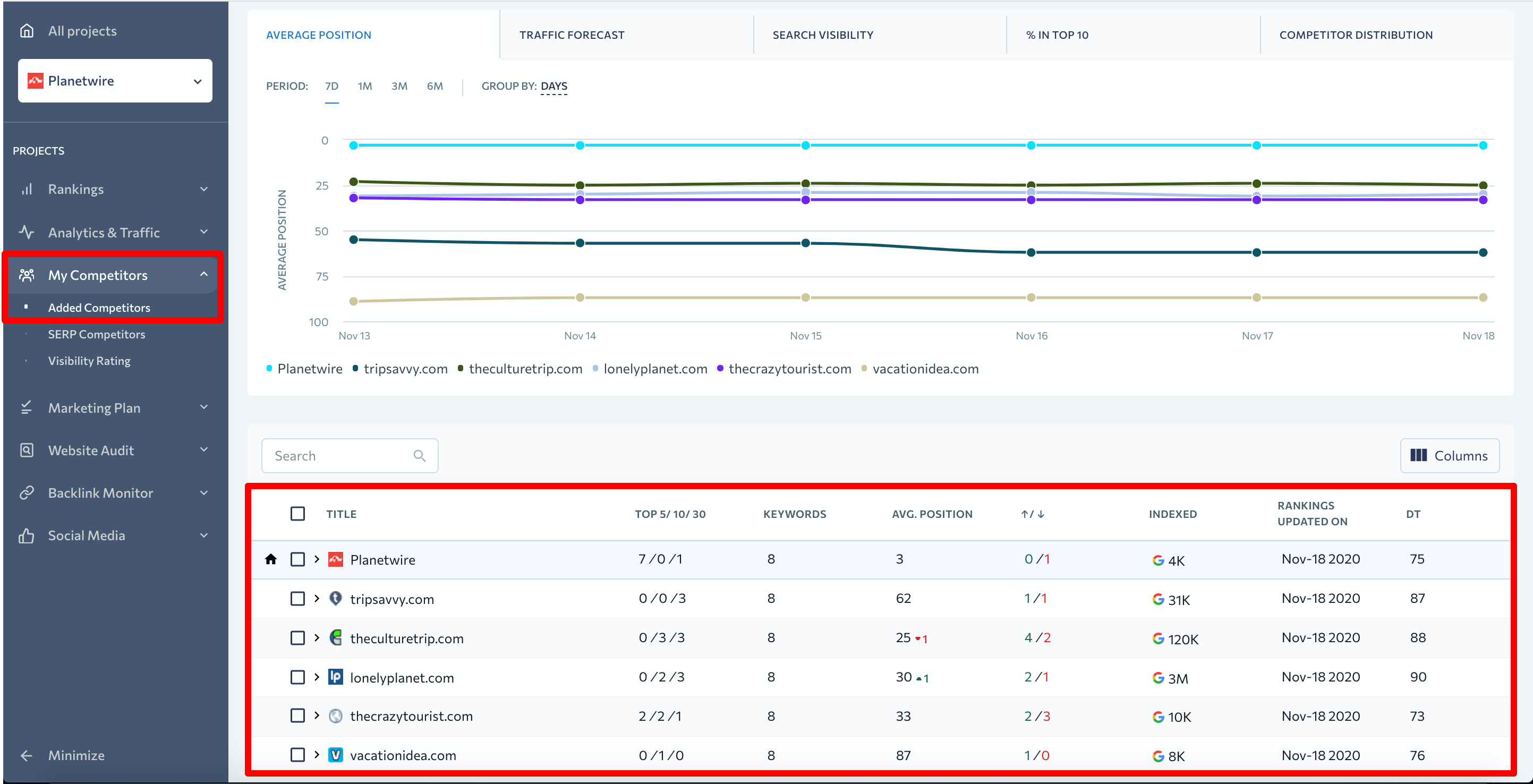 Clicking on a competitor in the list above will take you to a page that shows how they rank for all of the keywords you are targeting in your campaigns, and will enable you to compare it to your most recent keyword rankings.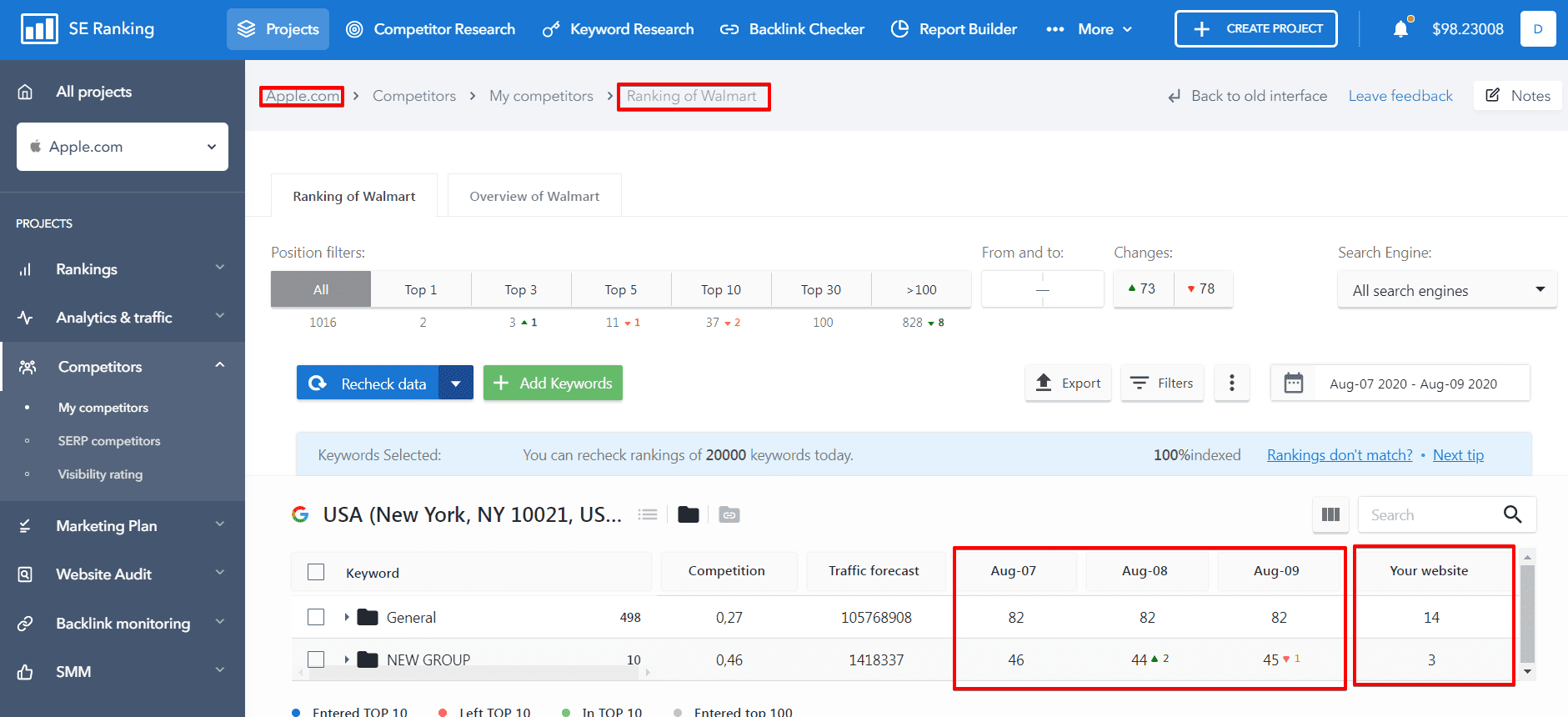 Furthermore, the SERP competitors tool gives the opportunity to go back in time and see the top 100 search results for each of the keywords you are tracking in your projects.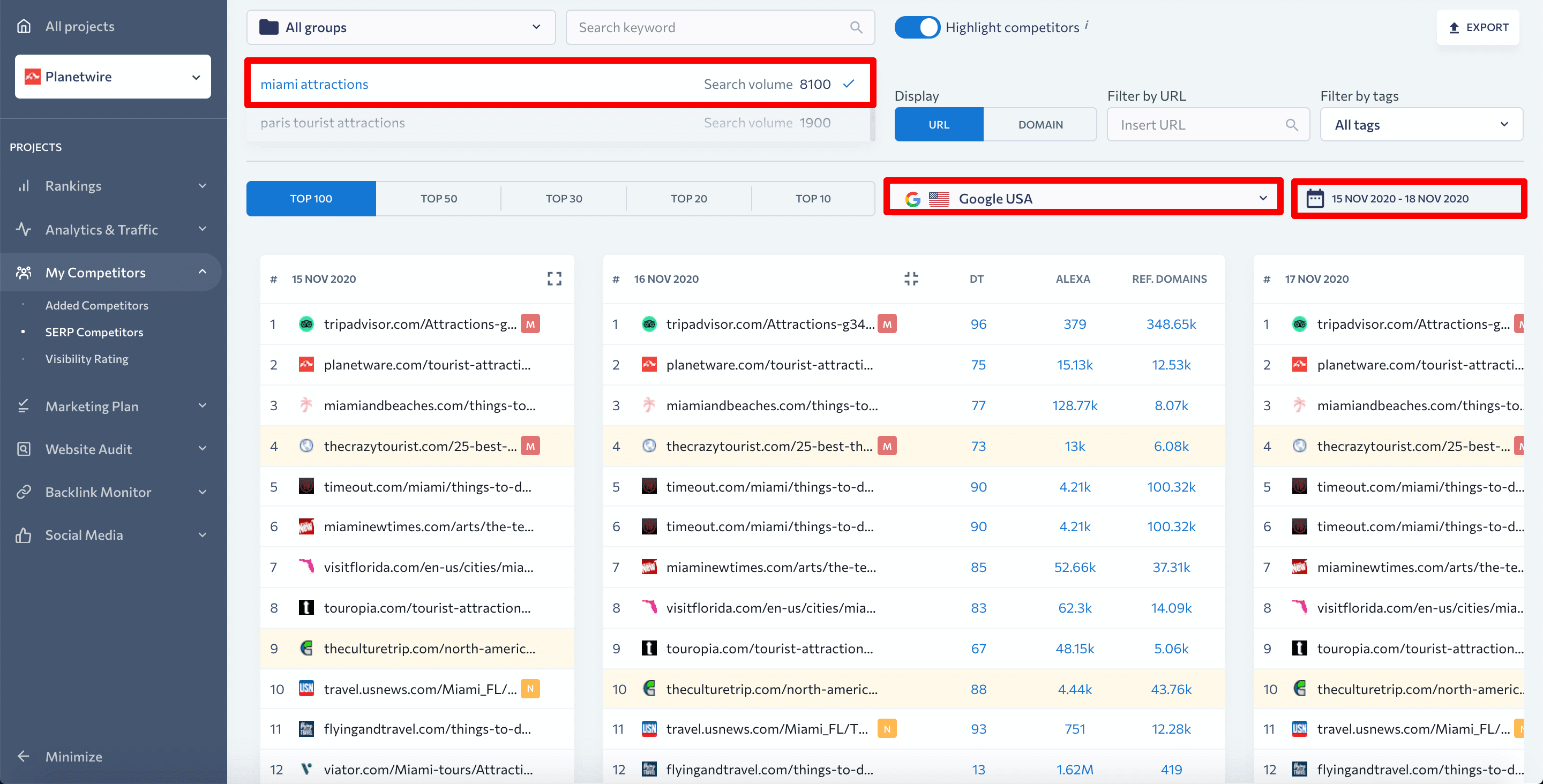 Just pick a keyword you want to analyze, select the search region and set a data range via the calendar. As a result, you'll see the ranking dynamics of the top 100 websites ranking for the keyword.
With this data, you can get an instant understanding of how stable each keyword SERP is, who the strongest players are, how often results move around, and who the new players are. On top of that, you get additional data on each website such as Domain Trust, Alexa rank, and total number of backlinks that gives you a quick, overall understanding of who you are going up against.
Summing up, there's plenty of data you can get in SE Ranking besides keywords and competitors that allows you to put together the perfect organic and paid search campaign. Plus, the Customer Success Team is always ready to lend you a helping hand if you need a nudge in the right direction.
Over to you
With so many great ways of finding keywords and keeping track of their rankings, doing keyword SEO blindly is just a shame. Make use of the methods provided here to learn everything there is to learn about all the keywords any website targets, starting with your own.
Check how your web pages rank for your keywords before changing any content, track their rankings in SERPs, and find out everything about your competition too.
After all, knowledge is power and with SE Ranking's 14-day free trial, you can start your journey to the top of the search results today!