Identifying and tracking your competitors with SE Ranking
The most essential part of search engine optimization isn't getting Google to like your website. It's getting Google to like your site more than that of your competition.
And to do that, you must fully understand what, how and why your competitors are doing at all times across all verticals. Plus, your digital rivals are also a great source of ready-to-go solutions you can always tap into for proven ideas.
But keeping an eye on a large number of competitors can be rather challenging, right? Don't worry.
With SE Ranking, you can easily cover all of your competitor research and monitoring needs using such tools as:
In this article, I'm going to share with you how you can get actionable, meaningful insights into your online competition using the aforementioned SE Ranking tools.
1. Find out who you're competing with
If you don't know who you're going up against in the SERPs, you must first identify your competitors.
SE Ranking offers a lot of different ways you can do this, allowing you to separately learn who your niche, direct and other prominent SERP competitors are.
Identifying niche competitors
To find your direct digital rivals, go to the Organic traffic research section of the Competitive Research tool and click on Competitors.
Here you can see websites that target similar keywords in organic search as your own website. If you see that you have a lot of target keywords in common with a website, this means that you are looking at one of your top competitors.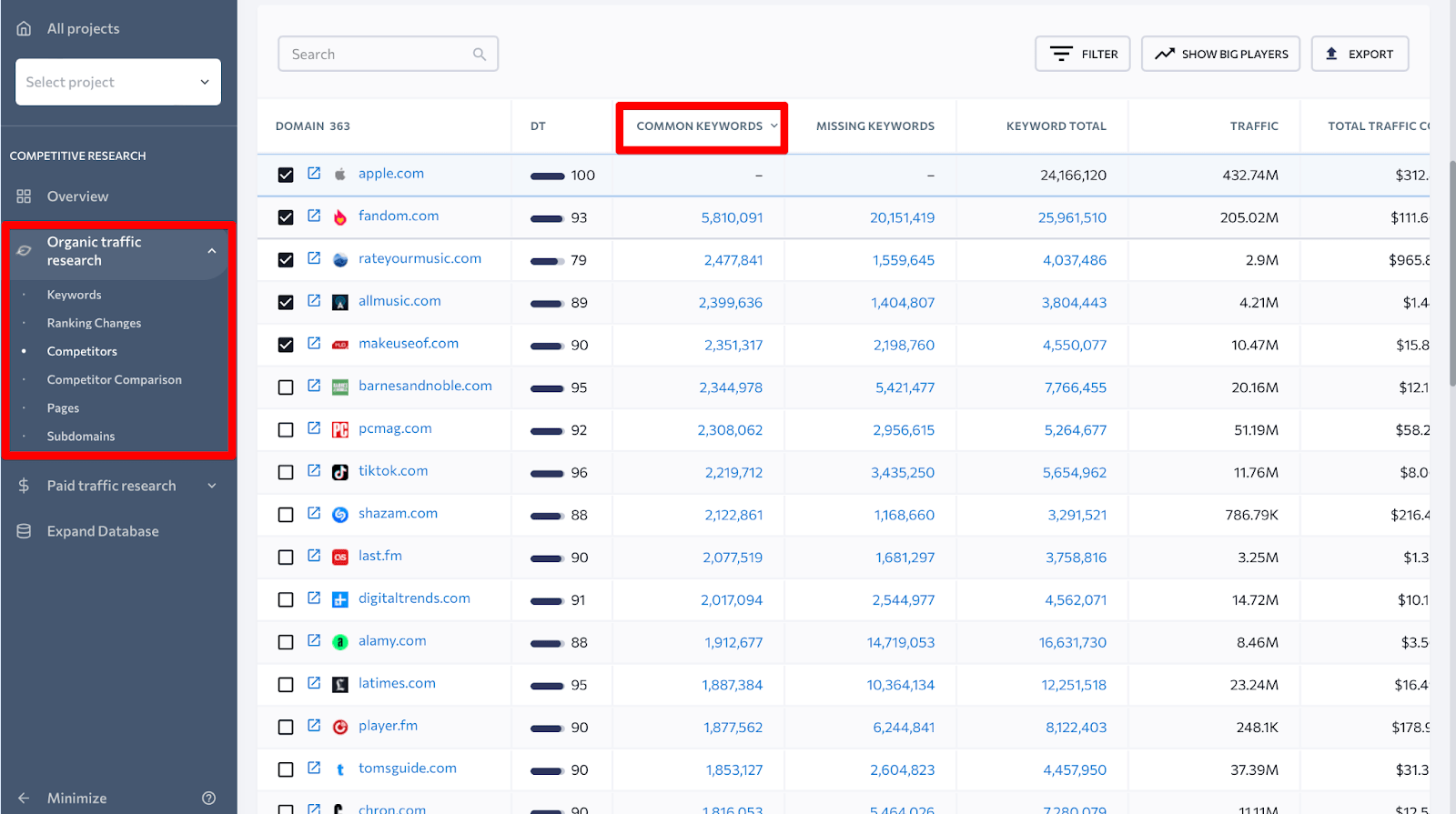 Note that you can also take advantage of the 'Show big players' button here to see huge websites from the analysis, but it is disabled by default so that you can focus on smaller players who you will actually be going up against.
Identifying direct competitors
By going to the Visibility Rating tab under My Competitors, you can see the share of views your website as well as its competitors will get on popular search engines such as Google, Yahoo, Bing, and YouTube based on your site's target keywords.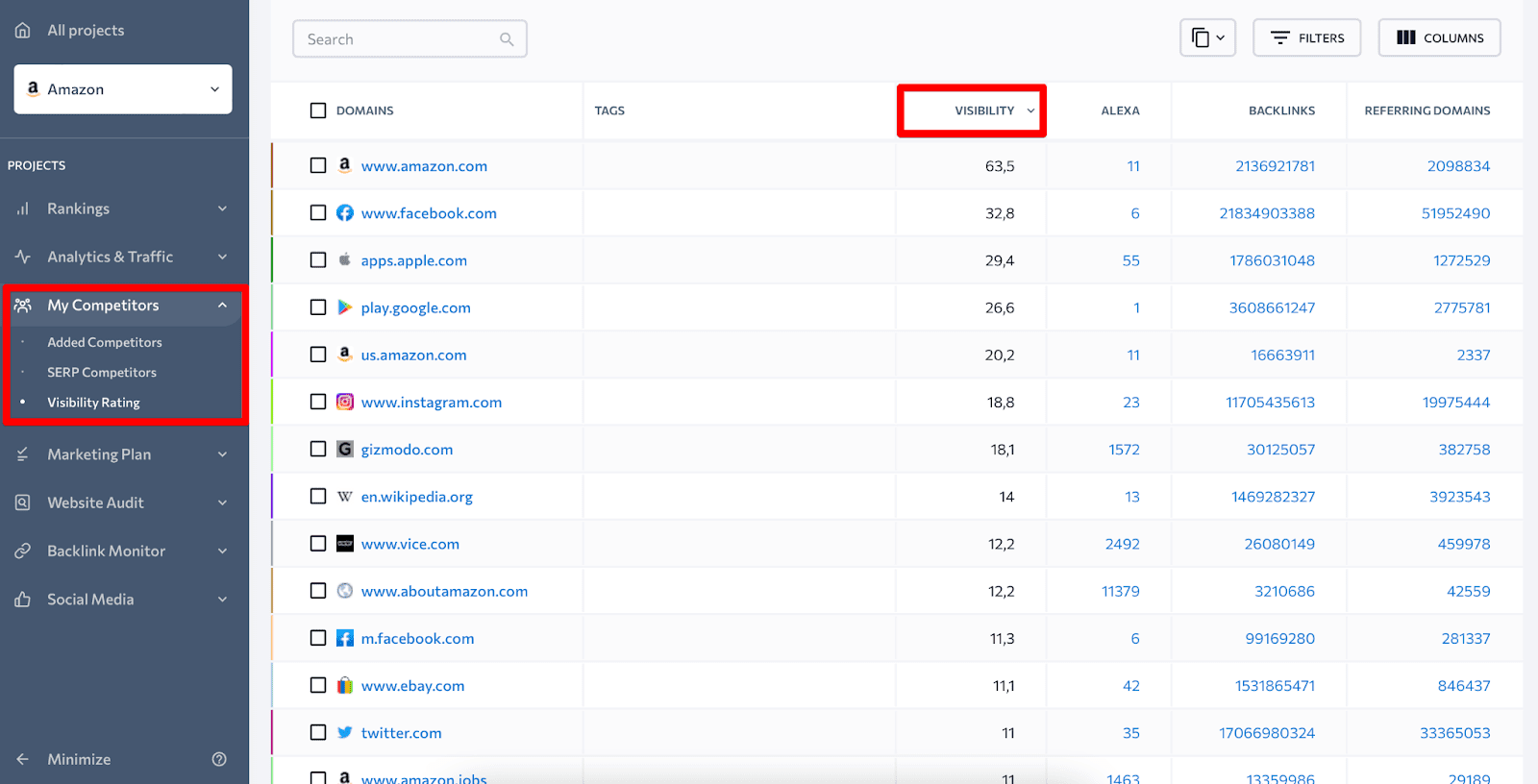 In terms of the competition, search visibility allows you to see what other websites will be displayed to users in search after they enter a specific search query.
By default, websites that you are competing with across all of the target keywords that you're tracking in your project are displayed here. But through the use of filters, you can select a separate group of keywords, such as keywords for your blog or product/service landing pages, and discover who you are competing against in the SERP for these specific search queries.
Looking at specific keyword or keyword groups is essential to identifying your direct competitors since these are the websites that you'll be going up against in the battle for targeted traffic.
Identifying prominent SERP competitors
Another way of learning who your competitors are has to do with finding the most popular keywords—as in those with the highest search volume—in your organic and paid campaigns. This can easily be done with the help of our Keyword Research tool.
Preferably, take a look at both the generic and the branded keywords you are targeting. By generic keywords I mean the products and/or services that are offered by your business, and branded keywords are those that include the name of your business.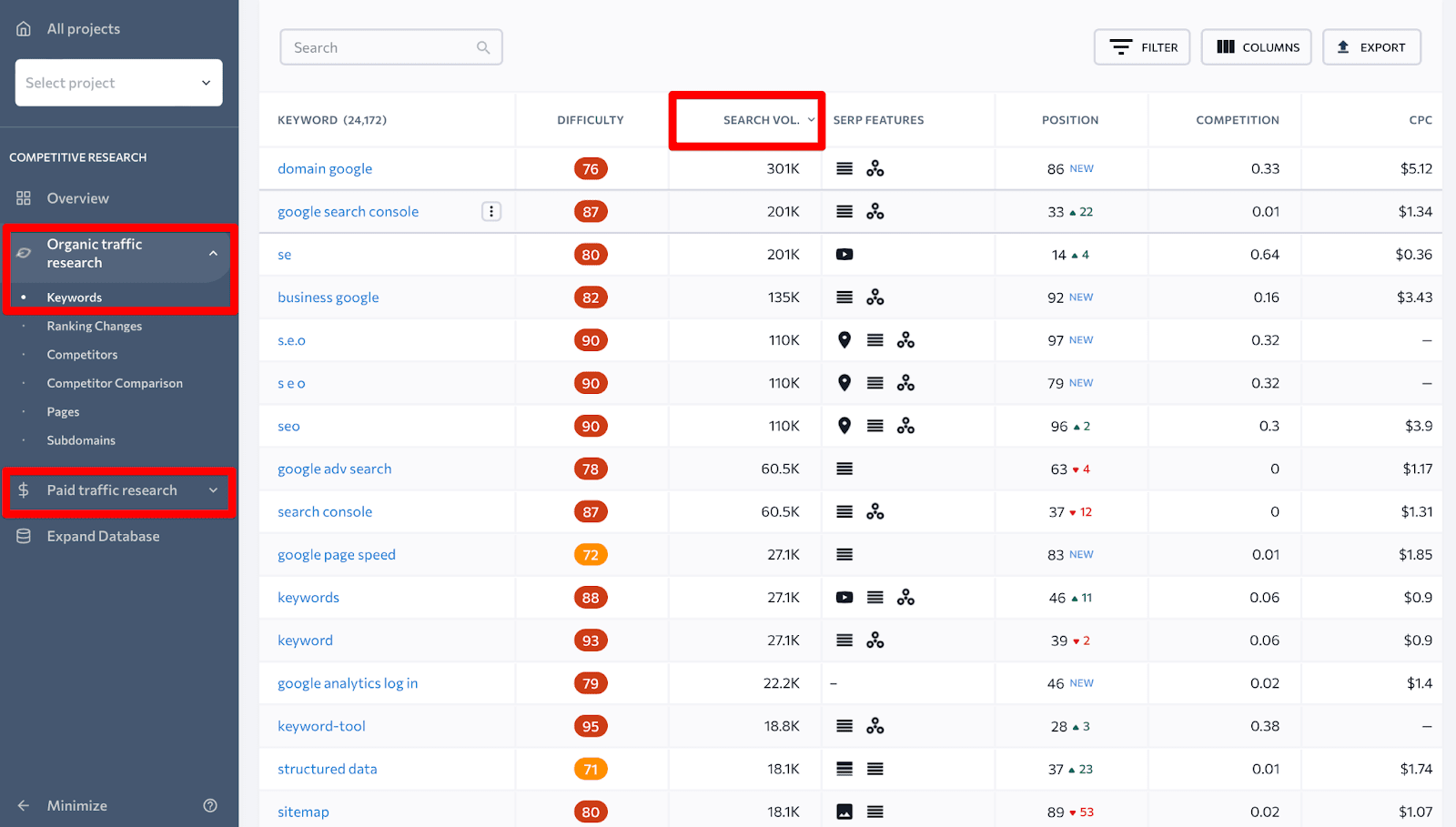 Then, see what competitor ads show up for your brand name if you've been around for a while, but make sure to also look at the top organic search results.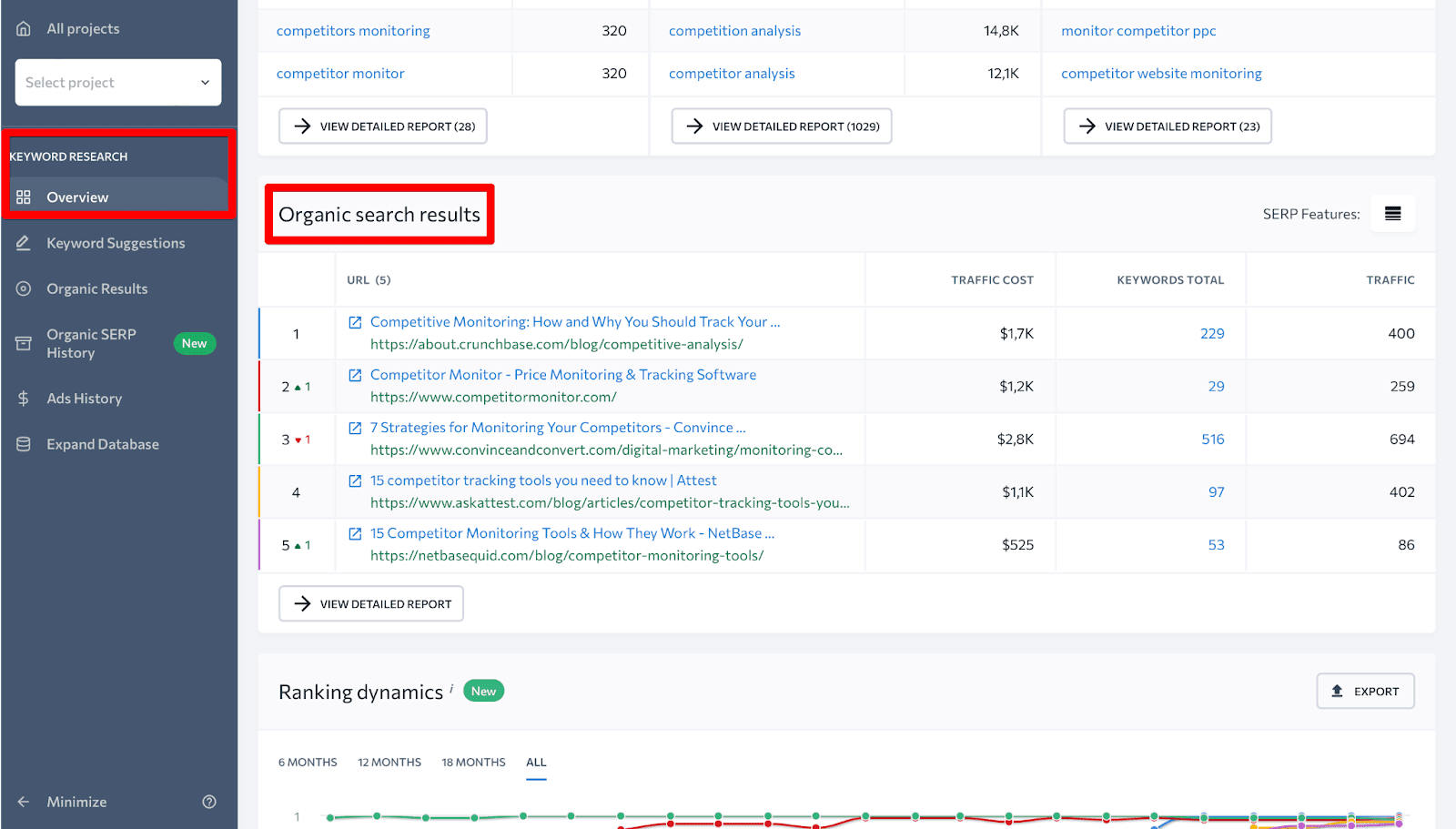 By selecting a project and going to My Competitors → SERP Competitors, you are able to select any one of your target keywords—preferably you should go for the primary ones—and see what websites rank for it now and how the ranking dynamics have changed over time.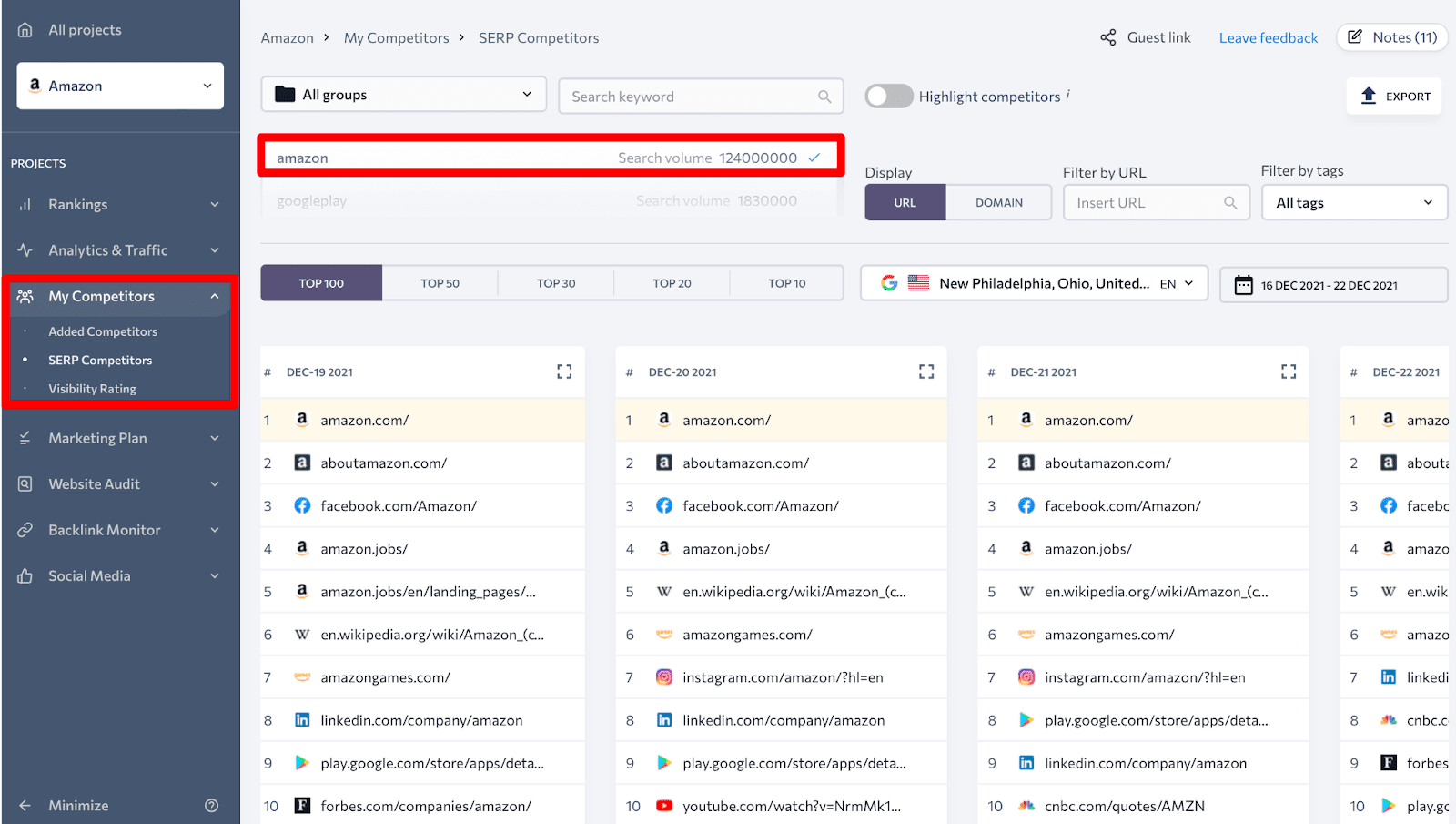 That way, you'll be able to get a sense of a specific keyword's SERP environment and adjust your strategy accordingly.
Alright, now that you know who you should definitely keep an eye on, let's find out what exactly SE Ranking can do in terms of competitor tracking.
2. Always know competitor keyword rankings
Having an understanding of who you're competing with in the SERPs is just one part of the equation. The other part is doing competitive monitoring, as in keeping tabs on their activities and knowing how well they rank for the same keywords you're targeting in your campaigns.
Doing so will help you see where you can really get an advantage over your competition and where you're just wasting your valuable resources.
Keeping an eye on your direct competitors
When you are adding a website to SE Ranking, you have the option of hand-picking your direct competitors from a list of suggestions or manually adding them on your own, if you already know who they are.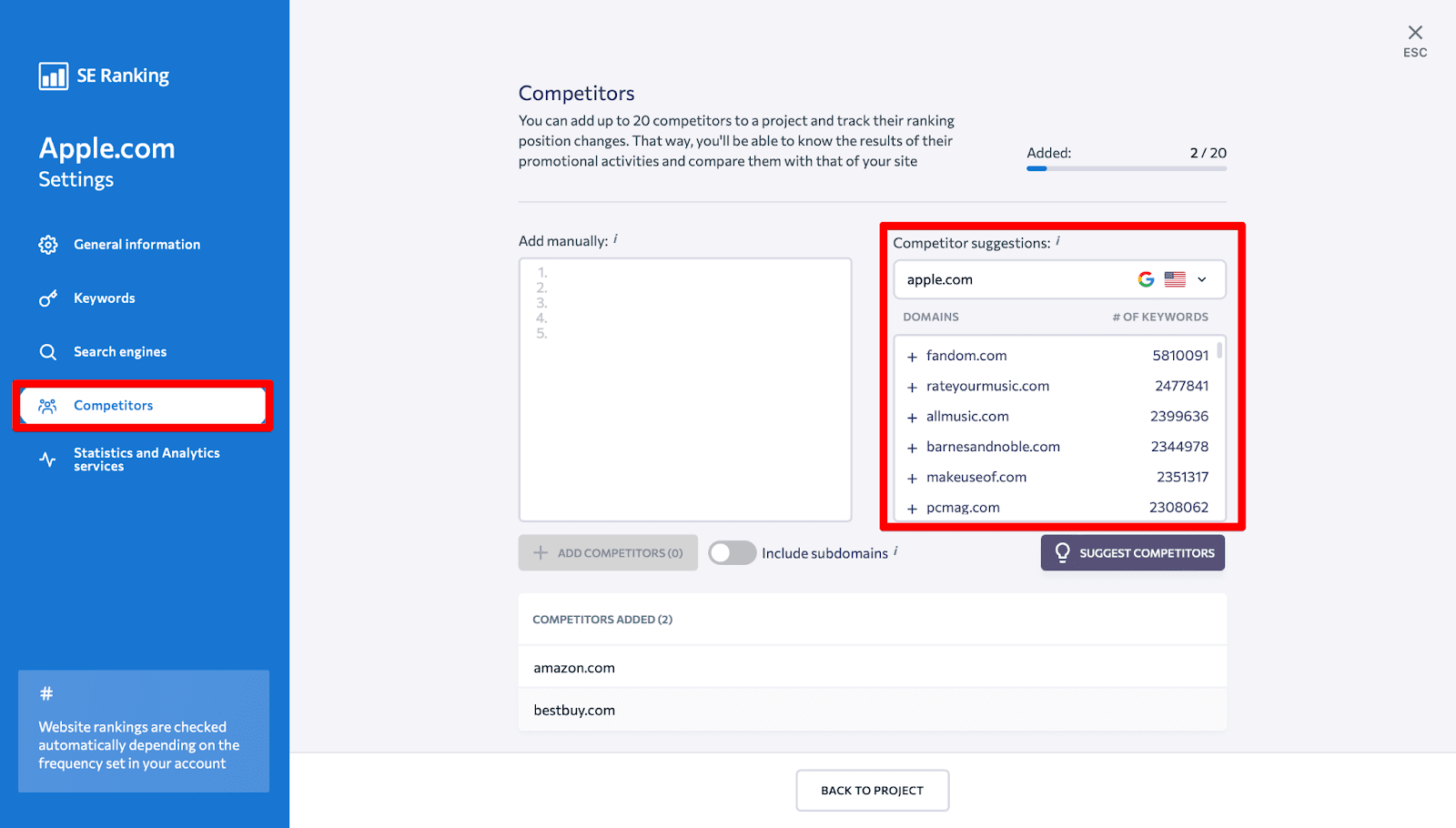 You're at liberty to add up to 20 rivals and track competitor keyword rankings for the same keywords you're tracking for your website.
That way, you'll be able to know the results of their promotional activities, compare them with that of your website, and, ultimately, make adjustments to your own efforts.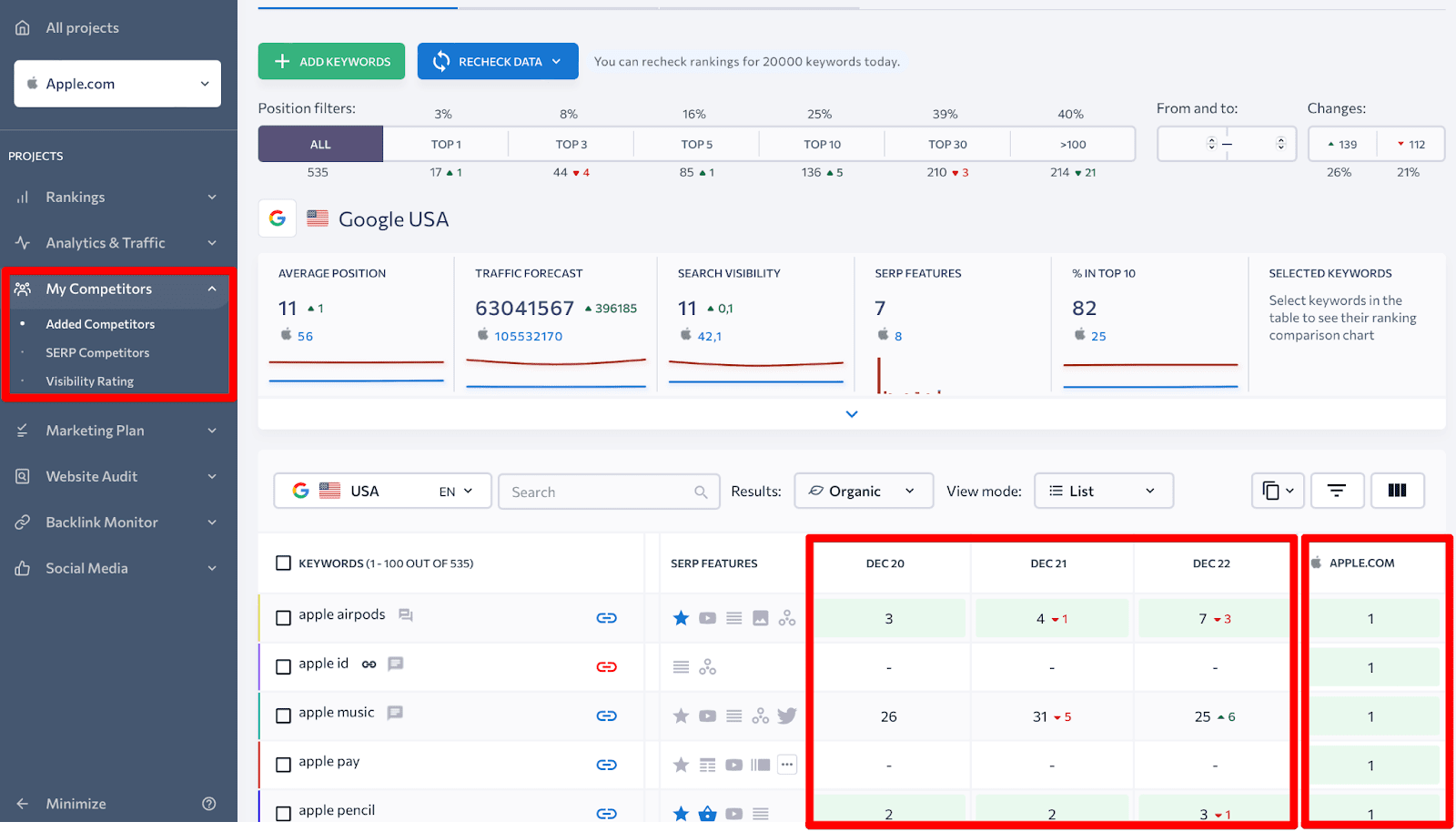 To elaborate, with the help of this tool, you can see how one of the selected top 20 direct competitors ranks in comparison to your website for every target keyword.
Moreover, you can get additional information and find out how many keyword searches are performed each month on a selected search engine, what SERP features are displayed for each target keyword, and how many search results there are in total for each search query. By the way, you can take advantage of filters to customize the table and only see the data you need.
In addition, you can discover keywords that your competitors rank high for in the SERPs and you don't, and vice versa. Plus, the tool helps you track sudden ranking changes—if one of your top keywords drops in rankings, it makes sense to see if the same happened to competitor rankings.
Moreover, if you don't see any of your competitors in the SERPs at all, then you should definitely reconsider the keywords you're targeting and go back to the drawing board. You probably got it all wrong and need to target another set of search queries.
All in all, you can make a good assessment of your direct competitors' SERP activities and work out a game plan to outrank them using the data provided in this tool.
Finding out how visible a competitor site is in search
As was touched on earlier when we discussed Visibility Rating, you are free to check your and your competitors' website SEO visibility in every major search engine including YouTube. Plus, you get the visibility rating for all search competitors—not just your top 20—sorted by visibility score based on your list of target keywords.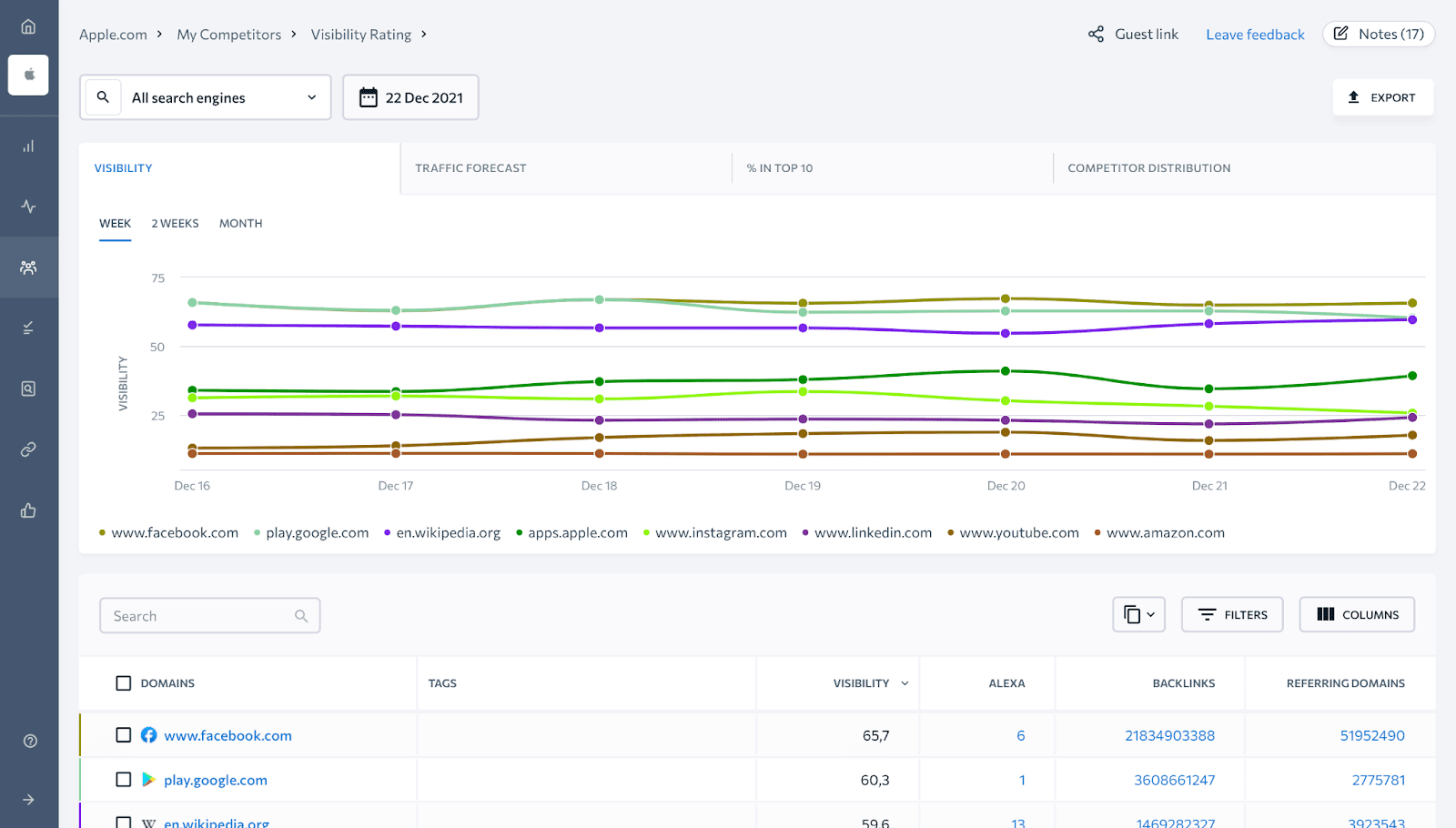 Performing regular visibility checks can help compare the visibility of your site for specific keywords with that of your rivals, get a list of top players in your niche, and closely study the analytics behind your site's rankings to evaluate actual SEO results.
Keeping a constant eye on your website's visibility will not only enable you to predict your site's traffic jumps and falls, but it will also help you filter out all of your indirect competitors and spot direct ones.
By comparing your website's data with that of your main competitors, you'll be able to set clear priorities regarding the keywords you want to rank for higher in search. To help you come to a more informed decision regarding a competitor site, you can also make use of provided metrics, like traffic forecast, percent of keywords in the top 10, Domain Trust score, and total number of referring domains.
Checking up on your SERP competitors
Another way you can monitor competitor activity is by exploring your SERP competitors.
The SERP Competitors tool provides you with insights into the top 100 search results—as in the top 100 websites—for every search query added to your project along with their ranking dynamics.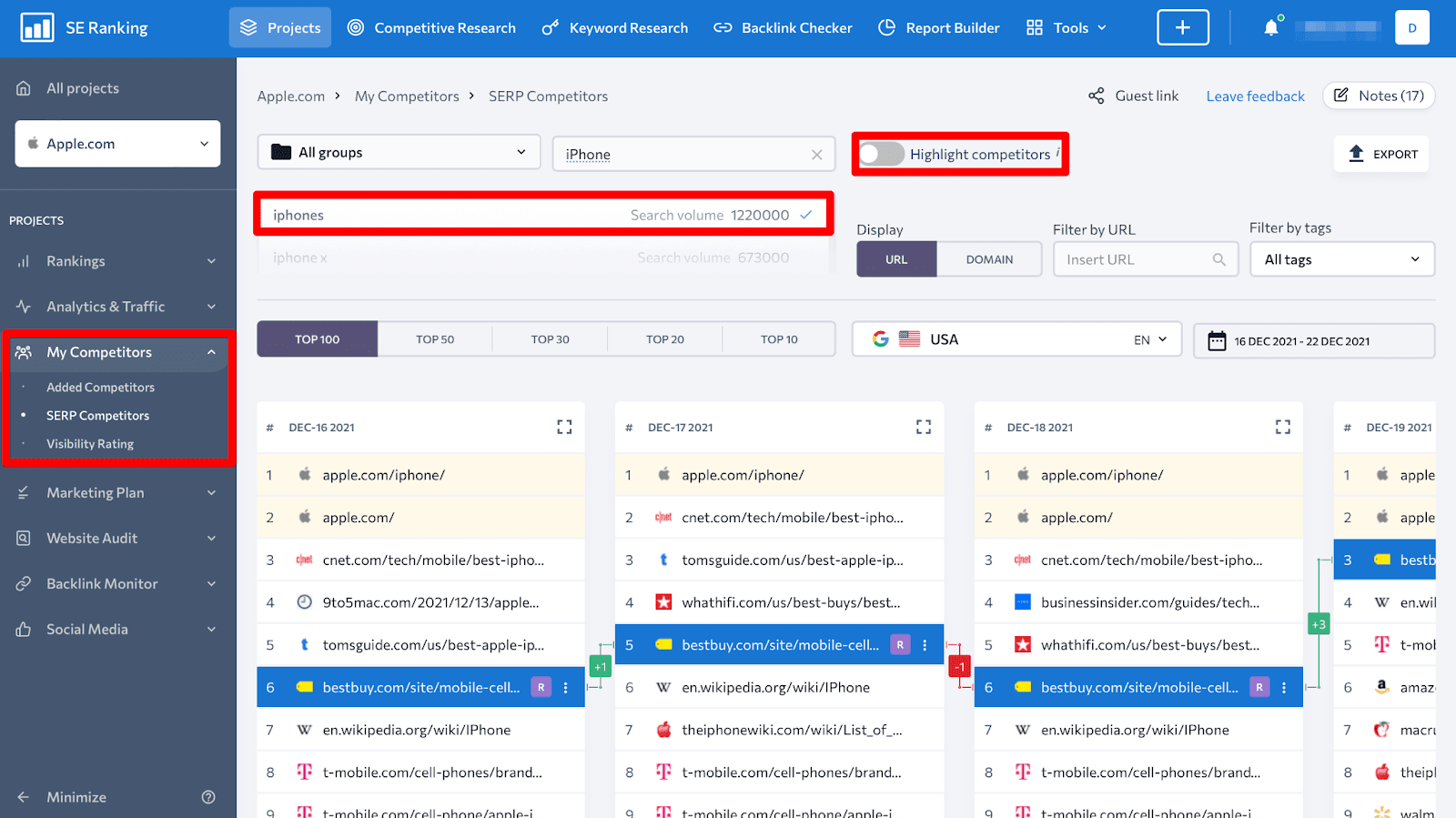 Think of this tool as a way of always keeping a finger on the pulse of your entire keyword competition. Just select any of the keywords you're targeting in your campaign and see how its search results have changed over time.
This way, you'll be able to keep an eye not only on your top 20 competitors, but on every website that can potentially become your direct rival.
By clicking on a search result, you'll see how its ranking positions went up or down over time. Plus, to help you understand your competitors better, you can also see such website metrics as Domain Trust score and the total number of referring domains to understand its relevance and authority.
With this data, you can grasp how a competitor website is growing and developing and whether or not it's close to becoming your direct competitor. To make it easier to keep an eye on potential competitors, you can tag them and instantly see how their rankings change or even go back in time to see where they initially started out.
Furthermore, SERP Competitors gives you the opportunity to keep track of global niche changes for your target keywords and see how the SERP environment evolves with time. You can also analyze the top 10 or top 100 search results to find new players, be they brand new websites or those that have been around for a while but only recently started expanding their list of target keywords.
Last but not least, this tool also gives you the power to track your and your competitors' brand SERPs. By integrating the name of your or your competitors' brand to your target keywords, you will be able to make sure that you are in fact ranking first for the keywords that matter most, and that your competitors didn't launch a negative PR campaign to push you down in search.
3. Monitor rival paid search campaigns
Not only does SE Ranking's competitor analysis tool help you see what your competitors are doing in organic search, but it lets you in on their paid search campaign activities as well, providing you with competitor advertising monitoring capabilities.
To elaborate, you can see what ads your competitors are running on Google now and in the past under the Ads History subtab, and use this knowledge to put forward only the best ads for your business.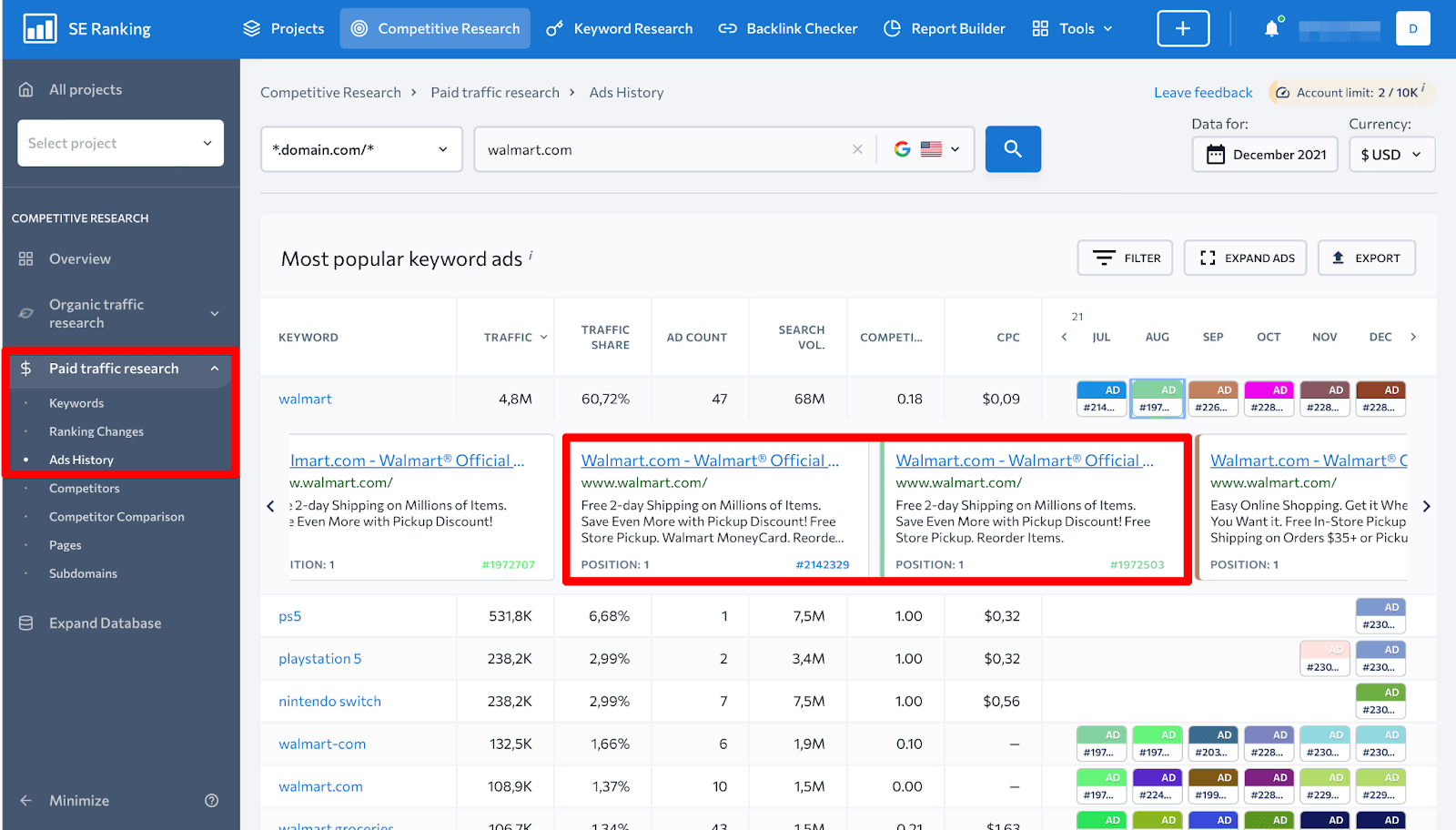 Essentially, you get a list of the most popular keyword ads along with their traffic volume, the share of traffic they drive to the site, the total number of ads the competitor's running on Google, search volume, level of ad competition, and cost-per-click.
As always, you need to analyze the data to understand which ads will be most profitable for you. Ideally, you want to find keyword ads with a high traffic share, low level of competition and cost-per-click, but, as you probably know, it's not that easy. Moreover, there's no guarantee that running these ads will work for you, which is why you have to put your own spin on each one.
The best part is that you can see a preview of each ad that includes the title, URL, and description. You are free to analyze the ads and use the available info to create your own ads that will be able to put up a real fight for searcher attention.
4. Keep tabs on competitor backlinks
Backlinks are vital for SEO because search engines such as Google tend to give more credit to sites that have a decent number of quality backlinks. A higher number of quality backlinks indicates that the website is more popular than other SERP results for a certain search query.
With the Backlink Checker tool, you can find all the backlinks of any domain, be it yours or a competitor's, and, as a result, know what channels your competitors use to build up their search engine authority.
On top of that, the tool can also help you create a list of websites where you can potentially place your link (aka link building donors) and analyze competitor anchor text strategies to understand their ratio of branded, commercial, or generic anchor texts.
With regard to link building donors, you need to check what types of links your competitors use, what the dynamics are, what their dofollow/nofollow link ratio is, which pages get more links, and so on.
The bottom line is that you cannot build your link-building strategy without first analyzing the market and learning how your competitors get backlinks.
It makes sense to analyze the top 10 and then the top 3 organic search results for each of your primary target keywords separately. This will show you the average or median number of how many backlinks you need for each of your focus keywords and pages. Of course, all of this is based on what your SERP competitors already have. At the end of the day, this will give you the data you need to develop your own link-building strategy.
Getting a list of every competitor backlink
With the Backlink Checker tool, you can find tabs that provide additional information on backlink referring domains, anchor texts, pages, IPs, and, most importantly, the backlinks themselves.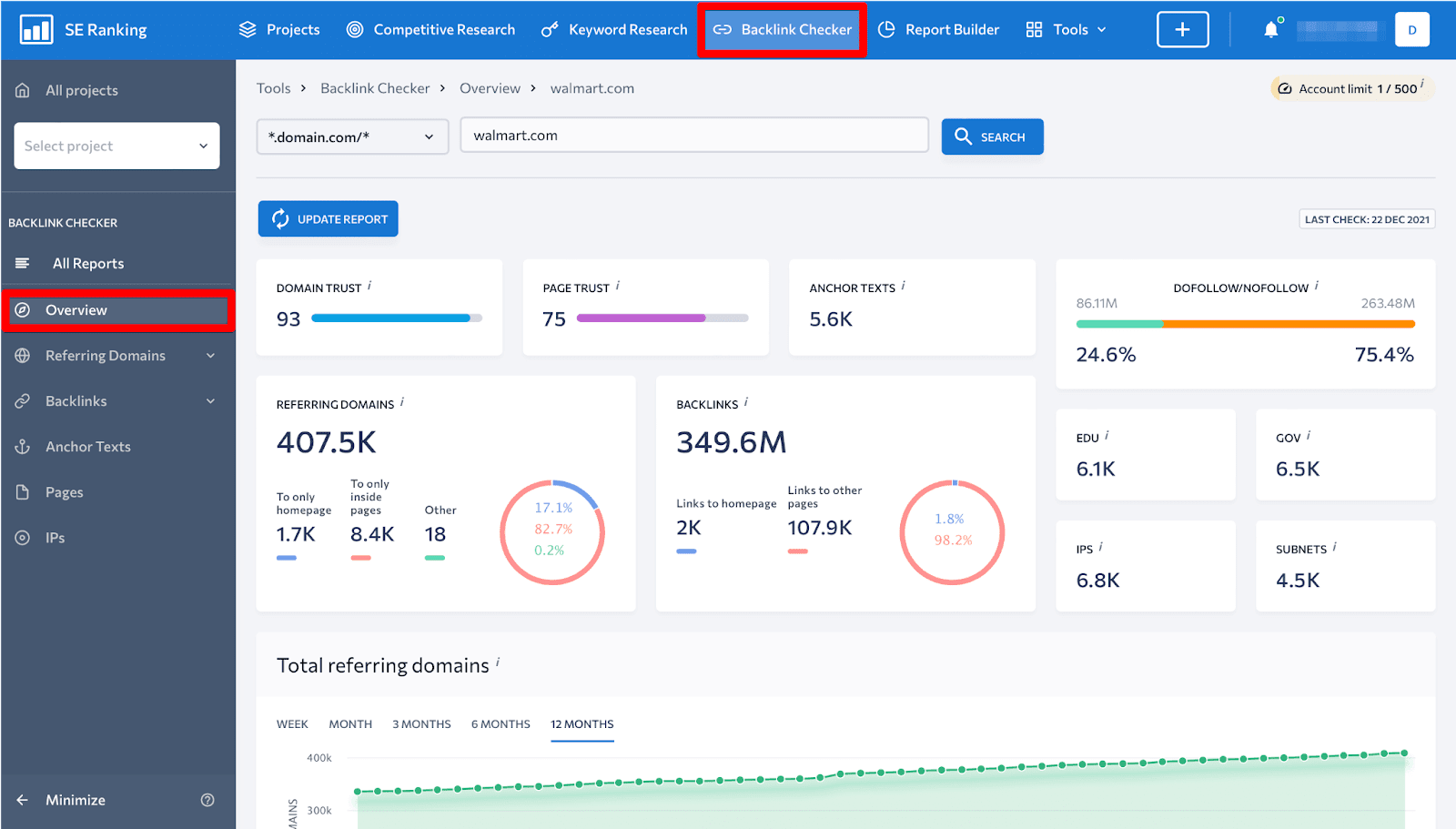 Under the Backlinks tab, you can see the list of every backlink of a given site along with its URL, anchor text, target URL, type (DoFollow/NoFollow), Domain Trust and Page Trust scores, the date when it was first discovered, and the date of the last check.
As a rule of thumb, it's useful to pay attention to the Domain Trust and Page Trust scores here as these metrics were specifically designed to predict how well a domain/page will rank in search. The better the score, the higher the chances the domain/page will rank high. In turn, this helps you understand what websites it's better to reach out to.
You're welcome to explore all the data and follow the backlinks listed here to get a better grasp of why they are relevant for your competitor and the donor website.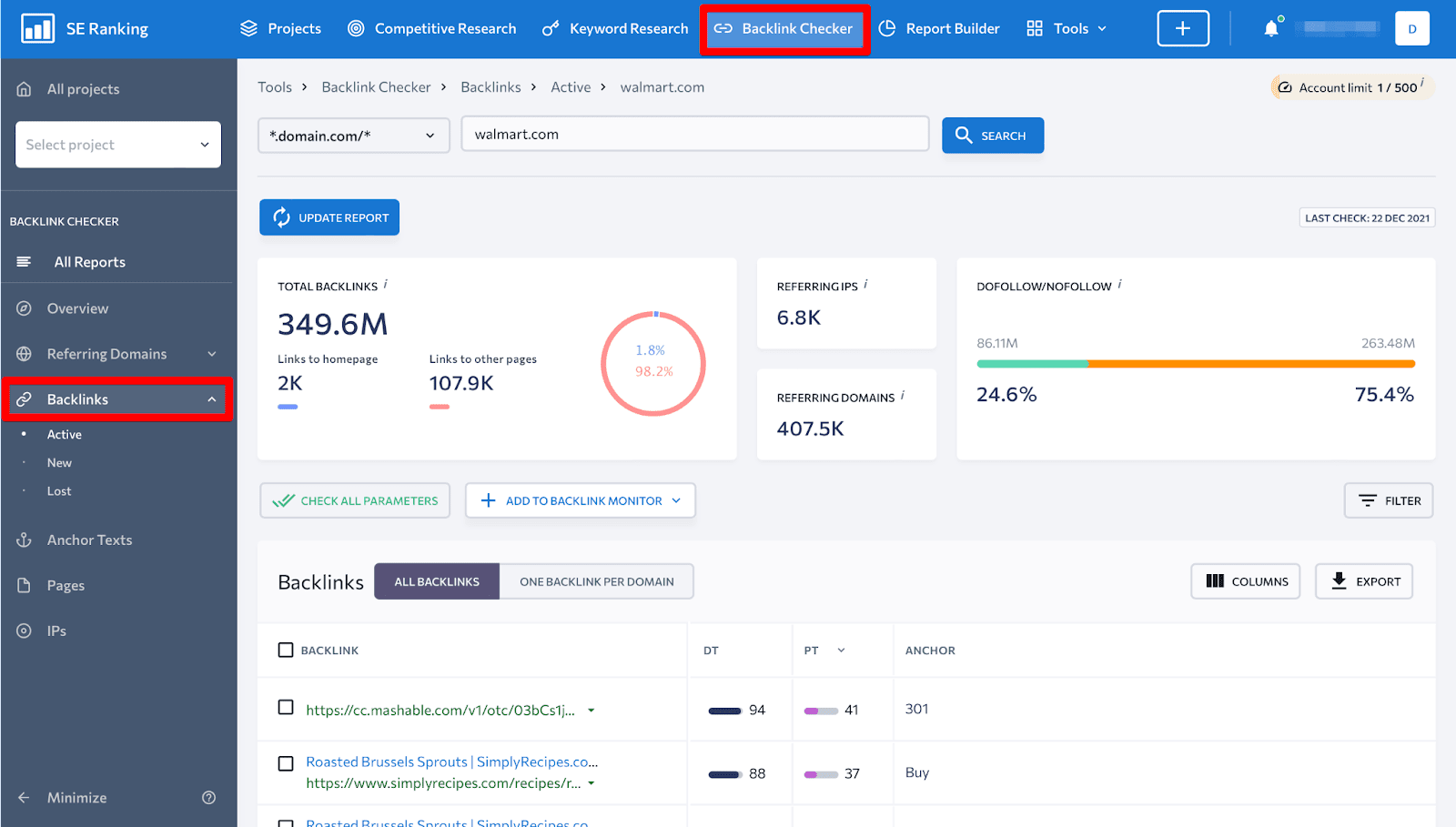 At the end of the day, this data helps you understand your competitor's strategies on link building and incorporate your own version of it into your website.
As a segway to the next point, you can even easily mark the competitor backlinks you're most interested in keeping an eye on and add them to the Backlink Monitor tool.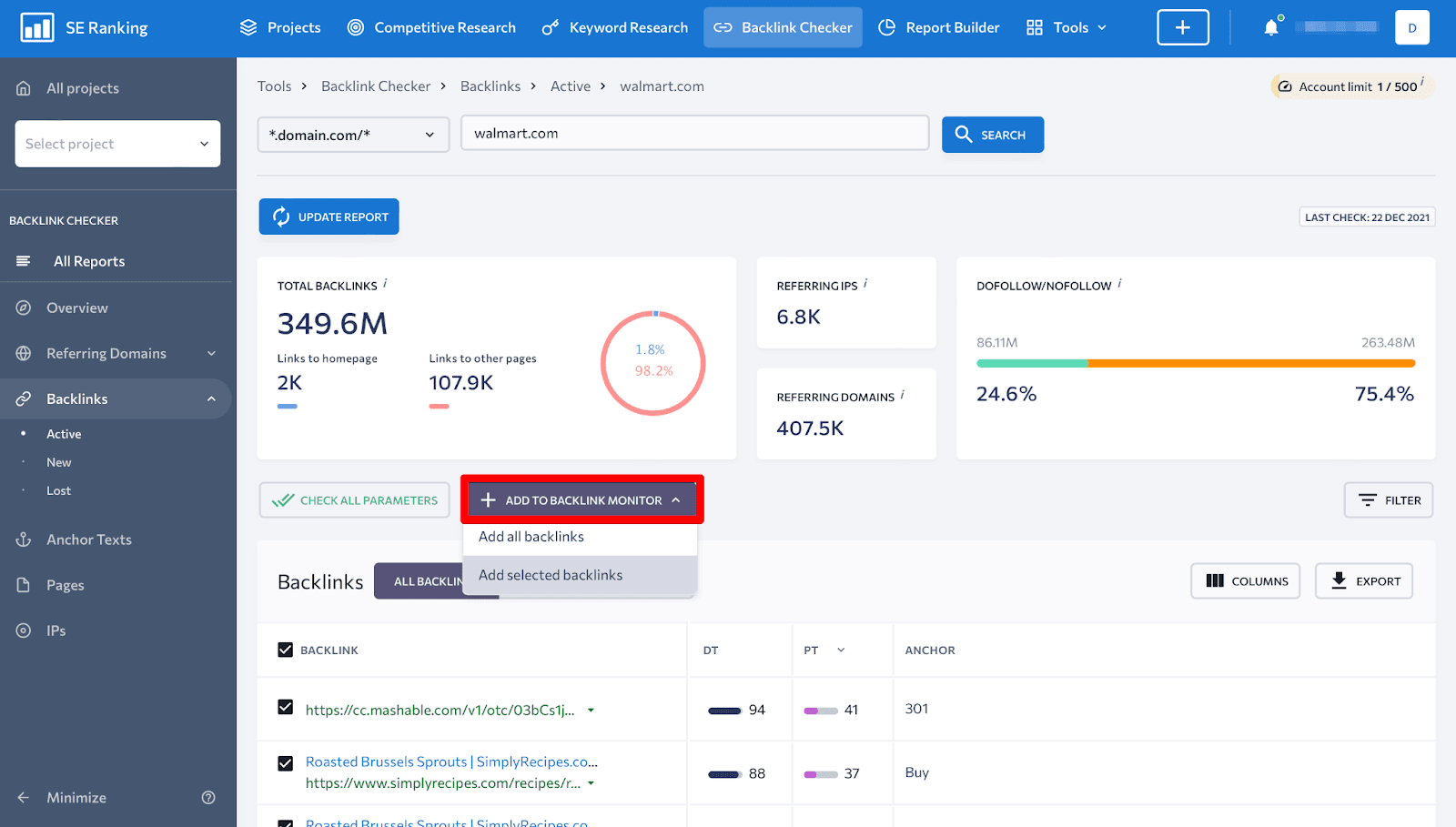 Tracking the status of competitor backlinks
Once you add the competitor backlinks you want to monitor to the Backlink Monitor tool, you can get additional information on each backlink and monitor their status around the clock.
Although it was created to help you monitor your own backlink profile, you can still get useful information on each competitor's backlink, including the status (is the backlink found on the page or not), Google indexation status, the anchor text of the link, the target URL, type of backlink, and when the backlink was first seen.
On top of that, if you don't want to manually check up on each backlink, you can set up weekly reports on their status. That way, you'll be able to stay on top of all competitor backlink building activities and react as soon as something happens.
5. Get notified whenever a competitor page gets updated
An additional way of keeping an eye on your competitors is provided by the Page Changes Monitor tool. This SE Ranking tool detects any changes made to a page you chose to monitor and notifies you once any occur.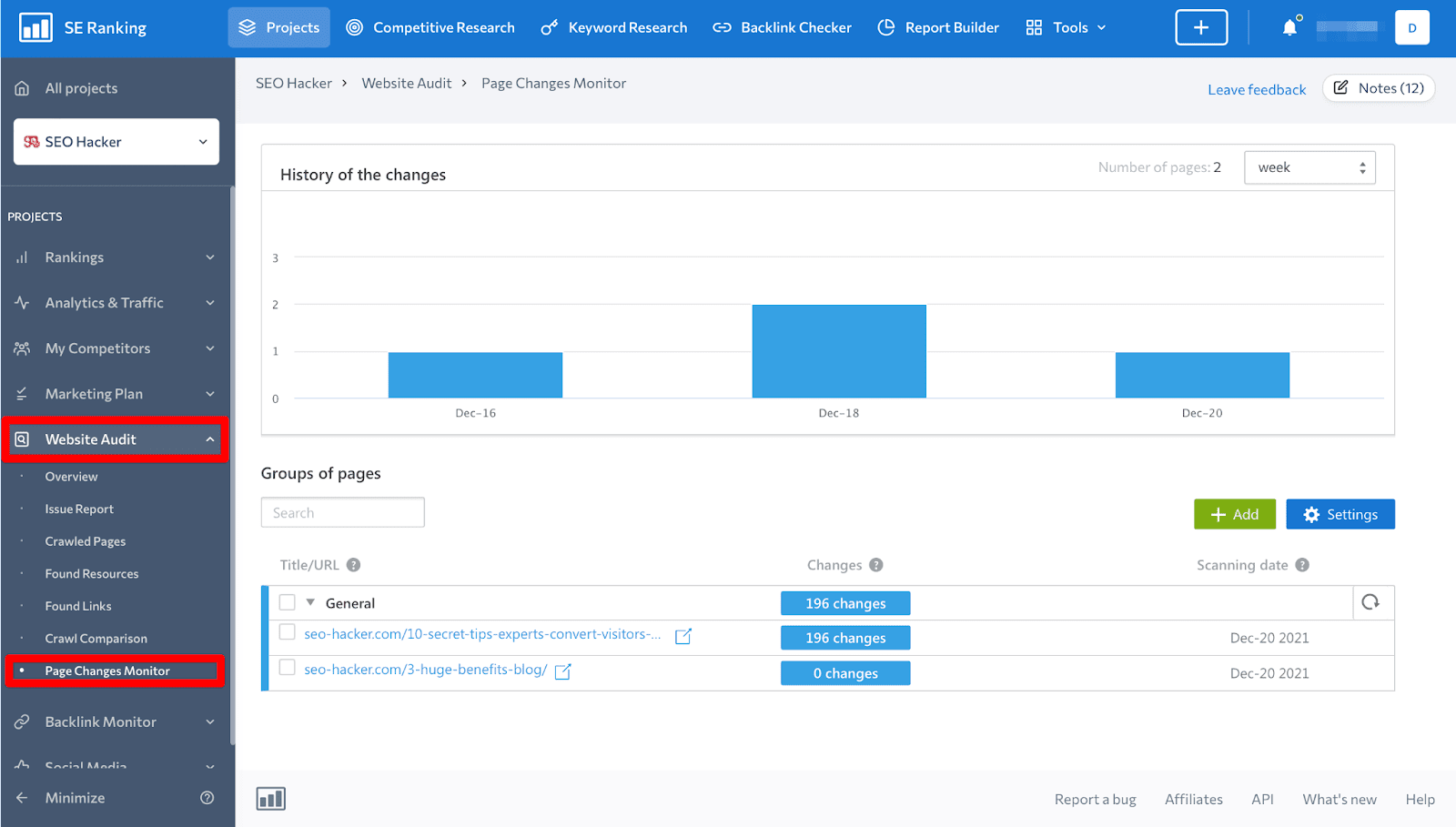 For example, you can add a competitor pricing page to the tool and get notified the second they update their pricing, so that you can react, if necessary. Or choose to keep an eye on their blog's homepage, and be the first to know when they publish a new piece of content.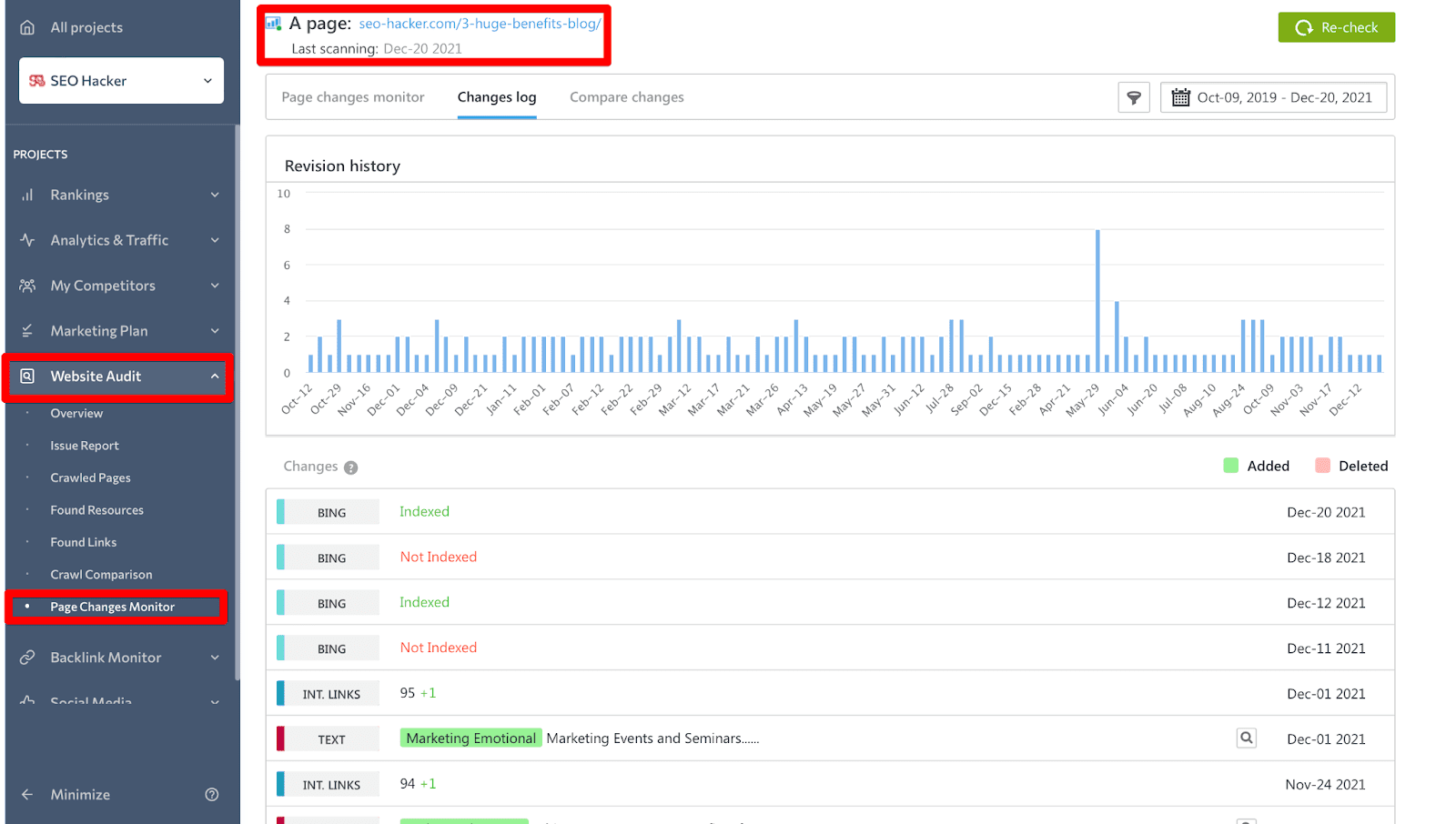 I want to point out that it is important to keep track of your competitors' best by traffic or keyword positions pages that rank for your target keywords among the top 3 and top 10 search results. That way, you will be aware once they make changes to page content, change headings, titles and description, and update the internal link structure.
When monitoring pages, you can configure the tool to monitor only those page elements that matter to you the most, such as page title, description, keywords, headers, content, links, robots.txt file, HTTP code, search engine index status, and more.
In fact, you can add every single competitor page to the tool and get notified via email whenever a change occurs. That way, you won't have to constantly visit your competitors' sites to know what they're up to. Just add the pages that are important for you to monitor and the tool will let you know of the updates.
BONUS: Analyze your competitor's technical SEO setup
You can go the extra mile to learn even more about your competition and find out the technical SEO aspects of their sites by running an audit. This may even give you a stronger understanding of why their rankings may suddenly change in comparison to yours.
The Website Audit tool can show you how well a competitor website is optimized for search engines like Google and whether there are any errors. During the analysis the site is evaluated against every major ranking factor, and, as a result, you get a report with actionable recommendations on how the site can be improved.
With this data, you can compare your site with a competitor's and find out what's working for them and not working for you. That way, you can figure out how to improve the technical SEO of your own website to be able to compete with your digital rivals.
And keep in mind that regular audits help you understand how your competitors change their site each week, which enables you to keep up with them on all fronts or even get ahead.
Now over to you
Monitoring and analyzing your competitors is essential to the success of any business, no matter if it's new or old.
By keeping tabs on competitor activities across all verticals, you'll be able to make sure that your strategy is as strong, if not stronger, than the competition. The main issue here is being able to monitor every major competitor. But without the right tool, this can be a very daunting and time-consuming task.
With SE Ranking, you have all the tools you need to know what your competitors are doing 24/7—from tracking competitor keyword rankings to monitoring their backlinks. If you are still not an SE Ranking user, you're welcome to try it for free for 14 days.