SERP Competitors: a new tool to monitor search results
Any SEO pro recognizes the fundamental importance of understanding the trends that drive search engine results pages (SERPs).
That being said, there are a lot of SERP analysis tools on the market today that allow you to track the search rankings of websites.
We have developed our own unique tool called SERP Competitors that helps user closely monitor search results — the first hundred results, to be exact.
Let's closely examine its main features and explore the tasks it aims to solve.
SERP Competitors: what it is and how it works
SERP Competitors is a tool that allows you to track the first one hundred search results in any search region in Google, Bing and Yahoo for every query added to a project (aka the website you're optimizing). In other words, you get a full and complete picture of the search results where you can view all the ranking changes and their dynamics.
There are two ways of accessing the tool:
from the Rankings tab.

Just hover over any query and click on the "clock" icon that appears next to it.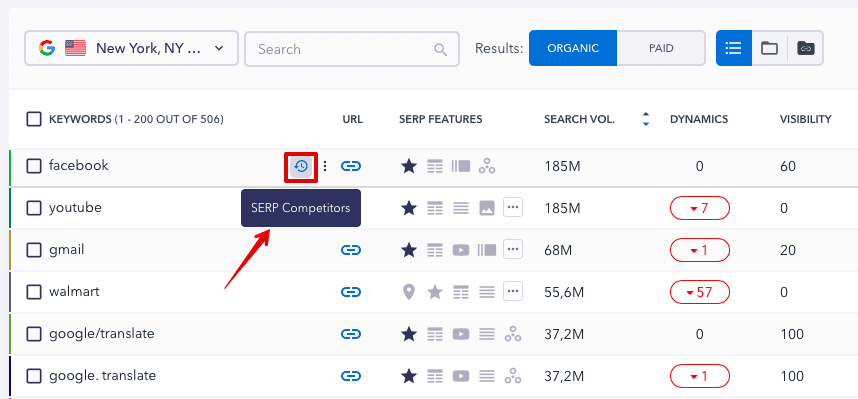 from the My Competitors tab.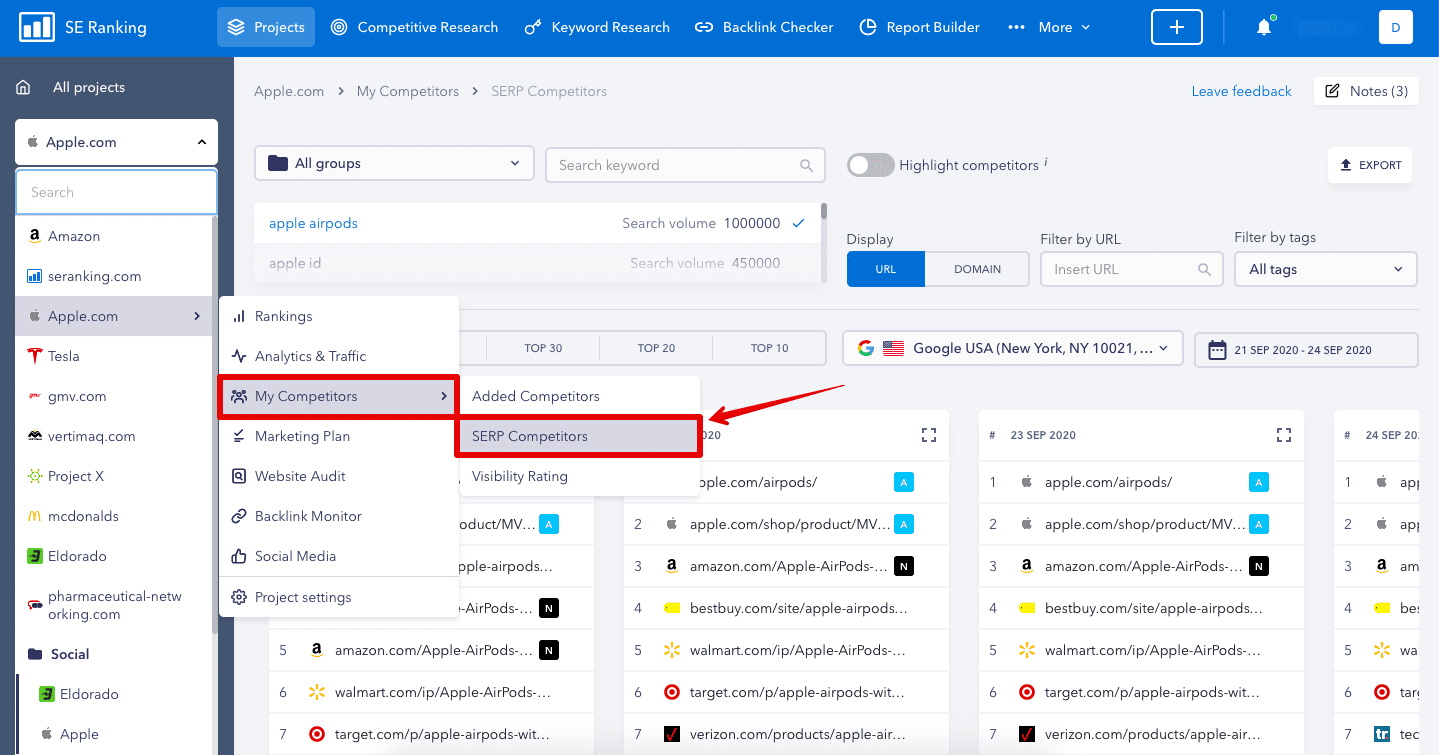 See the ranking history of the top search results. Before we dive any deeper, please note that since we started parsing data for SERP Competitors in August 2018, no ranking history is available prior to this date or before your project was created in our system.
Upon clicking on any website in the SERP Competitors table, you can see how its positions have changed over a selected period of time. In addition to being able to select a time period, you can also view how the positions have changed over specific dates. For example, in the screenshot below, we've selected to view ranking data for the first day of the last couple of months: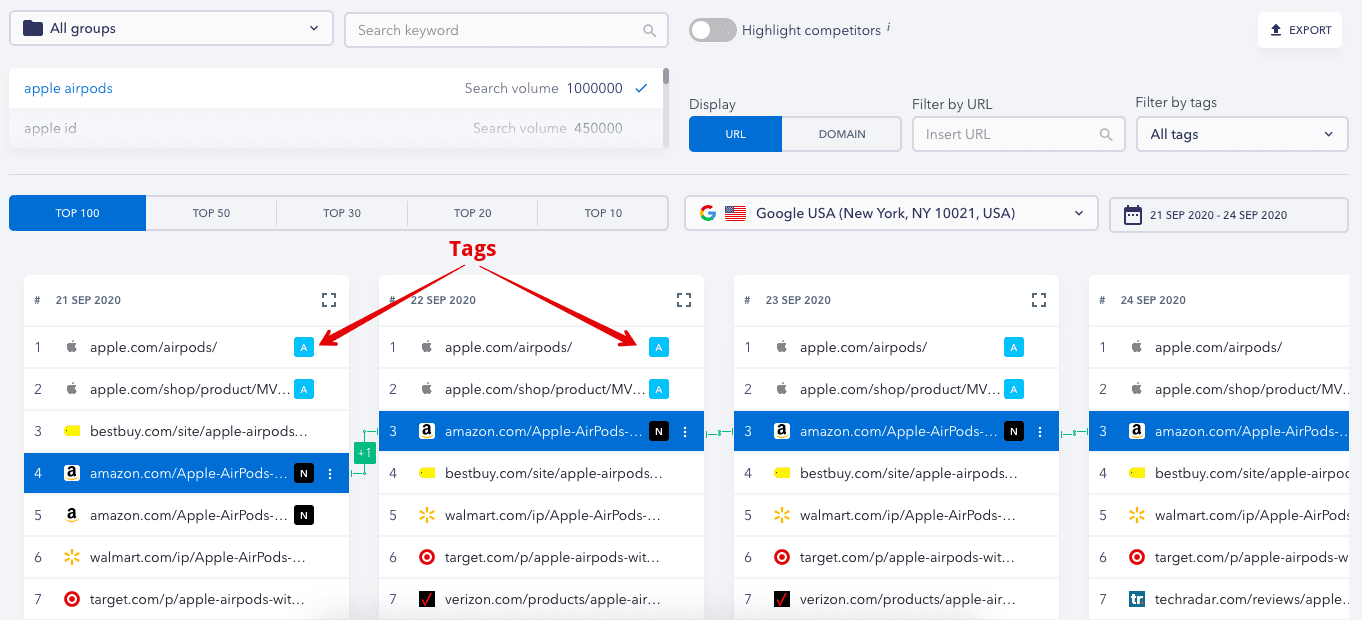 Tag websites in SERP Competitors: add tags to quickly find your main competitors, business listings, social media networks, and other types of web entities in the search results.
To create a tag, click on the menu next to the website you want to tag, followed by "+ Add tag" → "+ Create tag". Then just enter the tag name, select the color, and that's it!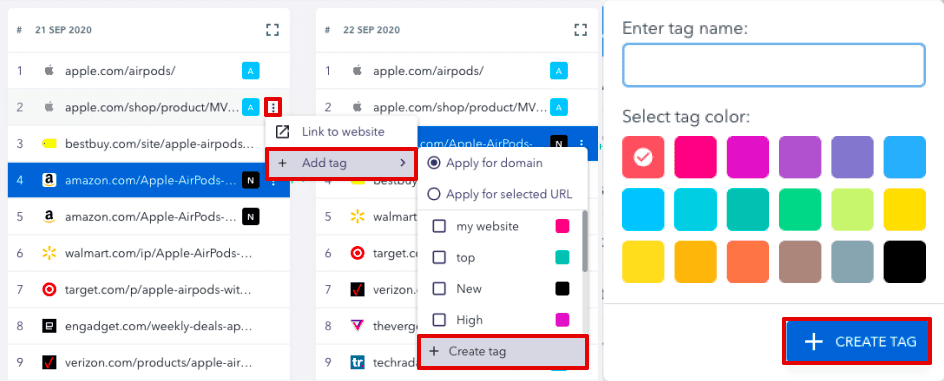 As a result, you will get a chart with the necessary markup, which serves as a key to understanding the overall tone of the search engine results pages, and answers the following questions:
What are the top 100 SERP results and how stable are they?

Which sites dominate the SERP for each query: social platforms, marketplaces, business listings, review platforms, news websites? What sites are your immediate competitors?

Which competitors have a strong position in the SERP and how do their rankings fluctuate?

Which sites occasionally make the top 100 search results but fail to leave a firm footprint?

Which competitor pages are in the top 100 search results for the target query: homepage, landing pages, blog articles, etc?
Data can be viewed for any search engine available in the platform, including Google mobile search results. And, of course, everything can be easily exported.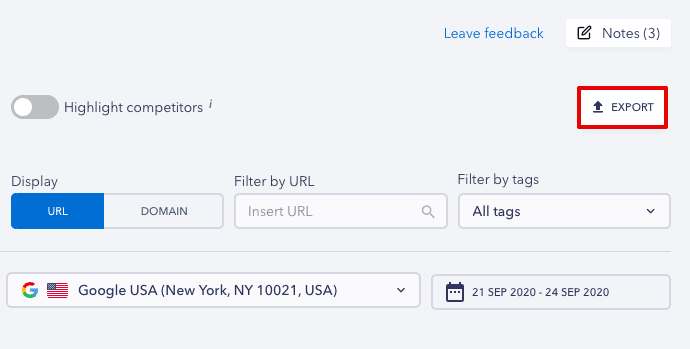 Solving SEO and SERM tasks with SERP Competitors
In and of itself, the tool does not tackle any SEO or SERM problems. What is does, though, is provide a large amount of organized data to tackle these tasks.
What the SERP Competitors tool can be used for really depends on the specifics of the niche and the types of problems it typically encounters. All-in-all, the tool can help with the following:
1. SERP movement analysis.
How has the rankings landscape changed? What are the dynamics of the results? What sites surround you in the SERPs? For example, you can see whether your rankings changed as a result of global search engine updates (the entire SERP saw a shake-up and was flipped upside down), or if the problem occurred on your own website.
2. SEO cannibalization issue analysis.
Every now and then, search engines will rank several pages of a single website for the same target query. But when we check the rankings of our site for that query, we do not see which pages occupy which ranking positions.
Now, let's say that yesterday your website was ranked 7th for the query "laptop repair near me", but today it is ranked at number 25. You can assume that the ranking positions changed for the same page, but it is possible that the positions are occupied by two different pages of your website that are competing against each other.
Such queries can be found under the Rankings tab. A red number appears next to a query if more than one URL from your website is competing for it: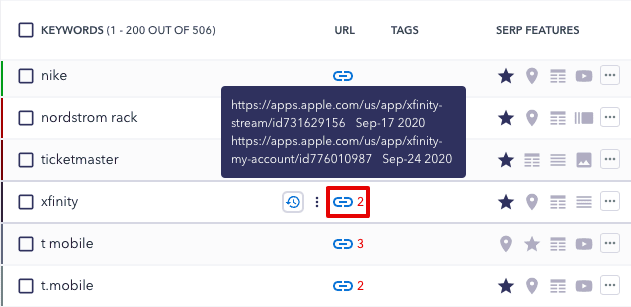 Such queries can be found under "Rankings". A red number appears next to a query, indicating the number of URLs from your website that are competing with each other for the same query.
In such cases, the SERP Competitors tool helps you see how the search engine moved your pages up and down for the given query: page positions, page visibility, position change dynamics, competition ratio and so on.
With this data, it will be easier to decide what to do with the pages: delete one and set up a redirect to another, revise the content, change the optimization focus, etc.
However, it's not completely accurate to make such a big decision on the basis of data from one single search engine. What if the same pages act differently in other SERPs (another search engine, region or device)? This is where SERP Competitors really proves its worth.
3. Result comparison for different search engines (regions, devices).
Depending on your niche and where you want to promote your business, the tool can simultaneously track the search results for desktop and mobile devices for different cities and countries. In all these cases, website ranking positions may differ significantly for the same query. Not only will the difference be reflected in your site's ranking positions but in the ranking positions of the entire top 100 search results.
In this case, the SERP Competitors tool helps you scale up data for analysis: from your positions to the entire SERP as a whole. You can get information for any search engine added to the project via the tool: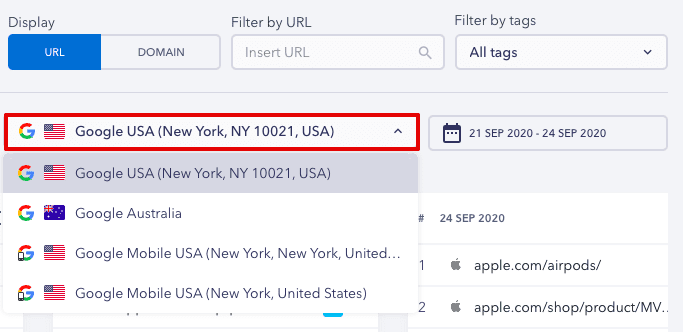 Comparing expanded data helps get a deeper understanding of the logical patterns behind a particular search result.
For example, sometimes Google and Bing can focus on different user search intents. If we enter "website promotion" into the search field, we may see blog posts with tips because the search engine thinks our intent is to answer the question: "How to do it?" Or, we may see agency websites or various website promotion tools, if the search engine's decided that we're looking for a specific solution that helps with promoting websites.
But this is just an example, of course. Depending on your business niche, you can draw different conclusions from analyzing your top 100 search results.
4. Highly competitive niche analysis.
While the SERPs of some business segments – such as the banking sector – can stay stable for months, but there are certain niches that experience huge daily changes. Moreover, first pages can be monopolized by two or three main market players, who managed to get several websites to appear in the top of the SERPs at the same time.
In such cases, the ability to tag search results comes in very handy. Just tag your main competitors and their affiliated projects, and highlight your own satellite sites. By splitting the search results into the "good" and the "bad" guys, you'll be able to keep track of the true balance of power.
5. Discover brand reputation management opportunities.
Managing a site's reputation online doesn't just mean combating negative reviews. It also involves staying ahead of the curve — an effort that requires a strategic analysis of the search results and asking questions like what types of websites are you going up against and how to work your way around them.
With SERP Competitors, you can tag all the different types of competitor websites and figure out separate strategies for each one: competitors, comment and review sites, aggregators and business directories, media resources, etc.
If you aim to get maximum audience exposure, find a way to appear in the Top 10 websites for your query or niche. For instance, if the only websites that come up in the search results for your product search term are business directories, then you definitely need to get your site listed in them. If it's review platforms you're after, register an account or purchase paid reviews. If you're after ads, put up ads on respective websites. And start preparing awesome content if you want to get published in top online media resources.
The SERP Competitors tool enables you to find websites that you could potentially partner up with to boost your online presence. Plus, you can then tag the websites that you've already reached out to successfully.
All the examples and solutions offered in this article are just rough outlines of the huge tasks the SERP Competitors tool is capable of completing. Of course, there are many moving parts to getting your site to the top of the SERPs, but it primarily depends on the specifics of the niche.
Closing thoughts
To sum up, the SERP Competitors tool allows you to:
Study the top 100 search results for each keyword added to a project.

This includes any search region in any search engine that's available in SE Ranking.

Track the rank change history.

Data tracking starts as soon as you create a project (as mentioned above, no data available prior to August 2018). Data is stored for one year.

Tag the search results:

conveniently add different tags to your websites, your competitors' and other sites.
The SERP Competitors tool was primarily designed to expand the SERP monitoring experience to include the analysis of the top 100 search results. However, it also serves as the key to understanding how and why the search results change the way they do.
Seasoned SEO pros along with newbies can greatly benefit from using SERP Competitors.
So try, analyze, and test. And remember to tell us what you think about the new tool!
Check out our YouTube video tutorial on the SERP Competitors tool!