15 digital marketing metrics used in SE Ranking
To achieve positive results from your digital organic and advertising campaigns on Google, it is crucial to understand the needs of your customers and align them with your promo activities.
Although gauging customer preferences can be difficult, tools like SE Ranking empower marketers and advertisers to harness user data and leverage it to reach individuals who are the most likely to be interested.
To achieve this, the SE Ranking uses combination of Google data and our own metrics. This provides our customers with all the information they could possibly need to craft the perfect campaign for organic and paid search.
By the end of this article, you'll have a thorough understanding of all the data offered to you by different SE Ranking tools, enabling you to leverage it to your competitive advantage.
Now, without further ado, let's get cracking!
Keyword parameters
1. Search volume
What is keyword search volume?
Search volume is an essential SEO metric that provides insights into the frequency of searches for a specific search term during a month within a specific country and search engine.
In simple terms, the search volume lets you know how widely used or popular a keyword is. SEO experts commonly look at it to assess the effectiveness of a keyword in promoting a web page in SERPs.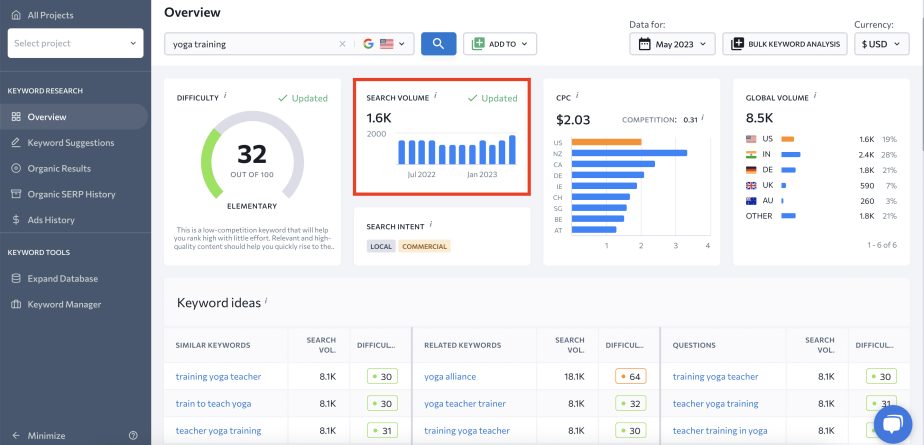 How is keyword search volume calculated?
SE Ranking uses two primary sources for gathering keyword search volume data. These include Google itself and clickstream data.
Google search volume
Initially, the search volume data we receive is calculated by Google. But as of 2016, Google has stopped providing exact search volume data to users unless they spend a fortune on Google Ads. On top of that, Google groups topically related keywords into buckets (aka clusters) and provides the same search volume data for the entire group.
For example, Google provides identical search volume data for search terms like 'SEO' and 'search engine optimization'. But thanks to clickstream data and our algorithms, we are able to specify the exact search volume of each individual keyword.
Clickstream data
Clickstream data is collected through browser extensions, plugins, and other apps installed on computers and other browsing devices. As a rule, these tools seek your permission first before collecting specific data. SE Ranking then aggregates data from authorized sources, combines clickstream stats with Google search volume, and implements the ungrouping method to provide precise search volume for each keyword.
We also incorporate AI and ML technologies in our processes and algorithms, including NLP, to analyze language data.
How often does SE Ranking update keyword search volume?
We maintain an ongoing and continuous process of updating the search volume for every country in our database. But we don't update search volume data for all countries at the same time.
Instead, we focus on frequency:
Search volume for high-frequency keywords is updated once a month.
Search volume for low-frequency keywords is updated once every three months.
It is also possible to get more up-to-date rankings data by requesting it. Just click the Update option, as shown in the screenshot below.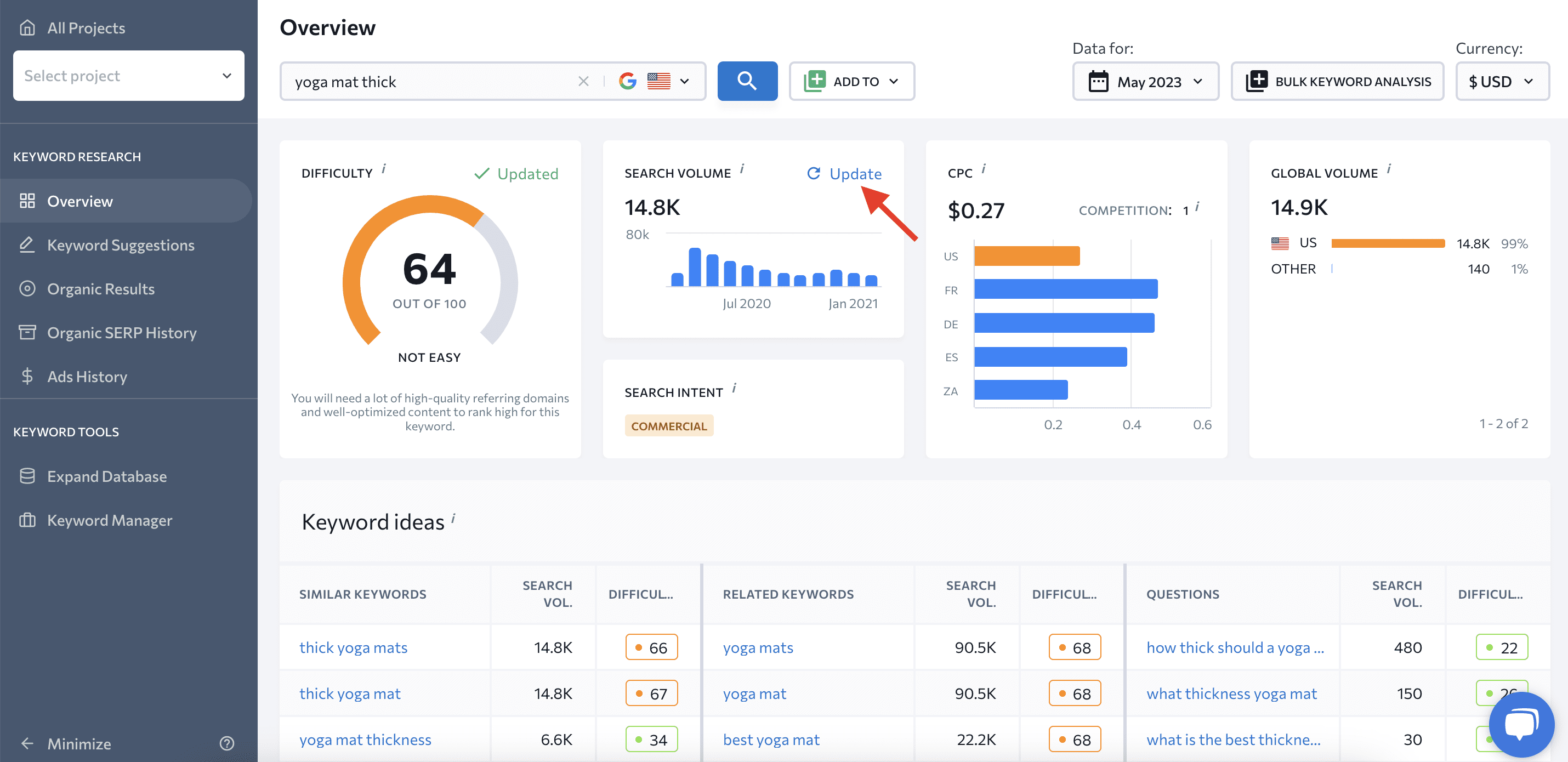 What if there is no keyword search volume data?
We make it a point to check the search volume of every keyword in our database, but some search terms have a very low (or practically no) search volume, and drive very little traffic. This is because people tend not to repeat the same unique, colloquial search. Such search terms can be found under the Low Search Volume subtab of Keyword Suggestions: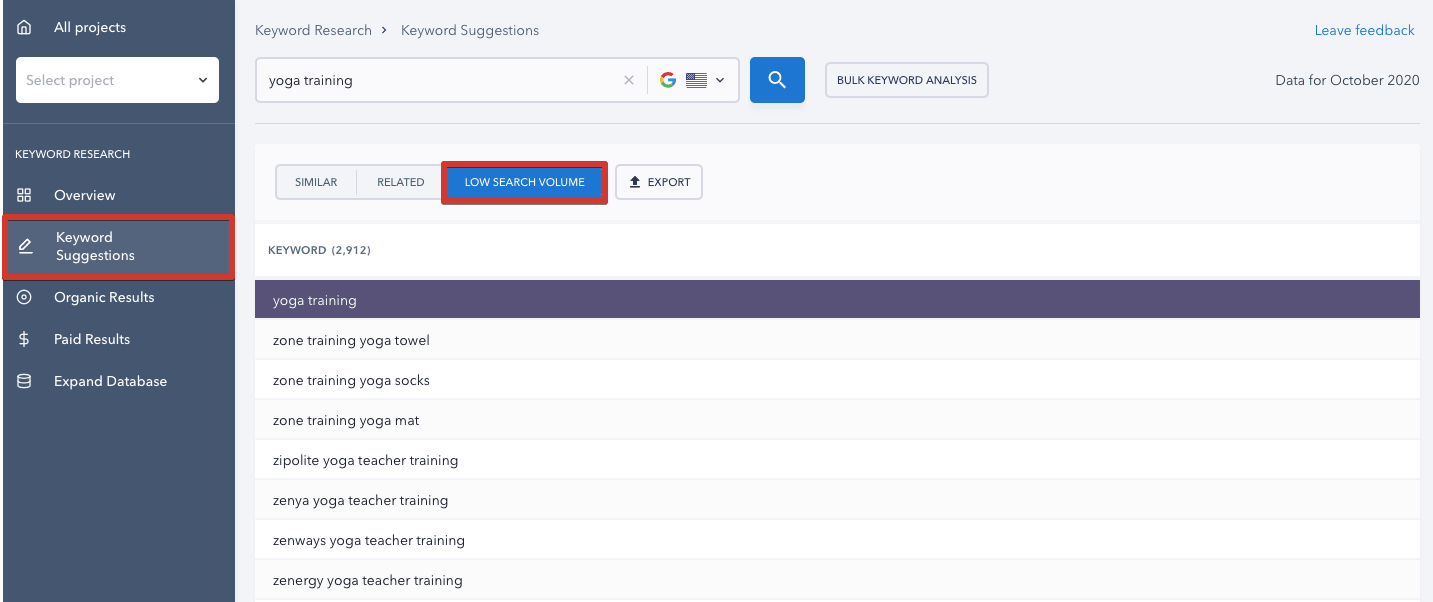 This list includes Google's autocomplete search suggestions and keywords with minimal search volume, primarily comprising long-tail keywords. If you run out of keyword ideas from the Similar and Related tabs, exploring the Low Search Volume keywords can uncover additional ways to expand your semantic core.
Furthermore, if you work in a distinct niche with keyword data that our database doesn't cover, you can upload a list of all your search queries to get all the information you need. This includes an in-depth overview of organic and paid traffic, search queries and competitor domains.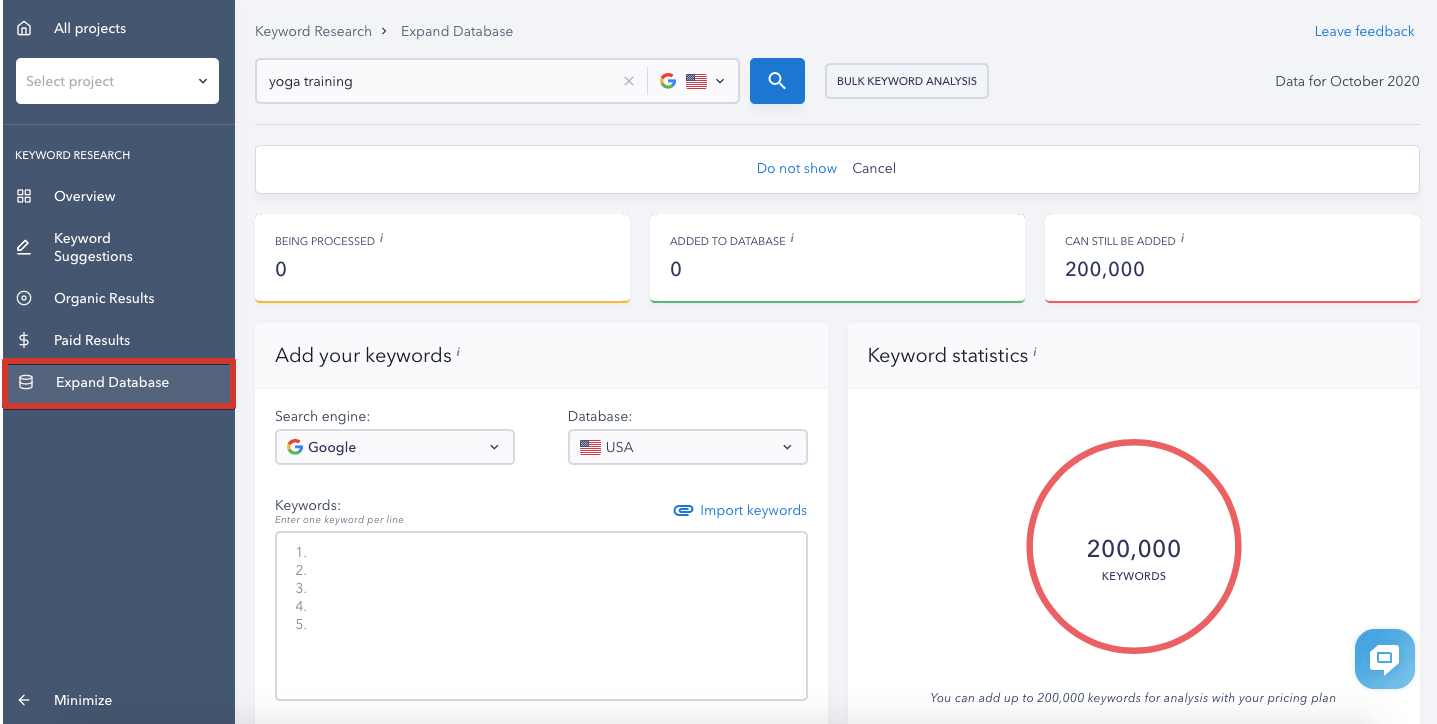 How can the keyword search volume help me?
Think of the keyword search volume as the potential number of people who are interested in a given topic, whom you can drive to your site by targeting specific search queries.
Keyword search volume matters because search engines, such as Google, play a vital role in driving new visitors and traffic to websites. It's crucial to target keywords in your content that actually have search volumes. Otherwise, no one will read your content, visit your site, or convert into buyers.
Which SE Ranking tools use the keyword search volume metric?
You can see keyword search volumes in various SE Ranking tools, including:
Keyword Rank Tracker
Competitive Research Tool
Content Marketing Module
Local Marketing Module
2. Keyword Difficulty
What is keyword difficulty?
Keyword difficulty gives you a rough idea of how easy it will be to rank for a particular keyword in organic search.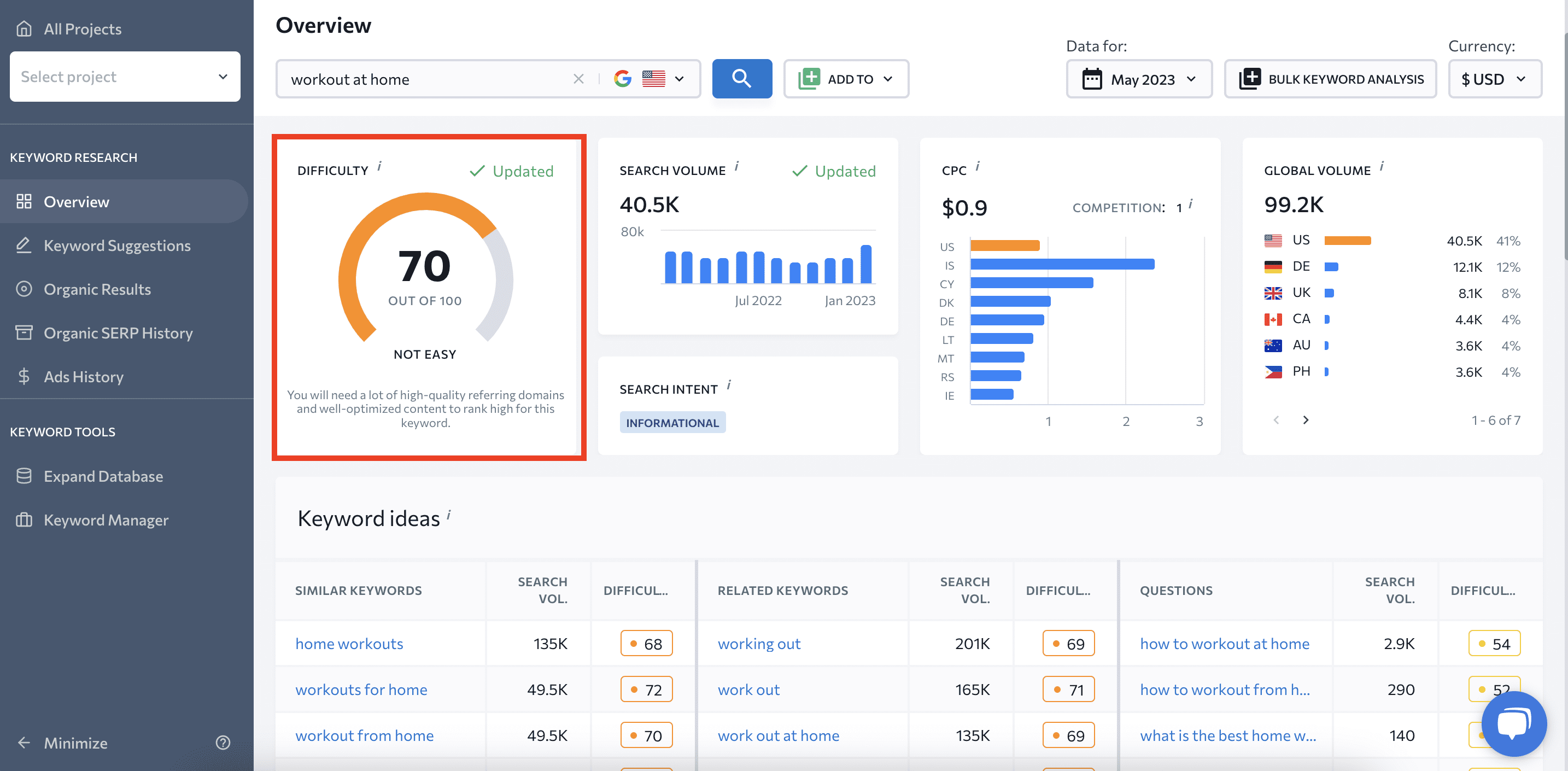 How is keyword difficulty calculated?
The formula considers the quality of domains that rank within the top 10 search results for a given query, as well as the quality of their backlink profiles. The higher a keyword's difficulty is, the more effort you will have to put into optimizing for it. Higher difficulty also correlates to a higher potential for better results in organic search.
How can keyword difficulty help me?
Consider high-difficulty keywords as long-term opportunities for your website. For the most part, focus on relevant search queries with lower difficulty scores.
SE Ranking uses its proprietary algorithm to calculate the keyword difficulty score, which ranges from 0 to 100: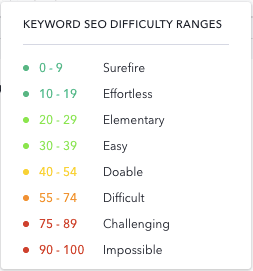 Which SE Ranking tools use the keyword difficulty metric?
Keyword difficulty is displayed in the:
Competitive Research Tool
Keyword Research Tool
Content Marketing Module
3. Search intent
What is search intent?
Search intent is the underlying motivation behind a user's online search when they use a specific keyword or phrase. It represents the intention or purpose that guides a user to enter a particular search query into a search engine.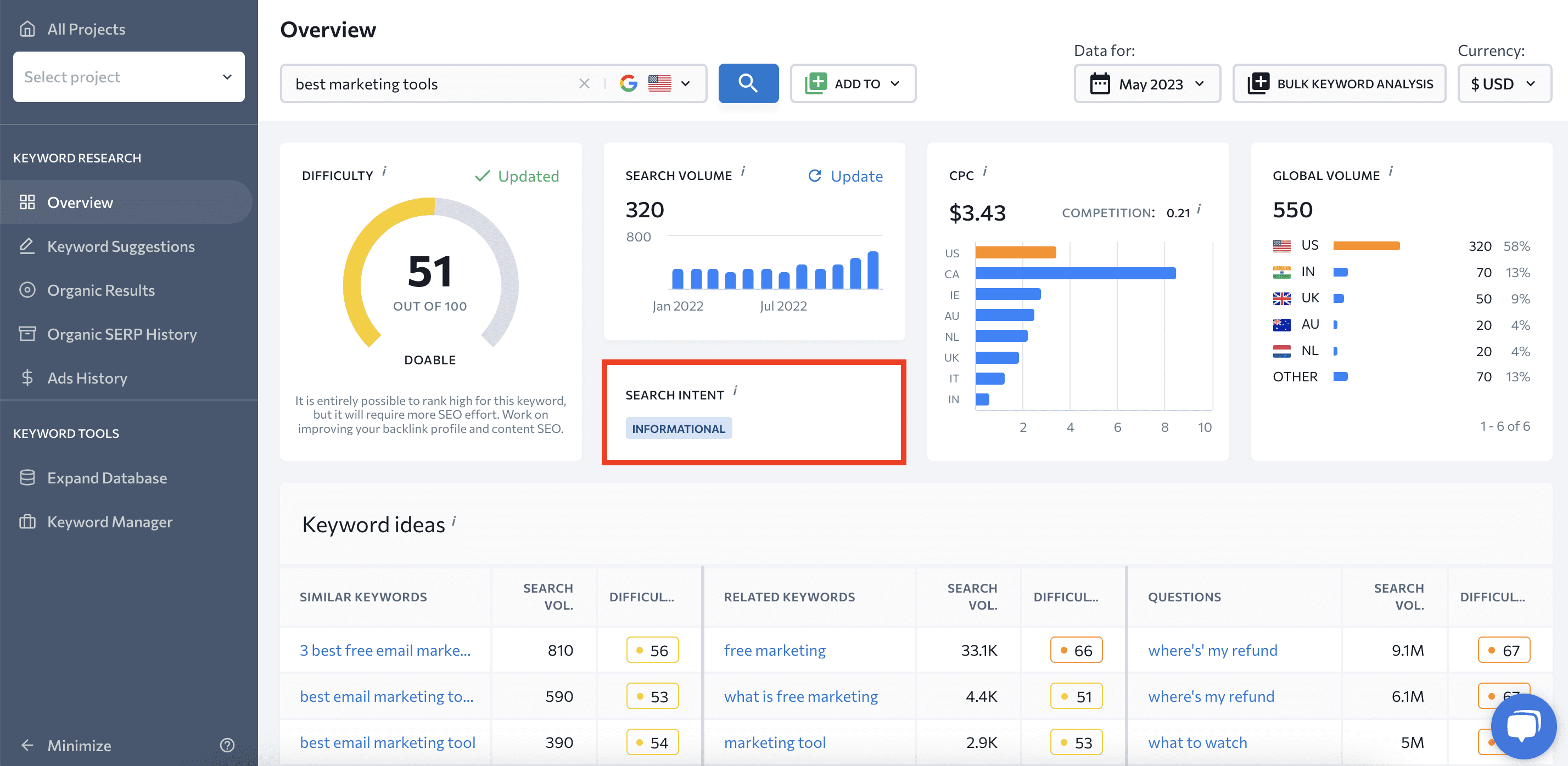 How is keyword search intent determined?
SE Ranking has trained its neural network model to track search results for queries and analyze the features they trigger in the SERP. The algorithm also monitors different combinations of SERP features and considers words and phrases that are typical for specific search intents. For example, it recognizes 'buy' for commercial intent or 'in Brooklyn' for local intent.
We use the following search intent categories:
Informational intent: the user searches for information on a topic.
Navigational intent: the user looks for a specific website or webpage.
Commercial intent: the user is interested in purchasing a product or service.
Transactional intent: the user is ready to buy some product or service.
Local intent: the user wants to find products or services in a specific area.
Some keywords can have several search intents. In this case, SE Ranking shows all of them.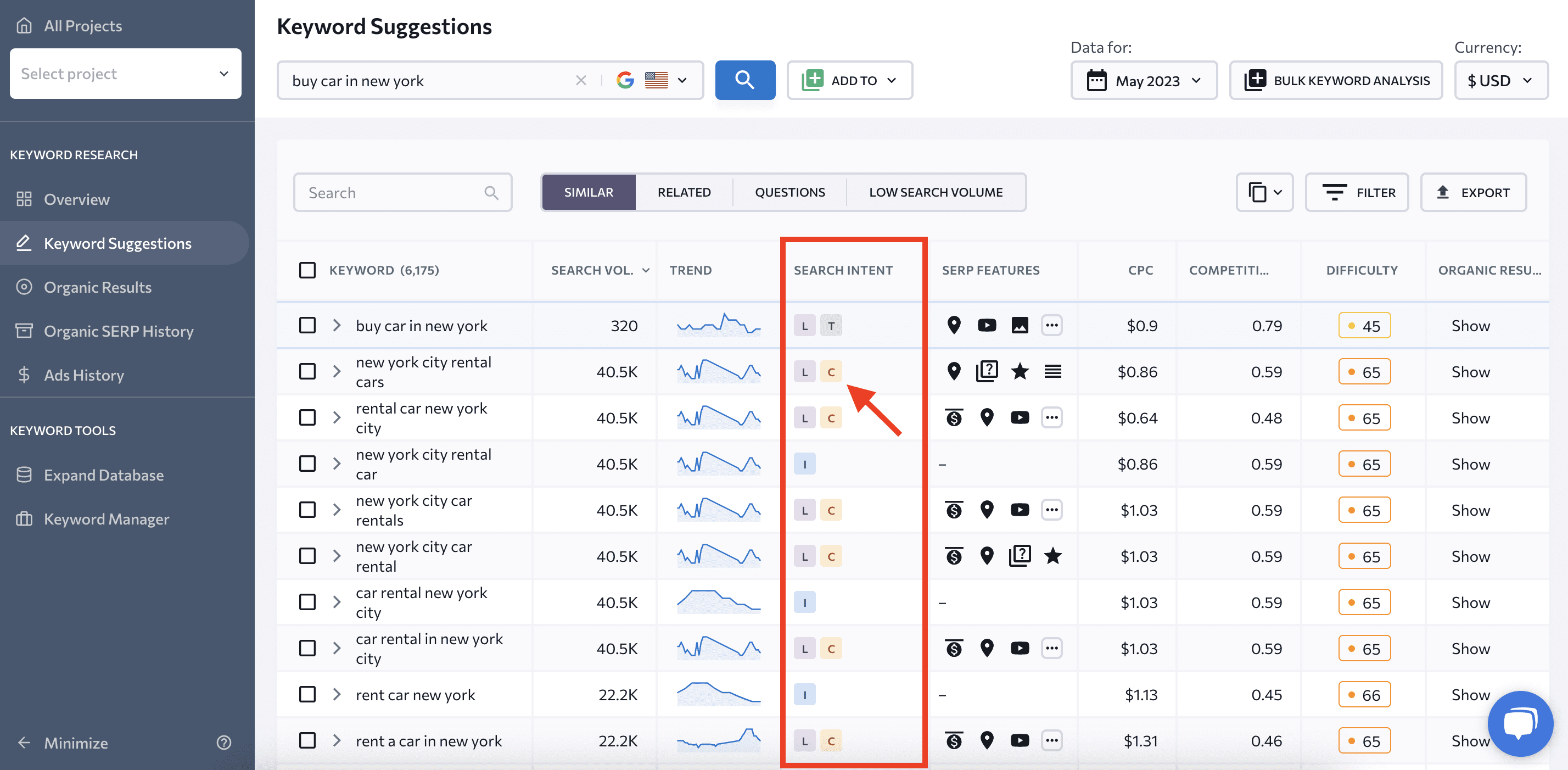 How can knowing a keyword's search intent help me?
By understanding the user's search intent, you can create content that is more likely to align with what the user is looking for. When users find content that matches their search intent, they are more likely to stay on the page, engage with the content, and convert.
Which SE Ranking tools use the search intent metric?
You can find the search intent metric in the following tools:
Keyword Research Tool
Competitive Research Tool
Ad metrics and data
4. CPC (Cost Per Click)
This is an important metric that helps advertisers:
Understand a keyword's bidding environment on Google Ads.
Break down their budgets more effectively.
Make sure that the CPC of high-cost keywords isn't consuming your budget.
In other words, the cost per click refers to the estimated price that has to be paid for each individual click in your PPC Google Ads campaign.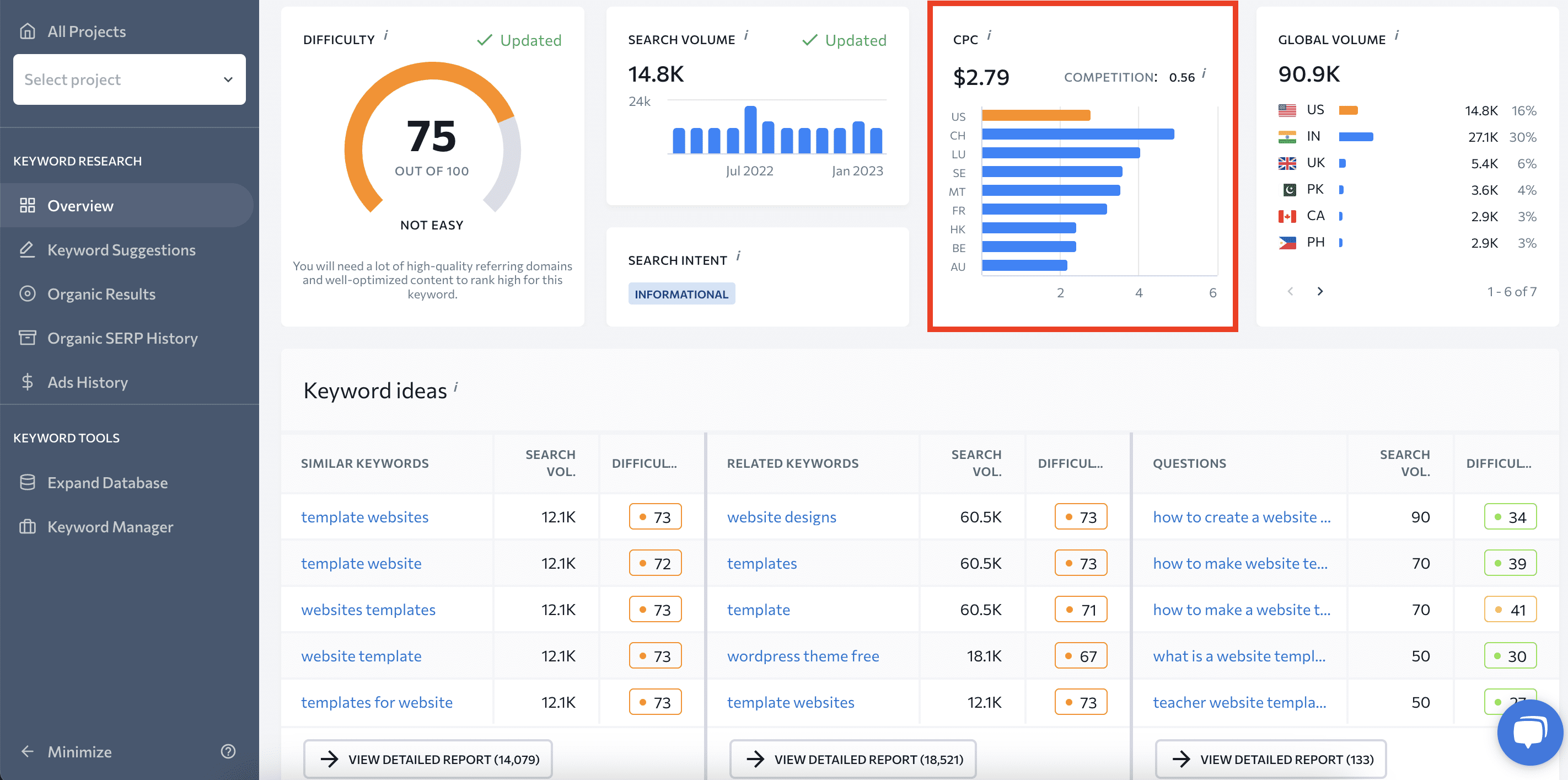 How is the cost per click calculated?
The CPC data and competition info found in our platform are pulled directly from Google Ads.
For more information on cost per click, check out Google's official documentation:
How can the cost per click help me?
The cost per click is just an estimation, but it can help you determine the potential financial success of your paid search campaigns. Even if you don't run any ads on Google, you can still take the CPC into account when devising your organic strategy to get a better understanding of how competitive each keyword is in the SERP.
Which SE Ranking tools use the cost-per-click metric?
The CPC metric is available in several of SE Ranking's tools, including:
Keyword Research Tool
Keyword Rank Tracker
Competitive Research Tool
5. Ad variation
What is ad variation?
Ad variation is a Google Ads interface feature that lets you try out different versions of your ad copies. Using the one that suits your purposes most is important because creating better ads is an important step to the success of any advertising campaign.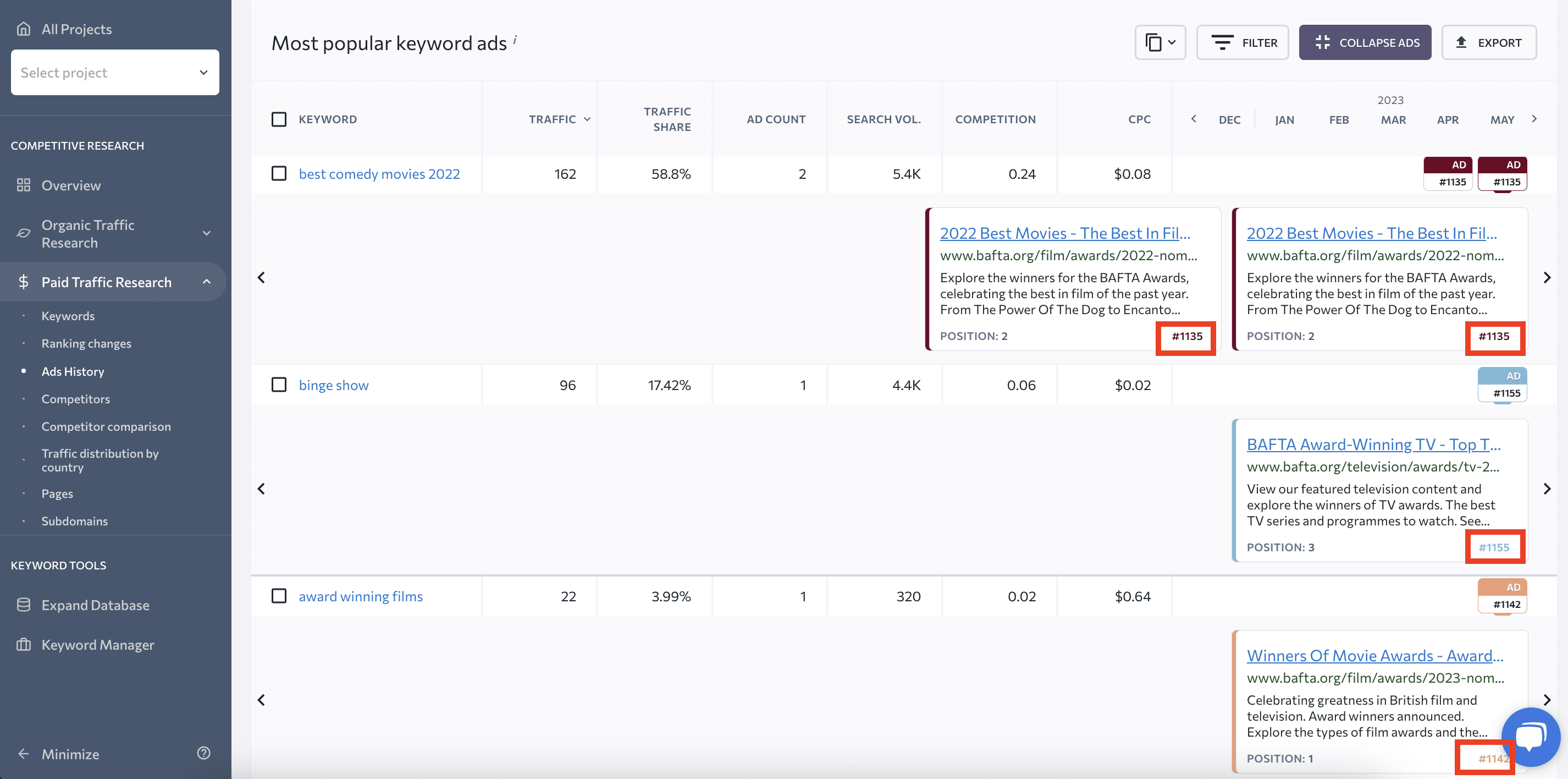 How do ad variations work?
When you create a new Google Ads advert for your domain, SE Ranking generates an ad variation corresponding to it. For example, if your first ad copy on Google was 'used car for sale' last month, it becomes ad variation #1 for your entire domain, rather than a specific web page. In the following month, if you modify the text to 'used Tesla for sale,' it becomes ad variation #2. Then, if you decide to go back to the previous copy option, the system will spot this and will let you know that you have returned to ad variation #1.
The ad variation count is specific to each domain. This means that if you use the same copy as a competitor in your ads, the system will still mark it as a new ad variation for your domain.
How is ad variation data collected?
When collecting data for this metric, our system pulls Google Ads data from capitals or big cities to represent individual countries. Let's use an example to illustrate how this works.
Let's say you wanted to see all the ads that Nike is running in the United States. The problem is that SE Ranking can't really give you that data because our databases don't collect nation-wide data. Instead, we take one city, which is New York (in the case of the United States), and show you all the ads that are running there.
In SE Ranking, you will be able to see an ad if it is targeting the entire US or if it is specifically targeting New York. But if you want to get data for California or Los Angeles, you will have to reach out to our support team to get it. Due to the workload, we can only pull this data upon request.
How can ad variation help me?
Besides giving you the option to analyze your competitors' ads from the past, this feature allows you to filter ads by variation and find out if the same copy was used in the past or on different web pages within the same domain.
For example, if a website used the same ad for its Black Friday campaign in both 2021 and 2022, you will be able to see this and get a preview of the exact copy they used, although instances like this are rare.
To find out more on this topic, check out what Google has to say about ad variations.
Which SE Ranking tools use the ad variation metric?
You can find the ad variation metric in SE Ranking's Competitive Research Tool. Just open the Ads history under the Paid Traffic Research tab.
6. Competition
What is competition?
According to Google, competition refers to the total number of advertisers who bid on each keyword in relation to all the keywords present on Google in a specific country.
In simple terms, it refers to the number of advertisers competing for a keyword.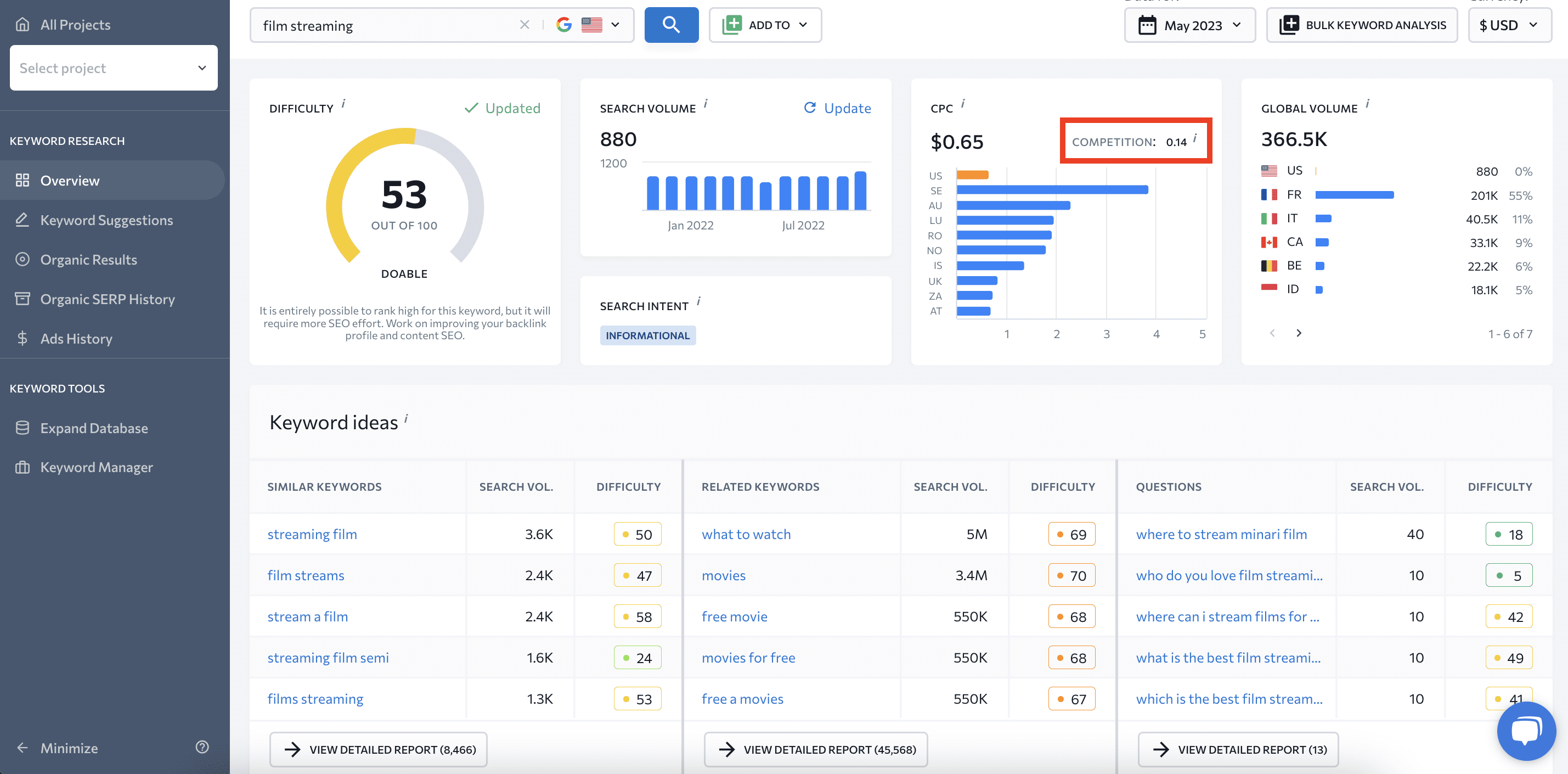 How is competition calculated?
We pull the Competition data directly from Google Ads, which provides a general low-to-high quantitative guide to help users understand how competitive the ad placement is for a given search query.
We show three levels of competition:
Low competition: 0 – 0.3
Average competition: 0.3 – 0.7
High competition: 0.7 – 1
If Google doesn't yet have enough data on a keyword, the dash (-) will be displayed in SE Ranking.
How can competition help me?
Competition provides insights into the level of Google Ads competition for your keywords, whether it is low, medium, or high. The higher the number is, the tougher and more expensive it will be to squeeze your web page into the SERPs through Google Ads.
When a search term has high competition, advertisers often need to place higher bids for better ad rankings. This can also result in the keyword having a higher CPC.
On the other hand, if the keyword's competition is low, meaning few are bidding on it, you may not have to spend huge sums of money to win. This also depends on the analyzed keyword's search volume.
We recommend checking the competition for your keywords before running any ads and utilizing the available data to make informed decisions about how to allocate your campaign budget effectively.
Which SE Ranking tools use the competition metric?
The competition metric can be found in our:
Keyword Research Tool
Keyword Rank Tracker
Competitive Research Tool
Content Marketing Module
Domain metrics
7. Domain and Page Trust
What are Domain Trust and Page Trust?
Domain Trust is a metric that assesses the quality of a domain. SE Ranking uses its own algorithm, which is based on the referring domain's data, the total number of backlinks, and their quality. Similarly to DT, Page Trust evaluates the quality of a web page.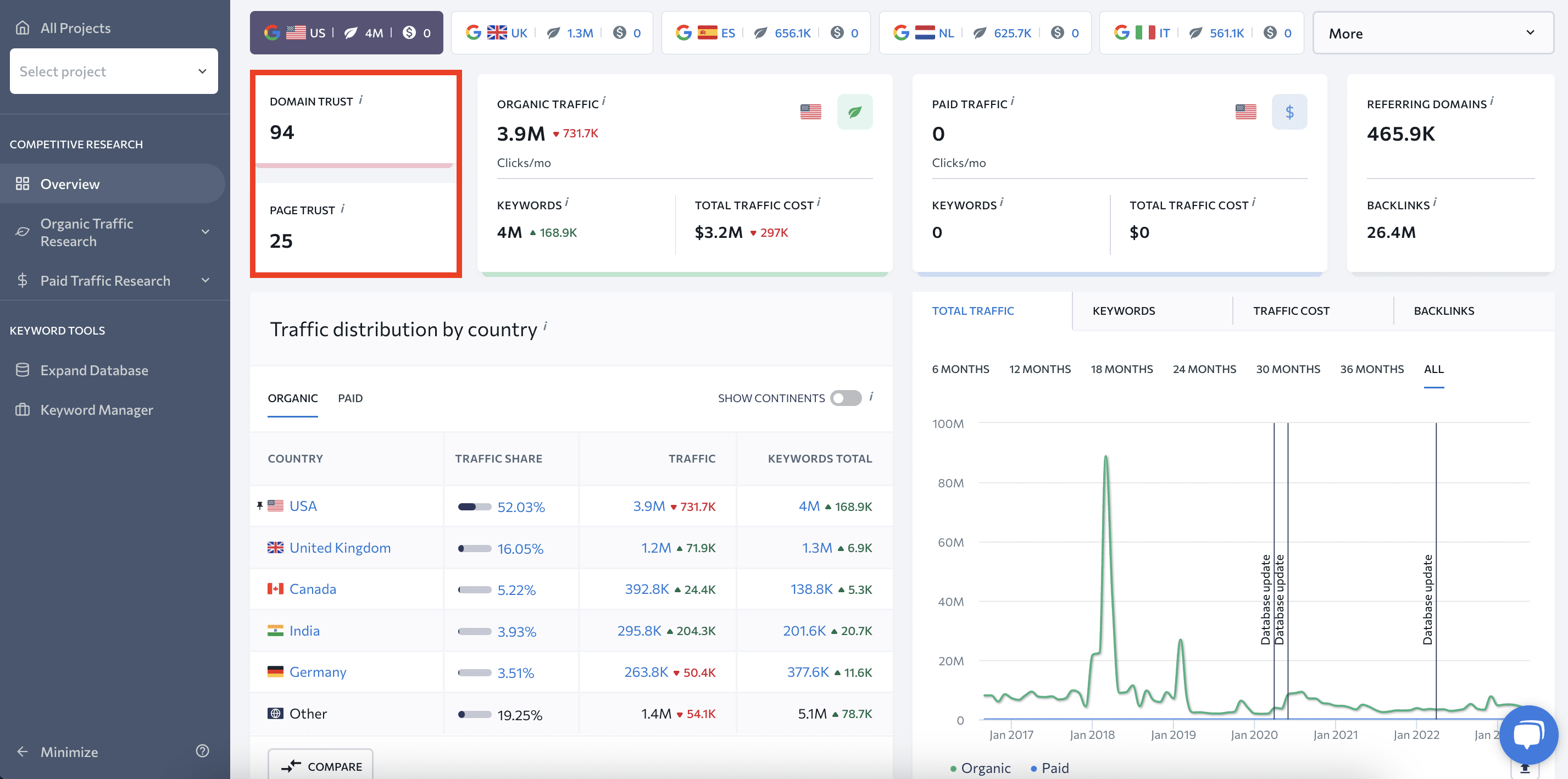 How are Domain Trust and Page Trust calculated?
Domain Trust and Page Trust are determined using the same algorithm that Google's PageRank uses. We consider factors such as the number and quality of referring domains and their backlink profiles for both the page and the domain. It's a logarithmic scale from 0 to 100, with 100 indicating perfection. For each domain, DT and PT data are updated each month.
How can Domain Trust and Page Trust help me?
Domain quality metrics such as DT and PTcan help you quickly evaluate how trustworthy a given website is. Paying attention to the DT and PT scores of your own project can help you determine how hard you'll need to work on your backlink profile before seeing positive results in your SEO.
Which SE Ranking tools use Domain Trust and Page Trust metrics?
You can check Domain Trust and Page Trust metrics by using the following SE Ranking tools:
Content Marketing Module
SERP Competitors
Visibility Rating
8. Organic and paid traffic
What are organic and paid traffic?
Estimated organic and paid traffic is a prediction of the amount of traffic (estimated number of clicks) a website or webpage will receive from organic search (unpaid) and paid search (advertising) channels.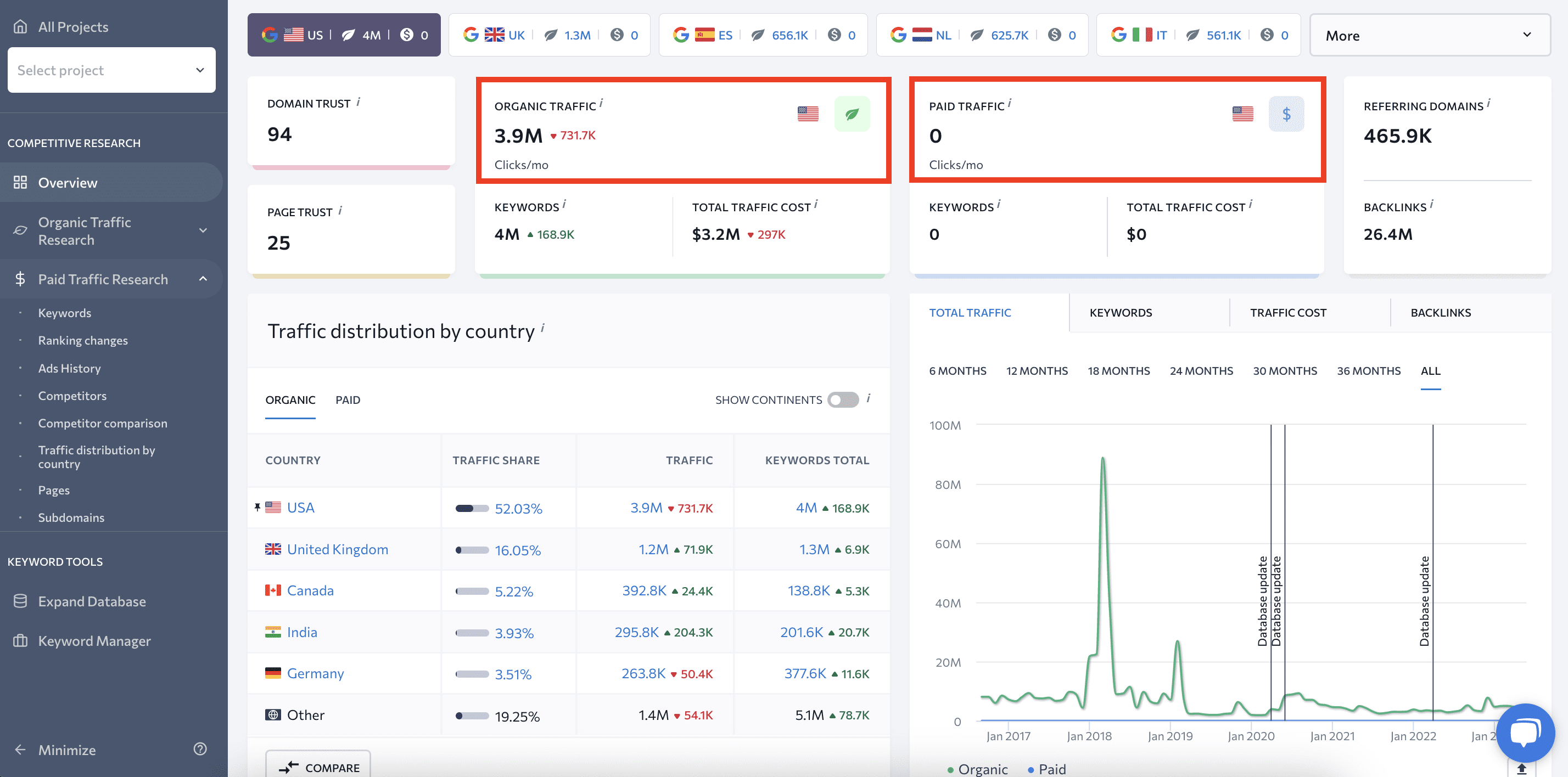 How are organic and paid traffic calculated?
SE Ranking's algorithm calculates potential organic traffic by analyzing the current rankings of discovered keywords and adjusting their search volume based on rankings and a number of adjusting factors. As for the incoming traffic from paid search results, the algorithm evaluates the keyword's Ad Rank. SE Ranking analyzes bid amount, ad quality, auction competitiveness, and other factors that impact the position and visibility of an advertisement.
How can knowing estimated organic and paid traffic help me?
Knowing estimated organic and paid traffic can help you make informed decisions, optimize your marketing efforts, and evaluate the effectiveness of your SEO strategies. It empowers you to allocate resources effectively, set realistic goals, and improve the return on investment for your marketing activities.
Which SE Ranking tools use organic and paid traffic metrics?
Check out SE Ranking's Competitive Research Tool to see any website's or webpage's estimated organic and paid traffic. This metric is also available in the SERP Checker and Content Editor.
9. Total Traffic Cost
What is traffic cost?
The traffic cost assessment, or traffic cost, is the estimated maximum cost of driving traffic to a website based on the CPC and search volume of its targeted keywords. Total Traffic Cost shows you the estimated cost of targeting each discovered keyword in organic search and the estimation of a monthly PPC budget.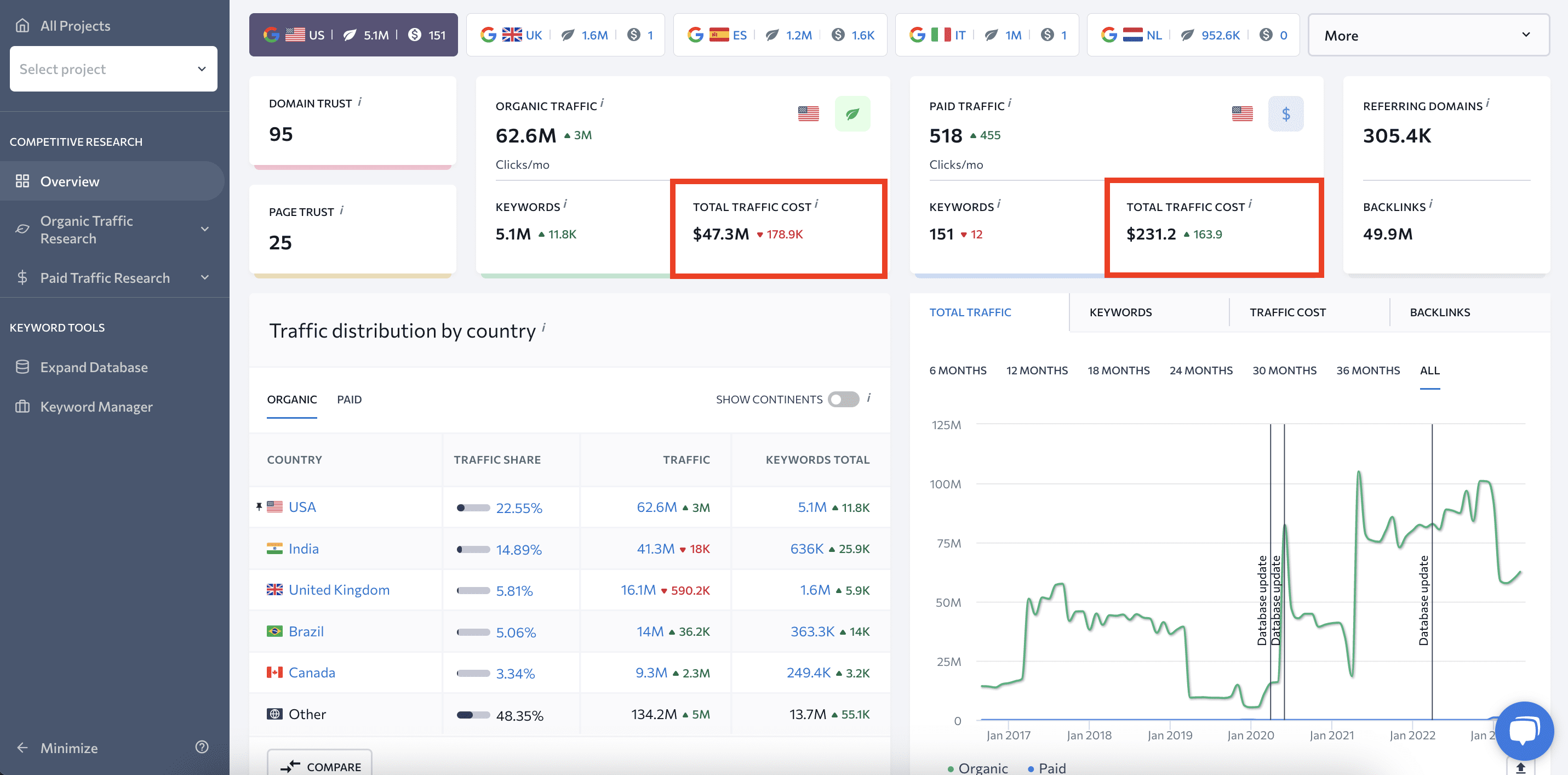 How is traffic cost calculated?
Let's say a website is organically ranking for several hundreds or thousands of keywords, each with its own CPC value. In this case, we would multiply the total number of potential visitors by the cost of driving those visitors from Google Ads campaigns.

Ultimately, the resulting number, which is calculated based on Google Ads prices, provides an estimate of how much it would cost to bid on every organic keyword via a Google Ads pay-per-click campaign.
How can the traffic cost assessment help me?
This metric offers an additional way to assess a keyword's Ads competition and value. While CPC indicates the cost of driving a single user from Google, the Traffic Cost Assessment shows how much it will cost to drive all potential traffic for a given keyword from search to your site through Ads.
Regarding organic search, it also aids in understanding the overall level of competition for a keyword, but it primarily serves as a metric that assists in planning out your Google Ads campaigns.
Which SE Ranking tools use the total traffic cost metric?
You can access this data on any domain by using SE Ranking's Competitive Research Tool. It's also recommended to check the traffic cost of any keyword in the Keyword Research Tool.
Ranking metrics
10. Search visibility
What is search visibility?
Search visibility is the share of views a website gets in a given search engine for a specific keyword.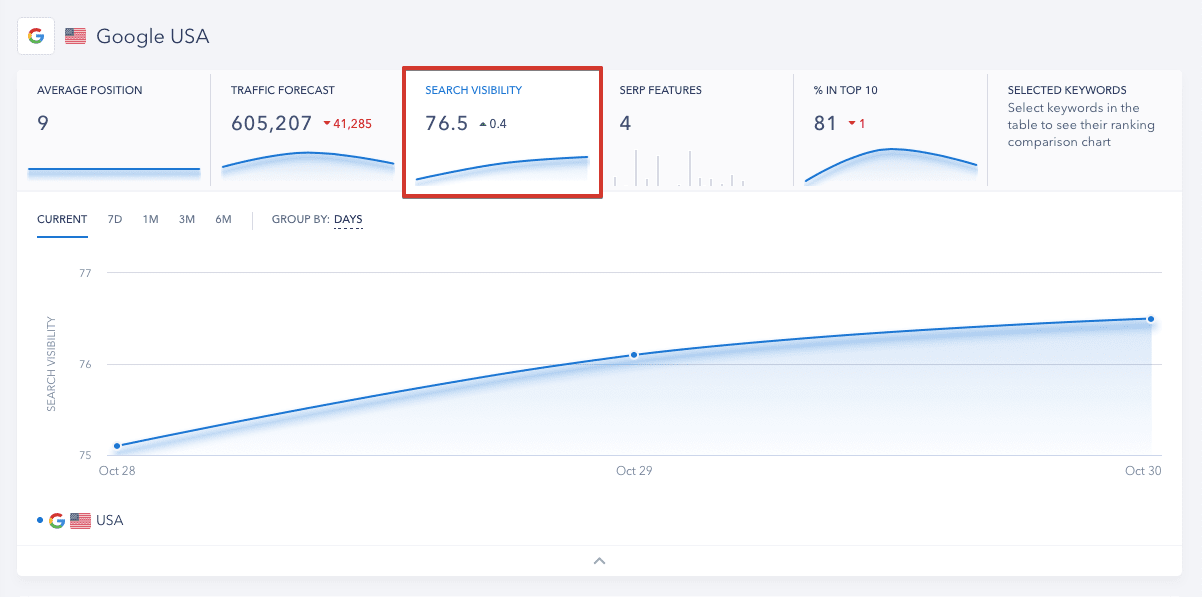 The search visibility number shows the percentage of users who see your website when inputting your targeted keywords. You can check search visibility for all popular search engines, including Google, Yahoo, Bing, and also for Youtube.
How is search visibility calculated?
The system uses a specific formula to analyze each query and the site's SERP position. Here's what it looks like: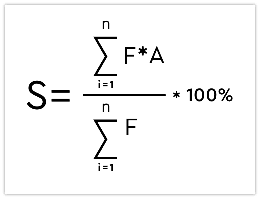 In the formula, S stands for the search visibility, F is the search volume, and A is the adjusting ranking factor. The latter depends on the website's keyword ranking position:
Top 3 positions: A=1;
4th position: A=0,85;
5th position: A=0,60;
6, 7 positions: A=0,50;
8, 9 positions: A=0,30;
10th position: A=0,2;
11th position and lower: A=0.
To put it simply, the higher a website's ranking and the higher the search volume of targeted keywords, the greater its search visibility, resulting in more people seeing the website in search results.
You can analyze not only the overall search visibility but also this parameter for a particular keyword or group of keywords. The formula for an individual query is much simpler: S = A * 100%.
How can search visibility help me?
By monitoring the search visibility percentage, you can gain insight into your actual search optimization results. If this parameter falls short of expectations, then you may need to rethink your strategy, target other keywords, and so on.
Furthermore, comparing the search visibility levels of your competitors allows you to understand how solid the position of your website is in its niche. To do this, navigate to the Search Visibility tab in the My Competitors module. Analyze the results over different months to identify any surges in search visibility (assuming there were any).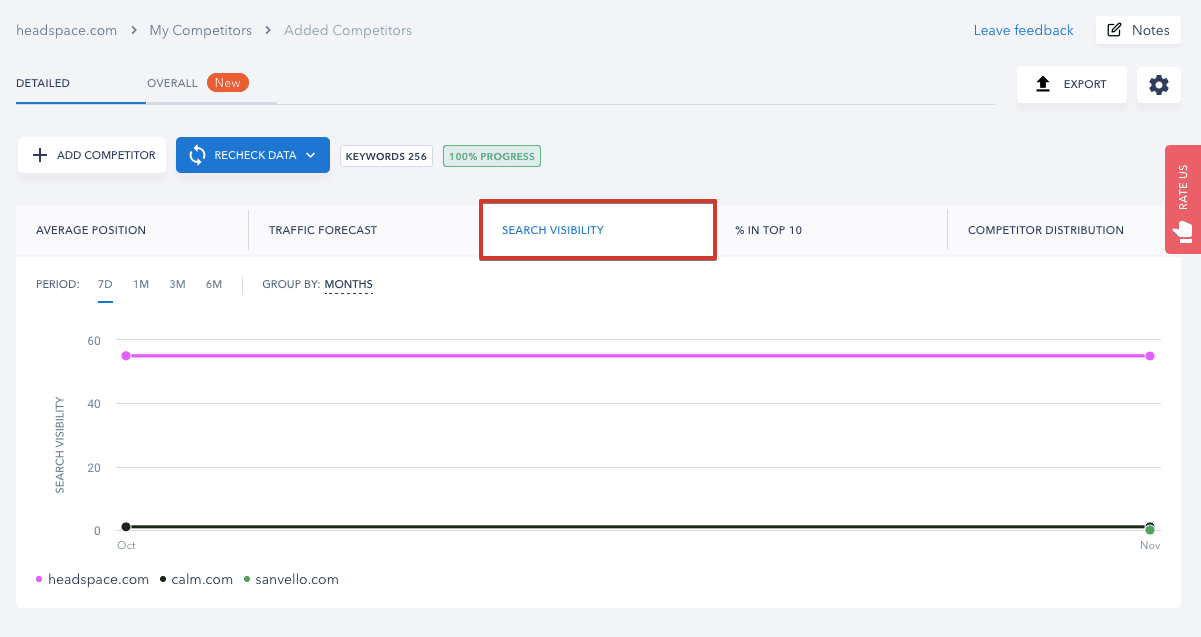 Which SE Ranking tools use the search visibility metric?
You can use the Keyword Rank Tracker to get an overview of your website's visibility for all the keywords added to your project. You can also check the visibility of competing websites through the Visibility Rating report in the My Competitors module. This metric can also be viewed in the Content Marketing Module and SERP Analyzer.
11. Traffic forecast
What is traffic forecast?
Traffic forecast gives an estimate of the website's monthly number of clicks. This value depends on the keywords' search volume and the site's rankings in search engines.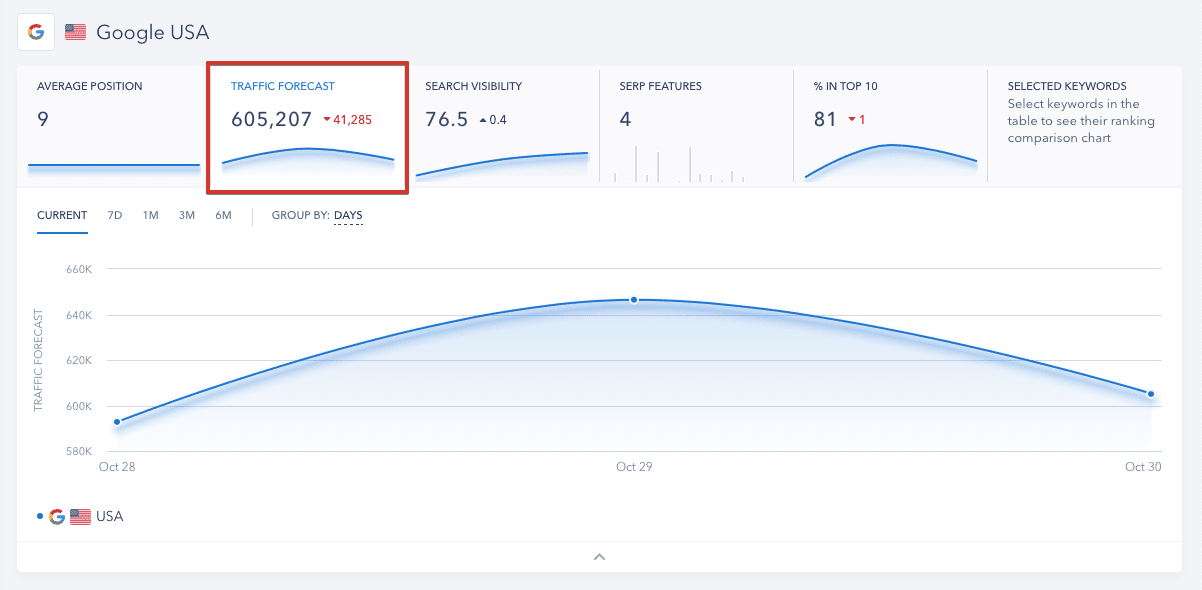 What is traffic forecast calculated?
Since it's only an estimation, you can't get a 100% accurate traffic forecast. But the formula utilized by SE Ranking comes close to giving you the most realistic data. It looks like this:

T stands for traffic forecast, F is for keyword search volume, and R indicates the current website ranking for the target keyword. I1 and l2 are two adjusting indexes.
l1 depends on the search engines and their popularity among users:
Google = 1
Yahoo = 0.3
Bing = 0.3
I2 depends on the exact position in search:
Top 1 — 32.50%
Top 2 — 17.60%
Top 3 — 11.40%
Top 4 — 8.10%
Top 5 — 6.10%
Top 6 — 4.40%
Top 7 — 3.50%
Top 8 — 3.10%
Top 9 — 2.60%
Top 10 — 2.40%
How can traffic forecast help me?
Traffic forecast gives an estimated number but it also lets you assess the situation and amend your keyword strategy as needed. In the Rankings tool, you can check the overall monthly forecast for all your tracked keywords as well as individual estimations for each keyword. By analyzing this data alongside other domain and keyword metrics, you can set priorities and adjust your SEO as needed.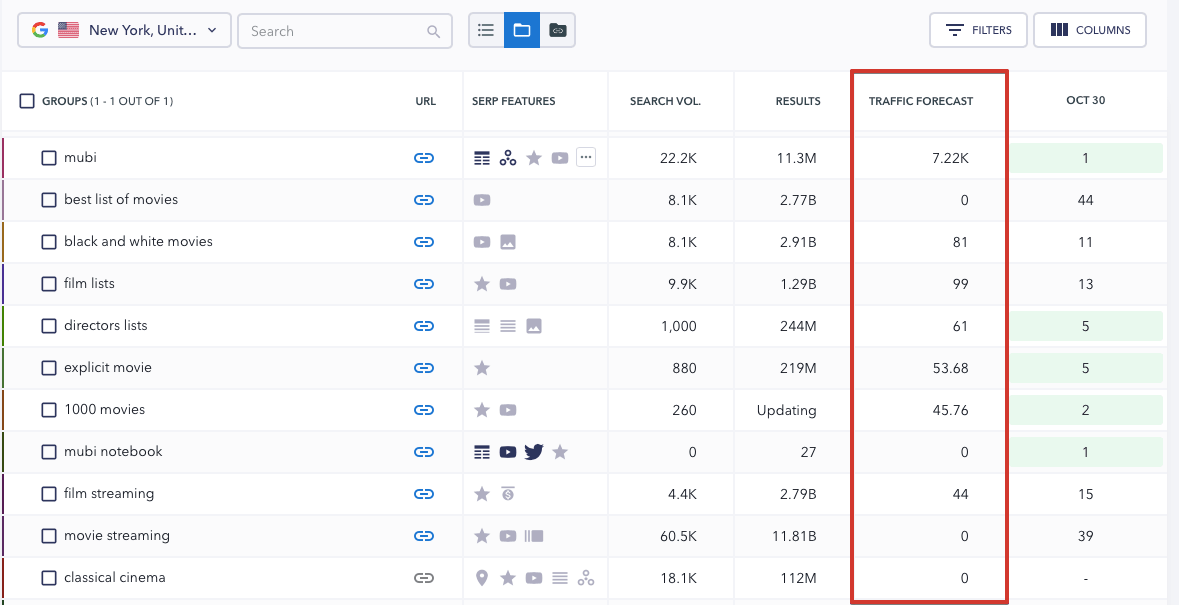 Which SE Ranking tools use the traffic forecast metric?
SE Ranking's Keyword Rank Tracker provides traffic forecasts for each of your projects. You can also view the traffic forecast metric in the Visibility Rating report within the My Competitors section. It predicts how much traffic your competitors can get for the target keywords added to your project.
New SEO scores
12. Content score
What is the content score?
The Content Score evaluates the quality and relevance of your content, each of which influences how your content will rank in organic search.
How is the content score calculated?
SE Ranking considers several factors when calculating the content score, including:
The number of characters in the content.
The number of headings and paragraphs.
The number of images.
The usage of keywords throughout the article and specifically in the headings.
How can the content score help me?
The content score provides insights into the optimization of your text. By assessing the factors that influence the score, you can improve your content to align with best practices and increase its overall quality.
In addition, analyzing and improving your content score can give you a competitive edge. If you can consistently produce high-quality content that meets your users' expectations and aligns with best SEO practices, you can outperform competitors who may have lower content scores.
Which SE Ranking tools use the content score?
The Content Score can be found in SE Ranking's Content Marketing Module. You'll also have visibility into the average and maximum values, in addition to the score, for your text. You can also see the score in the On-Page SEO Checker and SERP Analyzer. Also, keep an eye out because it will soon be available in Keyword Rank Tracker.
13. On-page score
What is the on-page score?
The on-page SEO score, also called the page quality score, is a metric that assesses the quality of a web page by looking at the keywords it's ranking for, as well as marketing factors and technical metrics. These are all adjusted to the average values of the top search results in a given set.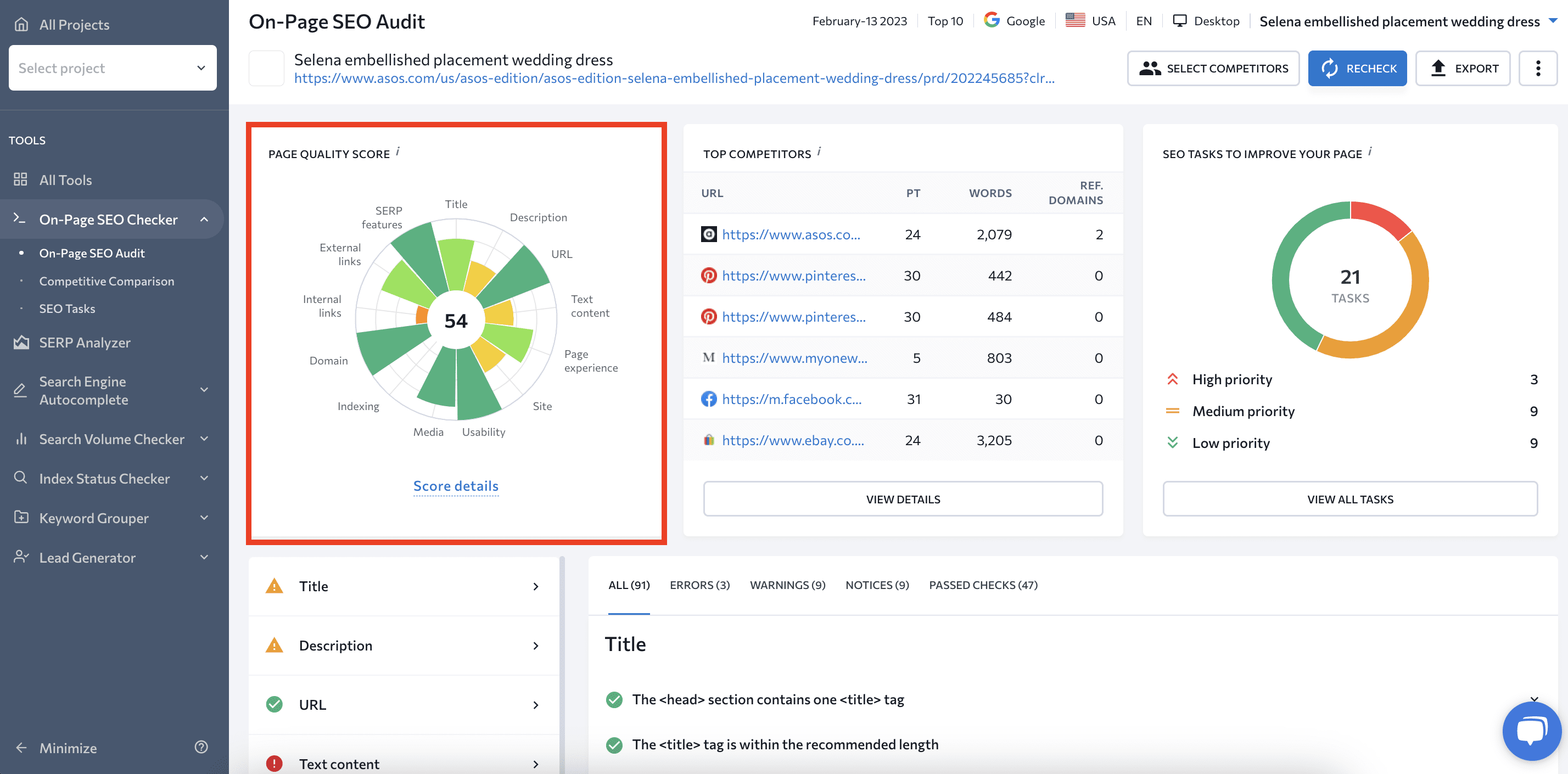 How is the on-page score calculated?
SE Ranking calculates the page quality score by considering approximately 70 parameters, such as page experience, links, textual content, URLs, etc. Each parameter is assigned a different weight. Parameters that affect the ranking more have a greater impact on the overall page quality score, while non-critical parameters impact the score less.
The score depends on the number of issues found on the analyzed page and the weight assigned to each issue. SE Ranking uses a scale ranging from zero to one hundred, which is further divided into seven groups. This system allows us to provide accurate page quality scores for any page.
How can the on-page score help me?
The on-page score provides insights into how well your web page aligns with SEO best practices. By optimizing your page based on the metrics evaluated in the on-page score, you can improve its chances of ranking higher in the SERP and attracting organic traffic.
You can compare your on-page score with that of your competitors to identify areas where you may be falling behind or excelling. By understanding how your page measures up against the top search results, you can make strategic adjustments to improve its performance and make it stand out from the competition.
Which SE Ranking tools use the on-page score?
You can check any page's quality score by using SE Ranking's On-Page SEO Checker to run an analysis of it. When using the Competitive Research Too to investigate your competitors, you have the option to launch an On-Page SEO audit for their top-ranking pages with just one click. This audit enables you to get the page quality score within minutes. You can also review the page quality scores of websites ranking in the SERP for the same keyword by using the SERP Checker feature.
14. Website health score
What is the website health score?
The website health score assesses a website's overall tech health and performance. It evaluates factors like site speed, mobile responsiveness, security, server errors, broken links, meta tags, textual content, etc., each of which contributes to the website's functionality, user experience, and SEO.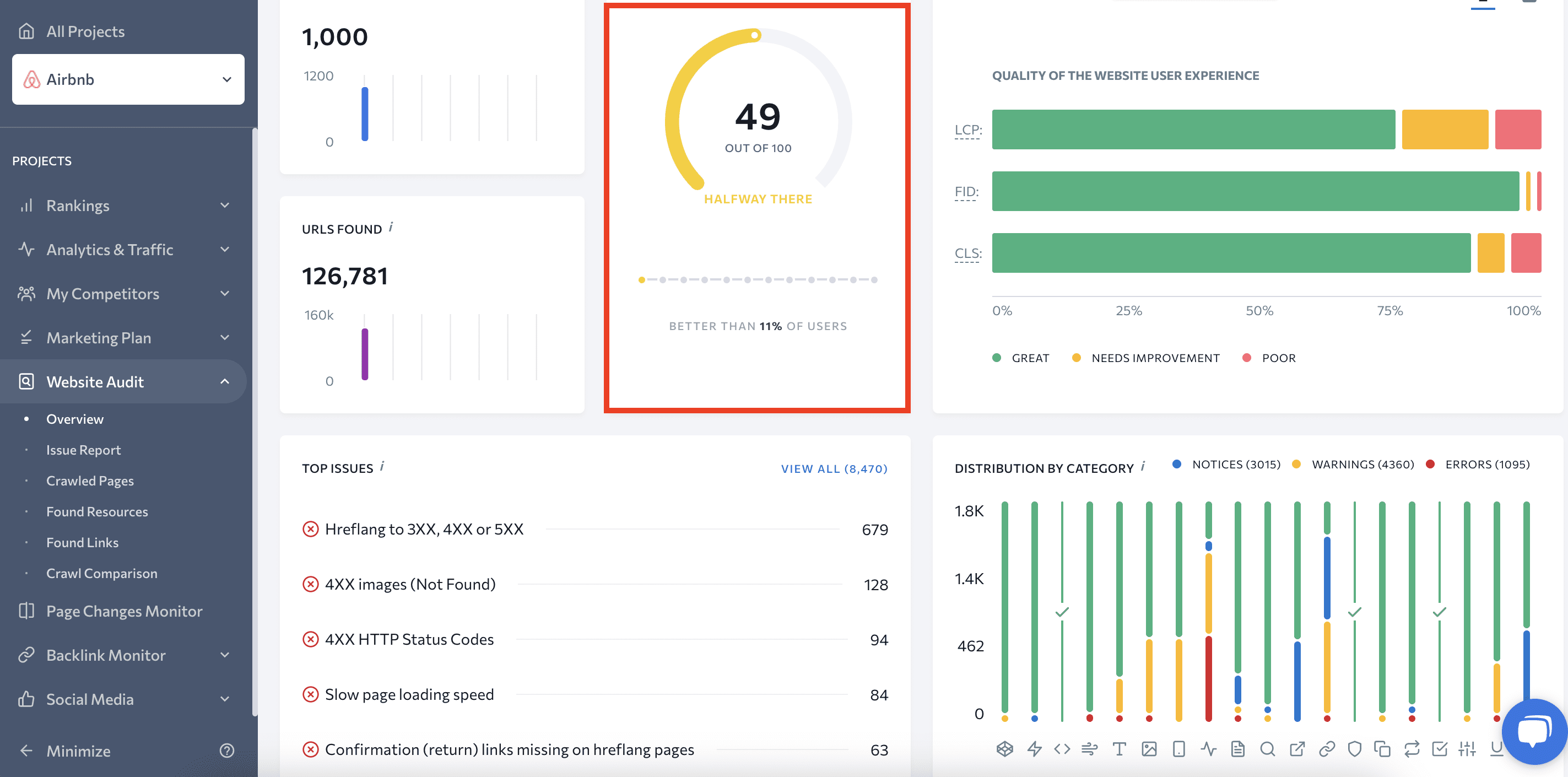 How is the website health score calculated?
The website health score is calculated based on the quantity and severity of issues detected on your website during technical audit. SE Ranking classifies issues into the following categories:
Errors are the most severe issues.
Warnings are medium-severity issues.
Notices are non-critical issues that you still need to pay attention to.
If the scan finds numerous minor non-critical issues (Notices), your website's health score will be higher than, for example, if you have a few critical issues (Errors).
How can the website health score help me?
The website health score provides an overall assessment of your website's technical health and performance. It helps you identify areas that require attention or improvement, allowing you to prioritize your efforts and allocate resources effectively. Monitoring your website health score over time enables you to track the progress of your optimization efforts.
Which SE Ranking tools use the website health score?
To get the health score of any website, use SE Ranking's Website Audit tool. The tool uses a scale ranging from zero to one hundred, which is further divided into seven website health categories. The closer the indicator is to one hundred, the more optimized the site is considered to be.
15. Local health score
What is the local health score?
The local health score assesses the optimization level of your business for local search. It considers various factors that influence the website's visibility and relevance for local searches. This applies when users search for products, services, or information within a specific geographic area.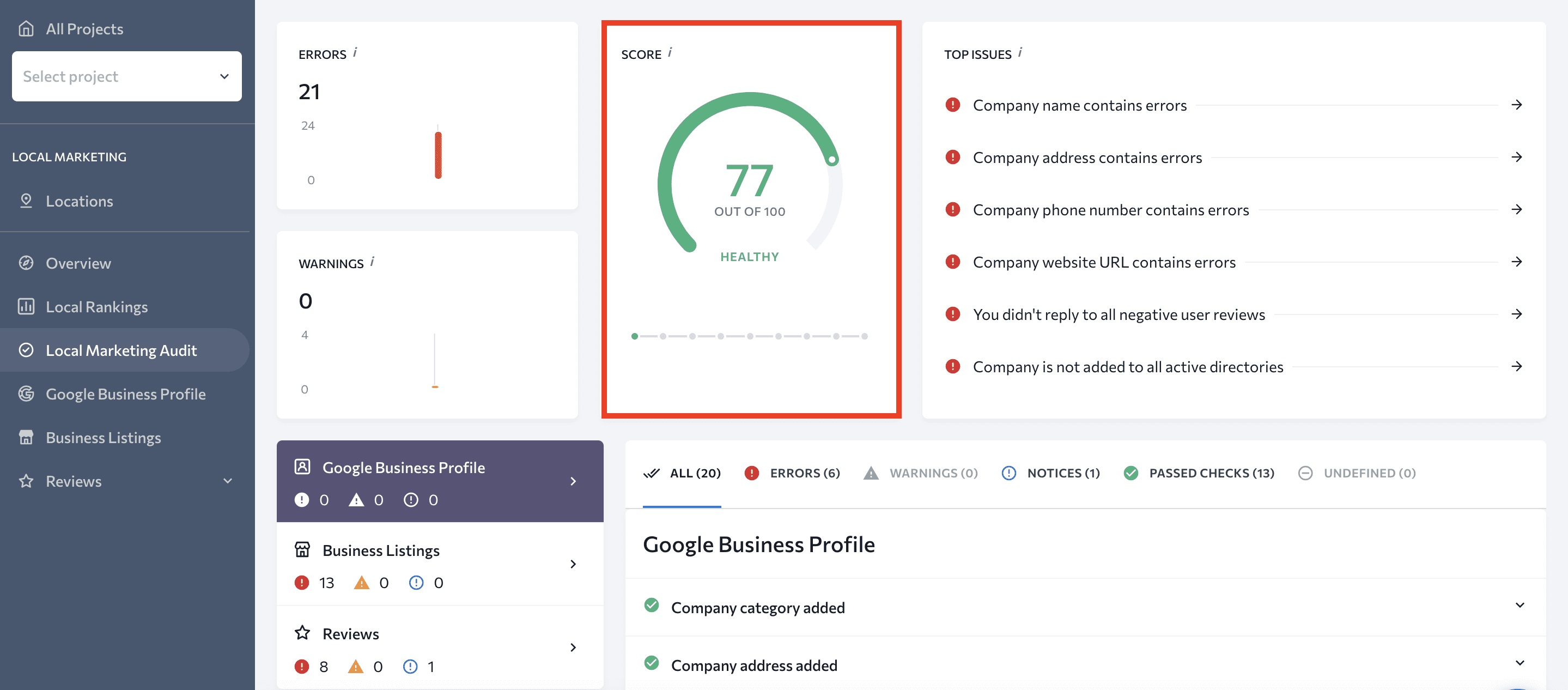 How is the local health score calculated?
The score is derived from evaluating the quality and accuracy of the company's information in your Google Business Profile and other directories, as well as the number of local listings where your business is listed and the correctness of the NAP data provided. This could include anything from your reply rate to user reviews. Similar to the Website Audit, issues are assigned different weights depending on their severity, categorized as Errors, Warnings, and Notices.
How can the local health score help me?
The local health score shows how likely it is that the website will win in local search. It helps assess the effectiveness of your strategy and determines whether you need to focus more on local optimization or not. This allows you to allocate your resources more effectively.
By improving your local health score, you increase your chances of appearing prominently in local search results. This makes it easier for potential customers in your area to find your business online.
Which SE Ranking tools use the local health score?
The local health score is available in SE Ranking's Local Marketing Module. You must conduct a local audit for your location to get the value. After that, you'll see a number from zero to one hundred showing your success.
Closing thoughts
If you have any questions regarding metrics, indexes, or data points found in SE Ranking, feel free to ask them! We'll also be sure to update this blog post regularly to cover all the information you need.
If you need additional help, you can always refer to our Knowledge Base or reach out to our support team via live chat!