SE Ranking's Local Marketing Tool: How to get your business on the map
If you're running a local business, you know how important it is to appear at the top of the search results in your area. This is where local SEO comes in. It is the process of optimizing your website and online presence to improve your visibility in local search results. With more and more consumers turning to search engines to find local businesses, having a strong local SEO strategy is essential for staying competitive in today's marketplace.
If you're looking to get ahead in the local SEO landscape, you need the right tools for the job, which is why you'll love SE Ranking's new Local Marketing tool. With features like local rank tracking, reputation management, and citation monitoring, it offers everything you need to improve your business's visibility in local search results. And because it's part of the larger SE Ranking ecosystem, you will have access to a range of traditional SEO tools that are essential for boosting your local rankings.
Ready to get started? Let's dive into all the details!
What does the tool do
SE Ranking's Local Marketing tool provides a comprehensive set of features to address essential local SEO tasks. Let's review each one in detail.
Local Rankings
This is a powerful local rank tracker that enables users to track keyword rankings in Google Maps results across multiple business locations. For each location, you can specify multiple target keywords and tracking points, which are points on the map such as a city, region, street, or address where rankings are tracked. This way, businesses can easily keep track of how their Google Business Profile ranks on Google Maps. By doing so, users can easily spot any fluctuations that occur and home in on the search terms that drive the most traffic and profit to their business.
On the Local Rankings dashboard, you'll find several charts: average position per keyword, rankings distribution, overall average position, and average position per tracking point. This data will give you a general understanding of how your business performs in search.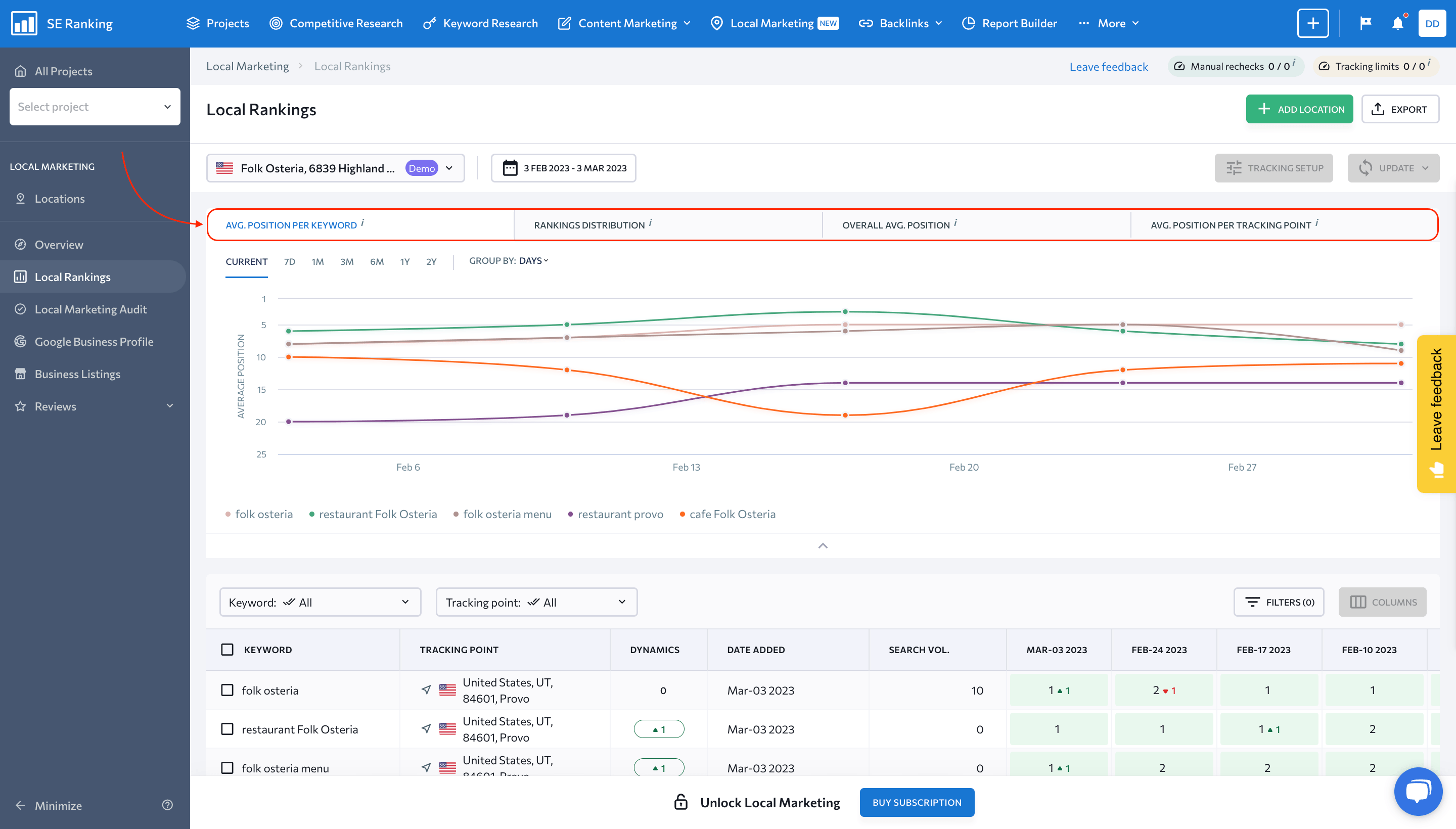 Additionally, you can use the table to below to check local rankings data for each tracking point, monitor your progress, and spot any fluctuations. You can easily filter keywords and tracking points and sort any data.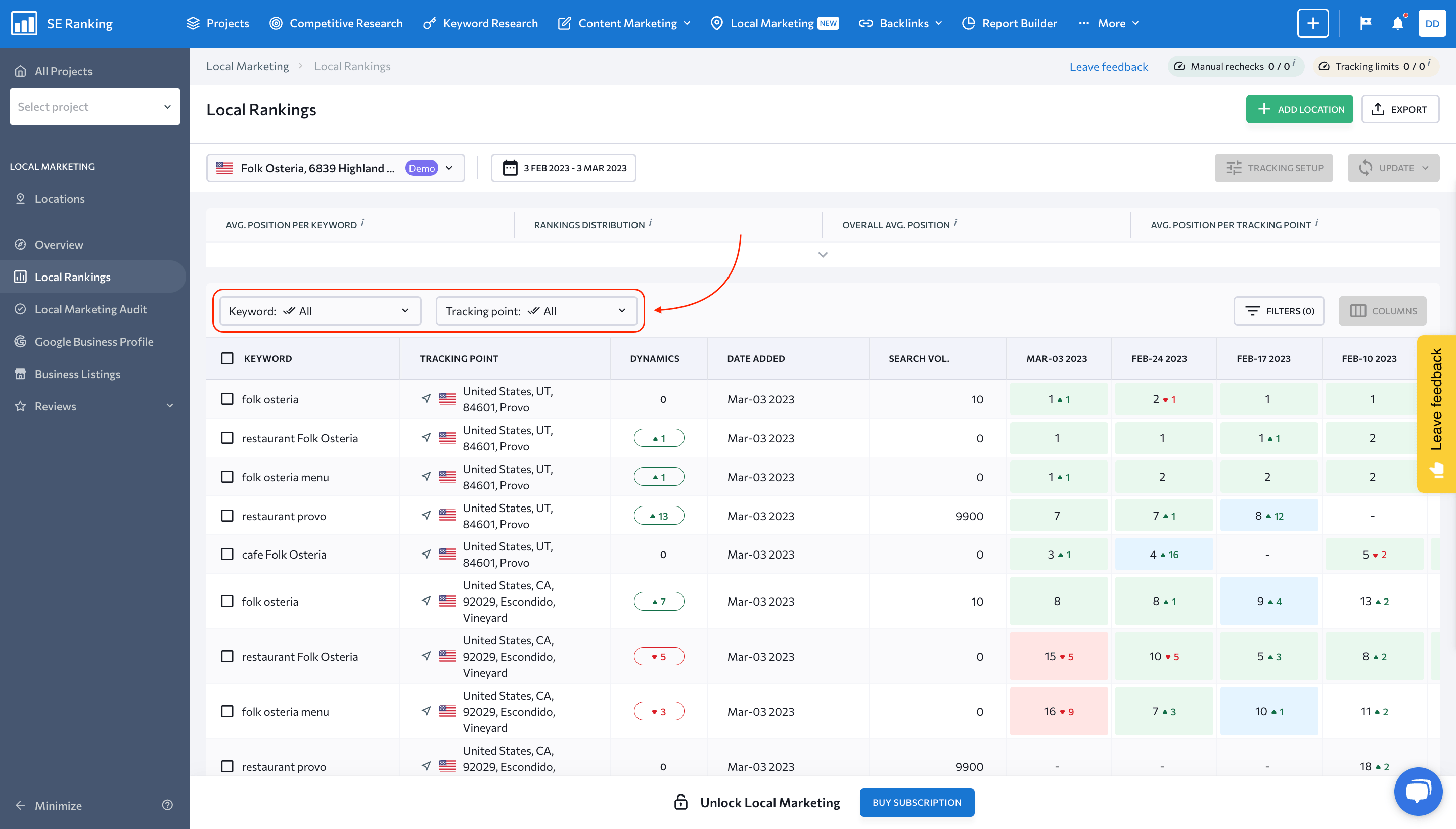 Local Marketing Audit
The Local marketing audit enables users to assess their website's optimization for local search and identify issues that could be hurting their site's performance. This report includes explanations of the issues found during its assessment of the three following components: Google Business Profile, business listings, and customer reviews.
On the dashboard, you can find the overall health score of the analyzed business location, along with the number of identified issues and their severity.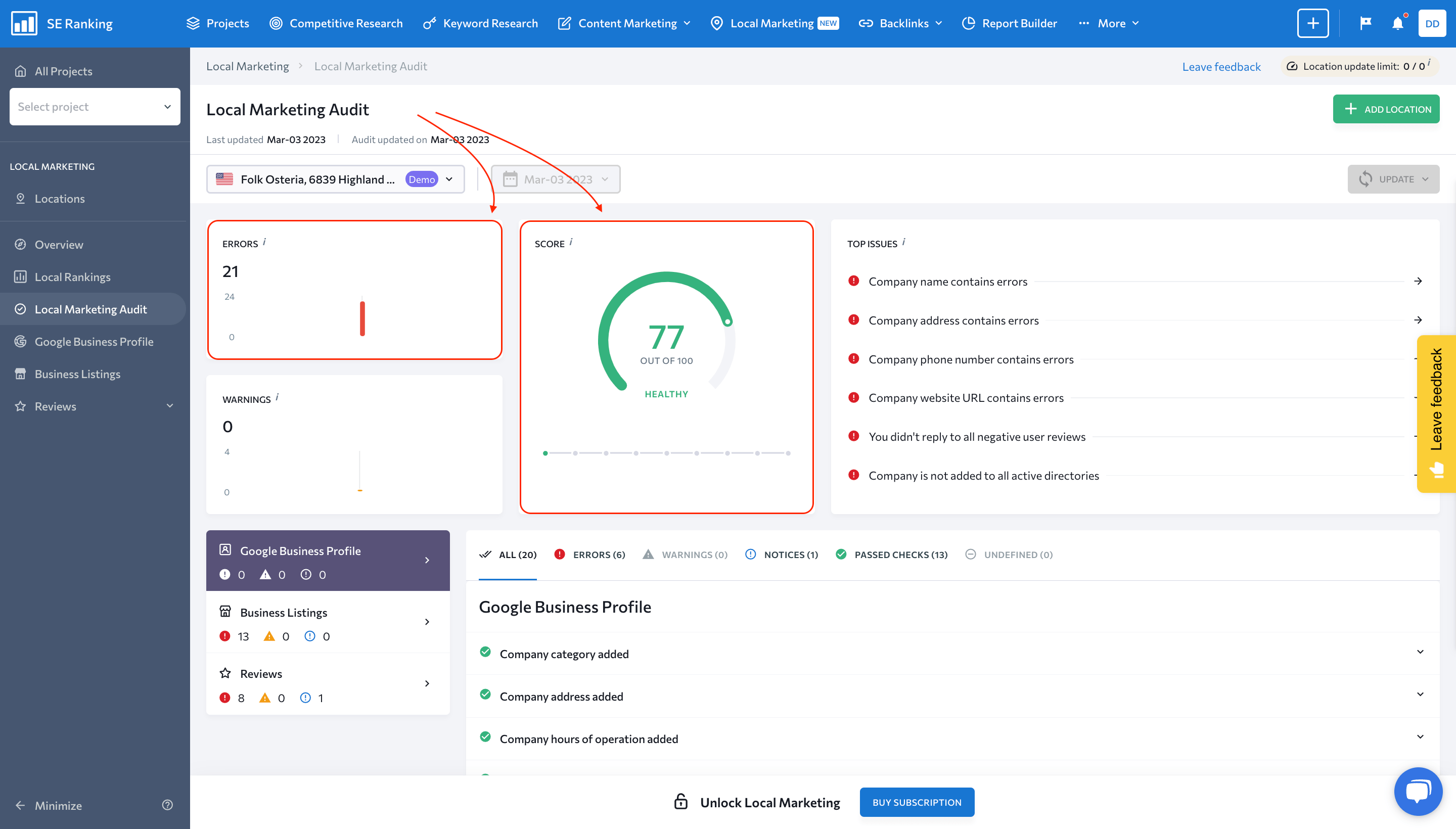 Google Business Profile
This feature allows users to track and analyze how their Google Business Profile is performing. All data is pulled directly from Google Business Profile. Users can connect multiple profiles to the Local Marketing tool to access all statistics on a single dashboard.
This feature gives insights into the type of search queries that visitors use to reach the profile and how they engage with it. Users can view data from different time periods, spanning from the last 7 days to all available time. On the screen, you can analyze data on searches, views in Google Search and on Google Maps, website visits, direction requests, phone calls, and photo views.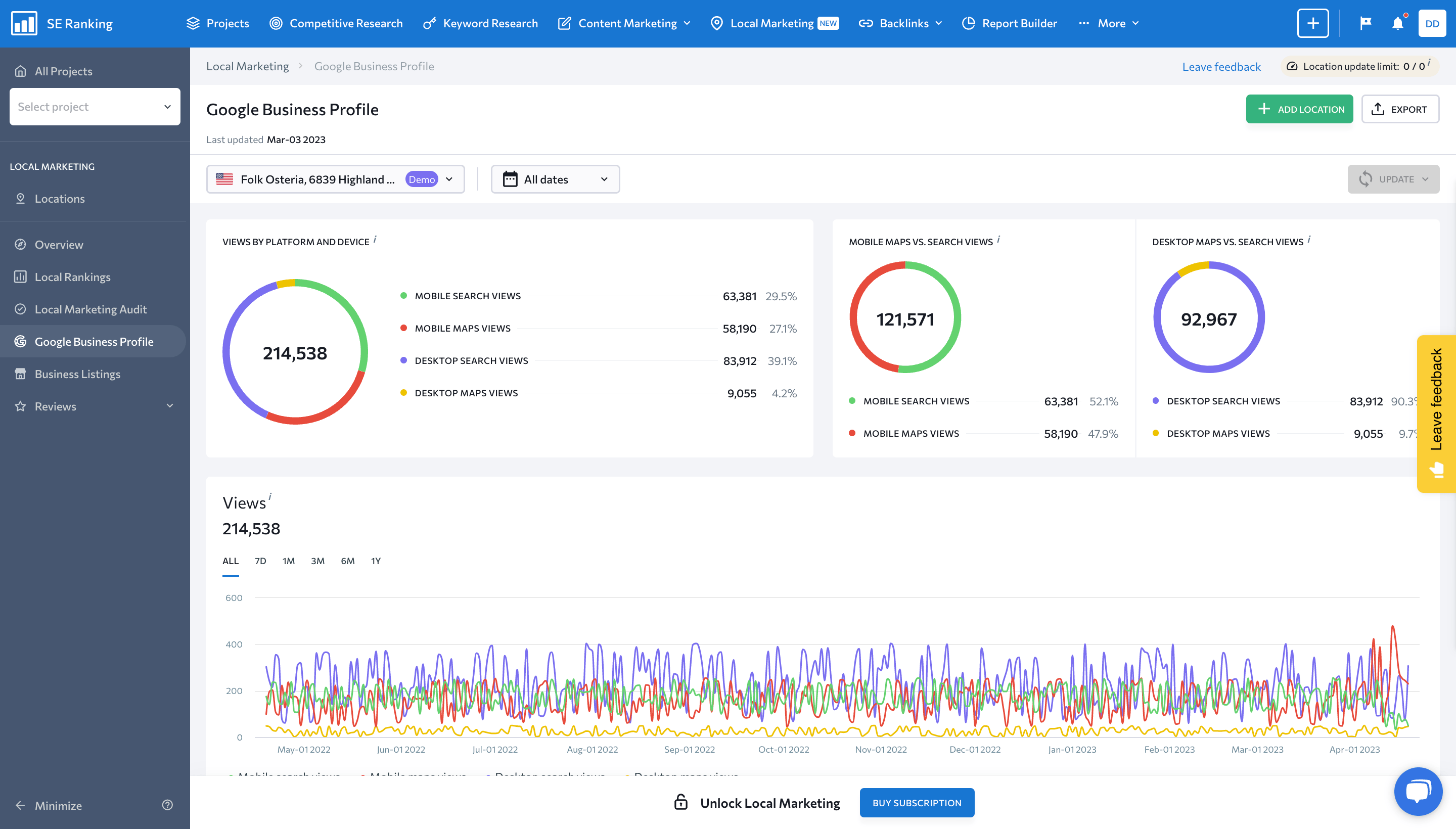 Business Listings
The Business listings tracker allows businesses to get a detailed overview of all listings (citations) in the key business directories monitored by the tool. Users can find out which local directories list their business and which ones don't. They can also identify NAP errors in their listings and make edits where needed, right from SE Ranking. For example, users can change the name, address, phone, URL, working hours, business category, and description.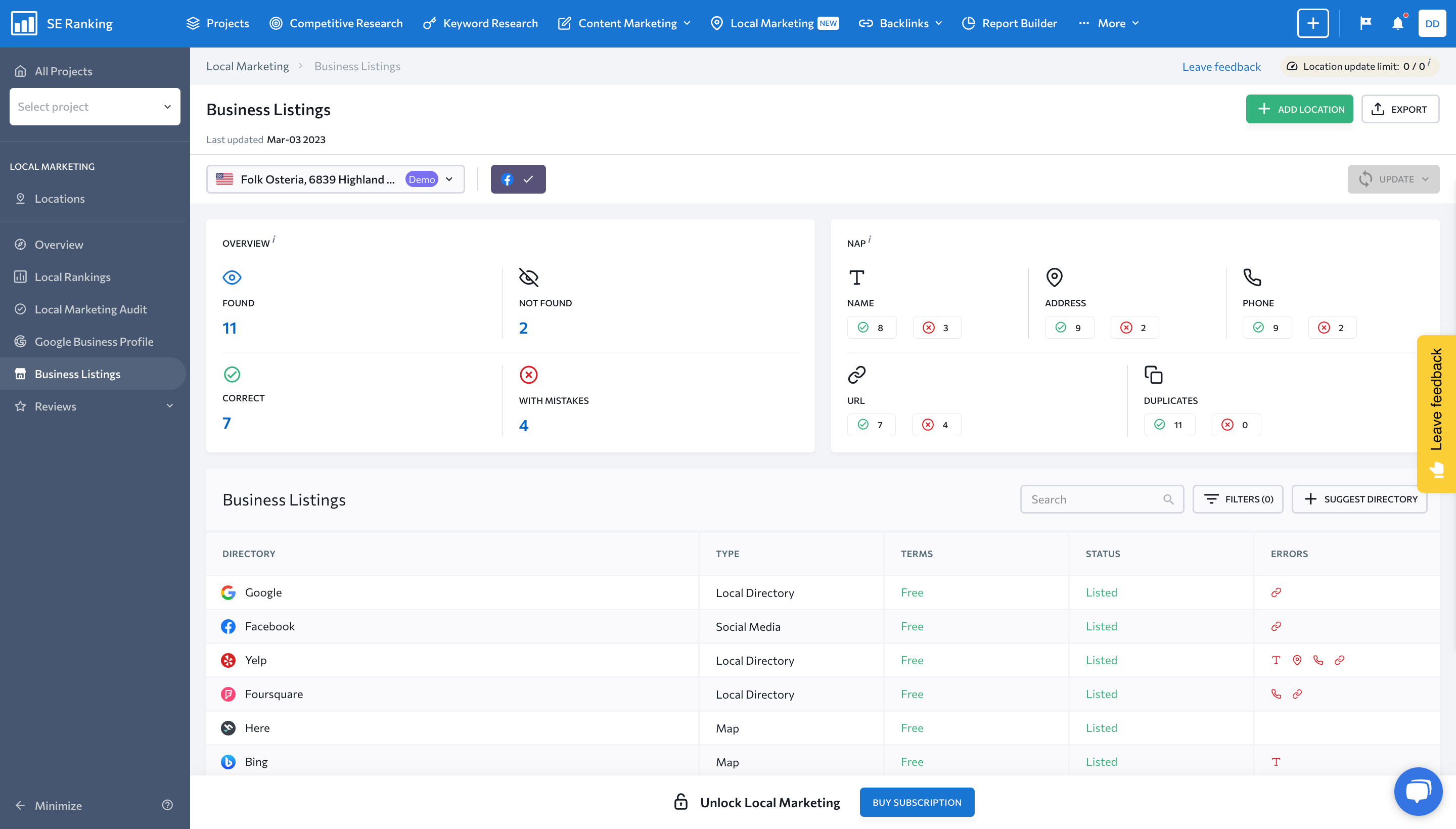 Reviews
The User reviews manager provides valuable insights into a business's online reputation by tracking and analyzing user reviews. SE Ranking collects data from Google, Facebook, Yelp, Foursquare, and Tripadvisor. Local Marketing also allows users to reply to customer reviews from Google and Facebook directly on the platform, making it easy to manage feedback from several sources.
SE Ranking also includes an AI-powered review semantic analysis feature that highlights the most commonly used words and phrases in both positive and negative customer reviews. This insight is invaluable for businesses seeking to understand their customers' opinions and use them in their marketing strategy.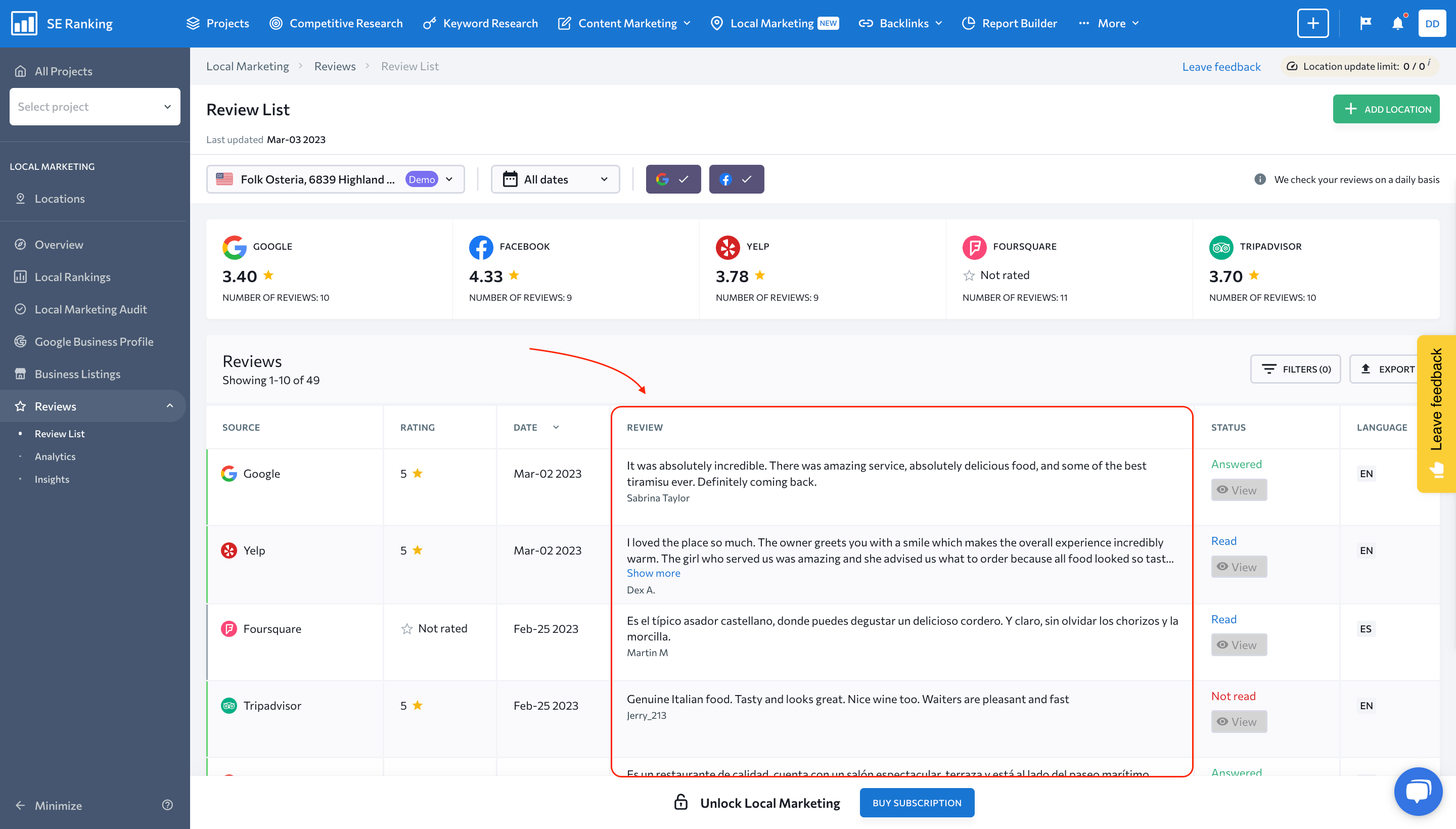 Reporting
The Reporting feature allows users to easily represent their local SEO progress by creating customized reports. SE Ranking provides users with the ability to have both national and local SEO data combined in one report for a comprehensive overview of their website's performance.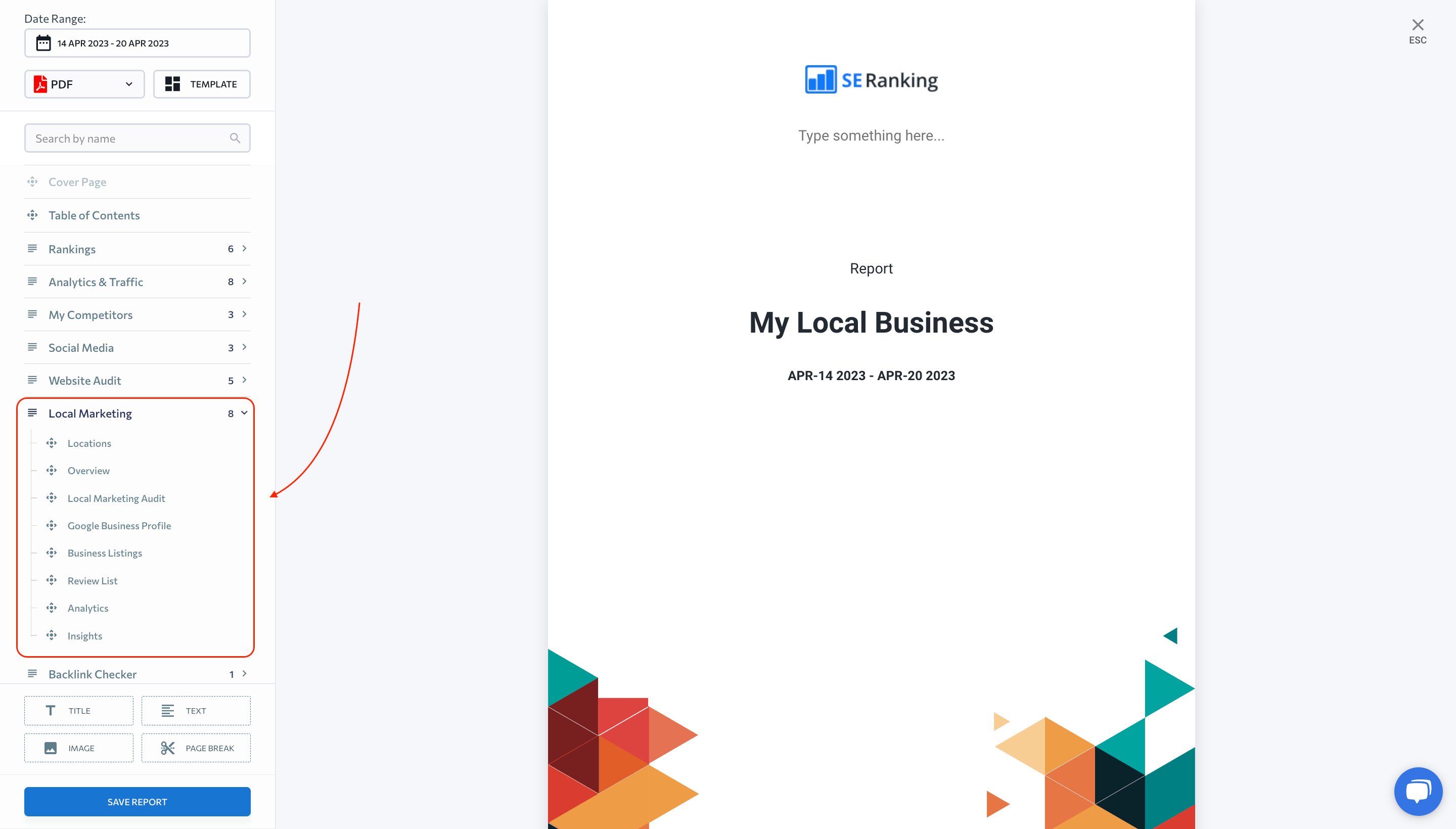 SE Ranking's Local Marketing tool is a comprehensive solution that helps businesses enhance their local search visibility and drive more traffic to their physical locations. It provides a user-friendly platform for managing all local SEO tasks in one place. With the ability to track rankings, analyze Google Business Profiles, monitor business listings, analyze and manage user reviews, this tool is suitable for a wide range of users, including brick-and-mortar and service-area business owners, marketing and SEO specialists.
Let's see who can benefit the most from this tool's features.
Who is this tool for
SE Ranking's Local Marketing tool is an excellent solution for brick-and-mortar business owners who want to improve their local search visibility and increase customer engagement. This tool is user-friendly and provides an easy-to-understand interface that can be used by anyone with limited experience in SEO.
In-house marketers and SEO specialists working for larger chains can also benefit from SE Ranking's Local Marketing tool. Users of this type can track local rankings, manage business listings and reviews, and run local marketing audits to optimize their local SEO efforts.
Finally, SEO agencies that specialize in local SEO can also use this tool to manage multiple clients at a time and improve their local search rankings, saving them time and money while delivering better results.
What makes this tool unique
Local Marketing has been a long-awaited tool. It was requested by many SE Ranking users, so our team developed a comprehensive solution that helps with all essential local SEO tasks. We also continue to add new features over time to ensure that our customers always have access to the latest technology and trends.
Your feedback is invaluable to us! Please let us know if you notice that anything is missing or if you have suggestions for additional features that could improve our Local Marketing module. You can contact us via email or social media.
Here are some of the unique features that make SE Ranking a go-to solution for local SEO:
Comprehensive toolkit: The Local Marketing tool is not a standalone product, but a part of a larger SE Ranking ecosystem. In addition to essential features, like local rank tracking, reputation management, citation monitoring and management, and integration with Google Business Profile, users can access other tools, like On-page SEO Checker, Backlink Checker, and Backlink Monitor, to get data crucial for local SEO.
Accurate and reliable data: SE Ranking's Rank Tracker is known for its accuracy and reliability. We used the same level of expertise when creating the Local Marketing tool, which also delivers the most accurate ranking insights. With precise data on local rankings, users can make informed decisions and adjustments to their local marketing strategies.
User-friendly interface: The Local Marketing tool is designed to streamline the process of tracking local rankings, managing business listings, and monitoring customer reviews. Users will love its intuitive dashboard and clear data presentation to easily access and analyze info, which will help them in making effective decisions for their local marketing efforts.
Not convinced yet? Let's take another look into why it's worth adding SE Ranking to your local SEO toolkit.
Why SE Ranking is worth adding to your toolkit
When choosing a new SEO tool, users often care most about its value-for-money ratio. We can confidently say that SE Ranking's Local Marketing module delivers excellent value for your investment.
SE Ranking's Local Marketing tool is available as a separate package, with different pricing options that cater to businesses of varying sizes. Customers can choose from 1, 5, 10, or 50 location packages, which include a growing bulk discount with each package, starting from $7 per location for the 1-location package, to $3.62 per location for the 50-location package. It is important to note that to use Local Marketing, customers must have at least an Essential subscription.
Additionally, SE Ranking offers a trial limit of 3 locations for users who want to test the tool before committing to a paid package. While customers can only have one Local Marketing package subscription at a time, SE Ranking provides a manual order process for customers who require more than 50 locations. With these flexible pricing options, SE Ranking's Local Marketing tool is an excellent asset to any local SEO toolkit.
How to get started
To set up your Local Marketing project, you first need to have an active SE Ranking account with at least an Essential subscription. Just like all other processes in SE Ranking, setting up a new project is quick and straightforward.
Here's a step-by-step guide for setting up your Local Marketing project in SE Ranking:
Click on the Add Location button at the upper right corner or under the Locations table.
Select your Google account from the drop-down list or add a new account and click on the Connect button. If you are adding a new account, log in to your Google account. Allow SE Ranking to use your data by clicking on the Continue button.
Select the location you need to add to the Local Marketing tool and click on the Add Location button.
Connect SE Ranking to Google Business Profile and wait for it to pull all the NAP data. The tool will also scan listings and reviews and fetch them back to the user.
Once your business is added, run a Local Marketing Audit to get an overview of your business's local SEO performance.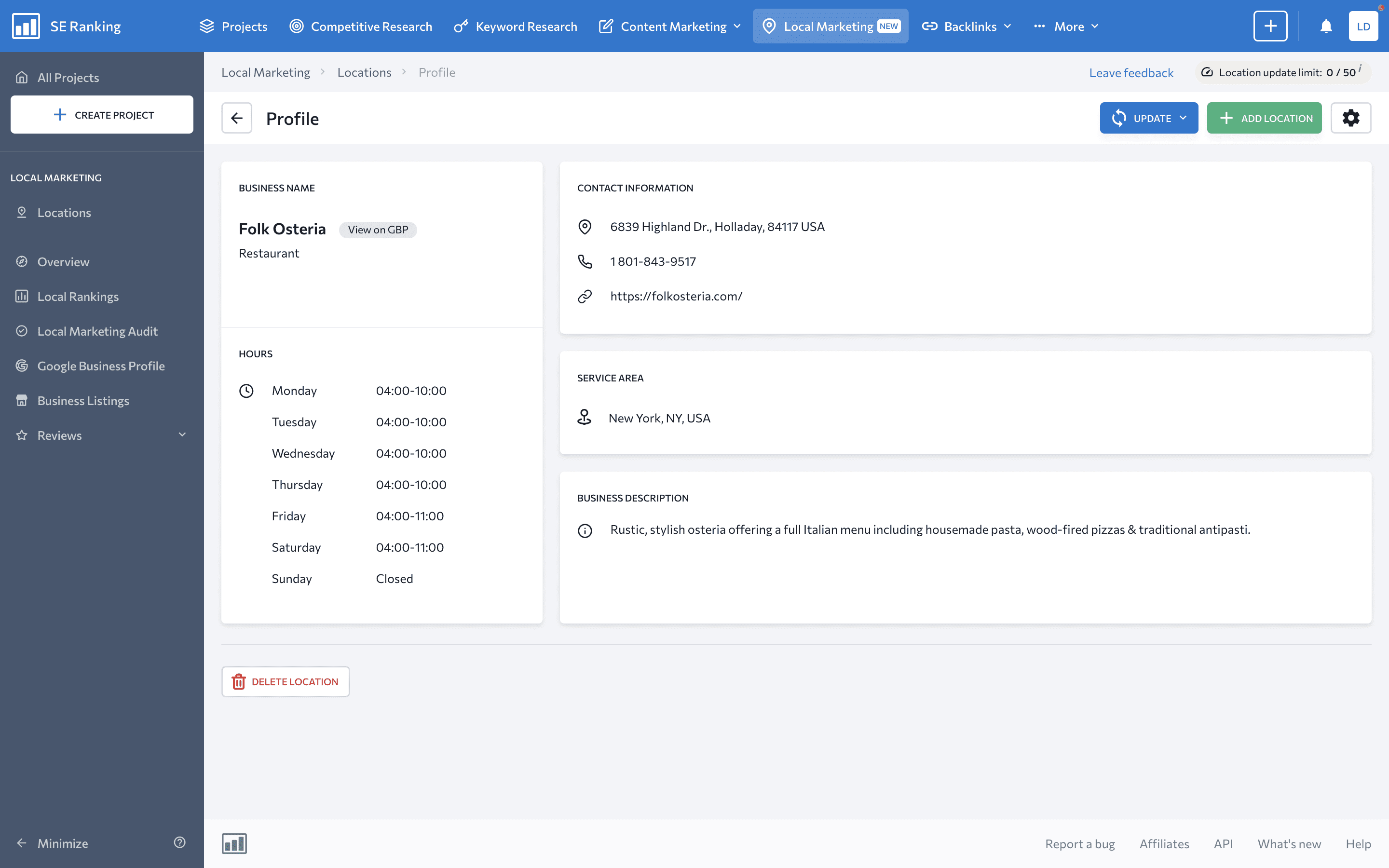 From there, you can start tracking your local rankings, monitoring citations, as well as analyzing and managing customer reviews.
Now over to you
If you're looking for new ways to take your local business to the next level, look no further than SE Ranking's newest tool: Local Marketing. This all-in-one toolkit was designed specifically for local marketers and offers everything you need to boost your business's visibility in the digital space. From local rank tracking to reputation management and citation monitoring, SE Ranking's Local Marketing tool is packed with features that automate routine tasks and streamline your workflow.