Sign up for our newsletters and digests to get news, expert articles, and tips on SEO
Thank you for subscribing!
We all know it's wrong to judge by appearances, but this rule doesn't apply to your website. There is no room for ifs or buts here—to help your business grow, your website needs to look good and be user-friendly. So, if at some point you realize this is not the case, you'll have to brace yourself and launch a website redesign.
The reasons may vary. Maybe your website design makes your visitors hear the sound of dial-up Internet and you decided to finally give it a fresh look. Maybe you just started to get plenty of traffic to your startup's website and realized it doesn't serve you well because of poor UX. Or your marketing goals might have changed and you now need to fine-tune your website design and content to better communicate your brand values.
Depending on the issues you need to fix, you may choose to either run an A/B test and implement changes one by one or revamp the whole thing in one shot. But in any case, your ultimate goal would be to craft a good-looking website with the customer journey in mind. And in any case, your website SEO will be affected.
In this post, we'll go through the major stages of website redesign and consider the SEO implications of every change you can possibly make on the way. With all these issues in mind, you will be able to get through the website redesign treadmill without hurting your SEO.
If you choose the cut-and-try approach
Launching a redesign doesn't necessarily mean changing dozens of things in one go. If your goal is to adapt your website to the users' needs and boost conversions, UX designers recommend starting a redesign with A/B testing. So let's say you've already armed yourself with heatmaps and session replays, spotted some pitfalls in your current website design and feel eager to launch the first tests. Here's what you need to consider in terms of SEO depending on which testing method you choose.
Running an A/B test on a single URL
If the changes you want to A/B test are minor like the button color and the CTA message, you'll be better off rotating several test versions on the same URL. This testing approach works in such a way that when a page is loaded, some users see the default version and for others, a JavaScript is injected modifying the page on the fly in their browsers. It is called manipulating the DOM.
Using this method shouldn't hurt your SEO in any way. Google will understand that you're running a test and this is something it encourages as tests are meant to help websites better serve end users. So, using a special testing tool you can create several page variations and let your users choose the winner.
Many tools even come with advanced user-targeting settings that allow you to choose which users will see your test version. Like you can show the test variation only to logged-in website visitors or only to users coming from a particular campaign. The only thing to remember is not to exclude Google from your test by restricting Googlebot's access to the test version. Google can consider it cloaking and punish you for violating its guidelines.
Conducting split URL testing
If you want to test out a brand new page design with tons of changes, manipulating the DOM with JavaScript is not an option as too much JavaScript may significantly slow down your website. Besides, you simply won't be able to implement any radical changes this way.
So instead, you'll have to first create a new page prototype and let your whole team, including SEO specialists, designers, and developers share their opinions about the new page—you can use one of the design feedback tools for this purpose. It is crucial that all the team members work together starting from the prototyping stage—that way, you'll avoid all the possible pitfalls. Once you agree on all the details, put the redesigned page version on a separate URL and send some of your visitors there. You'll have to consider a couple of SEO nuances:
When redirecting a part of your users to the test URL, use the 302 and not the 301 redirect. This way, Google will understand that the redirect is temporary and that it should keep the original URL indexed.
To avoid duplicate content penalties, mark your original page version as canonical using the rel=canonical tag. Some SEO experts recommend marking the test page with the noindex meta tag instead, but Google discourages this practice. Using rel=canonical tags should also help you prevent keyword cannibalization.
Finally, whichever of the two methods described above you choose, make sure to only run testing for as long as it's necessary – otherwise, Google will treat your prolonged testing as an attempt to deceive search engines.
Based on the amount of traffic you get, a good testing tool will tell you how long your experiment should last to let you come up with valid conclusions. So, once you have the winner of your testing marathon, update your website accordingly and remove the testing scripts or alternate URLs.
If you choose to revamp the whole site at once
A/B testing is great as it allows you to make data-driven redesign decisions. But in some cases revamping your whole website in one stroke may be a better option. Like when your website doesn't get much traffic and you'd have to run tests for months to get viable results. Or when your website looks really outdated and it doesn't make any sense to keep your old design as a control option. Or when your website is not responsive, and you need to use different underlying technologies to make your website mobile-friendly.
Anyway, if you feel like giving your whole website a brand new fancy look overnight, here's what you need to remember in terms of SEO.
Redesign your website behind the scenes
Implementing all the changes directly on your live website is a no-go—you don't want to take anything away from the user experience or risk bringing your live website down. Therefore, the right approach would be to keep your original website version intact and live up until you're ready to present the redesigned version to the general public. For this purpose, the general practice would be to create an exact copy of your website and put it on a dev subdomain – that way, you'll be able to take care of all the testing and development processes in a staging environment.
At the same time, you'd want to keep your dev website copy out of Google's reach and out of users' sight. You can do this in several ways. The first option is to inject the Robots <META> tag into the header of every page of the website to keep Google from indexing the website copy:
<html>
<head>
<title>...</title>
<META NAME="ROBOTS" CONTENT="NOINDEX, NOFOLLOW">
</head>
Alternatively, you can restrict access to your dev website at the server level by password-protecting your web pages with the .htaccess file. That way, anyone trying to access your website (robots included) will have to first enter a valid password. Those of you who run a WordPress website can as well make use of ready-made solutions and install a password-protect plugin that will do all the heavy lifting.
Mind the website structure
Once the redesign is over, you'll eventually push the dev version of your website to your live site and call it a day. But before doing that, you'll want to make sure your old and new website structures are perfectly in line with each other.
Surely, keeping your content on the same URLs is preferable, but in the course of the redesign, you may understand that some pages need to be removed and some will work better if consolidated. To illustrate how a website structure can change after redesign, let's take Mailchimp as an example. This is what their head navigation bar looked like before the company went through major rebranding in 2018.

The redesigned version looks much brighter, features an updated logo and lacks a couple of items in the top menu.

At a closer look, it becomes clear that some sections were renamed, some were moved to a different URL and some were simply cut from the head menu. Also, Mailchimp ditched their blog altogether. So, let's see how all these changes should be handled from an SEO perspective, one by one.
Deleting pages and moving them to new URLs
Naturally, removing some URLs or moving pages to different URLs will impact your SEO. If a page is particularly well-performing, you'd probably try to keep it as it is at all cost. And still, Mailchimp removed their Features page and created a new one called Marketing Platform to present their features overview. What pushed them to make such a non-SEO-friendly move? To put it short, as the Mailchimp business grew and introduced lots of new features, their website had to reflect on these changes.
Unfavorable as it is, sometimes moving a page to a new URL is a necessity, and it's absolutely fine. You just need to handle such cases with caution. So, whenever a URL is deleted, but it gets the new equivalent, you need to use 301 redirects. It covers the following cases:
Removing an old page and a creating a new one for the same purpose;
Moving pages to a different section of the website with page names remaining unchanged;
Removing a subdomain (e.g. blog or help subdomain) but keeping all the materials it hosted under a different section of a website.
If you don't set up 301 redirects, pages will return the 404 not found error message. If a page ranks high, has plenty of backlinks and receives lots of traffic, it is usually redirected to a different URL so that the website doesn't lose all the traffic that that page brings in.
However, sometimes you may want to keep the deleted page as a 404. If some pages of your website don't serve you, you may want to simply get rid of them without creating new similar content. In this case, Google recommends keeping the page as a 404 instead of redirecting it to the homepage or other irrelevant webpages.
It is worth noting that all the redirection setup should be done while the website is still in the staging environment, so you'll have to take notice of every page you delete and redirect it whenever necessary. Once your website is pushed from dev to live, everything should already be running smoothly as I bet you don't want users and Googlebot to find 404 pages on your website that are meant to be redirected.
Now, the easiest way to spot all the pages that need to be redirected is by crawling the website and then exporting the scan data for further analysis. But as you've restricted access to your dev subdomain, most tools won't be able to crawl your website. SE Ranking's Website Audit tool can help you with this one. You can grant it access to your dev site and it will provide you with all the necessary information. To give SE Ranking bot the permission to crawl your staging site, go to Settings – Parser settings and share your dev website login and password.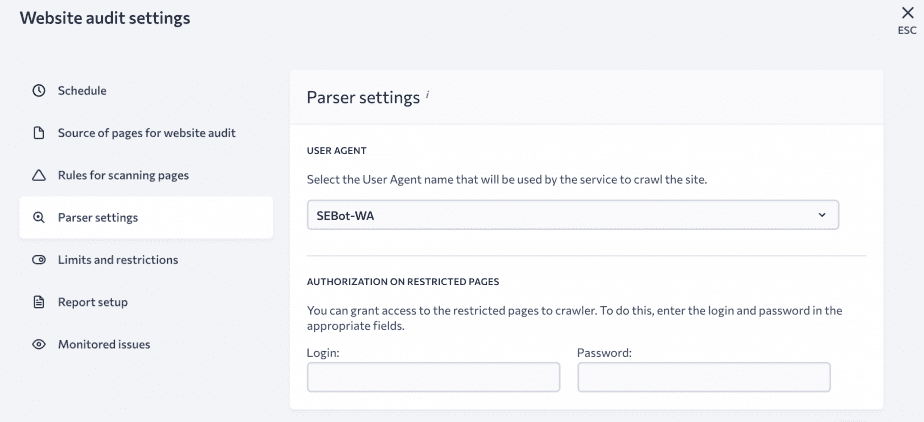 Besides, make sure to set the parser to also scan subdomains under the Source of pages for audit tab.
If you do everything right, your URL relocation process should not dramatically impact your website's SEO performance. Surely, it will take some time for Google to understand that some of your webpages got a new home and for it to start ranking them for all the keywords old URLs used to rank for. But eventually, you'll be all good.
Mending internal linking
Removing some pages in the course of the redesign will affect your internal linking. So, once you're done setting up redirects, you'll also want to fix your internal linking architecture. If a page was permanently deleted, all internal links pointing to it should be removed as well. If the page was redirected to the new URL, you'll want to update all the links pointing to it. Replacing internal links with a new URL equivalent may not seem like a big deal as users will get to the destination anyway thanks to the redirects. But redirects add up to the server load and some link juice may be lost on the way, so after all, making all the necessary adjustments is time well spent.
To find out which pages linked out to the web page that was removed or redirected during the redesign, you can once again make use of SE Ranking's Website Audit. Find all the pages you deleted in the crawl of your original website copy and check out the Referrer pages column. By clicking the number of pages in this column, you can access the full list of internal links that are pointing to the removed page.

Another thing to keep in mind is navigational links in your header and footer menus. Removing some elements from the menus and/or adding new sections can tilt the website's internal linking balance. As simple and straightforward designs top the trends, many businesses choose to declutter the top menu and footer navigation during the redesign. At the same time, new pages may be added to header/footer navigation to make them noticeable.
Getting back to the Mailchimp case, we can see that they removed Support and What's new sections from the header menu and added the new Why Mailchimp section. SEO-wise, such a move tells Google that Support and What's new sections are less important than the newly-created Why Mailchimp section.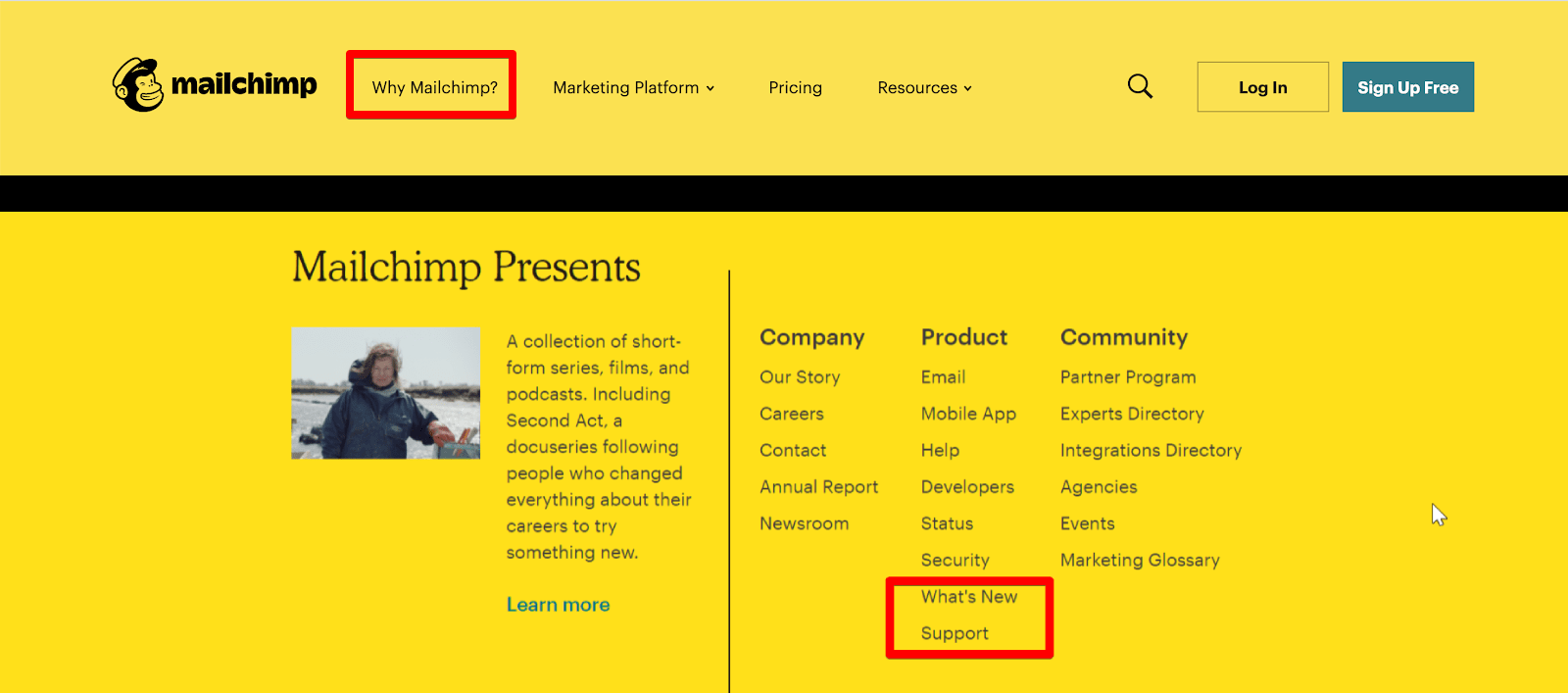 At the same time, they kept both Support and What's new sections in the footer menu. Here's why:
Removing an element from the header menu makes it less visible. You need to keep it at least in the footer to give users a chance to reach the section from the homepage;
Header menu elements get more link weight as every website page links out to them. Thus, your most important pages should be a part of the header menu;
When removing some elements from the header menu, make sure it is still "attached" to the website's linking structure either by putting it in the footer or linking out the page via contextual links. If web pages have no internal links pointing to them, it makes it harder for Google to find and recrawl them. So while it'll stay in Google's index as Google will remember that such a page exists, it will get recrawled less often in comparison with other website pages;
Make sure to update your XML sitemap if it isn't updated automatically – it will help Google quicker index new pages added in the course of the redesign.
Reviewing Schema markup
Schema markup is a semantic vocabulary that is added to the HTML code of a website to help search engines better understand the content of web pages. If you use Schema markup on your websites, make sure to review it, especially if you have manually edited your website code to introduce some new design elements. In this case, some markup elements may be accidentally removed. Besides, if you add new elements to web pages, you will have to also mark them with relevant tags.
You can use the Structured Data Testing tool to check if everything is okay. To test new schema templates, just paste the code in the Code Snippet tab. For old pages that were revamped, you'll have to wait until your website goes live as the tool won't be able to access your dev site. Take some time to test the URLs and fix all the errors. If your website is too big to check every single URL manually, you'll have to wait a bit for Google to take notice of all the implemented changes and then check the Schema markup report in your Google Search Console.
Content is always affected
Unless you treat high-ranking content as the Holy Grail of SEO, chances that your website content will remain unchanged after the redesign are extremely low. As your homepage and landing pages get a new look, it may turn out that your old content doesn't really fit the new framework. Besides, even if old content goes pretty well with the new design, it may be hard to resist the temptation to improve it along with the visual part. The only problem with such a strive for perfection is that Google may not like it. Moreover, users may not like it either.
To avoid the situation when your ranking and CTR start plummeting once your redesign goes live, follow a few simple rules.
Count your words
Whenever possible, avoid removing a thousand words of text from a landing page and replacing it with a few catchy phrases whose total word count is some one hundred words. Minimalistic designs may look good, but Google loves pages filled with words, lots of words.
If such a shift to more laconic text blocks is absolutely necessary, try to at least keep as many elements from the original page versions as possible. Like if your home page presented the services you offer, keep at least some mentions of them. This is what Mailchimp did by replacing full-fledged descriptions of their features with a small block containing short descriptions of the solutions they offered accompanied with links to corresponding landing pages.

Get feedback from your promoters
Ideally, you want to revamp your landing pages one by one, A/B testing different messages. That way, if some implemented changes don't resonate with users, you'll only lose potential leads that one particular landing page generates. If you are a risk-taker, you may decide to put all your landing pages in one basket and retailor them all during one massive redesign. In this case, you may end up with a really low CTR if things go wrong.
To slightly mitigate this risk, you can ask your brand promoters to beta test your redesigned website. Engaging some ten loyal customers will suffice to spot all the imperfections of your new website look and content. Customers will let you know if some of the brilliant messages on your landing pages are not at all convincing or—in the most adverse cases—if the new website design makes them want to press the "close tab" button.
Copy and keep the old texts
It may happen that in spite of all the precautions, your redesigned website starts losing rankings and CTR. If you've properly set up the technical part, then either the new content or the new design itself would be the one to blame.
To be prepared for such a scenario, copy and keep your original texts. Try replacing new texts with old equivalents and see what happens—if it helps you get out of Google's and users' disgrace, forget about revamping your landing pages in bulk. Instead, try implementing changes one by one using A/B tests to see what fits your users.
Final thoughts
Website redesign is a complex process that transforms a website both outward and within. A website may get a new logo, updated menus, a different page layout which affects UX, and therefore, also affects SEO. Content may get slightly modified or fully replaced with a new copy, which can have an even greater SEO impact. Finally, some pages may be deleted or moved to different URLs, which has drastic SEO consequences if not handled properly. Besides, website SEO may suffer even before the redesign is completed if developers fail to properly set up the A/B testing process or the test site.
As so many things can go wrong in the course of redesign, an SEO specialist should work closely with a UX designer and a website developer to prevent any possible issues. After all, getting through the redesign scot-free is possible—all it takes is some knowledge and vigilance of the people involved in the process.