How UX affects SEO
Today, SEO is comprised of much more than keywords and backlinks.
Google pays a lot of attention to user interests and experiences, which is why UI/UX design has become an integral part of website optimization.
In this article, we will explain what lies behind these abbreviations and how user experience affects SEO.
What are UX and UI?
UX, or user experience, is how the user interacts with the website and how clear and convenient the website is.
From a technical standpoint, UX includes various elements such as site navigation, interface design, menu functionality, content, and page interaction. But this only makes up one side of the coin. Equally important is how effectively the website communicates with users and how seamlessly they can get what they came for.
On the other hand, UI, or user interface, refers to the visual appearance of the website's interface. The interface consists of buttons, texts, images, fields, animations, and everything else that the user interacts with.
While UX and UI are closely related and share the same goal of improving users' interaction with the website, they work slightly differently. UX is about planning interface interactions and the steps needed to achieve a goal, while UI focuses on designing the visual appearance of these steps.
In general, the differences between UI and UX can be summarized as follows:
UI makes the website interface beautiful, while UX makes it useful
UI elicits emotion through visuals, while UX helps users achieve their goals
UI deals with interface design only, while UX covers websites, brands, products, and services in general
Still, UI and UX are integral to each other's success. A website with an inconvenient and confusing navigation (poor UX) can ruin even the most beautiful design (great UI). At the same time, no matter how user-friendly your website is (great UX), an unattractive visual design (poor UI) can deter users.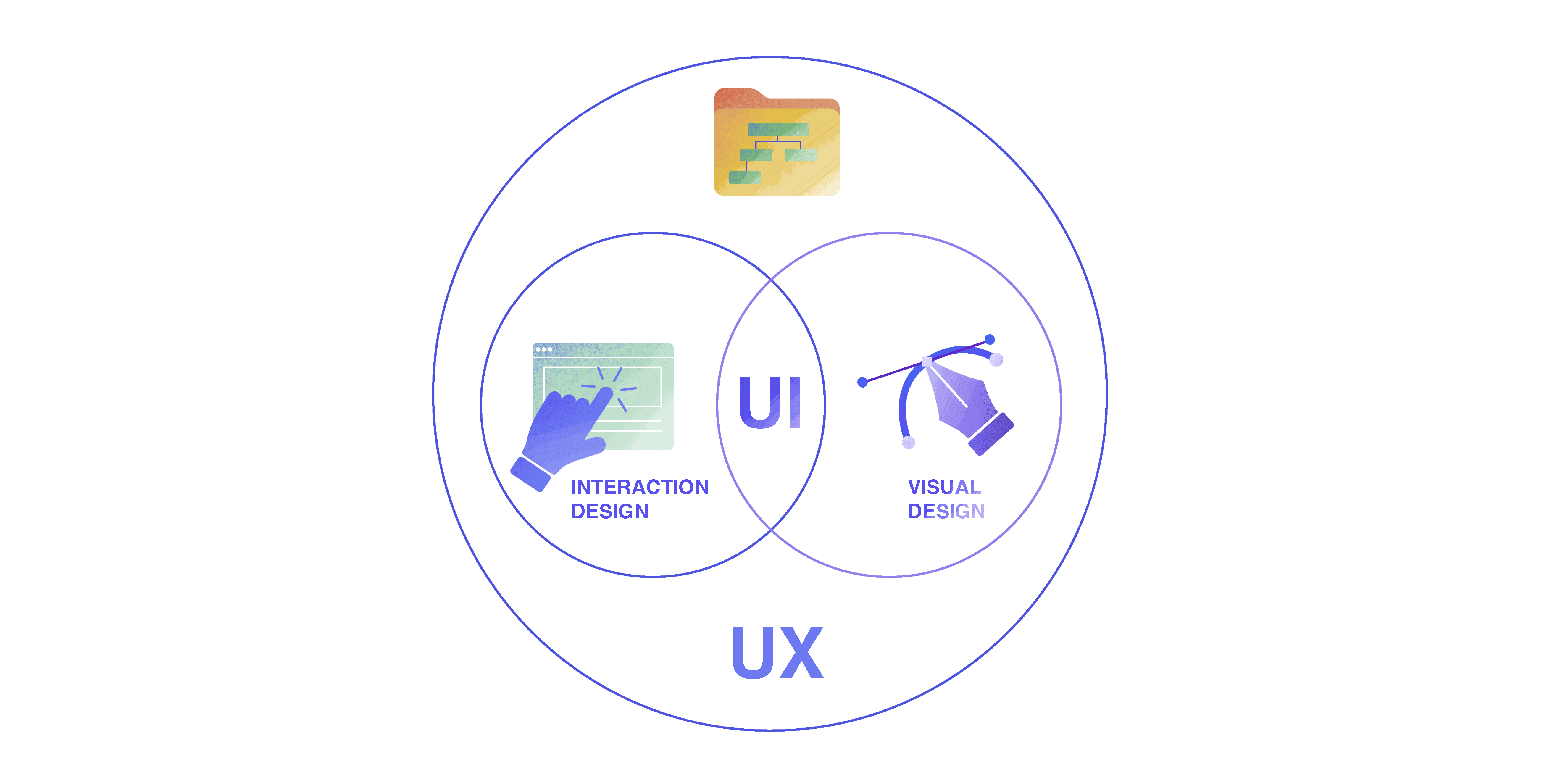 Why is UI/UX important for SEO?
Since UX and UI complement each other, it is absolutely vital to optimize both. Getting them both right is essential for your website to convert effectively and move up in the SERP.
High-quality UX/UI:
Increases the time a visitor spends on a website, letting the crawler know that the site may have solved the user's problem. This indicates that it deserves a higher ranking.
Boosts the number of returning users, leading to higher conversion rates and sales.
Reduces the time spent on reworking the product by 50%, and on development in general by 33-50%.
Is an essential component of digital branding and can increase business credibility and customer loyalty.
To understand what makes UX/UI so important, Toptal Designers analyzed case studies from top design agencies that performed B2B UX designs/redesigns. One notable example is Virgin America. After redesigning its site in line with user experience principles, Virgin America's conversion rates increased by 14%, its customer service calls decreased by 20%, and its tickets were booked almost twice as fast.
High-quality UX also plays a crucial role in combating the cart abandonment rate. Research by Baymard Institute shows the main reasons why users don't proceed with purchases on ecommerce websites, including:
Extra costs were too high (48%)
The site required account creation (24%)
Delivery was too slow (22%)
I didn't trust the site with my credit card information (18%)
Too long or complicated checkout process (17%)
I couldn't see or calculate the total order cost up-front (16%)
The website had errors or crashed (13%)
The return policy wasn't satisfactory (12%)
There weren't enough payment methods (9%)
The credit card was declined (4%)
By improving user experience, approximately half of these issues (account creation, complicated checkout process, lack of trust to share credit card information, total order cost calculation, website errors) can be addressed. According to experts, redesigning the checkout experience can potentially result in a 35% increase in conversion rates.
Given the numerous advantages of UX/UI design, it's crucial to incorporate a portion of your budget to improving these issues. Professionals recommend allocating a minimum of 10% of the project's budget to UX design, with highly successful projects often allocating up to 40% of their budget for this purpose.
Can UX impact your search rankings?
Yes, UX affects SEO and search rankings. Search engines, like Google, prioritize delivering the best possible experience to their users, resulting in websites that offer exceptional UX being more likely to rank higher in search results.
When users quickly leave a site due to poor UX, search engines interpret this as an indication that the content or experience provided is not relevant or satisfactory. Conversely, spending more time on a website, exploring multiple pages, and engaging with its elements signals a positive user experience, which can greatly enhance search rankings.
To optimize your website's UX for improved search rankings, consider implementing various UX SEO best practices. These can include responsive design, image compression, caching, file minification, breadcrumbs, social share buttons, text formatting, etc. By making your site user-friendly, it is more likely to rank higher in search results compared to sites that aren't built with users in mind.
What is SXO?
SEO and user experience have long been linked, giving rise to the concept of SXO (search experience optimization). SXO combines the principles of UX and SEO, recognizing that many optimization methods simultaneously affect rankings and user interaction.
The goal of SXO is to craft websites that captivate both search engines and users. Its objective extends beyond achieving higher rankings in SERPs. SXO strives to provide a seamless user journey from search query to website interaction, enhancing conversions and driving revenue growth through organic traffic.
To win the SXO game, consider the following strategies:
Understand search intent: Conduct thorough keyword research and analyze user behavior to gain insights into what users are looking for and create content that addresses their needs effectively.
Create high-quality content: Produce informative, relevant, and engaging content that attracts users and signals search engines that your website provides value.
Master technical optimization. SXO requires a solid understanding of technical optimization. Improving website performance, ensuring proper indexing, auditing and debugging your website all contribute to a smooth user search experience and improve rankings.
Polish UX/UI. Focus on designing a well-structured website with intuitive navigation, clear information architecture, and user-friendly features to enhance the overall user experience.
By focusing on these aspects of SXO, you can create a comprehensive approach that aligns user needs, search engine requirements, and business goals.
How UX impacts SEO
The relationship between UX and SEO can make or break your SEO. Let's explore the elements of UX and SEO that contribute to increased rankings on Google and provide positive user experiences.
Site architecture and navigation
The architecture of your website refers to how pages are organized and linked together. In terms of SEO, having a good site architecture ensures that Google can easily find and scan your page. From a UX/UI perspective, it helps users quickly find the information they need.
According to a Clutch 2021 survey, 94 percent of respondents said that website architecture and easy navigation are the most critical website features. This implies that you should definitely invest time and effort into building a website that is easy to navigate. If you don't, users will find someone else who already did.
One aspect of good website architecture is click depth or click distance. This refers to the number of clicks required to reach a particular page from the home page.
Users generally prefer to access subpages with minimal clicks. Ideally, each page should be less than four clicks away from the home page.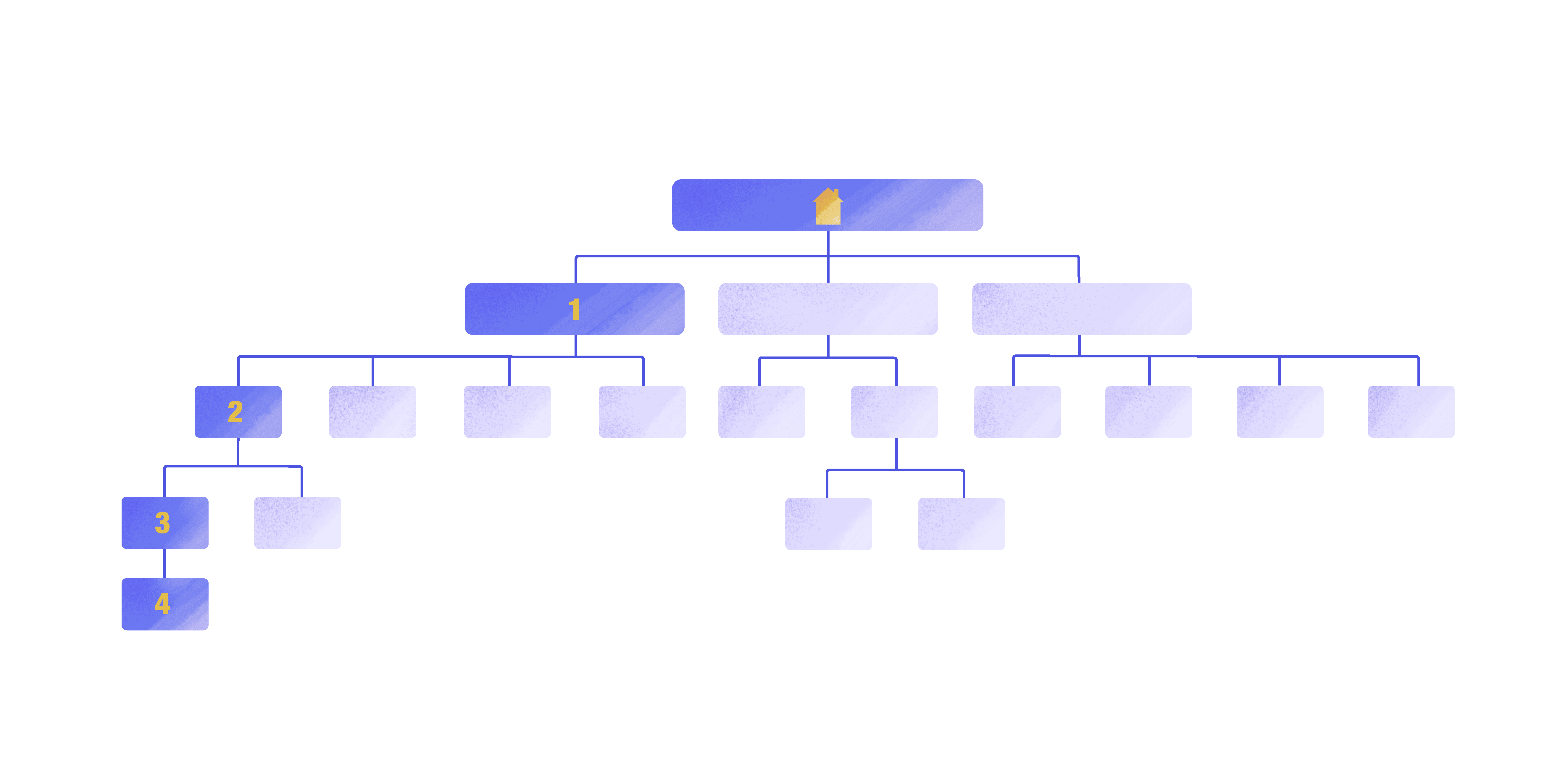 Optimizing site architecture and navigation involves:
Creating a transparent structure and grouping of pages into categories (for instance, using methods like the SILO structure).
Designing a straightforward menu that clearly describes the website's topics and subtopics (mastering UX writing can help here).
Establishing a well-optimized link structure for balanced link juice distribution.
Layout and design
A well-designed layout directly influences visitor behavior and plays a crucial role in effective SEO promotion. It helps the user find the right information, comprehend it easily, and take the desired action. As for search bots, structured content allows them to better assess a page's relevance.
It's important to structure content using headings. At SE Ranking, we recommend following two main tips:
While you can use as many H1 headings per page as you want, we advise using just one.
Follow the hierarchy of headings. For example, never put the H1 heading below the H2.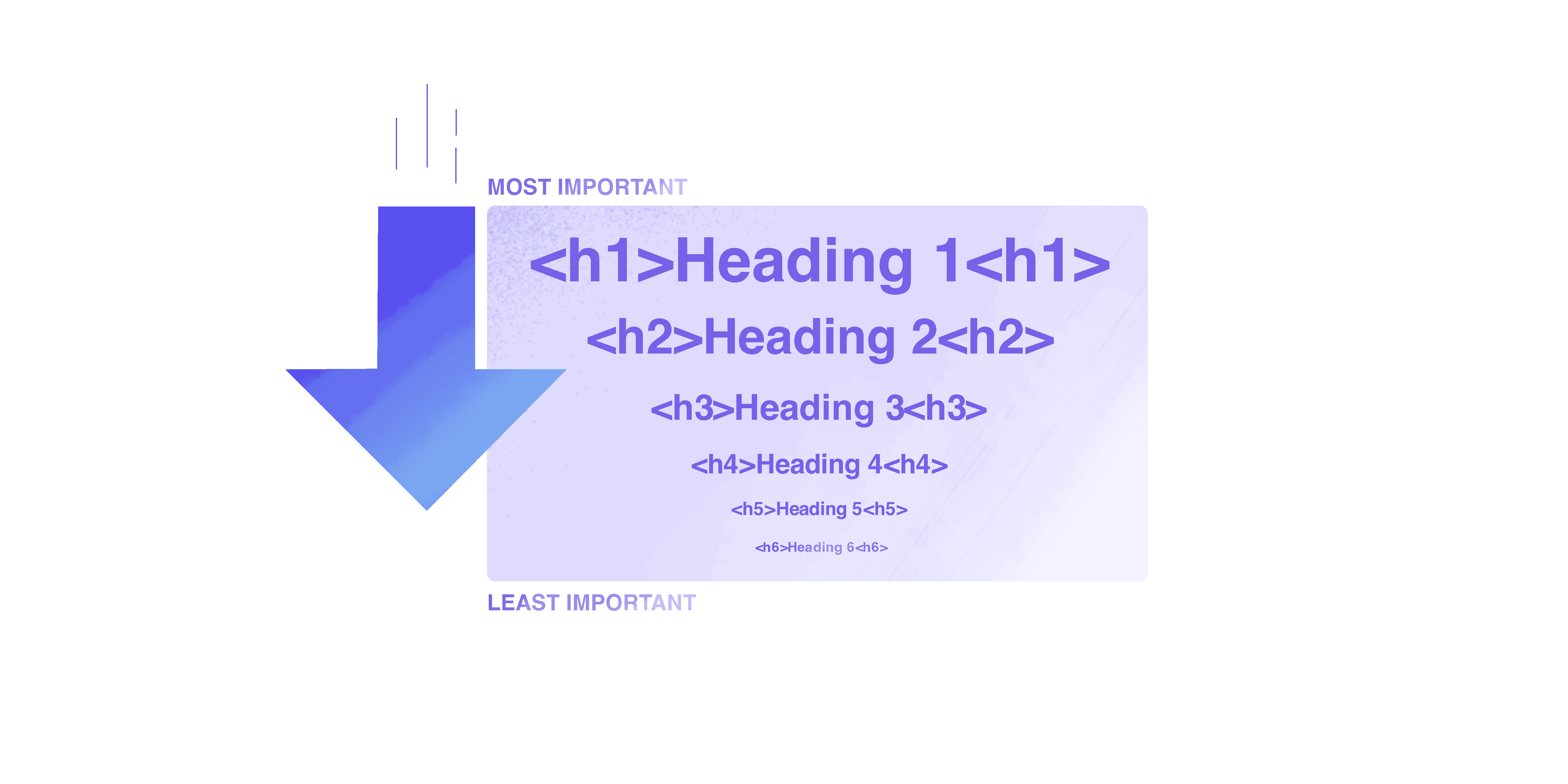 It's also encouraged to make use of graphic elements and optimize them with alt tags. But whatever you use, it must match the website's overall brand and theme.
Speed and Core Web Vitals
Waiting for a page to load, especially when using mobile devices, can be frustrating for users.
Ideally, the page load time should not exceed 2.5 seconds. If the website or its elements fail to load during this time, users may return to the SERP and choose one of your competitors instead. Also, your conversion rate may drop.
Additionally, Core Web Vitals (CWV) accounts for the first screen loading time, ease of interaction, and visual stability. Low CWV performance leads to a higher number of users leaving your page, resulting in a drop in SEO rankings and missed conversion opportunities.
Google recently confirmed that it is making a shift from its previous page speed estimation algorithms to evaluating page speed based on Core Web Vitals. This means that the importance of CWV metrics has risen significantly. Core Web Vitals now play a key role in assessing website experience and should be given special attention.
To check your website's loading performance, you can use:
web.dev
Google Search Console Page Experience and Core Web Vitals reports
For an even deeper analysis, we recommend running a website audit with SE Ranking. This tool will show you the current state of your website's CWVs in a convenient chart. You can also check your site's performance level both on desktop and mobile devices.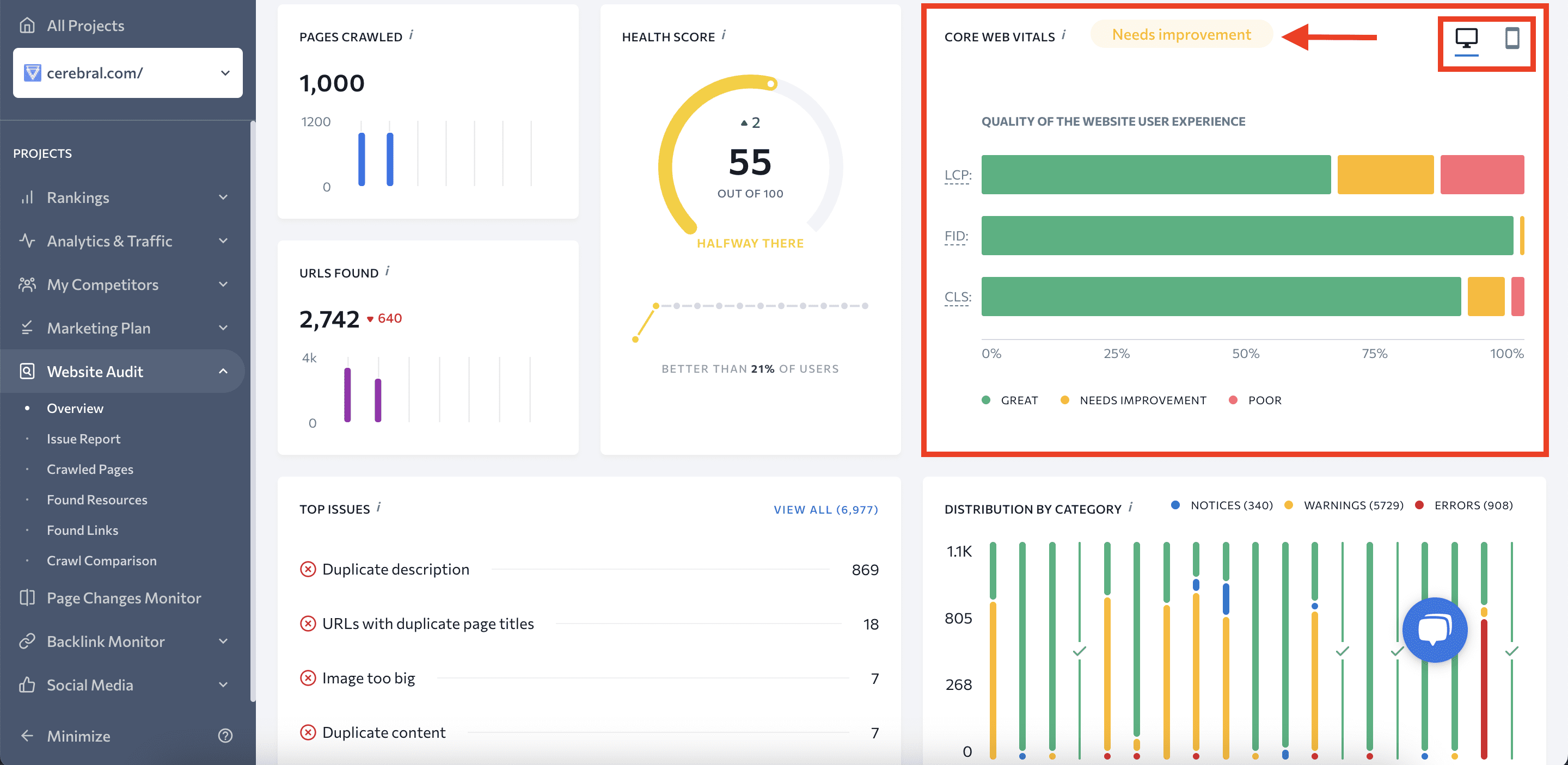 The Issue Report tab in SE Ranking showcases website pages that contain errors across different categories. To address CWV and website speed issues, check the Website Speed and Performance sections, as shown in the screencast below. Here, you will find the issue descriptions, helpful fix tips, and a list of pages with errors.
Mobile-first and responsiveness
Mobile devices account for approximately half of global web traffic, accounting for 58.33% in the first quarter of 2023. With the introduction of Google mobile indexing, the question of whether a mobile-first website is worth it has become a rhetorical one.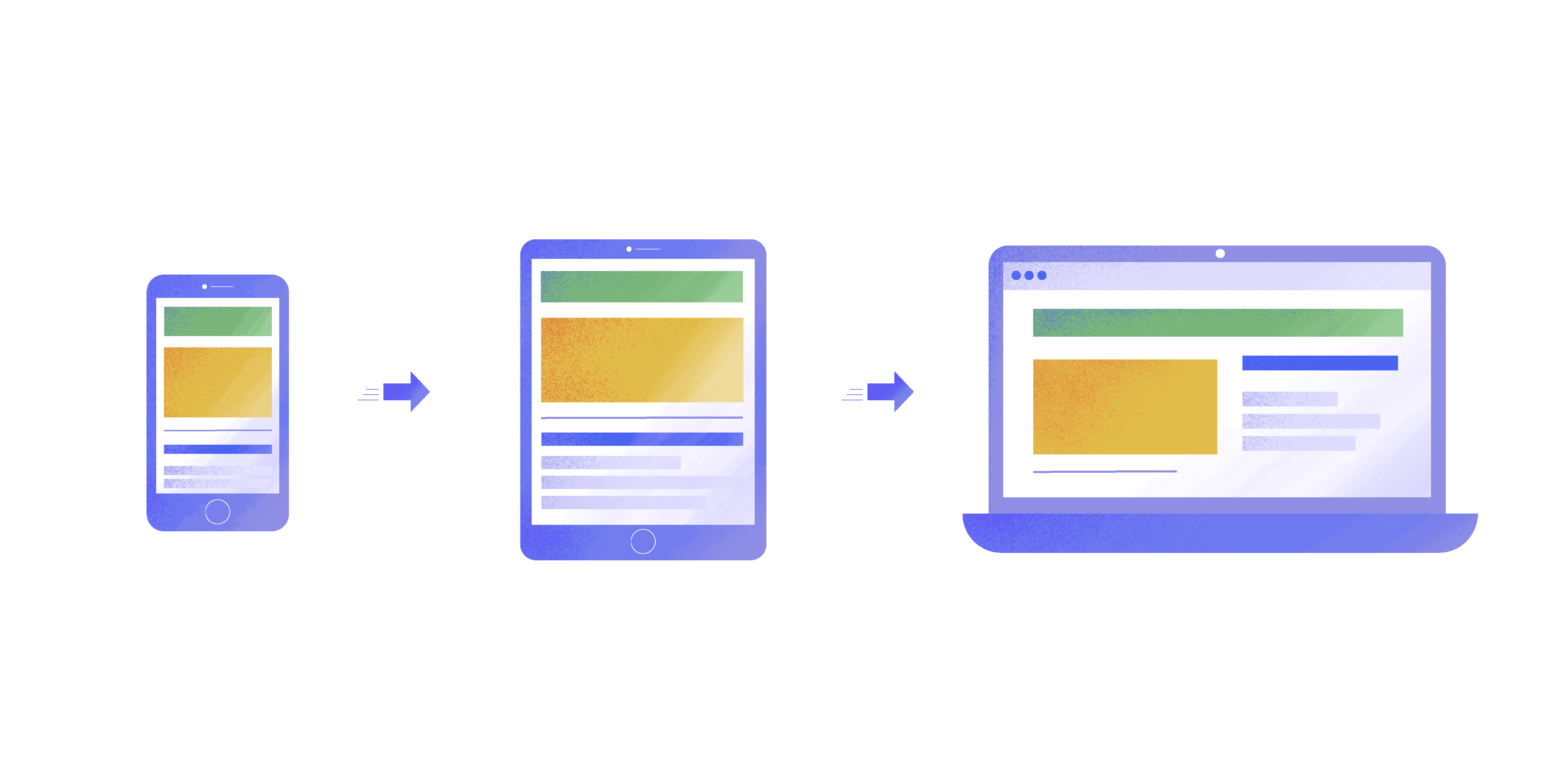 Your website should be user-friendly across different devices and responsive to different screen resolutions. All content should be easy to read, and elements should be appropriately laid out. By prioritizing mobile optimization, you gain a ranking advantage, and the user can easily use your website on their mobile devices.
According to a Mobile UX Study by Baynard Institute, mobile websites still have room for improvement in terms of user-friendliness and seamless experiences. The study reveals the following findings:
82% of mobile websites have tappable elements placed too closely, making it difficult for users to navigate the mobile interface.
65% of mobile websites lack appropriate keyboard layouts optimized for user input, leading to accidental typos and frustrating experiences.
64% of mobile sites do not suggest alternative queries and paths, hindering users in finding what they need.
64% of mobile websites do not adequately introduce, position, and style error messages, potentially confusing users when errors occur.
You can use tools like the Mobile-Friendly Test to assess whether your site meets Google's criteria for mobile usability. Google Search Console also provides smartphone usability information through the Mobile Usability Report.
SE Ranking's Website Audit also checks for mobile friendliness. It lets you view audit results in the Mobile Optimization sections of the Issue Report tab.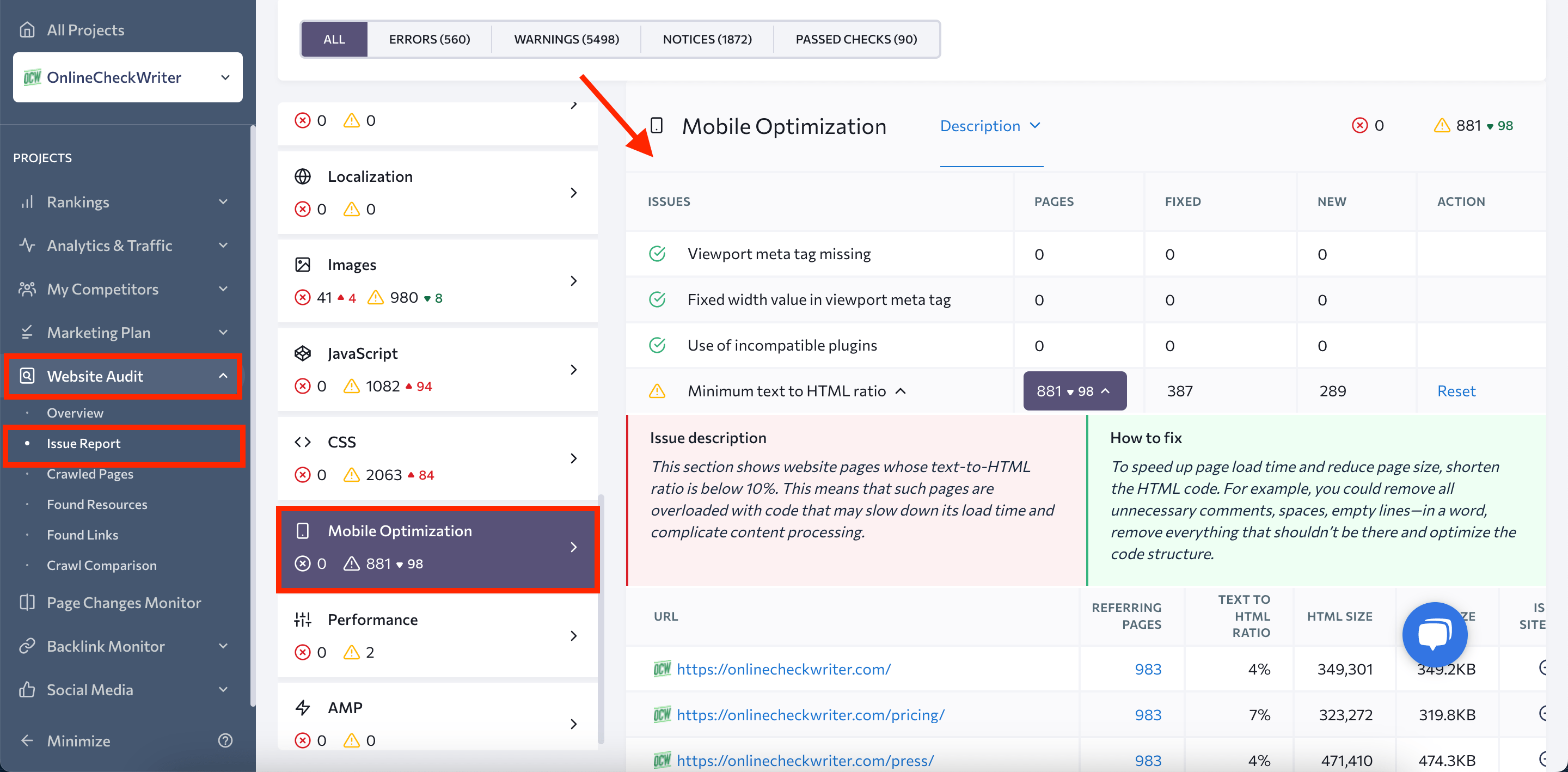 UX and conversion optimization
Conversion rate optimization (CRO) is the process of improving websites to increase sales. UX design plays a direct role in influencing the conversion rate and is an integral part of CRO.
When visitors feel comfortable using a website and appreciate its design, the likelihood of completing the desired CTA grows significantly. On the other hand, UX "mistakes" such as non-responsive design, difficult navigation, lack of CTA buttons, low loading speed, and inconvenient functionality can negatively impact conversion rates.
Considering that the ultimate goal of UX and CRO is to increase the number of loyal customers, it is crucial for them to work together. Combining UX and CRO creates a compelling customer experience that enhances conversions without compromising usability.
SEO and UX metrics to track
When developing and implementing a user experience and SEO strategy, you should analyze the effectiveness of your methods. Evaluating website performance using UX metrics for SEO is a crucial first step in the process.
Behavioral UX metrics
Behavioral metrics include:
Dwell time: This refers to the time spent on a page from the moment they leave the SERP until they return to it. Dwell time helps evaluate the page's relevance to search queries and the satisfaction of users with the content quality. While dwell time isn't directly presented in Google Analytics, you can get a general idea about the average dwell time by observing the average session duration, a metric that shows the average time the user spends on the website overall. This includes sessions originating from SERPs.
Bounce rate: This represents the percentage of users who visit your website but left without navigating to any other page. This metric indicates the quality of your content and website navigation. You can track this bounce rate using Google Analytics, although it has been removed from the list of default metrics in the new GA4. However, GA4 currently offers you the option to monitor the engagement rate or add the bounce rate manually and track both metrics.
Average engagement time: This metric measures the average time your webpage remains in the browser's focus, which reflects the user's attention. It provides insights into the user experience and journey on your page. Longer engagement times generally indicate higher user interest and involvement, suggesting that your website captures users' attention. On the other hand, a decrease in engagement time can highlight areas for improvement. This metric is also available in GA4.
In addition to Google Analytics, there are plenty of other special tools for evaluating user behavior, such as Hotjar or Clarity. These tools offer features like heatmaps, which provide visual representations of what users are doing on your website.
Technical UX metrics
Technical UX metrics also play a crucial role in assessing and improving website performance.

Some major technical UX metrics include:
Core Web Vitals (CWV). These are specific performance metrics introduced by Google to measure vital aspects of UX. CWV includes metrics such as viewport loading speed (Largest Contentful Paint), page interactivity (First Input Delay), and visual stability (Cumulative Layout Shift). These metrics provide benchmarks for website owners to gauge and improve the user experience.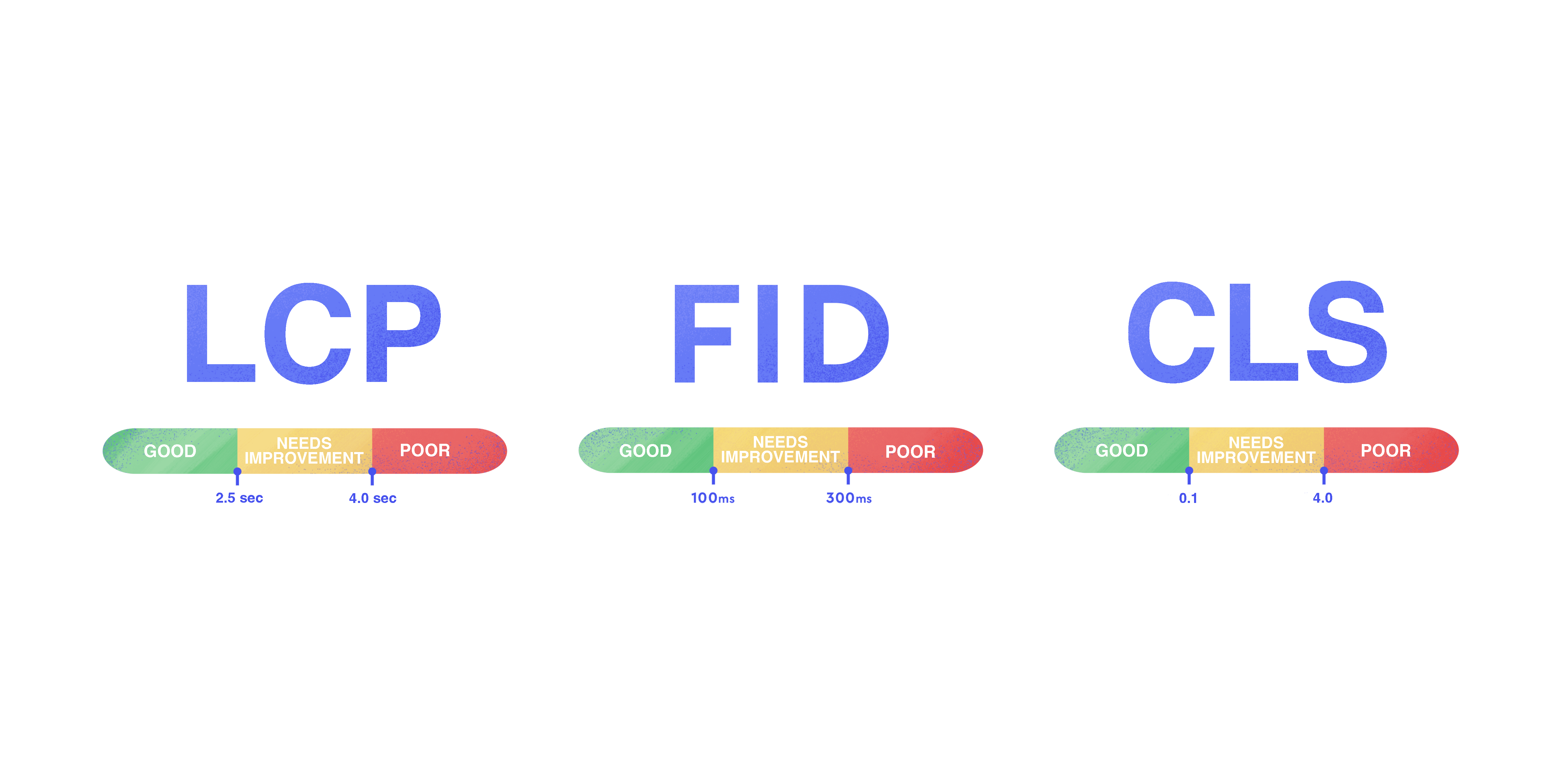 Interaction to Next Paint (INP): To overcome the limitations of FID, Google has introduced the INP metric, which utilizes data from the Event Timing API to assess responsiveness. When a user interaction causes a page to become unresponsive, it results in a poor user experience. INP measures the latency of all user interactions and provides a single value indicating the percentage of interactions that occurred below the latency threshold. A lower INP signifies better responsiveness and a better user experience. This new metric is projected to replace FID in March 2024, but both metrics will coexist until then.
Internal links distribution. The number of internal links pointing to a page indicates its significance. Pages with no internal links pointing to them are much less likely to get indexed. This is why it's crucial to conduct an internal link analysis.
Click depth or click distance. This metric refers to the number of clicks required to navigate from the homepage to a specific page or content. It measures the hierarchy level or steps users need to take to reach their desired destination. The depth typically shouldn't exceed four clicks, as pages closer to the homepage receive a higher Click Distance score in search engine algorithms.
UX SEO FAQs
How does UX impact SEO?
A positive user experience, which includes factors like fast page loading times, easy navigation, and engaging and helpful content, can help reduce bounce rates and increase dwell time and click-through rates. Search engines interpret these signals as indicators of a high-quality website and may reward it with improved rankings.
Why is SXO important?
SXO prioritizes user satisfaction. By understanding user behavior, search intent, and preferences, businesses can create tailored content and website experiences that meet the needs of their target audience. This user-centric approach enhances user satisfaction and engagement, leading to better conversion rates and customer loyalty.
How can SXO be improved?
To improve SXO, it's important to conduct research and analyze the search intent behind keywords to align content with user expectations and needs. Additionally, optimizing website performance to ensure fast page load times, creating intuitive navigation menus and clear site structures, incorporating interactive elements to encourage user engagement, and continuously testing and iterating for ongoing improvements are key strategies.
What are the key elements of UX design that can improve SEO performance?
Key elements of UX design that can improve SEO performance include having a user-friendly website structure, intuitive navigation, fast loading speed, responsive design for mobile devices, relevant and well-structured content on pages, clear call-to-action buttons, and more. These elements improve user experience, contributing to higher rankings in search engines.
How does effective call-to-action design contribute to SEO success?
Effective CTA design boosts SEO by increasing user engagement, reducing bounce rates, improving conversion rates, and enhancing overall user experience. By optimizing CTAs, websites can provide a seamless and compelling user journey, ultimately improving SEO performance and visibility in search engine rankings.
Is UX an SEO ranking factor?
UX itself is not a direct ranking factor. However, there is a strong relationship between UX and SEO. A positive user experience indirectly impacts various metrics that search engines consider when determining rankings. UX leads to lower bounce rates, higher click-through rates, longer dwell time, and increased engagement, all of which indicate that users find the website valuable. Investing in UX can help create a better website experience for users, potentially leading to improved SEO performance.
Key takeaway
Once a visitor lands on your site, their decision to stay or leave is typically made within a matter of seconds. If the website fails to meet their expectations by not aligning with their search query, loading slowly, being difficult to use, or looking unsightly, the user will leave. Each instance of this happening means you miss an opportunity to engage visitors and guide them into your marketing funnel, potentially converting them into customers.
By providing a rich combination of UX and SEO, you can encourage users to stay on your website longer and actively engage with its content. Search bots will take this as a quality signal, and Google will reward you with top rankings. It's an overall win-win for everyone!