Sign up for our newsletters and digests to get news, expert articles, and tips on SEO
Thank you for subscribing!
Content management systems are a blessing for users who are not coding-savvy. You may have no advanced technical knowledge, but thanks to a CMS, you'll be able to easily publish and update content across your website. Still, ease of use is not the only thing to care about. If you want your website to hit Google's top 10, the wise move is to pick a CMS with SEO in mind.
In this post, we'll figure out what makes the best CMS for SEO and which popular platforms do better than others for websites that mostly rely on organic traffic. Without further ado, let's get down to compiling a checklist of features an SEO-friendly CMS should have.
What CMS features matter for SEO
It is generally believed that Google uses over 200 ranking factors. Well, most of the factors that have to do with a website's technical performance and on-page HTML elements are CMS-related. Google should be able to easily crawl your website's pages, understand what they are about and link them to relative keywords. Therefore, proper HTML markup is an absolute must.
Besides, there are many more CMS features that matter for SEO. Some of them are crucial while others are just nice to have.
Page elements you should be able to set up
Let's start with page elements you deal with every time you create a new page. Those are page URL, title tag and meta description, image alt tags and headings. Using them properly is essential to get a page to rank well in search. And here's why:
If the image fails to load, users would see an image ALT tag. Google also uses ALT tags to make sense out of a picture and promote it in the image search. In addition, screen readers that visually impaired people use also rely on ALT tags;
Headings help both users and Google scan through the text.
With an SEO-friendly CMS, you should be able to easily add and/or edit all the above-mentioned elements. A good CMS would also prompt you to adjust meta tag length or add more headings.
Technical issues to get under control
Now, let's go into the technical details that impact your rankings.
Page speed
Without any hesitation, I can put page speed at the top of the list. A slow-loading website will affect your rankings, and your CMS may be the one to blame. A well-written code and optimized images are your best friends here, while bloated code is to be avoided at all costs. As of 2018, the speed ranking factor also applies to mobile search.
Core Web Vitals parameters
Since May 2021, page experience signals have been a part of Google's ranking algorithm. Webmasters already can check page performance with Core Web Vitals report and learn how to make the user experience better. The report covers three metrics: LCP, FID, and CLS.
LCP (largest contentful paint) shows how long it takes for the main content of the page to become visible.
FID (first input delay) helps measure the first impression of a visitor and shows how much time it takes from the moment a visitor clicks on a link to the moment the browser responds to that action.
CLS (Cumulative Layout Shift) measures the visual stability of page elements.
It is important to fix the site issues (if you have any) before Google rolls out the changes. And depending on the CMS you use and the way it is set up, this can be an easy task or not quite.
Mobile optimization
While you are preparing your website for the Google Search updates, make sure that your content is also optimized for mobile. Google has been encouraging webmasters to optimize their websites for mobile for years. Now, as mobile search is steadily growing and mobile-first indexing is in full swing, you have no other way but to optimize.
The mobile-first indexing update is scheduled for March 2021.
Duplicate pages
Another thing to worry about is duplicate content. If several URLs of your website lead to pages that look identical or very similar, it's just a minor concern. If you have many URLs of the sort, you can get hit by the Panda algorithm. To make it right, a CMS should allow you to mark the original URL with a "canonical" tag. That way, search engines will know which URL to rank and which to leave out of the index.
Setting up redirects
Sometimes, there is no need to keep a duplicate and it can be simply removed. In this case, you'll have to use the 301 redirect. Setting up redirects is easy with some CMSs and it's more complicated with others.
Robots.txt file and XML sitemap
Finally, you can actually nip the problem of duplicate content in the bud. Just don't let search engine index duplicates in the first place by blocking URLs for web crawlers via a robots.txt file. This is where you hide from search engines all the pages that need to be hidden, not just duplicate ones. A good CMS will let you easily generate and fine-tune a robots.txt file along with an XML sitemap. The latter helps Google find all the pages that need to be found.
Ok, this is it for our CMS SEO checklist. It is not exhaustive, but everything that really matters is in there. Other features are just nice to have.
What major CMSs have to offer
Now, let's take a look at the most popular CMSs. For every platform, I'll cover the set of features that come with a default installation as well the ones available with plugins/extensions. If some CMS features may hurt your SEO, I'll elaborate on it as well. Now, let's see if world-leading CMSs can tick off every point on our SEO checklist.
WordPress can be any site you want it to be
WordPress started as an open-source blogging platform, but thanks to thousands of themes and plugins it can now be an equally good fit for e-commerce or, say, flight-booking websites. The CMS dominates the market with over 41.2 % of all websites being powered by WordPress. Millions of users who choose it do so for a reason and SEO definitely is a part of it.
| | | |
| --- | --- | --- |
| Default features | Features you can get with plugins | SEO pitfalls |
| ✔Clean URLs ✔Image ALT tags ✔Headings | ✔Meta tags ✔Redirects and canonical tags ✔robots.txt file ✔XML sitemap ✔Page caching | ❌You can't do without plugins in WordPress, but too many plugins make your website slow. |
WordPress is believed to come SEO-friendly out of the box. With the default installation, you can set custom URLs, proper headings and image ALT tags. And that's probably it. WordPress is all about plugins, so you'll need some for decent SEO.
The Yoast SEO plugin is the most popular WordPress plugin to date. With it, you'll get control over the meta tags, and all sorts of technical stuff. Yoast will make it easy to set canonical URLs, enable breadcrumbs, create 301 redirects or tweak your XML sitemap. It can also generate a robots.txt file for you. So, this single plugin and standard WordPress features cover most of the points on our checklist. To take care of the rest, you'll have to install more plugins.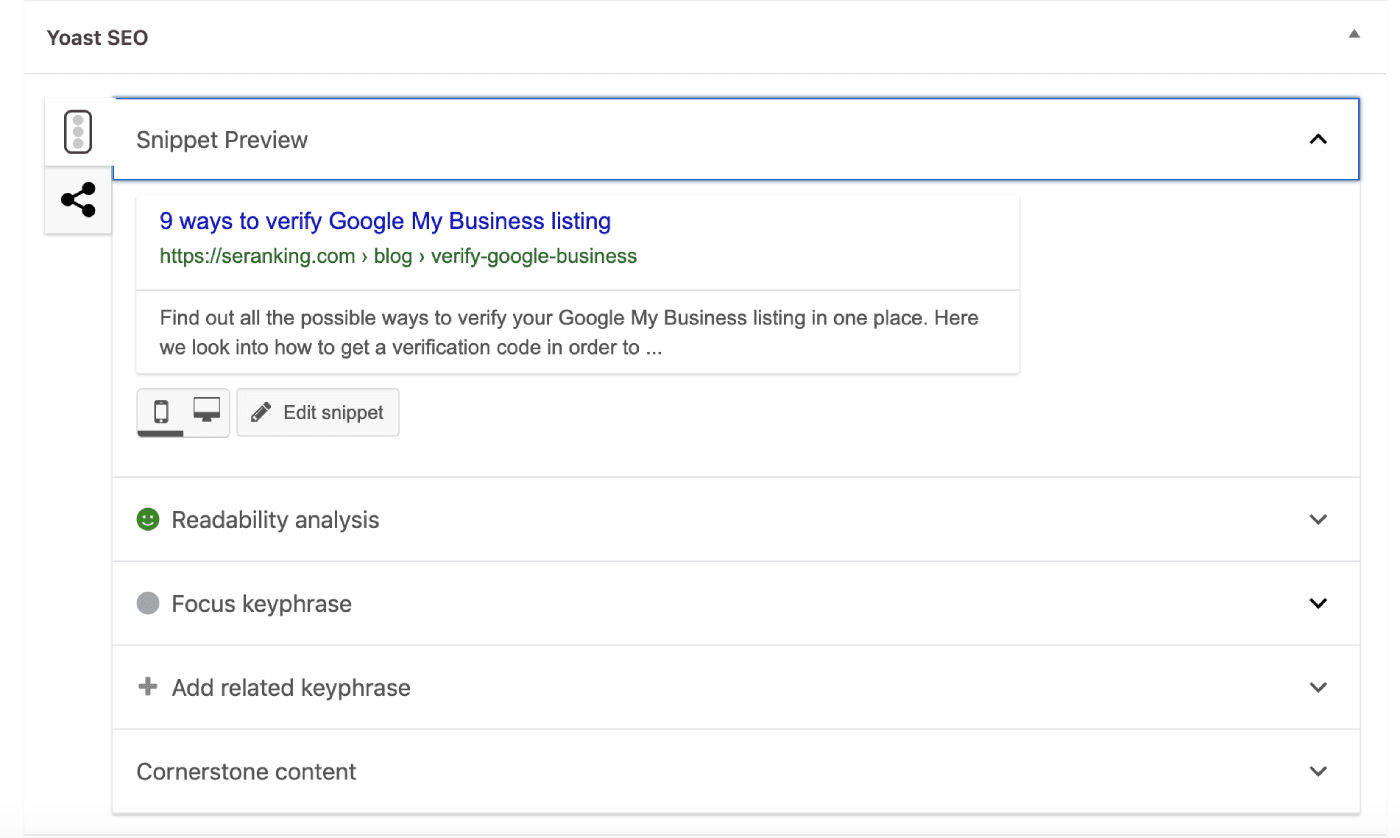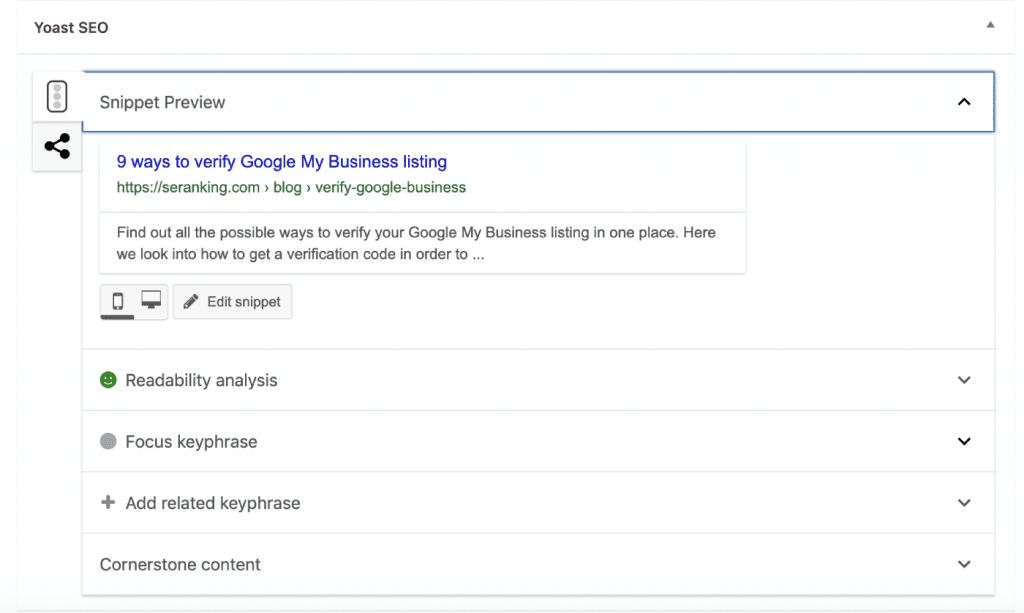 I recommend you get at least two in addition to Yoast: Broken Link Checker and W3 Total Cache. The first name speaks for itself, and the second plugin will help you speed up your website by caching website pages.
It is worth noting that WordPress allows for lightning-fast page load speed, given that you don't mess up the plugins, themes, and custom code. However, even if you use themes and plugins wisely, page caching is still a good practice to follow.
Now, mobile-friendly themes are the last point on our checklist. And once again, WordPress nails it. Currently, WordPress only accepts themes that are optimized for mobile. If you happen to pick one of the older themes, you'll still be fine thanks to plugins.
Overall, it looks like WordPress has it all. With the recent version of WordPress, users can even take advantage of the auto-updates for themes and plugins with one click directly in their dashboard.
To get a grasp of WordPress, you can use websites with respective tutorials such as WPKlik. Being guided by handy tips, you'll be able to create amazing SEO-friendly websites on your own.
Joomla – a scalable alternative to WordPress
Joomla is the second most popular CMS. Just like WordPress, it is open-source and free. Joomla also relies on themes and plugins, but they are called templates and extensions in this platform. Another difference is that Joomla is not as intuitive and easy-to-use as WordPress, which doesn't make it such a good choice for newbies. Still, it's more versatile.
Joomla is great for larger websites with numerous menus, sections, and categories, as it allows to neatly organize website content without any extensions. Besides, with Joomla, you can use different template settings or even different templates across the website.
But what about SEO? Upon installation, Joomla is not quite SEO-friendly.
Default features
Features you can get with plugins
SEO pitfalls
✔ Headings
✔ Meta tags
✔ robots.txt file
✔ Page caching

✔ Clean URLs
✔ Image ALT tags
✔ Canonical tags
✔ Redirects
✔ XML sitemap

❌If not set properly, Joomla produces duplicate content, creates unreadable URLs and keep your images out of index.
You'll be able to set proper headings in one click and add meta descriptions in a few more clicks. At the same time, you'll have to deal with dynamically-generated unreadable URLs, duplicate content and non-indexed images. The thing is, the robots.txt file that Joomla automatically generates instructs search engines not to index the image folder. You'll have to manually edit the file to fix this issue.
To enable search engine-friendly URLs, you can tweak Joomla settings or install an extension. If you decide to fix it manually, mind that changing the setting often leads to broken link issues, which you'll have to handle on your server side.


Alternatively, you can use the sh404SEF extension. It can help turn URLs into SEO-friendly ones, create meta descriptions, title tags, canonical tags, and set up redirects.
You'll need separate extensions for adding ALT tags and creating an XML sitemap, and you'll find plenty of those in Joomla's official store. Some extensions offer more features than others though. The SEOFLI extension, for example, generates ALT tags automatically.
On the plus side, as one of the market leaders, Joomla is expectedly fast. You can enable caching without installing any extensions. You also won't find it hard to optimize Joomla for mobile: most templates are mobile-friendly, and for those that aren't, you can use special extensions.
Drupal – a technically advanced solution for large websites
Drupal is the last one among the Big Three in the world of CMS. It is miles ahead of Joomla and WordPress when it comes to scalability and security, but it is not quite user-friendly. In fact, you probably won't easily find your way around Drupal unless you are a developer. Still, Drupal is a great fit for big websites that need to handle thousands of pages and users. Ironically, lots of great features are readily available on Drupal through modules, while in WordPress you need to do some coding to get the same features.
From an SEO perspective, Drupal is as good as WordPress.
Default features
Features you can get with plugins
SEO pitfalls
✔ Headings
✔ Image ALT tags
✔ robots.txt file

✔ Clean URLs
✔ Meta tags and canonical tags
✔ Redirects
✔ XML sitemap
✔ Page caching
✔ Optimized images
✔ Accelerated mobile pages

❌Drupal is not initially fully SEO-friendly – you'll have to pack it with modules to get all the necessary features. And it's a technically complex process.
With Drupal's standard installation profile, you'll be able to format text as headings and add ALT text to images. Moreover, with the latest Drupal 8 edition, ALT text in image fields is required by default, so you won't be able to publish an article if you have failed to add the ALT tags.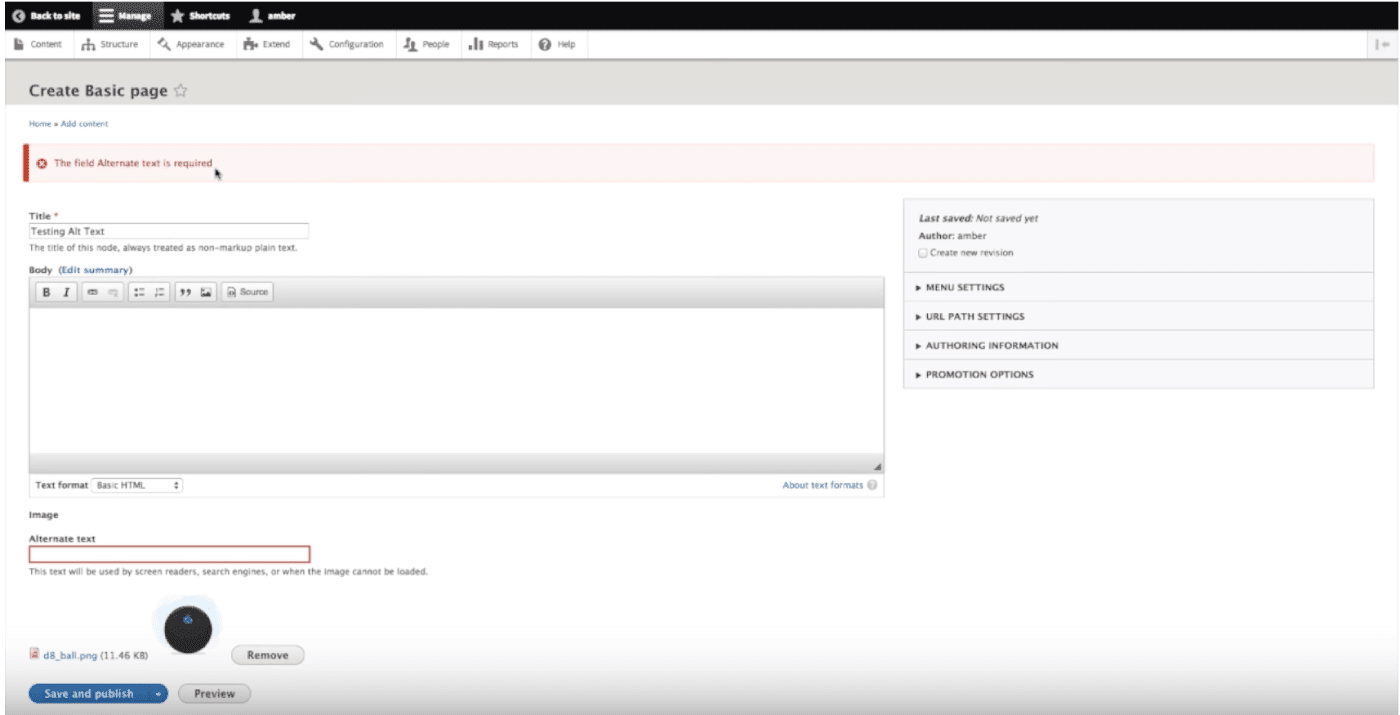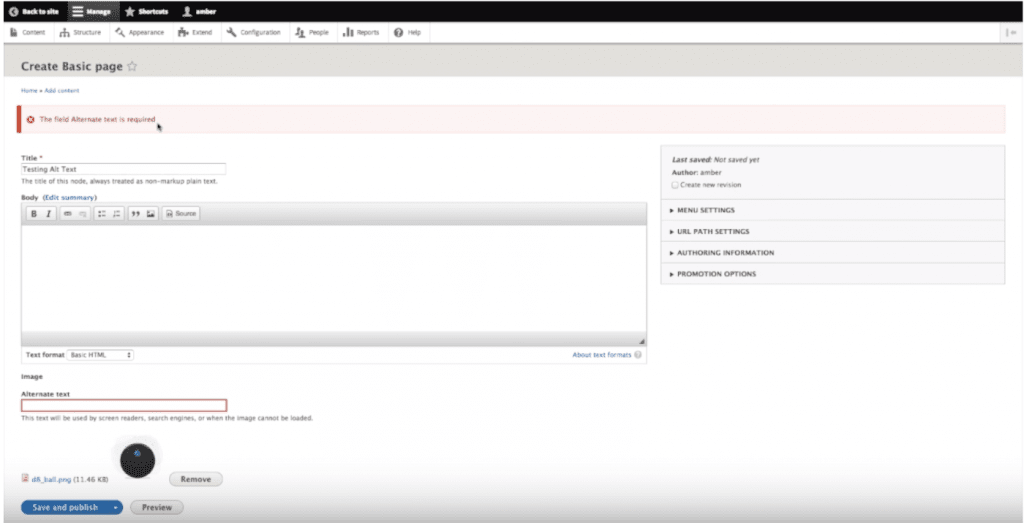 Also, the last Drupal update supports clean URLs, but you'll have to install the Rewrite module and configure your webserver to make it work. The process is similar to that of Joomla. And the last thing you'll have from the get-go is an automatically-generated robots.txt file.
Other than that, Drupal has a separate module for every SEO feature that matters. You'll just need someone tech-savvy to make all those modules work together. But if you go for Drupal, you'll have to hire a developer anyway.
The Metatag module will take care of your title tags, meta descriptions and canonical tags. Then, there's the Pathauto module that will automatically generate SEO-friendly URLs for you. You'll also need the Redirect, Simple XML sitemap and Accelerated Mobile Pages modules. The last one will make the mobile version of your website load incredibly fast. Its implementation is rather complicated though.
Since Drupal 8 has been released, it uses responsive web design methodology by default. Drupal is also quite fast, and you can make use of Cache API and the Image Optimize module for even swifter site loading.
With the new Drupal 9 released on June 3, 2020, it is worth noting that Drupal 7/8 will go out of official support in November 2022. However, the remaining Drupal sites will continue working.
As you can see, Drupal has it all to create an SEO-friendly website and it offers really advanced functionality. Still, its complex setup often scares users away.
Wix — the best CMS for personal sites and small businesses
Wix is another popular CMS that provides basic and premium solutions that enable any user to create, change, and grow websites with the convenient drag-and-drop editor. It is quite an affordable platform that will cost you $4 a month for non-commercial websites and $23 for the basic business plan that allows accepting online payments. Basically, this is an all-in-one solution for entrepreneurs or small business owners with no coding experience, as it helps them design a professional-looking website with no need to hire a developer. But is it any good for SEO?
If you are looking for an entry-level website builder, you won't experience major discomfort with Wix. It provides built-in SEO tools, so you will not get confused with thousands of extensions. With Wix SEO Wiz, you'll access a step-by-step tutorial that will guide you to the basics of SEO, show the weak points of your site, and provide helpful tips.
An area where Wix needs to improve is multilingual SEO. Currently, all languages share the same URL for each translated page, which puts you at a disadvantage
| | | |
| --- | --- | --- |
| Default features | Features you can get with plugins | SEO pitfalls |
| ✔Image ALT tags ✔Headings ✔Clean URLs ✔ Redirects ✔ XML sitemap ✔ Robots.txt file ✔ Clean URLs ✔ Canonical tags ✔ SSL encryption | All main SEO features are already built-in | ❌SEO options are limited and insufficient for advanced SEO ❌The starter plan will show ads on your website ❌SEO for multilingual websites |
Magento – a customizable e-commerce CMS for tech-savvy users
Launched in 2008, Magento used to be the leading e-commerce CMS before the WooCommerce WordPress plugin came into play. Just like Drupal, Magento was tailored to developers, and you won't be able to set it up properly without at least a basic knowledge of coding. Still, if you want your store to grow big, Magento's robust set of features and high level of customization is what you need to turn your website into an e-commerce powerhouse.
In 2015, a much more SEO-friendly Magento 2 was released. Its out-of-the-box functionality covers our entire checklist. Naturally, Magento has its fair share of SEO extensions that will make things easier for you, but you can totally do without them.
Default features
Features you can get with plugins
SEO pitfalls
✔ Headings
✔ Clean URLs
✔ Image ALT tags
✔ Meta tags and canonical tags
✔ Redirects
✔ robots.txt file
✔ XML sitemap
✔ Page caching

All the features are readily available by default
❌You'll have to fix the logo-as-h1-across-website issue by means of coding.
❌You won't find it easy putting all the setting right.
You can adjust a lot of things under settings that are called Configuration in Magento. This is where you will enable clean URLs and pick the right setting for canonical tags to curb duplicates. You can also enable caching and merge CSS and JS files to speed up your website.
To create a redirect in Magento, just go to the URL Rewrite section of the Marketing tab. 301 and 302 redirects are readily available there.
All necessary meta tags are just a few clicks away: you can easily add title tags and meta descriptions to product and content pages as well as image ALT tags.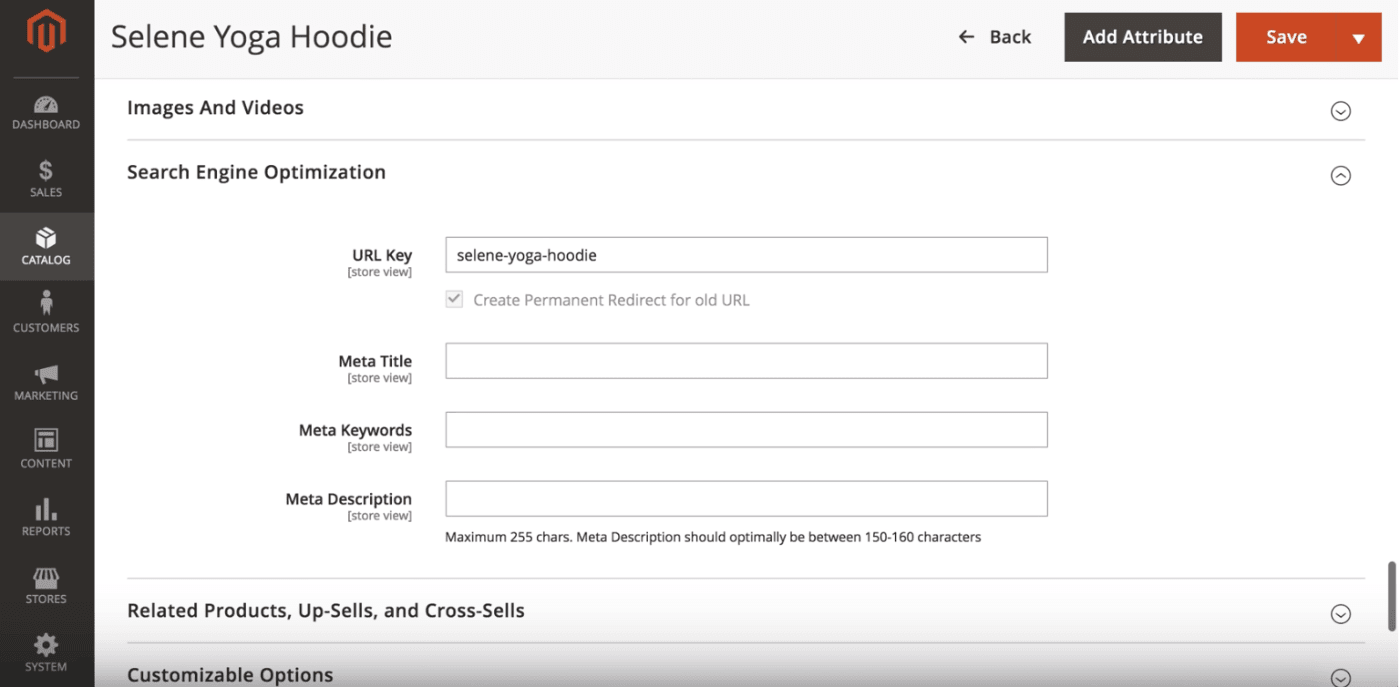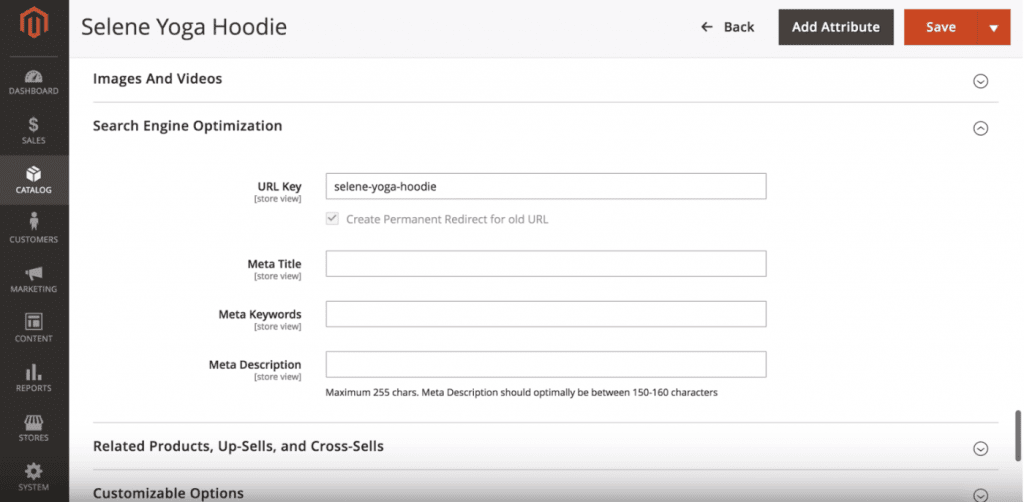 Besides, you can mark content with h1-h6 tags across your website. The only pitfall with headings is that your website logo is marked with <h1> tag across the whole website by default, and this can only be changed through coding.
Magento can also generate an XML sitemap for you, and you'll be able to edit it under the Configuration tab. You can also adjust robots.txt file settings at any time.
Finally, let's get to mobile optimization. Magento 2 was designed with a mobile-first approach at its core. Therefore, its default Blank and Luma themes come with responsive design.
You may get the impression that Magento is the best e-commerce CMS for SEO. And it really is great. You just have to remember that a lot of issues in Magento can only be resolved through coding. Besides, even though Magento 2 became more user-friendly, it is still not as intuitive as WordPress or Shopify, which is another popular e-commerce CMS I'd like to look at.
OpenCart — decent CMS for online stores
OpenCart—is an open-source, free-to-download, and highly customizable CMS. However, unlike other more advanced CMSs, this one is not so versatile. OpenCart was originally designed as a platform for eCommerce, making it perfect for those who wish to create an online store, and not the best choice for users aiming to launch a blog or another content-driven site.
Currently, about 1% of all sites in the world are powered by OpenCart making it the third most popular eCommerce builder after Shopify and Magento.
So, what do you need to create a website using OpenCart? First, you will need a hosting plan that starts from $5 a month—a higher-quality host will cost you more. After that, you'll receive the standard online store functionality that can be enhanced with modules and plugins—on the Extensions page you'll find a lot of commercial and free plugins. To find the extensions applicable for SEO, filter your request in the search bar using particular keywords.
In the case of OpenCart, installing additional modules for search optimization is not an option, but a necessity.
Default features
Features you can get with plugins
SEO pitfalls
✔ Headings
✔ Image ALT tags
✔ Meta tags

✔ XML sitemap
✔ Schema markup
✔ Automatically generated meta tags
✔ Redirects and canonical tags
✔ Automatically generated, clean URLs
✔ Improved page loading speed

❌You cannot remove content type prefix from the URL.
❌Creates canonicalization issues for SEO (duplicate pages)
❌The problem with creating SEO-friendly URLs
Here are the best SEO extensions for OpenCart: All-in-one-SEO (the most versatile extension), So Filter Shopby (more filters), AMP for Product Pages, SEO keyword generator (automatically generated and grouped keywords), XML Sitemap Generator, NitroPack IO (improving loading speed), and NewsBlog (unlimited posts).
As you can see, adding and editing headings and meta tags is the only SEO feature available by default. Other CRMs may offer more free features but OpenCart is a customizable open-source platform that requires no monthly fees. If you want to improve your rankings, you can add extra features by installing plugins, in particular, sitemap generator, Schema markup, automatically generated meta tags, redirects, clean URLs, etc.
Although OpenCart meets the search engine requirements quite well, you can face a problem with creating duplicate pages. This well-known bug was not fixed in new versions, making the system create duplicate product and category pages automatically.
Webmasters also complain about the problem of creating SEO-friendly URLs. To beautify the URLs of your OpenCart store, you need to get the "Clean SEO URL" module.
Shopify – a highly intuitive hosted e-commerce platform
Unlike all the ecommerce platforms covered above, Shopify is a commercial hosted CMS. Shopify was initially designed as an online store CMS, so it has a lot of e-commerce features built-in. While it is not as powerful as Magento, it is much easier to use. At the same time, to extensively customize Shopify, you'll have to do some coding in Shopify's own coding language called Liquid.
From an SEO standpoint, Shopify is quite good, but not as good as Magento.
Default features
Features you can get with plugins
SEO pitfalls
✔ Headings
✔ Clean URLs
✔ Image ALT tags and meta tags
✔ Canonical tags and redirects
✔ robots.txt file
✔ XML sitemap

All the features are readily available by default
❌You cannot remove content type prefix from the URL.
❌Autogenerated canonical tags may point to the wrong URL.
❌You have little control over XML sitemap and robots.txt file.
With the default version, you'll be able to add meta tags, ALT tags and format text as h1-h6. You can also customize URLs, but not the content type prefixes. Every URL in Shopify indicates whether the page belongs to /collections, /products, /pages or /blogs, and there's no way of changing it. Though not a big issue, it is not really good in terms of SEO.
On the plus side, whenever you decide to edit the URL of an existing page, you can create a redirect by simply ticking the relevant box. That way, Shopify won't let you forget to set up a redirect and get a 404 page.
If you need to create a redirect for any reason other than changing the URL name, you won't find it hard to do either. You just have to remember that Shopify has redirects under the Navigation tab, which, frankly speaking, does not make much sense to me.
As for canonical tags, Shopify generates them automatically, which is great. However, autogenerated tags won't always point to the right URL, and you'll have to manually edit the code to rectify this.
Shopify also automatically generates an XML sitemap and a robots.txt file for you. And, guess what, you'll have issues with these two as well. The thing is, you get little control over the content of the two files. You cannot remove any rules from the robots.txt file, though you can add additional ones. To get a chance to edit an XML sitemap, you'll have to install a paid app.
Now, let's talk about side load speed and mobile optimization. As a hosted solution that uses CND technology, Shopify is really fast. At the same time, platform infrastructure does not allow for leveraging browser caching. As for mobile optimization, Shopify currently only accepts themes with a responsive layout.
Overall, it looks like Shopify was trying hard to allow their users to easily manage a lot of SEO issues, but things won't always work right with this platform.
Do we have a winner?
When it comes to website SEO success, a CMS can make it or break it. But which CMS is best for SEO? The answer is none. All the CMSs we've touched upon can be really SEO-friendly if set up properly. It's just with some of them you'll have more preparatory work than with the others. And if you decide to run your website on some lesser-known CMS, just make sure it has all the essential features I've highlighted in this post.
In any case, once the setup is over, I recommend you to run a website audit to make sure that all the plugins/modules work properly and you've successfully overcome all the SEO pitfalls. SE Ranking's Website Audit can help you detect all the possible errors from low website speed to issues with URL rewriting and canonicals. The tool is available under a 14-day free trial.