Sign up for our newsletters and digests to get news, expert articles, and tips on SEO
Thank you for subscribing!
When it comes to planning out a journey, there are a few things most people consider beforehand: the length of the trip and its cost. Similarly, anyone who decided to embark on an SEO journey, lured by the promise of staggering traffic growth, wants to know how long SEO takes to start working and how much they'll have to invest to get the desired results. So, here's the answer.
First and foremost, don't expect to get instant gratification. SEO is more like a marathon than a sprint. As for how long this kind of marathon normally lasts, there's no definite answer. Most experts agree that normally a website should start seeing first results in about four or six months. But if we leave "normally" out of the equation, the answer may vary tremendously.
There are just too many things impacting a website's SEO growth, from the level of competition in your business niche to the volatility of SEO itself. In this post, I'll outline the major factors that can either speed up or slow you down on your way to reaching your SEO goals. I hope that the different scenarios discussed here will let you understand where your website belongs and how fast you can feel all the benefits of doing SEO.
Your business niche
Competition in your business niche is one of the most crucial factors impacting the speed of your SEO growth. The first thing that matters here is how saturated the market is. Playing against dozens of competitors is one thing, but trying to do better than hundreds of websites is a whole 'nother story.
Now, there may be plenty of newcomers among your rival websites – in this case, you have a better chance of outranking them. If the niche is, on the contrary, dominated by established websites that have been holding on to the top 3 positions for some important keywords for years, then it will be much harder to oust them.
BUSINESS NICHE IMPACT ON SEO GROWTH
Factors speeding up your growth
Factors hindering your ranking success
✔ Few competing websites in your niche
❌ Highly-saturated business niche
✔ Younger websites rank high next to older ones
❌ The niche is dominated by established websites
✔ Top-ranking websites are not SEO-friendly and lack backlinks
❌ Top-ranking websites are well-optimized and have strong backlink profiles
✔ Your business niche is not considered dangerous or bearing risk to user health, happiness, and financial wellbeing
❌ Your products or services are believed to pose a threat to user health and financial wellbeing and/or are prohibited from advertising on Google
Both old and relatively new players in your niche may or may not be doing SEO. If the websites you're competing with happen to be not SEO-friendly and lacking backlinks – thus ranking high simply because Google had no better alternatives – you should be able to relatively easily take over their rankings. However, in oversaturated markets with experienced SEO players, you'll face hard times. It doesn't mean you cannot succeed, it's just that it will take much more time and effort to beat your strongest rivals.
The type of goods or services you offer also matters. Such business niches as health and wellness or finance are under higher scrutiny as the content they offer may impact people's health, happiness, and financial wellbeing. In order to prevent such websites from harming users, Google imposed really high EAT requirements, which makes it hard for new websites that lack authoritativeness to succeed.
Finally, there are some goods and services which Google considers to be particularly dangerous. Weapons, tobacco products, recreational drugs, and psychoactive substances are all on the list that prohibits them from advertising on Google Ads. As the paid traffic channel is not available to such products, organic search competition is particularly tough.
Local or global
This factor is tightly related to the previous one: Depending on whether you target a local, nationwide or worldwide market, you'll have to be ready to put up a fight with a different number of rivals.
A dentistry targeting a particular neighborhood won't have that many competitors operating in the same area with even fewer of them having a website.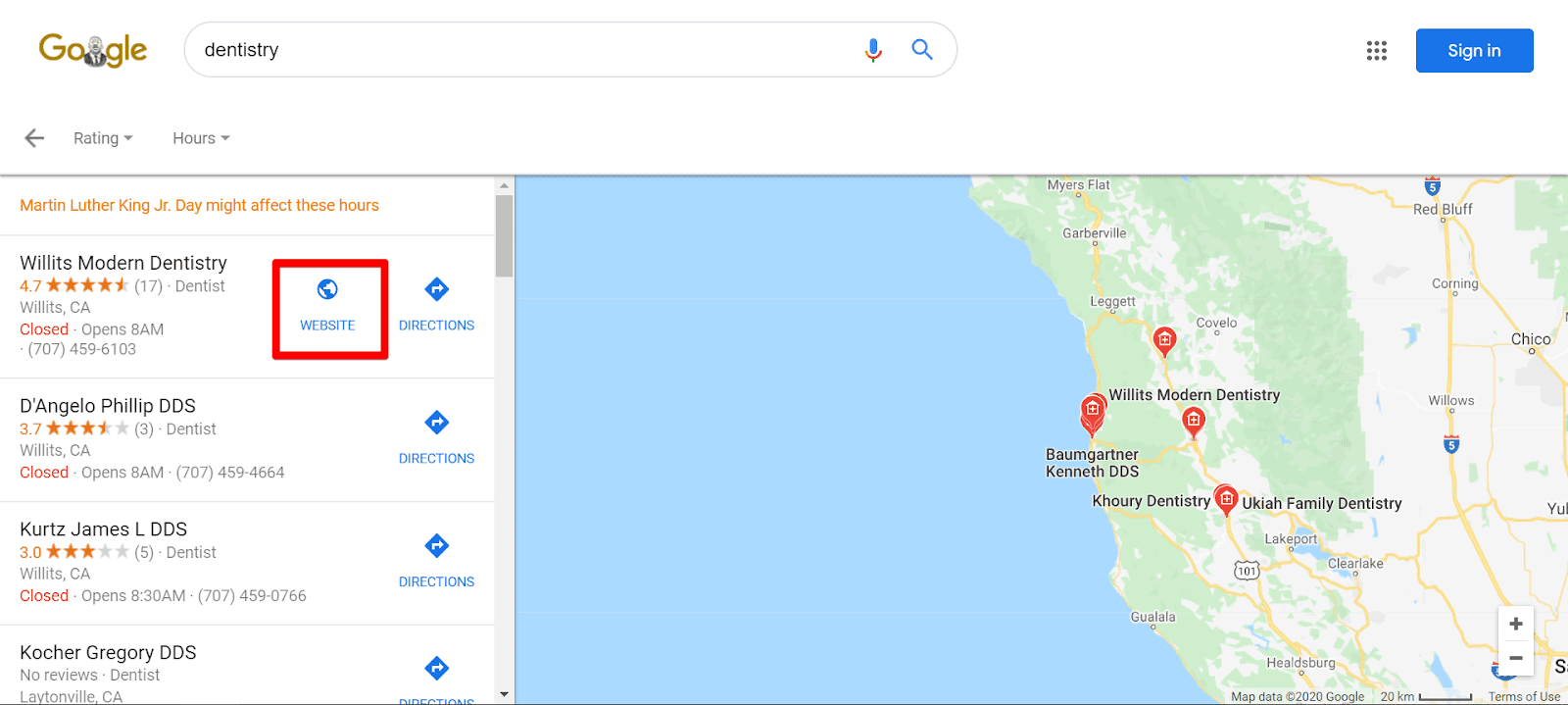 It, therefore, should be able to succeed much faster than an e-commerce website offering delivery across the whole country with plenty of rivaling websites selling the same goods and trying to rank for the same keywords. Businesses targeting the worldwide market, like software companies, will see the highest level of competition as they'll have thousands of websites from around the globe as their rivals, including international businesses with huge marketing budgets.
With local or nationwide markets, the number of your rivals will also vary depending on the language your target market speaks. SERP competition in languages other than English is usually less tough. "The best CRM" query, for example, when Googled gets 231 mln results. The equivalent keyword in Spanish is "mejores crm" and Googling it will bring you just about 5.5 mln results. It goes without saying that for languages with fewer native speakers like Dutch or Danish the competition is even less tough.
The keywords you want to rank for
Not all keywords are made equal. Some of them are more generic and get thousands and even hundreds of thousands monthly searches. Others are more specific and are Googled around forty times a month. Depending on which type of keywords you decide to target, you can start ranking high rather fast or wait for a year or more to see the first results.
So, for quick results go for low-competitive keywords like "gym workouts for beginners to lose weight" or "luxury lodges with hot tubs scotland". There's an abundance of such queries to choose from in any business niche. SE Ranking's Keyword Suggestion tool, for example, came up with over 100 thousand long-tail keywords ideas for the search query "lodge".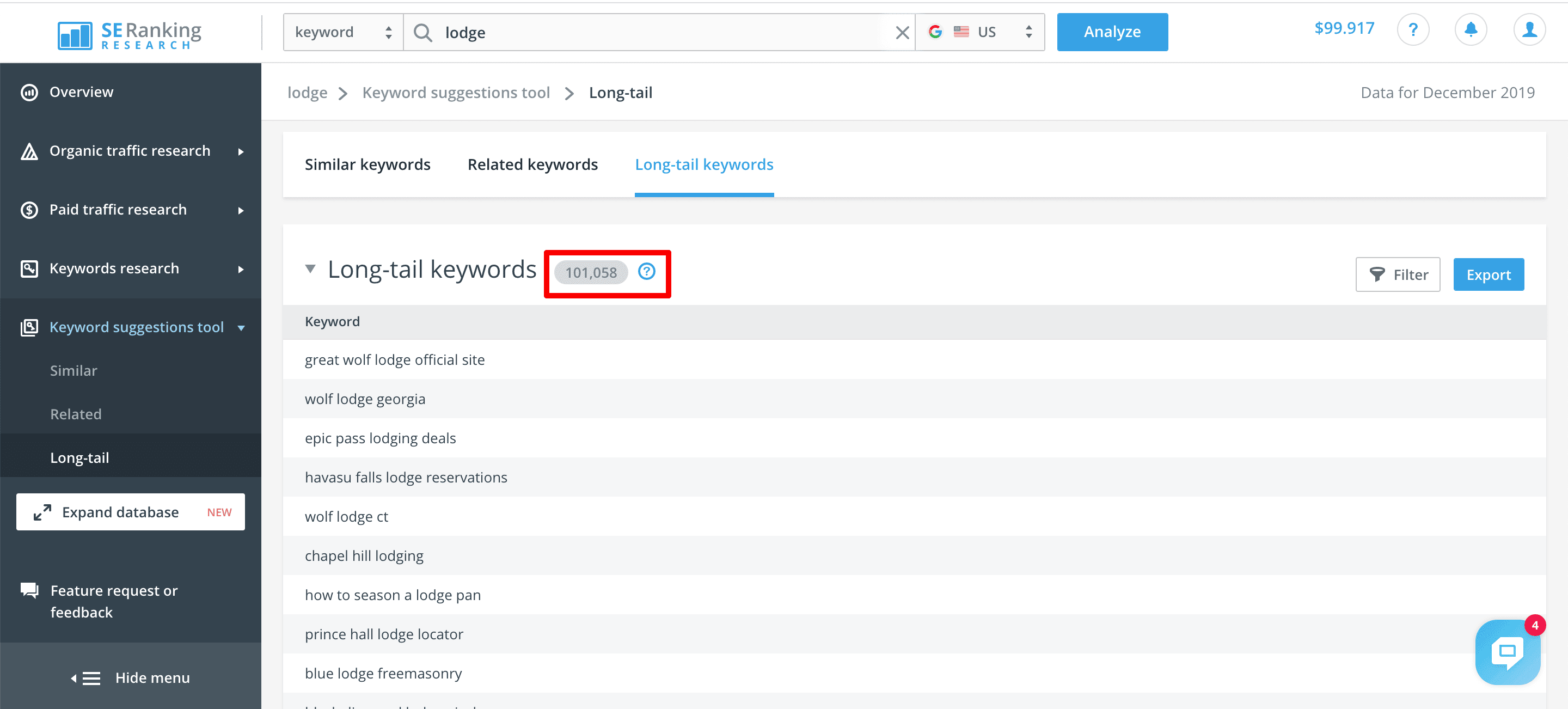 Such keywords are highly specific – it's clear what people expect to find when Googling the query. For this reason, many SEO strategies today are based on going long-tail and producing very specific content that will perfectly fulfill the user's intent. The drawback of this approach is that being low-volume, long-tail keywords won't bring you much traffic. The "Luxury lodges with hot tubs scotland" query, for example, gets only 10 searches a month.
More generic keywords, on the other hand, usually boast higher search volumes. For example, people look for "mountain lodge" 1900 times per month. At the same time, head keywords are highly competitive, so while they can bring you tons of traffic, don't expect it to happen fast.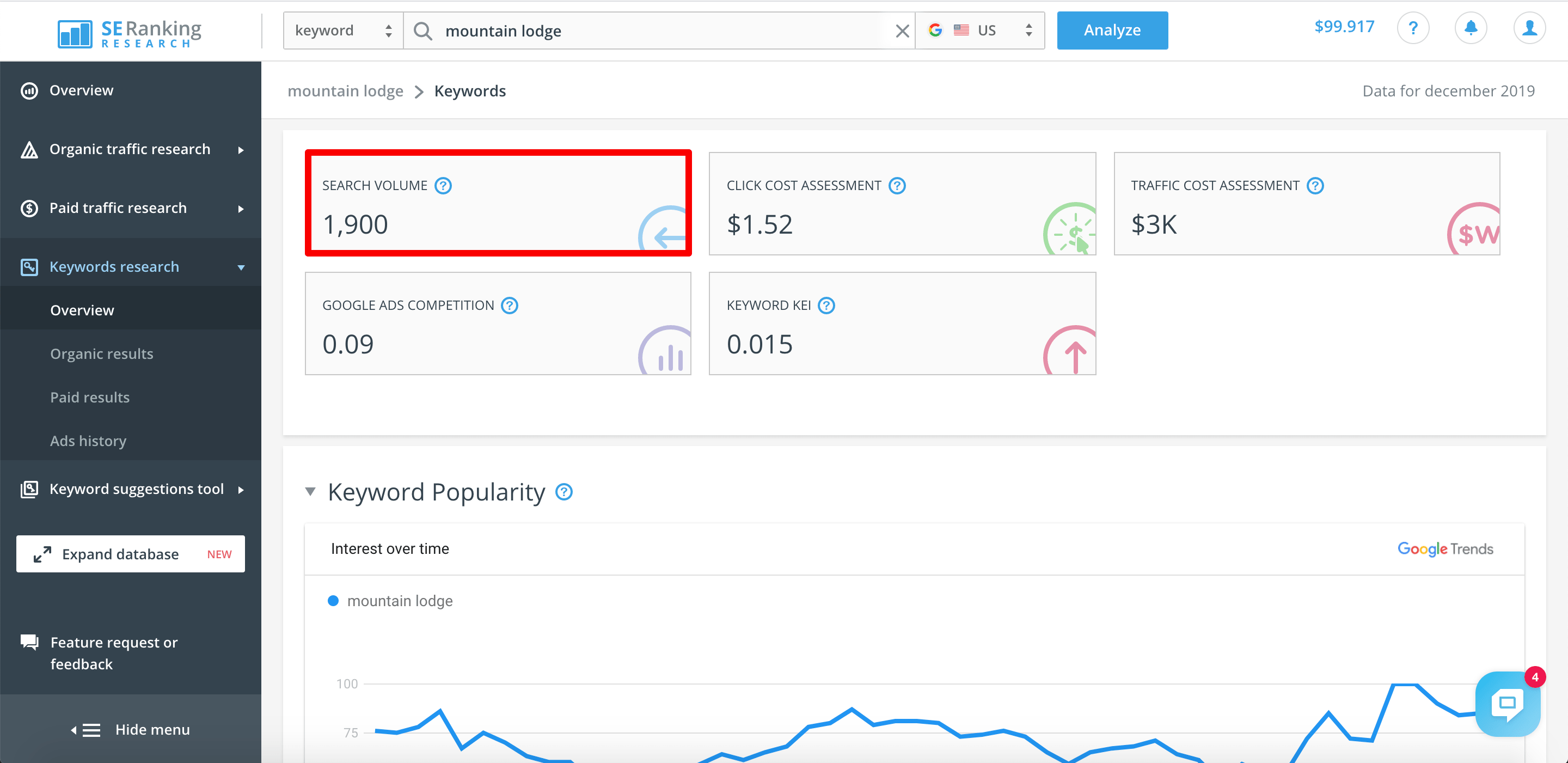 Another drawback of head terms is that they are too broad and it's not always clear what kind of user intent stands behind them. With the "mountain lodge" keyword, it's not evident which location the person considers, which exact type of accommodation is desired, and so on. This is why they don't convert that well — long-tail keywords with a conversion rate of 10.6% for head terms vs 26.07% for long-tail keywords according to a study by Conductor.
Either of the two strategies may work for you – you just have to realize that hunting for big fish will take much more time, especially if you are in a competitive niche and market. According to a study by Ahrefs, only 0.3% of websites manage to rank among the top 10 results in the first year for keywords with the monthly search volume of over 50 thousand.
The choice of an SEO strategy
Analyzing the market and choosing the right keywords to target is just one part of your overall SEO strategy. You'll also have to decide on how you'll be building backlinks to your websites, come up with the best possible website structure, and generally decide on the things that should be done first to achieve your goals faster.
It's no secret that in addition to white hat SEO techniques, there are also black hat and grey tactics that are meant to outsmart Google's algorithms and help the website achieve significant ranking results much faster. Such techniques may actually be pretty successful and bring you the desired results earlier than expected. However, in the long run, such an approach to doing SEO can backfire, and, ultimately, drag down your website's rankings.
Google evaluators constantly hunt down websites that violate Google's guidelines and impose penalties on them. As Google sticks to the customers-first approach, punishing violators allows it to better serve its end-users and keep all websites that may impede the user experience away from the top of the SERP. It is still possible to recover from penalties, but getting kicked out of the SEO game will have a devastating effect on your website's performance.
Your SEO specialist's expertise
Unless you are willing to do your website SEO on your own, it will be your SEO specialist who will be deciding which strategies to rely on and which changes to implement on your website to make it more rankable. And the faster your SEO specialist makes all the crucial changes, the sooner you'll see some tangible results. So choose someone who can set priorities straight and offer you an actionable SEO plan.
Since SEO involves a lot of things, from technical improvements and content creation to setting proper internal linking and building backlinks to a website, your expert should be knowledgeable in all of these areas. Any mistake they make will slow down your website growth and may badly impact your rankings. Getting things right will take time, and even more time will pass before search engines notice that some corrections have been made. Besides, some mistakes simply cannot be corrected – once the page is deleted there is no way of getting it back.
Also, beware of SEO specialists who use outdated tactics. SEO is not like math or physics – the algorithms that define the rules of the game change all the time. So, something that worked well a decade ago like keyword stuffing will only harm your website today. Having a person that got stuck in 2010 onboard your processes means you'll be wasting precious time without progressing and may waste even more time in the future correcting all sorts of errors.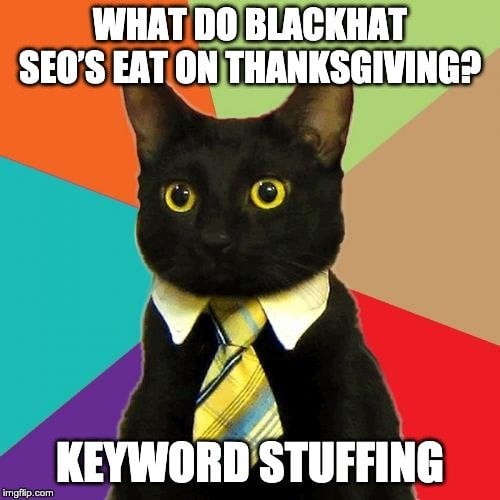 So, the bottom line is: Make sure to hire someone knowledgeable who stays on top of every SEO trend. Then, whichever market you are in, the SEO expert will be able to analyze the competition and build a viable SEO strategy for your business.
Half-ripe, green or rotten
The last thing that may impact the time frame required to reach your SEO results is the amount of work that's already been done. Your website's technical health, structure and user interface, published content and acquired backlinks, internal linking and social media signals – all these things along with many other factors define how SEO-friendly your website currently is.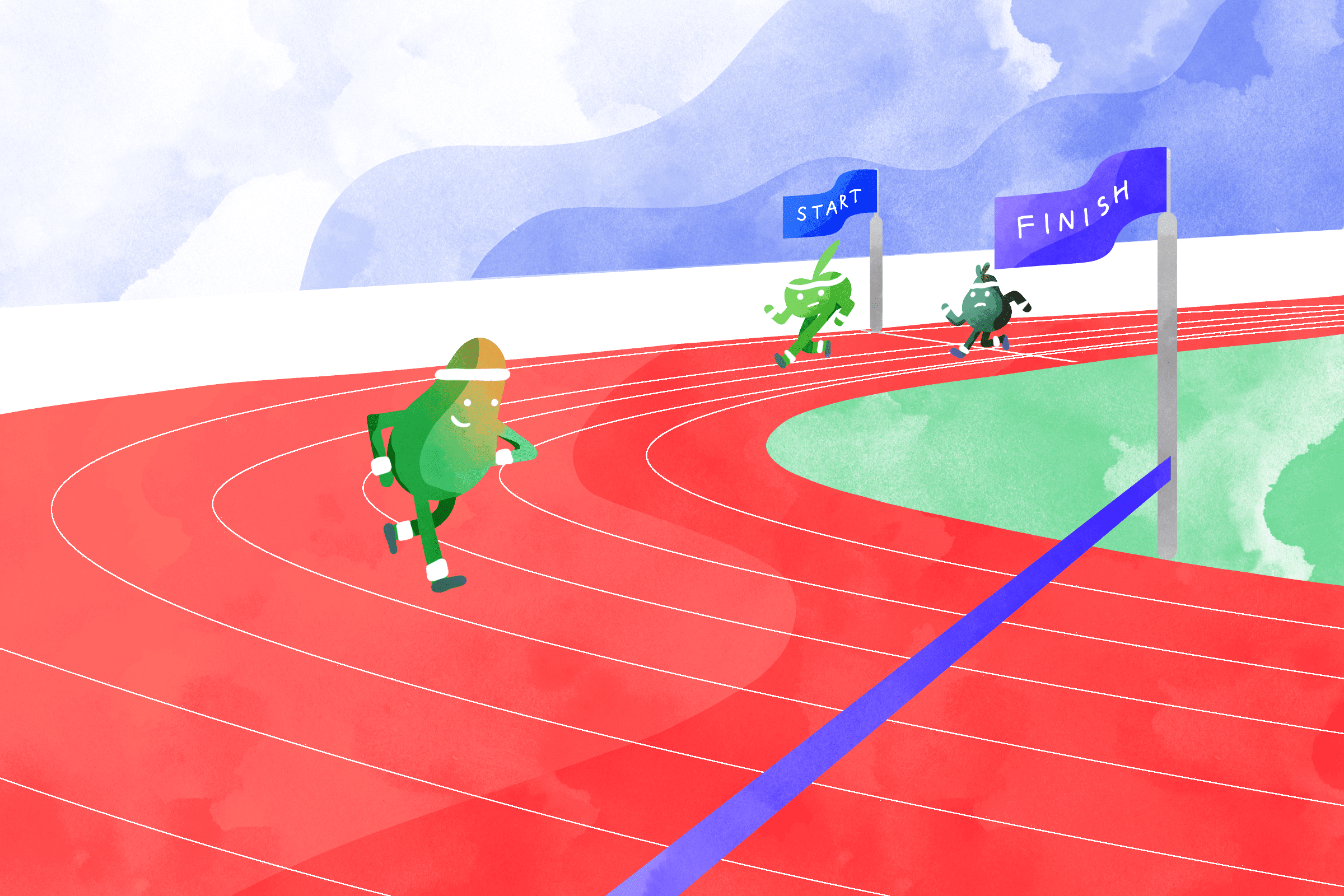 Halfway to success
Let's start with the most positive scenario possible. This is when you need to promote a website that is already halfway through to SEO success. Let's say a website has been around for a while, some quality content has already been published, and some PR work has been done. With this kind of website, an SEO specialist will have a solid basis to lean upon.
So, the SEO process will probably start with the polishing off of existing content. Provided that it was created with some customer problems in mind and not just for the sake of content publishing, it can be optimized for better SEO performance and some quick results. Some technical finetuning will follow, then internal linking will be implemented to strengthen the most important website pages. Naturally, more content will be produced after doing keyword research and more backlinks will be obtained as well.
So, while SEO specialists will still have plenty of work to do, you can expect to get first results pretty soon if your website is already "in good shape".
Just slightly above zero
Now, let's take an example of a brand new website. The good news here is that there should be fewer technical errors to fix and chances are the design will also be modern and user-friendly. However, in any case, a new website will be somewhere closer to zero on the optimization scale. To start ranking high, you'll have to first produce plenty of quality content and get some mentions with backlinks, which takes a lot of time. Besides, new websites lack authoritativeness and trust that also take time to be acquired.
So, while with new websites SEO specialists won't have to spend time on overhauling, they'll have to start from scratch which means the road to success may be pretty long.
Out of 'suspension' and back on track
The last scenario is the least optimistic one – that's when you have a website with a negative SEO history. It may be your case if your previous SEO specialists resorted to shady SEO techniques which Google did not appreciate. Or maybe you bought a domain and were unaware that it had some manual actions imposed on it in the past. Anyway, to bring your website back on track, an SEO specialist will have to do a massive cleanup.
They'll have to first disavow bad links pointing to your website. Then, there'll probably be some technical errors to fix and some junk content to get rid of. Once the cleanup is over, the time will come to fill your website with quality content and build backlinks from trusted sources. The problem here is that someone who once lost Google's trust will have to work twice as hard to regain it and start ranking high.
So, while a lot of work will be done to get your website out of Google's disgrace, a lot of time may pass before you'll be able to see any significant improvements.
Available resources on hand
Regardless of the scenario, you find yourself in, driving your website to the top will take a lot of hard work. And it's not just the work of the SEO specialist I'm referring to.
You'll need to have all of the technical errors fixed which means you can't do without a website developer. And while some issues can be corrected relatively fast, other errors are rather complicated and resource-demanding. So, to quickly nail the technical part of your website, the developer needs to have some time to spare. Alternatively, you can hire a freelancer to do the job for you, but handling things with someone working remotely usually takes even more time.
Then, to make your SEO strategy work, you'll have to create a lot of quality content which again takes time, as all good things do. If you don't have any in-house copywriters to do the job, you'll once again have to find a skillful freelance specialist. Again, this takes time and will also cost you a pretty penny.
So, when you're planning to embark on your SEO journey, make sure to adequately evaluate your team's available resources. If some core tasks won't be completed as fast as desired, it will slow down your SEO growth. Then, once you take all of the factors discussed in this post into account and get a rough estimate of how long SEO may take for your business, carefully plan out your budget. Otherwise, you risk running out of funds halfway to the destination.
SEO takes a while to start working, so you'll have to spend a lot of funds, time and effort before you get any return on your investment. But the benefits you'll eventually gain are well worth all the hard work it takes to make your website visible in search.