Website SEO Checker
Check a website's SEO and see how well-optimized it is for both search engines and people

All SEO data in one tool
SEO checker with fast results & accurate data
Join over 800,000+ users
You are in good company
Start two week free trial
Traffic analysis
Traffic history and dynamics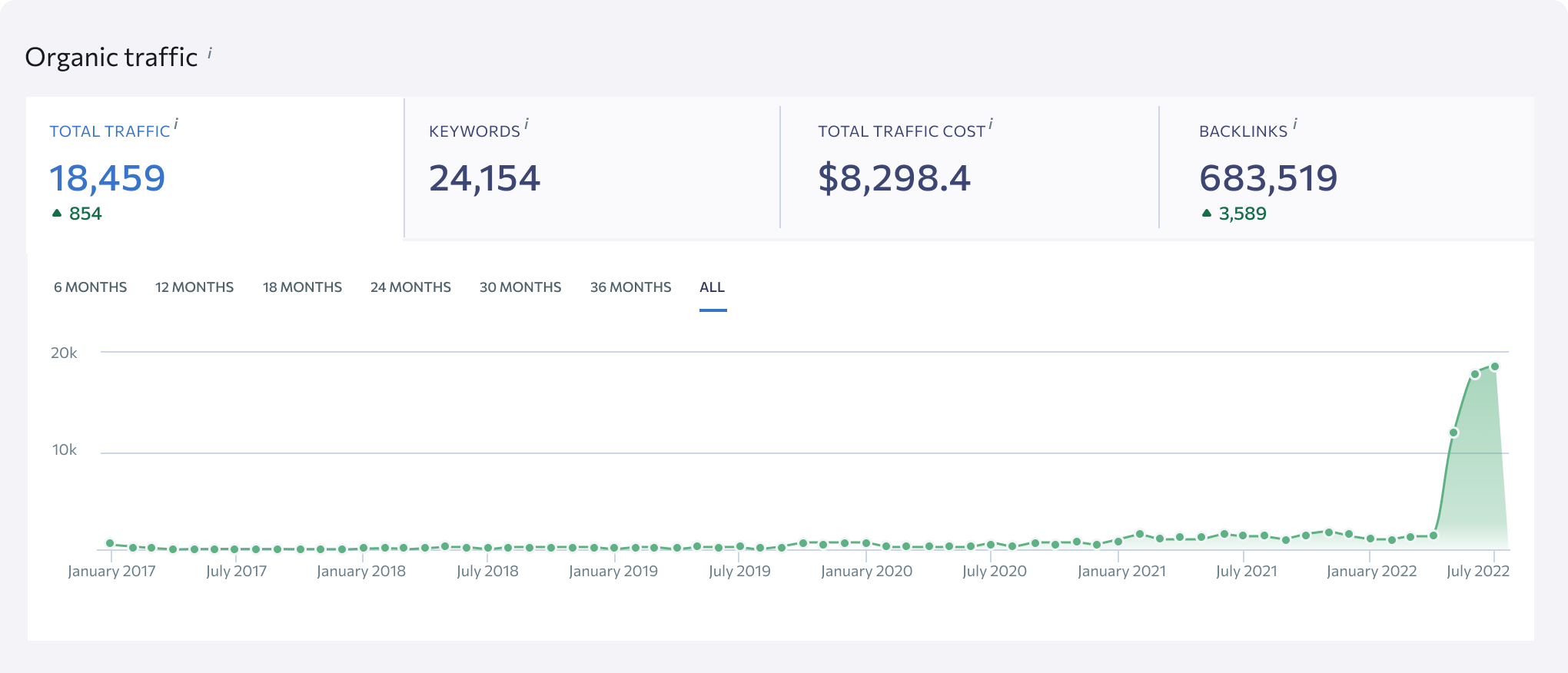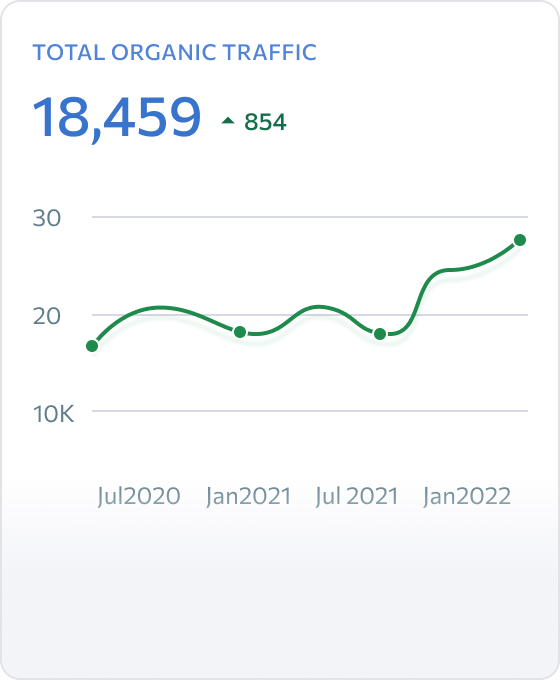 Organic traffic volume
Pinpoint the number of people coming to your website per month from SEO campaigns.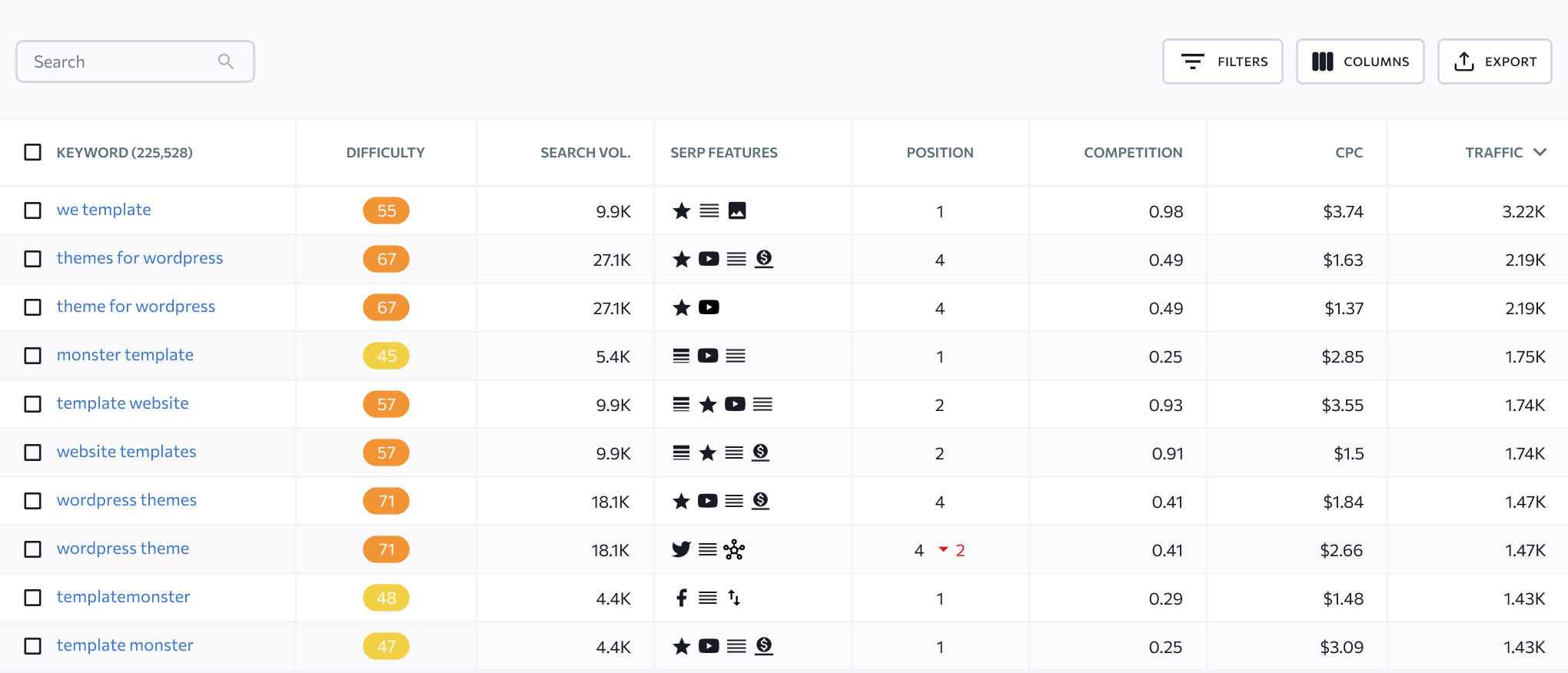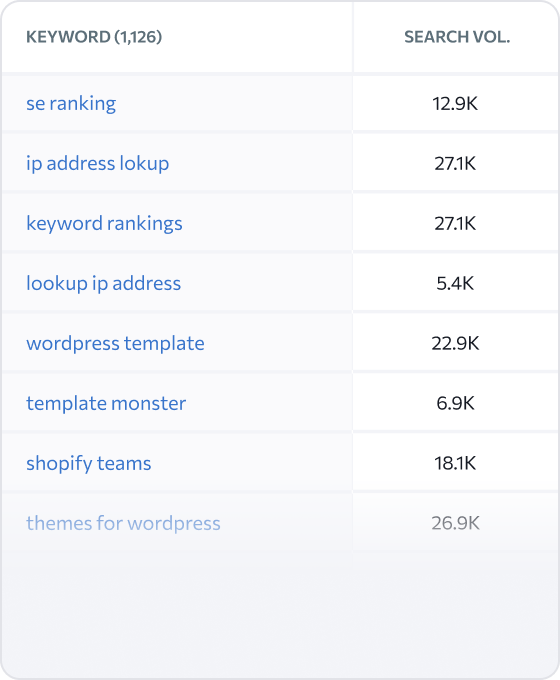 Top keywords by traffic
Identify the search queries and content topics that generate the most traffic to a website.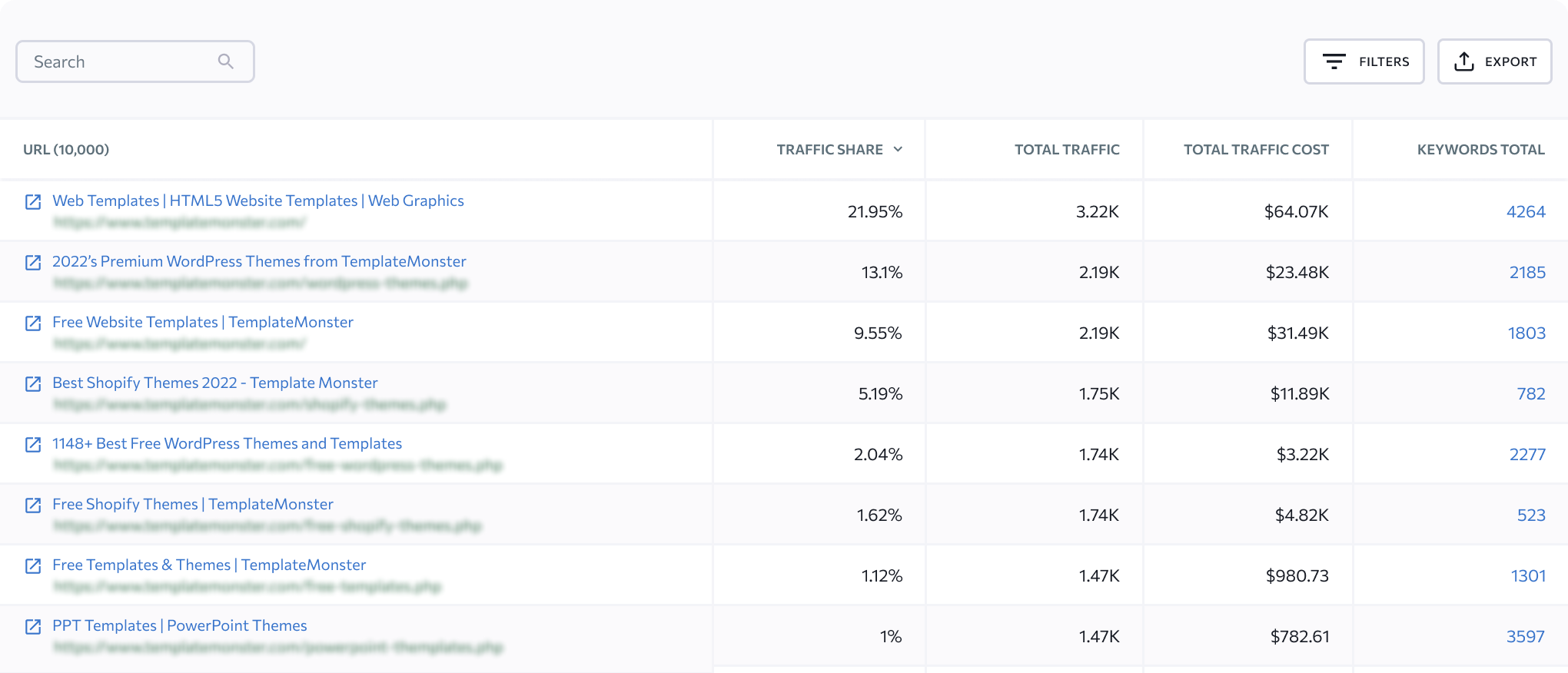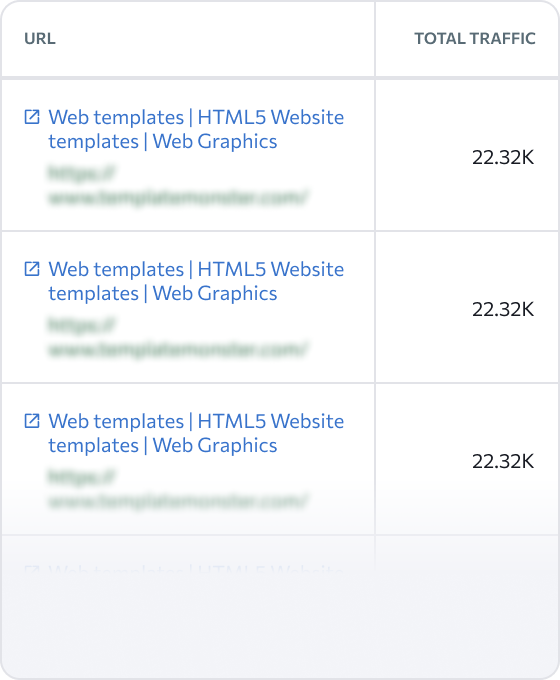 Top pages by traffic
Discover your website's most popular pages and why they're getting the lion's share of traffic from search results.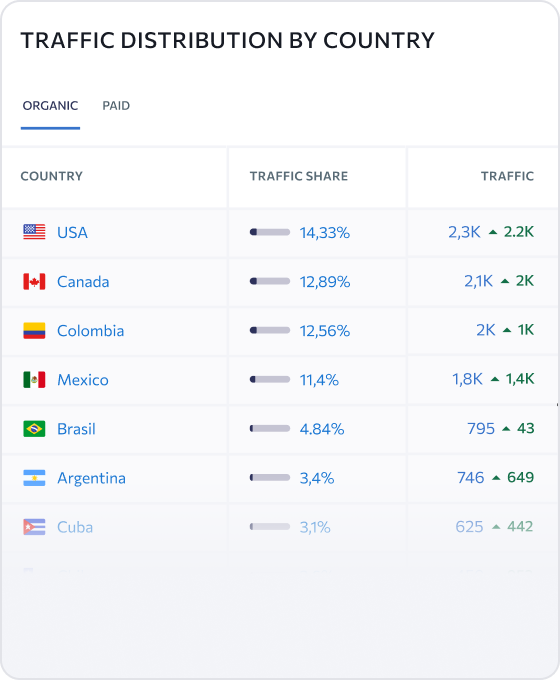 Top locations by traffic
Get a breakdown of the countries and continents driving the most traffic to your website.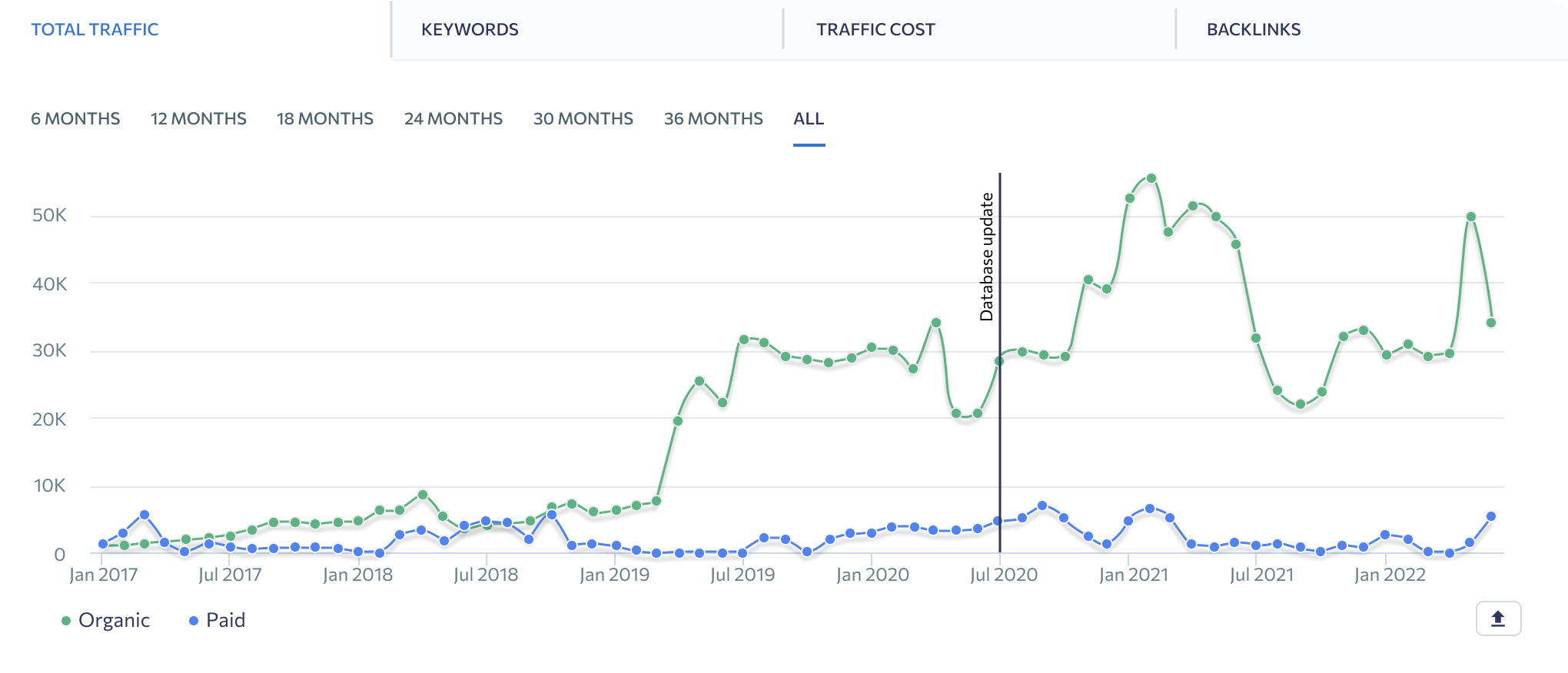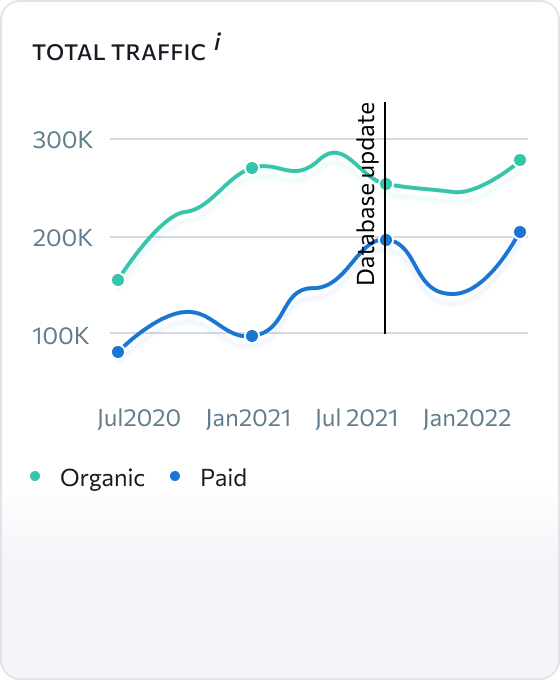 Traffic history and dynamics
Analyze your site's historical traffic dynamics to identify trends and understand traffic jumps and drops.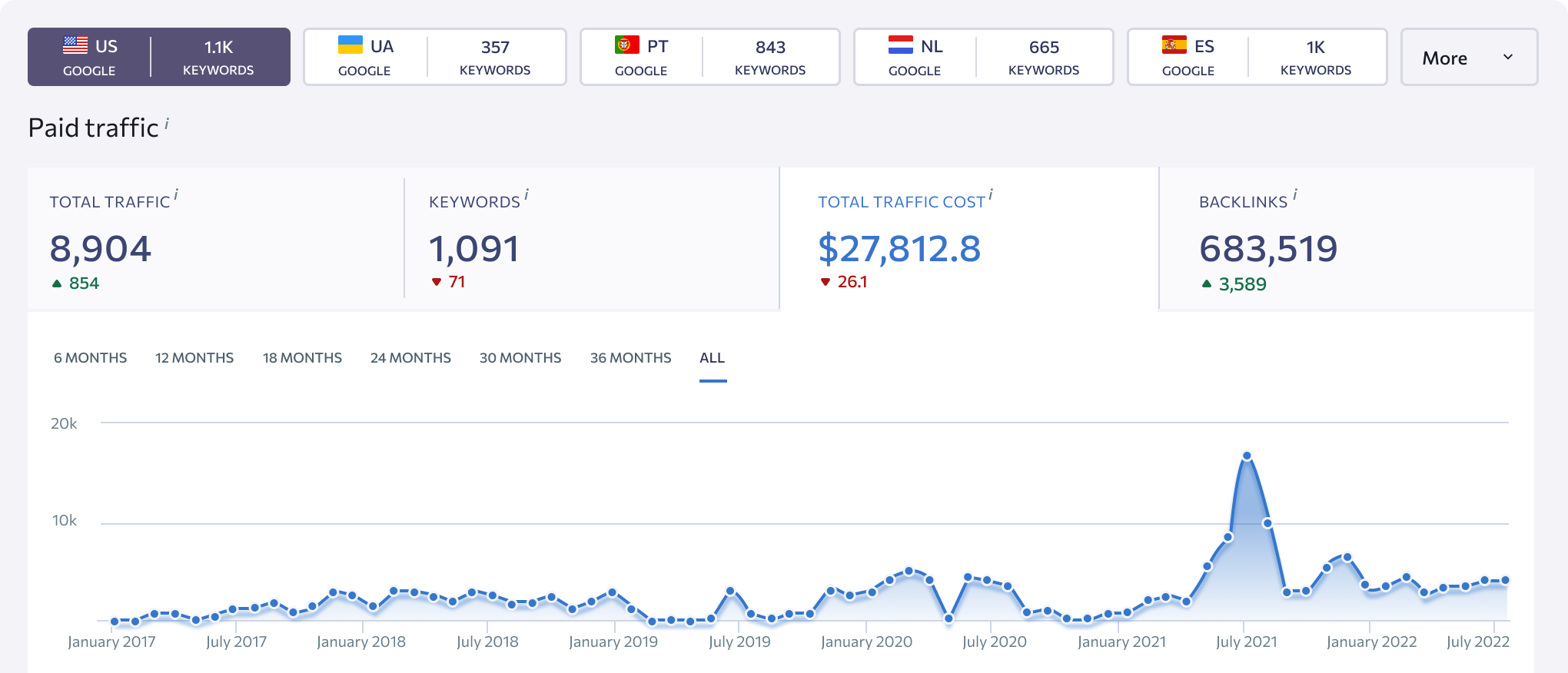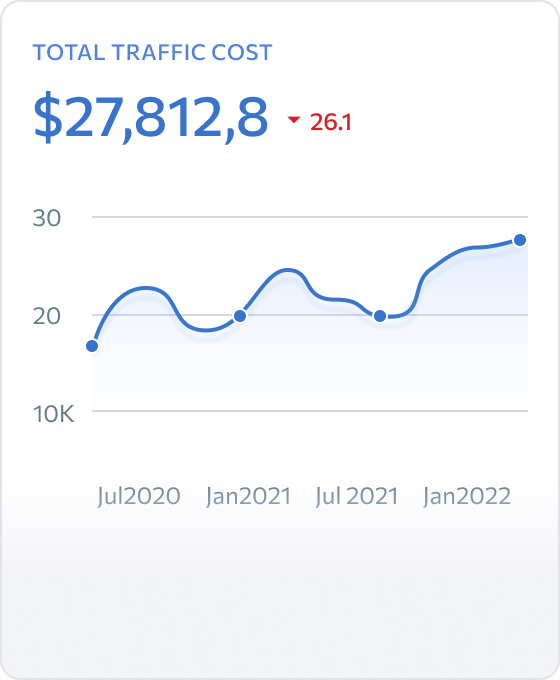 Traffic cost
Learn the cost of driving traffic to a website by targeting every discovered keyword in Google Ads.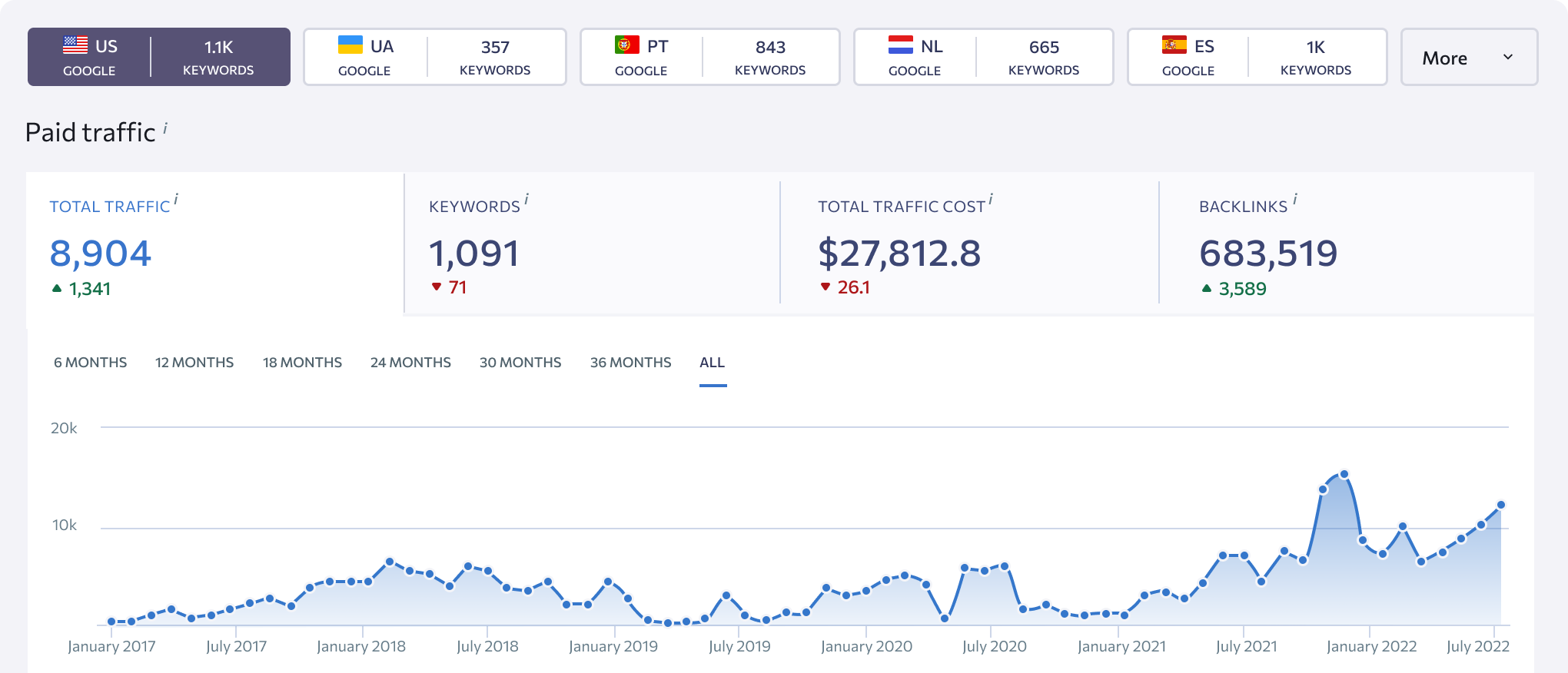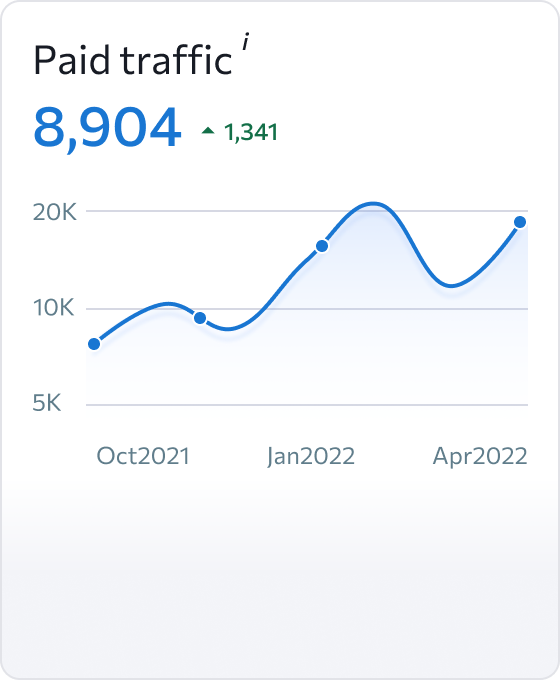 PPC traffic
Check the approximate number of clicks a website gets per month in its paid search campaigns on Google.
Website position tracking
Rankings for a particular location and search engine
SERP features and search snippets
Ranking comparison with competitors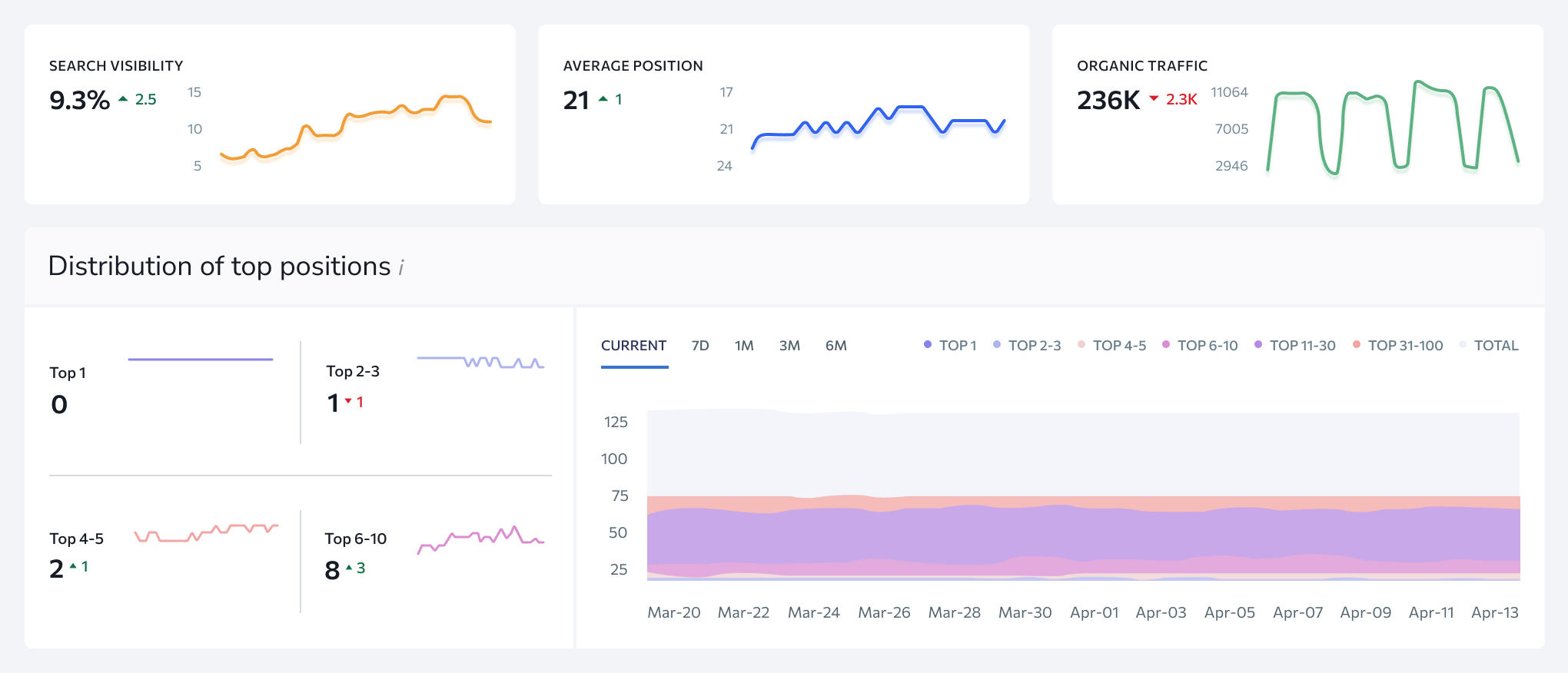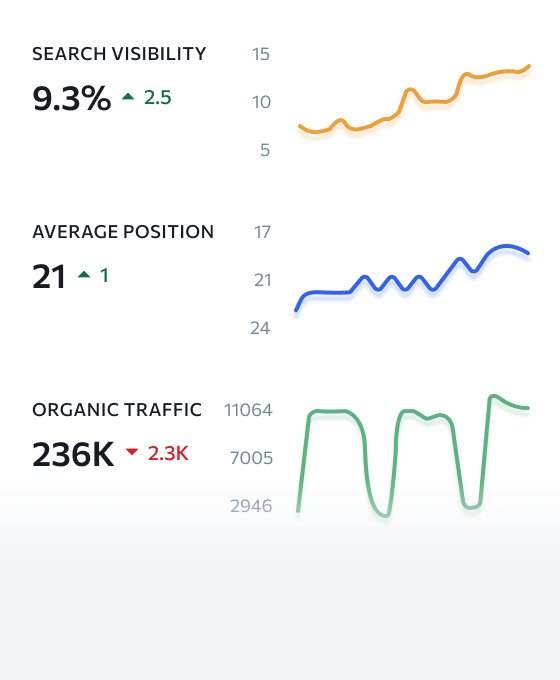 Rankings summary
Get a birds-eye view of website rankings using a customizable dashboard that offers multi-metric graphs and a summary table.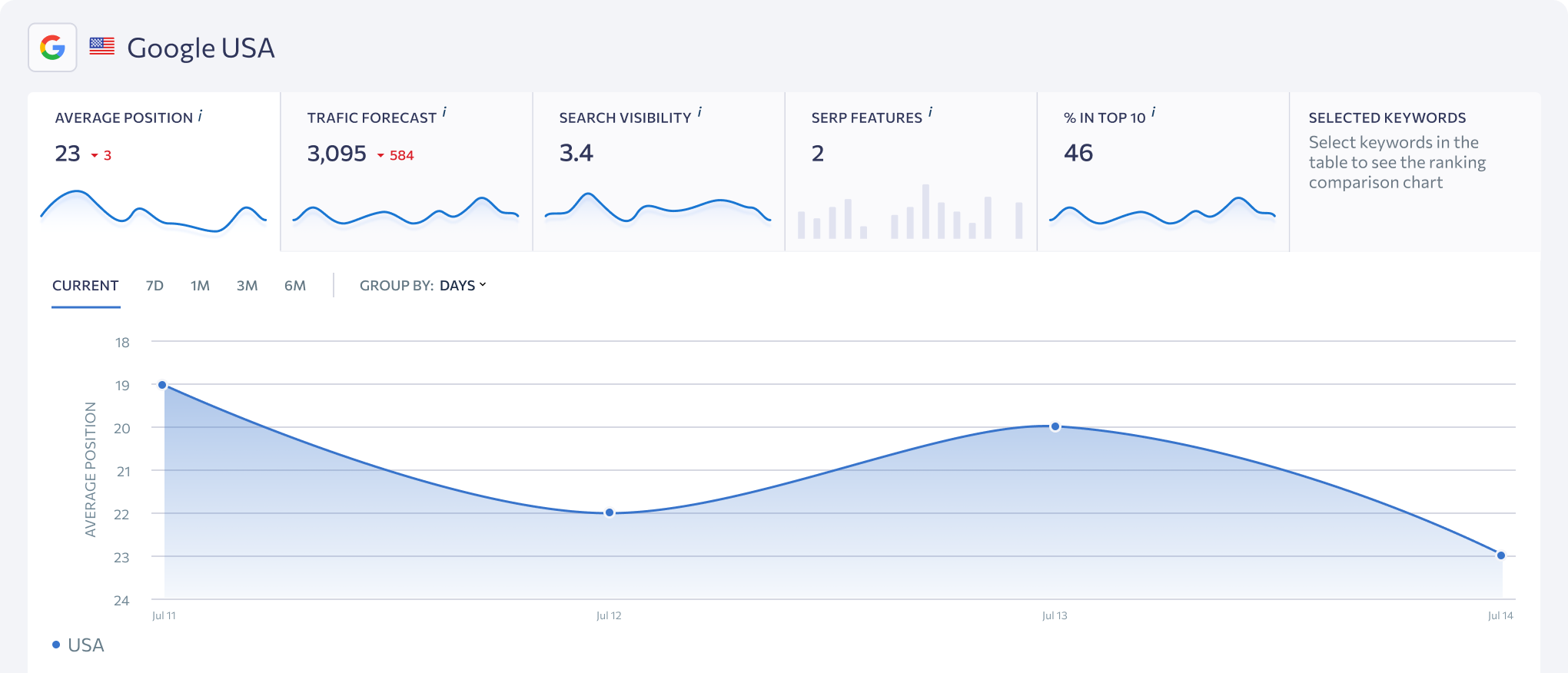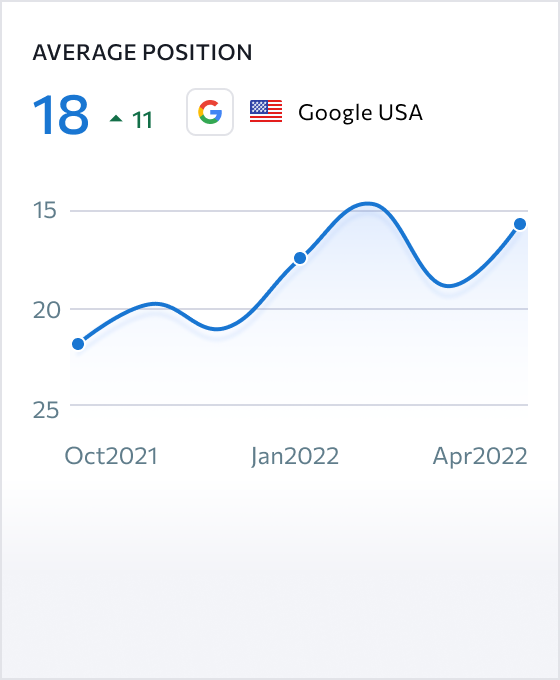 Rankings for a particular location and search engine
Track keyword rankings on every major search engine and anywhere in the world, right down to the postal code.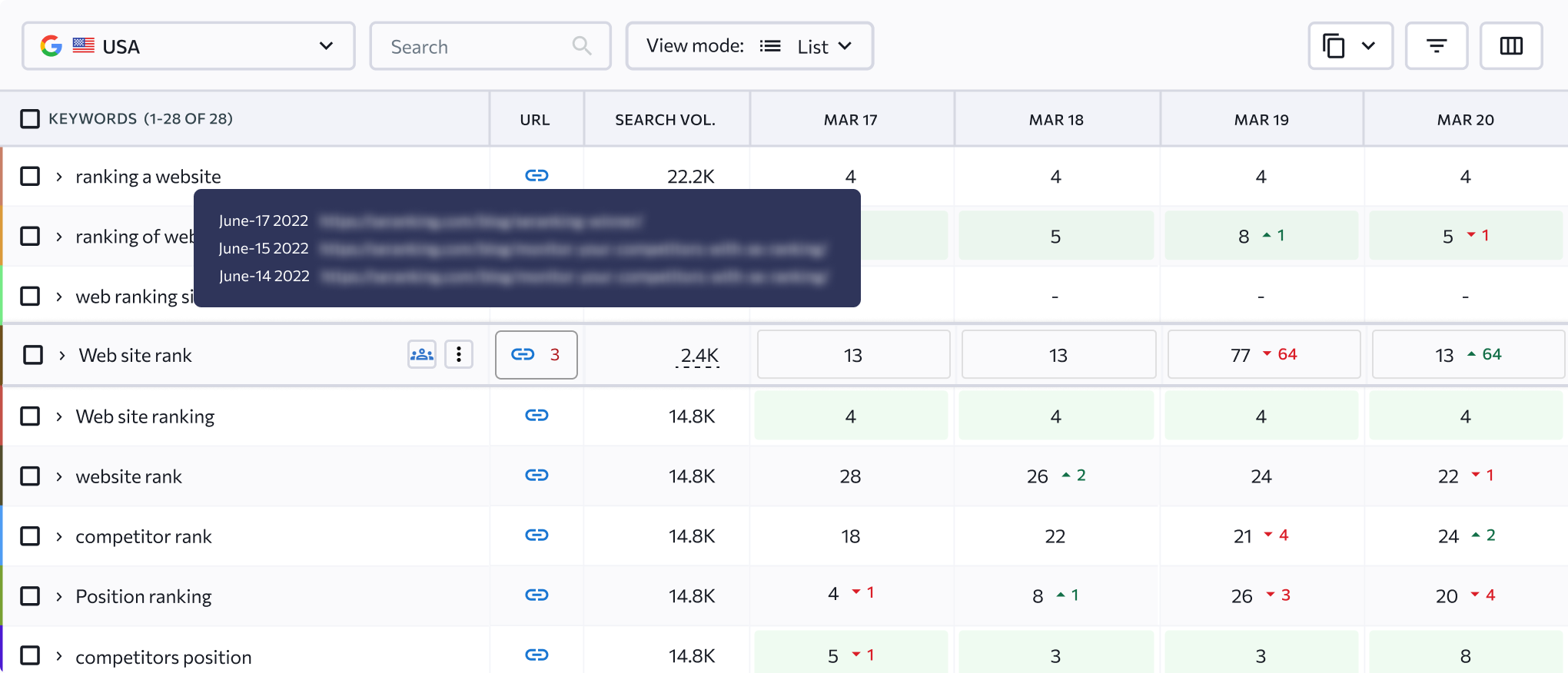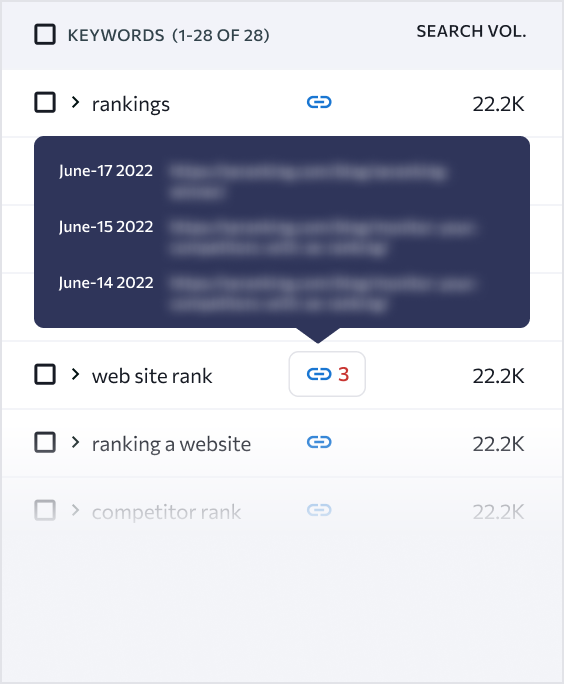 Keyword cannibalization
Make sure multiple pages of your site aren't ranking for the same keyword, hurting your site's SEO performance.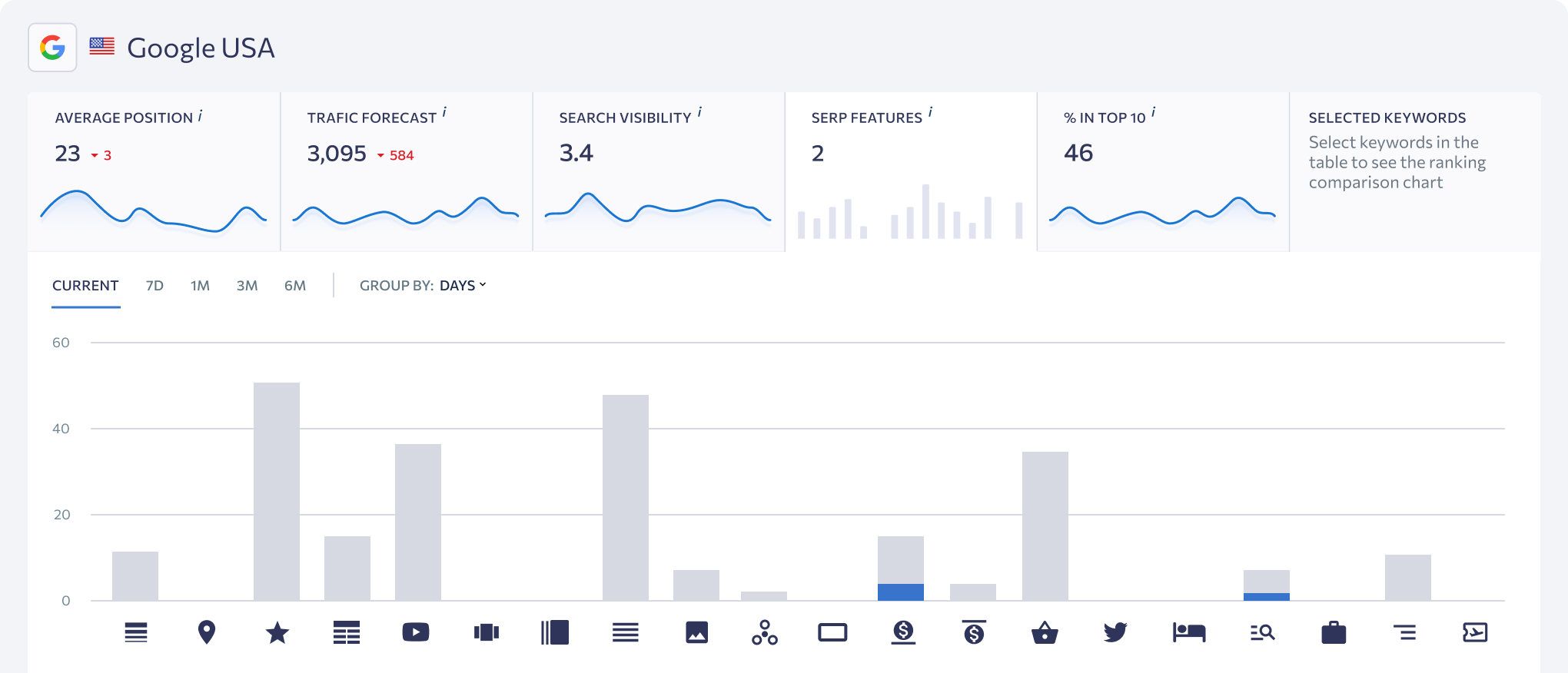 SERP features and search snippets
Discover what SERP features are being displayed for your target keywords and learn how your pages are presented in search.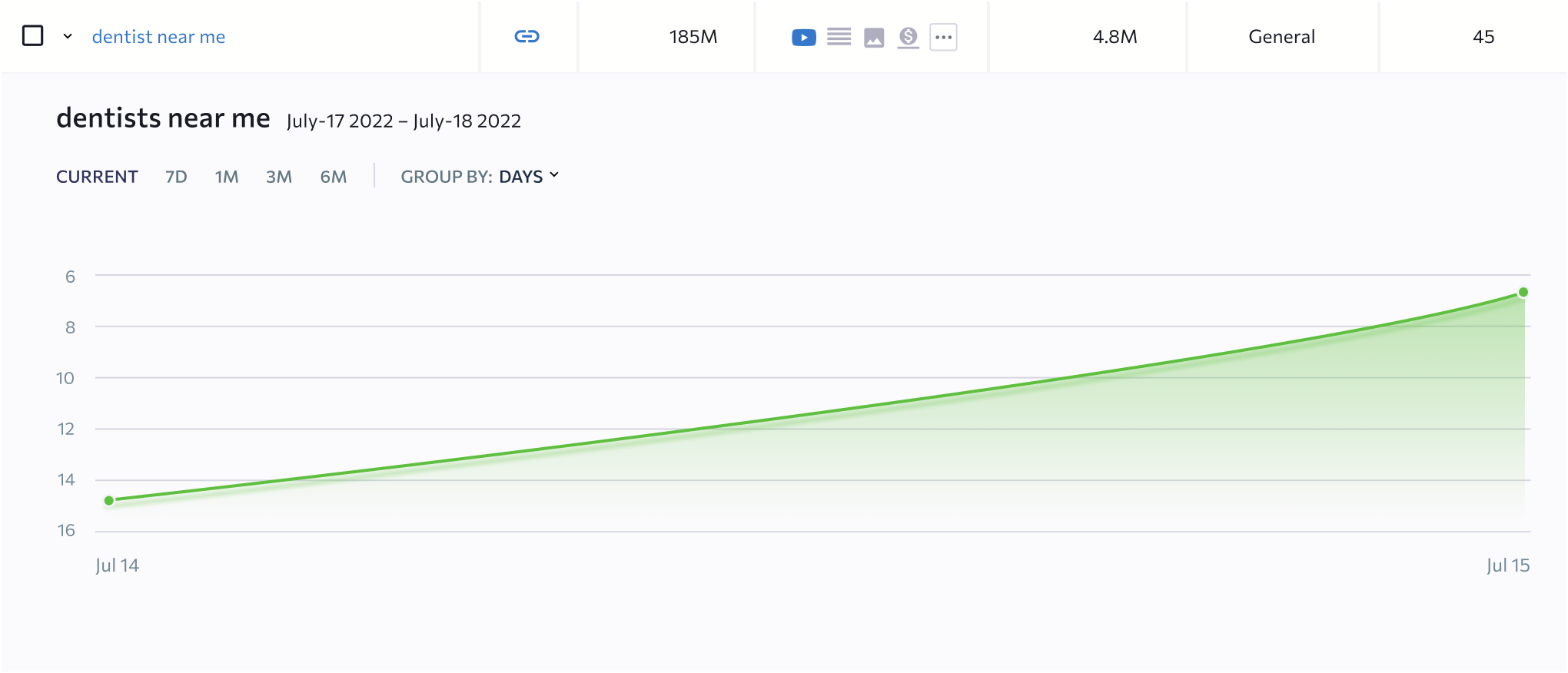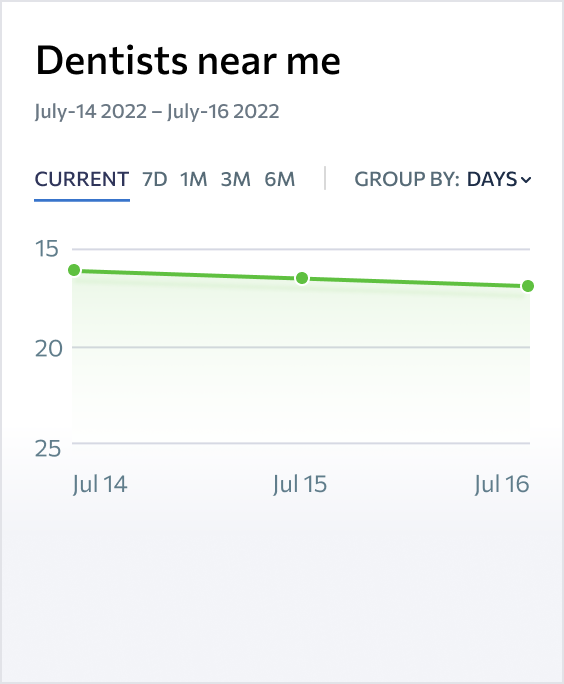 Keyword ranking dynamics
Find out how to properly assess your keywords' SEO performance by seeing how their rankings change over time.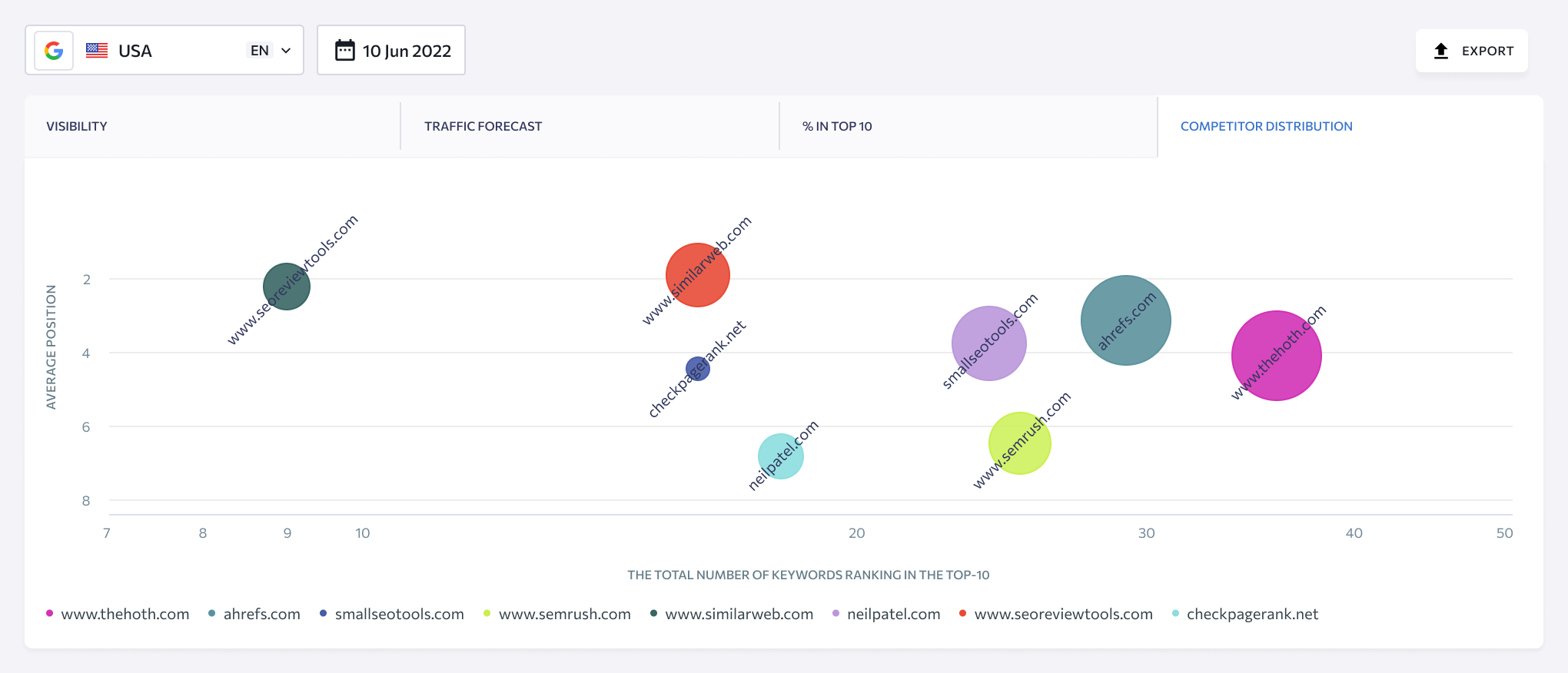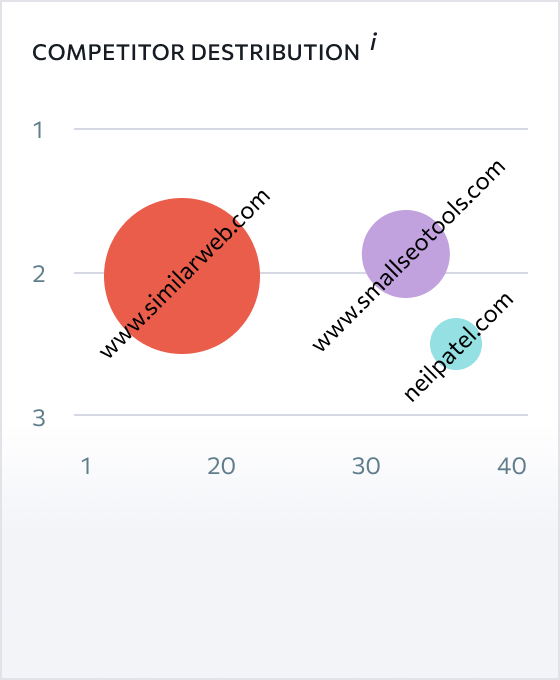 Ranking comparison with competitors
Check how competitors are ranking for your target keywords to understand where you need to improve your SEO strategy.
Track your target SEO keywords
Pinpoint the ranking positions of your keywords using Keyword Rank Tracker
Website health check
Website speed and Core Web Vitals
HTTP status codes and redirects
Title, description & headings analysis
Internal and external linking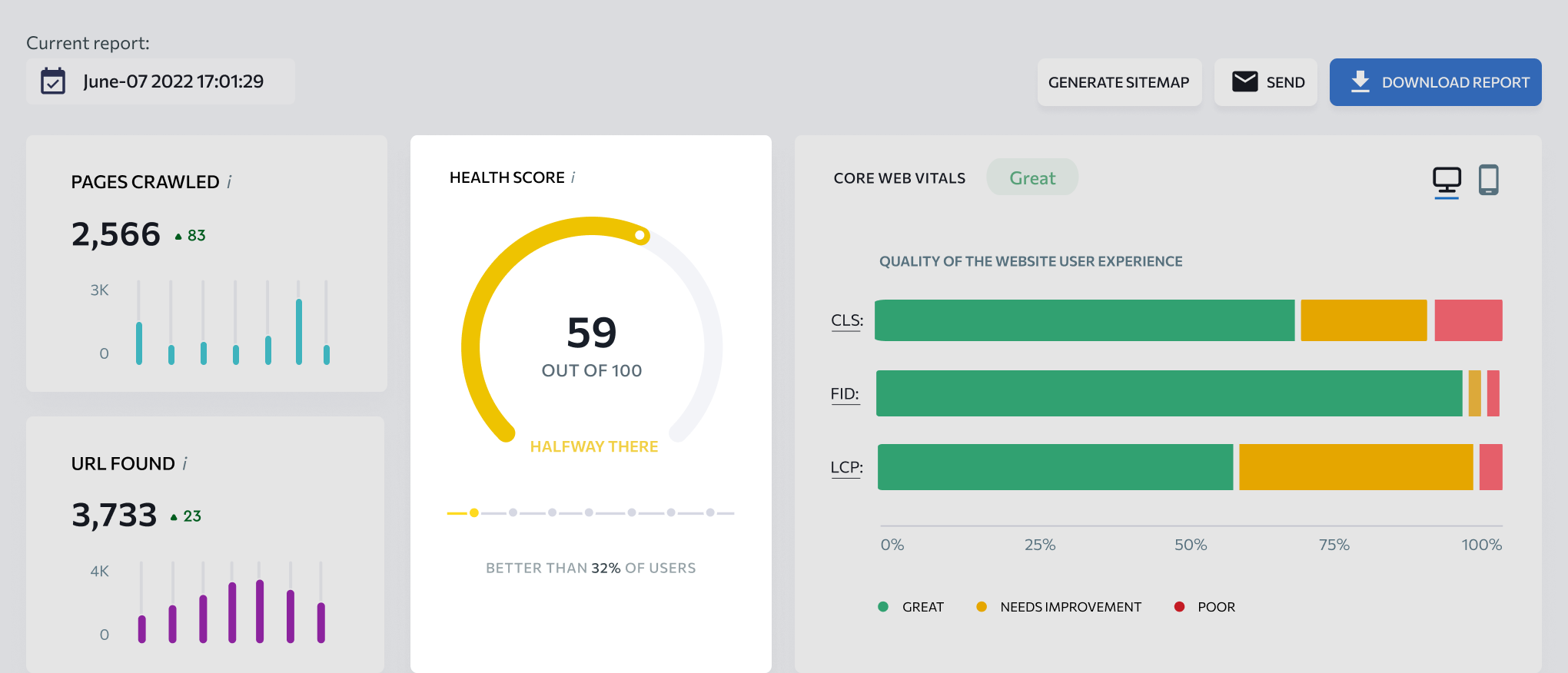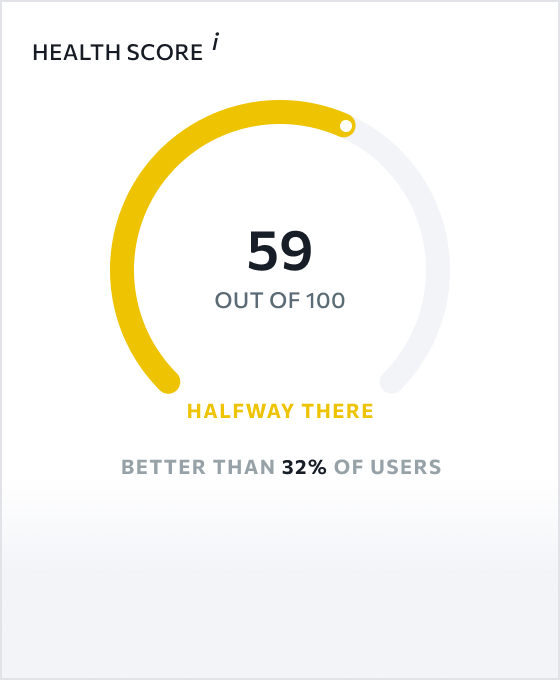 Health score
Assess a website's overall technical SEO score to grasp the scope of optimization work that must be done.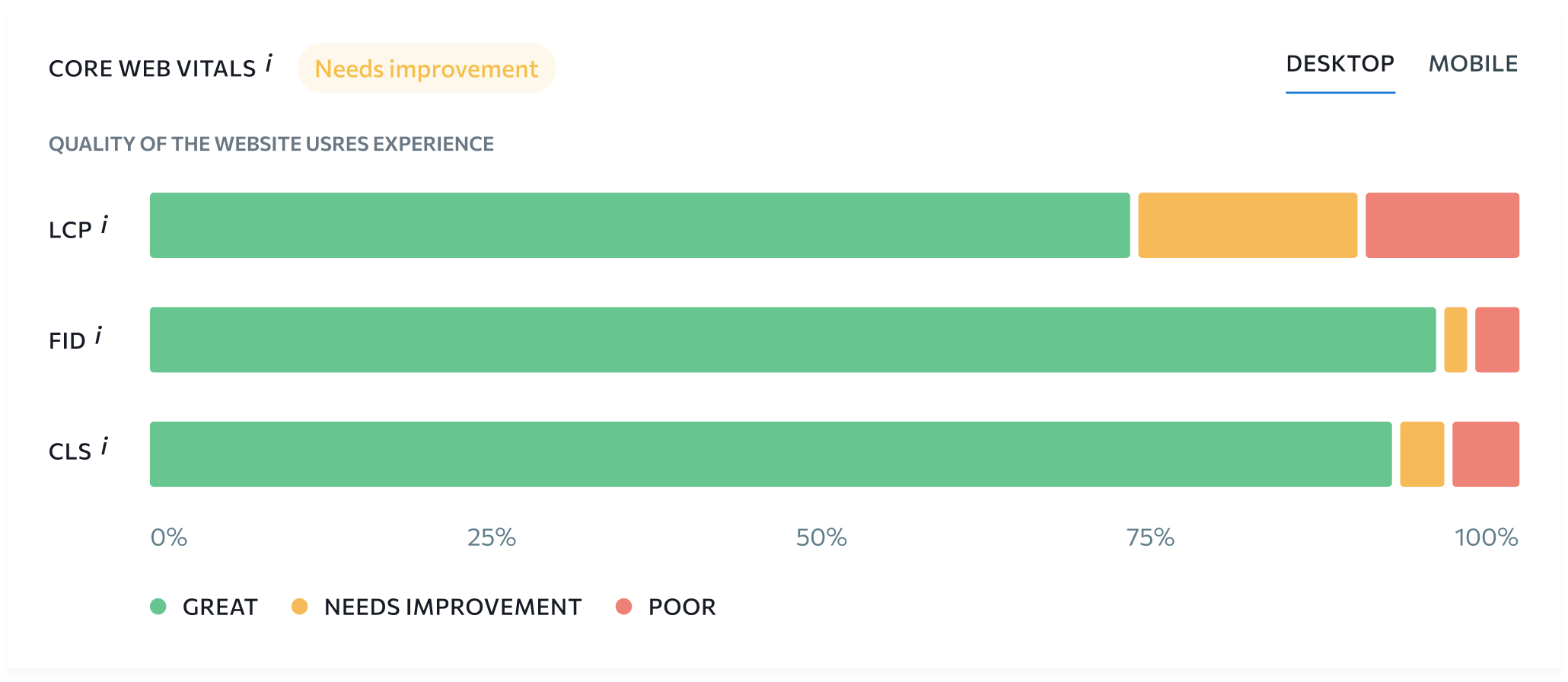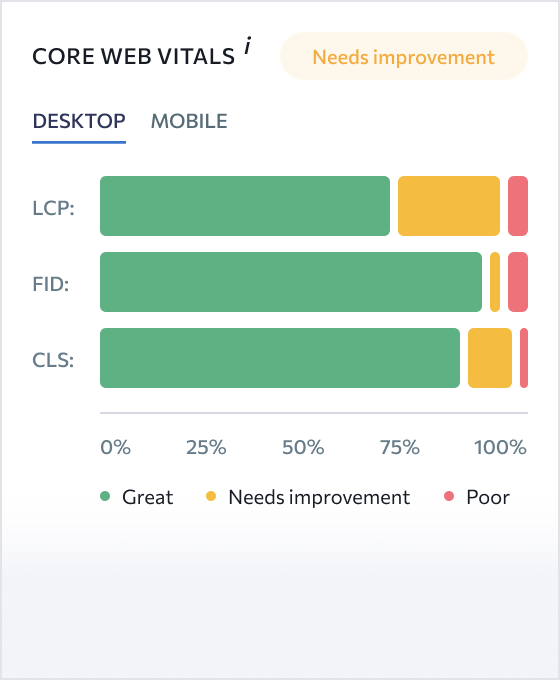 Website speed and Core Web Vitals
Provide your visitors with the best possible user experience by analyzing the loading speed of your page and its elements.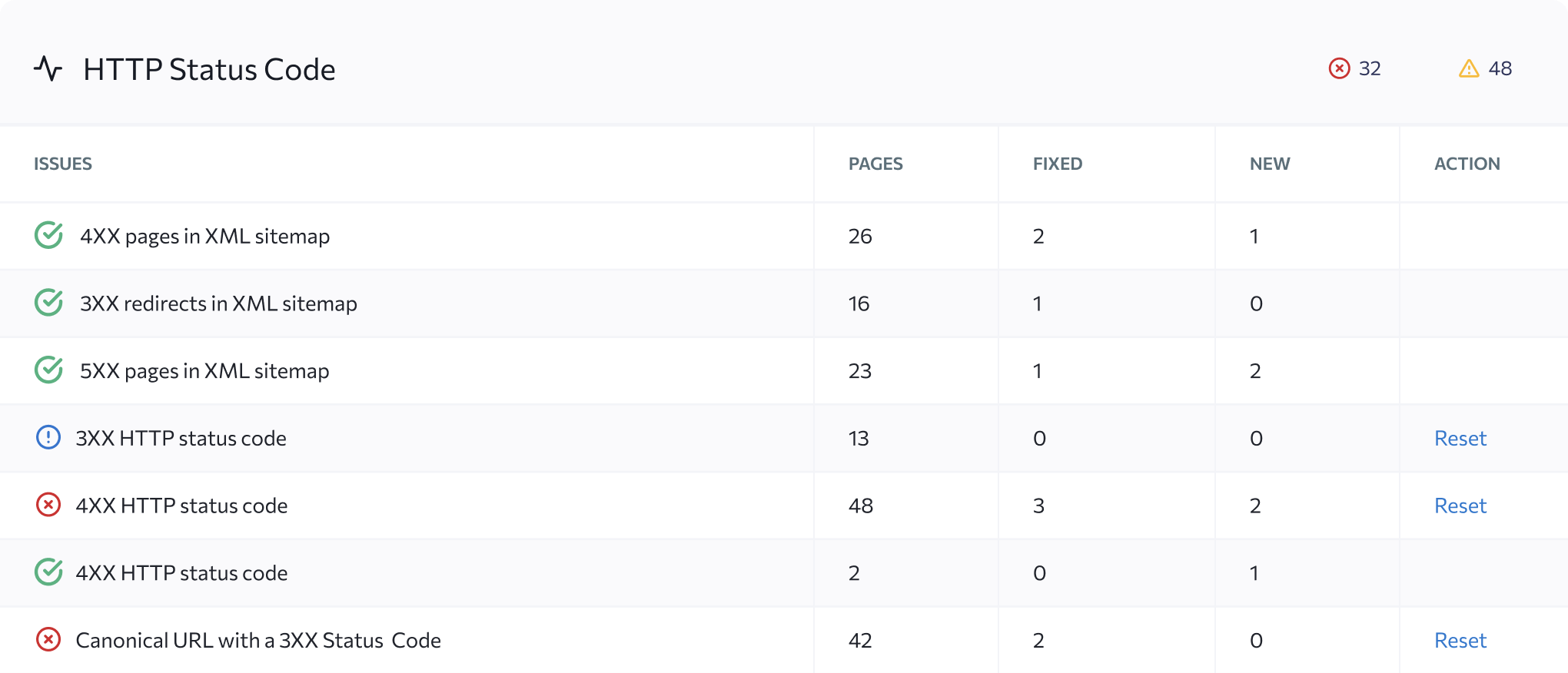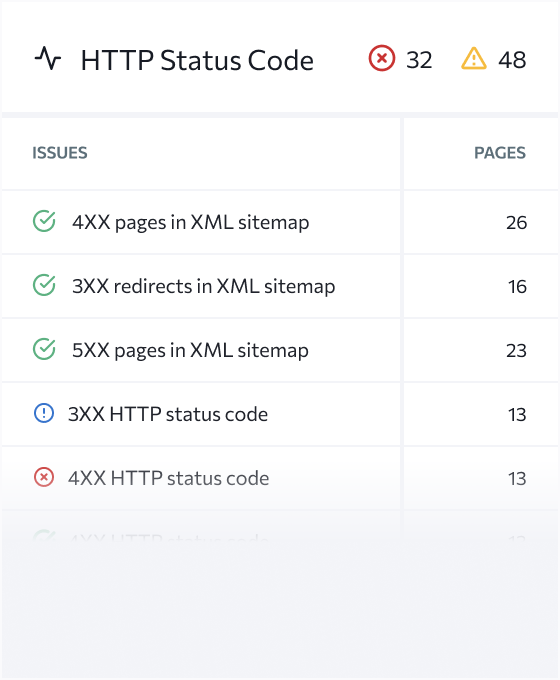 HTTP status codes and redirects
Verify that your site's pages aren't broken and redirect to the correct destinations by checking your HTTP status codes.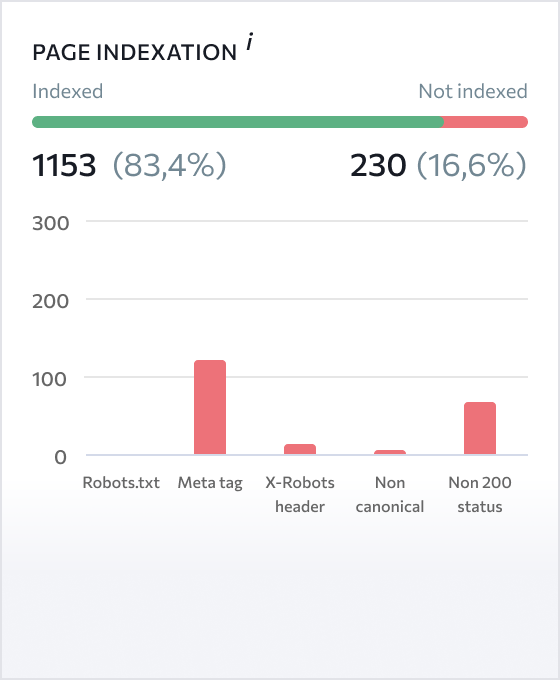 Crawled & indexed pages
See if search bots can crawl and index your website by analyzing meta tags, canonicals, robots.txt, and other elements.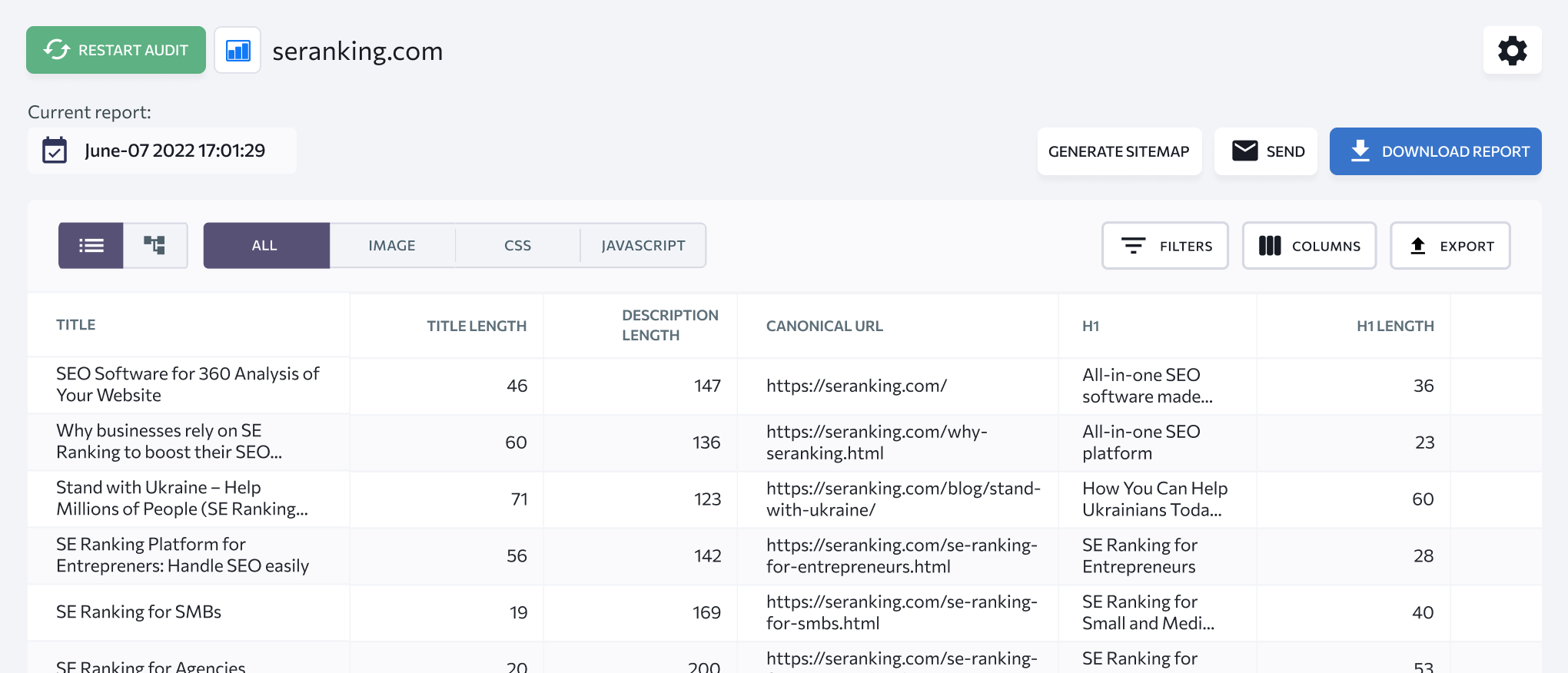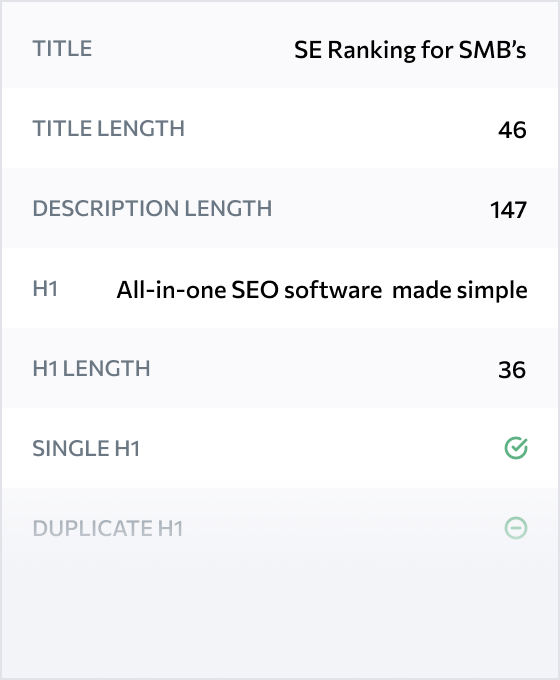 Title, description & headings analysis
See in-depth where your titles, descriptions and headings are missing and where you should edit them.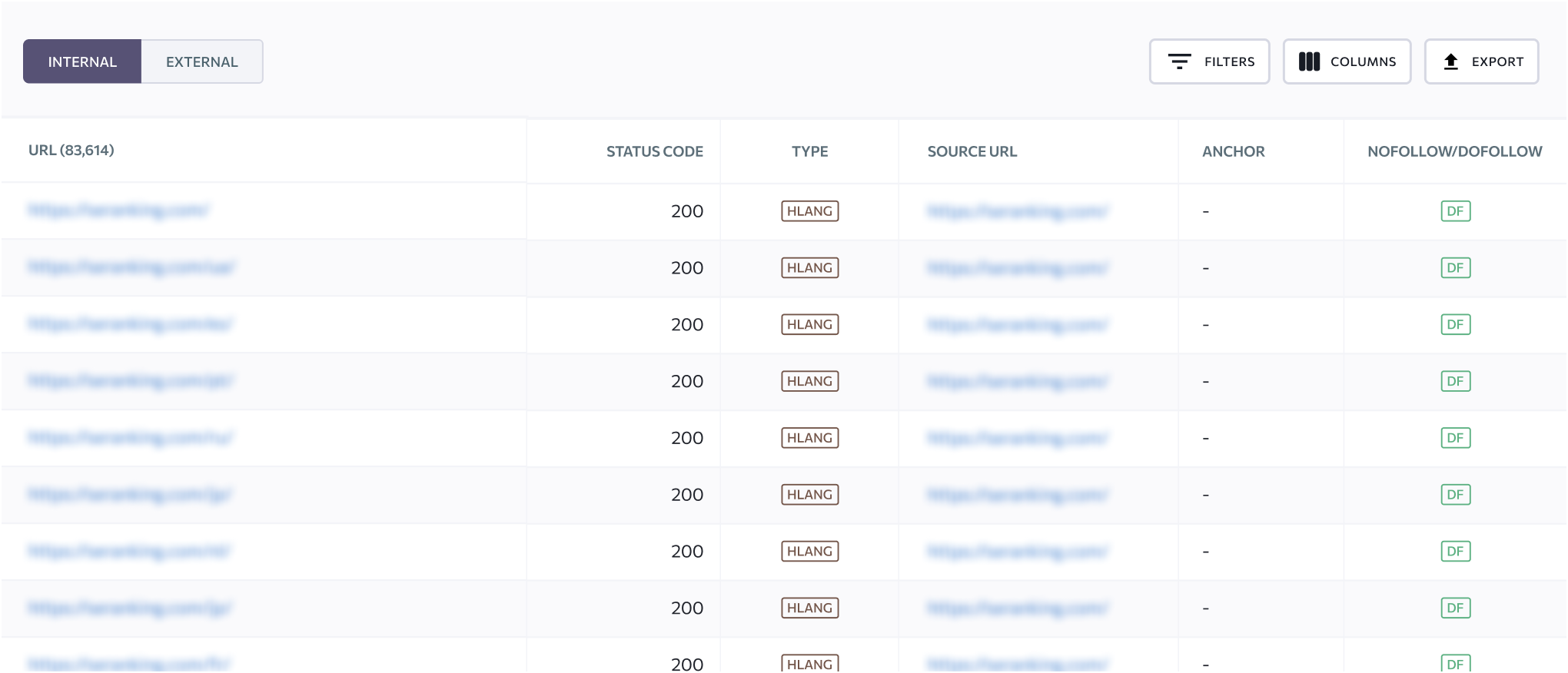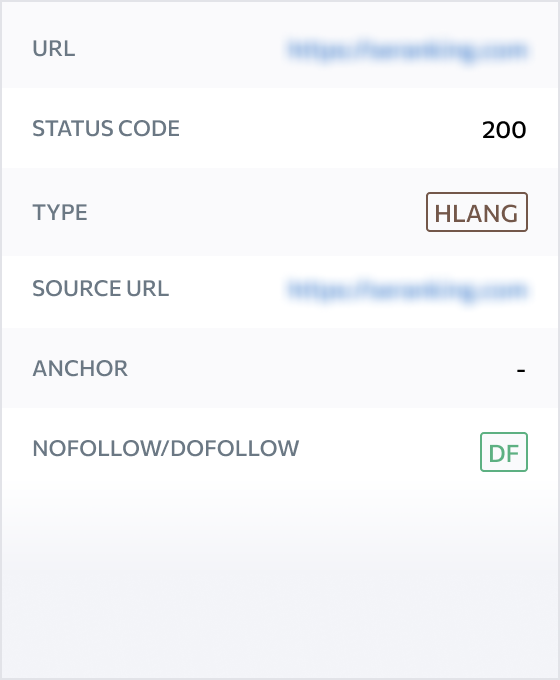 Internal and external linking
Check to see if the links pointing to other pages of your site and to third-party websites are working correctly.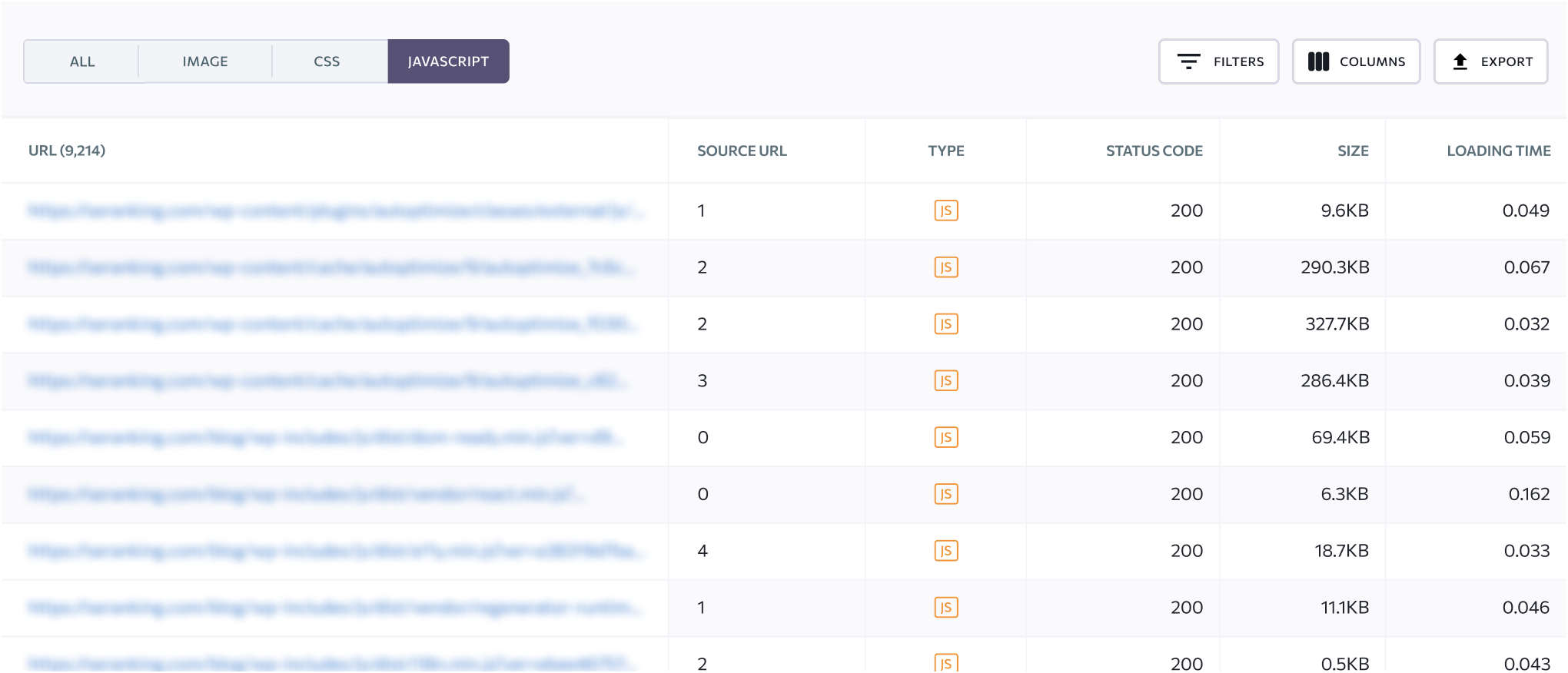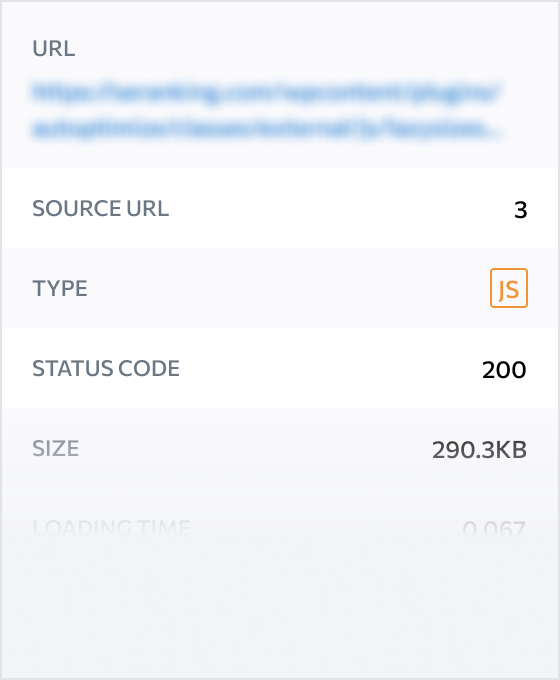 CSS and JS analysis
Crack down on your site's structure by analyzing its CSS and JS to find potential performance and optimization issues.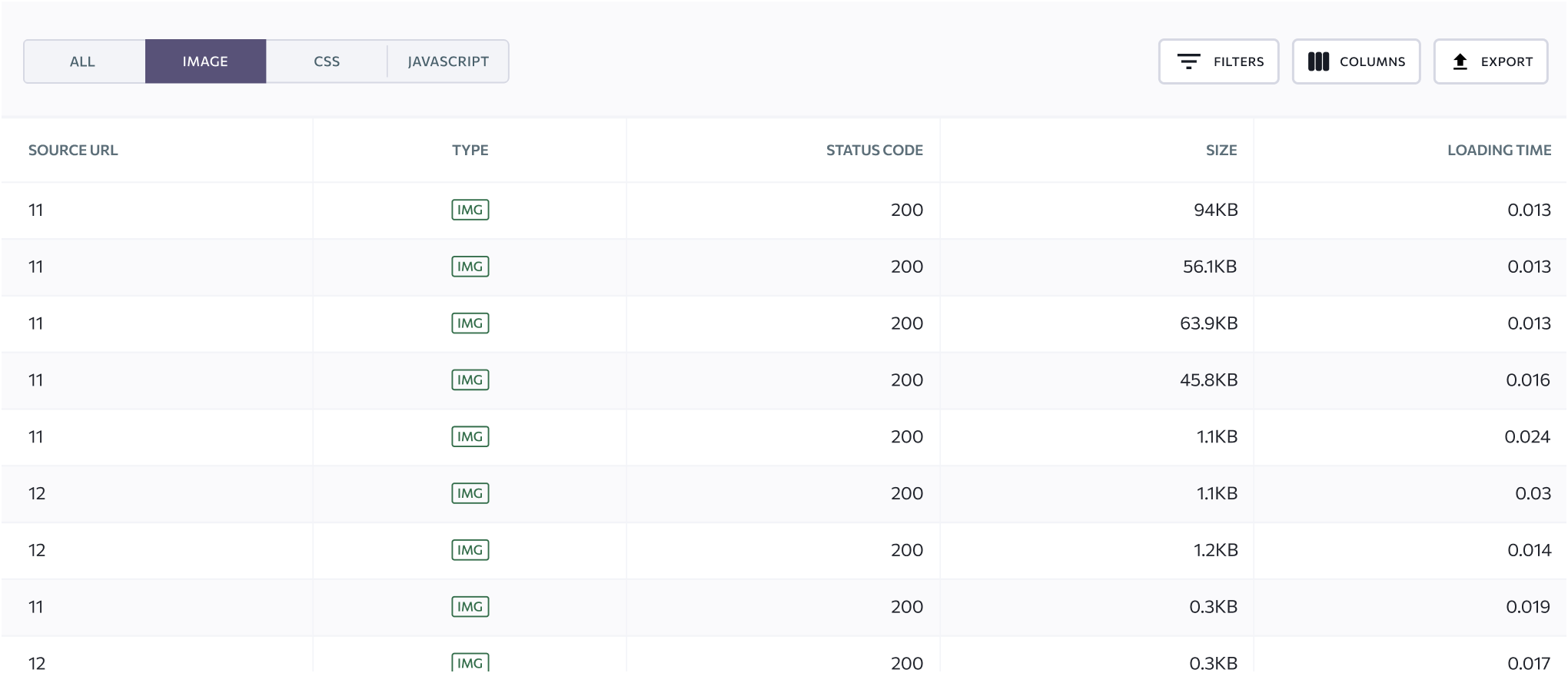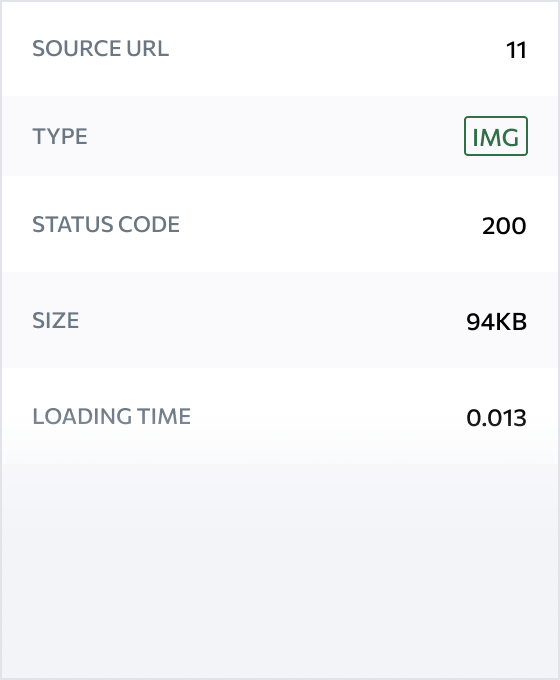 Images analysis
Sift through a list of images to identify which ones are missing alt texts and which ones are too big.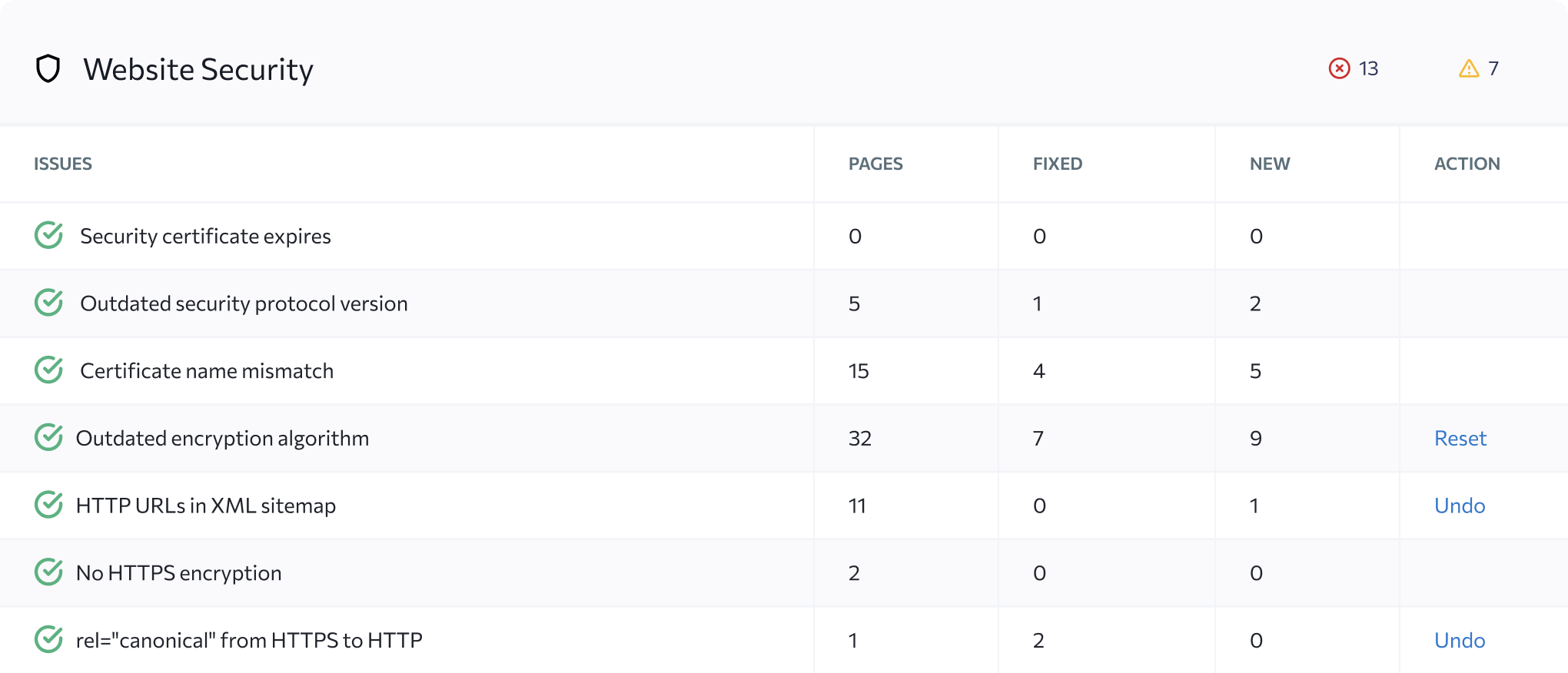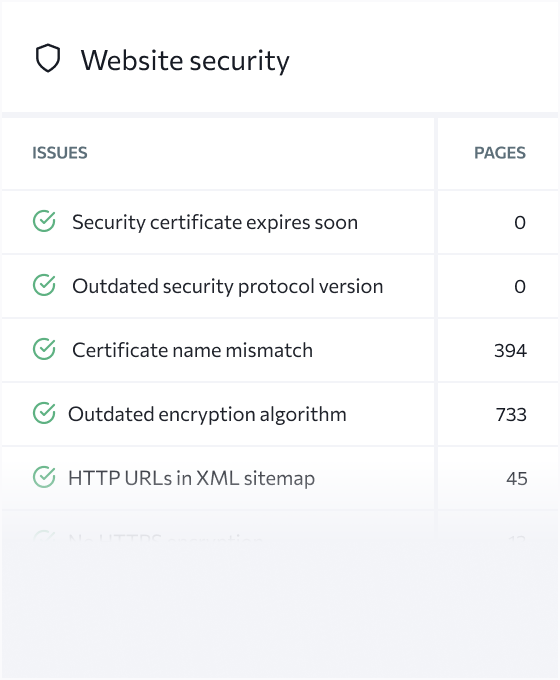 Website security check
Make sure your website is safe for visitors by checking SSL and other security-related issues.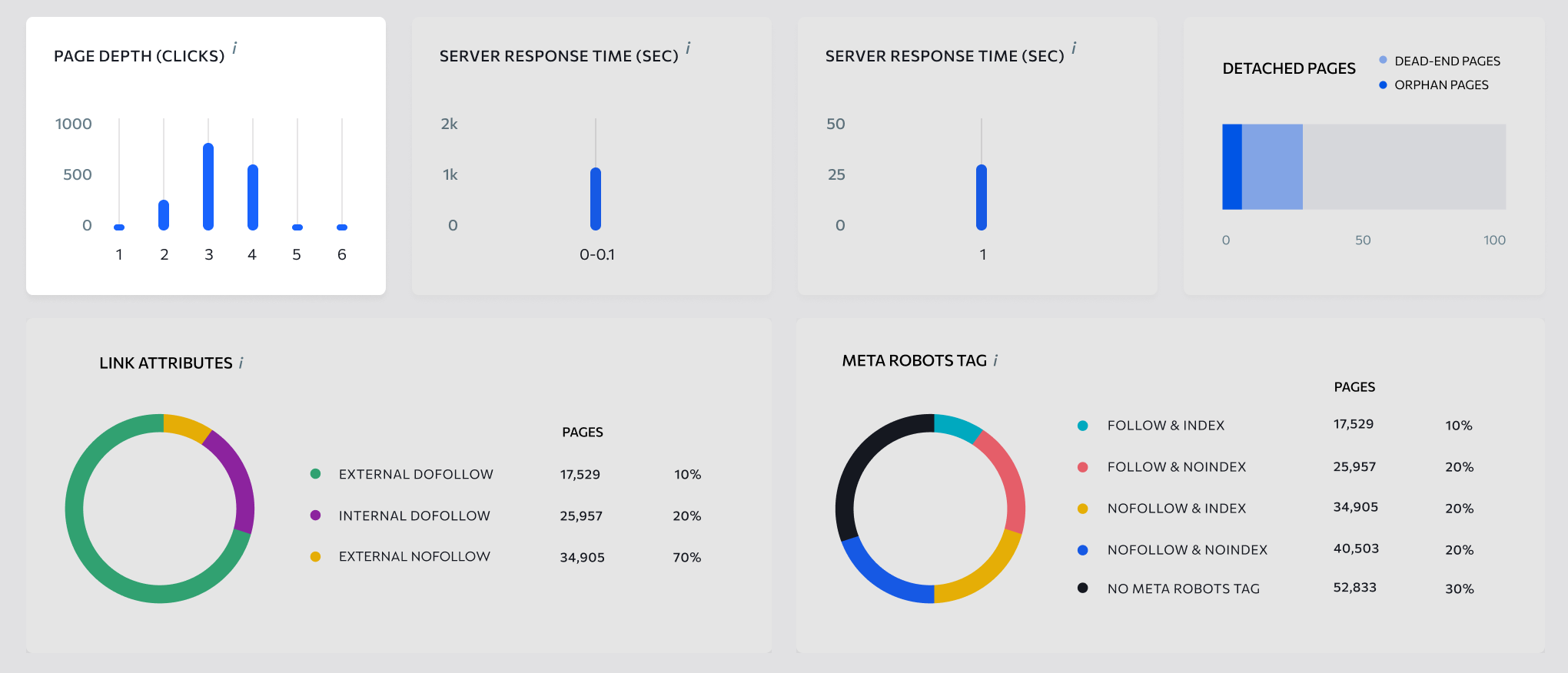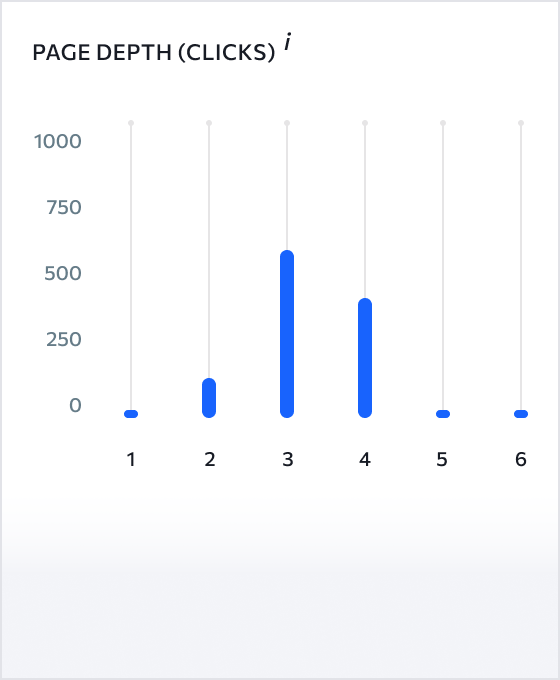 Page depth
View a breakdown of pages based on the minimal number of clicks it takes to reach a specific page from the landing page.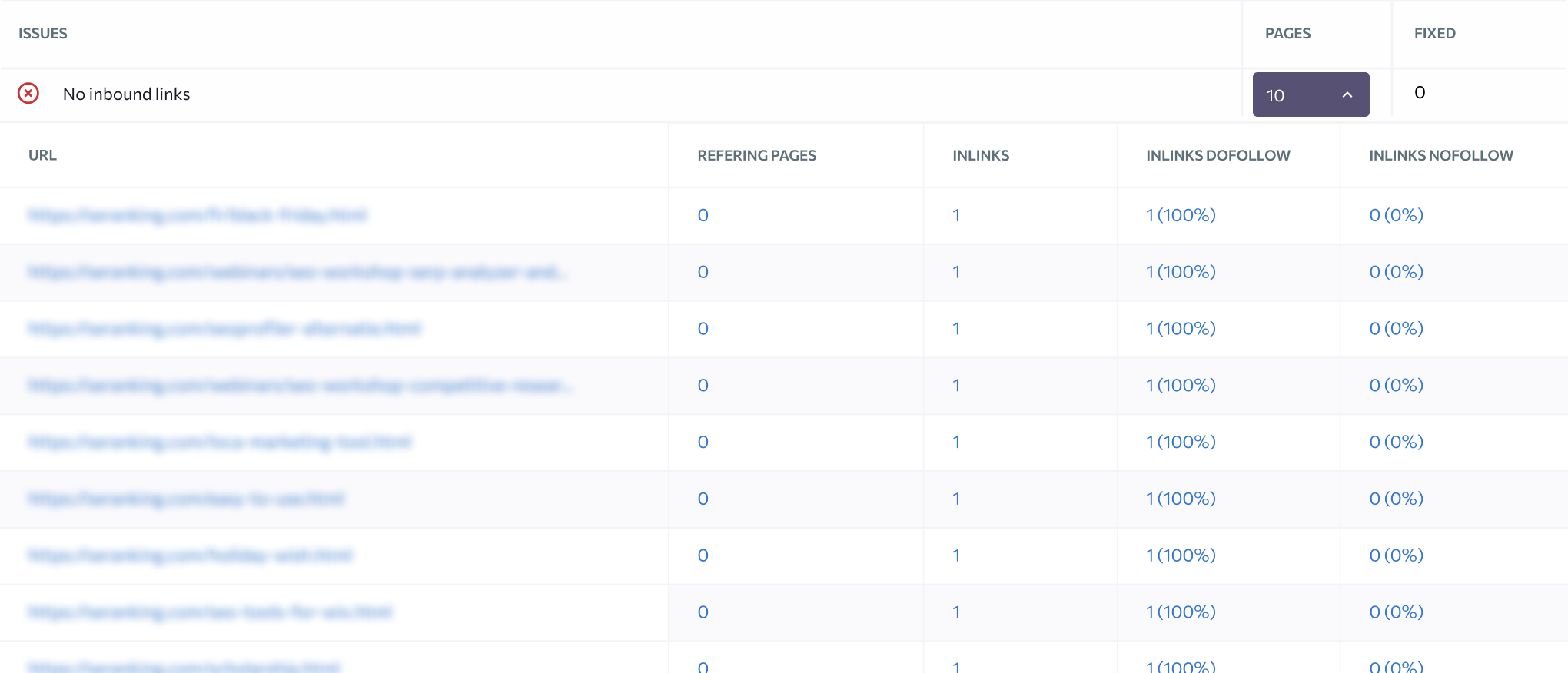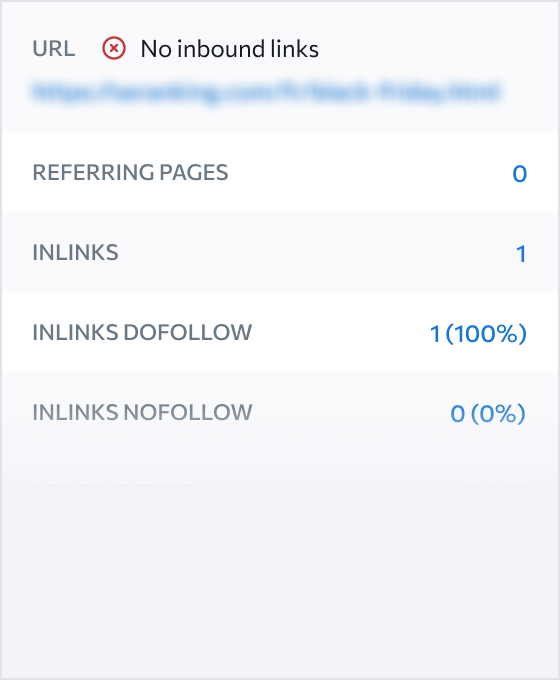 Orphan pages
Discover web pages that crawlers can't easily find due to the lack of internal links pointing to them.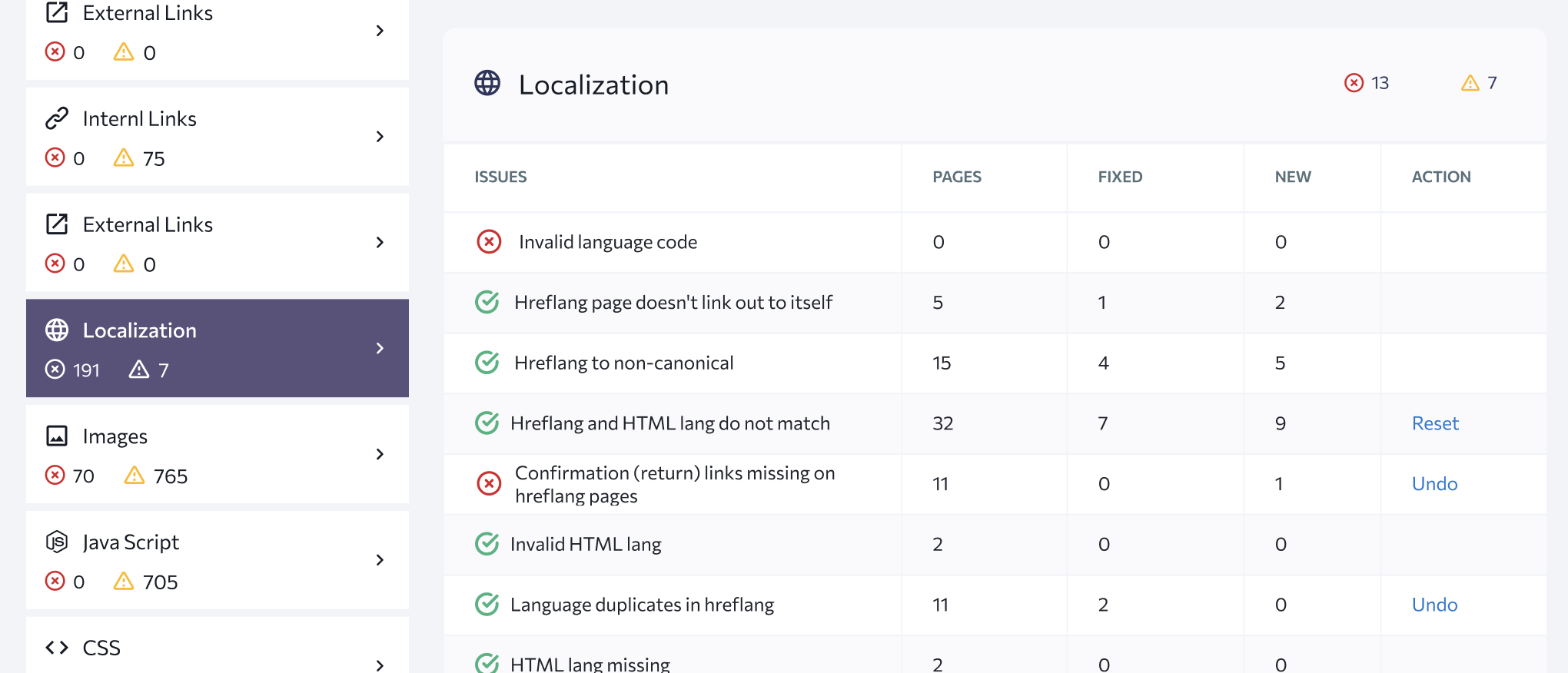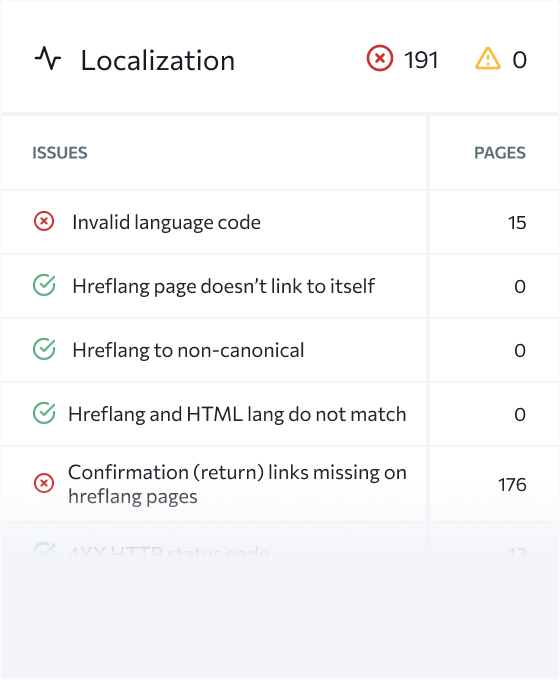 Localization issues
Identify hreflang attribute issues appearing on pages that are targeting multiple locations and languages.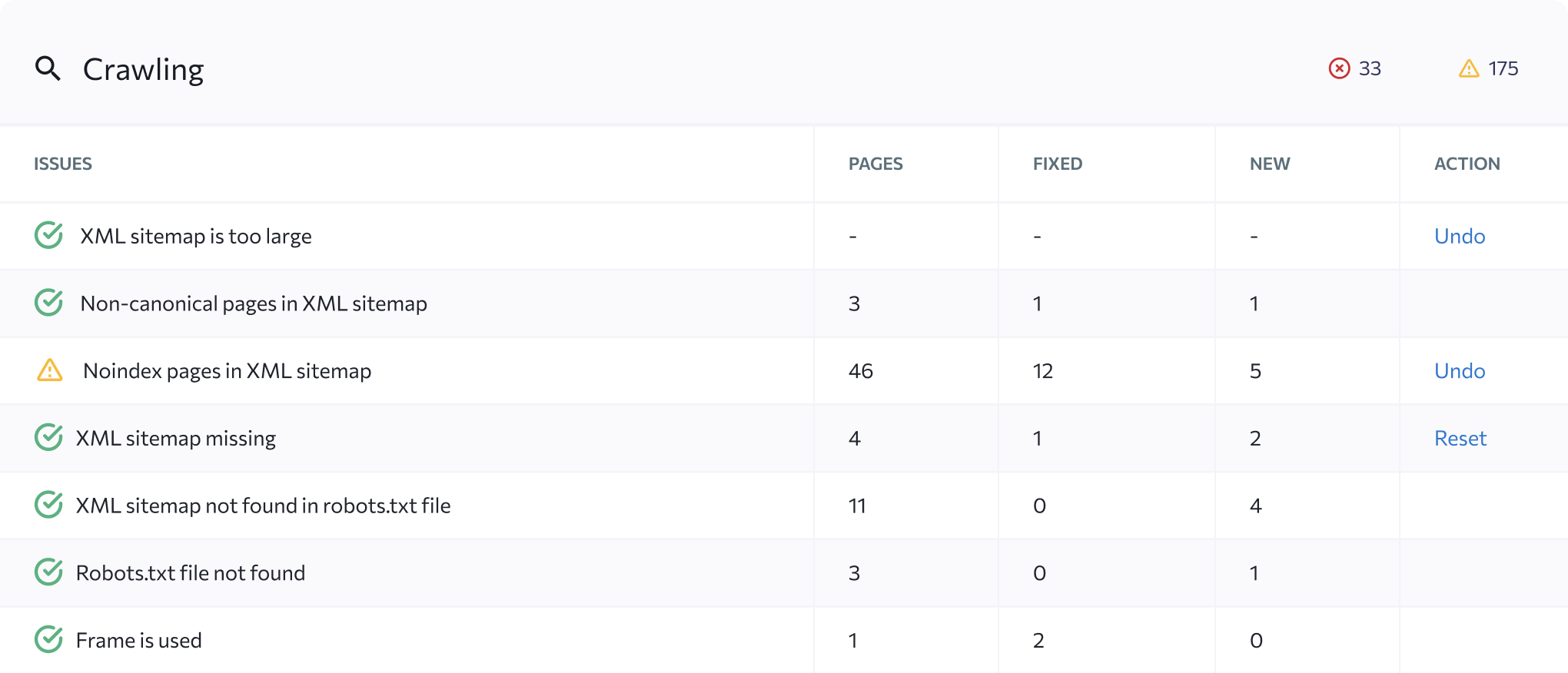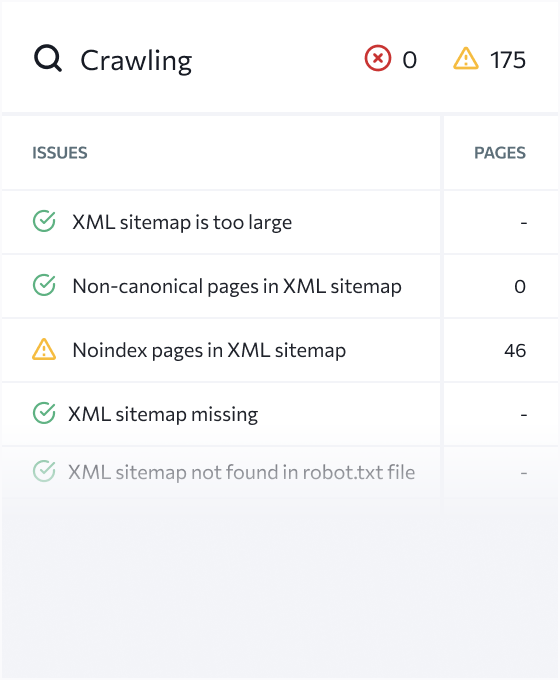 Sitemap and robots.txt
Help search engines crawl your website correctly by checking your sitemap and robots.txt for possible issues.
On-page SEO analysis
On-page optimization score
Title and description optimization
Usage of focus keywords in key areas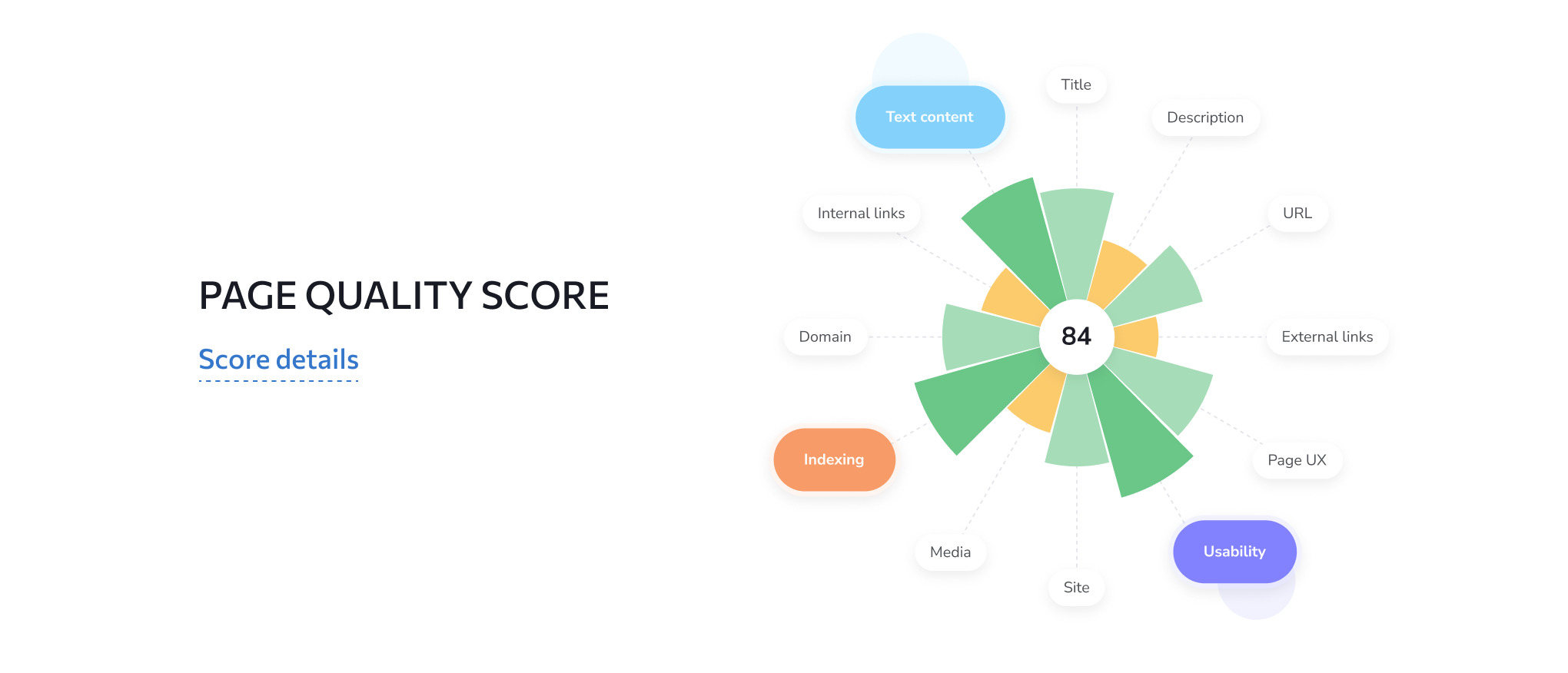 On-page optimization score
Check a page's quality based on a competitive niche analysis of keywords, marketing parameters, and technical metrics.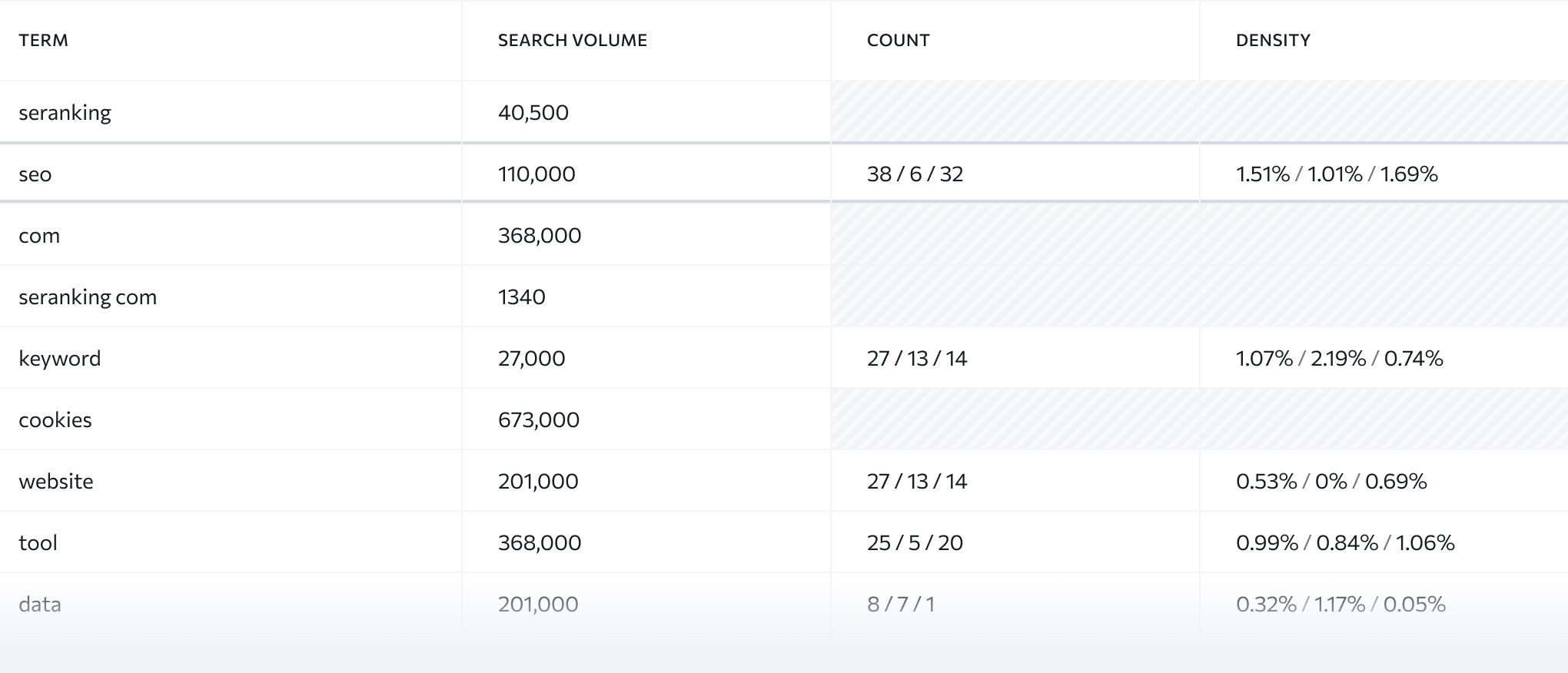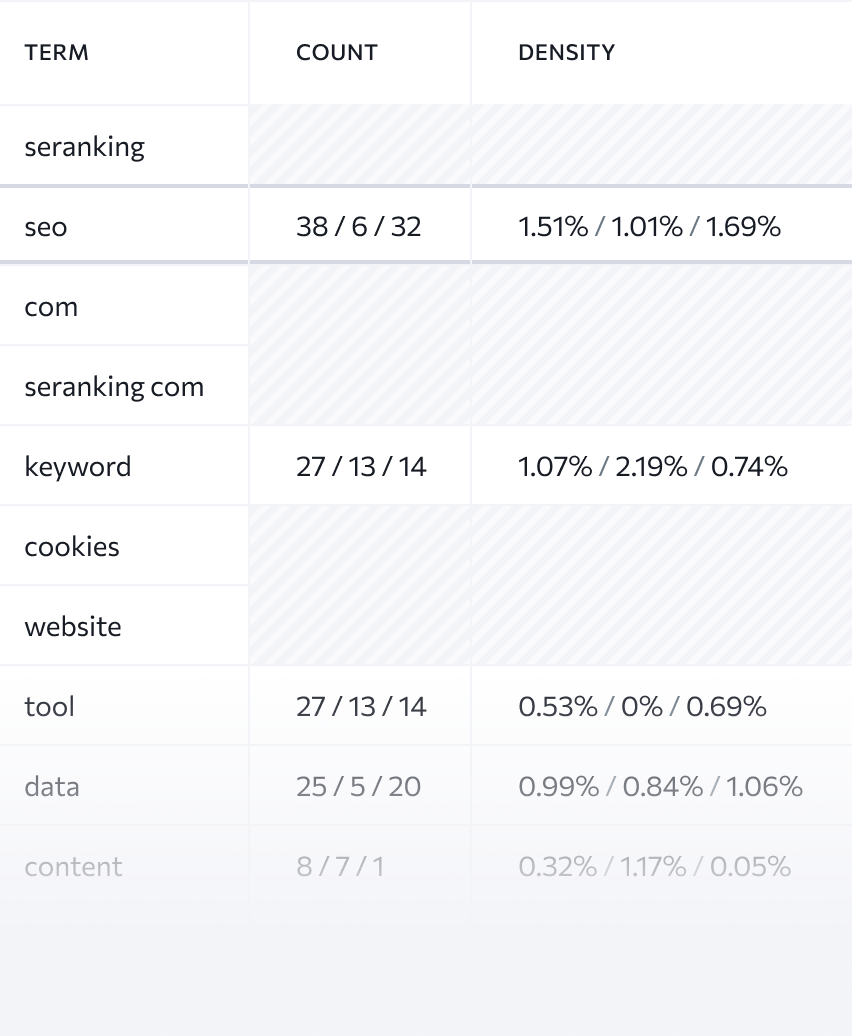 Keyword density
Verify a page's semantic optimization by checking how many times a keyword appears on it as a percentage of the total word count.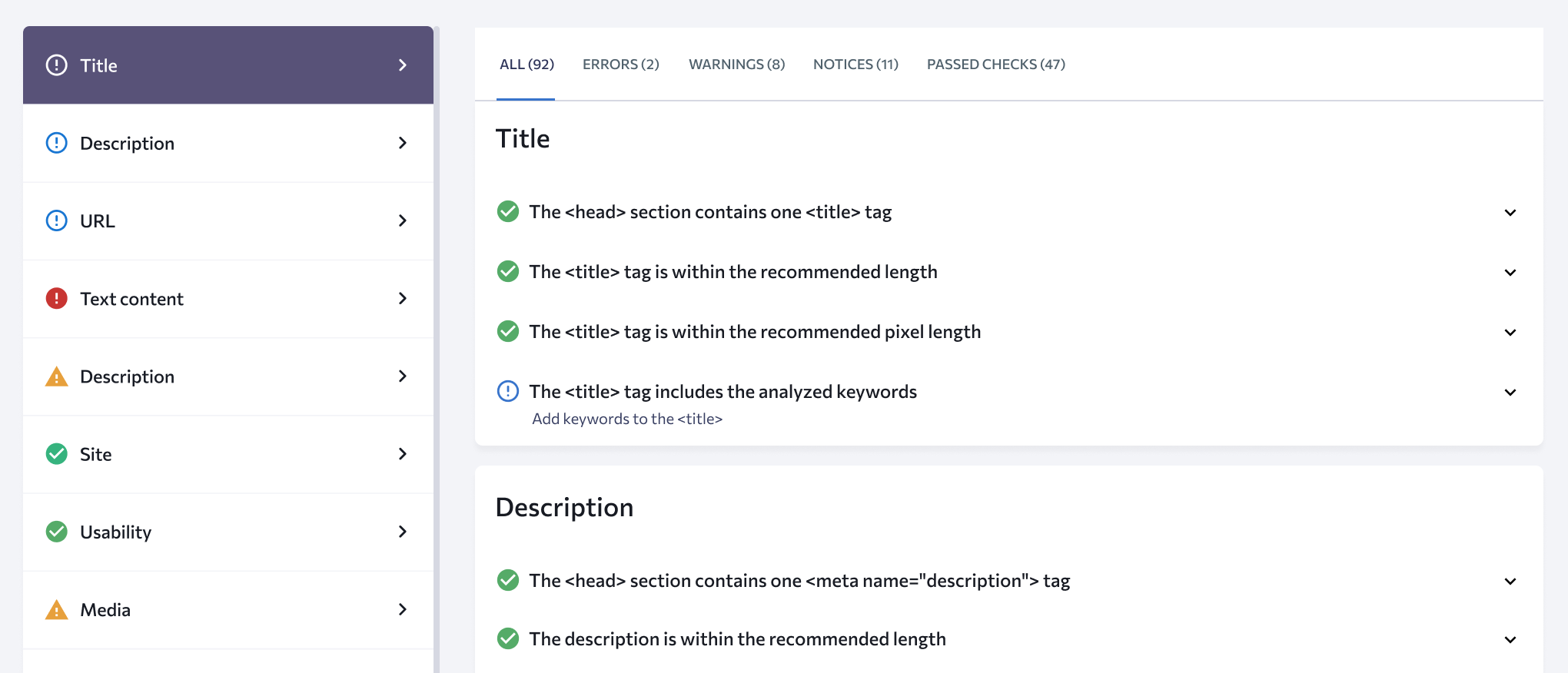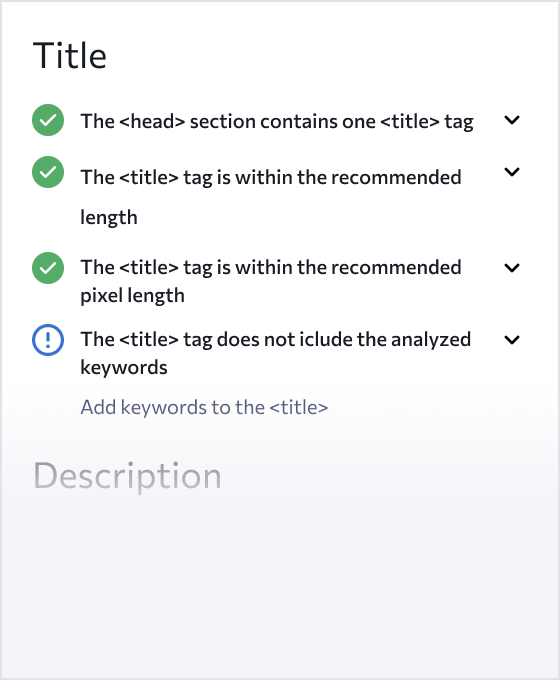 Title and description optimization
Make sure your page SEO title and description are optimized by analyzing the average characteristics of SERP leaders.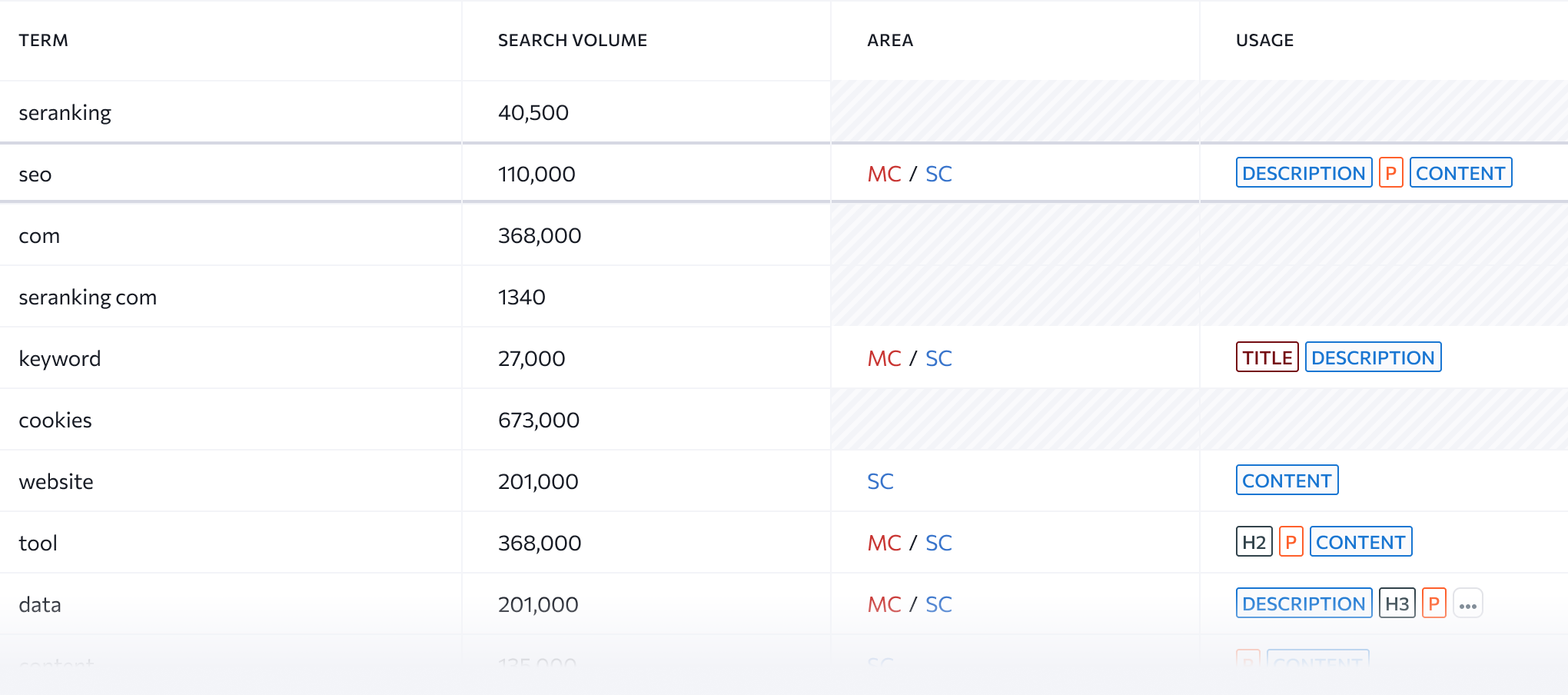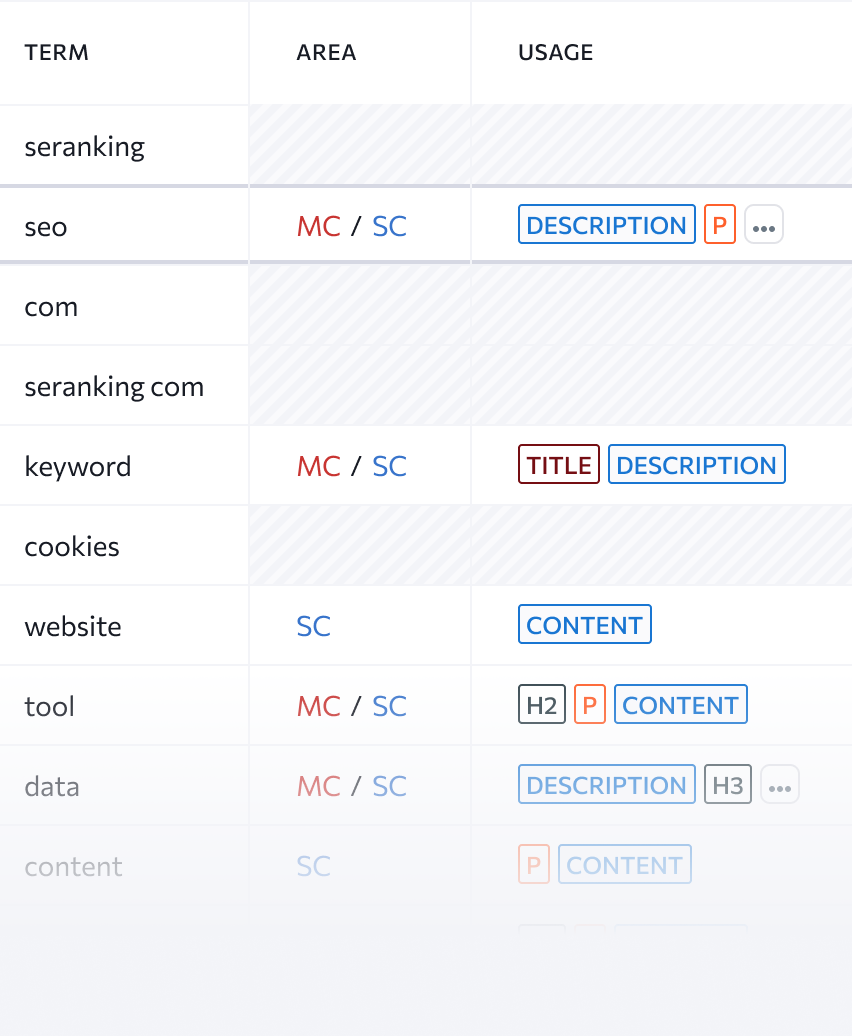 Usage of focus keywords in key areas
Check how well-optimized a page is by looking at the sections of content (main/secondary, URL, title, description, heading) containing keywords.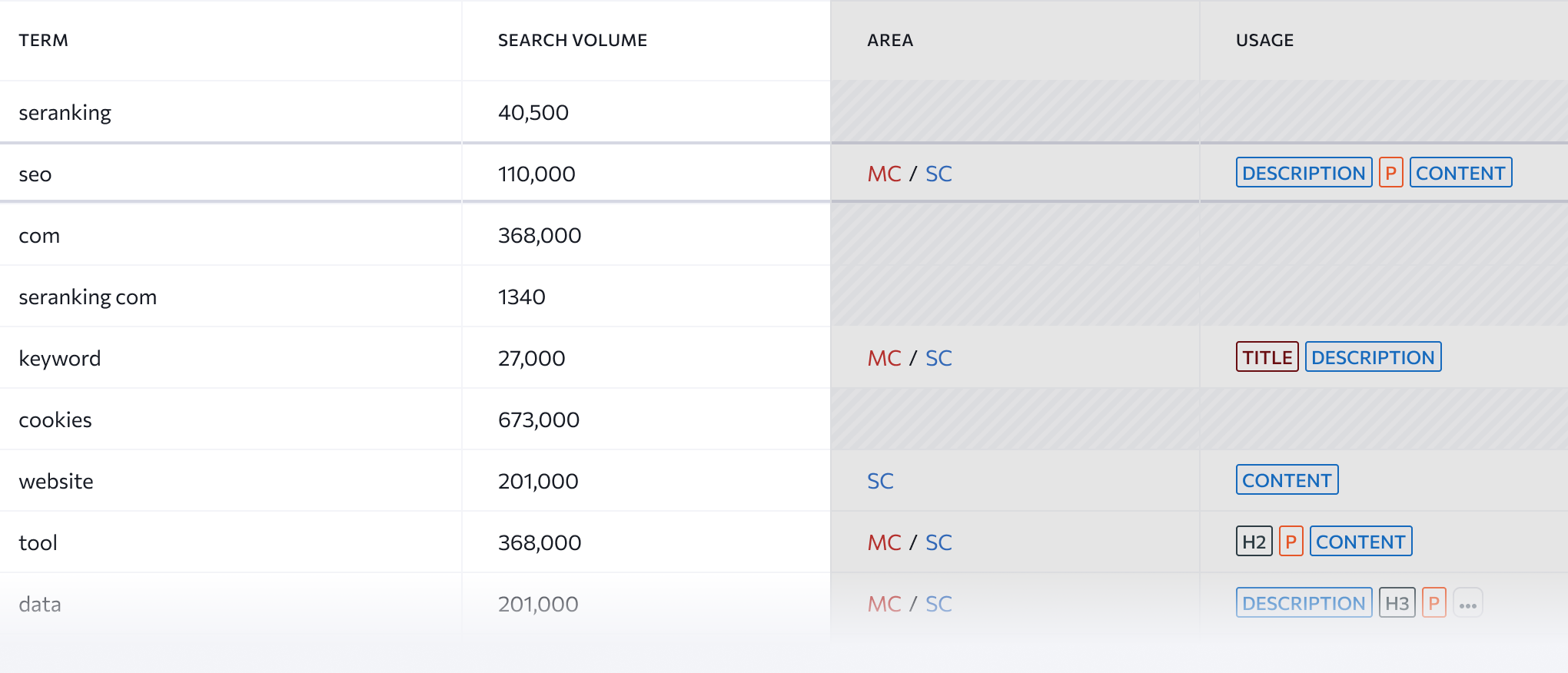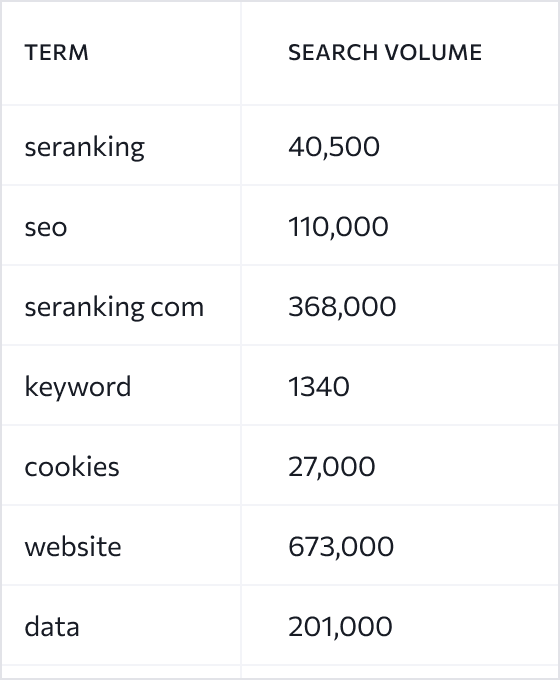 Keywords in use
Identify the keywords already being used on your page as well as missing ones that should be added to it.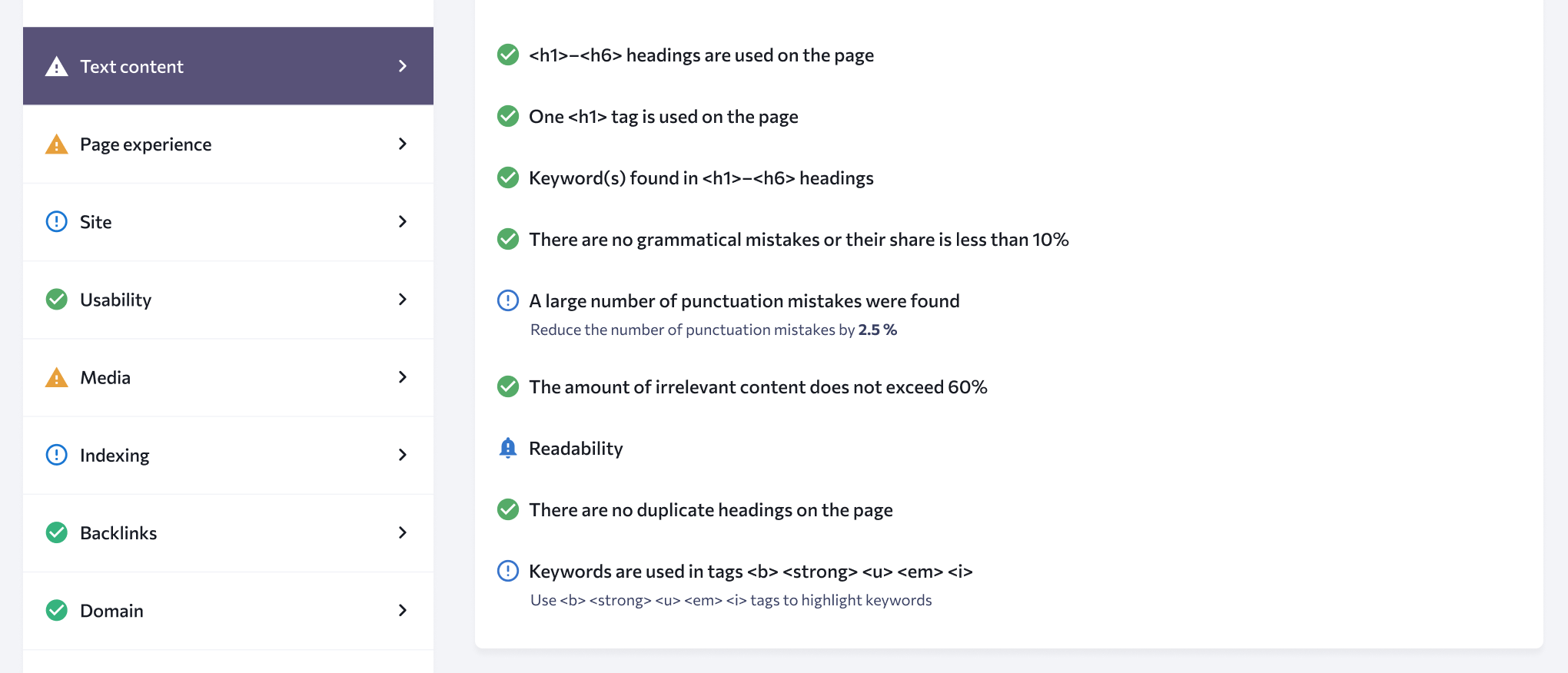 Heading tags
Check your heading tags to make sure visitors can easily see them and search engines have a clear picture of your page's structure.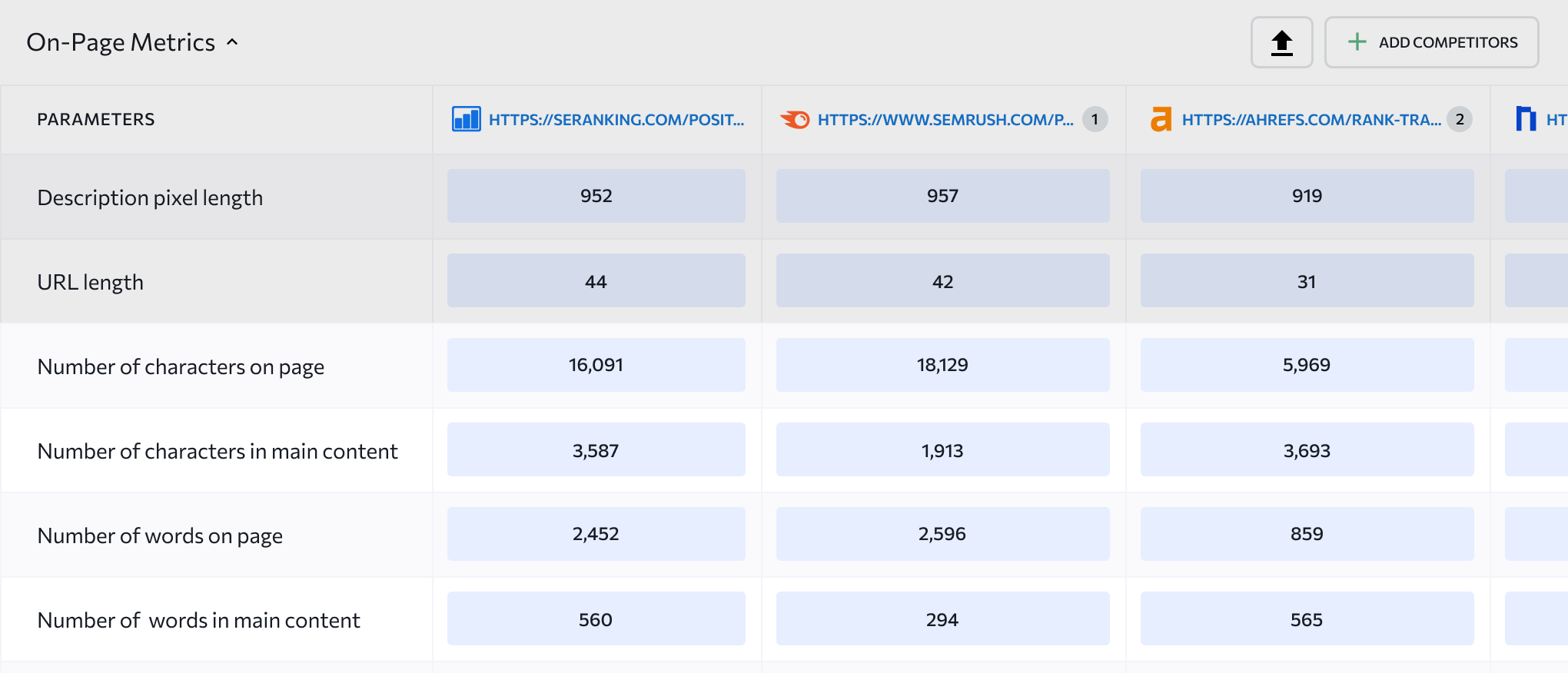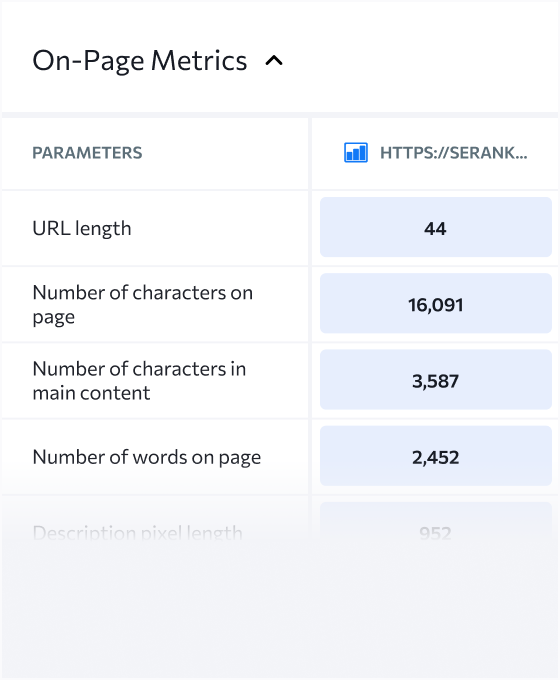 Word count
Analyze and compare (with the top SERP players) your main content's word count, length of the title and description tags.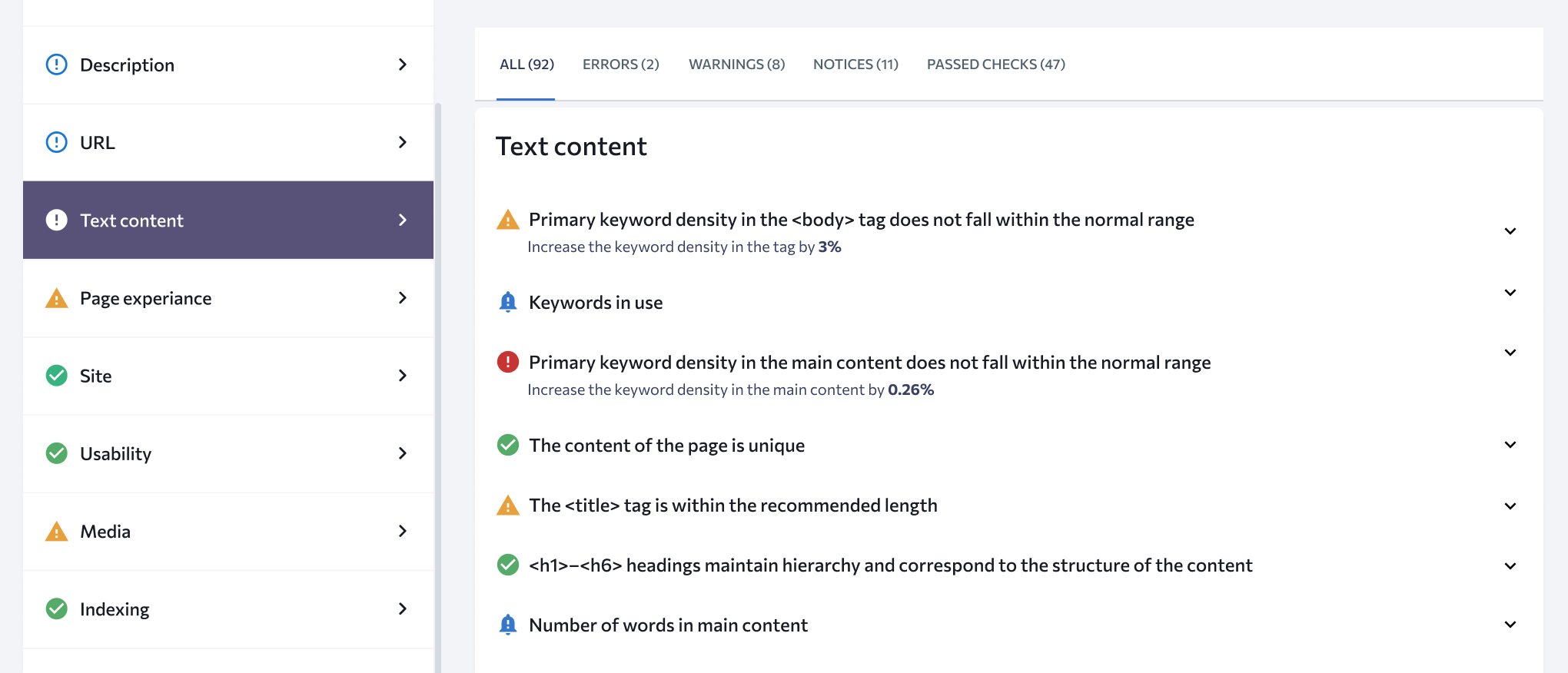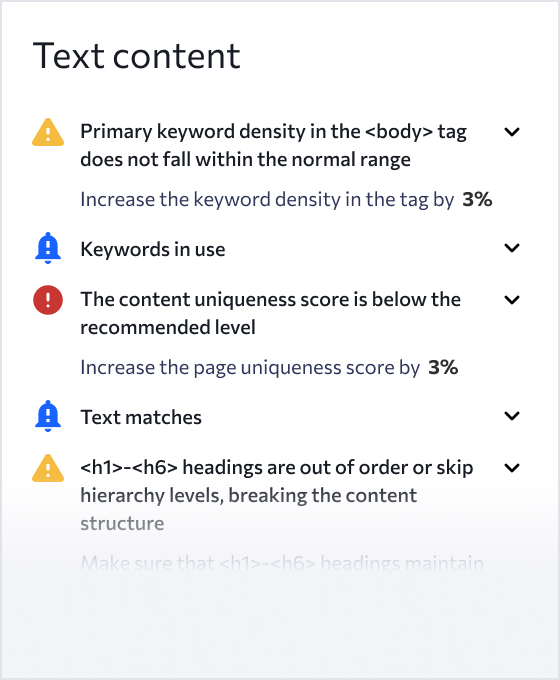 Content uniqueness
Verify that your page content is not duplicated anywhere else (this is a fundamental indicator of content quality).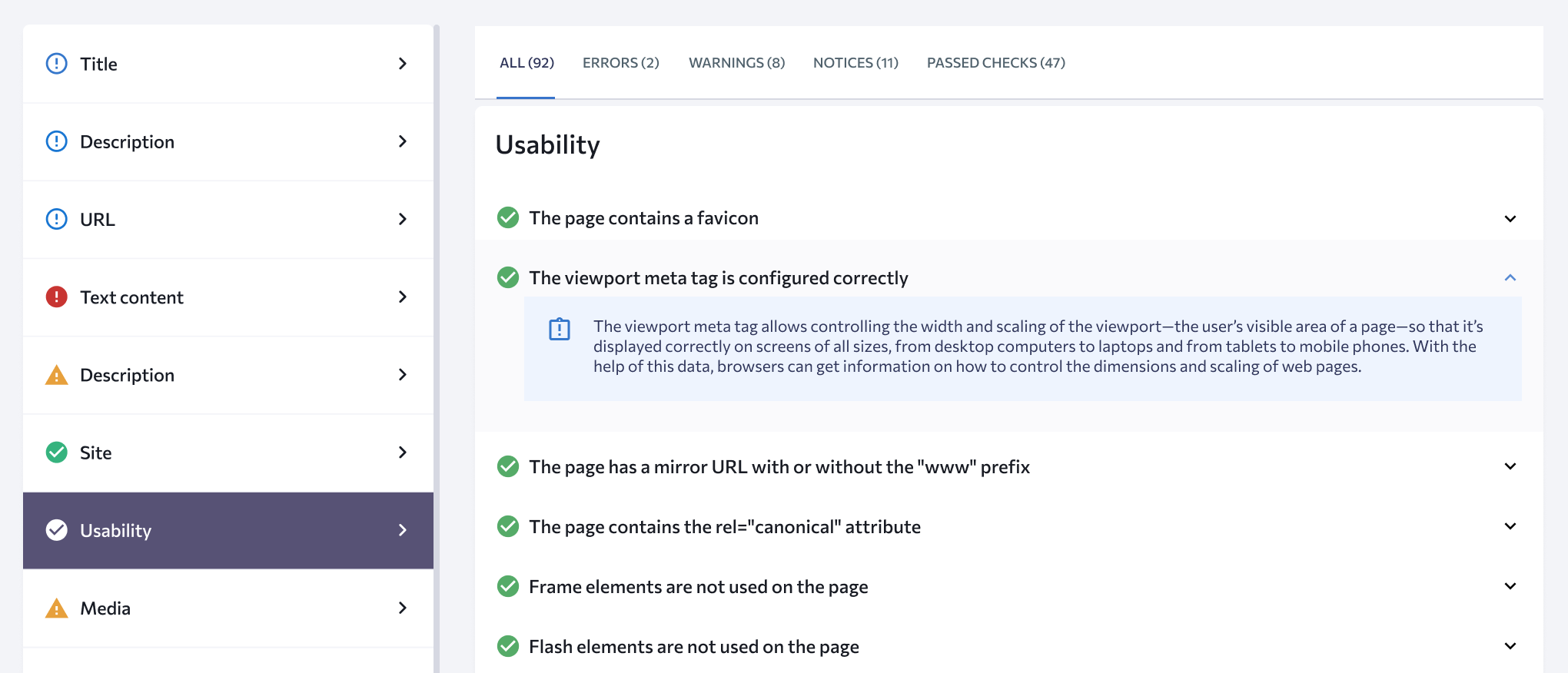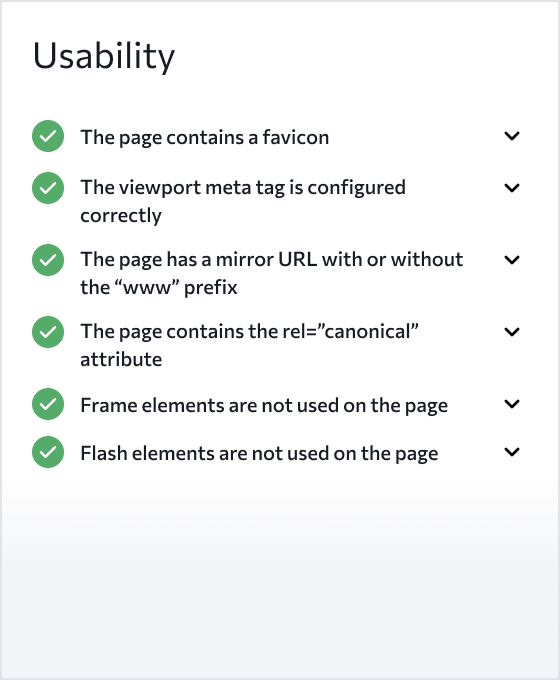 Usability
Check whether a web page can be easily used by web visitors and if it provides the best possible user experience.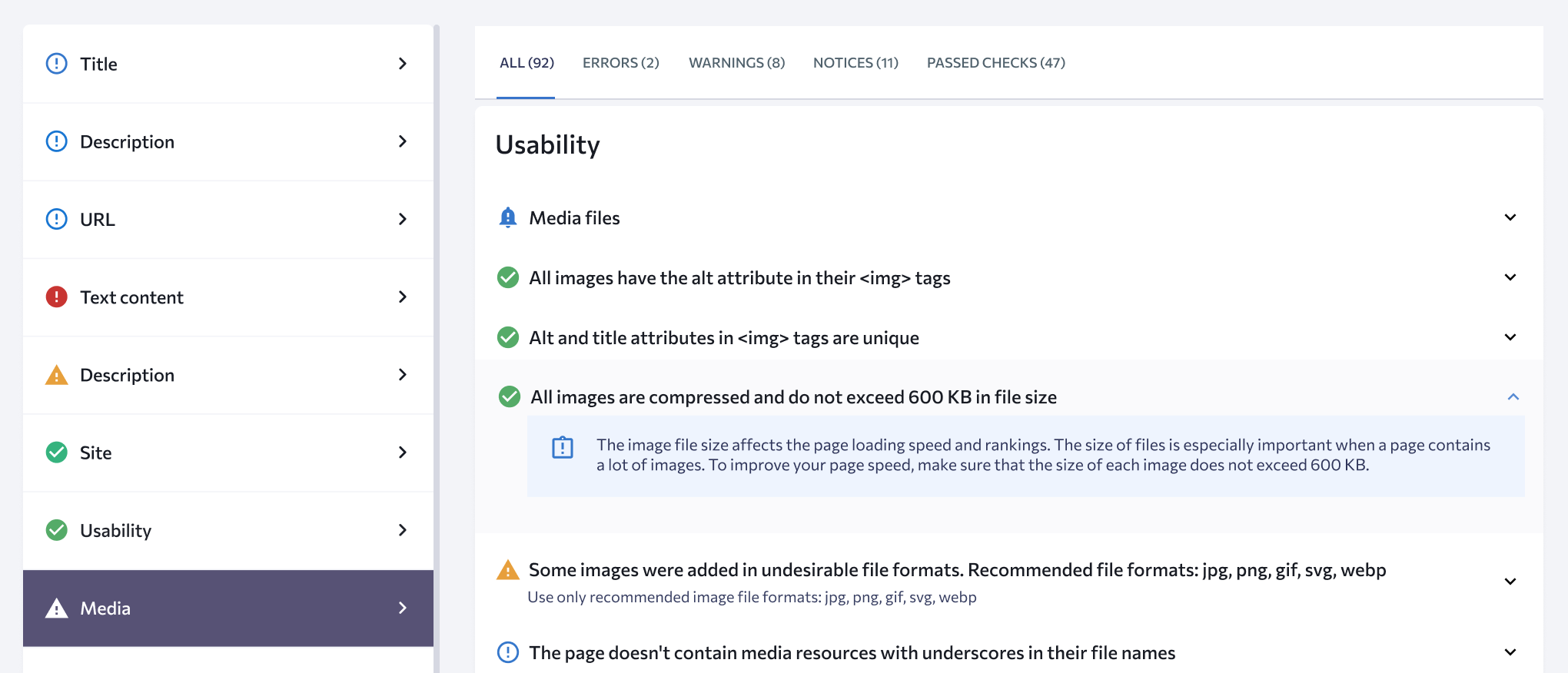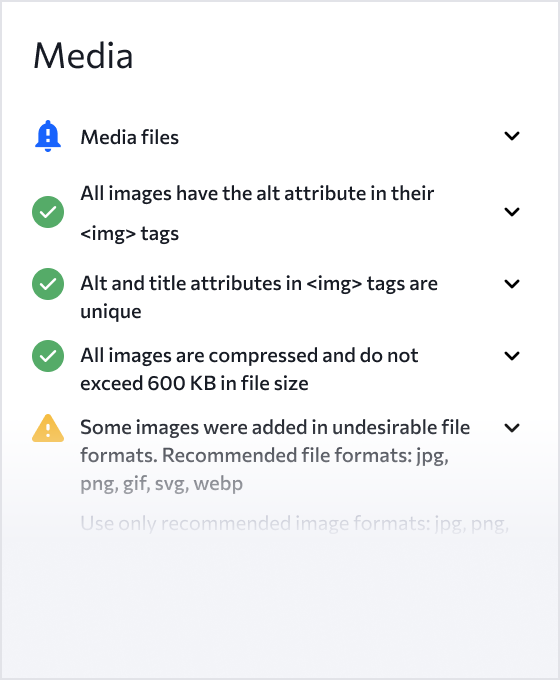 Media
Confirm that the images (and their attributes) on your page adhere to SEO best practices.
Run a website SEO audit
Identify every issue negatively impacting your SEO performance
Backlink profile analysis
Complete overview of off-page metrics
Number of backlinks from unique domains
Dofollow vs nofollow ratio
Local & IP-based backlink data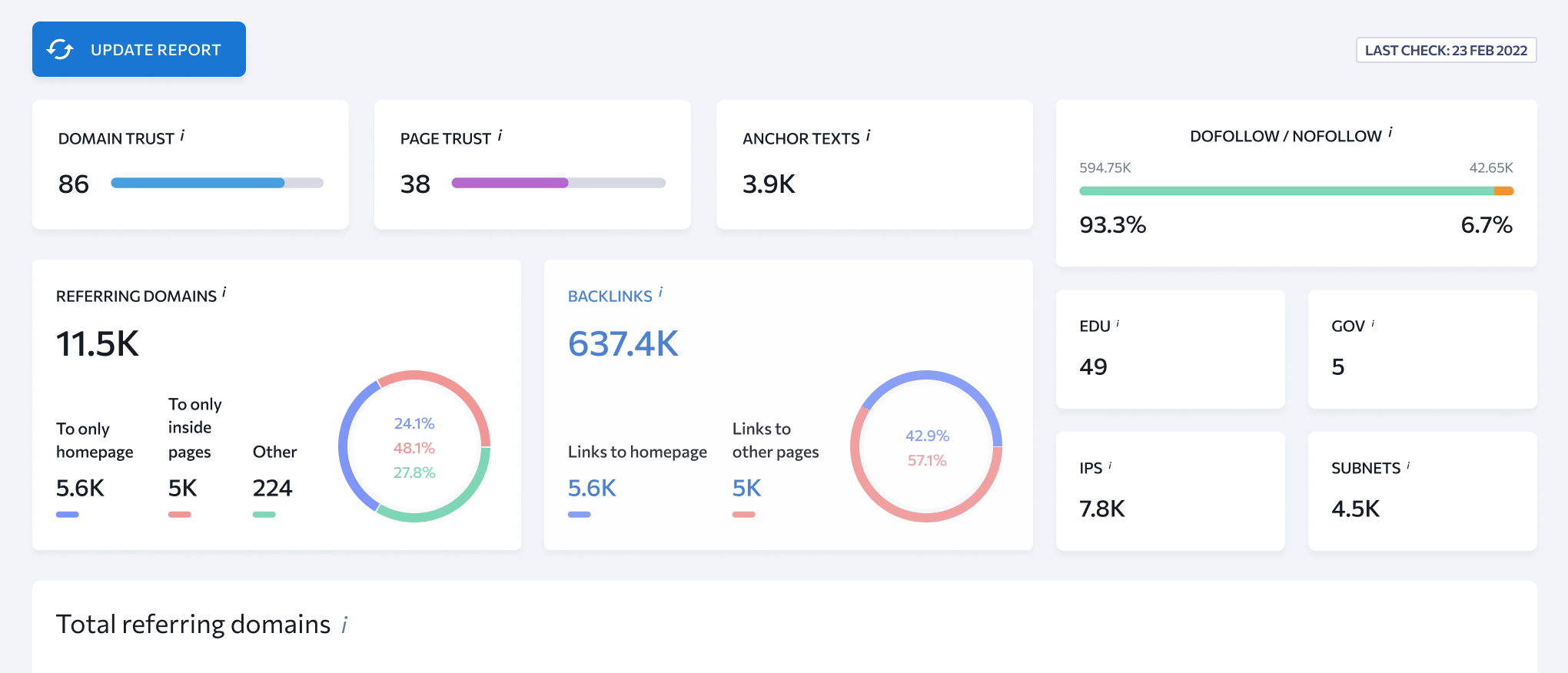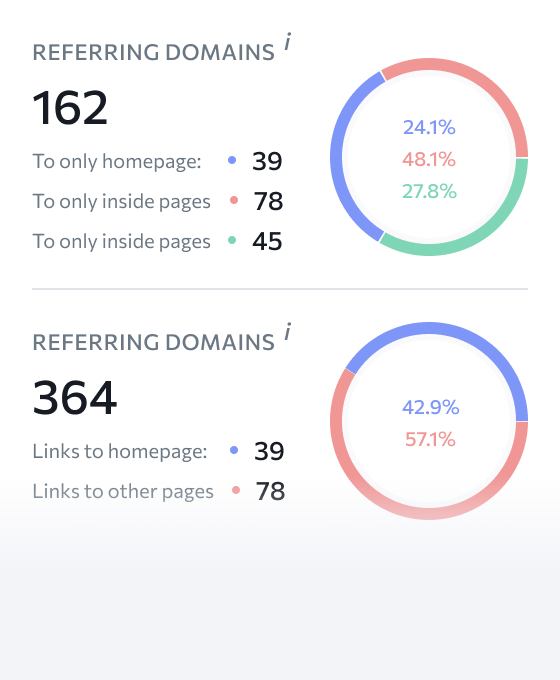 Complete overview of off-page metrics
Quickly understand any domain's off-page optimization status by analyzing its Domain Trust and other metrics.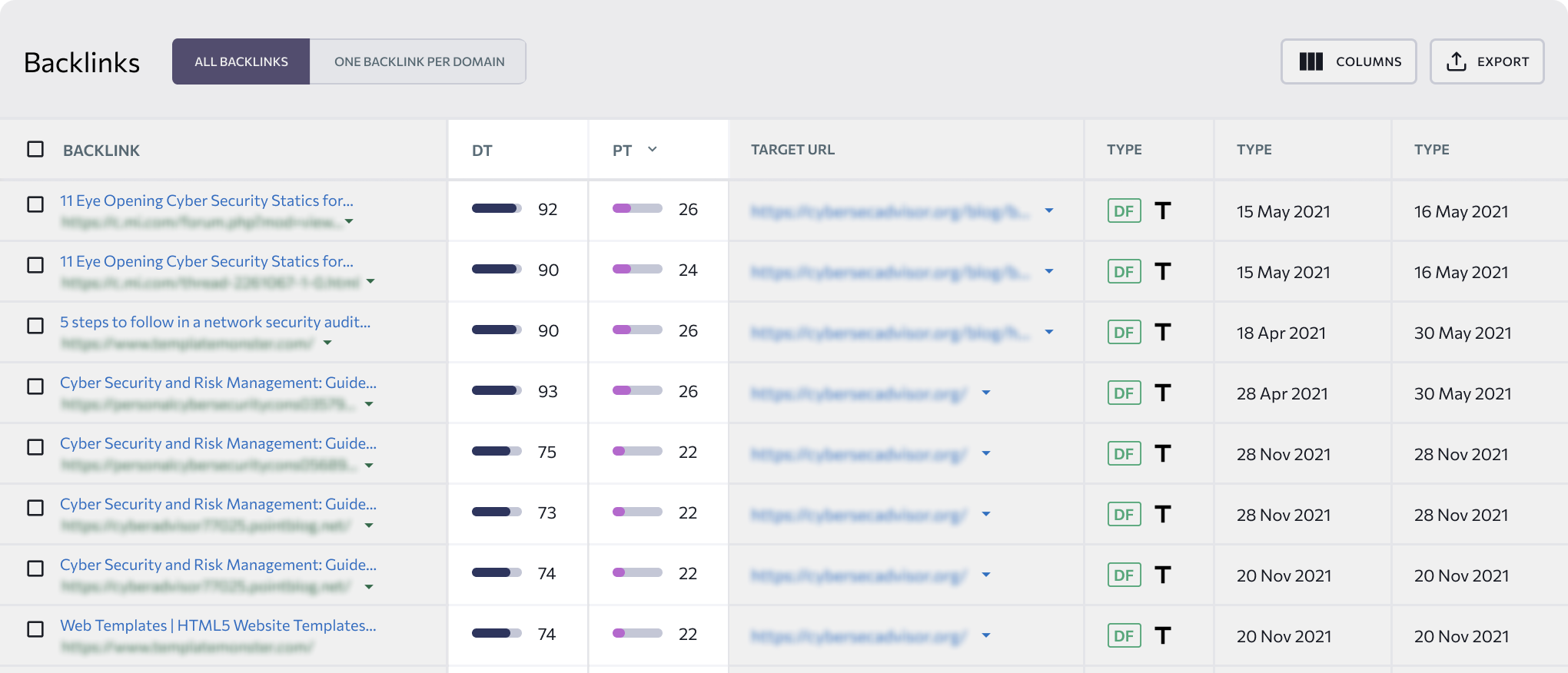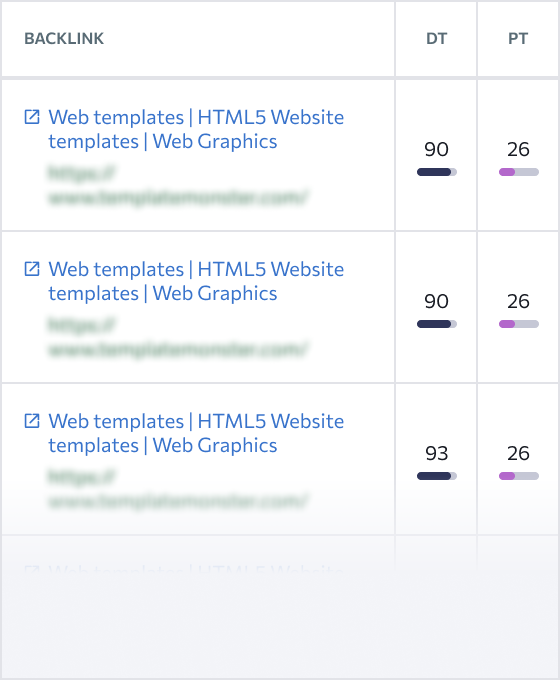 Domain and Page Trust
Measure the impact of a site's or a page's links by learning how likely these domains/pages are to rank high in SERPs.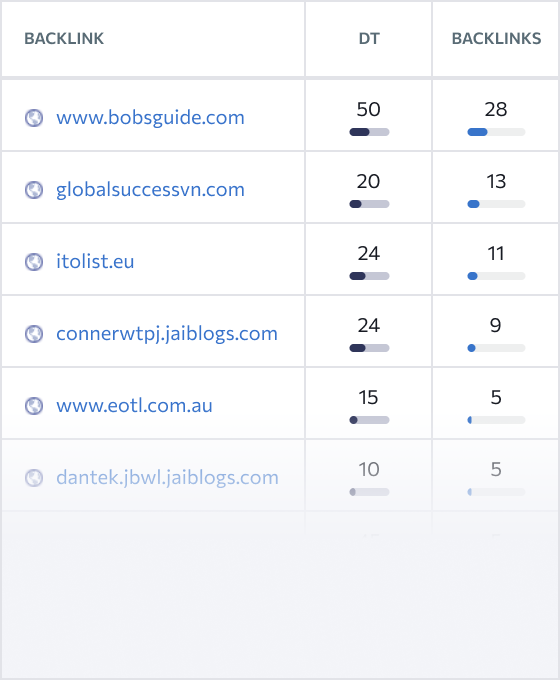 Number of backlinks from unique domains
Evaluate your chances of ranking high by seeing how many unique and high authority sources link out to your site.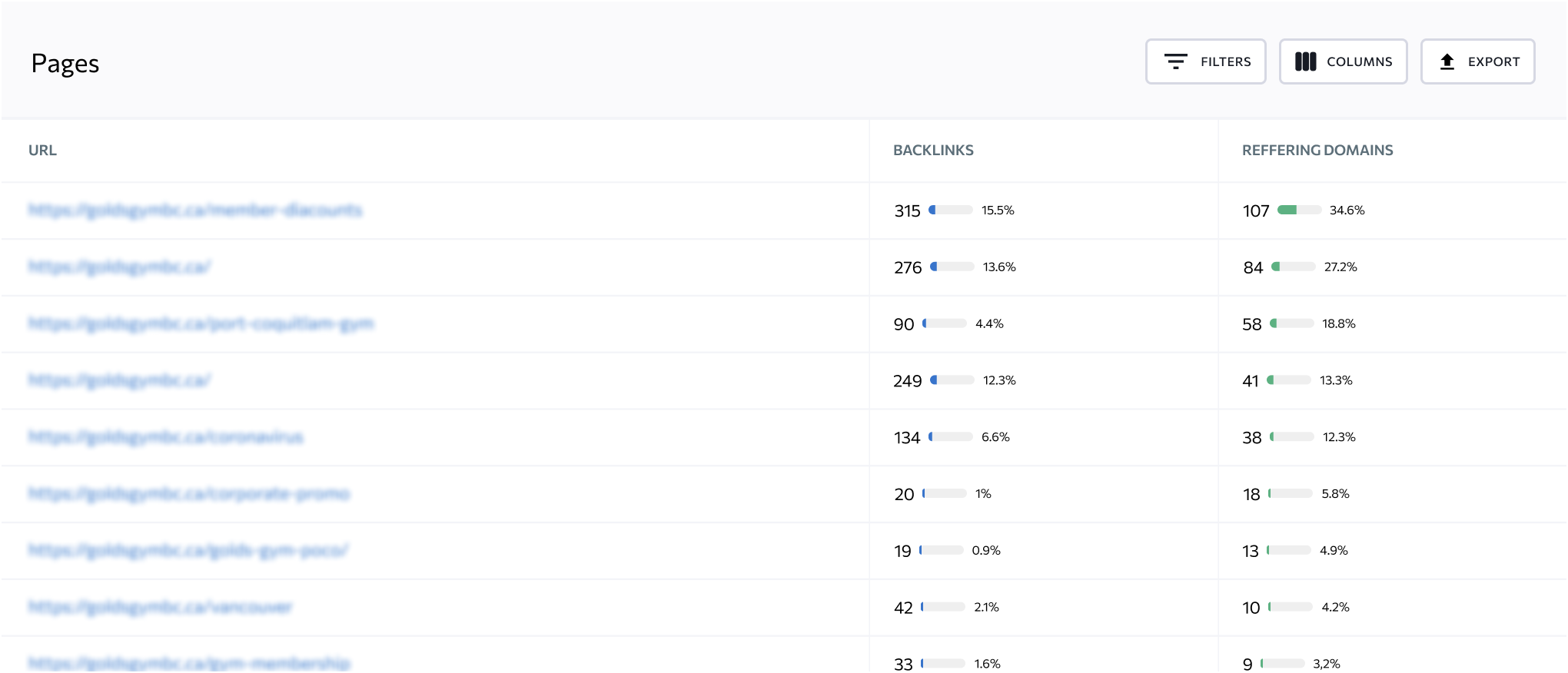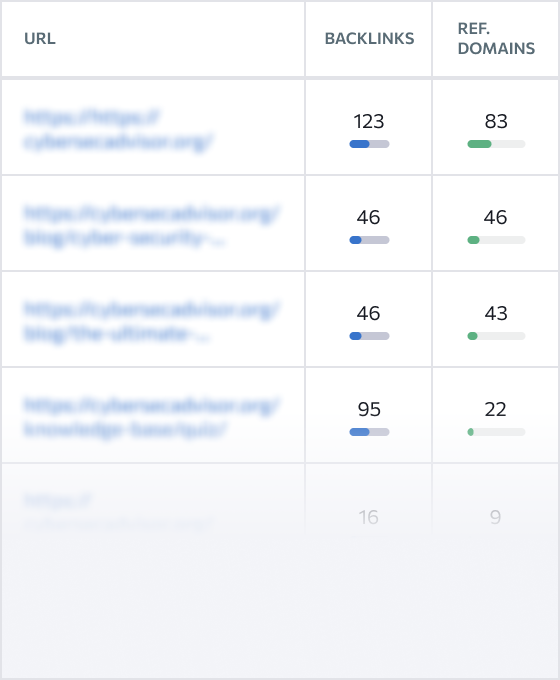 Top pages by backlinks
Check which of your site's pages have the most external backlinks and which pages need to build more.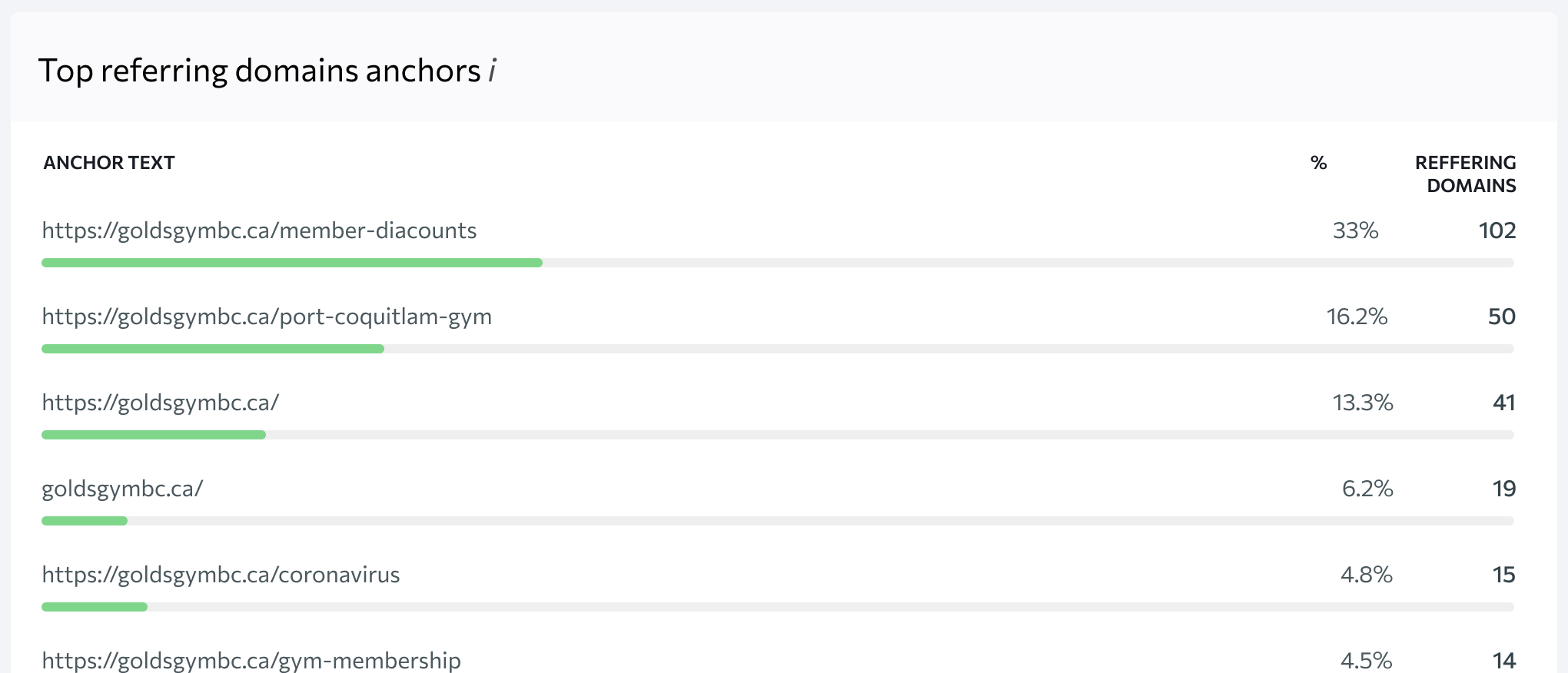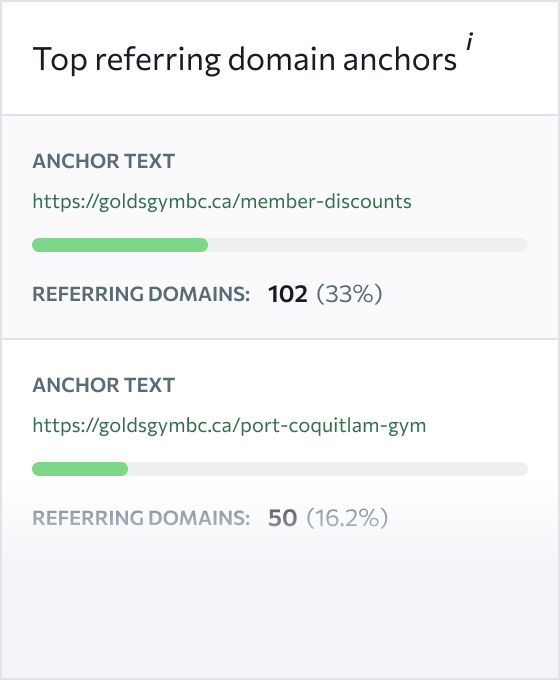 Anchor text
Make sure your anchor texts follow best SEO practices (i.e. they are relevant to the page you're linking to and aren't toxic).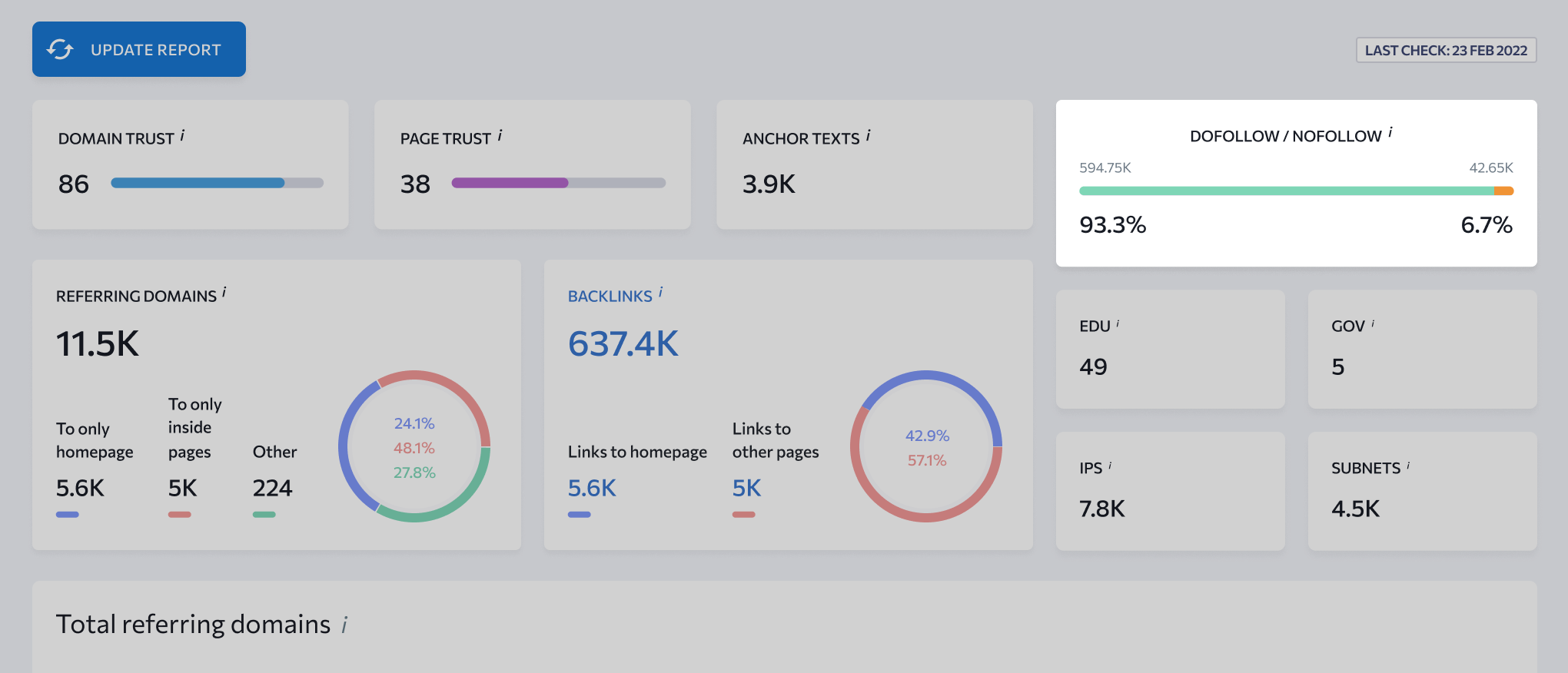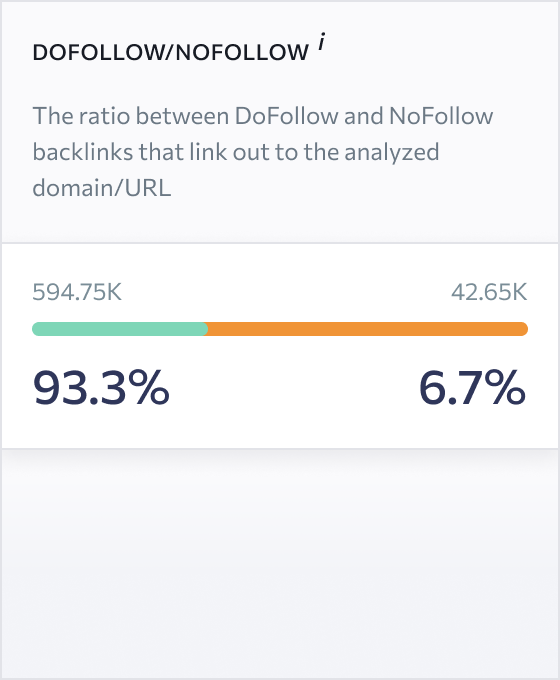 Dofollow vs nofollow ratio
Build links from diverse sources and create a backlink profile that looks natural to Google.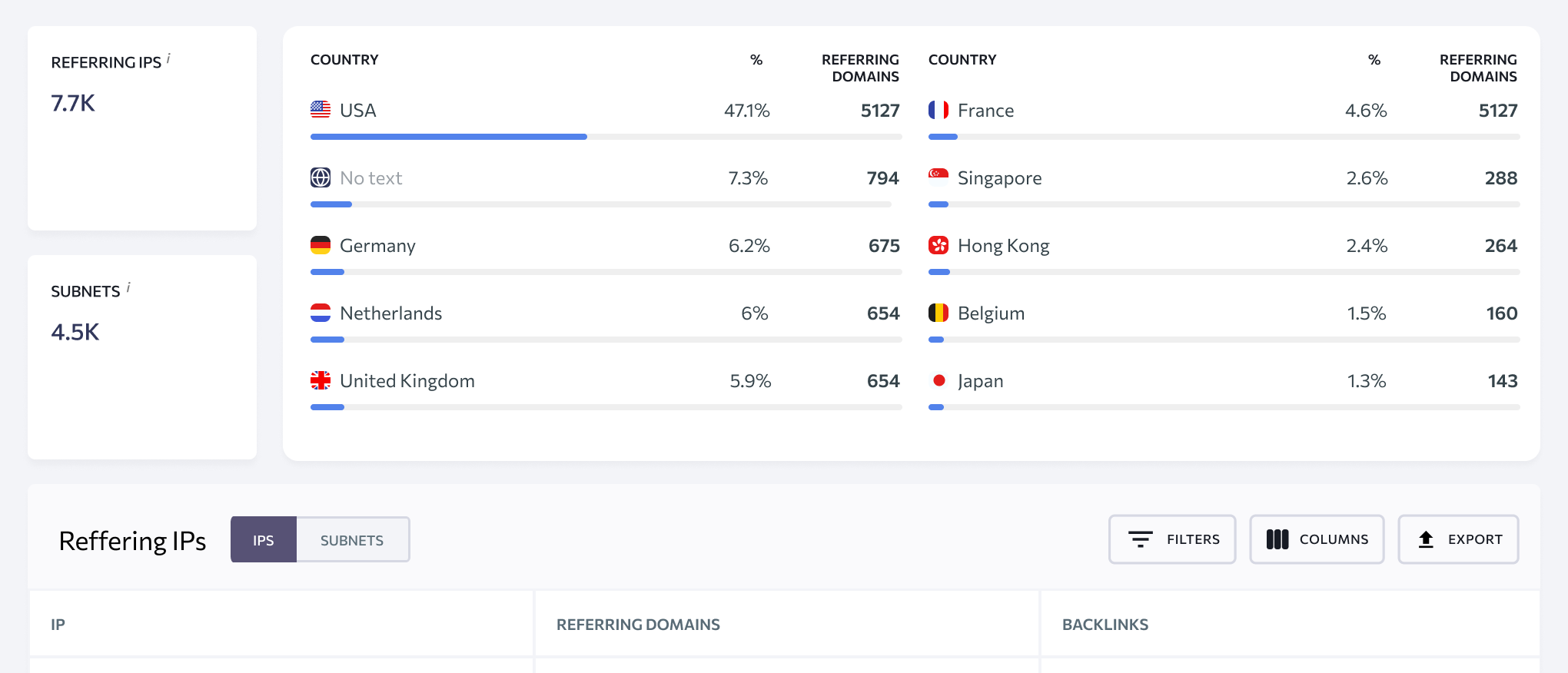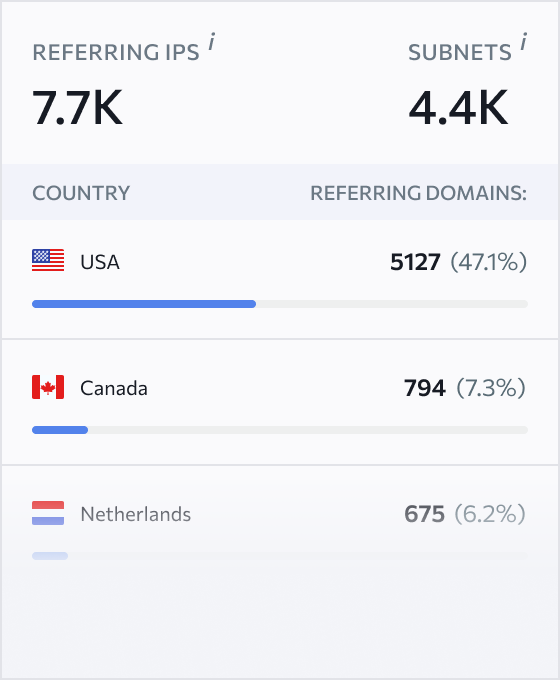 Local & IP-based backlink data
Check how referring domains are distributed by countries based on their ccTLDs, plus get a breakdown of IP addresses.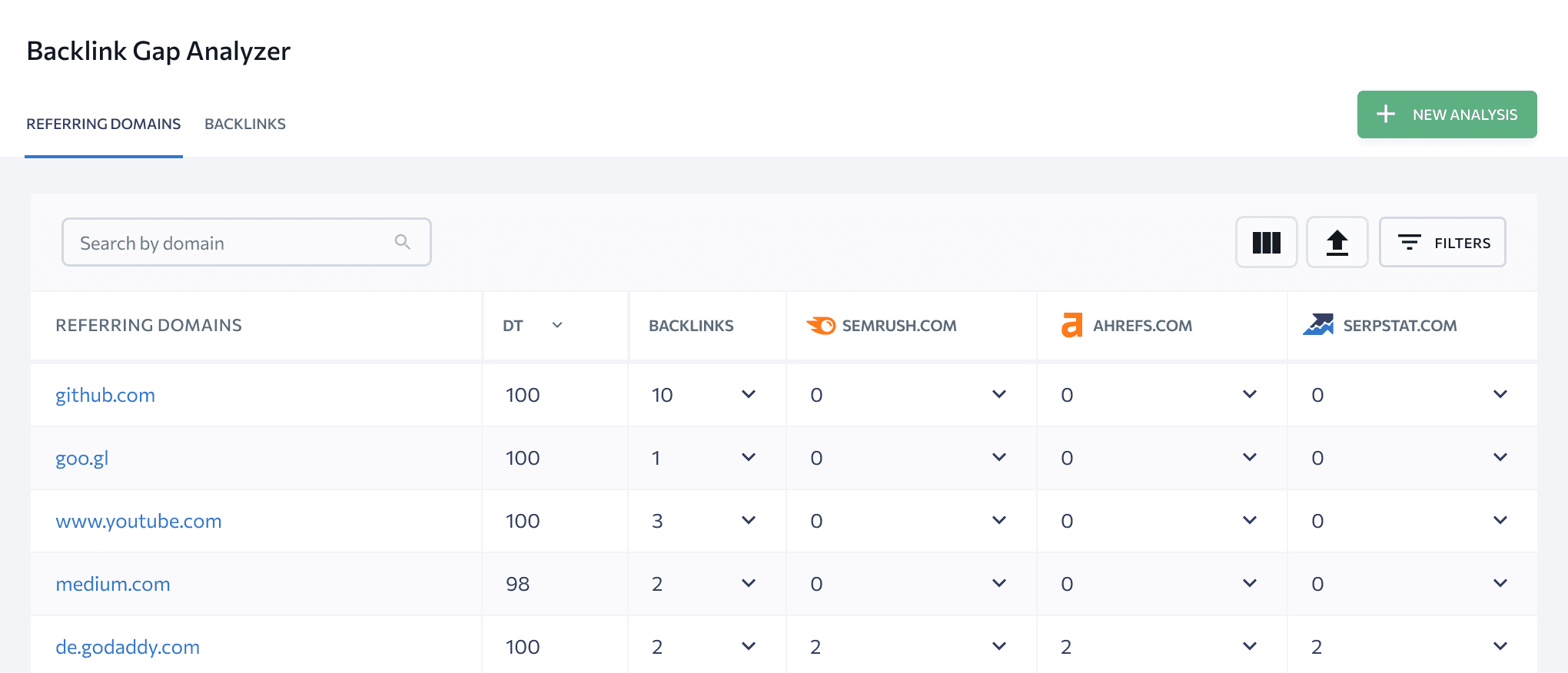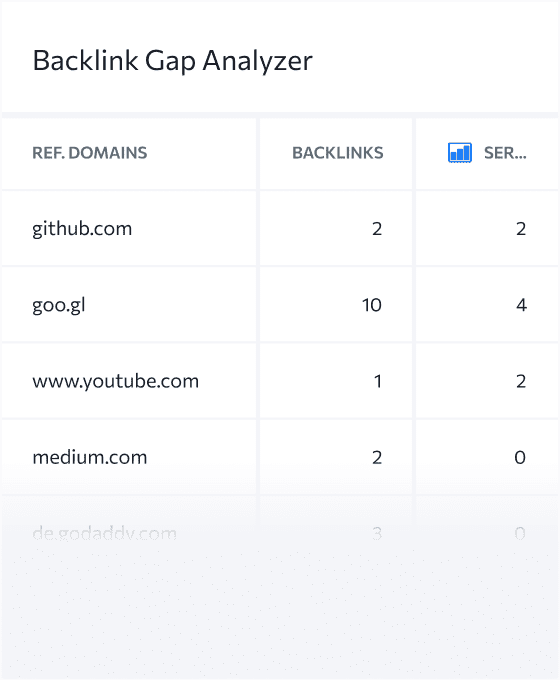 Backlink gap analyzer
Find a wellspring of link opportunities by identifying unique domains that link out to your competitors but not to you.
Competitive research
Full scale of metrics for any decision
Deep comparison of target competitors
Keyword overlap and keyword gap analysis
Traffic Distribution by Country
Domain and Page Trust scores
Top keywords and top pages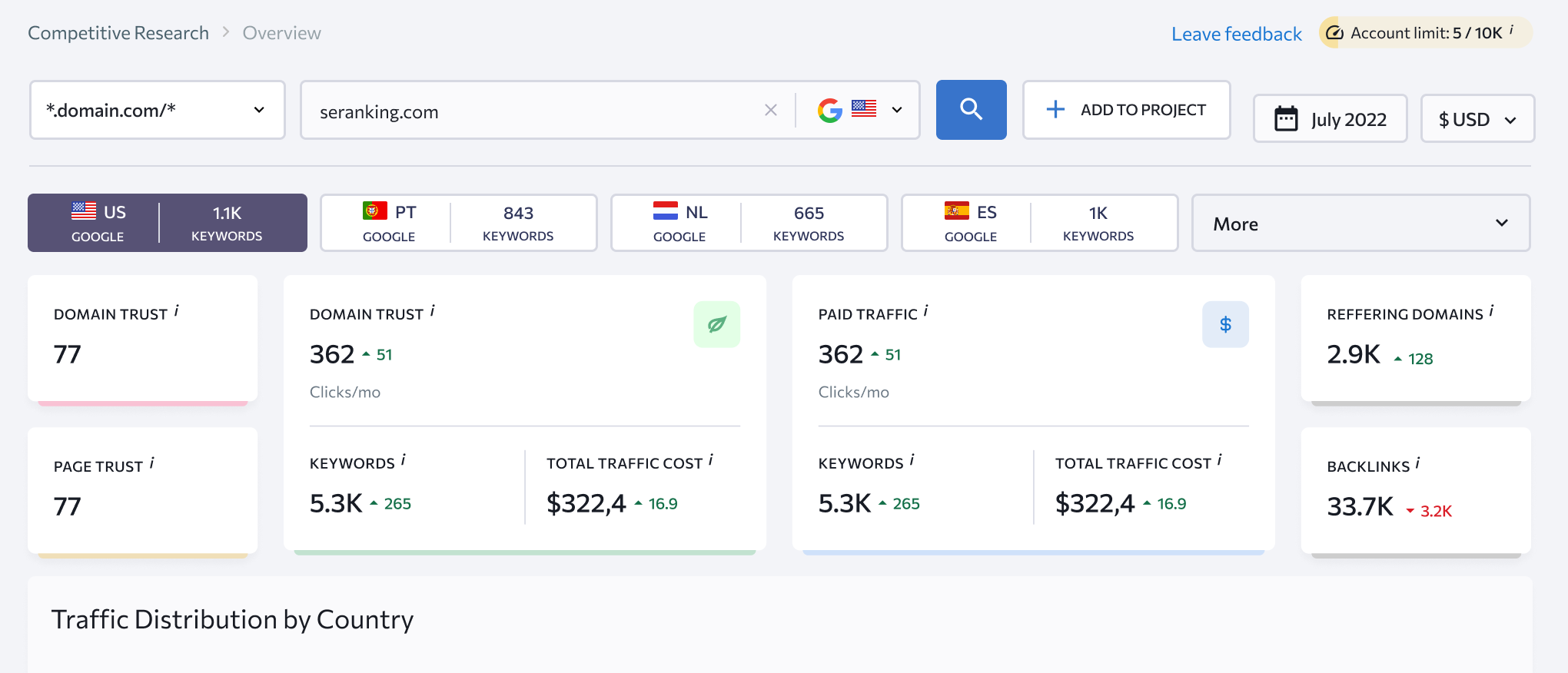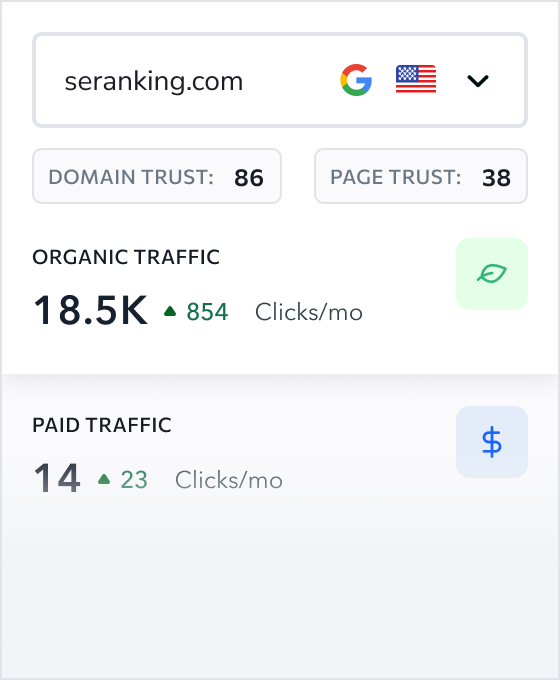 Full scale of metrics for any decision
Understand any domain's SEO performance by getting a detailed overview of its organic and paid search activity.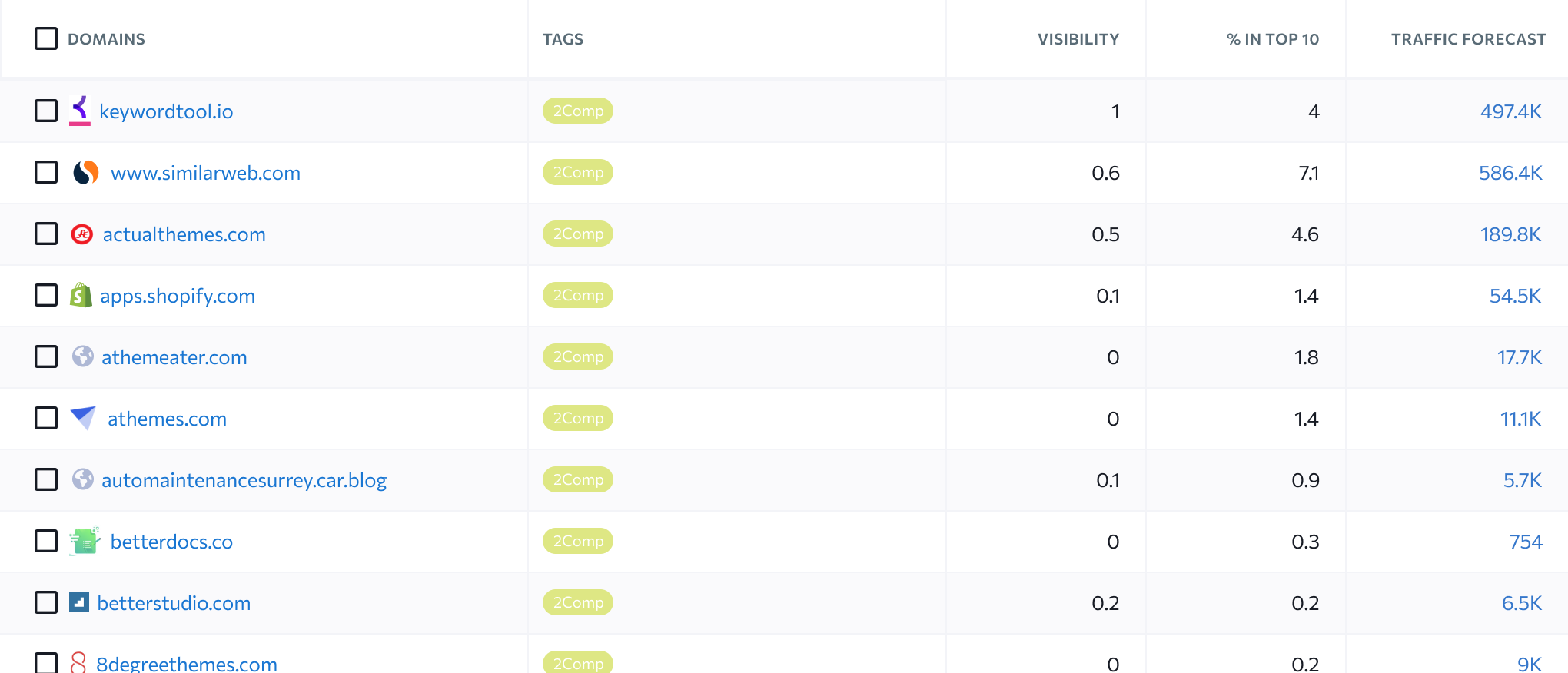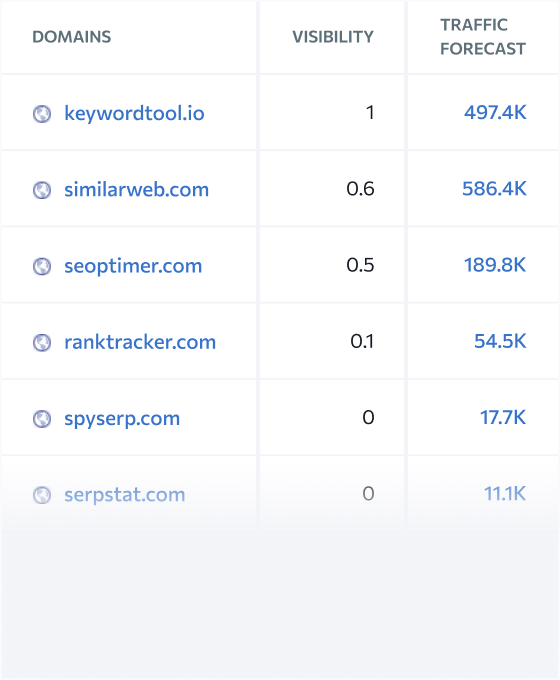 Visibility rating
Compare yourself to your digital rivals to key in on your chances of getting clicks from SEO campaigns.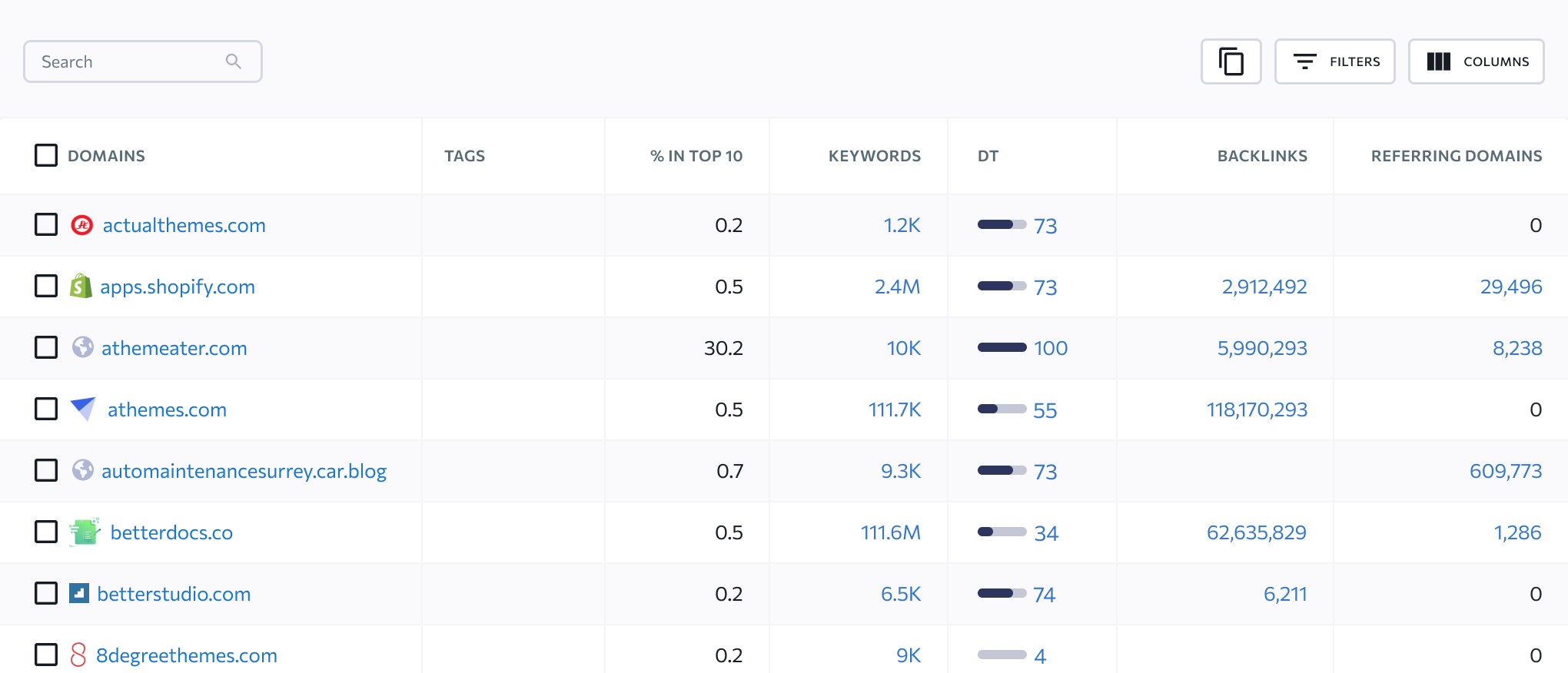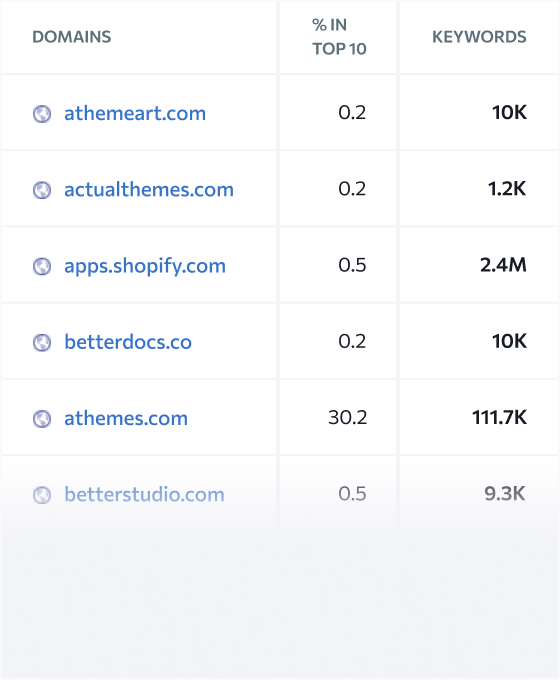 List of competitors
See who your SEO and PPC competitors are so you know who's activities to monitor and how to improve your own strategy.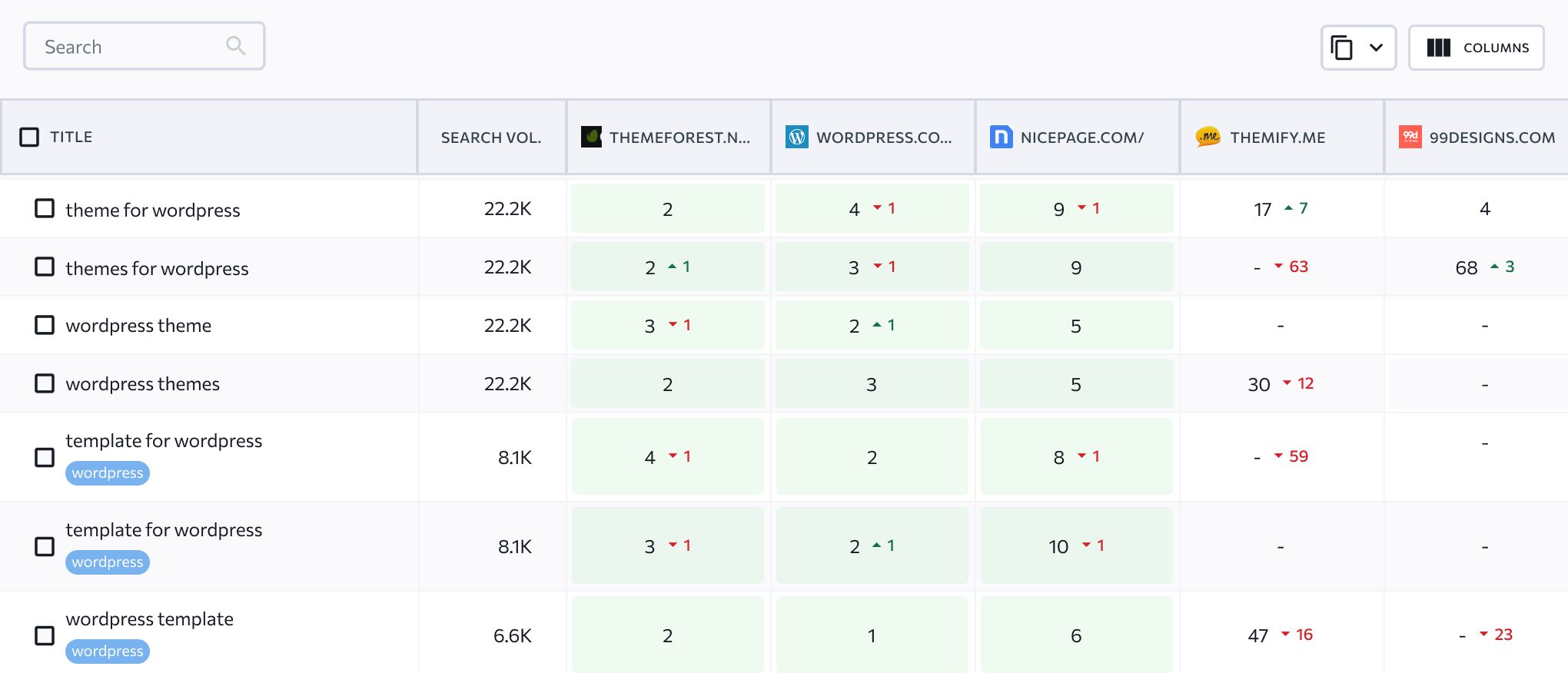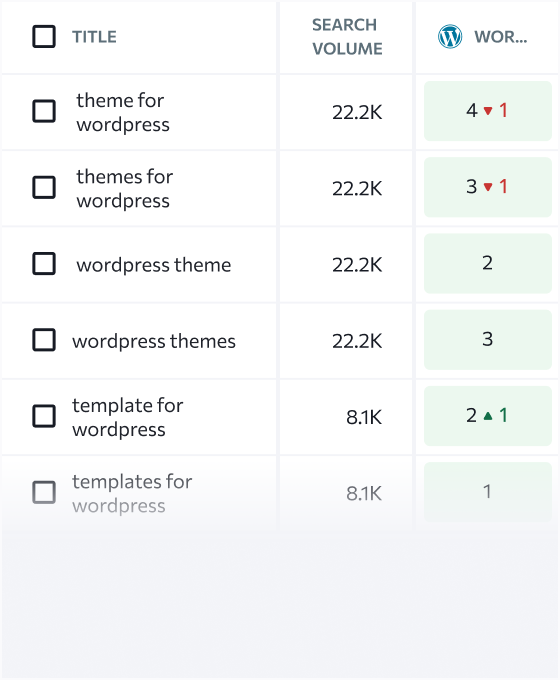 Deep comparison of target competitors
Select up to 20 sites and monitor how their rankings, search visibility and off-page metrics stack up against yours.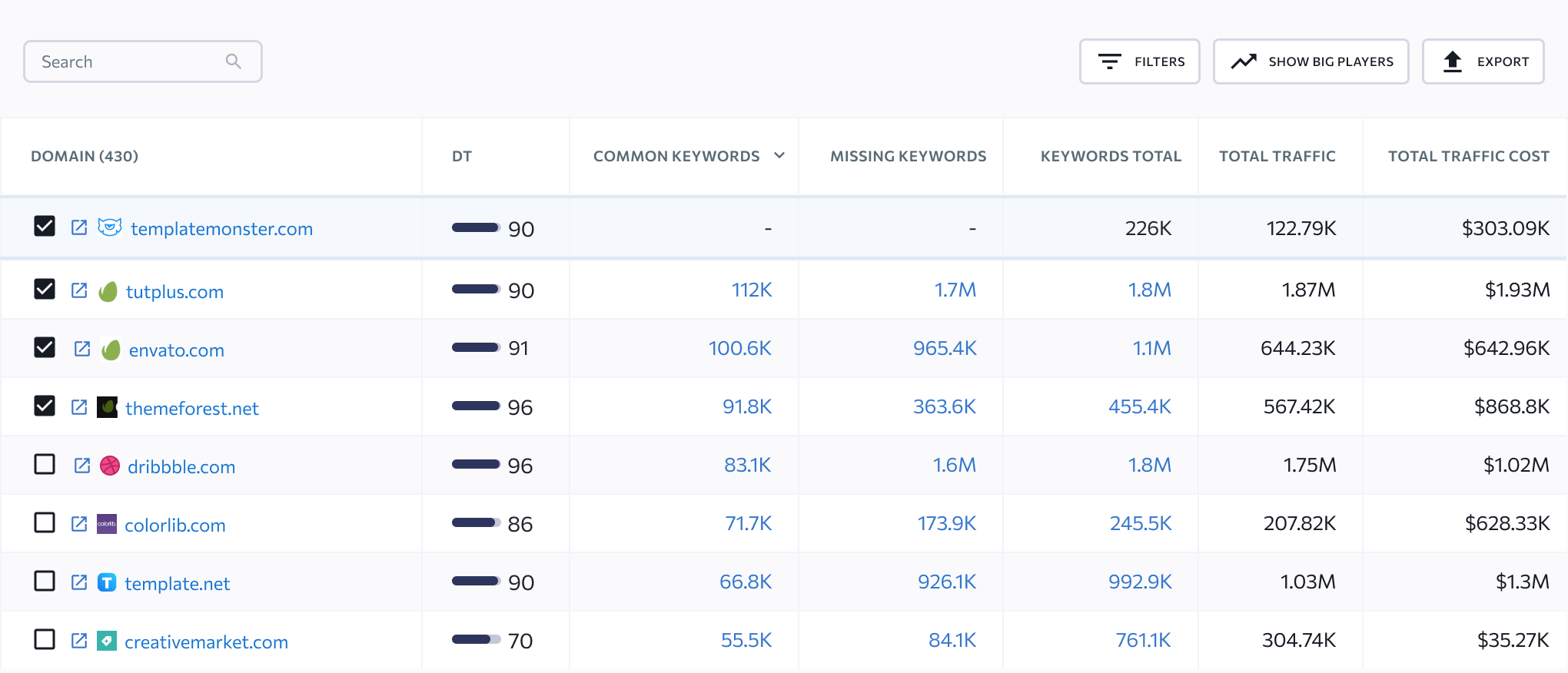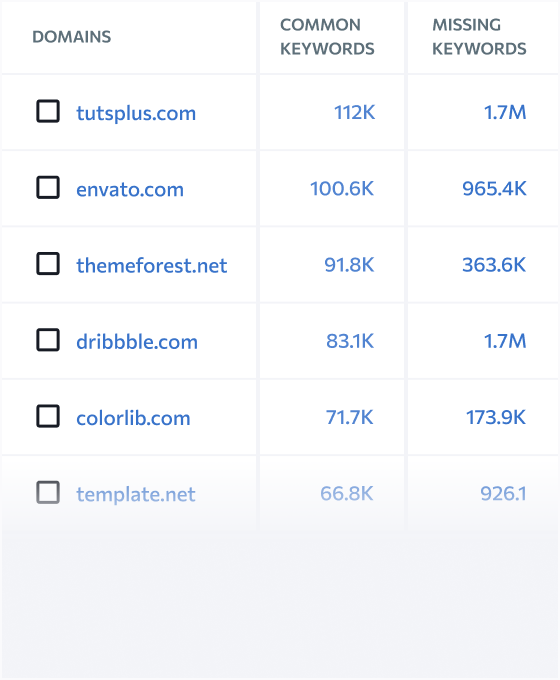 Keyword overlap and keyword gap analysis
Discover new SEO keyword opportunities by analyzing and comparing your and your competitors' keyword lists.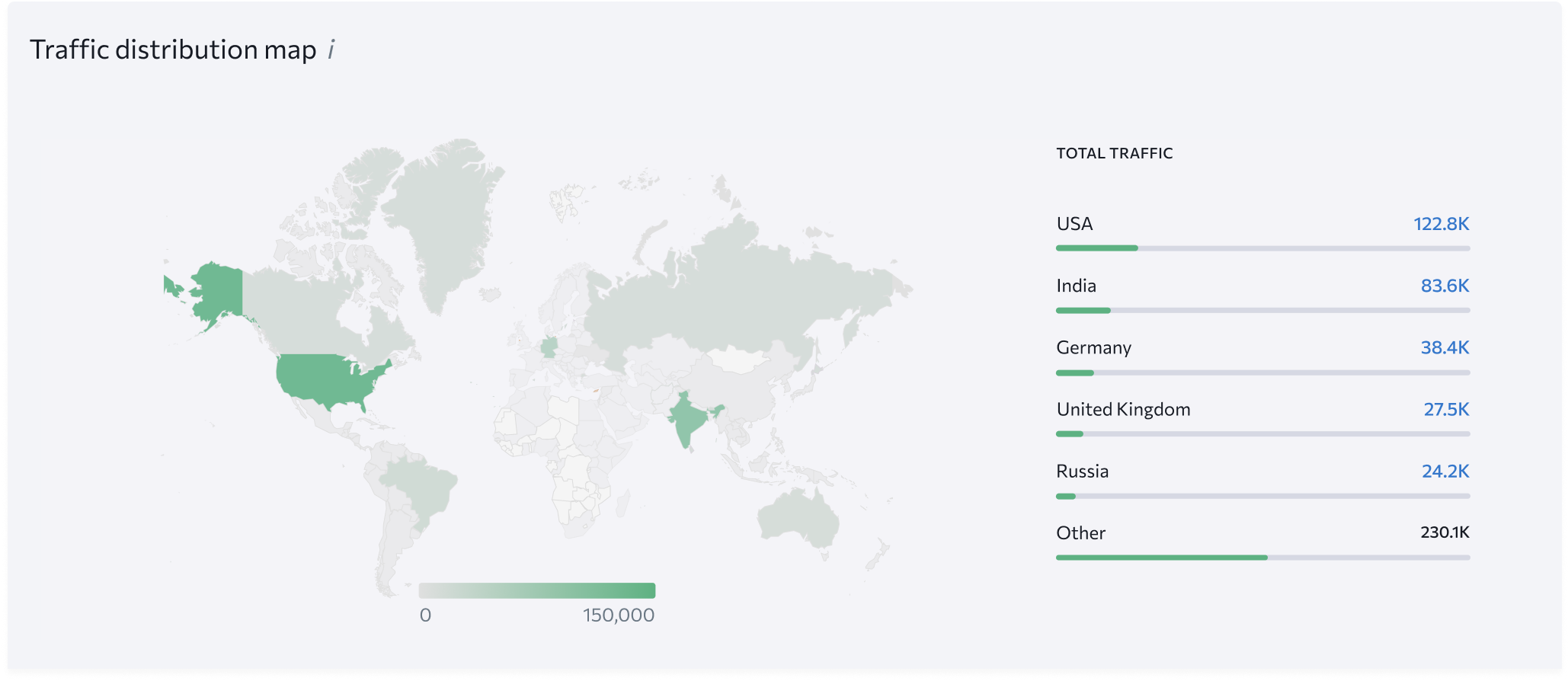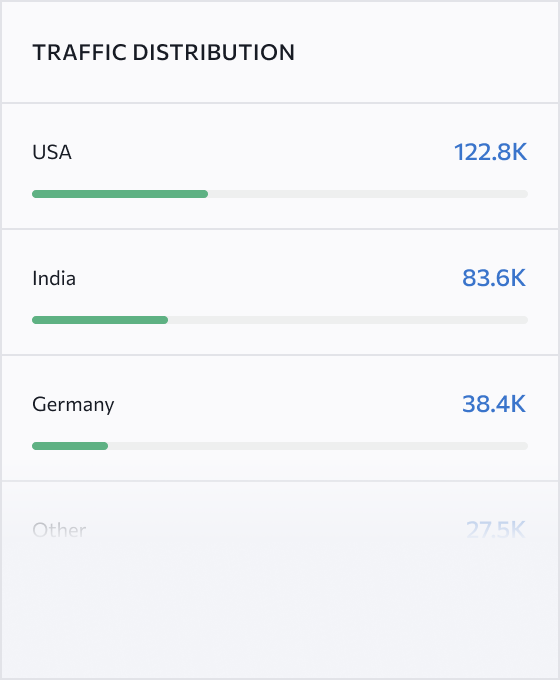 Traffic Distribution by Country
Get comprehensive data on a competitor's organic traffic numbers for every region it targets in search.
Domain and Page Trust scores
Check the trust scores of your organic rivals to determine the best way to optimize your off-page SEO strategy.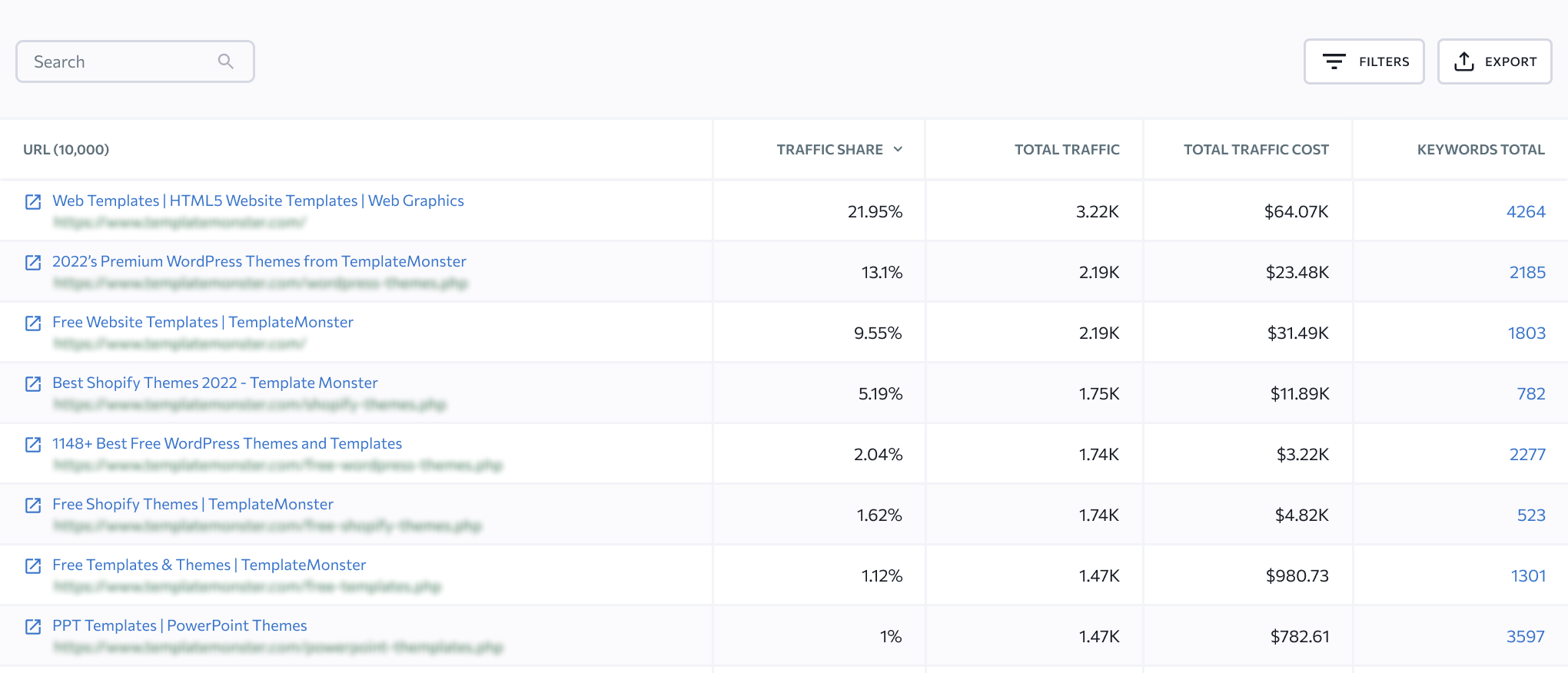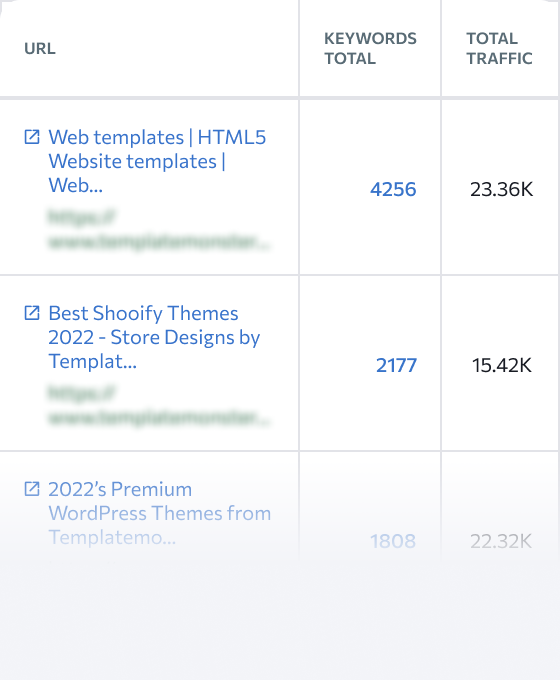 Top keywords and top pages
Identify the queries and pages that drive the most traffic to your competitors to learn how to optimize your strategy.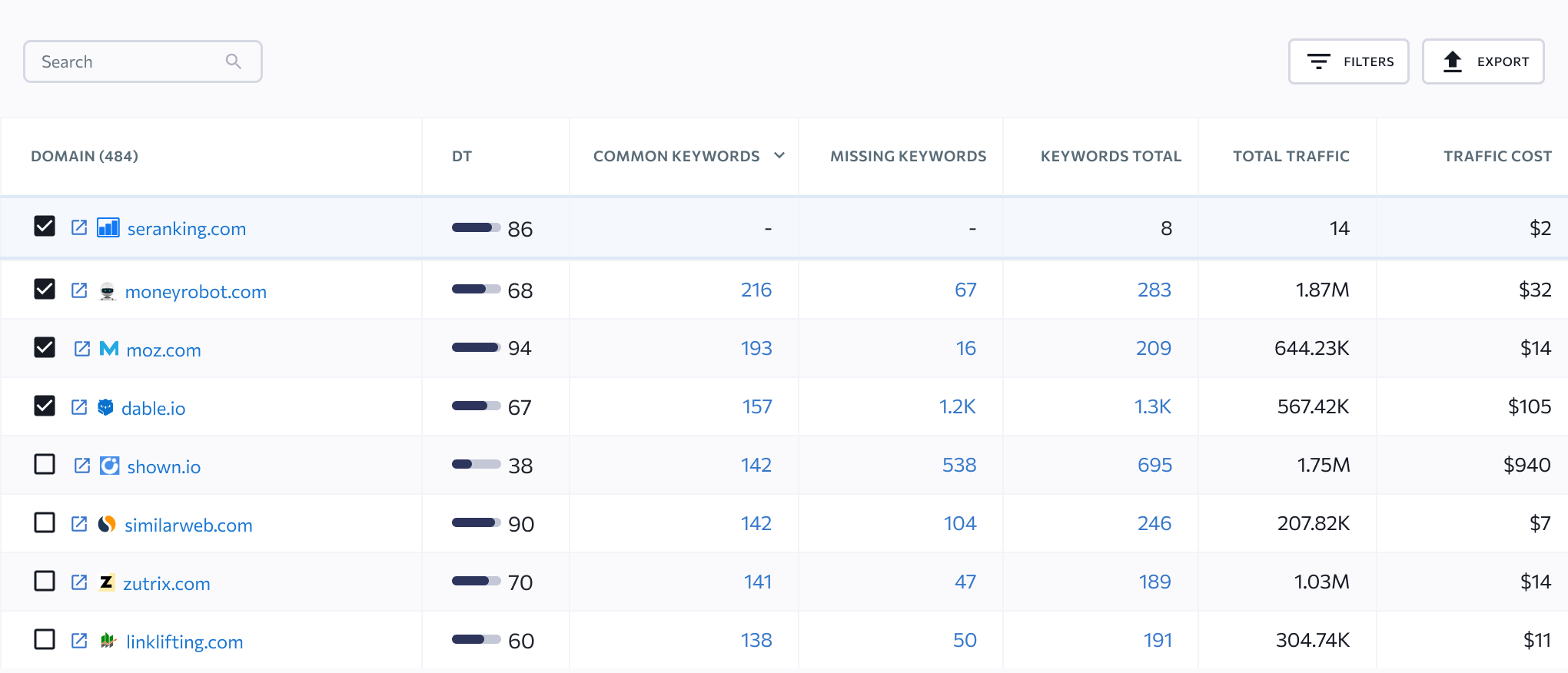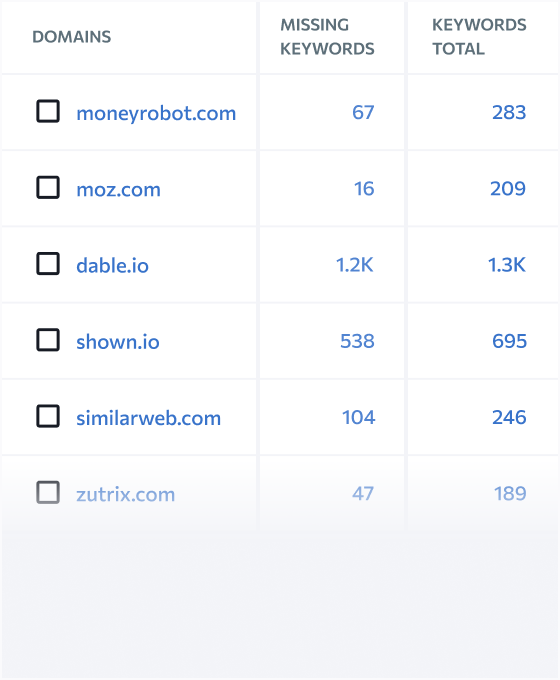 PPC competitors
Analyze the paid search campaigns of your competitors and use their best ads to launch the perfect PPC campaign.
How to perform an SEO check-up
1
Scan your website SEO through several parameters using multiple integrated tools
2
Get a detailed SEO analysis of your website with the SERP competition in mind
3
Develop a well-informed SEO strategy based on data-driven competitive insights
4
Put together custom reports (containing essential SEO data) for clients and colleagues
How to improve your SEO score
Fix all technical SEO issues
Make sure your content quality is high and that it's keyword-optimized
Make sure your metadata and other page elements are optimized
Get backlinks from relevant and trusted websites
Adjust your SEO strategy based on your top organic competitors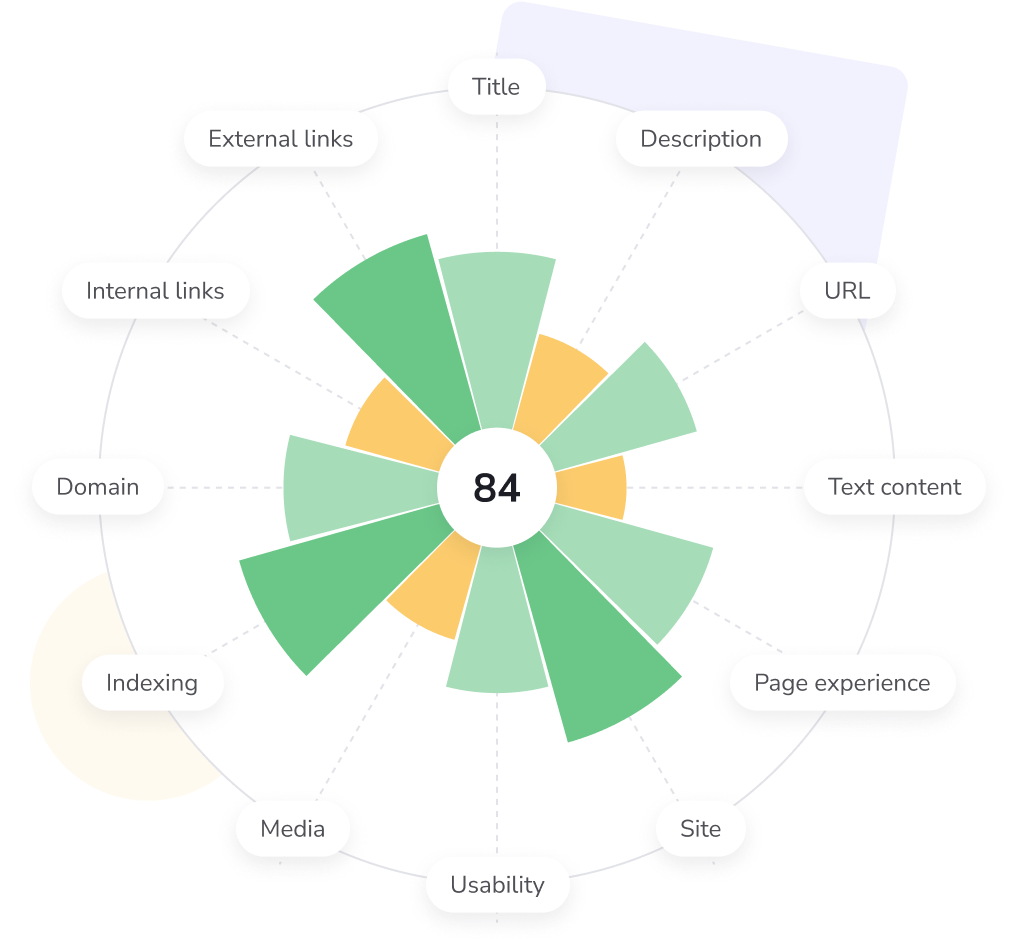 The choice of SEO tools is huge and the range of services and prices is also wide. We were looking for a tool that supports us in our daily work in the best possible way, offers a high usability, extensive functionality and a fair price at the same time. SE Ranking meets these requirements perfectly and we do not want to miss this tool anymore in order to push the rankings of our customers.
Real value for great price
Clear view of rankings and positions, site audit tool for quick scan and backlink checker are very useful. I use it a lot and also use the lead generator to get a free scan for potential clients which runs automated when they fill in the form. The dashboard gives you a good view of changes in traffic and positions. The marketing plan is a bit simple but it gives you some direction of what to do first on the website and you can also check the boxes when you finished a task which works very well
Best seo tool a company could have
SE Ranking is the best seo platform our company has used so far. The interface of the platform is great & user-friendly. The available options are many. From tracking rankings, monitoring backlinks, keyword research to competitor analysis and website audit, everything we need to optimize our sites is just one click away. Also, for any questions or anything else we needed, the live support team replied & helped me with straight away.
Excellent SEO tool for keeping track of customers
I like the automatic reports best. They are very much customisable until customer level and of course have the ability to style it to your own. This makes it easier for us, as we don't have to make them manually anymore. Apart from that the tools inside SE Ranking are great for a quick analyses or where you want, go in to the dept.
Good SEO Tool for small size business
I was used to work with Tools like Sistrix, Ahrefs or Searchmetrics and did not know about SE Ranking before. But those tools were too cost-intensive for a small and quick start into SEO so I tried it out and I am quite satisfied with it. I like the ability to pay for certain services with credits, as I am not using them on a very frequent level, so it actually gives me greater flexibility to only use them when needed and not paying for them even when not using them.
A very complete SEO Tool
The tool is very complete: keywords planning and tracking, backlinks analysis, competitions research… A very few SEO software provides all those features in this price range. Although, the customer experience is optimal: the UI is clear and intuitive and SE Ranking's people are very kind, empathic and helpful.
I also loved that, before ever reaching out to ask for a trial account or set up a sales call, they have a demo account where you can actually play with the tool and see what the features look like beyond just a screenshot.
Most comprehensive SEO tool I've used
I like the competition analysis tools, it provides paid and organic data, which gives me an idea on how to catch up and outrank the immediate competition for my clients. It also provides data for the potential traffic, which helps show clients the potential gains of the campaign. And with the marketing plan, I know what needs to be improved in order to get results for my clients.
Perfect fit for our marketing agency
After trying a lot (10+ years of experience) SE ranking stands out on top of others because it combines everything we need for our clients. We do only provide the client with rankings, but also with the potential traffic (and revenue) of those ranking when they hit top 3 in Google. The tool let us provide the client with in depth analysis of the technical stuff ánd a marketing plan tool, so we can set goals and follow a checklist of monthly activities. And to top it all off it's fully whitelabel.
SE Ranking helped our business increase efficiency and efficacy
We've used other tools in the past, but SE Ranking offers more up-to-date data and information, which benefits our agency and clients. SE Ranking allows us to access historical data with just a few clicks without ever having to leave the interface. From daily ranking updates to current search volume trends, there are numerous aspects that are essential when formulating client strategies, and with SE Ranking's continuously updated system we are able to use this data to help our clients succeed.
SE Ranking is my go-to platform for SEO
It does all the important jobs incredibly well and reliably with no fuss. Site audit, Google rank tracking, traffic analysis, competitive analysis… Every step of the setup and the reporting is intuitive, and is accompanied by clear and helpful advice. And the rare times I have had the slightest problem, their client support is quick, helpful and efficient (best in the market!). All of which adds to a no-fuss, high performance platform for an expert like myself, and also the perfect tool for anyone still getting up to speed on SEO. 100% recommended.
Load more reviews
Flexible pricing to fit any budget and for any SEO project
Pick the Pricing Plan that suits your needs, or contact us to request a custom quote
Essential
website audit for 40,000 pages
Up to 10 projects
from 250 keywords for Rank Tracker
Backlink Monitor and Backlink Checker
SERP Analyzer
See pricing plans
Pro
Most popular
website audit for 250,000 pages
All Essential features with extended limits
from 1000 keywords for Rank Tracker
Unlimited number of projects
User seats
See pricing plans
Business
website audit for 700,000 pages
All Pro features with extended limits
from 2500 keywords for Rank Tracker
API access
See pricing plans
See pricing plans
Faq
How to check a website's SEO performance?
To find out what a website's SEO health is, perform an in-depth analysis. Check the website's overall technical health and on-page optimization, find out what its keyword rankings are, analyze how well the content is optimized, and study the backlink profile.
An SEO website checker, or an SEO analyzer, is a set of tools that can scan a site and its pages for possible SEO issues and improvements, including the website's technical health, on-page optimization status, content quality and optimization, keyword rankings and backlink profile.
An SEO audit is a process of analyzing a website and its pages to identify issues that may be hindering it and their performance on search engines. This process includes checking the site's technical SEO health and on-page optimization, analyzing rankings, reviewing content optimization, and studying its backlink profile.
Why is an SEO audit important?
SEO audits are essential to keeping your SEO strategy up to date because they can help you identify both problem areas and opportunities for growth in organic search. Regular audits of domains and all of their components are key to making sure both search engines and people love your website.
How to get an SEO audit report?
You must use specialized website checker tools to successfully perform an SEO site checkup. These tools will provide you with comprehensive information on the site's overall technical health, keyword rankings, content optimization status, and backlink profile. Assemble this data to present an SEO report to your clients or colleagues.
How to test keywords for SEO?
To SEO-test keywords and target the best ones in search, make a list of keywords. Consider their relevance, search volume and difficulty. Separate them into groups based on whether they are primary or secondary keywords. Conclude the SEO test by checking each keyword's rankings for the target URL in the target location.
How can I check my SEO rankings?
You can analyze the rankings of your web pages and their keywords in organic search results by adding your keywords to an automated keyword rank tracker. It will generate accurate data on the SEO performance of your target keywords as well as URLs in organic search in your target locations.