Packing a marketing toolkit to efficiently promote your website
Almost every single guide on website promotion says you should be doing SEO and email marketing, get social and spend some money on ads, so these are evidently the must-have elements of any marketing toolkit.
But where exactly should you start and which strategy should you focus on to get the most out of your invested time and money? These are the questions to be answered in this post.
Here, you'll find plenty of actionable tips that will surely help you win the battle for user attention, both in the short and in the long run. But no worries, this is not just another list of 20 ways to promote a website that leaves you bewildered and wondering which hacks are actually worth trying.
Below, I've outlined two possible promotion plans for you to pick from depending on your goals and available resources.
SUSTAINABLE AND LONG-TERM ORGANIC PROMOTION
FAST AND FURIOUS PAID ADVERTISING
Both strategies are based on a complex approach that will help you start from the foundation and then allow you to gradually scale up your promotion endeavors. You can follow one of them or mix and match to pack your custom marketing toolkit.
Sustainable long-term organic promotion
When we speak of organic promotion, the first thing that comes to mind is SEO which really is at the core of the organic promotion strategy. After all, organic search remains a major source of traffic that just can't afford to underestimate. But since we want to build an all-rounded marketing strategy, other traffic channels such as social media, emails, or referral traffic are not to be ignored either.
What you need to realize before you begin is that organic promotion is a long-term game. Not just SEO, but other techniques as well. Building a strong social media presence, engaging with forum communities, nurturing partnerships with other players in your niche—all of this takes time.
So, the question is how much time do you have on your hands? Are you ready to spend hours producing quality content, engaging with your potential audience across social media platforms and forums, attending industry events, and running newsworthy events on your own? Finally, do you personally or your team members have the necessary qualifications?
If your answers are 'yes' and you don't mind that some of your endeavors won't produce immediate results, organic promotion is your obvious choice. It only costs you the invested time and gets you results that last. All your hard work will pay off once you get noticed by Google and the players in your industry who you can partner up with.
1. Get your website ready
Before you start promoting your website, you'll have to make sure it is ready to face users and search engine crawlers. If your website is not SEO-friendly and has a bad UX, all the promotion efforts you'll make will be in vain. And unfortunately, with some clumsy website builders and laggy themes, this is often the case.
So, here are the basics you need to double-check once your website is all set up:
It should be fast as loading speed is both a ranking factor and a source of customer annoyance;
Your website should look equally well on desktop and mobile. With the mobile-first indexing, Google bots will see the mobile versions of your pages first plus users will also appreciate adaptive design;
All your website pages should be up and running and accessible to search crawlers.
To make sure that everything is alright, you can use different Google tools such as Google Page Speed, Mobile-friendly test, and Google Search Console. The last one will help you spot all the pages that are blocked from being indexed or return error messages.
Alternatively, you can use SE Ranking's Website Audit tool that is available under the free 14-day trial. The audit will start automatically once you create your first project. It will point out the errors that need to be fixed including all the issues mentioned above plus other SEO-relevant technical issues such as duplicate content, missing alt tags, meta titles and descriptions, internal linking issues, and many others.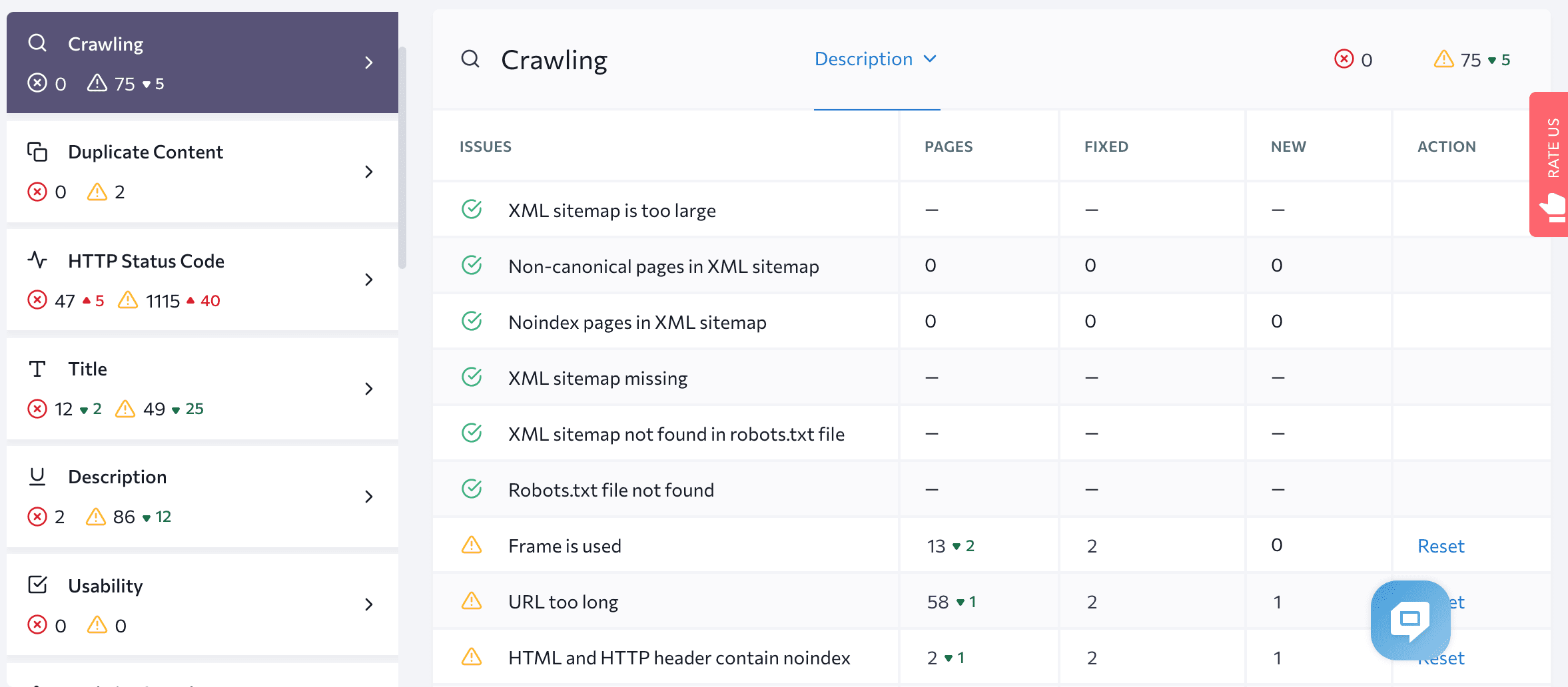 To better understand which errors are truly critical, I recommend you read this guide on running a mindful website audit. Once you understand which issue should be addressed ASAP, fix them to make your website truly SEO-friendly.
Actionable tips:
#1. When it comes to slow page speed, heavy unoptimized images are often to blame. Check if your media library has image files that are larger than 2 MB, then use special compressing tools to optimize the images and re-upload them.
#2. If you're just launching a new website, pick an SEO-friendly CMS from the get-go. And if you choose WordPress, which is the most popular CMS to date, make sure to also pick a speedy, mobile-friendly theme.
2. Add your website to relevant directories
Probably the easiest way to start promoting your website is adding it to trustworthy business listings. It usually doesn't take much time and allows you to kill several birds with one stone: you get a backlink, which is good for SEO, plus you boost your brand awareness and hopefully even get targeted traffic.
Surely, local businesses can benefit the most from being featured in various listings, but other companies should not fully ignore business directories either.
For example, every company needs a Google My Business profile. You may be not interested in ranking in local search, but your GMB data will still make its way onto your brand SERP. Your whole GMB profile can appear as a panel to the right of the blue links or just your office address will pop up among the search results—when clicked on, it will take a user to Google Maps with your GMB profile.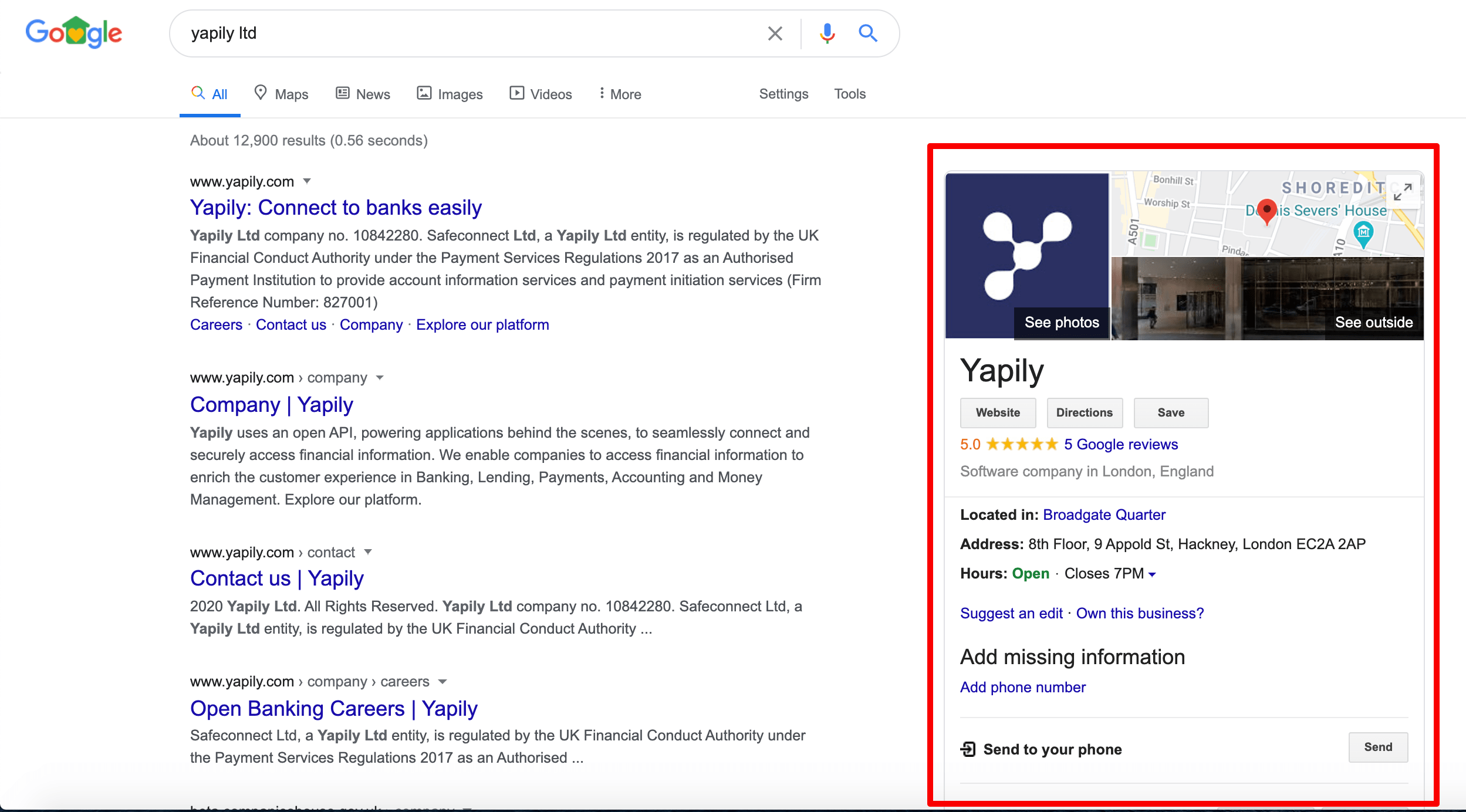 Your potential customers and employees can use the Question & Answers section in your GMB profile to get in touch with you. They can also leave reviews of your business. So, you surely want to take control of what people see in your profile.
To do this, you'll have to go through the verification process, which can be a bit tough. But we've got you covered with a guide that describes in detail 9 ways of verifying your GMB profile—one of them will surely work for you.
You can also add your website to Bing Places for Business and Yahoo! Local to cater to your users who prefer these search engines.
Then, get profiles on different directories relevant to your niche. Yellow Page, Yelp, Foursquare, Angie's List are the top listings for local businesses. Software developers can benefit from getting featured on Software Advice, GetApp, SaaSGenius. If you are a freelancer who provides services to international audiences, be it coaching or design, you can also find plenty of niche directories.
If you use SE Ranking, you can save some time with a ready-made list of trusted directories we've compiled for you. You can find it under the Marketing plan section of your projects. The list is also available in SE Ranking's mobile app, so you can even add your website to popular listings on the go.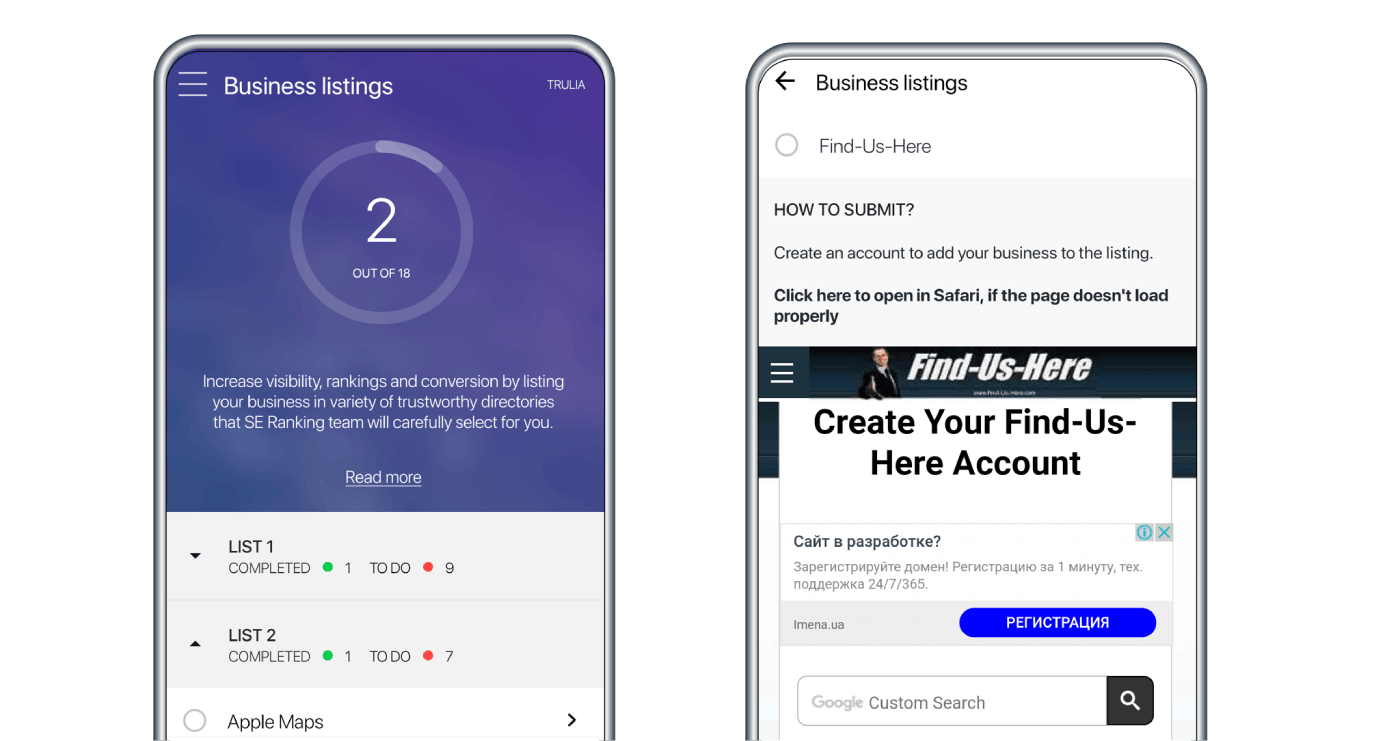 Actionable tips:
#3. Simply adding your website to every relevant listing is not enough. To support your brand image, you'll have to actively engage with these platforms' communities responding to people's questions and reviews, especially if they are negative.
#4. You can actually both post questions about your business and answer them on your own. Just think of the questions your customers usually ask—potential clients may be interested in the same details. Moreover, you can ask loyal customers to leave reviews of your business to improve your profile's rating and visibility.
3. Make a content plan and stick to it
Content is at the core of many promotion techniques. You need content to rank on Google, you need promotional content to publish across digital media, you need guest posts to promote your brand in other blogs. Finally, engaging with Quora/Reddit and different forums communities also requires some content, which can get pretty lengthy.
Besides, in our visual age content is not just about text. Quality pictures, infographics, and videos can add a lot more value to your promotion strategy, so think if you can afford to produce these types of content as well.
Once you realize what kind of content you'll need to have next month or in a couple of months, put it all together, and create a content plan. And when you're all set, resist the temptation to squeeze in a few extra content pieces—chances are you just won't manage to handle it all.
Content SEO is an indispensable part of your marketing toolkit, empowering you to efficiently promote your website. In our Content SEO Course, you'll gain insights on how to optimize your content for search engines, boost organic traffic, and establish a compelling online presence.
Take your time to craft amazing content
Most of the content you'll be creating should be for publishing on your website's blog, your corporate YouTube channel, Pinterest profile, etc. In terms of promotion, the strategy is called content marketing, and its goal is to attract new visitors, turn them into loyal followers, and encourage them to try out your product/service. To make this happen, you'll have to carefully craft out your content to make it on point and engaging.
The key takeaway here is: Never create content for the sake of creating content.
Only cover topics that your potential customers are truly interested in: the ones they Google, search for on YouTube, discuss across forums and social media. And to find such topics, you'll have to run a thorough keyword research.
The fastest way of finding trending search queries in your niche is by using a keyword research tool. SE Ranking has one and it is available for testing right on the landing page. Once you type a keyword into the search box, the tool will come up with hundreds of similar and related queries that people Google. On top of that, it also allows you to 'borrow' topic ideas from your competitors—you can check which topics your major rivals have in common and add them to your own content plan. Then, create a content piece that offers more value to the users than those of your competitors.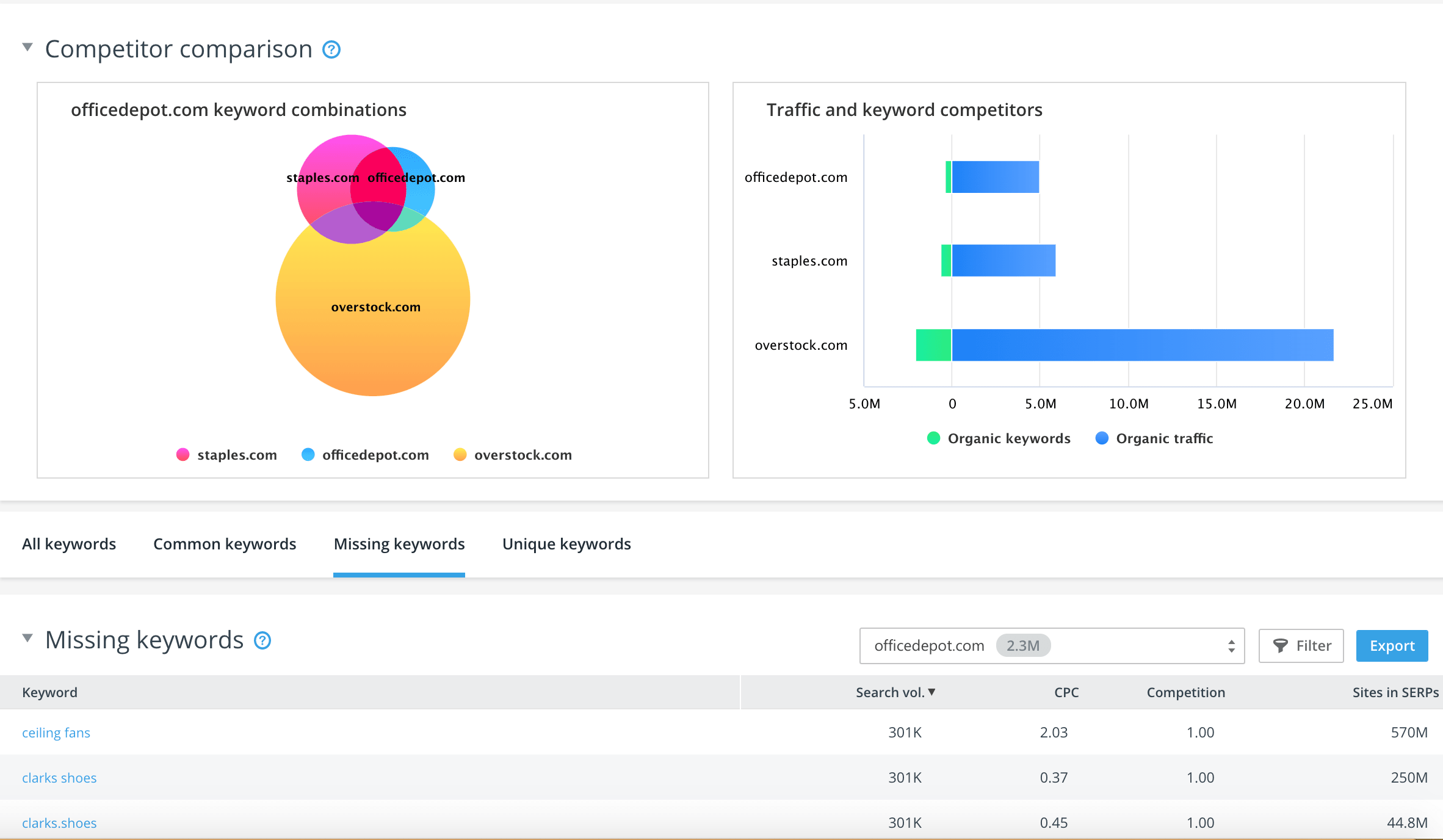 In addition, you can dig through forums, Quora, and Reddit to find hot topics your target audience discusses. Jump in and add your comments whenever possible—it will help you with building backlinks, which is the next step on our promotion roadmap.
For video content ideas go to YouTube, to find out which pictures are trending—check out Pinterest.
With quality content, there are no workarounds, no magic pill. You just have to put the work into your research and spend time creating something unique that users will love. But there are a few hacks that can make your content production routine more efficient.
Actionable tips:
#5. Create both evergreen content and articles highlighting trending topics—the latter have a better chance of going viral and getting wide media coverage. To attract more eyes, you can find an article written by a popular expert in your niche and produce a piece of content based on opposing views. Then make a social media post about your article, tag the expert, and watch the hot discussion take off.
#6. Use the power of content repurposing. Once your content piece is ready, think if you can present the same idea using different means. For example, video-tutorials and webinars can become how-to guides and expert opinion articles. If you created an infographic for a social media promo that got a lot of shares, see if you can complement it with a full-fledged text and publish it on your blog. An insightful article from your blog can, in turn, transform into a presentation, which you can use at some niche conference or simply upload to SlideShare to get some exposure.
#7. If you create quality content, it will eventually rank high on Google and bring you organic traffic. But before this happens, you can immediately promote your articles across different content-sharing platforms. Medium, AllTop, Scoop.it, Flipboard, Hub Pages will come in handy, just to name a few. Consider applying the 20/80 rule which says you should put only 20% of your effort into creating content and another 80% into promoting it.
Do guest blogging to get backlinks and traffic
Another huge content group on your promotional bucket list are guest posts for other blogs. You should be spending hours crafting texts you will never rank for because they will be published on other websites—and, yes, you read that correctly. In such posts, you'll link back to your own website and build authority in the eyes of search engines. And if the website you're guest blogging for is a popular one, you should also be getting referral traffic from published articles.
Now, how do you find websites that accept guest posts? There are many options, so I'll just list the most efficient ones. Start by thinking of the people in your circles who may be interested in exchanging blog posts: business partners, customers, people you met at conferences and meetups. If they are trying to promote their websites as you do, they may be interested in cooperating.
If your business is the new kid on the block and you don't have connections within your industry just yet, you can still reach out to well-known players in your niche and try negotiating partnerships. Over time, once you build some connections and authority, others will be more eager to partner with you.
Then, you can check which website accepted guest articles from your competitors and try to arrange a deal for yourself.
To find such opportunities you'll have to analyze your competitors' backlink profiles focusing on their referring domains, which you can do using SE Ranking's Backlink Checker.
Actionable tips:
#8. When analyzing your competitors' backlink profiles pay attention to the broken links. If one of your competitors' pages have been removed and now returns the 404 error, you can contact the website linking out to this page and offer them to replace the broken link with a similar page on your website. And if you don't have a similar page—create one.
#9. Be creative with outreach pitches. Don't send out standardized emails where you just change the recipient's name. Learn more about the potential partner and craft a personalized message that will let them know that you are well familiar with what they do and have some value proposition to offer.
#10. When writing a guest post, don't just link out to your own website, but also to the websites of your partners. Then, ask them to return the favor. Building backlinks through guest blogging is way more efficient when you unite in a group and work together for a common goal.
4. Build relationships to promote your brand
Your marketing success largely depends on your ability to build relationships: with your existing customers and target audience, with your marketing partners, and with prominent figures in your business niche. Building strong connections with all these people will allow you to turn them into promoters of your brand.
Surely, you'll interact with them in different ways, but in any case, you'll have to offer everyone some value.
For example, Quora and Reddit have established communities of people who regularly come to their websites to discuss topics of interest. The topics vary from traveling and DIY hacks to design and SEO, so you'll surely find something relevant for your niche.
Now, people interested in these topics are your potential customers. But you can't just come and ask them to come to your website and try out your product. To start promoting your website, you'll have to first become a part of the Quora and Reddit communities yourself. Jump into the discussions, provide insights, and over time, you'll build trust and will be able to use these platforms to spread the word about your product as well as add backlinks to your website to strengthen your backlink profile and get targeted traffic. Just make sure to do this in a relevant and non-aggressive way.

Now, in addition to promoting your website on your own, you can encourage other people to recommend you to their circles. Start with your existing customers. To turn them into the promoters of your brand, you first need to make your clients happy with your product or service. This means you should be always striving for excellence and actively engaging with your users to know how they feel about your brand. Then, you can encourage your most loyal customers to become your brand ambassadors or evangelists by, for example, introducing a referral program. Referral links once again can bring you both leads and strengthen your backlink profile authority.
Finally, you need to partner with experts in your niche as their recommendations are especially valuable and can bring you plenty of targeted leads. In exchange, you should as well offer them backlinks and exposure. Once you have a loyal audience other players in your niche will be happy to get a mention in your social media posts and newsletters, write guest posts for your blog or participate in the events you organize.
Actionable tips:
#11. If your business offers an IT product, consider creating an account on ProductHunt and spend some time building relationships with its users. It will help you to successfully launch on Product Hunt with the support of the community and get a lot of exposure. In any case, Product Hunt is a great place to draw the attention of thousands of users to your app/software/website.
#12. Join niched social media groups, like Twitter lists, LinkedIn, and Facebook groups to share your ideas with the highly engaged target audience and find new partnership opportunities.
#13. Track your social media mentions using special tools like Awario, Mention, Talkwalker etc. to find people who are already talking about your brand. Then you can get in touch with them and start building new partnerships.
5. Engage with your audience across different channels
SEO, guest blogging, crowd marketing, and business listings can all bring you potential customers. But then you'll have to move these leads down your marketing funnel and also develop a retention strategy. That's where social media and newsletters come into play. They will help you keep in touch with your audience and get quick feedback.
Add a newsletter signup widget to your website from day one of your promotional endeavors and use carefully crafted emails to keep your customers engaged. You can encourage users to sign up with a promise to give them a shout-out whenever you publish a new article or run a promotion. If your website sells products, either physical or digital, you can go one step further and offer a discount on the user's order in exchange for their signing up to your newsletter.
Besides, create social media profiles for your business and start building your communities. Post regularly to share your current achievements and future plans, promote your blog posts and video content. And if you manage to create a viral piece of content that gets a lot of shares, you can even get new leads.
Actionable tips:
#14. All sorts of contests and giveaways work wonders when it comes to attracting new customers through social media. People love free stuff, so they'll be happy to share your post/tag a friend/sign up to the newsletters as long as they get a chance to win something of value to them. Just be creative when crafting your giveaway pitch.
#15. Give your readers a chance to easily share your content on social media—add social media share buttons to your blog posts. You can go one step further and let your readers highlight any part of your blog post and share it on Twitter/Facebook in one click. WordPress users can install a special plugin for this purpose.
#16. If you're at the beginning of your journey, the level of engagement on your social media may be rather low, but don't feel discouraged and resist the temptation to throw in the towel. Nowadays, a lack of social media profiles may be a red flag to your potential customers, so you surely need them. Try the giveaway tip to boost engagement or consider using paid advertising, which we'll be discussing in more detail in the next chapter.
Fast and furious paid advertising
SEO, content marketing, social media and other strategies covered in the long-term promotion section can bring you great results when used together, but they can take months of hard work of a qualified team or one highly productive jack-of-all trades. If you are pressed for time, need some hot leads, and not just brand awareness, then you should focus on paid promotion. Surely, it will cost you way more money, but that's how it works in the modern world.
Amazon has Prime delivery for people who don't want to spend time waiting, Google and Facebook have ads and influencers have sponsored posts.
With paid promotion, you'll still have to fix all critical errors on your website to offer a satisfying user experience to your visitors. Google will also appreciate the effort and will reward you with a better price per click. Then, just like with free promotion, you want to add your website to relevant listings: it won't take you much time but can bring some benefits.
In terms of content, you may neglect your blog at this point if you don't have the necessary resources, but you'll need quality landing pages crafted to meet the user intent of your target audience. And once you're all settled, you can start using paid advertising to send traffic to your landing pages.
1. Take what Google has to offer
Google is not just the most popular search engine, it's also one of the biggest advertising platforms that can connect you with thousands of potential customers.
It offers various advertising options from in-SERP text ads to banners featured on Google's partnering websites across the web. On top of that, you can run video ads on YouTube.
Whichever option you choose, it all starts with creating a Google Ads account and hitting the New campaign button. But then depending on the campaign type you choose, the tips and tricks that will help you get conversions without blowing your budget will vary. So it's up to you to make the final call in terms of what works best for you.
Get your message featured at the top of the SERP
If you choose to promote your website on the search giant's network, your ads will appear at the top or at the bottom of Google's page one and you'll pay every time a user clicks on your ad.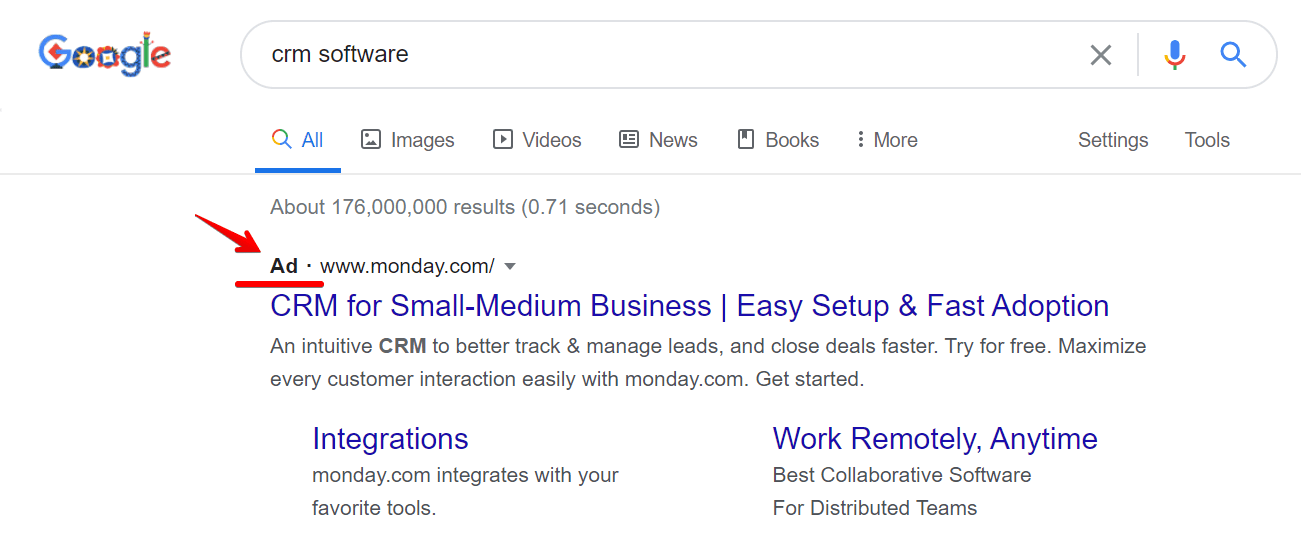 Or your ads will not appear in the SERP at all and you won't pay a dime. It all depends on your bid and your ad's quality score—metrics Google uses to show relevant ads to its users. With a higher bid and higher quality score, you have better chances to appear at the top of the SERP, and vice versa. So play around with bids and do your best to get the highest possible quality score.
Even before you start launching your ad campaign, first make sure you have a relevant user-friendly landing page.
Next, when picking the keywords to bid on, grab the ones that are perfectly in line with your landing page. Pay attention to the search volume and cost per click metrics to choose the keywords with the best ROI potential. As a rule of thumb, go for search terms with higher search volume and lower CPC.
If your Google Ads account is brand new, you won't see the exact search volumes of keywords, but only ranges like 10K-100K. You can find more precise data in SE Ranking's SEO/PPC Competitor Research tool.
Finally, carefully craft your ad copy. A wise move would be to check which texts work well for your competitor and come up with something similar.
SE Ranking's SEO/PPC Competitor Research can help you with this one as well. You can check which keywords your competitors bid on and which ad copies they use. Pay attention to the ranking position they've managed to get with a particular ad copy—if some tweaks in the text allowed your competitor to jump from position seven all the way to the top of the SERP, go for a similar message.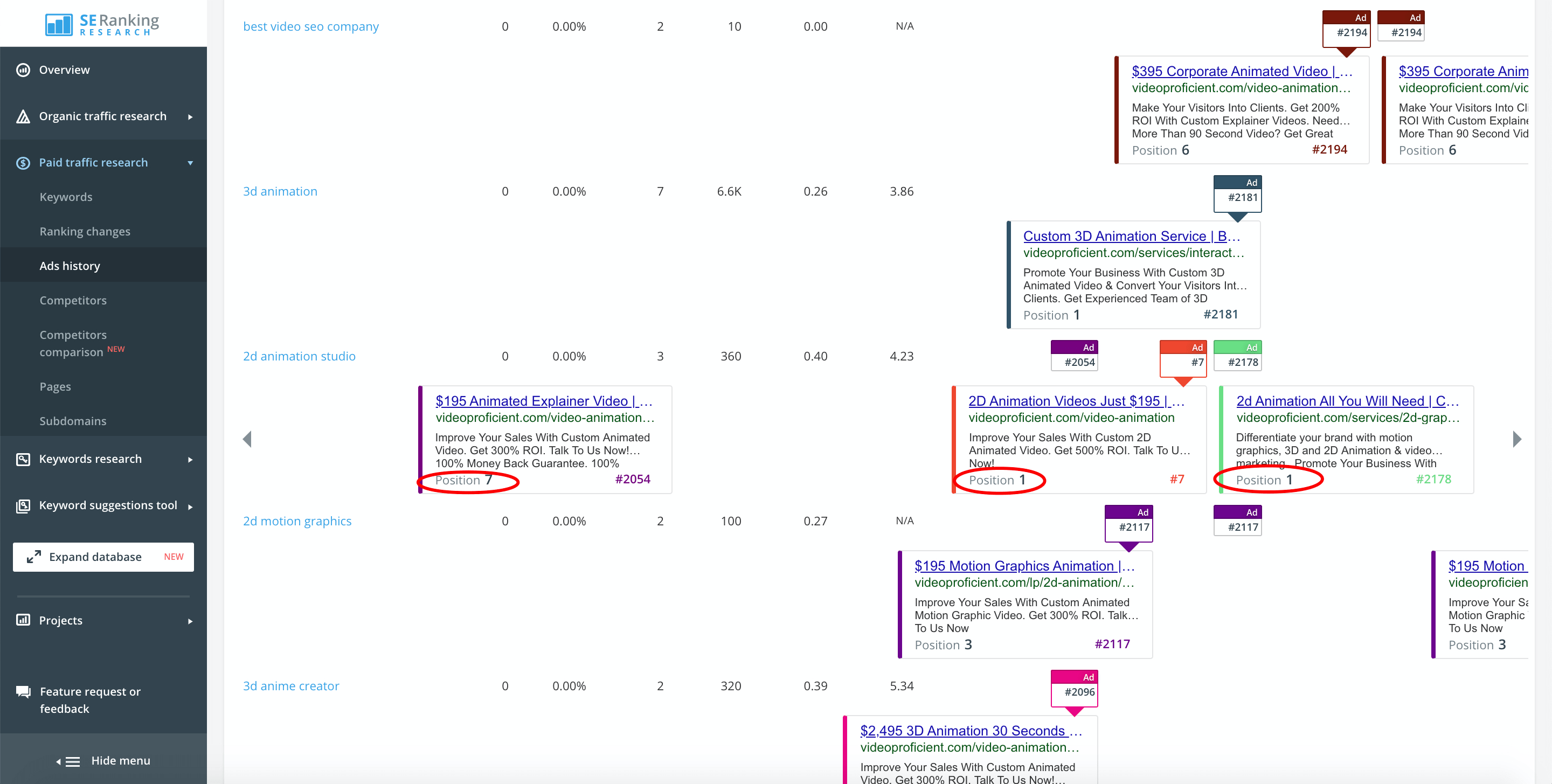 Follow your audience wherever they go
In addition to running in-SERP ads, you can promote your website across Google Display Network (GDN). If you choose this option, people will see your ads in the sidebars of different websites, in their Gmail accounts, and mobile apps.
On the plus side, with GDN ads your creativity is not limited to three headlines and a 90-character description field—you can create visually appealing ads featuring both text and images. The drawback is that people who will see your ads may not be particularly interested in getting your product or service at that very moment. They see the ad not because they Googled a relevant query, but because the website they visit or the app they use makes money selling ad space. As a result, clickthrough rates are lower with this type of advertising.
Nevertheless, GDN ads can be rather effective if you carefully choose your targeting criteria to show your ads to relevant people. Also, they work great for remarketing—this is when you show ads to people who are already familiar with your product or service but haven't yet become your customers.
Grab attention with engaging videos
Videos can help you better showcase your product, especially physical goods. So if you are ready to invest in quality video production, you may be interested in promoting your videos on YouTube and across GDN—in Google Ads, there's a separate campaign type for this purpose.
With six available ad formats, you should be able to pick an option that would be a good value for money in your particular case.
To make the most out of video ads, you'll have to create compelling videos that stand out and grab user attention from the very first seconds. The latter condition is especially crucial for skippable ads, as you need to encourage users to put aside the video they've chosen to spend time on and keep watching your ad.
Actionable tips:
#17. To create ads that drive conversions, you need to understand who your customers are and what they are craving for. Talk to your sales or support teams to learn more about your clients, then use other means such as Google Analytics data and questionnaires to create detailed buyer personas of your business. Doing so will help you craft ad messages that resonate with your audience.
#18. When promoting your website across GDN, consider excluding mobile apps. The thing is that within the mobile app environment misclicks happen quite often, sending your budget down the drain. Moreover, your ads may be shown within apps that are mostly used by kids, and so depending on whether they click on your ads or not, you'll be losing either your time or money.
#19. With the introduction of YouTube Premium, in-stream ads may not work that well as they used to. If you are interested in video advertising, you can test in-stream ads for your targeted location, but if you see that they don't perform well, consider using other video ad types or even switching to promoting your videos on social media instead of YouTube.
2. Don't limit your advertising efforts to Google
Google offers a variety of paid promotion opportunities, but it is not the only advertising platform out there. Chances are other options such as social media advertising may work better for you, so I recommend you try both. Then, depending on your budget, you can focus on the platform that works best or promote your website through different channels.
Today, practically every social media offers paid advertising, so you can pick the one that resonates with your audience, be it LinkedIn, Instagram, or TikTok. But if you're just starting, a good idea is to first try Facebook and Instagram—they are owned by the same company and have a common ad manager.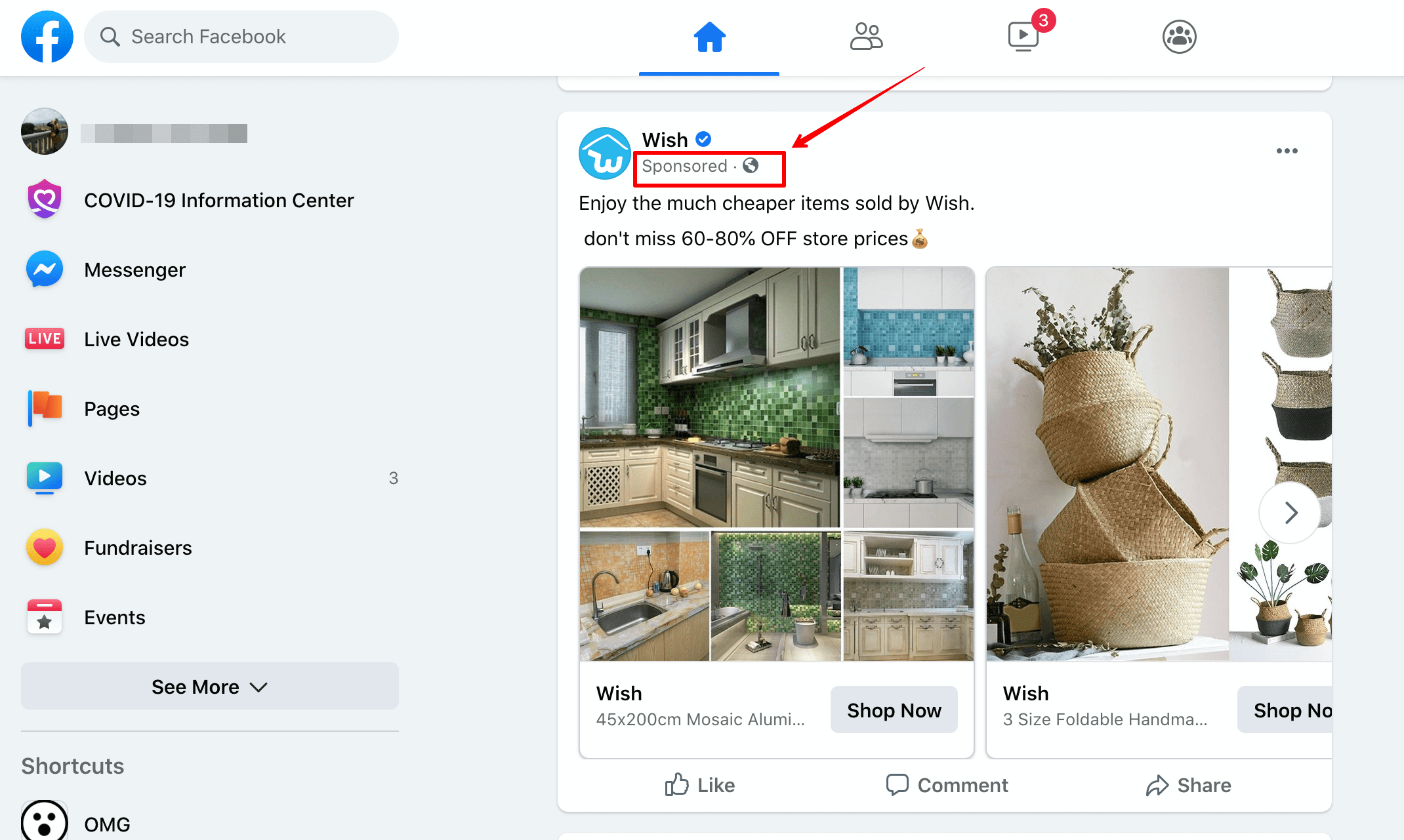 Facebook and Instagram ads work similarly to GDN advertising. You can set criteria to define your target audience or use remarketing to reach out to people who already visited your site. The difference is that the ads are shown on Facebook/Instagram and not across the web.
You can use social media advertising to encourage people to join your community, to make them spot your important social media posts (like giveaways), or to directly send traffic to your website.
In the latter case, don't ask users for a big favor like immediately buying your product/service. They came to Facebook/Instagram to learn what's going on with their friends or celebs they follow, and not to buy stuff. Instead, ask them for a small favor like signing up for a newsletter or filling in a form, and then use other marketing channels to move these people down the funnel and change their mindset from I have no clue who you are to Shut up and take my money.
Actionable tips:
#20. Use Facebook's lookalike audience feature to target new prospects that have a lot in common with your existing customers.
#21. Prioritize mobile promotion as advertising on mobile tends to cost less than running desktop ads.
#22. Invest in videos for social media advertising—video ads tend to perform better, so this option will be money well spent.
3. Build relationships with influencer
To get the most out of paid promotion in social media, go beyond ads, and connect with influencers to showcase your product or service in their personal accounts. The thing is, while people still click on traditional ads, they tend to show more interest in a product when it is recommended through word of mouth. So, why not partner with someone who can reach out to thousands of people in a single post?
It is important to understand that influencers are not just Instagram fashion or mom bloggers. Influencers may be active on Twitter, Facebook, Telegram, YouTube, their own blog, etc, and share opinions on all sorts of things from cooking and gardening to SEO and cybersecurity.
What unites them all is that they've built a loyal audience base who's interested in the topic they cover and care about the influencer's opinions.

Now, influencers marketing is not necessarily about paying people with a large following for them to spread the word about you. An influencer can, for example, join you as guests on your webinars, podcast, Facebook live events, and so on, and then mention the event in their social media post/article/video. They can contribute to your blog post and then once again share the article with their audience.
Influencers may collaborate with you for free if you have something to offer them in return be it free PR or product samples. However, if you are just starting with your promotion endeavors, the classic approach of getting a mention in exchange for a fee will probably work best for you.
Actionable tips:
#23. To find influencers to work with you can use one of the full-fledged specialized tools such as Hype Auditor, Upluence, Post for Rent, etc. You can as well rely on your own knowledge of prominent figures in your niche, use Instagram hashtags to find popular posts, look for YouTube videos with thousands of views, and contact the channel owners.
#24. When choosing influencers to collaborate with, pay attention to the engagement they get and not just to the following. A person may have thousands of followers but if the profile lacks likes, comments, views, and retweets, you won't get the expected coverage for your sponsored posts.
#25. Normally, the more loyal followers an influencer has, the steeper the price is of a sponsored endorsement. If the top players in your niche are currently out of your budget, try reaching out to micro-influencers with 2K-10K followers. Cooperating with them should still bring you tangible results at more affordable rates.
Over to you
As you can see, after going through both sections of this post, there are plenty of ways to promote your website in the modern digital landscape. If you work in a dream team of marketing experts, you can try to embrace it all from SEO and outreach marketing to social media and paid advertising. If you are a single professional who wishes he/she had an extra pair of hands, you'll have to focus on strategies that work best for your business.
In any case, every niche has its own specifics and every website is unique, so you'll have to do some testing to figure out what the perfect marketing mix is in your case. It can contain only free means of promotion, solely paid promotion techniques, or a little of both. Many businesses actually prefer to combine free and paid promotion strategies to quickly get some tangible results and also win in the long run.
Leave a comment below to tell us which promotion techniques you prefer and why.