How your wishes transformed SE Ranking in 2020
2020 turned everything upside down. Instead of going out, we are now used to throwing parties and holding conferences on Zoom, trips from our living room to the kitchen replaced the once-usual business and vacation trips, and our morning coffee rituals got substituted with email and stat checks.
On the upside, we learned how to be patient and compassionate, realized where true values lie, and discovered our inner strength to keep going in spite of all the obstacles and the constant distractions we get when working from the comfort of our homes.
Like many other businesses, 2020 forced SE Ranking to make changes to its roadmap for the year. But one thing we never considered was going back on our promise to make your SEO dreams a reality. We did our best to make sure every commitment we made at the start of the year with regard to platform updates would be kept.
So, what did we manage to get done this year? Read all about it here and don't forget to make a wish for next year! We can't make any promises to bring our lives back to normal, but we will gladly develop all the tools and features you need 🙂
New customizable platform design packed with adaptive tech
In July of 2020, our SEO platform got a brand new look. Most importantly, we made changes to the design of practically every module, tool, and section. We also made the interface as user-friendly as possible, plus we significantly increased the data loading speed. Thanks to the left-hand vertical navigation bar, you can now switch between tools and sections in a single click, and if you need to see more data on one screen, you easily minimize the navbar.
Just as easily, you can minimize the graphs displayed in the Rankings module to just see their previews, or you can choose to completely disable them under settings. On top of that, the setting options give you the liberty to choose the graph you want to see by default, set a sorting column and type. And the main Dashboard is no exception. You can also decide to hide graphs or select the one you want to see by default.
All of these along with a number of other updates allow you to customize the platform as you see fit. After all, it's critically important to have the opportunity to quickly access data that you specifically need in a convenient format.
What's also important is for all of your wishes to be implemented ASAP. For this reason, not only did we revamp the entire interface, but we also made a switch to adaptive technologies. That way, all new features and updates can be quickly added to the platform. All in all, we managed to update practically every platform module in 2020.
New metrics, databases, and functions in Keyword Research and Competitive Research
In the new interface, all of your projects can now be accessed via the drop-down menu in the left-hand vertical navbar. As for the core platform tools that aren't linked to projects, they can now be launched in one click from the top horizontal navigation bar.
But as you might have already guessed, the main update isn't how you access the tools but what value you get from using them. New metrics and features enable you to quickly handpick the most promising keywords and conduct an in-depth website analysis, from traffic sources to the backlink profile.
Keyword difficulty score and bulk keyword analysis
When researching keywords via Keyword Research to expand your semantic core, you can now look at the Difficulty score to get a better understanding of each keyword. The higher it is, the more difficult it will be to get a web page to rank among the top 10 search results for the target keyword. To calculate this metric, we use special algorithms and formulas that measures the quality of the websites ranking on the first SERP.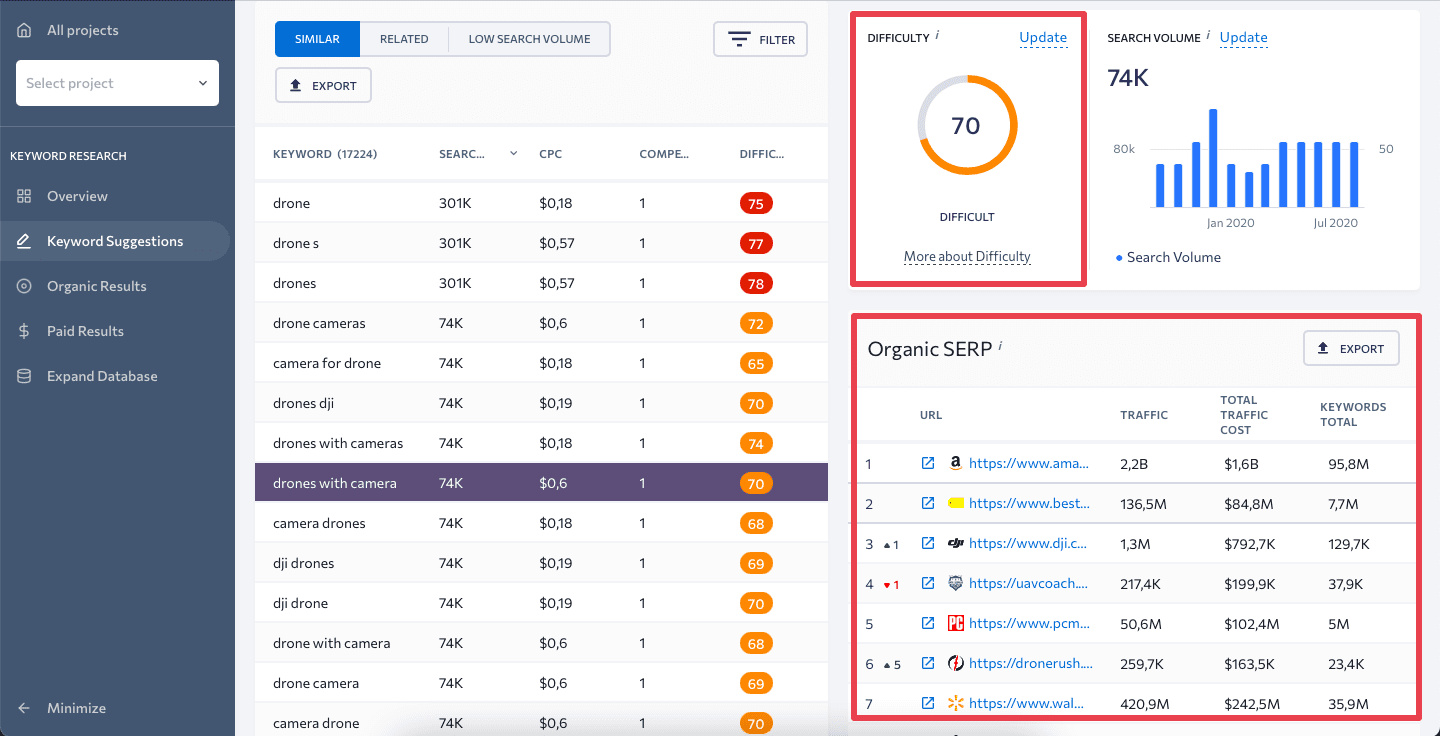 With the help of the Organic SERP section of the Keyword Research tool, you can see exactly who you will be competing with for top ranking spots. Follow the available links to assess the quality of content on competitor pages and figure out if you can do better.
To save your time and account limits, we have implemented the bulk keyword analysis feature. Now, you can check 20 or 200 keywords in one click and it will only count as one report from your account limit. Key metrics are checked for each search query, including difficulty, search volume, CPC, and level of Google Ads competition.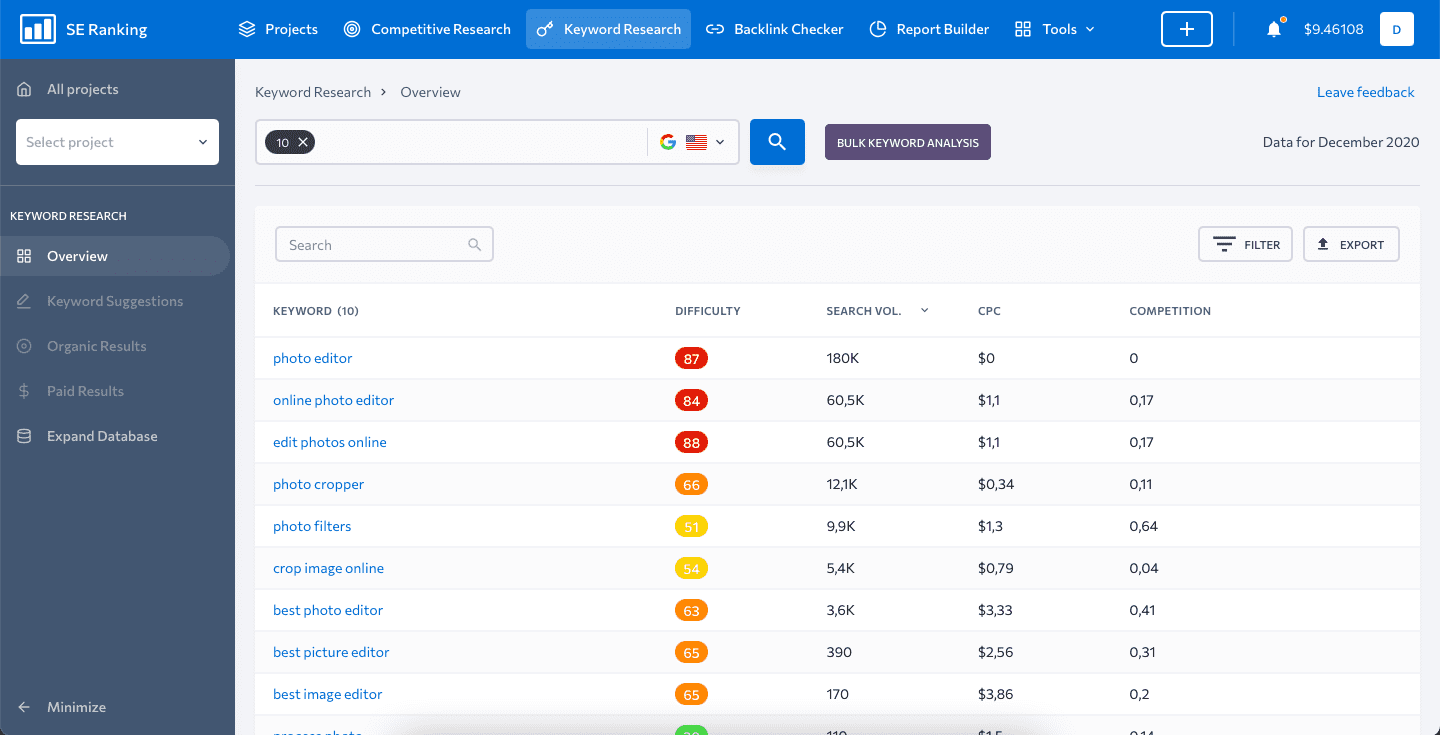 30+ new keyword databases and expansion of existing ones
In 2020, we continued expanding the geographical coverage of our Keyword Research and Competitive Research databases so that all SE Ranking users from every corner of the world could use our tools to the fullest. That said, Argentina, Chile, Hong Kong, United Arab Emirates, Saudi Arabia, South Africa, Indonesia, and several dozen other countries have been added to our available list of locations. You can now compile your semantic core for these markets as well as study local search competitors. 
Additionally, our existing databases have also grown significantly. For example, our US database now has 520 million search queries and the UK database has 420 million keywords to choose from.
DT, PT, clickable graphs, and generous account limits
This year, two new metrics were introduced to the platform: Domain Trust (DT) and Page Trust (PT). These are SE Ranking's very own metrics that measure the quality of any domain or page. The DT score depends on a number of factors, including the number and quality of domains and links pointing to a site. The PT score takes into account similar factors, but in the context of a separate page.
The DT and PT metrics can be checked in the Backlink Checker and Competitive Research tools.
All metrics are clickable on the main dashboard of the Backlink Checker tool. If necessary, you can directly access detailed reports for deeper data analysis. We have expanded the limits of the tool for all subscription plans so that you can get all the necessary data.

If you just need to check the quality of a site without going deep into the analysis of its backlink profile, you can use the Competitive Research tool. Once you enter a site for analysis, you will immediately see all of its main parameters, including DT and PT, total number of backlinks and referring domains, as well as data traffic sources and cost.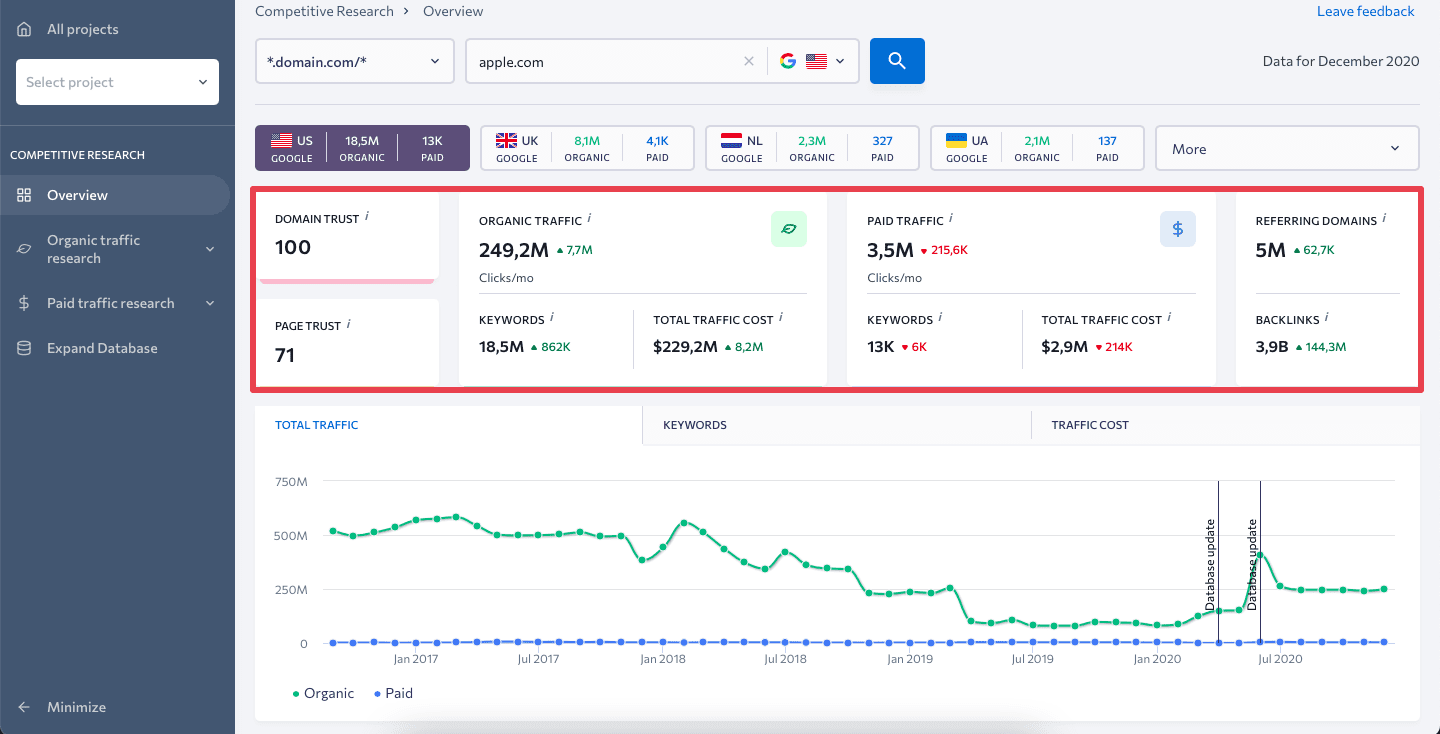 Access to Competitive Research and other White Label features
In July, the Competitive Research tool finally became a part of the platform. Now White Label users can have it under a branded interface and their own domain name.
On top of that, the White Label feature now lets you:
Add a favicon in addition to a logo
Remove footer links or replace them with your own
Customize report emails for platform users
Activate a free SSL certificate if you use your own domain name via the CNAME record to access SE Ranking
New features of the main modules
All year long, we've been showering you with small but significant module changes and updates. We've been adding filters and graphs, introducing new checks and metrics—basically, listening to all of your wishes in order to make the tools as convenient in use as possible.
Rankings: filter sets and updated Notes
Your favorite module, Rankings, saw the largest number of updates. We changed everything: from the mechanics of choosing the analysis period via the calendar to rankings table columns.
New graphs were added to the top part of the screen and new columns were put into the table, namely Dynamics, Visibility and Group. Moreover, if necessary, you can now hide all columns except for Keywords to see more data on one screen.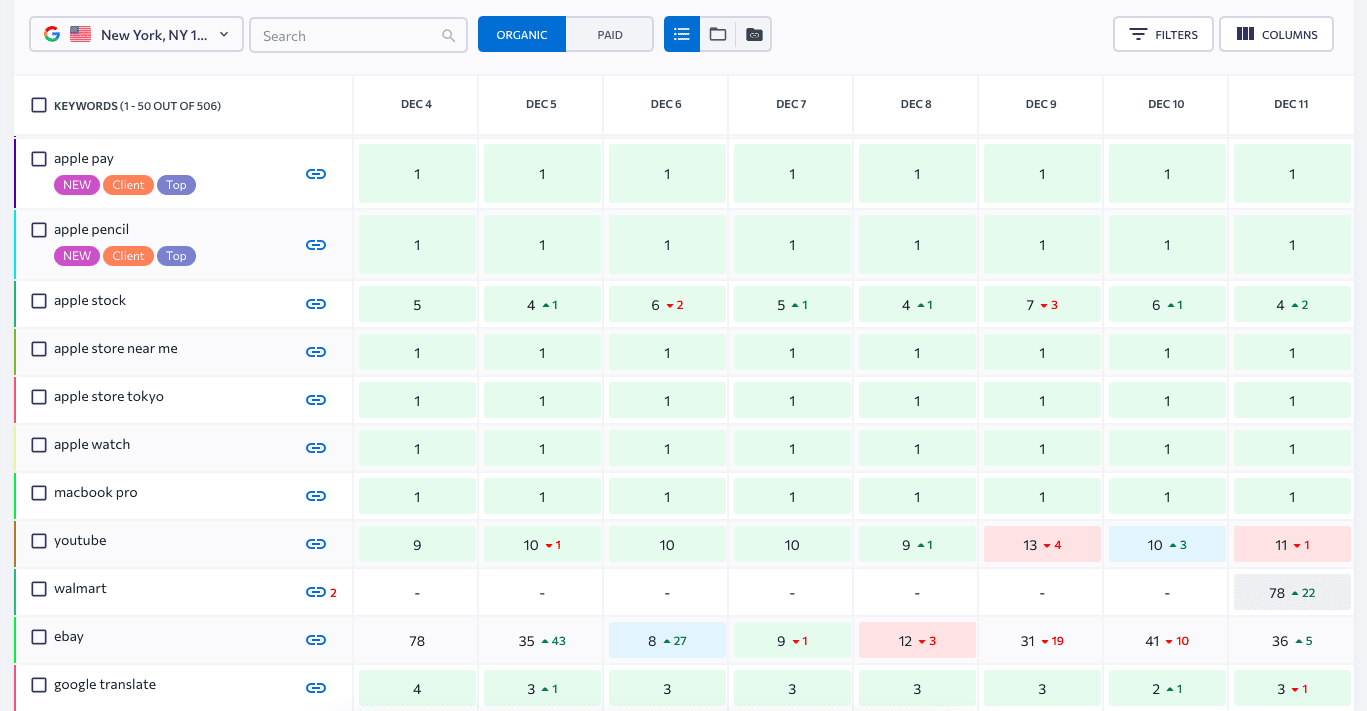 The data grouping format can now be selected on every graph and chart: by days, weeks, or months. Accordingly, this enables you to analyze more detailed or averaged data.
Furthermore, filtering keywords by several tags is now much more convenient. Just select one of the two available conditions: And / Or. All applied filters are displayed right above the rankings table. Plus, they can be saved and applied in just two clicks whenever you need them.
We also completely redesigned the Notes block. You can now leave notes for projects as well as for separate keywords. And you can also choose on which graphs you want the notes to be displayed.
For your convenience, we at SE Ranking will be also adding notes on important Google updates to the platform so that you could immediately see what could have caused your rankings fluctuations. You can already find notes on all the major Google had in the last two years.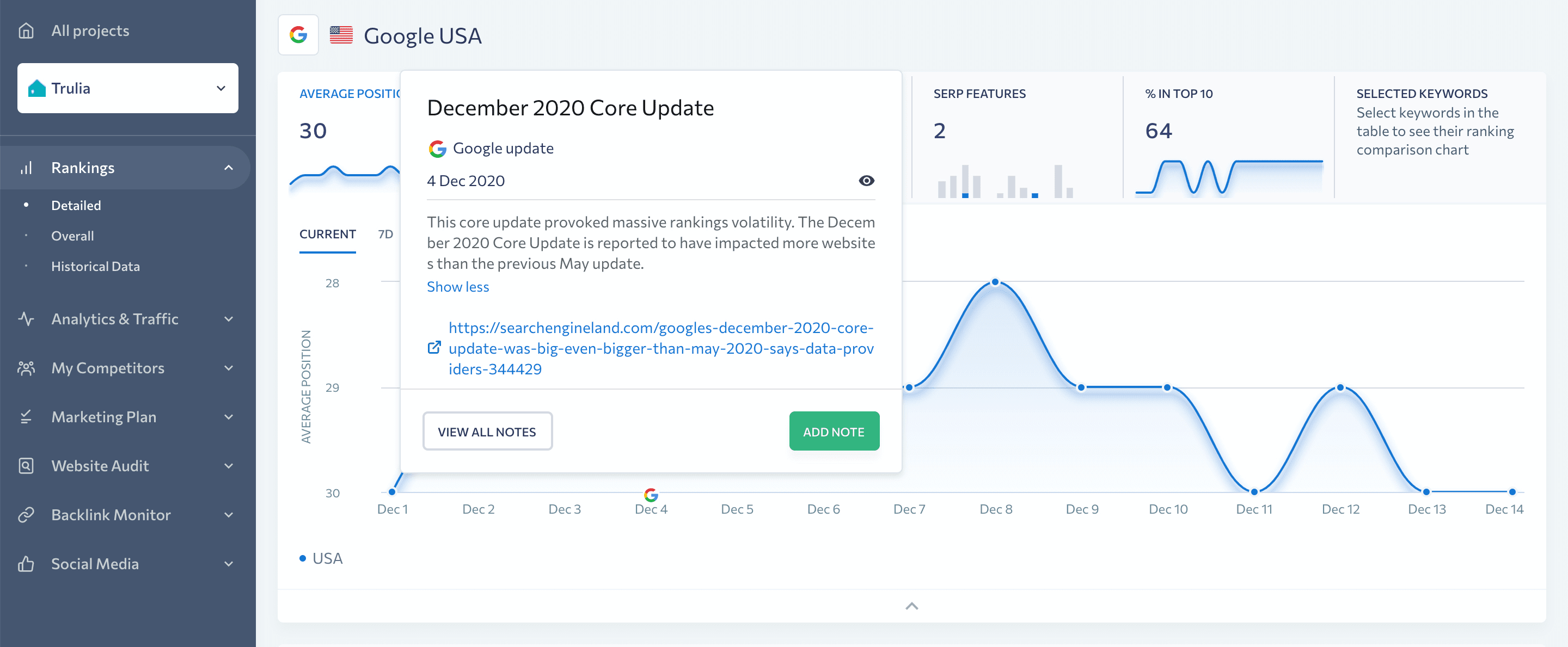 Besides, we'll be using Notes to inform you about out platform updates, so that you won't miss a thing.
My Competitors: new dashboard tab
The dashboard of the My Competitors module got a new tab: Overall. Here, table data isn't grouped by competitor sites but by search engines. You can see at a glance how your site and your competitors' sites are ranking for each keyword across all tracked search engines. Under the section's settings, you can choose which view will be displayed by default: Detailed or Overall.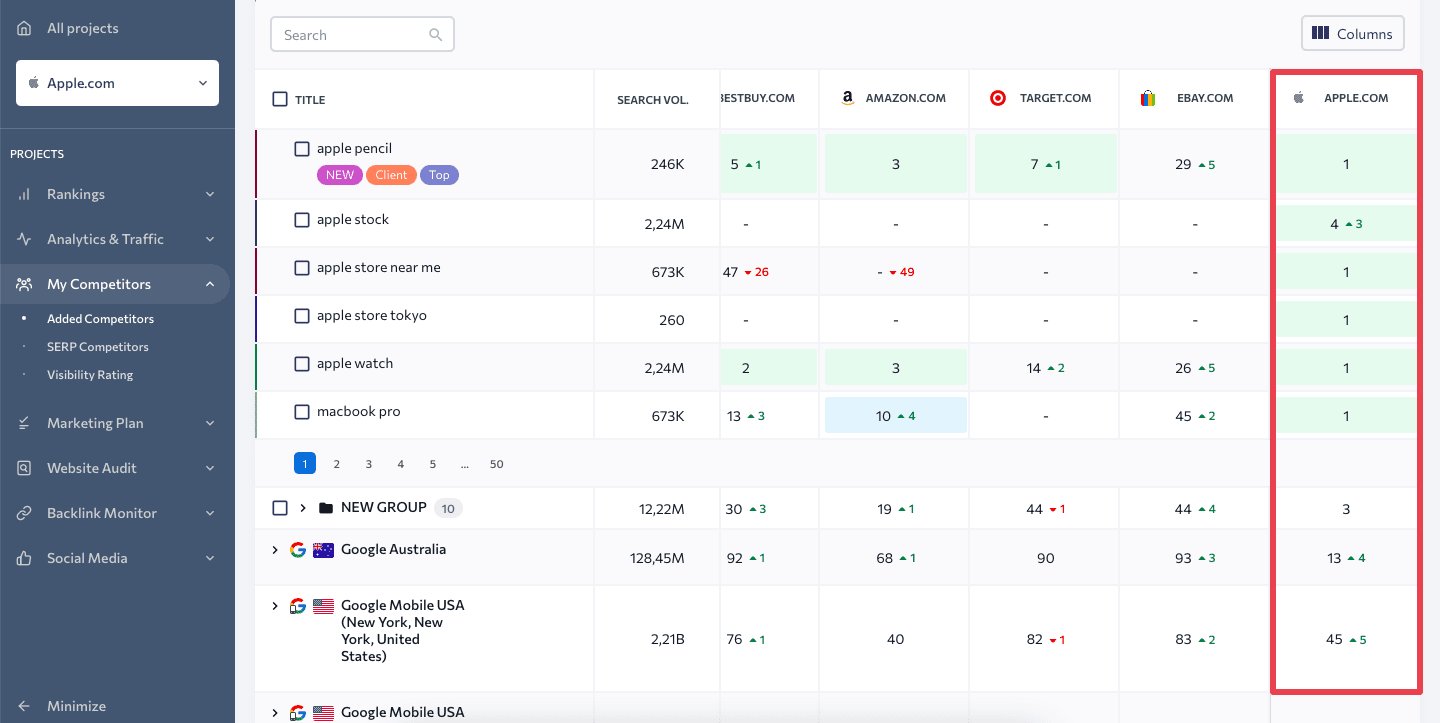 Another point is that the module now has the new Competitor Distribution graph. With the help of this graph, you can quickly assess how well your site's ranking in search in comparison with your added competitors.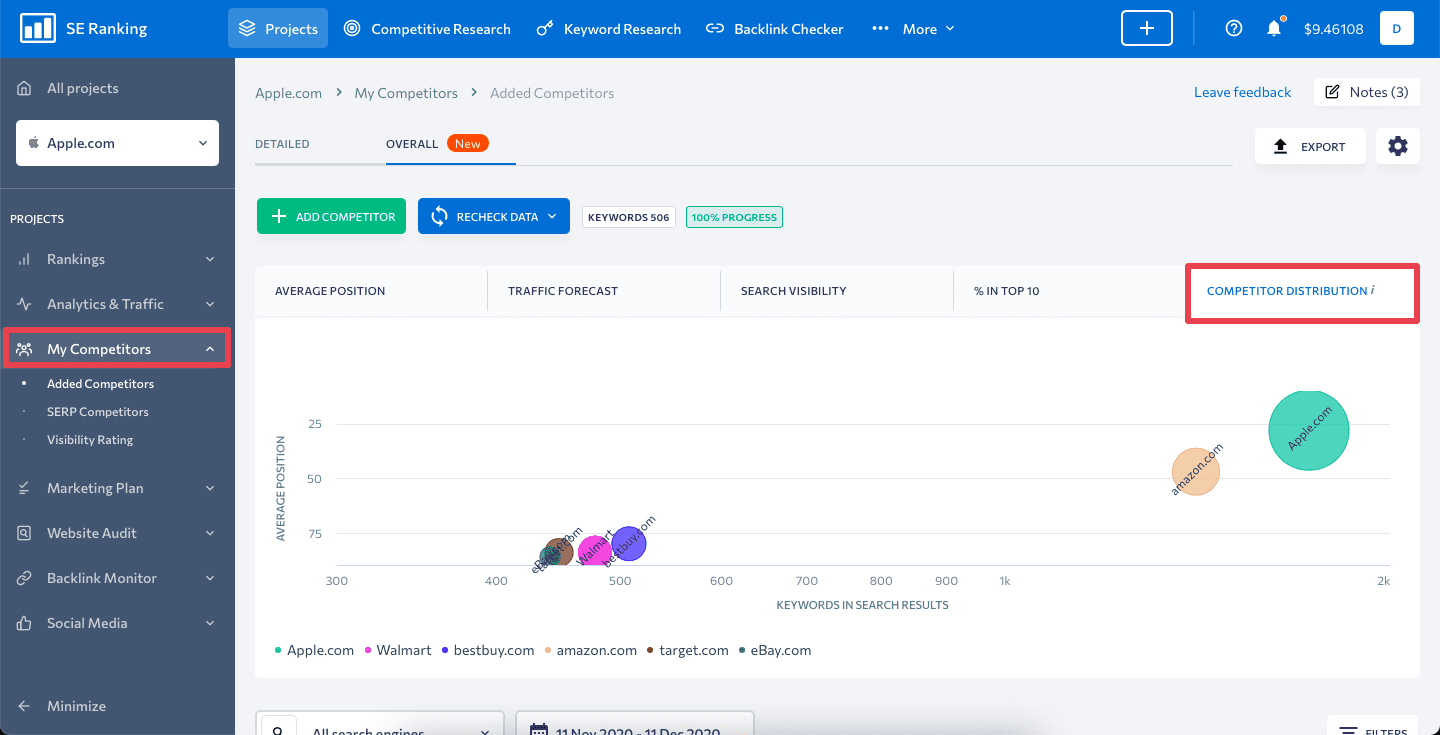 Analytics & Traffic: even more data for analysis
The updated module now sports new tabs, graphs and filters. Now, by connecting your Google Search Console account to SE Ranking, you get even more data for analyzing your site's performance. For example, you can easily check which one of your pages users visited to get to your site, which device they used, in which country their IP address is located, and what type of snippet they clicked on in the SERP.
Key metrics can be analyzed on graphs. All you have to do is select one or several parameters for analysis. If necessary, current dynamics data can be easily compared to the previous period.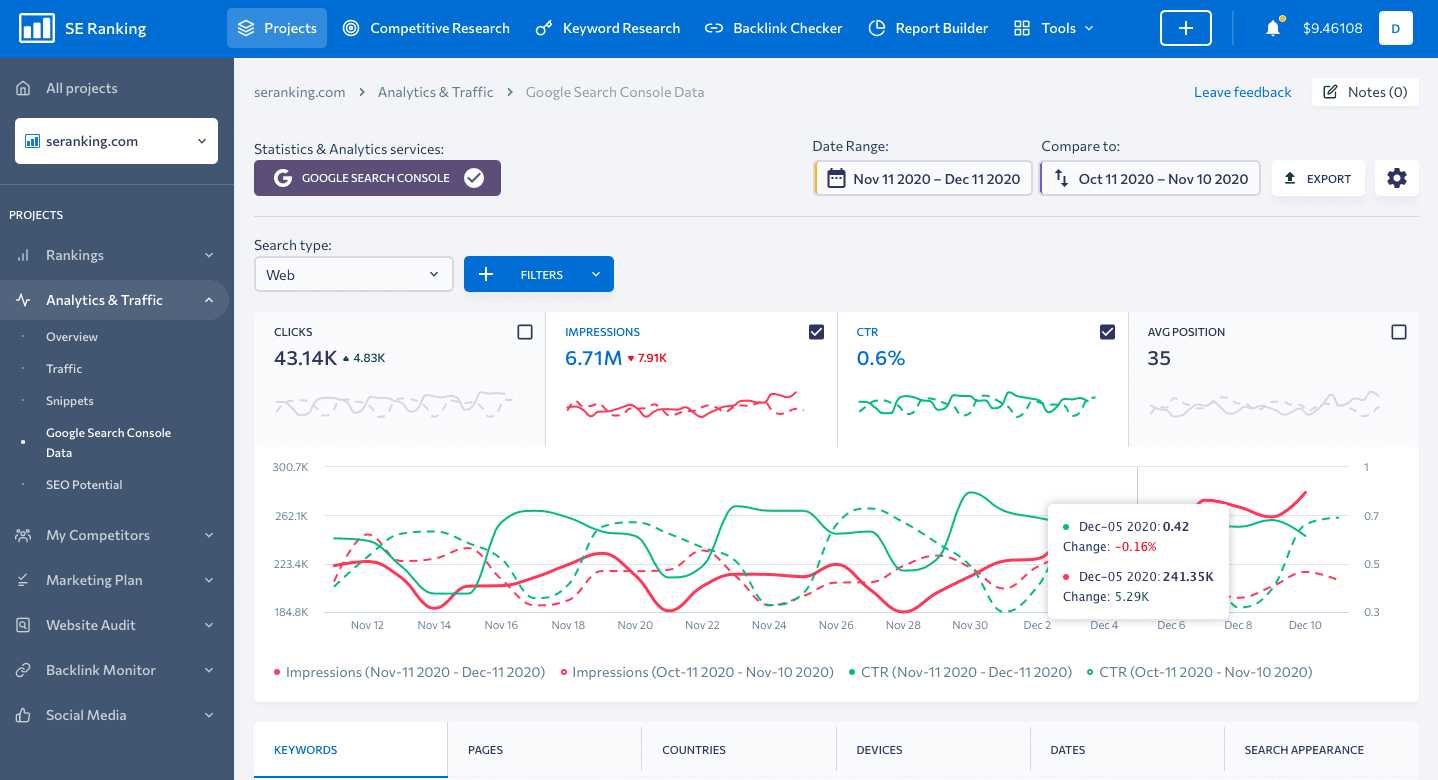 Backlinks: new subsection and backlink group
This module has got new charts, filters and subsections so that besides tracking the status of the most valuable backlinks, you can also analyze them. Now you can check how your added backlinks are distributed across domains, what anchor text they have, and which pages backlinks link out to.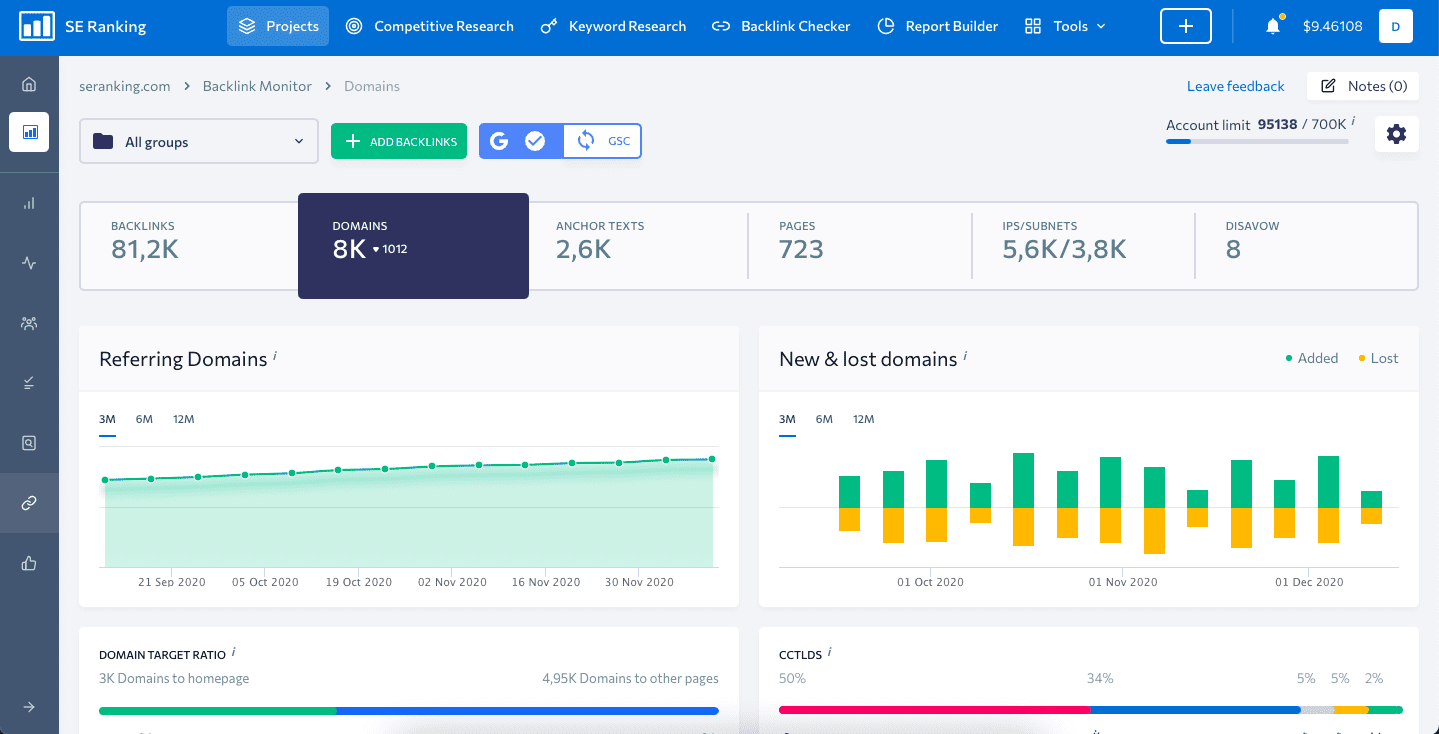 To make the analysis process more convenient, we also added all kinds of filters as well as a backlink grouping option to the tool. You can assign a backlink to a group either while you're adding backlinks to the tool, or afterwards.
Website Audit: relevant checks and relaunch preparations
We spent a huge chunk of the year actively working on creating a more superior version of our Website Audit tool. Soon you'll find even more checks, a beautiful design, and new customization options. Despite all the redesign work going on, we continued improving the current version of the module. For example, we started checking web pages for the presence of mixed content that poses a potential threat to both website owners and users.
You will be able to test out SE Ranking's new and improved Website Audit 2.0 very soon. In addition, in the near future we will also roll out our local SEO module which we are very excited about. So stay tuned for more updates! Looks like this winter is going to be very hot on updates ?
More than your typical updates
Summing up the year, we'd like to do a small recap and share with you what else our team achieved besides platform updates. And, unfortunately, I'm not talking about all the shows we binge-watched 😉 Every month, we published articles on our blog to share our knowledge and expertise with you. Over the course of the year, we managed to publish 31 expert articles. You're welcome to check them out on our blog page in case you missed something worthy. And do not hesitate to ask us questions in the comments—we are always happy to offer our advice.
In addition to writing thousands of words, we managed to shoot several hours of training videos and webinars. Check out our YouTube channel to learn how to improve your SEO strategy and use SE Ranking tools more effectively.
Under the Playlists tab, you will also find webinar replays from our 5-day marketing marathon. By the way, besides doing one in English, we held on in Spanish, French, German, and Dutch. We launched these marathons back in April when everyone was scrambling to figure out how to adapt to the new reality. But it turns out that a lot of the advice that was given by experts is still very relevant many months on.
To close the year off, we would like to thank all of you for actively participating in the life of SE Ranking's growing community. Kudos to everyone for joining us for our marathon, sharing feedback on major platform updates, solving riddles and joining in on our efforts to congratulate Google on its birthday, as well as for sharing your marketing and SEO fail stories. We are also very excited that our community grew to 400k members, and we are extremely grateful that you trust SE Ranking with your projects ❤️
Lastly, we want to remind you that we are eagerly looking forward to getting your SEO wishes for next year! In January, we will share with you everything we plan on getting done in 2021. In the meantime, do your best to get into the holiday spirit despite all the difficulties and remember that life is beautiful and miracles can happen.