Sign up for our newsletters and digests to get news, expert articles, and tips on SEO
Thank you for subscribing!
Marketers always keep looking for new more efficient ways of promoting their brand. With dozens of marketing techniques at hand, from growth hacking to retargeting, they get the freedom to mix and match different strategies in search of the perfect blend. At the same time, many businesses fail to incorporate SEO into their marketing toolkit because in their opinion it is too complex and resource-demanding.
SEO stands for Search Engine Optimization and it indeed has a lot of moving parts. Still, SEO is closely related to other marketing channels, and this bond is probably closer than you think. A business that has been around for a while normally has some content on their website, a social following and marketing partners, certain insights on who its customers are and where their interests lie—this all can serve as a solid basis for SEO endeavors.
SEO gets more and more user-centric—to make it to the top you need to bring value to your website visitors, which is something every marketer should strive for regardless of whether they invest in organic promotion.
Besides, SEO remains the most potent marketing channel that generates more than half of all website traffic. Marketing stats show that both b2b and b2c websites get about 51% from organic search while PPC and social channels drive 10% and social 5% of traffic respectively. (Let's see why SEO beats other marketing techniques when it comes to lead generation.
Driving hot leads from organic search
The cost of acquiring a new customer has increased by over 50% since 2014. This means businesses have to either set mind-boggling marketing budgets or carefully pick acquisition channels to rely on. Naturally, it all depends on your business, so make sure to analyze the effectiveness of every acquisition strategy in each particular case. But let's look at some general statistics.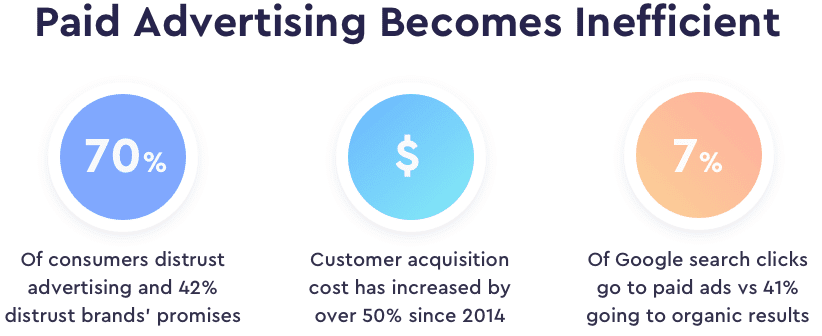 Almost 70% of consumers distrust brand advertising. Users are bombarded with thousands of brand messages daily but don't give them trust or don't even notice paid ads. Modern users have developed banner blindness and paid search results get just around 7% of all search clicks. Under such conditions, shifting to organic search as the main source of traffic looks like the obvious solution.
Whenever users Google some information and come to your website from the SERP, they have a feeling that they've discovered your brand on their own instead of grabbing what the ads offered. Moreover, traffic coming from Google is highly targeted. Users start a search with a clear intent in mind, which means your chances of converting them into customers are much higher than with online display or cold calling.
So why not make SEO an integral part of your marketing ecosystem and reap all the benefits it can bring? To learn what it takes to gain more SEO-driven traffic, have a chat with our fun bot that was designed to spread the word about the importance of a proper SEO strategy.
If you feel convinced to embrace SEO as soon as possible, below you'll find some tips on naturally inttegrating organic promotion into your marketing DNA.
Introducing SEO to your marketing routine
As I've already mentioned, there's a big overlap between SEO and other popular marketing strategies. So if you've been actively practicing content marketing while leveraging on social media and traditional PR, all you need is to add a few SEO processes to your daily routine. Besides, a lot of tasks can be done much faster and easier with the right SEO tools at hand.
So, let's see how you can align your digital marketing efforts with SEO best practices.
Finding the right keywords to boost your content marketing
Content marketing is the strategy most businesses use. It is focused on sharing relevant information with your audience to both build brand awareness and keep users involved. Articles published on the company's blog should give answers to customer questions and solve their problems. Often, companies use insights from sales and support teams to understand which topics they should cover. But there's another way around it.
Keyword research, which is an essential part of any SEO strategy, allows you to find out which terms people use when looking for information relevant to your product. Looking at these terms, you can understand which topics resonate with your target audience and cover them in your blog.
To get the most out of every content copy, you'll have to make Google associate it with a particular keyword. To give the right hints to Google, make sure to always add keywords to the page URL, title tag and meta description. Using keywords throughout the text and in the text title is also a good idea, but don't overdo it and only use keywords when they fit naturally.
Running meaningful keyword research will take some time, but it will help you better understand your customers. At the same time, all you need to get started is to paste one keyword idea into SE Ranking's Keyword Research & Suggestion Tool – it will come up with hundreds of suggestions for you to choose from.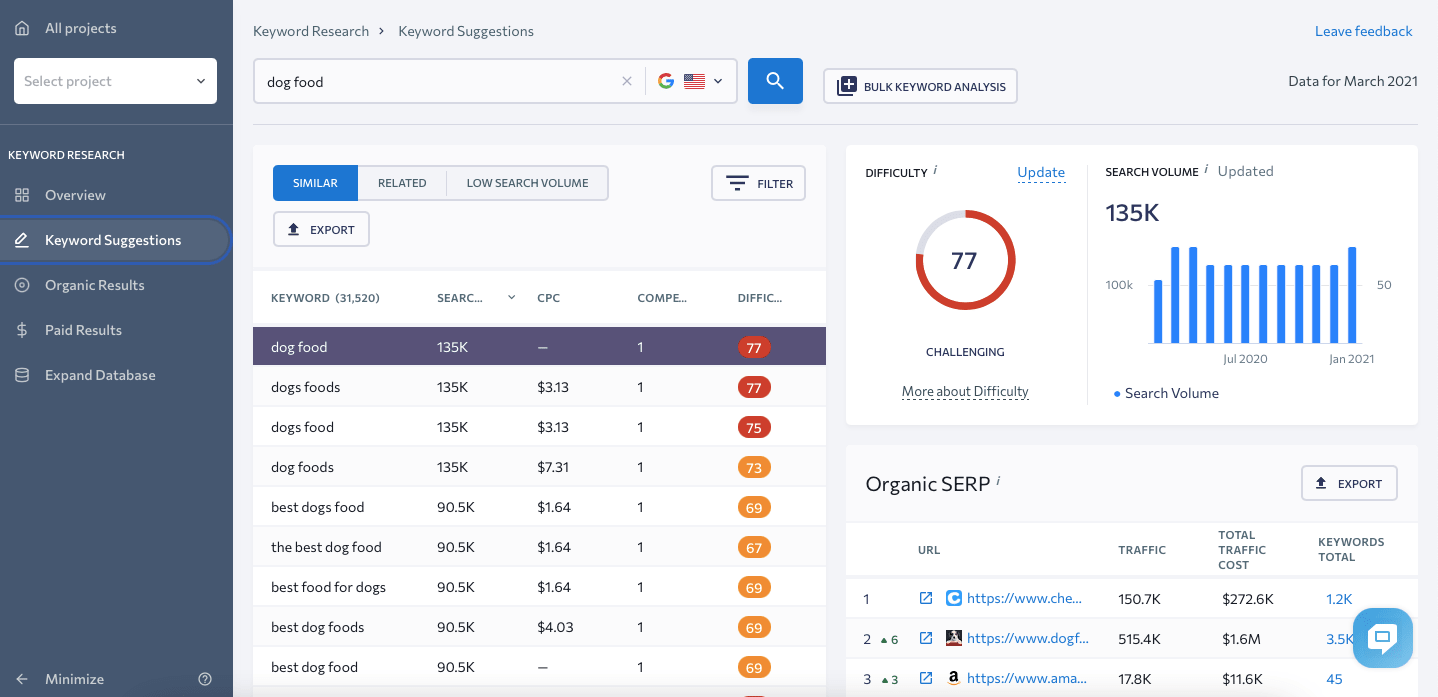 Note: You can take the keyword research tool for a spin with the 14-day free trial.
My advice is to include both informational and commercial keywords in your list. Naturally, commercial keywords like grain-free dog food have much higher converting potential. And still, answering questions like how many calories are in dog food in your blog post is a great way to build brand awareness. By giving your potential customers the information they need, you get a chance to add them to your mailing list and start moving them further down the marketing funnel.
Picking conversion champions with paid advertising
Once you've selected the keywords to take on, you'll have to invest some time and effort to help them rank organically. You'll need to come up with some quality content with highly competitive keywords and build some backlinks. In some three to six months' time, these keywords should start bringing you traffic. This is when you'll finally be able to see if your selected keywords actually convert well.
If you want to assess the keyword's converting potential beforehand, Google advertising may be of great help. Paid ads, unlike SEO, give immediate results. So, if paid Google advertising is already a part of your marketing strategy, you can use it to test-drive the most competitive keywords you want to rank for organically. Analyze user behavior to assess the keywords' ROI potential and decide if the game is worth the candle. Once you've chosen your safe bets, focus all your effort on helping them rank high.
Getting backlinks from your marketing partners
Links along with content are among the major ranking factors. Backlinks signal to Google that your website is worth looking at because others use it as a reference. So, if you want to rank for some keywords that get thousands of searches monthly, you just cannot do without backlinks.
Naturally, not all backlinks are equal. Trustworthy websites that cover topics relative to your business niche are the best link "donors". The great news is that if you've been in the industry for a while, you probably have a number of business partners who fall into this category of websites.
Business partners usually promote each other's products on their websites. So, if your partners have ever mentioned you in their blog posts or if you're featured in Our partners section on their websites, it means they are already linking back to you. With the help of SE Ranking's Backlink Checker tool, you can learn how many backlinks you have and where they come from.

Scale your partnerships by initiating guest post exchanges. Assess which pages of your website need some backlinks the most and offer your partners to write a post on a topic that's related to their blog. That way, you'll be able to organically place a link to your website within the body of the text, which is the most valuable type of link.
Another way to get some backlinks is to leverage affiliate marketing. Offering your customers to promote you on their website in exchange for some revenue share is a popular marketing practice. An SEO bonus you can get out of affiliate programs is that your affiliates will link back to your website, thus boosting the SEO potential of the pages they promote.
Bringing the best possible UX to your audience
Seamless user experience is something all marketers should strive for. Sleek modern design builds up customer trust and intuitive navigation allows them to easily browse your website. And as website visitors stay around for a while, your chances of converting them into customers increase.
From an SEO standpoint, user experience is as important. Google relies on a set of behavioral signals to understand which search results users like. So, if a person picks your website in the SERP and sticks around for some time, Google understands that your website has all the answers the visitor wanted to get. If, on the contrary, a person picks your website and leaves 10 seconds later to check other search results, it makes Google believe that your web page is not relevant to the keywords and does not solve users' problems.
In addition to being intuitive, a user-friendly website should also be optimized for mobile. That's because more than half of worldwide traffic now comes from mobile, and Google naturally favors mobile-friendly websites.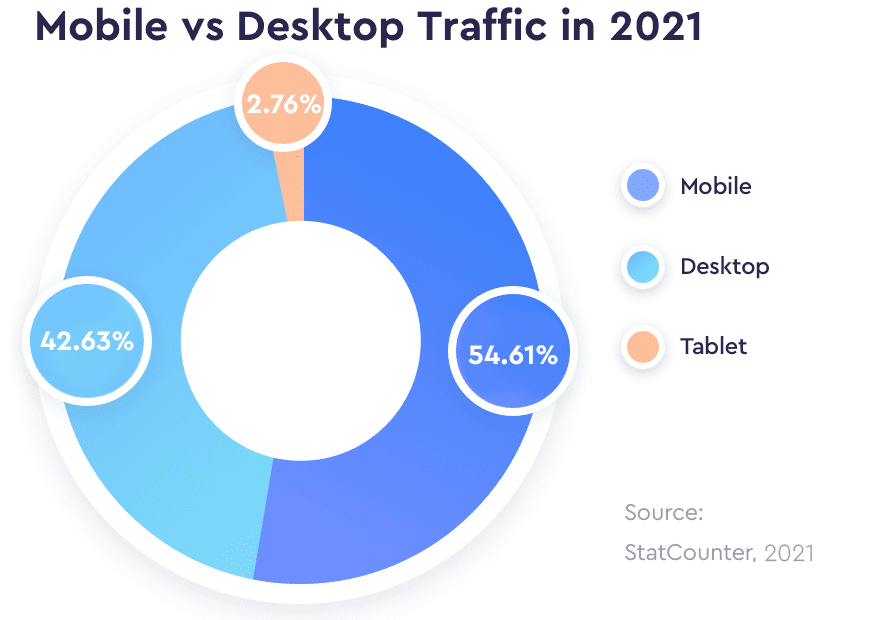 Finally, to offer the best user experience, your website should be fast and error-free. To make sure you have no technical issues to fix, I recommend you run a website audit regularly. It will tell you if the website is too slow, poorly optimized for mobile, or has broken links issues.
Overall, SE Ranking's Website Audit looks for dozens of technical, link and content issues that may hinder your SEO growth. So, I recommend going through all of them and reading our guide to understand which issues to prioritize.
Using social media to support your SEO growth
Social media marketing is as popular as ever. Businesses use it to connect with their customers, boost brand awareness, and drive traffic to their websites. So if you have a loyal social media fanbase, that's great news as it will be a valuable asset to your SEO endeavors.
Firstly, by sharing your newly published blog posts via social media channels, you can get some traffic to the pages before they start ranking high organically. It will give you a chance to analyze user behavior and make all the necessary adjustments to get more conversions when the page starts receiving traffic organically.
Secondly, Google is also believed to take social media signals into account – a blog post that gets lots of likes and shares on social media have better chances to rank higher. In addition to sharing your blog post on your social media accounts, you can add social media sharing buttons to your websites. This way, users coming from the search will be able to repost the content they found interesting.
Closing thoughts
Adding SEO to your marketing toolkit is a necessary step to keeping your customer acquisition price tag low. SEO can help you get tons of free targeted traffic, but first, you'll have to put some effort into making your website rank high. The good news is that you may already be halfway to the top rankings if you've been actively using popular marketing strategies. In this case, integrating SEO into your marketing strategy will result in just a few tweaks to your daily routine.