Learning how to do a right on-page optimization for a website is quite vital and important for getting higher rankings in search engines. For this reason, I am writing kind of a complete tutorial that helps a lot of seo beginners start doing step-by-step on site optimization.  Before taking up off- page factors such as guest posting, social media you should make sure that your on-page factors of the web pages are correct.
Within a certain time, I have been researching the latest on-site optimization methods and find out how they can work well with the recent Google's algorithm changes. Here are some strategies how to Make Perfect On Site Seo to Get High Ranking on Google:
1. Title Tags
Title tags are typically called title elements that define the title of your web page or an online document. It is a pretty significant element that appears in all browsers, external web pages and search engine results pages.
Search Engine Results  Pages

Browsers

External Websites

Well-constructed title tags must contain the main keyword of your website and should have the length less than 65 characters without stop words like "and", "if", "to" and etc. It is better to limit the usage of hyphens, commas and alphanumeric characters.
Title Tags are quite valuable as it gives much weight as an on site optimization factor in search engine results. It helps users to find out what the page is about in Google and in your site itself and make a good base to rank the desired keyword in search engines.
Don't try to put lots of keywords in title tags. Use first those keywords that you want to rank primarily. It is better to use the keyword that used in title tags in the body of the content in order to get higher rankings. It would be a great intention to make your title tag as on-page H1 title tag.
For example, this article's H1 title "How to Do On Site Seo Optimization: Complete Tutorial for Beginners" is the same title tag of the page.


Most of bloggers include their brand name into title tags that helps people to understand what the website is all about. Comprising the brand into the title tag benefits the brand in the SERPs and in your website.

Notice:
A well-written title will attract more people to click the page at the moment they see it in search engines results pages.  People will never read your great article until they are not lured by your title tag.  It is enough 2 seconds for people to decide if they are roused the curiosity with the title.  Making the title alluring is the first thing you should do for on-page optimization as people first see the title tag in SERPs about your website. When you make the title tag quite appealing you will get a good impact and impression in search engine rankings.
As for me, you'd better make title tags as simple as possible with one keyword at once and a possible related phrase. The simpler you compose title elements like everything else, the more unique and human-generated the website can look like.
2. Meta Tags
Meta tags are used to tell Google to index the page but not to follow any links on the page, if you don't want to see the page in Google Search results. These pieces of codes are behind the scene and are usually placed under the title tag code.  Actually there are different meta tags you can use, but the most important ones for the web page are Meta Description and Meta Keywords. See the example:
<title> Your site tittle</tittle>
<meta name="description" content="your site description"
<meta name="keywords" content="keyword1, keyword2, keyword3″
Using meta tags in HTML code it will increase the way to index the site correctly.  In meta tags you can insert your keywords about the site and description that shows search engines how to consider your website.
Google will get only the following valid values for meta tags:
INDEX – Index the page;
NOIDEX – Prevent the page from including in the index;
NOFOLLOW – Prevent Googlebot from indexing any links on the page;
NONE – The same thing as "noidex" and "nofollow";
NOSNIPPET – Prevents the description from being appeared in SERPs and from caching the page;
NOARCHIVE – Prevents a cached copy of the page from  being included in search engine results;
Examples:
META NAME="ROBOTS" CONTENT="NOINDEX, FOLLOW"
META NAME="ROBOTS" CONTENT="INDEX, NOFOLLOW"
META NAME="ROBOTS" CONTENT="NOINDEX, NOFOLLOW"
META NAME="ROBOTS" CONTENT="NOARCHIVE"
META NAME="GOOGLEBOT" CONTENT="NOSNIPPET"
These elements assist your website to get up in google rankings and add the title tags and meta descriptions with a list of keywords. Meta keywords must be separated by commas that someone can type them while looking for some website like yours. The Meta Keywords must contain up to 10 keywords or keyword phrases that should be included in the page content.
<meta name="Keywords" content="on site optimization, seo optimisation, off-page seo, optimization">
To tell the truth, meta keywords go together with the title tag in the head section of the web page. Therefore, if you rely on high ranking in search engines with meta keywords it will be a waste of time and you will sucked with it. Google and Bing ignore meta keywords and you won't get any weight on search engine ranking. Yahoo can take a look at them, but I can say there are many other important things than meta keywords. Save your time and pay attention to more essential seo things. Maybe, if everybody doesn't care so much about meta keywords, than search engines will start looking at them. That is the way of things in search engines. I don't spend much time on them.
Like title tag, meta description is very important for people and search engines. They help your site to advert the page and make people look at the page. Meta keywords include information about the page's content. You should write the description up to 160 characters and try to avoid keyword stuffing.
<meta name="description" content="On-page optimization is vital for higher search engine ranking. Learn the most important on-page optimization factors to make your website attractive in seach engines." />
Without a shadow of doubt, you'd better write meta description for humans as search engines show description in snippet with the first 20 characters.  I usually include one keyword in the description that can be definitely appeared in your SERP snippet.  As for Google, it pays attention to description tag, but there is a debate if Google use it to rank the website.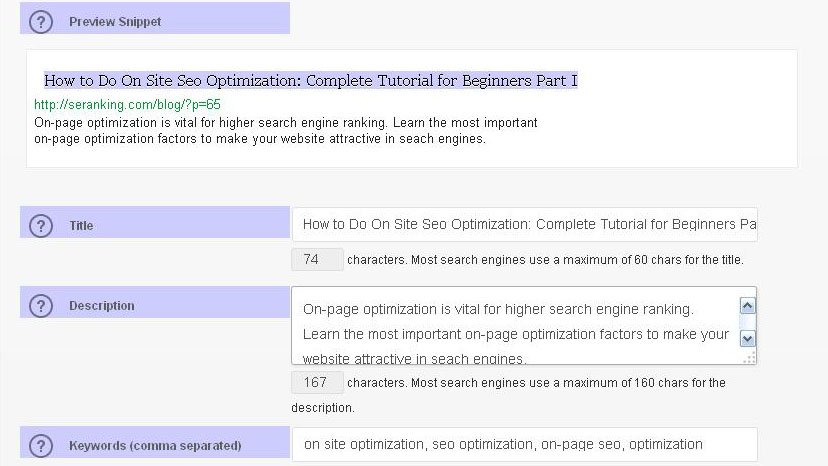 It is of high importance to make unique title tags and meta description on every page of the website. I don't autogenerate meta descriptions at all on the web pages.
Meta description tags are worthy for search engines – Google, Yahoo and other search engines – and you should learn to get them right. Try to make descriptions for people!
3. Header Tags
There is no a well-explained proof that header tags can increase your Google rankings. I have seen many pages that work well without header tags. Anyway I still use them, especially I call attention to the H1 tag on the page.
I always try to build up the page in a traditional way for people and search engines. I usually use H1 tag and include the most significant keywords in the H1 tag. I think it can help with your website ranking and helps with looking for a particular keyword.
<h1> Complete Tutorial for SEO Beginners Part I: How to Do On Site Seo Optimization</h1>
Except h1 tag, h2-h6 tags are also important and necessary that, mostly, depend on the size of the page. But I generally get used to h1, h2, h3 tags.
<h2>Title Tags</h2>
<h2>Meta Tags</h2>
<h2>Header Tags</h2>
You think how many keywords you should include into the h1 tag. I consider it is without doubt to use <h1> for top-level headings and include the main keyword. Google loves snappy and short headings.  Aaron Wall tells it is better to make h1 tags that can be different from the page titles. I have researched that many websites use the same h1 tags and title tags and I didn't notice any problems with that on many quality websites. I have heard that Google can use your header tags as title tags in case your title is unformed.
My advice is to make header tags highly relevant to the page's content, not to be pretty spammy and avoid keyword stuffing.
The Part II Complete Tutorial for Beginners: How to Do On Site Seo Optimization will come soon!