Today we are going to disclose more about on site optimization strategies. In our recent publication we dedicated to title tags, meta tags and header tags.  Today we would like to highlight on-page seo factors such as keyword density, internal linking and alt tags.  If you are ready, so we can finally start covering the complete tutorial.
4.  Keyword Consistence
Including keywords into the content is quite important and necessary to rank your website in search engines. Good and natural keywords are a good foundation for SEO structure. But even if you put as many as possible keywords in the text it won't mean you rank the website highly in Google or Yahoo. Many bloggers ask what is the ideal keyword density. I don't think there is some specific number how many keywords you should insert into the content. But let's see what Matt Cutts talks about keyword density:
"Make sure your copy is long enough that you can work those keywords into your copy in a natural way and not an artificial way. And my recommendation is to either read it aloud or read it to someone else or have someone else read it, and sort of say, 'Do you spot anything that's artificial or stilted or that doesn't quite read right?' And if you can read through the copy, and have it read naturally where a person isn't going to be annoyed by it, then you're doing relatively well."
…Anyway if you still take notice of certain keyword amount per text, you should pay attention to the quality, not to the quantity.  My advice is to write content for people, not for search engines. If you try to reach a certain amount of keyword consistence, probably, you will do more harm than good for website ranking. It is better to make this process natural instead of keyword stuffing.
Talking about the general way of using keywords, most of bloggers include the keywords into title, the first paragraph, images/videos attached and make some keyword variations or synonyms in the content. Google will estimate the synonyms rather than the high density keywords.
Google is a machine that really wants us to act like a human being. So, than act like a human and write human-oriented and interesting content. 
I want to give you one golden rule that I have ever heard while researching about keyword density. Keep constantly the process of updating and changing the content! As soon as a new content is published Google certainly will notice that and will communicate with you though  the change of your search engine placement – keyword consistence, visibility, website structure, credibility and etc.
If you have changed the density of keywords on the page, I don't think it will cause a fall in your search engine rankings (unless you are overdone with keywords).  I will tell there is no a certain pill or number for keyword consistence but I can give some examples,
Google recommends 1-2% keyword density and Yahoo used to 3%. So, let's say you'd better stick to 2 % in case you need a specific number for keywords.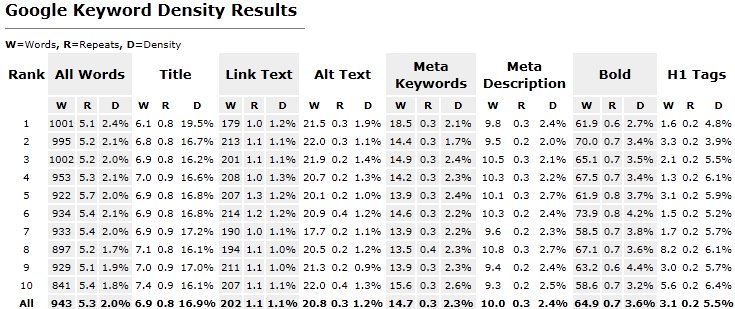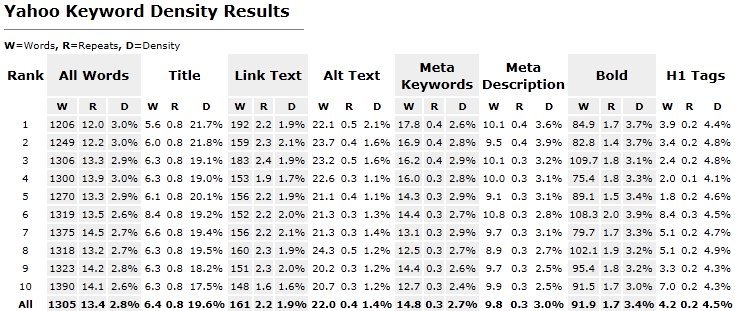 I can give some recommendations about keyword consistency:
Don't worry about work count (if the text is informative and unique, Google will definitely reward you);
Try to write for people, not for search engines;
Be mindful when you insert keyword, avoid keyword stuffing;
Make the content natural enough.
If you really want to build up the perfectly optimized page for search engines these rules will be of high value and will be a good seo practice in future.
5.  Internal Linking
Internal linking, is it good for SEO? As for me, I do internal linking all the time. I guess internal linking is more than some recommendation and a good navigation. It is a good foundation for internal linking tutorial.  Yes, it is good. Internal links are useful for building your site structure, getting link juice and improving website's navigation.
Internal linking is a quite important on site method to dispose good Pagerank to each webpage that are related to each other. Interlinking helps people get some relevant information on your website and helps search engine surfing your website easily and showing the relevance of each page.
The website that has a good interlinking helps users to find relevant and useful information on the website. A good and well-made interlinking shows to search engines what the website is all about, how the web pages are related with each other and how the website is structured.
But you should control the beauty of interlinking: control anchor text and anchor title. If you have a good anchor title and text that connected with a relevant link, even the link comes from another website it will be valuable for your website and get more weight on search engine rankings.
Without a shadow of doubt, getting inbound links can give you a good perspective to rank the website in Google. The more external and inbound links you have the more chances you have to get top rankings. But once again, pay attention to links you have, you know they can help you in Google or they can do harm.
Internal linking is not so simple as it can appears to you. It must look like a pyramid I mean the ideal structure for the website. The point is to get the possible number of links between the home page and other inner pages of the website. Interlinks help to distribute linking power within the website and get some weight and rankings of the inner pages.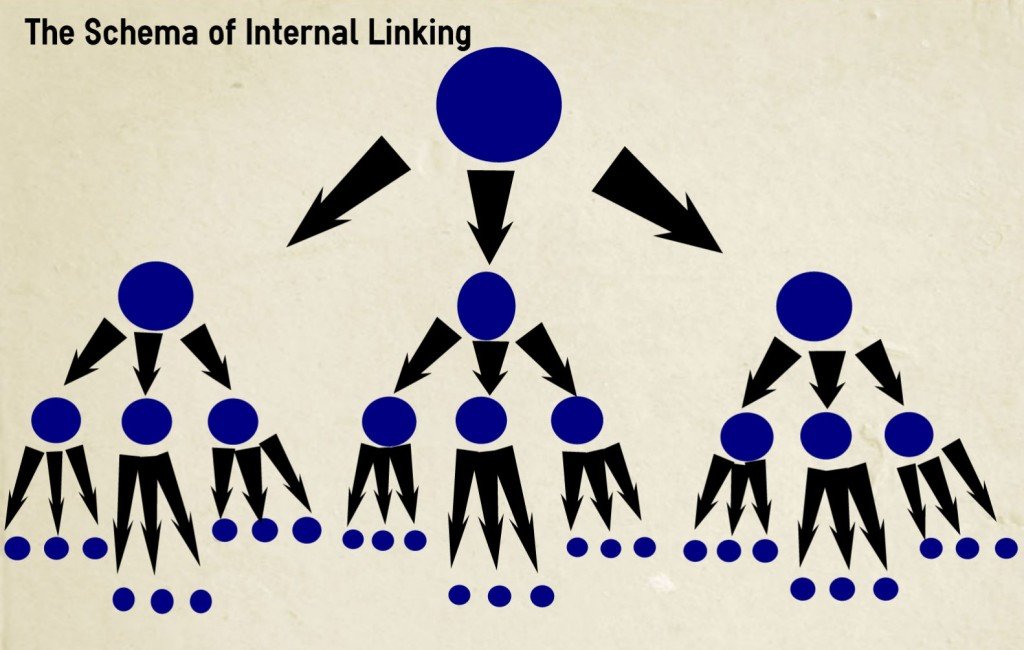 You should remember that internal links should gain success when it comes in HTML form, not JavaScript or Flash. The last ones won't get much value as HTML. Here is the example for a correct internal link:
<a href="https://seranking.com">SE Ranking</a>
Watch the rules of successful internal linking:
Be attentive to all the entries, web pages and links;
Link to related internal web pages;
Don't be spammy;
Internal linking is a good strategy for on-page seo. Sometimes it can seem to you quite boring when you make interlinking but it will work for you in search engine rankings.
6. Alt Tags
A lot of bloggers use Alt tags where it is possible to put keywords. I always include the main keyword in Alt tag when linking to a page. Alt tags are quite important for on site optimization. There is no need to optimize all your Alt tags for Google.  The point of using Alt tags is to describe text that can help users to find possible information and tell everyone what the page is about.
It is of high value to make unique Alt tags like we used to title tags and meta description.  Optimize All Tags for humans, not for Google. It is for better usability and availability.
When using Alt tags, you describe your images, diagrams, illustrations and product images well enough that disclose an idea of what the image is. That's what Google wants you to do and get a win-win position.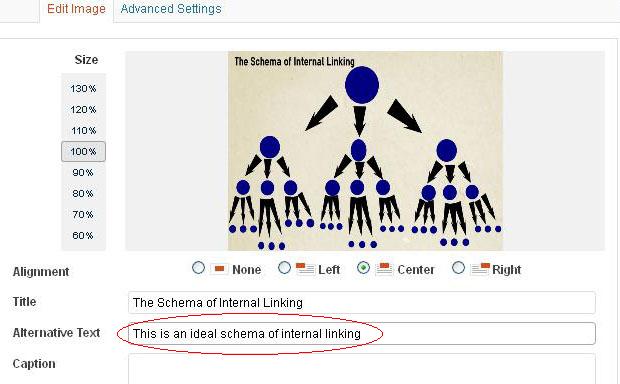 It is important to mention that if you make a good description for all tags with your keywords it will help your images rank better in image search engines. That can be a good option to get much traffic on your site – it depends on the kind of site you are running.
You should understand that Alt tags alone won't affect your rankings. You should think of that as an availability standpoint. If people browse your page without images enabled or use a screen scraper the Alt test is the only thing that can inform them what the page is all about. As search engines give users this great alternative we still believe good and accurate Alt text can help the website with rankings. Here is the HTML example for inserting Alt text:
<img src="filename.gif" alt="Keyword Density Google">
Here are some pieces of advice for using Alt tags:
Make the Alt text unique and quite descriptive;
Do Alt tags for people, not for search engines;
Avoid keyword stuffing in Alt text;
There is no doubt that using Alt attributes for images are really significant and it is worth doing that for on-page SEO.
The Part III: Conclusion will come soon.