As soon as you start a new blog, you want to gain top ranking positions in SERP. However, you have to remember that does not happen overnight. You should build a certain amount of quality links before you'll start seeing first results of your activities.
It is a well-known fact that not all links are equal. There is much difference between getting an Abel Prize and just getting a bonus at work. Don't you think so? I mean that some backlinks can give more value in Google search.
As you've already known, all links are divided into Dofollow and Nofollow. I will cover the basic things about each one and whether they are really worthy for SEO activities.
SEO value of Dofollow links
Dofollow links are an HTML attribute that is used to allow search bots to follow the links. If a webmaster is link to your site with dofollow link, search engine bots and people can follow you. They pass on link juice and really benefit your website to get a high Page Rank.
Google takes notes of Dofollow links and figures how many users are linking to your page in order to get how really good the page is. The more Dofollow links you have, the more points you will get. The best way to give the follow link is to use the keyword as the anchor text. Here is an example:
<a href="https://seranking.com/">SE Ranking</a>
It is important not only to get Dofollow link from anywhere, but to gain a follow link from a reputable website. If you can post a link on New Your Times or CNN, you will cut a melon!
Dofollow links are links that can help you to increase Page Rank, gain more SEO points and boost link juice what makes your site highly ranked in SERP. Dofollow links are real votes of credibility by Google.
Nofollow links without SEO value
Nofollow links don't allow search engine bots to follow your links. These links don't pass on link juice. Only people can follow these links. They don't help you to boost Page Rank, website rankings and have no SEO value. It is a notice for search engine not to count a link.
As we know Nofollow links don't pass any link juice but it can help to get traffic on your website. I guess you've noticed many times the Nofollow rel tag. If you use the Nofollow link HTML tag, you won't do any harm for your website. Search engines even respect this tag. Here is the example of this tag:
<a rel="nofollow href="https://seranking.com/">SE Ranking</a>
The Nofollow tag can be good for SEO – most webmasters use this tag not to follow untrusted content. These links belong in paid links, forums, blog comments and some untrusted content.
Google have recently noticed that they will count Nofollow links to boost PR for your page. But it depends on where the link is placed and the quality of it. If you place it at the begging of your text, it will give more impact than if you post it at the bottom of the page.
The Benefits of Nofollow links for SEO
You should follow the principle of diversity. I mean it is important to use Nofollow links for your inbound link profile. It will look suspicious if all inbound links are Dofollow and it is not natural. Don't you think so? Therefore, you need to balance your links and use both Dofollow and Nofollow links. A healthy mix of Nofollow links can even give a good influence on Dofollow links.
I guess with any link you can get much traffic. Good and quality link is a gateway in your website that shows your content and can give a good amount of traffic. If you have Nofollow links on Wikipedia or Google blog it doesn't mean the link is not valuable, vice versa, sites with a lot of traffic can give many benefits.
That sort of traffic will allow you to deal with conversions, leads and even get a Dofollow link. Getting links on social media is what you should lead to creative awareness about your content. It is really good to get links on authoritative websites and social media, forums and blogs that can attract good traffic to your websites.
The moral of the story: Don't think what links will be valuable for SEO, think about links that can be worthy for your business, product, brand or service. Think about links that can increase your brand authority. Try to build website trust!
How to check whether a link is Nofollow or Dofollow
There are a few ways how to check the type of links: Dofollow or Nofollow.
Right-click on a page and click "view source. You will see a screenshot. In the source code, you need to press Ctrl+F and search for your site name and comments in the screenshot. Now you can check the type of a link.
There are many useful extensions you can download for Firefox or Chrome automatically that will define whether a link is Dofollow or Nofollow.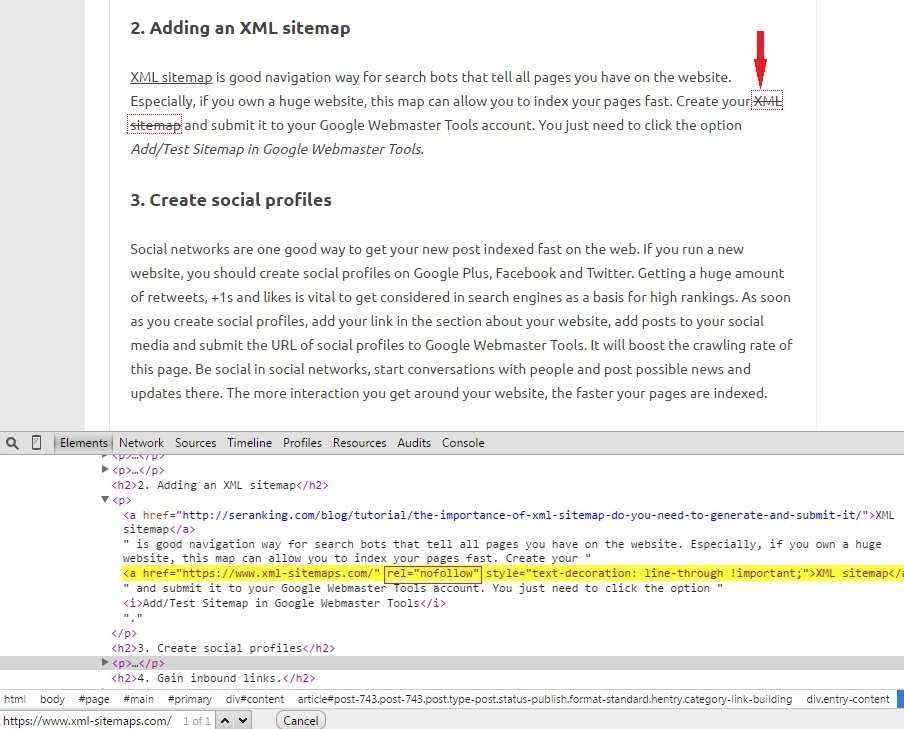 For Firefox you can use:
For Chrome browser you can try out:
For WordPress blog, you can use the Robots meta plugin to define noindex, nofollow and noarchive tags on a post. If you want to remove all Nofollow links from comments, you can try Dofollow plugin.
But how can we monitor spotted backlinks and be sure that all the dofollow links stay as they are and don't become nofollow one day?
Special backlink monitoring tools like the one from SE Ranking allow you to automatically import any site's backlinks and provide a detailed analysis and filtering facilities.
When monitoring your backlinks with SE Ranking, you can track their status, check the most important SEO parametres, define suspicious links and create a ready-to-go disavow file for Google.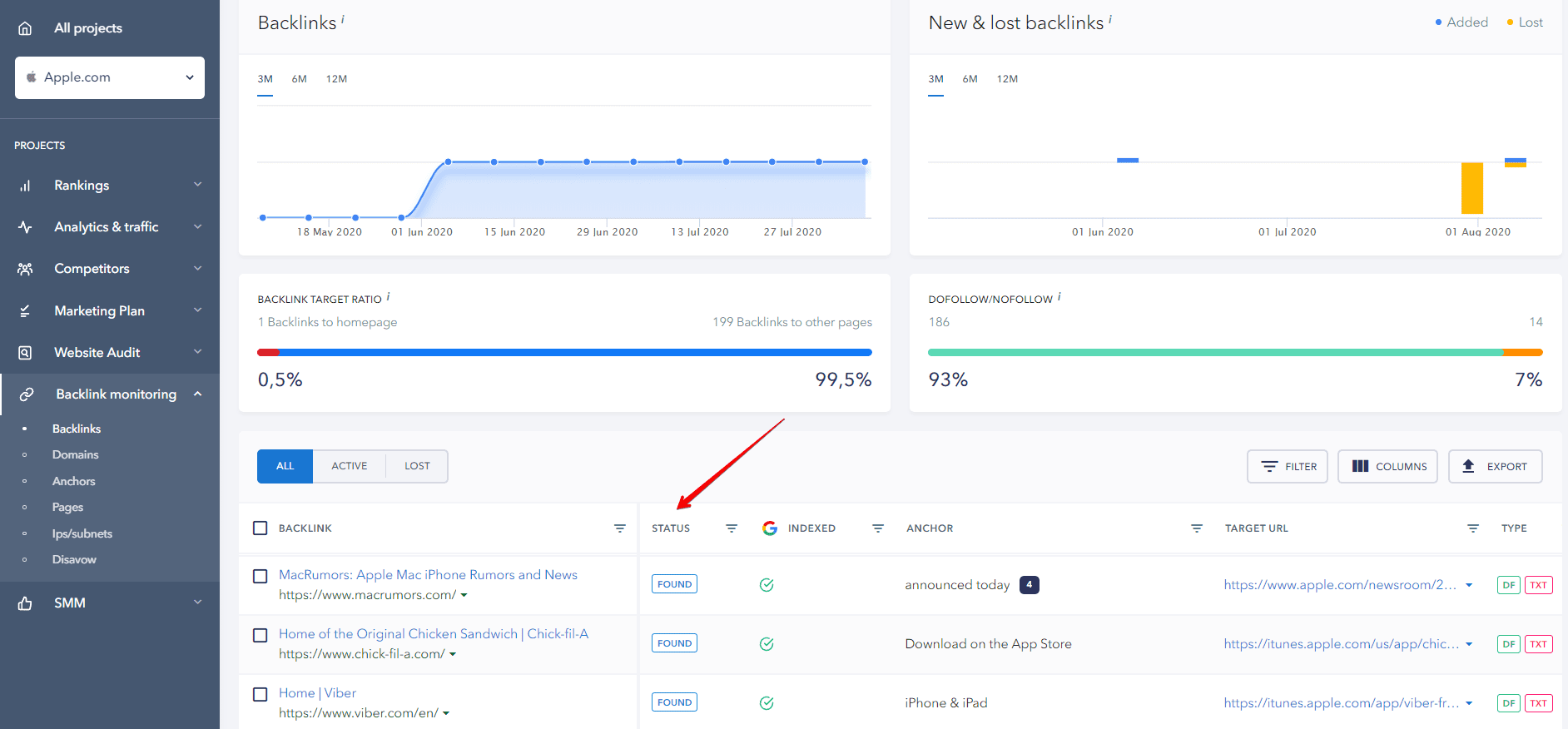 Try how it feels to check and control all your backlinks in one place – 14 days are completely free.
Google's 2019 updates on nofollow links
Prior to the September 2019 update, Google treated the "nofollow" attribute as an instruction to ignore the link. From now on, Google takes it as a hint for rankings and later on — starting in March 2020 — it will use it as a hint for crawling and indexing as well.
What does "using it as a hint for rankings" mean? Previously, the "nofollow" attribute was a command, and now it's rather a recommendation. This means that if Google deems it necessary – it will give such links credit, recognize them as spam or use them for various ranking purposes.
Long story short:
Google didn't use nofollow links for rankings or indexing.

As of September 10, it uses them as "hints" for rankings.

Starting on March 2, 2020, Google will be using them as "hints" for crawling and indexing.
Moreover, Google initiated two new link attributes to point out the specific role of a link: rel="sponsored" and rel="ugc".
Up until now, the "nofollow" attribute was the only way to mark a link that shouldn't be taken into account by Google. Now, Google suggested more specific options. The "sponsored" attribute should mark all paid and sponsored links. And "ugc" should be applied to links in user-generated content, i.e. comments, forum posts, etc.
Does it mean we should rush to replace the nofollow attribute with the new ones? No, it's okay to leave your paid or user-generated links with "nofollow" attributes.
Can the new attributes be used in combination with "nofollow"? Yes. You can use them together if needed: rel="nofollow sponsored", rel="nofollow ugc".
Main takeaway: Don't worry, there's no need for any radical changes, just keep the updates in mind in the future. Everything's fine, guys!
Conclusion
It is a well-know fact that everyone wants to get Dofollow links. The best way is to create epic and original content that will attract traffic and makes it shared and linked in a natural way.
When you focus on creating an awesome link profile, try to get a healthy balance of Dofollow and Nofollow links. Both links can deserve a good place in SEO.