Sign up for our newsletters and digests to get an ebook on Backlink Monitoring
Thank you for subscribing!
If you're in charge of SEO, there's no way you can avoid dealing with backlinks and evaluating their quality. Obviously, everyone's hunting for those high-quality backlinks. But have you ever wondered what exactly does this mean?
I'm sure you're familiar with the story and it goes something like this.
You are fighting a never-ending uphill battle to get backlinks to your website, but you know that the saying "the more backlinks, the merrier" is an SEO myth. "The more high-quality backlinks, the merrier" sounds a lot better and more accurate. But how can you tell if a backlink is good or bad right from the get-go?
Keep reading to find out what you need to do to quickly evaluate backlink quality and what metrics can be of great help with this.
Why do we need to evaluate backlink quality
A few years ago, Backlinko analyzed 1 million Google search results to confirm that backlinks remain an extremely important ranking factor. The only problem is that not all backlinks have the same degree of influence:
good backlinks can significantly boost rankings and improve website traffic;
bad backlinks can do nothing at best and get a site penalized by Google at worst.
This was not always the case. Back in the 2000s, many SEO specialists bought backlinks openly — wherever and whenever they needed them. As a result, website rankings increased according to the quality of the acquired backlinks. Naturally, Google updated its backlink strategy through the Penguin algorithm, moving the focus from quantity to quality. This means that the search giant started to discredit certain types of backlinks because the content they linked out to wasn't useful or relevant.
And here we should remind ourselves what backlinks were initially designed to do.
In a nutshell, if your website gets a backlink, this usually means that your content provides value — it's relevant, interesting and useful. To show Google that your website has authority, you should let the search colossal know that it has quality backlinks in your niche.

As mentioned above, not all backlinks are created equal. There are many factors that can make some backlinks more valuable than others, and vice versa — some backlinks may even harm SEO. That's why it's critical to understand what makes one backlink high-quality, and another one a candidate for the disavow list.
How to check backlink quality
Before we dive into this topic, let's recap one important rule.
There is no single metric that will accurately determine whether a backlink is of high or poor quality.
But having the skills to interpret link-related metrics will help you get oriented and, after a bit of practice, figure out the quality of the link at a glimpse.
So, let's see what you need for this.
1. Get a full list of website backlinks
If you're looking for a website where you can get a backlink, start by analyzing the backlink profiles of your competitors. That way, you'll be able to access backlink donors and choose the ones that suit you best.
The easiest way to get a list of backlinks from any domain is to use a third-party tool like SE Ranking's Backlink Checker. How can it help you?
SE Ranking collects every backlink and provides additional data for each found link: status, social signals, indexation and many more important parameters. This data enables you to quickly analyze practically every metric you need in order to evaluate the link-giving site from a single dashboard.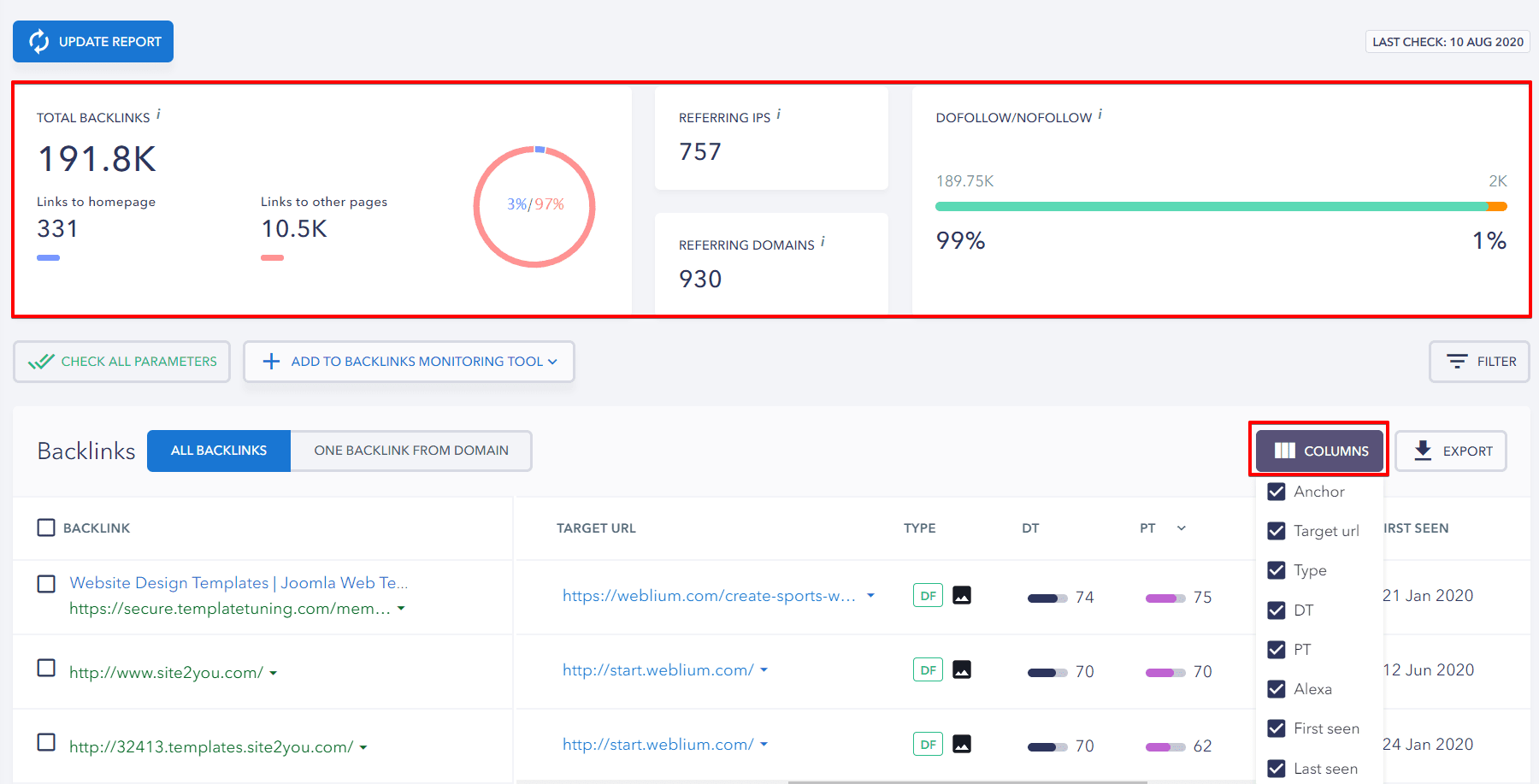 So, once you have the backlink list along with the metrics data, it's time to find out who's who.
2. Get metrics from SEO tools
When we talk about assessing backlinks, we can't do it in a vacuum without evaluating the donor.
Here we've gathered third-party metrics, such as Alexa Rank and Majestic Flow that merely demonstrate how well a site with a backlink compares to others.
ALEXA RANK
Alexa rank is a ranking system developed by alexa.com to measure website popularity. A site's ranking is based on the combined measure of Unique Visitors and Pageviews. The lower the number that's determining this rating, the better.
Note that websites with low traffic have no chance of getting an accurate Alexa rank. What this means is that a site with a rank of 1,000,000 and a site with a rank of 2,000,000 will have a low statistical difference in terms of traffic. However, as a site gets closer to the top spot, its rank becomes more reliable.
Alexa's Traffic Ranks are for top-level domains only (e.g., domain.com). They do not provide separate rankings for subpages within the domain (e.g., http://www.domain.com/subpage.html) or subdomains (e.g., subdomain.domain.com) unless they are able to automatically identify them as personal home pages or blogs.
You can quickly check Alexa rank in SE Ranking's Backlink Checker tool along with 13 other parameters.

MAJESTIC
Majestic flow metrics include a few more parameters that you should consider while analyzing your backlink donors.
CF (Citation Flow) is a special metric that ranges ​​from 1 to 100. It defines the "strength" of the site by analyzing how many other sites link out to it. It is used in combination with the TF.
TF (Trust Flow) is a special metric that ranges ​​from 1 to 100. It predicts the trustworthiness of a site based on how many trustworthy sites tend to link to it. Keep in mind that the CF will always be higher than the TF as there are a lot of links but not all of them are authoritative and relevant.
Long story short, CF shows the link juice, and the TF indicates whether the explored links are close to trustworthy sites.
If you want to evaluate a backlink donor, simply perform the following calculation: Trust Flow / Citation Flow. This resulting number (ratio) will show you whether or not you're dealing with a spammy site. Obviously, if you are dealing with a spammy site, its ratio will be below 1, and vice versa – a good site's result will be above 1.
After analyzing these top-echelon parameters, don't jump to any conclusions about the website at hand. Explored metrics help you see the website's general characteristics but they aren't enough to evaluate the backlinks. In any case, these metrics remain inaccurate and can be manipulated, so you need to evaluate every link yourself.
3. Check backlink parameters yourself
Here, we'll cover key metrics that you can check yourself. Obviously, you don't need to do this manually thanks to such tools as SE Ranking's Backlink Checker. With it, you can upload a backlink list and check it against key SEO parameters.
Donor backlink profile: It should consist of trusted and relevant domains.
If there are several spammy resources in website's backlink profile, you can consider it to be totally okay. If half of all the backlinks are spammy, the site is at risk of being penalized by the search engine. In turn, this means that your own site can also suffer a setback.
To evaluate the backlink profile of a site, simply check the necessary domain using our good old Backlink Checker. That way, you'll see how many backlinks the domain has and what each one looks like.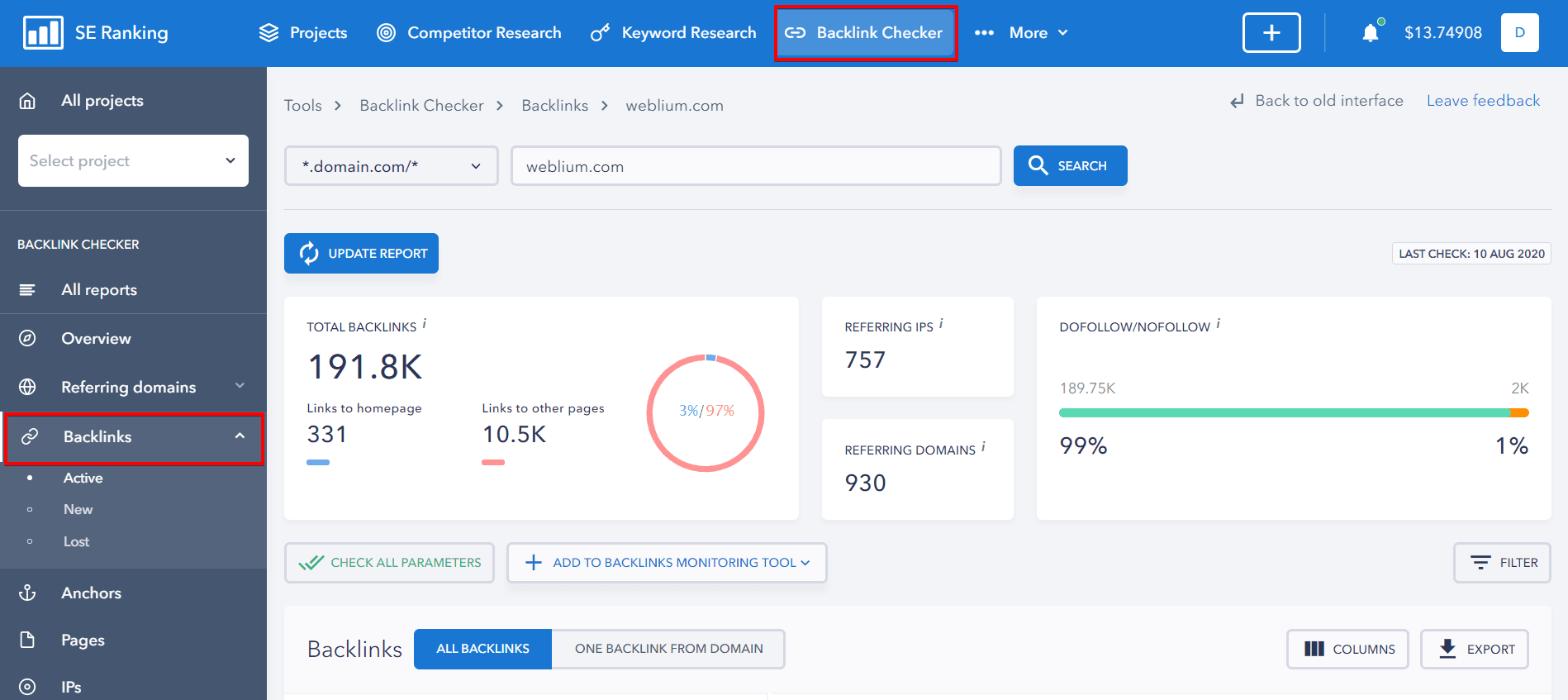 Dofollow/nofollow: Remember that your backlink profile should be diverse and healthy.
If you ask which link is better—follow or nofollow—the answer will definitely be dofollow. This is the only type of links that Google for sure takes into account for ranking and indexing the recipient page.
But if you ask what links should prevail in the backlink profile, there's no right answer.

Both link types deserve their rightful spot in the SEO world. For this reason, backlink profiles should have a natural balance of dofollow and nofollow links.
Social signals: Likes, shares and comments on social media run the world.
People only share content if it's great. And what could be a more obvious signal for search engines about the quality of a site? Of course, if the website does not have visible sharing buttons on its pages, this metric will not be relevant.
So, when analyzing this factor, take into account whether the site offers sharing buttons on its pages and whether their presence increases the social visibility of backlinks on its pages. SE Ranking, for instance, shows how many people have shared a page with a backlink on Facebook.

Indexation: Website pages should be indexed by the search engine.
When you analyze sites that give backlinks, check whether their pages (for instance, recent blog posts) are indexed by Google. For this, simply look for the URL on Google and see if the page comes up in the search results. If the page isn't indexed, the backlink doesn't contribute to your rankings.
Also, you can check whether the page with an existing link is indexed by Google via SE Ranking's Backlink Checker. For instance, the screenshot below shows that some of the backlinks can be found but can't be indexed, meaning that these sites are not among those that Google prefers to index. That way, you can make the decision to have a backlink on the given page or not.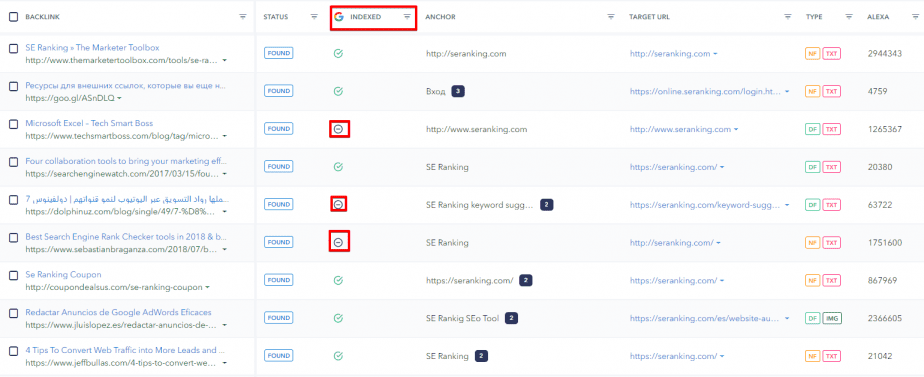 4. Consider indirect metrics at the final stage
Before you can draw a conclusion regarding the quality of backlinks, let's analyze some additional metrics that are important but can rarely be interpreted without ambiguity.
Traffic: The higher the traffic, the more useful and reliable the donor is.
The volume of traffic shows us whether the analyzed resource is useful for users. If it's high, you can expect that a part of its traffic will fall on your potential backlinks – and this is key.
A lack of traffic points to the site's low credibility, and, accordingly, a lack of benefit from its inbound links. Often, low traffic indirectly confirms the use of spamming techniques or godforsaken sites.
But there are pitfalls.
Firstly, "the higher the traffic, the better the site" principle doesn't always work. There are trashy sites with unnatural traffic generated by bots. Moreover, the number of visitors can be manipulated.
Secondly, you can't accurately measure a site's traffic volume – only approximately. Still, you can check the estimated donor traffic with SE Ranking's SEO/PPC Competitor Research, SimilarWeb or Alexa and use this information in combination with other analyzed factors.
Always pay attention to traffic sources and analyze the data to make sure it makes sense.
Outgoing links: The fewer, the better.
It's important to check how many external links a given page of a link-giving site has. Needless to say that if a site is participating in link schemes and refers to poor-quality resources with a low trust score, it can really affect website rankings to have a backlink there.
Look at it this way: The link juice you can get from a website will be divided by the total number of links on the page. Obviously, if the website links to hundreds of low-quality sites, the value of the backlink will be next to nothing.
Site and page relevance: Backlink donors should be from the same niche and link mostly to same-niche sites.
Brian Dean mentions that having links from "expected" websites (sites from the same industry) can help Google trust the analyzed website more.
This is true! Google has become too smart to be deceived by links from irrelevant sites. For example, if your website sells tires, a link from Mom's Dish cafe's contact page offers no real value and misleads both users and search engines.
Also, it's very important not only to analyze the entire site but the page with the link itself. A site that offers car rentals can have a backlink leading to an "all-for-mums" site as long as someone writes a review on a trip they had when they were provided with a complimentary car seat. In such cases, the page content will be relevant to the car rental site.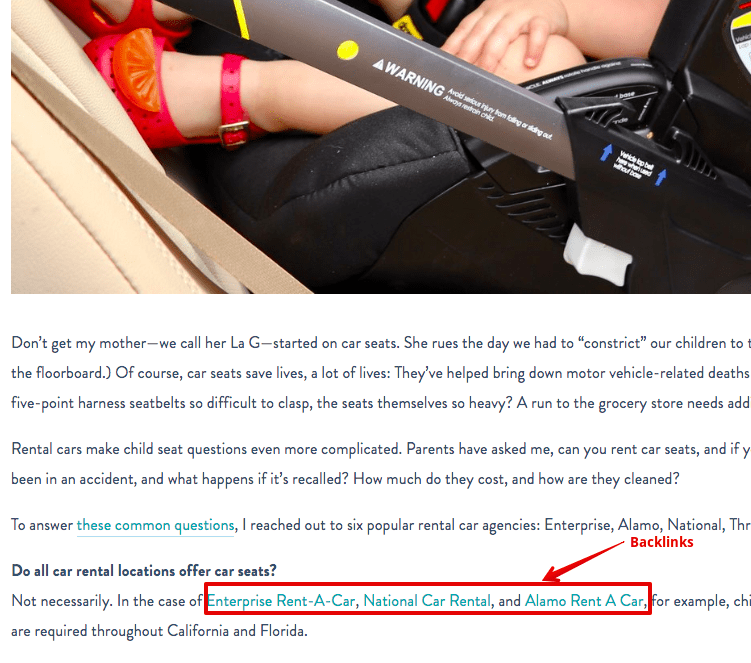 Of course, there are a lot of sites that are relevant to diverse backlinks, for example, media platforms. Nevertheless, we recommend taking the context into account every time you want to assess the backlink quality.
Link location: In-content links are more valuable than links from footers or comments.
It's important to understand when a high-quality link should be placed. The location of the backlink shows Google whether this link is valuable or not. Search engines then check whether the link is a part of page content (in-content link) and, as a result, draw a conclusion about its importance for visitors. If you see that backlinks are buried deep in the footer, sidebar or blog comments, they have far less SEO value.
Also, pay attention to how high up on the page the link appears. The higher it appears, the more important it's for users (and thus for search engines). As Bill Slawski mentions in his review of Google's Reasonable Surfer Patent, links that have more chances to be clicked by users (have a more prominent position on the page) tend to gain more weight from search engines. That's why backlinks in comments have a right to exist but mostly because they can help you reach your target audience and provided them with additional value.
Anchor: Should be diverse and look as natural as possible.
Before you decide to get a backlink, make sure it's relevant, that it corresponds to the topic, doesn't contain grammatical errors, and isn't overstuffed. As Nathan Gotch has tested in practice, natural anchors look like a combination of brand mentions (70%), naked links (20%), generic anchors (5%) and keyword reach anchors (5%).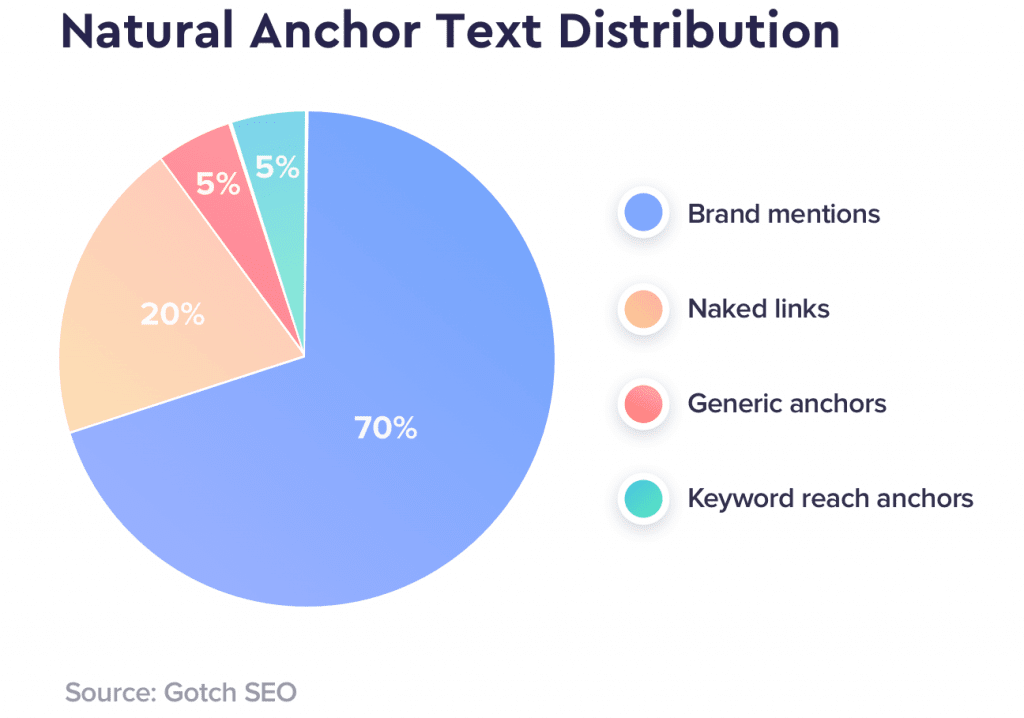 Summing up all of the mentioned parameters, you can evaluate backlink quality and decide whether or not you want to get a backlink from the given donor.
Now it's your turn
As Google works to improve and fine-tune its algorithms, they become better at separating natural links from spam. If you don't want links to harm your site but help it out instead, you should roll up your sleeves and look at each backlink as if it decides your very own reputation.
So now it's your turn – go ahead and check out any site you can potentially get a link from using SE Ranking Backlink Checker.