What Does an SEO Company Do?
At first sight, the answer to this question is pretty obvious: an SEO company does… SEO!
And this answer is correct. Or, at least partially correct.
But considering that SEO business is closely linked to a variety of other marketing areas, many SEO companies currently provide a range of services to enhance a website's visibility and help it rank higher on search engines.
Before you decide on the right SEO company for your individual needs, you'll need to know the basics. It helps to ask questions like, "What is an SEO agency? What are the benefits of hiring one? How do SEO companies work? How much does it cost?"
Now, let's find out.
What is an SEO company?
An SEO company is an outside company that is fully engaged in online optimization to help other businesses perform well in SERPs. They help businesses increase their organic traffic and grow online.
Let's break down this definition a bit more.
First, when we say an SEO company is "fully engaged in online optimization," it means that they typically perform a whole range of different activities, including SEO, PPC, SMM, content marketing, video production, web design, and more. These efforts take your website to the top of SERPs.
Second, the primary objective of every SEO company is to improve your ranking positions in SERPs. This results in you earning more leads, sales, and revenue.
The higher your organic traffic, the higher your conversion count. And higher conversions mean higher business profitability.
What does an SEO agency do?
Typical SEO companies are fully immersed in performing complex SEO services. Using the best software for SEO agencies, they can provide a mix of different services, including on-page optimization (e.g., keyword research, content creation, and internal linking), off-page optimization (e.g., building a diverse profile of quality backlinks), and technical optimization (e.g., addressing SEO-related issues and enhancing website visibility for search engine crawlers). Additionally, SEO companies offer SEO reporting and analytics services. 
But since many SEO agencies expand their services beyond SEO, you can partner with them to get assistance in many different areas, such as PPC, web development, email marketing, and more.
Classifying SEO agencies
These companies may not fit neatly into any distinct categories, but a typical SEO agency does tend to have specific areas of focus. For instance, it might be:
General SEO: Comprehensive optimization for online projects without regional ties.
Local SEO: Optimization for regional queries, primarily benefiting websites tied to a specific city or region.
Tech SEO: Optimization of a website's technical aspects, such as its speed, indexing, mobile-friendliness, schema markup, security, and so on.
Ecommerce SEO: Optimization tailored to various types of online stores.
Detailed breakdown of SEO company services
Now that you know the types of services that SEO companies provide, you might wonder what exactly an SEO company can do.
And the answer is: it depends. The thing is, there is no single standard for the SEO activities that all companies should perform. In the end, each company must decide on its own which services it can and will offer.
Still, there are some general areas of SEO that most companies cover. They are as follows:
On-page SEO services
To perform comprehensive on-page SEO, agencies must start by focusing on keyword research, content creation & optimization, and internal linking. Let's review these processes in detail.
Generally, SEO companies start off with keyword research before optimizing their clients' websites in other ways. This initial step provides valuable insights into your target audience's search behavior and intent and, therefore. This allows you to develop a highly effective content strategy based on identified findings.
To illustrate this, let's use SE Ranking's tools as an example.
To identify the keywords that both you and your competitors are targeting in search, SEO companies use tools like SE Ranking's Competitive Research Tool.
To use the tool mentioned above, follow these steps:
1. Type in your website, pick the region you want to focus on, and hit Analyze.
2. Navigate the Organic Traffic Research tab.
Here, they can access a keyword data table containing all the search terms targeted by a specific website, along with essential SEO metrics like search volume, keyword difficulty, user intent, ranking position, competition, and so on.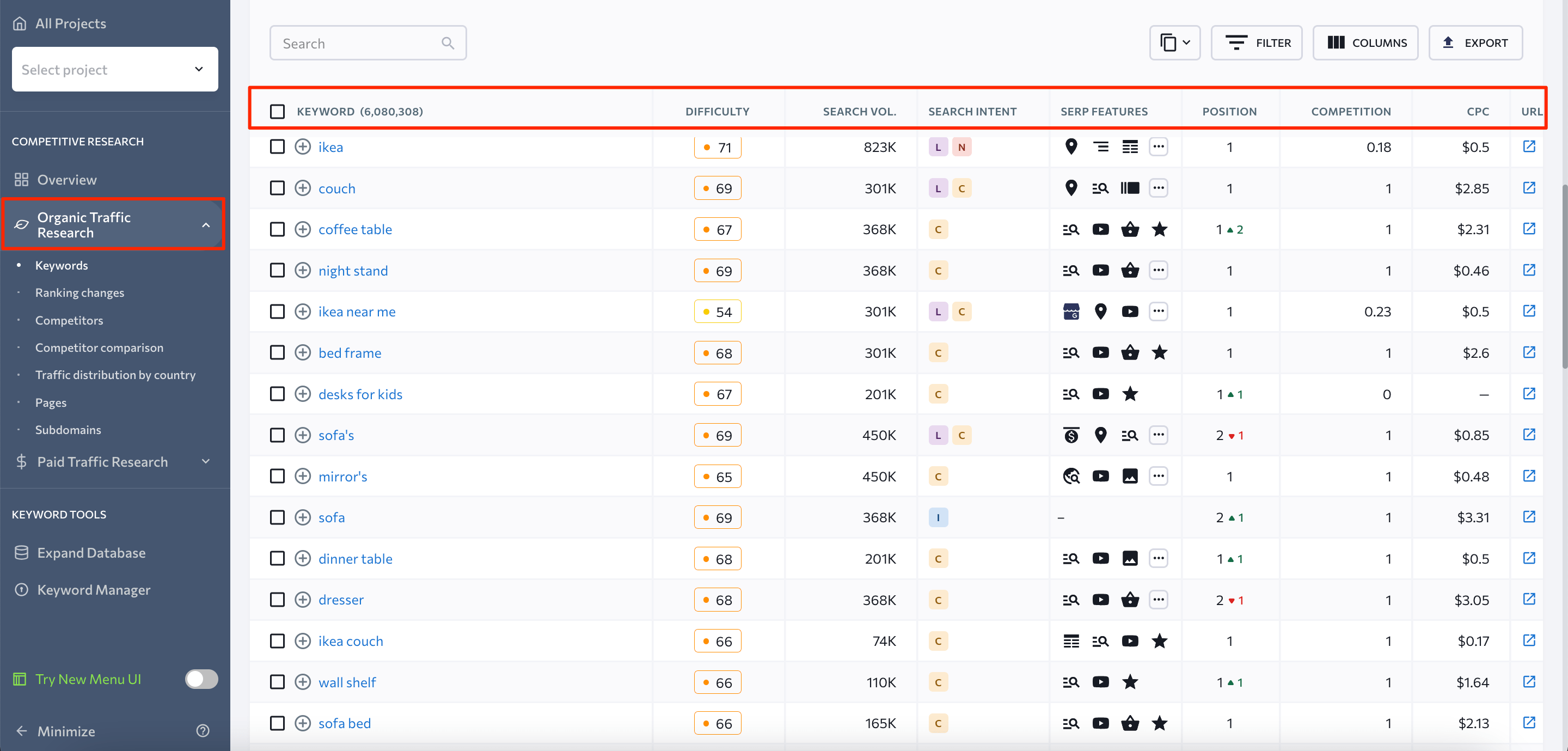 When clicking on any keyword from the list, the platform will redirect the agency to the Keyword Research Tool.
This is where users can see the complete list of websites that rank for the chosen keyword in both organic and paid search. There are also similar and question-based keyword suggestions.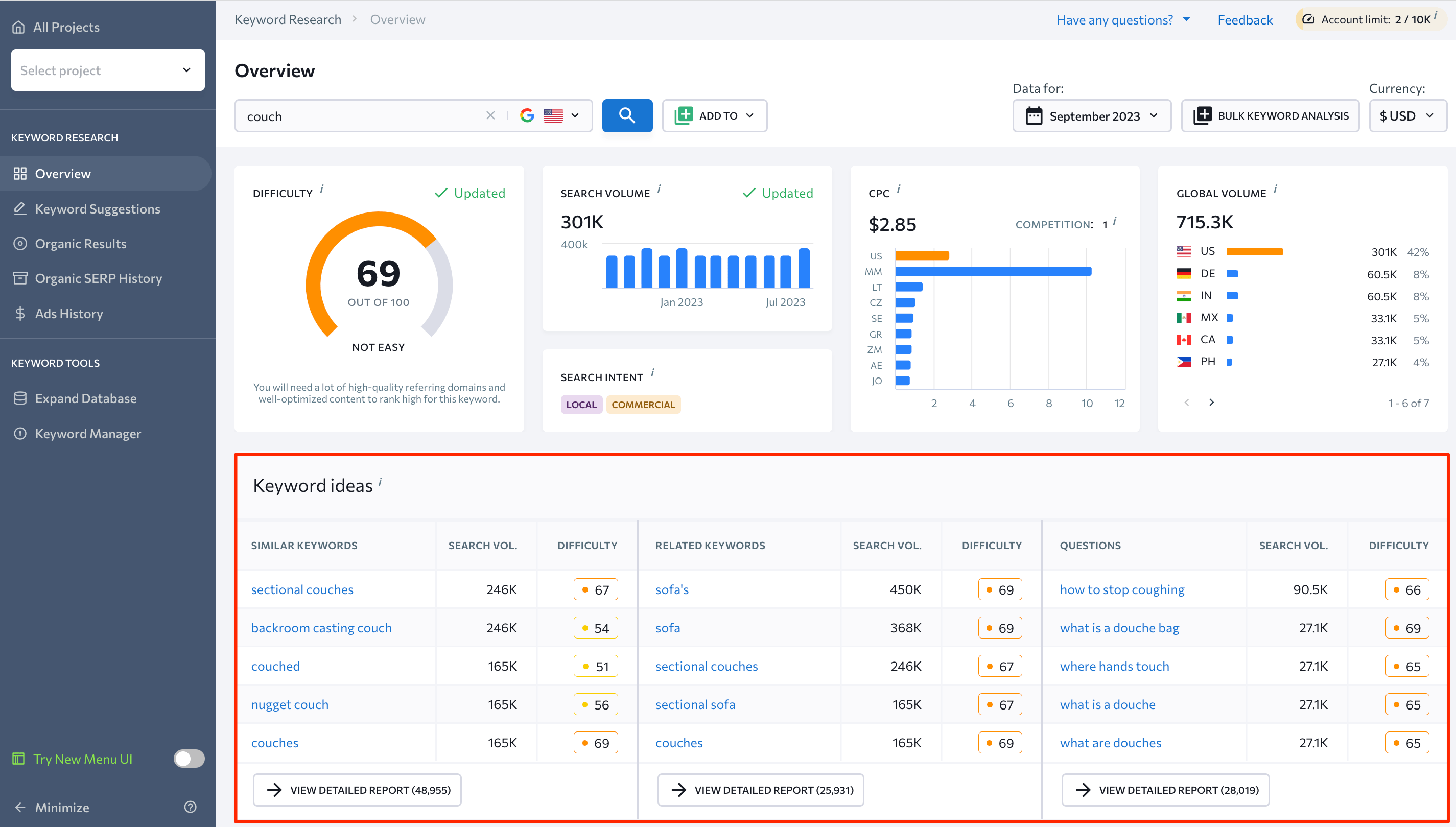 SEO companies that you're partnering with can then replicate this process for your rivals by diving deep into your competitors' search engine activity, which they can find in any geographic area and in any of the major search engines. These include Google, Bing, Yahoo!, and YouTube.
This stage involves creating unique, high-quality content optimized for your chosen keywords. If you're working with an agency that doesn't offer content creation services, they'll usually provide you with a step-by-step content brief to guide your content creation process.
For example, SE Ranking's Content Marketing Module, featuring its Content Idea Finder and Content Editor tools, can help SEO companies cover the whole content creation process. It covers everything from generating content ideas and creating guidelines for content teams to writing and editing original SEO pieces, all within one platform.
SE Ranking's system analyzes top-performing SERP competitors and offers tips for future content pieces in terms of structure, word count, keyword usage, images, and more. Plus, when writing content, agencies receive guidance on grammar, punctuation, stop word usage, and readability.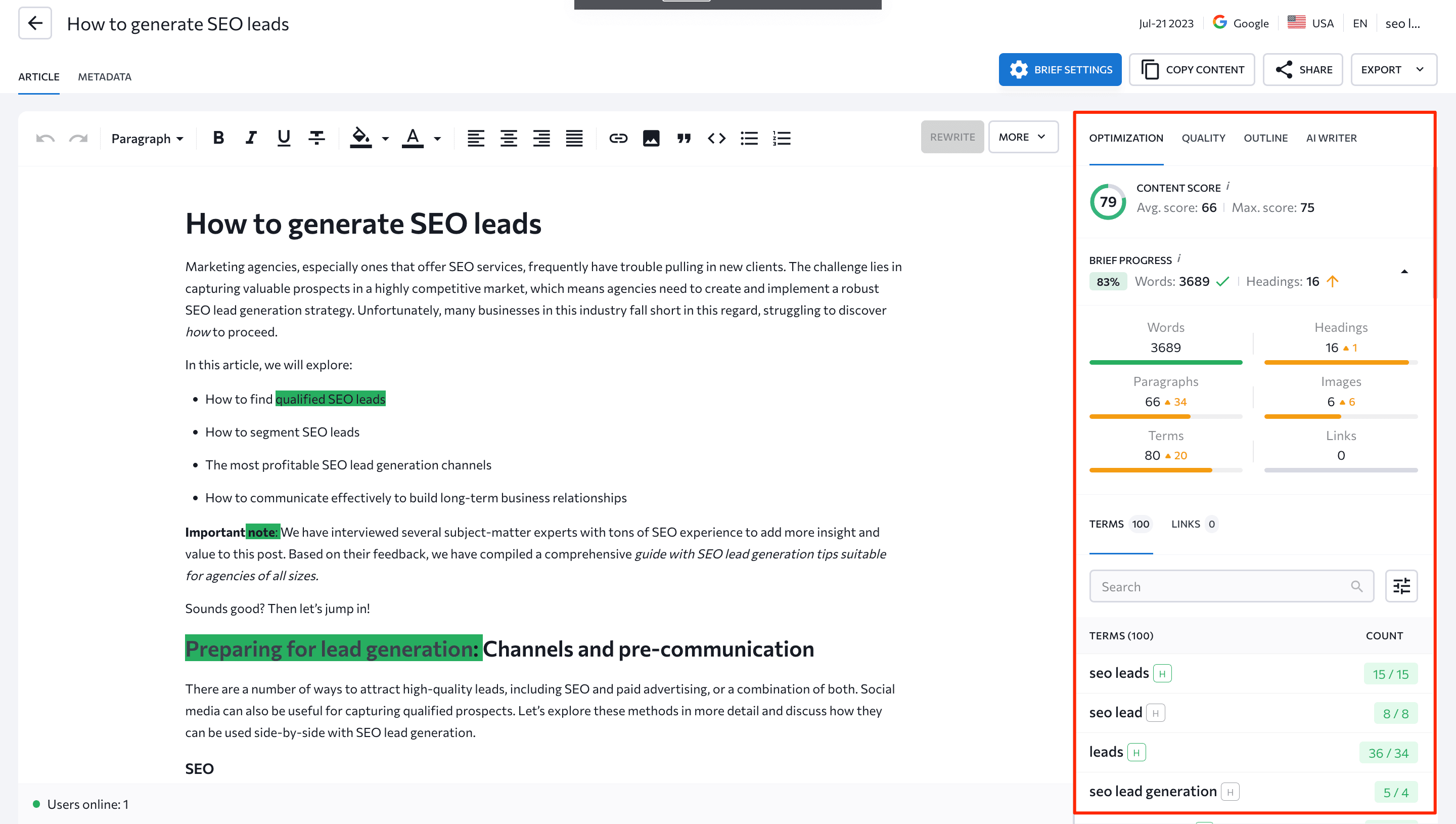 By implementing these recommendations, agencies can not only create user-friendly content but also increase their chances of securing a spot at the top of the SERP.
What's more, with the help of SE Ranking's AI Writing Assistant (which is a part of the Content Marketing Module), agencies can produce new SEO-friendly texts in just a few clicks.
The platform's AI Writing Assistant can help with generating content ideas, outlines, and even create text drafts based on set parameters. All it takes is to:
1. Select the type of text you want to generate.
2. Add your target keywords.
3. Select the tone of voice.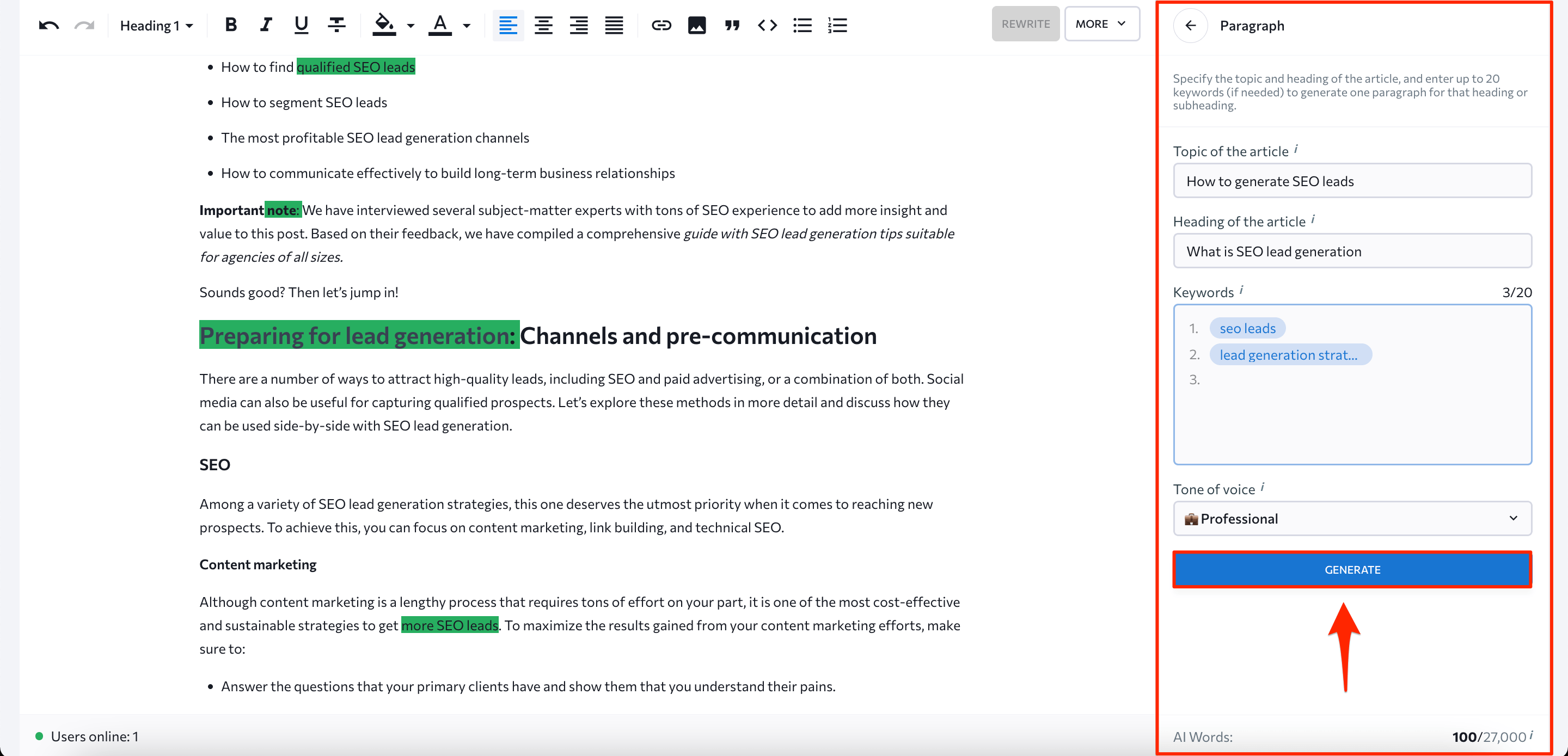 One of the greatest advantages of this feature is that it produces texts that sound natural and human-like rather than texts that sound robotic.
It's no secret that internal links assist search crawlers in finding all pages of a website. They also help search crawlers understand the hierarchy and importance of your webpages. What's more important, these links help users navigate the website, which makes it easier for users to find information about your business and become your clients.
As you can see, conducting an analysis of your internal linking is a key component of any on-page SEO strategy.
SEO companies use a variety of tools to identify internal linking patterns and issues. One such tool is SE Ranking's Website Audit Tool.
With this tool, SEO companies can get access to an Issue Report that provides comprehensive information about your internal links. Specifically, the Internal Linking section of the report shown below displays web pages lacking internal links, internal links with missing anchors, and more.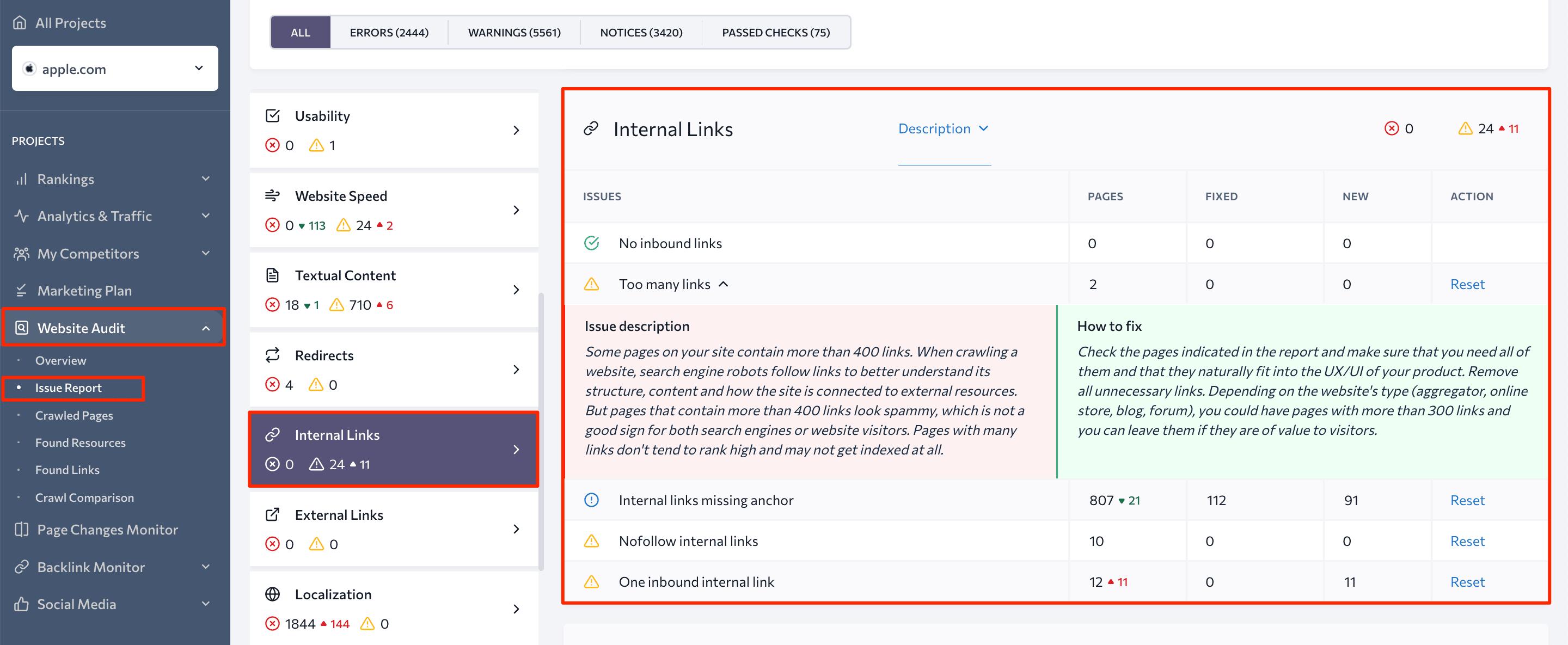 To discover broken internal links, you can visit the Found Links section in the Website Audit. By applying filters, platform users can easily find all the 404 internal links and links leading users to redirect pages.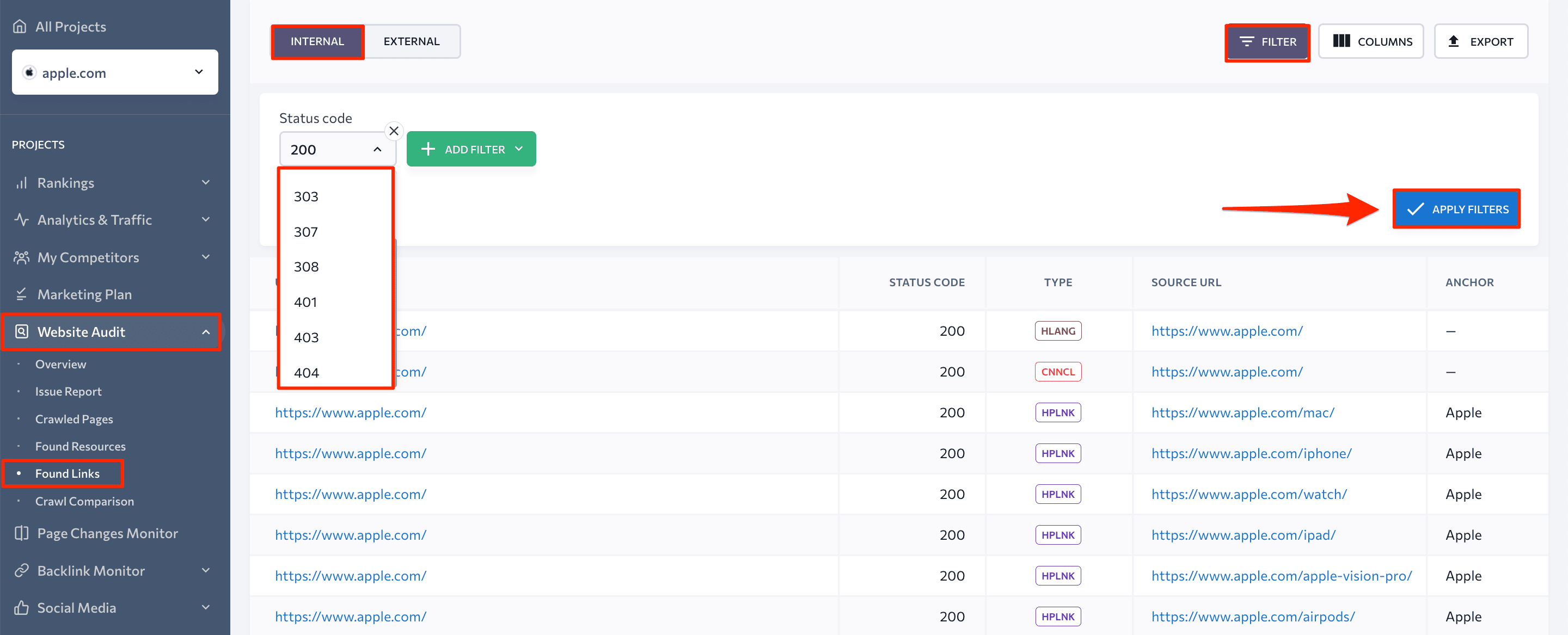 General optimization and updating old content
In the area of SEO, most content topics are very time-sensitive. This means that a blog post on a trendy topic could experience a surge in traffic for several months. But if left without updates, this article may quickly lose its search engine rankings and subsequent flow of traffic.
For this reason, it's important to regularly review and update your existing content. This can maintain or even improve your search engine rankings over time.
SEO companies typically start by conducting a comprehensive content audit to identify high-performing pages and those that aren't performing as well as expected. Based on this data, they provide recommendations on which pages can stay as they are, which ones require updates, and which are best to delete.
And the most interesting part of this process is on-page SEO optimization. The extent of on-page SEO tasks needed for each page will depend on why doesn't perform well. Most often, to push a particular webpage to the top of the SERP, SEO companies will need to perform at least one of the following tasks:
1. Optimize title tags and meta descriptions to make them meaningful for search engine bots while also enticing readers to click.
2. Assess and improve the content's overall quality.
3. Ensure your URL slug is not only SEO-friendly but also reflects the content's essence.
4. Incorporate strategic internal links throughout the content.
5. Apply schema markup to provide a richer context for both search engines and users.
6. Improve web page performance and loading times.
7. Optimize for mobile accessibility on various devices.
Instead of manually checking each web page for on-page SEO optimization, SEO companies typically rely on automated solutions like SE Ranking's On-Page SEO Checker.
With this tool, they can analyze any web page against over 90 parameters, covering aspects like title tags, meta description, heading tags, internal links, URL structure, keywords, indexing, page load time, Core Web Vitals, mobile-friendliness, safe-browsing, and more.
All it takes is to insert your page's URL into the search field and wait a few minutes while the system conducts an in-depth analysis. The tool then provides an overall result of the on-page SEO audit, including its page quality score, top competitors, and a list of SEO tasks to complete.

The last section provides a list of all on-page SEO issues according to their priority: errors, warnings, notices, and passed checks. It also groups issues by different categories, such as text content, page experience, usability, indexing, media, etc.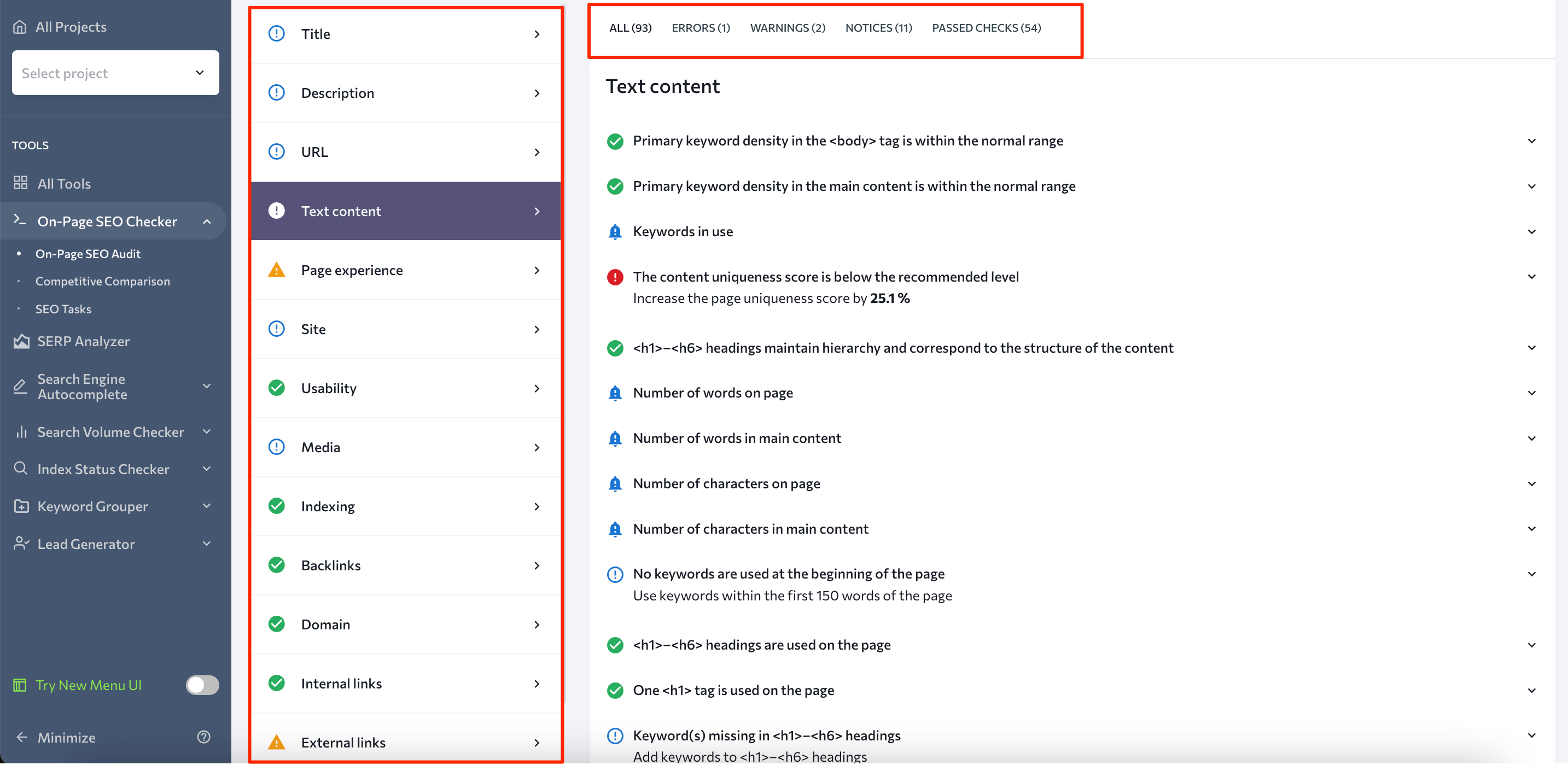 By using this report, agencies can prioritize their optimization efforts while ensuring they use their time and resources wisely.
Technical SEO services
Let's move on to exploring some common technical tasks performed by SEO companies. It's important to note that these companies don't always have full access to their clients' websites, which means they can't fix technical issues directly. When this happens, SEO companies will generally send them step-by-step instructions for fixing specific tech issues.
For instance, issues like these could include:
1. Crawling and indexing issues:
2. Website speed and performance issues:
Optimize page load speed.
Prioritize mobile page speed for a better user experience.
3. Mobile SEO issues:
4. Technical errors:
Off-page SEO services
Among the over 200 ranking factors affecting website positions in SERPs, backlinks remain one of the most important.
This is why acquiring backlinks—whether through organic means like writing high-quality content or by contacting other sites to secure guest post placements—is one of the top priorities of any SEO company.
To identify link prospects and assess their authority, SEO agencies typically use dedicated link building tools. Let's see how this process goes based on an example of SE Ranking's Backlink Checker in action.
The tool provides a comprehensive list of a website's backlinks and referring domains, along with metrics like domain trust score, dofollow/nofollow ratio, broken URLs, and data on lost and new backlinks. It also displays pages with the highest percentage of backlinks and referring domains. With this information in mind, SEO companies can identify which pages require more backlinks.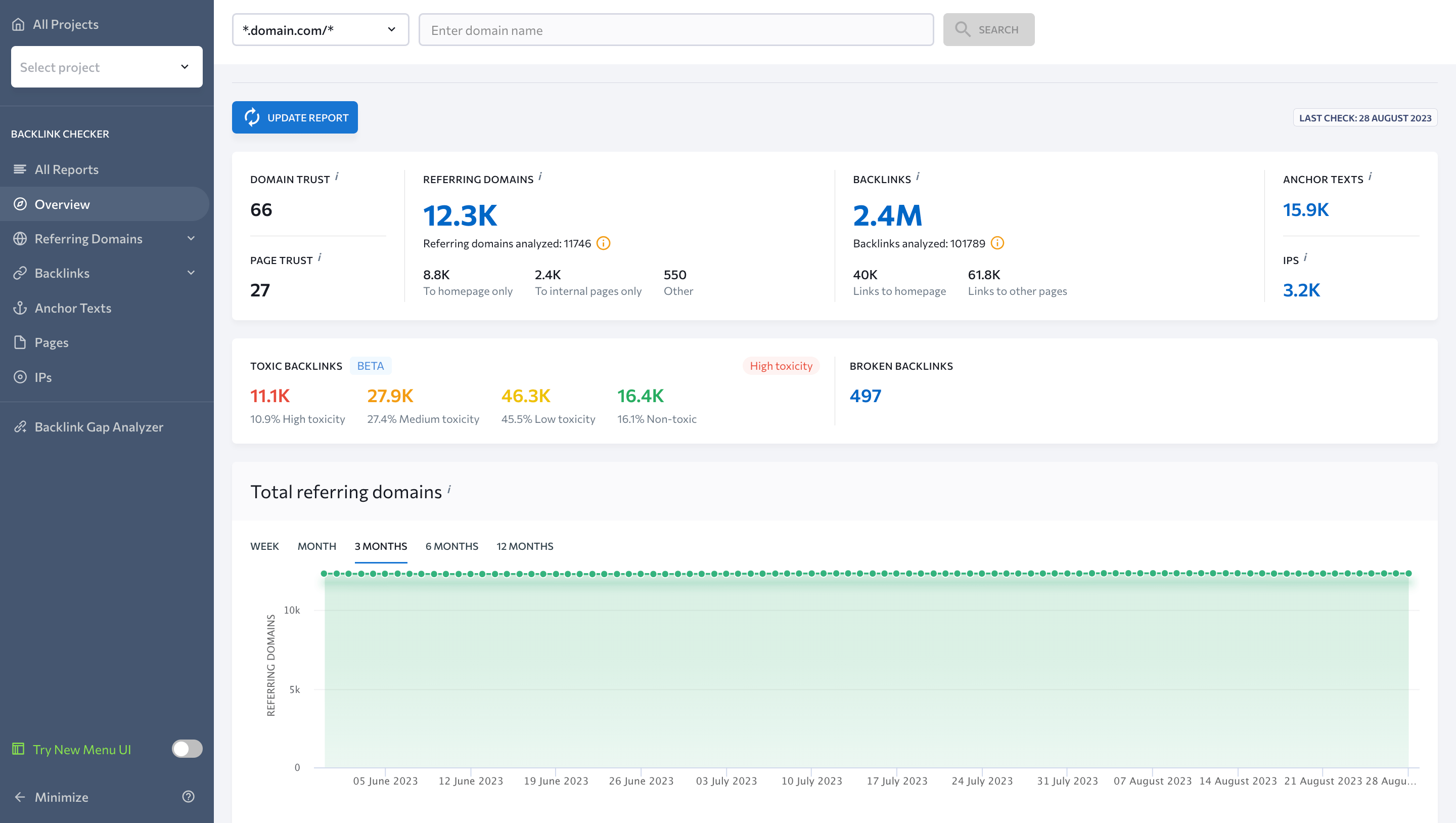 Do you know where else SEO companies can find a gold mine of backlink opportunities for their clients? That's right, through competitors.
By using tools like SE Ranking's Backlink Gap Analyzer, agencies can easily discover donor websites that are linking to your rivals but not to you. Their digital PR teams usually reach out to these websites to manage the entire process of link building.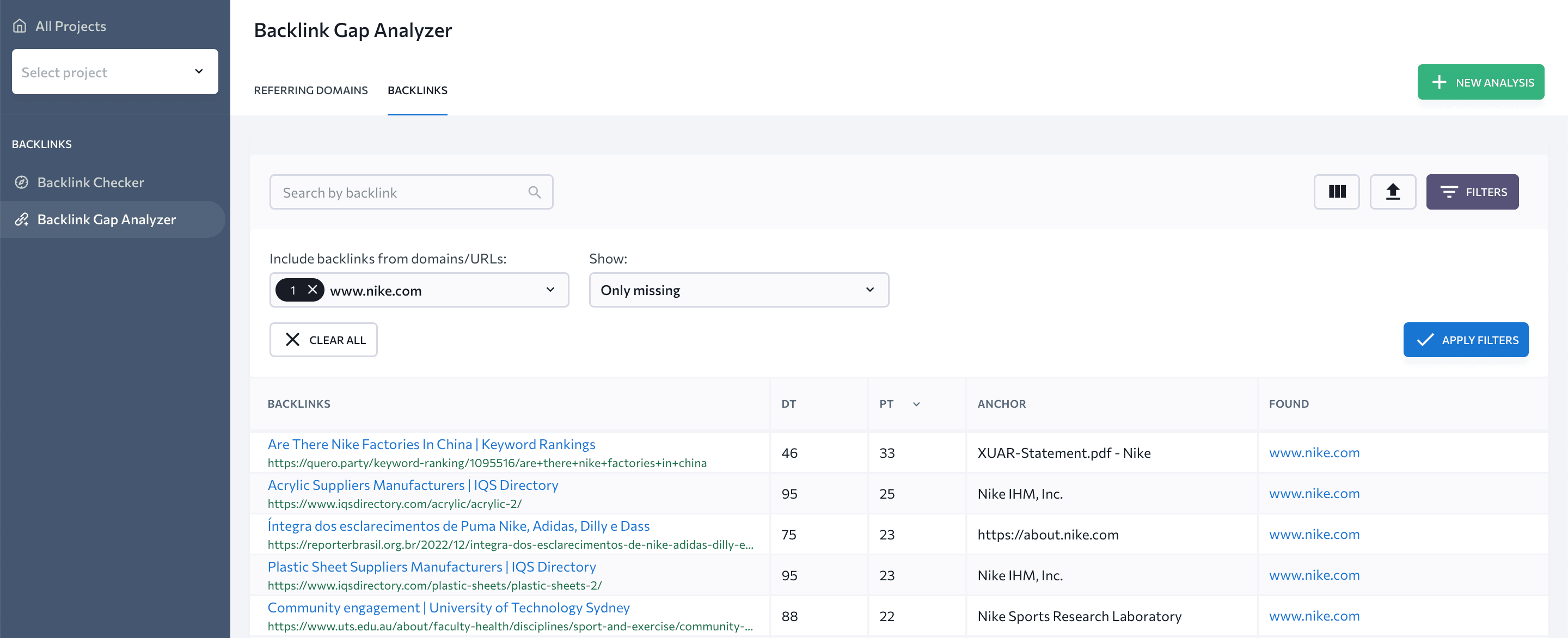 After acquiring certain backlinks, SEO companies routinely analyze their overall performance over time, often on a weekly or monthly basis. With a Backlink Monitoring Tool, this process is super easy and straightforward.
Here's how it works.

You can either add backlinks manually from a CSV file, import them from GSC, or straight from the Backlink Analyzer tool. Once your links are added, the system will run regular checks and send you an email if any changes are detected.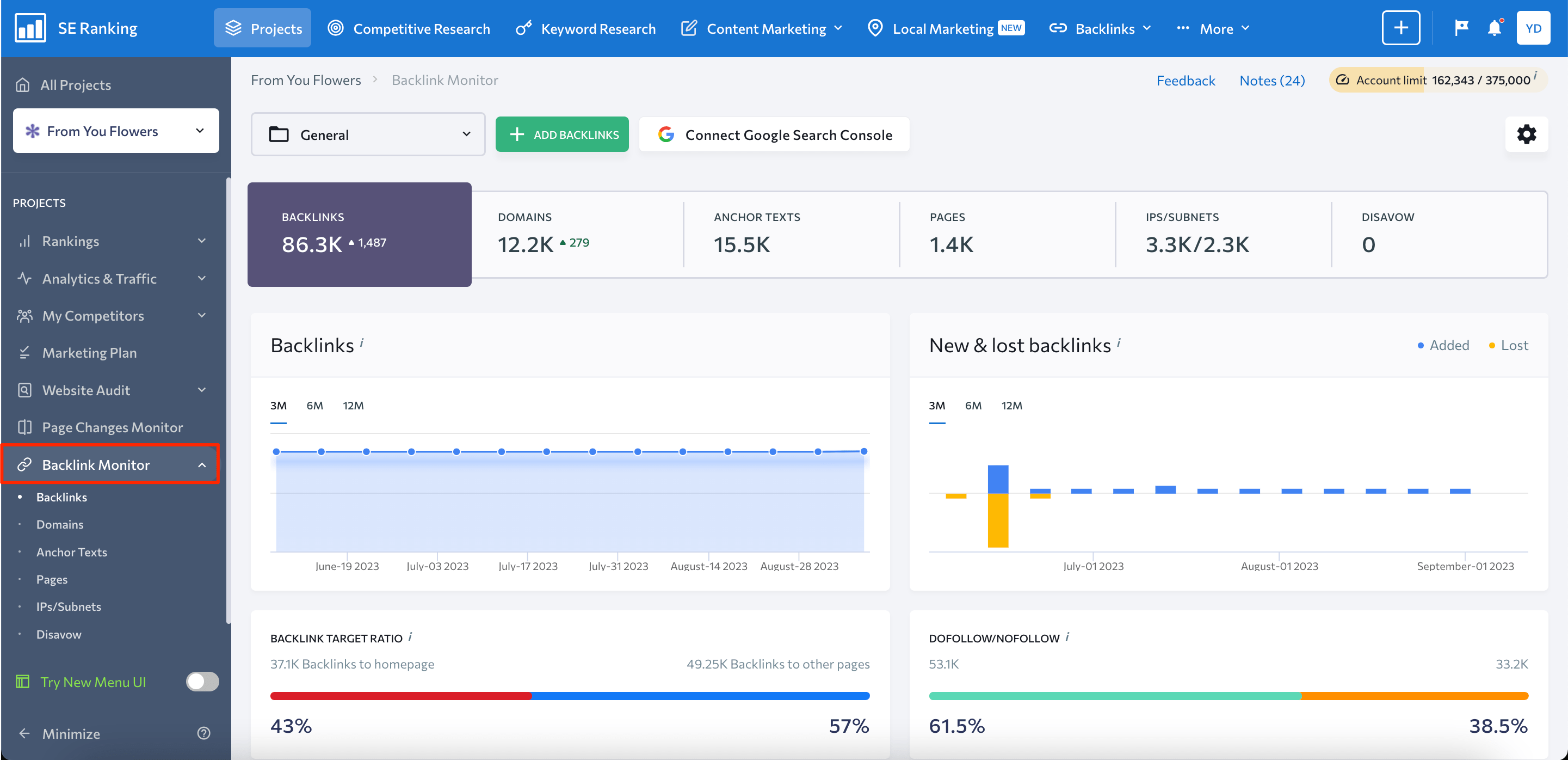 If SEO companies spot any toxic or spammy links, they will typically add them to the disavow list.
Keep in mind that a single link from a high-quality domain holds far more weight in Google's eyes than multiple links from low-quality sites. This means you should always prioritize quality over quantity.
SEO reporting services
Effective reporting doesn't stop at occasional catch-up calls. To help clients understand the impact of their actions, SEO companies typically gather data and present it in reports filled with charts, graphs, and tables.
These reports allow clients and SEO companies to delve into existing trends in terms of rankings, traffic, conversions, and other metrics essential for achieving SEO goals.
Custom reporting tools like SE Ranking's Report Builder enable SEO companies to generate reports that offer detailed insights in an easy-to-understand format. With this tool, companies can create new reports from scratch or use ready-to-use templates that showcase data on rankings, traffic, backlinks, technical issues, and more. These reports can be sent out manually or scheduled for automatic delivery to clients' inboxes.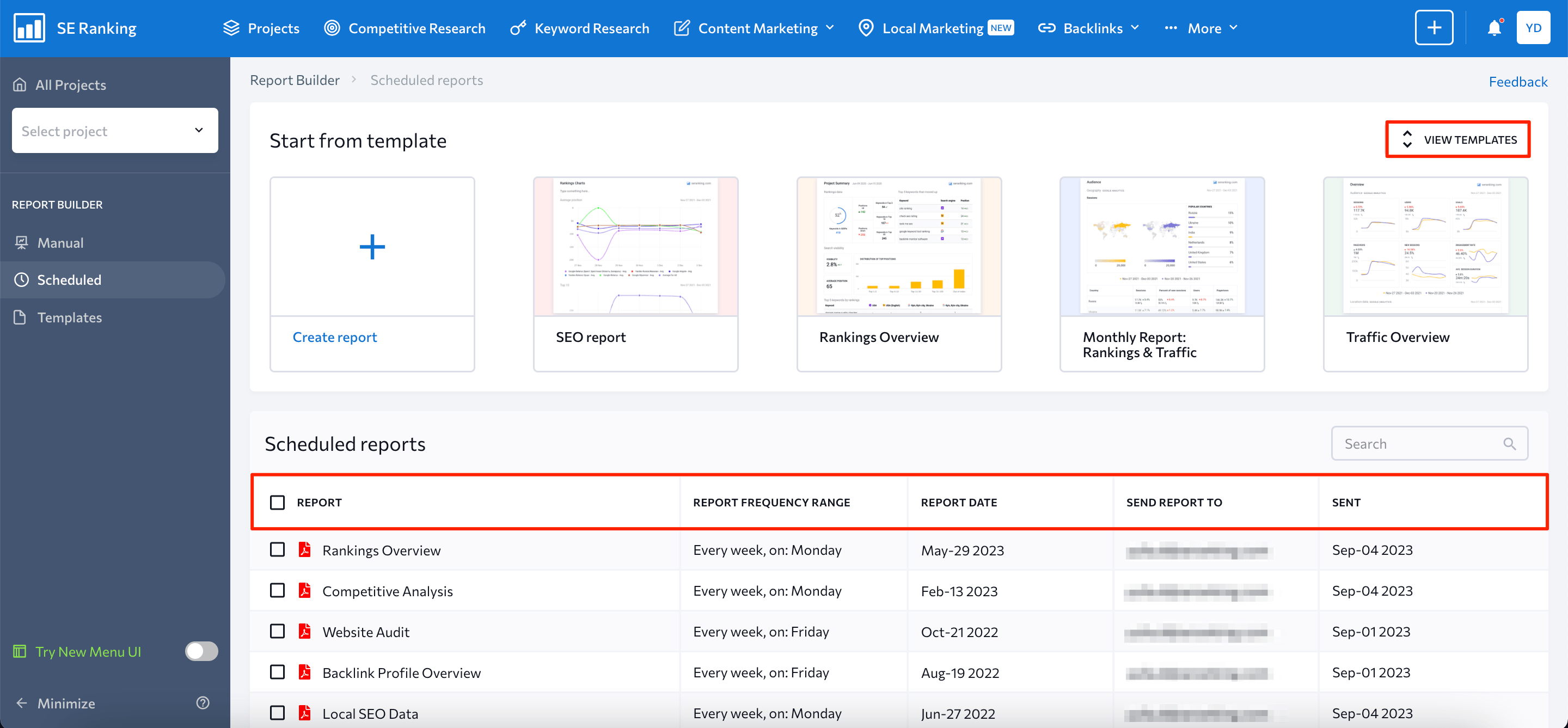 Additional services
In addition to the aforementioned services, the best-of-the-best SEO companies also engage in the following activities:
Conduct comprehensive research on competitors, target audience, and industry as a whole.
Improve your conversion rate and other business-related metrics.
Run A/B tests (e.g., testing title tags, meta descriptions, keywords density, CTA messaging or color changes).
Identify and provide tips on how to address skill gaps (e.g., they could be related to web development, copywriting, website design, and more).
Advantages of hiring an SEO agency
Now that you have a deep understanding of what SEO companies do, let's look at the foremost benefits of hiring one.
1. Expertise.
To master advanced SEO skills, you need a thorough understanding of search engine algorithms and trends, as well as digital marketing tactics. This also isn't something you can learn in a few weeks through basic online research on topics like "how to track keyword rankings."
Hiring an SEO company means getting access to a dedicated team of SEO experts. In nine cases out of ten, teams of experts will offer higher quality services than individual SEO experts. This is because SEO companies usually give their employees access to a larger pool of resources, including a diverse team of specialists, advanced tools, and collective knowledge.
2. Experience.
SEO companies work with a wide variety of clients from different business environments, which gives them an in-depth understanding of what works and what doesn't in various cases. Thanks to years of experience testing and improving SEO strategies, SEO companies have the opportunity to develop personalized SEO plans that are designed to deliver tangible results for your business.
3. Partnerships and connections.
Even if you have years of experience in the SEO industry, building strong relationships and collaborations with other SEO-focused companies and experts can be challenging. The thing is, small businesses often lack the brand recognition and reputation that established agencies have.
Take advantage of the fact that SEO companies have a network of trusted sources that provide them with ample opportunity to acquire high-quality backlinks and partnerships.
4. Time and resource savings.
Planning and running an SEO campaign is a very time-consuming and expensive process. To achieve your desired goals with an internal team of SEO experts, you'll need to hire dedicated people and train them so they can regularly implement different SEO activities.
Outsourcing your SEO to an agency frees up your team to focus on what they excel at—running your business. This not only saves time but also reduces the use of your internal resources.
How much does it cost to hire an SEO company?
When selecting an SEO firm, it is important to decide in advance what type of future collaboration you want. Once you understand the type and amount of SEO agency services you require, you can determine the approximate price for the project.
Prices differ significantly depending on the size of the agency, its level of experience, the scope of work needed, the urgency of the task, and the geographical location. To provide you with a general idea of SEO agency pricing, let's go through various types of client-company collaboration and define approximate pricing ranges for each.
1. Hourly pricing.
This type is suitable for short-term projects or websites in their initial stages of development. According to Clutch, the average hourly rates for basic SEO services are as follows:
Link Building: $25–$49 per hour
Local SEO: $100–$149 per hour
Multilingual SEO: $25–$49 per hour
On-Page SEO: $25–$49 per hour
Technical SEO: $25–$49 per hour
SEO Content Creation: $100–$149 per hour
SEO Mobile Optimization: $25–$49 per hour
2. Project-based pricing.
Project-based pricing can differ significantly based on the project's scope and goals. Small optimizations can cost as little as a few hundred dollars, while larger SEO projects can reach thousands of dollars.
3. Pay-on-performance pricing.
The PFP pricing model is straightforward: client pays only when the agency achieves their specific SEO goal, such as increasing ranking positions or generating more leads.
For example:
Ranking in the first three SERP positions for a keyword: $500 to $550
5-6th positions: $300 to $350
Generating 100 new daily visitors: $650
500 new visits: $1000.
4. Pricing fixed by service package.
Some SEO companies offer fixed SEO packages. For example, a traditional SEO package might include keyword research, competition analysis, and a website audit. Local SEO packages, on the other hand, typically include services like website localization, local content creation, local link building, etc.
Prices for these packages range from $30-50 to hundreds or even thousands of dollars, depending on the services included.
5. Monthly retainer.
Monthly subscription plans are another common type of collaboration between SEO companies and clients. These plans vary in both price and services, catering to small businesses, startups, and large enterprises with complex SEO needs. Monthly plans generally start at $1000 and can vary based on factors like the company's reputation, the competitiveness of your industry, the size of your website, and the goals you want to achieve.
How clients begin their partnership with an SEO agency
Before making the final agreement on collaboration with a particular client, agencies usually craft a comprehensive SEO proposal. This proposal will outline the services the client will receive and the specific goals the client aims to achieve through these services. The time frame is generally within 3-6 months from the start of the project to its end. This document serves as a guide providing all the details regarding the potential SEO campaign.
If the client approves the proposal, the SEO company and the client arrange a kick-off meeting. The purpose of this meeting is to finalize all details and ensure that both parties are on the same page in terms of the overall SEO plan. This is when clients have the opportunity to express their concerns, set expectations, and ask questions that may not have been covered in the initial plan.
During the initial stages of the collaboration, SEO teams typically schedule regular catch-up phone calls to review current activities and any actions taken. They can also address issues that arise. The frequency of these calls depends on the complexity of the campaign and the client's preferences.
Once both parties agree on the collaboration terms, their communication usually transforms into regular reporting (e.g., weekly or monthly). This serves as a crucial indicator that the SEO campaign is moving in the right direction.
Checklist for choosing an SEO company
Selecting an SEO company according to your business needs is not a straightforward task. To make the right decision and spend your resources wisely, you'll need to consider the company's track record, strategies, adaptability, and contingency planning. Here's a complete checklist to guide you through this process:
Set clear goals: Define your SEO objectives and expected outcomes (e.g., increasing organic traffic, improving conversion rates, or enhancing online visibility).
Determine your budget: Establish a reasonable SEO budget. Keep in mind that high-quality SEO services are more of an investment than an expense. So, investing in SEO services will help you get the most bang for your buck.
Research thoroughly: Apart from conducting comprehensive online research among SEO companies, seek recommendations from trusted sources, including business partners, friends, and industry peers.
Check the company's reputation: Read unbiased reviews on platforms like TrustPilot and G2 instead of the reviews on the company's homepage.
Analyze case studies involving SEO companies you consider: Evaluate any case studies that showcase how the company has delivered results in the past, particularly in cases similar to yours.
Initiate conversations: Have discussions with the company about their experience, strategies, recommendations, and the tools they use. Find out if they outsource SEO and whether this company has enough resources to help you achieve your goals.
Address reporting details: Gain insight into the reporting structure and the metrics the company uses to track progress over time.
Identify the company's approach to dealing with Google updates: Ask company representatives which strategies they utilize to adjust to Google's updates in algorithms. Clarify whether they have had experience in resurrecting websites penalized by Google and getting them back to the top of the SERP.
Discuss contingency plans: Create a plan of action in case SEO results fall short of your initial expectations.
A final word
Before selecting an SEO company, consider the image you want to project to your audience. Your image will determine whether users perceive you as an authority in your field or just another spammy website.
Thoroughly assess your objectives, budget, and the SEO company's track record. This will ensure a mutually beneficial relationship that promotes organic growth and sustained success for your website.