Effective SEO Leads Generation to Easily Get New SEO Clients
Marketing agencies, especially ones that offer SEO services, frequently have trouble pulling in new clients. The challenge lies in capturing valuable prospects in a highly competitive market, which means agencies need to create and implement a robust SEO lead generation strategy. Unfortunately, many businesses in this industry fall short in this regard, struggling to discover how to proceed.
In this article, we will explore:
How to find qualified SEO leads
How to segment SEO leads
The most profitable SEO lead generation channels
How to communicate effectively to build long-term business relationships
Important note: We have interviewed several subject-matter experts with tons of SEO experience to add more insight and value to this post. Based on their feedback, we have compiled a comprehensive guide with SEO lead generation tips suitable for agencies of all sizes.
Sounds good? Then let's jump in!
Preparing for lead generation: Channels and pre-communication
There are a number of ways to attract high-quality leads, including SEO and paid advertising, or a combination of both. Social media can also be useful for capturing qualified prospects. Let's explore these methods in more detail and discuss how they can be used side-by-side with SEO lead generation.
SEO
Among a variety of lead generation strategies, this one deserves the utmost priority when it comes to reaching new prospects. To achieve this, you can focus on content marketing, link building, and technical SEO.
Content marketing
Although content marketing is a lengthy process that requires tons of effort on your part, it is one of the most cost-effective and sustainable strategies to get more SEO leads. To maximize the results gained from your content marketing efforts, make sure to:
Answer the questions that your primary clients have and show them that you understand their pains.
Create content for different sales funnel stages.
Produce relevant content only (e.g., if an agency provides technical SEO services, there's no need to cover topics like TikTok SEO).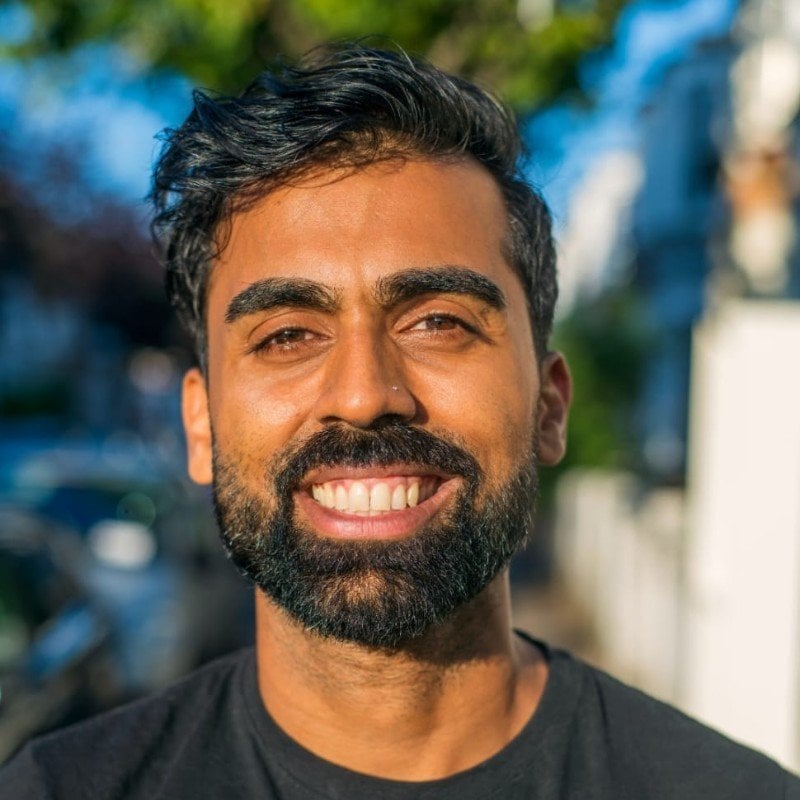 Deepak Shukla
Founder/Lead Investor At The Pearl Lemon Group
Producing SEO-friendly content at scale is the best way to attract more leads. We use SE Ranking, Marketmuse, Frase.io, Google Docs, Grammarly, and Hemingway to produce 1 million words per month. Using a stack like this paired with a solid content writing team, we've crossed the 500 inbound leads per month mark. Also, we anticipate that we'll cross 5,000 leads within one year.
To streamline the content creation process, you can use the Content Editor from SE Ranking's Content Marketing Tool. It enables you and your team to create content that appeals to both people and search engines.
The Content Editor is a tool that enables users to quickly build SEO briefs, write optimized texts, and assess content quality. It suggests content parameters, recommended terms, and content structure based on SERP competitors. Additionally, the tool features a built-in plagiarism checker to guarantee that the content produced is original and unique. Content Editor also ensures that your content's readability is high-quality, and analyzes grammar/punctuation mistakes.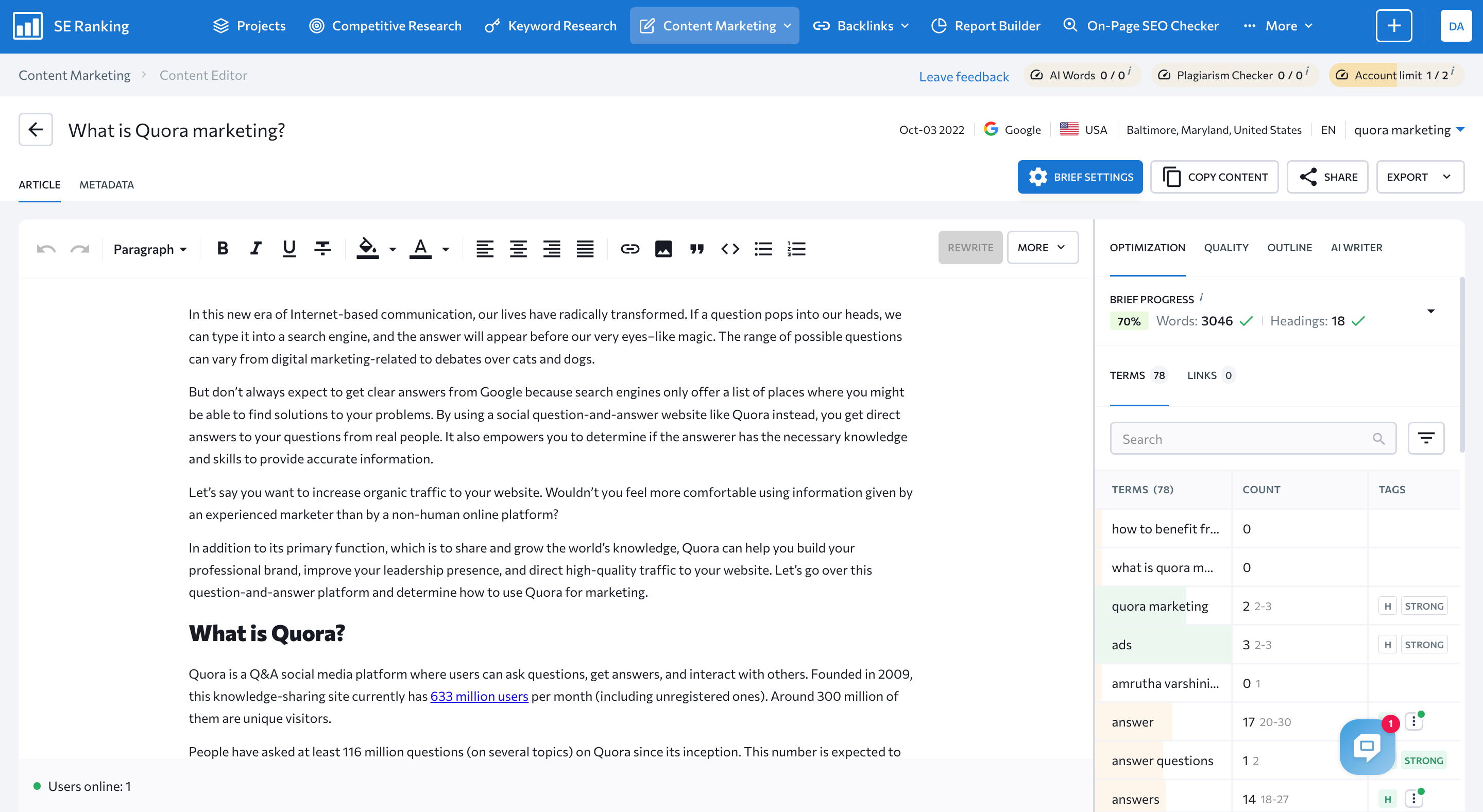 An excellent example of a successful content marketing strategy can be found in Coalition Technologies, a Los Angeles-based SEO & web design agency. By creating content aimed at profitable businesses, such as DUI attorneys and plastic surgeons, the agency has attracted a significant amount of organic visitors. Their blog posts offer practical solutions to address people's pain points, rather than just acknowledging them. This approach has allowed Coalition Technologies to tap into an audience looking for helpful advice that caters to their specific needs.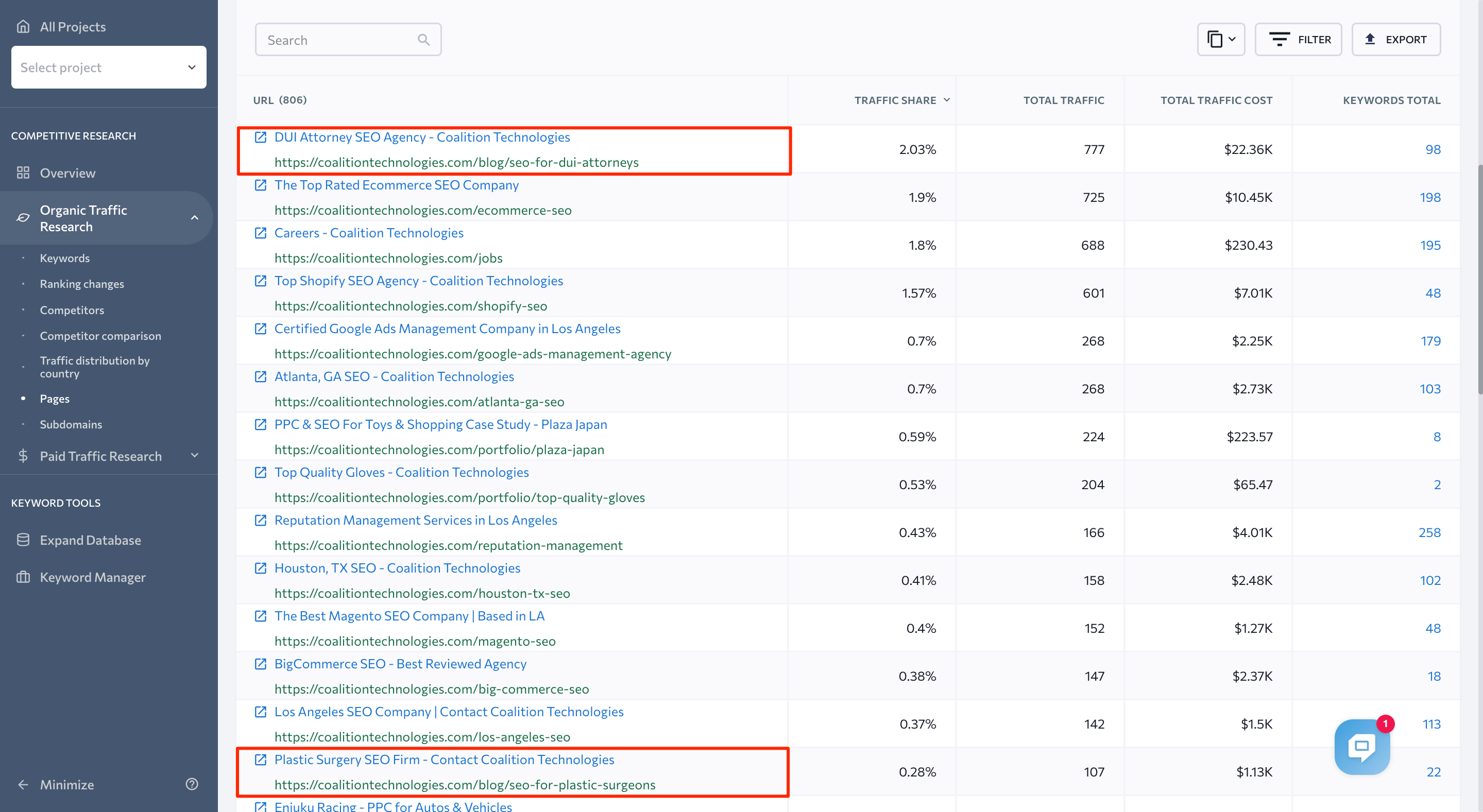 Coalition Technologies' blog content serves as commercial landing pages, meaning it has a primarily sales-focused search intent. Homing in on their niche and creating content that is sales-focused enabled the company to draw in leads who were ready to purchase right away. This strategy can be highly beneficial for companies aiming to quickly and effectively generate SEO leads.
Another excellent example of an effective content marketing strategy is seen in the work of Rise at Seven. This SEO agency creates beginner and definition guides that answer common questions about SEO to acquire high-quality prospects. Their blog includes articles about digital PR, keyword mapping, TikTok SEO, and other related topics. By strategically incorporating relevant keywords in this type of content, they can attract SEO leads with informational search intent and then guide them through different sales stages until they finally make a purchase. However, while this approach may lead to more website traffic, the resulting conversion rate is likely to be lower.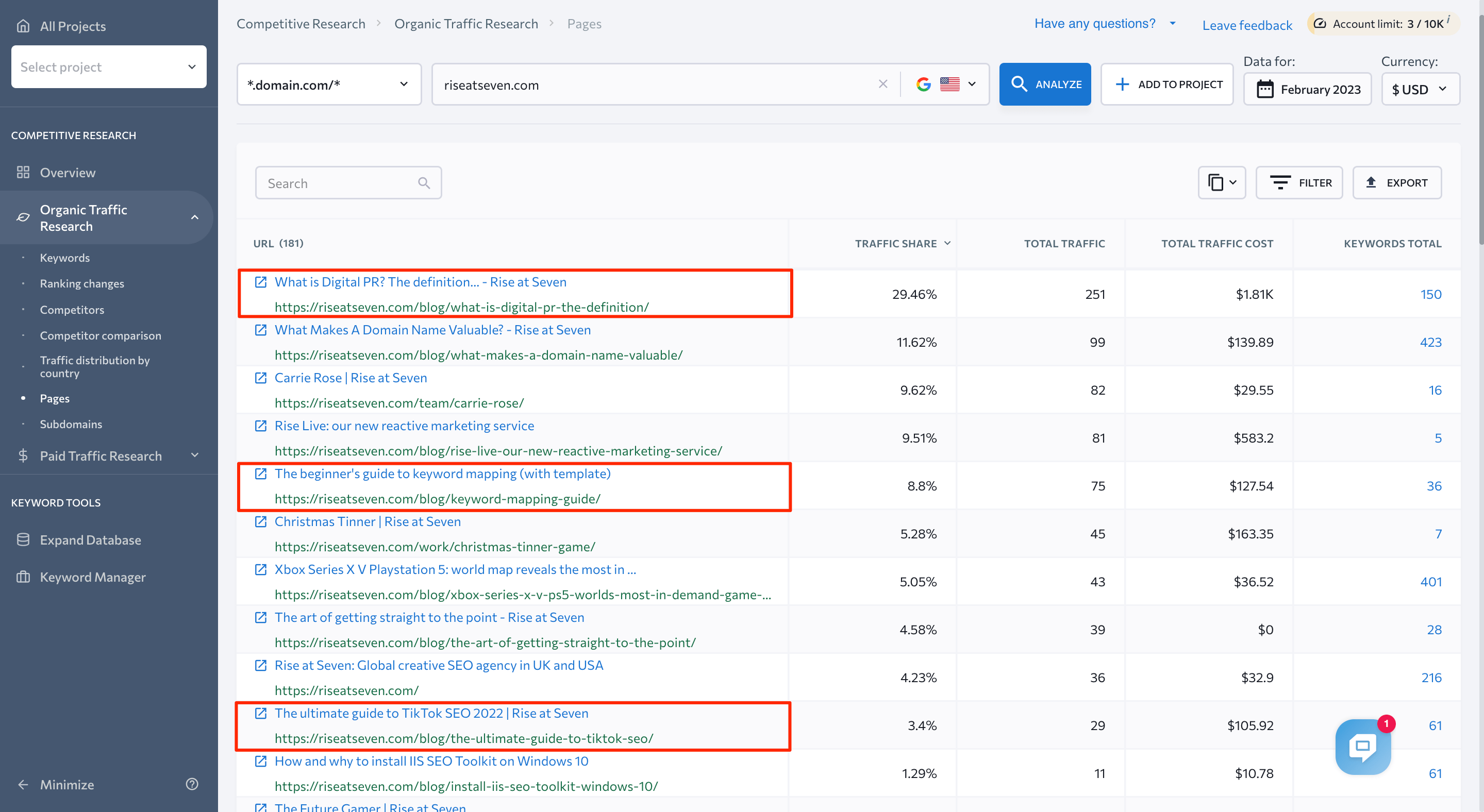 Alternatively, agencies often include case studies in their content marketing strategies. This type of content usually doesn't work for attracting organic traffic, but it works well for retaining leads. In fact, marketing agencies can showcase a portfolio of successful projects through case studies, which is a great way to highlight their benefits and demonstrate the results they can deliver. By presenting real-world examples, marketing agencies can more effectively build credibility and turn leads into clients. Prospective clients, on the other hand, gain valuable insights into the value they can expect to receive from the agency's services, giving them confidence that their needs will be met.
Link building
Apart from traditional SEO link building, agencies looking for qualified leads should also consider the following strategies:
Use PR campaigns to build backlinks to your website and promote your business. Creating engaging content and reaching out to influencers and SEO industry experts in your field can help you secure coverage and links from high-quality, authoritative websites. This method not only helps to build your backlink profile but also raises brand awareness, attracting high-quality prospects to your website.
Focus on backlinks for referral traffic. For instance, suppose your agency targets an e-commerce business. In that case, you can publish articles on e-commerce-related websites that your prospects are likely to read. These articles might cover topics like strategies for boosting online sales, the latest developments in e-commerce, or tips on how to run an online store. By including links back to your site within the articles, you'll be able to drive targeted traffic to your website.
Technical SEO
An SEO agency's website represents the business's overall image. If it has technical issues, such as slow website speed, poor mobile experience, or improper redirects, prospects might think that the agency is not professional enough to provide high-quality services.
To combat this, regularly crawl your website to detect technical SEO issues and fix them. This will make it easier to move visitors through the conversion funnel and encourage them to take action. Any time, money, and effort you put into making your website more user-friendly is worth the effort, and will pay your business dividends in the long run.
Paid traffic
There's no one-size-fits-all approach to driving traffic, as the best strategy depends on various factors, including your agency's target audience and current business status. However, new agencies that aren't yet receiving organic traffic rely heavily on paid channels to generate leads. In contrast, an established SEO agency can use paid traffic as an additional source of SEO leads.
For instance, Search Berg, a digital marketing company with more than 10 years of experience in SEO and web design, has an active Google Ads campaign for its major services in the US. Here, you can see their landing page, which targets e-commerce businesses, a common client type for SEO agencies. It highlights the benefits of SEO for this industry while providing relevant information about Search Berg's services.
By targeting the keyword "agency SEO" and securing the second position in paid search results, Search Berg increases its visibility and establishes itself as a leading SEO agency. Additionally, by including pricing information in the ad title ("$450 SEO Marketing Services – Award Winning SEO Agency"), they set clear expectations about costs for potential customers, leading to more efficient and effective SEO lead generation.
At the same time, Search Berg uses promo campaigns focused on GMB setup & optimization services, as well as website design & development, to attract sales-ready paid traffic. These ads focus on more targeted users who are way further in the buying cycle and more likely to convert into paying customers.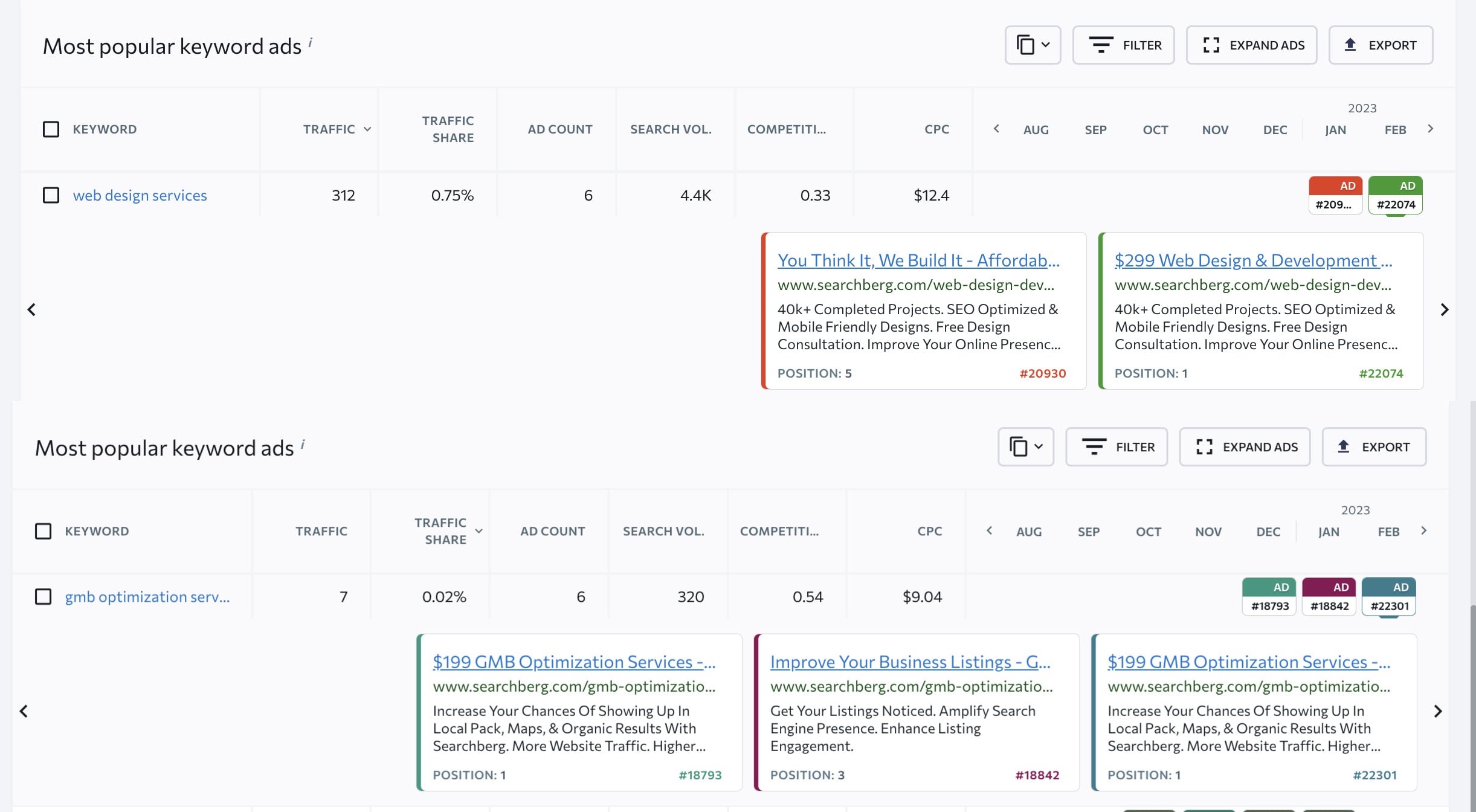 Focused ad campaigns allow SEO agencies to reach their target audience more successfully. By displaying ads to people who are most likely to be interested in certain services, conversion rates can increase, resulting in a better ROI for your ad spend and the generation of relevant leads.
With targeted ad campaigns, SEO agencies can acquire more precise information about the performance of their ads. Focusing on a specific audience helps you get a clearer picture of the effectiveness of paid campaigns. It's also a great way to make data-driven decisions to enhance your ad strategy.
To stay one step ahead of the competition in a crowded market, keep an eye on your competitors' paid and organic campaigns. SE Ranking's Competitive Research tool, for example, allows you to analyze other agencies for the paid keywords they use, the estimated number of clicks their website receives per month, and their estimated monthly PPC campaign budget. On top of that, you'll get valuable data on their target keywords along with other important SEO metrics, such as keyword difficulty, search volume, competition, and more.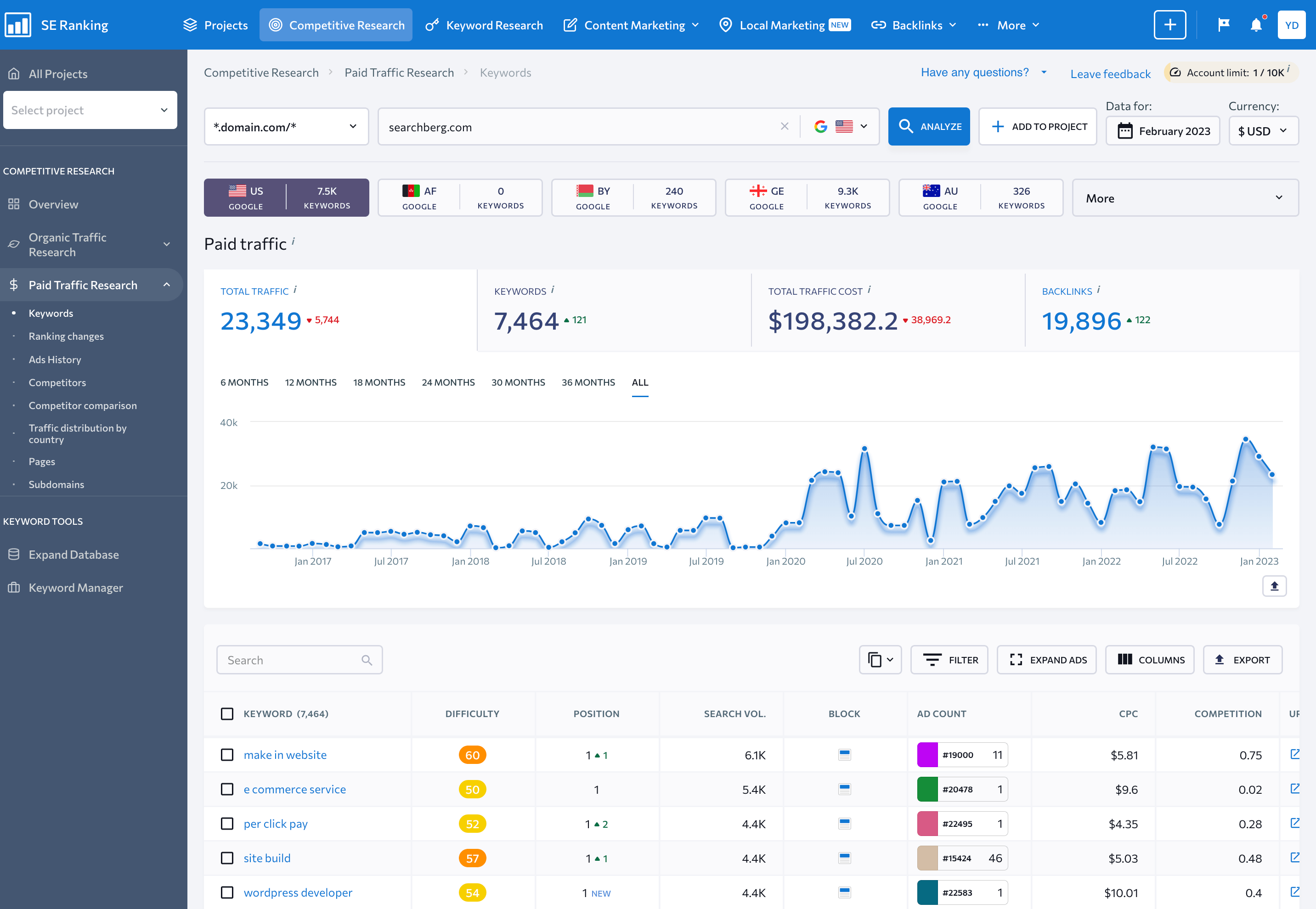 By checking whether competing agencies are using paid ads and the precise messages they are conveying, you can gain valuable insights into the keywords they are targeting, the ad copy they are using, and the landing pages they are directing traffic towards. This information will help you gain a better understanding of their overall digital marketing strategy and competitive position.
This data is also crucial for grasping their unique value proposition and how they set themselves apart from other marketing agencies. This may aid in identifying possible market gaps that your own marketing services can fill.
By implementing a combination of both broad and narrow Google Ads campaigns, agencies can therefore reach a more qualified audience and increase the likelihood of generating valuable SEO leads.
Social media
SEO-related groups on social networks like LinkedIn and Facebook, and even Slack communities, are excellent platforms for agencies to find and reach potential SEO leads.
For example, by creating a LinkedIn company page and regularly sharing captivating content, SEO agencies can showcase their competitive advantages and improve brand awareness.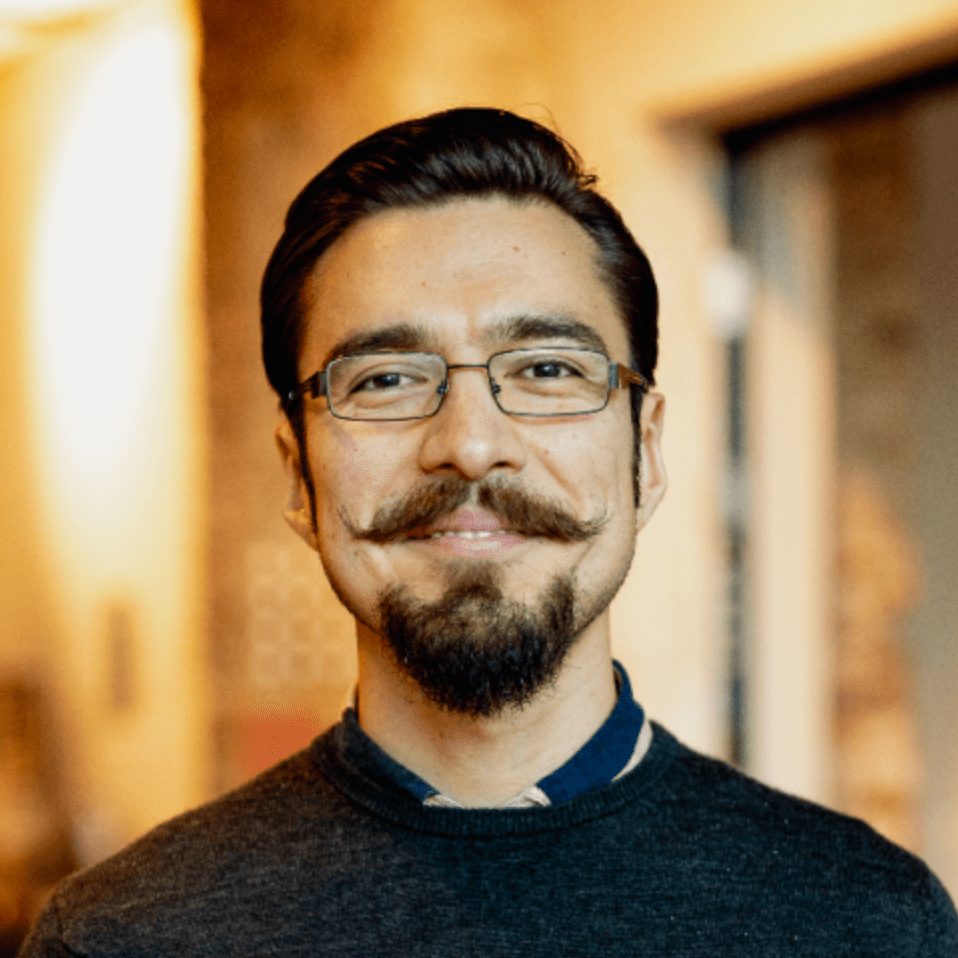 Jairo David Guerrero Vásquez
Founder of Phanum
Many businesses often realize a need to improve their SEO strategy but need clarification about what SEO is and how to implement it. Some of them do not even know where to start, so to help them achieve the actual results, an agency should provide a detailed explanation of the scope of work and how long it takes. An agency should become "a guide" to their clients and explain that SEO is more than just keyword research. That's why I started sharing my knowledge on my LinkedIn page and posting insights on SEO.
LinkedIn is also useful for connecting with prospects and building relationships with other professionals in the same field. Additionally, Linkedin's targeted advertising options provide opportunities to reach potential clients based on their demographics, interests, or job titles.
Similarly, joining and actively participating in SEO-related Facebook or Slack groups offers agencies the opportunity to collaborate with like-minded professionals, showcase their knowledge and expertise, and potentially generate referrals and leads. These communities not only allow members to share essential industry best practices with one another but they may also refer clients to trusted agencies.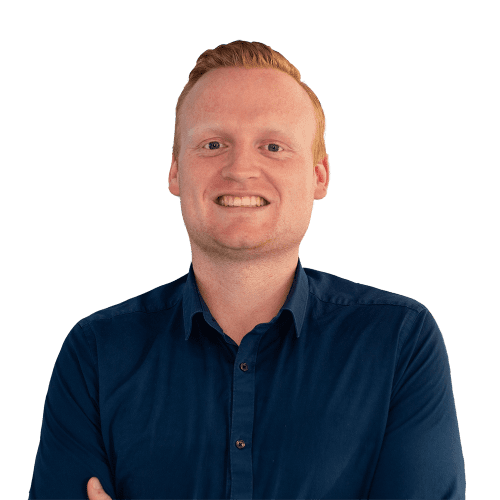 Dennis Akkerman
CEO at Seeders
Our company mostly generates leads through LinkedIn and specific groups on Facebook, Slack, Reddit, and Twitter. My outreach efforts typically focus on groups that discuss topics related to link building and SEO, where we can establish ourselves as knowledgeable experts. In addition, we take a multi-level approach to lead generation by connecting with decision-makers and SEO professionals on LinkedIn.
Converting traffic into new SEO clients through lead generation
Having a website built to capture leads after they come to the website is key. Here are some important elements to include in your SEO agency's website to capture potential clients:
Clear value proposition: Showcase the agency's unique value and demonstrate how it can help customers reach their goals.
Easy navigation: Make sure website users can easily find what they are looking for, including a list of services offered, pricing plans, and contact information.
Call-to-action elements: Include conspicuous and compelling call-to-action buttons, like "Download Now" or "Contact Us", to encourage visitors to take a specific action.
Contact forms: Make it easy for visitors to reach the agency by displaying contact forms prominently on the website.
Testimonials: Use client testimonials to build trust with leads and establish credibility in the industry.
Mobile friendliness: Optimize the website for mobile viewing, as mobile devices have become the go-to technology for accessing online content.
Tracking and analytics: Equip the website with tracking and analytics tools to accurately assess its performance, measuring vital metrics like traffic, leads, and conversions.
For example, integrating Google Analytics and Google Search Console with SE Ranking is an easy way to get all the necessary analytics data in one spot. This eliminates the need to use multiple tools to collect essential analytics information, as everything can be found in one place, including data on website traffic, user behavior, search queries, and more.
SE Ranking's Report Builder enables you to craft either automated or manual reports and regularly send them to your clients. The tool lets you select which metrics to display in the report, such as website traffic, search rankings, Google ads data, and more. You can also customize the timeframe for the data to be displayed.
SE Ranking's White Label feature allows you to remove all SE Ranking logos and replace them with your own, which is particularly advantageous for marketing agencies looking to generate reports that look like they were created internally.
When it comes to getting more SEO clients, you can simplify this process a lot by adding SE Ranking's SEO Lead Generator to your website. This feature provides visitors with a detailed report on the on-page optimization issues of their web page in exchange for their email address.
By incorporating these elements into their websites, SEO agencies can increase their chances of conversions. However, to maximize lead conversion potential, regular website testing and search engine optimization should be performed.
Qualifying SEO leads
To work with each SEO lead effectively, segment them based on different factors, such as business size, country, budget, and the services they are interested in. This will assist your marketing agency in creating proposals targeted at specific groups of customers.
Small vs. big clients
When assessing potential customers, consider the scope of SEO services they require based on their business size. Small businesses may only need local SEO services in order to generate more exposure within their region, while larger ones will unlikely be satisfied with local SEO services only. They typically need a more comprehensive SEO strategy to target a wider audience. Moreover, bigger, more established clients may have more complex organizational structures and decision-making processes, which could result in longer sales cycles.
Clients with very limited vs. huge budgets
When analyzing leads based on their budgets, consider the financial investment required to achieve their desired outcomes. Clients with limited budgets may only be able to afford basic SEO services, while those with greater financial resources may be able to invest in more advanced SEO campaigns. Make sure to assess the potential ROI for each client so that you can tailor your proposals accordingly.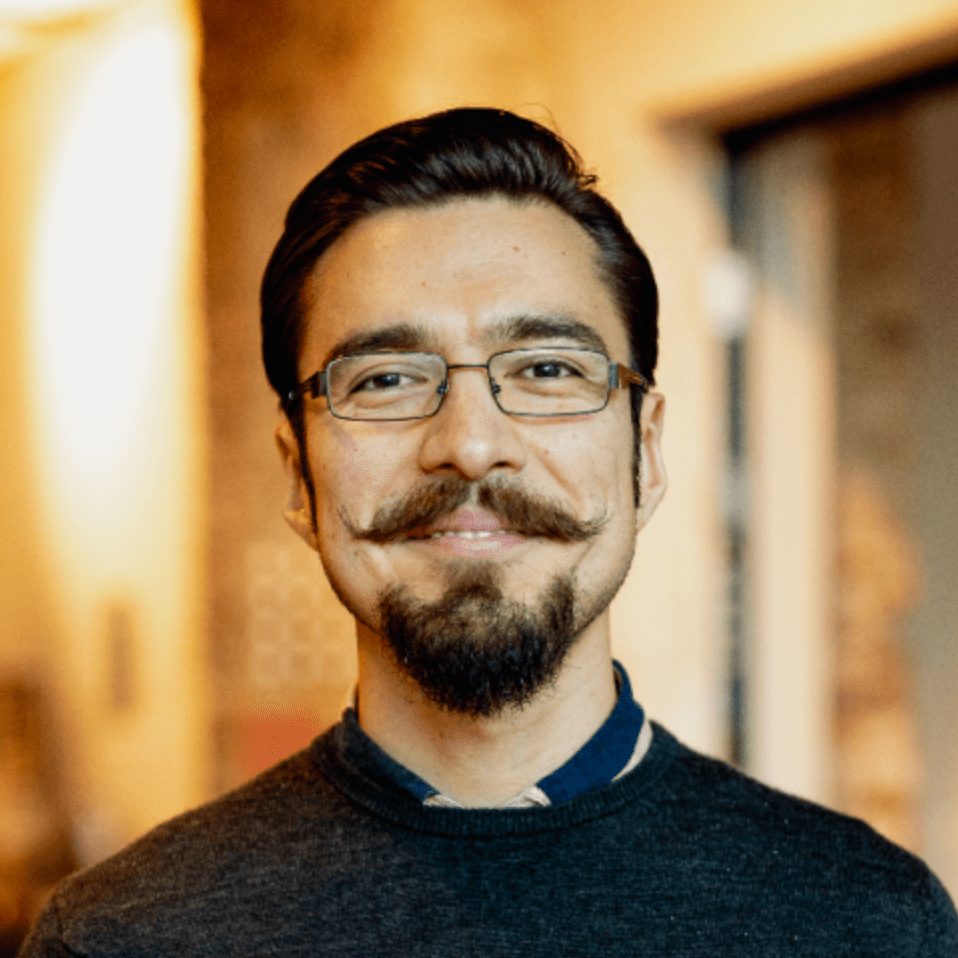 Jairo David Guerrero Vásquez
Founder of Phanum
Incorrect budget estimations can also be a big issue. Most clients don't understand that SEO can be very costly and are often surprised about the cost projections. An agency should be able to estimate different scenarios and offer several pricing plans so that clients can pick the one that fits their budget. For example, Phanum implemented the Balanced SEO Strategy to help their clients get the best results with an affordable budget. Not cheap, but affordable.
Clients from Europe/America or any other region
For instance, in her book, "The Culture Map," Erin Meyer explains how cultural differences can change the way clients approach SEO strategies and even their communication preferences. Meyer claims that German customers may prefer a more detailed explanation of any strategy proposed to them, while Americans tend to value direct and concise messaging. Adapting your SEO and lead generation strategies to these regional nuances is essential for successful collaboration with clients.
Clients who either need SEO only or SEO in combination with other services
SEO agencies often offer a variety of services beyond SEO and PPC advertising, such as web design, content creation, and social media marketing. Thoroughly examining each client's goals and budget will help you choose which suite of services will be the most beneficial to them. By offering a broad range of services, SEO agencies can provide clients with a tailored approach to digital marketing that meets their unique requirements.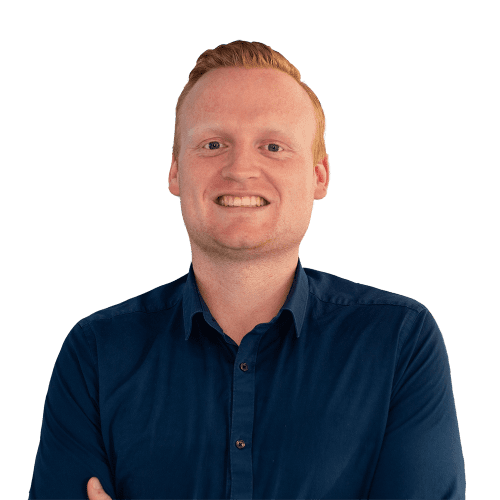 Dennis Akkerman
CEO at Seeders
We have a lead qualification survey that the client needs to fill in. We ask them about the type of services they're interested in and their countries. Based on received feedback, we decide which sales department fits best to service the lead.
By considering these components and evaluating each SEO lead, marketing agencies can gain deeper insight into their customer's needs and create custom plans to increase their probability of success.
Communication & building relationships for successful lead generation
Communicating clearly and building strong relationships with SEO leads is key to pulling in new customers and strengthening long-term relationships. In this section, we will discuss two key points:
1. Constructing an appealing pricing proposal.
2. Tips for effectively interacting with SEO leads and fostering meaningful connections.
Crafting a winning pricing proposal for your SEO leads requires a personalized approach. Here are some tips to make your proposal more appealing to potential customers:
Begin with a straightforward introduction. It should explain the advantages of partnering with your agency and of the services you provide.
Divide your pricing proposal into sections. This will ensure that your potential lead has a clear understanding of each SEO service and its benefits. Explain each benefit in detail so your clients can make an informed purchase decision.
Offer customized plans. Instead of offering a one-size-fits-all pricing plan, offer plans that are customized according to customer budgets and requirements. This will show your clients that you are committed to their success and can help them reach their business objectives.
Incorporate case studies. To demonstrate the value of your agency and portray how you've successfully helped other clients, showcase examples of clients making achievements with the help of your agency.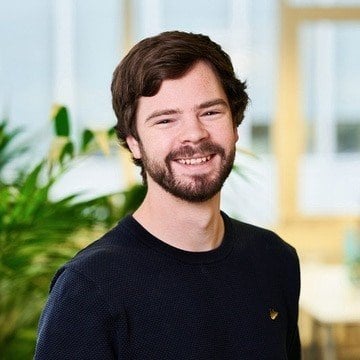 Jarik Oosting
Owner of SmartRanking
Crafting SEO proposals can be challenging because of the many nuances involved, and because there are often multiple moving parts within a business. Rather than simply writing out a proposal, we recommend speaking directly with the potential client to understand their goals, team, and expectations. This will allow you to tailor a pitch that is specific to their needs. If you do decide to create a written proposal, it should be customized to the client and demonstrate that you have listened carefully to their requirements. It's also important to inquire about their budget or goals to ensure that your recommended investment aligns with their expectations.
To build quality relationships with SEO leads, stick to the communication practices listed below:
Establish clear and timely communication with your SEO leads. Quickly respond to emails and calls to keep them informed.
Practice openness in communication. If any issues emerge at any point during the partnership, be upfront and direct with potential customers to work together on finding a satisfactory solution for both sides.
Create strong connections with your clients. Become familiar with them on a personal level. Show that you care about their goals and struggles, and demonstrate your interest in their success.
Showcase the success of your work. Provide regular reports that showcase progress. Use data and metrics to illustrate the value of your services and their impact on the client's business.
Incorporate client feedback. To provide the highest level of service possible, ask your clients what else you can do to fulfill their needs. By being proactive this way, you'll be able to offer a better experience that will build trust with each client.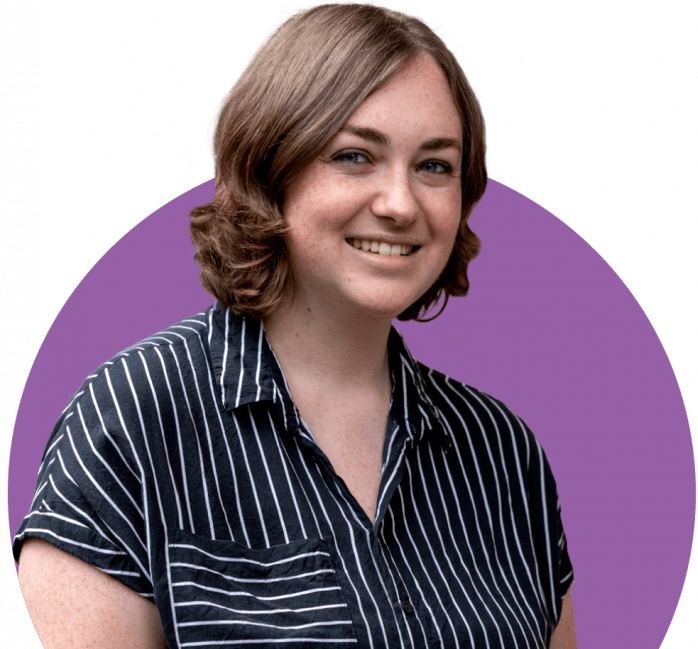 Adriana Stein
CEO & Founder at AS Marketing
How you communicate and build relationships with SEO leads may vary depending on how they first became a lead. In our case, our leads come to us inbound, primarily through referrals and LinkedIn, indicating that they are already interested in working with us. Because our brand and marketing strategies have already established that initial relationship, we typically only require 2-3 meetings before a lead becomes a client. This means that we don't need to devote a lot of additional time or resources to nurturing the lead if we determine that we are a good fit and decide to work together.
According to Adriana Stein, you'll need to invest more effort in nurturing leads if you're generating them through outbound methods like LinkedIn ads. This is because these prospects may be unfamiliar with your brand and unaware that they have a problem that needs solving. The approach you take to nurture these leads will depend on your first outbound touchpoint.
In general, Adriana recommends focusing on ensuring that your audience understands their problem, recognizes the need to address it, and sees your brand as the solution. You can achieve this through various means, such as multi-channel ad retargeting, email nurturing, and direct follow-up emails. Regardless of the channel used, it's important to provide useful information rather than solely trying to sell your services.
Closing thoughts
For any SEO agency to flourish and thrive, generating leads is an absolute must. Through a mix of tactics, such as SEO, paid channels, and social media promotion, agencies can attract qualified leads and start building relationships with them. Still, not every lead is equal. It's essential to thoroughly qualify each one and maintain personalized contact to maximize the business's chances of success.
Anyway, by considering SEO tips from agencies outlined in this step-by-step guide, you significantly increase your chances to attract new prospects and, subsequently, gain more clients.