How to Generate B2B Leads
Generating business to business (B2B) leads is often tough, especially when you're operating in a competitive online landscape where everyone is fighting for a slice of the same pie.
Still, lots of new potential business customers enter the market every year. As of 2021, there were estimated to be approximately 333 million companies worldwide, and this number has been growing steadily for the past 20 years. For example, in 2002, there were a total of 210 million companies across the globe, which is nearly 30% less than today. Today, for your brand to get noticed and valued by business customers, you need to implement effective lead generation techniques.
In this article, we'll walk you through:
How to attract B2B prospects with inbound and outbound marketing strategies
How to qualify leads and turn them into paying clients
How to build a lasting and meaningful relationship with B2B leads
Key differences between B2B and B2C lead generation
B2B lead generation strategies are designed to attract business enterprises and corporations, while B2C lead generation approaches focus on selling products or services directly to individual consumers. As a result, lead generation methods for B2C and B2B differ in certain ways. Read on to discover some key differences between them.
Sales cycle
Lead generation strategies for B2B and B2C differ in many ways throughout the sales process. Businesses often take weeks or even months to make a final purchase, and salespeople involved in B2B invest way more resources in these purchases than those dealing with individual customers.
For instance, businesses usually spend a great deal of resources on research before making first contact. Additionally, unlike B2C customers, businesses typically allocate a larger budget to buying certain services or products. Bureacracy also extends the average B2B sales cycle, as. B2B salespeople must deal with several layers of approval before being ready to purchase or invest in something.
On the other hand, B2C sales cycles and transactions are usually transactional and tend to be for smaller amounts of money. This makes the entire buying cycle much shorter and somewhat easier to complete.
Goals
The next difference between B2B and B2C lead generation is their goals. While both strategies focus on motivating customers to make a purchase, there is a subtle distinction.
B2B lead generation is focused on building brand trust and fostering healthy customer relationships, with the aim of attracting business clients who will come to you when they are ready to purchase or invest in a product or service. Simultaneously, B2C lead generation is geared towards capturing the attention of individual consumers in a highly saturated market and closing the deal quickly, before competitors start bombarding them with calls and email sequences.
Content
Since your B2B prospect is most likely an expert in their area of business, they are more knowledgeable than individual consumers. To attract their attention and gain their trust, you'll need to provide tremendously valuable content in the form of case studies, white papers, and other useful insights.
You shouldn't ignore content quality when capturing B2C leads, but you can make your content more playful and informal by focusing on individual customers.
Social media channels
Even though social media works well for both B2B and B2C lead generation, it's important to select the appropriate social media platform. To capture valuable B2B leads, it's more effective to target a Linkedin audience than, for example, Instagram or Tik Tok.
While Linkedin is a highly effective platform for generating business leads due to its business-focused nature, it isn't the only platform you need to focus on for generating relevant B2B leads. The top three platforms—Facebook, Twitter, and YouTube—can also be successfully utilized by B2B marketers to target business customers. Your content, however, must match the audience's needs and the dynamics of the particular platform you're using.
Pricing
Offering a product or service for the lowest price on the market is a great way to attract potential customers, but price isn't the first thing that business leads care about. B2B clients typically prioritize value over money, so if you manage to convince them of the product or service's worth, then the price is unlikely to be a deciding factor.
On the other hand, for B2C customers, price plays a key role in their decision-making, as they are spending their own money. They are looking for the most low-cost option to address their problem.
Lead generation tactics for B2B
Currently, there are many ways to reign in prospects who are interested in your product or services and convert them into customers. We'll discuss both inbound and outbound marketing strategies.
Inbound marketing
Inbound marketing is a marketing strategy used for driving prospects to your website organically, rather than pushing messages out to potential customers in order to encourage them to make a purchase. With this approach, you can target people who are already actively looking for goods or services on the Internet.
Now, let's go over the most effective inbound marketing strategies for attracting potential customers.
SEO
SEO should be your first consideration when it comes to generating leads, as it can help improve your website's SERP rankings and drive more organic traffic. The higher your website ranks in search results, the easier it is for your target customers to discover you online.
In 2012, Marketing Charts conducted a research study examining different types of lead generation activities. It found that both B2B (59%) and B2C (49%) marketers thought SEO had the biggest impact on their lead generation efforts. It's been over 10 years since this study was published, but this trend remains the same: SEO is still the most impactful marketing strategy for capturing new leads, according to First Page Sage.
But how exactly can executing an SEO marketing strategy help attract more potential customers to your site? Targeting transactional keywords and satisfying user intent are the most obvious benefits of SEO, but there are also many indirect ways to use SEO to generate leads. For instance:
1. Produce SEO-friendly content.
Keep the following basic content creation rules in mind:
Target keywords with traffic potential that are related to your business.
Create content that aligns with search intent.
Structure your content to make it easily readable.
Create SEO-friendly URLs.
Add internal links.
What's more, it's important to create enticing meta descriptions and catchy title tags, as these are essential SEO elements.
According to the Helpful Content Update launched in August 2022, it's crucial to focus on people-first content instead of creating content primarily for search engine traffic. To create actionable content, optimize it, and reach the right audience, you can use SE Ranking's Content Marketing tool, which automates and simplifies the whole content development cycle.
2. Use local SEO practices.
If you're a local business, your SEO efforts should primarily focus on becoming more visible in local search results. To achieve this, follow the recommendations provided below:
Use Google Business Profile. By using this online tool, you can create a listing for your business and boost your local presence. As shown on the screenshot below, when searching for "business consultant Paris," local business profiles appear above organic results and are more likely to attract leads than the websites listed below it.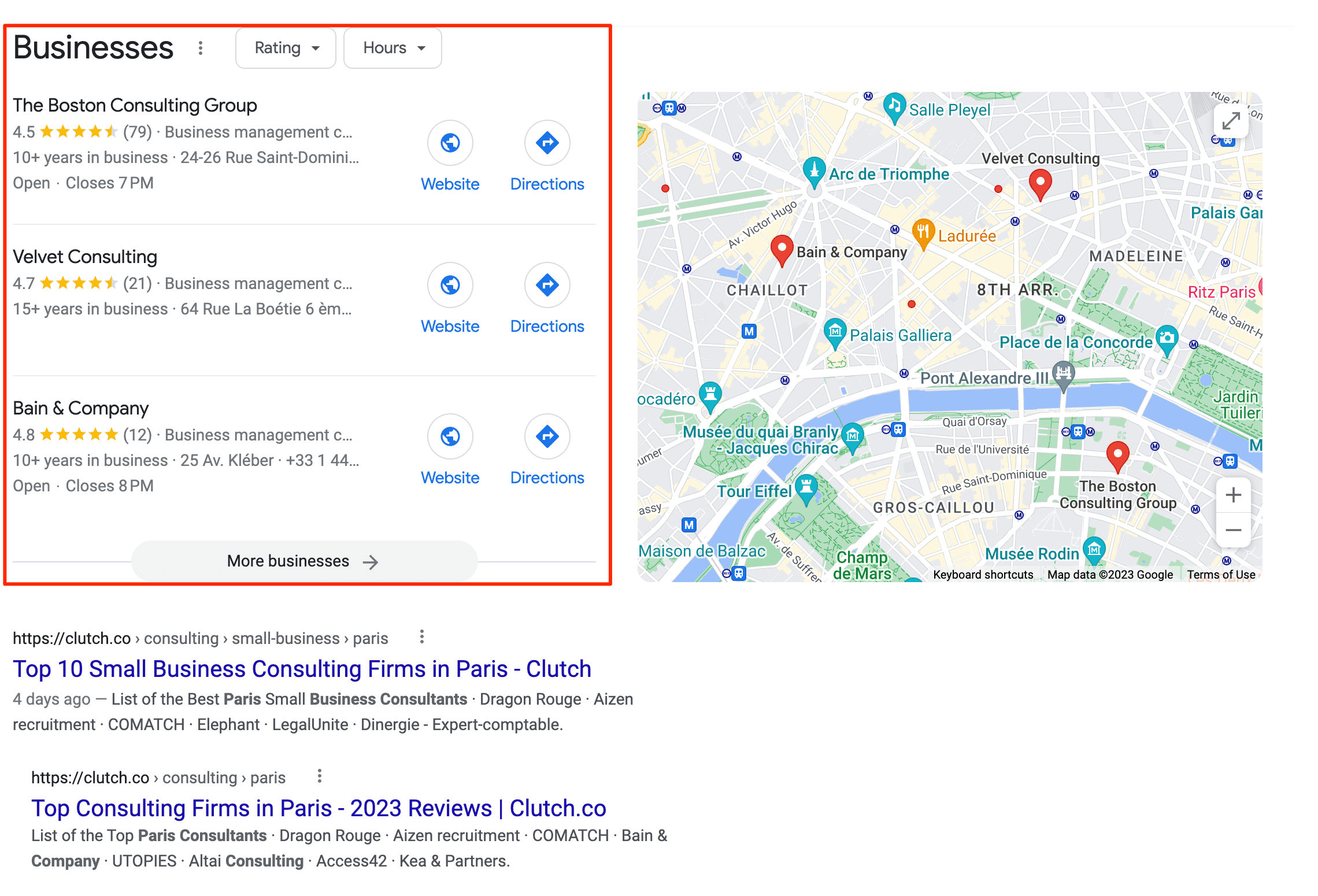 Optimize content with local keyword data. When you target local terms that your potential customers are searching for the most, you help both people and search engines understand who you are and where you are. This step requires extensive keyword research, which can be easily accomplished with advanced SEO tools like SE Ranking's keyword builder.
Get reviews from your customers. According to Bizrate Insights, consumers are 50% more likely to be motivated by an online review than by a discount offer. By encouraging existing customers to leave reviews about your brand/product/services, you significantly increase your chances of getting new leads.
3. Find and fix technical SEO issues.
Technical SEO problems often hinder the website's overall performance, which has a negative impact on SERP rankings and B2B lead generation. To avoid being blocked from reaching top positions in SERPs, check your site's optimization level for search engines and address any considerable issues. In particular, pay attention to:
Technical parameters (website security, page load time, HTTP status codes and redirects)
Page crawlability and indexation
Page resources (images, CSS, JavaScript)
Internal and external links
Technical issues are hard to find manually, so use automated solutions such as SE Ranking's SEO Website Audit. This tool generates detailed site audit reports for every technical issue, along with easy-to-follow tips for improving your site's performance.
Paid campaigns
Implementing SEO practices may not be enough to generate leads and grow your business. It can take 6-12 months or longer to see significant results from your efforts, even if you do everything right. This is why many businesses around the world include paid campaigns in their lead generation strategies.
Pay-per-click (PPC) is one of the most widely used forms of paid campaigns where advertisers pay each time a user clicks on one of their ads. If you're wondering about the relevance of PPC for generating leads, here are a few points to consider:
1. PPC ads are targeted. These only attract visitors who are looking for what you offer.
2. PPC is measurable & trackable. By using the Google Ads tool in combination with Google Analytics, you can monitor performance metrics such as impressions, clicks, and conversions, gaining a deep understanding of how well your campaigns are performing and what kind of traffic they drive.
3. PPC offers a solid ROI. According to Google, "for every $1 a business spends on Google Ads, they receive $8 in profit."
4. PPC offers faster results than SEO. One of the best things about PPC is that you can reach relevant leads and clients straight away and get immediate results. However, you should also keep in mind that results gained from PPC campaigns usually disappear as quickly as they appear if the promo campaign is stopped or the budget is cut.
Google Ads is one of the most powerful lead-generation tools used for managing paid marketing campaigns. It is Google's advertising platform for creating online ads, setting budgets, and reaching your target audience at the precise moment that they're interested in your services/products.
Currently, Google Ads offers eight different types of ad campaigns, but the most effective ones for lead generation are:
Search campaigns (text ads that you can find on SERPs)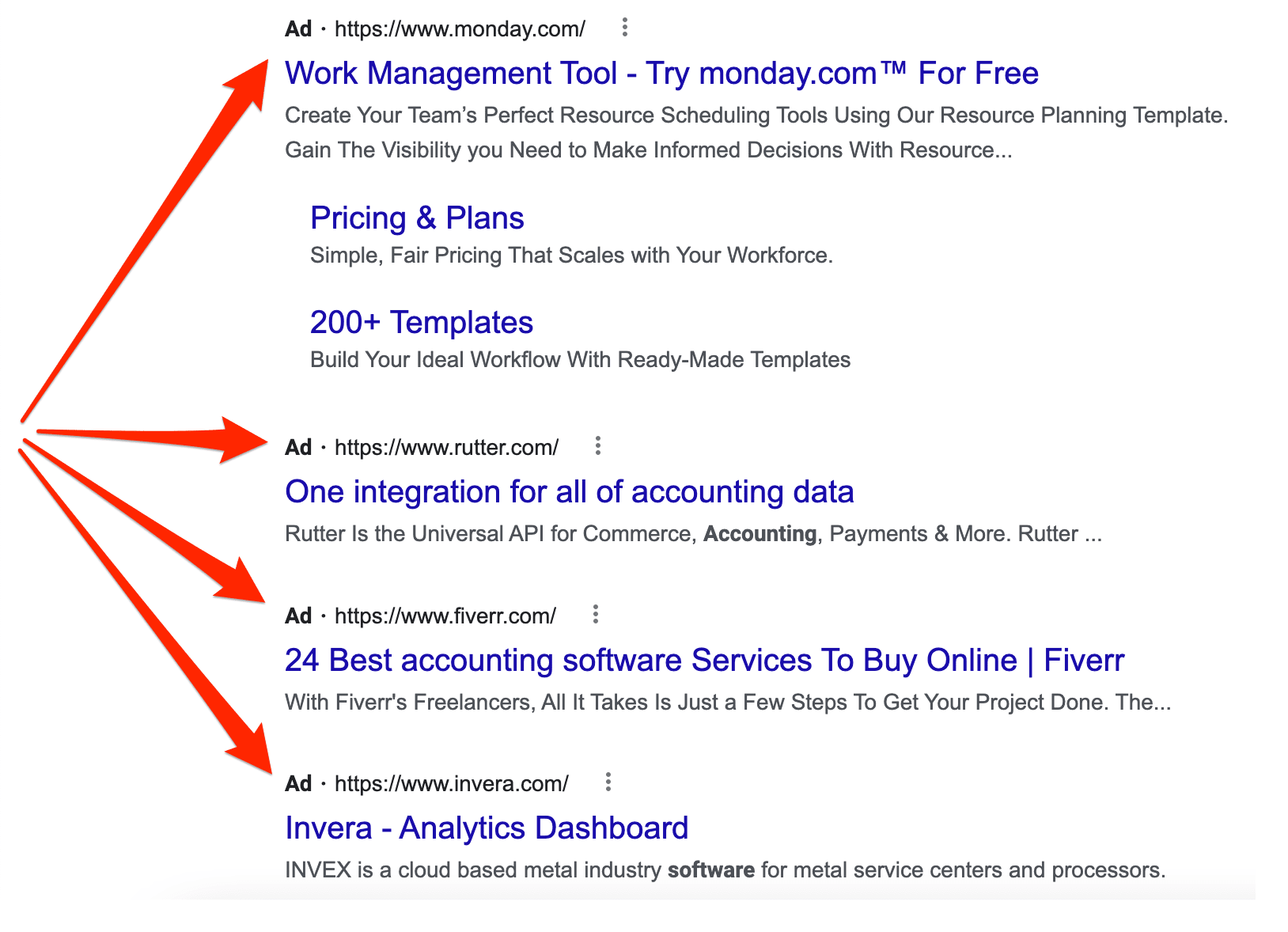 Display campaigns (ads shown on the articles, videos, or websites that potential customers browse)

Shopping campaigns (product listings shown at the top of Google's SERPs)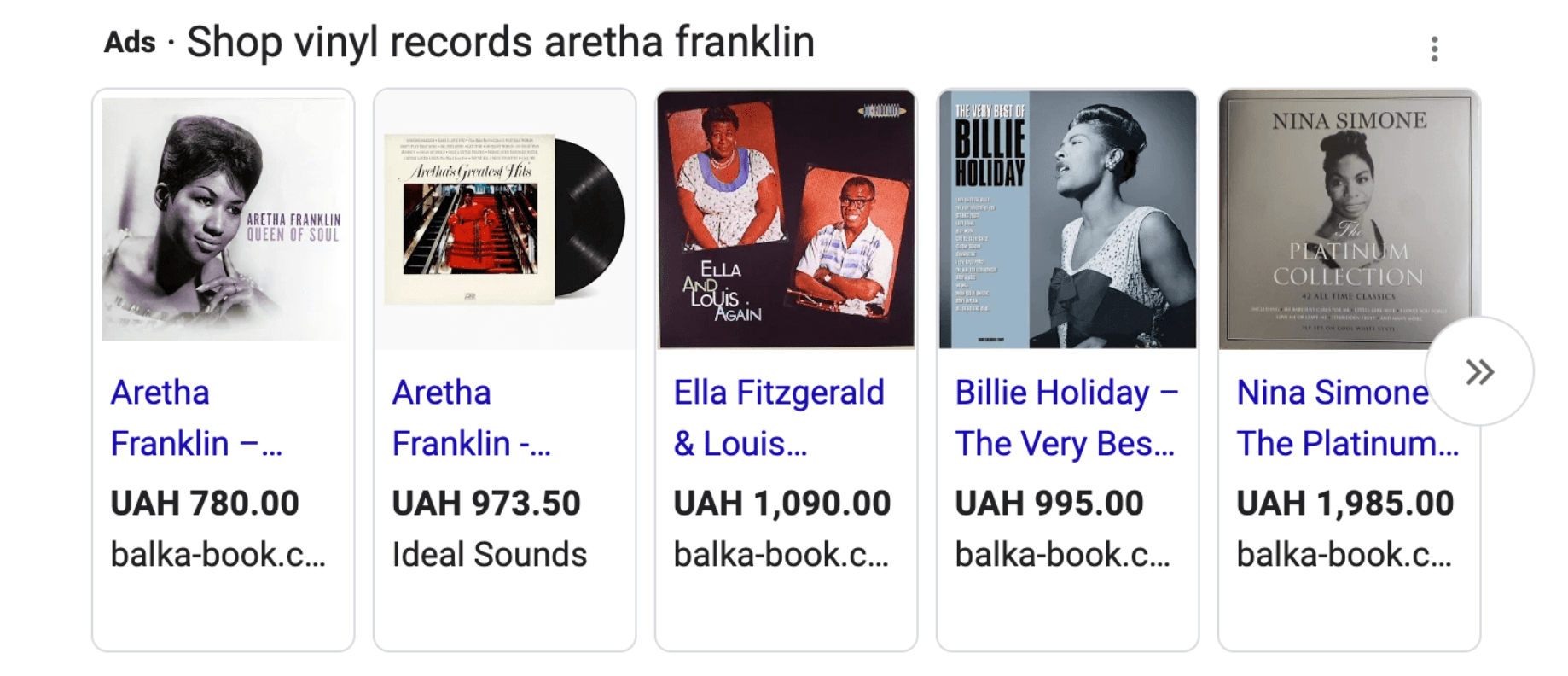 Video campaigns (video ads on YouTube)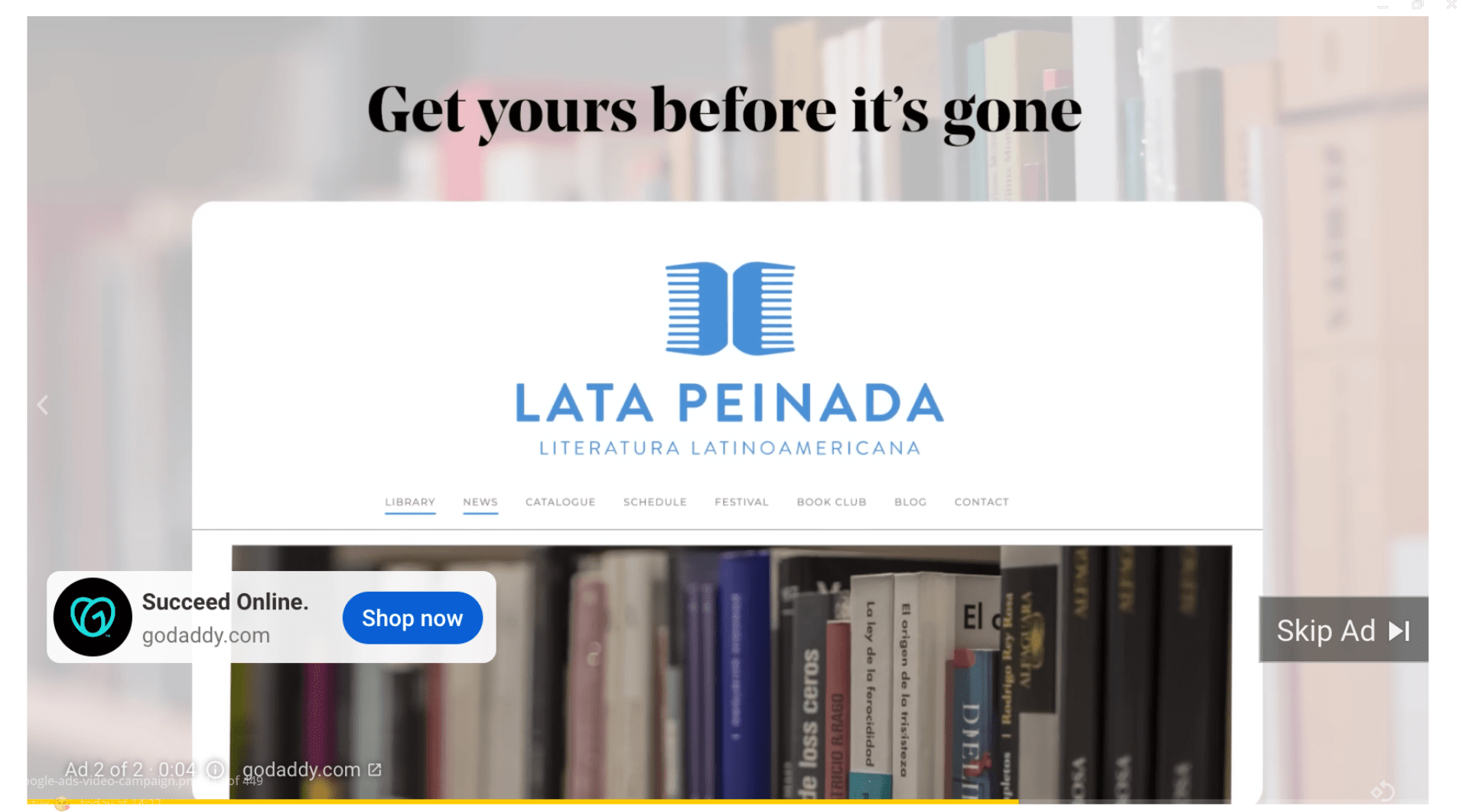 App campaigns (app ads on major Google resources, such as Search, Google Play, YouTube, Discover on Google Search, and the Google Display Network).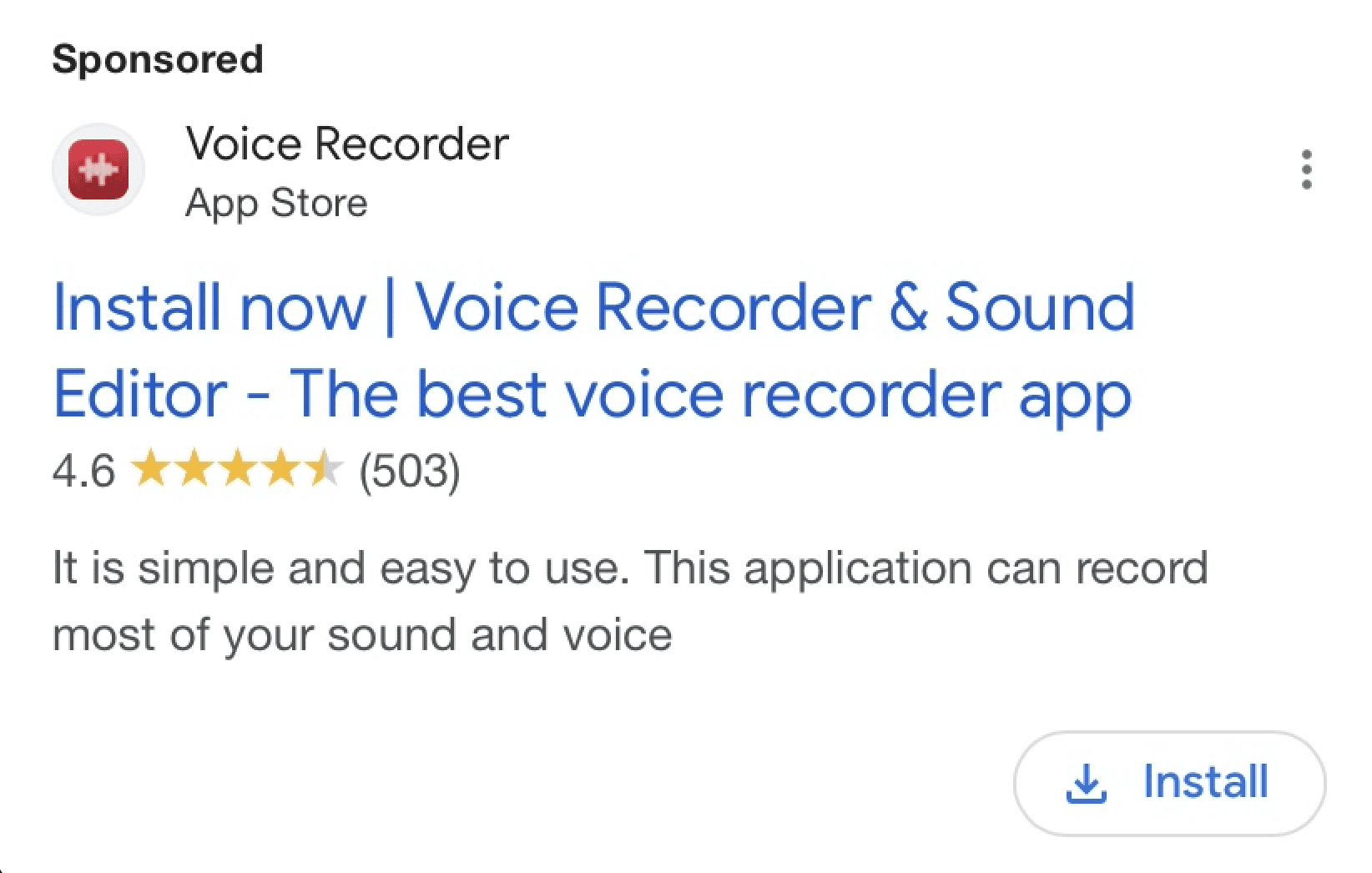 How exactly does Google Ads work? It operates based on an auction system, and its algorithm works in the following way:
1. Set up your desired ad type.
2. Identify keywords (for search campaigns), audiences, or placement (for display campaigns) you want to bid on.
3. If someone searches for relevant keywords, an auction is triggered.
4. Google uses Quality Score and Ad Rank formulas to determine your ad's position.
5. Pay for each click, interaction, or conversion, depending on the type of paid campaign you select.
6. When leads click your ad, they visit your landing page, website, or app. Your goal is to convince them to become your client.
Social media marketing
Social media lead generation is an inbound marketing strategy for capturing qualified leads using your brand's social media platforms. Even if social media isn't the first thing that comes to your mind regarding lead generation, it should be.
Based on information from the Social Media Examiner's 2022 industry report, two-thirds of marketers generate leads from social media after spending only six hours per week on social marketing. This means that a B2B lead generation strategy based on social media is usually less resource intensive than other forms of online marketing.
Marketers, then, are increasingly using social media networks like Facebook, Twitter, LinkedIn, and Instagram to acquire fresh and relevant leads. To find leads with the help of social media platforms, here's a list of steps to follow:
1. Choose the appropriate social media channels.
Linkedin is the most widely used social media platform for B2B lead generation. It's where most professionals, industry leaders, and even your competitors congregate.
Many marketers, however, believe that Facebook, Twitter, and YouTube can also be useful for capturing relevant leads. For example, you can use these networks to:
Share valuable content through CTA links, driving traffic back to your landing page, home page, or demo page.
Build your brand recognition, targeting specific interests with social media platforms.
If you want to add your own personal touch and humanize your brand, platforms like Instagram, TikTok, and Pinterest can be a great choice for your lead generation campaigns. For example, by including them as part of your marketing strategy, you can increase user trust and engagement.
2. Create content that keeps your audience engaged.
Creating engaging content is often perceived as an easy task, but any experienced marketer would disagree. To produce content that delights your audience and drives engagement, you need to be strategic enough to map out how your readers think and creative enough to create entertaining and informative content.
While each piece of social media content requires a personalized approach to engage with your audience, there are some general rules that usually work:
Mix up your content (e.g., publish an informative post addressing your audience's pain points, then share a hilarious video followed by an educational webinar)
Use visuals (images, videos, GIFs, infographics)
Share customer testimonials & reviews
Create original and up-to-date content
Make use of humor when appropriate (e.g., share a meme, integrate comics, post 'truth or myth' questions)
Include a call to action
On the screenshot below, you can see an example of a Facebook post that has the potential to attract and convert leads: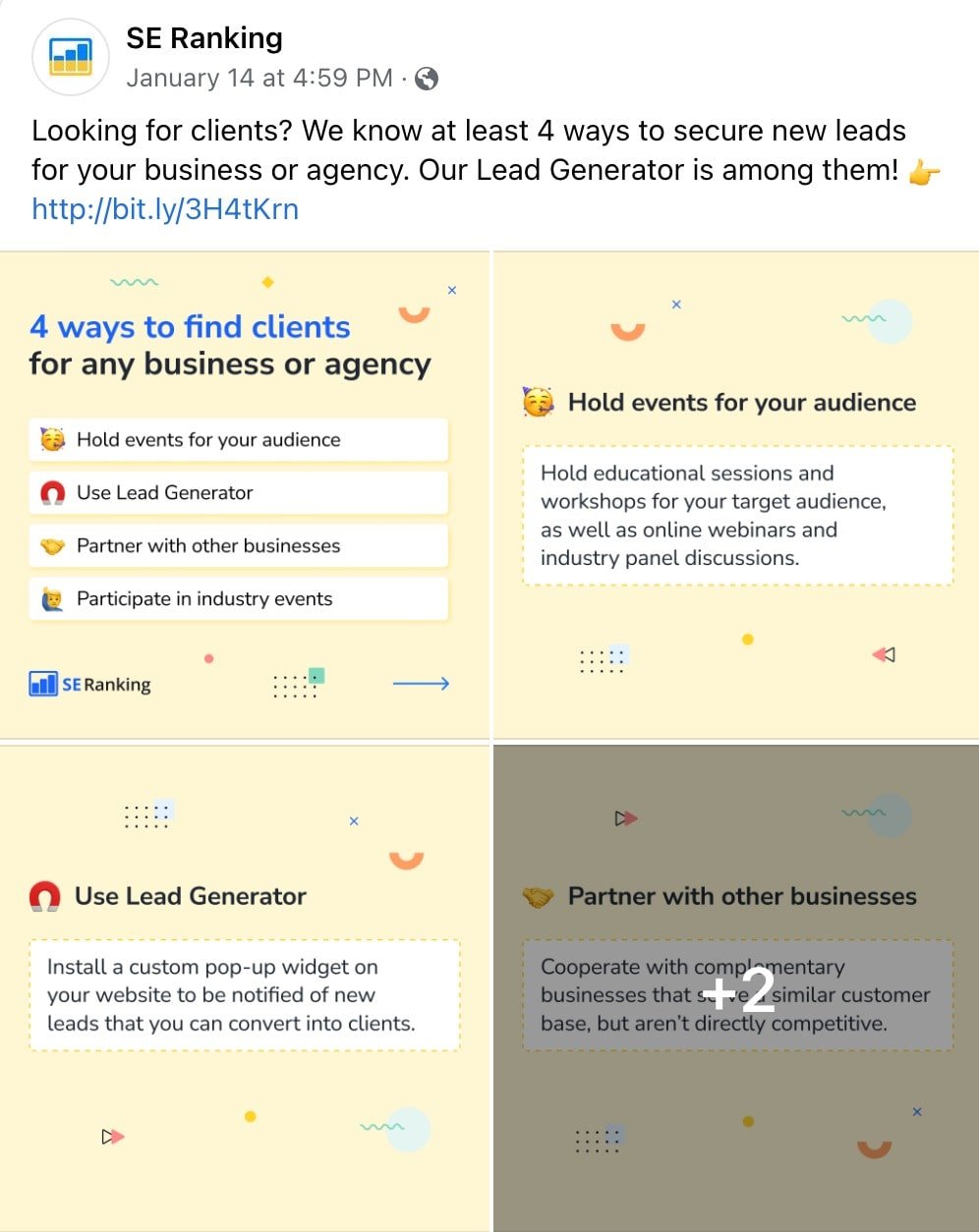 It includes the following key elements, each with a specific purpose and value structure for its intended audience:
Caption: It draws the audience's attention with a catchy question.
Emoji: It includes relevant emojis that make the social media post more visually appealing.
Call to action: It integrates a link to the Lead Generator landing page, inviting the audience to use this tool.
Media element: It includes 4 compelling pictures that help to get the main message across).
3. Promote your social media content.
While creating and promoting social media content is highly recommended to generate new leads, there is often no consensus on the most effective promotion strategies. This is because approaches to social media promotion differ depending on factors such as business type, target audience, and goals. Still, here is a list of lead generation tips that are generally effective no matter the business strategy:
Get influencers to share your content
Share your social media content via email marketing
Optimize the timing and frequency of posts
Use relevant hashtags
Host contests and giveaways
To learn more about content promotion, check out our guide on how to make your content go viral.
Outbound marketing
Outbound marketing involves actively promoting your products or services to your target audience, rather than naturally attracting prospects and nurturing them into paying customers. It is a way of acquiring leads that fit your ideal customer profile through direct outreach.
To succeed in outbound marketing, you need to contact prospects directly. Most businesses achieve this goal by incorporating the lead generation strategies listed below:
1. Phone calls.
While some people believe that "cold calling is dead," this claim is not completely true. In fact, according to Crunchbase, organizations that don't cold call experience 42% less growth than those that do. With the rapid development of social media networks, phone calls have become a less effective way to capture prospects, but they can still bring in positive results when used properly.
Here are some tips for improving lead generation outcomes from phone calls:
Conduct thorough research on your prospect.
Have a script ready, but don't sound too rehearsed or scripted.
Find the right time to call (obviously, Friday afternoons are not the best time to connect with a potential customer).
Sustain the call (converting the business into a lead during the first call is unlikely. Maintain a consistent process).
Always follow up.
2. Outbound email.
Email outreach is another effective outbound lead generation activity for modern marketers. It is a less time-consuming and complicated strategy than phone calling, but it can still deliver valuable business results. However, if you don't want your email to be deleted without being opened, follow these practices:
Come up with a creative subject line to build reader interest
Combine both textual and media content
Personalize your message
Keep your email short and clear
End with a compelling call to action
Follow up
To learn how to create follow-ups that receive responses, go through our article highlighting eight effective writing tips.
3. LinkedIn & other social media platforms.
In the previous section, we covered how social media platforms can help you capture new inbound marketing prospects. These platforms can also be a powerful source for lead generation from an outbound marketing standpoint.
When selecting social media platforms, pay attention to networks where you can find your target audience with minimal effort. LinkedIn, for example, is much more business-focused than other social media platforms like Facebook or Instagram, making it a goldmine for B2B businesses.
You can generate new leads on Linkedin by:
Finding and engaging new contacts through LinkedIn connections
Posting helpful content and providing updates
Publishing sponsored content through the LinkedIn campaign manager
Joining and participating in LinkedIn groups that your clients and customers are in
Organizing LinkedIn events
4. Content syndication.
To get the most out of your content marketing strategy and generate new leads, it's worth considering content syndication, an outbound marketing activity that involves distributing your organization's content through third-party suppliers.
But how does this attract potential customers, you ask? It's simple: by distributing your content in various ways, you reach a wider audience and move leads down the funnel, priming them for a conversation with the sales team. If done right, you'll have an elevated chance of converting them.
The most popular platforms for content syndication are LinkedIn, Instagram, Facebook, YouTube, Medium, Reddit, and Quora. However, publishing a copy of the content on third-party resources can put your brand at risk in terms of SEO. To ensure you don't get outranked, you'll need to add proper canonical tags to the website page with the original text.
If possible, ask website owners who are syndicating your content to link back to the original version with the mention "original article appeared here," and place a no-index tag on the page where the content resides.
Despite some debates over this tactic, most marketers agree that content syndication is beneficial for businesses in the following ways:
It can help you leverage the same content multiple times to reach a new audience.
It saves time for both your business and the republishing website.
It brings traffic back to your website and helps build brand awareness.
5. Online communities.
Just like in the real world, online social interactions play an essential role in seeking answers or solutions for issues people are experiencing. Subsequently, in online communities like Quora and Reddit, you can easily find your target audience and offer them your services/products. Simply put, this is where marketers have the opportunity to discover relevant leads and generate sales.
Most often, online communities are well-organized and easy to navigate, enabling their users to find any topic with ease. Besides, some groups support banner advertising, which can help you reach the most engaged audience at the right stage of the buying cycle.
Still, generating leads through online communities is not as easy as it might seem at first sight. Here are some tips to follow if you aim to leverage an online community to get quality leads.
Provide valuable content instead of advertising your services or products.
Conduct comprehensive research on your niche and target audience (Which conversations, or "threads," are most popular in your niche? Which problems does your target audience face when using similar products/services? Which solutions are they looking for? Which of these problems can your product/services solve? [especially in areas where your unique advantages will be so helpful that people come to you rather than other similar services]).
Avoid using a complicated tone of voice and communicate with potential leads in everyday language to show them that you're not a bot but a real human who is trying to help.
6. Networking events.
Attending networking events is a resource-intensive marketing strategy that requires careful planning in order to gain new customers for your business. At the same time, if taken seriously, seminars, workshops, and local gatherings can generate not only valuable leads but genuine business contacts.
The better you set your goals and plan your networking events, the easier it will be to showcase your professional capabilities and give others a glimpse into your business. To get the most out of your event, follow these steps:
Pick the right events to speak at and attend.
Make a list of people you want to meet.
Inform your target audience that you're attending the event (e.g., via social media platforms).
Customize your presentation and message according to your audience's needs
Follow up with new prospects.
Keep in mind that generating networking leads is a long-term strategy that is unlikely to bring significant positive results from a single event. Build a comprehensive networking strategy for generating leads, one that includes a mix of different events so that your event networking can turn into a gold mine of valuable contacts and leads.
Qualify and segment leads to work with them effectively
There is no guarantee that users who express interest in your product or service will make a purchase after visiting your website. To identify the best sales targets, you need to qualify leads. The information you gain from this process will help you determine who is most likely to drive your business goals so you can focus on converting them into customers first.
Lead qualification is the process of predicting whether or not a prospect will make a purchase. Given that only 20% of new leads ever convert into sales, it's critical to know ahead of time which leads fit your ideal customer profile (ICP).
Lead qualification frameworks
Before you can accurately determine whether a specific lead is qualified, it is essential to have a thorough understanding of the most common qualification frameworks. These include:
1. Information Qualified Leads (IQL)
Often referred to as "cold leads," information qualified leads (IQL) are at the beginning of their buying journey and are looking for the best solutions to their problem. These users typically submit their contact information in return for useful content, such as an e-book, webinar, whitepaper, or checklist.
Once these leads find the information they were searching for, they typically don't move onto the next stage of the lead generation process.
2. Marketing Qualified Leads (MQL)
If prospects show continuous interest in your company (e.g., they've clicked on a specific CTA or have gone through your pricing page multiple times), they move to the next stage of the lead generation process and become marketing qualified leads (MQLs).
To accelerate the process of moving MQLs to the next stage, marketers often offer them things like free trials, simple demos, free consultations, or coupons.
3. Product Qualified Leads (PQL)
Product qualified leads (PQLs) are prospects who have tested your product's value by utilizing one of the features you offered in the previous step, such as a free trial, demo account, or any other preliminary experience with the product/service. The main task marketers should perform during this stage of the lead qualification process is to convince these users to upgrade to a paid plan.
Since SaaS customers usually want to engage with your product before committing to a final purchase, make sure to offer them the best experience possible by demonstrating to them all the benefits you have that your competitors don't.
4. Sales Accepted Leads (SAL)
Even though this stage is often forgotten in lead qualification, it still plays an essential role in converting a potential prospect into a customer. The thing is, many B2B companies suffer from lost leads and sales due to a disconnect between marketing and sales departments. To avoid this problem, you need criteria that validate the lead is ready to pass along to sales, and this criteria refers to Sales Accepted Leads (SALs).
In simple words, SALs are the leads that have been reviewed and passed to the sales team for approval. It's the last stage of the lead generation process before the user finally converts into a paying customer.
5. Sales Qualified Leads (SQL)
Also known as a "hot lead," the SQL is the lead that is ready to make a purchase. In other words, this lead has reviewed different options to address their problem and decided to use the solution you offer. The faster the sales team serves an SQL, the higher the closing rate.
Steps in qualifying a lead
Now that you're familiar with all the distinct features of the most common qualification frameworks, it's time to identify the steps most companies take to qualify leads.
Step 1: Establish a Buyer Persona
It may seem obvious, but before you can move your prospects or leads through different stages of the lead generation process, it's critical to understand who your potential customers are. Once you've identified your target audience, you can focus on engaging with those users first, which can save you a great deal of time and other resources that might have otherwise been wasted on people whose intentions don't align with yours.
Follow these steps to establish a buyer persona:
Create a list of your best customers.
Segment your leads based on the following characteristics: demographic, geographic, behavioral, and transactional.
Prioritize the characteristics of your most engaged clients.
The questions you need to ask first during this stage are:
Who are your customers?
Which product/service are they looking for?
Why do they want to buy this product/service?
What fears are getting in the way of the customer making a purchase?
How often will they need this product/service?
Step 2: Score your leads.
Lead scoring is a methodology for assessing the prospect's overall sales-readiness. To score a lead, you need to first determine which criteria or data points are relevant to your business. Then, assign numerical values to each data point accordingly. The higher the score, the more likely a lead will convert into a paying customer.
For instance, people who are subscribed to blog updates usually have a low conversion rate, whereas leads requesting a demo session are more likely to make a purchase. A typical B2B company would give blog subscribers two points, while those who requested a demo call could get 20 points.
To simplify the job of qualifying leads, you can use one of the following frameworks to better understand if a lead is worth spending time, money, and other resources.
1. The BANT lead qualification framework, Developed by IBM in the 1960s, is one of the oldest and most popular methodologies. The 'BANT' acronym stands for:
Budget: How much money is the lead willing to spend on the product/service?
Authority: Does your lead have decision-making authority?
Need: Which goals does the prospect want to accomplish?
Timeframe: When is the lead looking to make a purchase?
The key benefit of this framework is that it is simple and fast. However, many marketers and sales representatives claim that it is old-fashioned and doesn't prioritize the needs of customers.
2. The CHAMP lead qualification framework stands for:
Challenges: What problem does the prospect want to solve?
Authorization: Is this person the decision-maker?
Money: Does the prospect have a budget allocated for a solution to the problem?
Prioritization: When are they hoping to solve the issue?
This framework is very similar to BANT, but there are two key differences. First, CHAMP focuses on the challenges rather than the budget. Second, it places the prospects' priorities above their timing.
3. Finally, the FAINT lead qualification framework stands for:
Funds: Does your lead have the financial capacity or funds to buy from you?
Authority: How much power does your lead have over a purchase?
Interest: How much interest are your leads showing in your product/service?
Need: Which of your leads' specific needs can you address?
Timing: What is the timeframe in which your lead will make a purchase?
Instead of focusing on your prospect's budget, FAINT looks at its overall cash flow. This framework operates under the presumption that your prospect will always find the funds to complete their purchase, as long as they are convinced in and emotionally invested in your product or service.
Сreate an attractive pricing proposal
A pricing proposal is a crucial document used by businesses to pitch their products or services to potential customers and ultimately secure deals. The purpose of a pricing proposal is to convince the lead that what you're offering is valuable enough to help them achieve their goals or resolve a specific problem. From a business standpoint, this document can significantly enhance your sales strategy. But how do you write a winning pricing proposal that captures more leads?
Here is a list of tips to help you:
Tip #1. Know your target audience.
As expected, everything starts with research. If you have already identified your target audience, great! You have one less step to take in creating an effective pricing proposal. However, if you don't have enough information about your potential client, their business characteristics, and the reason why they are looking for a particular solution, it's time to delve deeper into this topic.
When you possess a deep understanding of who your target audience is, you can create personalized pricing proposals that significantly increase your chances of getting new clients.
Tip #2. Write an eye-catching headline.
The headline is the first thing your prospects notice, and you have only a few seconds to catch their attention. To make a positive impression on your leads, create a headline that clearly demonstrates the value of your product/service and stimulates action.
Tip #3. Offer multiple options or packages.
Rather than offering a single traditional solution, consider proposing three solutions at various price points. For example, it could be a basic, enhanced, and premium version of your services. Offering multiple options allows your leads to select the package that suits their needs best. It is also more psychologically comfortable for potential customers to have a choice instead of feeling forced to accept a single offer that may not fit their features or budget.
Still, avoid spending your resources on too wide a range of options. A broad selection of products/services can confuse a potential customer and deter them from making a final decision.
To explain to your potential consumers why one of your packages is more expensive than the other, highlight (in bold) the extra features granted by your enhanced and premium options. This will also make it easier for clients to notice them.
Tip #4. Use the bundle pricing technique.
Price bundling is a marketing strategy designed to sell products/services together for a lower price than what they would have otherwise costed if they had been sold separately. By grouping several products together into a bundle and offering them at a single price, you can:
Introduce new products/services
Sell lesser known or unpopular products/services with the popular ones
Attract new kinds of buyers
Increase customer spendings
Simplify the buying experience of your leads
Tip #5. Use persuasive language.
When creating your pricing proposal, utilize your most convincing language and persuasion skills to sell your products or services. To generate sales-ready leads and encourage them to make a purchase, create your pricing proposals by using the following persuasive language techniques:
Choose appropriate wording (e.g., new, easy, simple, effortless).
Highlight the benefits that your product/service offers.
Speak directly to the reader.
Use up-to-date statistics if necessary.
Include a strong CTA.
Сommunicate and build quality relationships with B2B leads
Assuming that you have successfully attracted new leads to your website, what's the next step? To make the most of them, communicate effectively and build strong relationships with them. Here are some tips to achieve this:
1. Use details submitted by leads to create custom messaging.
If you offer new business leads the opportunity to fill out a web form with their personal information in exchange for useful content, use the details they submitted to create personalized messages. For instance, use a lead's name, email, and phone number to send different updates, discounts, bonuses, or referral programs your company offers.
Important! It's essential to first obtain meaningful consent from your leads for the collection, use, and disclosure of their personal information for marketing purposes. Because of the prevalence of personal information breaches, regulatory departments currently pay significant attention to people's rights to fully control their data. If you spam users with promotional emails (and they didn't tick a box claiming that they agree to receive them), you might get sued.
2. Respond at your earliest convenience.
Your leads want to feel valued, especially those who are considering different options and need a final push to make a decision. Responding promptly will help build high levels of loyalty and trust with your leads making them feel important, appreciated, and encouraged to make a decision in your favor.
According to a Velocify survey, responding within the first minute increases lead conversions by 391%. Even if you're unable to give them feedback right away, sending an automated message that says "Thanks for reaching out. We will contact you at XX p.m" is still better than ignoring the lead.
3. Use different types of communication — text, email, and voicemail — to create a multi-touch approach.
Nowadays, there are numerous ways to communicate with leads, starting from simple text messages to face-to-face meetings. Engaging contacts through different communication channels significantly increases your chances of converting them into paying customers.
Start building relationships with your (hopefully) future customers through email/text messages. Then, to make the interaction more personal, you can add voicemails, video calls, and personal meetings to your regular communication with sales-ready leads.
4. Prepare to answer questions and address challenges.
Although it would be convenient to implement a lead generation strategy for B2B and convert leads into new customers, that's not always possible.
To capture qualified prospects, you'll need to answer numerous questions about your product/service. When answering them, highlight all the benefits you offer without lying. Your future customers deserve to know detailed information about the product/service they are considering, as well as the purchase terms.
5. Continue to follow up.
Never give up on leads who disappear from time to time. There may be many reasons why they do so, such as being busy, unforeseen circumstances, or they may be reviewing several purchasing options at once.
Let your target audience know that your offer is still valid, and that they can discuss any pre-purchase details they want. However, if a lead rejects your offer, stop contacting them about your products/services to avoid harming your business reputation.
Final takeaway
Lead generation for B2B is a complex process that consists of several essential steps, including:
Attracting inbound and outbound leads
Qualifying leads
Creating an attractive pricing proposal
Communicating with leads
Each step requires a solid amount of resources to achieve your business goals. By reaching a wider audience and generating interest in your product/service, you ensure the continued growth of your business.
Which lead generation strategies do you find effective in building consumer interest in your product or service? Which ones do you consider less effective? Share your opinions in the comments section below!