It's not a secret that if Google hasn't indexed a website, it doesn't have a chance of being found via search.
However, getting Google to crawl and ultimately index a new website can take from a couple of days to about a month, depending on a number of on-site and off-site SEO factors. Unfortunately, there's no definitive answer from Google on how long it takes to index a new site.
There are a few things you can do to get Google to crawl and index a new site faster, and this post will focus on 10 ways how you can do that.
What is crawling and indexing?
To make sure we are on the same page, let's first refresh our memories and answer the question: How does Google crawling and indexing work?
Crawling refers to the process when Google sends its specialized software (known as Googlebot, crawler or spider) to obtain unorganized data from new and existing websites.
Google then uses such data to learn what the site and its pages are about and assigns certain keywords and phrases to the crawled pages, storing them in a list known as the index — this is called indexing.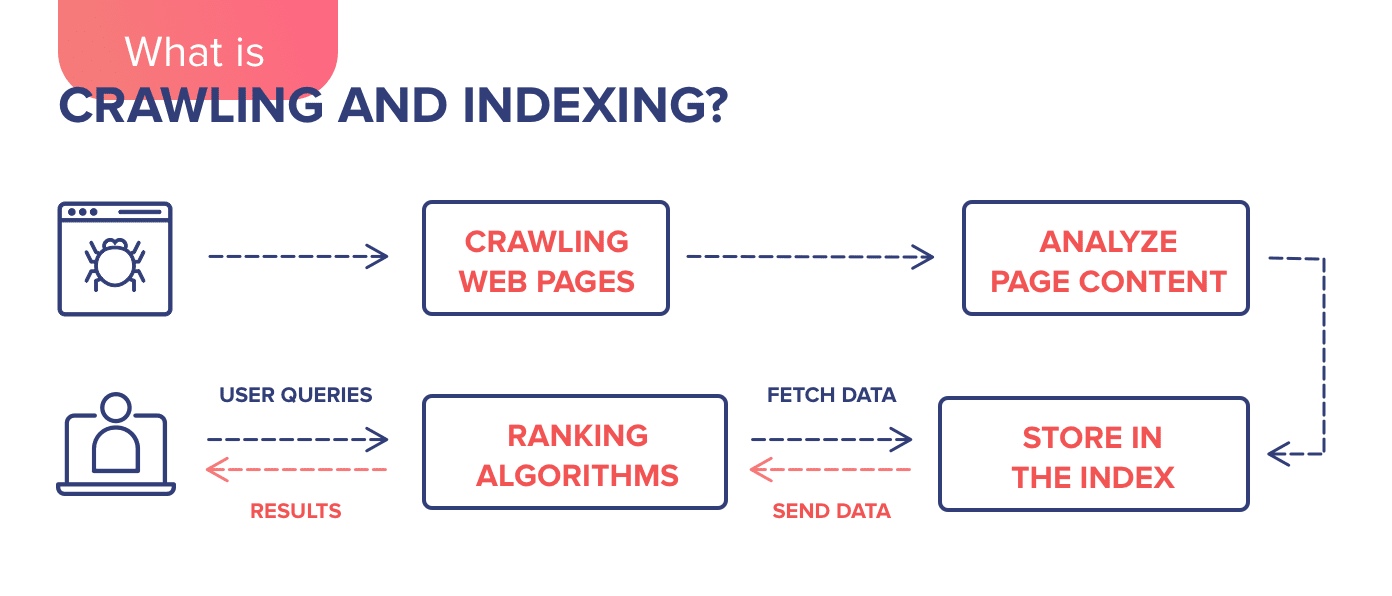 As a result, when users enter a search query, Google quickly scans through the list of indexed sites, showing only appropriate, relevant webpages in the SERPs.
Now that we're in sync, let's look at 10 steps you can take to get Google to index a new site, faster.
1. Make the most of Google Search Console
I'm pretty sure this is an old hat for you, but one of the best, surefire ways of speeding up Google indexing is via Google Search Console, formerly known as Google Webmaster Tools.
All crawling stats can be viewed via this web service, as well as additional indexing-related information, such as how many URLs are being indexed, how much time it takes, and so on.
First off, if you haven't done it already, you need to verify your website on Google Search Console by submitting it here. Previously, you were able to simply fill in a form, indicating the URL that you want to index, but Google decided to drop that option.
As soon as you post a new piece of content, you need to go to your Google Search Console dashboard, click on URL inspection, or just enter the URL that you want to get indexed directly into the search field.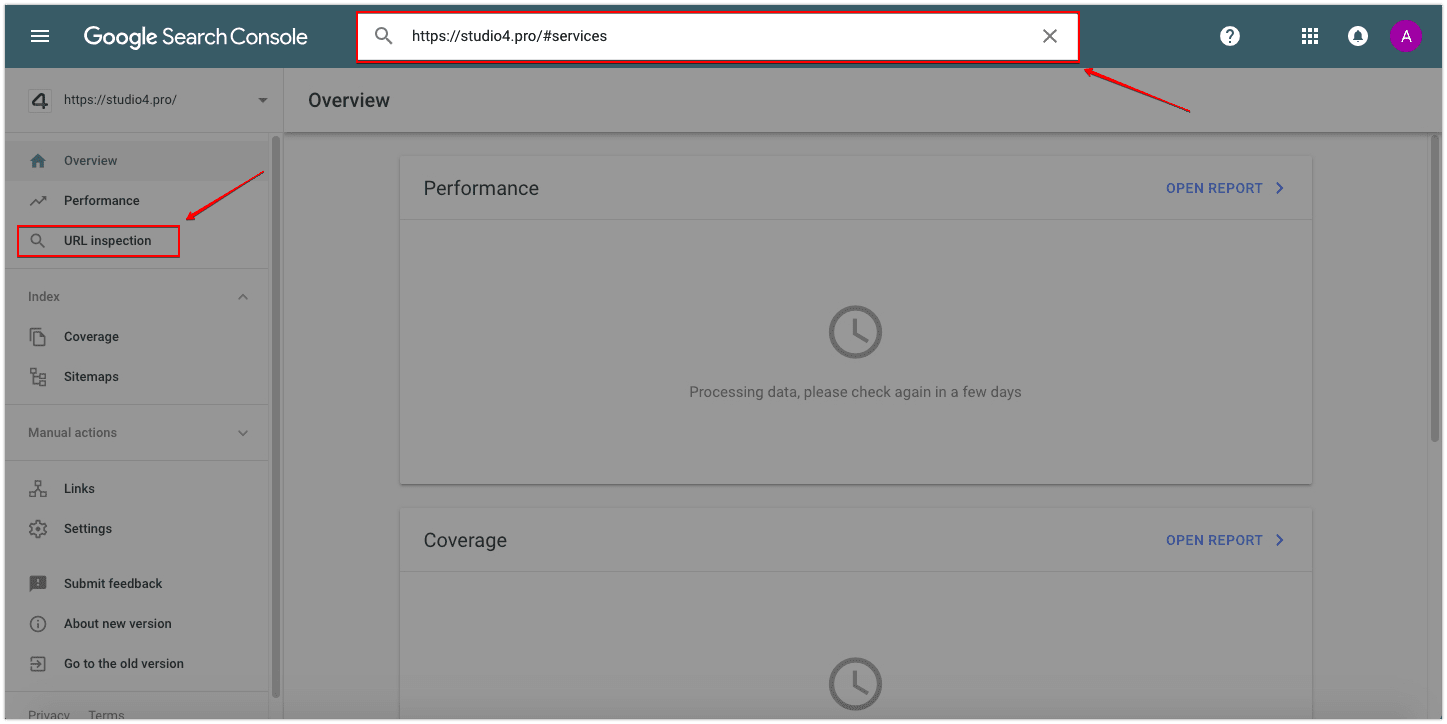 On the next page, you can see whether or not the indicated URL is indexed. Even if that is the case, you want crawlers to do it again since you have new, unindexed content on the site.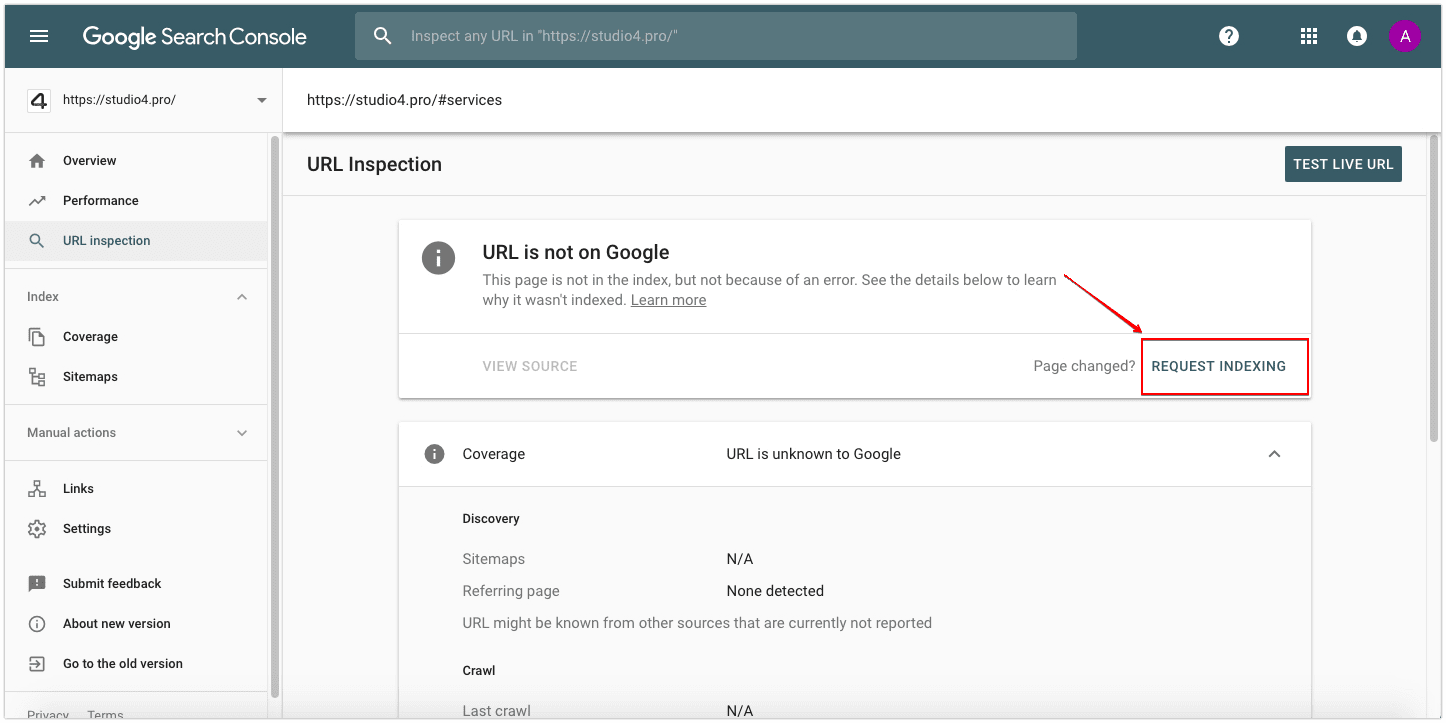 Once Google tests to see if the live URL can be indexed, you will see the following message: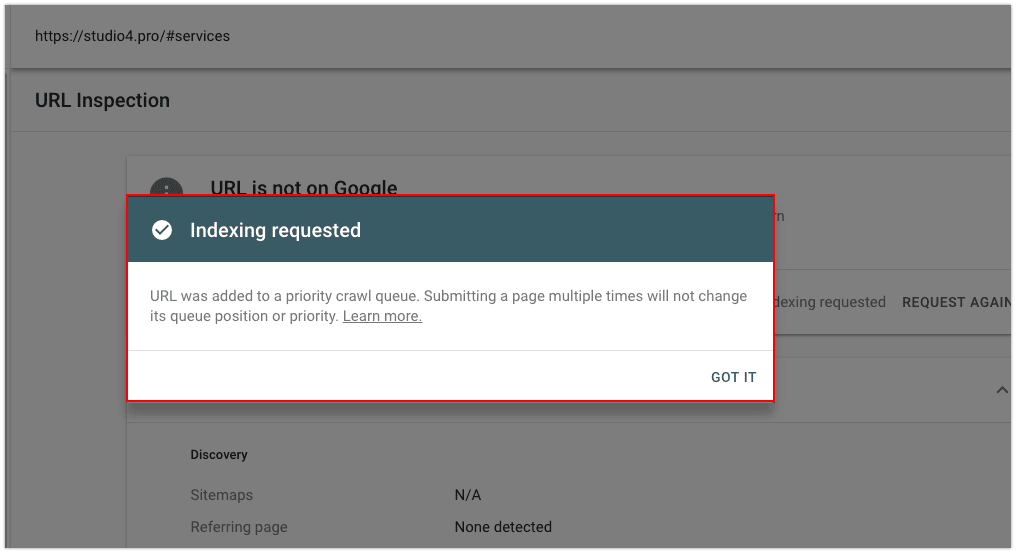 All URLs with new or updated content can be requested for indexing this way via Google Search Console. However, you can only submit 10 URLs to Google for indexing per day, so mind the limit.
2. Submit an XML sitemap to Google
An XML sitemap serves as a navigation guide for Googlebot and indicates all pages contained on your website.
A sitemap is especially useful if you have a big website as it can save the bot time looking for your webpages, allowing you to get your site indexed faster.
You can get an XML sitemap from a number of sitemap generator tools, but this option is also available in SE Ranking.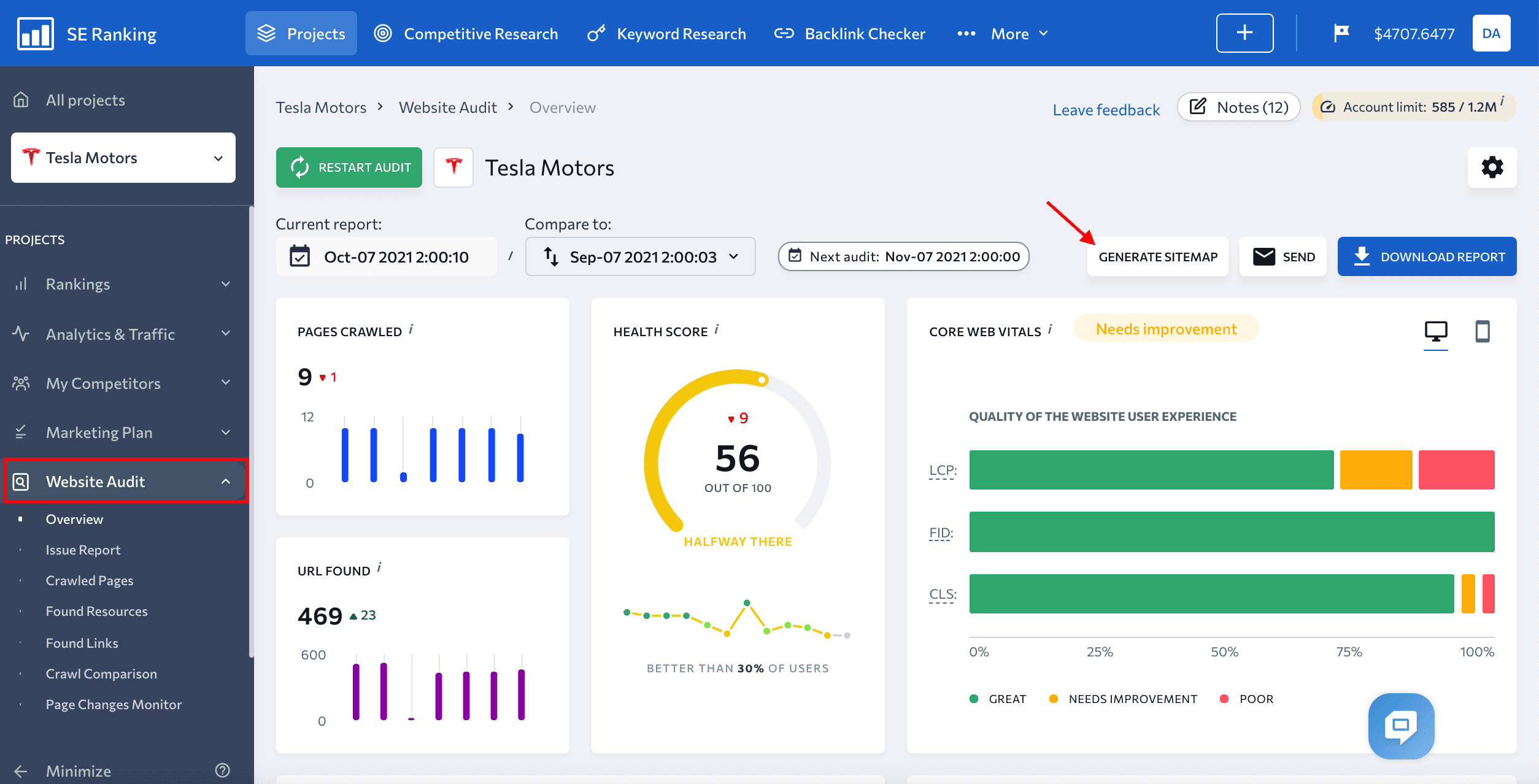 With the Website Audit tool, you are free to choose the types of pages you want to include in your sitemap, specify the page change frequency, as well as set up the priority for different crawl depths.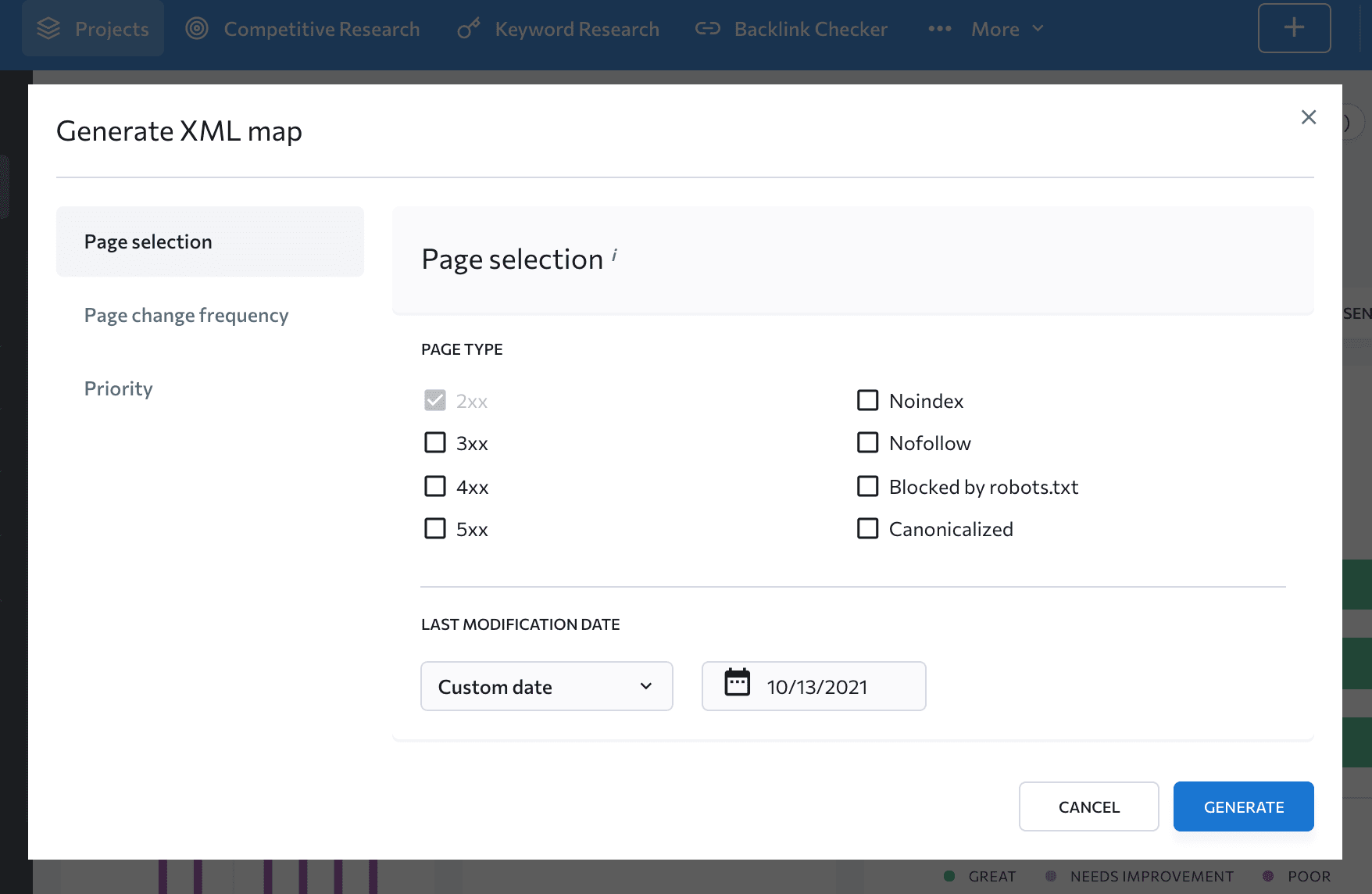 Once you have your sitemap ready, submit it to your Google Search Console account by going to Sitemaps → Add a new sitemap.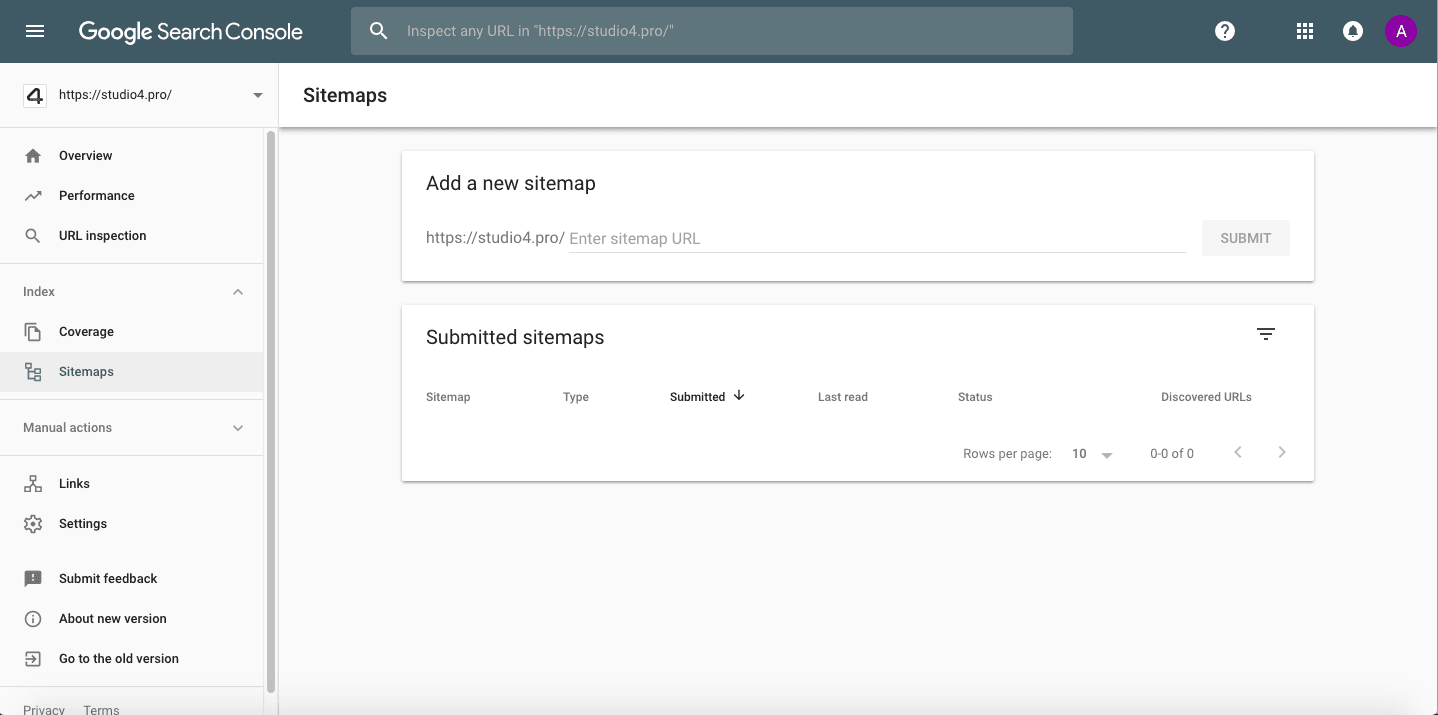 Separate sitemaps can also be created for images and videos contained on a website, as well as for different subcategories of a single large website. XML sitemaps give you an opportunity to accelerate indexing and conveniently keep your finger on the pulse of the entire process.
3. Engage social media
Another great way of getting new websites indexed faster on the web is to make use of social media.
Before you even launch your website, you ought to create profiles on social media platforms like Facebook, Twitter and LinkedIn. Don't worry too much if you haven't done this yet — it's never too late.
After all, getting a lot of social engagement in the form of retweets and likes is vital to your site's search engine ranking position.
Once you have your social profiles ready, make sure to add the link to your website to the account info section and then start linking out to new webpages via social media posts. Doing so will boost the crawling rate of the new pages.
Moreover, be actively present on your social media pages by starting engaging conversations and regularly posting niche-related news and updates. As a rule of thumb, the more social buzz you create around your website, the faster you will get your website indexed.
4. Gain inbound links
A good amount of quality inbound links helps Googlebot find your website quicker.
When Google scans through links it finds on websites, it's able to discover new websites. Meaning, the more pages link out to a new page, the higher the chances that Google will find it.
However, aim at building natural and relevant links from popular and authority websites, like CNN or Forbes. You can read more on intact link building ways in our blog.
Moreover, you can fast track your link-building efforts and drive additional traffic in the process by publishing answers on Q&A websites like Quora, and leaving comments with links on Dofollow blogs and forums that allow you to pass along "link equity".
The following search strings can be used to find good blogs:
Keyword +"CommentLuv Enabled"
Keyword +"Enable CommentLuv"
Keyword ifollow*.gif
Your Keyword & "Enter [email protected]"
Your keyword +"KeywordLuv"
Keyword inurl:ifollow*.gif
Don't go overboard with your link-building strategy though and keep in mind that the quality of the links is of the utmost importance.
Unlike links from quality niche sites, links from low quality sites simply won't boost the chances of getting your site indexed, and won't have a positive impact on its search rankings in the future.
 5. Check the website speed
It's a well-known fact that websites that load up quickly have a good chance of getting indexed faster by crawling bots. Moreover, a site's speed is seen as an important ranking factor for Google, especially in terms of Accelerated Mobile Pages (AMP).
So, if you feel like your website isn't loading fast enough, make sure to regularly run a speed test.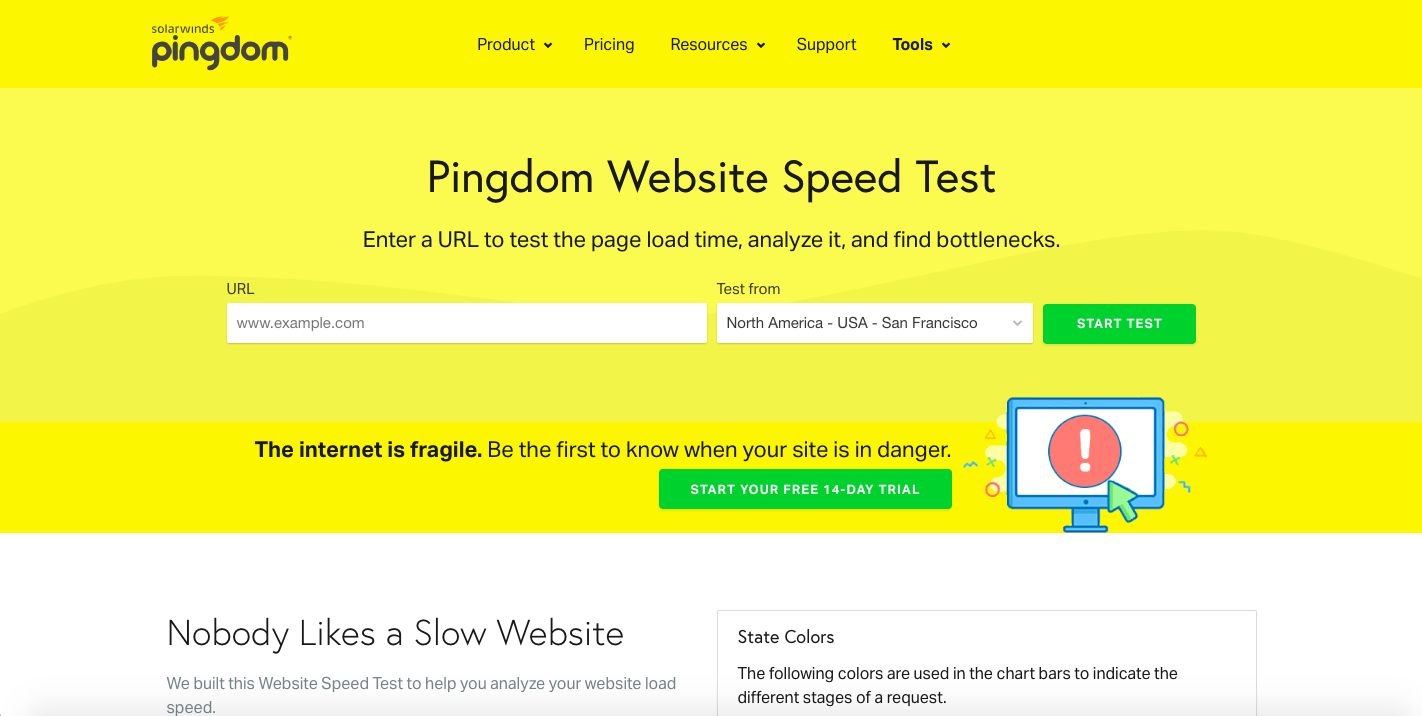 Otherwise, Google might not index it at all for this very reason due to its heavy focus on user experience.
6. Improve the Internal Link Structure
Double-check to make sure all website pages are interlinked with each other.
If your homepage is indexed by Google, all other webpages must be interconnected as well if you want them to get discovered and indexed.
Internal link structure best practices recommend linking out to existing pages in new pieces of content. That way web crawlers are able to quickly find new pages as they move from link to link.
Additionally, it is best to spread quality links evenly across pages that are most important to your site's user conversion flow. Otherwise, you'll end up with a homepage that is super valuable to search engines, while all your other pages are tagged as low-quality.
Check out this article for more information on internal link structure.
7. Publish fresh content regularly
Pick a day and time to publish new pages on your site and stick to the schedule. Actively adding new content is exactly what can attract crawling bots and make them come back to rescan your site.
Therefore, if a website is updated regularly, Google will have a lot more reasons to return and re-crawl it. Just make sure that the content is of great value to readers in order to avoid getting tagged as a low-quality page. That is something difficult to bounce back from.
8. Submit posts to Digg and Reddit
Site indexing can also be accelerated by way of publishing posts that link out to new webpages on social bookmarking sites like Digg and Reddit.
Googlebot tends to spot and scan through URLs on such sites a lot faster, but even so, it takes them one or two days to get the job done. If you have a lot to say about your site, let the world know — it will definitely be a worthy effort.
9. Ping your website
Pinging is another way of alerting search engines and letting them know immediately about a new piece of content. Search engines can run into difficulties when looking for pages of your website and pinging is a great way of solving this issue.
When you ping your website, it's as if you're telling search engines to come and check out a new piece of content on your site.
The good news is that there are a number of pinging services such as Pingomatic, Pingler and Pingoat that can help your website get indexed by Google, faster.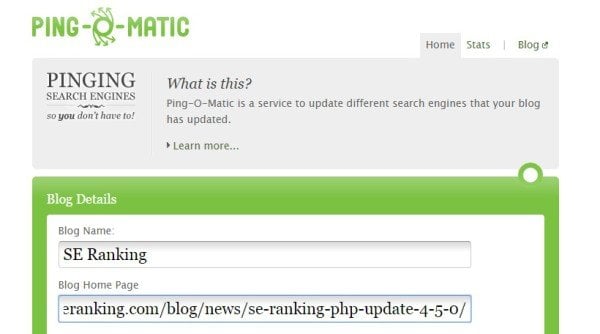 Note that if you overdo it with your pinging activity, your site can be tagged as spam. So, make sure you only add fresh content and vital updates to new webpages when using such tools.
 10. Create effective website navigation
Setting up your website's navigation properly can have a positive impact on the indexing speed. Plus, it is crucial both for the user experience as well as for web crawling and indexing.
In order to achieve this, you need to put effort into improving your link structure and navigation menu, incorporating breadcrumbs, adding a related articles section, being simple and consistent — basically, making your website easy to understand for both people and robots.
Google website indexing issues
Should your website run into any problems getting indexed by Google, there are a few things you can do:
check the

Index Coverage Status report

in Google Search Console;

check the server response codes;

run a website speed test, including on mobile;

verify that redirects are working fine, especially multiple;

examine the robots.txt file;

check noindex and canonical tags;

study the main web crawler log file;

conduct an on-page or website SEO audit.
In addition, if there are any duplicate pages or subdomains on your website, or if one of your pages is a copy of any other page on the web — Google will not index them again as separate pages.
Wrapping up
Getting a new site crawled and indexed by Google is something that must be done, but it does take a while for it to appear in SERPs.
Fortunately, there are a few essential steps you can take and SEO indexing tools you can use to influence and accelerate the indexation process.
First off, Google Search Console is your best friend when it comes to getting a new site crawled and indexed faster. This tool gives you the possibility to keep tabs on all of your site's crawling and indexing processes.
Among other ways of speeding up the process are testing your site's speed, adding an XML sitemap to GSC, being actively present on social media, publishing content on a regular basis, submitting posts to Reddit and Digg, and keeping track of the quality of links associated with your site.
Do you know other ways of getting a new site crawled and indexed faster? Let us know what you have in mind — share your thoughts below!
109291 views