Have you ever wondered why SEO experts are so keen on buying links, even though it's a quite risky business? It's pretty obvious once you think about it. Google is using link popularity to rank websites, so in order to jump to the SERP's top you have to generate a good amount of quality backlinks. Sound like an easy task but in reality, it's a hard ordeal for many SEO experts.
Here's why: if you do not know what links to buy if your budget has limits or Google Penguin sounds like a scary animal to you've got a problem. Good news: we have three life-hacks that will help you build a good link profile. Ready? Let's get down to it!
TOP, competitors and their link profiles
Your client might tell you about his main competitors. But do not limit yourself to just this list. A good SEO specialist does not specify only 5 main competitors — he has 10 competitors to each query. You can use different tools to find competitors and track their SEO strategies effectively.
Therefore, first of all explore the top ranked sites by your targeted queries.
A good SEO specialist does not specify only 5 main competitors — he has 10 competitors to each query.
Go through their link profile to check on:
1. Whether the links are indexed by Google, what is their Alexa ranking, whether links are broken or not.
Why? If you find the broken links on trusted platforms, you can work out a deal and replace them with your own working links.
2. Anchor links.
Why? Thanks to the anchor list you can better understand the competitor's strategy (white or black), as well as find out the prioritized categories or keywords.
3. The date the backlink was discovered on.
Why? It will show how quickly the link profile is being built up, and how often the links are updated. Taking into account these data, as well as your own budget and timing, you can find out how much time you need to set the same number of links. If the competitors are actively building their link profiles, it's quite important to react in time, so you are not kicked from the query top.
And another thing, you can simply copy the competitor's link profile, putting together the domains that were most often bought by your competitors.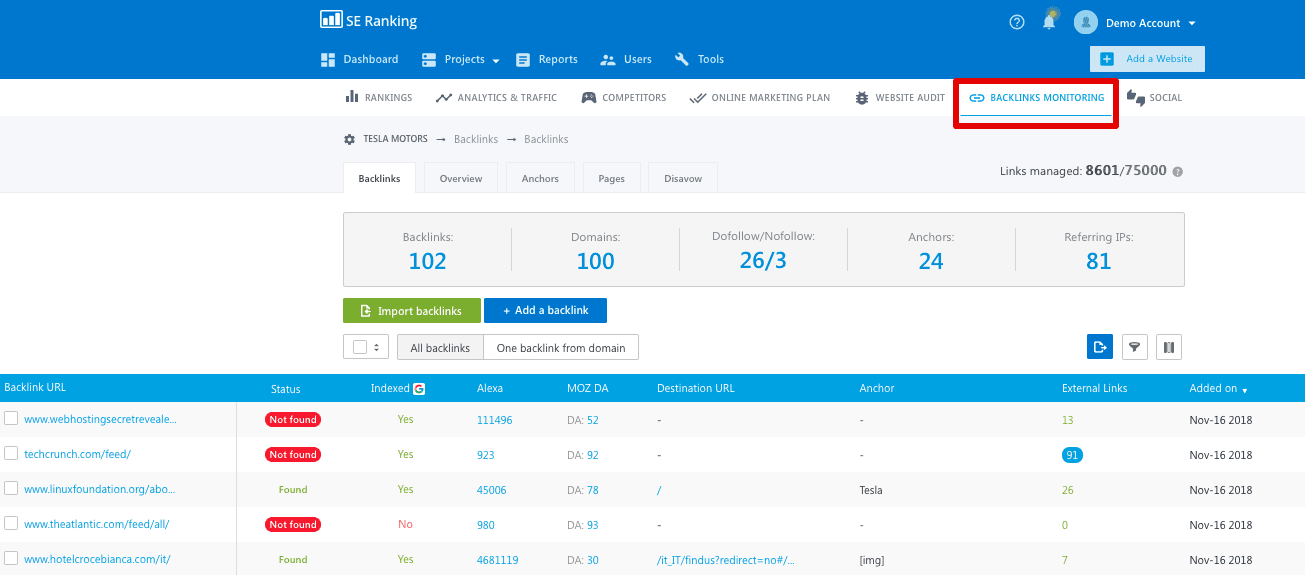 How to do it? Use SE Ranking's "Backlinks monitoring".
Seasonality
Seasonality is a very trivial thing. But here's something very interesting. Business owners keep seasonality in mind by default, but optimizers often miss it. Therefore, if you see no mentioning of seasonality in the SOW, add it to your check list.
For example, you begin promoting the website that offers Spanish classes taught via Skype, and you start the promotion in October. In November you propel it to the top. But your client is furious. Why? Because he spent a lot of money with no expected results since the website appeared in the top during off-season, when the query frequency was much lower than usual.
If you see no mentioning of seasonality in the SOW, add it to your check list.
How does it work?
1. Log into Google Trends and check the seasonality of the search query.
2. Seeing that it's an off-season until September offer your client other advertising channels. For example, content marketing.
3. Earn client's trust and at the same time pick some conversion queries that may be accentuated in the promotion.
Keyword distribution
If you want l to have at least a chance of reaching the top, you need to understand how the search engines organize their results into groups. You can group keywords manually or use a tool like keyword grouper that analyzes websites from the top-10 search results and thus allows you to distribute keywords through your pages more effectively.
How does it work?
1. Upload your semantics into the Keyword Grouper and see the formed groups.
2. Find the right option:
If there are query groups for your semantics that you haven't promoted yet, create additional pages for them.
If there are conversion queries which are irrelevant to your page, use them in your blog post.
If the queries are completely out of place, you can at least post an external article, add your links and get more trust for your site.
How to do it? Try SE Ranking's "Keyword grouping".