A well-planned structure is what turns a messy set of webpages into a website loved by users and search engines. For both of them, it's crucial to get a clear idea of how your website is organized and how to find needed information on it.
What are the main rules essential to creating a solid website structure? How should it look from the very beginning and be developed afterwards? And why it's important for both SEO and UX?
In this article, you will find some simple but crucial actions you have to take to build a good basis for SEO while developing your site. Let's get started!
Keyword research and website mapping
If you're already running a website you might think that keyword research is something you've overgrown. But, in fact, that's what you need for developing proper landing pages, generating good content ideas and adding categories and item pages to your site. Start with collecting a list of all your website pages, understand their priority and users' intent for each one of them.
If you're creating a website from scratch, you'll need to go through the full cycle of collecting, selecting and grouping your keywords. But first, to save quite a bit of time, check how others deal with website structure and keyword research in your niche.
Step 0. Look at what your competitors are doing
Take a look at your competitors' websites. Identify who they are and how they've built their websites. Look at how they organized the information on their site: how many sections they have, how they are connected. Also, you can check what particular pages of your competitors show the greatest results in search, what's their place is in the website structure and… what keywords they use on each page!

You can get all of this information using Competitor SEO/PPC research tool. The tool will help you find your rivals and discover the most ranked pages/subdomains in Google's top 100 organic and paid search results.

When you figured out how your website might look like, proceed to the keywords research.
Step 1. Collect and select keywords
First, brainstorm and highlight specific categories that describe your products. What are you doing? What is the range of your products or services? What words describe your business the best? Write them down and think of how they connected to each other. To visualize it, you can create a website structure map using special online tools such as Mindmup, XMind, Venngage. You will end up with a basic skeleton of the key phrases that describe your product the best. This will serve as a basis for determining your website semantic core.
Using the list of discovered key phrases, complete them with as many keywords as possible using tools such as SE Ranking keywords suggestion tool, Google Keyword Planner, Google Trends, Q&A websites e.g. Quora, etc. Start from general keywords and then go further collecting more and more semantics.
When you've collected a huge list of keywords, that the time to filter the ones irrelevant to your business. Cross out all the queries that don't describe your business.
Step 2. Group keywords into pages
After you've collected and filtered all the irrelevant keywords, adjust them to your website map — categorize and prioritize the pages to build a hierarchy — from the main sections to the subsections and pages (from the high-volume to low-volume keywords).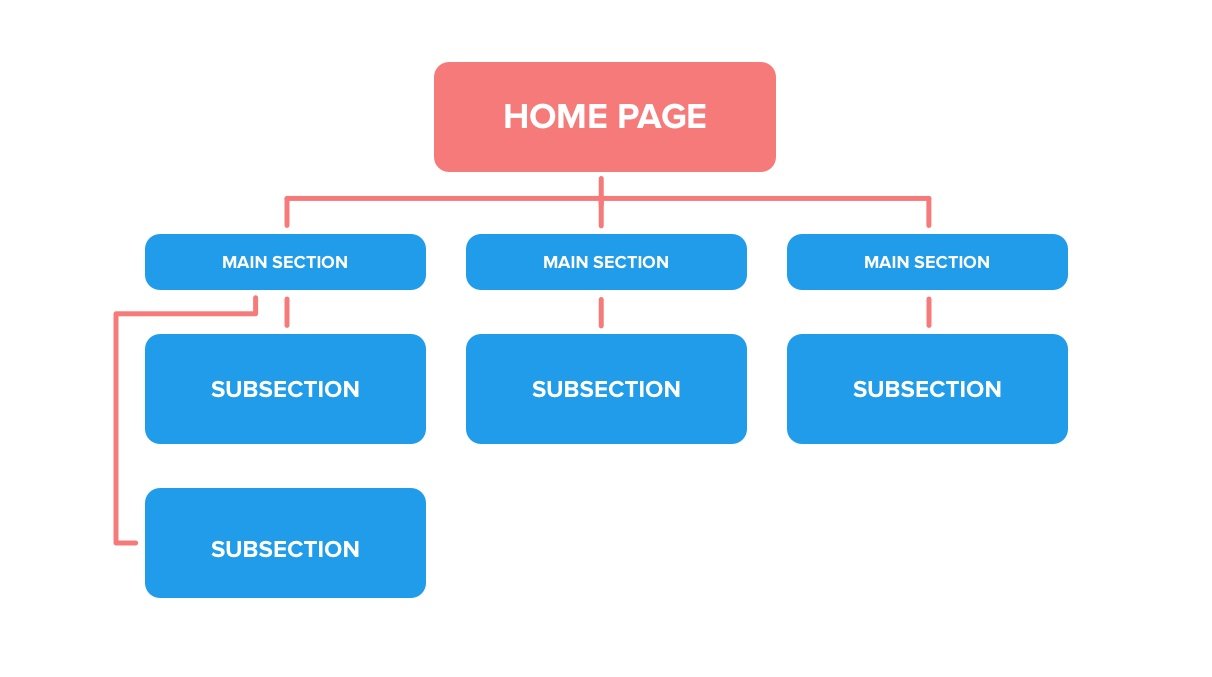 Remember, the higher page is in your architecture, the more likely it can rank for more competitive keywords. However, your priority is clearness and logic, so don't stuff any page with keywords to the neglect of sense.
Not only the content of the page that should make sense but also it's URL.
Step 3. Create SEO-friendly URLs for your pages
After you've created your website skeleton with all the categories and pages, proceed with a simple and user-friendly URL structure that follows your website hierarchy.
Here are some tips from Google:
Use readable words that are always better and more appealing to users than long ID numbers (e.g. www.domain.com/home/webpage is better than www.domain.com/home?id=3a5ebc944f41daa6f849f730f1);
Consider using punctuation in your URLs as they are more much useful to Google and make sure to use hyphens (-) instead of underscores (_) (e.g. www.domain.com/keywords-research is better than

www.domain.com/keywords_research

);

Use relevant keywords in your URLs as you need both users and crawlers find your pages. But please avoid keyword stuffing and keep a healthy balance (e.g. www.domain.com/keywords-research is better than www.domain.com/buy-the-best-tool-for-keyword-research-and-keyword-suggestion-discounts). Moreover, users tend to click the URLs that hold the query they've entered in the search box.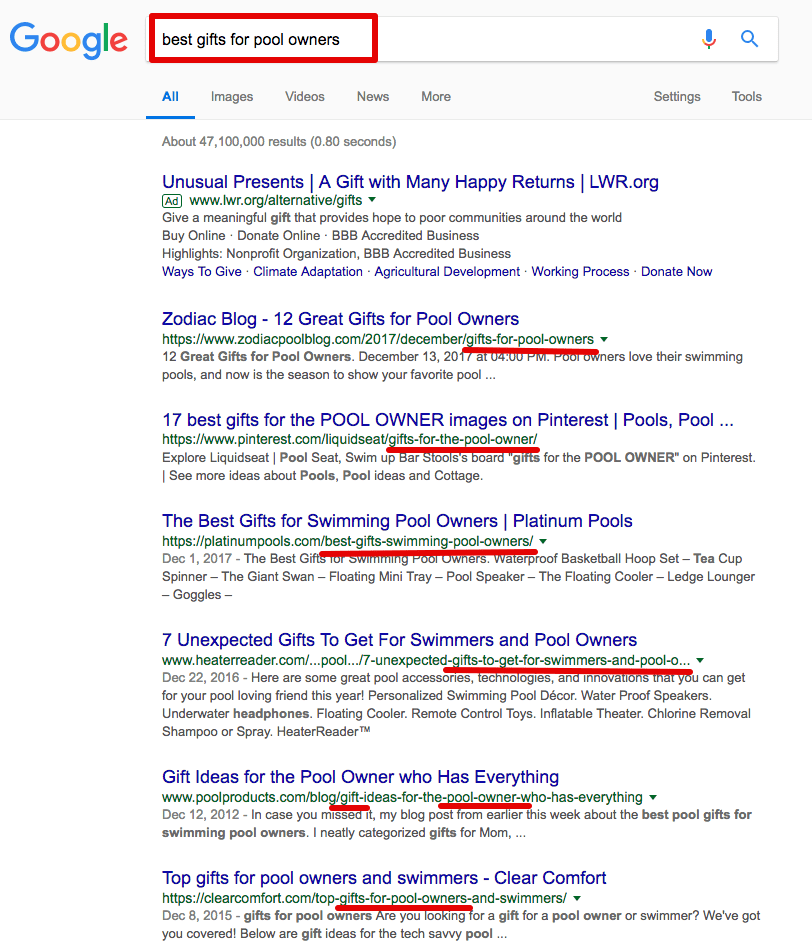 Make your URLs shorter — e.g. strip out such words like "and" or "the" as they only distract and make URLs longer (e.g. www.domain.com/blog/instagram-stories-guide-small-medium-businesses is better than www.domain.com/blog/instagram-stories-a-guide-for-small-and-medium-businesses).
Find more tips here on how to develop a URL structure.
When you have a set of pages prioritized and organized within an hierarchy of your website, you need to provide a clear connection between them.
Connecting pages of your website
The system of connections between your pages is called internal linking. This is one more cornerstone process you can't ignore if you strive to enhance your website navigation. Moreover, internal linking is essential for every website as it also helps spread a link juice around the web pages.
A rule of thumb here is that every website page should have a link to and a link from another website page. Google's bots find and index websites following one link to another link, so a smart internal linking will help them to find new content on your website.
Let's discuss elements that will help to connect your pages and make users feel like home using your website.
Menu
The website navigation starts from the main page. It is the menu that helps users to navigate your site and find the necessary information.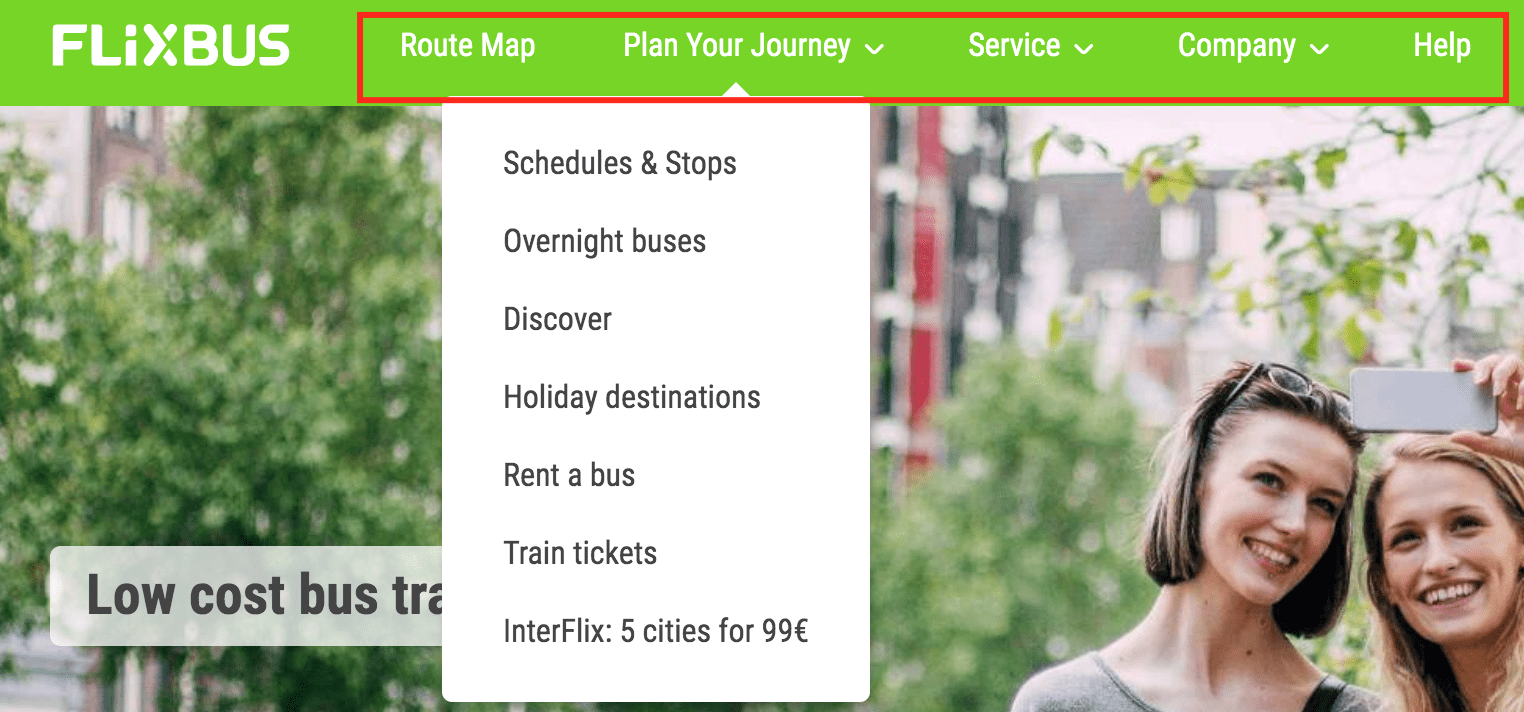 The site can have one or several types of menus. The menus help to present the content of all pages in a short form and assist the user in moving between the pages of the site.
It's a good practice to create the website menus on the basis of users' queries and the range of products/services presented on the site. Ideally, each group of keywords can create a separate page and a separate menu item. Also, try to avoid Javascript or Ajax when creating the website menu, and use HTML and CSS instead. Thus you will help the search bots to crawl your website.
Breadcrumbs
Another element that helps users to navigate your site and find the way back to any of the section and a home page — is breadcrumbs.
When navigating through your website sections, users won't necessarily understand where they are, and how they got there. To make the user's life easier, you can make a text path that is called breadcrumbs. Usually, they look as follows: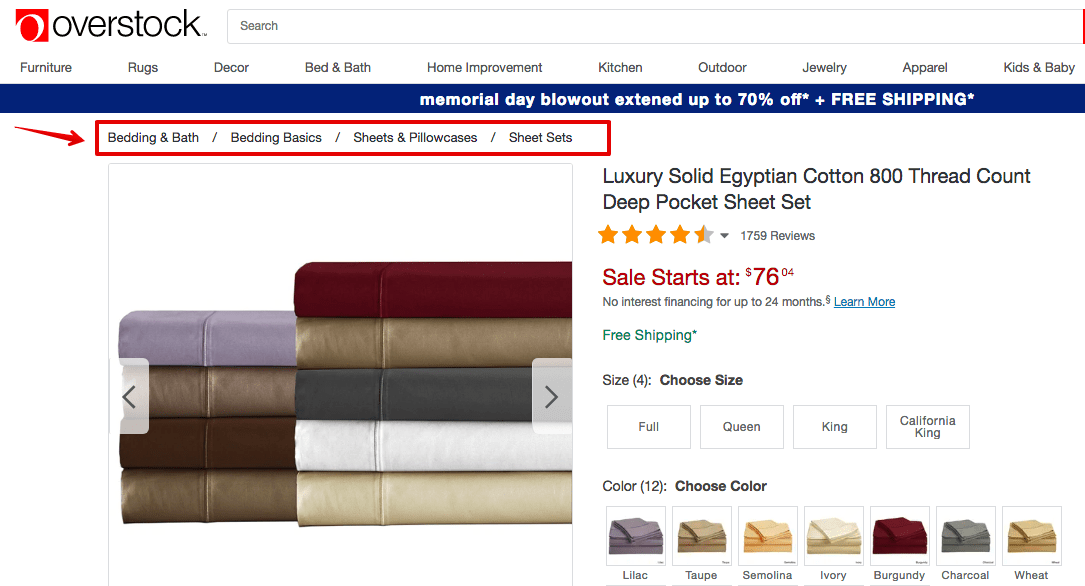 Breadcrumbs (or breadcrumb trail) are additional navigation on the website. They help both users (to see the website hierarchy and return to the category above) and search bots (to define the importance of the URL in the hierarchy).
Footer
A footer is a part of the page where you can place the main links of your top navigation menu. Make sure to use the same order and the same sections for the footer as in the top menu. Thus the user will navigate your site easily and won't be confused. Also, you can put additional links to your footer such as Privacy Policy, FAQ, Testimonials, Terms of Use, Contacts, etc. — make sure to exclude any external links from the footer especially when they don't associate with your business. Google won't penalize your site for the link to the web design agency but any inappropriate links will look unnatural to Google.
Filtering and sorting
If your website has a lot of services or products to offer, it's no way your users can succeed in finding something without any filtering or sorting options. These filters (or tags) help compartmentalize data and avoid creating too many unnecessary categories. If any of your categories have only a few items, it's better to change it with a filter providing the same information.
The filters should be designed for each category and cover all possible product's characteristics. To do this, deeply analyze the product and user's needs. The filters for clothing e-commerce may look like this:

Usually, the high-volume keywords are used for creating the main website categories (for example, "Clothing", "Accessories", "Shoes", "Activewear" etc.), and long-tail keywords — for the filter pages or filters intersection pages ("black long sleeve T-shirt").
Instead of creating unnecessary categories and subcategories, it is better to use filters or tags if we are talking about content projects. The tags help to organize your content, provide users with a specific set of articles and even help search engines to know your site better.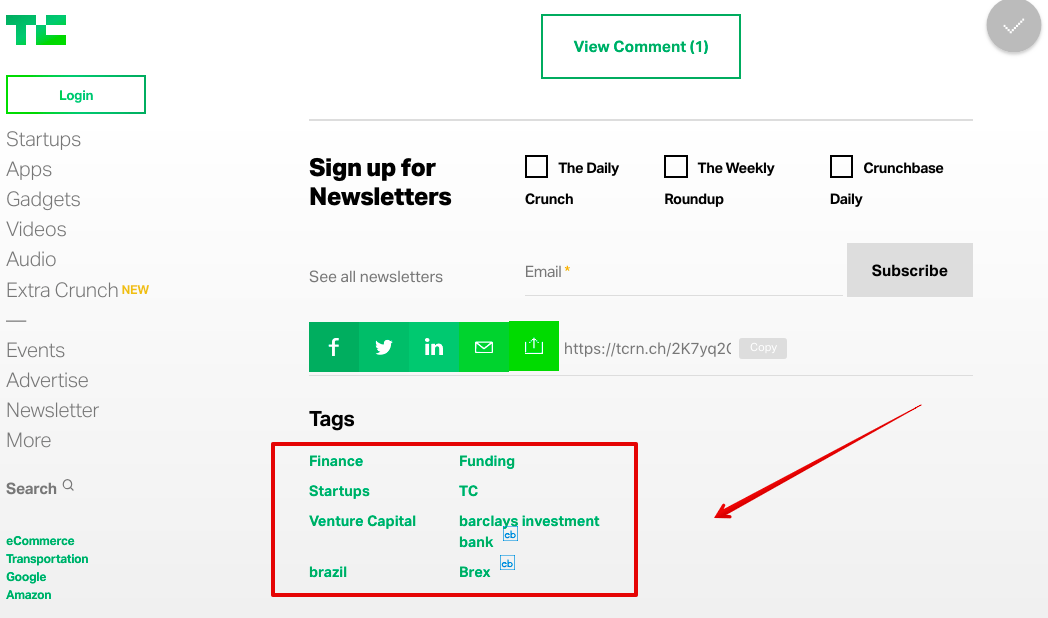 Of course you should care about users' interests in the first place — especially when search engines really appreciate you making it easy for people to browse your website. However, there are things that you should do specifically for search engines that regard your website structure.
Last but not least
Making your site easier to navigate, don't forget about search crawlers. They also won't be happy spending hours exploring your site. How can we help them? Providing with a sitemap!
Sitemaps help search engine crawlers keep track of all pages that appear on your website. Search engines can also use the sitemap as a reference when determining canonical URLs. By the way, Google indexes websites with sitemaps faster than those without. Good reason to have one, eh?

Read more on what is sitemap.xml and why do you need one, how to create XML sitemap and place it on your website, how many sitemaps do you need and how to set the indexing priority and frequency correctly and after creating one make sure to test it.
After all those efforts you might have a question, what exact benefits of doing all these things?
What to expect as a result of a good website structure
If I should name three reasons why you should enhance your website structure, I would definitely mention these — better keyword rankings and traffic growth, SERP features and happy users. So let's get down to it.
Higher rankings and traffic growth
If you have an SEO friendly website structure with smart linking, both users and Google will "understand" and love your website. What does it mean? Definitely, higher rankings, lower bounce rate, more web pages per visit and higher conversions. To track your website progress after restructuring your website, constantly monitor its rankings and respond to all changes in time. To keep all the data in one place track your website rankings with SE Ranking.
SERP features
Having a good website structure is about the website reputation and a good CTR as well. That's why it's so important to get the Google sitelinks — the SERP block that shows your domain along with several internal URLs grouped below. This is how it looks like.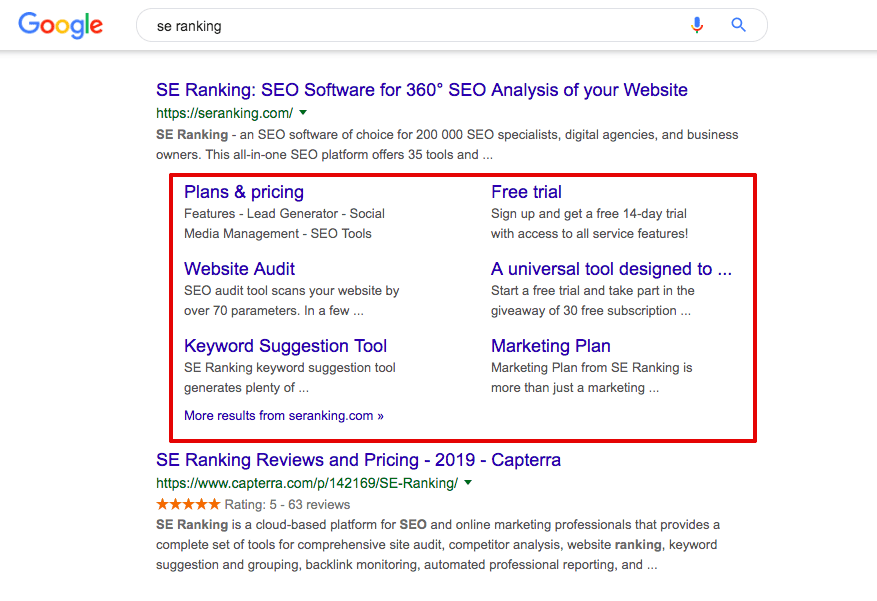 The sitelinks block affects your website reputation, helps users navigate, points the most relevant information and separates your website from others in the search results. So how to get these sitelinks as a part of your snippet? Create a good site structure, and Google will automatically reward you with this SERP feature. By the way, you can track the keyword rankings in the SERP features with SE Ranking and get a notification right when your website hits the sitelinks block — find a detailed guide here.
Happy users and better users' behavior
If you have not dived into heat maps yet (for example, Hotjar and Crazy Egg), it's time to discover these efficient tools to test usability and track users' activity. How did the visitor move around the site? Where did he click? Where did he stop by, and which parts did he miss? The heat maps give you all the answers. Also, you will be able to watch the video records of visitors' sessions, understand what they are actually watching, and what is missed. Analyze their behavior, draw conclusions and use them to adjust your website structure.
Keep in mind that a user does not necessarily enter your site through the main page and a query doesn't always clearly shows what the user wants. That's why it is important to enable the user to find the necessary information on a website no matter which page he/she starts with. Such a website structure will simplify the user's conversion path — if a visitor is ready for the next stage of the conversion funnel, it should be as easy as 1-2-3.
Conclusion
Building a solid and simple website structure is not only about sections and links — it's about user experience and design as well. Make sure you invest time and resources in creating an SEO website structure before you build the site itself.
If your website is already running, do analyze it from the structure perspective, create "to do" list and start from small but needed changes. Don't overlook this opportunity as it's your chance to enhance your website rankings and an overall SEO.