Sign up for our newsletters and digests to get news, expert articles, and tips on SEO
Thank you for subscribing!
No matter how much criticism goes towards ink building it still remains one of the most vital and useful approach at increasing more traffic and getting success at rankings higher. There are some tips on link building techniques. Whether you start from the scratch or you want to increase your link profile you will still meet lots of issues and disputes about link mattes.
If you pay much attention to link building today it includes a bunch of useful practices that will give you a chance to make white SEO on your website. Due to the updates of Google's Panda and Penguin algorithm there are certain strategies that you need to miss in order to avoid being penalized, but there is an overall set of untapped link building practices that you've probably missed or you've never used them before.
I don't want to teach you and tell you about how quality and topical backlinks should be on your website to reap the benefit of your SEO process as you've possibly read and known a lot about it in different SEO blogs. You know that a sort of low quality websites and spammy links will cut no ice. To get desired outcomes you can check the following tactics you can put into your SEO practice:
1. Scoop It
Scoop.it is one of my favorite and the easiest ways to get quality link on high PR pages. It will take just 15 minutes to get links on desired pages. In brief, Scoop It is the website where different people post their favorite content in one format like magazine.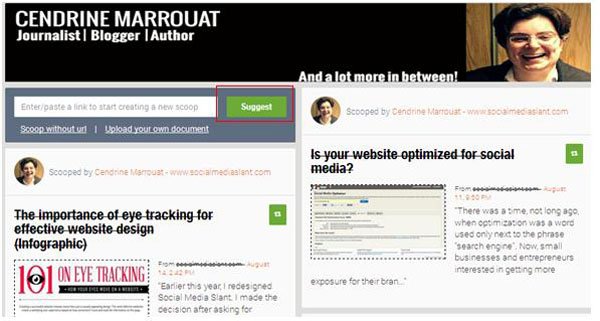 You just need to register there and use the suggestion feature to show your content to other people. You can search for topical pages with high PR like 3 and more and suggest them your content. For my survey, if you really write quality content and show it on scoop it your scoop will be hands down accepted. Actually 50% of accepted scoops within a day will give a dozens of authority backlinks.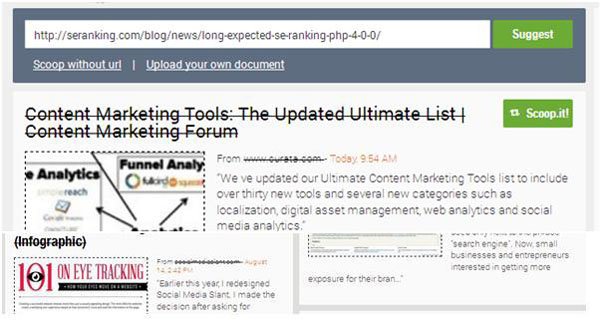 2. Creating Infographics
I guess everybody has heard about infographics but not everyone knows how much benefits you can get with this link building tactic. Yeah, infographics are really expensive and hard to do but it will compensate for your efforts. For well-made and creative infographics you can make your content viral what means the technology totally works for your business.
Try to be as much as possible creative, make your content unique, find a cheap designer or you can do infographics by yourself, for example, Piktochart or Visual.
Before completing the infographic, try to decide whether it meets all your needs. Just ask one question to yourself "Can you share this infographic with your friend?" or "Will you happy if someone shares this creature?". If you say "yes", I guess it is time to put the word out. You can share your creatures through infographic sharing websites like, Visual, DailyInfoGraphic, OmgInfoGraphics, Piktochart and others.
The next step is to reach bloggers in your field and offer them your quality inforgraphic with unique description about it. According to my experience, you can get more than 100 quality high PR backlinks from one single infographic.
3. Making Epic Content on Your Blog
Content is one of the most powerful and effective link building tactics you can ever guess. Yeah, there are many blogs about content marketing but it won't be worthy until you get a strong feeling of getting much traffic on your blog. Actually, a blog is a really gutty weapon for you. It is for sure if you use it quite right.
Majority of bloggers make the same mistake while running their own blog. They don't show much interest what they are writing. They just do it because the client or a friend needs to help with this blog. Just post short articles with well-known facts in each blog article. Try to make your content epic and unique. Love what you are writing. That will make a real sense, than just rewrite well-known facts.
When you cover some special and interesting points in the article you will be on the right path as you can make it viral and highly shareable among other web users. In case of a successful attempt you will increase the chances to share your content among other users or bloggers what will give you a bunch of useful backlinks.
Guides, research, interviews, tutorials, educational videos and other variety of content – all of these ideas are good ways to make of great value to your customers or fans. Posting awesome content is just the first step, especially if you are a novice in blogging. To get the word out about content you should make a lot of email outreach. I know it takes much time but it will give a huge audience and can guarantee some good results.
4. Getting Backlinks from Brand and Product Mentions
If you working a lot to promote your brand and product in search engines and make it popular among customers you need to know what people tell about you online. Sometimes people mention your product or brand but without any links. You can easily track any product or brand mentions with Mention tool.
The tool works fine in search of any brand or product mentions online. You just need to create an alert like you've probably make for Google Alerts. Within a few seconds you will get the first mentions about your product or brand. If you see someone tells about your brand any link you can contact this blogger, tell him thank you for putting the word out and kindly ask him to link to your website.
You can just enter like "SE Ranking" or create alerts with keywords like "website ranking", "keyword ranking tool" or "check rankings in Google". Then you can reach out a blogger and start to build up relationships with him. You can get the word out your products, offer reasonable prices and send him a free sample.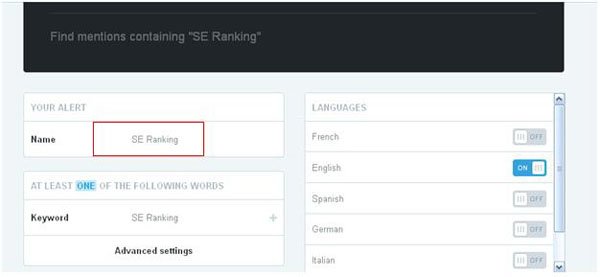 If you follow this tactic and track who mentions about you gain a good set of authority links like it did Ecommerce Rules.
5. Performing Blogger Reviews
If you run some product, service or anything else that will be of great value for your customers you can easily benefit it and turn into a thousands of useful baclinks.
You wonder how to do that. Pretty easy. You can offer your product to use for free to bloggers.
Find bloggers in your niche that can be interested in your product. It depends on what kind of information you want to share. If you sell "premium coffee" or premium tea" you'd enter in Google things like "premium coffee", "gourmet coffee" and etc. You can put whatever you want to get instead from your search query.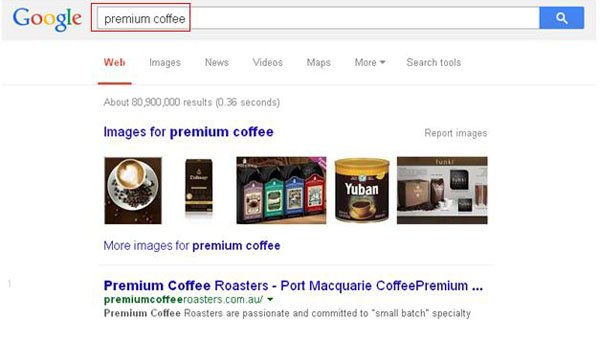 So, you will get a huge list of different blogs. You can send an email and offer your product. Who knows? Maybe, someone will like this one. Don't be spammy. Try to find out about the blog you want to make an offer and offer them unique suggestions.
Here is the email sample you can use:
Hello, the owner of a website!
I was searching for some coffee recipes blogs today when I came across your website: the name of a website.
Awesome stuff!
Actually, I just wrote an article what sort of coffee to use to make a good coffee and can offer a good list of premium coffee you can be interested in. I usually charge money, but I'd be more than happy to send it over to you to try any sort of coffee without any charge. All I'd ask is that you'd consider mentioning it on your blog or writing a review.
Let me know how that sounds.
Cheers,
Your name
Watch out your language when you compose a text for each blogger. Don't use the same text for different bloggers. Be unique. Notice that it is not a traditional way of guest posting that violates Google's Webmaster Guidelines. You just offer your product and let them decide whether they like your product or not.
6. Google Alerts
I guess everyone knows about Google alerts but not everyone uses it as a possible way to make quality links. So, it is quite easy and quick. You just need to be logged in with Gmail account and add your keywords into Google alerts.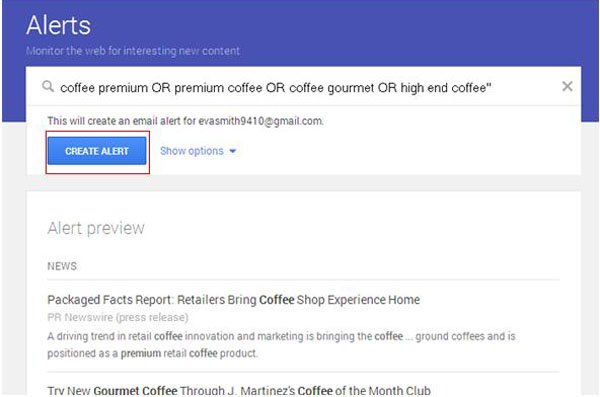 After you create alerts you can easily update them and customize them in that way you want to get alerts via email.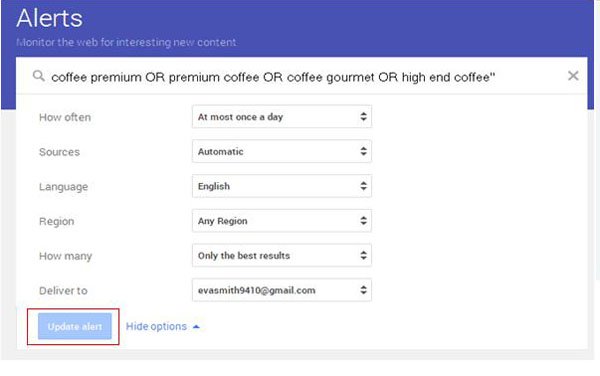 When you start getting alerts you can easily go to any interested pages and add your two cents about your product, information or just give useful tips with links.
7. Analyze Your Competitors' Backlinks
It is not only useful to track on your competitors' website but it is needful in search of a good idea to get quality backlinks. There are many tools you can check competitors' link profile. I use Open Site Explorer. You can view all links that are coming back to your competitors' websites, research them and find a good source to build up authority link on your blog.
Stay strict to link building tactics and try to focus only on high-quality links. All links should look natural as much as possible.
8. Quality Links From Toolbox
This way can seem you quite strange but it will worth your time and efforts due to getting killer backlinks on your websites.
What You Should Do:
You just need to find resources or recommended websites in your niche. So, if your niche concerns SEO or marketing you can use the following search engine queries in search of good websites. It is better to use websites with DA more than 27. You can use the following search queries:
"SEO" + "resources"
"SEO" + "resource pages"
"SEO" + "recommended websites"
"SEO" + "useful links"
"SEO" + "links"
As soon as you find a website you can email and ask for a link. To make your way works well you can research all resource pages in search of broken links and let bloggers know about them what will increase your chances to be added in the toolbox.
In order to make that process quick you can use the plugin Check My Links for Google Chrome. It will save your time and efforts.
One point you should pay attention is to compose a good text for email. Check you language and possible mistakes. Here is the sample I am using:
Hi, the name of website owner or just website name!
I was just browsing around your resources page today, and among the lists of great resources, were some expired domains.
Here's a few of them:
URL 1, URL 2 and etc.
Oh, and I have a website that also regularly posts quality content related to whatever. If you think so too, feel free to post a link to it on your resources page.
Either way I hope this helps and keep up the good work!
Thanks,
Your name
9. Fiverr Quality Backlinks
I know that many users have crappy feeling with Fiverr. Lots of spam, low-quality websites and etc. But I can show you some possible ways you can get most out of it only for 5$.
You can find quality websites there with good reputation. Yeah, it can be hard and takes some time. But it can be worthy. You just need to know how to get these websites.
You just need to search for that type of gig where a webmaster offers sells contextual links on his own website. And that's it.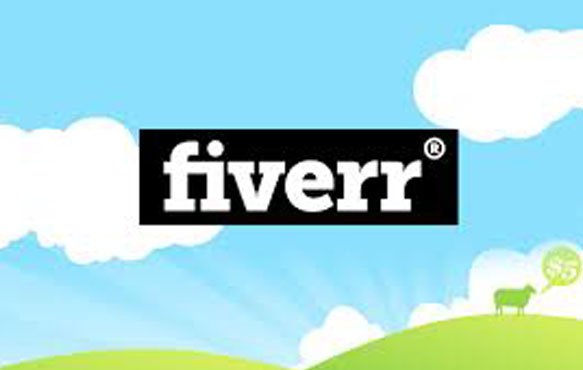 After finding a suitable website I provide my own content. You don't follow any guest posting guidelines, can write optimized articles, can put links wherever you want and get your post live within a day. Not bad, right?
You can search for such websites with the following search strings:
"I will post your content"
"Guest post on my"
"I will post your article"
10. Getting links with HARO
HARO is one of the best ways to build up authority links. It won't take long to do that. You just need to sign up as a source and with a day you will get 3 emails from reporters for good sources. You just need to respond him and provide helpful tips.
Easy, right. You just give a well-detailed reply and instead of it you will get a link. Spy on all emails on HARO. Probably, one day you can get a link from Inc.com or somewhere else with the same authority.
So, It is Time to End up…
If you have some interesting link building tactics that I didn't mention in the article I would love to view your ideas and, probably, update my article with your great idea. What do you think? Do you have anything we need to know? Come on! We are all ears! 🙂