Sign up for our newsletters and digests to get news, expert articles, and tips on SEO
Thank you for subscribing!
Running a startup means that you dream big and work hard to create an awesome product, but nobody knows about it just yet. And that's the reason why SEO should be a part of your gameplan. It remains a major source of targeted traffic and, unlike other marketing channels, SEO will not drain your budget – while website optimization comes at a cost, it's hardly comparable to massive advertising expenses. To top it off, SEO is not just about gaining organic traffic. It's also about trust, understanding your audience and many other things.
In this post, I'll briefly cover all the major benefits of putting SEO at the core of your promotion strategy. I'll also outline the main processes you'll have to add to your daily routine to make search engines love your website. So, let's start by understanding why SEO is well worth all the effort it takes to bring your website to Google's page one.
Better website visibility
Running a startup means that the only people typing your website address into Google's search box will be you and your team members. If you want other people to spot your project, you'll have to either invest in paid advertising or start doing SEO to help your website rank high.
Once your SEO efforts yield first results and you make it to the top 10, your website visibility will improve and people will be able to discover your website organically. The number of visitors you will get will vary depending on your business niche, the popularity of the keywords you rank for and your SERP ranking position where higher rankings equal to better visibility. According to a research by Advanced Web Ranking, positions ten to six combined get less traffic than position three alone, while position one gets one-third of all traffic.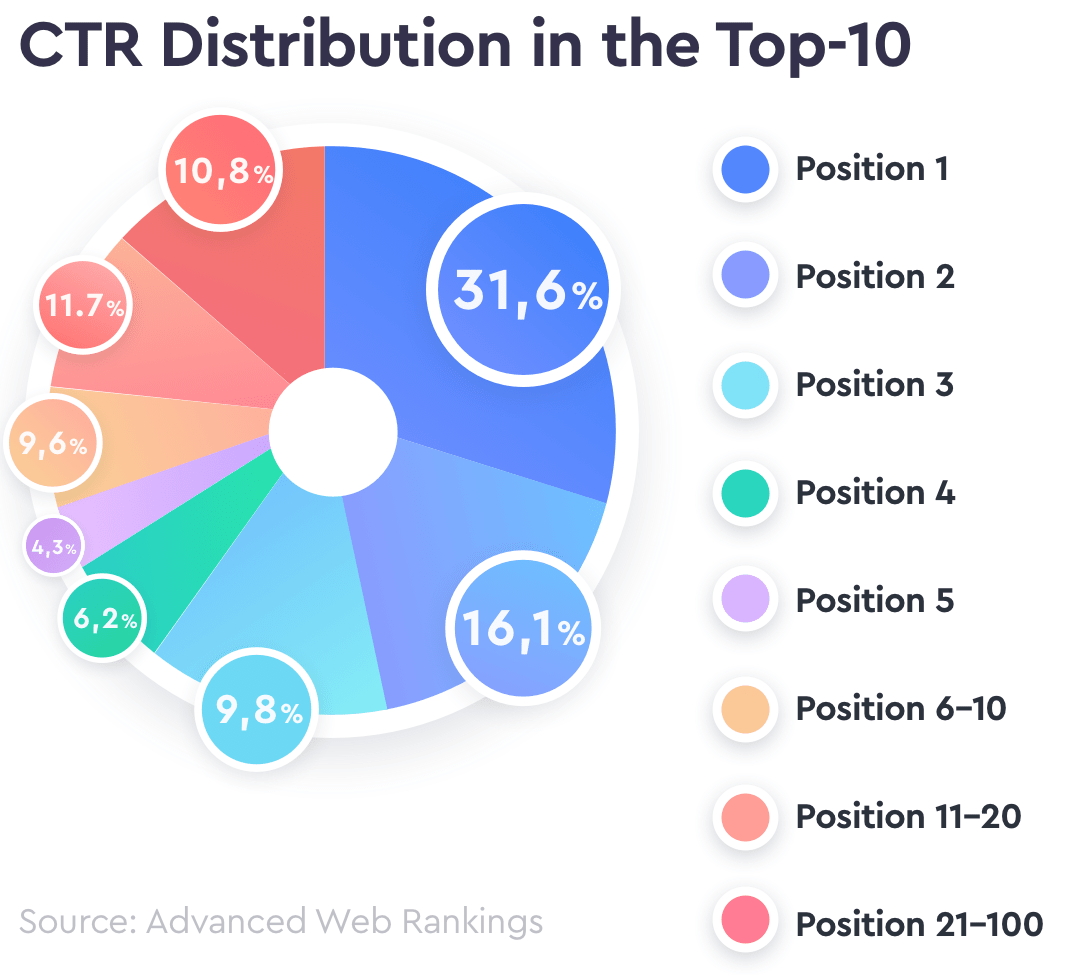 So, your website's visibility will grow as you move up the ranking ladder, and more people will pick you in search over other websites.
Enhanced users trust
As you start ranking high for more keywords, user trust in your brand will grow as well. Users tend to believe that websites that rank fairly high in SERPs are more credible, and they are actually quite right since Google now favors websites demonstrating higher EAT: expertise, authoritativeness, and trustworthiness.
So, if users regularly spot your website at the top of the SERP when searching for content in your niche, it will eventually enhance their trust in your brand. This means they will be more eager to click on your website link when seeing your brand name, be it in SERP or elsewhere around the web.
Targeted traffic that lasts
After you rank in the top 10 for a while and Google decides that your website is well worth staying there for good, you can rely on a steady flow of organic traffic that will last for months or even years. It will not go anywhere like the traffic you can get from paid advertising campaigns. And this is one of the major reasons for startups to pick SEO over other means of traffic acquisition.
Another reason is the quality of the traffic SEO can bring. Ranking high for relevant commercial keywords like "buy summer shoes" or "CRM for small business" will bring you highly targeted traffic that converts well. You just need to give users what they need. The thing is people come to search engines with some intent in mind, be it to choose the best product in its kind or find some tips for solving the problem they have. If your website succeeds at fulfilling users' intent, you will get highly interested leads who you can move down your marketing funnel and turn into customers.
Data for creating customer personas
Naturally, to meet your customers' intent, you need to know who your customers are and understand their needs. And this is not always the case for startups, who are yet to get acquainted with their target audience.
Keyword research is one of the cornerstones of any SEO strategy that can also help startups get some insights into their potential customers' needs and pain points. It will help you learn what your possible customers look for on Google, what problems they discuss in forum threads and when they prefer to watch a video instead of reading a blog post. You just need to do keyword research in a meaningful way, as I described in this guide.
Another thing you should do is add a Google Analytics code to your website – it will allow you to track tons of useful data including age, gender and geographical location of users who visited your website.

You can further use Google Analytics' data to see how different groups of customers interact with your website and make all the necessary changes to better meet the needs of the group you want to target.
Visitors to your local business
Startups that do their business locally and run a brick and mortar store need to attract visitors to their shop or café rather than to their website. And still, they can benefit from SEO no less than online ventures. Research is an essential component of the buying cycle, and many customers now prefer to do it online. According to a survey conducted by Uberall, 82 percent of smartphone users run 'near me' searches. So, people will run a local search to choose a restaurant to visit on Saturday night or to find a nearby dentistry with reasonable pricing.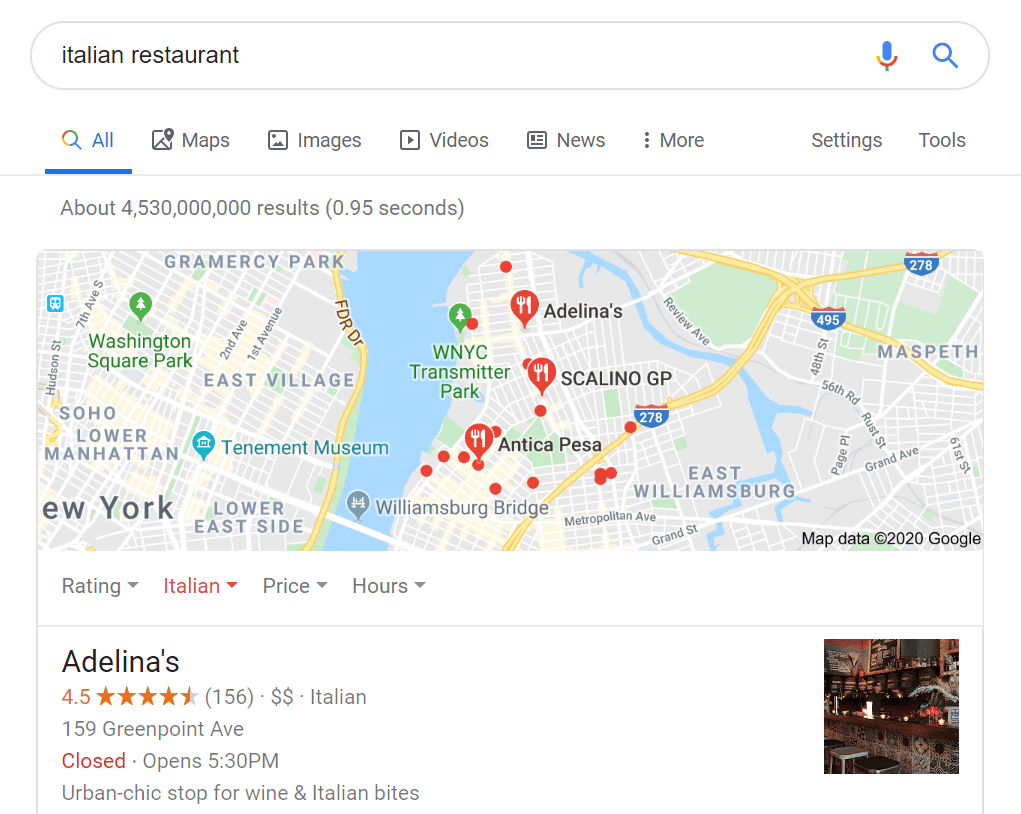 The above-cited survey also discovered that around 90% of users will click on the first set of results when running a local search, which means you need to rank fairly high for users to spot you. Start by creating or verifying your Google My Business profile – this is how Google learns that your business exists.
Your Google My Business profile holds all the essential information your customers may need like your contact details, office hours, customer reviews, photos of your store and the link to your website. Make sure to fill in all the details that can encourage users to pay you a visit – for example, adding a photo of your restaurant menu or a list of services your dentistry offers can make a big difference. A complete profile with positive user reviews will also help you rank higher in local search, as GMB signals are so far the dominant ranking factor in the Local Pack.
Smarter budget allocation
The last but not the least benefit of doing SEO is that it is money well spent. Naturally, SEO is associated with some expenses on hiring SEO and technical specialists plus getting all the necessary tools for their work. And still, attracting users with paid ads will cost you much more, so doing SEO is a great way to save on your marketing budget and invest more in your product and website development.
If you have some time on your hands and an inquisitive mind, you can save even more by doing all of the SEO for your startup on your own. SEO it's not rocket science after all, and all you need to master the basics is some time and a pinch of dedication.
So, if you are ready to start your SEO journey, let SE Ranking all-in-one SEO platform be your trusted guide. Here you'll find a Marketing Plan – a checklist with best SEO practices – that will help you along the way.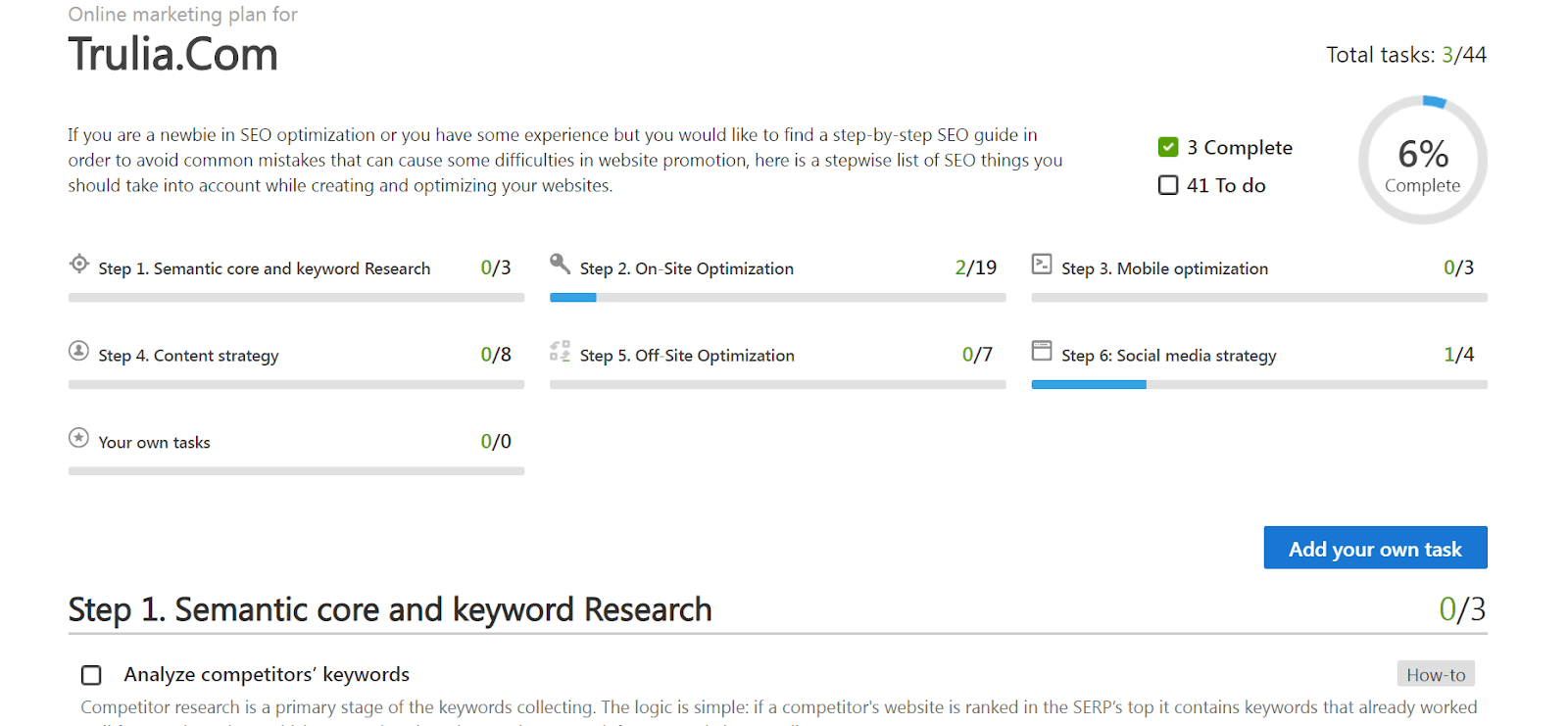 Besides, SE Ranking can help you with all of the cornerstone SEO tasks you'll find in the Marketing Plan. It offers plenty of SEO tools under a single subscription plan such as Competitor Research, Website Audit, Keyword Rank Tracker, and more. And you can try all of them out with a 14-day free trial.
Now, while the Marketing Plan offers you plenty of steps to complete, don't get overwhelmed by the number of tasks waiting for you – SEO is actually doable if you set your priorities right. And for you not to get lost, let's briefly outline the processes you'll definitely have to embrace in order to start moving in the right direction.
Getting started with SEO for startups
While Google's keeping mum about the exact ranking factors it uses, SEO experts claim that all sorts of things matter for your startup's SEO success from having a user-friendly-interface to social media signals. The problem is that at the very beginning startups may not have enough resources to invest them into creating the perfect UX or building a social community. And it's totally fine as long as you focus on a few things that can surely make a difference.
Relevant content, a smooth-running website, and quality backlinks are the cornerstones of any SEO strategy, and, thus, things any startup should consider from the get-go. So, let's take a closer look at each of the essential elements of your SEO success.
Filling your website with quality content
Quality content is still king in 2020. And by quality, I mean a well-structured piece that offers unique value and solves users' problems. Now, let's figure out what it takes to make your content well-structured, unique and problem-solving.
All you need to do to fulfill the first requirement is to find someone knowledgeable in your field who writes well so that you could get easy-to-grasp meaningful texts with proper grammar.
Then, to create something unique, you'll have to first understand what is already offered on the market, which translates into running a competitive research. It will reveal how strong your competitors are and which topics they cover so that you can come up with something different and claim your market share.
Finally, to nail the problem-solving requirements, you need to perform meaningful keyword research and understand the user intent behind every keyword you decided to target.
SE Ranking's Keyword Suggestion tool will help you fulfill the last requirement. All you need is to paste a broad term relative to your business niche into the search box, and the tool will come up with thousands of suggestions. My advice for startups is to go for long-tail keywords – you'll find plenty of those in a separate tab of the Keyword Suggestion tool.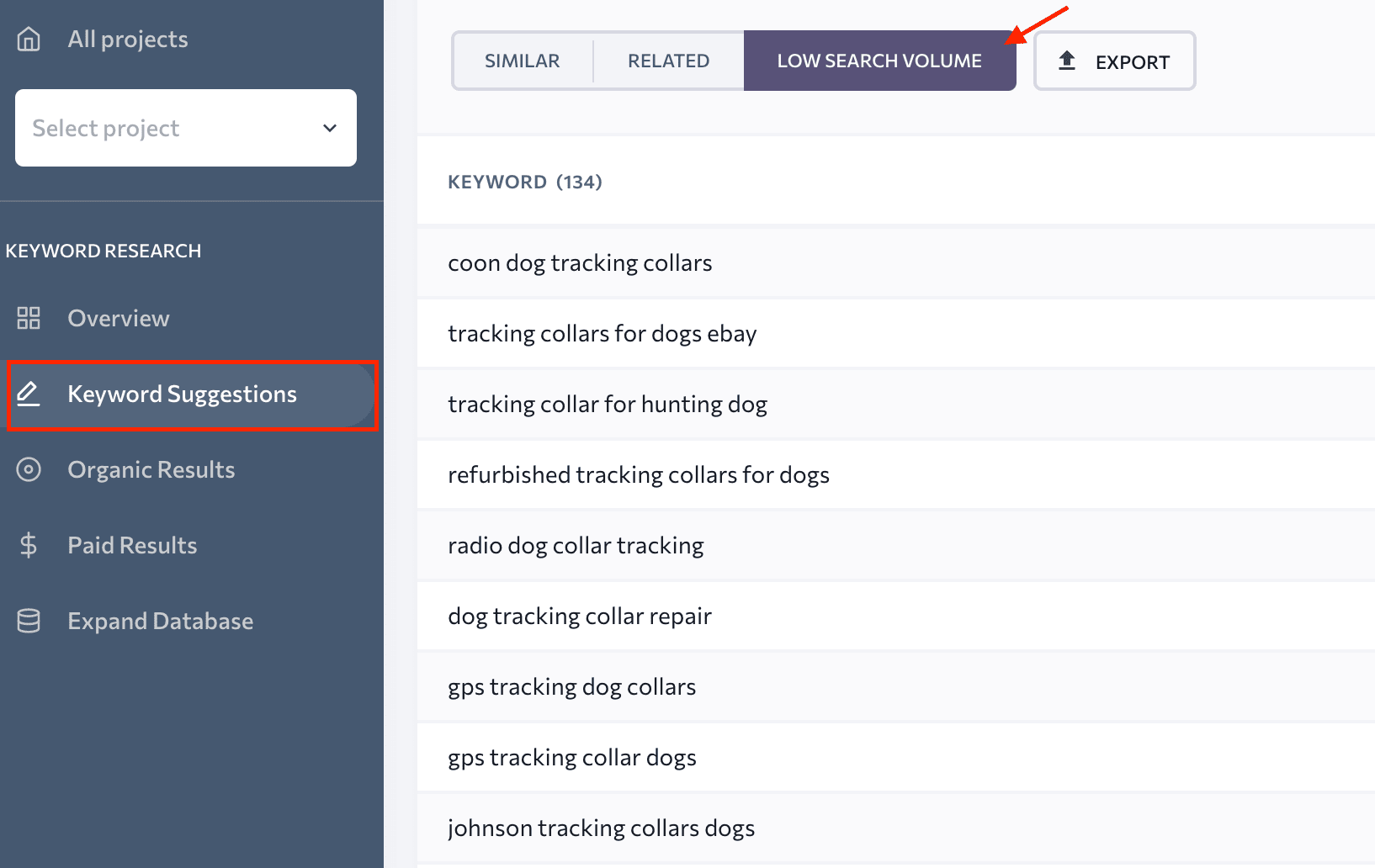 Long-tail keywords do not get many monthly searches. However, by looking at these search terms, you can easily understand what kind of content users expect to find. They are also highly targeted and, thus, convert better – someone Googling training collar for small dog is more likely to buy the goods then someone Googling a broad term like dog collar. Finally, long-tail keywords are low-competitive, so you can expect to start ranking high for these terms rather fast.
Sometimes, though, you may not find any long-term keywords for your website. You actually may not find any keywords describing your product at all. I'm now speaking about the pioneers developing things that did not previously exist. For example, before thousands of people started Googling pet cameras, they had to first be invented and promoted to the public.
If this is your startup's case, the only way for you to understand what your customers want is to actually talk to your customers. Some insights from the sales and support team can help you with this one. To benefit from SEO, you'll have to go for keywords that describe the problem your product solves like "watch your pet" along with keywords standing for similar products like "home camera".
Checking on your website's health
You may fill your website with excellent content, but it won't really matter if users have to wait for ages in order for the pages to load or if the website is practically unusable on mobile. Both users and Google favor websites that are fast, error-free and user-friendly, so your task is to stay on top of every technical issue that may impede your SEO growth.
SE Ranking's Website Audit tool will help you identify all the technical errors your website may have. It will not only measure your website speed and how well it is optimized for mobile, but will also spot duplicate pages, indexing issues, server errors, and lots of other things. To top it off, you'll find some recommendations on how these errors can be fixed.

Check out this guide to learn what technical errors can keep you away from the top and thus should be fixed asap. Now, let's move on to backlinks, the last essential component of any SEO strategy.
Creating a backlink profile
Having a smoothly-running website and content that brings unique value to users is sometimes enough for Google to eventually start ranking your website. In most cases, though, you'll need other older and more authoritative resources to tell the search giant that your website is a worthy one by linking out to you.
As a startup, you may have a little advantage here. If you came up with some groundbreaking product idea, the media will be eager to write about you and link out to your website. So, start looking for PR opportunities as soon as you're ready to send out a buzz about your product's first achievements.
Reach out to authoritative websites in your niche and ask for some mentions. Do influencer marketing: if some known experts try out your product and spread a word about it in their blog/social media, you'll not only get some backlinks, but also potential customers coming your way. Participate in conferences relevant to your business niche to build partnerships with important industry players – you'll then be able to exchange blog posts with them and cross-promote your marketing campaigns.
PR really should be your priority when you're just starting out as it allows you to kill several birds with one stone: your brand awareness and credibility grow, you can get backlinks and leads coming through those links. At the same time, other link-building methods are not to be ignored as well.
Do guest blogging, join relevant forums and post some useful comments with links to your website, submit your website to various business directories – you can use SE Ranking's curated list of trusted directories and catalogs.
Then, ideally, you also want to keep an eye on the backlinks you've built as you may lose some of them over time. It will also let you understand the kind of backlink profile you currently have. While monitoring every link manually would be too time-consuming, with SE Ranking's Backlink Monitoring tool, you'll just need a few minutes to skim through the report. It will tell you if the link is not found or dead, its indexing status as well as some other key SEO metrics, such as authoritativeness of the referring domains and the anchor text used.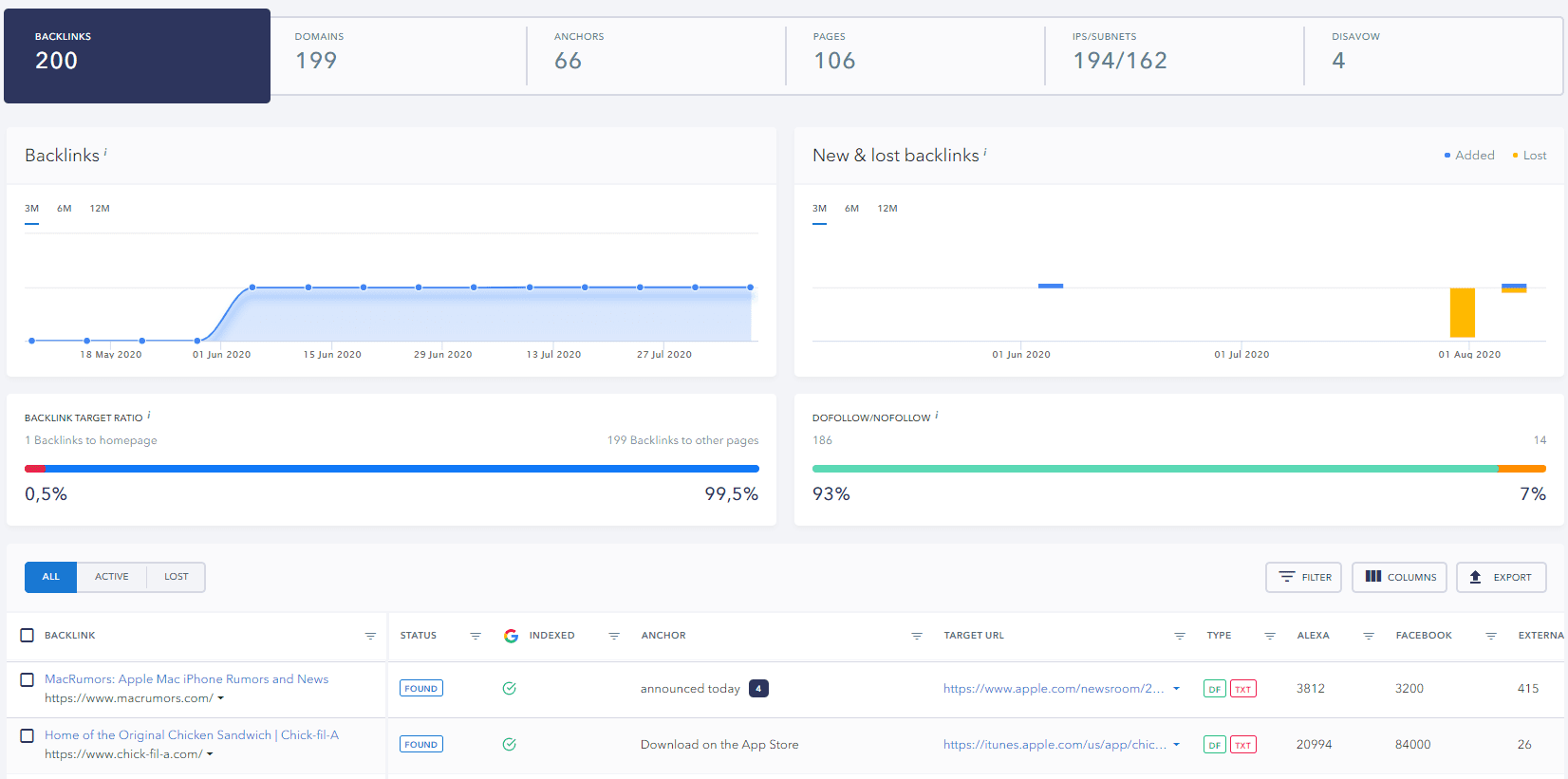 You can add backlinks for monitoring manually, import them, or – if you've lost track of your backlinks – discover them through the Backlink Checker tool and further add for monitoring by pressing a single button.

Now, an important thing to keep in mind is that when building links: quality and not quantity should be your top priority. Spammy backlinks from irrelevant sources will not do your website any good. If Google decides that you are involved in some kind of manipulative link-building techniques, you will get penalized. So while as a startup, you may feel tempted to find some shortcuts and quickly get tangible results, it's better to resist the temptation. Most link-building schemes that worked in the past are now outdated. And the price of falling in Google's disgrace is too high.
Closing thoughts
SEO is a resource-demanding and long-term game not all startups are eager to play. And still, it's an essential part of any sustainable business development strategy. Time and effort invested into making your website SEO-friendly will pay off when you start getting free organic traffic. Search can be a never-draining source of targeted leads if you develop a viable SEO strategy.
After all, doing SEO does not really mean having lots of extra tasks to complete. SEO is all about running a website that brings value to the users and this is something you should be striving for anyway. Getting some media coverage should also be on the list of your startup's priorities. Following SEO best practices will simply let you move in the right direction while ripping all sorts of benefits along the way. And SE Ranking tools will help you keep up with SEO best practices.