Expanding your site's keyword list through Competitive Research
Your website is up and running, you're getting good results in terms of keyword rankings and traffic, and it's time to celebrate, right? Sure, you should be proud of yourself, but nowadays, you can't relax your SEO efforts because of constant Google updates and competitors breathing down your neck all the time.
So, what's your next move?
Continuing to do traditional keyword research may not give you the results you expect in terms of growth. What you need is to go from keyword research to keyword expansion.
Keyword expansion aims to find new keyword opportunities to target. On the one hand, this involves identifying new search intents and search queries that are relevant to them, which is a large-scale, voluminous task. On the other hand, it also has to deal with a more focused task of expanding existing keyword clusters and just finding new keyword variations.
One of the best ways of doing this is through researching your direct competitors first, then looking at your indirect competitors as well, with the help of the Competitor Analysis tool. That way, you can find out what's working for them and use that data to create a powerful keyword list for your own website.
Identifying the competition
To spy on and get inspired by your competitors, you first need to know who they are. With the help of SE Ranking, you can easily pin down your digital rivals.
The simplest way to find out who you are going up against in organic search is entering your website's URL into the Competitive Research tool and going to Organic traffic research → Competitors. You can also go to Paid traffic research to learn more about your Google Ads competitors.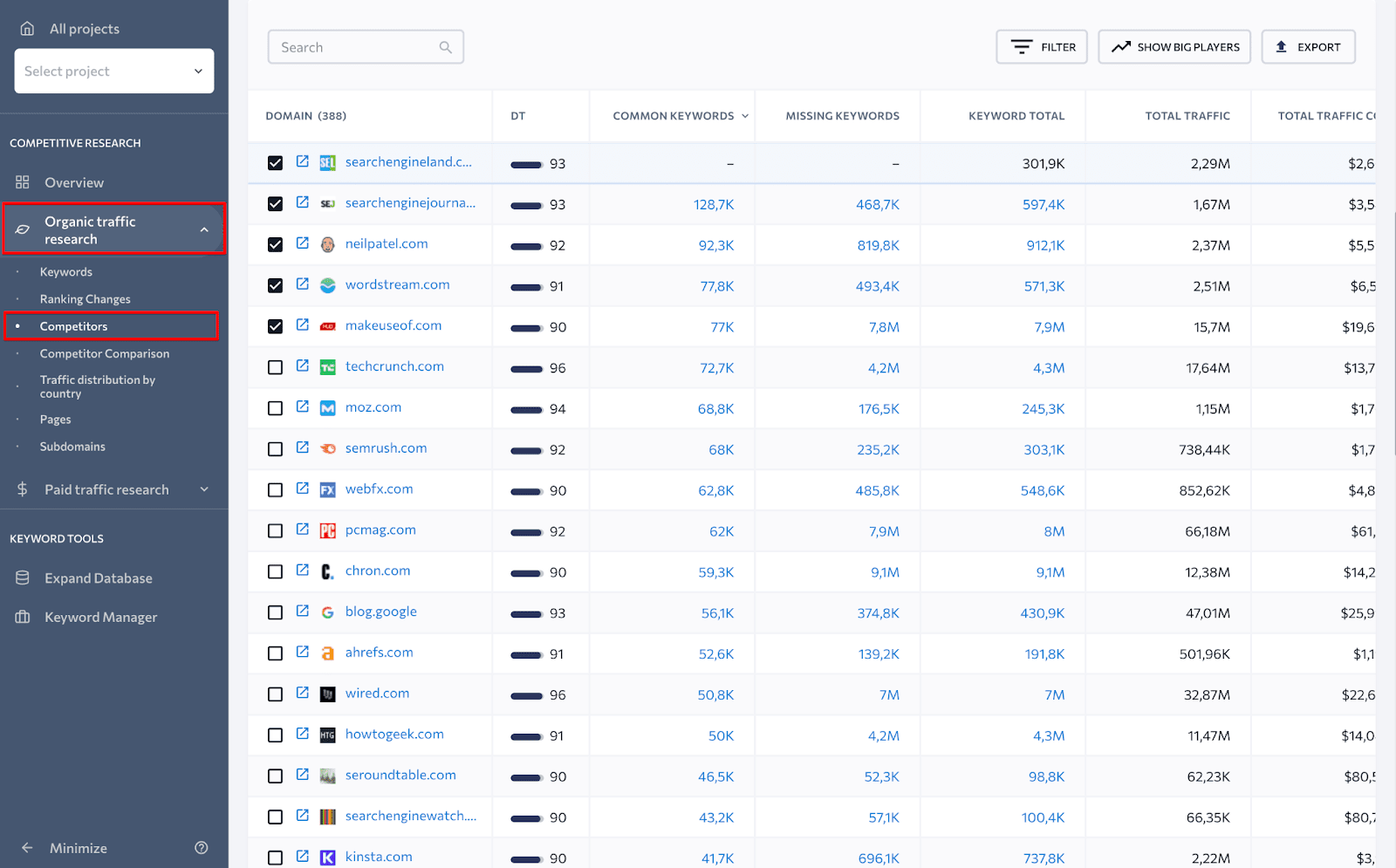 Here, you will get the full list of your competitors, along with their Domain Trust scores, traffic numbers, and most importantly, a breakdown of their keywords. In addition, you can click on Show big players to see the top competitors in the table, too.
The best part of this approach is that you don't even have to create a project in SE Ranking to use the standalone competitor website analysis tool. However, if you want to pin down your competitors more accurately, you will need to create a project.
Once you've added your website as a project to SE Ranking along with all your keywords of interest, go to My Competitors → Visibility Rating to see a list of websites that rank at the top of search across all of the keywords you're tracking.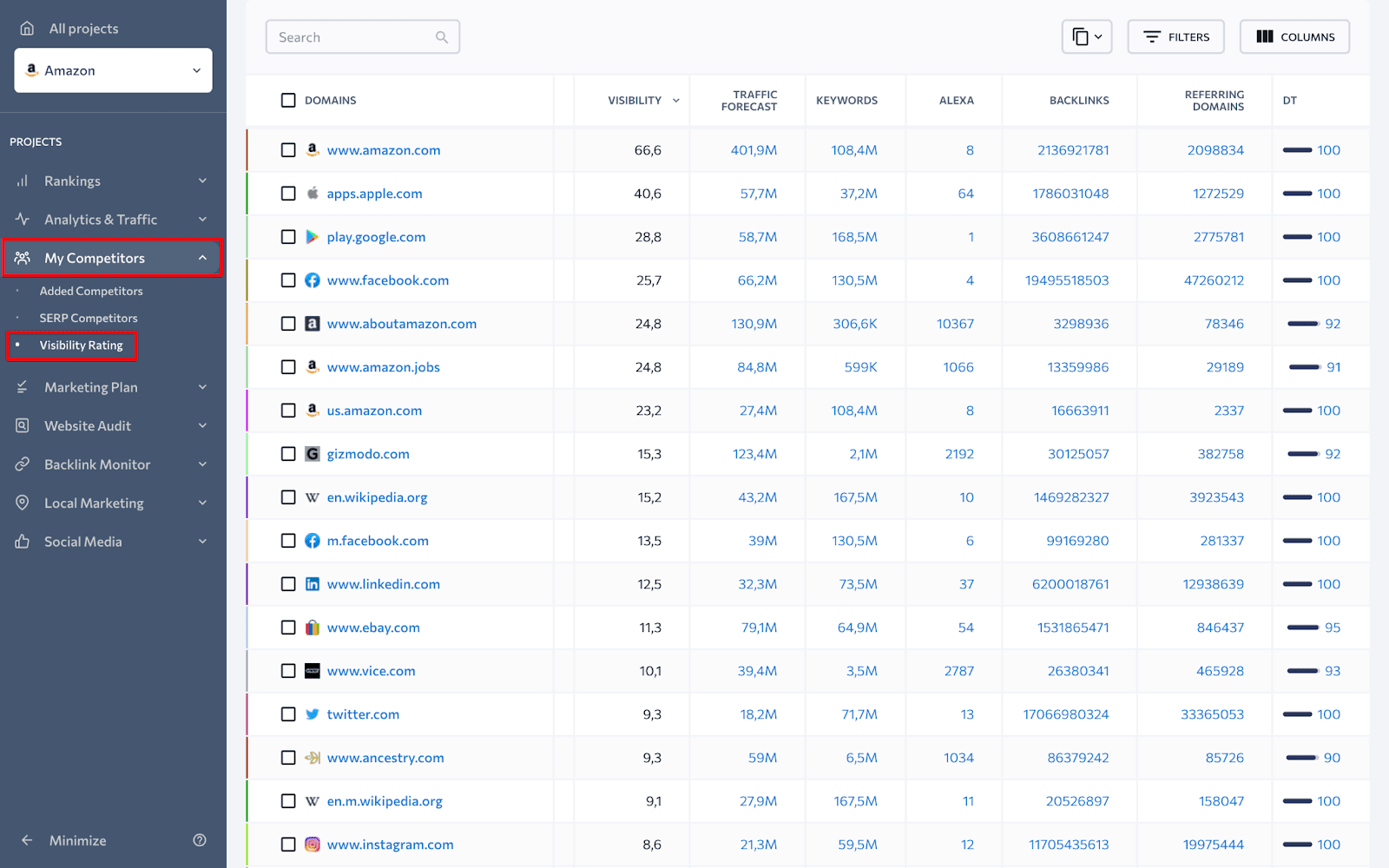 This helps you to understand what websites you have semantic overlaps with the most based on your target keywords.
Now that you know who the competition is, let's take a look at how you can expand your keyword list by analyzing your rivals.
Borrowing keyword ideas from competitors
Competitive Research helps discover what keywords your competitors are ranking for and you're not. That way, you'll be able to expand your list of target keywords with relevant queries.
Enter a competitor's website into the Competitive Research tool and make sure to select the region you want to analyze, since the data is country-specific and will change depending on the analyzed market. Then, go to Organic traffic research → Keywords.
Here, you get a list of keywords your competitor's visible for in organic SERPs, along with the ranking position, difficulty, search volume, SERP features, and other pertaining data. You are also at liberty to export their list of keywords and manually compare it to your own list.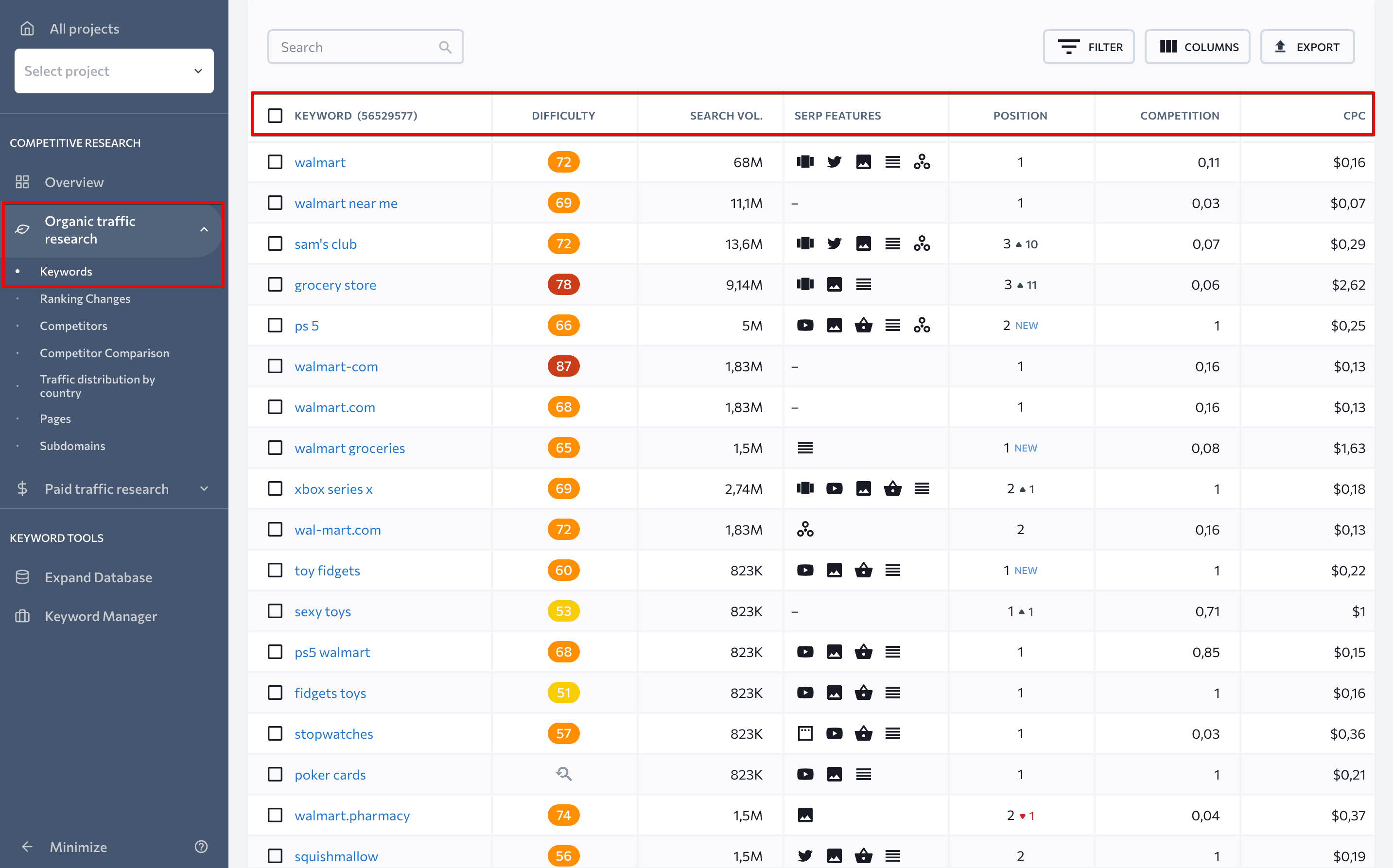 Under the Competitor Comparison subtab, you can find out what keywords you have in common with your competitors, which ones are missing, and which ones are unique. This is a much quicker method, as it compares keyword lists and highlights any keyword gaps automatically, removing all the hassle.
Here, instead of a competitor domain, start by entering your own site's URL at the top of the page, then type in the domain addresses of your competitors into the Domain 2 and Domain 3 text fields to compare the keyword lists of three websites.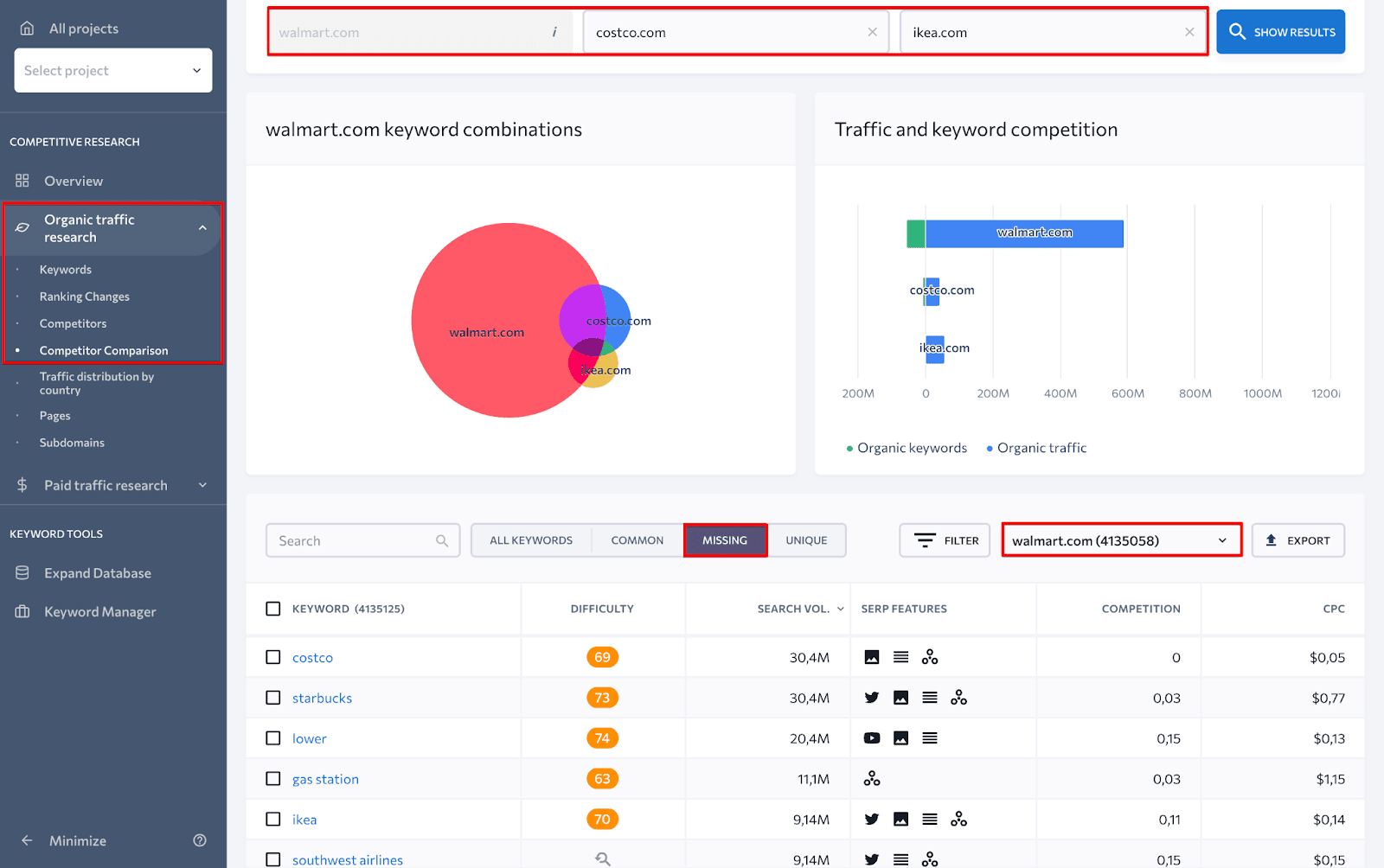 Since we're looking to expand our list of keywords, we're not really interested in exploring the All keywords and Common tabs at the moment because they'll only highlight the semantic overlaps. We, on the other hand, are looking for keywords that are not targeted by our campaigns: keyword gaps.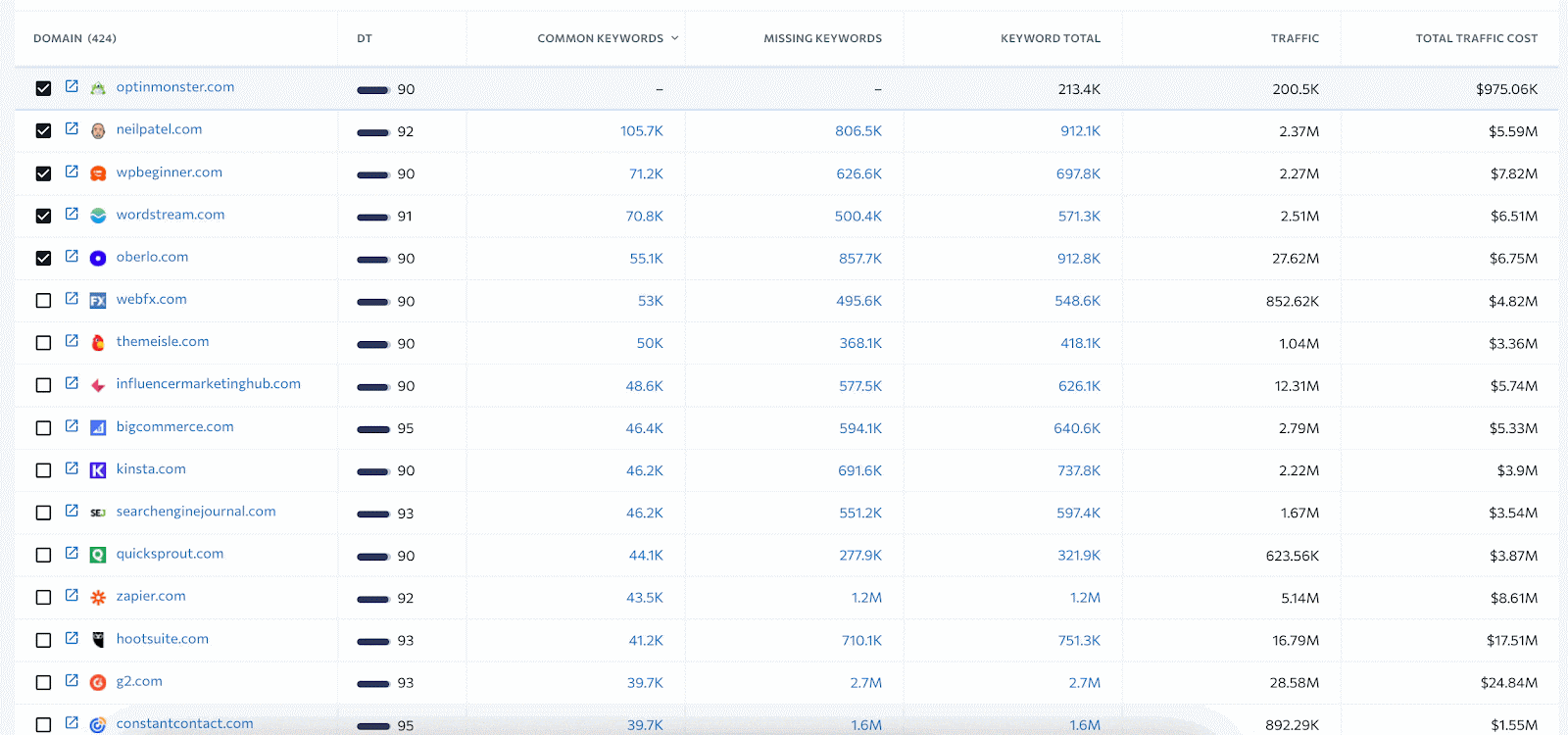 By analyzing the search queries under the Missing tab, you'll be able to see what keywords are used by your competitor, but not by you.
Often, there will be thousands of them. To save yourself from the nightmare of going through each found keyword, use filters. It is always a good idea to look for so-called low-hanging fruit opportunities.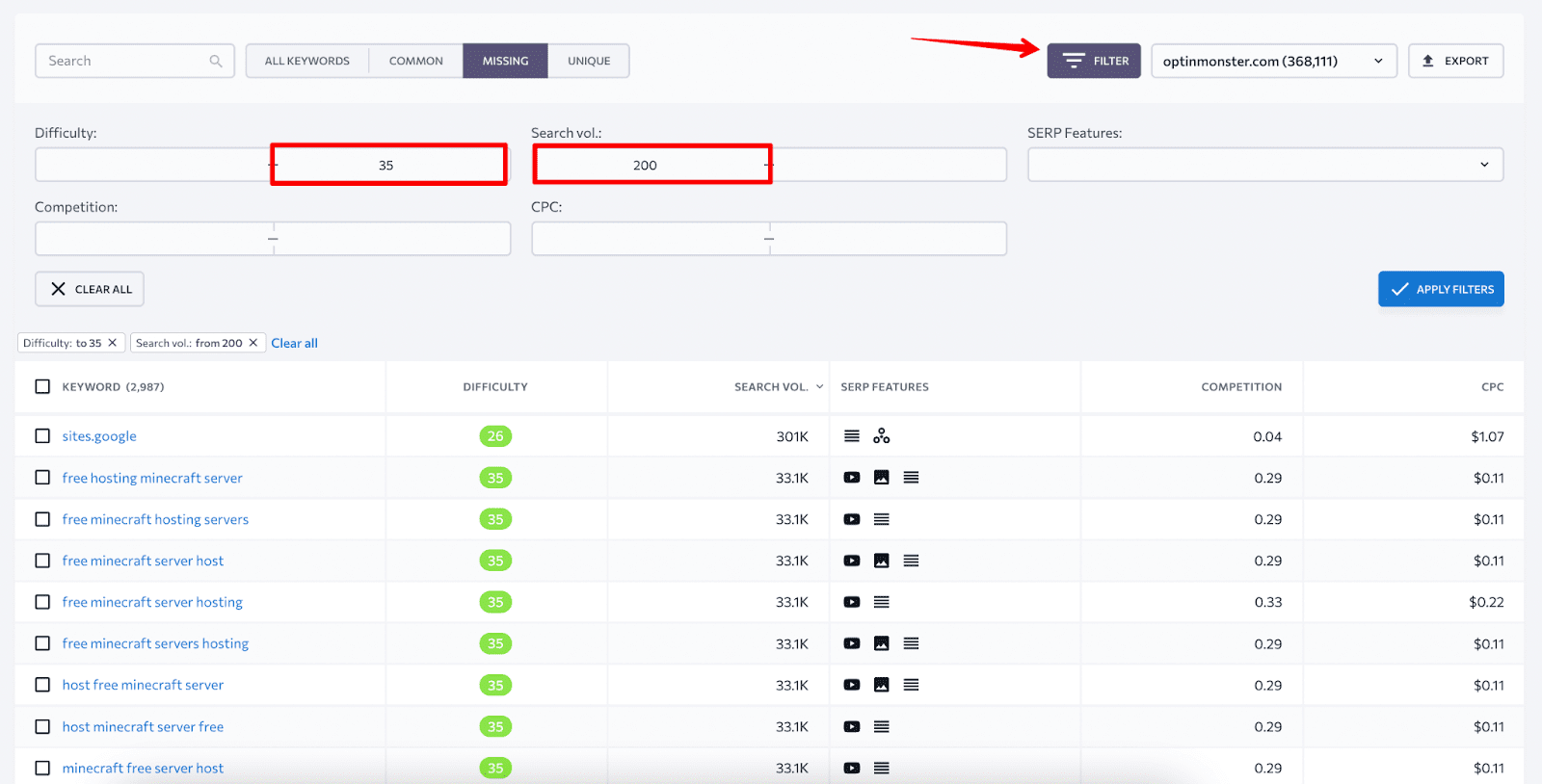 For example, this includes looking for keywords that are easy to rank for—under a Difficulty score of 35—and have a decent search volume that is higher than 200 monthly searches. But, of course, this depends on the niche, and you'll need to decide on the Difficulty score and search volume on an individual basis.
Once you've applied the right filters and have a list of the keywords you're interested in, you can export the list to a CSV or XLS file. Just make sure the Missing tab is selected, the filters are applied, then click Export. As a result, you'll get a file that includes only the missing keywords along with the competitor URLs and additional metrics.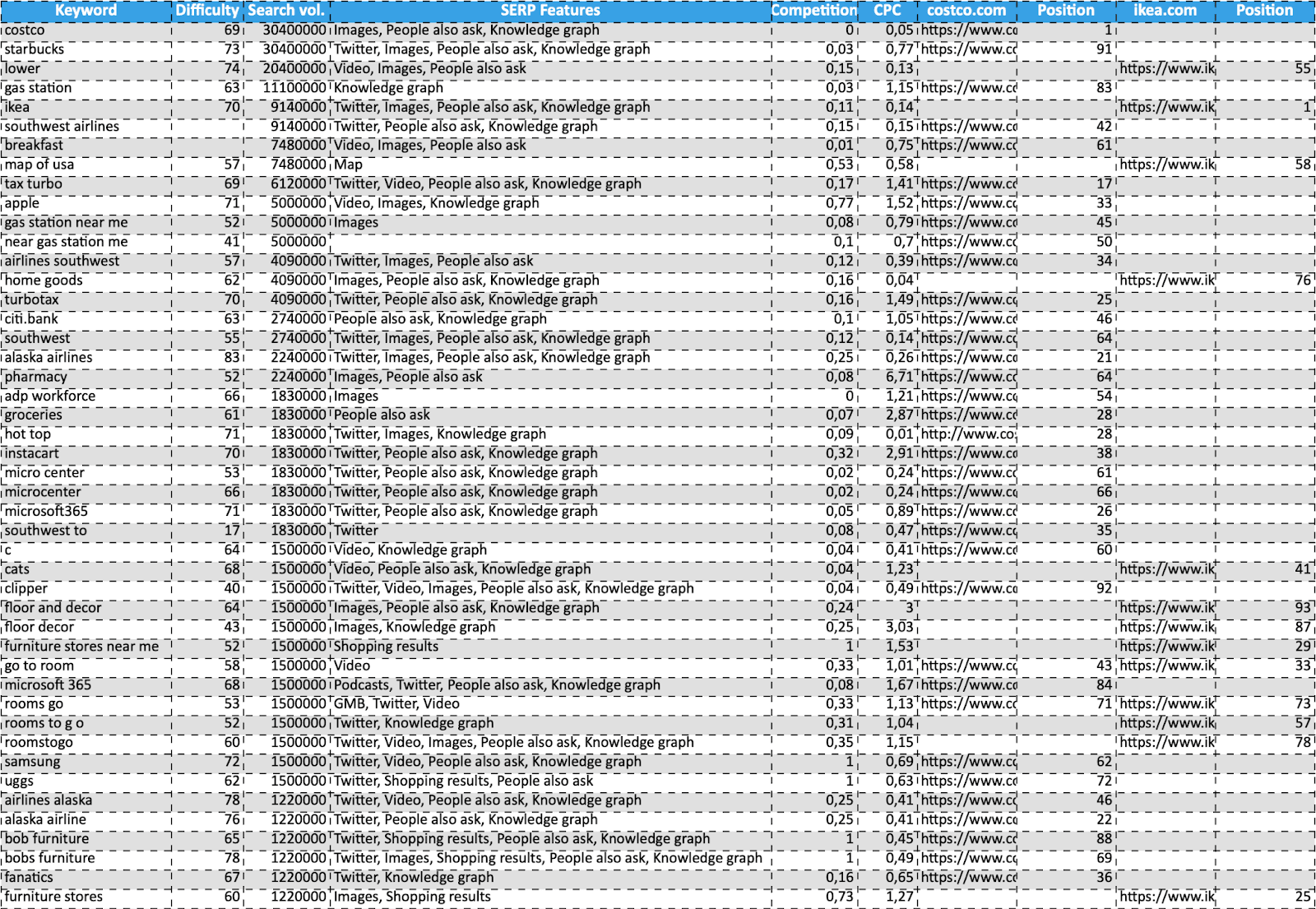 Note that best practice suggests analyzing keywords in groups, depending on the competitor URLs they are relevant to. This will help you identify well-performing keyword groups that your rivals are ranking for, understand their main keyword focus, and discover more relevant clusters for your own keyword research.
With the power of this data, you can gradually expand your list of keywords with queries that show good results for your competitors and use them in your own campaigns. Once you finish, take several other competitors and repeat the process.
Another place you can go to continue your analysis is Competitive Research → Organic traffic research → Pages. Here, you can find out which competitor pages drive the most traffic to their websites. Moreover, you can see all of the keywords that each well-performing page targets in search.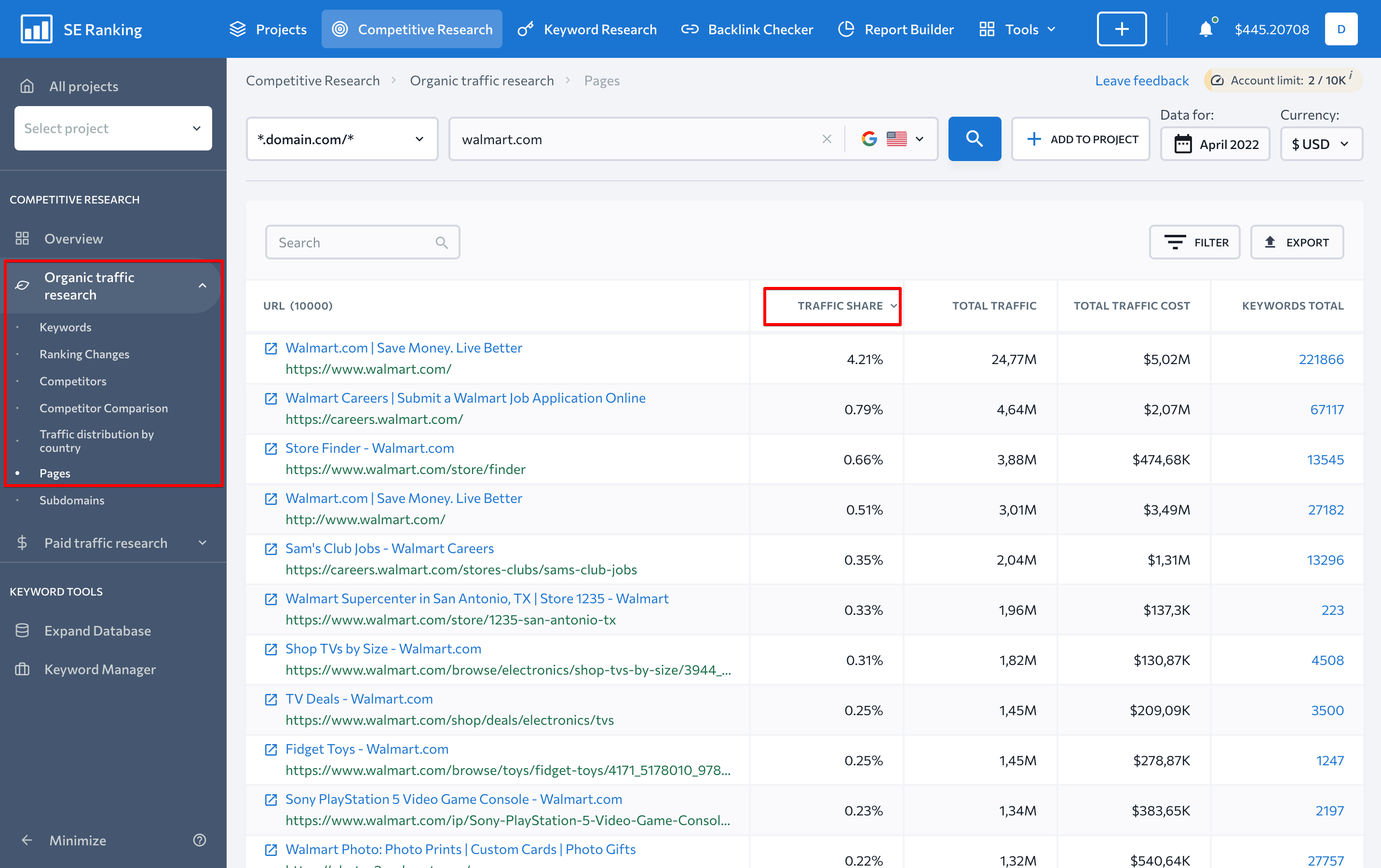 Doing so can help you optimize similar pages on your own site for these target keywords, or you can create new pages with a higher potential to drive traffic.
Finally, you can expend your list even further by using SE Ranking's keyword suggestion tool. You'll only need to enter a seed keyword and choose your target locations—the tool will offer hundreds of similar and related keywords along with their key metrics.
Managing your keyword list
Of course, you can always export your keyword lists to a CSV or XLS file and continue working with them manually from there. But if you feel like trying an alternative method, the Keyword Manager tool offers its advantages.
As you're going through keywords, pick those that look promising by ticking the box. Next, click the Add to button above the table, choose Add to a Keyword Manager list and choose a relevant list. If you don't yet have a list for the project, you can create it on the spot.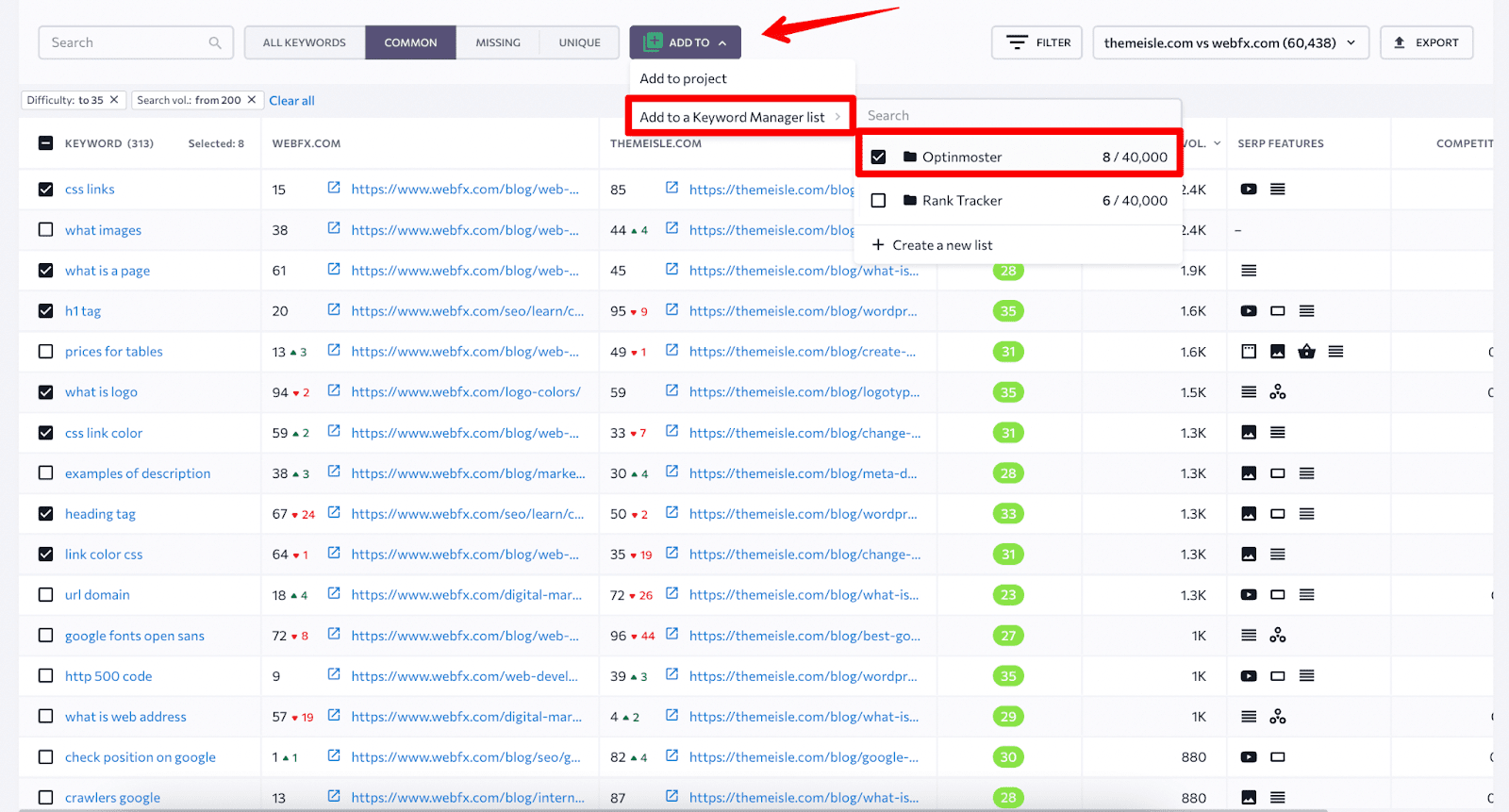 Since you'll be going through multiple competitors, you may start worrying about adding the same keywords to your list twice or more. The good news is that Keyword Manager automatically removes all duplicates.
Once you're done with keyword hunting, go to the Keyword Manager to evaluate the take.
Another great feature the tool offers is local search volume check.
While Competitive Research provides you with data on search volumes across a selected country, the Keyword Manager enables you to refine this data down to the zip code level. This feature is particularly beneficial for the businesses that target very specific areas, like Brooklyn in New York.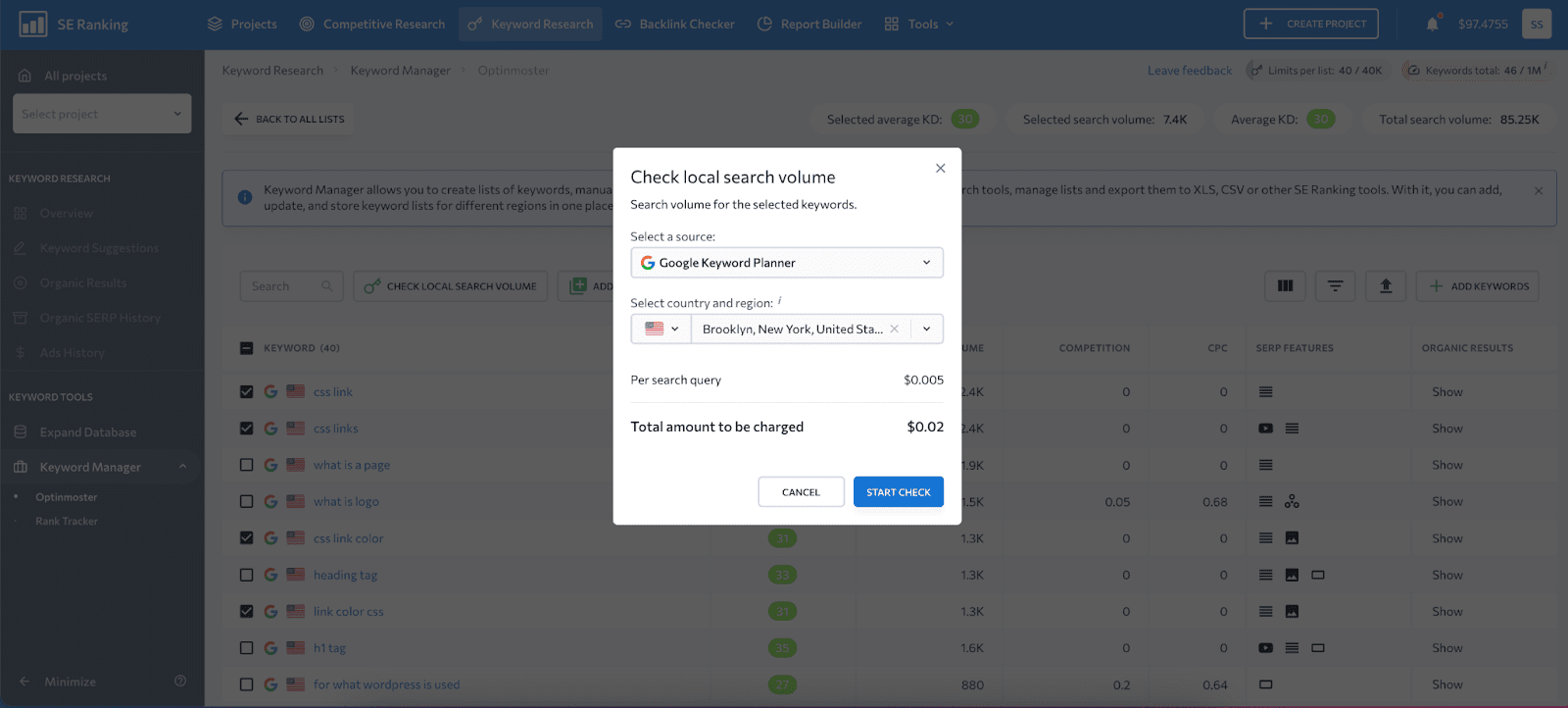 Bucketing keywords into relevant keyword groups
To take your keyword expansion efforts to the next level, you'll most definitely need to cluster your keywords into relevant keyword groups. And SE Ranking has the perfect tool that will come in very handy at this stage.
With the Keyword Grouper tool, you can create a list of semantically related keywords that, once compiled, can be distributed across your site's pages in a way that helps drive more traffic, be it organic or paid.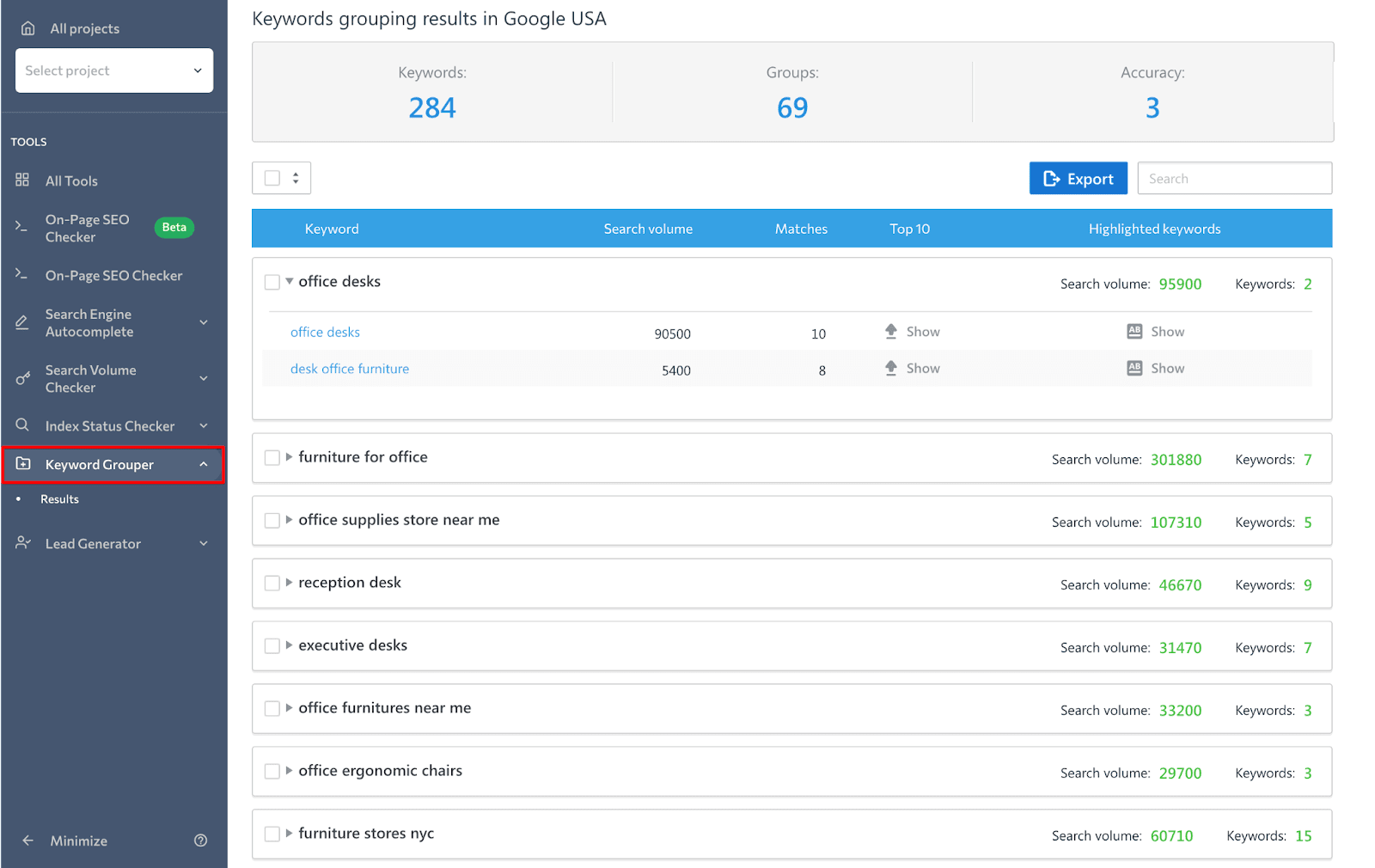 For example, say you have a couple of similar keywords in your list like "food delivery" and "order food online." Should you place them on the same page or on different pages of your website?
To figure this out, you need to look into your competition and understand how similar the pages that rank for these search queries really are.
Without an automated tool, this would take many long hours to complete manually in an Excel file—no disrespect to Excel. And given the human error factor, there's no guarantee that there won't be any mistakes and the keyword groups will be squeaky clean. So, the Keyword Grouper can be a real lifesaver for bucketing your keywords into relevant groups and pages.
Final thoughts
When you publish new content on your site that includes search queries you hand-picked during keyword expansion, immediately start tracking their performance. Add the newly-targeted keywords to your SE Ranking project in one click to start monitoring their rankings. And make sure to keep an eye on your competitors, too, to know you're not falling behind.

By using the approach covered in this post and combining it with traditional keyword research, you're bound to start driving more traffic to your website and open the doors of your company to a brand new audience.
Do you know any other ways of easily and efficiently expanding your site's keyword list? Be sure to let us know in the comments section below.