According to VeriSign, there are over 330.6 million registered domains as of the first quarter of 2017. How many of them do we know by heart – a couple of dozens? And what about the rest? In this article, we will dwell in details on the domain features that may increase their ranking positions and help users remember their names.
1. Age
Let's start with a meme, but it's worth to be mentioned here. Matt Cutts, once Google's head of the Web Spam team, said that the difference between 6 months and a 1 year old domain does not really make a big difference.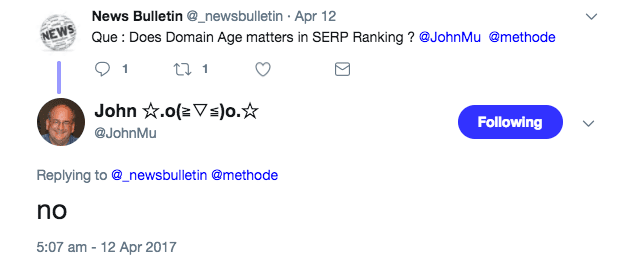 In details:
The domain age is important in case the resource has a backlink and content background. Moreover, older domains (compared to the new ones) have more backlinks and indexed pages so it can already affect the ranking.

If you want to purchase a domain, note that a new resource has minimum risks and costs at the initial stage, but also more time/efforts to get to the TOP. It's better to

 explore important info about the website you're interested in before the purchase – you can investigate it using the FirstSiteGuide Lookup Tool.

According to the latest research, the average TOP-10 ranking page is more than 2 years old. And those that rank at the first position are almost more than 3 years old.
Takeaways:  
Here at SE Ranking we tend to agree with a leading Google analyst John Mueller, who says that age is not a fundamental factor in ranking. Yes, it still plays an important role for the search engine but everything is relative. If your product is a high-quality and well-known in the network,  the search engines will appreciate it and give your keywords positions on the first pages despite a domain age.
2. Authority
Start by analyzing one of the main indicators of domain authority – MOZ DA (website metric developed by MOZ). It is ranging from 0 to 100, with 100 being the highest trust point. This score is logarithmic so it's much easier to get from 20 to 30 than, for example, from 70 to 80.
You can check this metric as well as other domain characteristics using Website Audit tool.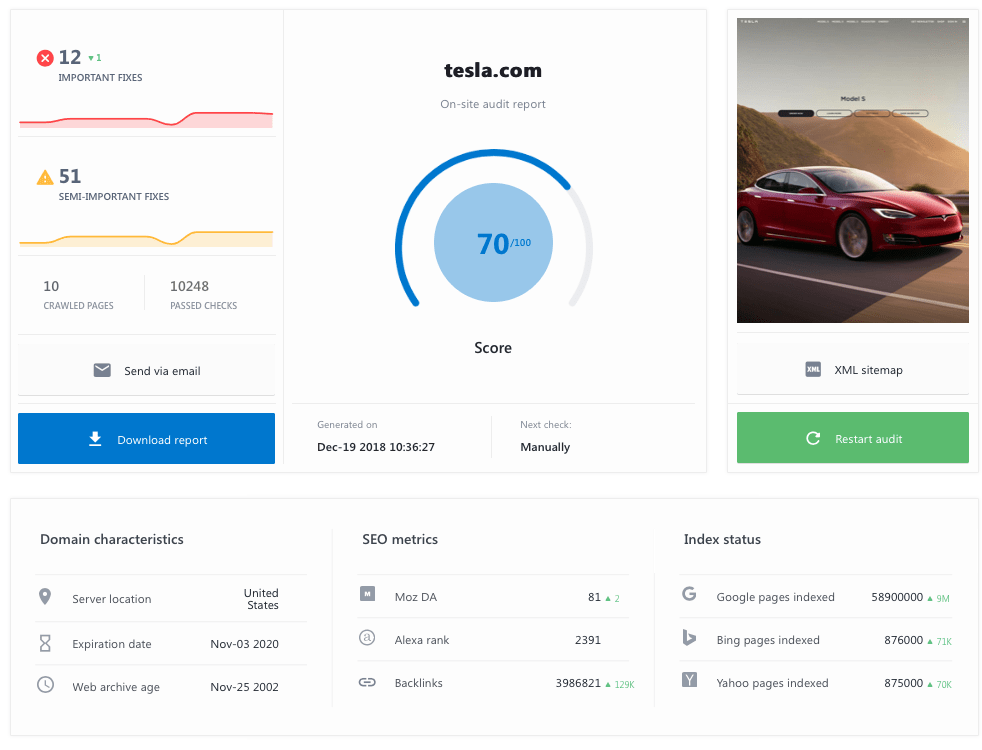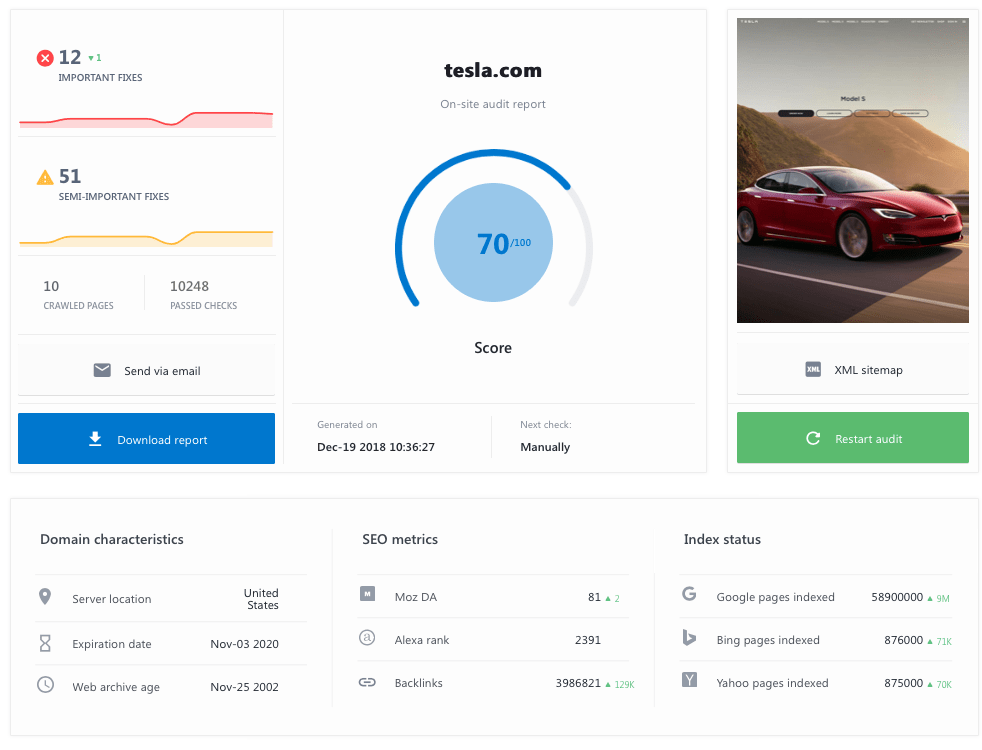 Also you can check MOZ DA in a separate SE Ranking Parameters Checker tool:

Takeaways:
Old domains that have a low credibility (trust) score will not rank high. Therefore, we advice to instantly improve this metric.
3. Domain zone and levels
According to the latest statistics, about 38.8 percent of all domain names use the leading .com domain name extension. That's why all the best names in this zone have been occupied. If you're unable to register your domain in this zone, consider .net, .org, .co, .biz (based on your activity and objectives: .biz for business, .net for network structures, .org for non-profit organizations) or one of the new top-level domains.
The domain system looks as follows:
Top level domains are the well known .com, .org, .net, .edu etc. and the country code names additions like .us, .au, .uk.

Second level domain names are the parts of the domain name that are located immediately to the left of the dot and domain name extension (for example, bestools.uk)

Third level names mean the resources within the second level domain (for example, owa.besttools.uk)
The list of all domain extensions
In details:
If your site is registered in a general top-level domain zone (for example, .com or .org) and you want to target it to the specific region, you can "tell" Google how to show your site in the SERP. The target country can be entered on the

International targeting

page. If you want to ensure that your site is not associated with any country or region, select Unlisted in the "Set a country target" tab.

In 2015, Google announced its own domain registrar

Google Domains

. At the moment, the service is available to users from Brazil, Canada, India, USA, Japan and the UK (the billing address must be registered there). In this service, you can register new top-level domains. For example, .boutique, .catering, .coach, .florist, .ninja, .consulting, .coffee, .jewelry, .photography, .systems. In such a way the domain name helps you to stand out in the network by determining your niche. It's also a chance to bring your message if you make a phrase out of it. For example: danis.cool, annlikes.to, iknow.how, lets.talk, and so on.
Takeaways:
If you strive to enter a global market, register a top-level domain taking into account your niche (.com, .net, .org, .biz). And to succeed in promoting the site in a certain country, we recommend registering a domain in the same country. Of course, this is not a mandatory rule. The search engine returns the most relevant SERP and displays "fr" pages to users in France, and the "uk" pages in the UK. Also it is important to provide the site with the properly configured language versions (if any).
4. Exact match domains (EMDs) and partial match domains (PMDs)
A domain name that precisely matches a search query is called an exact match domain – for example, if you want to rank for the keyword "best seo tool", the EMD would be  bestseotool.com. Accordingly, a partial match domain name (PMD) contains both, the brand name and one of the targeted keywords. If you're trying to rank for the keyword "Chicago pizza" any domain with "pizza" or "Chicago" in it would be a partial match domain. For example – "andrewpizza.com" or "chicagofood.com". But what's better for SEO? Let's dig a little deeper.
Pros:
The user understands what he will find out on the site right from the domain name.

Good anchors for external links.

Higher AdWords CTR.
Cons:
EMD-domains can classify as spam.

In some cases, they are difficult to get (register/purchase).

Lower AdWords CTR.
In details:
In October 2012, Google introduced a new EMD filter that ensures that low-quality domains don't rise high in Google's SERPs simply because they include the search terms in their names.

The .com domain is less likely to get under the Google EMD filter, because the search engines trust them more comparing to the others.

If you have a high-quality content on your site, Google will not apply a filter just because it's an EMD-domain.
Takeaways:
Start with your goals. If you are going to develop a brand, first of all think not about the entry of keywords but about brand naming and psychology. If you want to get quick financial results, and your project's goal is the income generation only, you can try using keywords in the domain name.
5. Domain history
Diving into domain history will help you to know its past content at different times. Who needs it? First, those who decided to buy a domain with a history/trust/recognition. Secondly, the new brands – perhaps earlier this domain name was occupied by someone else, respectively (a previous content could affect a new domain karma).
How to check it?
Go to

http://archive.org/web/web.php.

Here you can explore more than 305 billion web pages saved over time.

Enter the domain name, for example forbes.com, and see how it looked like over a certain period of time.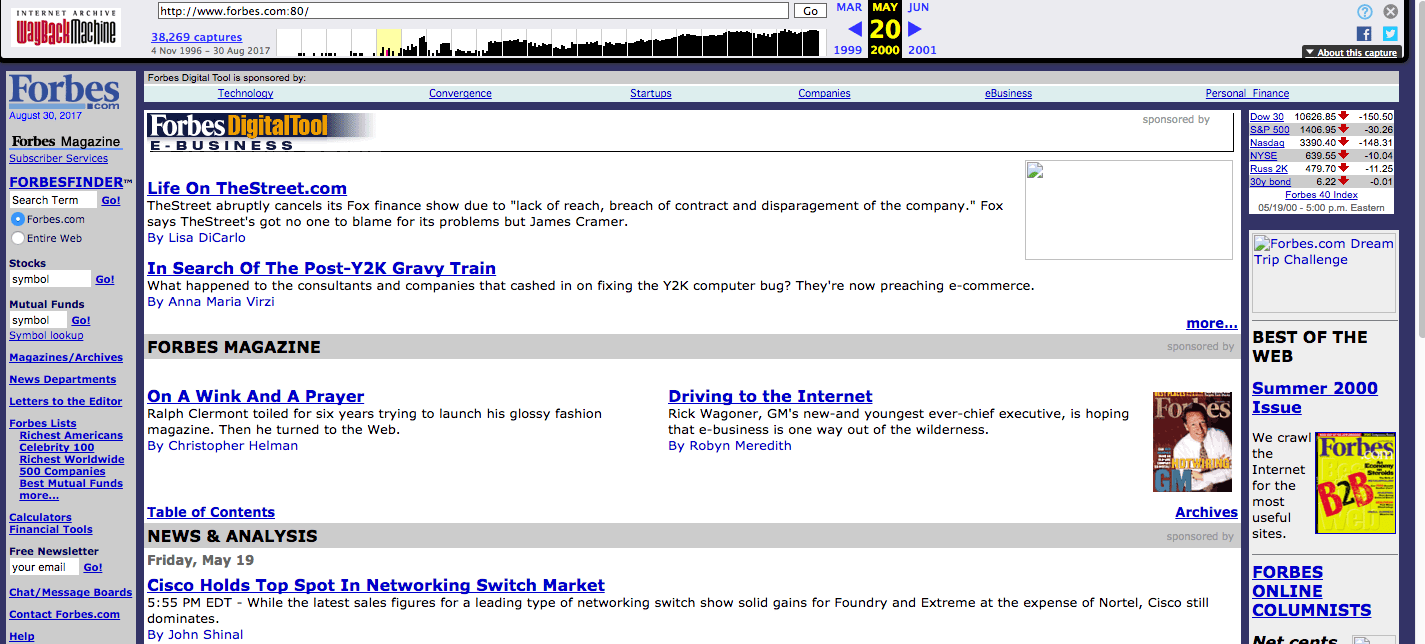 Note that it's also worth to check the previous hosting and its owner. Google can "reset" the history of the site and even remove its backlinks if it detects inconsistency in hosting. The same applies to the owner. If the owner has some spammy sites registered on his name, the search engine will carefully research all the resources associated with him.
Takeaways:
Try to check the domain history for different dates to maximum. If you notice a drawdown, falling out of the index, redirects to other sites, subject changes, this is enough to refuse from such purchase.
6. Name
A ship will sail the way you name it. Do you agree? Here're our tips on domain-naming:
The domain names should be easily written and associated with the area of your business. According to a study by Microsoft, people are more likely to click on the links that contain words they know, than on the links with the unknown words.

Do not use copyrighted words or phrases for a domain name. Before registering a domain, check it through the free services http://www.copyright.gov/records and http://www.uspto.gov/trademarks.

You're more than welcome to use the domain name generators available online. They allow you to easily "mix" and match keywords, add prefixes/suffixes and at the same time immediately check which domains are still available. After you have a list of 3-5 domains, ask your colleagues/friends which one is the most appealing.

Avoid hyphens in your domain, as this usually indicates that the original name is already taken. Stay away from the domain names that consist of several keywords separated by hyphens, such as email-marketing-services.com.

100,000 domains in the TOP have 9 or fewer characters in the names. You may use up to 15 characters, but short and intuitive names are better to remember.
If you consider purchasing an old domain or registering a new one, follow our recommendations on the age, authority, zone, history and name in order to have a "well-equipped" resource to boost your rankings. Nevertheless, note that if your website has a high-quality content, a good backlink history and growing traffic, the search engines will appreciate it for sure. So place greater focus on being helpful and "awesome" to the users as according to John Mueller from Google, the most important ranking factor Google uses is "awesomeness."
#SEOCOOKIES
On the 15th of March 1985 the first domain was registered. It's a symbolics.com which still exists today.
The last 3-character domain names in the .com zone were registered already in 1997. Now such resources cost a lot of money and are sold only "from hand to hand".
Some of the most expensive domains ever sold: LasVegas.com ($90,000,000), CarInsurance.com ($49,700,000), Insurance.com ($35,600,000), VacationRentails.com ($35,000,000).
Domain .tv is the national domain of the country Tuvalu. The sale of domains in this zone annually replenishes the state treasury for a fairly decent amount.
Domain .cc is the top-level domain of the Cocos Islands (Australia).
The most popular words that are used in the domain names of .com – home (1.2 million), online (1 million) and land (891 thousands).
Facebook bought the fb.com domain from The American Farm Bureau in 2010 and paid for it $8,5 million.