Quality Link Building for E-Commerce — an expert guide from Alex Tachalova
This guide was prepared specifically for our readers by Alexandra Tachalova. Alex is a content marketing, PR, and link building expert with over a decade of experience in digital marketing, founder of Digital Olympus. She also participated in our marketing marathon and has given a talk on how to build a network of blog partners to get quality links. If you've missed an event, you can watch a video here.
Just launched a brand new online store… but your Google Analytics shows near to zero organic visitors?
Sadly, the lack of organic visitors is an all-too-familiar story for many e-commerce stores just starting out. With more than millions of active merchants on Shopify alone, the online retailer space is expected to become 'crowded' to say the least!
Like it or not, Google remains to be the absolute market leader by holding over 90% of the search market share. While there are myriad ways of generating traffic and sales, organic traffic for online businesses is bread and butter. According to a recent research, 49% of shoppers claimed that they use Google to discover new products or services.
E-commerce SEO has always been quite a challenging task but with the rise of such gigantic stores like Amazon and eBay that sell literally everything, it has reached a new level of complicity. No one would argue about the importance of on-site ranking factors including how well users are interacting with your site, but the number of referring domains is still among the top 5.
In this article, we will explore how you can leverage the power of backlinks for driving organic traffic and as a result generating sales for your business.
Let's dive in!
Check out our backlinks guide to find out why backlinks are crucial for successful SEO and how to check their quality.
#1. Produce some in-depth content and power it up with links
There's no sense in building links to some mediocre pages on your site. The truth is even if you make them rank well they're still not going to help you generate leads and sales. Let's face it—users nowadays are very picky, and they won't spend their time digesting content that doesn't meet their expectations (e.g. answering their questions).
Your main goal is to produce high-quality, educational content that should be closely connected to your user's search intent. Only having such content will allow you to rank higher in search engines and effectively convert organic visitors into potential clients. In fact, companies that regularly publish quality content generate 67% more leads than those who don't.
The key to a winning content strategy will be focusing on topics that could be then turned into lengthy guides. This way you need to build fewer links as your pages will be related to each other and share link juice.
With all that being said, here are a few more tips that will help you secure links much easier:
Ensure that your content pages are visually appealing
I would highly recommend investing some budget in creating custom-made images. Even if you're on a shoestring budget, tools like Visme or Canva offer tons of prebuilt templates and elements to craft stunning graphics. Also, leveraging image SEO properly is a powerful way to improve your site's organic traffic and earn links naturally and passively over time.
Include your industry leaders quotes
If you want to deliver high-quality content, you need to use quotes from industry experts and influencers in your niche. When your readers see that your blog posts include expert opinions, they are more likely to trust what you say. If you cite expert quotes to support a specific research or strategy, you can reach out to these influencers and mention that you linked to them. When they credit you for the insight, you can get links back to your website.
Integrate interactive content
There's a huge need for creating content that gives consumers a reason to stay on the page. I couldn't agree more with Chris Lema who believes that the future of content and E-commerce lies in interactive content. It encourages people to consume information faster, share it with others, and increase brand exposure.
Using top of the funnel interactive content like polls and surveys, tools and calculators, indices, interactive maps, and video gives people more value, attracts valuable links and generates more traffic to your website.
Here are some tools you can use to create interactive content without hiring a developer:
Integrating good-looking images, quizzes and expert quotes in your content increases your chances of getting links. But I need to warn you that even top-notch content doesn't build links on its own. A lot of marketers believe that once they release their masterpiece into the world, their job is done. The truth is that this is where the REAL work begins.
When it comes to links building, the majority of traditional strategies don't really result in a flow of links. You need to show the world that your content is out there, but that's a hard task to accomplish. For example, the average response rate of cold email outreach is quite low, so this is where you need to get creative.
To learn how to create outreach emails that get the link and build a relationship, you can read our complete guide on this topic.
For those who hate sending thousands of emails to secure a few links, there's an alternative—you could start building links faster and easier thanks to already established relationships.
This is the major reason why building relationships with the right people is a much more effective strategy than sending out cold email pitches. Basically, you can start your link building campaign by checking your current circles that includes your clients, partners, subscribers, and even SMM followers.
These people already trust you (and like you!) and as a result, the chance of getting a link from them is way higher compared to the sites that have never heard of your brand. If you want to explore this strategy further, here's a good post that will walk you through it step by step.
#2. Reach out to influential bloggers
Once your link building machine is up and running, it's time to go beyond your current circles and try to secure more exciting opportunities. Reaching out to influential bloggers and vloggers in your niche can bring you many benefits—and acquiring quality mentions and links is only one of them.
If you want to earn links from well-known bloggers, you need to forge mutually beneficial relationships with them. In the long run, these relationships can result in incredible natural link building opportunities that you've never expected to get.
Finding influential bloggers might sound like a challenging task, but my approach makes it simple. To speed up the overall process, you can use several tools. Buzzsumo, for example, is great for identifying popular bloggers who regularly contribute to well-known and authoritative sites.
In the screenshot below, you can see that I searched for experts that are writing about "link building" (and it's great to see myself among the top 4):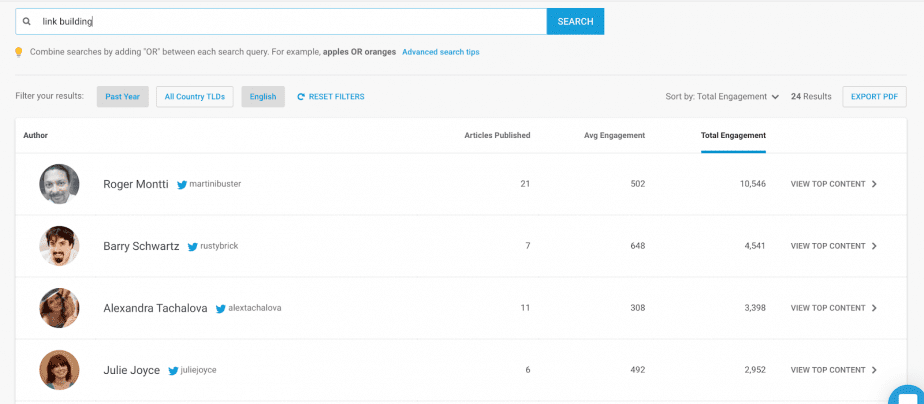 If you want to search for experts that have already established a strong presence on Twitter, you should try Followerwonk. This tool allows you to find influencers in your niche—all you need to do is put in the keyword. Then, Followerwonk scrapes bio descriptions for this keyword and serves you the most relevant names. The best thing about this tool is that it has a metric called Social Authority that helps you filter out bots and fake accounts: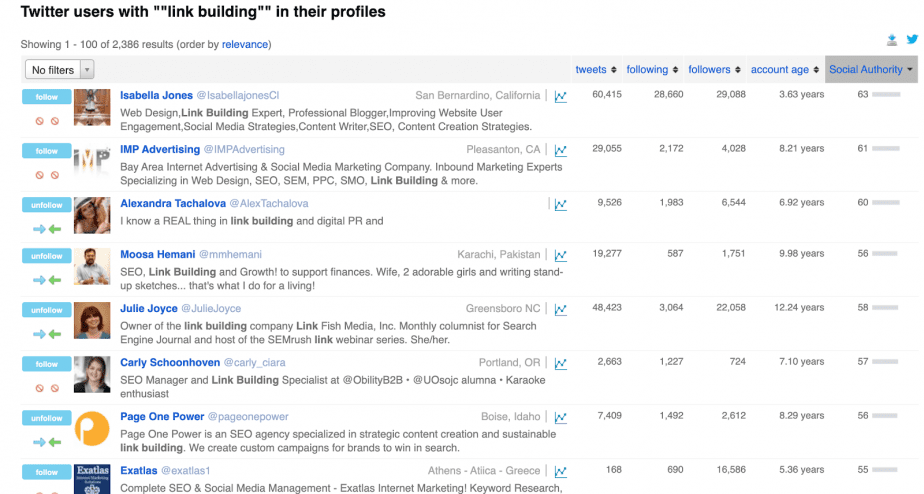 The last tool I want to recommend is Pitchbox. It automatically crawls the web and puts together a list of bloggers based on the keywords that you add.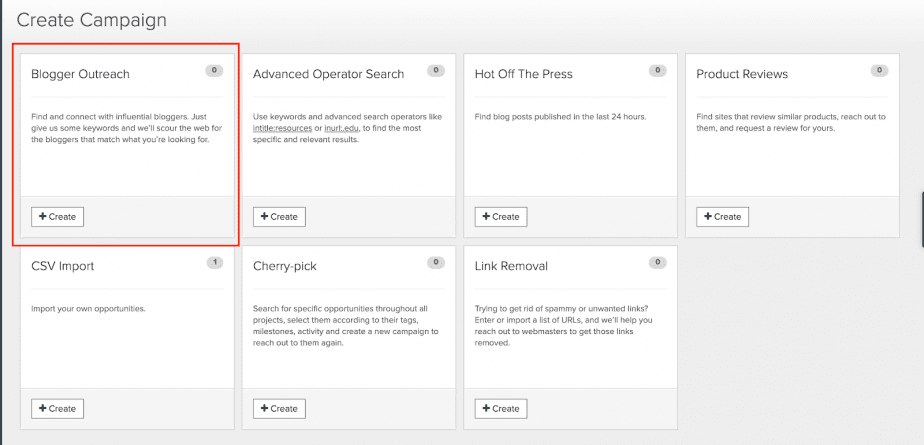 The biggest advantage of Pitchbox is that, apart from the list of content pages that were delivered by well-known experts, it also shows you their email addresses.
With its help, you could even create an email template and schedule future follow-ups, but we at Digital Olympus don't really do that. Instead, we use Pitchbox to search for relevant sites and then look for ways to connect with their owners instead of sending cold email pitches.
Actually, if you want to know how we do email outreach, here's a link to my post where I explain how to land links without sending a gazillion email outreach pitches. For a successful pitch, it's vital to show that you are familiar with the influencer's content, provide a clear value proposition, and come up with the next steps.
Offering free product samples or discounts to your industry bloggers is a great way to get a mention. And relevant mentions can lead to more traffic, conversions, and links to your website. This is the most popular way of building links for e-Commerce sites and, as you might guess, quite an overused one. So, if you want to hit it out of the park, you should be more creative.
For example, you could hire a graphic designer to create cartoon-like images of your influencers. A few years ago this round-up post from Pitchbox received lots of links and social shares due to awesome graphics of the SEO experts in Halloween costumes. For sure, you should have a little bit of a budget, but it's totally worth it because it really works!
Another way to attract influencers' attention is to send out personalized handwritten postcards. It's a super-effective strategy that you can use as an ice-breaker. For example, personally thanking them for something. This will be a solid proof that you actually follow up on what they do.
#3. Take advantage of seasonal promotions
If you've got some killer deals during the holidays, it's time to turn them into linkable assets. Remember that your seasonal promotion pages should be designed in a form of posts with some widgets that are linking back to your products.
The main idea of such pages is to keep the same URLs every year to maintain your SEO rankings. The only thing you should do is to update your current set of promo offers ahead of time.
Here's a great example of the Black Friday page on Walmart that they created for the 2019 promotion and decided to keep available all year round. To cater to the users who may visit the page they updated the message and now invite customers to get some popular products at low prices.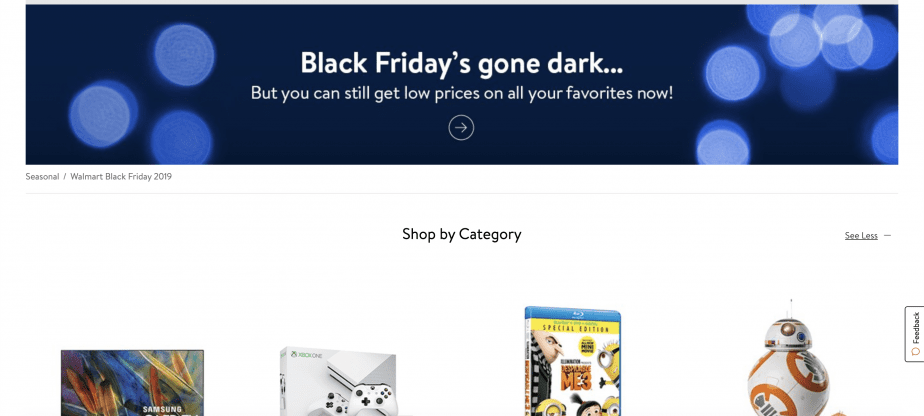 From the linkbuilding standpoint, such an approach allowed Walmart to get 152 referring domains and nearly 2K backlinks in less than six months time: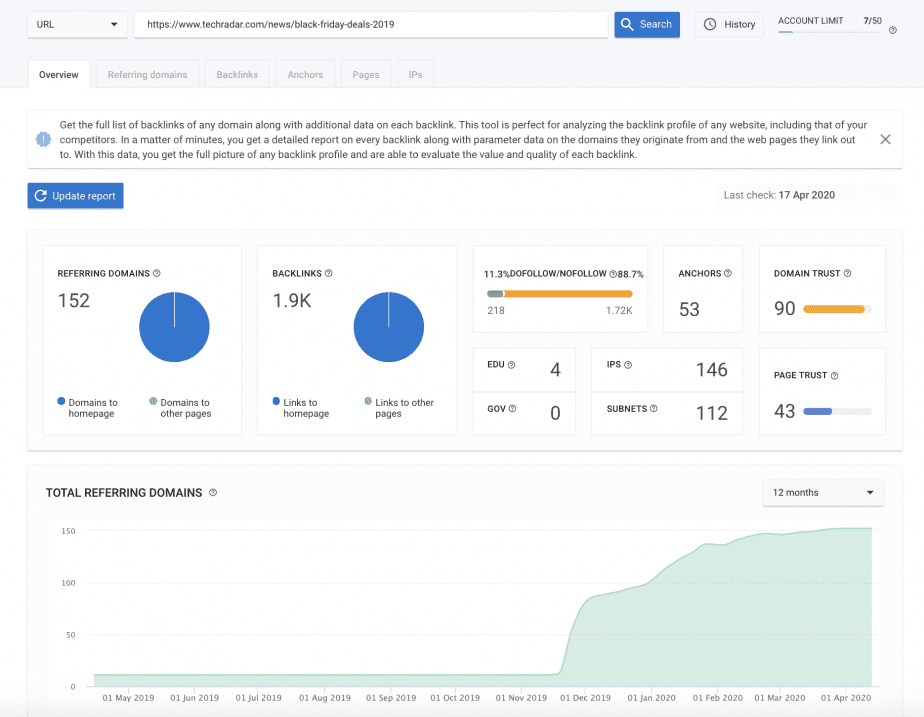 It's good to mention that walmart.com ranks remarkably well on Google and receives over 98M organic visits monthly based on the SE ranking data. Most probably, your site is not similar to Walmart that is a large corporation with seemingly endless resources. But I have some good news: you can still use this strategy no matter the size of your business.
Here's an easy workaround.
Partnering up with companies that are selling complementary products will help you kill two birds with one stone. You'll promote your content across a bigger but still target audience as well as uncover new link building opportunities.
All you have to do is find e-commerce stores in your niche that fit your promo page and reach out to them, asking whether they're interested in being featured there. And if you want to speed up the process of building links, you could offer those companies to make a joint email outreach campaign.
What you need to do is to prepare a list of sites that are featuring special offers, reach out to your partners and ask them to add your page. There are plenty of blogs that publish posts about "Black Friday" or "Christmas" deals each year, and they usually compile a list of companies offering discounts and promotions.

If you're wondering how this list should look like, take a look at this example. A while ago Chanty created a list of top holiday deals in the SaaS space. This could be a great shout out for your seasonal promotion page.
#4. Use video marketing
Using videos for SEO and link building is still highly underrated. First, let's look at some Youtube statistics:
There are currently more than 2 billion users on Youtube;
It's watched in more than 100 countries in 80 languages;
Users watch 1 billion hours of video daily;
YouTube is the second biggest search engine in the world.
Looking at the SERPs for the "LinkedIn Marketing Tips 2019" keyword, you'll notice the results pulled out from YouTube. Ross Simmonds, a founder of Foundation, did a great job optimizing his video, which has so far gained over 10k views:

Adding videos to your marketing strategy gives you more chances to dominate SERPs for whatever keywords you are trying to rank for. Not just that, blog posts containing videos are really popular and therefore have a better chance of acquiring links.
As an eCommerce site, you can attract quality links by creating product tutorials, instructional, or how-to videos embedded on your shop page or product details that answer top user questions. You might also want to demonstrate them a product from different angles, show how it looks in a specific context and so on.
Once you have your video content, you need to start building links back to it, for example, with email outreach. Here's how an average email outreach campaign looks like:
Deliver link prospecting—your main goal is to find sites that are relevant to your video content. In my recent email outreach guide, I share a few techniques including scraping SERPs and checking your current circles.
Connect with them via email—but try to avoid overused phrases like "I've been reading your blog for so long" etc. The best way to grab their attention is by sending personalized emails—they get much more replies than generic emails. And don't let your thoughts wander—the more concise and specific your email is, the more likely you are to receive a positive response.
Give them a reason to link back to your video. For example, you found a broken link on their website and offer to replace it with your perfectly working on-topic video. Or your video better highlights the issue and provides more details. Either way, the reason you provide should be convincing enough.
Use email outreach tools like PitchBox or BuzzStream that help you save a lot of time and scale the overall outreach process.
#5. Launch a Brand Ambassador program
One of the most effective link building methods is to get people talking about your e-commerce business via a brand ambassador program. Many people confuse influencer marketing and brand ambassadorship. In short, influencers are financially motivated contributors while brand ambassadors are unpaid loyal customers. Their love for the brand encourages them to share their passion with others and generates you sales through word of mouth.
Wouldn't it be downright amazing if your customers fell so much in love with your products that they became walking, talking advertisements?
Thanks to social media, this is totally possible.
The idea is that you get people so excited and so involved with your brand and your products that they write about it on their blogs, talk about you in their videos—and give you those precious backlinks.
Thanks to social media tools and diverse analytics solutions, e-commerce businesses have many opportunities to launch successful brand ambassador programs.
All you need is to incentivize your loyal customers to share your product pages and generate traffic. The best way to go about this is to use social listening to find customers who absolutely love your products, and who have a substantial social media following. You need to understand your customers, to figure out what they value and what they would like to get out of being a brand ambassador. Your ultimate goal is to make them come to you—for example, engage with your business page on social media.
Here are a few ways to get started:
Be honest with your customers;
Be proactive in your communication;
Deliver top-notch customer service;
Personalize your customer shopping experience;
Offer rewards;
Build customer loyalty programs;
Encourage customers to leave feedback;
Give birthday gifts;
Communicate effectively throughout the whole buying process.
While making sure that ambassadors represent your brand correctly, you shouldn't try to moderate their genuine voice. Loyal customers' authentic testimonials make your brand seem more approachable, it's your chance to share down-to-earth information about your products through word-of-mouth, improve your online reputation, and promote link sharing.
#6. Publish guest posts
Guest blogging is a super powerful technique if you know how to use it the right way. One of its main perks is the ability to improve brand awareness, apart from securing links.
Here you can find our complete guide on guest posting to get the much-desired SEO boost and increase brand awareness.
Each time you contribute content to an authoritative website, apart from getting a link, you get to use it for social proof. In fact, many brands add sites where they've been featured on their homepage. For example, here's how SE Ranking shows off the most prominent industry partners and the niche media where they've ever been mentioned.
The easiest way to find guest blogging opportunities is by checking out where your competitors and influencers are contributing to. You can use the aforementioned BuzzSumo tool for this. Open it up and simply search via this parameter "author: XXXX".
In the screenshot below, you can see how many posts I've delivered in the last 6 months (with two out of the top-3 published on the Moz blog)):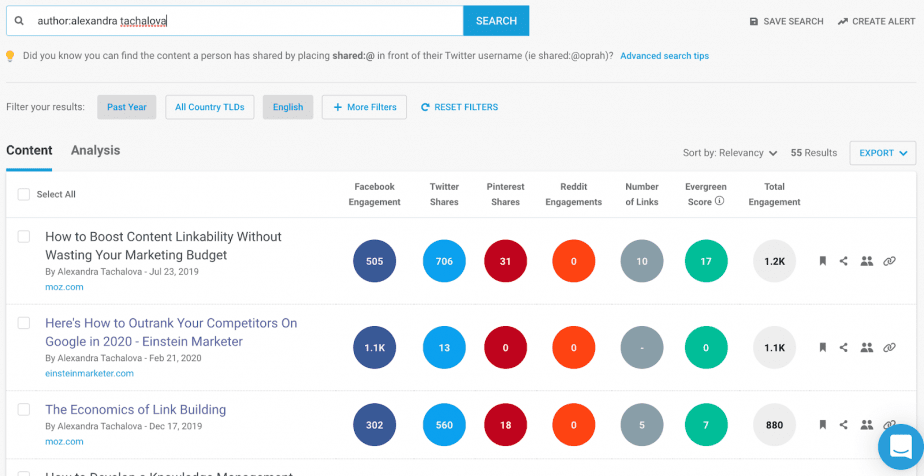 Your industry peers and partners' might put you in touch with the editors you'd love to work with. And once you're introduced or endorsed by their current contributor, it will be harder for the editors to overlook your pitch.
Of course, your main focus should be on the quality of content that you're providing. If you keep producing valuable content for other blogs, more opportunities will follow. And this means more links, yay!
#7. Steal your competitors' backlinks
Alright, this is the last practice that we decided to leave for the very end. Stealing only sounds bad; in fact, it's just a process of uncovering link building opportunities through competitive research. And as all marketers know, conducting a thorough analysis of your competitors is a must if you want to be ahead of the game.
Using SEO tools for backlinks check such as SE Ranking you can easily find and examine all your competitors' backlinks.
In the Referring domains tab, you can sort the results by the First seen column to see which domains recently linked out to your competitor's website. Use the Domain Trust filter to get all the low-quality domains out of the list.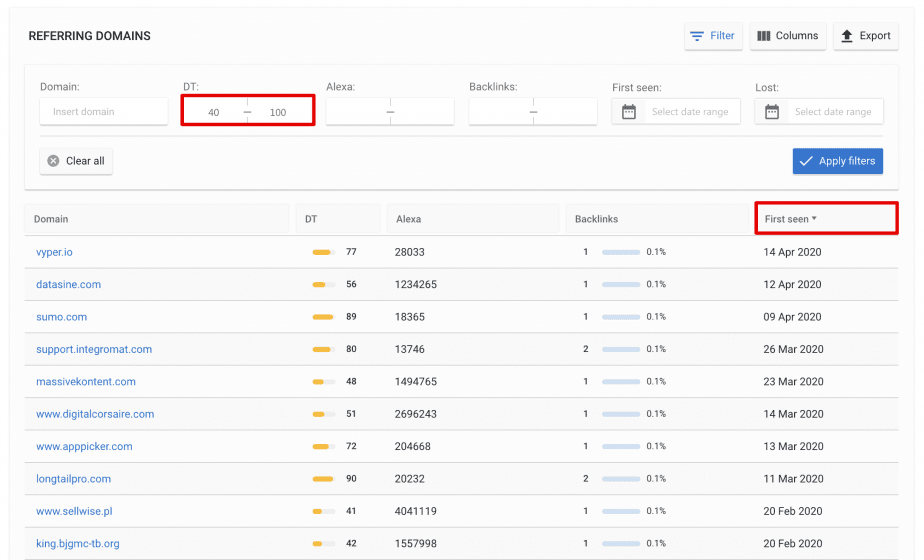 Another approach would be to take a look at your competitor's most linked-to pages that you actually compete with for some keywords, and see where their backlinks come from. To do so, go to the Pages tab and click on the cell with the number of Backlinks or Referring domains to see the details.
For instance, this post on Lemlist was featured in blog posts on the following blogs: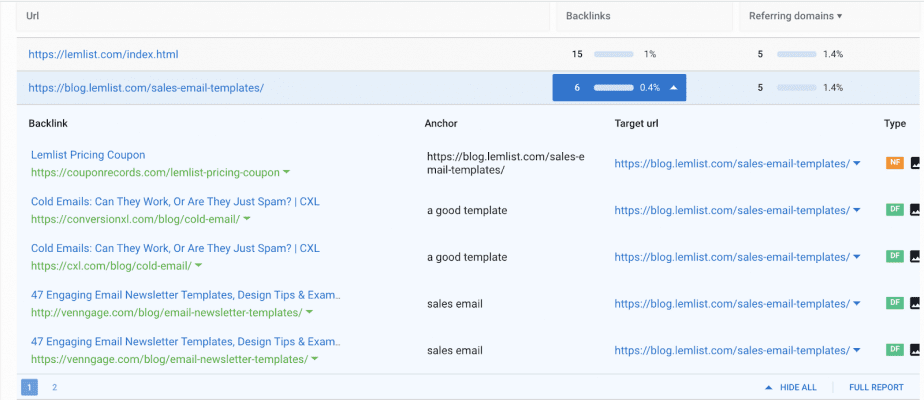 The next step is to connect with those sites and ask whether there's any chance you could team up with them. Sounds easy when you know how to do it right!
Conclusion
Link building is essential to the success of any eCommerce store in 2020 and beyond. The good news is that, once you've made a start on implementing some of the strategies from this article, things will quickly get easier.
Just make sure to spend time building relationships with the industry leaders, devote yourself to a strong guest blogging campaign and reach out to influencers who are ready to do you a favor.