You may have found the perfect blog site where you can submit your guest post but are you ready to make the perfect guest post on a blog?
Getting positive results from online marketing strategies through guest posting has become quite revealing among online marketers. With proper guest posting it can help businesses to grow its online presence and popularity on the web.
Guest blogging makes it easier for online marketers to widen their market reach, build their network, to propagate brand awareness, to provide valuable information about their business and to drive relevant traffic to their website that helps to boost their search engine ranking. Behind the success of guest posting are these golden rules that every guest blogger should keep in mind to ensure complete success in their online marketing campaigns when making a perfect guest post on a blog.
Rule # 1 – Make sure that you have made the necessary preparations
It is always a general rule of thumb to keep yourself prepared prior to submitting your proposal to guest blog on a guest posting site. You should be able to bring everything at the right perspectives in order to ensure that you have taken the right steps and focus in delivering your desired guest post results without taking significant delay in obtaining it. Here are some of the important preparations that you need to be able to deliver the perfect guest post:
Read the guest posting requirements
Every guest posting site has their own terms and conditions that you need to understand prior to submitting your guest post. It is crucial to read the rules and note the specific instructions that you should do and not to do when writing your guest post. By being aware of the rules and guidelines of writing a guest blog you are able to meet their standards and requirements better with a high chance of your guest post approval.
Do some thorough research
Among the things that you need to research is whether the theme of the guest posting site is suited to your niche. For example you might be submitting to a guest blogging platform that caters to the technology market while your niche involves health topics. One of the reasons why bloggers gets rejected on a guest posting site is because they are submitting to a blog site that does not match their niche.
Check the website traffic quality and search rankings
In order to maximize the exposure of your guest blog post it is essential to submit on guest posting sites with high search rankings and quality of traffic through the search engine. There are tools that can help you evaluate website's traffic flow and rankings.
Short list your options
Owing to the existence of several websites that accepts guest posts, it is best to short list your options in order to concentrate on guest blogging only to the top ranking guest posting site. In this aspect, your target goal is to yield better results by concentrating on the quality and not on the quantity of the guest posting sites to submit your guest posts.
Rule # 2 – Never submit a poorly written content
Keep the great ideas flowing otherwise you end up writing poor content. Guest posting sites, especially those that are already top ranking on the search engine are very quick in rejecting poorly written articles. If you want to reduce the risk of rejection, you should take more effort in writing very high quality and informative content that will make your guest post highly relevant to the site's target readers. For example, if you want to write about a particular topic make sure not to write general information that your readers probably already know. Take a different direction by researching more and provide statistics, research studies and other pertinent information that will support the facts on your guest post content.
Rule # 3 – Use proper link placement and attributes
How you place the links on your guest post will significantly affect the manner of referring your website to the search engine. Most of the time bloggers usually use the same anchor text when embedding their links to their guest post. It is best to avoid using the same target anchor text within your blog post content and using the same anchor text on your author biography.
Your link attribute should consist of one with an anchor text that is relevant and meaningful within the content in order to help the search engine find the relevance of your links and anchor texts. When you are adding link to your guest post from other sites, make sure that the sites that you link to must be within the authority of their niche with content that your readers will find interested of reading.
Links can help boost your guest post's authority and reputation which benefits your brand awareness campaigns. Guest blogging is all about reaching to your audience and using links embedded on anchor texts that are within the context of your content is essential to give some sense to your links.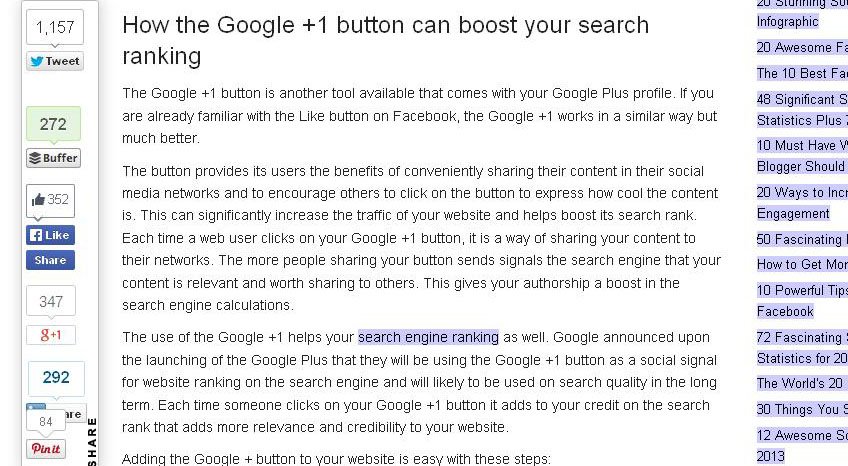 Rule # 4 – Quality is the rule
While all guest posting sites may have their own differences in terms of their standards and conditions when submitting guest posts, if there is one thing in common that they will be looking for it is quality from your guest post. Major examples for a quality guest posts that guest blog sites have a keen eye for are the following:
Original and well researched content.
Follows the blog's target tone when writing content on their site.
Content is fresh, factual and updated.
Content is free from grammatical errors and flaws.
Content addresses the blog site's niche or theme.
 Rule # 5 – Leverage on social sharing
Guest posting is all about reaching and connecting with people. In order to maximize the exposure of your guest post it is essential to promote the same through social sharing. The power of the social media can harness better brand awareness and relevance of your guest post to the search engine. The more people share and read your guest posts the better traffic your website gains on the search results. Consequently, you need to exert the extra effort in promoting your guest post for maximum exposure by sharing your content on various social media channels.